Technically speaking, Vancouver Canada is nowhere close to a cheap destination, but it doesn't mean you will break the bank for a comfy stay. Budget-conscious travelers can look for hostels, inns, and B&Bs to save some bucks for things to do outside of the bedroom. If you've outgrown the hostel life, there are inexpensive hotel beds that suit the less well-lined pockets.
So instead of staying somewhere completely out of town to save some pennies, you can find a lot of great deals in the heart of Vancouver to rest your weary heads.
We curated a list of ten budget-friendly places in Vancouver that offer decent quality. Depending on how much you're willing to pay for a night, you will have a private bathroom or a shared one. Some of them also offer full kitchens and complimentary breakfasts.
This article includes affiliate links where we may get a small commission if you use our link. No extra cost is added on and all funds will be used to support our team and content.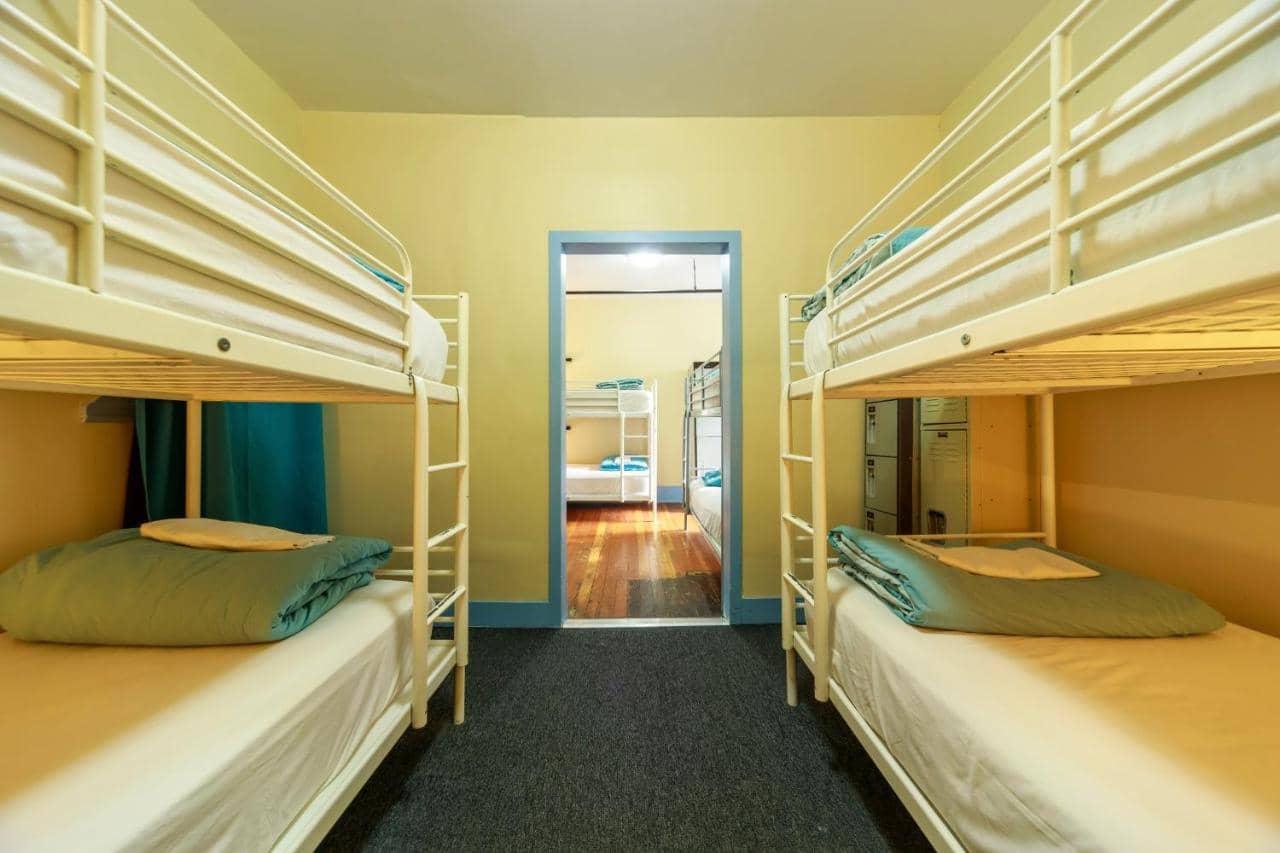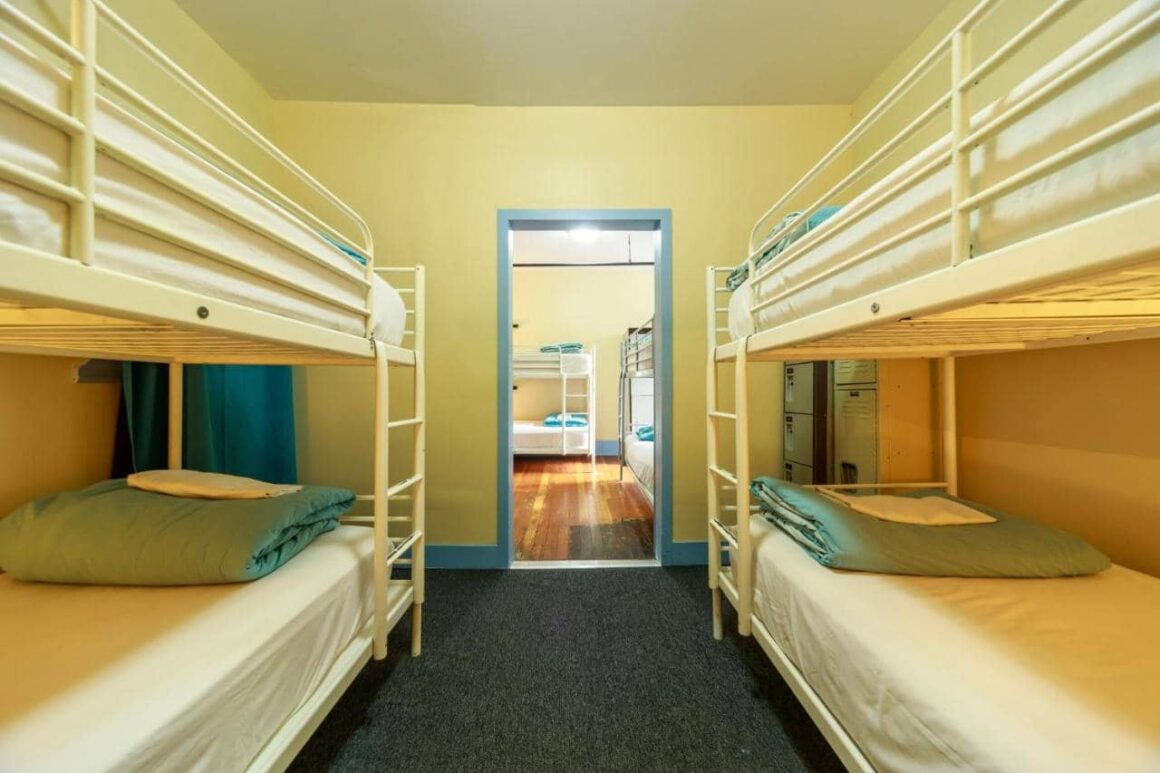 Boasting an excellent location in a trendy neighbourhood of Vancouver, Samesun Hostel is a dream for travelers on a budget who want to be surrounded by Vancouver nightlife.
With as low as $42 CAD, you can rest on one of the comfy beds in a dorm room with a shared bathroom, lockers, and reading lights. If you upgrade to one of its higher-grade double rooms, you'll have full access to TVs, mini-fridges, microwaves and a private bathroom.
Continental breakfast is provided to all guests. And whenever you want to make some new friends, head out to the lounge room, team up with other fellow travelers for a pool game, exchange books, or use one of its computers with Skype headsets. Samesun Hostel offers a 2-level bar and restaurant.
Address: 1018 Granville St, Vancouver, BC V6Z 1L5.
Starting Price: from $42 CAD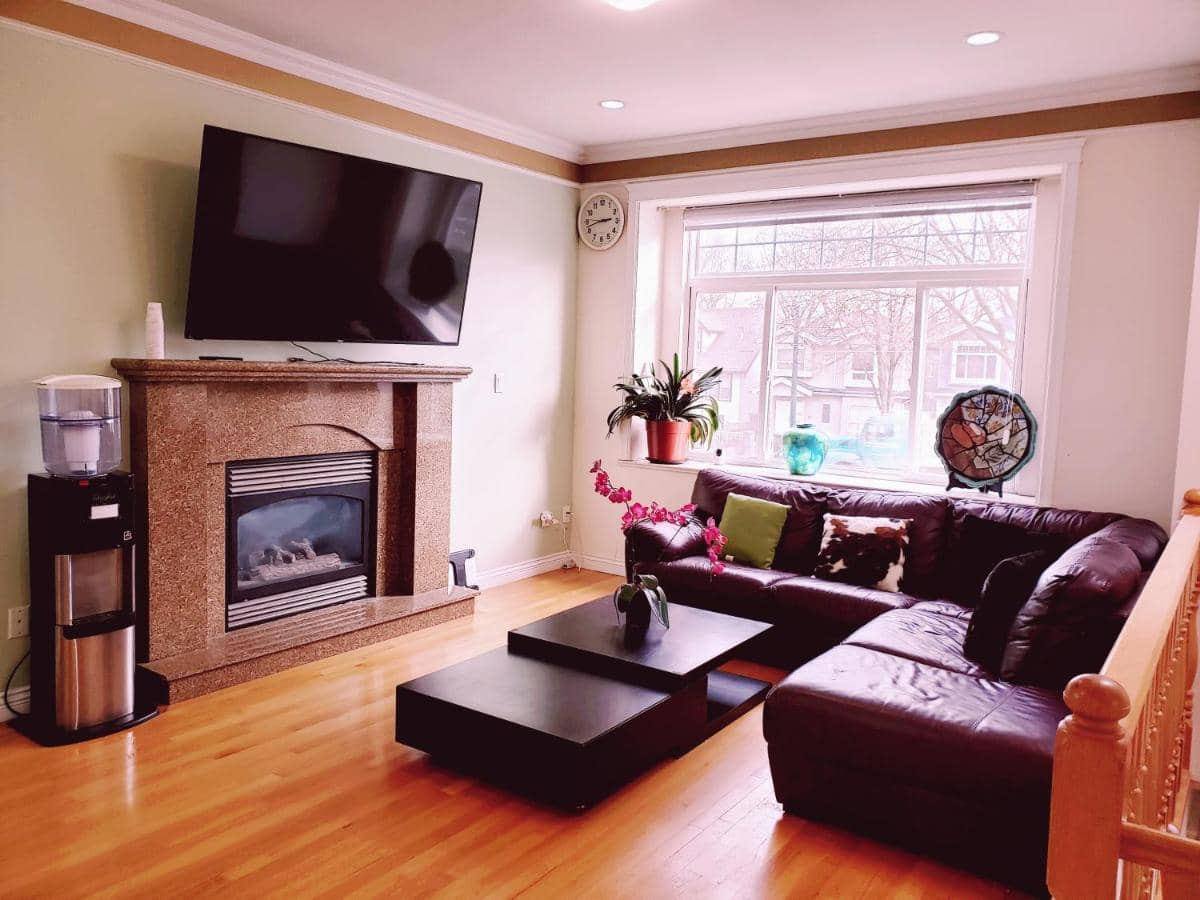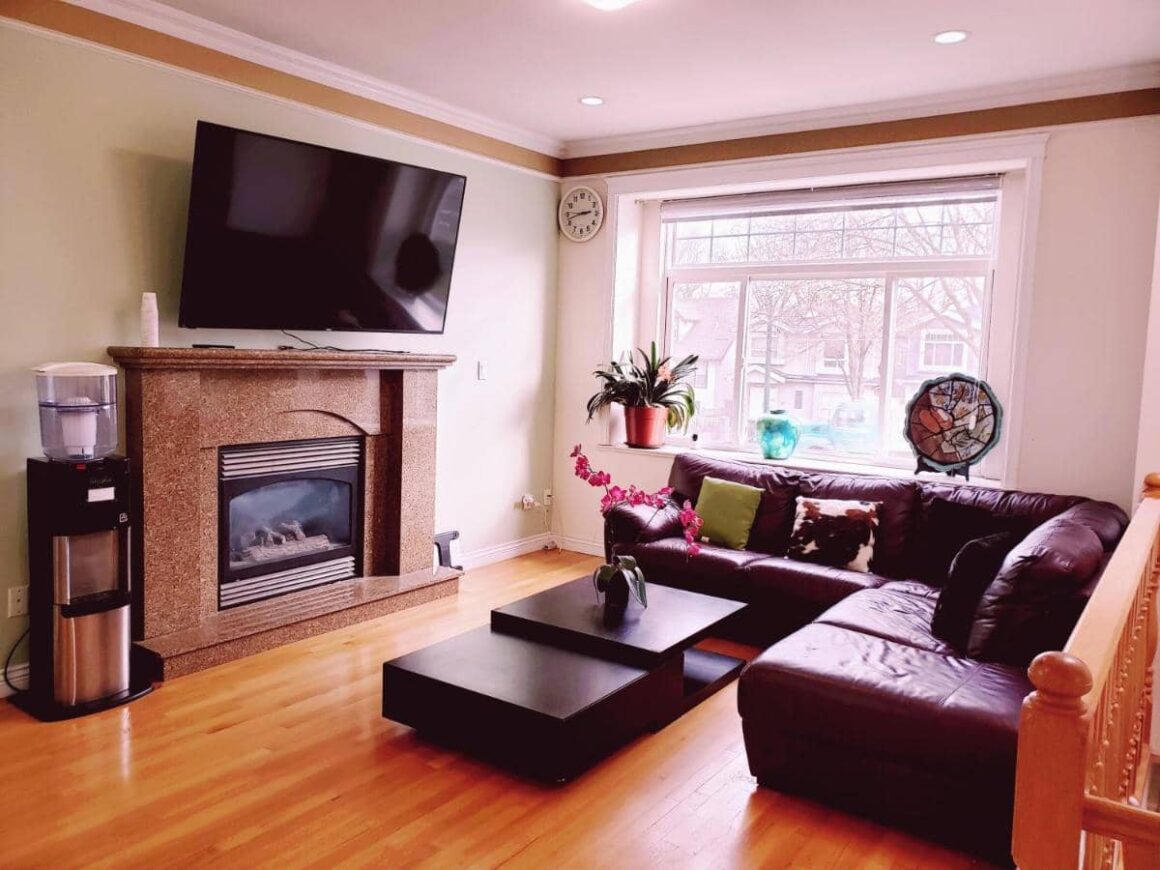 Lisa's home is a perfect place if you want to stay in between Vancouver and Burnaby. With less than $60 CAD a night, you have a huge double room with a shared bathroom with all the best comforts of home.
Lisa's house is conveniently located on McGill Street, and navigation to the nearby restaurants, banks, and grocery stores is easy within ten minutes walking.
It's also in proximity to downtown Vancouver. Whenever you need to head downtown, board the bus No. 4 within a few steps from the door and you should be in town 15 minutes later. The Pacific National Exhibition is two minutes' driving away.
All the basic amenities you need for a long stay are at hand. There's a large living room to relax with a smart TV. Cook up your homemade dinner in the shared kitchen or lounge back on the breezy patio. Whenever you want to take a stroll outdoors for some fresh air, walk to the Fraser River Park behind the house to soak in the river view.
Private airport pick-up service is also provided by the host at an extra cost.
Address: 2709 McGill St, Vancouver, BC V5K 1H4.
Starting price: from $60 CAD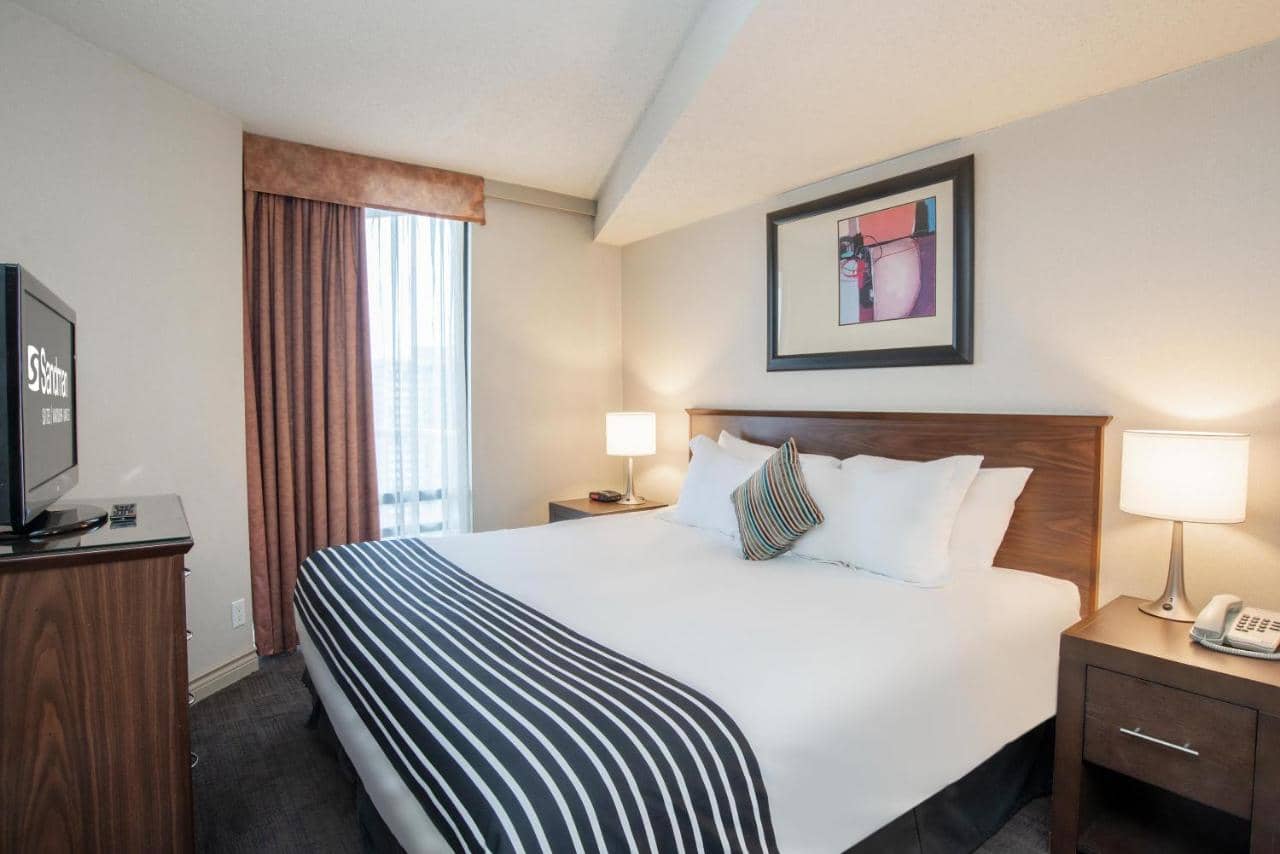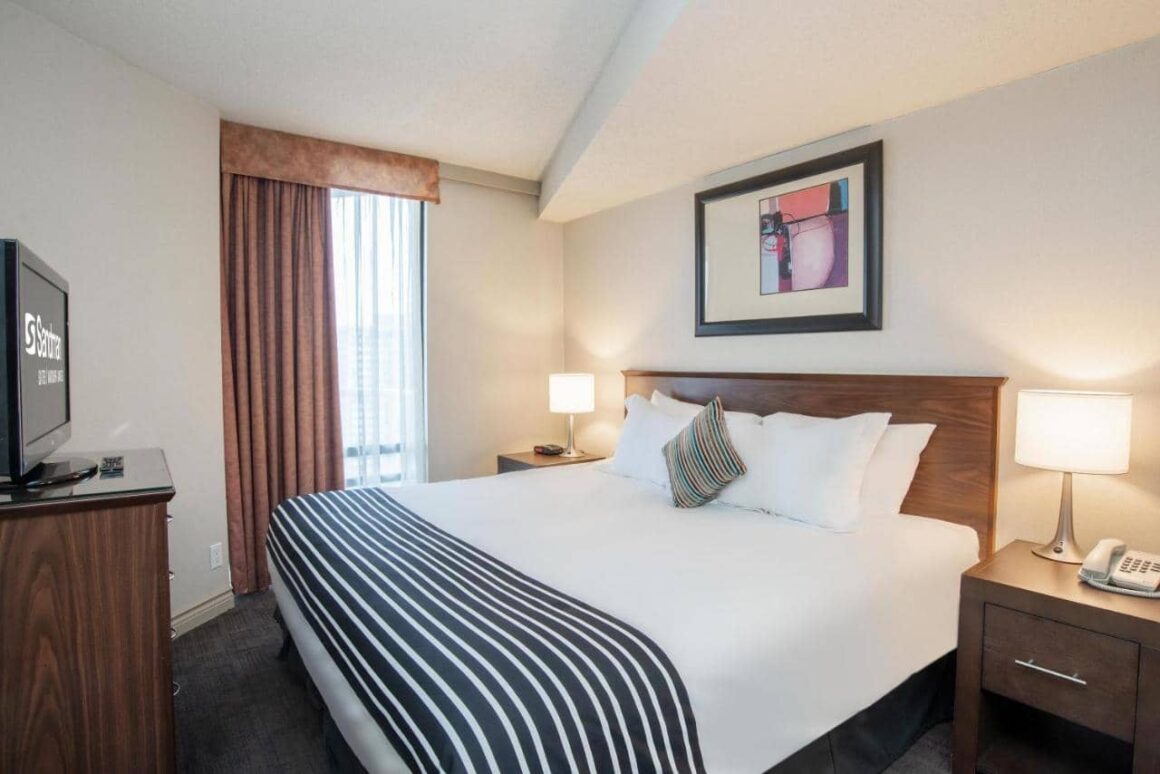 A pleasant stay with top-tier services doesn't always ask for top dollar. If you're looking for something on the fancy side like a rooftop pool or Jacuzzi tubs without hurting your budget, Sandman Suites on Davie Street is the right place to be!
Located in West End, one of the most livable neighbourhoods in Vancouver, Sandman Suites looks over the sweeping English Bay with a short walk to Sunset Beach Park and Yaletown. This place is a top call if you're seeking a cheap place to stay in central Vancouver, near the beaches, trendy cafes, and upscale restaurants.
Staying on Davie Street means you're living up to one of the most culturally diverse parts of Vancouver. With English Bay being a stone's throw away, you can start every morning with other sun worshippers on the sandy shoreline or recall the day's events watching the sunset.
Whenever your stomach is rumbling, head out to Moxie's Grill & Bar to indulge in its uncompromising food and wine quality. Seniors and weekend rates are also available.
Address: 1160 Davie St, Vancouver, BC V6E 1N1.
Starting price: from $108 CAD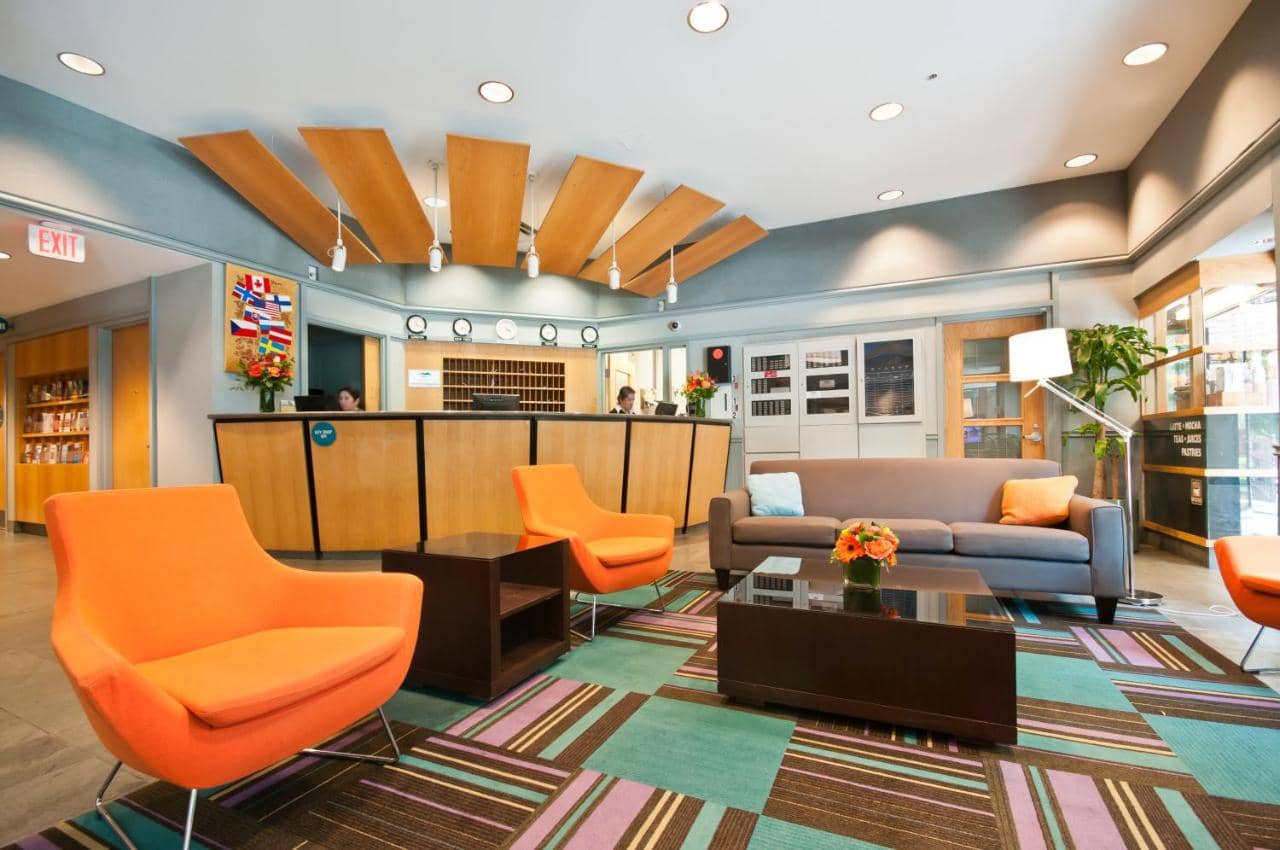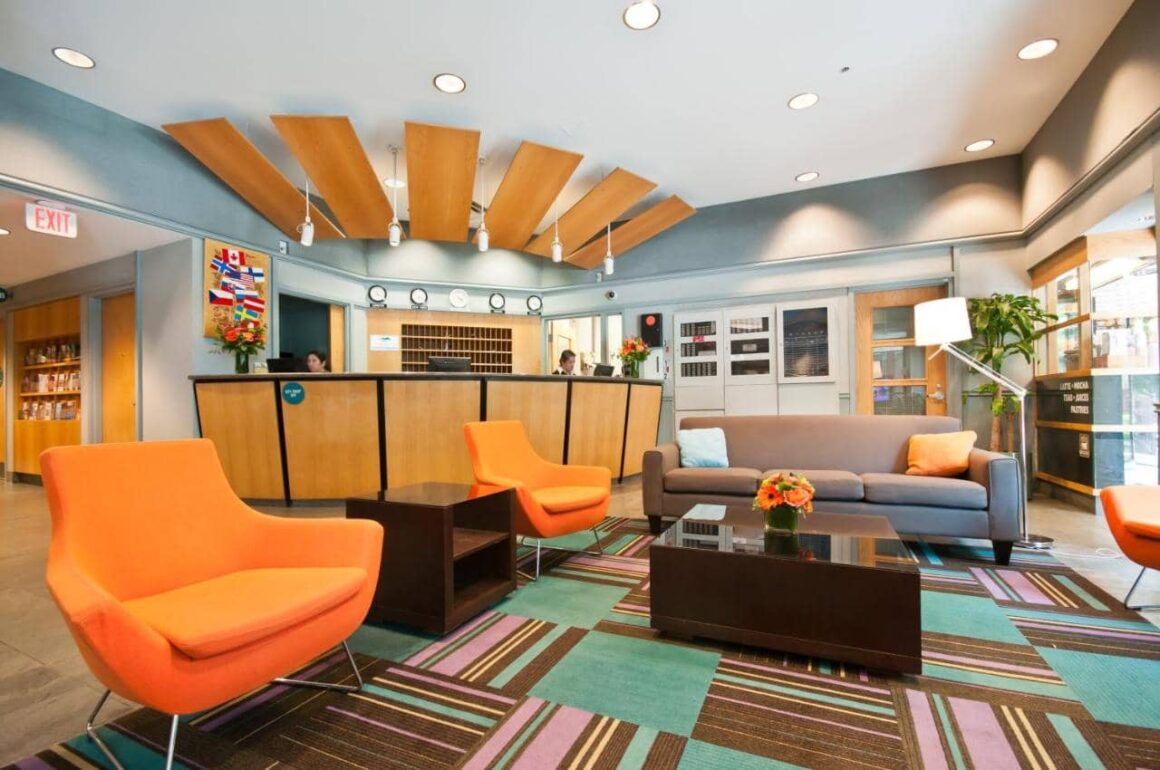 Take a 4-minute walk from Stadium-Chinatown SkyTrain Station and you'll find YWCA Hotel, a budget-friendly 2-star hotel soaked in a playful and bright color palette.
Staying at YWCA means you're connected to all the main happenings downtown just by walking. Lying across BC Place, YWCA is where football and hockey fans spend a night or two during the biggest seasons of their home team.
YWCA Hotel is a great call for couples and families looking for a comfy stay with all comforts of home without maxing the credit cards. Most of the options are double bedrooms with a private bathroom while some are shared.
With under $120 CAD a night, you have access to a shared kitchen, on-site fitness room, lounge areas, and a breezy rooftop patio to unwind after a long day on the street.
Address: 733 Beatty St, Vancouver, BC V6B 2M4.
Starting price: from $113 CAD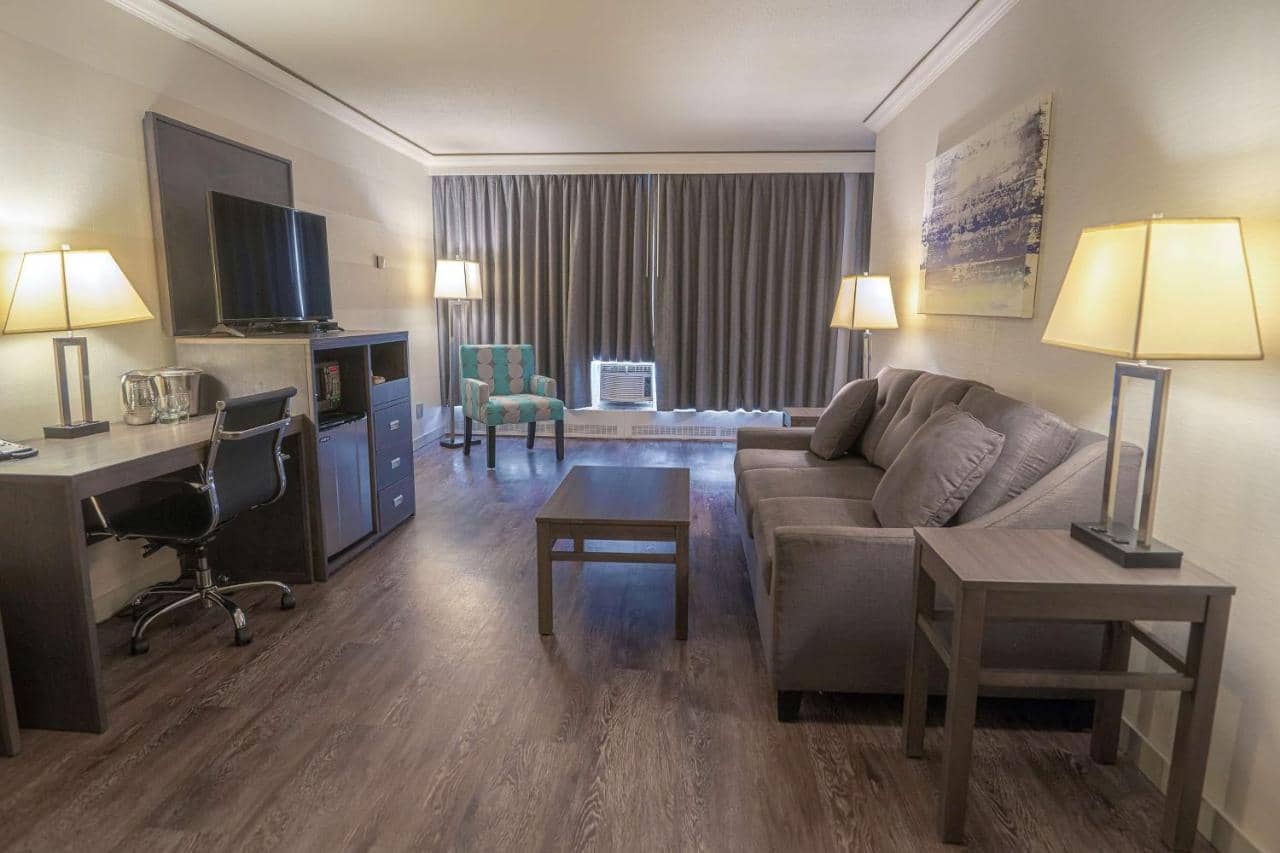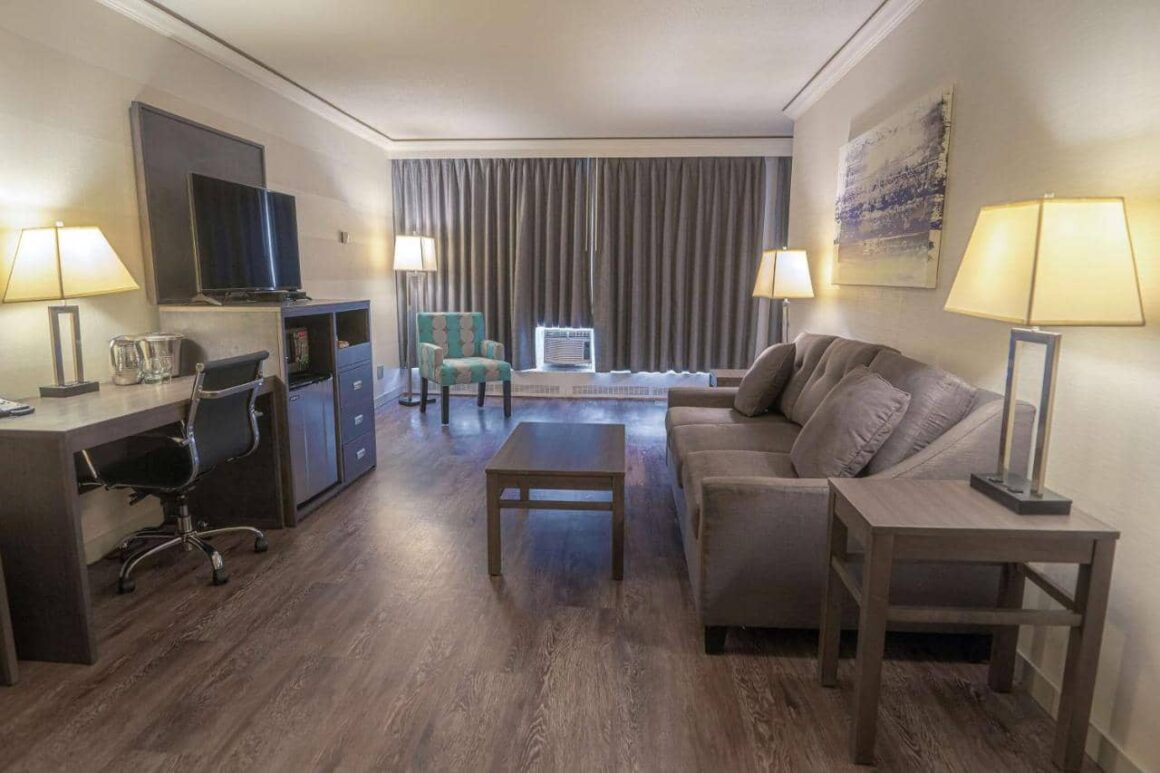 Best Western Plus Sands is on a higher end of the budget spectrum but you still find a good deal with under $120 CAD a night.
Weighing up cost and value, you'll be fully satisfied with everything Best Western Plus Sands has to offer. Its golden location is the first thing to be mentioned. The hotel is three minutes walking from English Bay Beach. Robson's shopping and dining scene is within an earshot. Everything you need for a fun day out only takes you a short walk from the door.
When you're back from the beach, drop by The Park restaurant to enjoy its extensive range of fresh seafood and pasta. Then end the night at the Bayside Lounge to relax with live music and an unrivaled view of the English Bay.
Best Western Plus Sands is one of a few low-cost hotels in Vancouver that offers a wide diversity of room types. From the family suite, large queen room to a king suite with kitchenette and fireplace – you name it!
Each room is furnished with cherry wood or mahogany with an en-suite bathroom. Some other options on the higher range have a whirlpool and open out to the sea.
Address: 1755 Davie St, Vancouver, BC V6G 1W5
Starting price: from $116 CAD
A rundown of all the best restaurants, cafes, drink spots, shops, and places to stay in the West End area.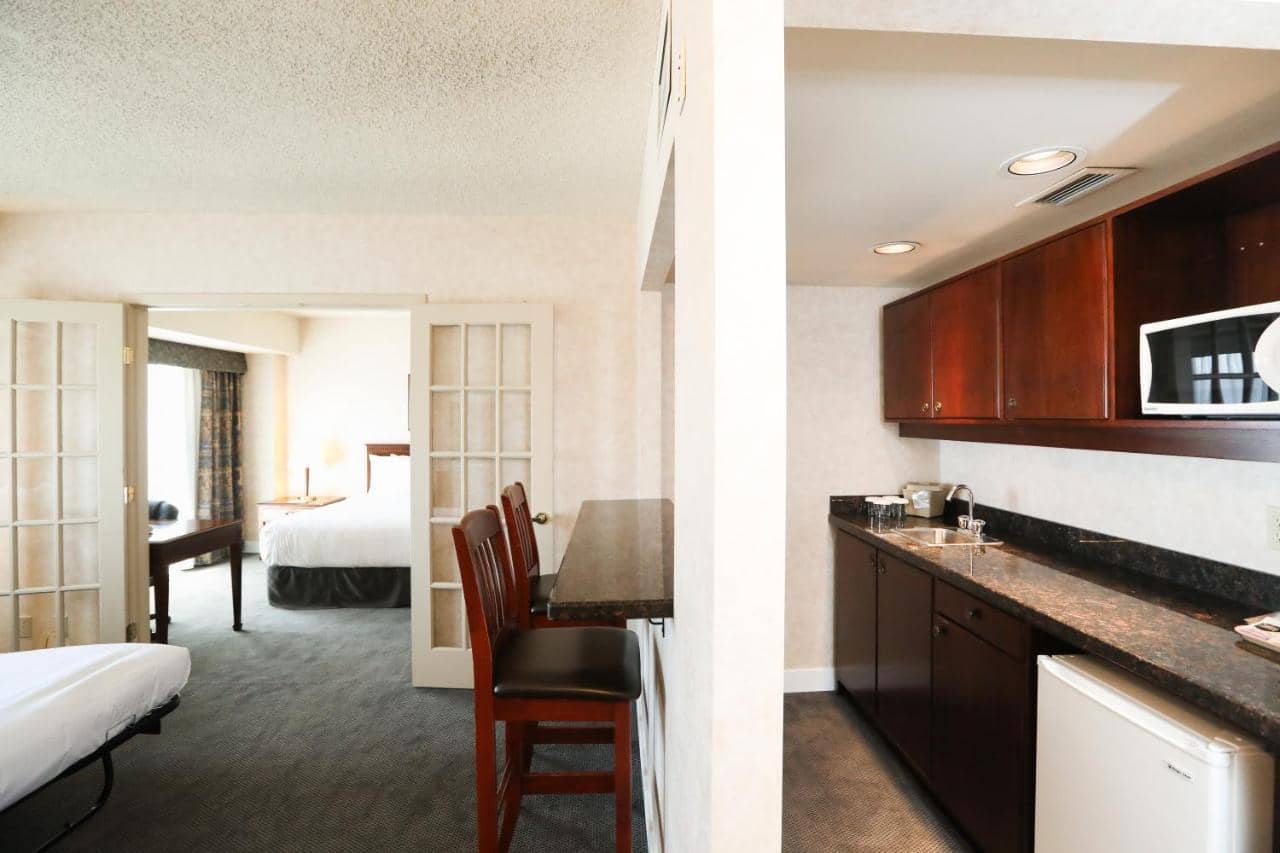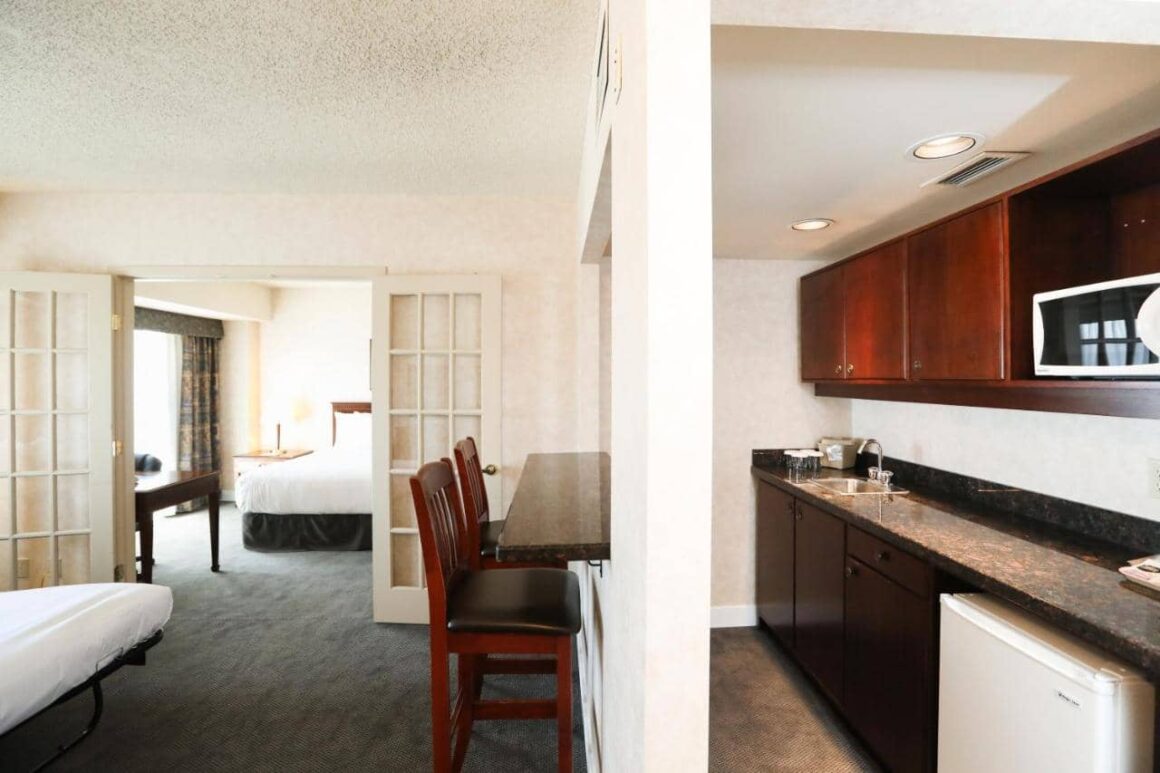 With plush bedding, airy layout, complimentary breakfast, and pet-friendly accommodations, Atrium Inn is a steal when you visit Vancouver's East End.
Atrium is inspired by Roman housing architecture to give you a zest of royalism, especially if you find yourself in the lobby and banquet hall.
Free shuttle service is available at hand so you can hit the city's core without spending any extra penny. Atrium Inn lies across the Pacific National Exhibition so you can enjoy Vancouver's coolest festivals and events to the fullest.
Whenever you're in a mood for some comfort foods, pop into PressBox Pub to socialize or catch a game.
Address: 2889 E Hastings St, Vancouver, BC V5K 2A1.
Starting price: from $118 CAD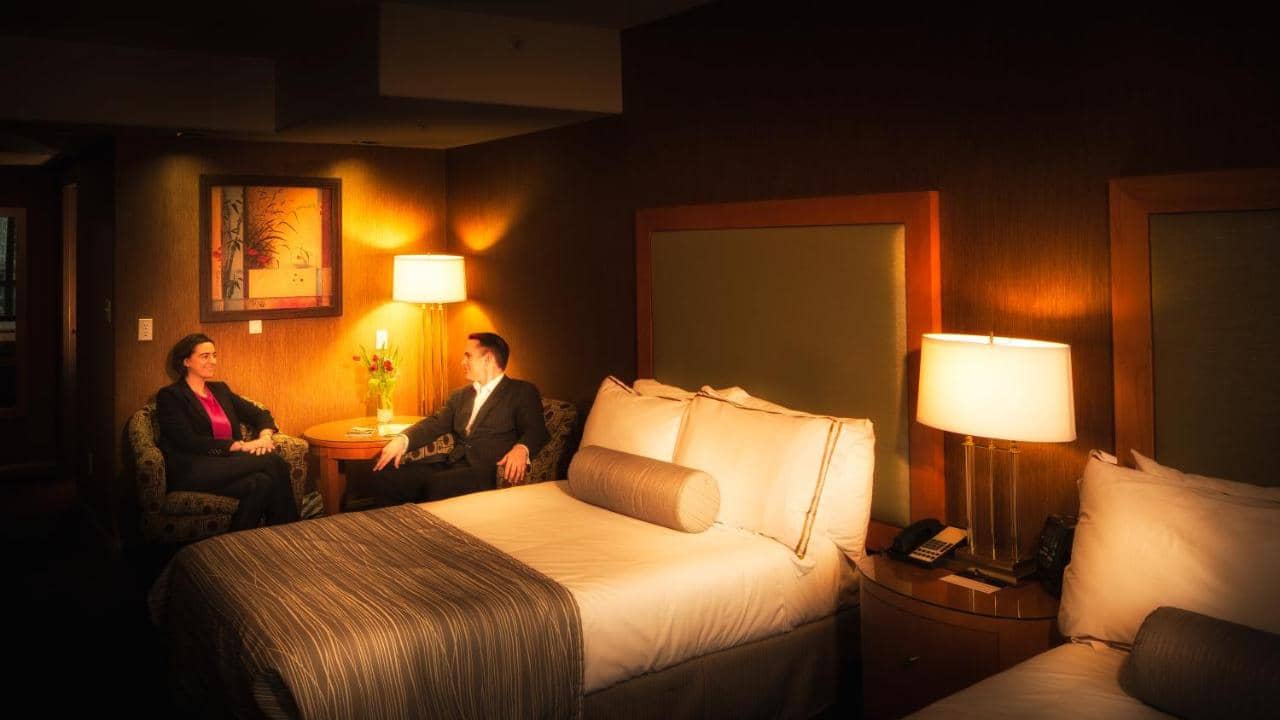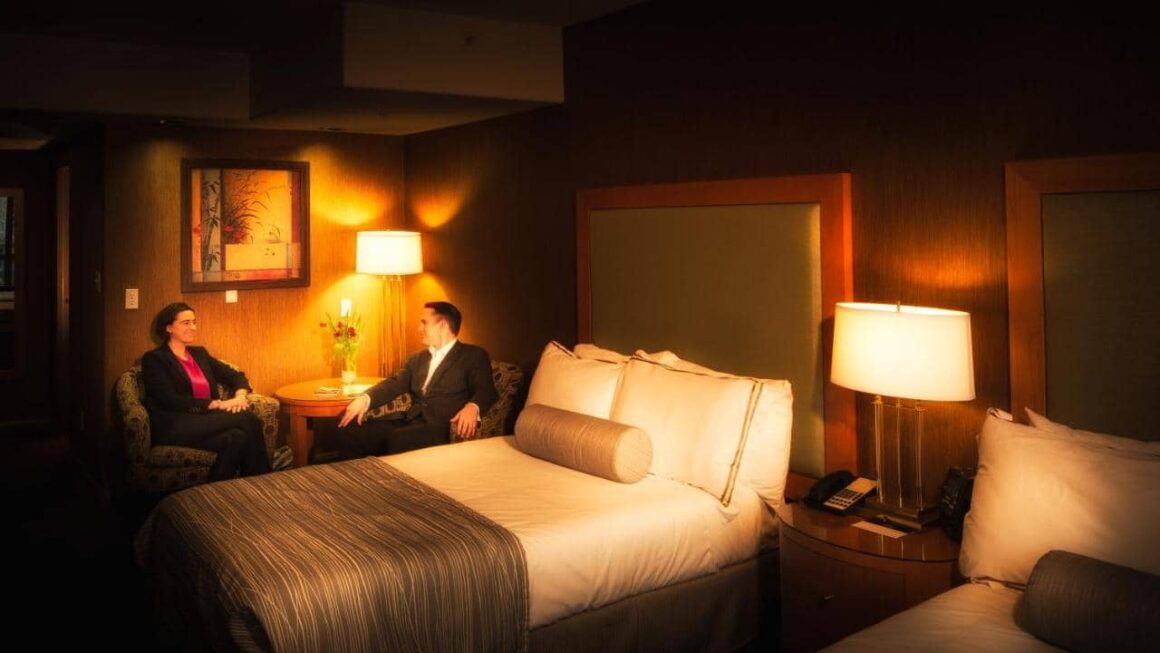 Executive Hotel Vintage Park is located on Howe Street, in the heart of downtown so you can walk to the famous seawall within a matter of minutes.
While other hotels aim for a bright, positive tone in interior design, Executive Hotel Vintage Park embraces a daring and bold palette to bring out its wine-themed décor. Earthy tones of rich, dark colors are used in a dimly-lit ambiance so you can sip on your favorite wine with style every night.
Small families specifically love this place. They can choose between a queen room, double room or king room. Each of them is fully equipped with thoughtful amenities like a desktop-friendly workplace, iPod dock, and Keurig coffee machine.
Everything is available for a pleasant stay but the best highlight of all is the free evening wine tasting hosted from Monday to Saturday. So spend a night or two at Executive Hotel Vintage Park and sample their extensive range of local wines!
Address: 1379 Howe St, Vancouver, BC V6Z 2R5
Starting price: from $119 CAD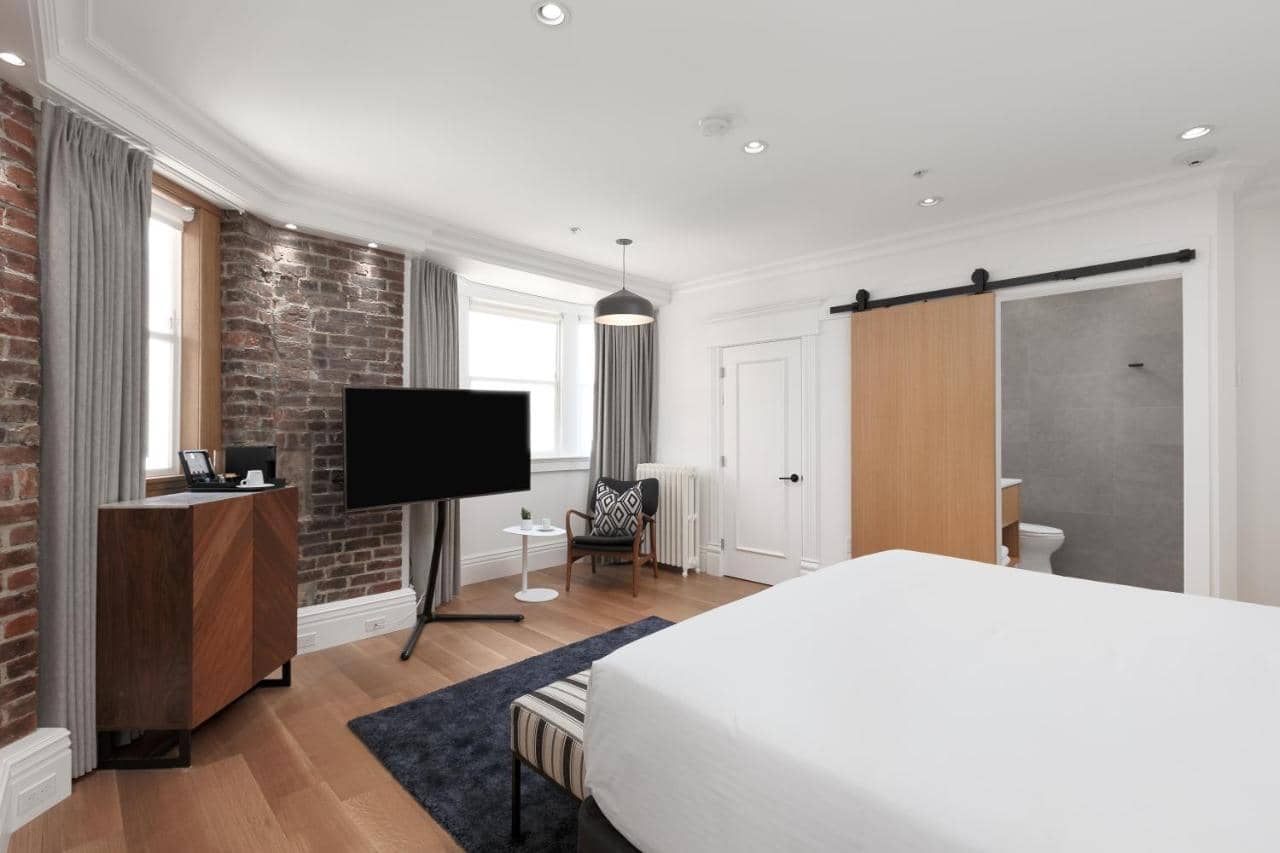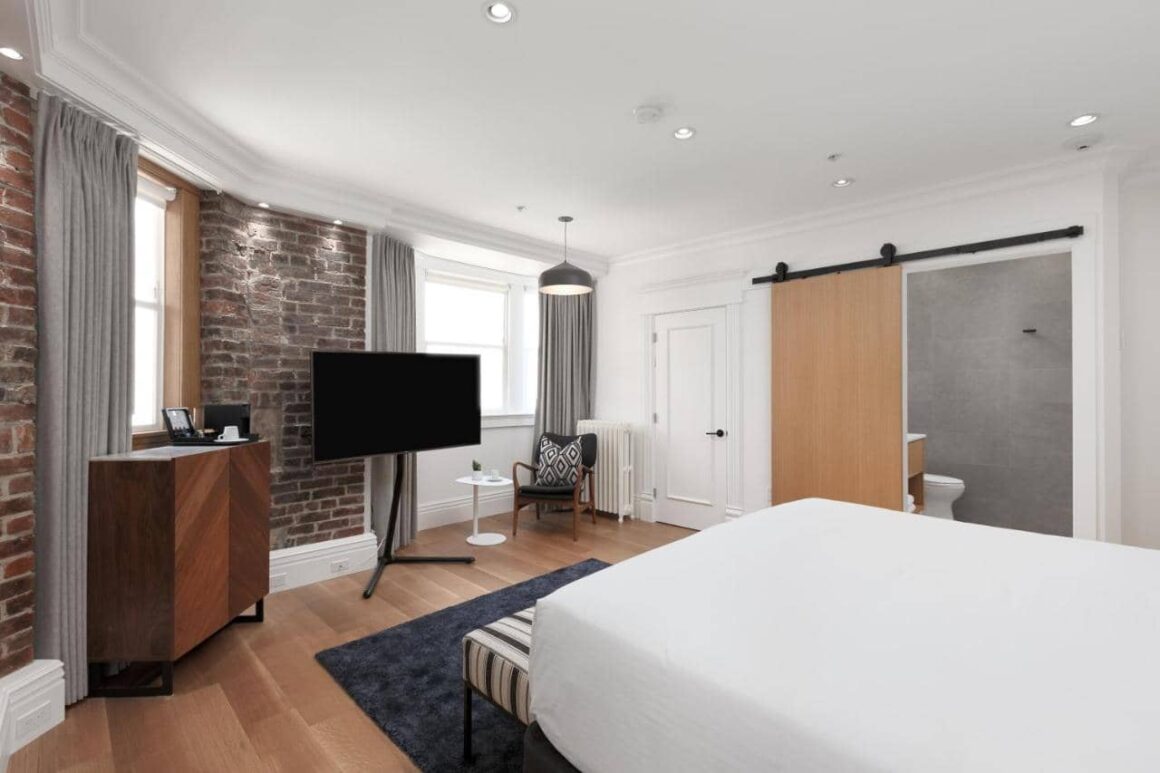 The historic neighbourhood of Gastown makes it one of the most livable areas in Vancouver. That's why staying in this central area usually demands top dollar. However, you don't have to sacrifice that much for a great stay if you choose Victorian Hotel to spend the nights.
This is a perfect base to explore the nearby Gastown on foot. Nestled on Homer Street, Victorian Hotel boasts an extensive range of accommodations, from double room and superior king room to legacy king and queen rooms.
This charming hotel promotes the best essence of a traditional Victorian house but with a modern twist. The great décor using rustic, exposed brick walls, high ceilings, hardwood floors, and complex moldings improves your stay with style.
Dining at its on-site restaurant is a joy. The Autostrada Osteria restaurant brings out Italian flair in the most enjoyable way.
Address: 514 Homer St, Vancouver, BC V6B 2V6.
Starting price: from CAD 124.
A rundown of all the best restaurants, cafes, drink spots, shops, and places to stay in the Gastown area.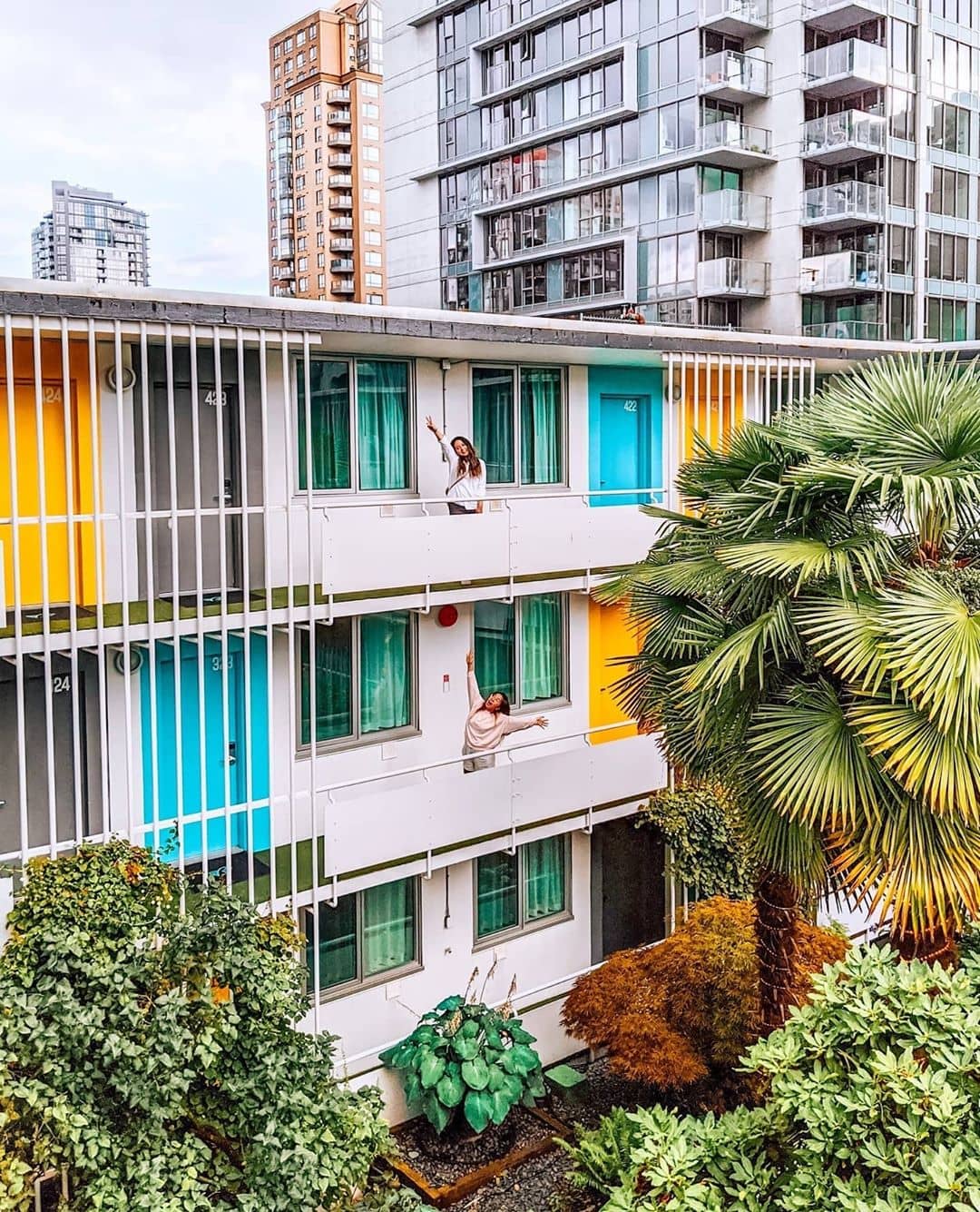 The trend of budget motels swept through North America in the 50s of the past century following the rise of automobile culture. When it arrived in Canada's West Coast, The Burrard Motel was born and lived up to this grand era with its colorful mid-century cool.
The Burrard today is converted from its initial form as a motor inn in 1956. The vibe still rings true with an affordable nightly rate. However, there's no way you can tell it's a low-budget hotel as the sleek design and thoughtful services totally fill up the gap.
The Burrard is surrounded by a multitude of bars and restaurants lining Davie Street. If you take a short walk further, you'll be consumed by the upscale shopping scene of Robson Street.
The playful, bright color palette of the new Burrard blends in so well with the contemporary edge of a retro style. Whenever you crave a slice of green space to cleanse your mind, head out to the palm tree-filled courtyard and unwind by its fountain. Turn your head and you'll see a wood-paneled cocktail bar serving sidecars and well-made Manhattans.
Kids under 12 can sleep for free and there are also dog-friendly options at this low-slung, three-story walk-up motel. Each room is soaked in a retro-chic décor while the exterior puts on a funky mid-century vibe using colorful neon lights.
Address: 1100 Burrard St, Vancouver, BC V6Z 1Y7.
Starting price: from $129 CAD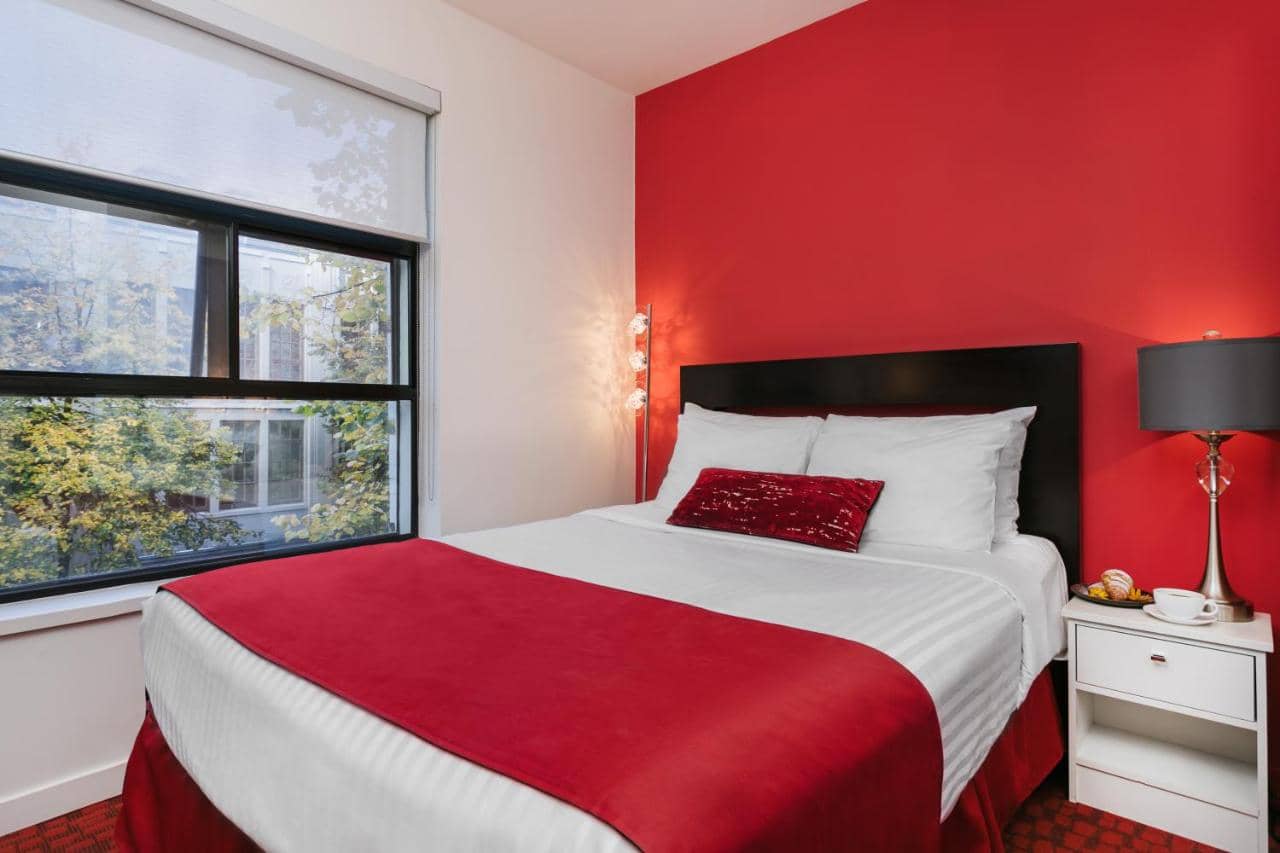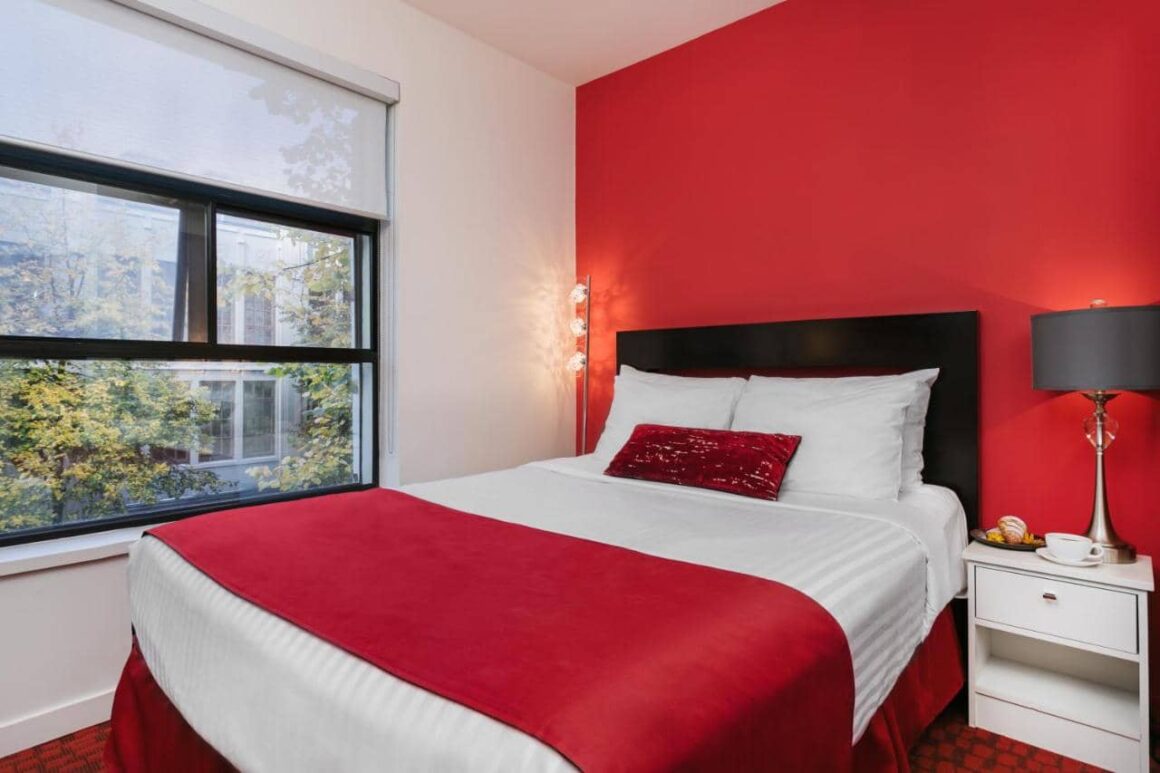 This 3-star hotel is built on the skeleton of a 1908 hotel, complimenting a vintage European atmosphere. It's steps away from the famous Vogue Theatre's Art Deco event space as well as a handful of clubs and live music hubs. If nightlife is where your heart is, you'll have a whale of time stationed at Moda Hotel.
Leaning on its hip and historic allure, Moda Hotel boasts a wide range of standard rooms, suites, and mini rooms splashed in a dramatic, red pattern.
The best thing about Moda Hotel is that you don't have to travel far for great meals. Two restaurants and two bars make up an inspiring collection of dining establishments. Cibo Trattoria will satisfy your taste buds with its rustic, organic Italian cuisine in a sleek, contemporary dining atmosphere. And when you're in the mood for some wine, drop by Red Card Sports Bar or Viti Wine and Lager to grab your favorite bottle!
Address: 900 Seymour St, Vancouver, BC V6B 3L9.
Starting price: from $130 CAD
Hotel rates are seasonal. If you can avoid the peak season and opt for the off-season instead, that's how you trim the fat from your travel expenses. Booking through an online travel agency such as Booking.com allows you to save even more using their Genius discounts, early bird, and long-stay rates. Prioritizing these free (or nearly-free) things to do in Vancouver when mapping out your trip is also a great move!
---
More Accommodations in Vancouver
The following two tabs change content below.
Latest posts by Noms Magazine (see all)