Vancouver has always been a city where night-life is celebrated, and with tons of zest. By day, Vancouverites work hard, and at night it's usually time to party hard too. Hitting the town and visiting Vancouver bars, cocktail lounges, and pubs is one of the cooler things locals and visitors can do in this vibrant city. This is the place where cocktails were revolutionized and mixology is King, where bars serve up the best local and imported spirits along with the best cultural cuisine, and where craft is art. It's also where you can really let your hair down, relax, and enjoy the best of times while you get your drink on!
Whether you're looking to sip a locally brewed craft in a friendly watering hole, sample award-winning wines in a chic lounge, or down all the tequila you can at a trendy and upbeat spot, here are the best downtown Vancouver bars and cocktail lounges to grab your favorite drink.
19. Yaletown Brewing Company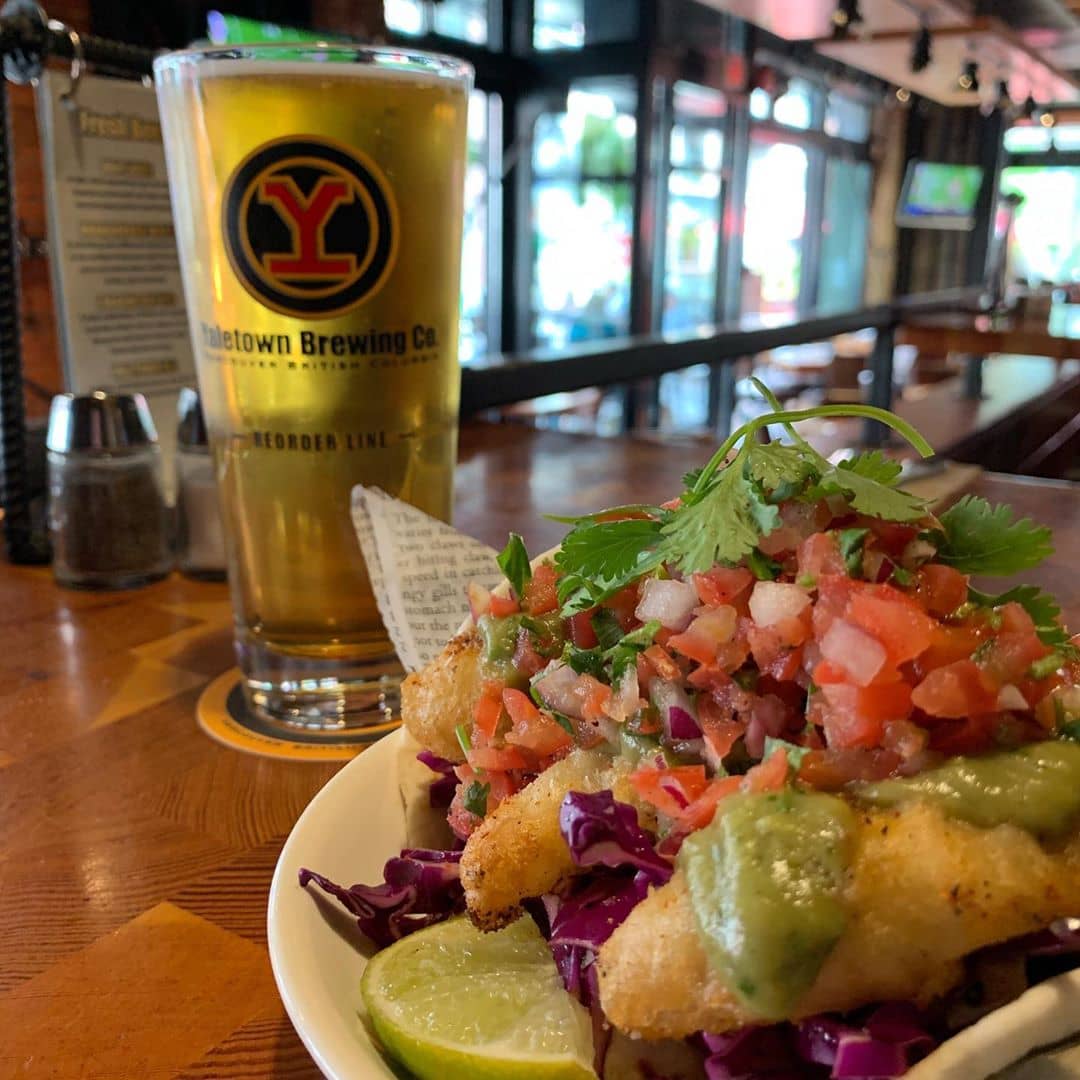 This is a place for beer lovers, and even those who like to try a different kind of brew every once in a while. YBC boasts a seating capacity of over 160, an array of seasonal beers on tap, and a buzzing atmosphere complete with TVs and a pool table. There's even a fireplace!
The complete neighborhood pub experience is what this spot is all about, so be sure to drop in for a visit, grab a cold one, and have the best time!
What to order: seasonal beers on tap
Address: 1111 Mainland St, Vancouver, BC V6B 2T9, Canada
18. Local Gastown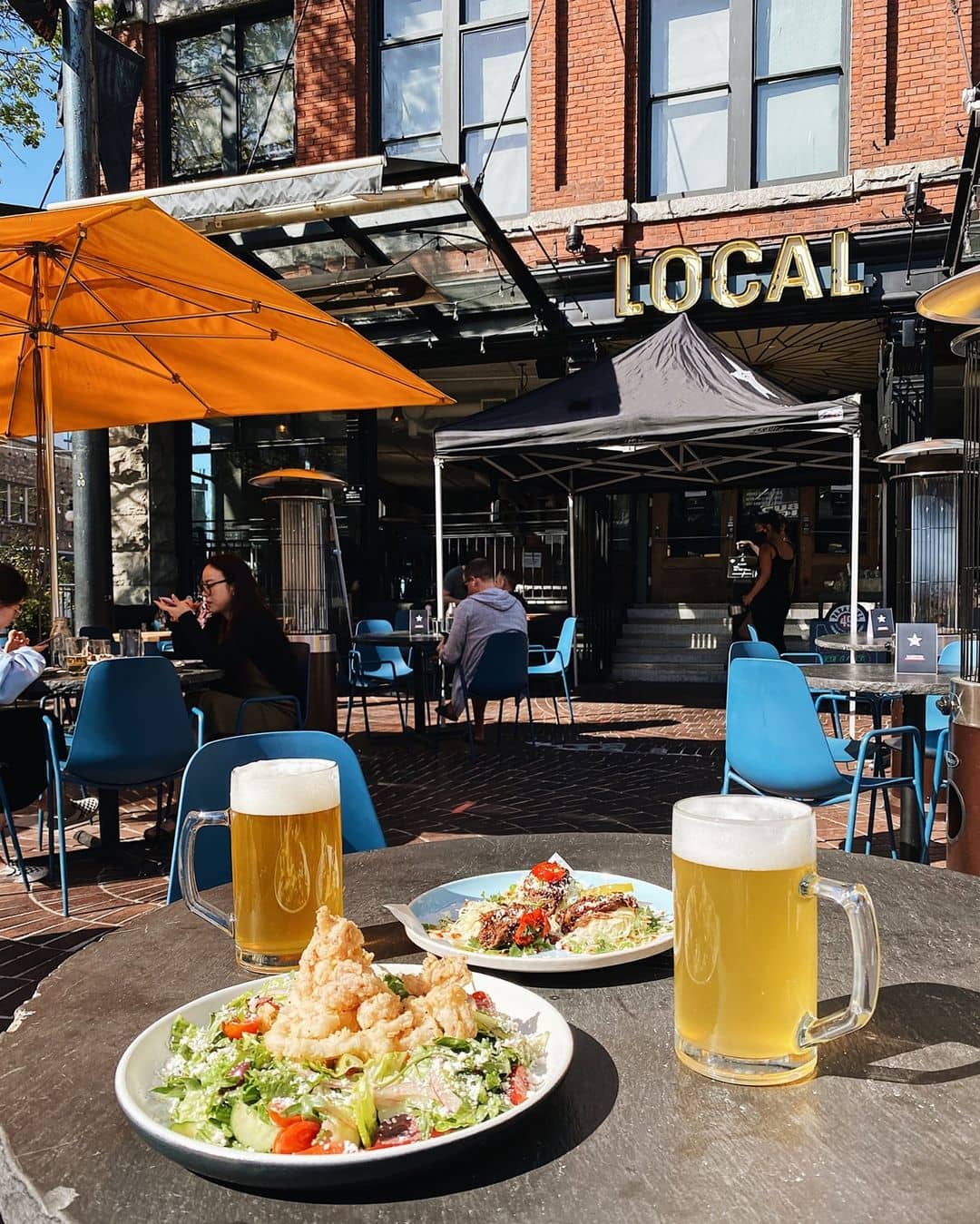 Local Gastown is one of those jubilant neighbourhood places that get really busy on a Saturday night and predestined to give a terrific evening to any accidental visitor that may happen to drop by.
Their patio is always lively and full of people, and they also have an ever-rotating tasty selection of draft beer. Wine is on tap. Grab some cheese pierogies as an appetizer–it's cooked to perfection. And get a bottle of crisp Chablis, that is the wine you don't want to miss here.
What to order: draft beer, wine, cheese pierogies, Chablis
Address: 3 Alexander St, Vancouver, BC V6A 1B2
Instagram | Facebook | Website
17. Steamworks Brew Pub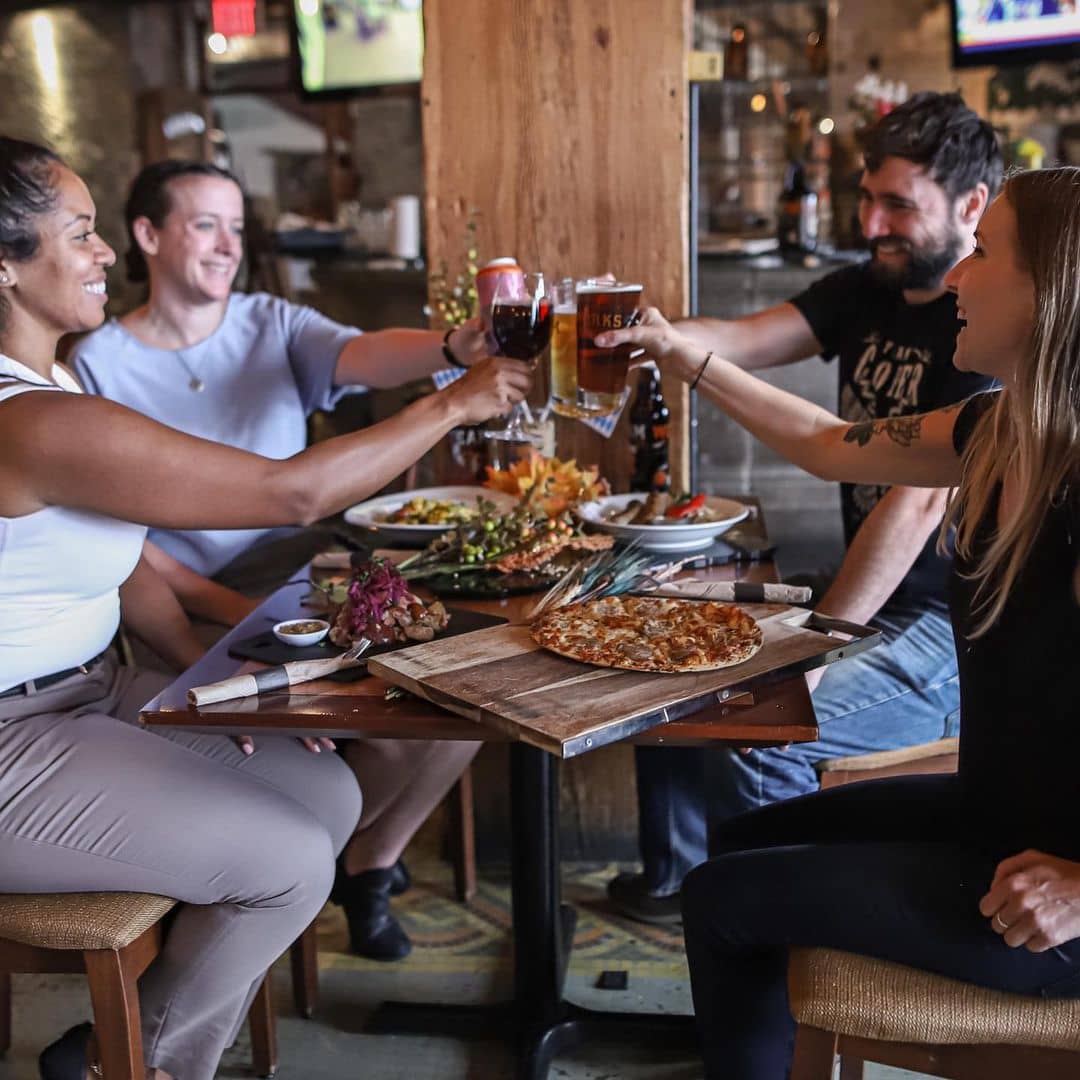 Ready for pub crawling Gastown? Start with Steamworks. Famous for their beer, they have been present on the beer scene since the 1990s. They are one of the favorites both among Vancouverites and visitors.
The name Steamworks takes after the well-known Gastown steam line that passes from here. They actually produce their beer on steam and the heat gives a genuine beer taste. Get a 10 Tap Taster and try 10 different beers. There is Pumpkin Ale, Cucumber Ale, or perhaps just Pale Ale. Or what about a Heroica Oatmeal Stout?
If you are feeling hungry, there's something for everyone, from chicken wings to pizza. Cheers!
What to order: 10 Tap Taster, Pumpkin Ale, Cucumber Ale, Pale Ale. Heroica Oatmeal Stout, chicken wings, pizza
Address:: 375 Water St, Vancouver, BC V6B 1B8
Order Online: DoorDash
16. Pourhouse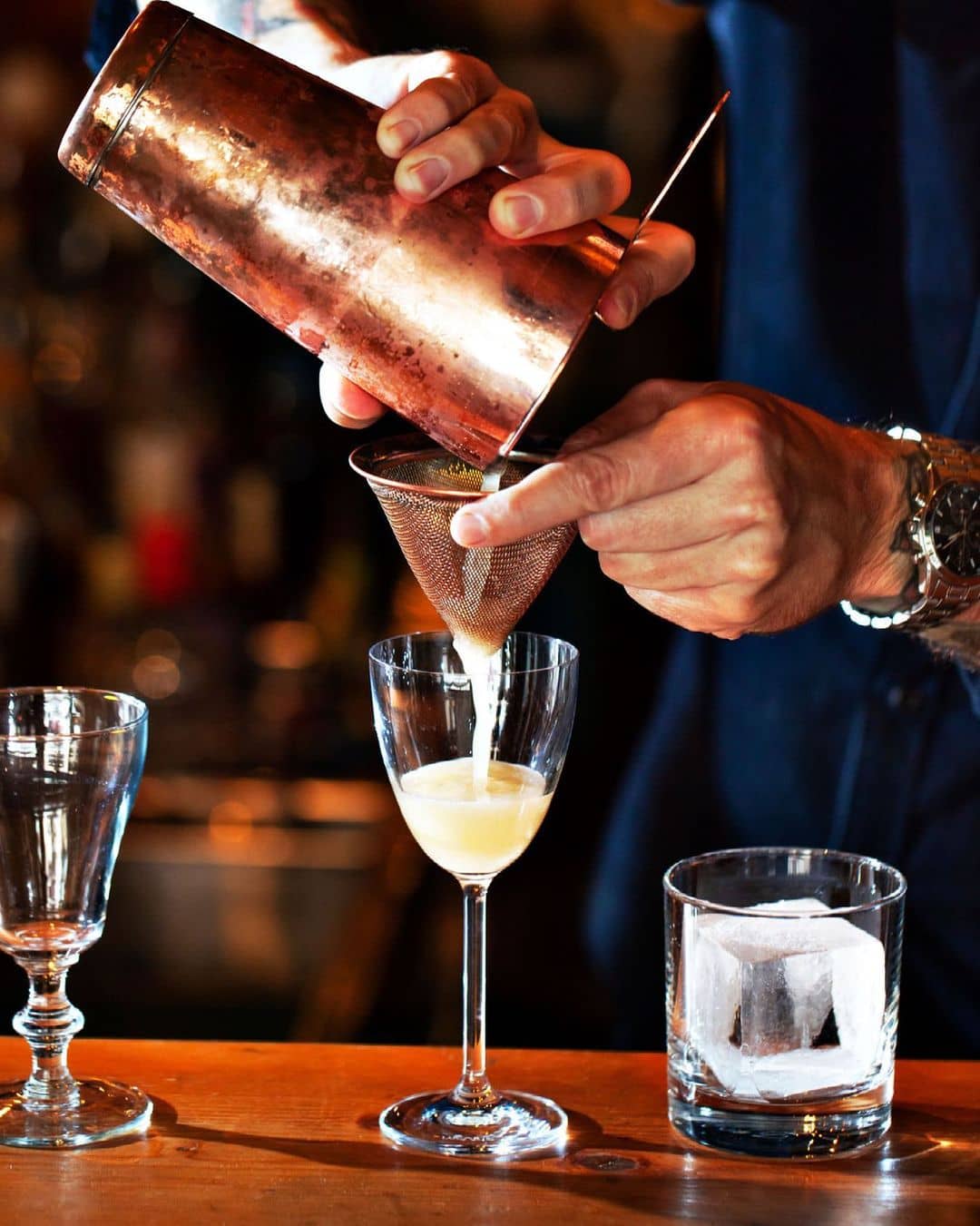 Just SouthEast of the historic Steam Clock in Gastown is Pourhouse, where sharing the simple indulgences of life with friends is what it's all about. Set in a 100-year-old building, this gorgeous spot is a relic of a bygone era complete with antique furnishings and custom old-world charm. The highlight of course is their 38 ft. handcrafted wooden bar from where you enjoy their best pours, mixes, wines and draughts.
For your booze fix, try their Gold Rush Daiquiri, a Manhattan (the Michter's Rye is amazing,) or a good ole Rum Old Fashioned. For quick bites to soak it all up, there's Fried Chicken, Onion Dip, and the must-try Truffle Tots and Pourhouse Burger.
Tip: Happy Hour is daily from 3-6PM & 10PM to Closing.
What to order: Gold Rush Daiquiri, Manhattan, Rum Old Fashioned, Fried Chicken, Onion Dip, Truffle Tots, Pourhouse Burger
Address: 162 Water Street Vancouver, BC V6B 1B2
15. Gringo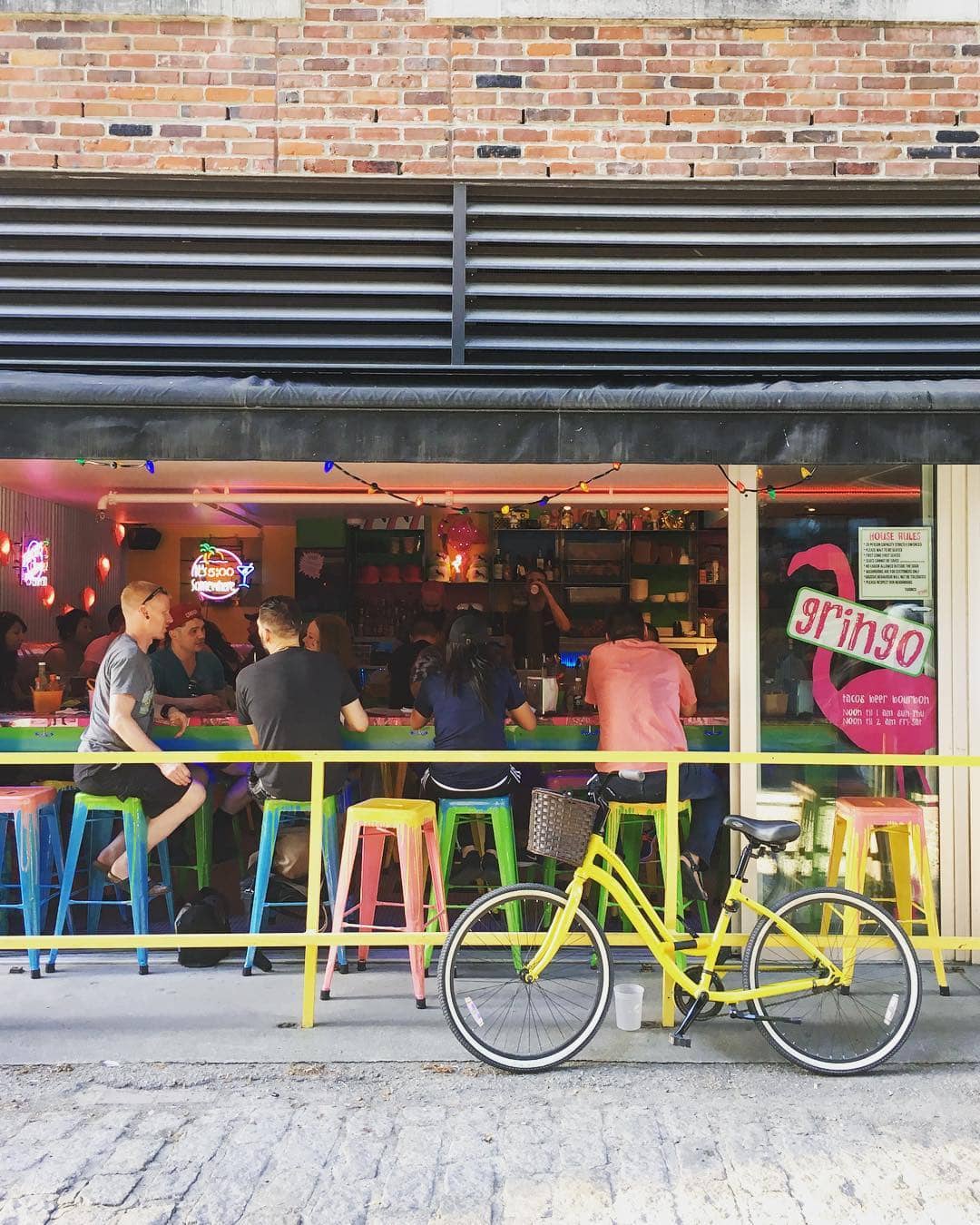 If you really want to boost your happiness hormones head to Gringo, also on Blood Alley. It's a joyous, sweet non-pretentious little hipster Mexican spot in Gastown, and as many Gastowners will tell you, there is no way not to feel happy when you go inside Gringo.
This place is bustling and has a super-friendly atmosphere boosted by a rainbowy palette of neon lights. The beer does not even cost $5, or if you don't want beer–you can always go stronger by grabbing one of their sand buckets. Perhaps with a Bourbarita which is a bourbon mixed with juicy watermelon + is served with some tempting gummies as an extra. Or some of their cocktails which are a bit pricier but totally worth it anyway. Combine your drinks with some of their tacos. It's first-come, first-serve.
What to order: Bourbarita, cocktails, tacos
Address: 27 Blood Alley Square, Vancouver, BC V6B 0C4
Instagram | Facebook | Website
14. Score on Davie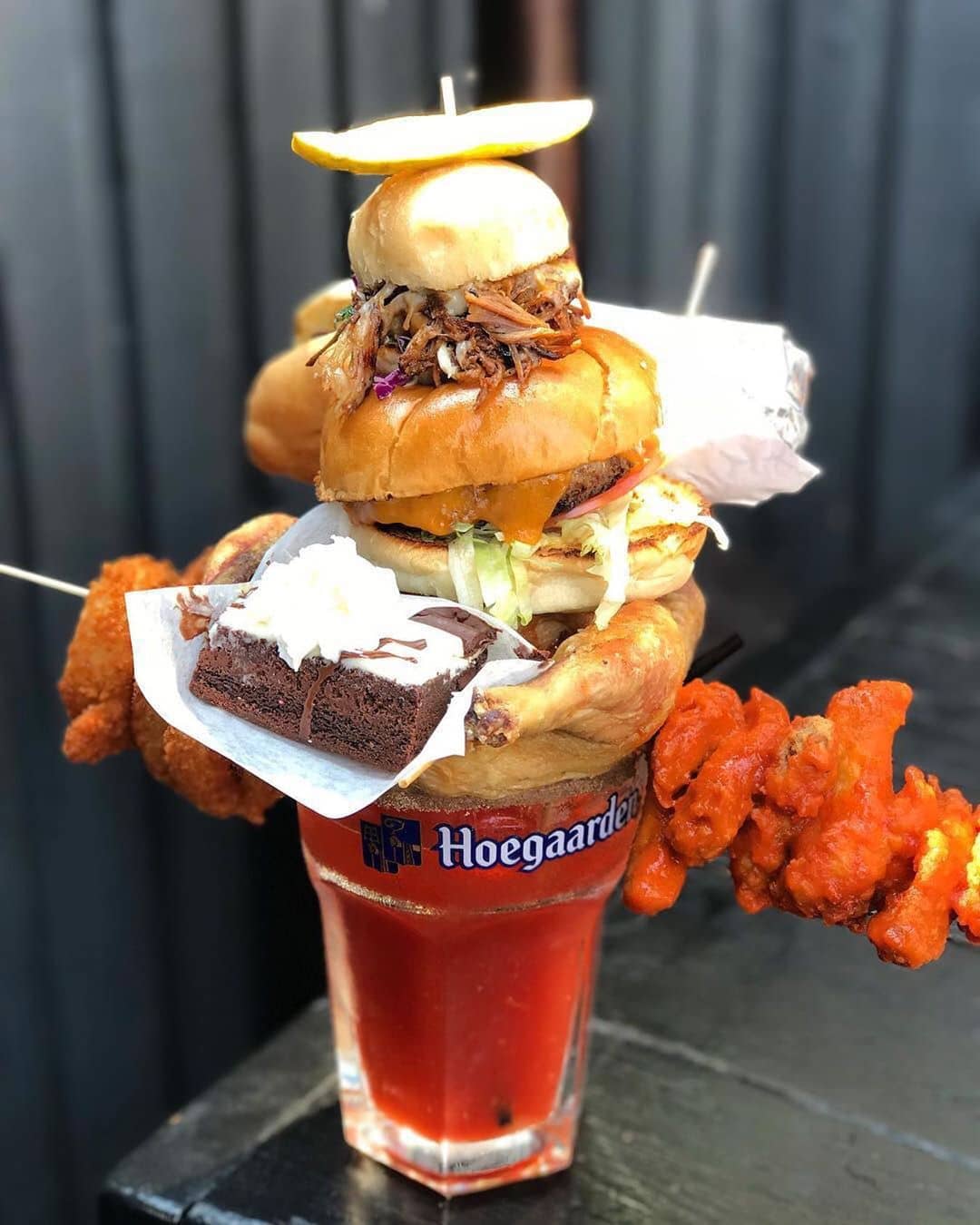 Voted as the "best Casual Bar" in Vancouver, Score on Davies, not only lives up to its reputation but strives to enhance it every week. With comfortable decor, scrumptious food, handcrafted drinks and an absolutely wonderful and attentive staff, this is the bar to hang out, chill with friends or catch up on sports while enjoying the house speciality, their gigantic Caesars.
Try out their drink "meals". A 4 oz Caeser in a glass that has a variety of burgers, sliders, dessert and one-bites. They also have sandwiches and burgers with the Score Burger and Crispy Chicken Sandwich among the firm favourites. There are quite a few specials that are not on the menu that change weekly, so check with your server for those.
What to order: 4 oz Caeser in a glass that has a variety of burgers, sliders, dessert and one-bites, Score Burger, Crispy Chicken Sandwich
Address: 1262 Davie Street, Vancouver, BC, Canada
Website | Instagram | Facebook
13. Zabu Chicken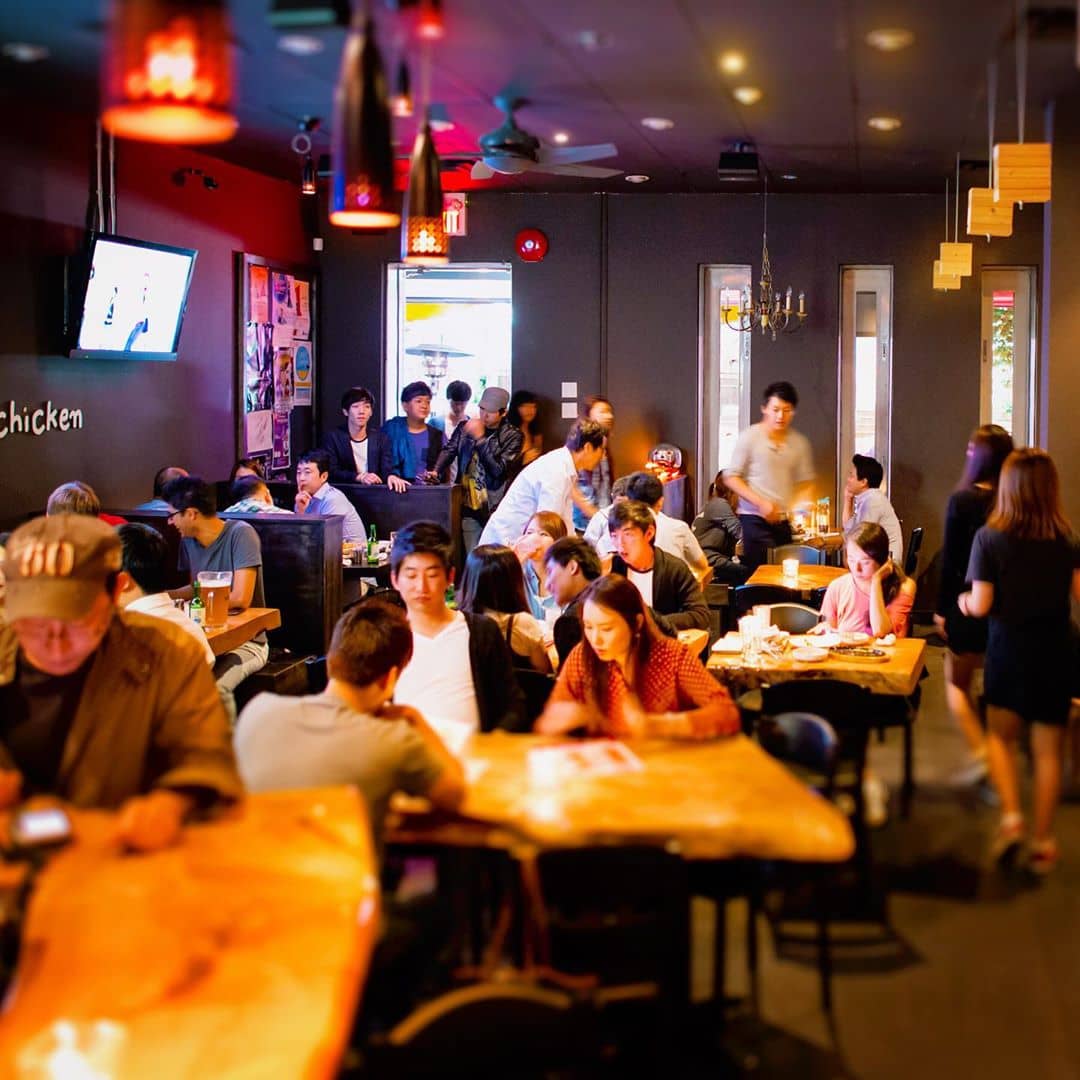 For Korean Fried Chicken, you know the authenticity is on point when the Koreans all congregate there. Zabu is that spot, and you should totally go there too and enjoy their amazing drinks and scrumptious fried chicken. This place is never empty, and is one of the hangout spots for having genuine Korean drinks like Soju and Makgeolli.
Salty and a hint of sweet is probably the best way to describe their soy garlic frozen chicken. You can order your portions as a half and half, giving you the chance to try out their signature Soy, Hot or signature series.  The Soju cocktails are a must try, along with their Koren Rice Wines, a wide range of both local and imported beers, Japanese Sake and Korean spirits.
What to order: soy garlic frozen chicken, Soju cocktails, Koren Rice Wines, Japanese Sake, Korean spirits
Address: 1635 Robson St, Vancouver, British Columbia V6G 1C8
Website | Instagram | Facebook
Delivery: Uber Eats | Skip the Dishes | Doordash
12. Craft Beer Market English Bay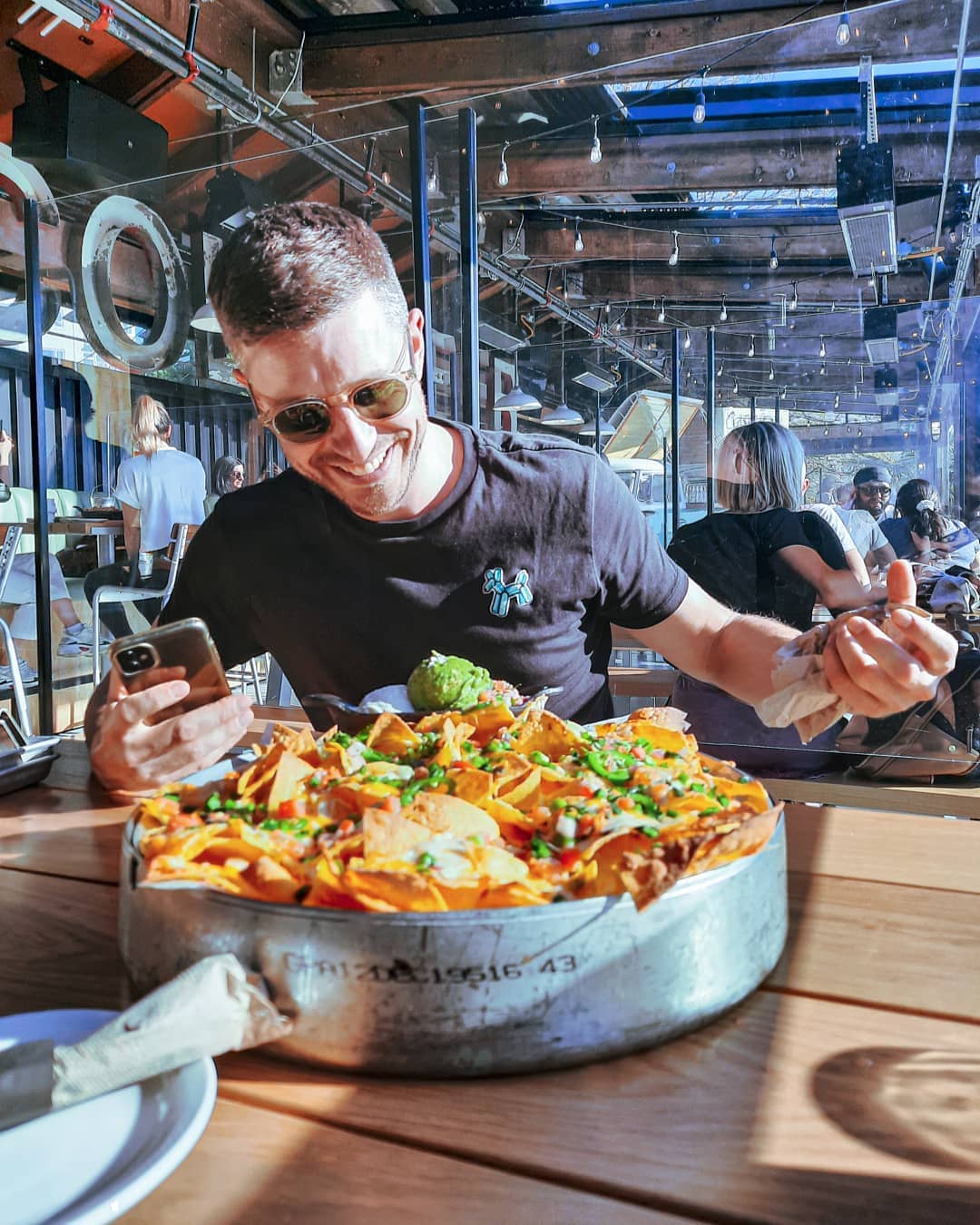 Overlooking the English Bay and offering breathtaking views, the Craft Beer Market is probably one of the best spots to enjoy a relaxing drink. Whether you pop by for Happy Hour, some pre-dinner cocktails, or to spend a while over good drinks and good food, you won't regret your decision.
The drinks menu here includes everything from rotating taps, lagers, ales, coolers, wines, and cocktails. Enjoy a delicious Blackberry Mojito, or a Passion Fruit Paloma. If you've had a rough day, and need a shot, go for it. They promise they won't judge. If you're hungry, there's fried pickles, sliders, and they make a mean Cheddar Bacon Burger too. Want more? Get the Baja Fish Taco.
What to order: Blackberry Mojito, Passion Fruit Paloma, Cheddar Bacon Burger, Baja Fish Taco
Address: 1795 Beach Avenue, Vancouver BC, V6G 1Y9
11. La Mezcaleria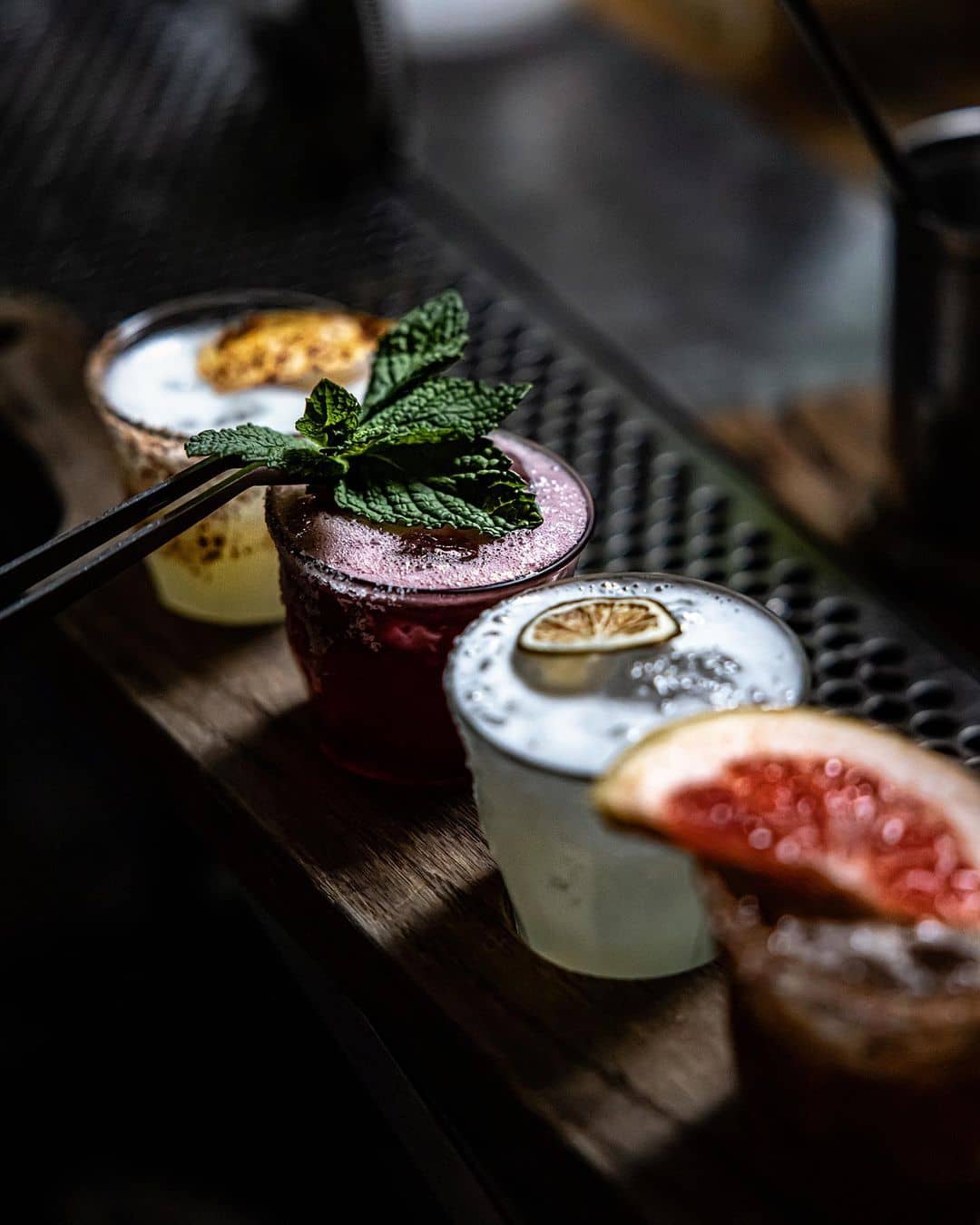 Super hip, cool, and buzzing with the best vibes, La Mezcaleria makes it to our list again. (They're on our Best Taco Spots list too.) This is one popular spot, and not just for their amazing food, but also their drinks, and yes the cocktails are heavenly!
Start with a tequila flight, because why not? You know you want to, or you wouldn't be at a Mexican bar. If not that, try their Mezcal Negroni, or go classic with a Margarita. If you're hungry, you cannot (and should not) miss the fondue. Just trust us and go for it. The salsa is fab, the share plates are perfect, and naturally… Tacos!
What to order: Mezcal Negroni, Margarita, fondue, salsa, tacos
Address: 1622 Commercial Dr, Vancouver, BC V5L 3Y4
Order Online: DoorDash | Uber Eats | SkipTheDishes
Website | Instagram | Facebook
10. UVA Wine & Cocktail Bar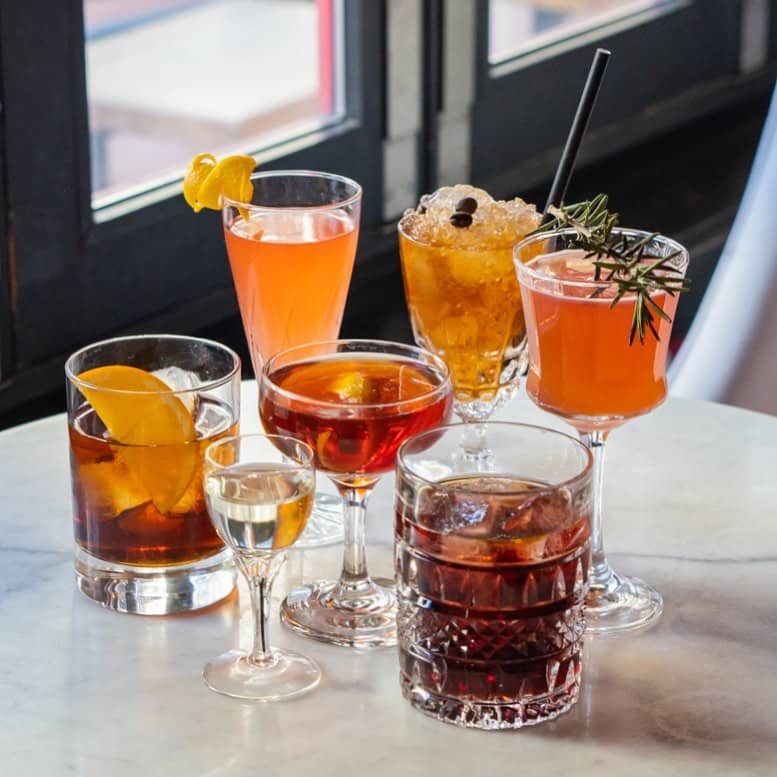 In the world of cocktail bars and entertainment spots, UVA Wine & Cocktail Bar stands out with its fancy flights, delicious charcuterie, and small plates, and award-winning cocktails. The ambiance is modern and fun, and makes it perfect for a girls night out, a romantic date, or just time out with friends.
Opt for a flight and have a blast, or go for one of their seasonal cocktails. They have a fantastic wine list too, if that's what you prefer, so check with your server. For food, you gotta try the pork and beef meatballs, or the Roman-style pizza.
What to order: seasonal cocktails, wines, pork and beef meatballs, Roman-style pizza
Address: 900 Seymour St, Vancouver, BC V6B 3L9
Website | Instagram | Facebook
9. Elisa Steakhouse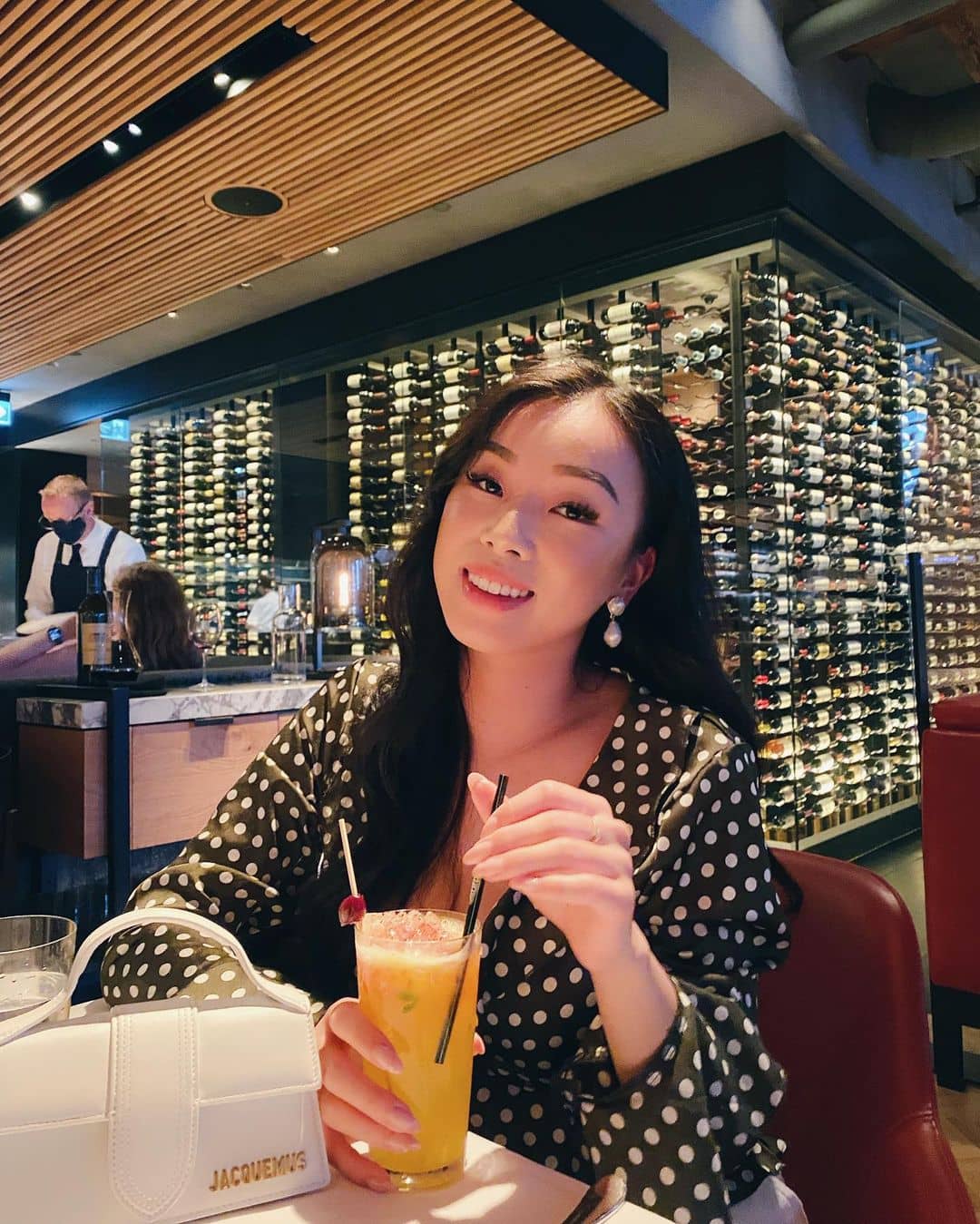 Elisa is a reimagined steakhouse with a unique and feminine take on the normal steakhouse experience. It is a delightful blend of fine dining with a cozy atmosphere, wood fire cooking with an extensive 45-page wine list, and a beautifully decorated setting. Elisa is the place to bring your friends and family to impress and create delightful memories.
Order up a Red Star Line cocktail, that's mixed just right with ketel one citroen vodka, cherry liqueur, apricot, cranberry and lemon. For beer lovers there's local draughts, and wine enthusiasts really need to check out that extensive wine list. With an award-winning menu, it's pretty difficult to suggest what to eat here as everything is just perfect. If pressed, we recommend their tartares in either beef or tuna, or the Elisa seafood tower.
What to order: Red Star Line cocktail, local draughts, wines, tartares in beef or tuna, Elisa seafood tower
Address: 1109 Hamilton Street Vancouver, BC V6B 5P6
Website | Instagram | Facebook
8. D/6 Bar & Lounge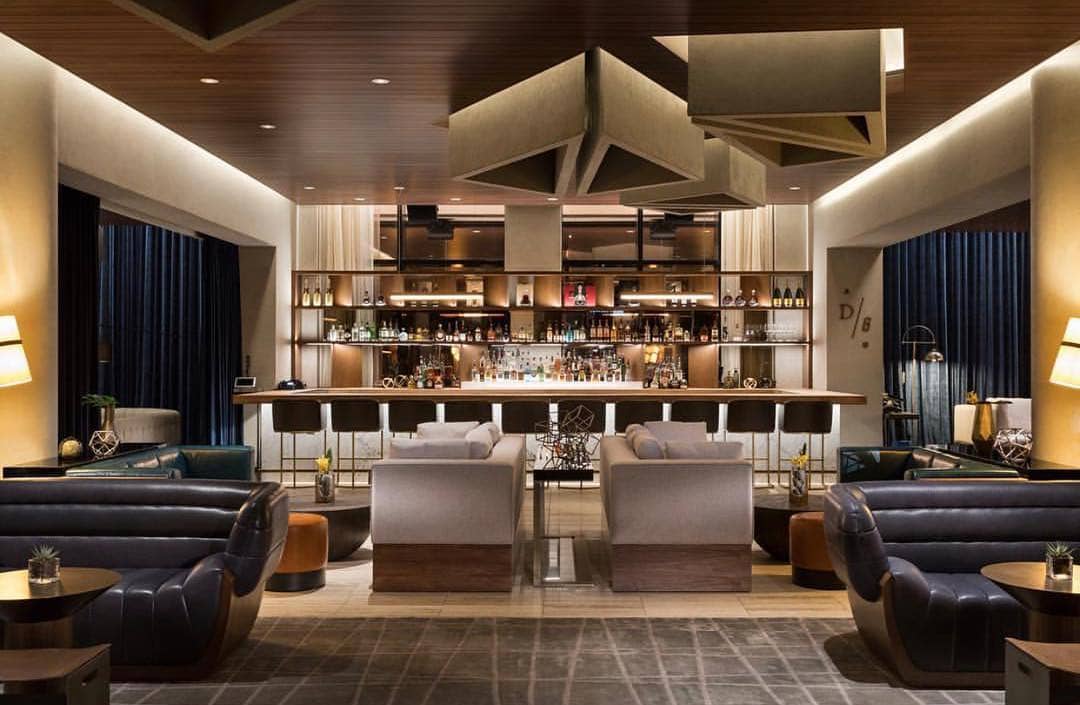 Located on the 6th floor of the Douglas, Autograph Collection in the stunning Parq Entertainment Resort, is a vibrant and hip rooftop lounge with indoor and outdoor seating.
Offering a breathtaking view and a cozy vibe complete with a pool table, bookcase and a rooftop garden, D/6 is the perfect place for a working lunch, an intimate dinner, or drinks and more drinks. With a glass of wine in your hand or a carefully crafted cocktail, there is no better place to relax and drink in the sights of Vancouver.
D/6 has a premier urban rooftop garden offering year-round patio dining and its own outdoor bar. Here, you can enjoy a Classic Margarita or a Ruby Sangria. The more adventurous might want to try the Dark N Stormy or their signature Sicilian Spritz. They have a good selection of beer on tap and bottled, and their wine list is carefully thought out and serves only the finest local and foreign wine.
What to order: Classic Margarita, Ruby Sangria, Dark N Stormy, Sicilian Spritz, beers, wines
Address: 45 Smithe St, Vancouver, BC V6B 0R3
7. Brix and Mortar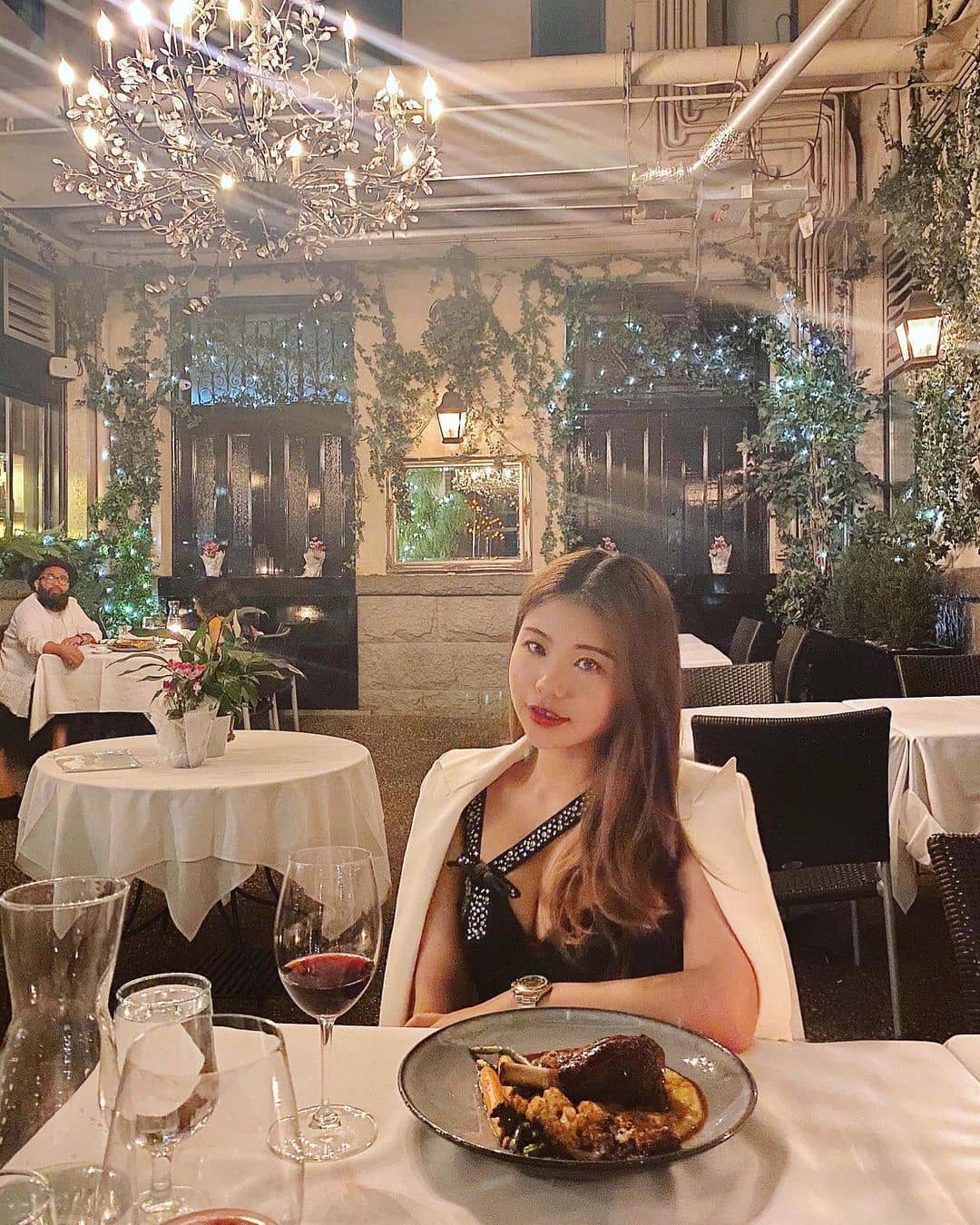 A 1912 heritage building that has been renovated to provide not only a fine dining experience but an incredible feeling like you're in a Victorian castle. Brix and Mortar combine delicious food, fantastic wine, and creative cocktails.
We highly recommend their signature cocktail menu that is both unique and bold mixology at its finest, and with a few nods to pop music in their names. Get Hot or Cold with Katy and a mean Blanco Tequila mix, or blame your next round on Kanye with Taylor's Look What You Made Me Do.
Enjoy either foreign or local beers, or dive right into their wine list with the Wine Director for a perfect glass of Red. The food here is top-notch too. Innovative, creative and fresh, Brix has a menu to suit any palette. Try their complex Fried Cauliflower salad, Pork Ribs with sweet and soy honey glaze, and Sockeye Salmon with popcorn rice.
Tip: The Brix and Mortar Happy Hour is from 4 pm to 6 pm, with an assortment of tantalizing finger food, highballs, and draught beer.
What to order: Hot or Cold with Katy, Blanco Tequila, Kanye with Taylor's Look What You Made Me Do, beers, wines, Fried Cauliflower salad, Pork Ribs, Sockeye Salmon 
Address:1138 Homer Street Vancouver, BC V6B 2X6
Website | Instagram | Facebook
6. L'abattoir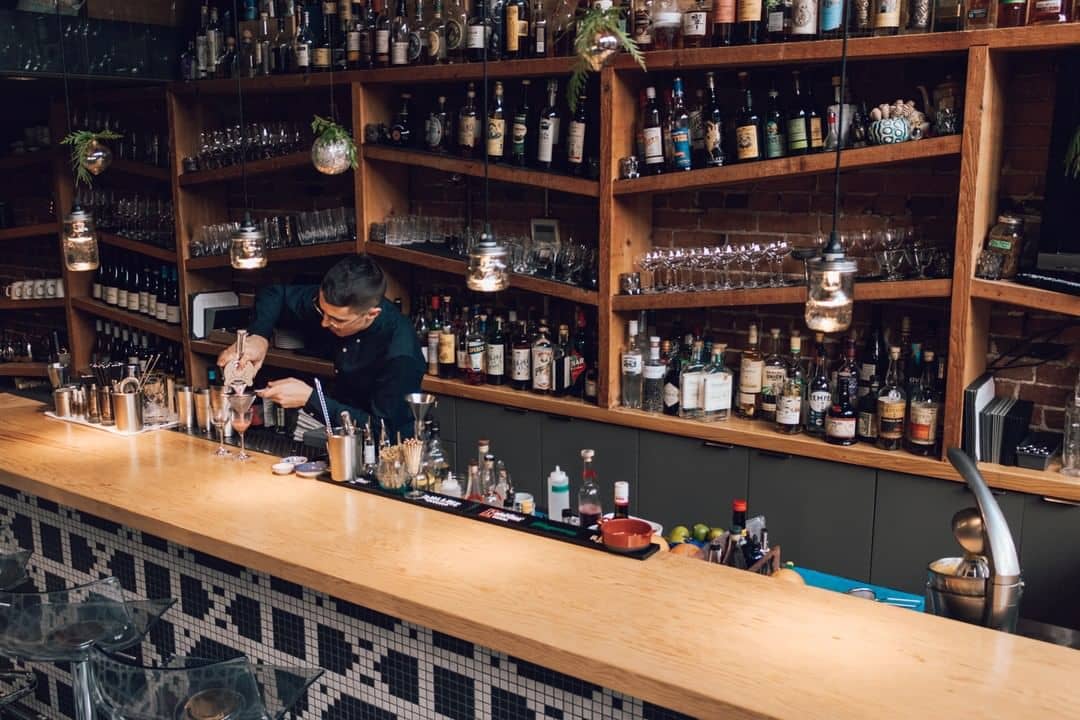 With their industrial-chic ambiance, French flair, craft-cocktails, and culinary delights, L'abattoir is the sort of place that will keep you seated for hours and soaking up its beauty. It's classy, cool, and with a comfy vibe that makes it a must-visit spot in Gastown.
They have seasonal and vintage cocktails, along with an extensive drinks menu to suit alcohol and non-alcohol drinkers alike. The Mezcal Spritz is delish, and you'll want to try the Avocado Gimlet. Order up some Baked Pacific Oysters, and the Butter Poached Scallops are to die for. Don't miss out on their mains, and of course, dessert!
What to order: Mezcal Spritz, Avocado Gimlet, Baked Pacific Oysters, Poached Scallops
Address: 217 Carrall St, Vancouver, BC V6B 2J2
Order Online: Uber Eats
Website | Instagram | Facebook
5. Straight & Marrow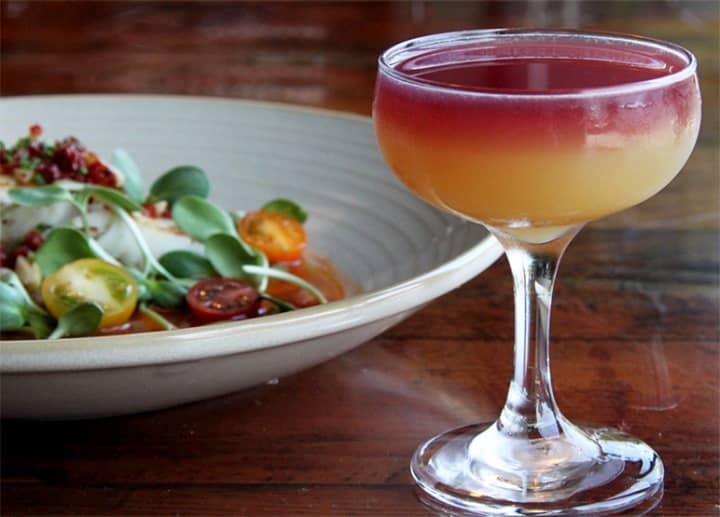 For a cozy and intimate atmosphere, some of the most awesome share plates, and artistic cocktails, go Straight & Marrow. This is a spot where recipes have been mastered, and creativity is the name of the game. So, head on over, and enjoy every moment of your experience.
Every cocktail here is unique and yummilicious, and we love their Inverse Boilermaker (bourbon,) and also the Rain Shower Sour with 5 spiced infused brandy, sweet vermouth & unsweetened cranberry. Don't miss out on grabbing a bite of the Pork Belly, or some Octopus Carpaccio.
What to order: Inverse Boilermaker, Rain Shower Sour, Pork Belly, Octopus Carpaccio
Address: 1869 Powell St, Vancouver, BC V5L 1H8
Website | Instagram | Facebook
4. Chickadee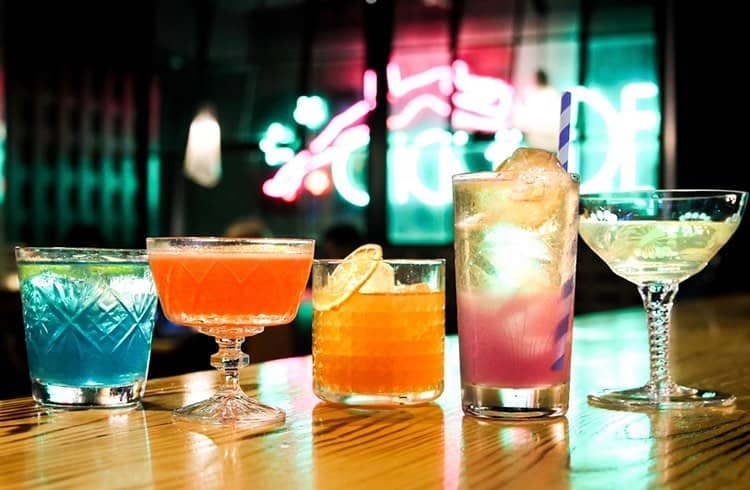 From the masterminds behind Juke Fried Chicken and Beetbox, Chickadee swung open its doors in 2020 and hit the ground running! From their cool vibes, imaginative cocktails, and amazing service, this spot keeps climbing in popularity and is a must-visit for anyone who takes their drinks seriously.
At Chickadee you can build-your-own cocktail, or go for one of their brilliantly named ones. The Super Amaro Bros is awesome, and you'll want to reminisce with a Cobra Kai, or dare with some Risky Business. To soak up the booze, chow down on Spicy Wings, fries, salads, and even Belgians Waffles.
Tip: Their 'secret menu' is worth checking out.
What to order: Super Amaro Bros, Cobra Kai, Risky Business, Spicy Wings, fries, salads, Belgians Waffles
Address: 182 Keefer St, Vancouver, BC V6A 1X4
Website | Instagram | Facebook
3. The Diamond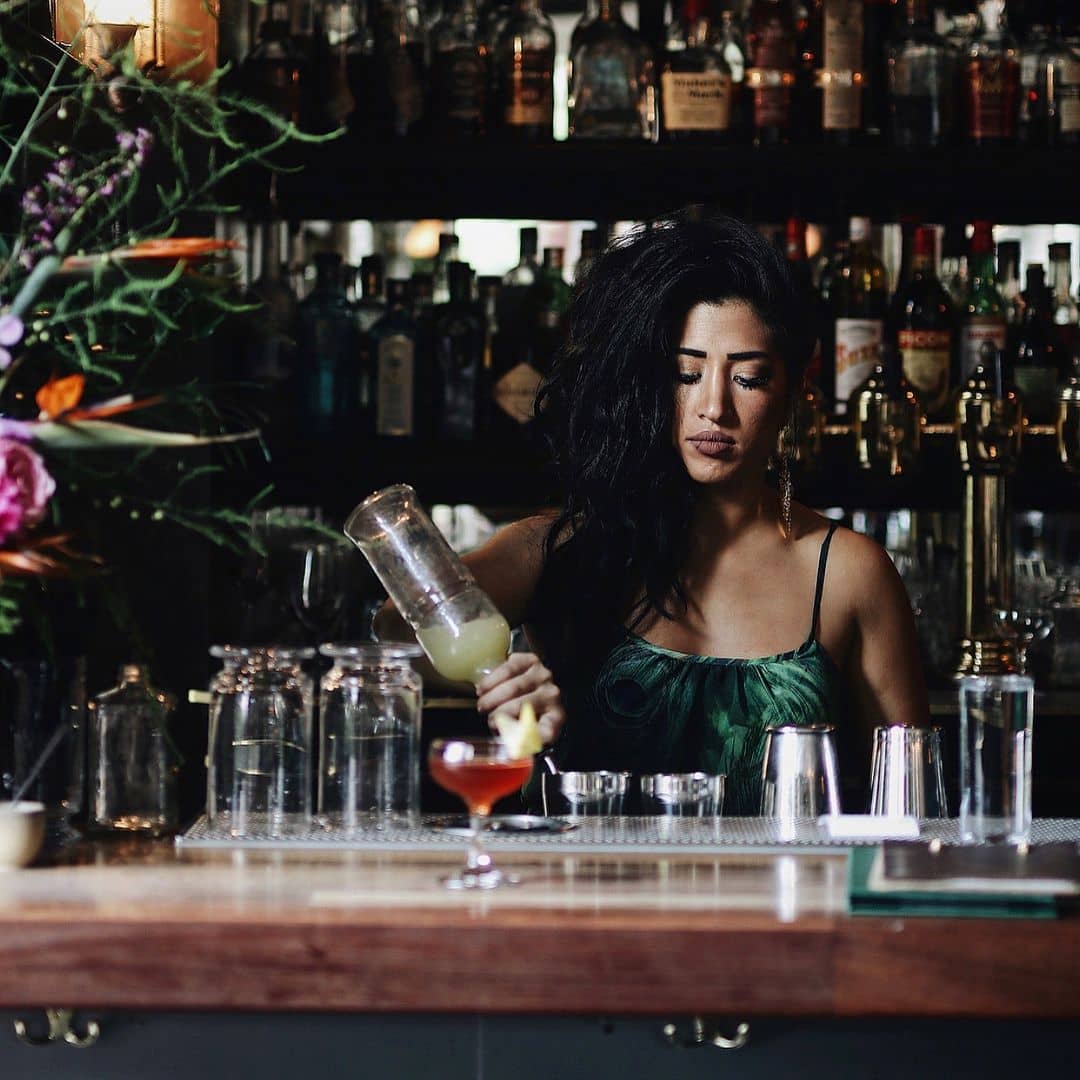 This gorgeous gem boasts an unmatched old-world charm, and old-school glamor that would put anyone in the mood to just relax and drink! So, go there, and soon, because The Diamond is also renowned for its amazing cocktails, making it one heck of an awesome spot to stop for those late night drinks.
Beefeater, bittersweet vermouth, and orange bitters is what's in The Vancouver, so get that first and toast with the city's namesake. Try the Penicillin too, which is a mean mix of JW Black, laphroaig ginger, honey & lemon. For eats, there's cured meats and cheeses (including vegan options,) and an array of delicious and filling snacks.
What to order: The Vancouver, Penicillin, cured meats, cheeses
Address: 6 Powell St, Vancouver, BC V6A 1E9
Order Online: DoorDash
Website | Instagram | Facebook
2. Botanist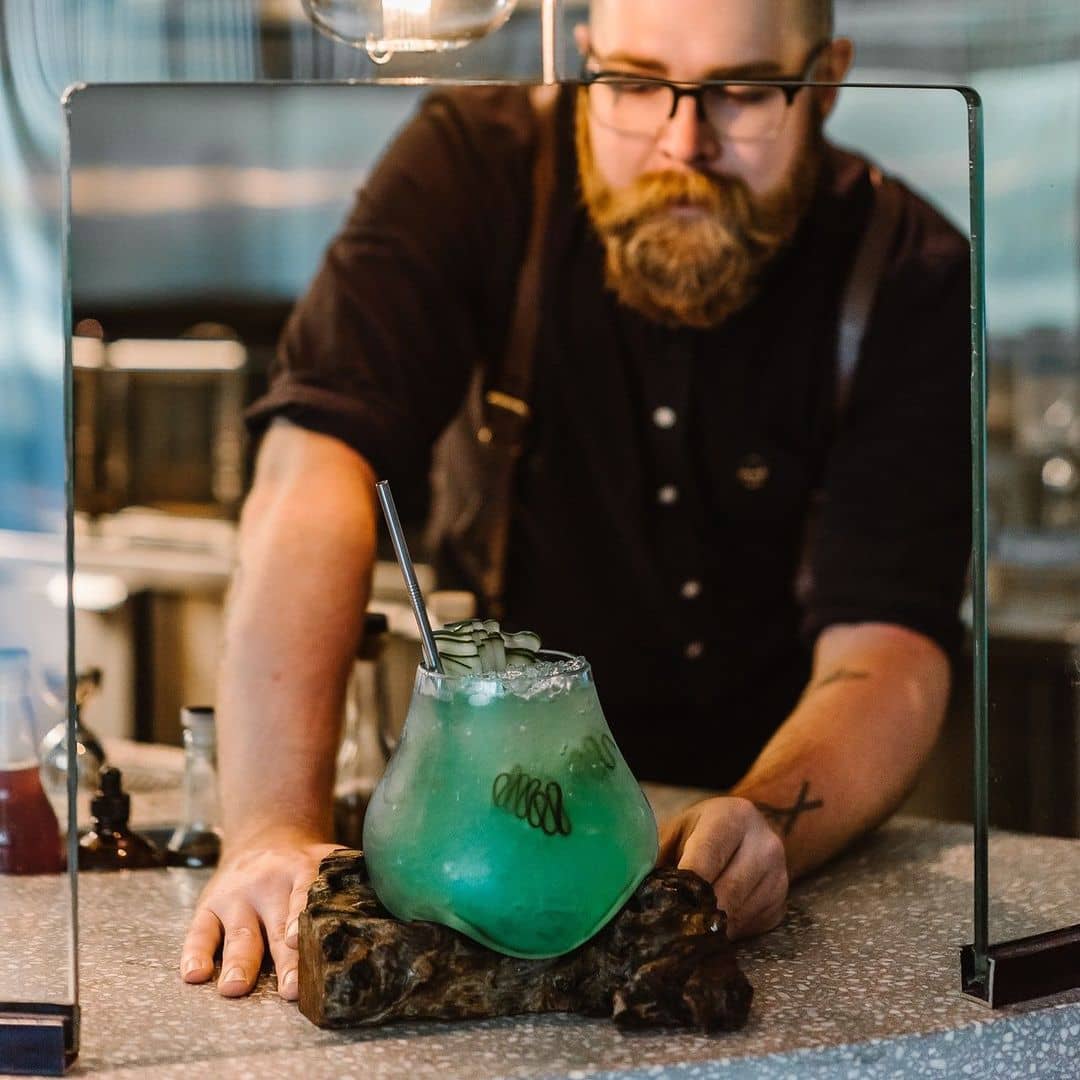 Step through a luxurious indoor garden, complete with huge columns and lush foliage, and enter into swanky and classy Botanist. There you'll find a contemporary cocktail bar that can make all your favourites and introduce you to some inventive drinks that will WOW you. This spot made it to our Vancouver Food Bucket List too and for good reason!
If you're looking for a drink that will leave an impression, go for the Deep Cove. It is a MASSIVE cocktail that is made with wavy cucumber ribbons, island gin, sea buckthorn liqueur and blue algae syrup in its contents, and served on a chunk of wood. I guarantee you you'll be reaching out for your phone in wide-eyed enthusiasm when you see it being put infront of you,
Or, try their Rye 'N Reynolds with cognac, amaro, cascara and nectarine oils. For food, dig into the Lamb Rack & Lamb Shank Duo, or if you like seafood, the Charred Ora King Salmon cannot be missed!
What to order: Deep Cove, Rye 'N Reynolds, Lamb Rack & Lamb Shank Duo, Charred Ora King Salmon
Address: 1038 Canada Place, Vancouver B.C. Canada V6C 0B9
Website | Instagram | Facebook
1. Keefer Bar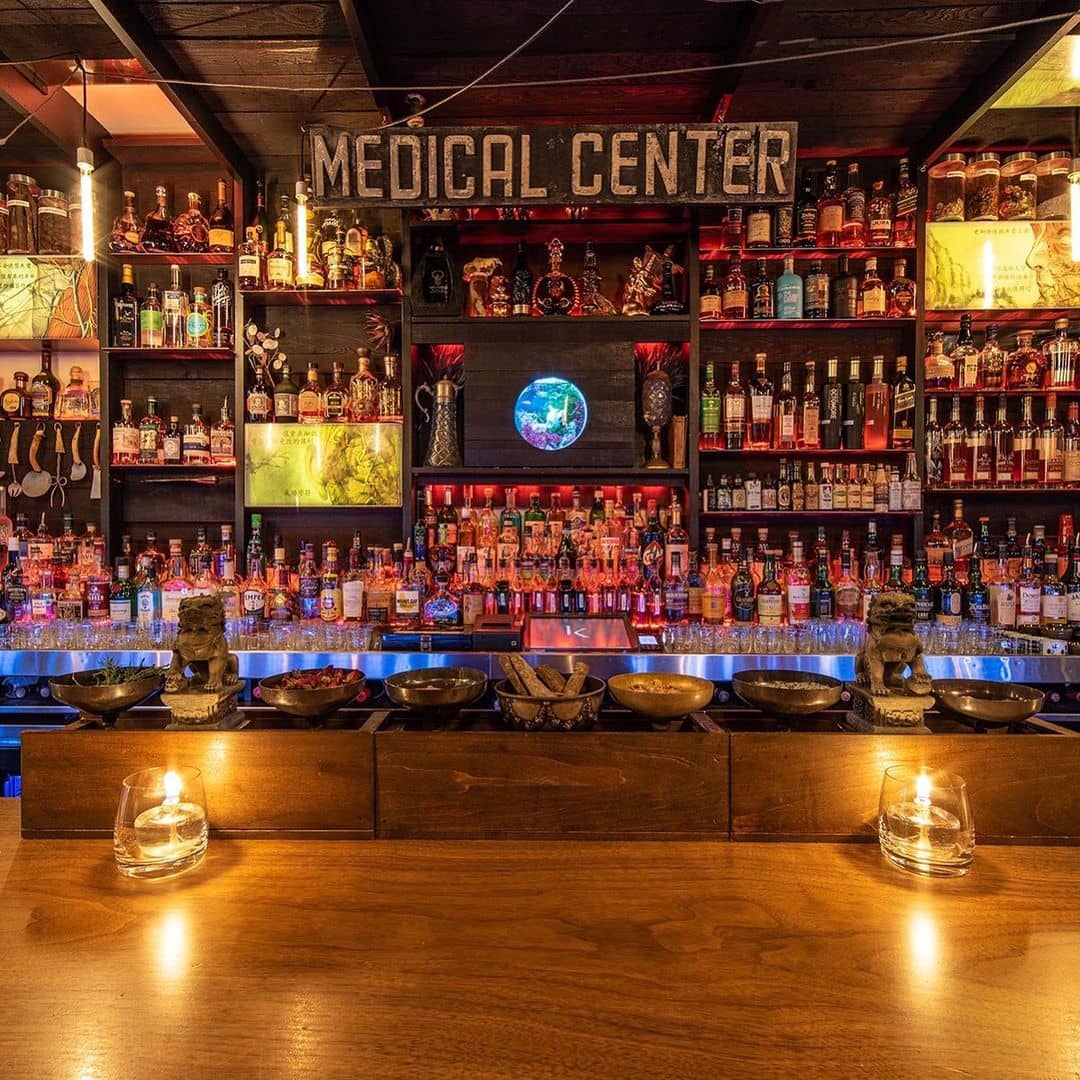 A hidden gem in Vancouver's Chinatown, Keefer Bar is an award-winning cocktail bar (#2 in Canada's 50 Best Bars) and a vibing dimly lit medical themed spot with an extensive drink menu of "remedies" and "cures", that are inspired by traditional Chinese medicine.
Their Alumni Cocktails are the bomb, and you'll want to go for a Rosemary Gimlet if Beefeater is your jam, a Chinatown Sour with bourbon, or the Tokyo Drift with Suntory Toki Japanese Whisky, Ambre Vermouth, kumquat gomme, and "tobacco" bitters. If you're hungry, there are bar snacks, Dim Sum, and yummy small plates to share.
P.S. Head next door to the yard for some mini-golf while you're at it!
What to order: Alumni Cocktails, Rosemary Gimlet, Chinatown Sour, Tokyo Drift, Ambre Vermouth, kumquat gomme, "tobacco" bitters
Address: 135 Keefer Street, Vancouver Chinatown
Website | Instagram | Facebook
That rounds up our list of the best downtown Vancouver bars and lounges for your next night out on the town. We hope you try them out, and have a buzzing good time. Don't forget to check out our lists of the best Vancouver coffee shops, and this city's amazing restaurants for your next brunch or evening out.
The following two tabs change content below.
Latest posts by Noms Magazine (see all)