The food sector was always a bit behind when it came to technological advances.
Same for business models.
Here's the thing: if you were a fisherman based at Richmond's Steveston Fisherman's Wharf, your catch of the day usually goes through several steps before it finally ends up at a restaurant and onto a someone's plate.
In most cases, that means from the boat to a processor, to a wholesaler, to a retailer, and then to the consumer.
And with each pitstop the fish goes through, the less the fisherman earns.
And with each pitstop, a mark up is added so they can earn something.
This means the restaurant has to pay a mark up to get their monthly supply of fresh Atlantic salmon. And YOU the consumer has to pay a mark up so the restaurant can profit from the dish.
So the more steps it goes through, the more expensive it is for each person down the line. AND the fisherman makes less. Basically no one really wins. Devastating right?
Right.
But that's why the D2C (direct-to-consumer) movement has taken off in the last 5 years and have disrupted tons of industries (e.g. travel, fashion, beauty). All it does is take out the middle-man (and the additional markups) and give the savings to the consumers.


There's a good chance that you've heard of D2C brands like Away, Everlane, Allbirds, Casper, or Warby Parker before.
That is what they do.
And like many industries, traditional supply chains were a hassle and frustrations happen often at each step of the way.
2 years ago, during the middle of an interview with Josh Gonneau, Cibo Trattoria's Executive Chef at the time, his eyes were GLOWING in excitement about a new method of getting his monthly supply of seafood.
It was an app that allowed him to order directly from a supplier on his phone with a click of a button and even let him track when the driver would come.
Josh would tell me that this was revolutionary and so great! His face contorted as he tells me the stress he would feel when the driver wouldn't show up or the shotty communication issues with the traditional method.
Little did I know, what he was talking about at the time was a D2C app for seafood wholesale called Coastline Market (now rebranded as Freshline).
With Freshline, the middle-man is taken out, letting fishermen earn something like 50% more than usual since all those steps in between are cut. This means less mark ups are placed and the restaurants get fresher fish and a slight discount.
Founders Joseph and Robert initially started the app with that purpose in mind.
But once COVID-19 sprung up, they rebranded Coastline Market to Freshline and expanded to bring a range of seafood and produce from local suppliers to not just the best restaurants in the country but now also consumers.
That means expanding the accessibility of the best quality produce, which usually restaurants only get order, to now everyone easily on their platform.
Most businesses during the pandemic HAD to pivot drastically for survival. Or be left to slide into bankruptcy. For Joseph and Robert, they transformed Coastline to Freshline to aid in the growing demand for online produce ordering instead.
We caught up with Joseph to chat about the transition and rebranding:
First, can you tell us a little about yourself?
[Joseph]: My name is Joseph Lee and I'm the Founder and CPO at Freshline. We're building an online marketplace for wholesale food ingredients, along with tools for suppliers to manage inventory, build an online presence, and simplify order fulfilment.
Growing up, I've always been a doer and operator, starting with my first small business at age 14. Since then, I've been fascinated with the ability to create something from nothing (with some grit and determination), and the ability to positively impact the community and people around me.
Aside from work, I'm a huge foodie – I love cooking new dishes and eating out at our local restaurants (too much, unfortunately ?).
How did you come up with the business in the first place?
[Joseph]: Prior to COVID19, we built Coastline, a B2B marketplace and logistics platform for connecting seafood producers directly to restaurants. We scaled this over $4M+ in revenue and hundreds of top restaurants before being pivoting to our new business model.
With the technology, logistics/sourcing expertise, and connections we built over 4 years at Coastline, it was a natural progression for us to expand our service to consumers and in other verticals.
How exactly does Freshline help consumers & restaurants?
[Joseph]: Due to COVID19, the hospitality industry has seen a massive decline in business. Suppliers/farms have experienced much less business as a result. Freshline is trying to help combat this and help preserve the supply chain by creating a platform to connect suppliers directly to consumers in a safe, yet convenient way using our technology.
Using our marketplace, consumers can source the same high-quality food ingredients used at top restaurants in North America
Can you paint me a picture about how serious the overcapacity issues are?
[Joseph]: If you head to Reddit's Grocery Delivery thread, you'll see a myriad of problems about users not being able to order what they need, delivery windows being 1-2 weeks away, along with several product shortages. If you walk around town, you'll also notice tons of line ups at grocery stores – where it sometimes takes up to an hour to get inside.
This is an odd situation – hundreds of local suppliers are struggling to keep their business afloat and deal with inventory they can't sell, while consumers are finding it hard to find the items they need. There's a mismatch in supply and demand here that we think we can help solve.
Walk me through the rebrand. What was the reason for it?
[Joseph]: Coastline was an established, seafood-focused brand. We wanted to build a new, inclusive brand that would encompass our expansion to consumers and to other food verticals (i.e. meats, mushrooms, produce).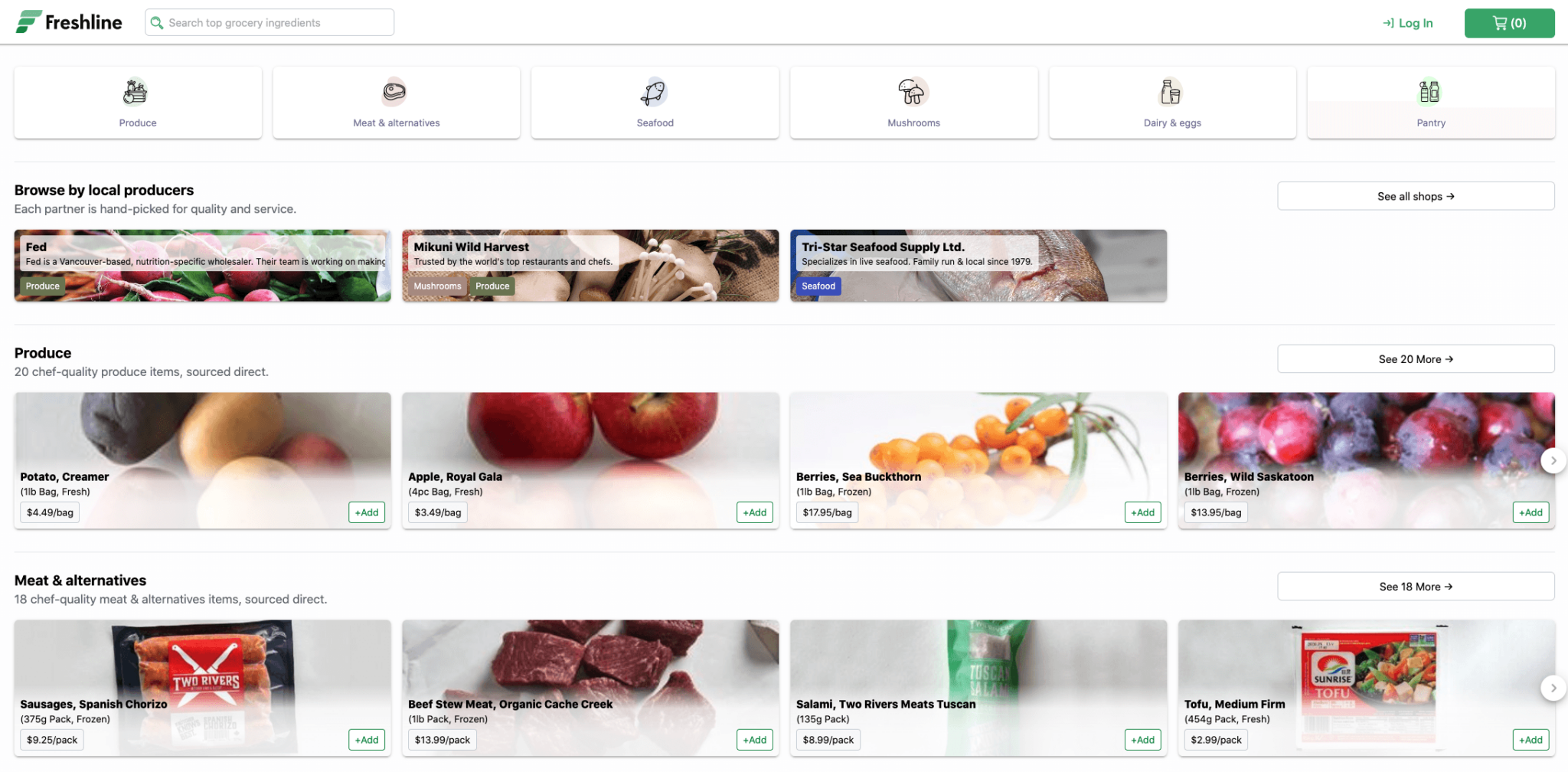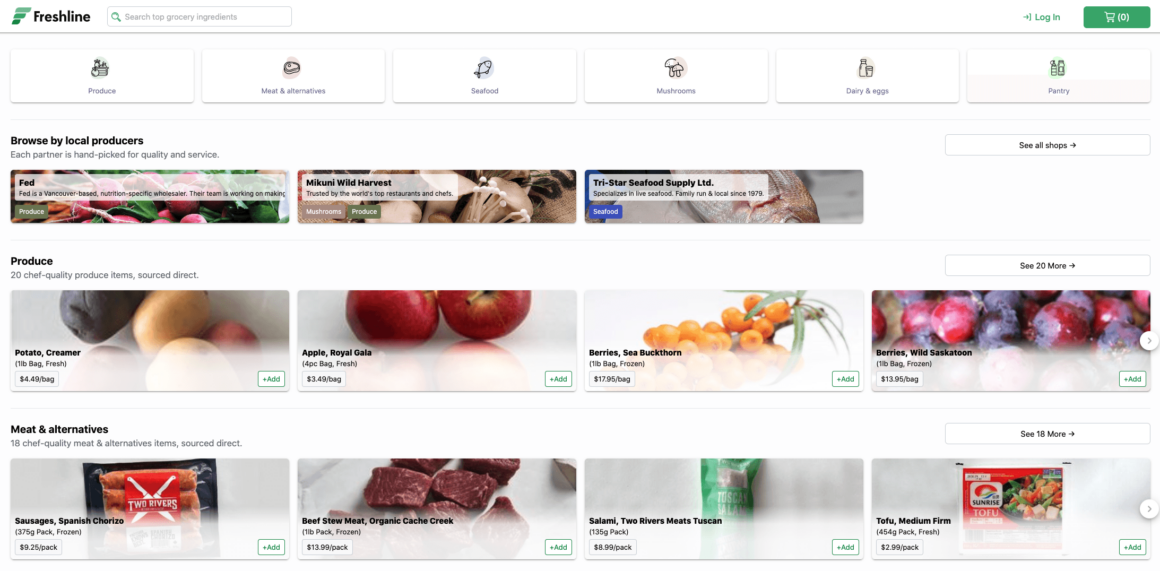 COVID has drastically changed the food industry. How has it affected you?
[Joseph]: I'd be lying if I said no! Like many companies operating in food and hospitality, our revenues were essentially halved overnight. However, we have a very resourceful and determined team – and in a span of ~2 months, we've since been building up the business back up to pre-COVID levels.
In a way, you're competing against the big grocers. Why should consumers use Freshline instead?
[Joseph]: We don't want to make that call for consumers, but avid foodies will be able to discern the quality and selection vs. from what they can find at a traditional grocer. Our suppliers' ingredients aren't the run-of-the grocery items – they're often the same products being used by the highest-rated restaurants (including Michelin star restaurants) across North America.
From the business data you have, what has been the changes or surprises you've seen in the last few months? Do you expect them to stay?
[Joseph]: Consumers and suppliers have been extremely eager to help in any way that the can. We've been inspired by their support, and we've tried to emulate the same generosity through our #ChefsForVancouverAquarium initiative (where we donated thousands in product to save Vancouver Aquarium), and our Onigiri Meal Kits (where we donated hundreds of meal kits to front line workers at VGH).
---
For more information about Freshline, visit their website and social media channels.
The following two tabs change content below.
Latest posts by Noms Magazine (see all)