Do you know why many people struggle with smart home ideas? This is because they keep having possessions they don't really need while missing out on truly essential items to keep the space tidy. We have experienced the same scenario, but then Tiktok appeared and turned our life around in a better way! Tiktok has introduced many handy and efficient items that make our life a lot easier, especially with kitchen and bathroom accessories!
More than just viral dances and pranks, Tiktok has become an inspiration for home renovation and life hacks that let us collect as many cool ideas from people around the world as possible.
To help you take your ease and lead a productive life, we have gathered 18 most useful accessories and gadgets from Tiktok to smarten your kitchen and bathroom!
1. Glass Bottles with Caps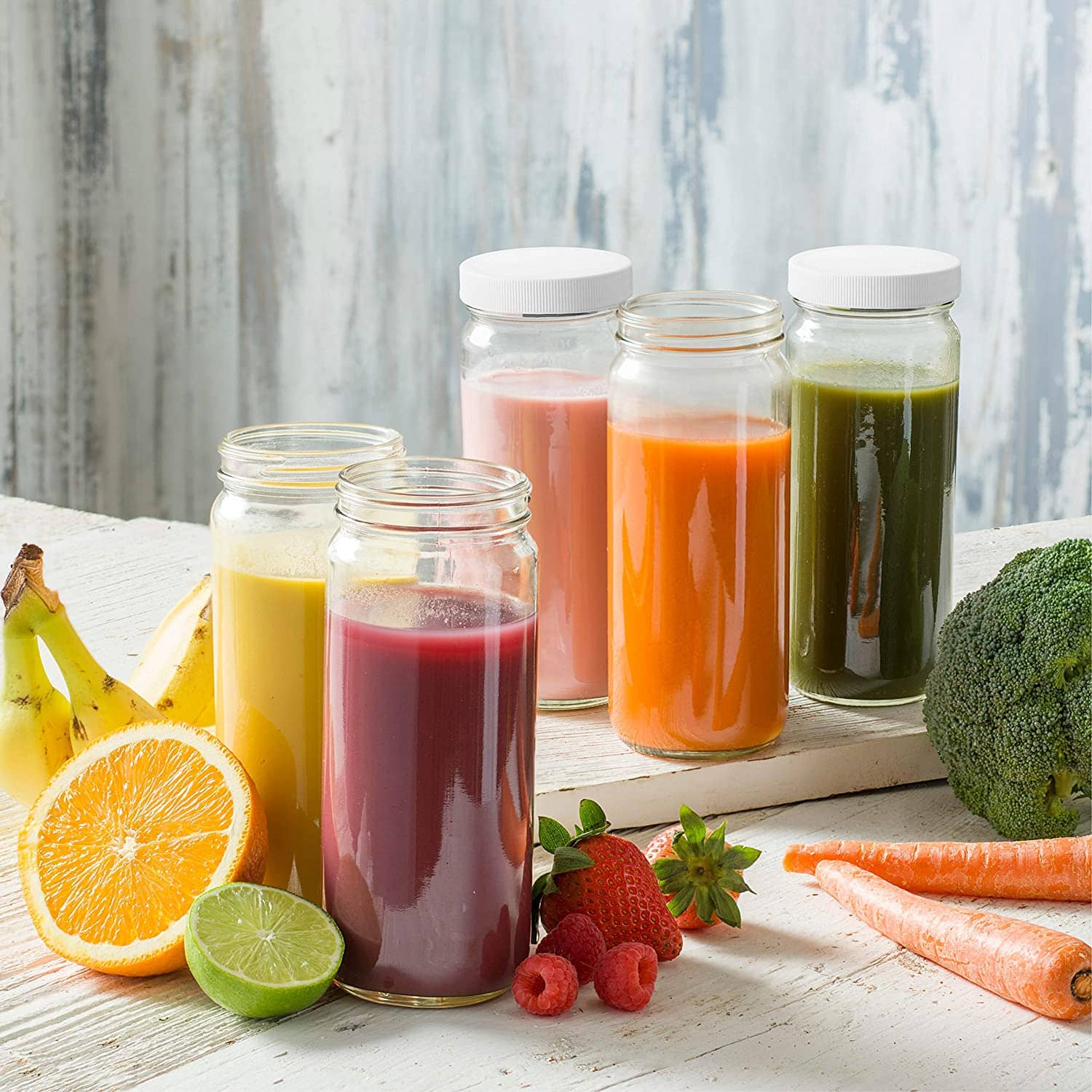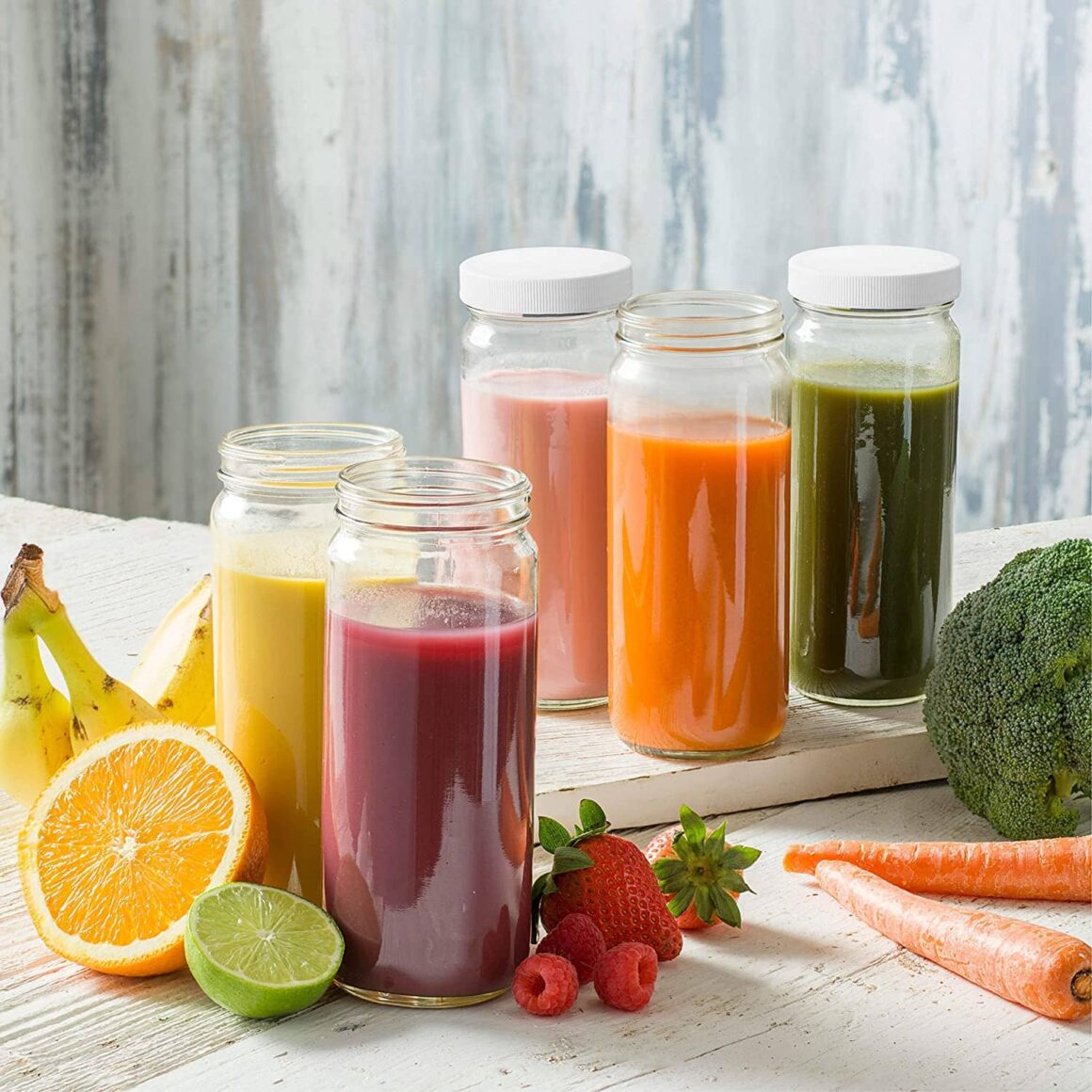 Are you a weight-conscious person who loves to have healthy beverages every day? If you've been doing a lot of juicing or getting tea fix daily, don't miss out on these glass bottles with caps! Not only is it a handy container to bring on the go, but it will also add a fun and cute canvas to adorn your space.
These little jars come with airtight seal lids and crystal clear finish to create a minimalistic vibe to spruce up your personality.
2. Wine Glasses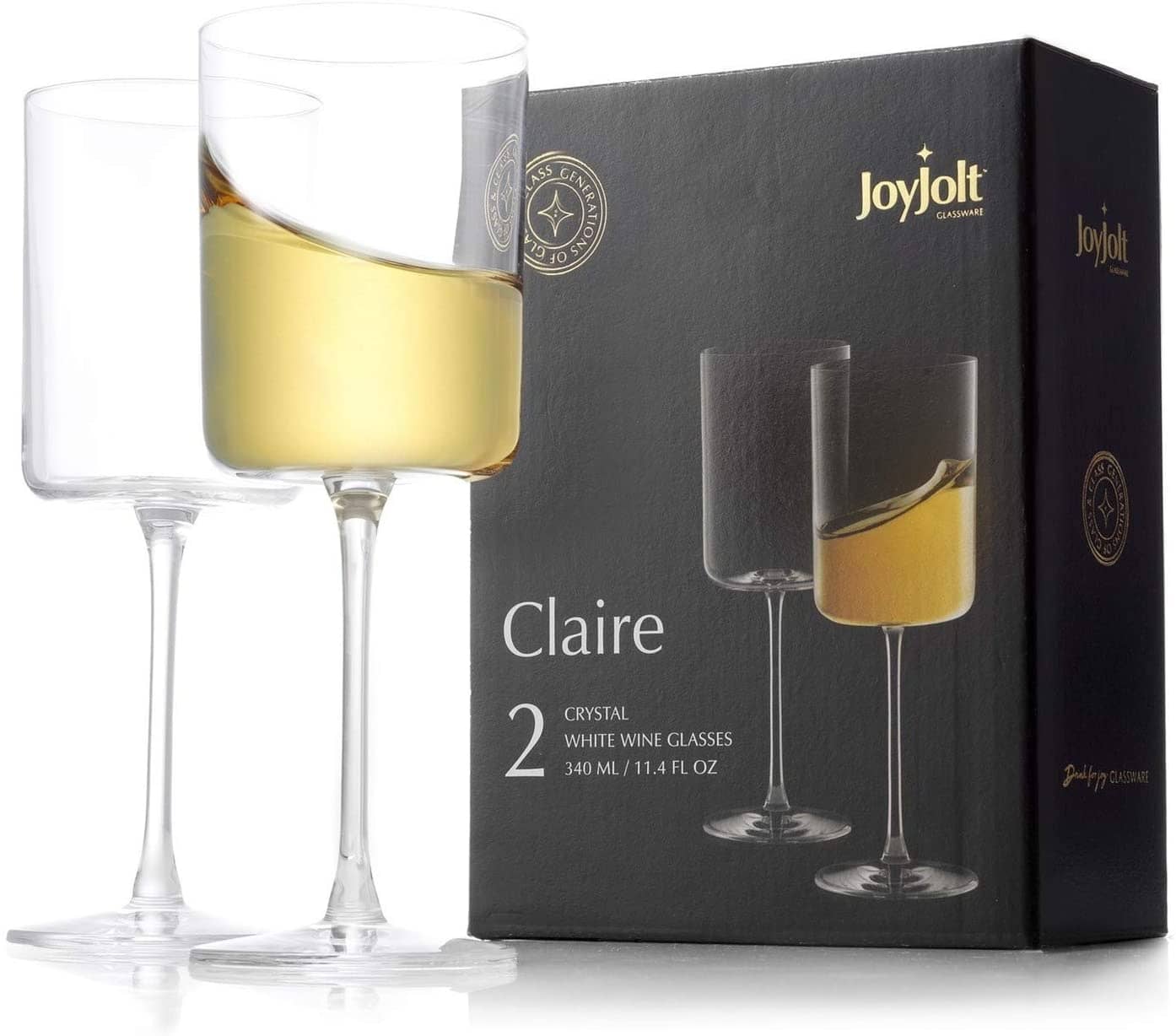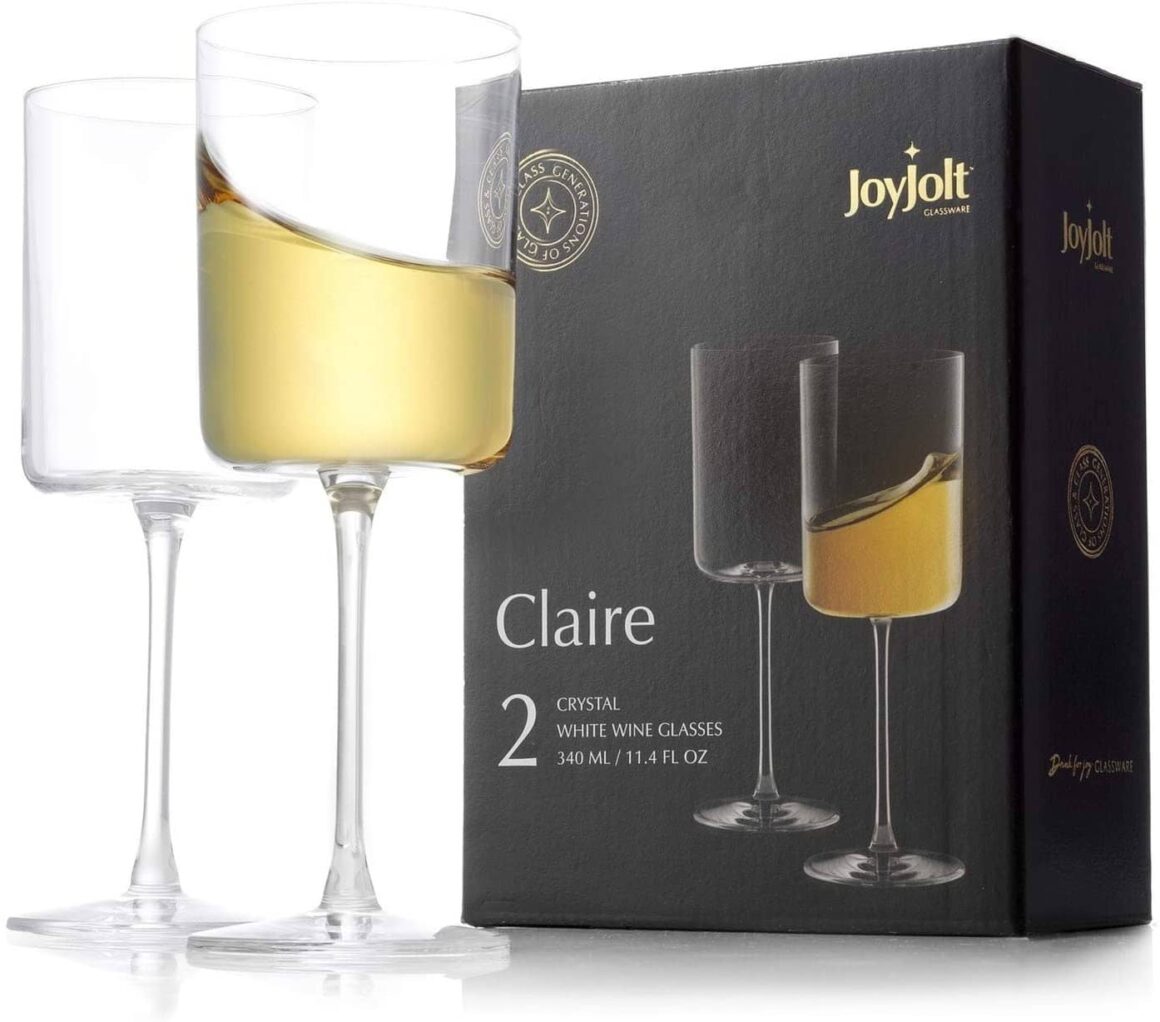 If you think you can pair your wine with any kind of glass, think again! The shape of a wine glass is a crucial factor that compliments the tasting of your wine. And when we saw this white wine glass on Tiktok, it just blew our mind because we haven't seen any glass that looks so stunning and unique!
Crafted in the Czech Republic specifically for white wine, these glasses are light and come with long stems to provide an elegance to your drinking experience. We love the ultra-sophisticated lines adorning the cylindrical shape that shows a delicate nuance. If you're not a daily wine drinker, that's totally fine because this set will surely make your guests happy when you have a special occasion like New Year or Christmas.
3. Counter Shelf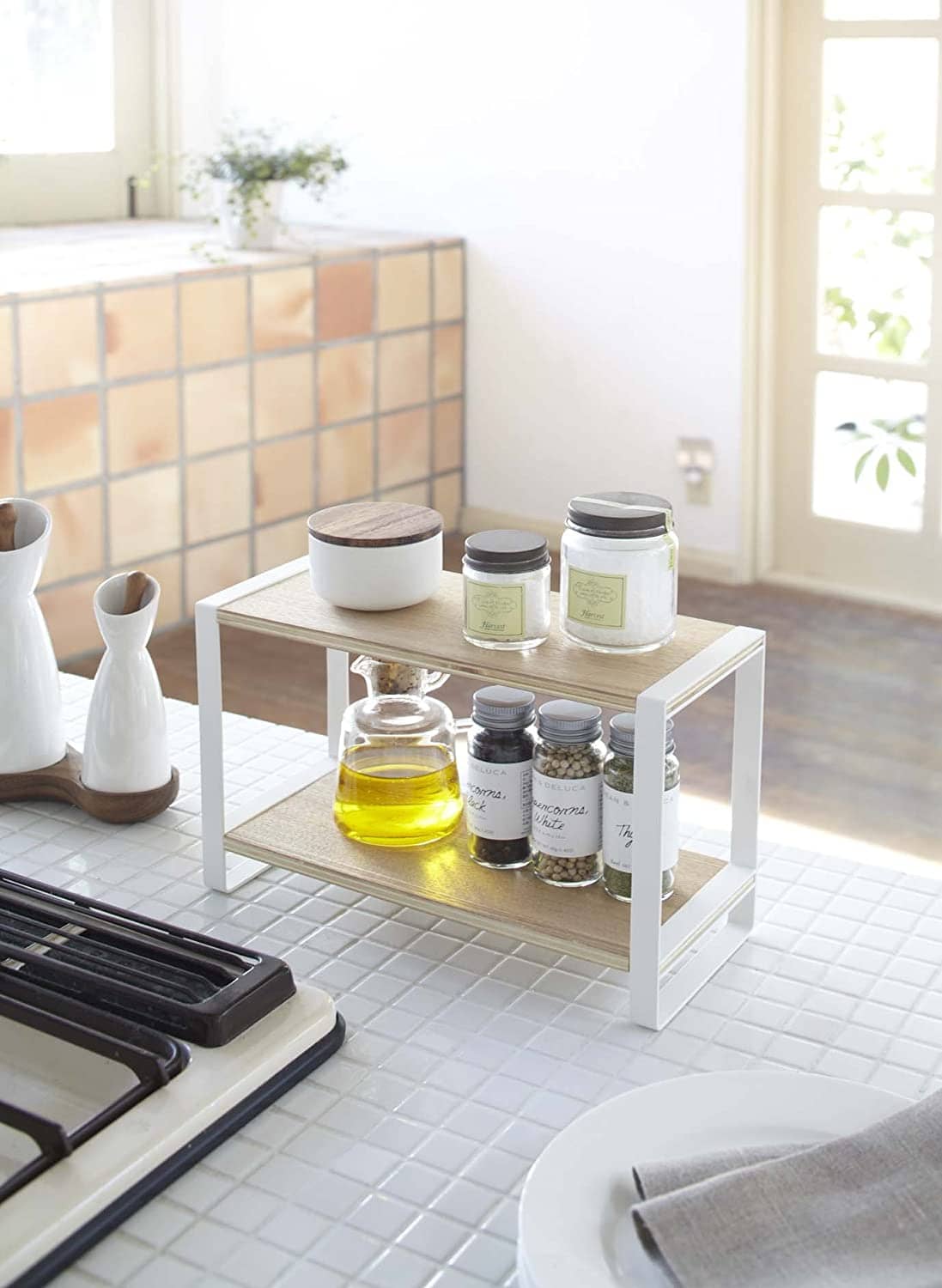 Either for a decoration or organizing purpose, this counter shelf will never disappoint you. When you get this rack ready in the kitchen, you will have more space while cooking as it functions as a storage on the countertop to stack bottles, spices, or any other elements you frequently reach.
Many of you get caught in a big headache whenever shopping for kitchen shelves. Whenever you find your favorite colors, it turns out not matching with your kitchen at home or even worse, it's falling off after a few days of installing. This wooden shelf is complemented by the painted white metallic stands so you can freely add it in to match your home decor and give it a light and airy touch.
4. Strawberry Huller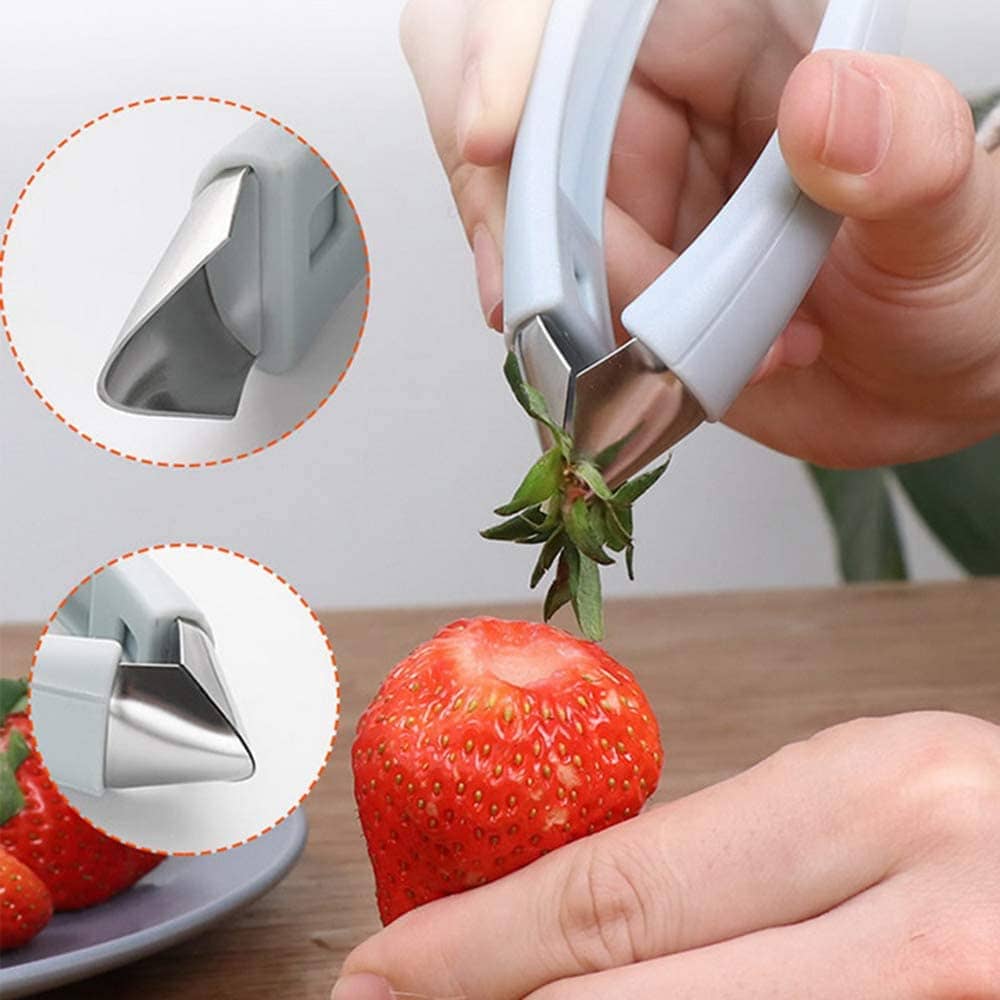 No more squishing and wasting any fruit! This pastel-colored kitchen gadget always comes in handy when you want to remove the hull of your favorite fruits.
Whether it's something soft and small like a strawberry or tomato, or big and bold like a pineapple, this essential tool can pull out the hull within a matter of seconds!
5. Mixing Bowl Set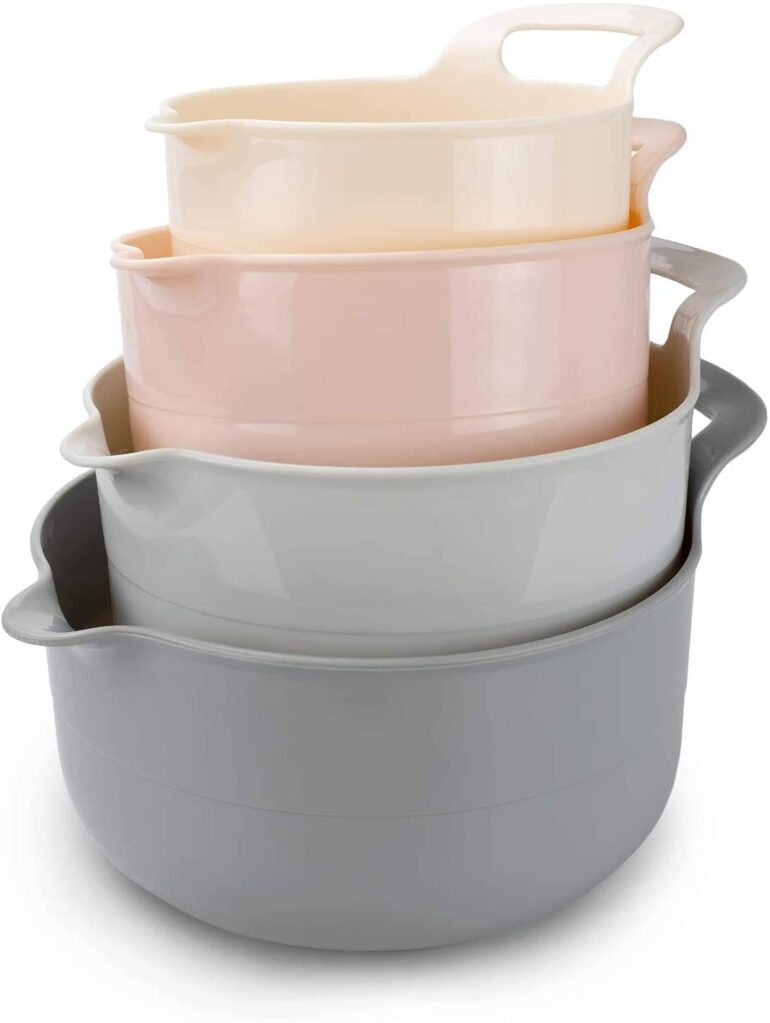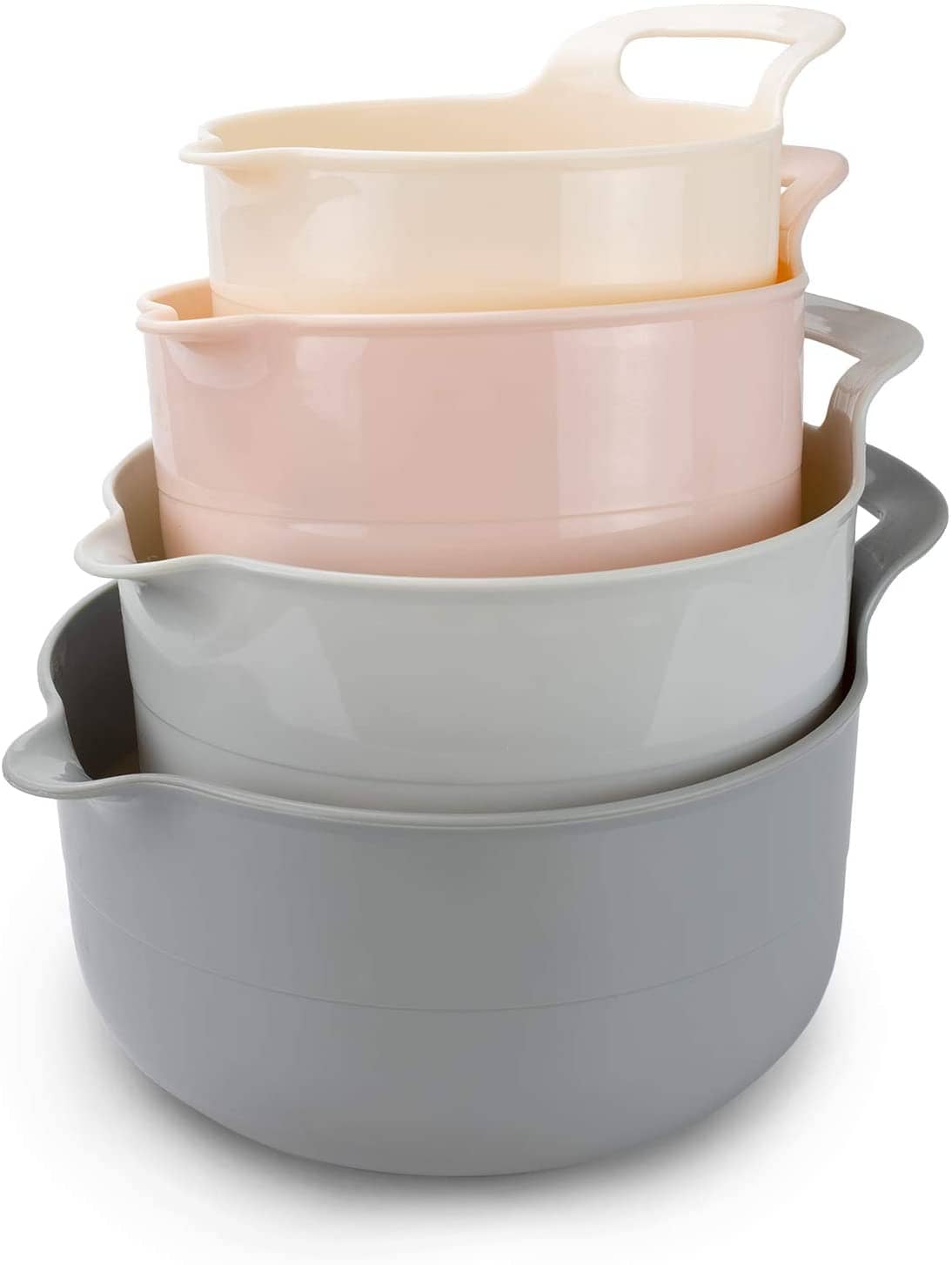 No matter what type of food you are prepping, this set of mixing bowls is a must-have! We've been using it for a while now and never been disappointed! Unlike other regular mixing bowls, this set is sturdy enough and equipped with pour spouts and handles that keep it intact and not falling off when mixing with force.
Depending on the quantity of substance you have, you can use a different sized bowl that's coherent with the amount of liquids and solids. Other than that, they come in subtle shades of bluish-grey so you don't have to worry about matching with any kind of abrasive-colored utensils at home.
6. Silicone Pot Holder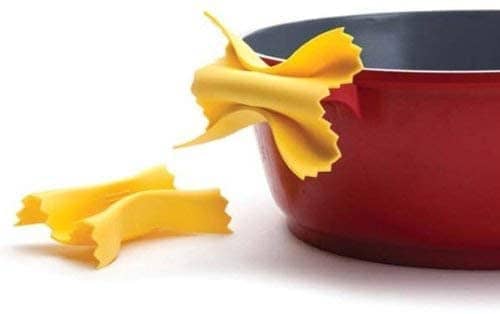 Fun and functional, these thick silicone pot holders are not just cute but also heat-resistant so you can handle any hot pot off the stove within seconds. We have seen many potholders made of regular and slippery fabric which does not fit different types of materials.
However, these little guys provide a firm hold and you can pair them with oven racks, pans or metal lid handles. That's a matter of safety!
7. Cutting Board with Trays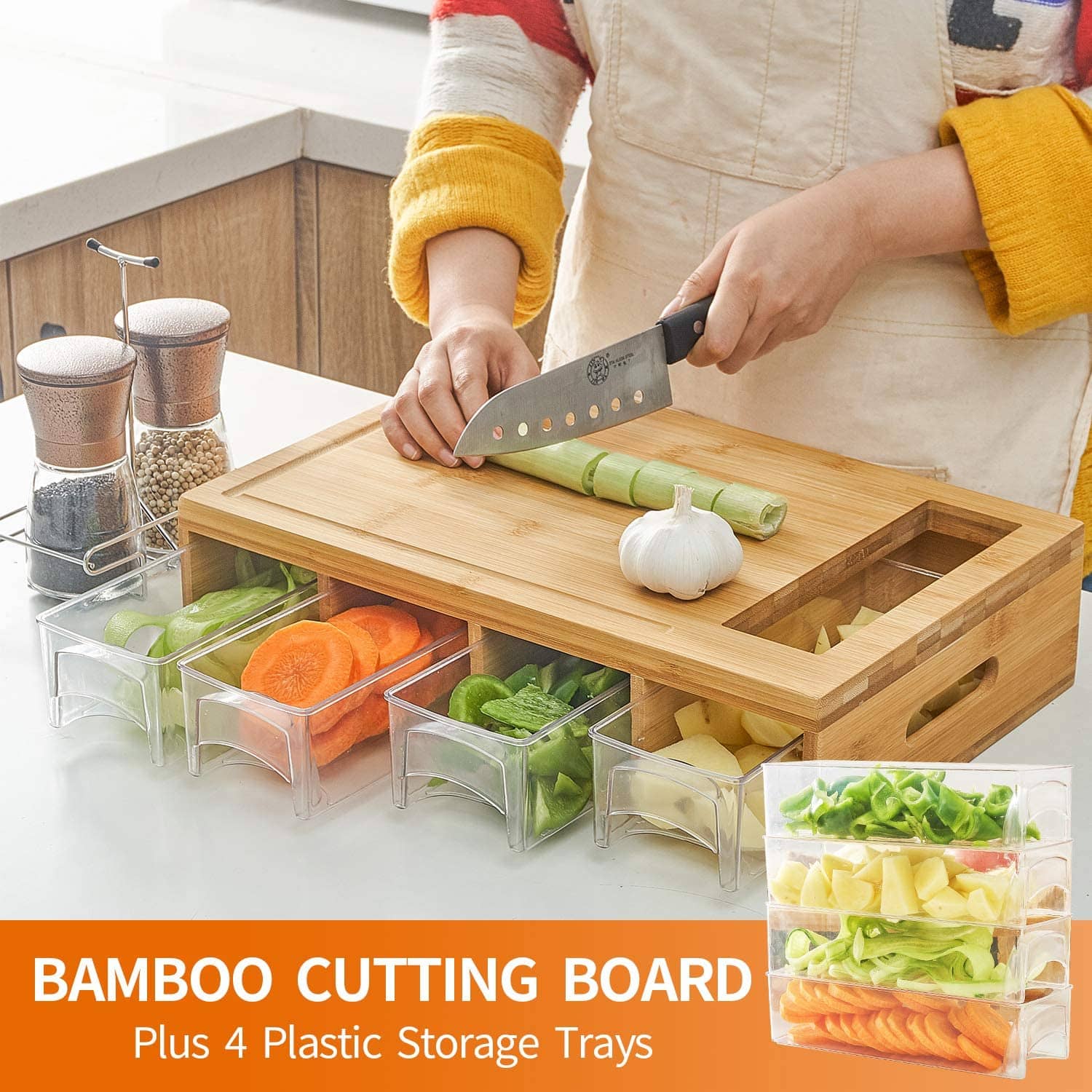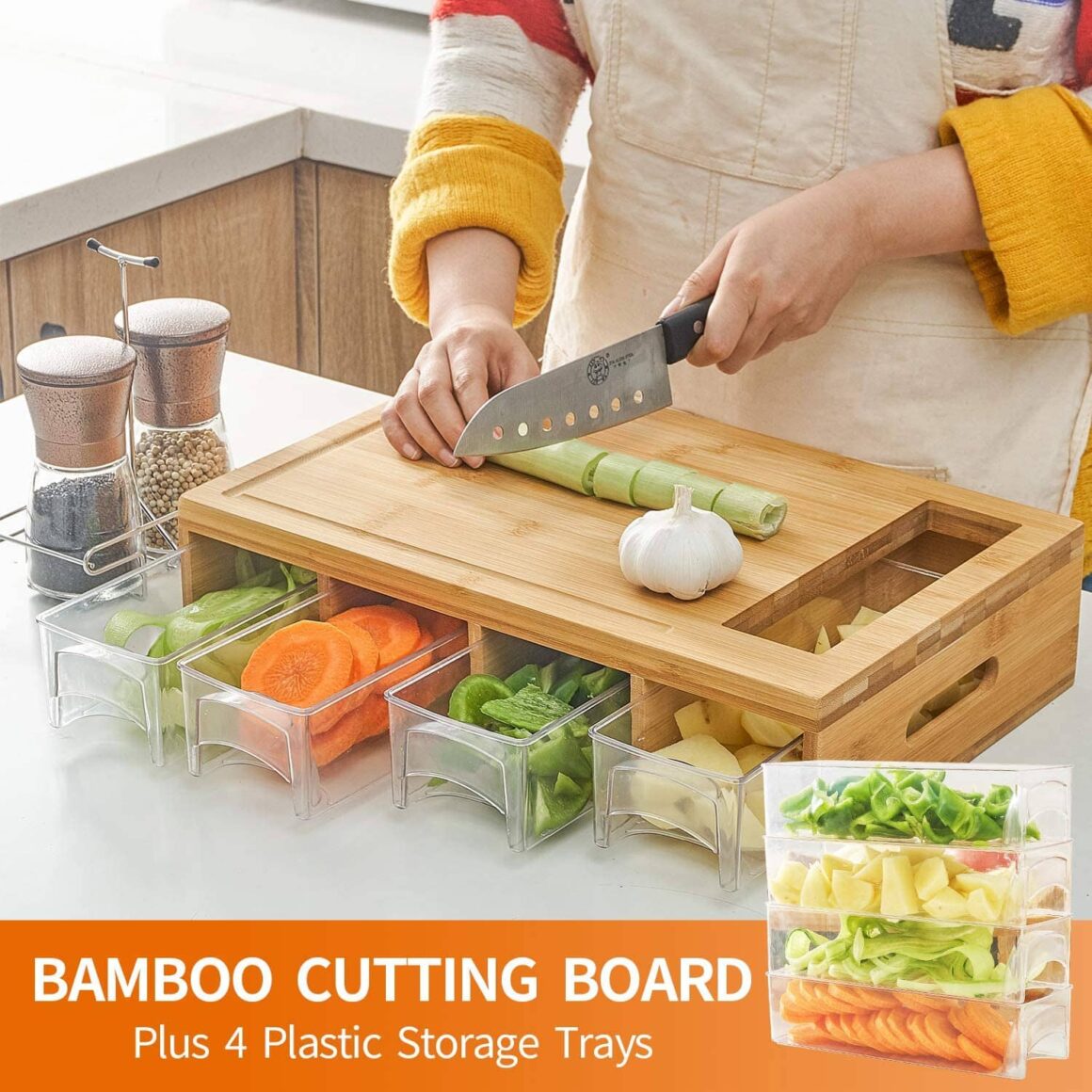 This durable and innovative-designed cutting board is the solution for a messy cooking space. The first thing you notice is the integrated juice grooves catching any excess fluids and juices from the food, making it a hassle-free cleaning experience!
The untreated bamboo compartment board keeps your food free of chemicals. All you need to do is freely slice and dice your favorite ingredients and dump them right into the bowl or pan without involving a side container.
8. Knife Set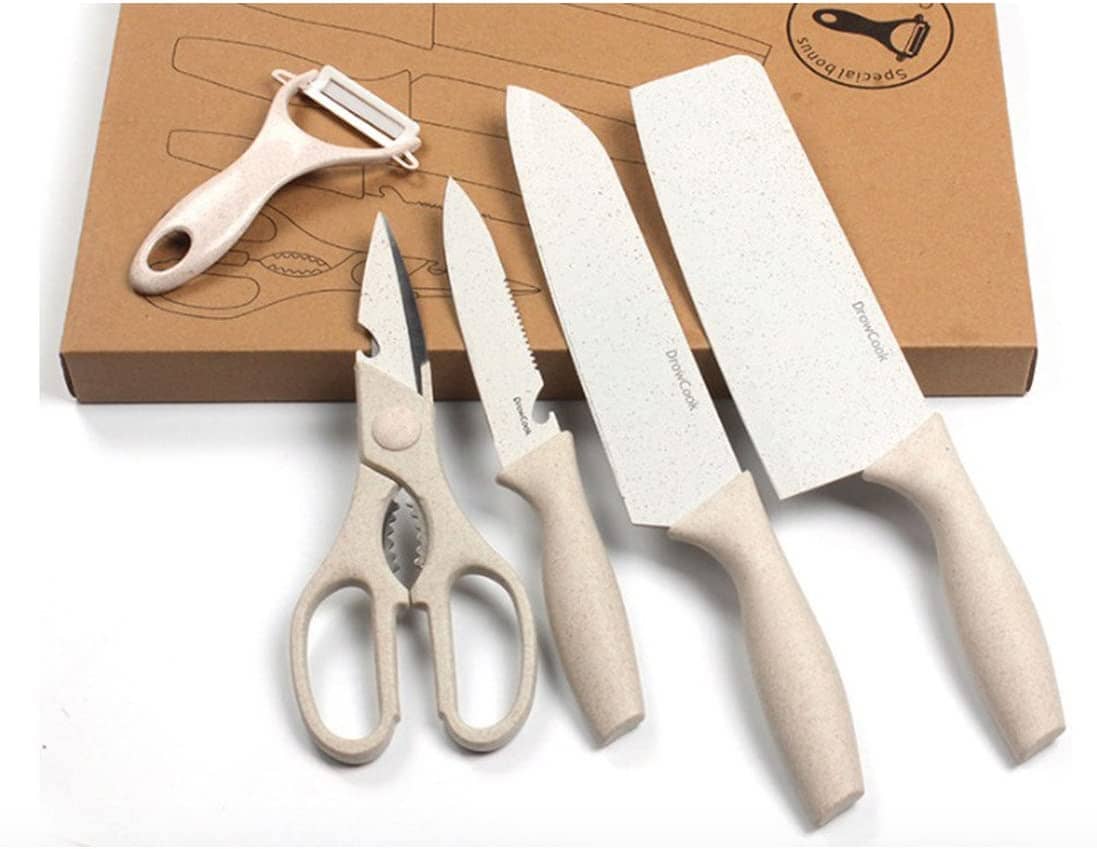 With a wide array of knife and cutting tools available in the market of all prices, what we need is something sturdy, safe, and wear-resistant for a one-time investment. If you're a passionate home chef, chances are you have to shop for alternatives every now and then as the old knives keep getting blunt. Say goodbye to this annoying hassle because this thoughtfully-designed knife set inspired by Tiktok is a life changer.
Use it for any food you like, from meat, cheese, to vegetables! More than just a matter of look, these knives are equipped with ergonomic handles to ensure safety without losing any comfort.
9. Cake Slicer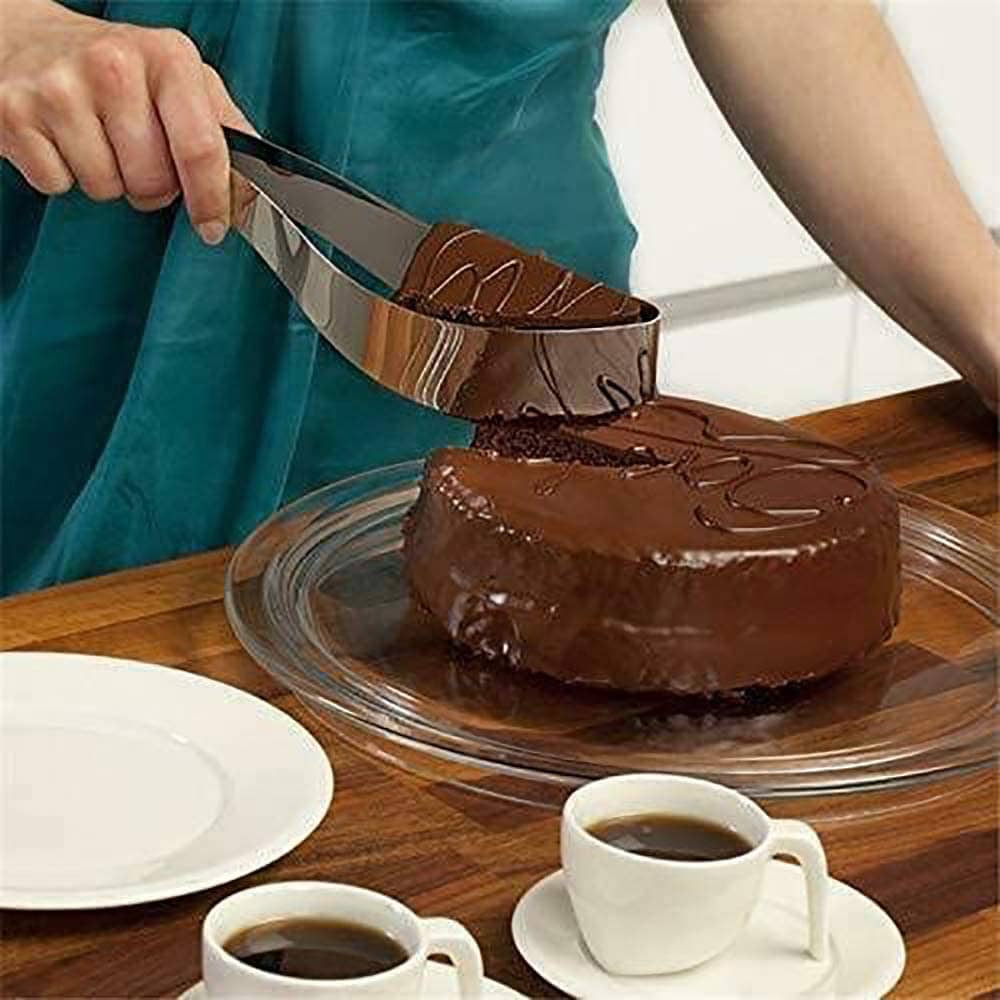 Have many times have you heard kids whining over their slice of cakes just because someone else gets a bigger one than theirs? If cutting and serving cakes are not what you're good at, why not get a cake slicer and let it handle all the hassles? We love this cake slicer for one simple reason: it's way easier to use than other traditional knives! Many of us keep struggling when the cake ends up winding on its side while all the layers, creams, and topping fall apart.
This cake slicer is a life savior! You only need to press through the cake, gently squeeze and move the slice to the plate then release and the cake will sit perfectly upright! Now everyone gets the same size!
10. Portable Blender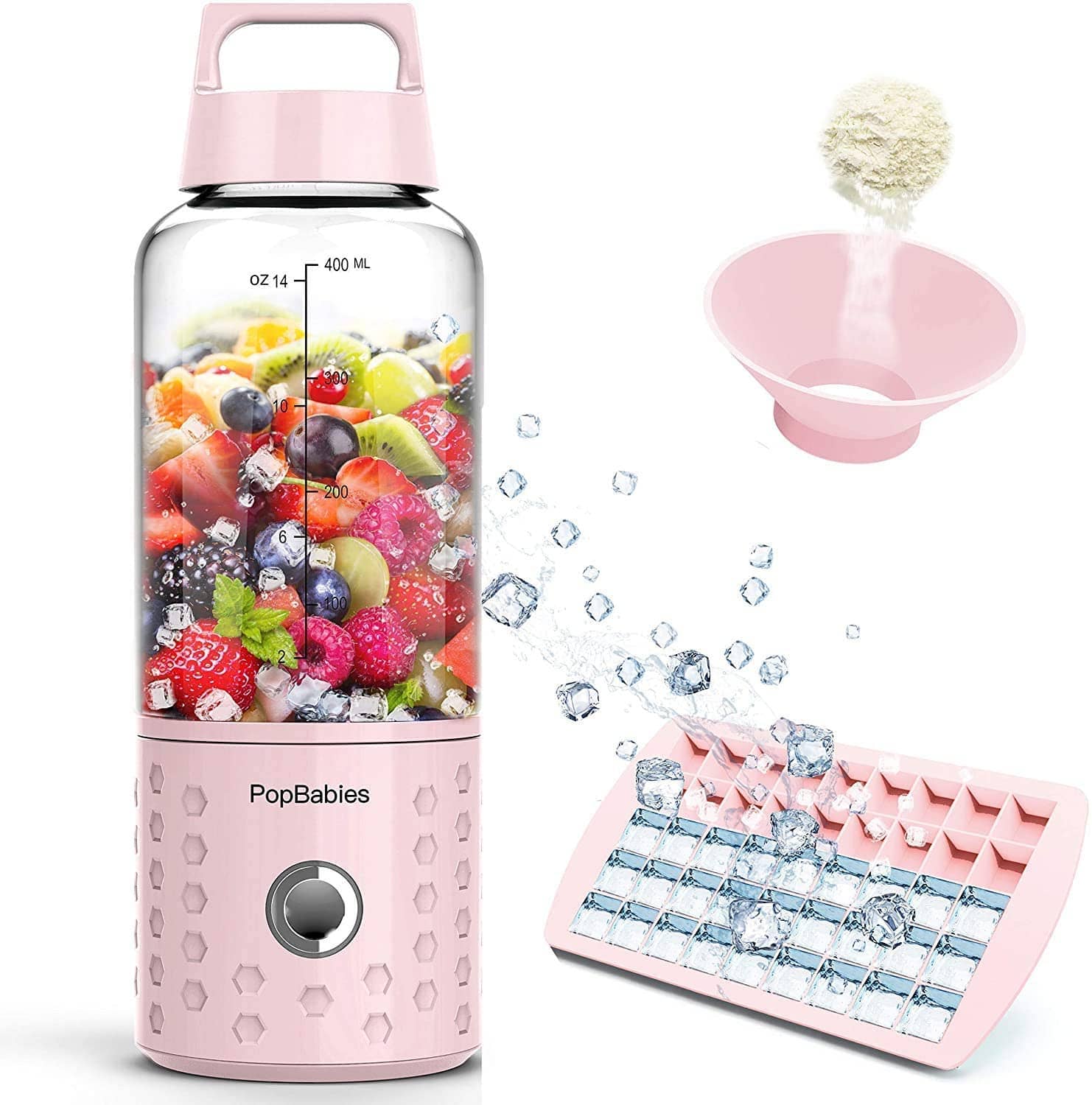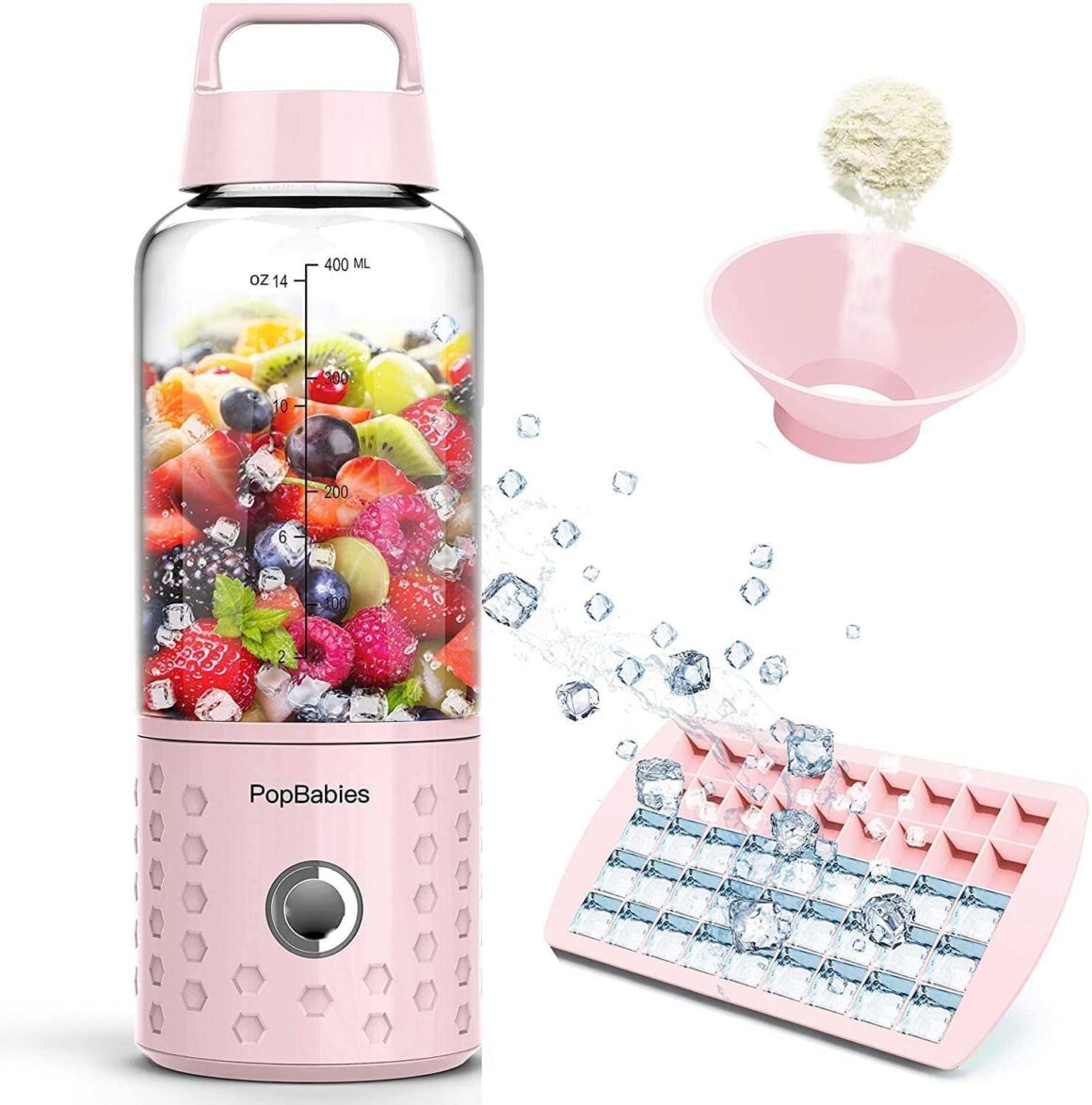 This portable blender can replace your big old blender at home because it will serve the right amount of fruits on the go so you don't have to worry about making too much or too little.
All you need to do is toss in frozen fruits or greens and let the whole blender thaw in the fridge. And whenever you're in a rush and ready to go, just grab it along as a portable mug to cut down your cleaning time.
11. Mini Waffle Maker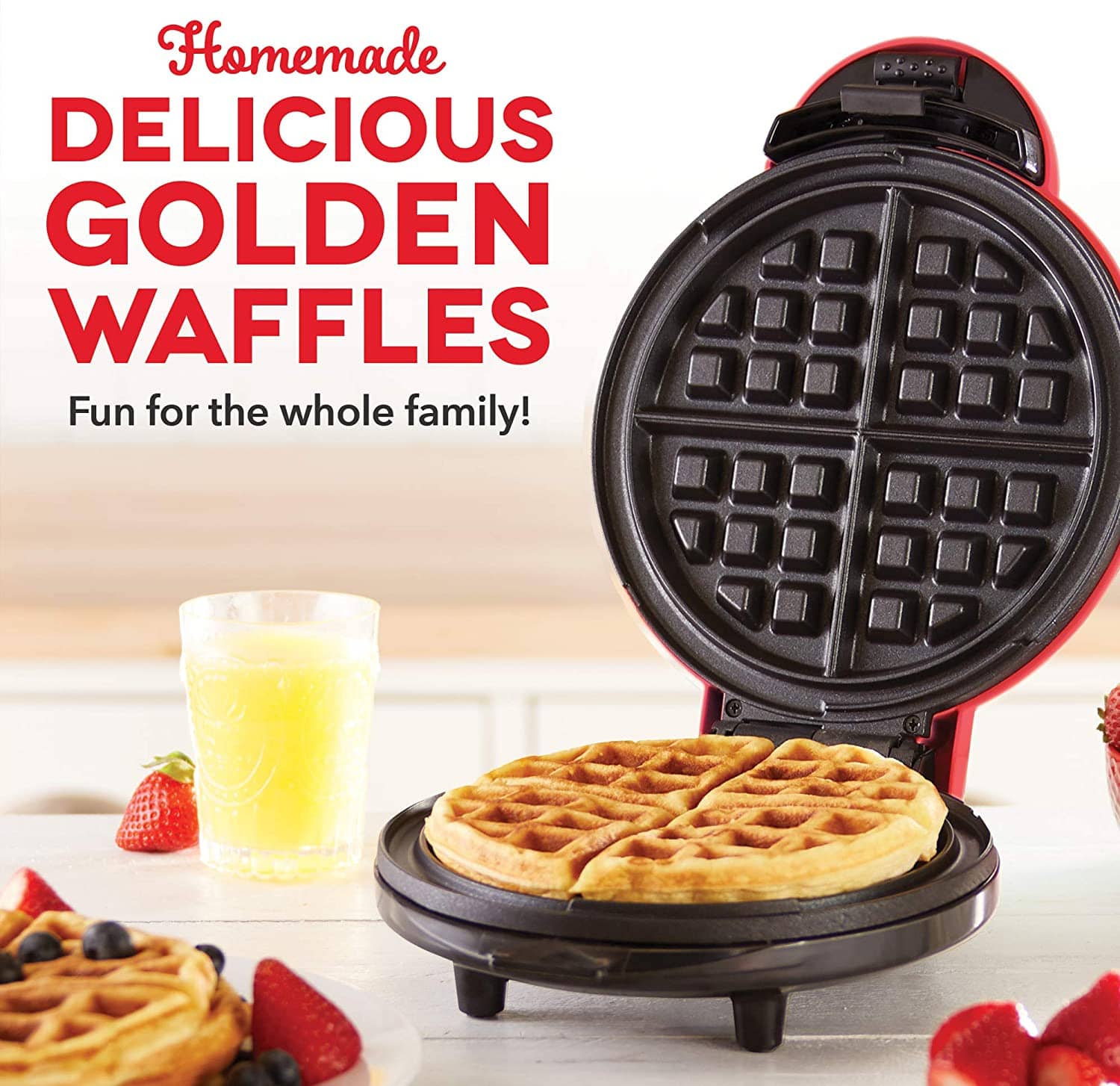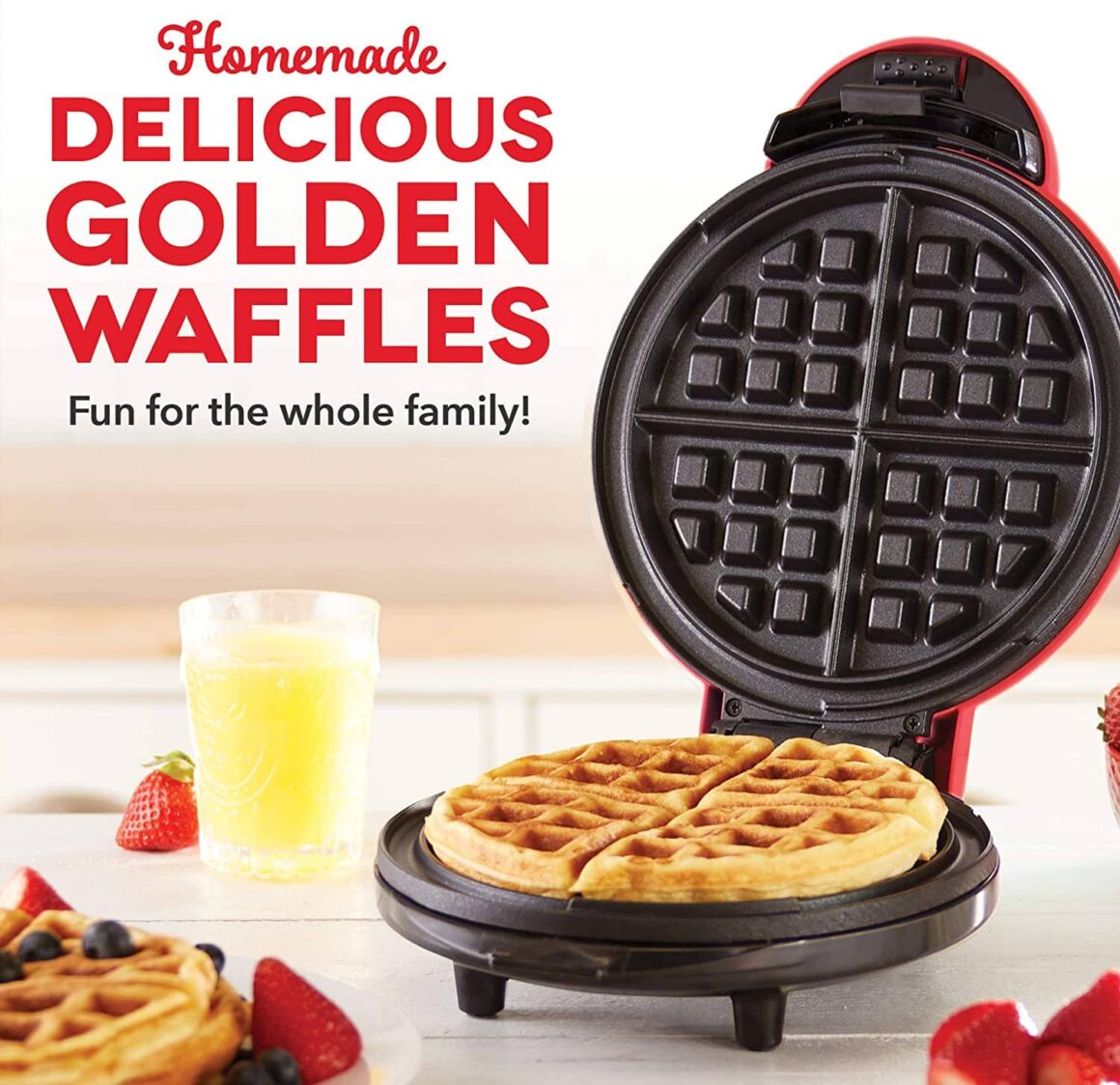 Craving some blueberry waffles for a morning boost but running out of time? Why not get this mini waffle maker ready in your kitchen and make your own breakfast at the drop of a hat? All you need to do is toss the wet batter in and they will come out great in just under 3 minutes.
This mini appliance can heat up to 6 waffles at once without taking much of your counter space. Other than just waffles, you can even make panini and hash browns with this one little device!
12. Bagel Slicer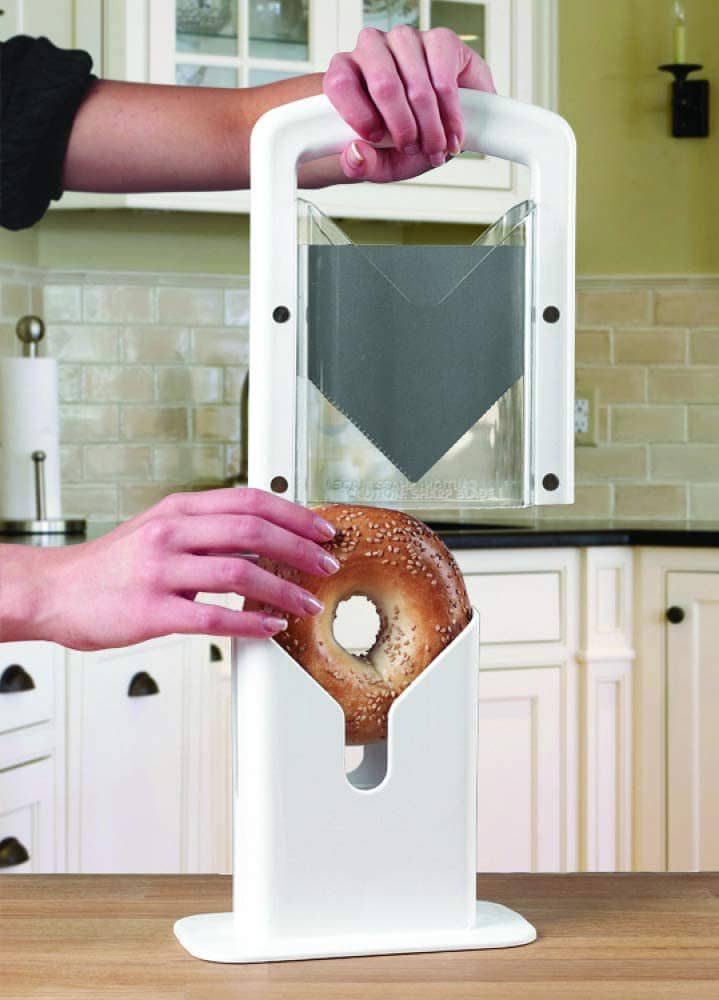 How would you cut a bagel open? Just use a bread knife and slice through each one separately? It may not seem like an issue but when it comes to a big union with your friends and family, it will take forever to serve, let alone potential slicing harm. This bagel slicer not only keeps your hands safe but also cuts all bagels open with one swift motion.
Simply put one bagel in the slot and push down the blade, then the piece will come out perfectly sliced! This is such a handy tool to serve a big dessert party. Don't limit yourself to bagels only because the slicer can handle muffins, buns, and rolls of any size!
13. Bag Sealer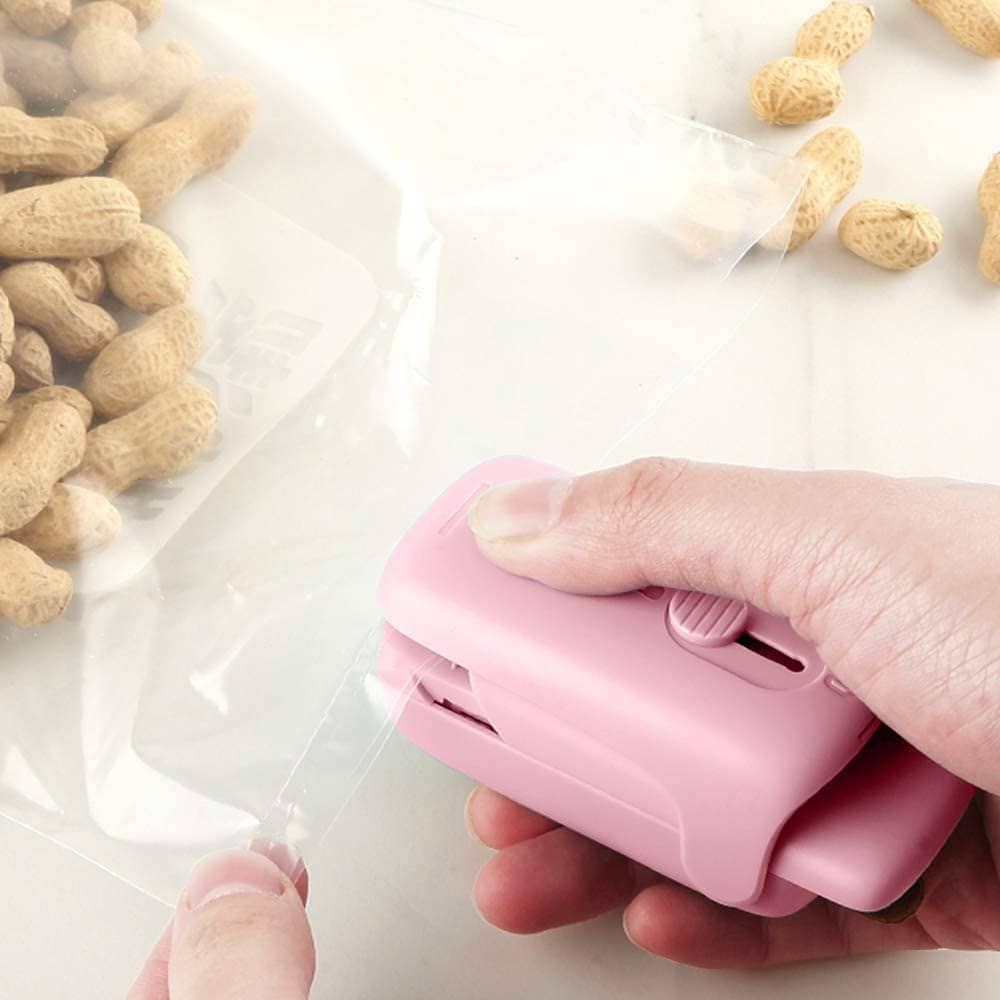 Are you a big foodie who loves to try all the latest snacks from the supermarket just to realize that they're all piled up as leftovers on the next day?
Get this bag heat sealer home so you can store leftover foods and avoid waste!
If you don't have Ziploc bags available at home, then this gadget will come in handy! The bag sealer comes with 2 heads so whenever you want to open a sealed bag, simply press and pull the mini cutter and you're all set!
Another reason why we highly recommend this appliance is how lightweight and portable it is, which is perfect for any outdoor excursions and picnics. No more twist ties and staplers to pack away foodstuffs because this little sealer will fit the bill!
14. Mug Warmer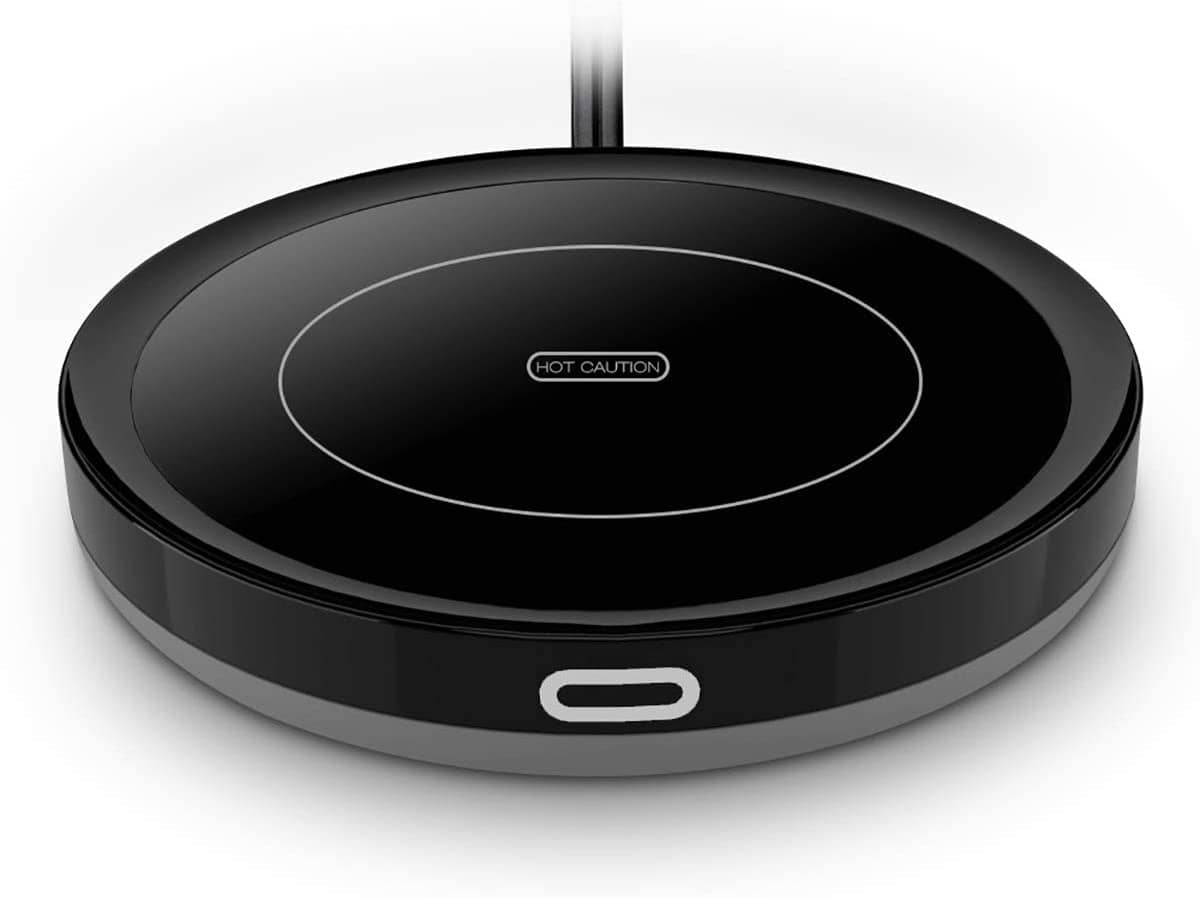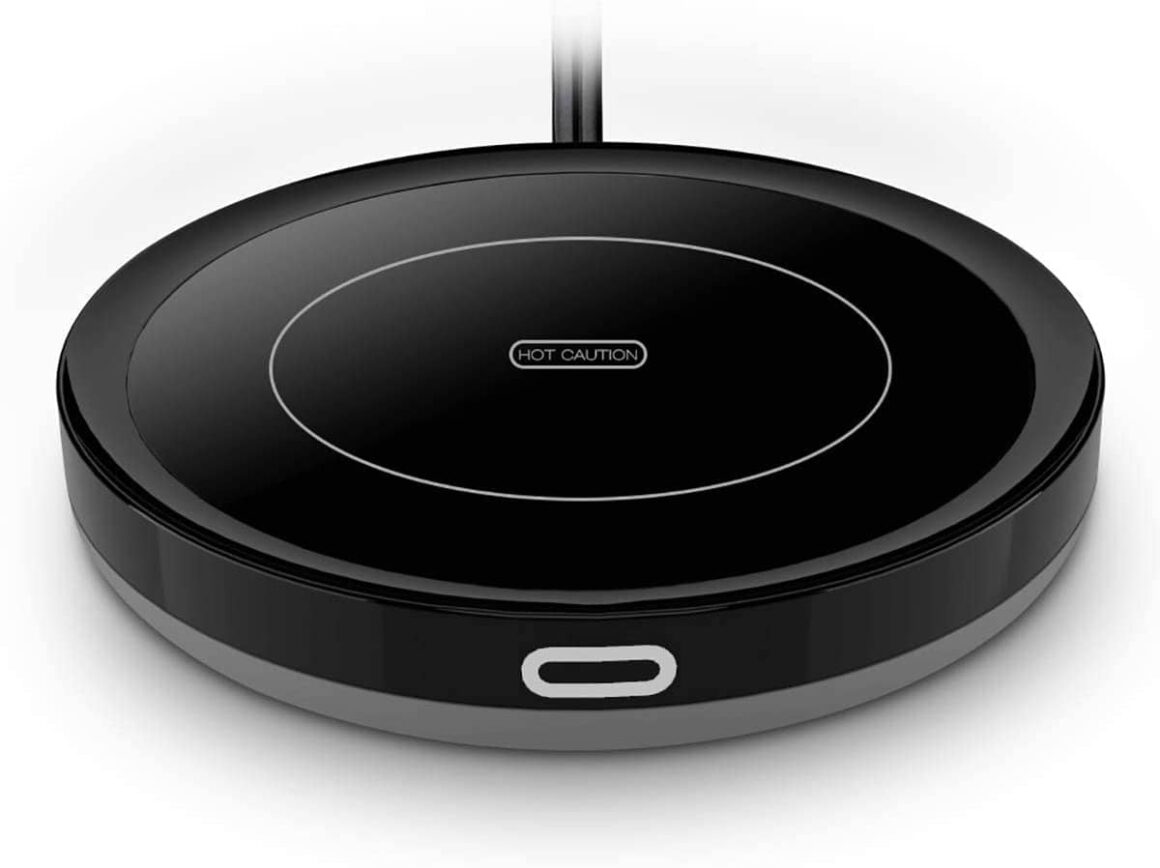 This lightweight mug warmer is the right-hand for any white-collar! Getting a coffee fix is so important for many of us to stay effective throughout the day. But how many times have you seen your coffee getting cold after a quick meeting?
If this is your pain, then a mug warmer is the right therapy! It's super convenient and works like a charm. All you need to do is let your mug rest on its surface and it will automatically activate and heat it within only 5 minutes.
15. Milk Frother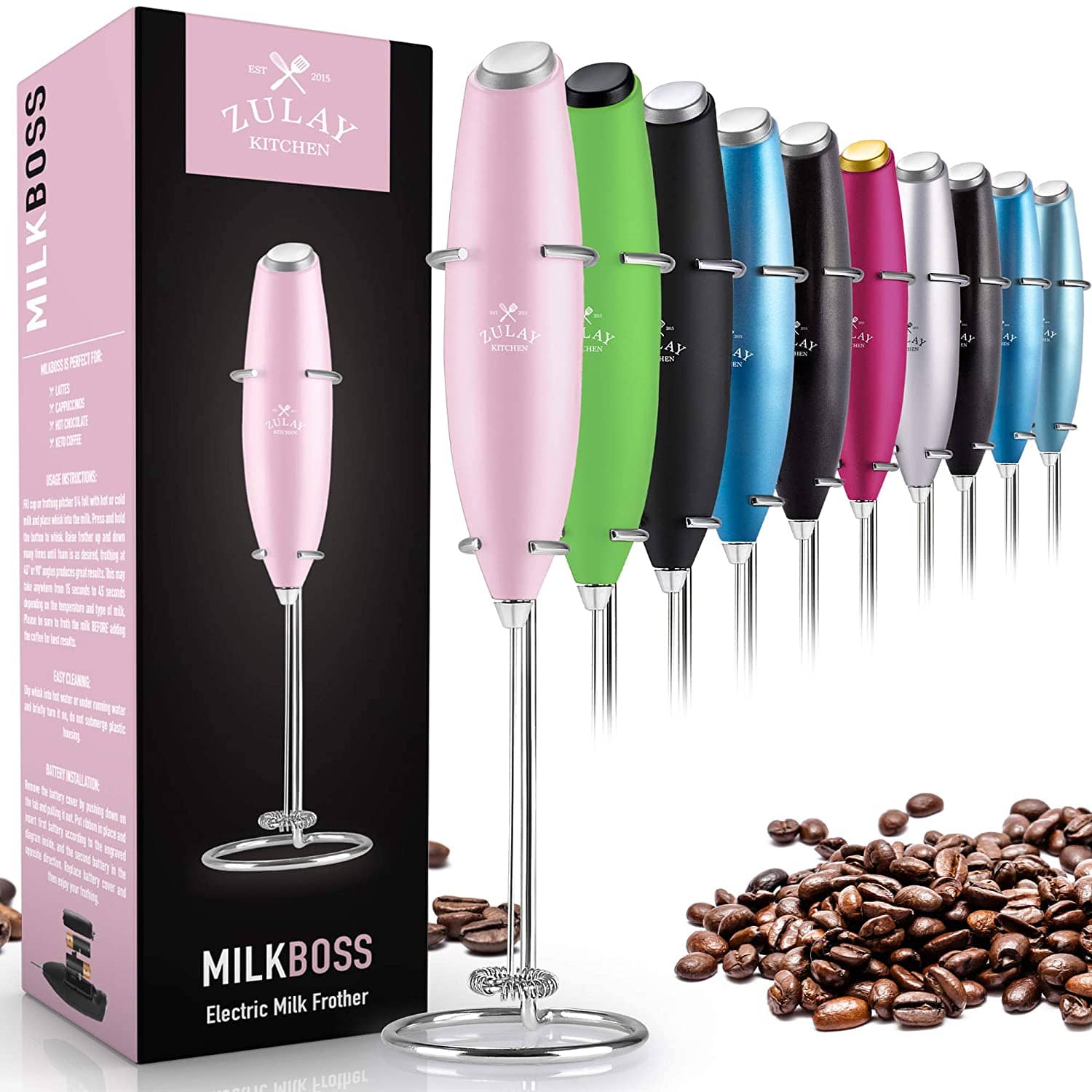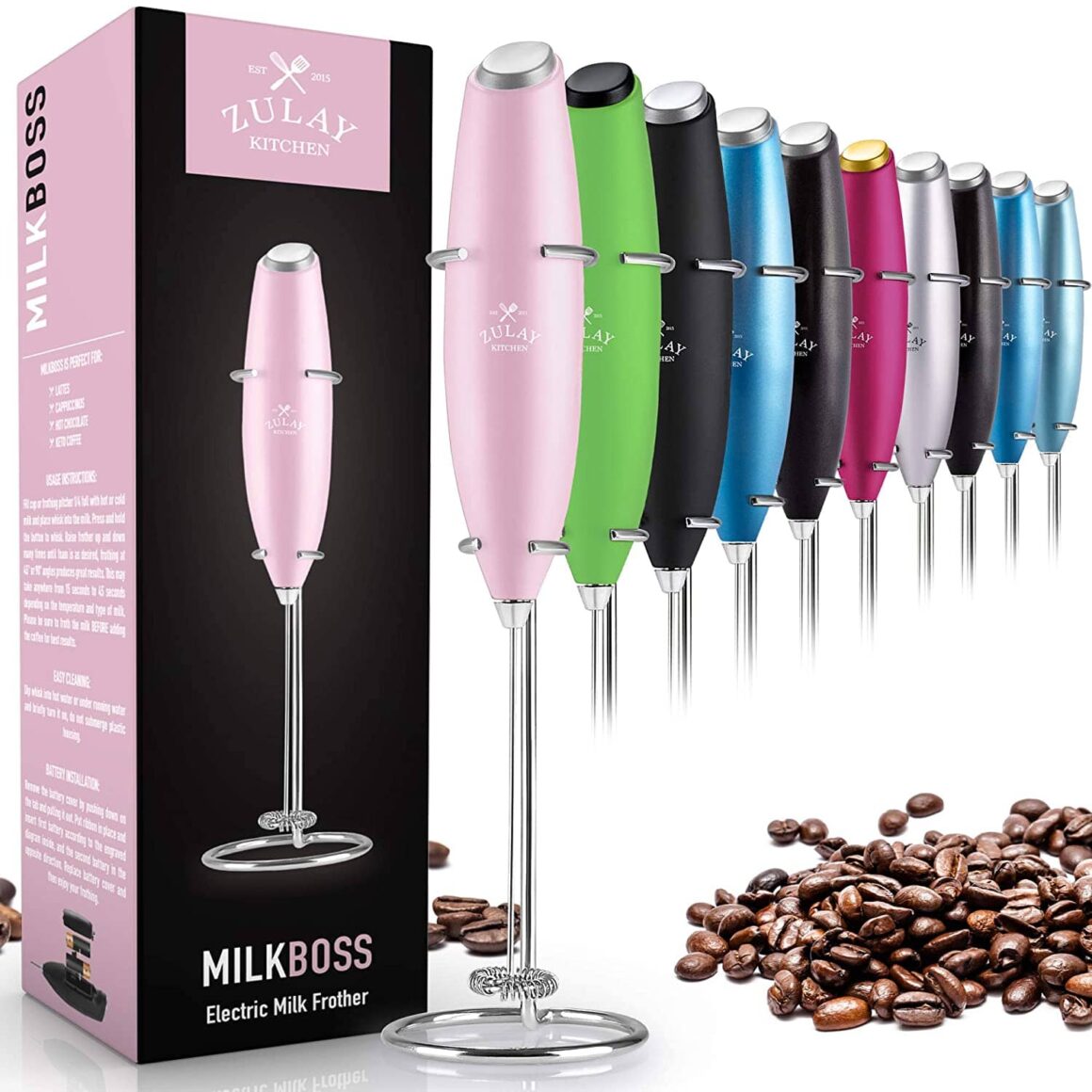 How annoying it is when your thirst for a fine latte is approaching but you can't make it to Starbucks! If you're a big coffee lover, why not complete your drinking experience by getting this milk frother home and start making your own?
This little device is built to make a delicious foamy cream that adds a professional finishing touch to your favorite drink within seconds. Handy and cute, this electric drink whisk mixer can handle any kind of daily drink and food such as smoothies, dairy, milk, and even scrambled eggs!
16. Coffee Spoon Bag Clip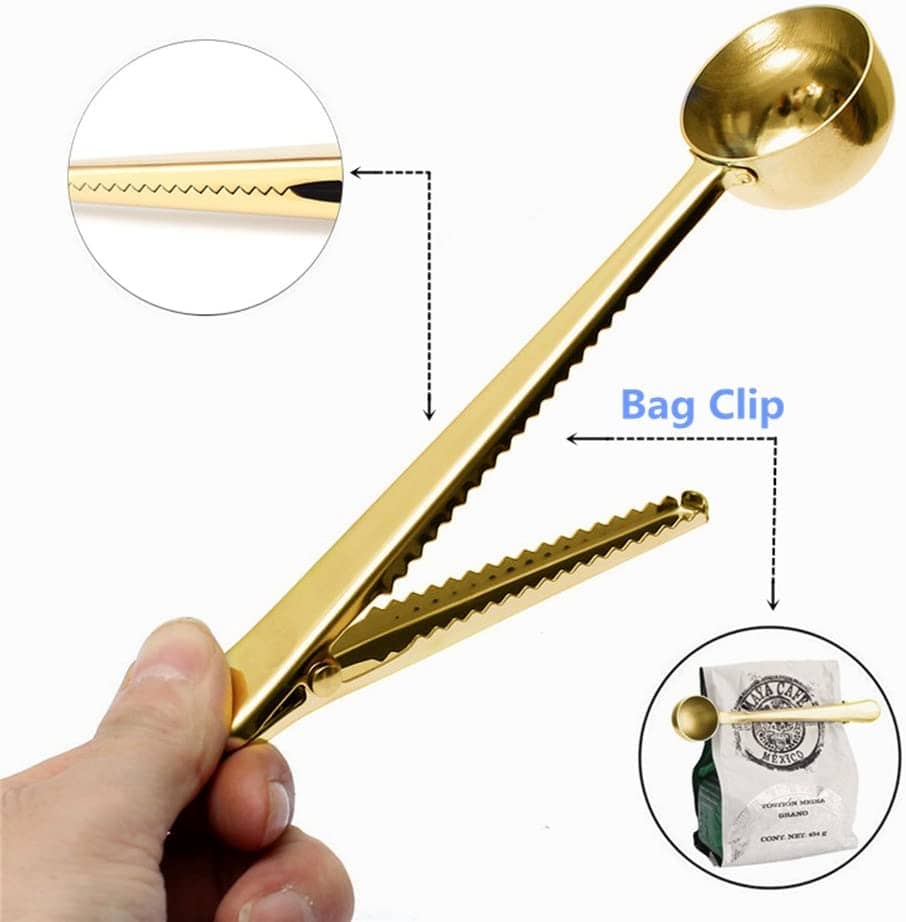 We had no idea there was such a useful and pretty tool like this! Normally we just go for a regular measuring spoon whenever we want to make coffee or milk. But many of them end up getting rusty and stained after a while. But when we saw this little golden spoon on Tiktok, it jumped out at us immediately with how handy and convenient it is!
It comes along with a clip so you can pinch it on the top of a bag after use. We love how exquisite it looks with the golden shining coat, which can be a great and practical tool to gift your friends as well!
17. Soap Dispenser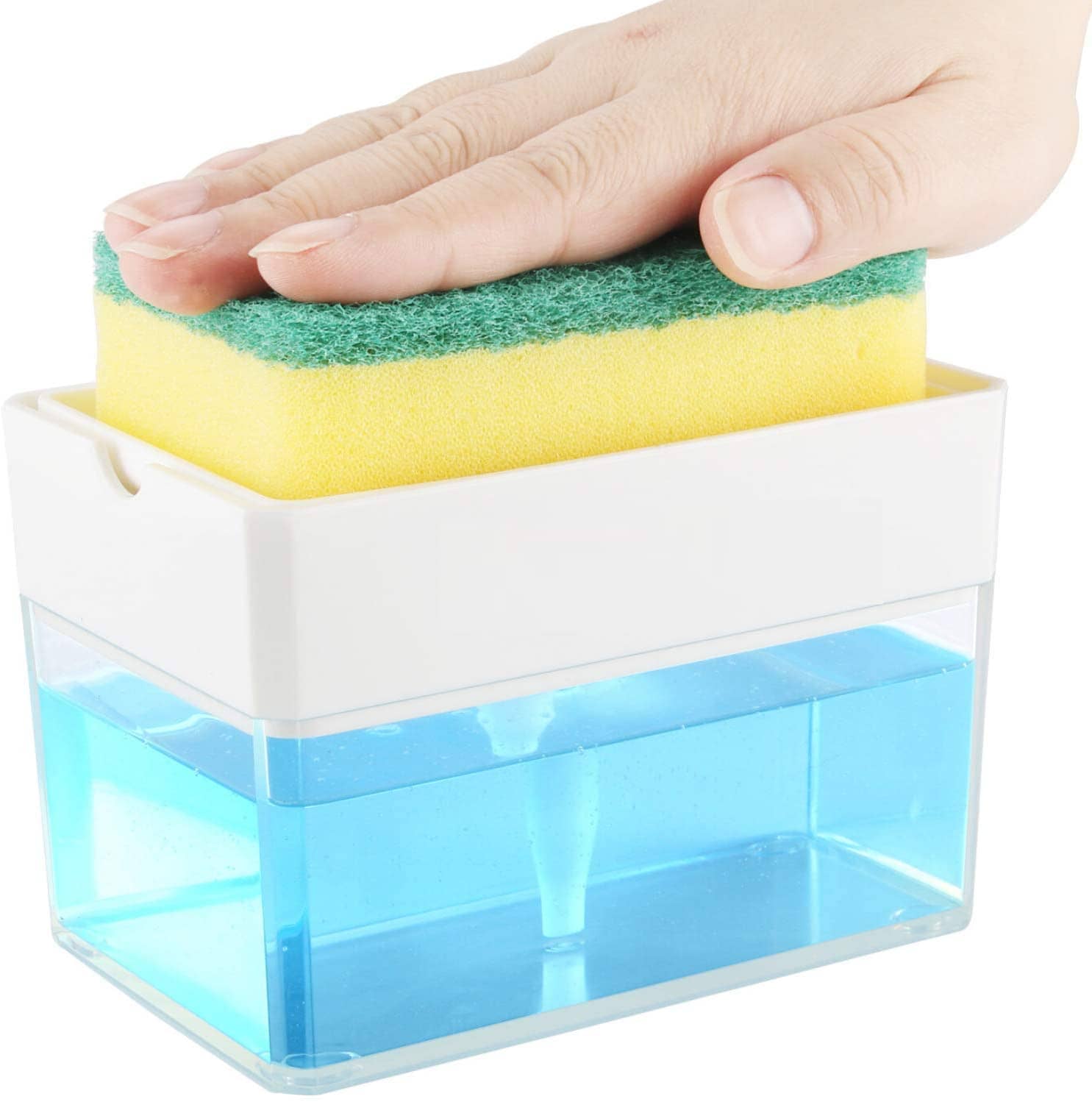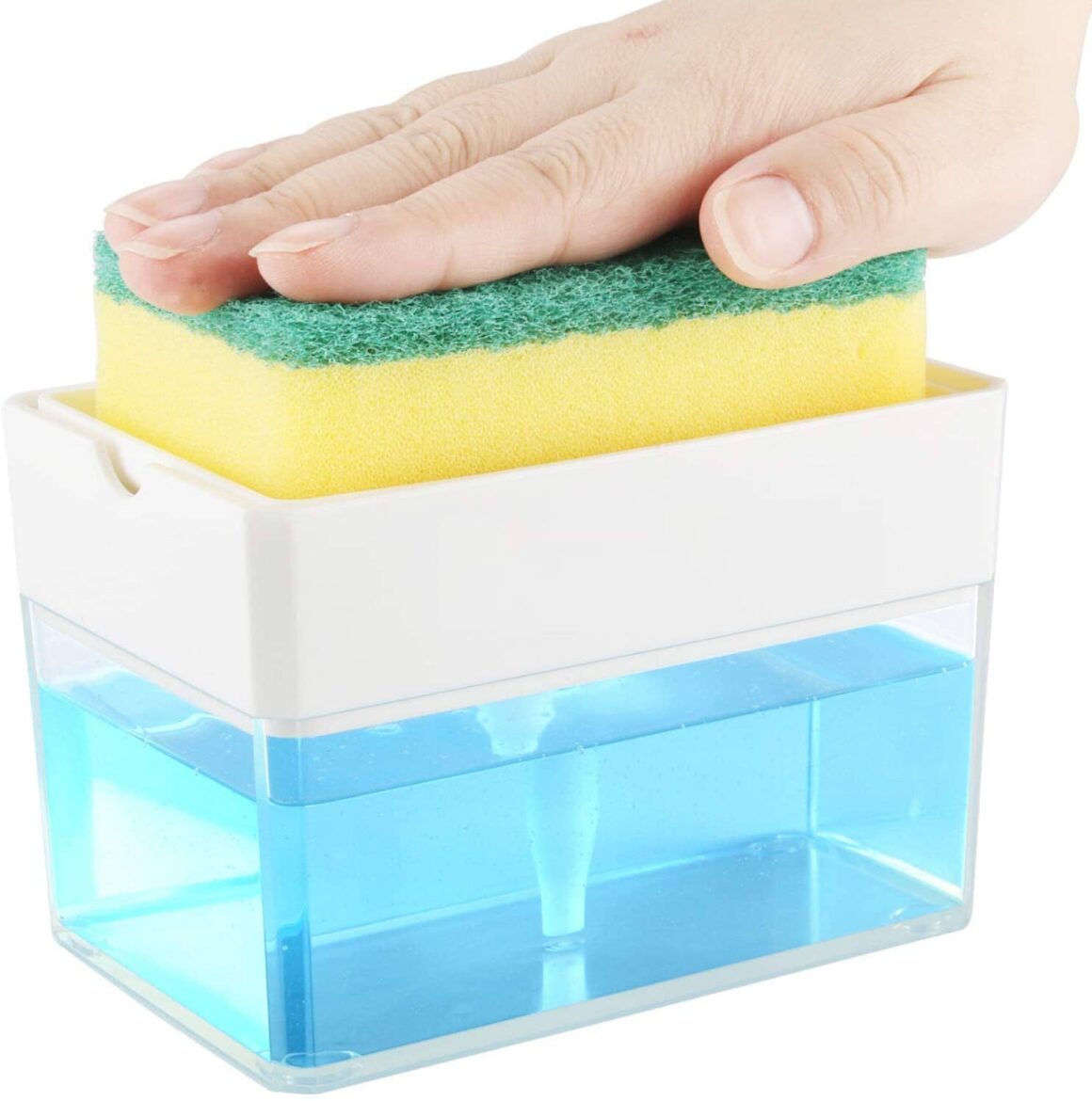 Messy spills, dripping, and trailing are the worst nightmares when it comes to cleaning. Imagine pouring an excessive amount of soap or dishwasher during the cleanup and ending up making a big mess afterward.
This soap dispenser is the best functionality you need to hold sponges, scrubbers, and pads while the washing liquid is stored neatly in the container underneath. With just one easy press and you can finish all the washing tasks with a snap of a finger!
18. Olive Oil Dispenser Bottle

Unlike other regular jugs, this glass dispenser bottle is so innovative and beautiful! It's such a functional container that goes with any kind of liquid you need. So feel free to take it with you to the bathroom or leave it standing on the countertop.
The silver pour spout on the top looks just great and makes an easy smooth pour for your oil, syrup, vinegar, or even mouthwash instead of pumping.
Our recommended accessories and tools above are super functional that you can either use to spice up your home or gift friends and family! If you find them practical and useful, we're sure you would love to check out these cooking utensils and gadgets too!
The following two tabs change content below.
Latest posts by Noms Magazine (see all)