DISCLAIMER: Due to current COVID19 restrictions in Vancouver, some of the dishes mentioned in this piece, specifically the Jell-O shots may not be available at this time.
Tuesdays…seemingly the perfect day for a Jell-O shot, no?
At Pizza Coming Soon, Chinatown's new(ish) Japanese snack bar, Jell-O shots are a prominent weekly Tuesday feature on their ever-changing, eclectic menu.
But it isn't just the menu that's eclectic: with candy-coloured booths, Kit-Kat wall clocks, and cartoonish characters gracing menus, t-shirts, and framed prints, the restaurant itself is a psychedelic dreamscape.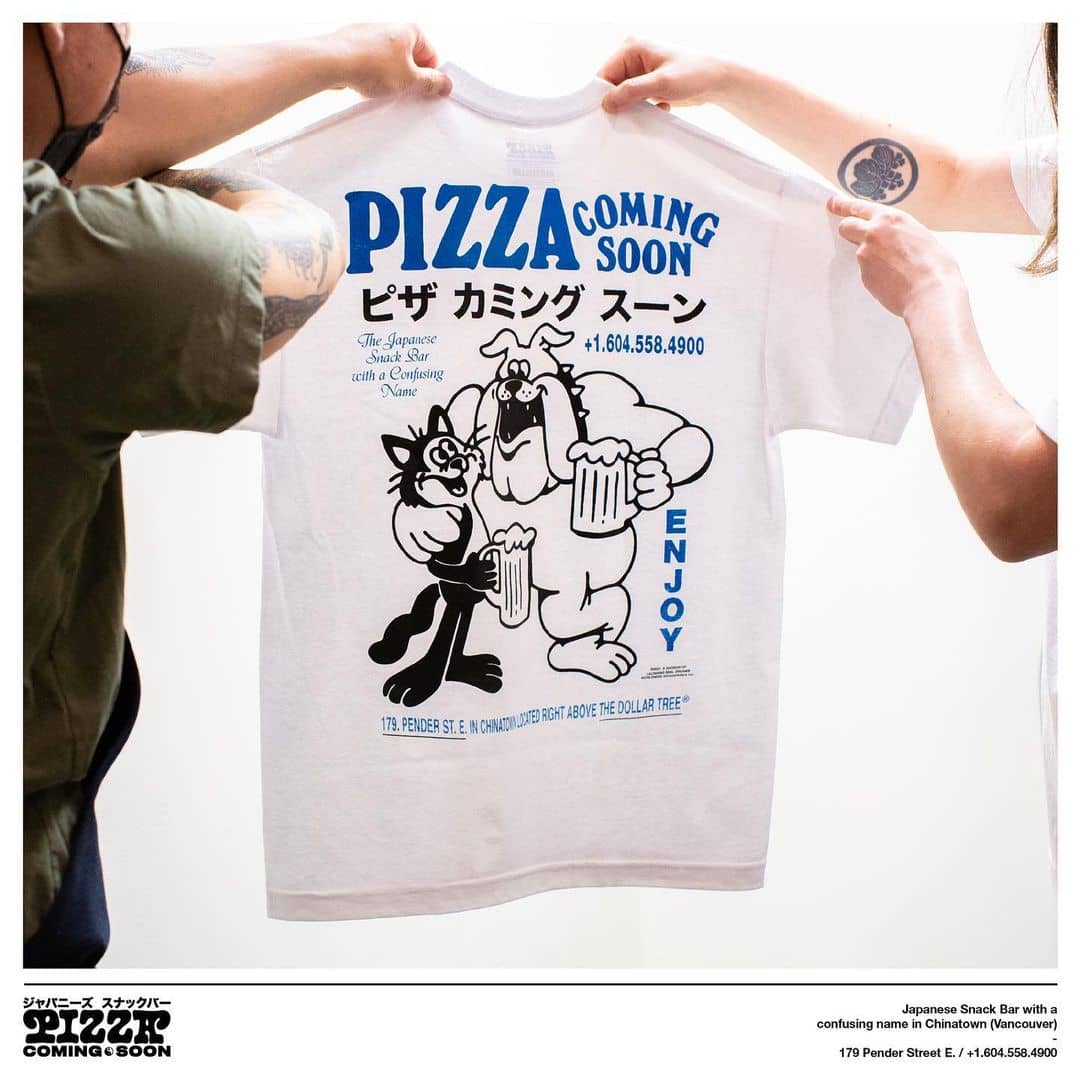 "We wanted to open a very chill Pizza Bar where you could go for a beer and a slice with your literal dog," says Alex (Rhek) Usow, one of the creative forces behind Pizza Coming Soon. Opening during the COVID-19 pandemic, the team behind Pizza Coming Soon was "broke," says Usow. "We don't know how to make pizza and we don't have a bunch of money, so our only option was to do it all ourselves…it's just 4 friend's ideas of what a business could be." 
And what an idea! Everything about the place is unique – the food, the drinks, the decor – each element of the restaurant has been chosen for it's big fun or big flavour. "We ended up with the type of room that you can't pay a professional to design or make," says Usow.
The restaurant's name, self-described as confusing, is literal; "we're just waiting for our pizza oven to get here." says Usow.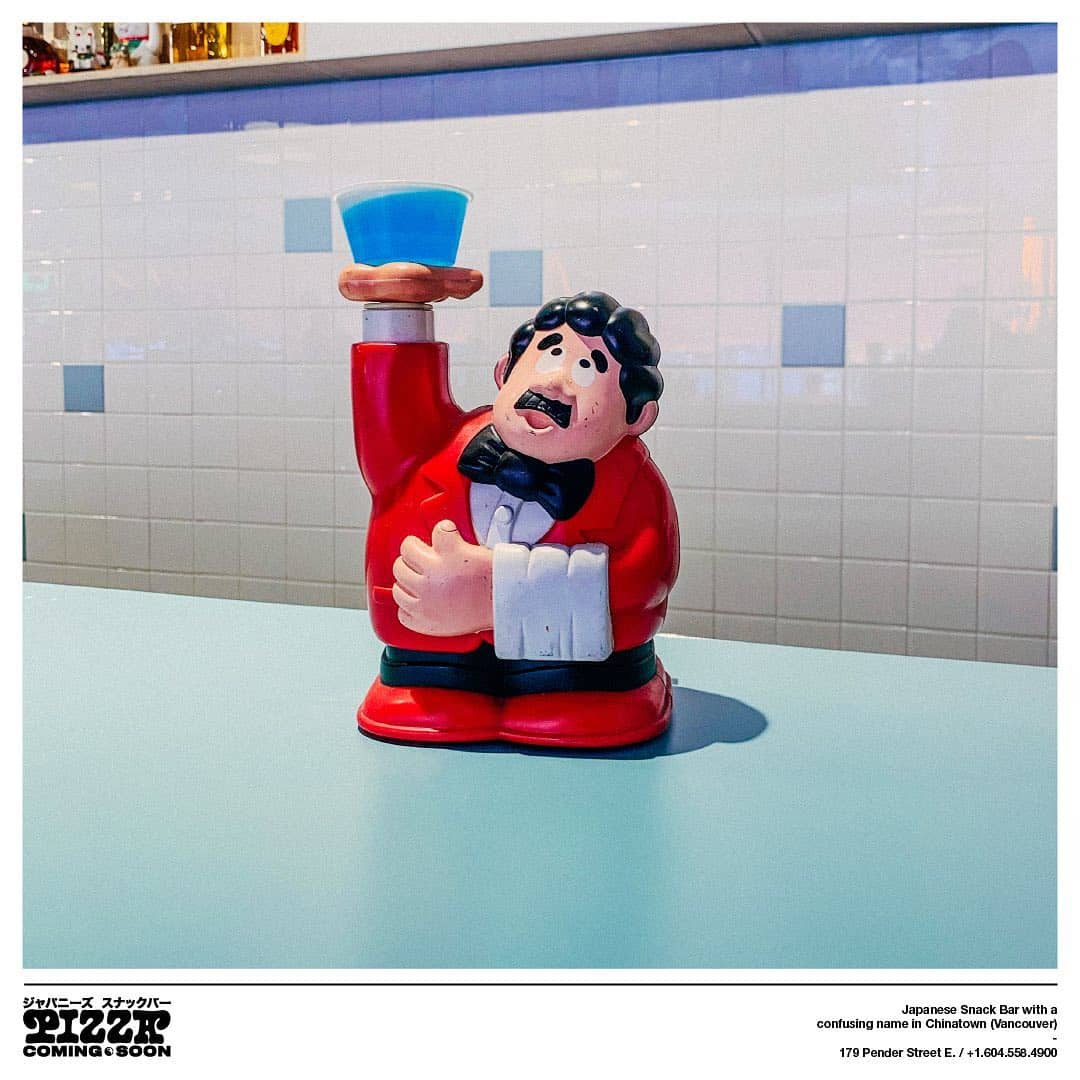 Yet, even without that missing ingredient, pizza, the restaurant's menu is delightfully playful, both Japanese and Italian inspired. 
"One of us, (Keith), was born in Japan, is half Japanese and is a trained Japanese Chef who's worked at restaurants in Japan and he said he would make some cool Japanese snack foods while we figured the whole Pizza thing out. Thanks Keith!"
Braised pork belly with daikon and spicy mustard, a miso-eggplant bowl, handmade radiatore (from Ask for Luigi!) with bolognese sauce, a blooming onion with yuzu-dill mayo, french fries with ramen powder, chicken (or cauliflower!) wings. A thrilling mix, the menu has something for any vibe. 
Pizza Coming Soon also has an extremely cool wine list. Featuring solely natural wine by the bottle or the glass, the selection is purposefully chosen and constantly rotating, staying up-to-date with what's new. "You can find a fascinating and abundant rotating daily selection of natural wines, both local and international," says Usow.
This too, is a key part of the Pizza Coming Soon concept.
"One of us (Dylan) finds natural wines to be exciting, probably cause they're so wacky (just like him)," says Usow. "He had a vision to serve only natural wines and so we trusted his vision to serve only natural wines," says Usow.
However, natural wines aren't the only entertaining drinks on the menu. Cans of Miller High Life (billed as 'the champagne of beer'), Nude vodka sodas (in a 'random flavour'), and, on Tuesdays, the aforementioned Jell-O shots for $5 a pop.
Incredibly fun and tasty, past flavour combinations include jalapeno margarita and strawberry negroni, upgrading these shots to something more than what you might typically expect from a humble Jell-O shot. "We figure that we're a serious business of being a place for people to have a good time so it just made sense in a nonsensical way," says Usow.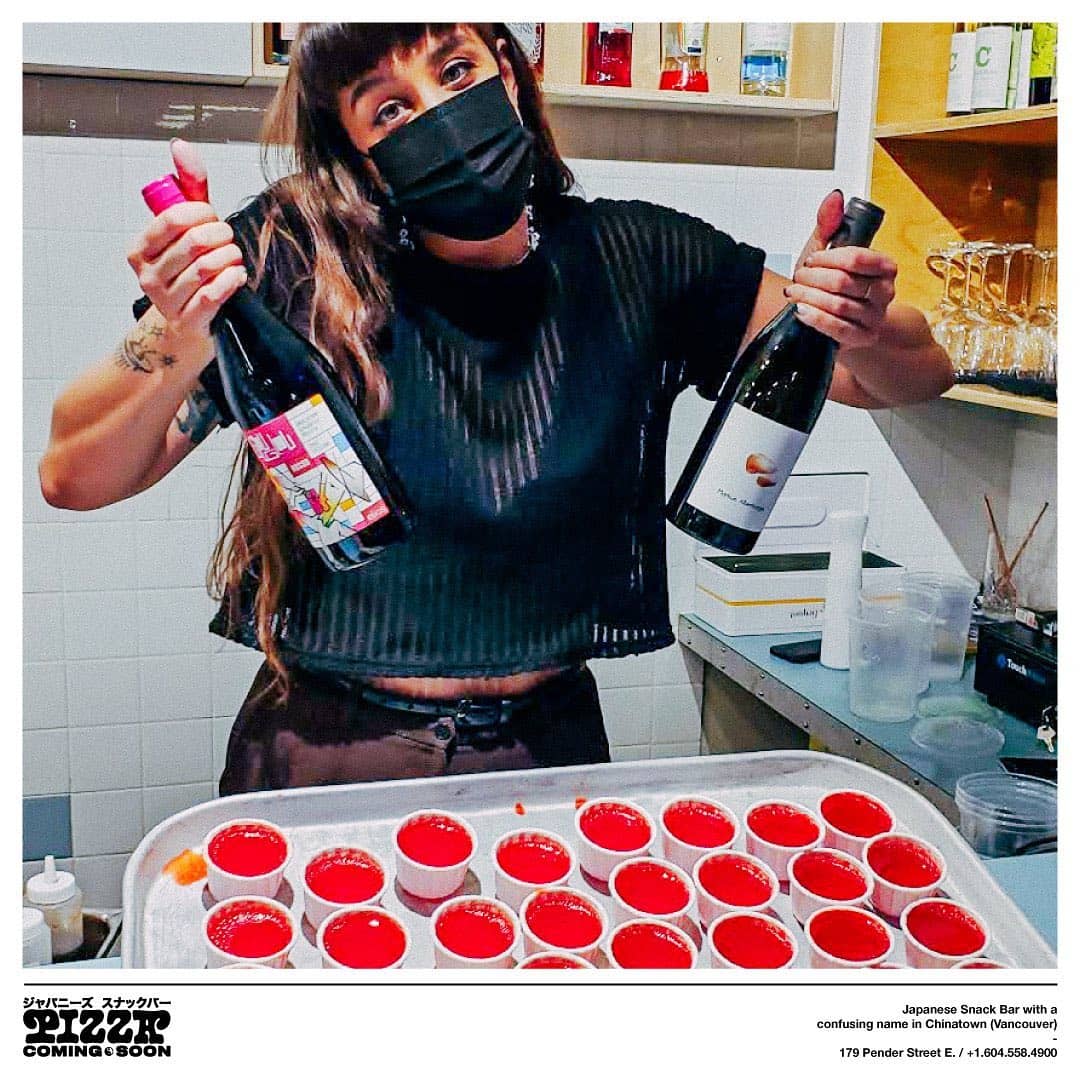 Advertised as 'Tadia Tuesdays,' the night is named after the bartender friend who started it all. "Our friend Tadia from The Boxcar works here on Tuesdays and is very passionate about making delicious and balanced Jell-O shots…we love Tadia!"
Their lively instagram presence and penchant for collaborating with other favourite Vancouver spots (katsu chicken sandwiches with Downlow Chicken Shack, for example) makes being a customer at Pizza Coming Soon feel like you are truly a part of their raucous, witty fun. In on the joke, even. 
"We're a good place for a fun time," says Usow.