Christmas is one of the most special and magical times of the year, when you are surrounded with your close circle of people, perhaps hosting a nice dinner at home or opting to dine out someplace downtown. If you are in the second group, a lot of restaurants around Vancouver are already preparing for some special Christmas events at their premises. Besides offering exquisite holiday menu options, some are also hosting live music or carol-singing.
To help you figure out where to book, our team has prepared a list of 10 restaurant recommendations where you can go for a Christmasy gather-up and have a real blast.
1.) Water Street Cafe Christmas Eve & Christmas Day Dinner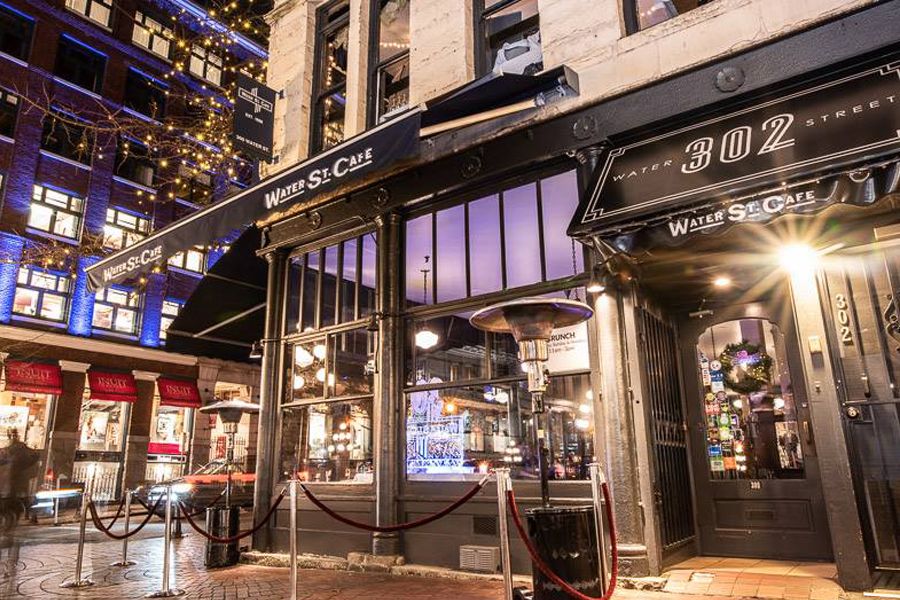 Water St. Cafe is a gem in the heart of Vancouver's historic Gastown, where Fridays through Mondays you can end up enjoying nice live music gigs alongside their delicious meals. As per the holidays, Water St. Cafe's culinary team has as well crafted an appealing menu and you can drop by either for Christmas Eve or Christmas Day.
Christmas Eve Dinner
On Christmas Eve, opt between Chef Alan's $79 5 course meal menu. Start with Roasted Carrot Ginger Soup and then move along with appetizers such as a Bison Carpaccio, Jump Prawn Cocktail or a Burrata Caprese. After a quick sweet Lime Sorbet treat, you'll continue with your choise of main such as Turkey Duo, Prime Rib, Seafood Pappardelle Alfredo or Ratatouille. Finish up with a dessert such as a classic Italian tiramisu or fresh fruit sorbet.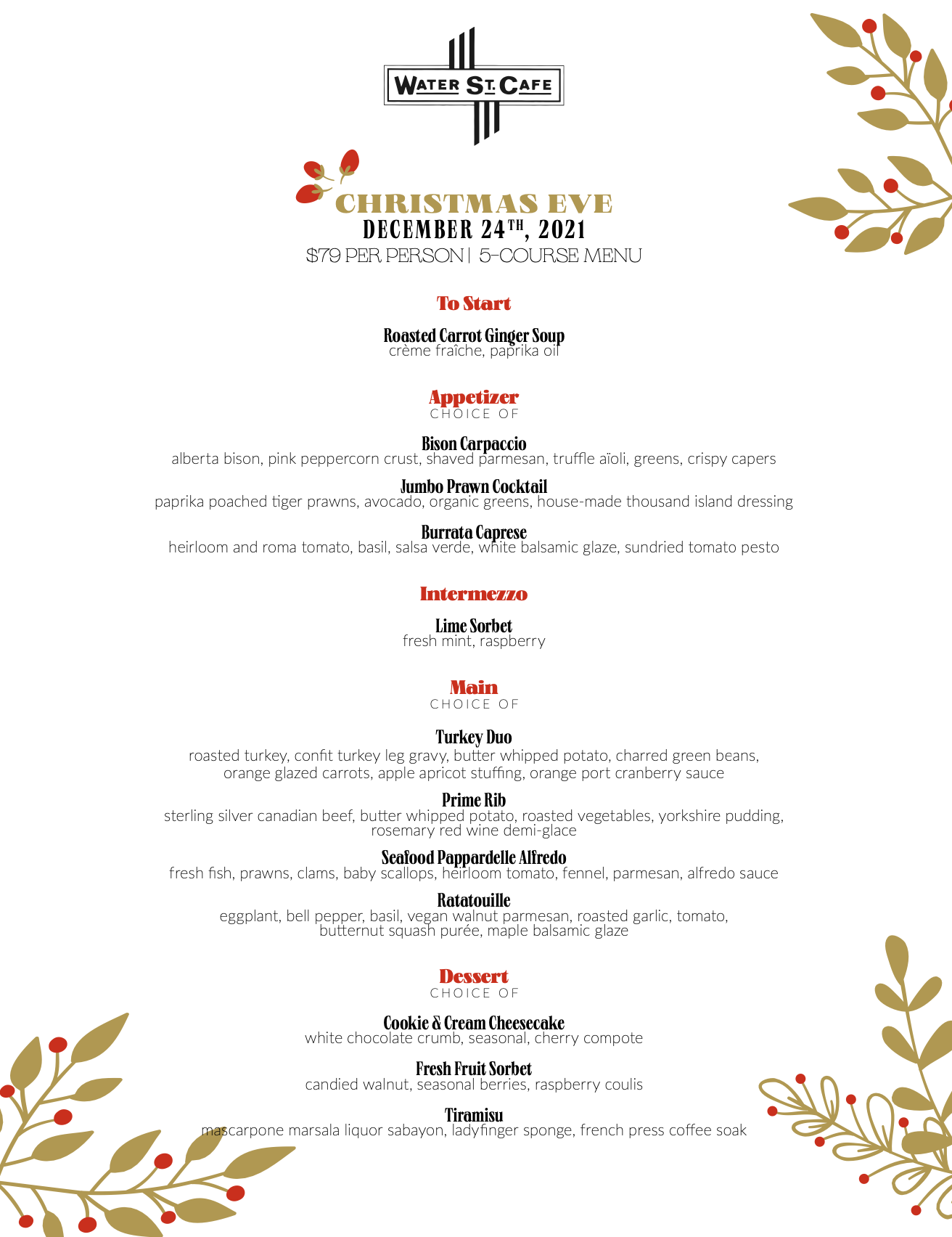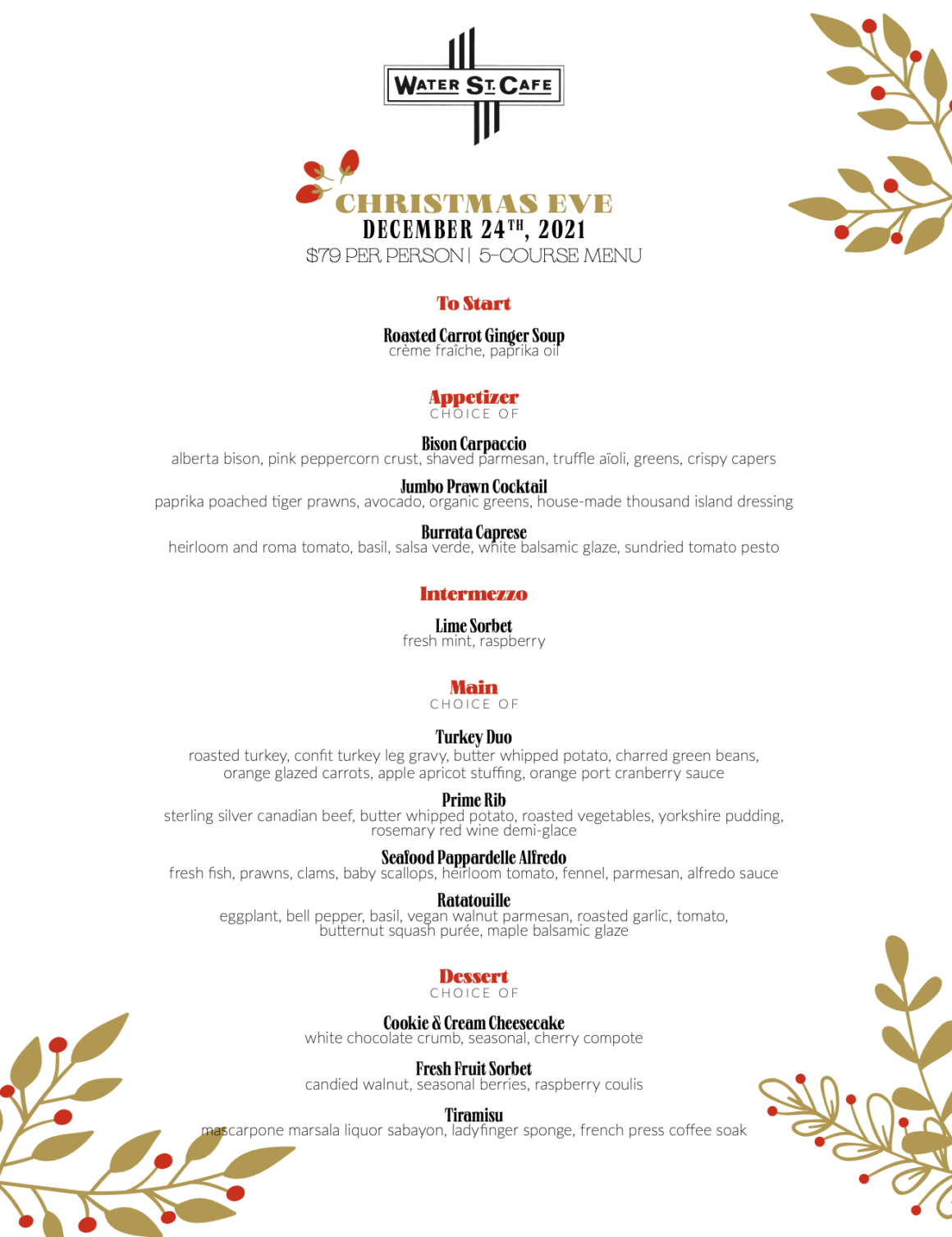 Christmas Day Dinner
On Christmas Day, many of the same dishes remain on the offer, but you'll find be welcomed with an additional course, some slight changes and more options for mains.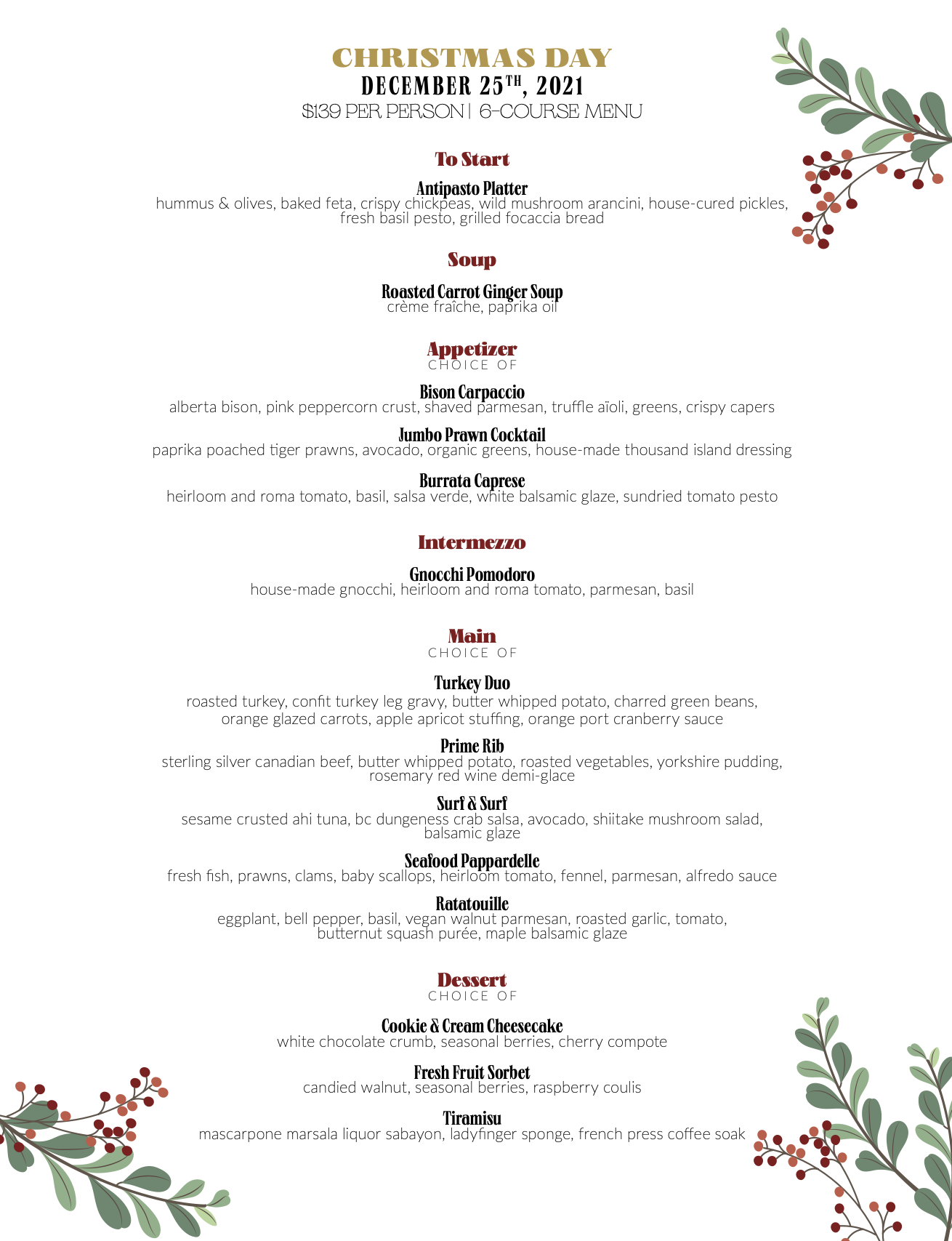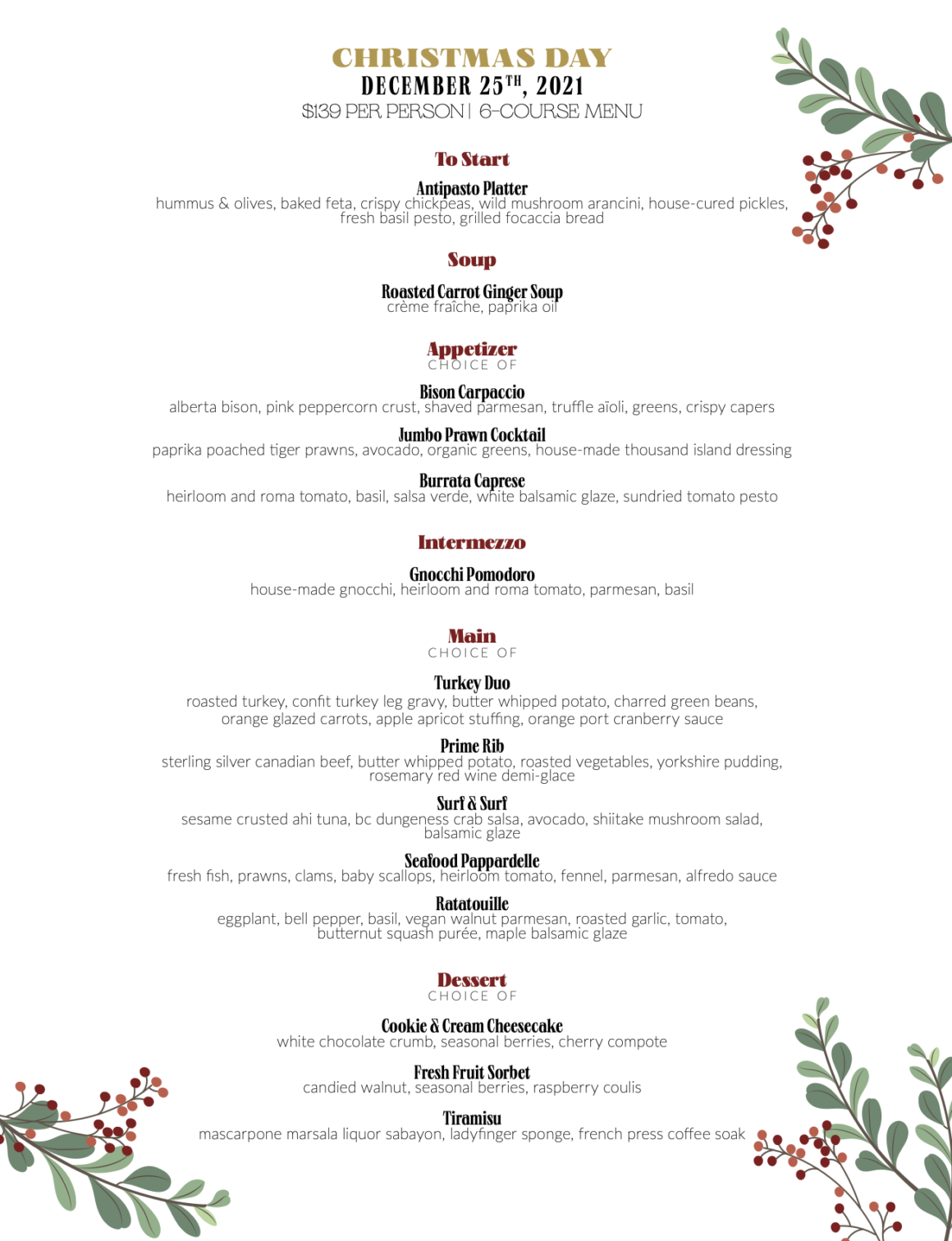 Price: $79-$139
Location: Water St. Cafe, 300 Water Street, Vancouver, BC, V6B 1B6
Instagram | Facebook | Website 
2.) The Rise Eatery Holiday Menu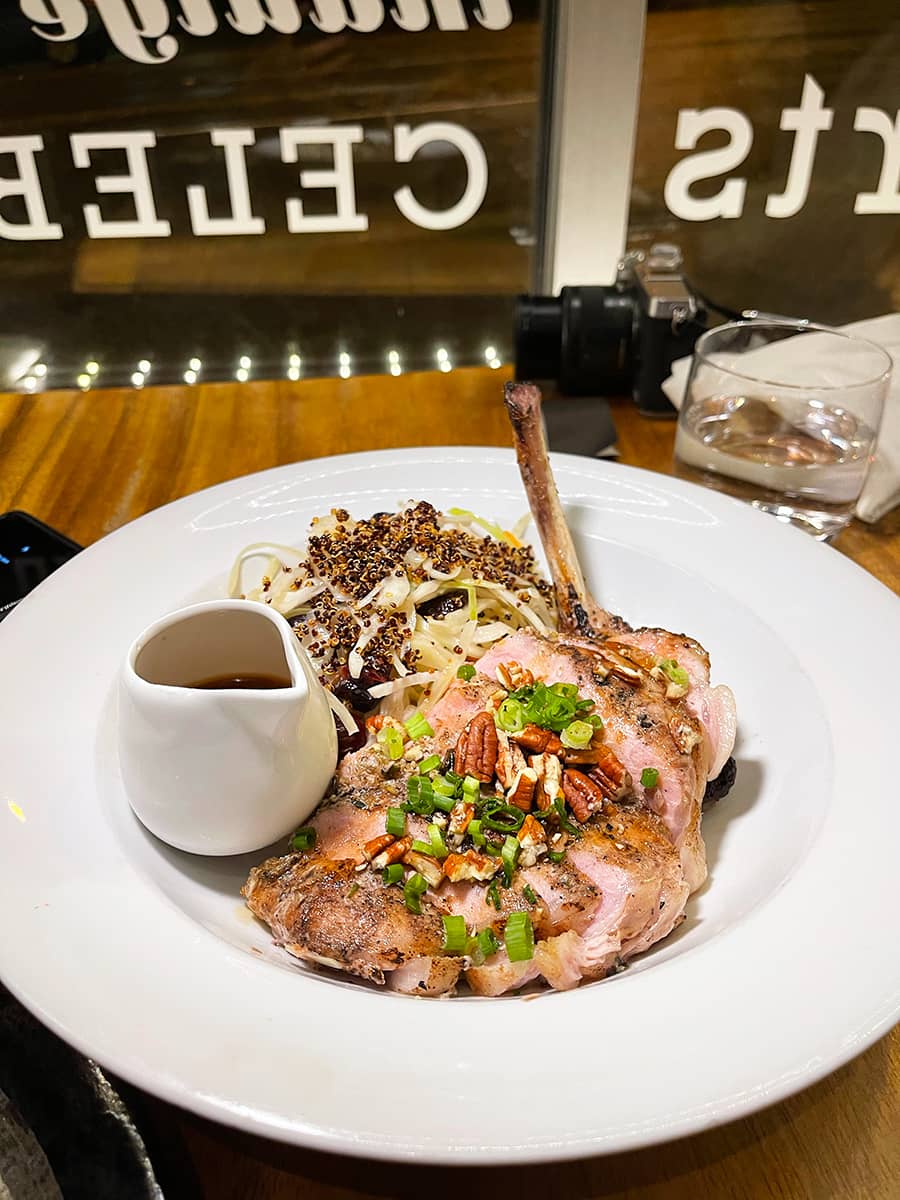 South Granville's top rated global fusion restaurant, The Rise Eatery, has crafted a holiday set menu that includes some twists to their signature items and some new additions just for these festive times.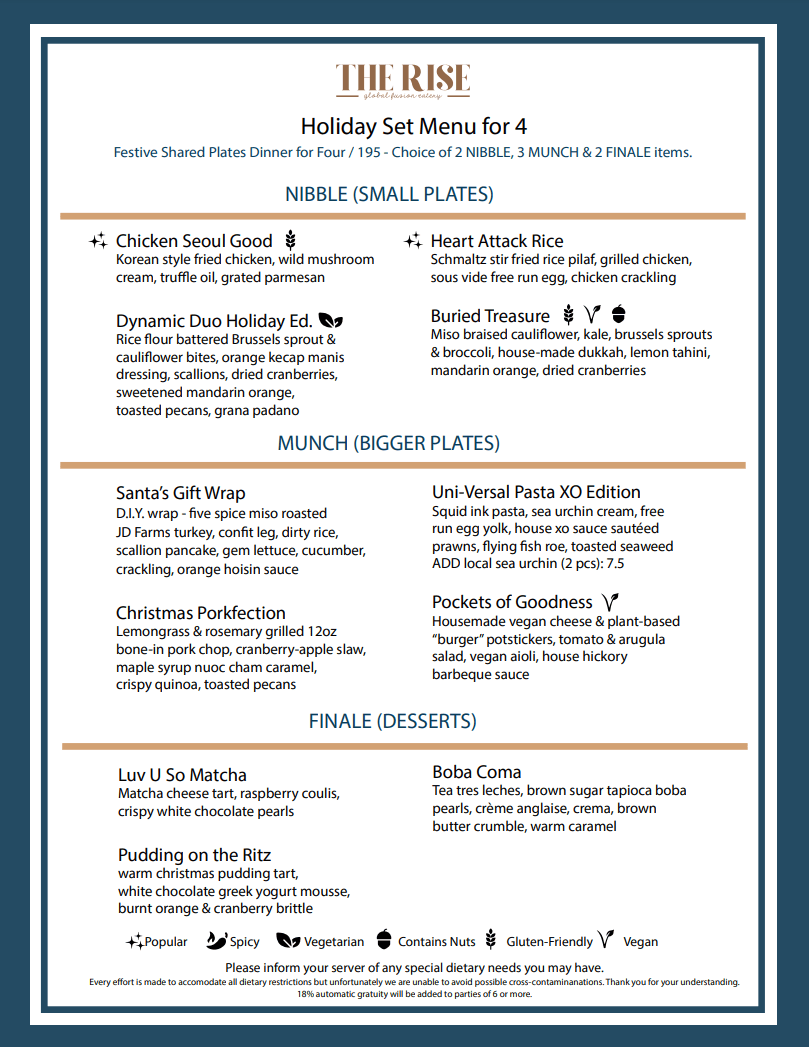 Price: $195
Location: 3121 Granville St, Vancouver, BC V6H 3K1
3.) H Tasting Lounge Christmas Dine-In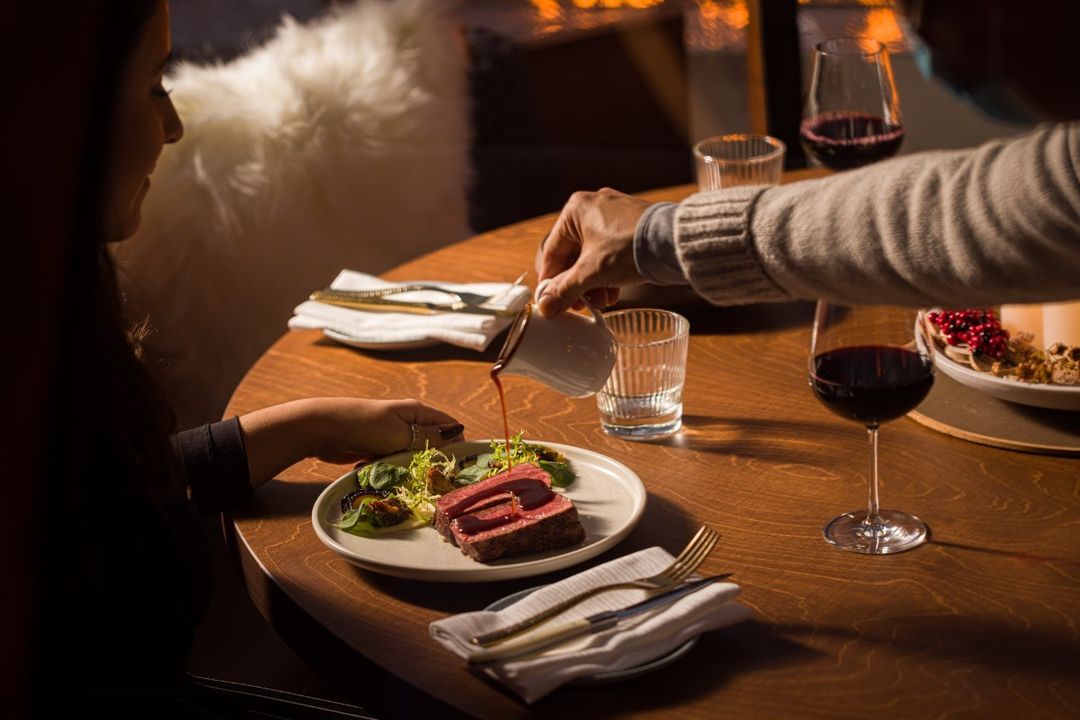 Celebrate Christmas with a lavish 4-course dinner in their warmly decorated lounge and cozy domes.
The four course meal starts with a Sourdough Boule with an edible olive oil candle and options of festive Winter Beets salad or Chestnut & Parsnip soup. Then for entree you have a choice of Turkey Two ways, Dungeness Crab Crusted Salmon, or Wild Mushroom and Truffle Risotto. And to end off the feast, there's a Chocolate Yule Log with Black Cherry and Orange Sauce waiting for you to dig in.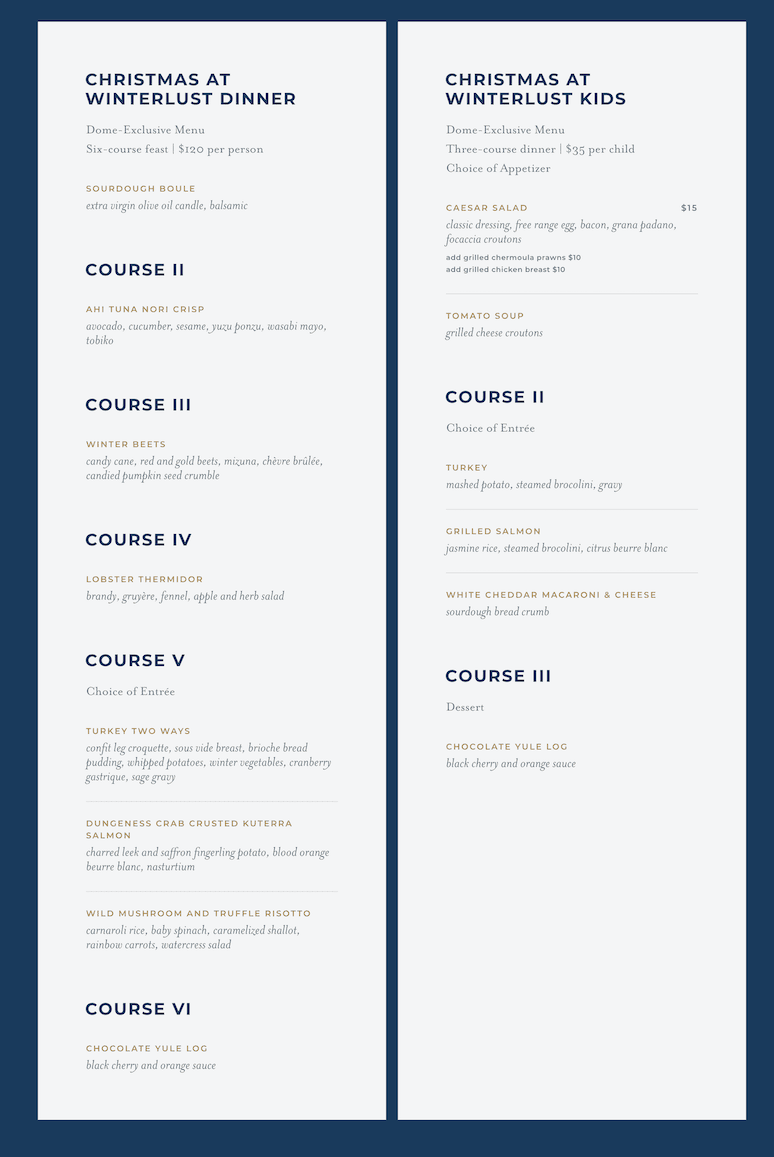 Price: $80 per adult + tax & 18% gratuity. $35 kids under 12
Reservation deposit: $80 taken at time of booking which will be applied to final bill on the evening.
Available December 24 and 25 starting at 5pm only.
4.) Miku Holiday Kaiseki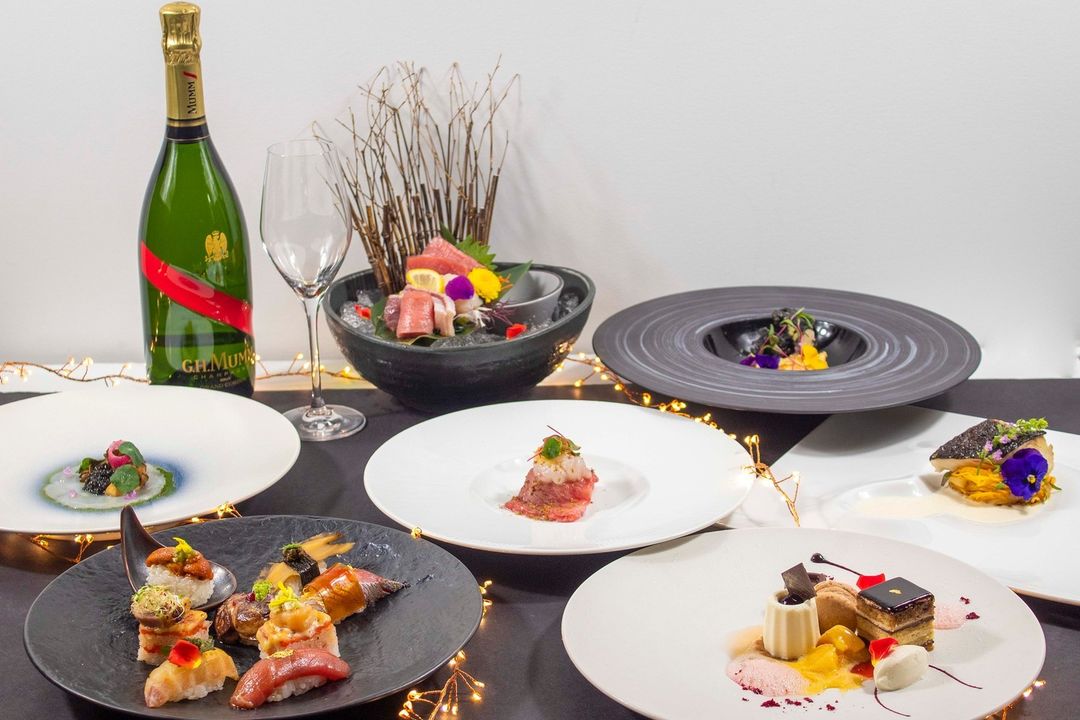 Miku is one of the best sushi spots in Vancouver and is a treasured spot for both its decadent Aburi cuisine and charming view of Vancouver. It's a point of fusion of both traditional Japanese and local West Coast flavours, and this holiday season Miku's culinary team has forged a seven-item special Kaiseki menu.
Miku's Holiday Kaiseki menu is available until December 31 for dinner time only.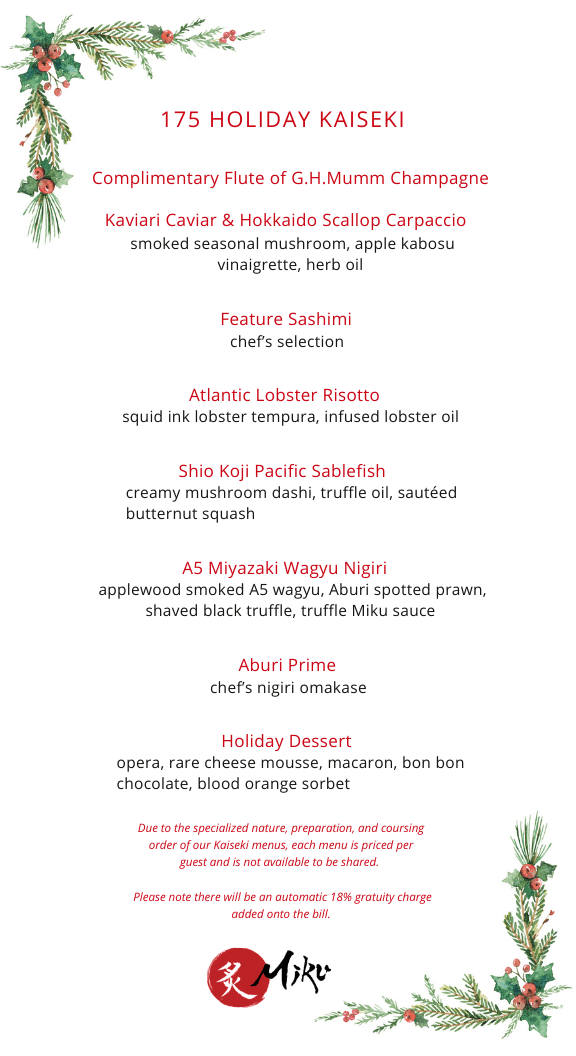 Price: $175 + 18% gratuity
Location: 70-200 Granville Street, Granville Square, Vancouver, BC, Canada V6C 1S4
Instagram | Facebook | Website
5.) Botanist Holiday Tasting Menu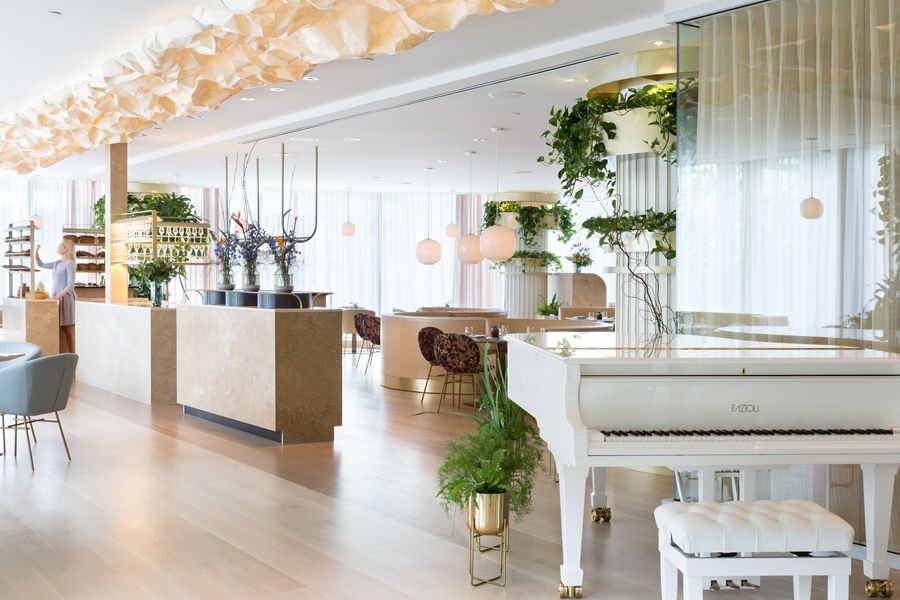 Botanist is famed for its fresh, organic and sustainable sourced food prepared by the magic hands of chef Hector Laguna and his culinary team. For the occasion of the holiday, the team has prepared a delectable 6 course tasting menu for Christmas Eve and Christmas Day. Optional wine pairings are also available.
Prices: $148 per person & $70 wine pairings
Available on December 24 & 25, 2021 from 5:30pm – 10:00pm
Location: 1038 Canada Place, Vancouver, BC, Canada V6C 0B9
Instagram | Facebook | Website
6.) Teahouse Christmas Eve Dinner & Christmas Day Dinner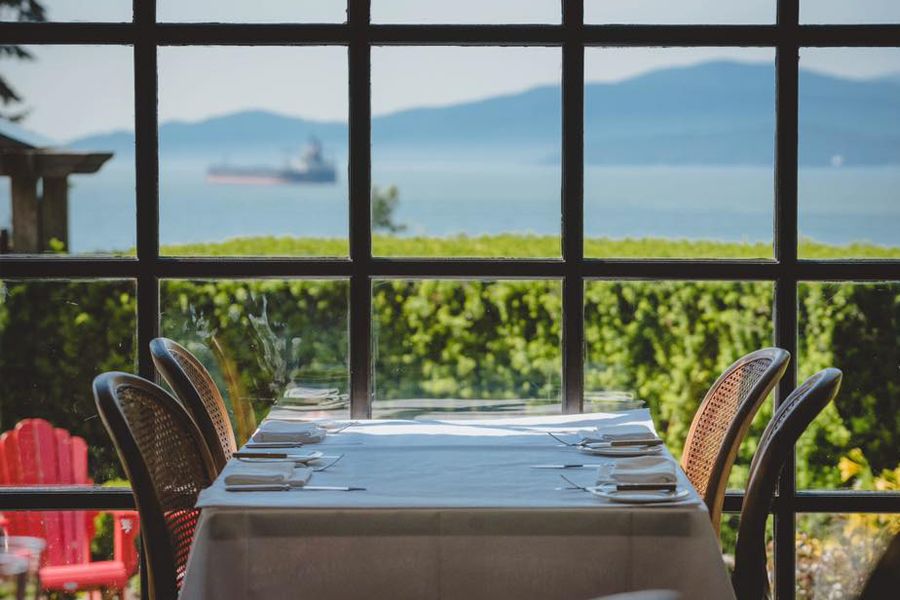 With over 40 years of history behind its name, The Teahouse in Stanley Park has is known for its exquisite dining experience and Vancouver's scenic English Bay view. This holiday season promises new memories at the old venture as the restaurant will be hosting a pair of special Yuletide dinners.
Christmas Eve Dinner
On December 24, Executive Chef Sic Kim along with his team will be catering a three-course Christmas Eve Menu ($65 per person) that features a choice of slow-roasted prime rib, roasted turkey, seared arctic char or mushroom conchiglie as the main course options, alongside fresh seasonal appetizers and self-indulgent desserts.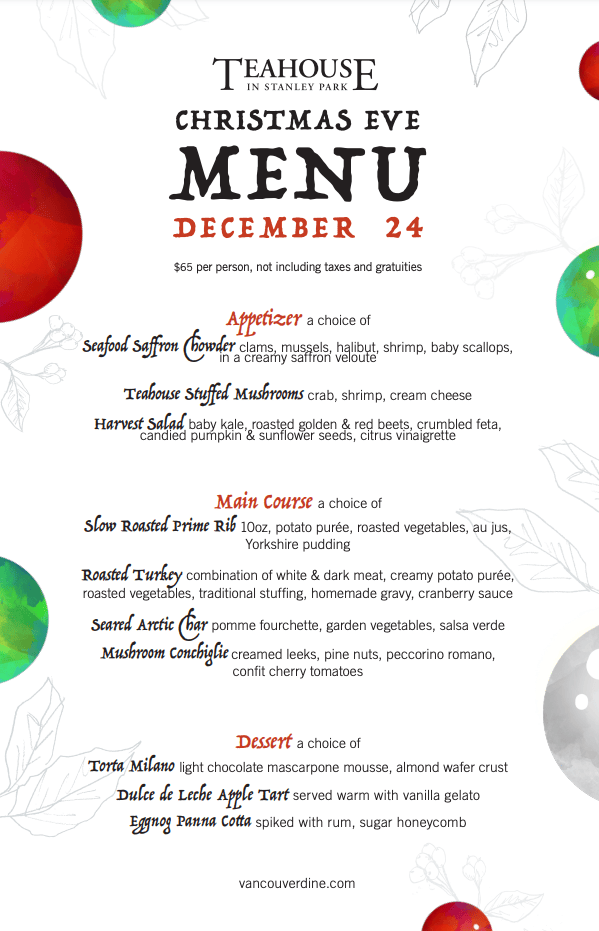 Christmas Day Dinner
More food extravaganza will follow on Christmas Day when the five-course Christmas Day Menu ($95 per person) will dazzle guests with West-Coast-inspired holiday classics including slow-roasted prime rib, roasted turkey, seafood trio, and mushroom conchiglie.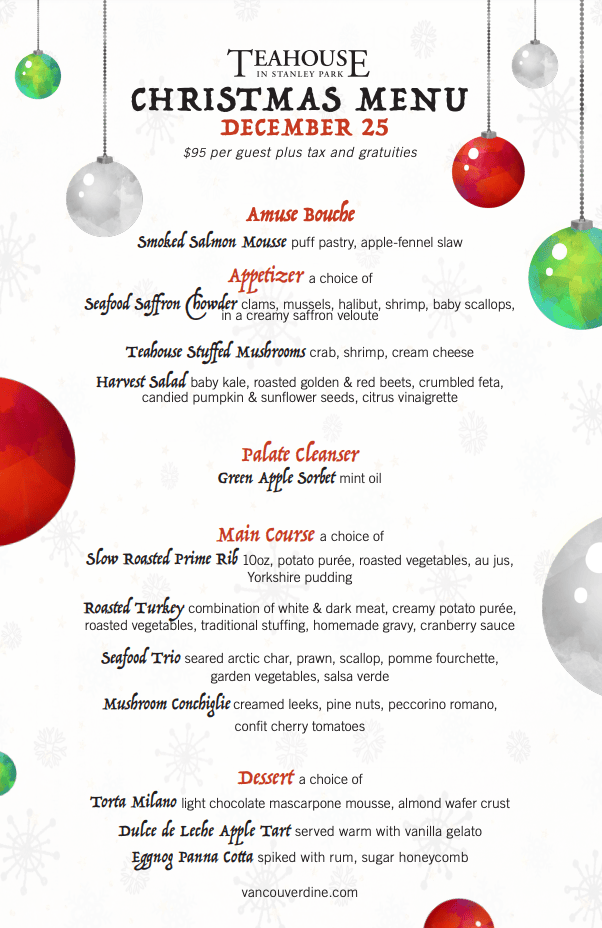 Price: $65-$95
Location: Ferguson Point, Stanley Park, Vancouver, BC
Instagram | Facebook | Website
7.) Seasons in the Park Christmas Eve Dinner + Christmas Day Dinner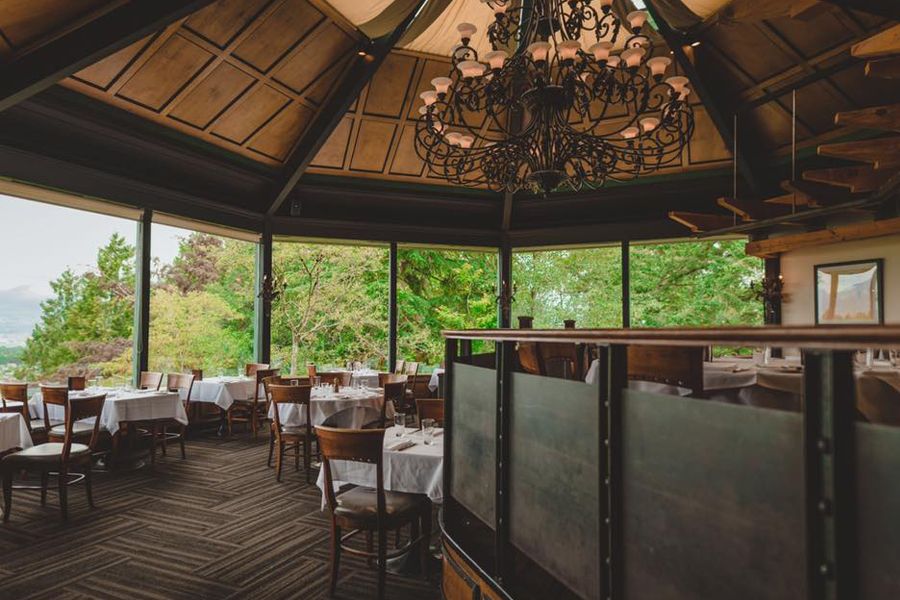 Seasons in the Park certainly takes pride in its scenic location atop Vancouver's Queen Elizabeth Park, overlooking its marvelous gardens. And they'll also cater a pair of dinners this Christmas.
Christmas Eve Dinner
At Seasons in the Park you can book for Christmas Eve dinner ($65 per person) and enjoy their enticing three-course menu for the occasion which includes fresh appetizers, and highlights such as oven-roasted turkey or prime rib with traditional holiday fixings.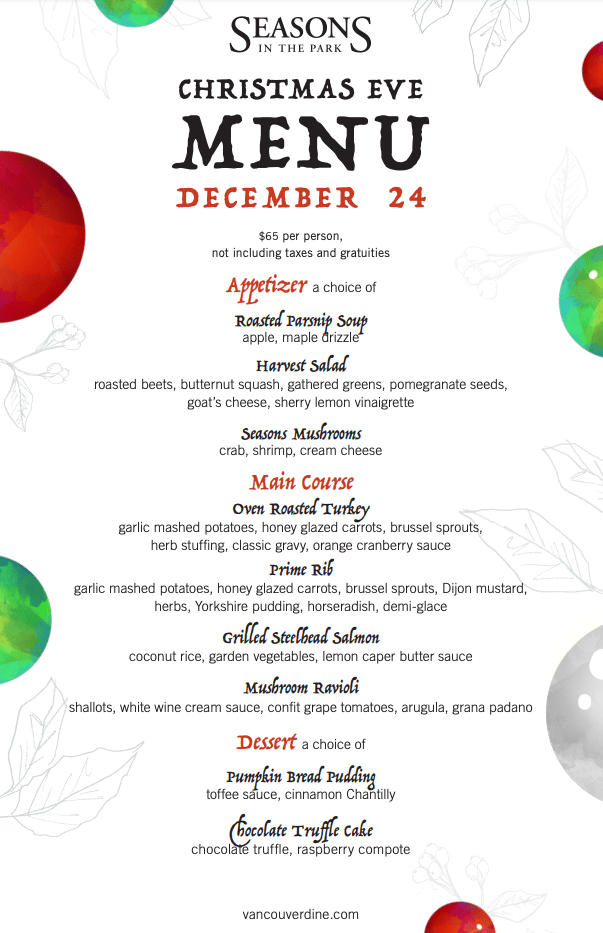 Christmas Day Dinner
The decadence continues on Christmas Day when the dinner menu ($95 per person) is boosted with additional two courses.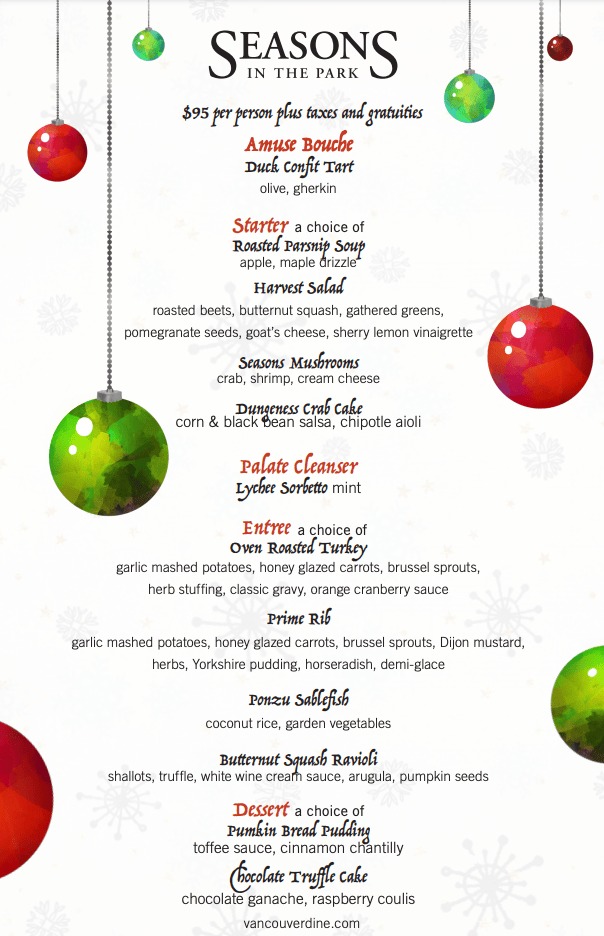 Should you want to return at Seasons in the Park on December 31, the restaurant will ring in 2020 with a one-night-only New Year's Eve feature sheet and party favours for all guests.
Prices: $65-$95 per person
Location: W 33rd Ave, Vancouver, BC V5Y 2M4
Instagram | Facebook | Website
8.) Boulevard Christmas Day Brunch and Dinner buffets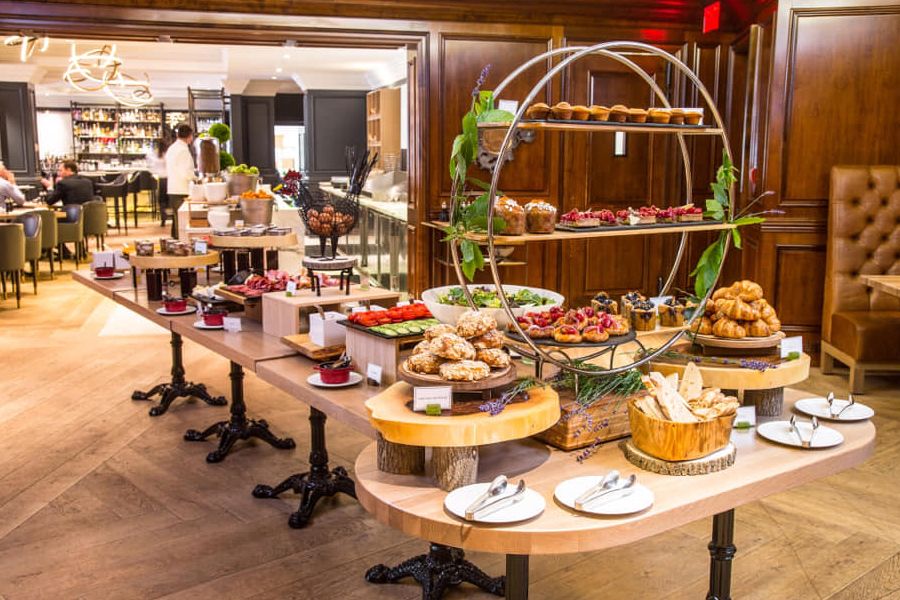 Under Executive Chef Roger Ma, Vancouver's Boulevard Kitchen & Oyster Bar has a flourishing seafood cuisine. In light of the holidays, their artisan offer is available for both the Boulevard's Christmas Day Brunch and Dinner buffet.
The brunch buffet opens on December 25th, from 10:30 a.m. until 2 p.m., and costs $98 for adults. Prices are bumped up to $105 for the dinner buffet which begins at 4 p.m and finishes up at 9 p.m.
Menu: Brunch Menu, Dinner Menu
Price: $98 for adults
Location: 845 Burrard St, Vancouver, BC V6Z 2K6
Instagram | Facebook | Website
9.) Five Sails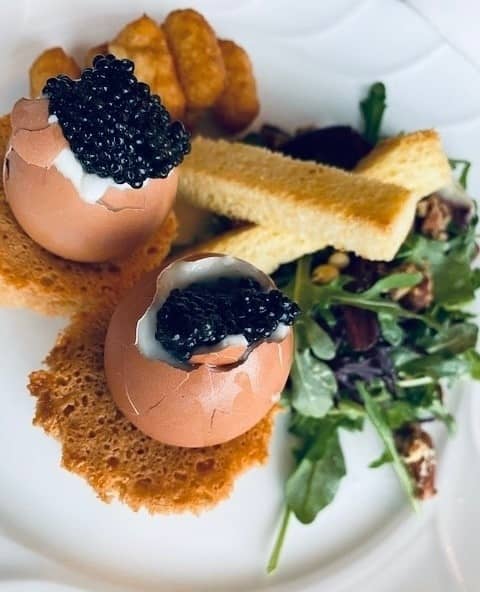 Togetherness is what the Christmas season is all about – and that's what this upscale restaurant wants to celebrate. With a spectacular waterfront view and a luxurious setting, Five Sails is hosting you and your loved ones a 5-course dining experience this festive season. It is only available from Dec. 24th – 26th.

Price: $150
Location: 999 Canada Way Vancouver BC
10. Forage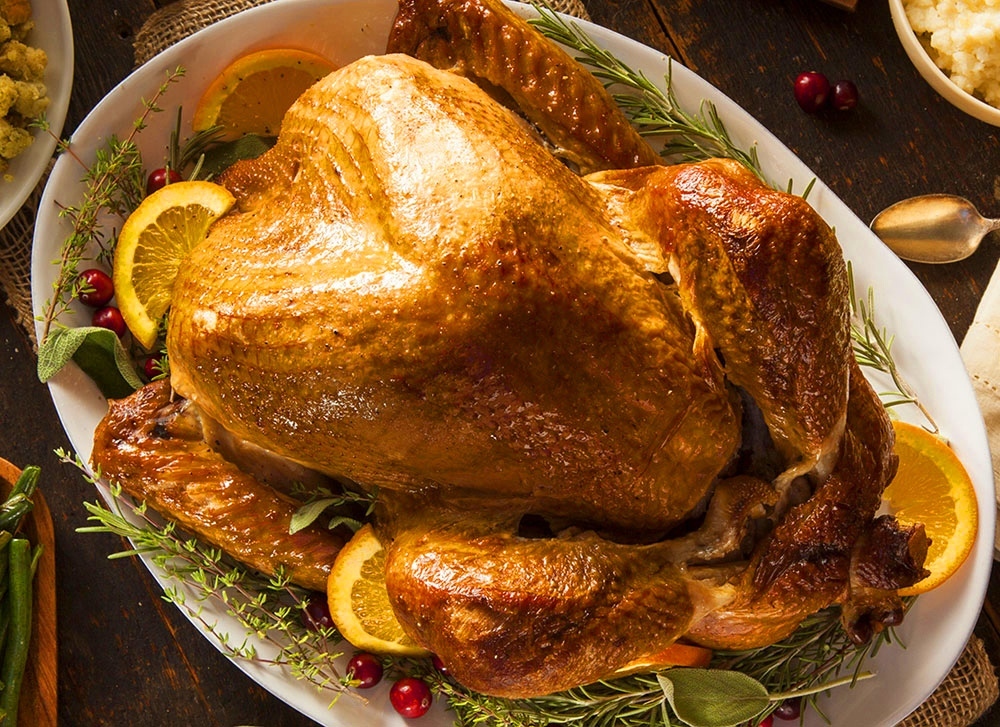 Robson's Forage restaurant is known for connecting diners to local fishers, foragers and farmers. They are all about food sustainability and using the best local ingredients in their shared plates. And their new holiday menu by Chef Wilbert Choi is no different!
Holiday Lunch Menu
The Holiday Lunch is only available December 8, 9, 10, 15, 16 and 17, at select times for reservation.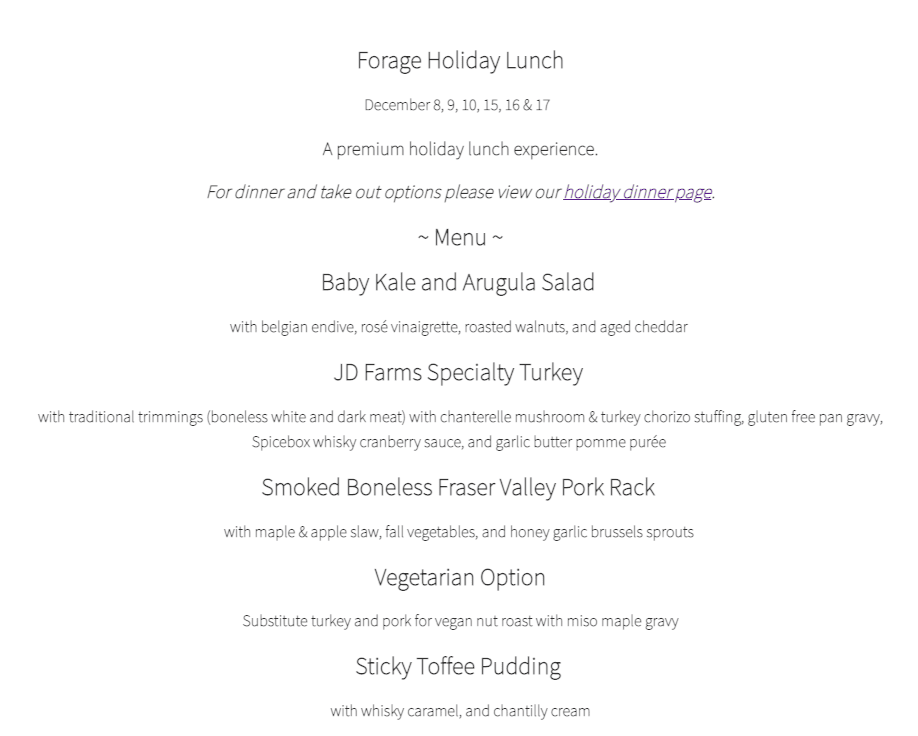 Holiday Dinner Menu
The Holiday Dinner is available on December 24th and 25th at select times only.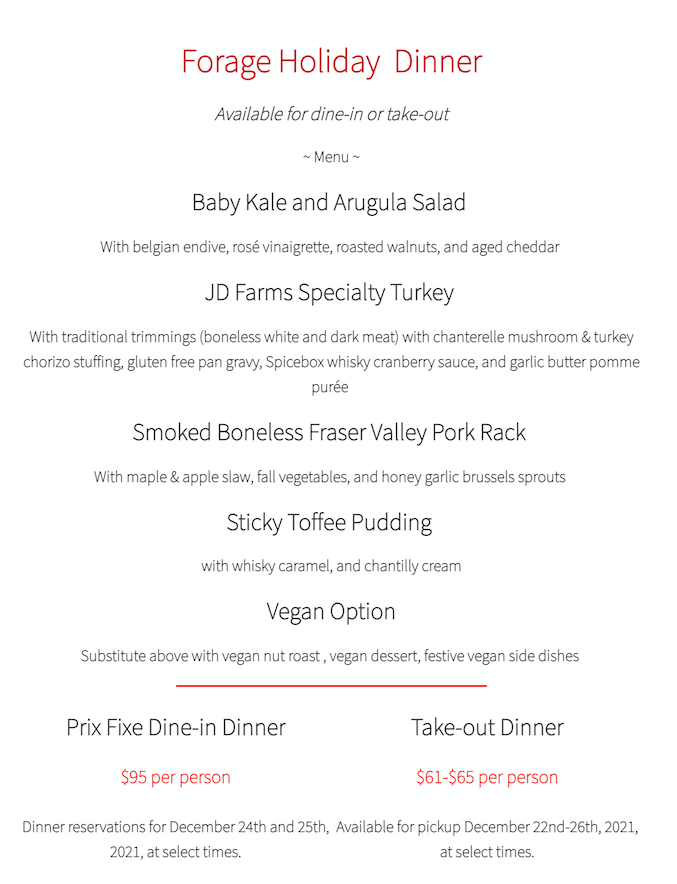 Price: $65 – $95
Location: 1300 Robson St., Vancouver BC
Have we now caused you a headache? We know, all these places are magnificent dining venues to embrace the Christmas spirit along with your nearest and dearest ones. But don't waste too much time waiting. What's available now will sell out quickly for sure. Whether you are also wondering what to do for Christmas gifts shopping for your loved ones, feel free to also check our handy Holiday Gift Guide. There are some pretty cool ideas for what to give as a present. 
And finally, whether you choose a fine dining location downtown Vancouver, host a Christmas dinner at your place, or just wanna grab something quick on the go, we want to wish you a memorable and flavoursome Christmas with lots of fun and joy.
The following two tabs change content below.
Latest posts by Noms Magazine (see all)