Enter December and one of the most frequently heard questions everywhere you go certainly is what are your plans for New Year's Eve? But if you are the kind of folks who likes to end their 2021 with some delectable treats on the table–you have landed on the right page!
We have compiled a list of the best Vancouver restaurants and venues where you can toast over a feast the coming of the New Year as the clocks strike midnight on December 31st. Dig through the list below.
1.) Water Street New Year's Eve Black Tie Gala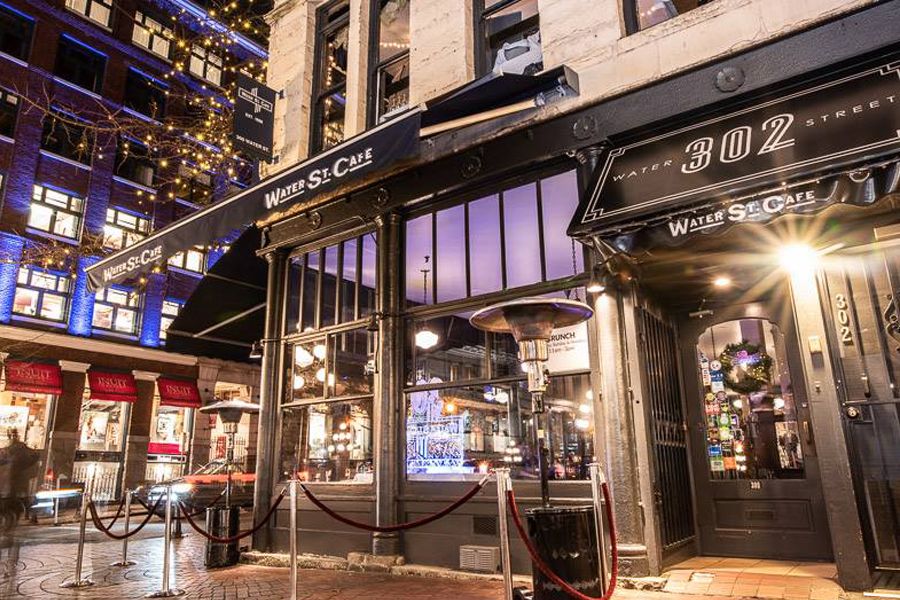 At Gastown's Water Street Cafe, get ready to dress up for a New Year's Eve Gala filled with food extravaganza, sparkling wine, and live music. This 6-course meal has a ton of delicious options like truffle mushroom soup, bison carpaccio, grilled rib eye steak, cioppino, butter-poached lobster, tiramisu and more!
And who doesn't want to ring in the year on midnight over some poutine?!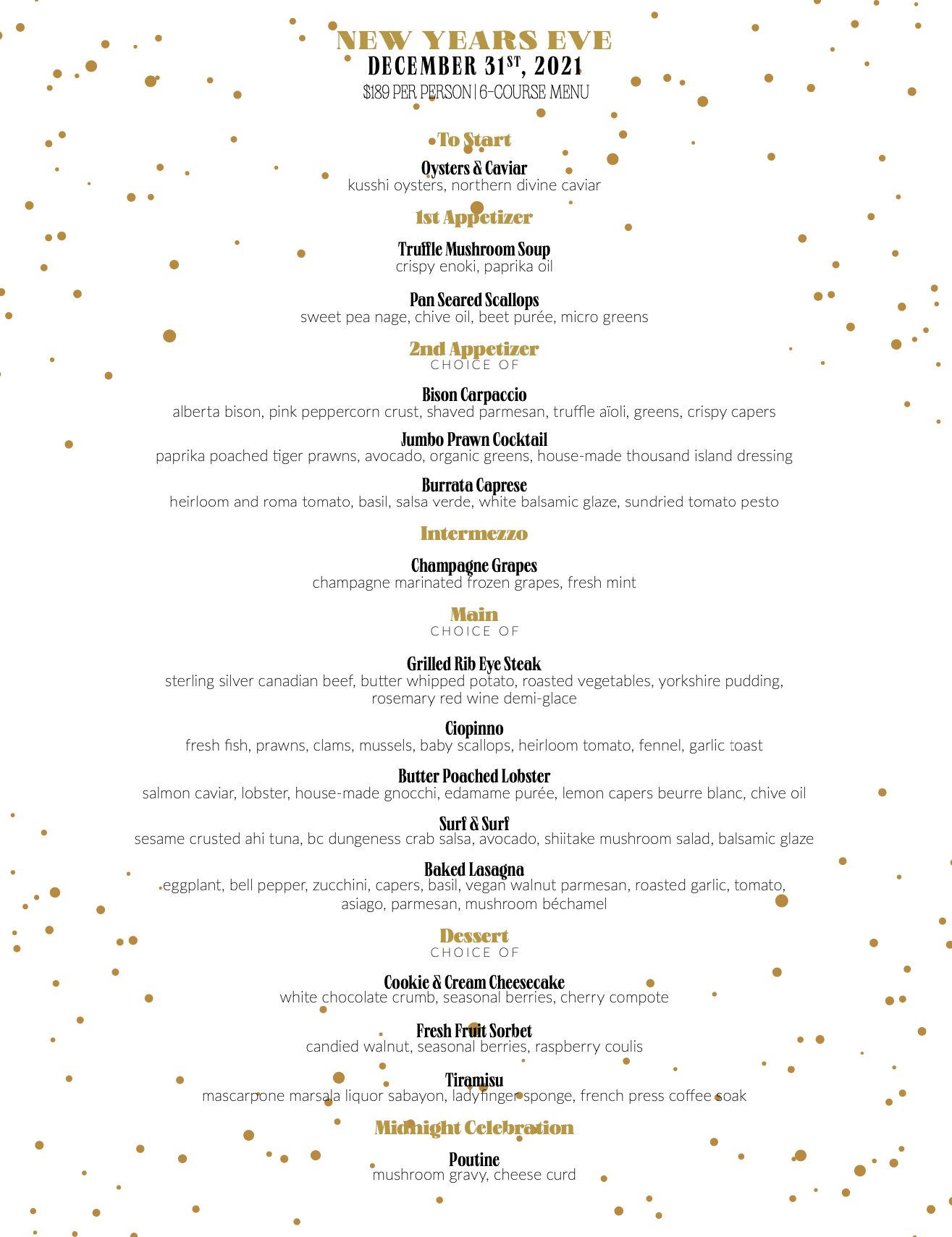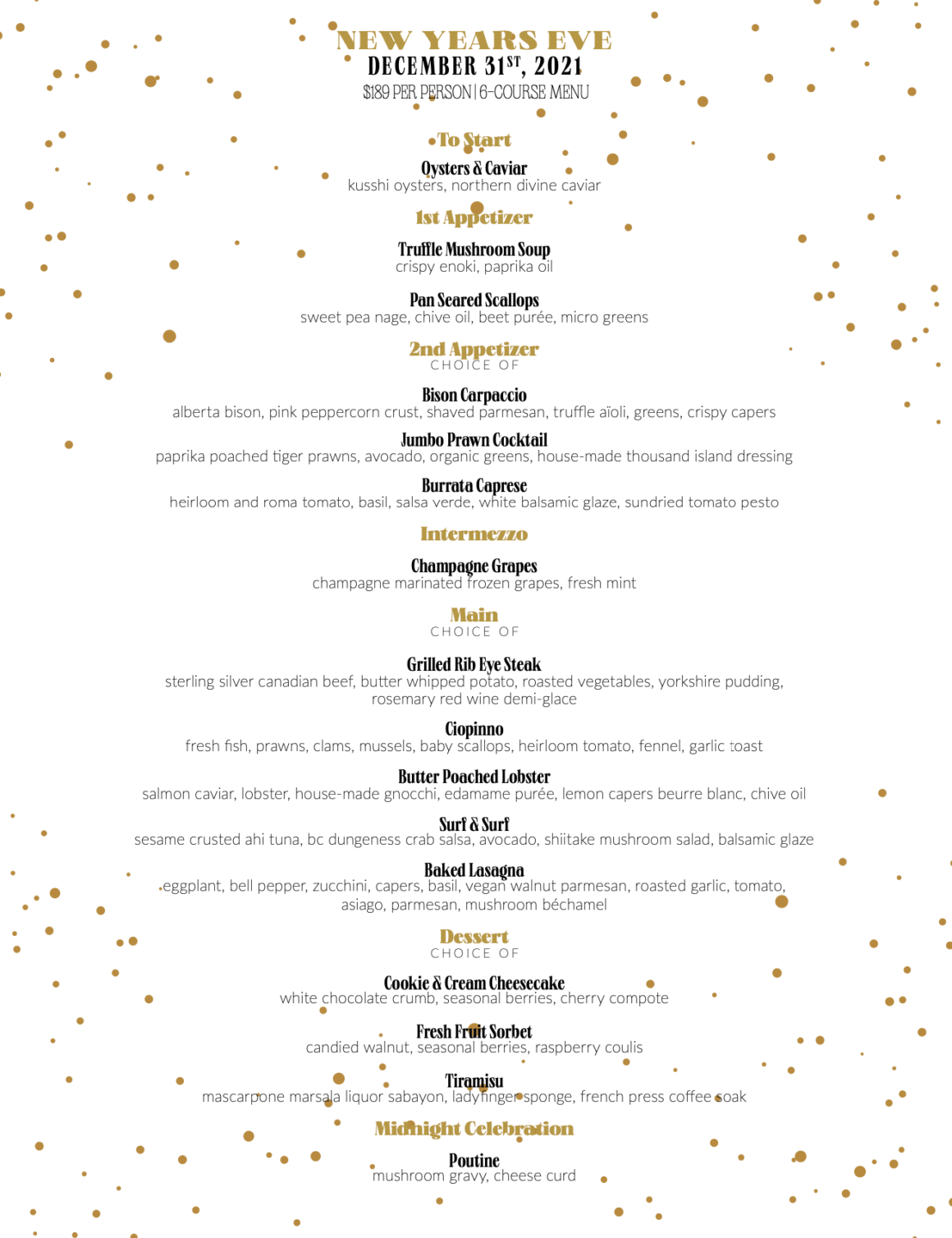 Price: $189 per person
Location: Water St. Cafe, 300 Water Street, Vancouver, BC, V6B 1B6
Instagram | Facebook | Website
2.) The Rise Eatery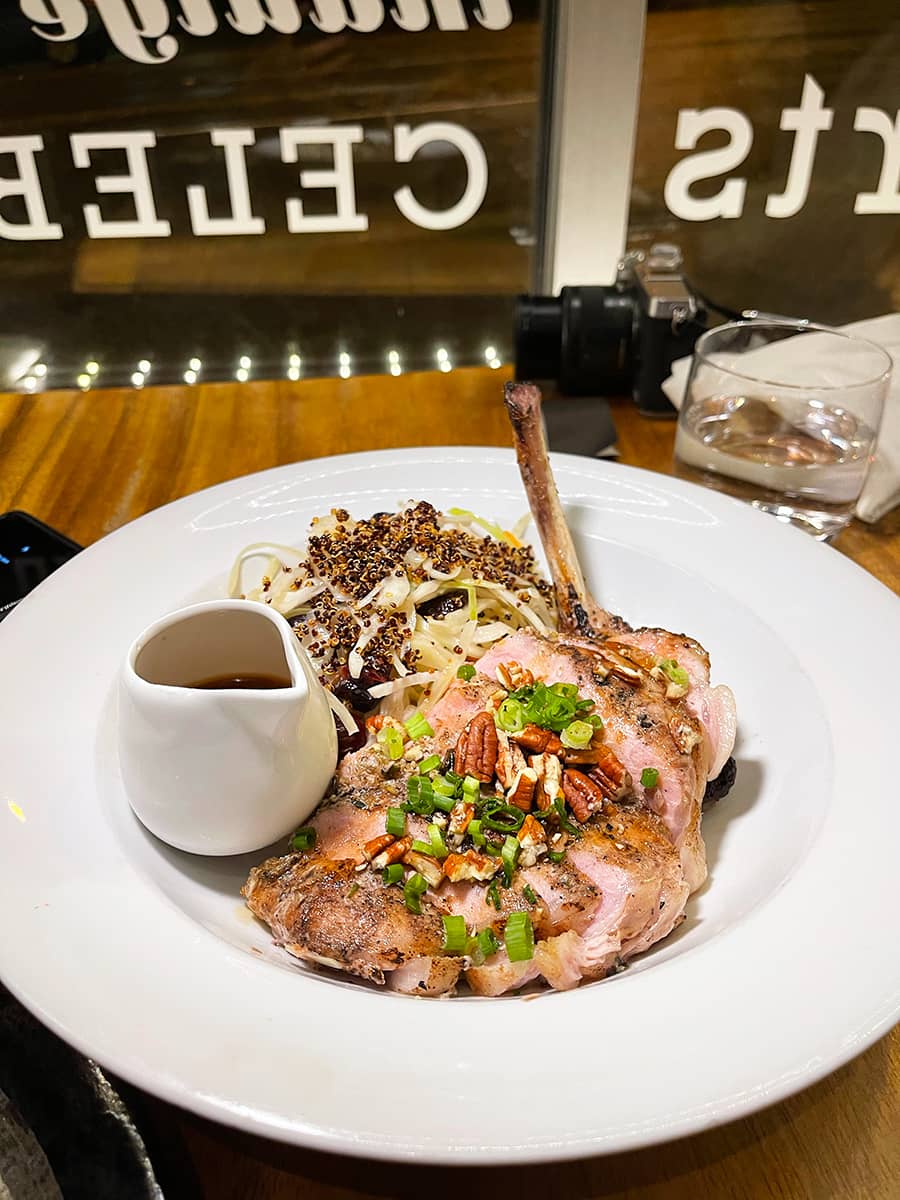 If you want to finish off the year at a casual and inviting space, The Rise Eatery is that spot. Their new Holiday Set Menu is great to enjoy with family or with friends and chat over all the highs and lows of the year.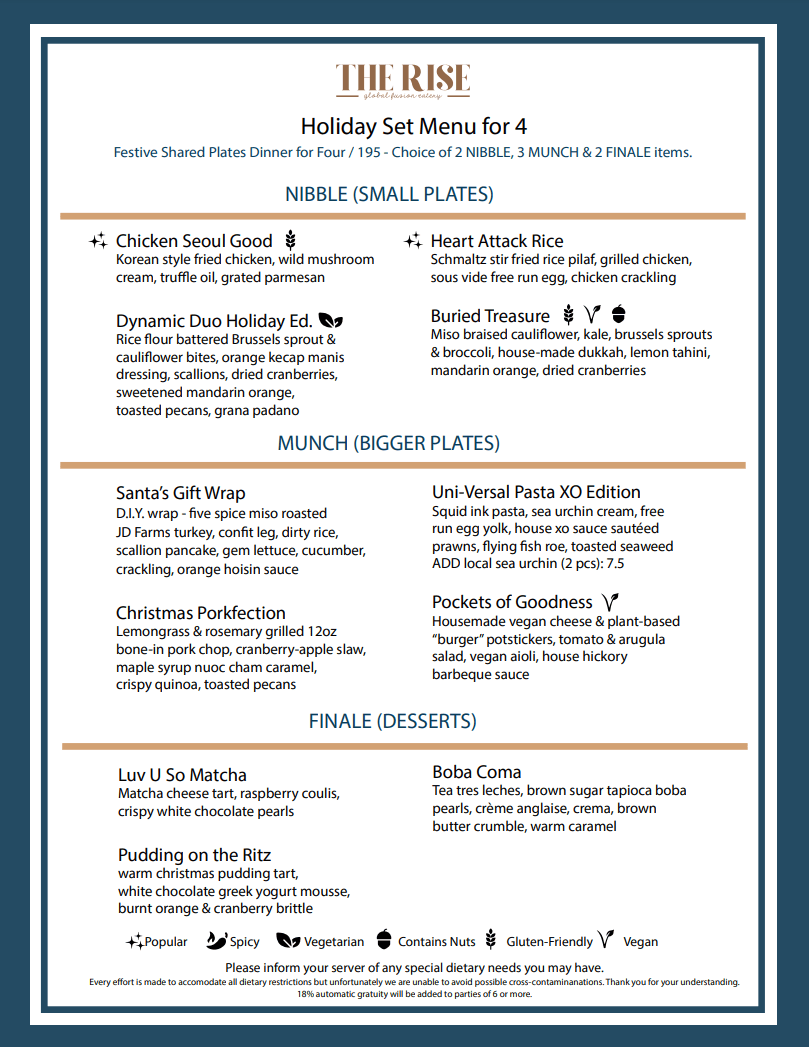 Price: $195
Location: 3121 Granville St, Vancouver, BC V6H 3K1
Website | Instagram | Facebook
3.) Qualicum Beach Cafe New Years Eve Gala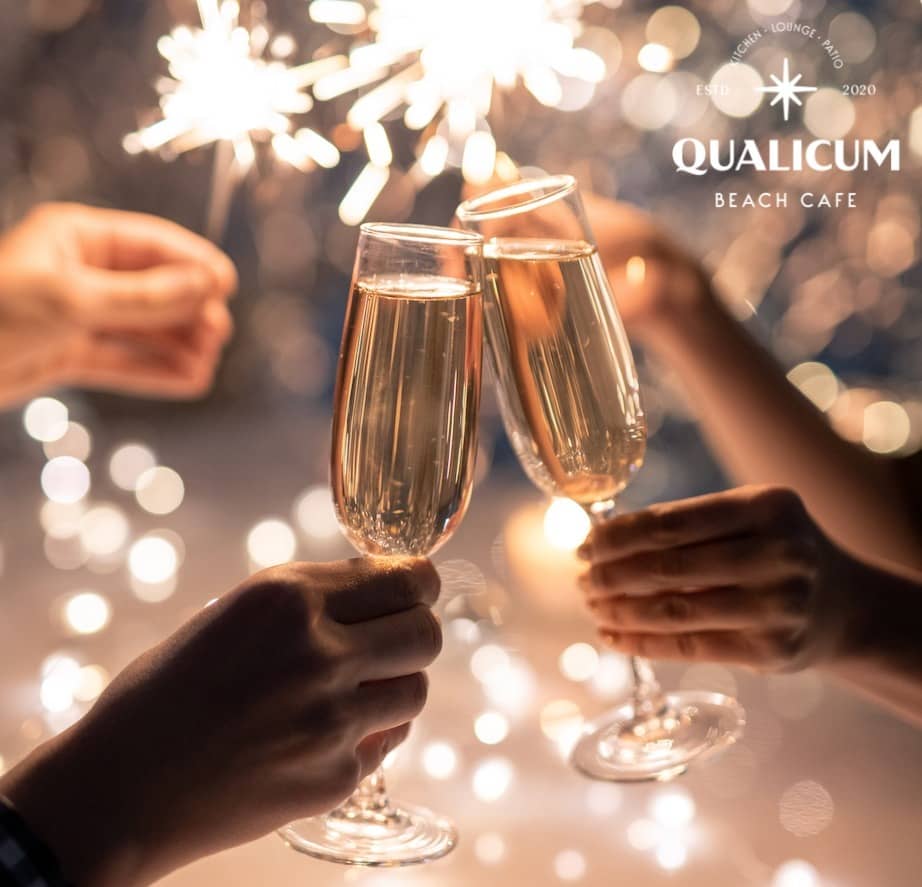 Water St. Cafe's sister restaurant is also helping you celebrate the end of the year with a bang! Victoria Island's Qualicum Beach Cafe is hosting a fancy Black Tie Gala with a 6 course meal, bubbly and a lot of fun!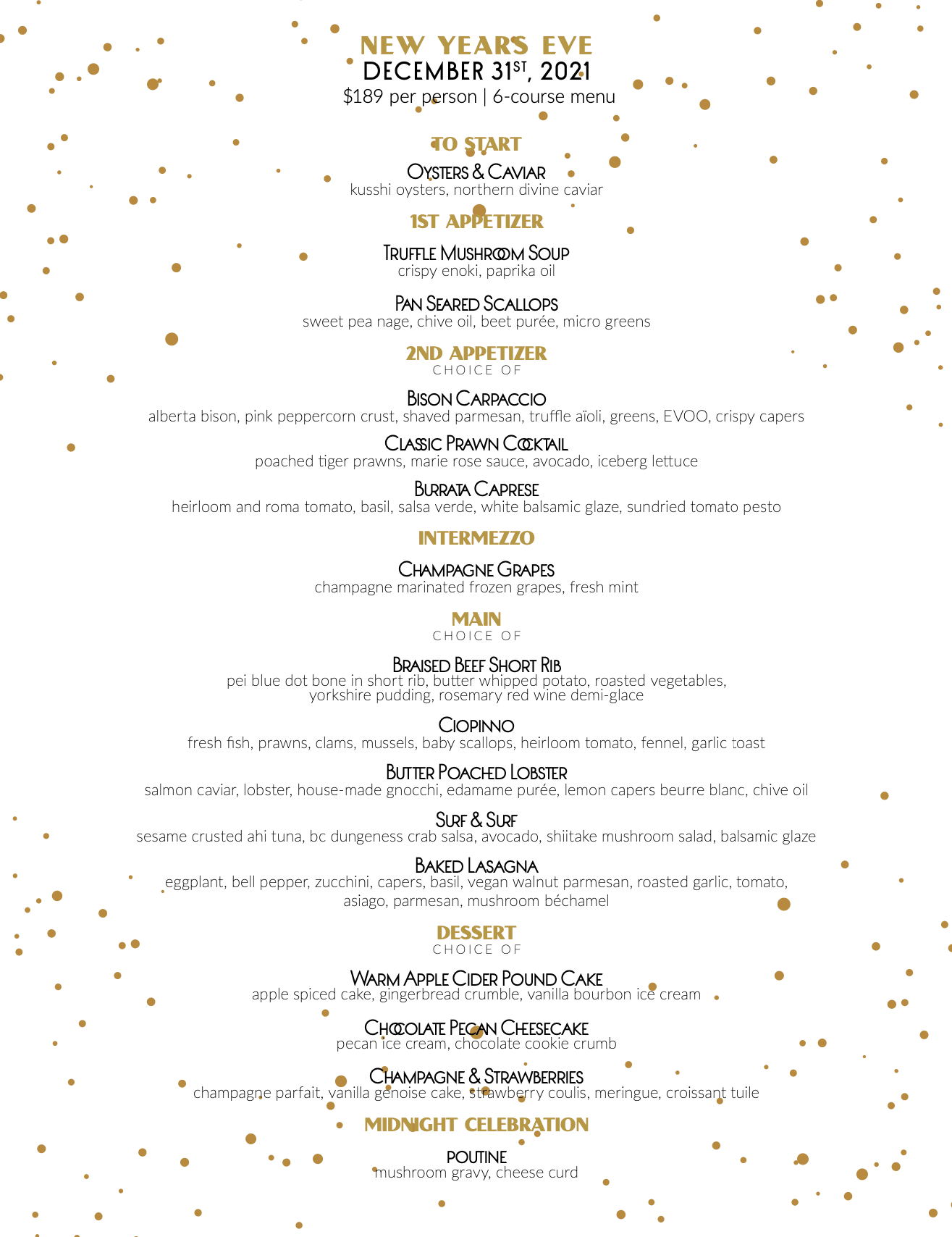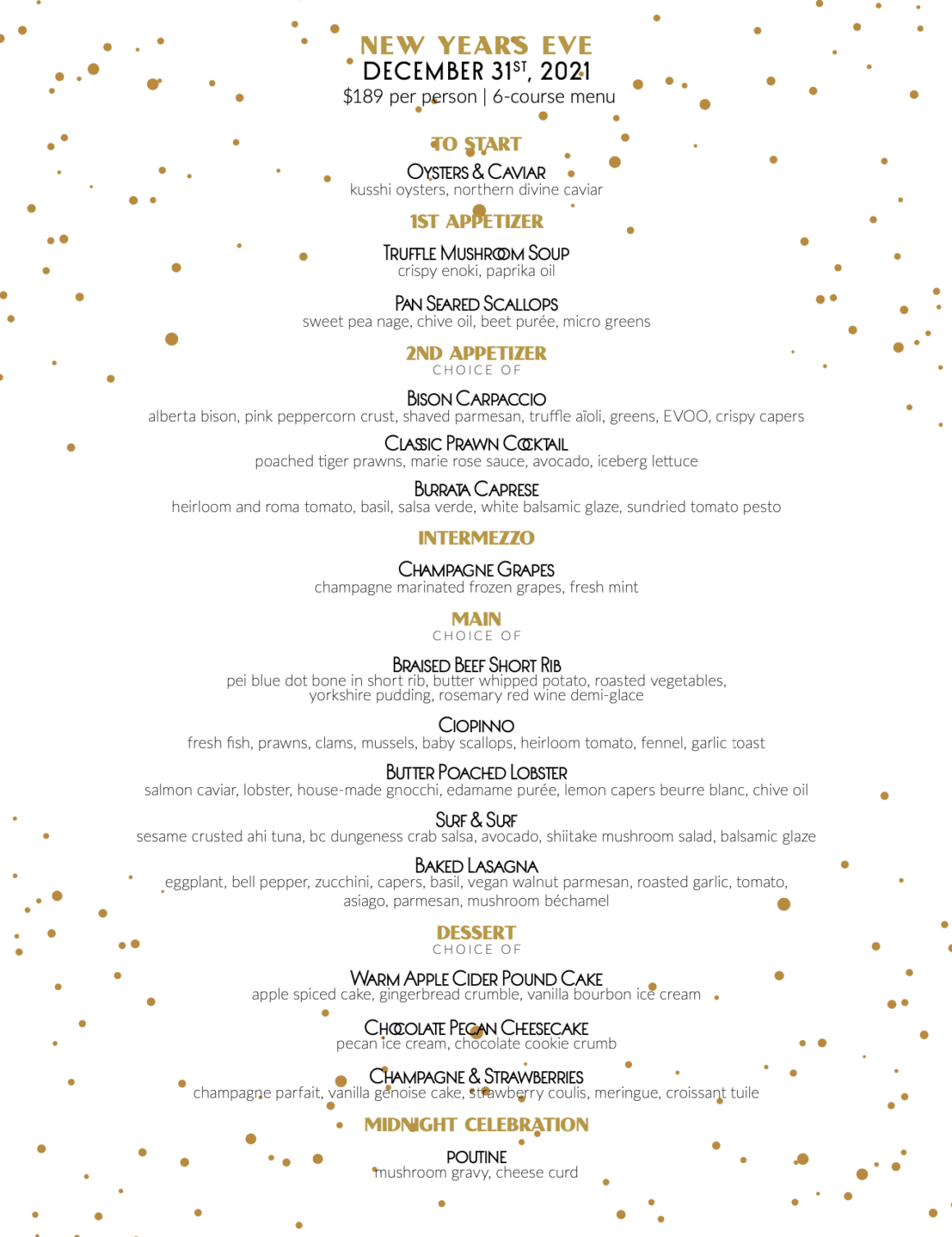 Price: $189 per person
Location: 2690 Island Hwy W, Qualicum Beach, BC V9K 1G8
Website | Instagram | Facebook
4.) Italian Kitchen NYE Italian Style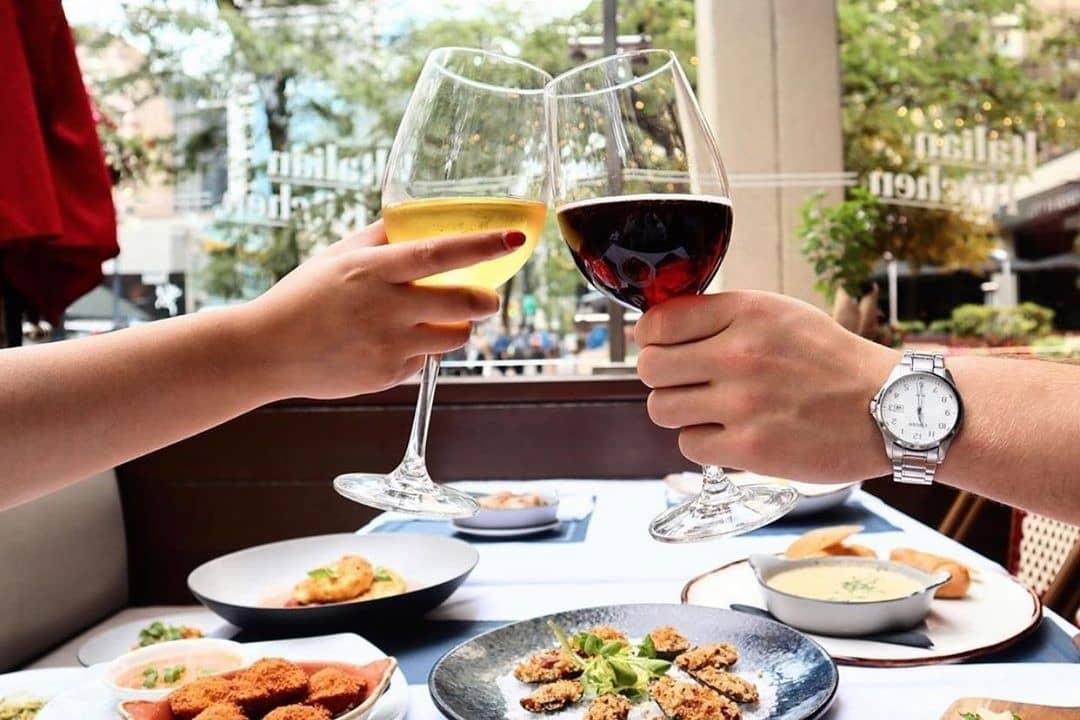 Say goodbye to the year Italian style, by hopping over to Italian Kitchen for their a-la-carte menu. Hard to say that ending the year with Truffle Spaghetti & Meatballs, 200 oz Bone-in Ribeye, or Linguine Cacio e Pepe with fresh Atlantic Lobster and a shower of black truffle isn't a good idea.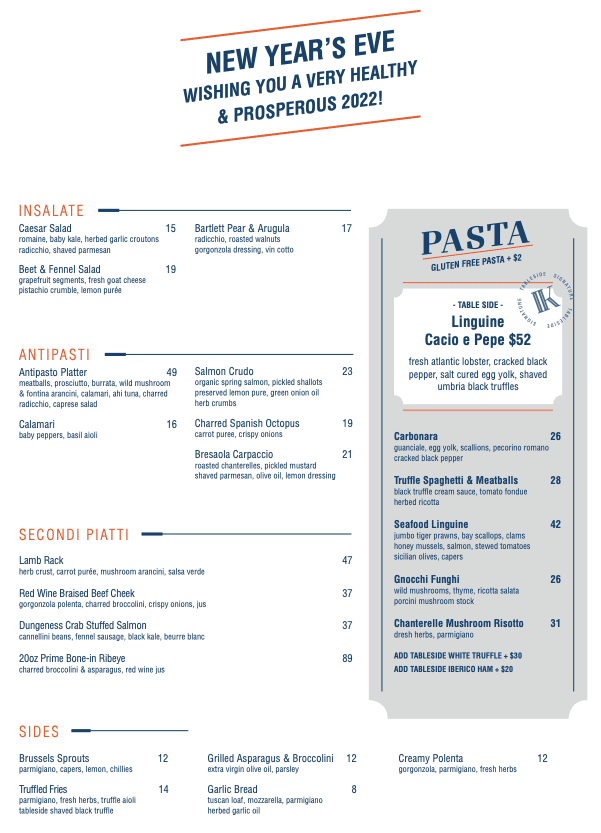 Date: Dec 31 3PM – Late
Price: (deposits required)
Location: 860 Burrard St, Vancouver, BC V6Z 1X9
5.) Five Sails Celebratory Menu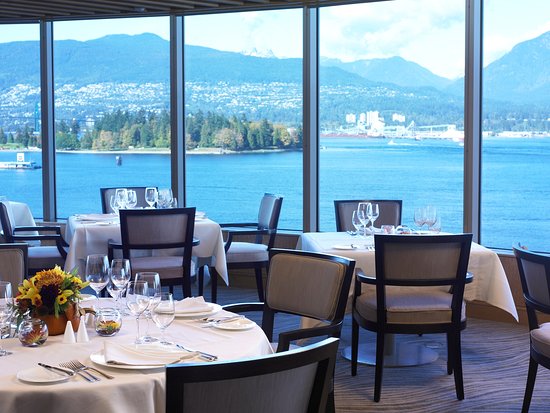 If you want to end the year off with a spectacular view, then Five Sails' waterfront view and 5 course celebratory menu will be what you're looking for. On the menu you'll find delectable dishes like Foie Gras & Quail Ballotine, Beef Consommé, Seared Monkfish with Lobster Tortellini and a special New Year's Eve Tower for dessert.

Price: $150 per person
Location: 999 Canada Place Vancouver BC
6.) Sandbar New Year's Eve Dinner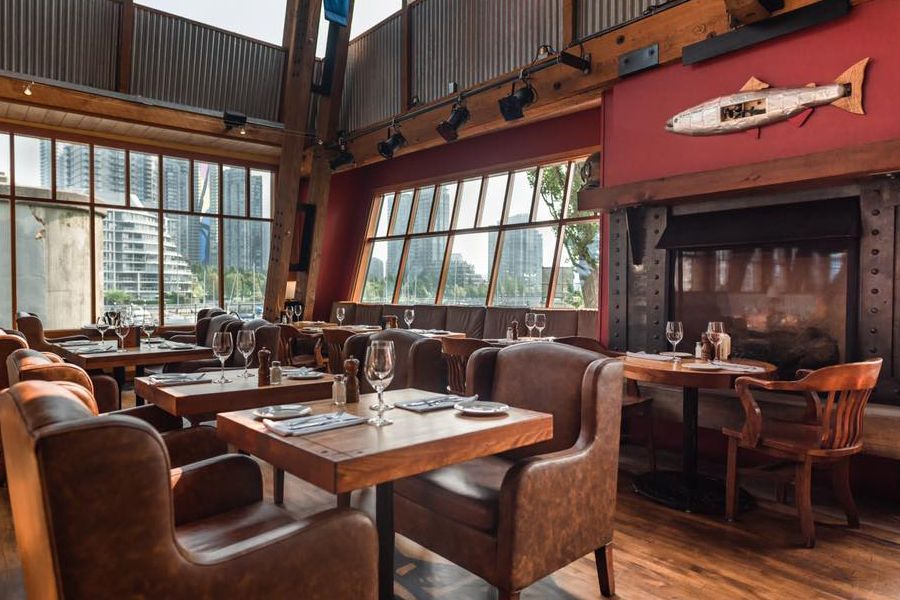 Sandbar is a stunning seafood restaurant on Granville Island and for New Year's Eve Executive Chef Kayla Dhaliwal is preparing a variety of delectable seafood treat. 
Starters include Smoked Salmon Carpaccio, Lobster Bisque, or Dynamite Sushi Cone for two, while Surf & Turf or Mixed Seafood Grill make for the main highlights. Save some space for either Chocolate Lava Cake. There'll be a DJ to take care for the music and New Year mood.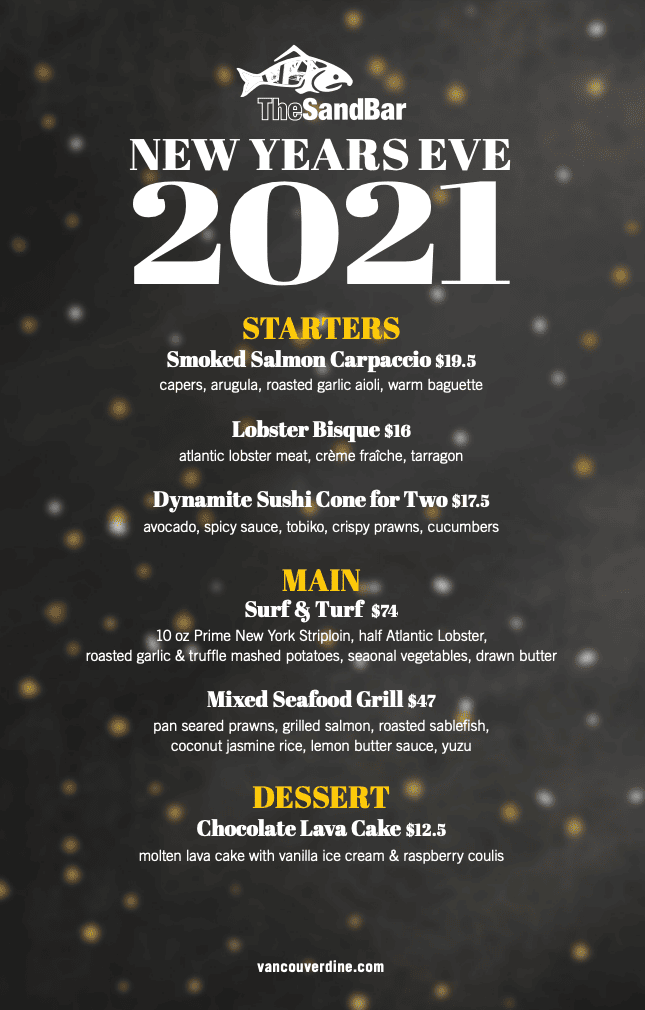 Location: 1535 Johnston St. Creekhouse #102, Granville Island, Vancouver, BC
Website | Instagram | Facebook
7.) Seasons in the Park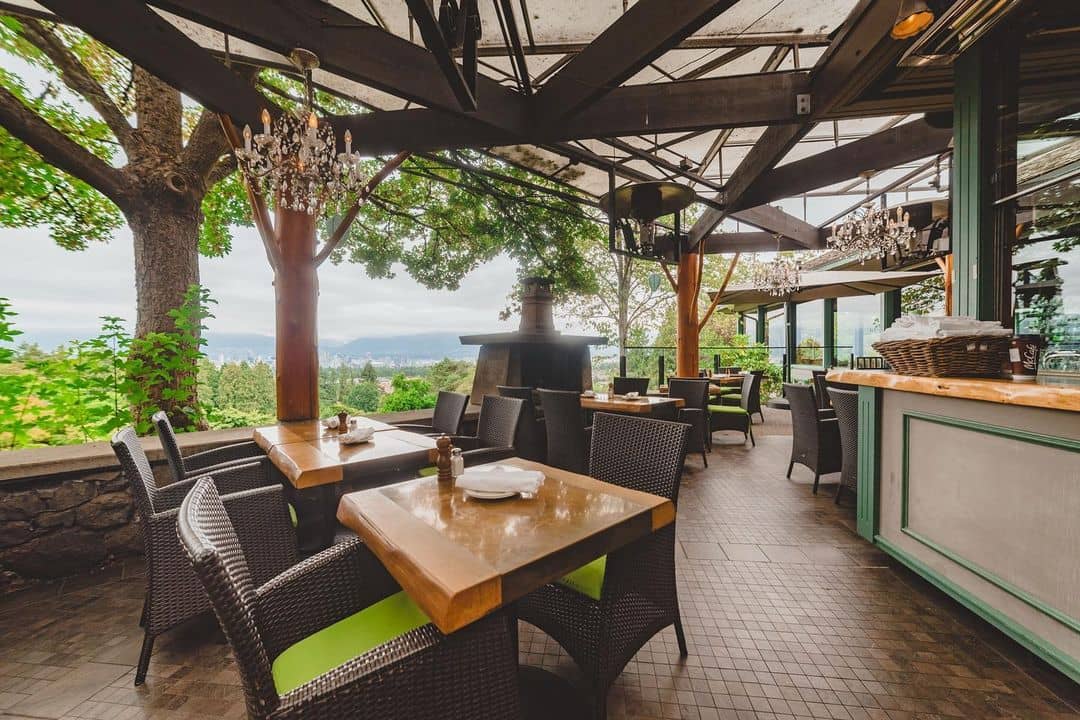 With the view of the downtown skyline, Queen Elizabeth's beautiful Seasons in the Park restaurant makes for a romantic destination to end the year off. On New Year Eve, they're offering a delicious 4-course meal with amuse bouche and palate cleanser to round off the full experience.

Price: $98 per person
Location: West 33rd Avenue (at Cambie), Vancouver, BC
8.) Black + Blue Masquerade Gala Dinner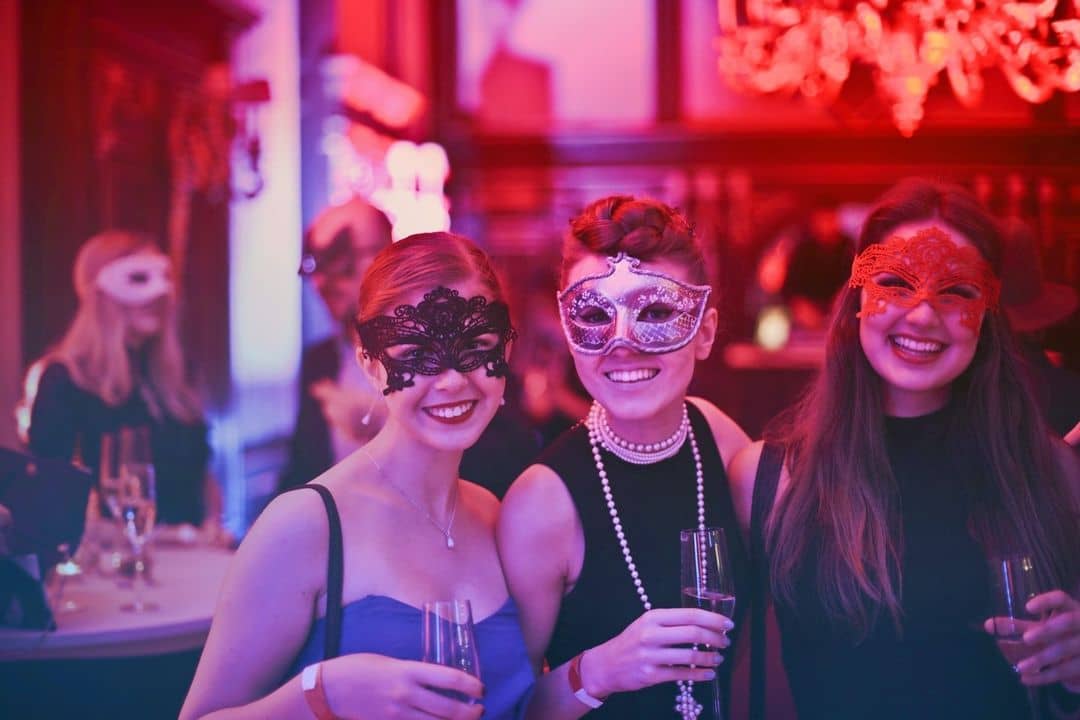 Ring the new year at the luxurious Black + Blue on Alberni! A special multi-course menu will be offered, which includes Mini Yorkshire Puddings with Shaved Prim Rib, West Coast Oyster & Caviar, Tableside Baked Alaska and more delicious options to choose from.
To make the night even more special, live music by South Side Vibe Band will be playing all night long and a complimentary glass of bubbles will be provided at midnight.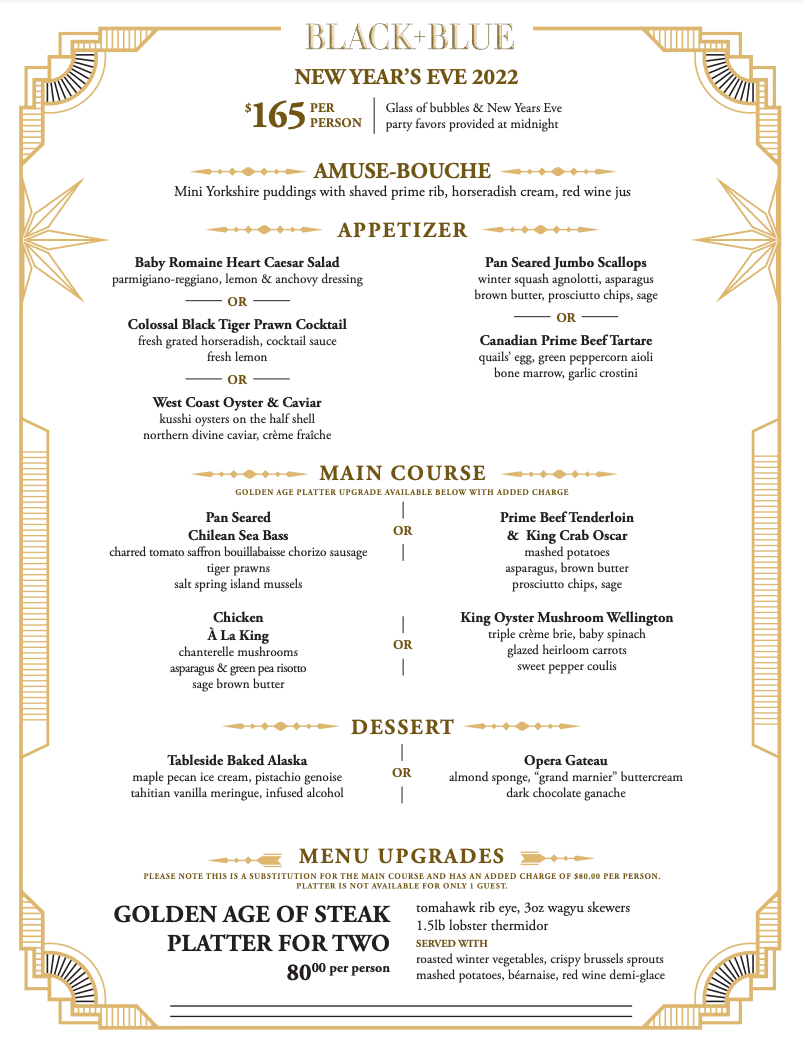 Price: $165 per person
Location: 1032 Alberni Street, Vancouver BC
9.) Ancora False Creek New Year's Eve Dinner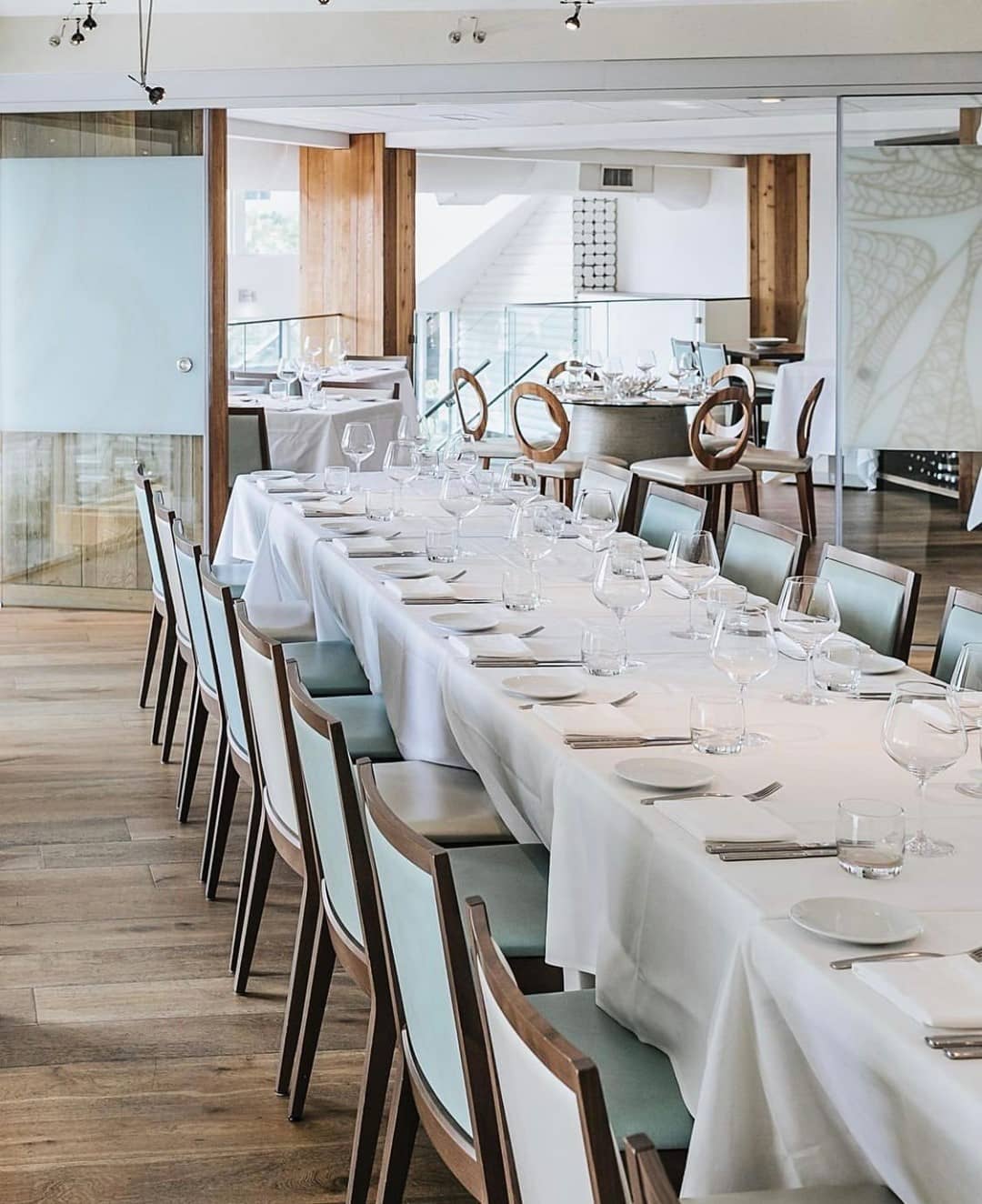 Ring in the new year at Ancora, a rare gem with a stunning waterfront view that Executive Chef Sebastian Delgado and his team prepare you an exquisite 4-course menu and amuse-bouche.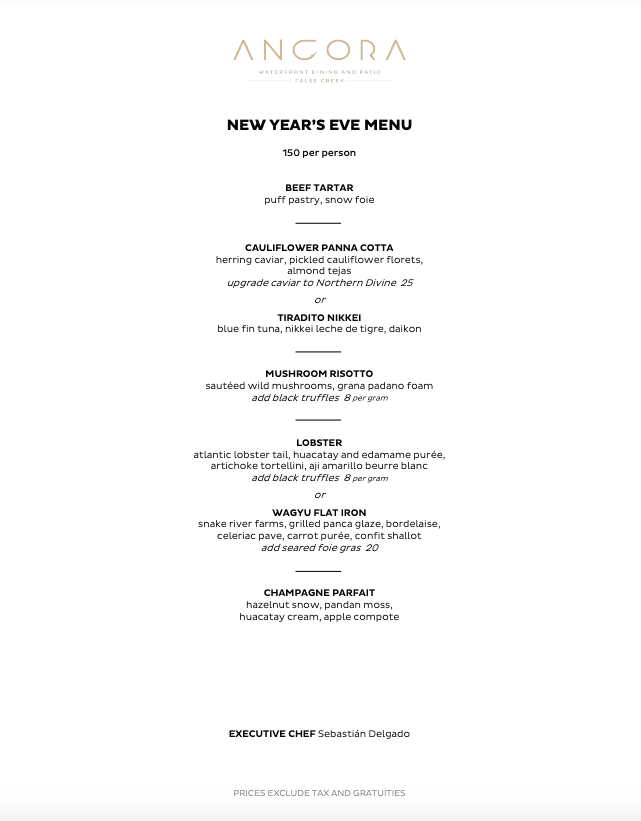 Prices: $150 per person
Locations: Ancora False Creek: ​1600 Howe Street, Vancouver BC Canada V6Z 2L9
Instagram | Facebook | Website
10.) Notch8 New Years Eve Party + Set Dinner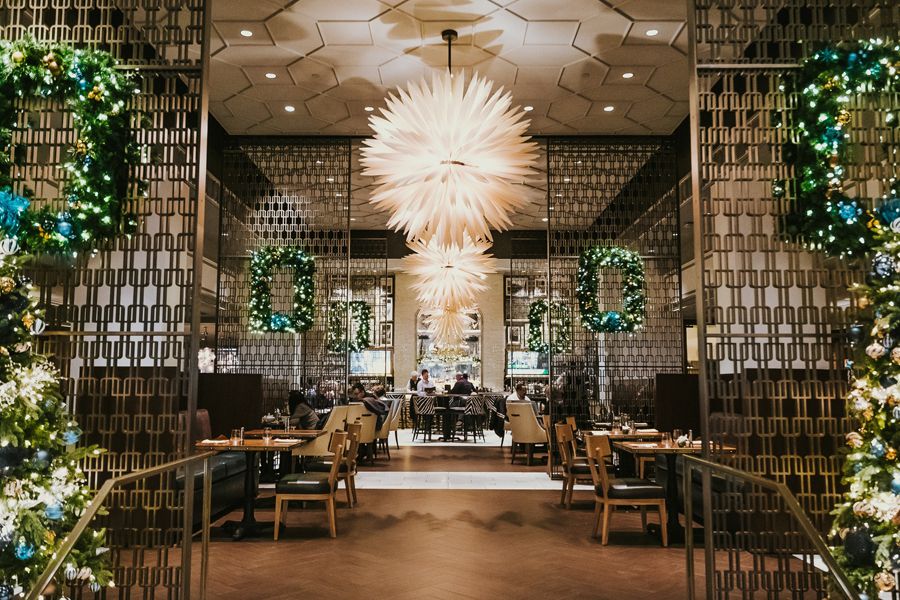 Notch8 is for your glamorous end of 2021. The lavish restaurant nestled in Hotel Vancouver, is hosting 3-course dinner this December 31st. The menu consists of options like dry aged beef tartare, marinated sablefish, handmade agnolotti, and dark forest dessert.
Price: $129 per adult, $64.5 per child
Menu: View here
Location: 900 West Georgia, Vancouver V6C 2W6
Instagram | Facebook | Website
With so many beautiful locations to dine and party around Vancouver, it's indeed hard to decide where to spend the last hours of 2021. But hurry up your decision as bookings sold out quickly. Whichever place you choose, either some of these venues or back at your friend's house party, we hope you have a real blast, discover a new favourite taste on the tables, make new friends or find a new love and take pleasant last memories from the old year into the new one.

The following two tabs change content below.
Latest posts by Noms Magazine (see all)