Being a great all-year-round destination, Kelowna is not only attractive for its beach, skiing during winter months, and tons of outdoor adventures but it is also known as the heart of winemaking in Canada.
You can literally find wineries just about every corner in Kelowna, from within the city limits to the hillsides around Okanagan Lake. With over 120 wineries and 200 vineyards in the area, it's probably a hardship to choose some specific places to visit.
That's why we've compiled the best of the best Kelowna wineries so you can easily plan your own trip in the interior.
10. Vibrant Vineyards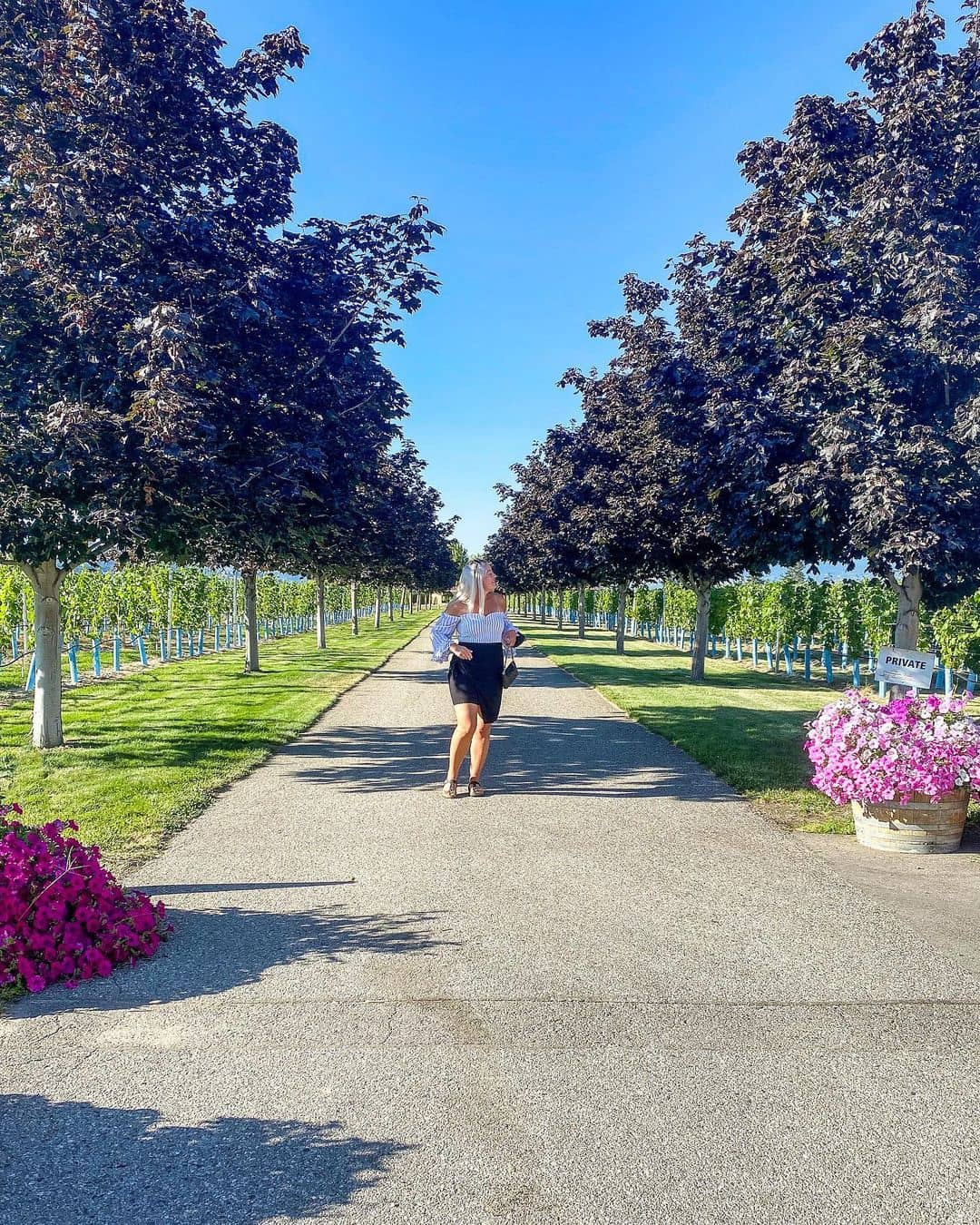 Vibrant Vineyards is where you can get unforgettable experiences about wine, art, and sound in Kelowna. Trust us, with live outdoor music, Phil Lewis 3D Art, award-winning wines, Jacko's lounge, Okanagan Villa, and Frequency Winery & Recording Studio, you will never regret visiting this place!
Make your way through to the Vibrant Vine Tasting Room. Once entered, you will begin your 3D experience to admire all the artworks hanging on the wall, and finally to try some of their very best-selling wine bottles.
There is a varied selection of wines for you to consider at Vibrant Vineyards, from the crisp, dry traditional method, tóparkling, aromatic whites, and full-bodied reds. Noticeably, The Mask Bottle 2019 with rich aromas of baked cherries and figs; or Woops Bottle 2020 – a bold, rich, fruity with strong aromas of blackberries and dark cherries can be a good choice!
What to order: The Mask Bottle 2019, Phoenix 2020, Woops Bottle 2020.
Address: 3240 Pooley Rd, Kelowna, BC V1W 4G7
Website | Instagram | Facebook
9. Kitsch Wines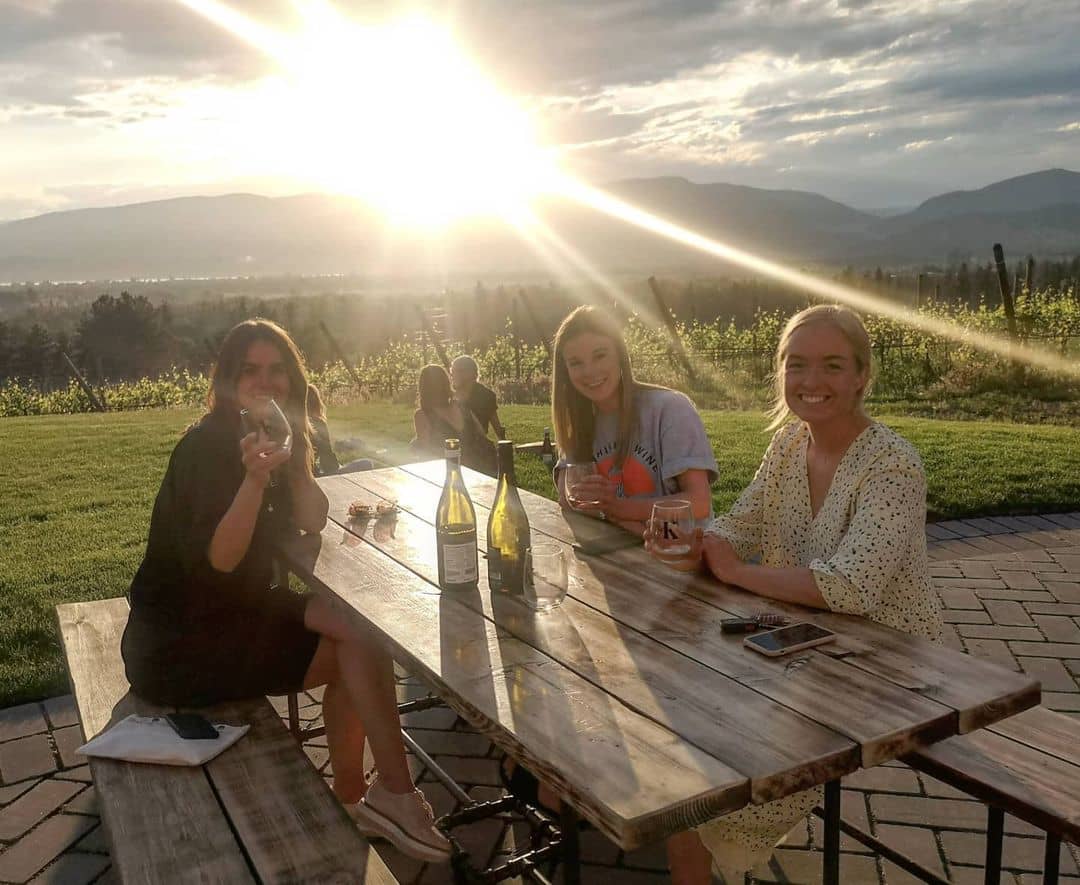 If you're planning to visit Kitsch Wines, be ready to go home with some excellent bottles of Riesling, Chardonnay, and Pinot Noir. Don't miss a chance to book their Estate Garage Tasting & Tour, where you can find everything about the vineyards, wine-making technique, and take some sips of their premium wine in awesome music background.
We highly recommend you to try their Esther's Block Riesling 2019 with a bright acidity alongside a bold citrusy aroma. This gem is wonderful enough to remind you of those easy-breezy summer days.
For a more complex one, hesitate no more to get yourself the Blanc de Blancs 2018 with zippy bubbles that create a refreshing and zest mouthfeel. This is a perfect fit for any of your favorite seafood dishes!
What to order: Esther's Block Riesling 2019, Blanc de Blancs 2018, 11 Barrel Chardonnay 2018.
Address: 3330 Neid Road, Kelowna, BC V1W 4H5
Website | Instagram | Facebook
8. Summerhill Pyramid Winery
Summerhill Pyramid Winery has everything you need for a weekend rewind, from extraordinary cellared wines, organic local cuisine to a private home that allows guests to immerse themselves in the bountiful Kelowna wine country experience. All in one freaken place!
You definitely don't want to miss a try at their Summerhill Organic Wine & Bistro, where you can celebrate your day with fine wine, excellent food in a warm and cozy dining room. You can also choose to sit outside, soak in the vineyard and admire the lake views. Have yourself a bottle of Organic Malbec Syrah Rose 2021, a soft, mellow acidity with aromas of cherry, raspberry, and watermelon. Or Cipes Ariel 2000 if you want a richer, smoother, and creamier taste.
Located not far away from the Summerhill Organic Wine & Bistro, you can stay over at Summerhill Estate House, which can quickly have your heart with its peaceful forest, rolling hills, and lake views surrounding.
What to order: Organic Malbec Syrah Rose 2021, Cipes Ariel 2000, Cipes Traditional Cuvee 2000
Address: 4870 Chute Lake Road, Kelowna, BC
Website | Instagram | Facebook
7. Sperling Vineyards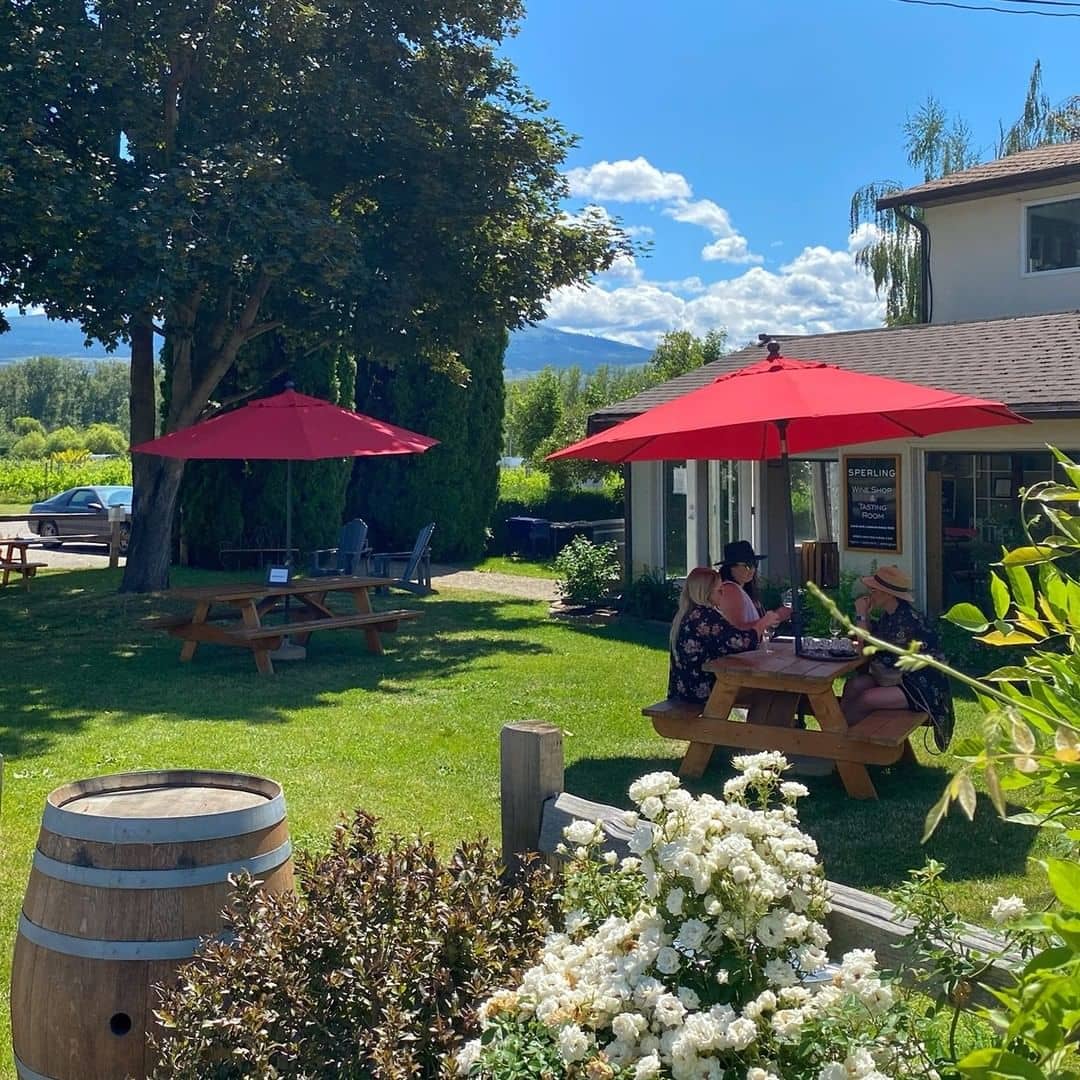 Having been operating since 1925, Sperling Vineyards is sure to impress you with not only its wine selection but its length and depth in history and heritage as well. Once coming, you'll get the chance to take a tour through their 3 main vineyards: Sperling Heritage Vineyard – the oldest, Riesling Planting, and Organic Vineyard Labyrinth. Come have a tasting and walk these beautiful rows!
They are best known for the Organic Old Vines Foch Reservee 2018. You'll be surprised by the scent of cassis, blackcurrants in the opening, which leads to a complex palate with a long and lively finish.
The Organic Vision Pinot Noir Rose 2018 is no less impressive when immersed with berry, strawberry, and stone fruit aroma. Enjoy this dry, bold, full-bodied gem with herb-infused dishes of steaks. Delish!
What to order: Organic Old Vines Foch Reservee 2018, Organic Vision Pinot Noir Rose 2018.
Address: 1405 Pioneer Road, Kelowna, BC V1W 4M6
Website | Instagram | Facebook
6. Arrowleaf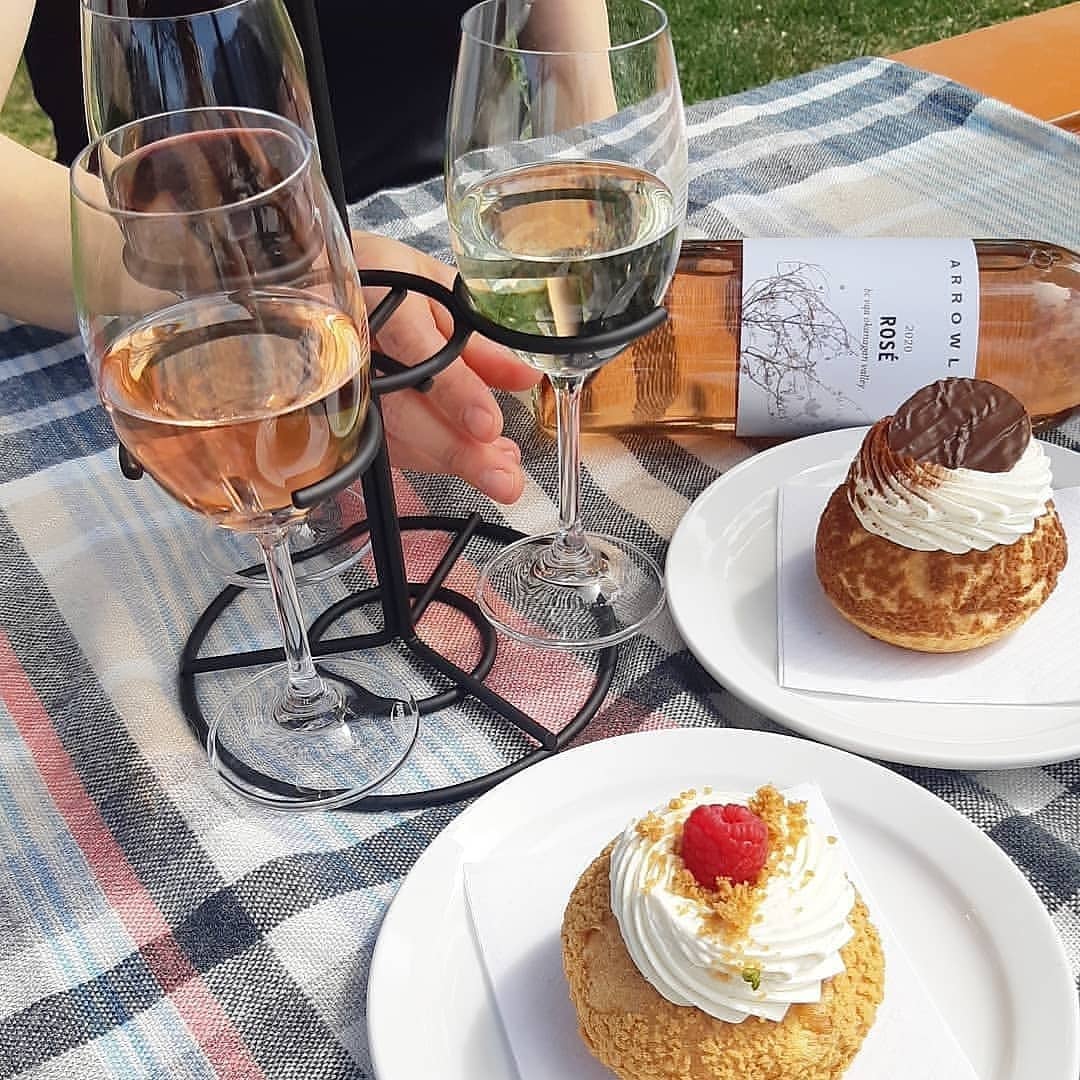 Arrowleaf is a family-owned and operated winery since 2001, where you can feast your eyes and palate with tons of wine choices. They do offer a limited Tasting Tour, from which you can get a chance to learn about their winery. If you're wondering why it is called "limited", the answer is you can only sample 4 selected wines from the portfolio in approximately 10 minutes in duration! So, make a smart choice.
You can start with the well-known Petite Arrvine 2020. This dry, complex white wine will not make you disappoint with its notes of peach, citrus, and white blossom. You will be seduced by the soft mid-palate before the acidity and saltiness take over the finish.
But don't just stop there, keep it going with their Chardonnay 2020 that beautifully features fragrant notes of green apple, lemon, and hints of vanilla. The palate is light, fresh, and finishes wonderfully with a sweet aftertaste.
What to order: Petite Arrvine 2020, Chardonnay 2020, Summerstorm 2020.
Address: 1574 Camp Road, Lake Country, BC V4V 1K1
Website | Instagram | Facebook
5. Gray Monk Estate Winery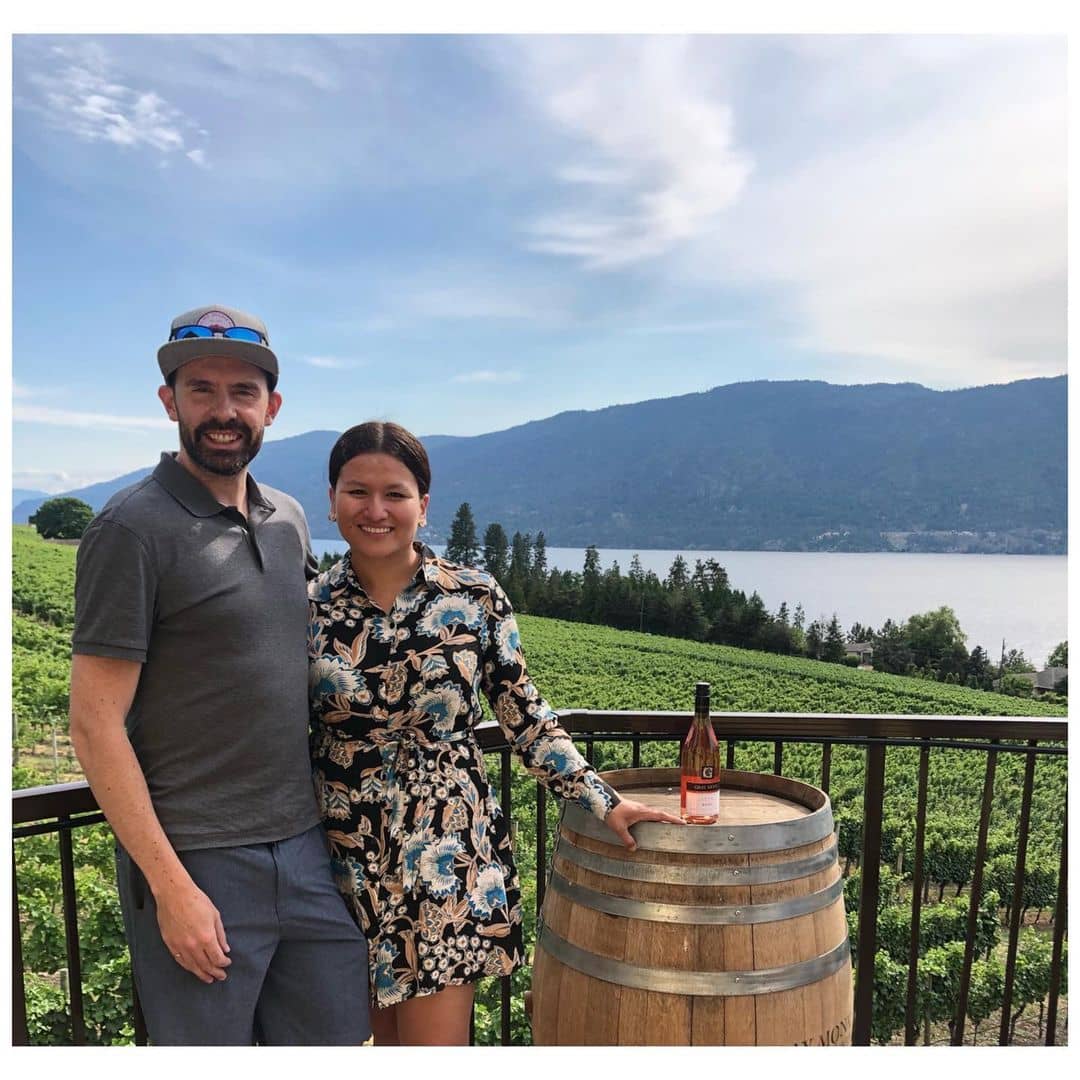 Wonder where you can find some of the world's finest wines in the heart of British Columbia? Gray Monk Estate Winery is your next go-to! Here you can spend your day admiring the 75 acres of the lush vineyard overlooking Okanagan Lake and feast your palate at The Lookout Restaurant. Stunning!
The Lookout Restaurant stays true to its name with the best patio view in the Okanagan Valley while offering fine local cuisine in a casually elegant atmosphere. Be sure to have the Odyssey Heritage 2018 when dining, it can never go wrong with that fine structure, classic aromas of oak barrels, plum, and silky mouthfeel.
Or you can try the Odyssey Traditional Brut 2018, which is no less charming with flavours of ripe apple, honey, and citrus with a creamy texture. Fresh and crisp, this gem will compliment a wide range of dishes and occasions!
What to order: Odyssey Heritage 2018, Odyssey Traditional Brut 2018, Odyssey Pinot Gris 2020
Address: 1055 Camp Road, Lake Country, BC V4V 2H4
Website | Instagram | Facebook
4. Quails' Gate Winery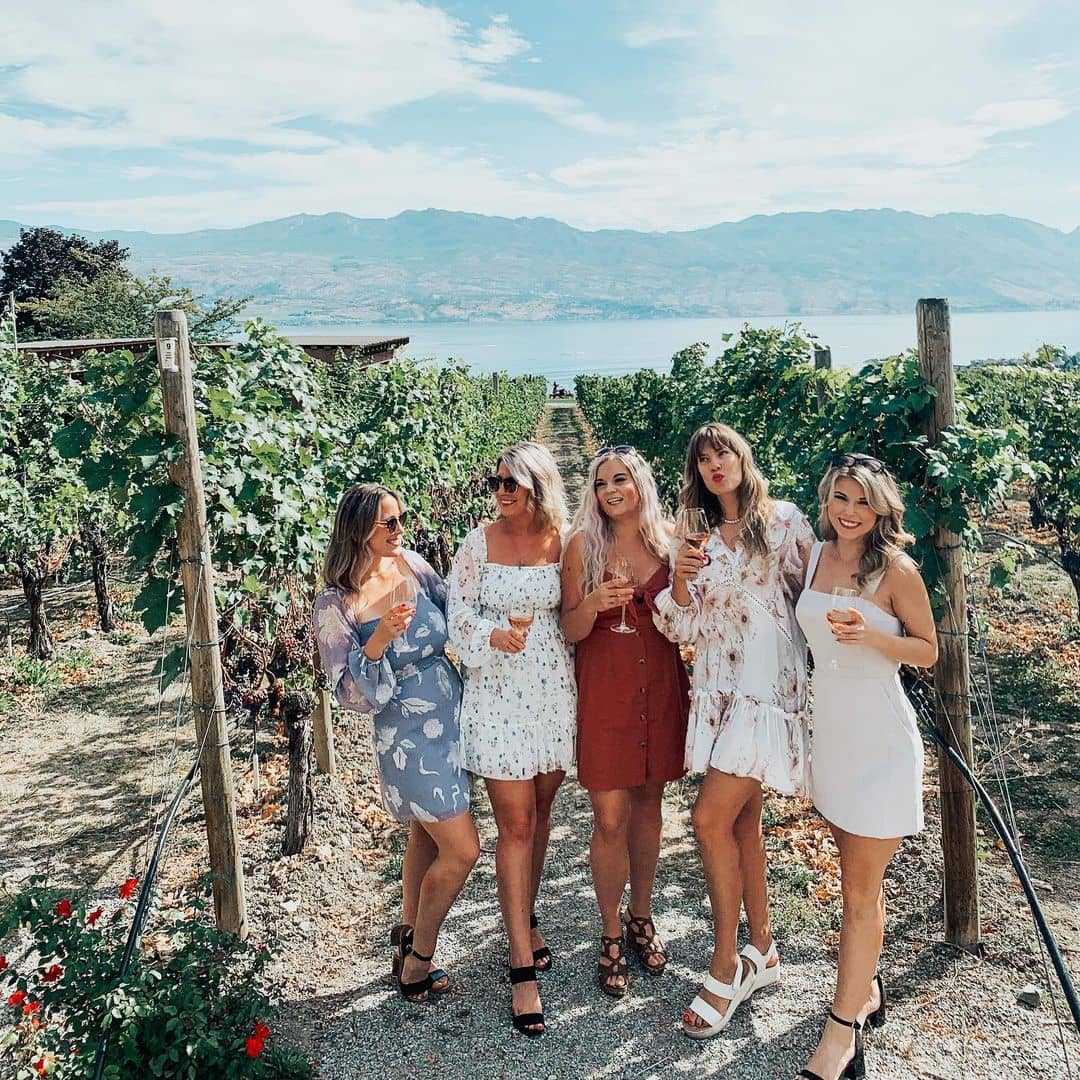 Being one of Canada's foremost family-owned estate wineries, Quails' Gate Winery has been widely known for its consistent high-quality wines. They have been gaining a reputation for delivering such outstanding award-winning wines that can steal your heart with their rich character and intense flavour.
Inside Quails' Gate Winery, you can either choose to visit Old Vines Restaurant, where you can experience authentic Okanagan cuisine and enjoy their most signature wines. Or you can pay a visit to The Market which features a wide selection of artisanal cheese, bread paired with some of their seasonal wine recommendations.
Don't leave without trying their best-sellers: 2019 Rosemary's Block Chardonnay – an elegant and complex wine with bright acidity; and 2019 The Boswell Syrah – a classic one with a silky mouthfeel and soft tannins.
What to order: 2019 Rosemary's Block Chardonnay, 2019 The Boswell Syrah, 2021 Chenin Blanc
Address: 3303 Boucherie Road, Kelowna, BC V1Z 2H3
Website | Instagram | Facebook
3. Sandhill Winery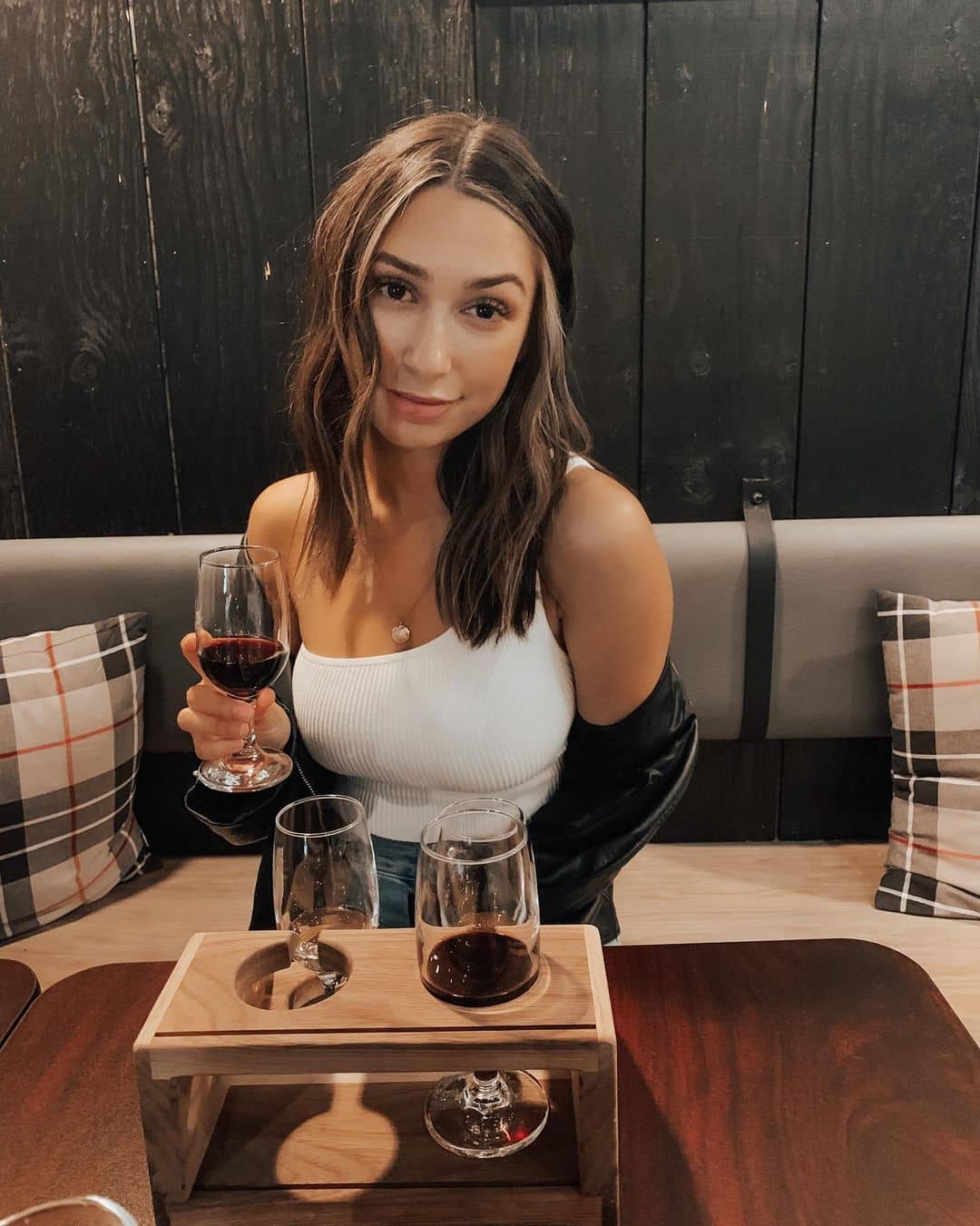 If you want to know about wine from A to Z, you'd better make your way to Sandhill Winery! Besides serving you exclusive, award-winning wines, Sandhill Winery also offers all sorts of tools, books, guidelines, and local treats to help you start your new journey in wine.
Bring home a bottle of Small Lots Syrah 2017, this one is a hidden gem for sure! With a deep purple-black color and a lovely bouquet of baked blue plum, black cherry fruit, no doubt that you will fall in love from the very first moment. Combining wonderful warming notes of black tea and spices when moving to the palate, there won't be any more perfect choice for date nights than Small Lots Syrah 2017!
For a brighter, fresher version, you can take a look at Sandhill Rose 2020, which begins with lovely notes of strawberry and lead to a juicy, tangy taste.
What to order: Small Lots Syrah 2017, Sandhill Rose 2020, Sandhill Syrah 2018.
Address: 1125 Richter Street, Kelowna, BC V1Y 2K6
Website | Instagram | Facebook
2. Tantalus Vineyards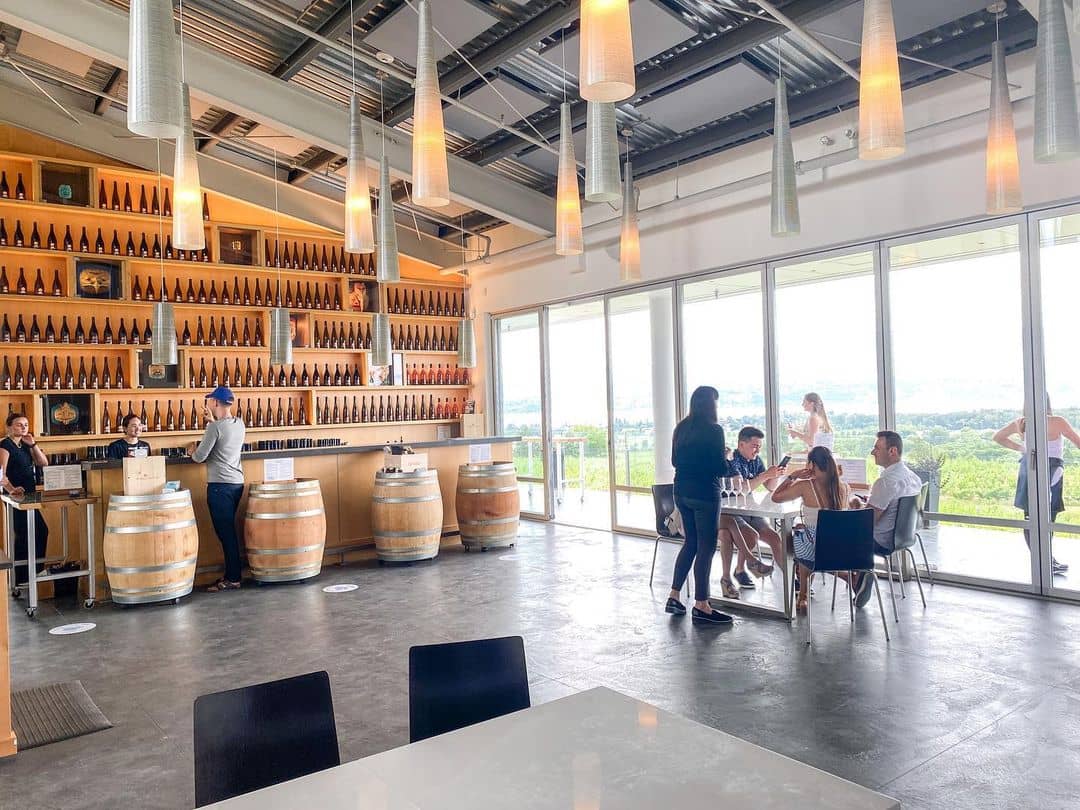 To be brief, visiting Tantalus Vineyards is a one-of-a-kind experience. Why? Because you can not only get to know and directly try their premium wines on the vineyards, but you can choose to sip them in the luxurious, gallery-style tasting room, surrounded by works of art, and talk with the sommeliers at Tantalus Vineyards as well.
Don't hesitate to try their 2018 Blanc de Blancs, a bright yellow Chardonnay that carries bubbles and persistent textured mousse. Sipping 2018 Blanc de Blancs, you can immediately spot that aroma of lime zest, pear, and hints of white flowers evolve in the glass.
The 2020 Rose is no less impressive, especially if you're considering buying a gift for someone, this one nails it! With a pretty pale salmon color, 2020 Rose is surprisingly fresh, boasting mouth-watering aromas of all things we crave each summer: local strawberries, watermelon, and rhubarb with a zesty touch of grapefruit zest.
What to order: 2018 Blanc de Blancs, 2020 Rose, 2020 Riesling Lab, 2018 Blanc de Noir
Address: 1670 Dehart Road, Kelowna, BC V1W-4N6
Website | Instagram | Facebook
1. Cedarcreek Estate Winery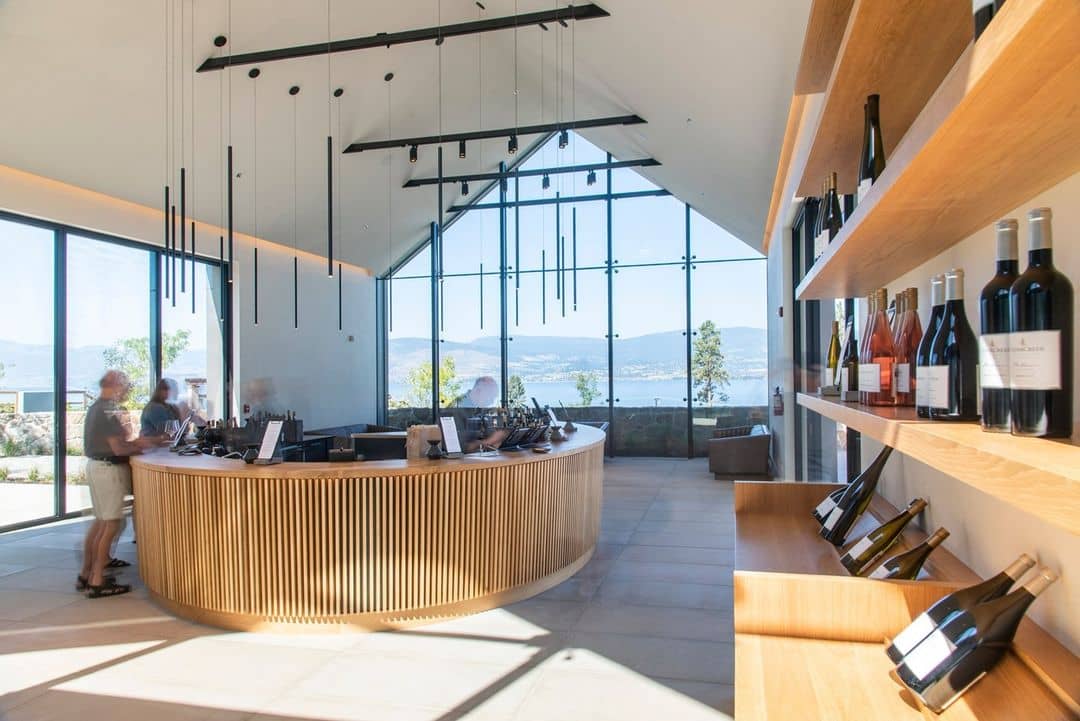 Nestled into a steep hill, Cedarcreek Estate Winery is one of the most popular wineries to explore when coming to Kelowna. Here at Cedarcreek Estate Winery, you'll get to understand thoroughly how wine is made, from vineyard to bottle; and also have the chance to actually try the wines themselves or pair with food at their own restaurant.
One thing special about their wine tasting journey is you can either choose to enjoy the wine in Okanagan sunshine with floor-to-ceiling windows to look over the rolling valley during daytime; or sit around the fire and munch on their treat to pair with wine at nighttime. Both sound great!
Don't miss their 2020 Chardonnay or 2020 Simes Vineyard Natural Pinot Noir, because we always regret not buying more when visited that wonderful place. Trust us, those bottles never fail!
What to order: 2020 Chardonnay, 2020 Simes Vineyard Natural Pinot Noir, 2021 Estate Rose
Address: 5445 Lakeshore Road, Kelowna, BC, V1W 4S5
Website | Instagram | Facebook
Kelowna is filled with amazing local wineries and has never let us down with its wide selection to choose from. What are you waiting for? Grab your glass of wine and get ready to explore destinations that will leave you craving for another round of drinks.
Need some help with your upcoming trip to Kelowna? Find out more about our best restaurants in Kelowna for your next visit!