To the average person, when you mention a rice dish, one may think it's a side dish to a main. The truth is, that rice is extremely versatile. In fact, it lends itself very nicely to so many ingredients, that it can easily be transformed into a balanced and satisfying meal.
It's a good idea to occasionally think outside of the box (or bag) when it comes to rice. Doing so can bring a lot more fun into the kitchen, and in turn, your palate.
If you love rice, you will love some of these easy, at-home, rice recipes we have rounded up. Each one is unique, packed with flavour and can be served completely on its own, if you wish.
1. Cilantro Lime Rice – From Pink Chai Living
This recipe is a fantastic example of infusing rice with a lot more flavour and zest. The addition of lime and cilantro lends itself to be a great compliment to a meat dish, however, there is an addition of peas that also provides it additional nutritional value. So, this dish really can stand completely on its own as well.
It involves simply sauteeing cooked rice, peas, and onions, and adding a paste made of cilantro and fresh garlic, with a splash of lime juice. This extremely simple rice dish lends itself nicely as a meal by adding some cooked chicken, or chopped nuts, or even some parmesan cheese.
2. Kimchi Fried Rice – From Spud.ca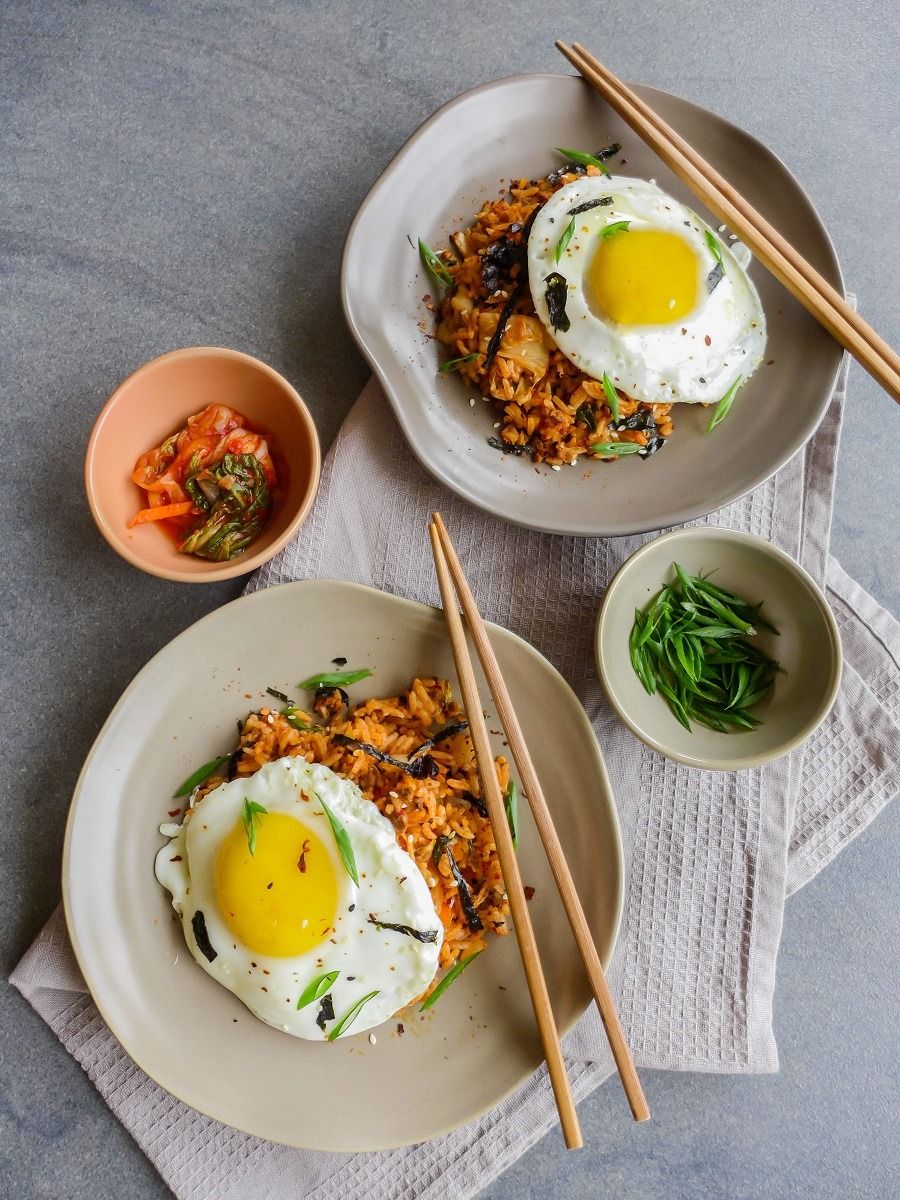 Do you like Kimchi? If so, you will love this idea. The addition of kimchi to soups, noodle, rice, instantly gives it a punch of flavour like no other. For a quick and easy meal, that is also healthy, nutritious and full of comfort, you will want to try your hand at recreating Spud's Kimchi Fried Rice. Many of the ingredients are on-hand pantry items as well.
One of the best things about this dish is that you can customize it according to your liking. Whether you want to minimize or maximize the amount of ingredients to add, it won't ruin the dish. In fact, it's basically foolproof. The addition of a fried egg makes it a really filling rice dish that you will truly enjoy for dinner.
3. Banh Mi Pork Fried Rice – From My Kitchen Love
If you love the Banh Mi Vietnamese sandwiches, there is no way you wouldn't be interested in trying out this rice dish. Though many of us know that re-creating a Banh Mi sandwich isn't always easy at home, the rice dish is much easier, as you will see.
Because you use leftover rice, this dish really takes no time at all. However, the combination of juicy pork, crispy rice, fresh vegetables and sriracha mayo make it so tasty and visually appealing as well. We guarantee making it at home will have your friends thinking you are a chef.
4. Thai Style Turkey and Coconut Rice – From Fresh Prep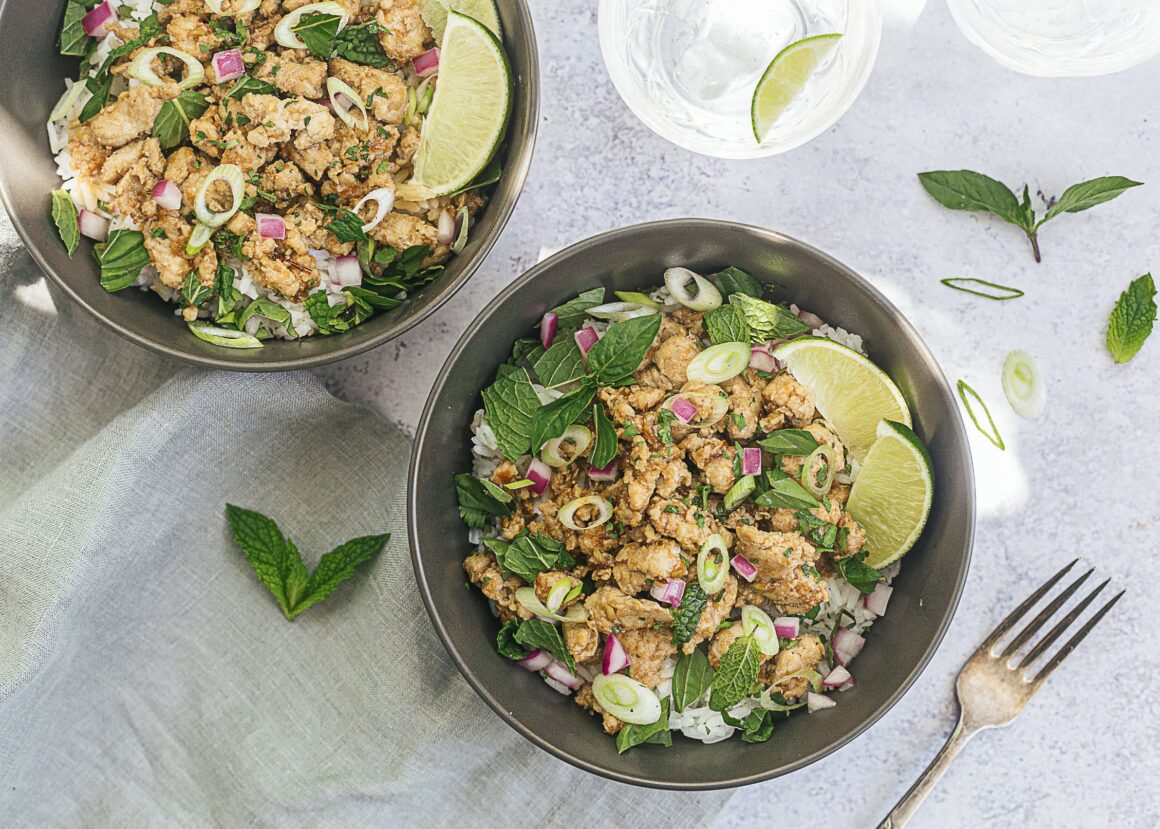 While this isn't a one-pot, all-in-one mixed rice dish, it definitely is worth mentioning here. The recipe itself is extremely easy to create (most things from Fresh Prep are), and the coconut rice will make you feel you are actually eating at a Thai restaurant.
The best part of this dish, other than the fact is it delicious, is that it is quite healthy. The entire prep and cook time is 30 minutes. It really shows you that a quick and easy rice dish doesn't have to compromise flavour. Obviously you don't have to get everything from Fresh Prep, these ingredients can easily be found and just require a lot of chopping…and then you are good to go.
5. Healthy Mexican Bowls with Salsa – From Vancouver With Love
This is a rice dish that is not only delicious but it is also vegan and gluten-free. The ingredients lend itself to create a really powerful, mouth-watering rice dish, that is also very hearty (given the black beans, avocado and use of brown rice).
Two of the highlights on this recipe is that a) it takes 25 minutes to make and b) there is a smoky dressing to go with it, and that is the game-changer for this recipe. Once you have the dressing prepared, the rest is easy.
Rice is so much more than a side dish that is neutral, it literally is the base to amazing creations in the kitchen. It can be fun to play with at home. In fact, one should try to create it in various ways, various dishes to keep it far from boring or plain.
We encourage you to try the recipes here or mix them up to create them to your liking. The truly unique things about rice dishes, is that it allows you to travel the world without leaving your kitchen.
Are you looking for more dinner ideas? Check out our list of local bloggers to follow for more dinner ideas.
The following two tabs change content below.
Christina Chandra
Christina is a local freelance writer/blogger, passionate about exploring cafes and eateries in Vancouver. Her passion for food stems from her educational background in Food, Health and Nutrition from UBC. Christina is also a mom to two toddlers, who you may often see her with grabbing "coffee" on Main Street.
Latest posts by Christina Chandra (see all)