When fall turns into winter, some folks look forward to skiing and skating, others to warm fires and hot cocoa—but not you. You're looking forward to the robust winter home cooking that'll feed your soul from head to toe.
Plus, with the extra time you'll be spending indoors during the coldest season of the year, you'll have the opportunity to try any one of these seven winter recipes from local Vancouver chefs and restaurants! While trying your hand at any hearty meal from our list, you'll be introduced to a whole new dimension of culinary excellence.
From the savoury richness of beer and cheddar soups, to the nuance and spice of duck curry, you'll find winter recipes that fill you with warmth, comfort, and excitement. These dishes offer an exquisite array of sophistication, texture, flavours, and deliciousness that will make it nearly impossible to leave your kitchen from December to April!
1. Aji De Gallina Empanadas
By Executive Chef Ricardo Valverde From Ancora Waterfront Dining & Patio
Photo Credit: Ancora Waterfront Dining & Patio


This Peruvian-inspired Aji De Gallina (shredded chicken) empanadas by Chef Ricardo Valverde was available on the Fall 2018 brunch menu at Ancora Waterfront Dining & Patio.
Serves Four (4)
Empanada Dough
Ingredients
1 cup all purpose flour
125ml cold unsalted butter, cut in small cubes
70ml cold ice water
1 egg yolk (if baking)
Directions
Mix flour and salt together in a food processor.
Add the cubes of butter and pulse until dough is mealy.
Add cold water, as needed, pulse and mix until clumps of dough start to form.
Remove dough from food processor and knead until a ball is formed.
Cover the dough with plastic wrap and let rest for at least one hour.
To make the empanada discs, roll out the dough into a five-millimetre thick layer and cut into circular shapes (approximately 12cm diameter) using a mold or a small plate.
Dough can be made ahead of time and kept in the fridge up to three days.
Chicken Filling
Ingredients
Canola oil
1 large red onion, finely diced
3 garlic cloves, finely diced
90 g aji amarillo paste (available at Granville Island Public Market or online)
250 ml chicken stock
370 ml evaporated milk
2 slices white bread, crusts removed (soak in 120ml of evaporated milk)
210 g pulled poached chicken breast
2 Tbsp. grated parmesan cheese
3T tbsp. chopped roasted walnuts
½ cup fresh chopped parsley Pinch of nutmeg
Salt and pepper to taste
Directions
In a frying pan, sweat the onion and garlic with canola oil until translucent over medium heat.
Add the aji amarillo paste and sweat for 10 minutes.
Add the soaking bread, stirring continuously, and let cook for two minutes.
Add all of the remaining ingredients – except for parsley – and adjust seasoning as needed.
Remove from heat.
Once mixture is cold, mix in parsley
Assembly
On a floured surface, remove rolled dough and place 1.5 oz. of filling in the middle of each circle of dough.
Brush the edges of the dough with beaten egg mixture.
Fold the pastry over to form a half circle pocket around the filling.
Using a fork, pinch down the edges to seal the empanada.
If baking, brush dough on both sides with beaten egg and cook in oven for 15-20 minutes at 375°F or until golden brown.
If frying, cook at 350°F for three minutes.
Serve and enjoy.
Ancora Waterfront Dining & Patio
Instagram | Website | Facebook
---
2. Yarrow Meadows Duck Curry with Potato Rösti
By Chef and Co-Owner Felix Zhou of Heritage Asian Eatery
Photo Credit: Heritage Asian Eatery
This Thai-style duck curry by Chef Felix Zhou won first place at the 2017 Chef's Table Society of BC Curry Cup.
Ingredients
750g Yarrow Meadows Duck Legs
12 cloves Garlic
6 Shallots
1 medium piece Ginger
4 Lemongrass Stalks
12 Kaffir Lime Leaves
2 x 400g cans Light Coconut Milk
100g Brown Sugar
4 green Bird's Eye Chilies
4 Tbsp Fish Sauce
2 bunches Fresh Thai Basil
1 bunch Fresh Coriander
Juice of 2 limes
Salt
2 Tbsp Coriander Seeds
2 Tbsp Fennel Seeds
2 Tbsp Cumin Seeds
8 pods Cardamom Seeds
2 Tbsp Sichuan Peppercorns
Russet Potatoes
250mL Canola Oil
250g Dried Bean Curd, soaked in warm water for 2 hours (or until soft) and cut into 2 cm pieces
Potato Rösti
Directions
Parboil potatoes until just tender, but not soft. Allow to cool fully for at least a couple of hours.
Peel, and coarsely grate potatoes. Season with sea salt.
Heat oil in a pan. Add grated potatoes, shaping into flat cakes by gently pressing. Cook until golden and crispy.
Curry
Directions
To make the curry paste, peel, roughly chop and place the garlic, shallots and ginger in a food processor.
Trim the lemongrass, remove the tough outer leaves, then finely chop and add to the food processor as well. Trim and add the chillies along with the basil and the coriander stalks. Blitz until finely chopped.
De-bone and slice the duck legs into 2 cm cubes. Heat a splash of canola oil in a large pan on medium heat, add the cubed duck and fry for 5 to 8 minutes, or until just turning golden and the fat has rendered down. Transfer to a plate.
Reduce the heat to medium low and add the curry paste mixture from above. Cook for 4 to 5 minutes, stirring occasionally.
Lightly toast all seeds and peppercorns and grind to a fine powder. Add to the curry mixture to infuse.
Pour in the coconut milk and fish sauce. Add lime leaves and brown sugar. Turn the heat up and bring to a gentle boil, then let simmer for 30 minutes or until the sauce is slightly reduced.
Transfer to a Vitamix blender and blend until smooth, then pass through a fine strainer. Return to the pan along with the duck legs and dried bean curd allow to cook on medium low heat.
Reduce heat to low and cook for an additional 10-20 minutes, or until the duck is cooked and tender through. Add the lime juice for the final 2 minutes of cooking.
Season carefully to taste with sea salt.
Basil Oil
Directions
Bring a pot of salted water to a boil.
Blanch the basil leaves for 10-15 seconds, then immediately place them in ice water. Squeeze out as much water as possible, and place in a Vitamix blender with just enough oil to cover the basil. Blend until smooth.
Place a bowl over a larger bowl filled with ice water. Poor the oil mixture into the top bowl in order to quickly cool it down. Refrigerate overnight, and strain through a fine strainer.
To Serve
Place crispy potato rösti in desired serving dish, and top with duck curry and braised bean curd. Garnish with fresh coriander, Thai basil and pickled jalapeños. Enjoy!
Heritage Asian Eatery
Instagram | Website | Facebook
---
3. Roasted Squash Soup
By Parq Vancouver's Honey Salt
Photo Credit: Avenue PR
Roasted Squash Soup
Ingredients
80g diced carrots
90g diced onions
450g salt
40g evoo
5g garlic
150g white wine
800g water
450g assorted squash
10g thyme leaves
15g active yeast
1g cinnamon
10g salt
Directions
split and roast squash until tender.
scoop out the tender flesh and reserve.
in a pot, add evoo, carrot, onion, garlic and sweat until tender. Add the salt to reduce the risk of browning.
deglaze with wine and allow to reduce by half. Then add the water and the rest of the ingredients.
while hot, scoop into blender and puree until extremely smooth.
at this time, feel free to add more salt to your taste.
Please note that when seasoning a soup, you want to taste it three times. Only after the third taste should it be seasoned fully.
Parq Vancouver's Honey Salt
Instagram | Website | Facebook
---
4. Vietnamese-Style Nuoc Cham Pork Ribs
By Chef and Co-Owner Bryan Satterford of Juke Fried Chicken
Photo Credit: Juke Fried Chicken
Recipe makes roughly 20-24 pieces.
Rib Rub
Ingredients
15g Coriander seed
15g Fennel seed
15g Turmeric
15g Sweet smoked paprika
6g Cumin seed
6g Ginger, dried ground
4g Cayenne
4g All spice
2g CloveSalt, preferably diamond kosher
2 full racks of St Louis side ribs, cut and trimmed
2L Duck fat or canola oil (or enough to cover)
Directions
In a mortar and pestle or spice grinder, crush spices until they resemble a fine powder.
Rub the spice mixture evenly on the ribs and allow to sit for a minimum of four (4)hours, preferably overnight.
Once marinated in the spices, season the ribs with salt and place in a high-sided roasting pan and cover with the duck fat or canola oil.
Place in a 300°F oven and confit until ribs are tender but still hold their shape, about 90 minutes.
Allow the ribs to cool fully to room temperature before removing from the oil,then chill the racks fully in the fridge.
Slice the ribs into single bone pieces before deep frying.
Nuoc Cham Vinaigrette
Ingredients
125ml Fish sauce
125ml Rice wine vinegar
30ml Sugar
30ml Tamari sauce
1 Thai chili, minced
1 large garlic clove, minced
Directions
Place rice wine vinegar, sugar, Thai chili and garlic in a pot and bring to a boil.
Remove from the heat and add fish sauce and tamari.
Allow to steep and cool before using.
Pickled Chilies
You can use any sort of hot peppers you like for this. Some good medium heat options are jalapeños, serrano, birds eye, or Fresnochilies.
Ingredients
100g Chilies, thinly sliced
75ml Vinegar
35ml Water
15g Sugar
5g Salt
Directions
Mix vinegar, water, sugar and salt in a saucepanand bring to a boil.
Pour mixture over sliced chilies. Cover container and allow to come to room temperature on the counter before refrigerating.
Additional Ingredients to Finish
Rice flour and corn starch, mixed 1/1 (enough to dredge the ribs)
Torn mint and Thai basil
Sliced green onion
Toasted peanuts
Toasted sesame seeds
Canola oil for frying
Assembly
Using either a counter top deep fryer or a high sided pot on the stove, heat canola oil to 350°F.
Dredge the individually cut confit ribs in the rice flour and corn starch mixture, being sure to cover them evenly.
Tap off the excess flour and drop into the hot oil, a few ribs at a time making sure you don't overload your pot.
Allow the ribs to fry until they become golden and the center is hot, about 3 to 4 minutes.
Remove the ribs from the fryer and place on a rack to allow the excess oil to drip off.
Repeat steps 2 to 5 until all the ribs are cooked, be sure to allow the oil a few minutes between batches to come back up to temperature.
Once all the ribs are cooked, place in a large bowl and toss them with the Nuoc Cham Vinaigrette (see above) and Pickled Chilies (see above).
Place ribs on a high rimmed platter and top with the herbs, peanuts and sesame seeds.
Juke Fried Chicken
Instagram | Website | Facebook
---
5. Potted Pumpkin Pie with Gingerbread Cookie
By Parq Vancouver's Honey Salt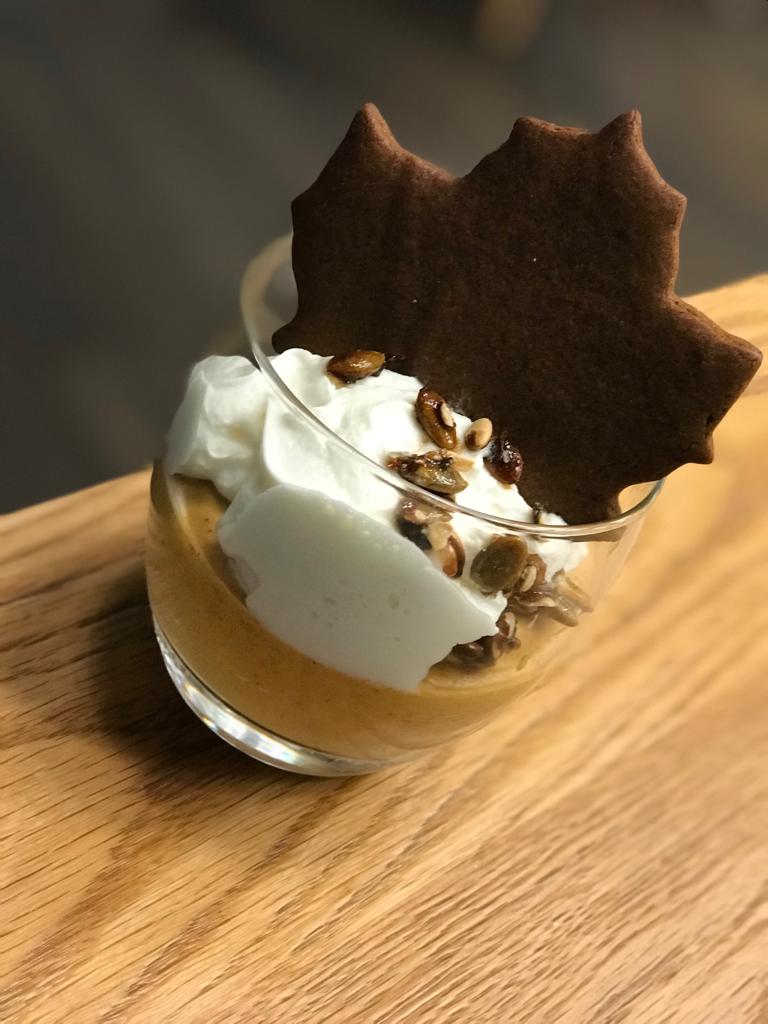 Photo Credit: Avenue PR
Yield 12 5oz portions
Pumpkin custard
Ingredients
2 cup Whole milk
3 ¼ cup Canned pumpkin
¾ cup sugar #1
1 tbsn Vanilla extract
1 tbsn Pumpkin spice
2 tbsn Cornstarch
6 large Egg yolks
¼ cup sugar #2
2 tbsn Unsalted butter
¼ cup Whipping cream
Directions
Whisk together milk and pumpkin and then strain through a fine sieve.
Combine strained pumpkin mixture, sugar #1, vanilla and spices
In a bowl combine the egg yolks, sugar #2 and cornstarch, whisk until smooth.
Bring the pumpkin mixture to a boil over medium heat whisking regularly to prevent burning.
Slowly add the pumpkin to the egg yolks whisking constantly to stop the egg yolks from cooking.
Return the mixture to the stove and cook until it begins to bubble whisking constantly.
Pour the mixture into a bowl whisk in the butter and cool in the fridge for 20-30 minutes.
Whip the cream until medium firm and set aside.
Once the pumpkin mixture is no more than slightly warm whisk to ensure a smooth consistency.
Carefully stir the whipped cream into the cooled pumpkin until evenly mixed/
Portion the mixture into your serving vessels and cool for 1-2 hours until completely set.
Gingerbread Cookie
Ingredients
½ cup Butter – room temp
½ cup Sugar
2 tbsn Hot water
½ cup Molasses
2 ¾ cup All-purpose flour
¾ tsp Baking soda
¾ tsp Ginger
¾ tsp Cinnamon
Pinch of Salt
Pinch of All Spice
Directions
Cream butter and sugar until slightly aerated.
Combine hot water and molasses and add to butter mixture.
Combine all dry ingredients and add on low speed until smooth
chill for 2 hours or overnight.
Sheet to ¼ inch and cut out using your favorite seasonal cookie cutter.
Bake at 350 for 10 minutes in a conventional oven.
Parq Vancouver's Honey Salt
Instagram | Website | Facebook
---
6. Classic Pecan Pie
By Pastry Chef Mario Pelletier of Railtown Catering and Railtown Cafe
Photo credit: Railtown Cafe
Pastry Chef Mario Pelletier's Classic Pecan Pie is available by the slice at Railtown Cafe's four locations in Vancouver throughout the holiday season and part of Railtown Catering's gourmet Turkey Holiday To-Go Packages.
Recipe yields two pecan pies
Sable Base
Ingredients
3 1/3 cups (470g) flour
½ (60g) ground almonds
1 cup (240g) butter
1 ¾ (180g) icing sugar
2 eggs
1 tsp. (4g)
salt
Directions
Crumble all dry ingredientstogetherexcept eggsin amixing bowl.
Slowly add eggs and combine until smooth.Line the base mixture in two 10-inch circle tart tins.
Place tins in the oven at 170°C(roughly 340°F) and blind bake (usingbeanson top of the crust)forapproximately 20-25 minutes until the crust is half cooked.
Pecan Filling
Ingredients
9 eggs
2 ½ cups (500g) demerara sugar
1 ¾ (612.5g) golden syrup
½ cup (125g)butter
Pinch salt
9 cups (1kg)pecans
Directions
Preheat your oven to 175°C (roughly 350°F).
Melt the butter.
In a mixing bowl and slowly mix inthe eggs, sugar and syrup.
Incorporate the butter, salt andthen the pecans.
Dividethe pecan filling between thetwo pie crusts and cook for approximately 30 minutes.
Remove pies from oven and allow to cool before serving.
Railtown Catering
Instagram | Website | Facebook
Railtown Cafe
Instagram | Website | Facebook
---
7. Beer and Cheddar Soup with Cinnamon Oat Crumble
By Chef Roy Flemming of Tuc Craft Kitchen
Photo Credit: Tuc Craft Kitchen
Yield: 4L
Time: 120 min
Shelf Life: 3 days
Ingredients
¾ cup canola oil
3 onions (minced)
¾ cupflour
2 cups IPA beer
4 cups apple cider
½ cup Dijon mustard (not grainy)
8 cupschicken stock
8 sprigs of thyme (stems removed)
2 tsp. nutmeg
1 tsp. ground cloves
1 tsp. cayenne pepper
6 bay leaves
2 cups 35% whipping cream
1 Tbsp. kosher salt and pepper
1 cup cheddar cheese (shredded)
1 cup cinnamon oat crumble (see recipe below)
Directions
Add oil and onions to a pot and cookfor 15 minutes on medium heat.
Add flour and stir and cook for three minutes.
Add beer andcook for fivemore minutes.
Add apple cider, Dijon mustard, thyme, nutmeg, cloves, pepper and bay leaves to soup mixture and simmer on medium heat for one hour.
Add whipping cream and salt and pepper to the soup andsimmer on low heat for 30 minutes.
Remove from the stovetop and allow soup tocool to 70 degrees within twohours and 40 degrees within 4 hours.
Serve and garnish withoat crumble (see recipe below) anda large pinch of shredded cheddar cheese.
Cinnamon Oat Crumble
Yield: 1 Cup
Time: 30 min
Shelf Life: 5 days
Ingredients
1 cupold fashioned oats
2 Tbsp. flour
¼ tsp. kosher salt
1 tsp.cinnamon
2 Tbsp. brown sugar
6 Tbsp.unsalted butter (softened)
Directions
Pre-heat oven to 350°F
In a bowl combine the oats, flour, brown sugar, cinnamon and salt.
Add the softened butter and use your fingers to crumble it into the oat mixture until everything is moist and the butter is evenly distributed.
Spreadoat mixture evenly onto a baking sheet
Bake for 20 minutes, stirring halfway through cooking, until crisp and golden brown and smells amazing.
Tuc Craft Kitchen
Instagram | Website | Facebook
The following two tabs change content below.
Noms Magazine
Noms Magazine is a food lifestyle publication based in Vancouver. Our goal is to help you easily find the best food and things to do in the city!
Latest posts by Noms Magazine (see all)