Being one of Canada's most popular picturesque mountain towns, Banff is famous for its landscape, crystal-clear lakes, and outdoor adventures. Besides its stunning scenery, Banff is appealing for its wide range of cuisines, restaurants, price points, and wonderful places to eat with a view as well. While you might find it difficult to choose a perfect dining spot in most mountain towns, that is certainly not the case in Banff!
Wait no more, let's dive in to explore the 12 best Banff restaurants, from Asian fusion to Mexican, steak, cheese fondue, and even vegan! Here comes all the Banff food you can get!
12. Shoku Izakaya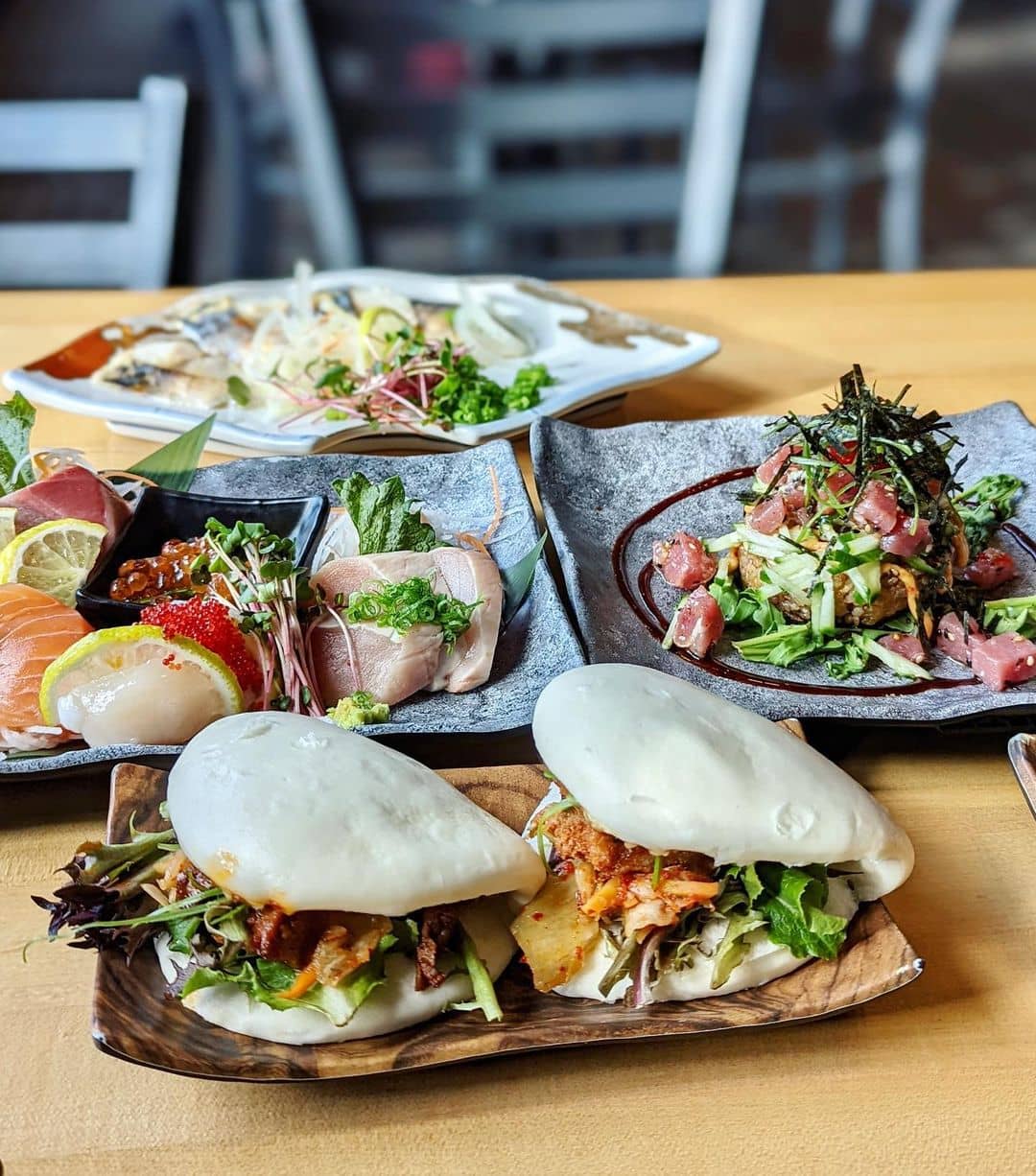 Before saying anything about Shoku Izakaya, we have to claim that this small Japanese restaurant is one of a kind! Contrary to its size, Shoku Izakaya attracts a large number of fans, that's why you'll always find a long line waiting to get a seat. The key lies in its creative menu that took inspiration from Chinese cuisine but then remade in the traditional Japanese style, which is worth a try!
In case you need a guide, have yourself the Tokyo Fries, Ahi Tuna Yaki Onigiri, Saikoro Steak, and of course, the well-known Takoyaki. The fries come up with nori-dusted, and smoked bonito shavings on top, dip it with their on-side takoyaki sauce and see how the taste develops in your palate.
The Takoyaki, as we all know, savory round dumplings with octopus chunks, drizzled with sauce, mayo, nori flakes, and bonito shavings. The point here is to eat them all in one bite, this is when you can pack all the flavors at once and truly experience the flavor bomb!
Pro-tip: It is first come first served at Shoku Izakaya, and they do not take reservations. Once you get there, you can put your name down for the waitlist for table seating.
What to order: Tokyo Fried, Karaage Chicken, Ahi Tuna Yaki Onigiri, Saikoro Steak, Ebi Mayo, Korean Fried Chicken
Address: 304 Caribou Street Banff, AB T1L 1A1
Website | Instagram | Facebook
11. Maclab Bistro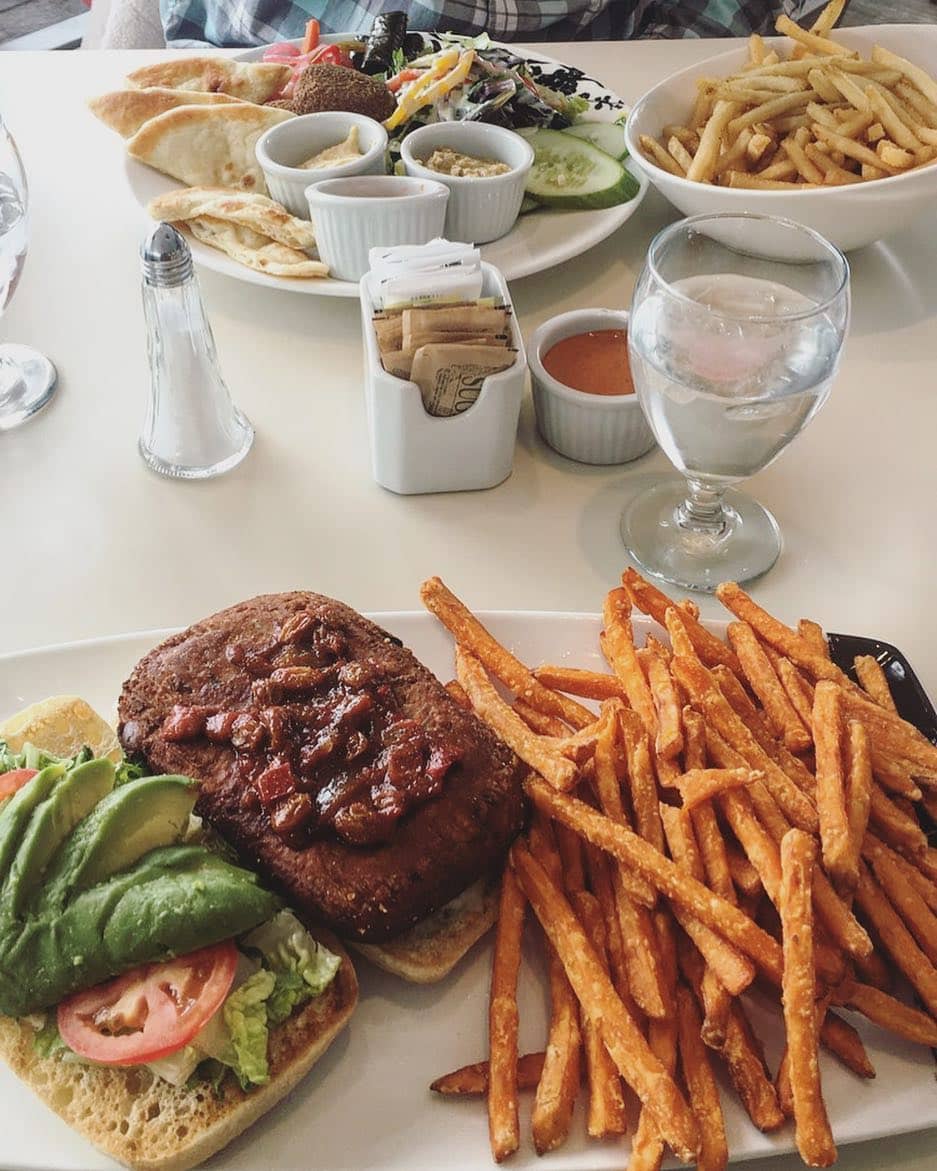 Wanna grab a quick meal to enjoy it on the picnic tables? Maclab Bistro is your next stop! Providing you with all types of house-made burgers, flatbreads, salad, and drinks, Maclab Bistro also has a large dog-friendly green area looking out over the Bourgeau Range where you can take away and enjoy the food outside.
Settle down with the Pepperoni & Bacon Pizza, which is fairly basic but delicious and super cheesy with double shaved Grizzly gouda, and shredded mozzarella. It's never out of trend, isn't it? Or you can also have the Marinated Chicken Filets, which is no less stunning with sweet-salty, herbal-ish taste and creamy, cheesy texture.
Maclab Bistro is also known and loved for the Pulled Pork Sandwich that comes up with juicy pork shoulder, goat cheese, creamy garlic sauce that tastes too good to be true!
What to order: Pepperoni and Bacon Pizza, Marinated Chicken Filets Pizza, Pulled Pork Sandwich, Cheeseburger, Caesar Salad, Chicken Strips.
Address: 107 Tunnel Mountain Drive Banff, AB T1L 1H5
10. Ticino Swiss-Italian Restaurant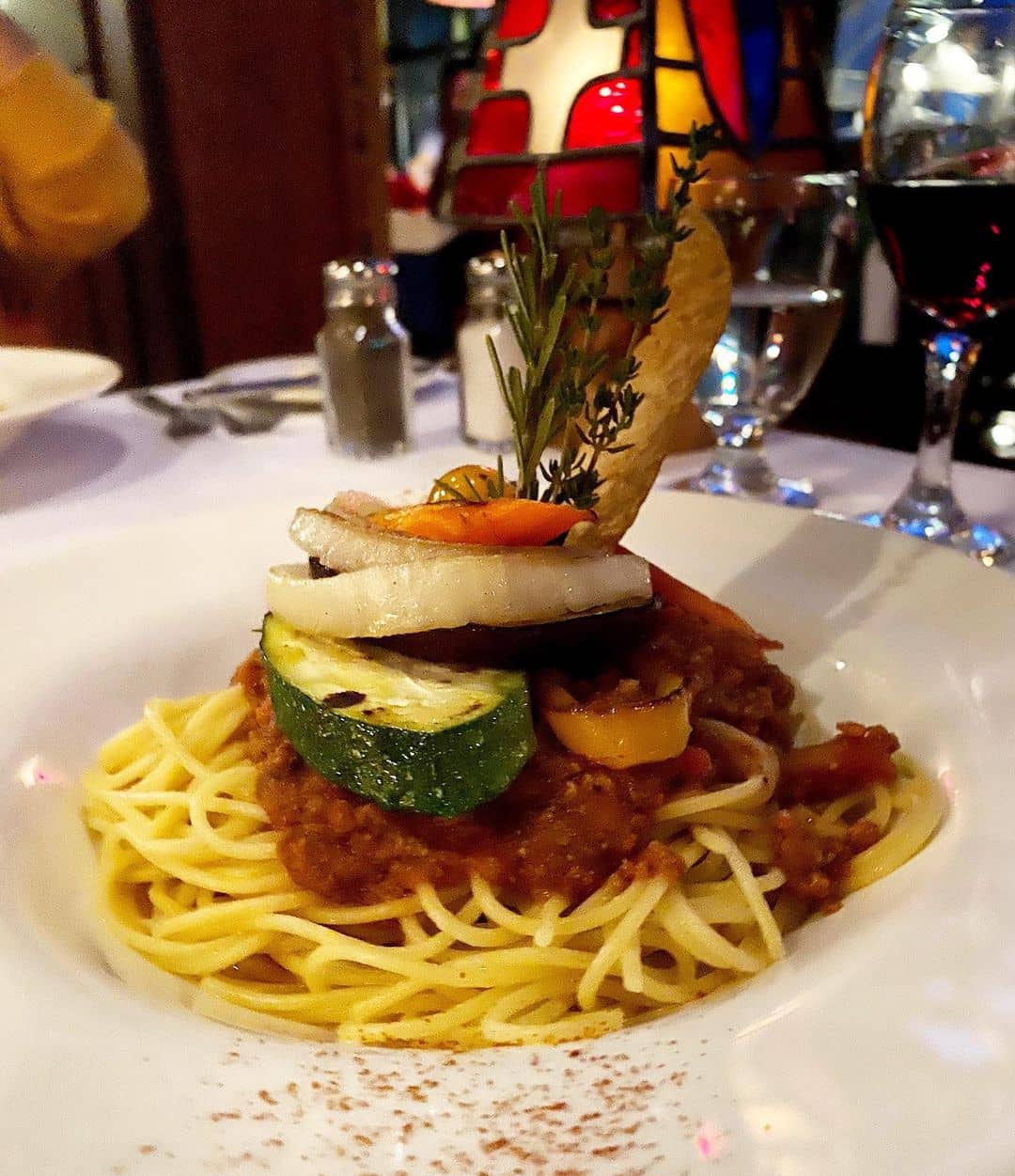 Being one of the oldest restaurants in Banff, Ticino Swiss-Italian Restaurant will bring you the true taste and atmosphere blending of Swiss, Italian, and Canadian influences. In case you especially want to slow down a bit, feeling relaxed and unwind to enjoy the quality food, there can't be any better options than this cozy, welcoming restaurant on the main strip of Banff Avenue.
You can never go wrong with their Fonduta "Mar-E-Mont", a light fondue with thinly sliced beef and cooked shrimp, complemented by a variety of house-made sauces that are hard to turn a blind eye on. For a sweeter, creamier version, try out the famous Fonduta di cioccolata! A traditional Swiss chocolate fondue served with seasonal fruits and house-made banana bread.
Don't leave without having their Fruitti de mare in your order. This mildly spicy pasta with seafood and vodka tomato sauce can light up your day (and night)!
What to order: Fonduta "Mar-e-mont", Fonduta di cioccolata, Fruitti de mare, Ravioli ripeni di vitello, Salmone grigliato
Address: High Country Inn 415 Banff Avenue Banff, AB T1L 1B5
Website | Instagram | Facebook
9. Nourish Bistro Banff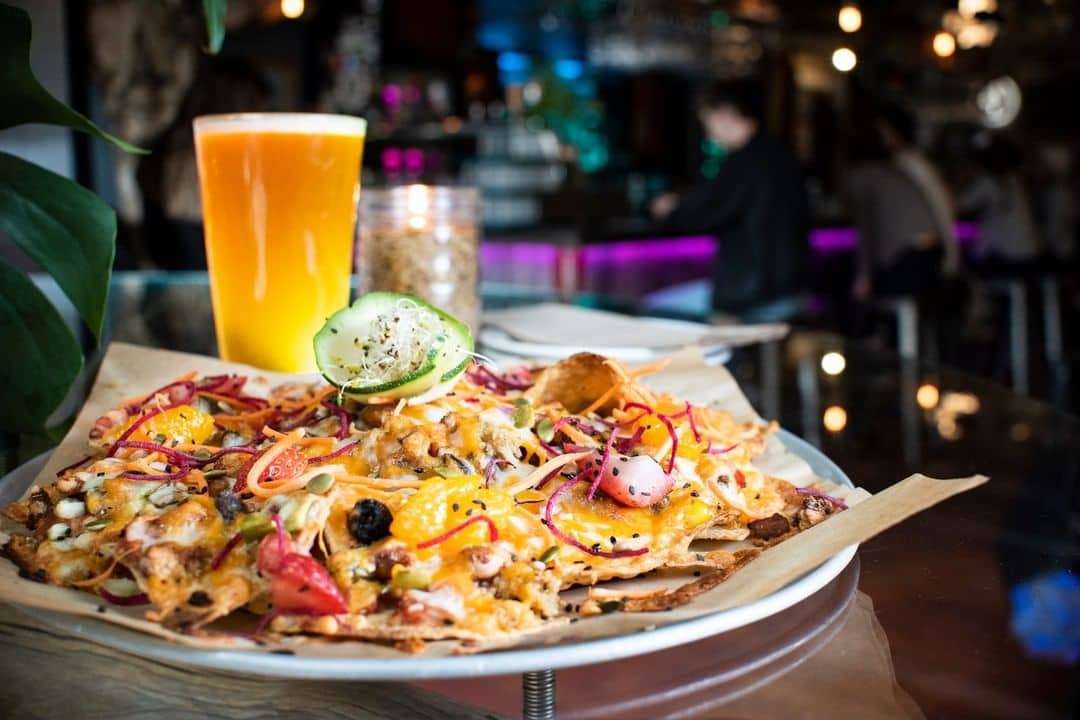 Shout out to all the vegetarians, this place is specially made for you! Located right off the beaten path, Nourish Bistro has been Banff's very own vegetarians' heaven with fresh, creative vegan cuisine. Step inside to fully their vibrant atmosphere, and plant-based comfort food like nowhere else.
Settle down with some Wild Mushroom Ravioli, Kimchi Burger, and the top-favorite World Famous Nachos. While the ravioli is pretty mild, elegant, and balanced with an exotic mix of lobster mushroom, house vegan cashew cheese, lavender cream sauce; the burger is giving you a tastebud kick with house-fermented kimchi, cheese, and sweet chili sauce drizzling all over.
Finally, the king of the show – World Famous Nachos! Fully loaded with over 27 ingredients, everything from beans and quinoa to dill pickles and strawberries. It tastes so unique and incredible that you will instantly want more and more!
What to order: Wild Mushroom Ravioli, Kimchi Burger, World Famous Nachos, King Kong Noodle, Mac 'n' Squeeze.
Address: 110-211 Bear Street Banff, AB T1L 1A8
Website | Instagram | Facebook
8. The Grizzly House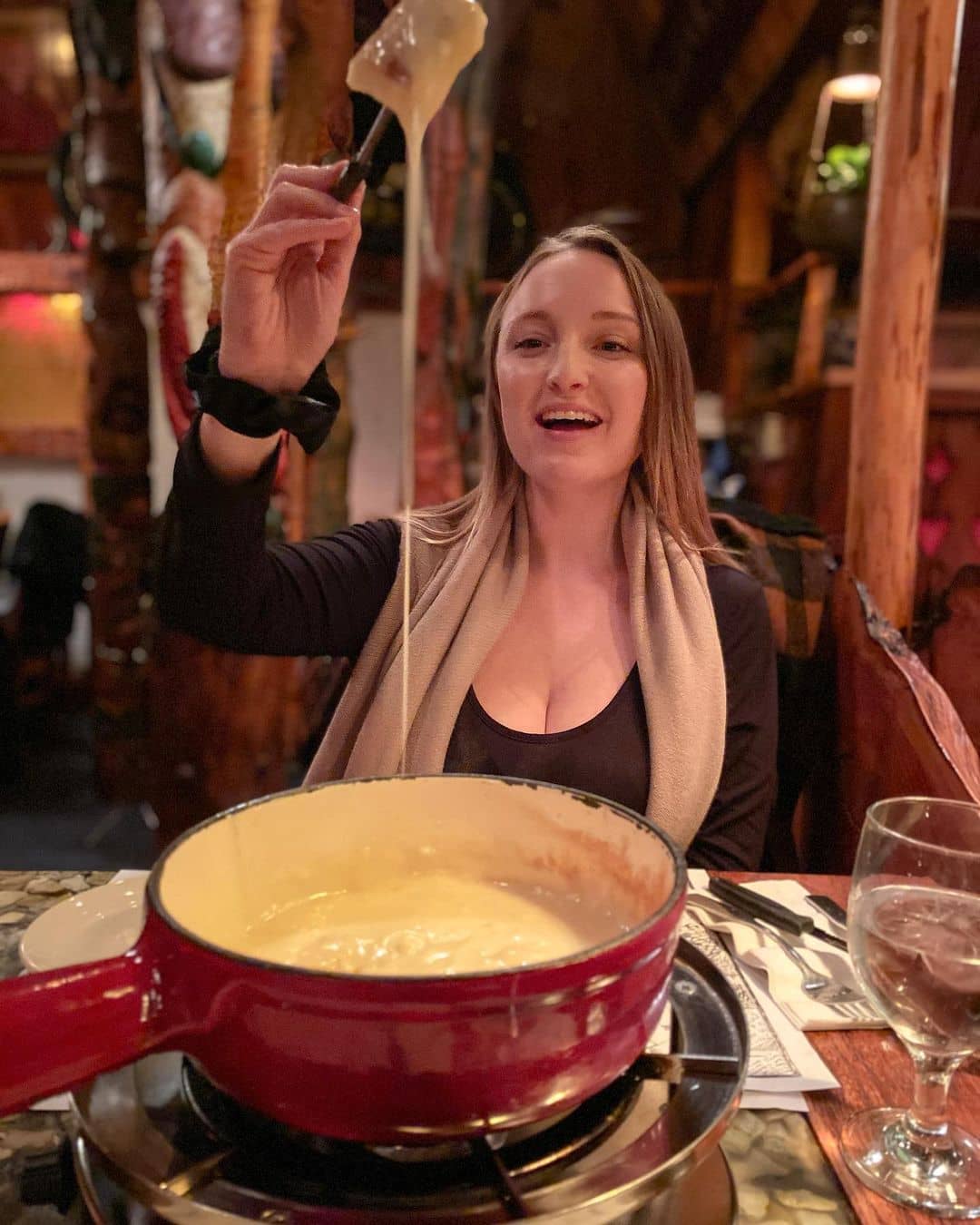 If you're craving steak and cheese fondue, head to The Grizzly House and you will be glad you did it. At The Grizzly House, besides their fabulous fondue selections that are available in more than 15 varieties, you will also experience the ambiance and decoration that ain't like any other place. Exotic decoration, 70s background music, down-to-earth ambiance, that's what we love the most when visiting this place.
Make your way through with the Classic Cheese Fondue, Lobster Hot Rock, or Traditional Buffalo Sausage. The cheese fondue, even when it's named "Classic", is still made with a twist. Expect to taste hints of white wine, Swiss cheese, and Kirch blending, which make up a powerful, unique, delicious aroma and taste.
Once finished with the fondue, keep going with Lobster Hot Rock, an ideal option for a fresh yet flavorful dish. The lobster is served with garlic butter and special sauce on the side, both of them are finger-licking good and can amazingly highlight the sweetness from the lobster itself.
What to order: Cheese Fondue, Lobster Hot Rock, Traditional Buffalo Sausage, Alberta Ribeye Steak.
Address: 207 Banff Avenue Banff, AB T1L 1B4
7. Coyotes Southwestern Grill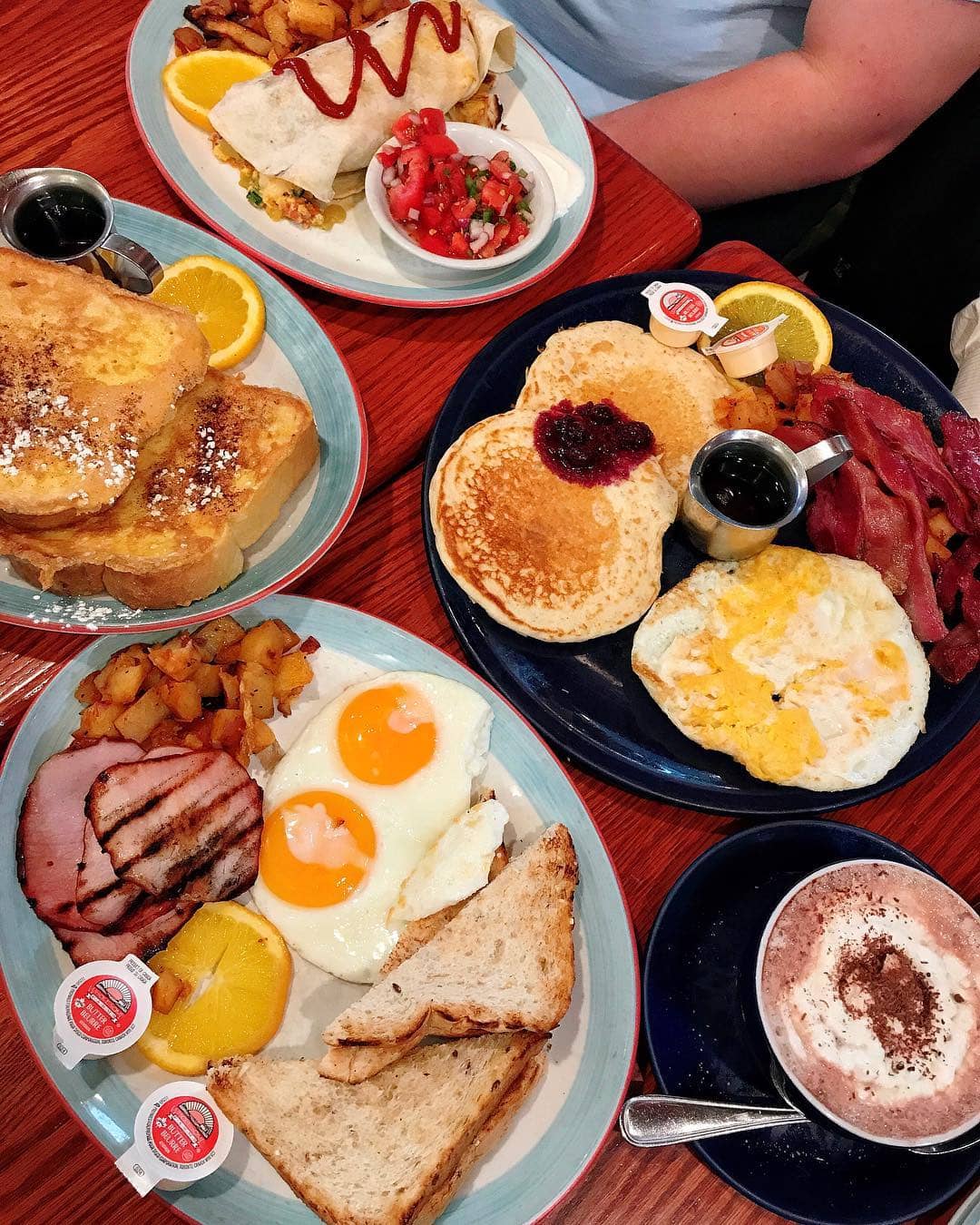 Coyotes Southwestern Grill, just like its name, serves up Southwestern cuisine with all choices of breakfast, lunch, and dinner. Their menu is so diverse and interesting that you can easily find something for yourself even when you're a picky or an adventurous eater. With an open kitchen, simple decoration, and welcoming ambiance, no doubt that you'll love this place at once!
Enjoy your time at Coyotes Southwestern Grill with their all-time favorite item: Pulled Pork Enchilada, shreds of moist pulled pork mixed up with black beans, encased in a tortilla, and topped with sauce, gooey melting cheese. Crazy delicious!
But don't just stop there, another Mediterranean Shrimp Pizza can do you good! Another gem from the menu, this pizza is Greek-inspired with basil pesto, Kalamata onions, fresh tomatoes, mozzarella & sheep's milk feta. A blend of herbal-ish aroma, sweet-salty taste, and cheesy texture that can get you on your knees!
What to order: Corn Tortilla & chicken Soup, Pulled Pork Enchilada, Mediterranean Shrimp Pizza, Pan Seared Fish Taco, Smoked Salmon Cilantro Pesto Flatbread.
Address: 206 Caribou Street Banff, AB T1L 1A2
Website | Instagram | Facebook
6. Magpie & Stump Restaurant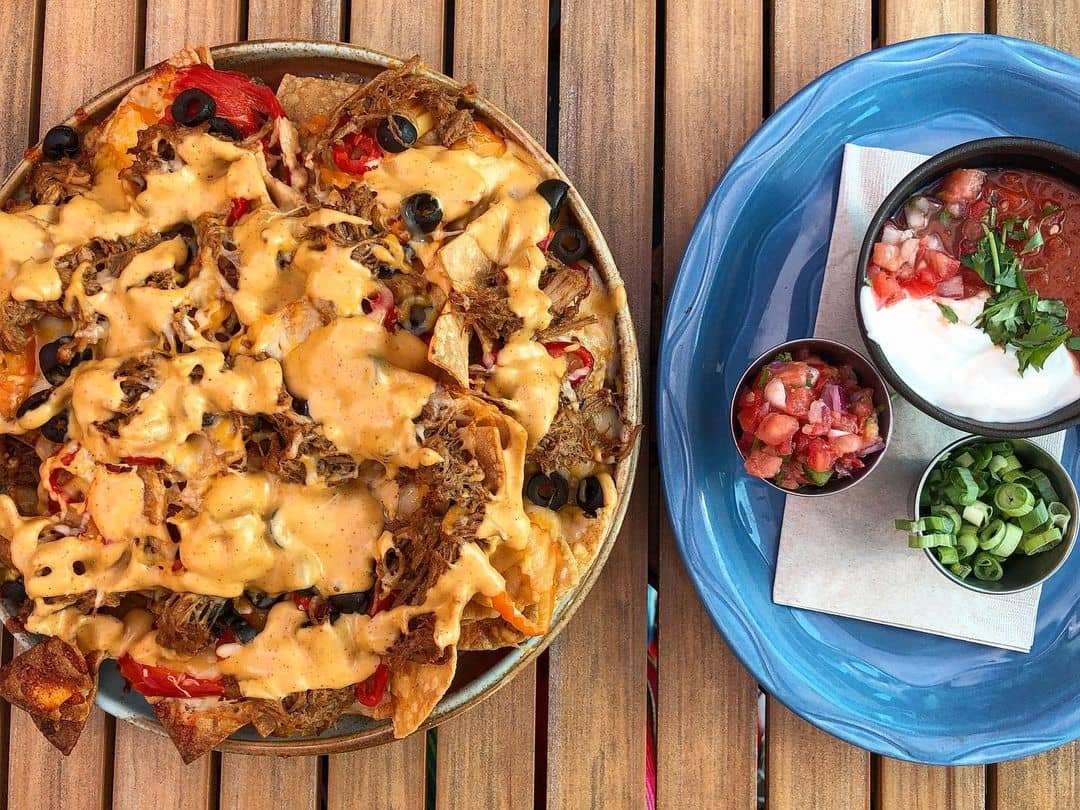 Magpie & Stump is one of Banff's oldest restaurants that offers all sorts of tacos, burritos, enchiladas, and a wide variety of cocktails. "Come for the food and stay for the drink", that's what they always say about Magpie & Stump. With a sun-drenched rooftop and an open-air patio, come by and enjoy this amazing, little piece of Mexico in Banff.
In case you need some advice, always have yourself some Mexican Wings, their tastes are literally a bomb! These wings are marinated in authentic Mexican style, perfectly fried, and remain that on-point moist. Dip them in Magpie & Stump secret hot sauce to see how powerful they are!
Up next, don't hesitate to go for the G.O.A.T Nachos, which is in short of Greatest Of All Time, and it is. Combining carnitas pork, sour cream, hot peppers, black olives, and stuff, this nachos is rich, mouth-watering, and full of flavors. A solid 10 out of 10!
What to order: Mexican Wings, G.O.A.T Nachos, Baja California, Shrimp Tostada, Chicken Quesadilla.
Address: 203 Caribou Street Banff, AB T1L 1A8
---
Where to stay in Banff
---
5. Farm & Fire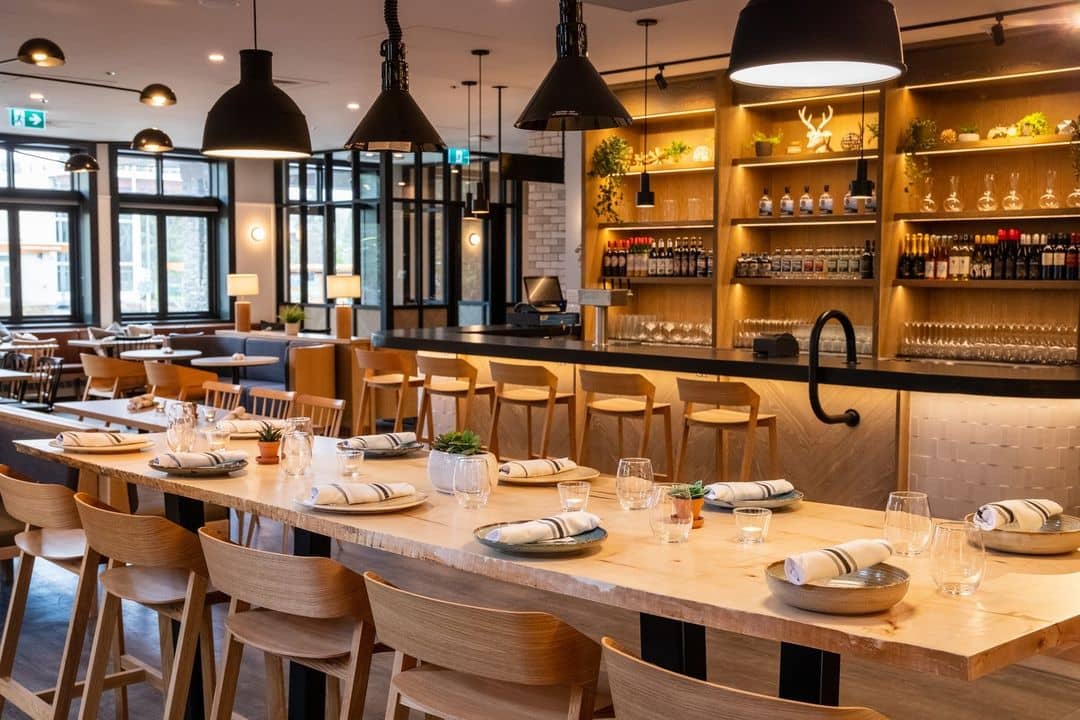 Searching for a relaxing, casual spot with breath-taking views of Rundle Mountain? Farm & Fire has got your back! Farm & Fire stays true to its name when it offers mostly slow-roasted, wood-fired dishes, and uses the freshest ingredients from local Canadian farmers. Come by every time you've got the chance to admire the peaceful ambiance, together with unforgettable food at Farm & Fire.
Since their most popular dishes include Forno Roasted Beets, Cab Beef Tartare, and Rotisserie Chicken, we bet you might want to try them too. While the Forno Roasted Beets comes up with goat cheese mousse, pickled fennel, hazelnut crumble which create a herbal-ish, creamy, and fresh taste; the Cab Beef Tartare is packed in flavors with smoked duck, egg yolk, and grilled-to-perfection bread.
For Rotisserie Chicken, you will instantly love how crispy the chicken skin is, and the perfect taste when it is dipped in their secret garlic sauce!
What to order: Forno Roasted Beets, Cab Beef Tartare, Rotisserie Chicken, Cheese Pizza, Cheesy Pasta.
Address: 333 Banff Ave Banff, AB T1L 1B1
Website | Instagram | Facebook
4. SALTLIK Banff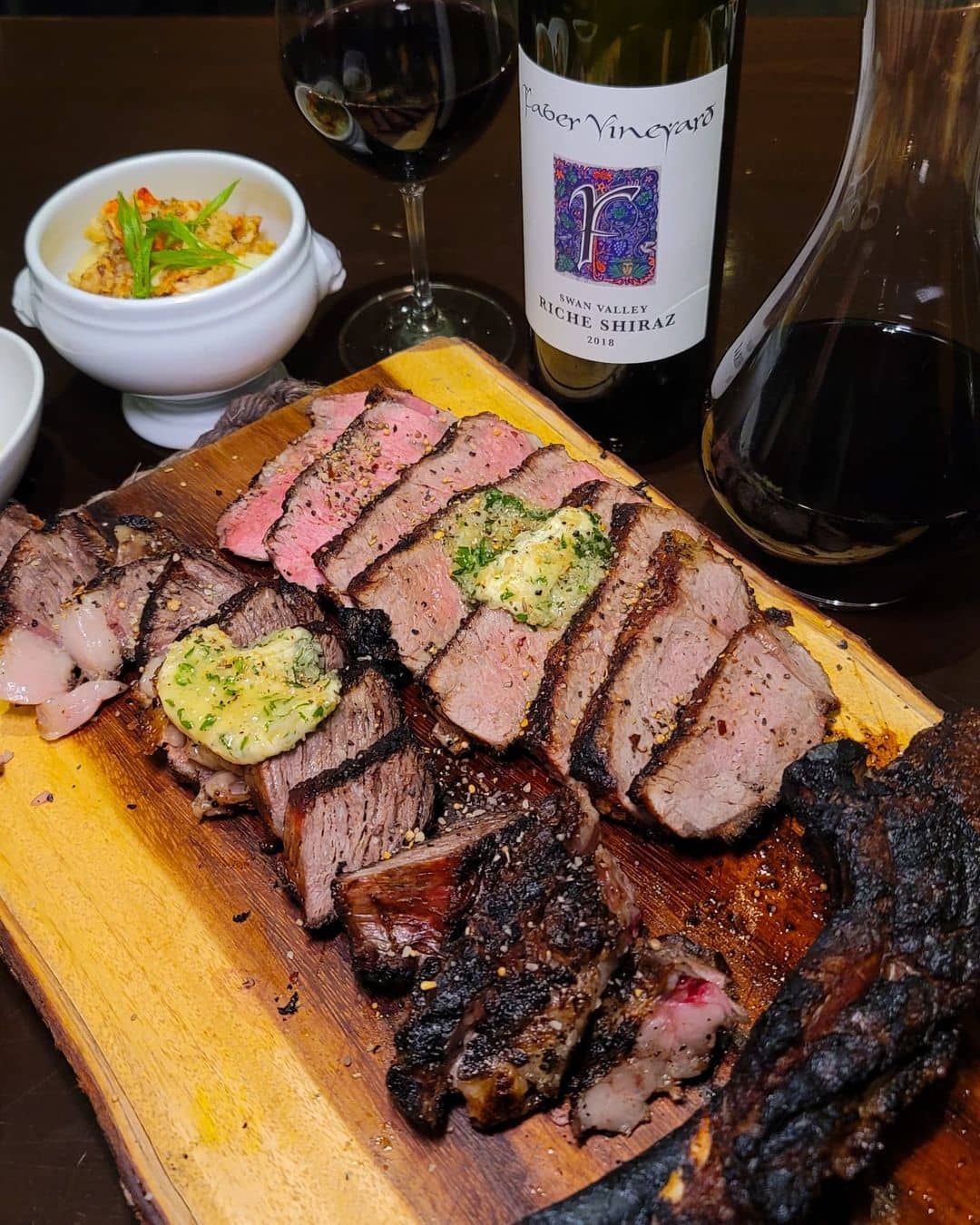 Nestled under the Rocky Mountains, SALTLIK Banff is your next go-to for a peaceful ambiance, mountain-view restaurant with premium dishes, excellent steak, and craft cocktails. We have never stopped loving SALTLIK ever since, and we bet you will do the same once coming to SALTLIK.
Settle down with Hand-pressed Burger, Spicy Grilled Chicken Sandwich, and of course, the famous Filet Mignon. The burger comes up with cheddar, smoked bacon, and veggie that create a balanced taste profile; you can choose to wrap them in lettuce instead of the bun as well!
For a lighter, fresh yet tasty version, try out their chicken sandwich with crushed avocado, spicy aioli, grilled chicken, pickled red onion. And the star of the show – Filet Mignon – which has that melt-in-mouth texture and tastes pleasant when paired with classic bearnaise sauce. Trust us, you will never regret it!
What to order: Hand-pressed Burger, Spicy Grilled Chicken Sandwich, Filet Mignon, Butcher Block, Red Wine Marinated Hanger Steak
Address: 221 Bear Street Banff, AB T1L 1B3
Website | Instagram | Facebook
3. Waldhaus Restaurant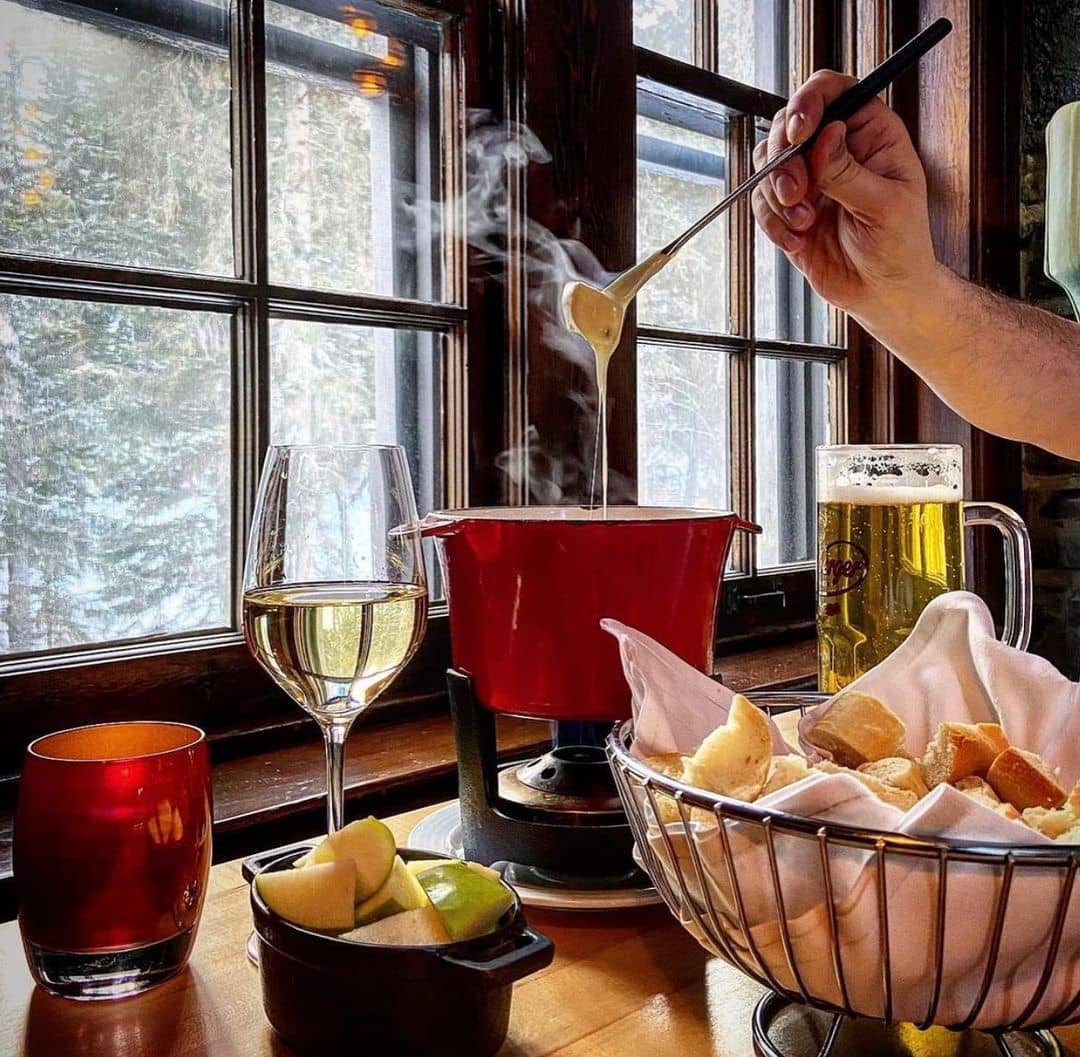 Nestled inside Fairmont Springs Hotel in the woods, Waldhaus Restaurant offers authentic German cuisine with classic fondue and divine schnitzel that surely win your heart. We have to admit that the ambiance and decoration that Waldhaus has set up can literally make you feel like being in German, from the Bavarian-style cottage, fireplace to the wooden chairs and trim on the windows. Amazing!
Start with the Cheese Fondue, which is delicious, stunning, and not overly greasy when dipping baguette, apples, or pickled veggies. Make your way through with some Bison Short Rib, honestly, this one is probably to-die-for! Being so flavorful, tasty, and juicy in every bite, we bet you would love to come again of this fall-off-the-bone dish.
Finally, you haven't been to Waldhaus Restaurant if you haven't tried Apple Strudel – their famous dessert of all time! With its flaky crust, spiced apple fillings, and salted caramel sauce on top, you will be seduced!
What to order: Cheese Fondue, Bison Short Rib, Waldhaus Schweineschnitzel, Apple Strudel, Potato Onion Soup.
Address: 405 Spray Avenue Banff Springs Hotel Banff, AB T0L
2. Block Kitchen + Bar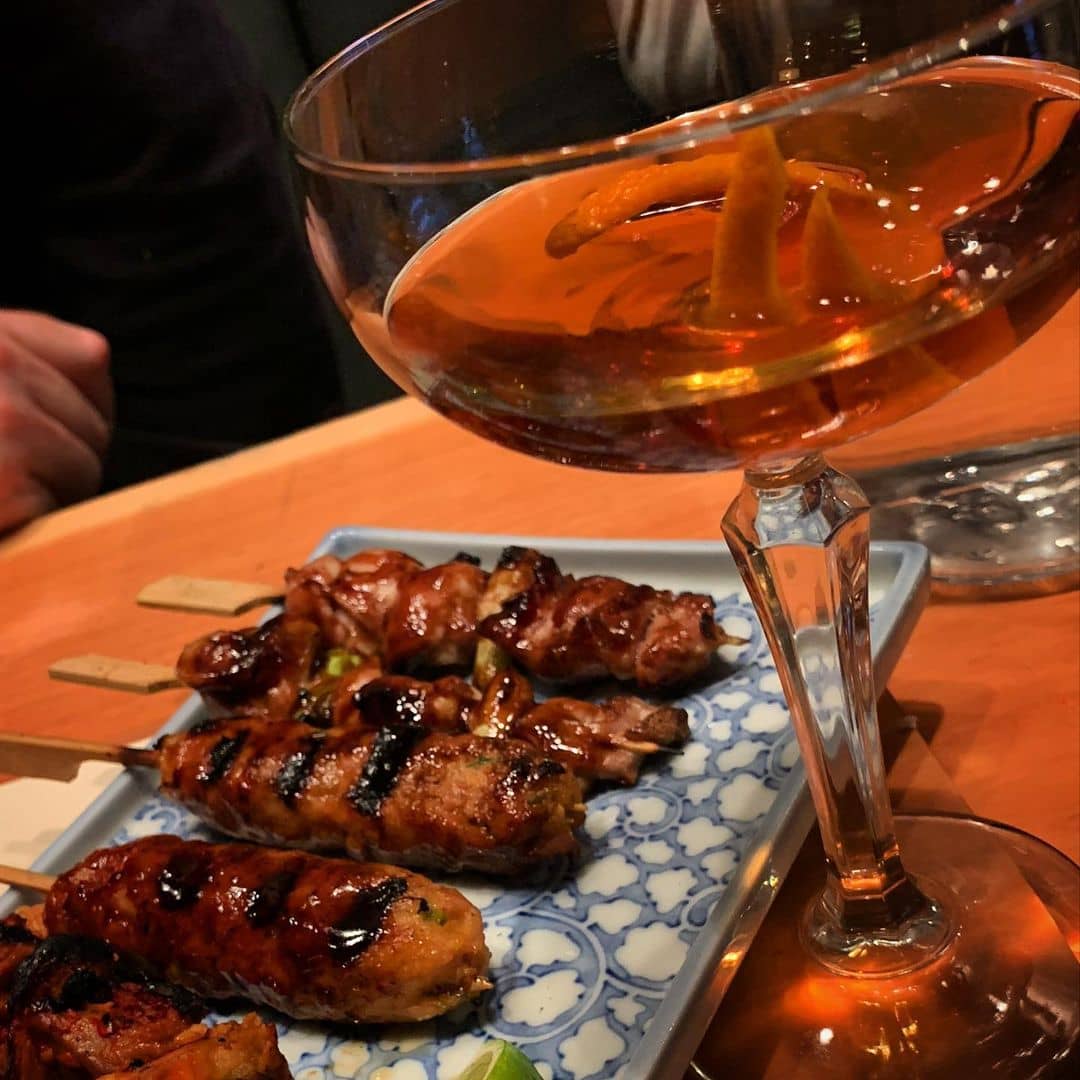 Run and operated by chef Stephane Prevost, who comes from Montreal but used to live in Japan for years, Block Kitchen + Bar offers a unique mixture of Asian and European fusion that you can't find elsewhere. Come by and fall in love with not just the food, but the vibrant and dynamic ambiance in Block too!
Nothing goes better than trying out their famous Duck Spring Rolls, which are fried to perfection, tender duck meat inside, and taste like heaven when paired with mint-based sauce! Then, go for some Silk Road Chicken Skewers to kick your taste buds. The chicken is a combination of sweetness, saltiness, and spiciness with a light breading alongside yummy spicy mayo sauce.
Asian Lettuce Wraps is also a good choice, which will soon be on your must-try list every time you set foot here. There are options of Smoked Chili Tofu, Pork Belly, Pulled Ducks, but they are all mouth-watering, especially when you dip them in spicy peanut sauce!
What to order: Duck Spring Roll, Silk Road Chicken Skewers, Asian Lettuce Wraps, Mushroom Risotto, Spicy Salmon Tartare.
Address: 201 Banff Avenue Suite 5 Banff, AB T1L 1C6
Website | Instagram | Facebook
1. The Bison Restaurant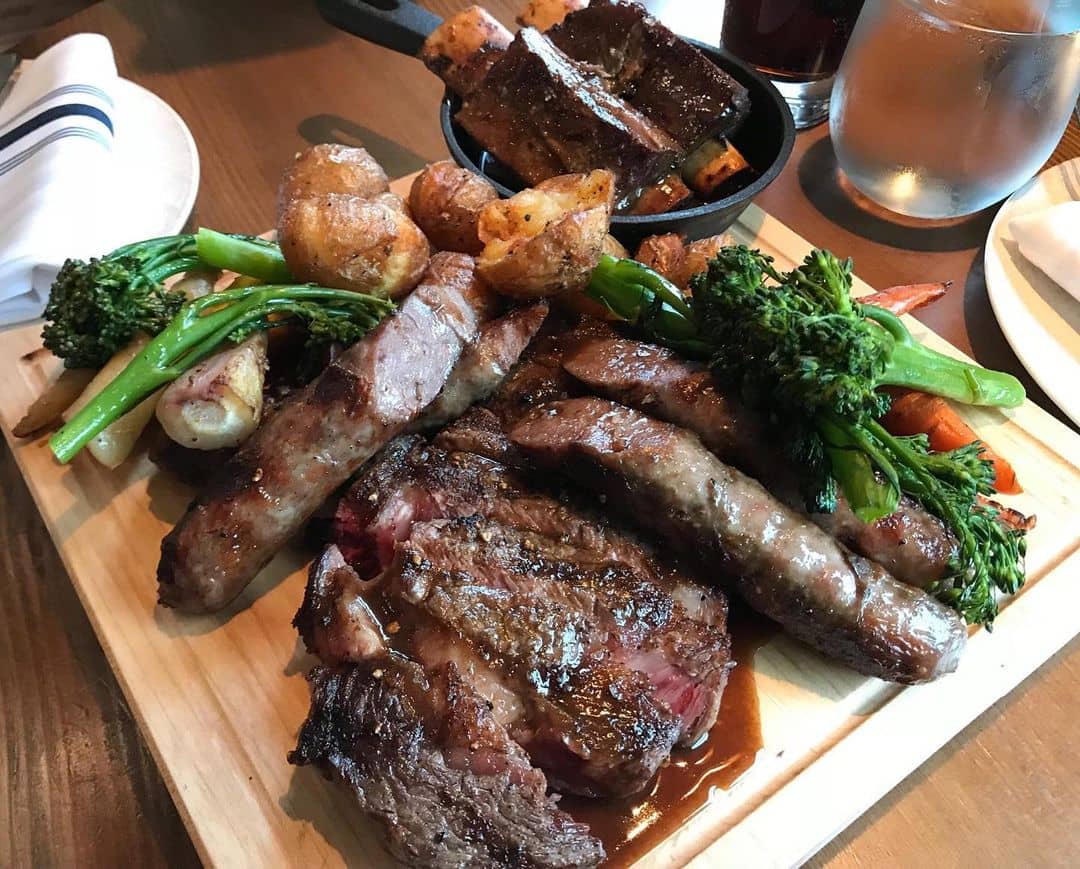 The Bison Restaurant is our all-time favorite for a fine-dining experience with a stunning view in Banff. With the patio built to soak in the mountain views, open kitchen, and rustic interior, you will instantly be in awe of the ambiance and stunning vibe this place has as soon as you enter.
There wouldn't be anything better than admiring the view when having yourself some Bison Ribeye, Mushroom Pasta, and Chocolate Cake for dessert! While the steak is scrumptious, perfectly cooked, savory, and packed with flavors; the pasta is way more delightful and creamier with creme fraiche, roasted mushrooms, and fresh herbs.
Finally, end your meal with Chocolate Cake and you will be glad you did it, as it is super delectable, flavorsome yet not too sweet, and Instagram-worthy!
What to order: Bison Ribeye, Mushroom Pasta, Chocolate Cake, Seasonal Sorbet, Roasted Duck Breast
Address: ​​211 Bear Street Suite 213 Banff, AB T1L 1E4
Website | Instagram | Facebook
Deciding where to eat in Banff can be frustrating as there are tons of options. However, we hope to get you covered with these suggestions above, from casual, affordable eats to more upscale bites! Plus, be sure to follow up on Things To Do In Banff in order not to any information about this famous mountain town!
This article includes affiliate links where we may get a small commission if you use our link. No extra cost is added on and all funds will be used to support our team and content.
The following two tabs change content below.
Latest posts by Noms Magazine (see all)