This article includes affiliate links where we may get a small commission if you use our link. No extra cost is added on and all funds will be used to support our team and content.
Hidden at the belly button of the famous Sea-to-Sky Corridor, Squamish is the holy land of mountain biking and forest bathing. While picking the best hotel in Squamish is a no-brainer for repeated visitors, it can be a daunting task for newcomers.
Are you seeking a level of comfort that's only found in a luxury hotel? Are you interested in somewhere downtown to avoid the hassle? Or are you down for a hideout in the woods? If any of these sounds like you, our collection of the six best hotels in Squamish will shed light on your doubts.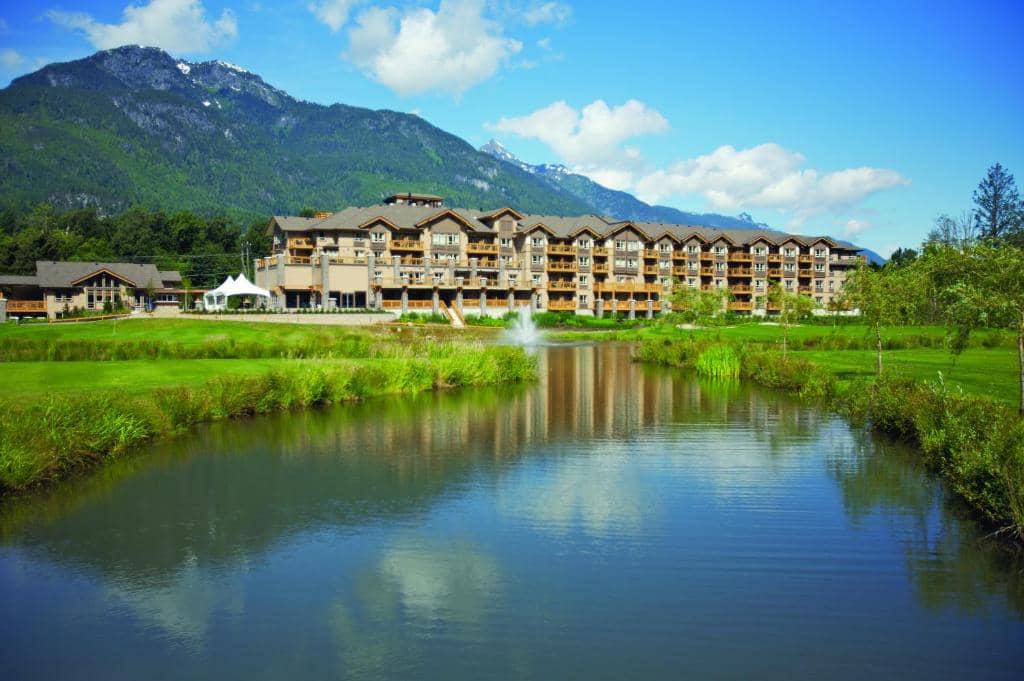 Sometimes, the opulence of a hotel is not coming from the bells and whistles that wow you at the lobby or world-class amenities behind closed doors, but is defined by the leisure ambiance that surrounds it.
In Squamish, the best accommodation that lands on the checklist of luxury seekers is Executive Suites Hotel and Resort. Casting its shadow on the mirror Squamish River, the all-suite hotel is an attention stealer with the striking parkland it sits on.
Resting its back on the snow-clad mountains and spreading its wings on the rolling hills, Executive Suites Hotel and Resort brings out a mountain-influenced condo style. Each room boasts a chef's kitchen with a private balcony, and you have full access to the outdoor heated pool and hot tub.
Address: 40900 Tantalus Rd, Squamish, BC V8B 0R3.
Best Mid-Range Hotel in Squamish: Mountain Retreat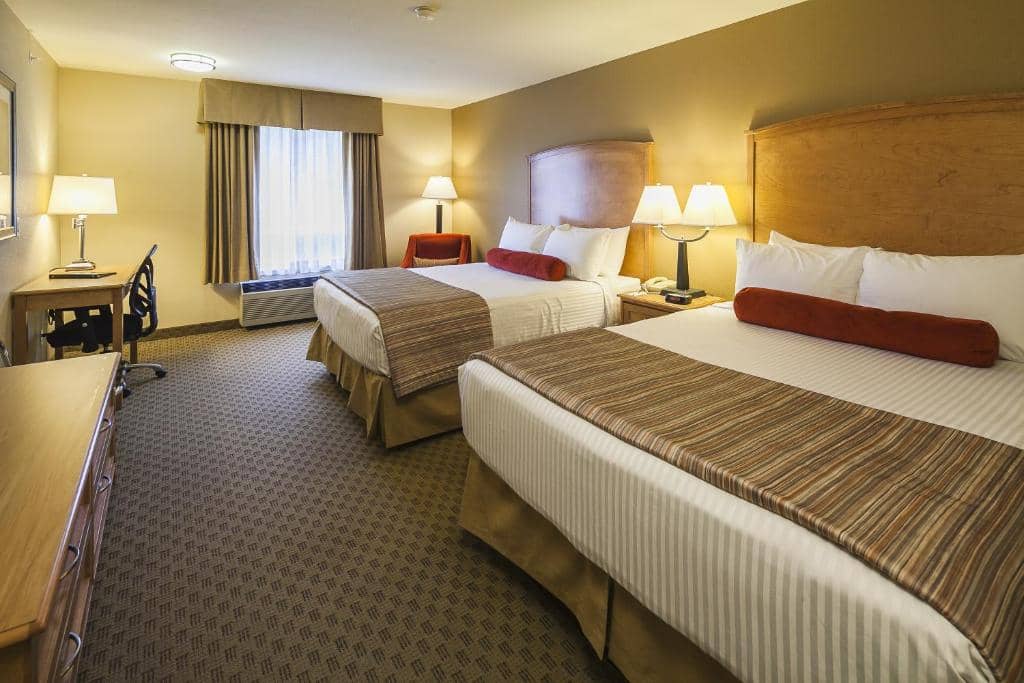 With none of its rooms exceeding the $250 range, Mountain Retreat becomes a top choice for passionate globetrotters who want to save their budget for experiences outside of the bedroom.
This contemporary hotel is a home sweet home for families with kids who want to benefit from the indoor pool with waterslides during their stay.
Mountain Retreat is located off Highway 99, meaning exploring the area is a piece of cake for newcomers and outdoor enthusiasts. It's dog-friendly, so no more canceling all plans so your pooch won't be home alone.
Before reading on, remember that the onsite Beer & Wine store and restaurant at Mountain Retreat won't have your travel far for great meals!
Address: 38922 Progress Way, Squamish, BC V8B 0K5.
A great trip doesn't always demand thousands of dollars! And those loving a comfy stay without splashing out on five-star amenities will find Squamish Adventure Inn a big hit!
The team behind Squamish Adventure Inn strives for a hassle-free, comfortable stay and outdoor adventures instead of burning up on the bells and whistles.
You'll have a wide variety of rooms to choose from. Whether it's a single bed in a dorm, a double bedroom for some privacy, or a kitchenette suite to bond with your family, Squamish Adventure Inn has everything it takes to be your favorite stay!
What we love about this inn is the excellent lakeside view! Waking up to the dramatic mountains and heading down to have your breakfast served by the rippling waters won't cost you more than $100 a night!
Address: 38220 BC-99, Squamish, BC V8B 0A5.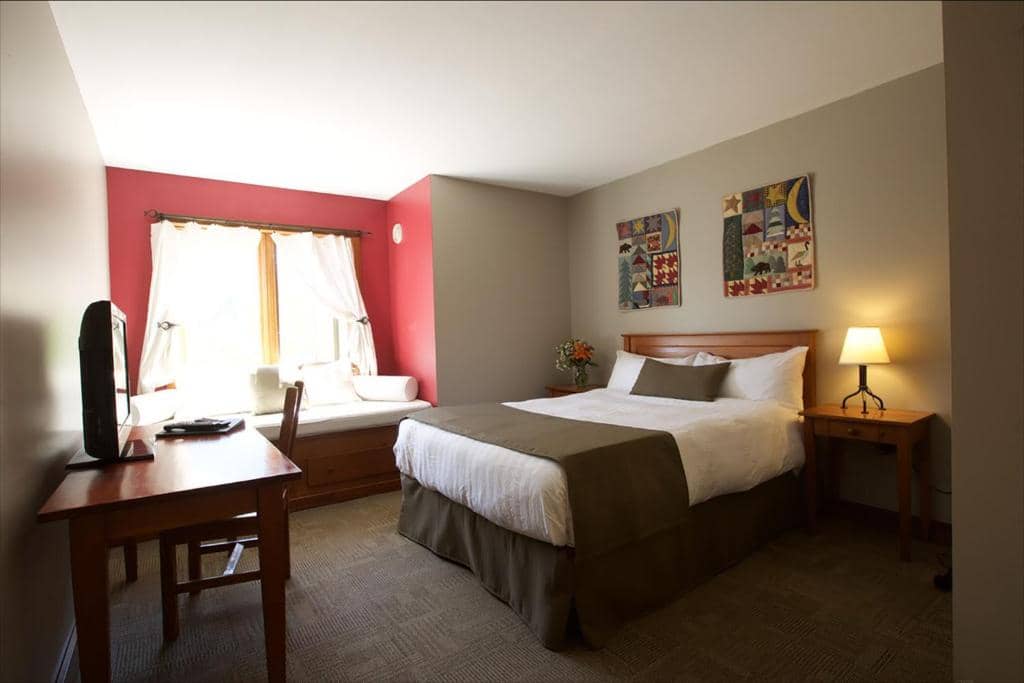 Picking a decent place to rock downtown Squamish as a first-time traveler is no more a headache with the presence of Howe Sound Inn & Brewing.
No need to travel further afield to enjoy a classic rotating craft beer selection! Walk down to its on-site pub haven to pucker up for sour ales anytime you want!
Its central location within a boisterous neighborhood doesn't separate you from the sweeping view of Squamish nature. Howe Sound Inn & Brewing opens out to the incredible view over The Chief, Mamquam Mountain, and the Tantalus Mountain Range.
Craft beers, varied grub, live music, and unrivaled mountain view are all in to satisfy even the greediest travel souls. Howe Sound Inn & Brewing offers 20 rooms with hotel-graded amenities. Pet-friendly options are available for inquiries.
Address: 37801 Cleveland Ave, Squamish, BC V8B 0A7.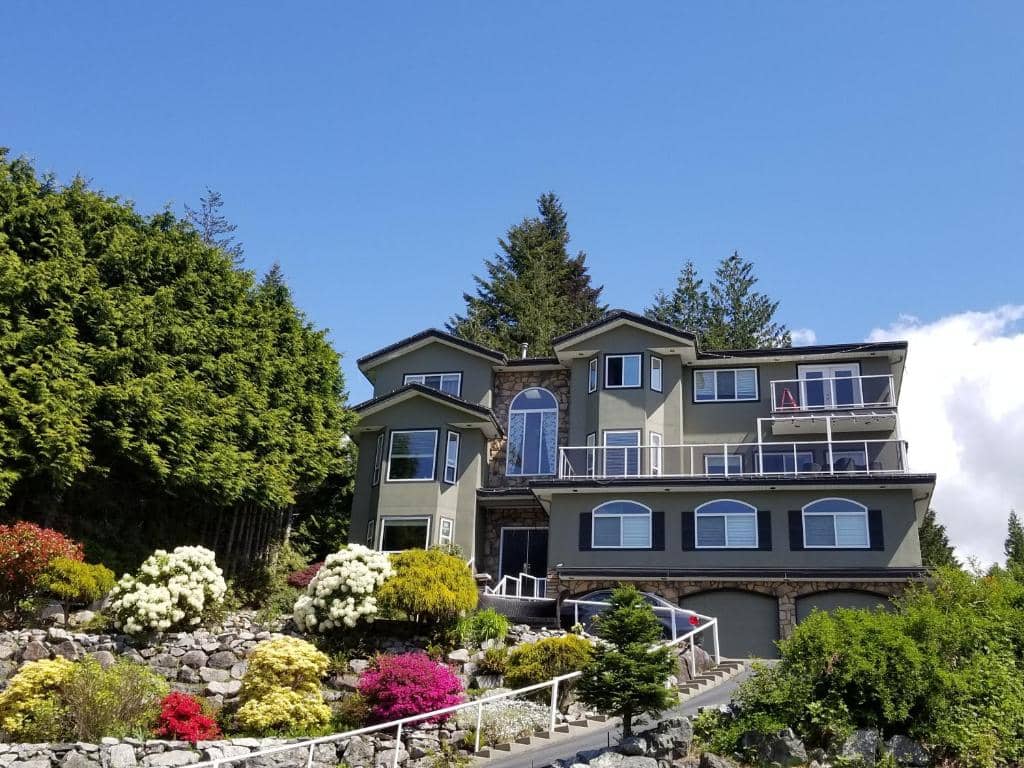 Get in here ardent golfers! Squamish Highlands Bed & Breakfast is the best hotel in Squamish to host you for this upcoming golf season.
This homey B&B is only four minutes driving away from Squamish Valley Golf & Country via Thunderbird Ridge and Highlands Way S. Indulge in a polished yet inviting atmosphere brought by one of its individually decorated suites and family rooms.
Find yourself laying back in a whirlpool tub past sundown after you've got all sweaty and entertained on the rolling golf course.
Squamish Highlands Bed & Breakfast demands the attention of a luxury seeker. Its fancy vibe is elevated with a striking view of the Pacific Ocean and Coast Mountain. A delightful fabulousness and effulgent hospitality at Squamish Highlands B&B will keep your family engaged while you're away at the golf course!
Address: 1012 Glacier View Dr, Garibaldi Highlands, BC V0N 1T0.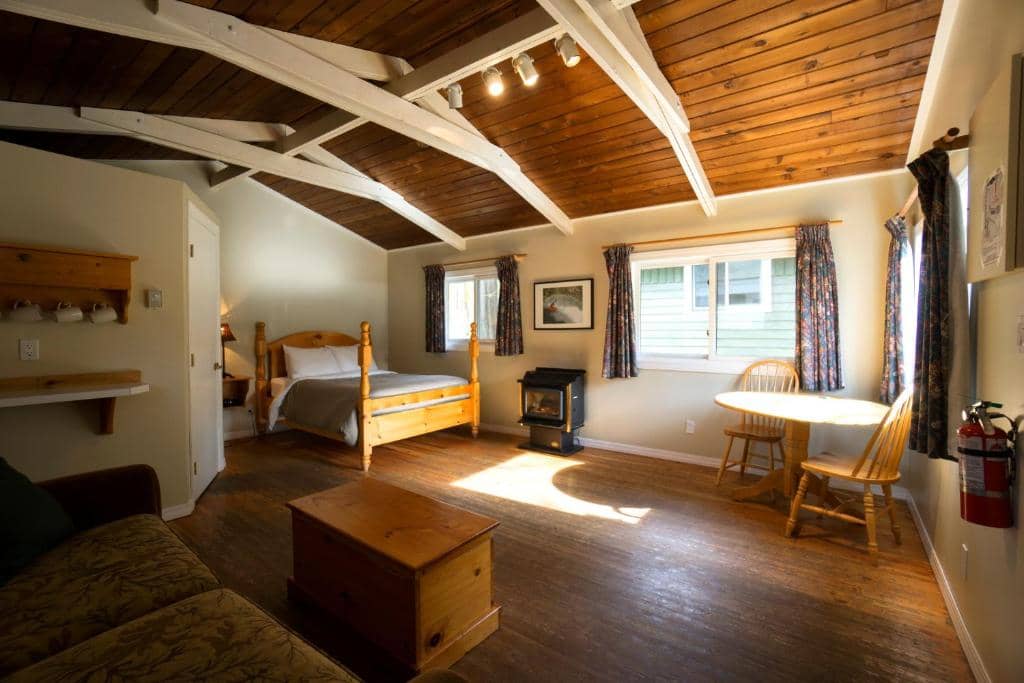 The sense of privacy is levered to a whole new level at Sunwolf Riverside Cabins. Escape to the heart of an old-growth forest, you'll find yourself lazing around on the banks of the Cheakamus and Cheekye rivers or meandering through the woodland trails.
The hectic life along with its white noise is completely canceled the moment you enter one of these riverside cabins. The hardwood floor brings out an authentic feeling of Squamish forests as you're lithe on your feet under a vaulted ceiling.
Sunwolf Riverside Cabins is made for a cozy bonding in the woods. You will find plenty of forest bathing activities to spice up your family time. Enjoy the lush green space for lawn games, catch and throw at the volleyball court, and chill by the fire pit – you name it!
All you need to bring are clothes and time, let Sunwolf map out your favorite outing possibilities to keep yourself occupied day and night!
Address: 70002 Squamish Valley Rd, Brackendale, BC V0N 1H0.
Which of the hotels above is your favorite choice? Or are you open to some more places to expand your selection? We've got your back! Check out these best vacation homes in Squamish to employ their uniqueness and comfort into your stay!
---
More Squamish Accommodations