Langley is a place that is blessed with the best of both worlds. With a beautiful township on one side and city on the other. And the best part is Langley restaurants are there to serve each of the travelers with their unique flavours and cuisines from around the world.
Hence we have made a list of all the best Langley restaurants that are worth trying out:
12. An Indian Affair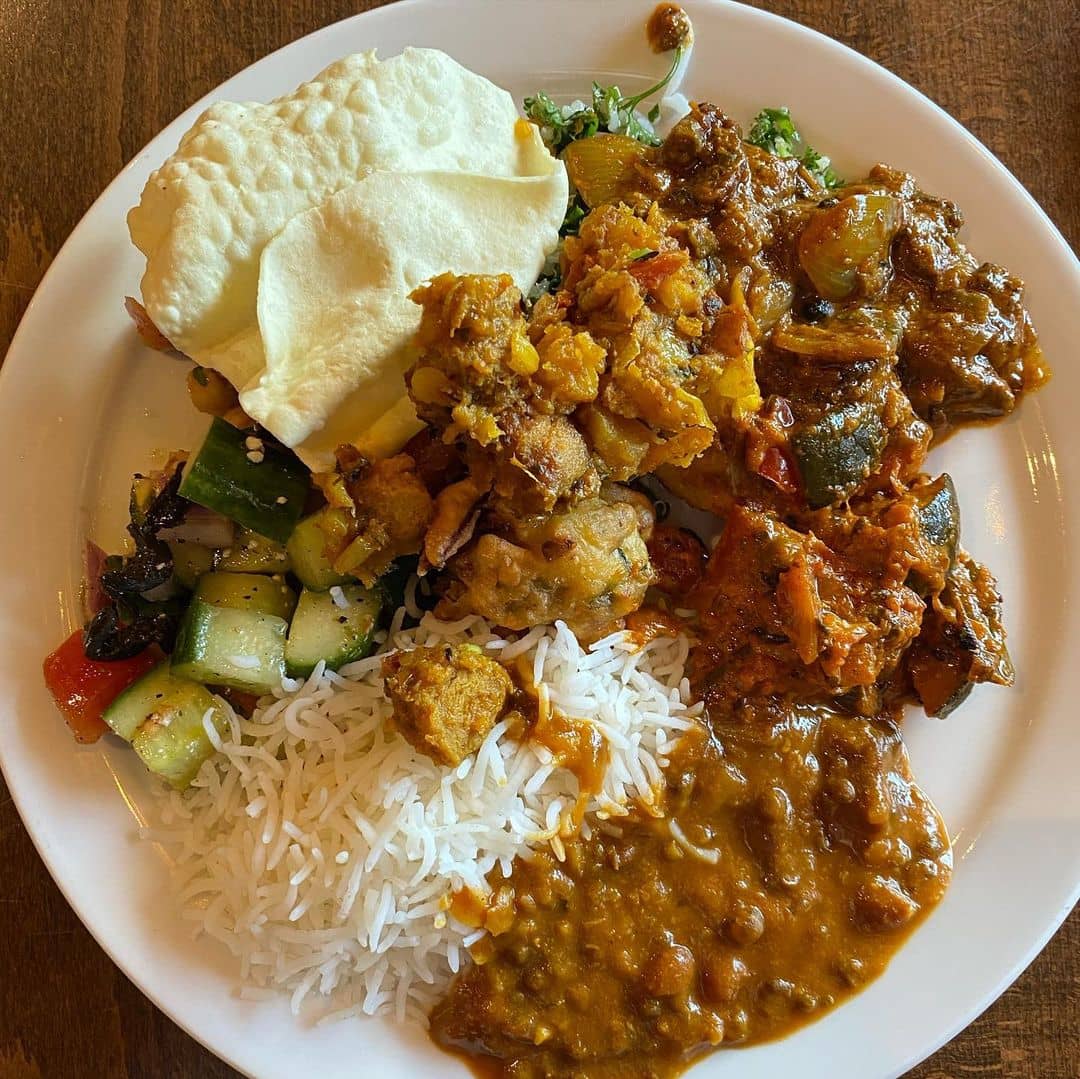 Voted as the best Indian restaurant in Langley, Indian Affair is here to turn your regular dining experience into a grand affair, with tantalizing Indian food. The place is spacious with a beautiful interior. The live music on weekends adds to the charm of this place.
The food here will please your taste buds and soul, especially the Butter Chicken, which is a show-stealer. It has a rich flavor and perfect texture with chicken chunks. You'll love to have it with some garlic naan. Try the Chef's special, the Goat Curry, which is cooked traditionally with authentic spices.
If you plan on having your lunch here, consider trying their lunch buffet out, which is killer! There are plenty of selections for everyone, and the flavors are just outstanding.
What to order: Butter Chicken, Goat Curry, Garlic Naan
Address: 19653 Willowbrook Drive 146, Langley, BC V2Y 1A5, Canada
Website | Instagram | Facebook
11. Brogan's Diner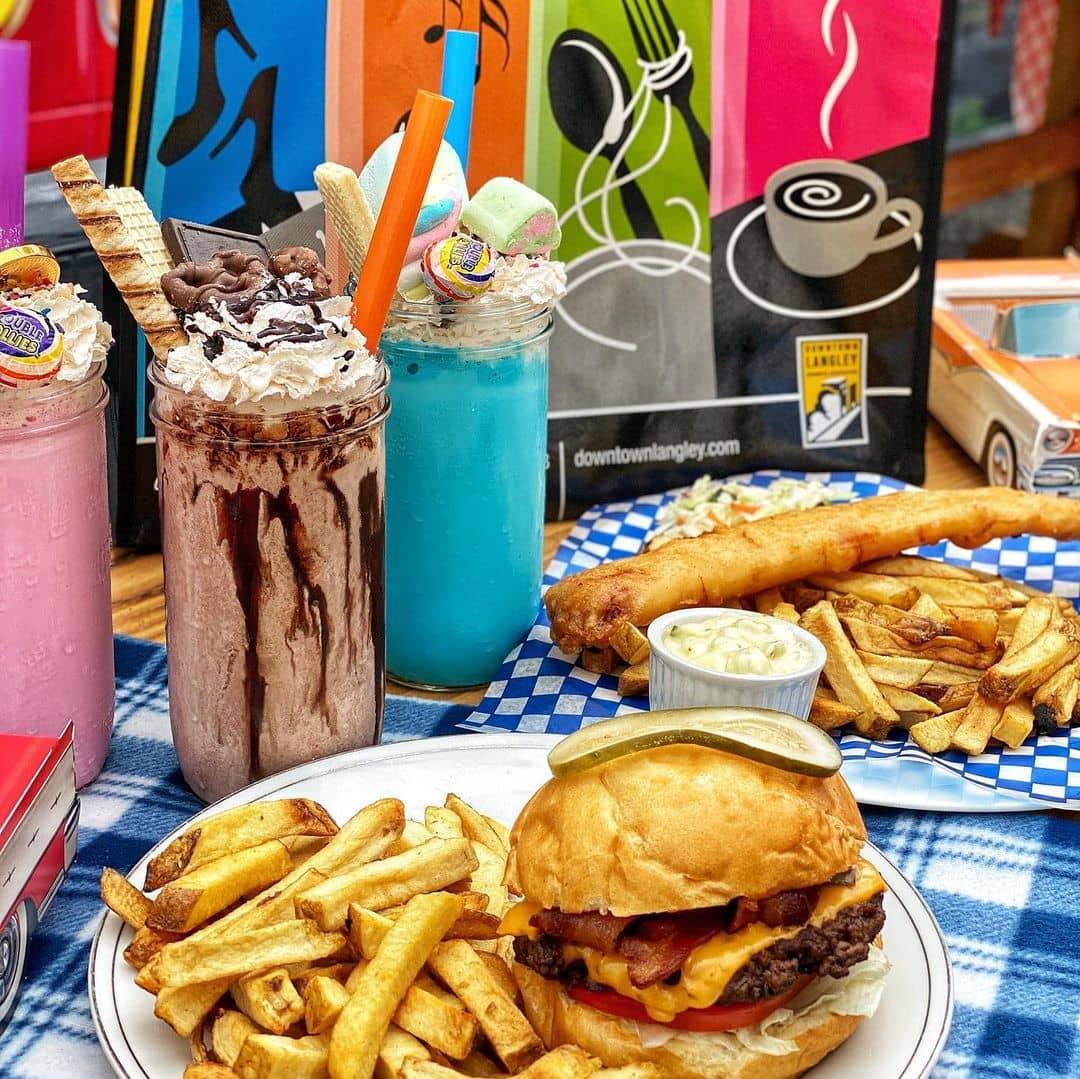 With a 50's vibe and a vibrant interior, Brogan's can beat even the high-class restaurants with its fantastic comfort food. Not just that, the Karaoke set the tone just right for fun dining. So, if you are looking for a place that serves amazing burgers and shakes, hop into Brogans!
The Deluxe burger is a crowd favorite, and with that, we love to have their heavenly strawberry milkshake. You can also try their Chicken Sandwich, which will leave you drooling by its flavor.
What to order: Deluxe burger, Chicken Sandwich, Strawberry milkshake
Address: 20555 56 Ave, Langley, BC V3A 3Y9, Canada
Website | Instagram | Facebook
10. Hirame Sushi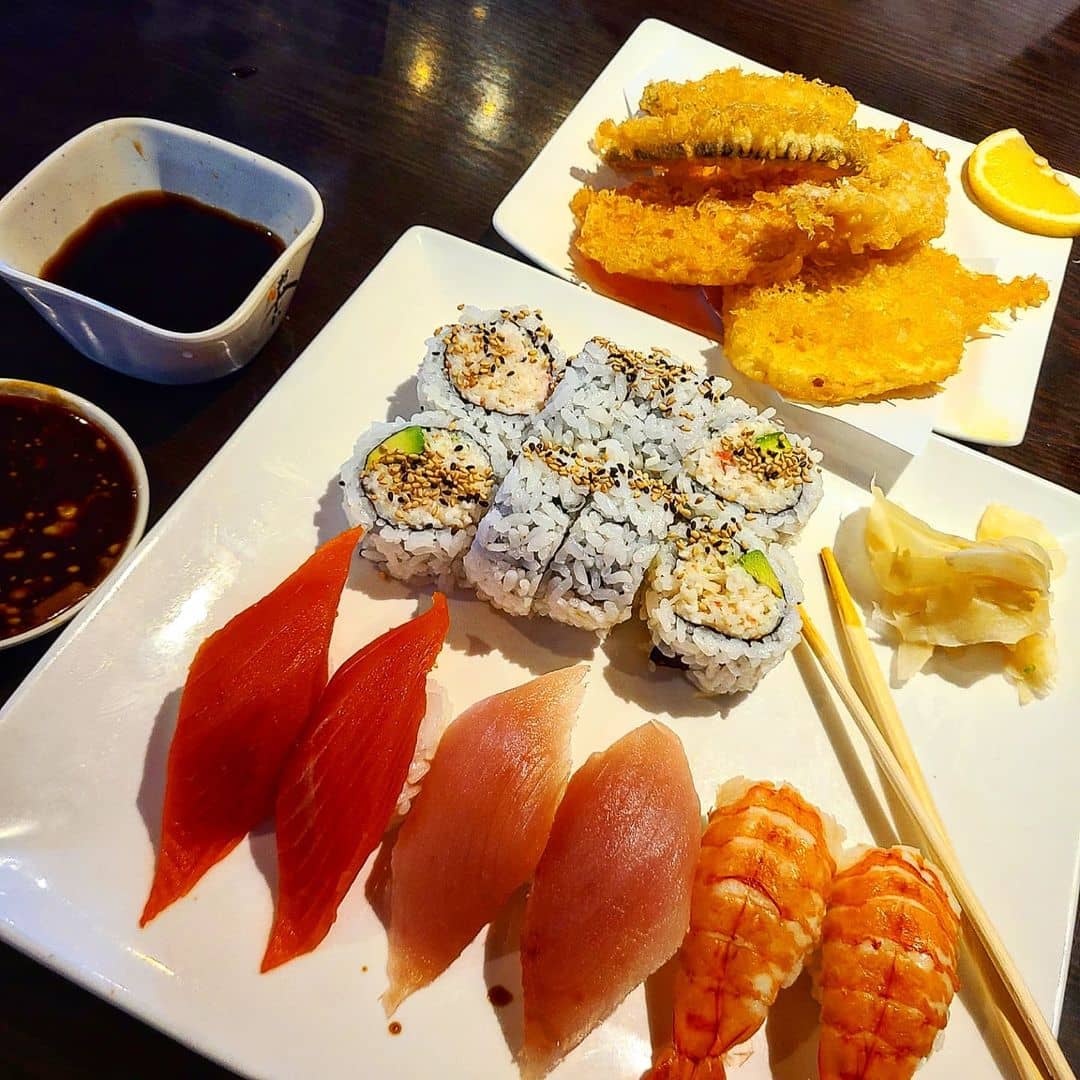 Mention Japanese cuisine in Langley and Hirame will surely be a part of the conversation. From mouth-watering sushi to heart-warming soups, this place is nothing less than a hidden gem. The top-notch services and the warm ambiance make this place even more likable.
Try out their Hirami Dream Salad, a dream come true for all salad lovers. We still can't get over the delicious taste of tuna and the veggies that go into making it. You shouldn't be missing out on their Salmon And Tuna Sashimi. The fish is fresh and flavorful. Chicken Spicy Ramen is the perfect choice if you are in a mood for something standard.
Also, check out their bento boxes loaded with delectable dishes and are budget-friendly.
What to order: Hirami Dream Salad, Salmon And Tuna Sashimi, Chicken Spicy Ramen
Address: 4139 200 St, Langley, BC V3A 1K8, Canada
9. Rex Restaurant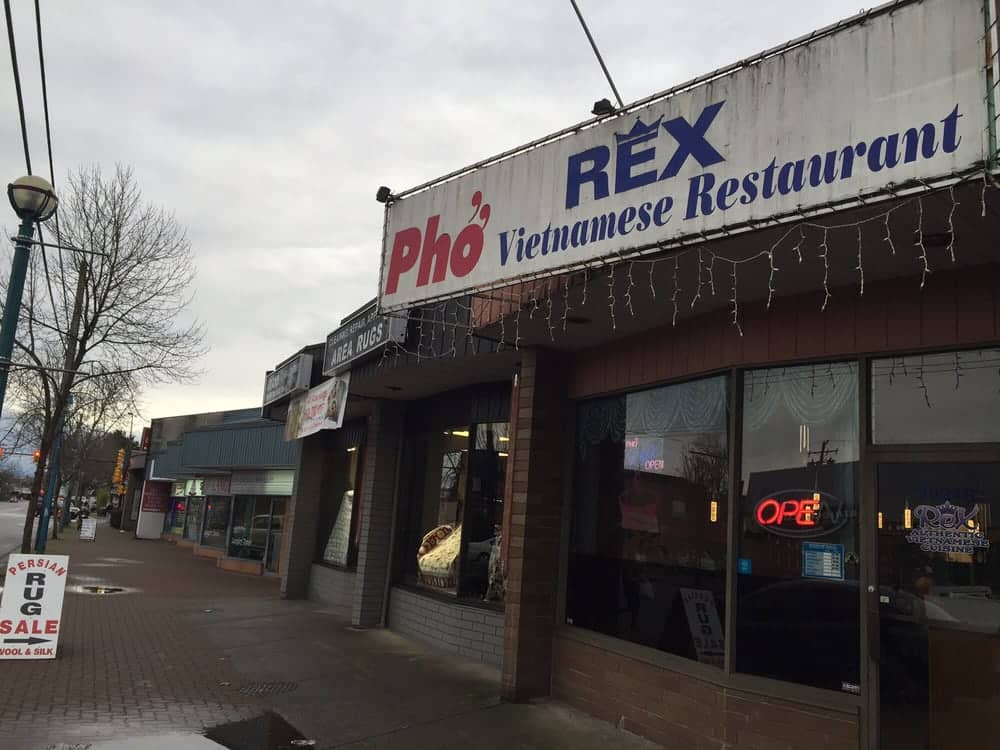 Flexing their authentic Vietnamese recipes, Rex is a great spot for all Vietnamese food lovers! Not just that, the way they treat their guests has our heart. For instance, they serve you a cup of Jasmine Tea as soon as you enter, which gives a personal touch to their services.
Try out their Seafood And Pork Pho, which has a great depth of flavour and great consistency. Seriously you cannot miss out on them! With that, you can have their Salad Rolls served with Peanut Sauce, making the flavour pop.
What to order: Seafood And Pork Pho, Salad Rolls with Peanut Sauce
Address: 20248 Fraser Hwy, Langley, BC V3A 4E4, Canada
8. Pasta Polo Langley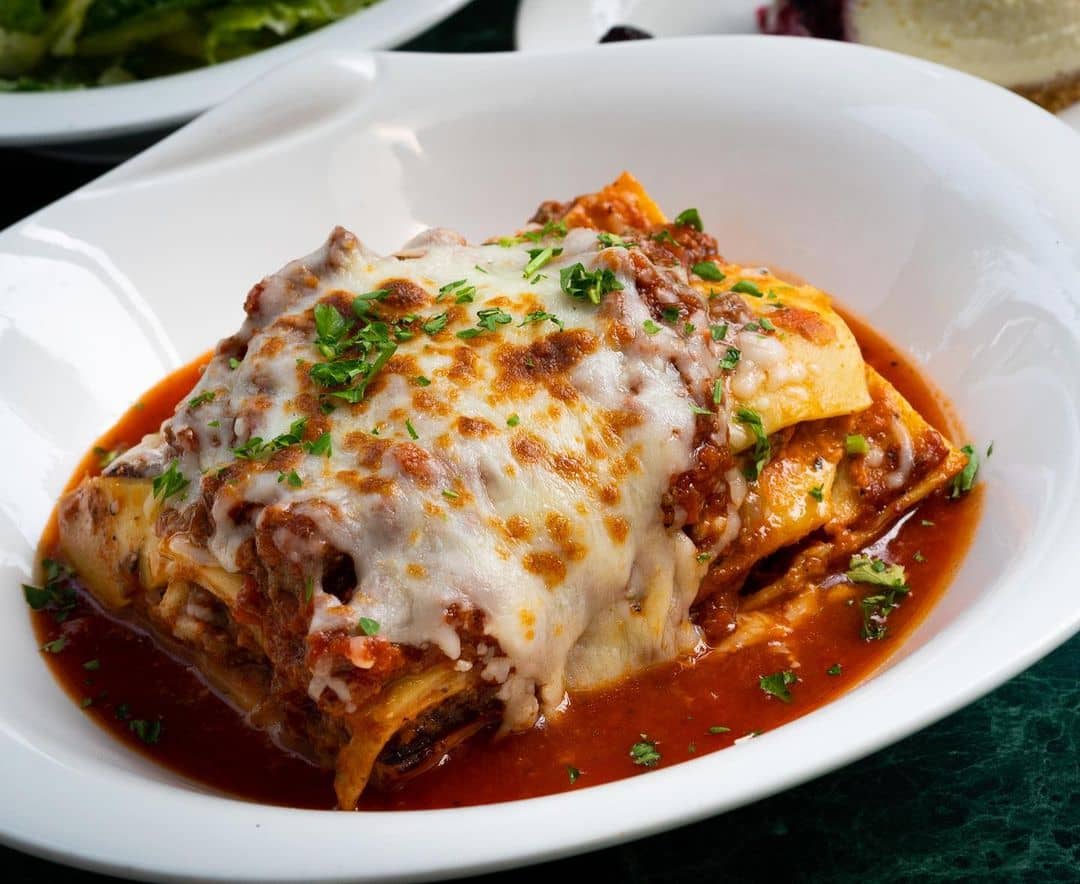 Are you finding a place that serves mouth-watering Italian dishes in Langley? Pasta Polo is the answer to all your prayers! With a beautiful patio that gives this place a more upscale feel and a friendly staff that makes you feel comfortable, Polo's is a go-to restaurant for many residents of Langley.
You can never go wrong with their Pesto Pasta. The fresh basil flavor paired with garlic and pine is so flavourful, and the cheese on top of it makes you feel delighted instantly. Or if you are in a mood to have some seafood, the Smoked Salmon is undoubtedly going to make you feel content.
What to order: Pesto Pasta, Smoked Salmon
Address: 19665 Willowbrook Drive, Langley, BC V2Y 1A5, Canada
7. Maru Japanese Restaurant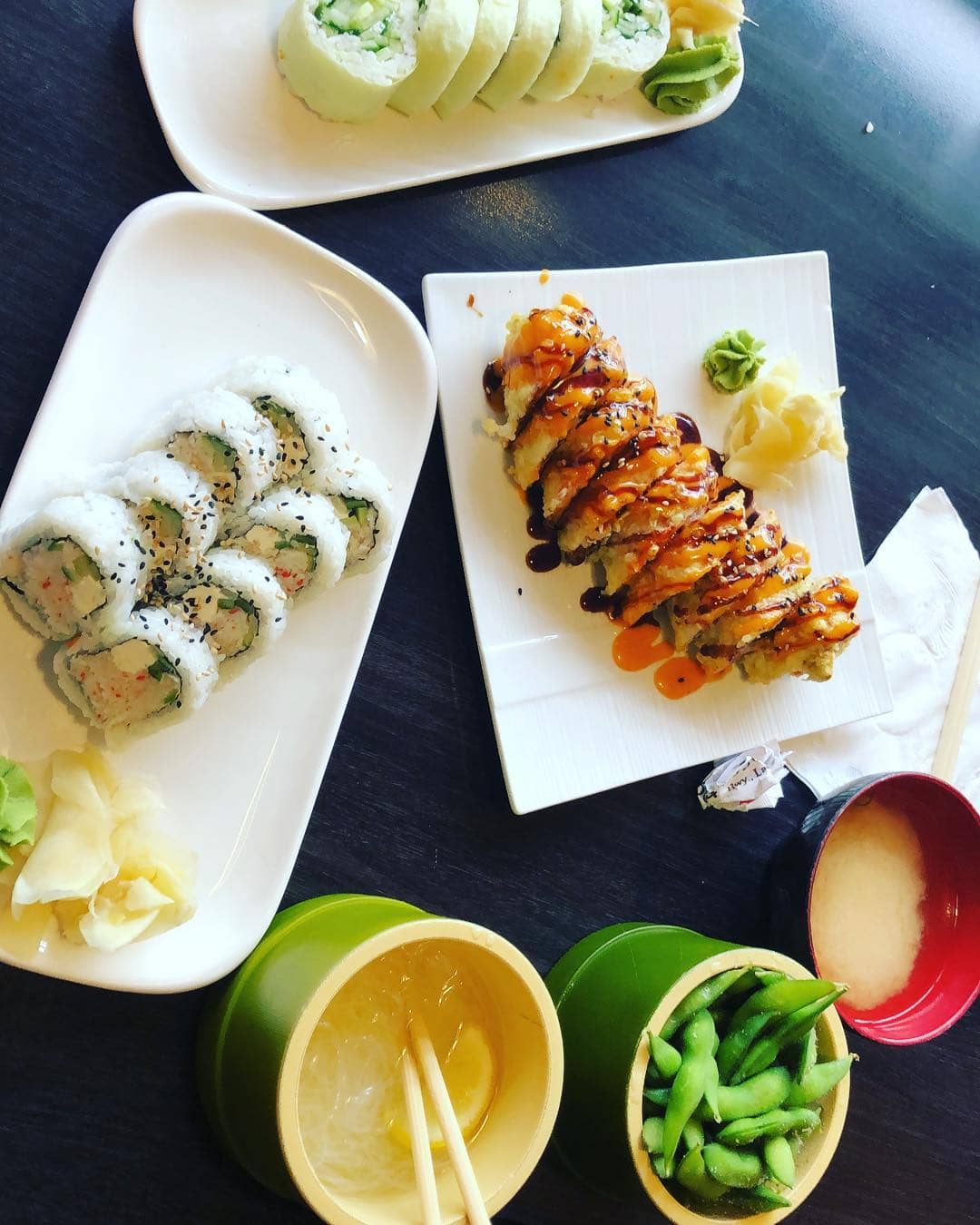 Showcasing the flavours from the streets of Japan, Maru is dedicated to serving you a great Japanese meal without burning a hole in your pocket. The sitting area in this restaurant has got a semi-hidden booth which, in our opinion, makes this place a cute place for a date.
Whenever we dine at this place, we always order their Assorted Sashimi. Each of the sixteen pieces is finger-licking good. The presentation is so neat and looks nothing less than a piece of art. Ideally, you will be full after having the Sashimi, but if you still have space for something else, try out their Salmon Roll, which is surprisingly delicious, and the extra cheese and salmon chunks on top take this dish to a whole new level!
Oh, and if you are planning your lunch over there, the Lunch Special Combo is a bit of everything, making it worth trying.
What to order: Assorted Sashimi, Salmon Roll, Lunch Special Combo
Address: 105- 20631 Fraser Hwy, Langley, BC V3A 4G5, Canada
6. Luxe Chinese Seafood Restaurant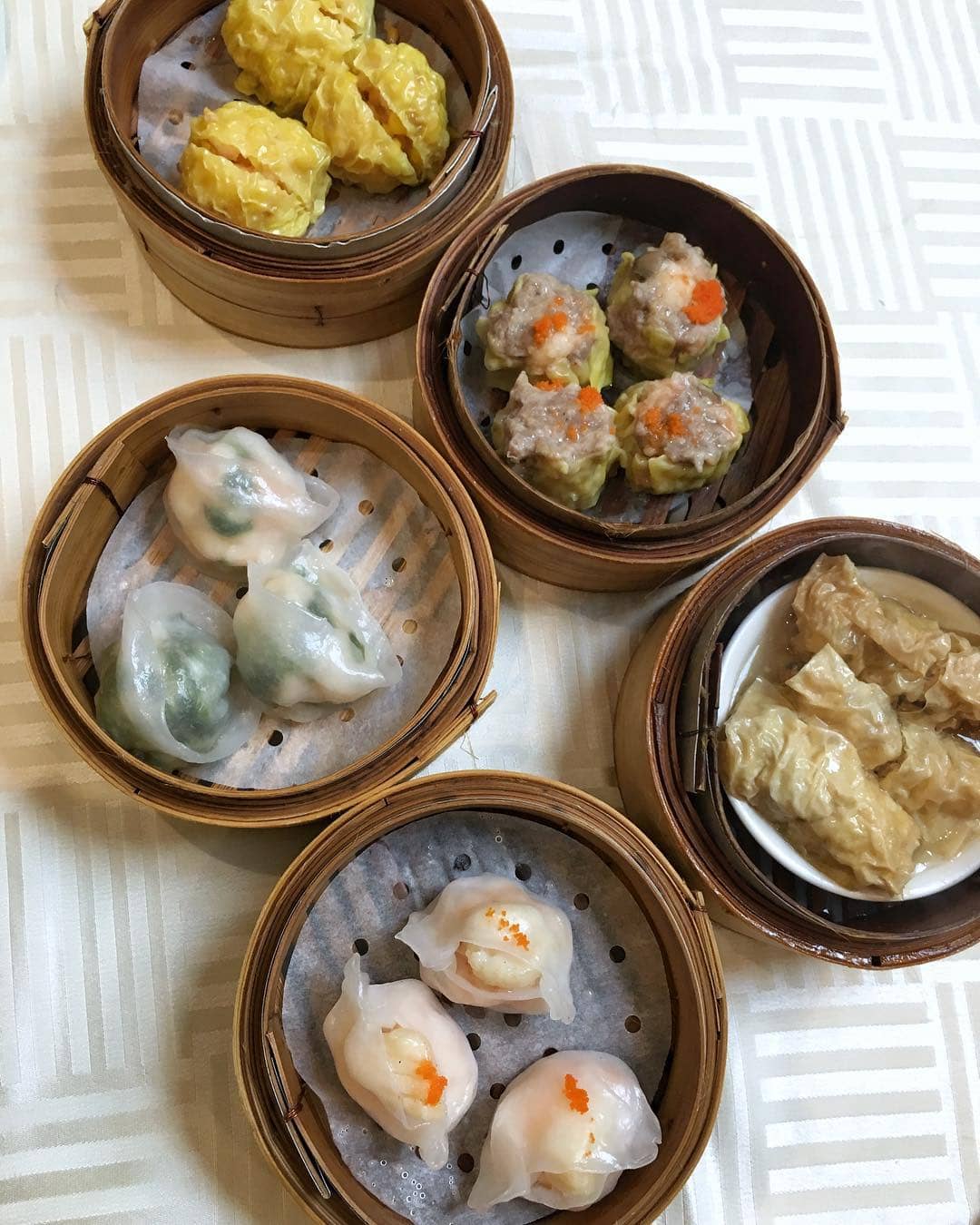 The name itself shows the luxury that this place has when it comes to serving authentic Cantonese food. So sit back and relax because you will have fun dining in this beautiful restaurant that will make you revisit the streets of Hong Kong! With a modern interior and warm music, Luxe will please all your senses.
One look at the Dim-Sum menu will leave you salivating. We recommend you try the Deep Fried Shrimp Roll, which is crunchy, not at all greasy, and the flavours deserve a chef's kiss! This dish alone is enough to make you want to come back again and again.
The Peking Duck is also a must get and one of the chef's top recommendations. Like other classy Chinese restaurants, they'll carve the entire duck in front of you.
What to order: Deep Fried Shrimp Roll, Peking Duck
Address: Unit 138A, 19653 Willowbrook Drive, Langley, BC V2Y 1A5, Canada
5. Naka Bistro Lao & Thai Cuisine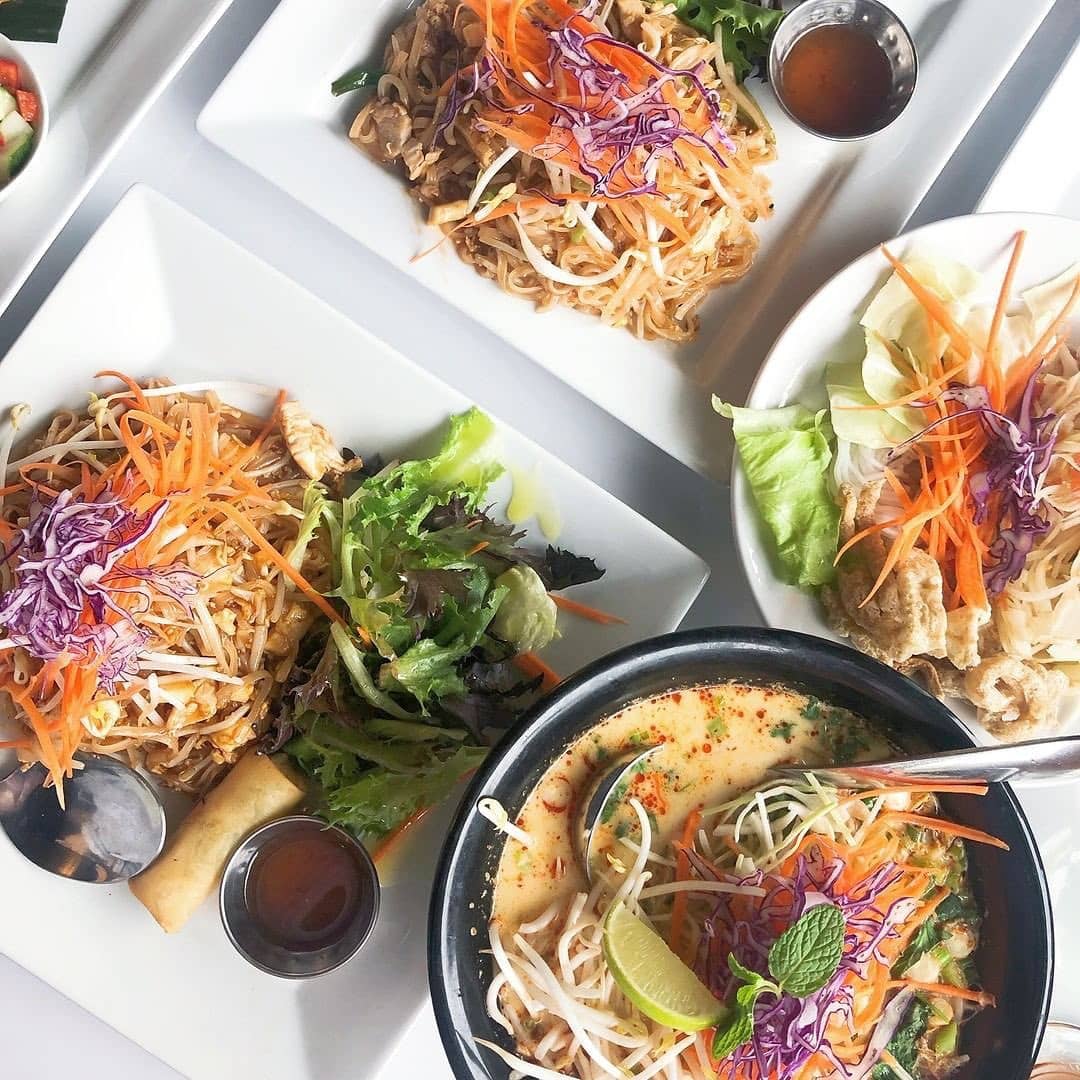 Say Hi to this fantastic Thai and Lao cuisine restaurant that will make you feel elated by its dining experience and exceptional services. They have been in this business for the past five years and have grown strong since then. After all, the chef has left no stones unturned when serving authentic Thai food in Langley. The interior has undertones of white and brown, making it visually appealing and radiating calmness.
The Salad Rolls over here is a must-buy. Oh, and the traditional comfort food like Pad Thai is here to make you feel at home. If you have been to Laos, you would have definitely tried the famous 'Laap.' To be honest, this restaurant has successfully replicated the flavours of Laap which in Laos.
What to order: Salad Rolls, Pad Thai, Laap
Address: 20055 Fraser Highway, Langley, BC V3A 4E4, Canada
Website | Instagram | Facebook
4. The KATSU Cutlet House Restaurant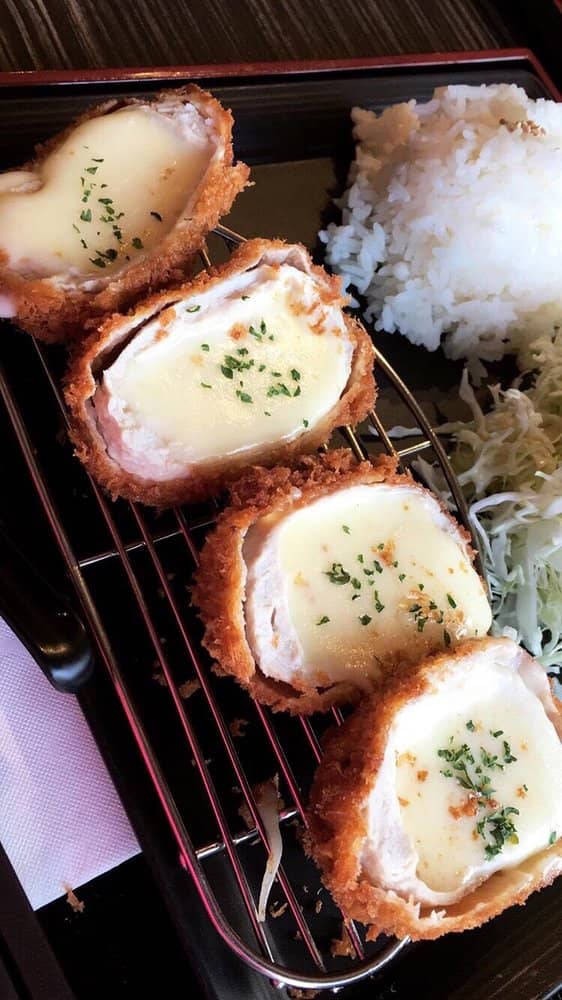 Yet another stunning Japanese restaurant, Katsu, has made it into our list because of its brilliant flavours, especially with their signature dish, Tonkatsu, which drew us in this restaurant.
The menu will surely leave you feeling perplexed by the varieties of Katsu. So, why don't you just try out the most popular, the Assorted Katsu, which has chicken, beef and pork served over a bed of fried onions and topped with some mustard and ketchup. The meat melts in your mouth, and the coating is thin and super crispy! We still can't get over these Katsus!
Or, if you are a cheese lover, devour their amazing Cheesy Katu. One bite and you will be a fan of them!
What to order: Assorted Katsu, Cheesy Katus
Address: 5576 204 St, Langley, BC V3A 1Z5, Canada
3. Ban Chok Dee Thai Cuisine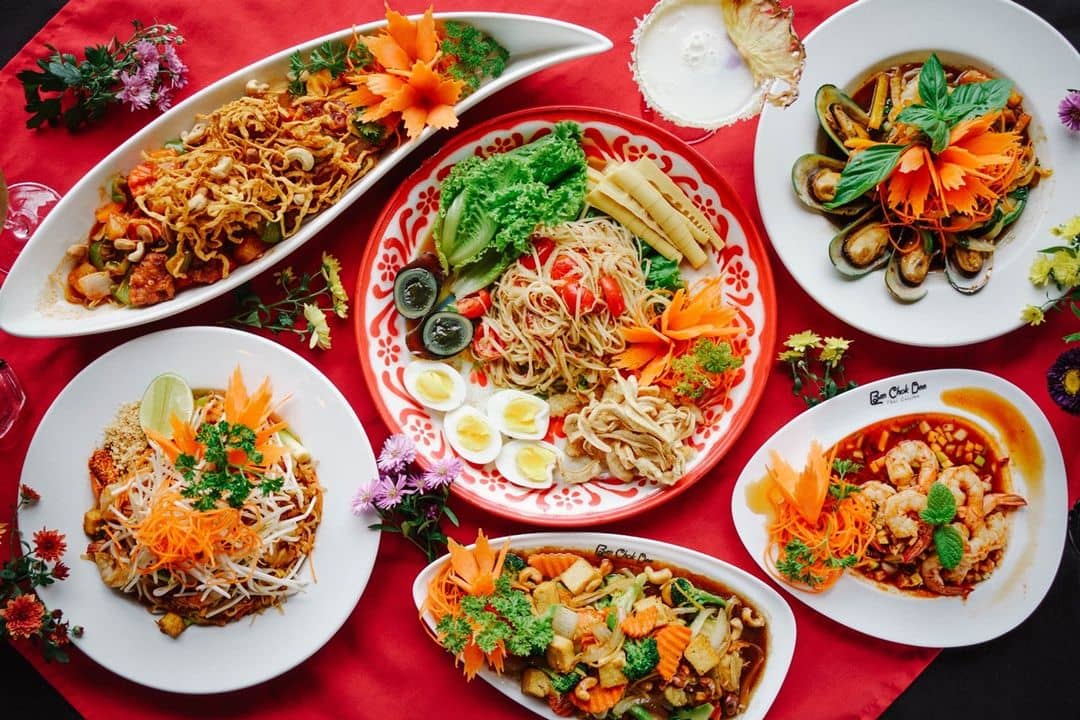 Is it even possible to curate a list of restaurants without mentioning the award-winning Thai restaurant Ban Chok Dee? Not at all. Ban Chok Dee is here to make you experience the intricate Thai flavors. Not just that, their plating is so beautiful and definitely a treat to your eyes. The restaurant has a cute white and blue interior that looks straight out of a decor magazine!
For the mains, The Chicken Cashew Nut is the crowd's favorite. It is loaded with tender chicken pieces, seasoned with a generous quantity of cashew, and served with a sweet and spicy sauce! The chef surely knows how to strike the perfect balance, and this dish represents his years of expertise and years of experience.
If you like pineapple and coconut, the Gang Goong Pineapple Curry is a unique fusion of them, making it a dish worth devouring.
What to order: Seasoned Lettuce Wrap, Chicken Cashew Nut, Gang Goong Pineapple Curry
Address: 20563 Douglas Crescent, Langley, BC V3A 4B6, Canada
Website | Instagram | Facebook 
2. Atlas Steak + Fish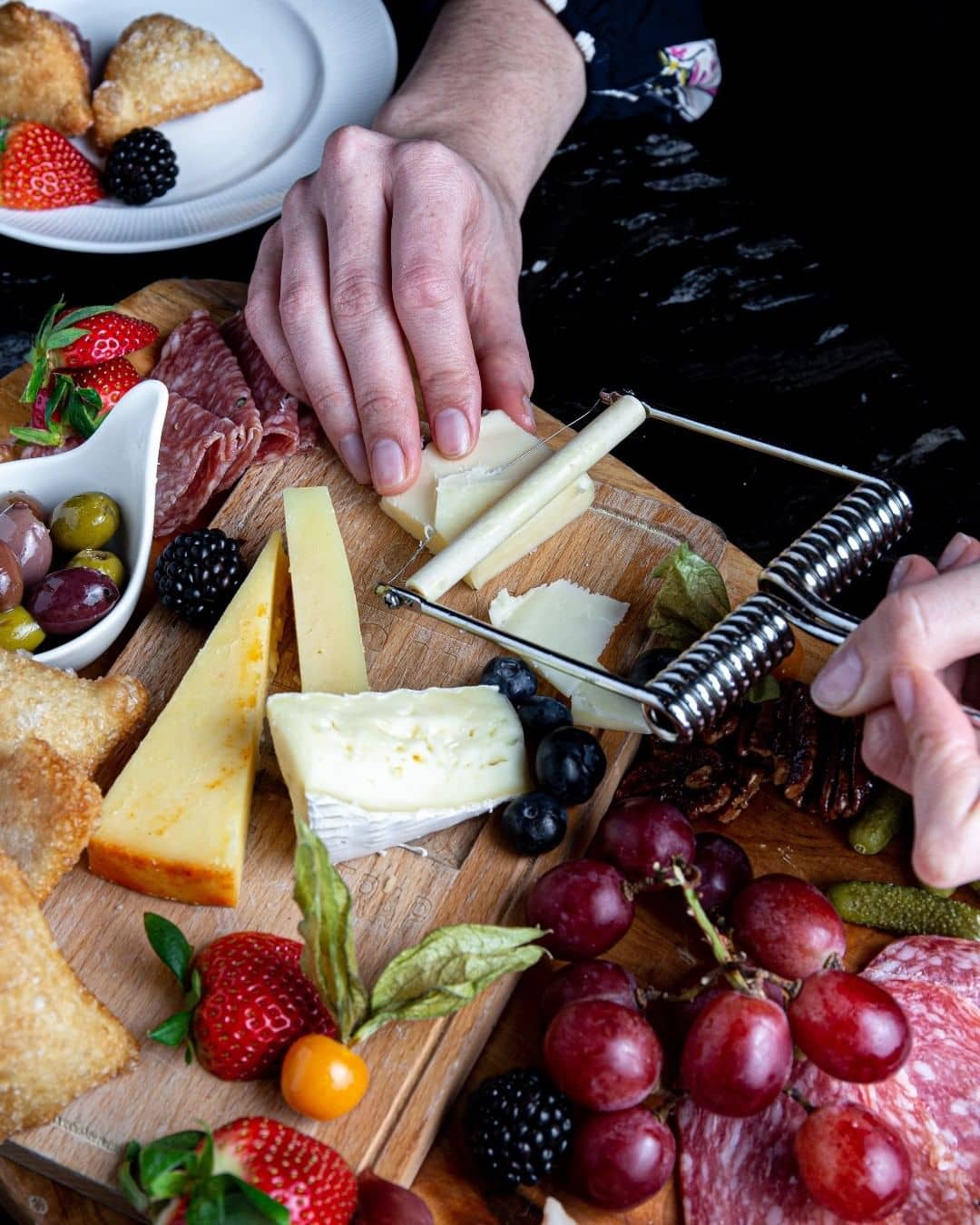 Giving a modern twist to the iconic North American Steakhouse, Atlas Steak and Fish is here to charm you with its global flavors and unique cooking skills. With live piano and a beautiful ambiance, this place is ideal for celebrating your big days! Not to forget this place has won the award of Travellers Choice by Trip Advisor.
Start your meal with Charcuterie+Cheese, which is appealing to eyes and taste buds, or you can have their equally delicious Prawn Cocktail. We highly recommend their Seafood Mixed Grill for the main course, which is a dream come true for every seafood lover! Have Baked Alaska, one of their signature dishes, and a great dessert to end your meal with. Also, they have an extensive range of cocktails for everyone's mood.
What to order: Charcuterie+Cheese, Prawn Cocktail, Seafood Mixed Grill, Baked Alaska
Address: 20393 Fraser Hwy, Langley, BC V3A 7N2, Canada
Website | Instagram | Facebook 
1. Haven Kitchen + Bar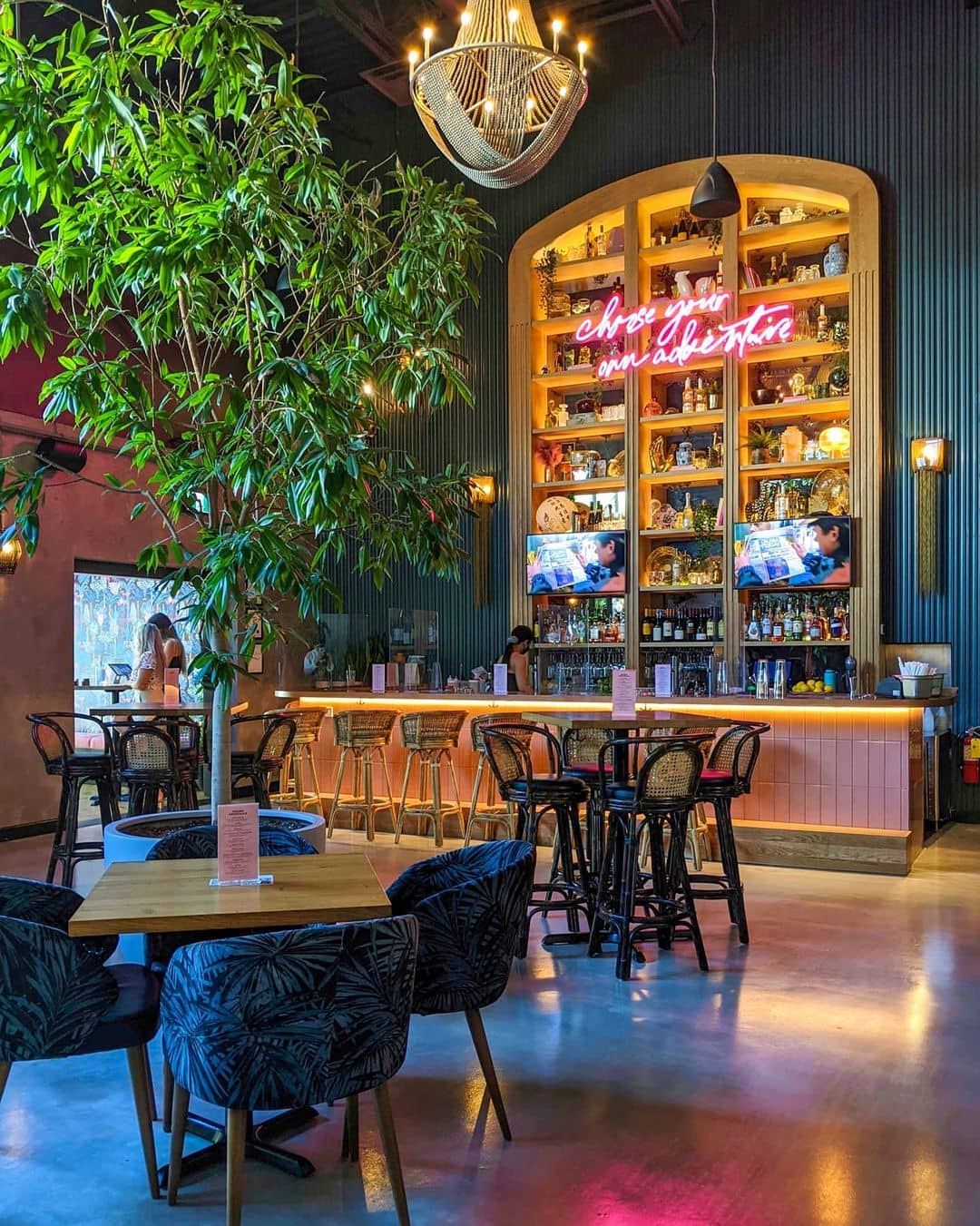 Sounds like heaven? Pretty much like heaven for all foodies! Calling their interior beautiful is nothing but an understatement. Hues of green, wooden chandelier, and pink neon light, make this place look modern, and we are sure that this place will definitely find a place on your social media. Not just that, the patio sitting is breath-taking and has got heaters as well!
Sweet Potato Hummus is a perfect way to start your meal. One bite, and you won't be able to stop yourself from having it. You can also try their Tempura Coconut Prawns, which have a unique flavor. For the mains, you can have their signature, Haven Burger, which is served with their famous fried pickle, making the burger more flavorful.

For the dessert, have the Nostalgic Chocolate Cake with which you can never go wrong with.
What to order: Sweet Potato Hummus, Tempura Coconut Prawns, Haven Burger, Nostalgic Chocolate Cake
Address: 105- 19664 64 Ave, Langley, BC V2Y 3J6, Canada
Website | Instagram | Facebook 
Who would have thought that a small town could encompass many excellent restaurants! Oh, and if you still feel the urge to explore the province more, visit White Rock, which has some breath-taking views and stellar restaurants that will make your day!
The following two tabs change content below.
Latest posts by Noms Magazine (see all)