Nanaimo is known for its beautiful views and is home to one of the longest shoreline in the country. With the province's majestic natural playground on every side, you bet this harbour city is popular for nature lovers and adventurers.
And with all that adventuring to do, you'll need to have the energy to keep up with the fun! So if you're looking for a hearty breakfast or brunch in Nanaimo to recharge, you've come to the right place.
Let's take a closer look at the 10 best Nanaimo breakfast spots to start up your day.
1. Gabriel's Cafe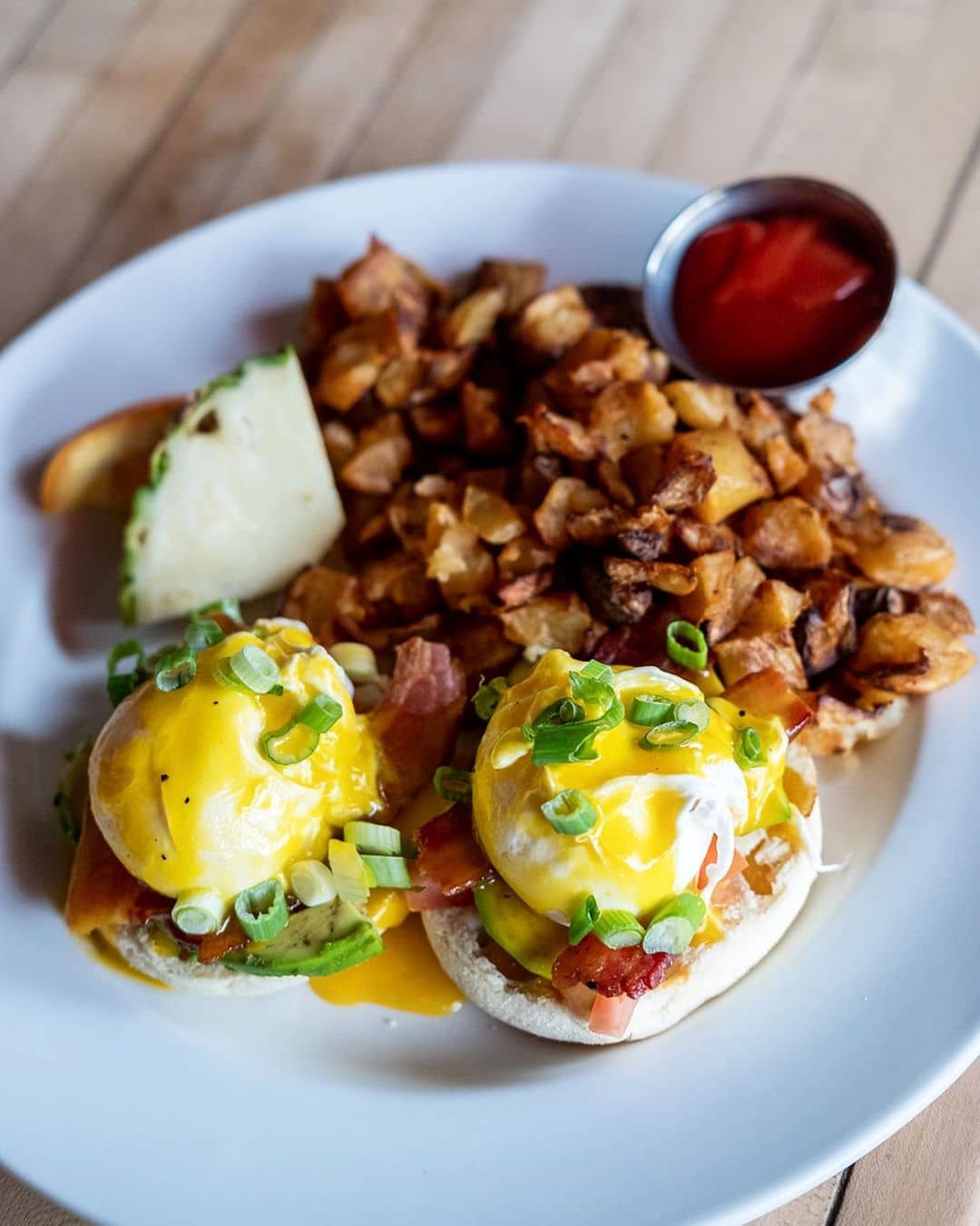 Generous portions and reasonable prices on top of delicious and healthy dishes? That's Gabriel's Cafe for you! Thanks to their commitment to "farm to fork" sustainability, breakfast at this community-favourite restaurant is always fantastic.
As proof of the cafe's popularity, they're always bustling with loyal patrons and curious guests, so you better place a reservation ahead of time if you don't want to wait. They're a must-visit Nanaimo staple–with a cozy atmosphere and intricately designed interior, you'll surely have a wonderful time!
Everything on their menu is noteworthy, but our eyes are set on their Mt Benny, Jinglepot, and Hauling Oats. Start your day right with their Jinglepot, fresh ingredients mixed to create a flavorsome dish.
The MT Benny is cooked to perfection; we love how there's an outburst of flavors in every bite. The thing about their oats is definitely their special, housemade granola, expertly created with passion and great taste.
What to order: The Mt Benny, The Jinglepot, Hauling Oats
Address: 39 Commercial St, Nanaimo, BC V9R 5G3, Canada
Website | Instagram | Facebook
2. The Breakfast Nook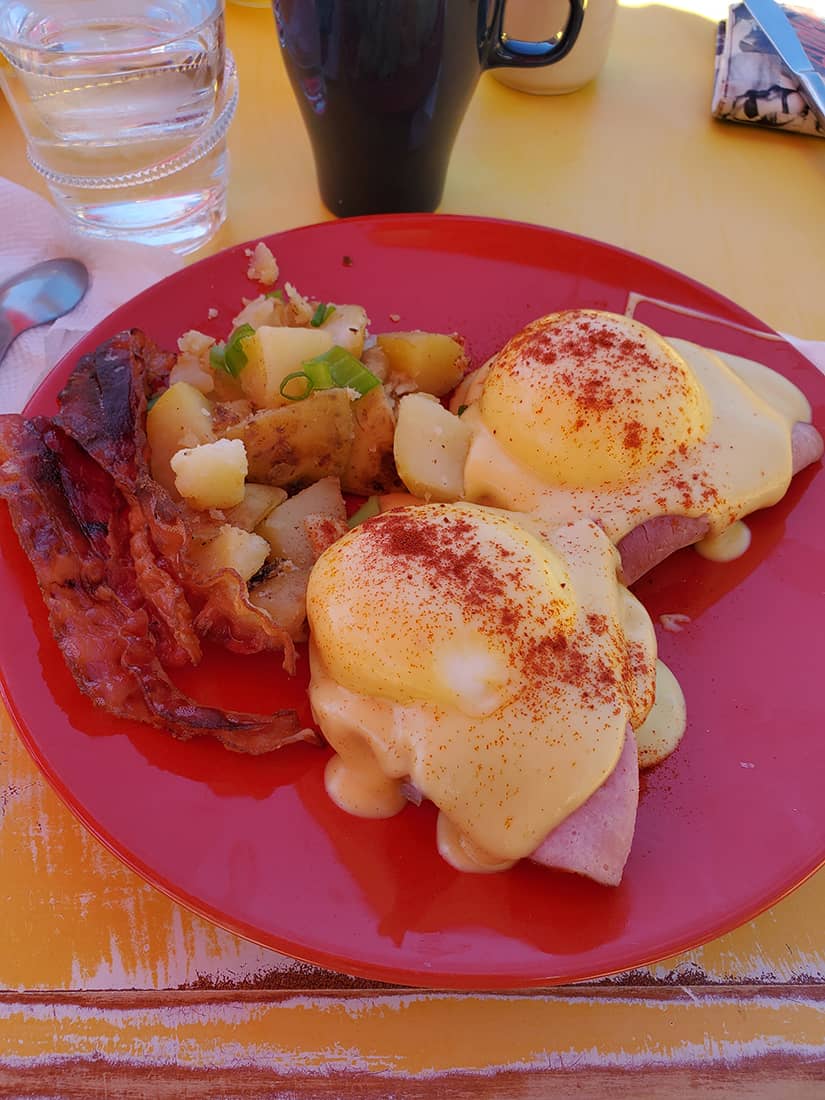 The Breakfast Nook is a Nanaimo hidden gem tucked away in a small neighbourhood. Outside, you might think the restaurant is ordinary, but that's where you're mistaken.
With lights, seating, and decors working together to pull off that homey, cozy vibes, breakfasts are never the same. Every dish is made from scratch with the freshest ingredients, and the staff don the warmest smiles.
The stars of Breakfast Nook's menu are definitely their eggs Benny, pancakes, and omelettes. Thanks to the restaurant's keen attention to detail and presentation, these three classic dishes are made more interesting and more special.
The eggs benedict is simply remarkable! The soft, yellow yolk burst with the slightest touch, mixing with rich and savory hollandaise sauce.
Their omelettes are one of the fluffiest–and the taste doesn't disappoint, too! Breakfast Nook's pancakes are a glorious stack of soft goodness–one bite and you'll be sold!
What to order: Eggs Benny, Pancakes, Omelette
Address: 366 Selby St, Nanaimo, BC V9R 2R5, Canada
3. Kelly's Kitchen Cafe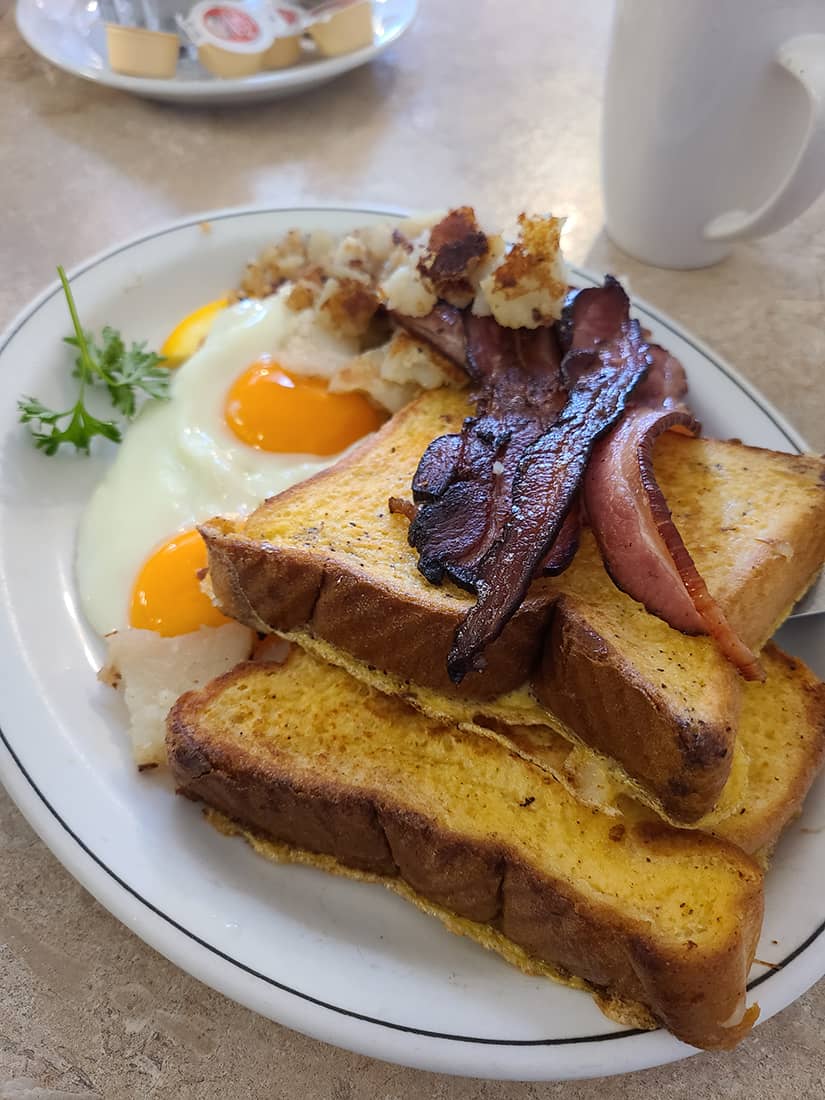 For traditional breakfast made exceptionally good and crafty, Kelly's Kitchen Cafe is your go-to spot. The restaurant offers popular dishes prettily served with eye-pleasing visuals by friendly staff.
Finding an ideal breakfast stop when you're in a foreign place may be challenging, but with Kelly Kitchen's close-to-home cooking, you're in good hands. Those who simply want to try the Kelly experience are sure to come back for more.
We highly suggest you not miss their traditional eggs benedict and duke point, both are phenomenal. A tip if you want your yolk runny: ask for "3-minute eggs."
What to order: Duke Point and Traditional Benny
Address: 2517 Bowen Rd, Nanaimo, BC V9T 3L2, Canada
4. Tania's Restaurant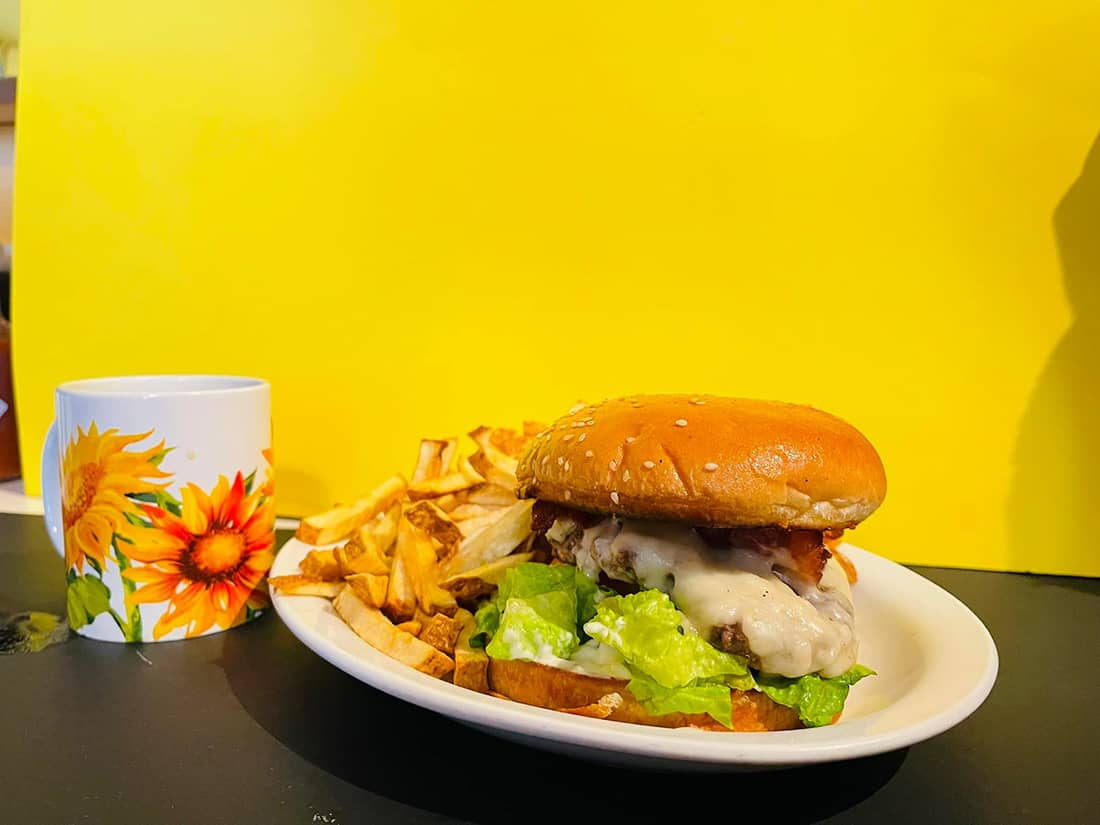 If you want to start your day with flavoursome home-style meals, you should drive to Tania's Restaurant. No frills with their menu, but everything is made superb with best-kept secret recipes, fresh ingredients, and unique sauces.
The diner's service is first-class; they'll gladly answer any question you throw their way and ensure you're having a fantastic visit. If lucky, Tania will welcome you herself, who has been frequently spotted to take and serve orders personally–talk about hands-on!
Indulge in their big breakfast special–eggs, ham, sausages, and bacon served with savory hash browns. You're free to choose how you would like your eggs; we suggest soft poach!
Tania's fried egg sandwich is just as stellar. For a lighter option, go for their veggie omelette, which is as delicious as their regular dish! Pair it up with a cup of coffee to complete the unforgettable breakfast experience.
What to order: Big Breakfast Special, Fried Egg Sandwich, Healthy Choice Egg White Veggie Omelette, Coffee
Address: 4286 Departure Bay Rd, Nanaimo, BC V9T 1C9, Canada
5. The Vault Cafe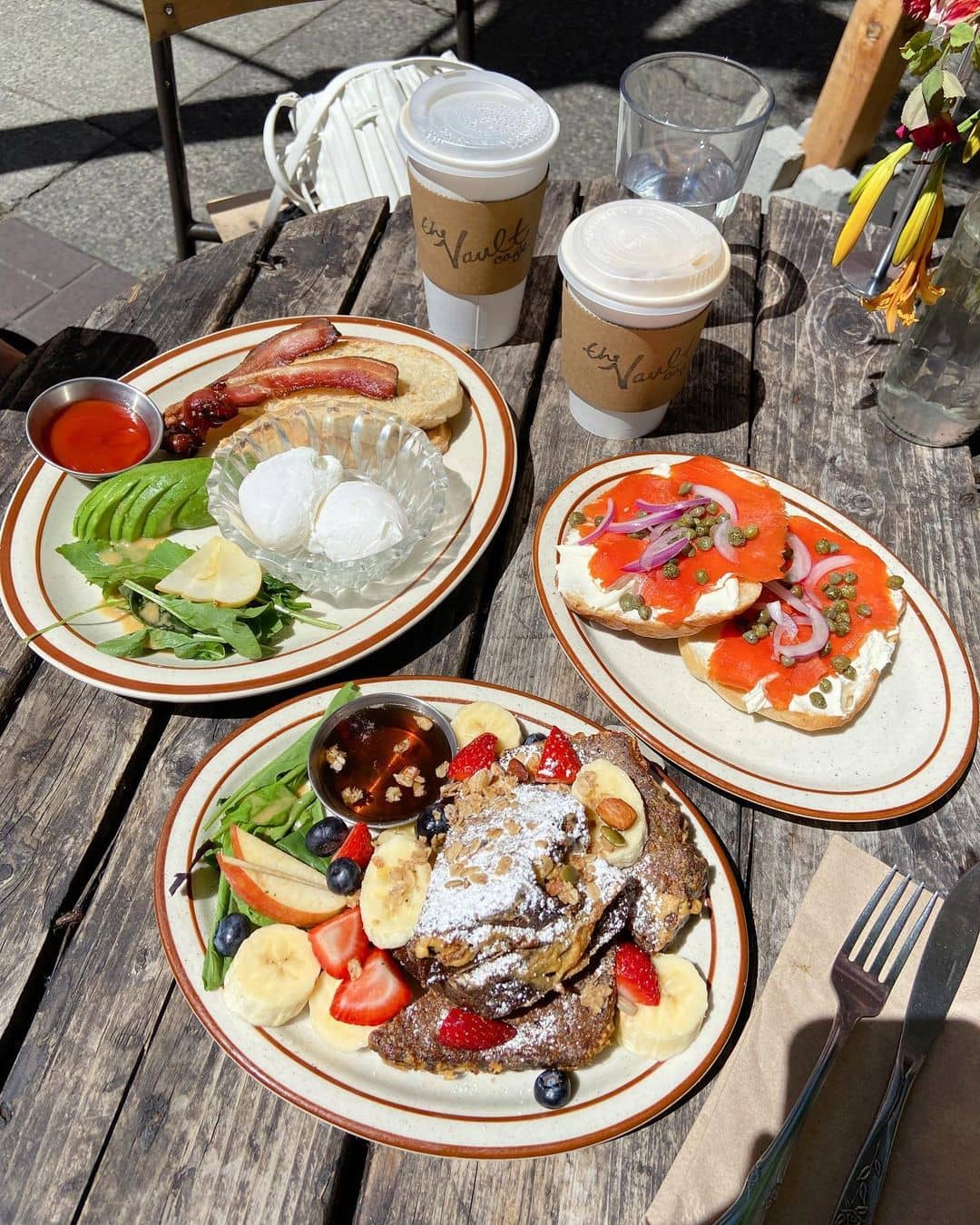 Arch windows, amazing light fixtures, and earthy tones comprise The Vault Cafe's stunning atmosphere and aesthetics. Various decors ranging from the fanciest lamps to beautifully arranged plants, are a feast to the eyes.
As impressive as the cafe's interiors is a creative menu filled with ever-inviting food. Breakfast here is always fulfilling—always soulful.
Grab The Vault's breakfast wrap for an enhanced taste of eggs, cheddar, vegetable, and bacon gently hugged by a special wrapper. In the mood for some seafood? Their lox bagel is the way to go–capers and onion paving the way for tasty wild sockeye.
Don't forget to try their hearty soup of the day!
What to order: Breakfast Wrap, Lox Bagel, Soup of the Day
Address: 499 Wallace St, Nanaimo, BC V9R 5B7, Canada
Website | Instagram | Facebook
6. Buzz Coffee House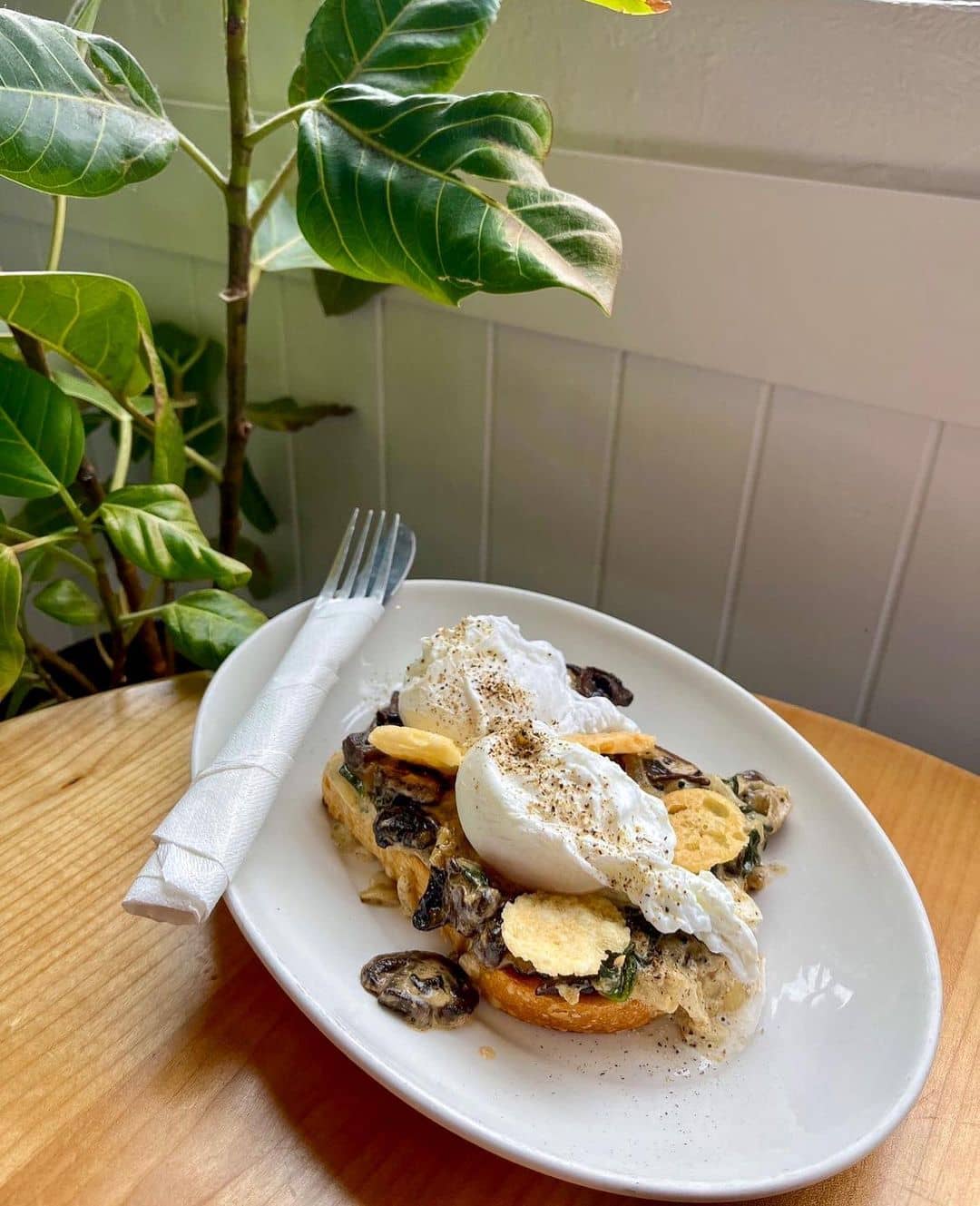 We're actually short of words when describing Buzz Coffee's awesomeness as a prominent breakfast spot in Nanaimo. You can't blame us tho! This little cafe is "everything good."
The place? Stylishly decorated. The food? Remarkably tasty. The service? Impeccably great. It's genuinely one of the must-visit local pride of a resto, so if you're planning to visit Nanaimo, drive-by Buzz Coffee!
Baffled eggs and ricotta pancakes are your breakfast fix! Masterfully prepared dishes made from healthy ingredients can be enjoyed even by visitors with dietary restrictions.
Go for their Croque madame for a meaty option, featuring an exquisite combination of turkey, mayo, swiss, and more. Buzz Coffee wouldn't be complete, of course, without coffee! Their matcha latte and caramel macchiato are bestsellers for an aromatic reason.
What to order: Baffled Egg Breakfast, Ricotta Pancakes, Croque Madame
Address: 4890 Rutherford Rd, Nanaimo, BC V9T 5M1, Canada
Website | Instagram | Facebook
7. Cafe Today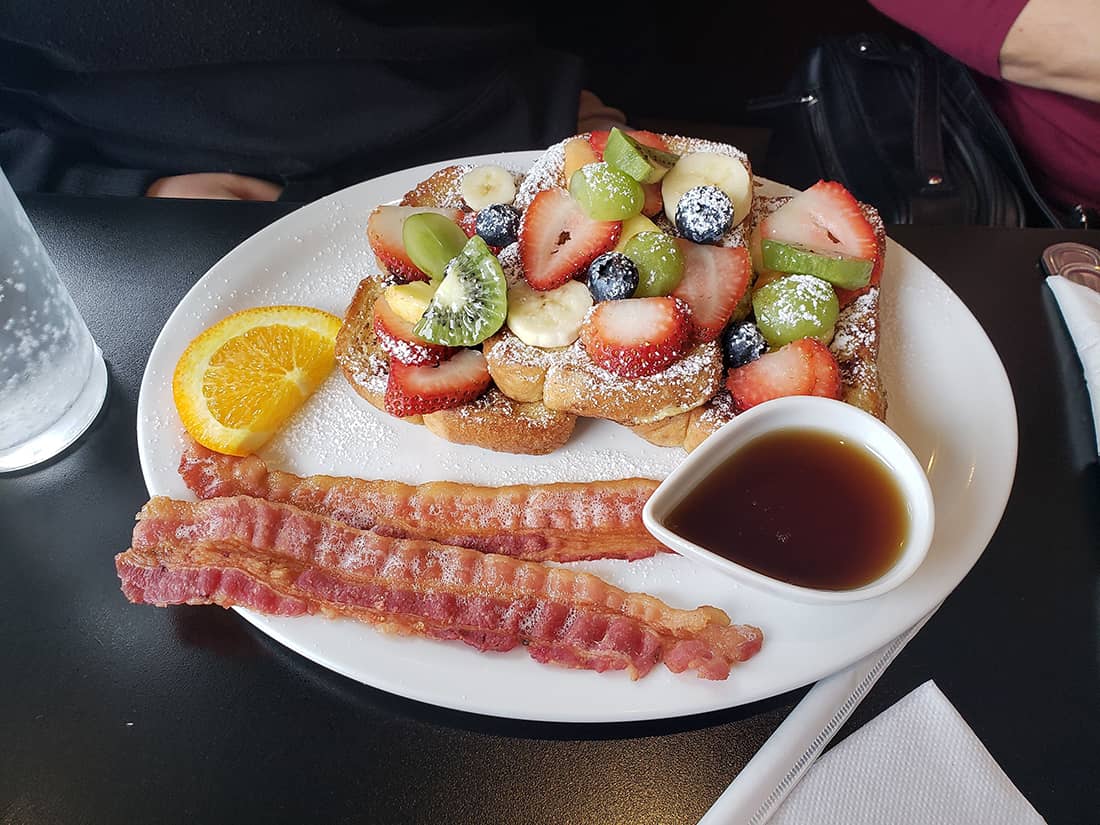 Comfortably break your fast at the spacious and elegant Cafe Today, a restaurant whose furnishing is as immaculate as their food. The family-run business is located in a strip with dozens of coffee shops, but they just stand out.
There's a plethora of items from their innovative menu, but their bulgogi omelette, ham egg muffin, and chicken avocado sandwich are absolutely the highlights. Take your time ordering these three items on their beautifully decorated patio.
Feel the smokiness of ham with their iconic ham egg English muffin. Their bulgogi omelette sure did a savory twist to this classic dish, but you're not going to believe how delicious it is.
For sandwiches, choose their chicken avocado sandwich—a regular chicken sandwich enhanced to flavorful perfection by avocado, cheddar, garlic mayo, and mustard sauce on Ciabatta.
Oh, we almost forgot to mention that Cafe Today is a pet-friendly establishment, so you can bring your fur babies along!
What to order: Bulgogi Omelette, Ham Egg English Muffin, Chicken Avocado Sandwich
Address: 5771 Turner Rd #4, Nanaimo, BC V9T 6L8, Canada
8. Drip Coffee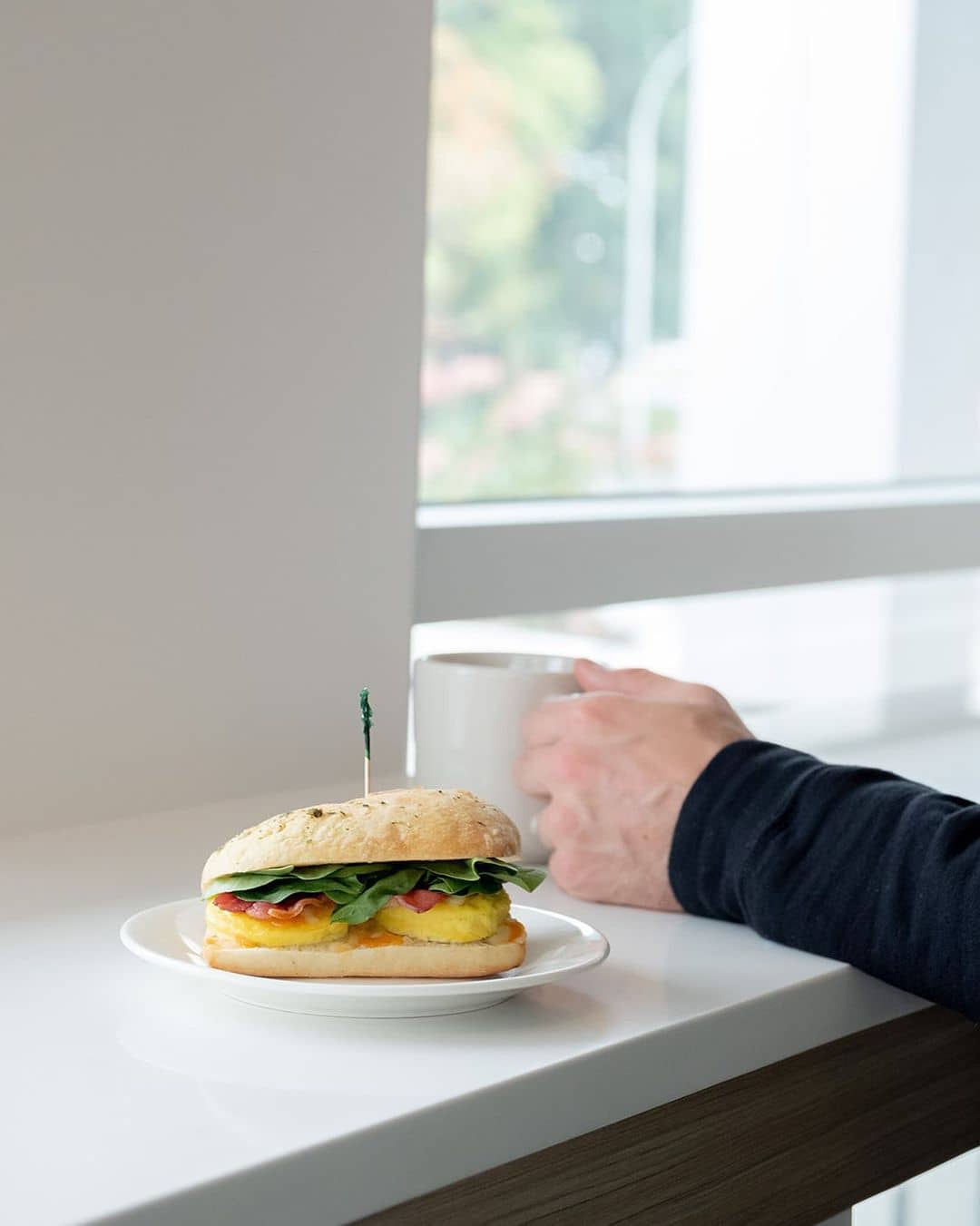 Looking for somewhere relaxing? Drip Coffee is your next Nanaimo destination! With a location overlooking the stunning blue ocean and an interior designed captivatingly well, we bet you'll not forget your memorable breakfast here.
Drip Coffee is more than just their name. Their sandwiches and treats are all masterfully created to rival any of their coffee; every selection is a sure solution for your morning cravings.
Indulge in a succulent roast beef sandwich and raspberry latte as you appreciate the panoramic ocean views. You can also try their Chai tea for an invigorating touch.
What to order: Roast Beef, Raspberry Latte, Chai Tea
Address: 2835 Departure Bay Rd, Nanaimo, BC V9S 3X1, Canada
Website | Instagram | Facebook
9. White Rabbit Coffee Co.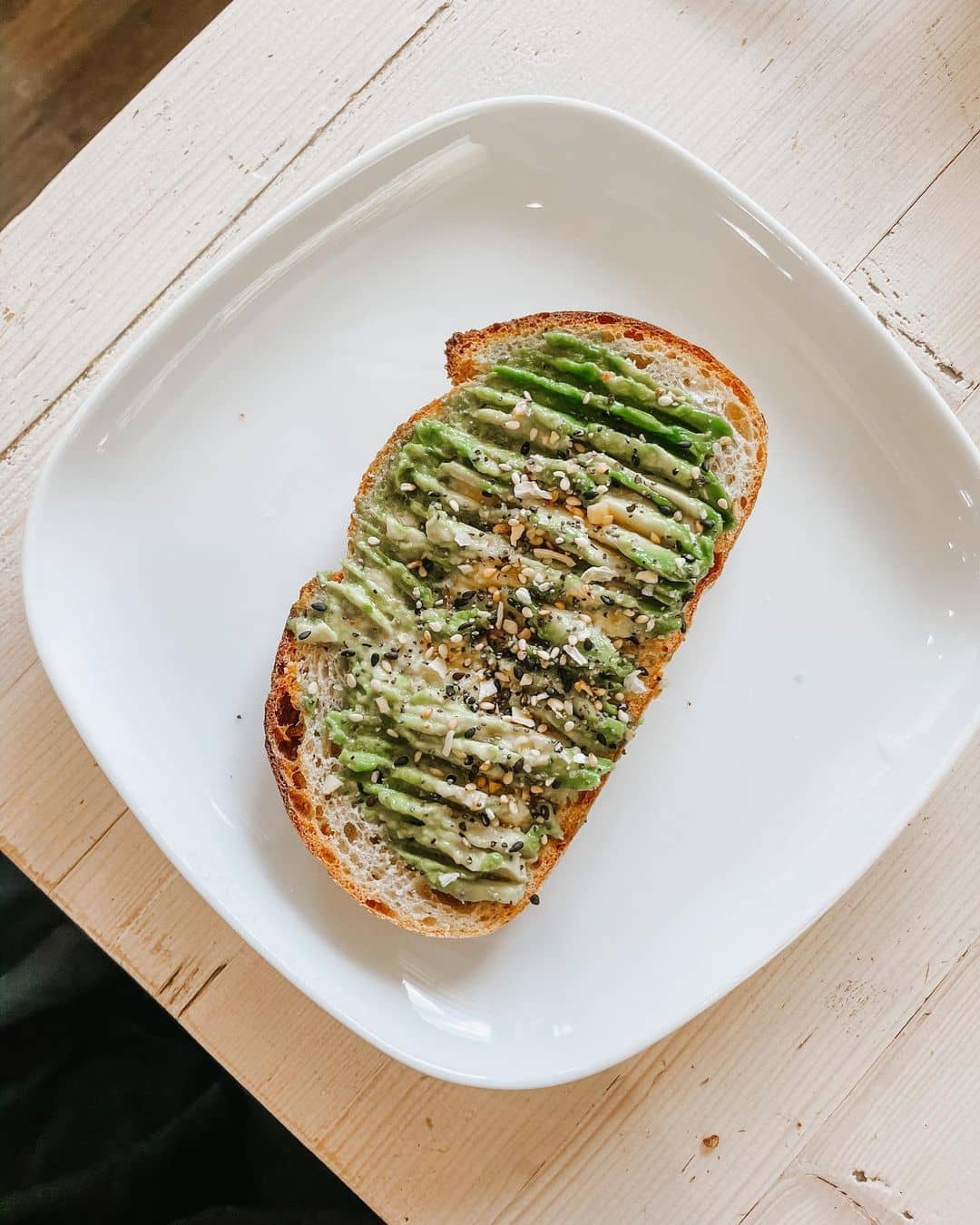 This list wouldn't be complete without mentioning White Rabbit Coffee Co., one of the famous Nanaimo cafes loved by both locals and tourists alike. The restaurant's exterior is a combination of orange bricks and dark green panes, contrasting what's waiting beyond the door.
A mostly-white interior with cute decorations and lighting awaits as you enter this "community space." If you have a carpenter and a graphic designer for the co-owners, the result is an artistic cafe that invokes creativity and passion.
You'll be greeted by the baristas and staff whose only wish is for you to have an excellent time in their humble abode. The food is just as delicious and eye candy as White Rabbit's expressive layout.
Surrender yourself to light food options, such as a serving of ricotta and jam toast, while you take in the scenery offered by their makeshift outside patio. You can also marvel at their apple cinnamon muffin, which, according to rumors, is so tasty that it makes you "go crazy."
Complete the morning bliss with their Cappuccino.
Pro tip: You can drizzle some spices on your coffee!
What to order: Ricotta and Jam Toast, Apple Cinnamon Muffin, Cappuccino
Address: 321 Selby St A, Nanaimo, BC V9R 2R4, Canada
Website | Instagram | Facebook
10. Waffle Magic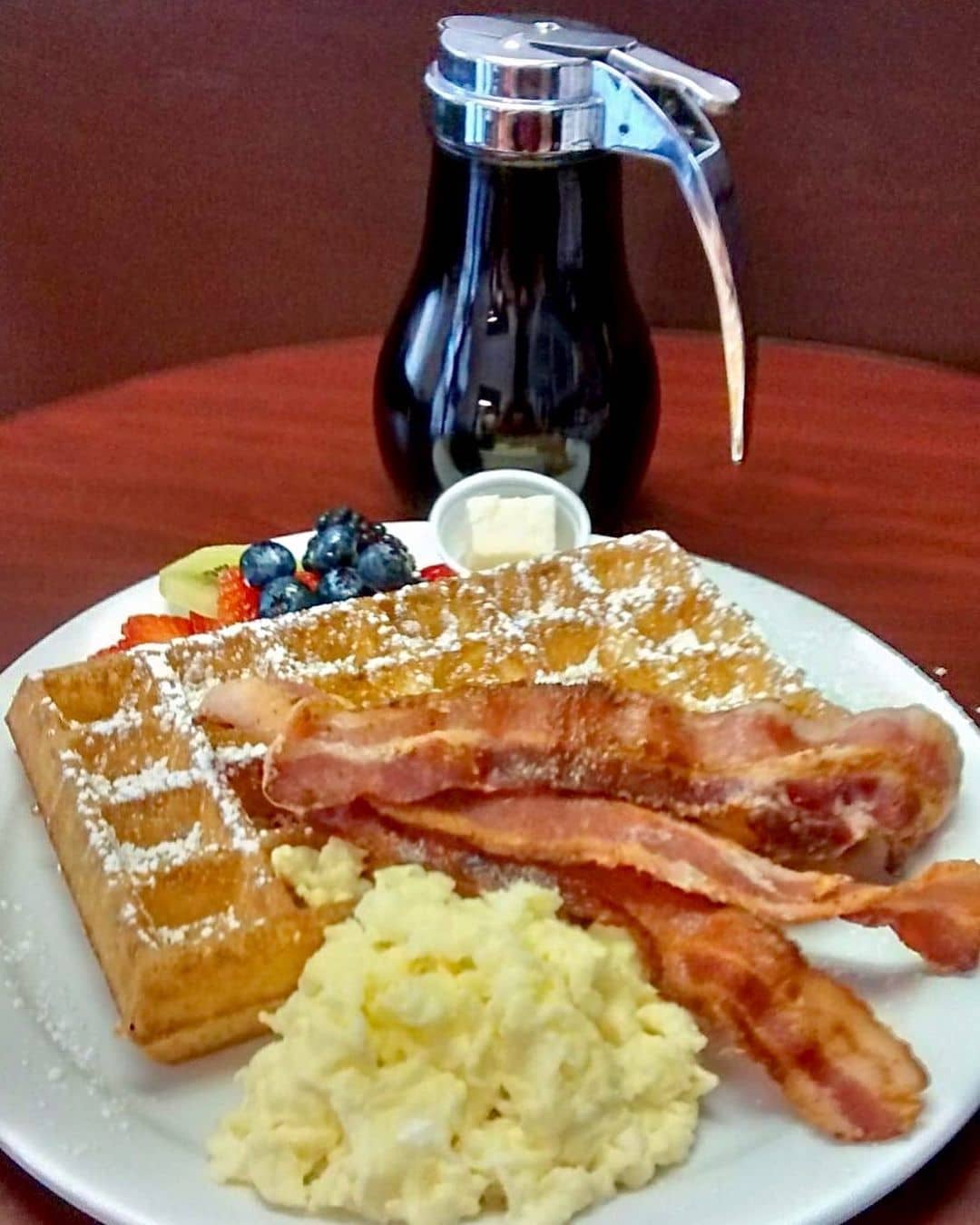 Waffles are a must! For the best waffles in town, head on over to Waffle Magic, a hole-in-the-wall restaurant inside the Old City Quarter. It's the perfect spot for a dreamy breakfast to kickstart your day.
We love this place a waffle lot! The only bad thing about it is–we can't possibly eat everything from their menu! So, we've chosen three waffle flavors that caught our attention: strawberry, fruit explosion, and Nanaimo bar.
You can opt for a rectangular Brussel or round-ish Liege for these waffles. If you're in for something light and crispy, go for Brussels, but if you want a thick, rich, and chewy cake, then Liege is your finest choice.
What to order: Strawberry Waffle, Fruit Explosion Waffle, Nanaimo Bar Waffle
Address: 427 – Unit 101, Fitzwilliam St, Nanaimo, BC V9R 3A9, Canada
Website | Instagram | Facebook
That sums up our recommendations for the best Nanaimo breakfast spots. But they're just a few of the myriads of reputable restaurants around the city. For more selections, you should check out our take on the best restaurants in Nanaimo.
The following two tabs change content below.
Latest posts by Noms Magazine (see all)