When it comes to sushi, BC is THE province to be at. With other 500 sushi restaurants, it no doubt means that this Japanese cuisine is a popular one amongst locals. And if looking for a spot in North Vancouver where you can get your sushi fix, well you're in luck.
Below we've compiled the best North Vancouver sushi restaurants that will surely satisfy your sushi cravings!
10. Sushi Station Japanese Restaurant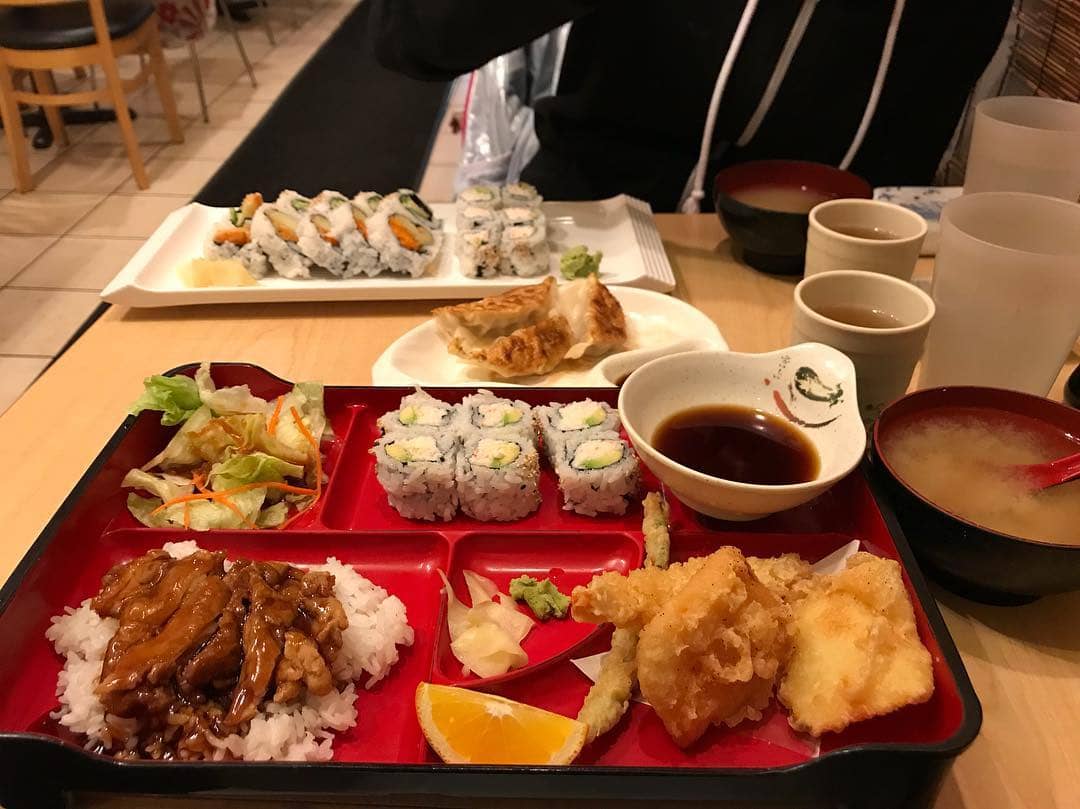 Sushi Station is a great place to go for a quick and delicious sushi fix. The restaurant is unpretentious and focused on delivering fresh, affordable sushi.
From the rolls, we recommend the Volcano and the Dragon rolls, which look delectable (and actually are)! The Chicken Teriyaki Bento Box is yet another popular dish over here. Or, If you are looking for a good combo, then The Sushi Special Box should be on your order list, as it has a lot of options to choose from and that too without burning a hole in your pocket.
What to order: Volcano Rolls, Dragon Rolls, Chicken Teryaki Bento Box, Sushi Special box
Address: 1643 Lonsdale Ave, North Vancouver, BC V7M 2J5, Canada
9. Jordan Sushi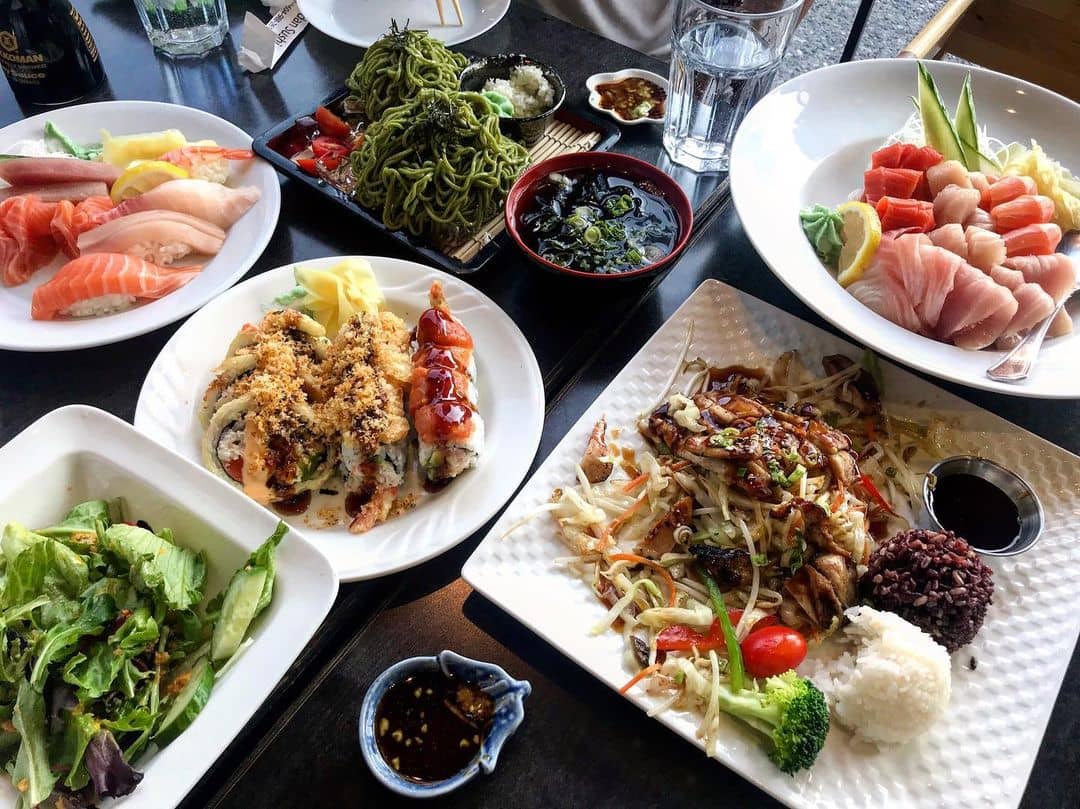 With extraordinary service and fresh food, Jordan Sushi will undoubtedly make an impression! The chef itself is the owner of this place and will personally ensure that you get flavourful and lip-smacking dishes. The place has got an upscale interior and they serve till midnight, so you know where to head to for your late night sushi cravings!
The menu is loaded with dishes, however, we highly recommend you to try out the Jordan Roll, which is undoubtedly going to make you feel delighted with its unique flavour. Or you can surprise yourself with the Chef's Special Premium Plate of Sushi and Sashimi that consists of six pieces of each and will surely leave you content.
What to order: Jordan Roll, Udon Tempura, Premium Plate of Sushi and Sashimi
Address: 155 15th St East, North Vancouver, BC V7L 3J4, Canada
8. Yama Sushi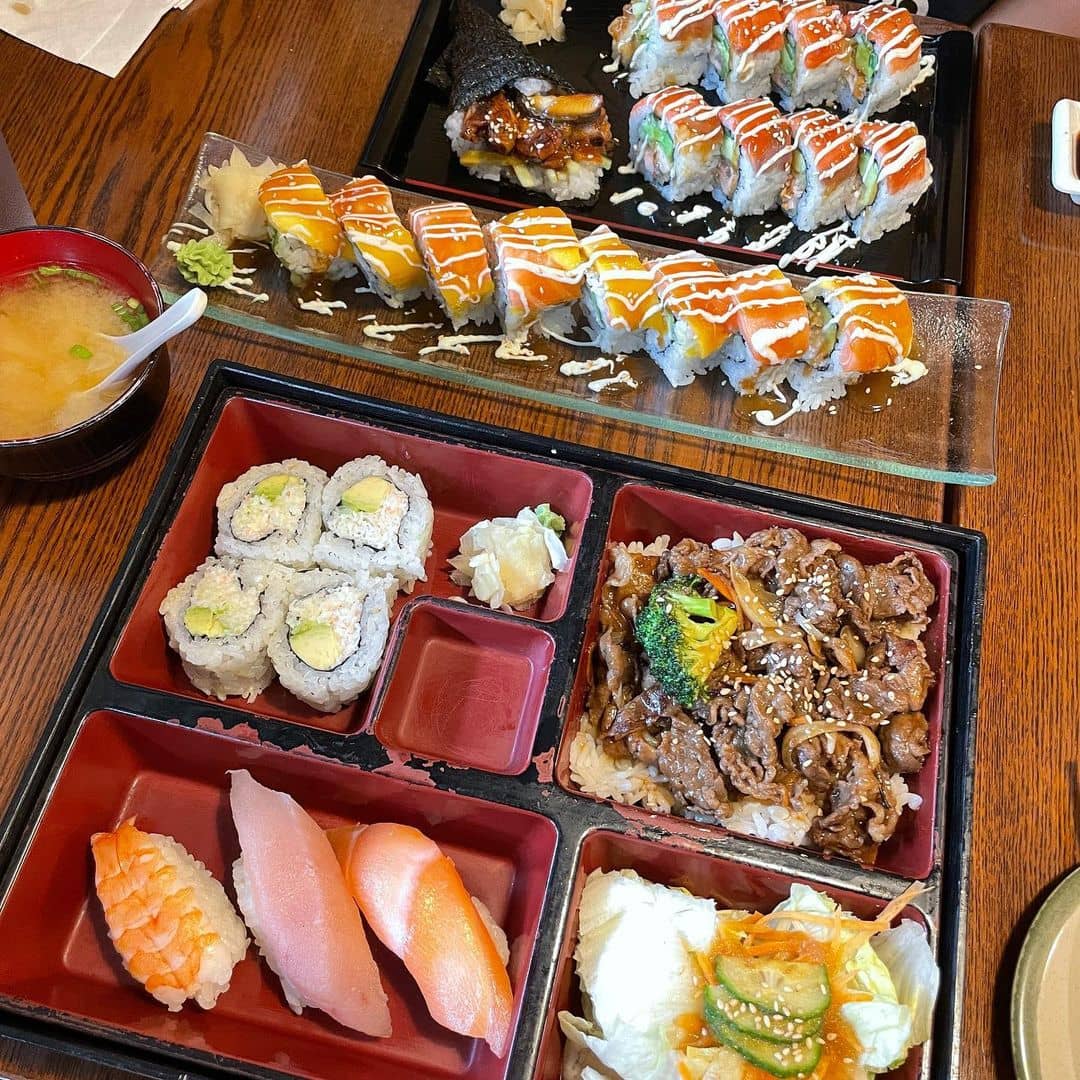 If you plan to visit the Lynn canyon, then under no circumstances should you be missing out on this fantastic hole-in-the-wall joint. Not only do they serve amazing food consistently, but the bright interior teamed with wooden furniture makes this space even better. Also, the services are really quick (brownie points for that!)
People cannot stop obsessing over their Sushi Combo. Not just that, the Spicy Salmon Sashimi, literally melts into your mouth, and we guarantee that you will end up daydreaming about them. Or you can stick to the standard Chicken Teriyaki, which will surely make you revisit this place.
What to order: Sushi Combo, Spicy Salmon Sashimi, Chicken Teriyaki
Address: 1232 Ross Rd, North Vancouver, BC V7J 2A2, Canada
7. JL SUSHI & KITCHEN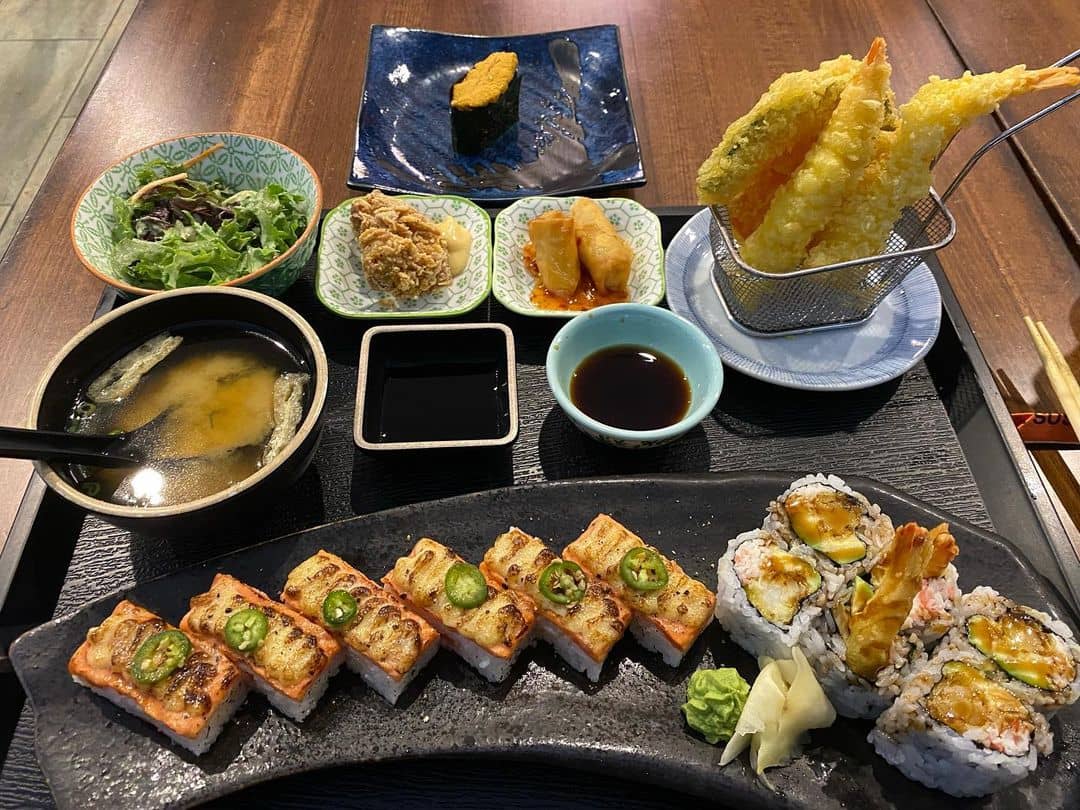 JL Sushi is one of those places where you'll want to come back again and again. That's not just because of their impeccable flavours that – according to some – resemble the flavours of Japan, but also for the beautiful presentation. The vibe is super cozy, with an upscale interior and a beautiful blue glass tiled bar right in the middle. With quiet background music, you are bound to have delightful dining.
Try out their Spicy Tuna Rolls, which are pretty popular here. From the Sushi, people recommend the Aburi Sushi, which is seriously stellar.
What to order: Spicy Tuna Rolls, Aburi Sushi, Scallop Sushi, Sashimi Bento Box
Address: 140 Lonsdale Ave, North Vancouver, BC V7M 2E8, Canada
Website | Instagram | Facebook
6. Yohachi Sushi Japanese Restaurant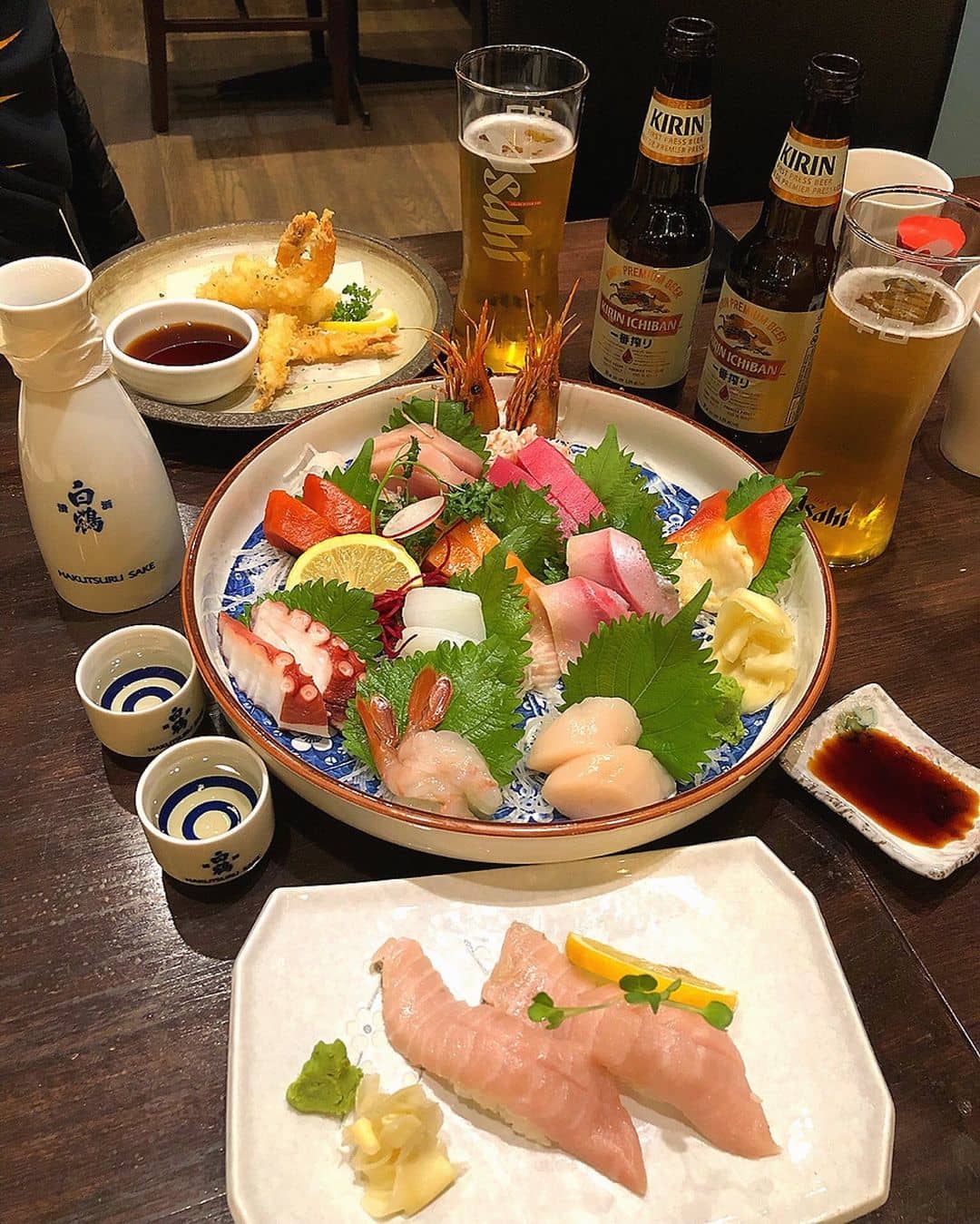 Although this place is slightly off the main area, don't let that stop you from visiting this little gem. One look at the interior, and you will realize that this place screams elegance. The wooden furniture, with dim lights and the open kitchen, give you insights into the chef's talent. The striking flavours will keep you wanting more even when you have just finished your food.
Their Aburi Sushi Rolls are absolutely delicious, or you can just have the Deluxe Assorted Sushi which will satisfy all your Sushi cravings. The Hamachi Sashimi is the real deal for the amount of freshness and the incredible flavor it has. The Herring and the Spicy Tuna Rolls are the house-made specials that had an interesting flavor, and not to forget the Suki Yaki, which should surely be on your order list.
What to order: Aburi Sushi Rolls, Hamachi Sashimi, Herring Rolls, Spicy Tuna Rolls, Suki Yaki
Address: 161-171 Esplanade W, North Vancouver, BC V7M 3J9, Canada
Website | Instagram | Facebook
5. Sushi Mania North Vancouver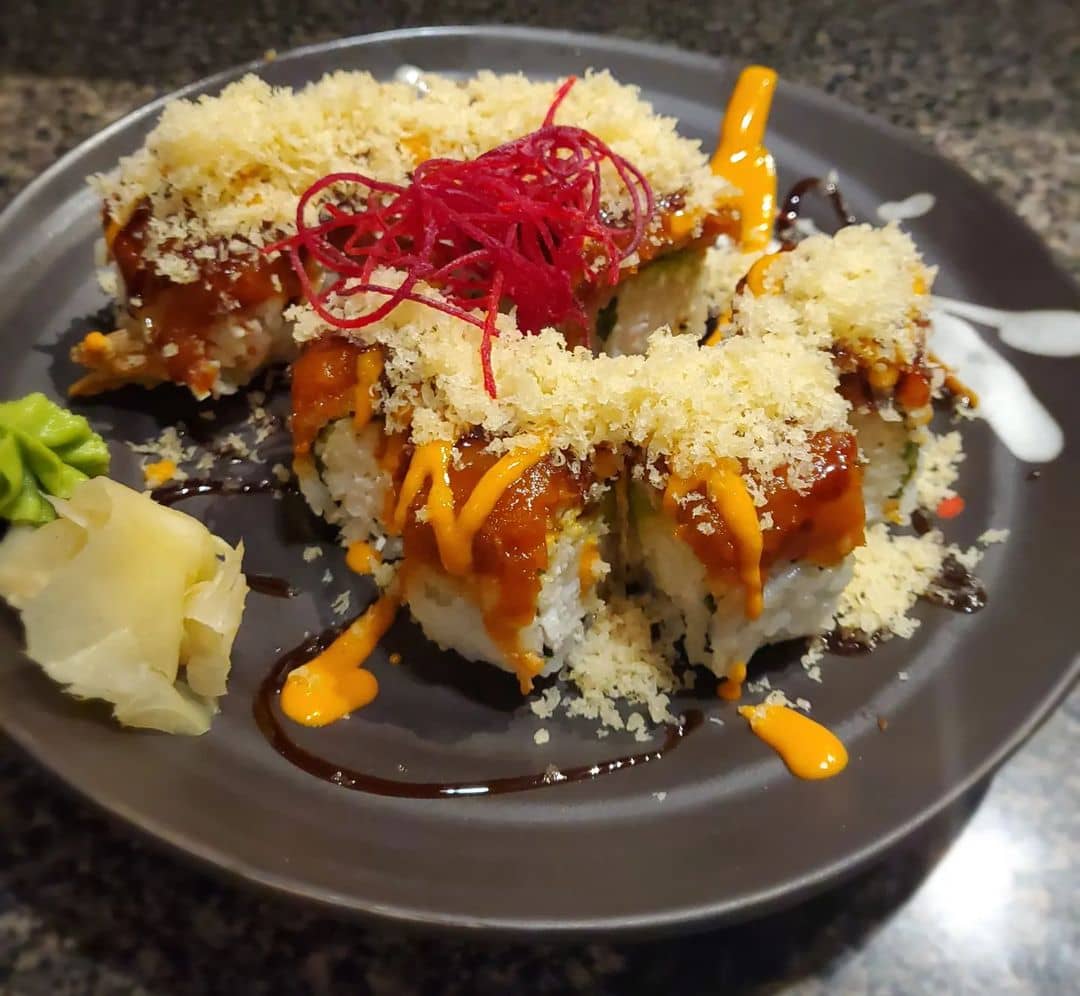 Inspired by tradition but updated with a modern taste, Sushi Maina is nothing less than a dream come true for a Sushi Lover. The ambiance screams elegance with its Japanese-styled interior, and with its wooden interior and perfect lighting. This place definitely could be an ideal fit for any of your special occasions. The nice calm music will let you enjoy your food even more.
The Oshi Salmon Sushi has won our hearts for its beautiful texture and flavor. The Fantastic Roll and the Awesome Roll stand true to their name. Served with some black rice and lovely dipping sauce, Veggiemania Roll is a must-have. If you like spicy food, Volcano roll is the one for you. They even have some great combos and party trays on their menu, so don't miss out on that!
What to order: Oshi Salmon Sushi, Fantastic Roll, Awesome Roll, Veggiemania Roll, Volcano Roll
Address: 180 2nd St E, North Vancouver, BC V7L 1C3, Canada
Website | Instagram | Facebook
4. Hamaei Japanese Restaurant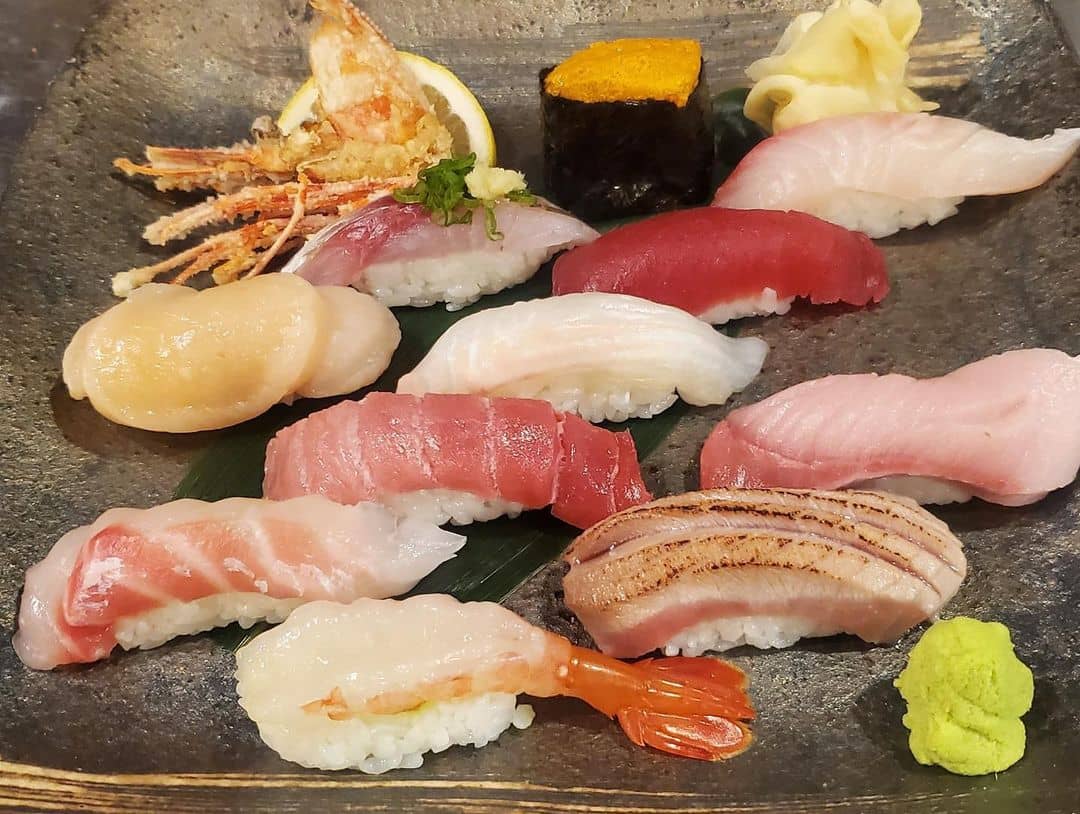 Hamaei Japanese Restaurant is a Japanese-style restaurant with classy wooden interiors and an omakase table in the center. The diner specializes in omakase nigiri as well as classic rolls and has a reputation for serving really fresh seafood, which enhances your dining experience. The services are quick and attentive, and the staff indeed makes you feel welcomed.
The Blue Fin Tuna is a must-try item as Hamaei is one of the only few places that serve it in Vancouver. It may be a bit pricey, but for food lovers who love trying new things, it is a unique experience as it is a limited item that goes on and off the menu. Another item to try is the Deluxe Chirashi Don which comes with a good amount of fish pieces and well-seasoned rice with the authentic vinegary flavor. The Negitoro Roll, which melts in your mouth, is also a popular pick at Hamaei.
What to order: Deluxe Chirashi Don, Blue Fin Tuna, Negitoro Roll
Address: 2601 Westview Dr, North Vancouver, BC V7N 3X3, Canada
Website | Instagram | Facebook
3. Sushi Umi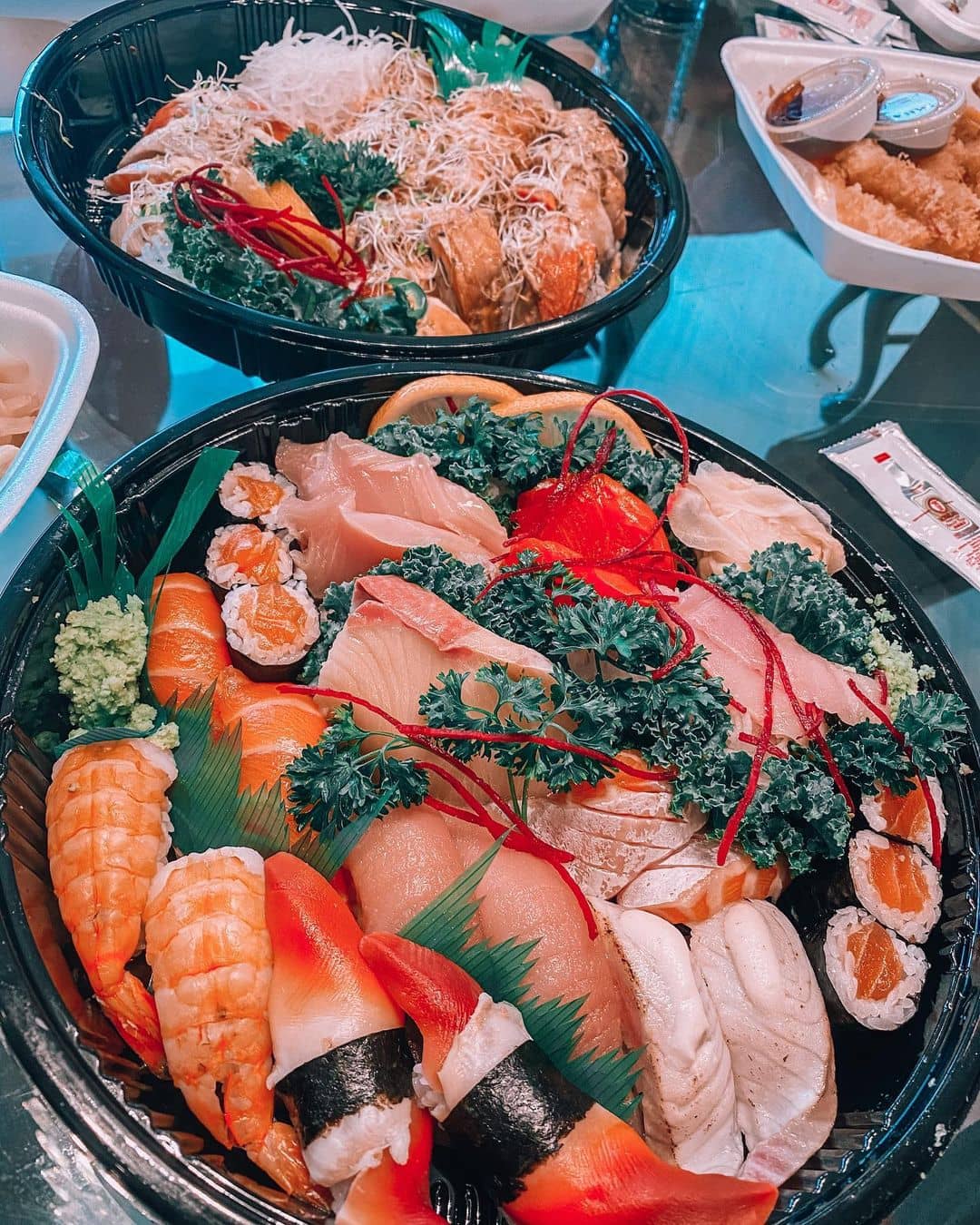 Located in a busy and competitive spot for many seafood restaurants, Sushi Umi has set itself apart with its exceptional flavors and heart-warming services. With a modern setting and an open kitchen wherein you can see fresh food being prepared, the restaurant is a hit amongst sushi lovers and often has a waiting line. What sets this place apart from the rest is the calm wooden interior and the plethora of creative and delicious Japanese cuisine.
One such unique food item is the Volcano Roll- the classic sushi recipe turned unique with an actual flame in the middle of the dish. The rolls of Sushi Umi, in general, are popular menu items for the artsy way they are presented-Veggie Rainbow Roll and Caterpillar Roll, to name a few.
But, the highlight of the diner is its Umi Sushi And Sashimi Platter, which is going to leave you content.
What to order: Volcano Roll, Veggie Rainbow Roll and Caterpillar Roll, Umi Sushi, And Sashimi Platter
Address: 1995 Lonsdale Ave, North Vancouver, BC V7M 2K1, Canada
Website | Instagram | Facebook
2. Hachi Hana Japanese Restaurant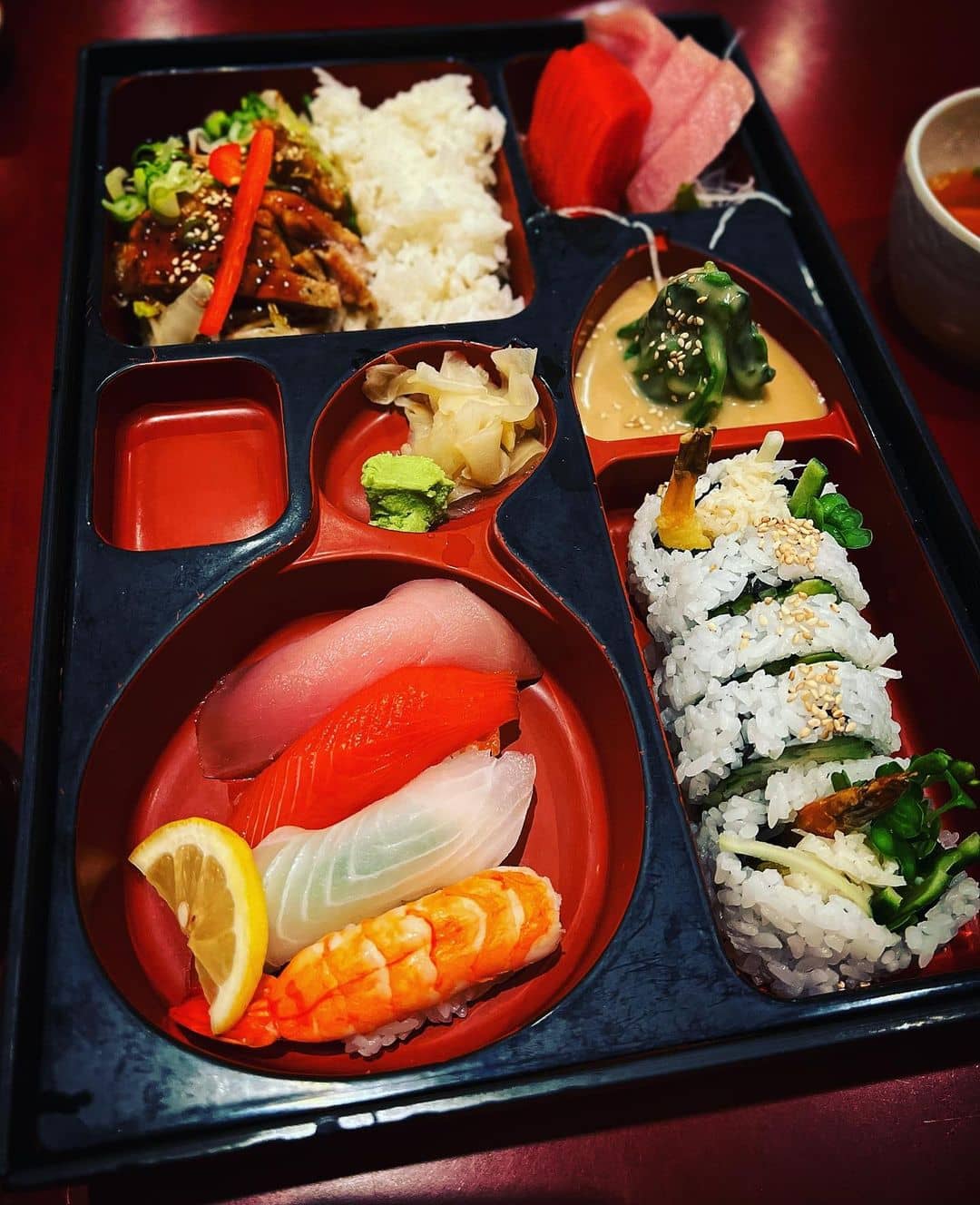 Being one of the original Sushi restaurants on Lonsdale ave, Hachi Hana is an excellent place for Japanese cuisine, with many regular customers staying loyal to it. The well-lit dinner is compact and family-friendly and is known for quality Japanese food at reasonable prices. The restaurant has a local sushi place feel, and a cafe-like vibe will assure a great dining experience. All we could say is this place is big on taste.
One of the popular items of this place is the Stegosaurus Roll- a delicious as well as an immaculate plated platter. The Wasabi on the Sockeye Salmon will surely leave you wanting more for its intense flavors. The Salmon Sashimi Cut is tender and saucy, works just right when you want to eat something light and filling.
What to order: Stegosaurus Roll, Wasabi on the Sockeye Salmon, Salmon Sashimi Cut
Address: 1426 Lonsdale Ave, North Vancouver, BC V7M 2J1, Canada
Website | Instagram | Facebook
1. Sansho Sushi & Japanese Dining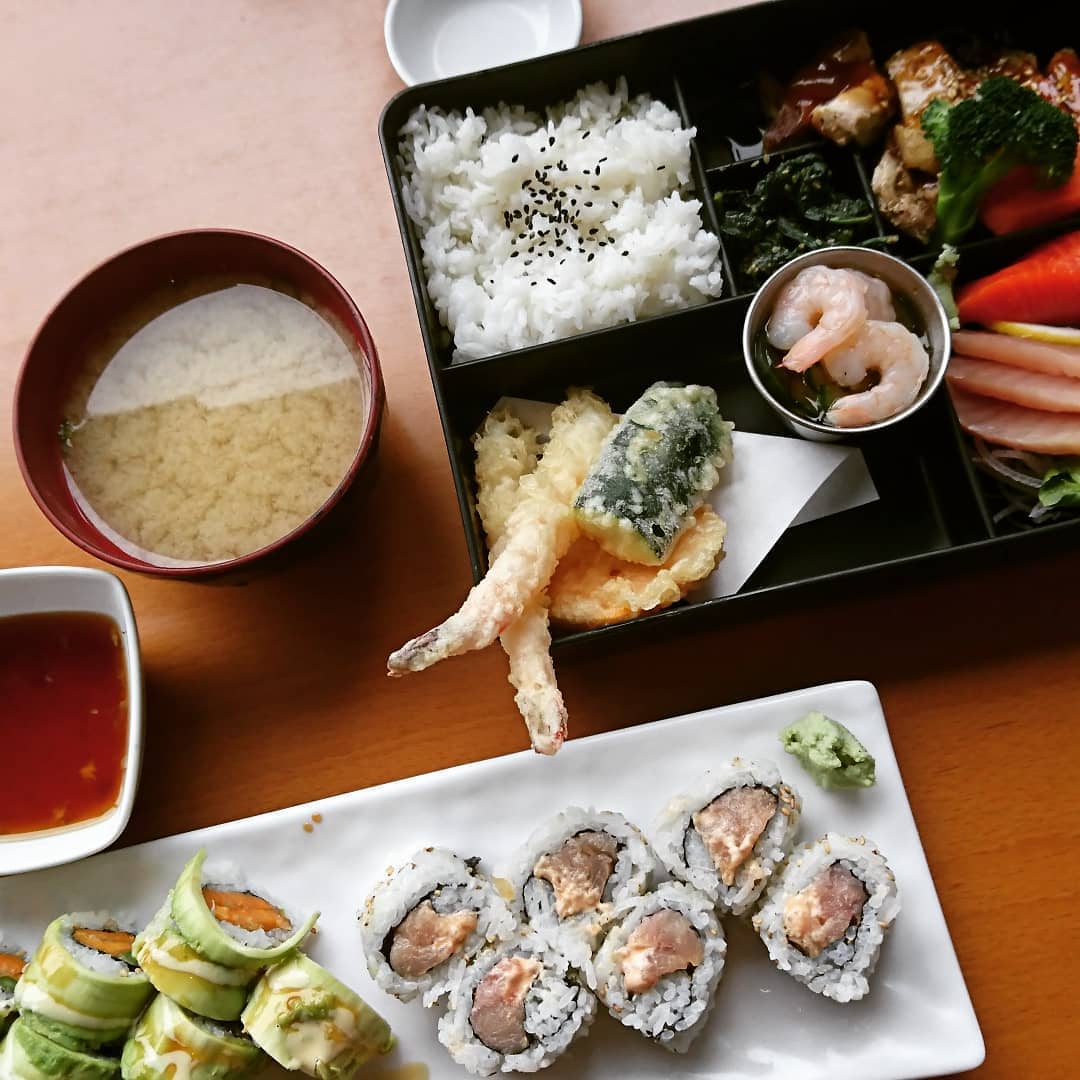 Tucked away in the middle of a quiet neighborhood like a hidden gem, Sansho Sushi is a popular spot amongst those who love authentic Japanese dining. The interior is on the bright side, which makes you feel energetic quite instantly. The services are super quick. Moreover, not only do they serve delectable Sushi, but they have got a variety of stellar Japanese dishes as well. And the best part is that they serve imported Japanese sake as well! We are not exaggerating, but this restaurant is all about using the finest ingredients all the time.
In no case should you be missing out on Anago, which is the star dish of their menu, in our opinion. It's basically sea eel, which is inherently sweet and then simmered with some sansho pepper. Sounds amazing, doesn't it? Also, try their Spicy Tuna Roll, which is bomb, or you can even have the Maguro, which is very popular, not just for the undeniable amount of freshness but also for the texture and the umami level, which is unbelievable.
What to order: Anago, Spicy Tuna Roll, Maguro
Address: 707 Queensbury Ave, North Vancouver, BC V7L 3V9, Canada
So that was our take on the lovely Sushi places in the town. We hope that this list has helped you save both time and energy in finding an excellent Sushi spot for all your moods. Meanwhile, if you are looking for some fantastic places to dine in Vancouver, do check out our list for the same.
The following two tabs change content below.
Latest posts by Noms Magazine (see all)