They say that a cup of instant ramen can take the blues away. So, imagine what a delicious bowl of freshly-made ramen can actually do for you. Don't fret, you can do more than just imagine eating and slurping a bowl of ramen.
Richmond is a great neighbourhood that is surrounded with great Japanese Restaurants where your imagination can come to life.
You can never go wrong with a freshly made bowl of ramen in Richmond during any weather. We have compiled the 10 best ramen in Richmond for you to try, check out our list below:
10. Yuu Japanese Tapas 優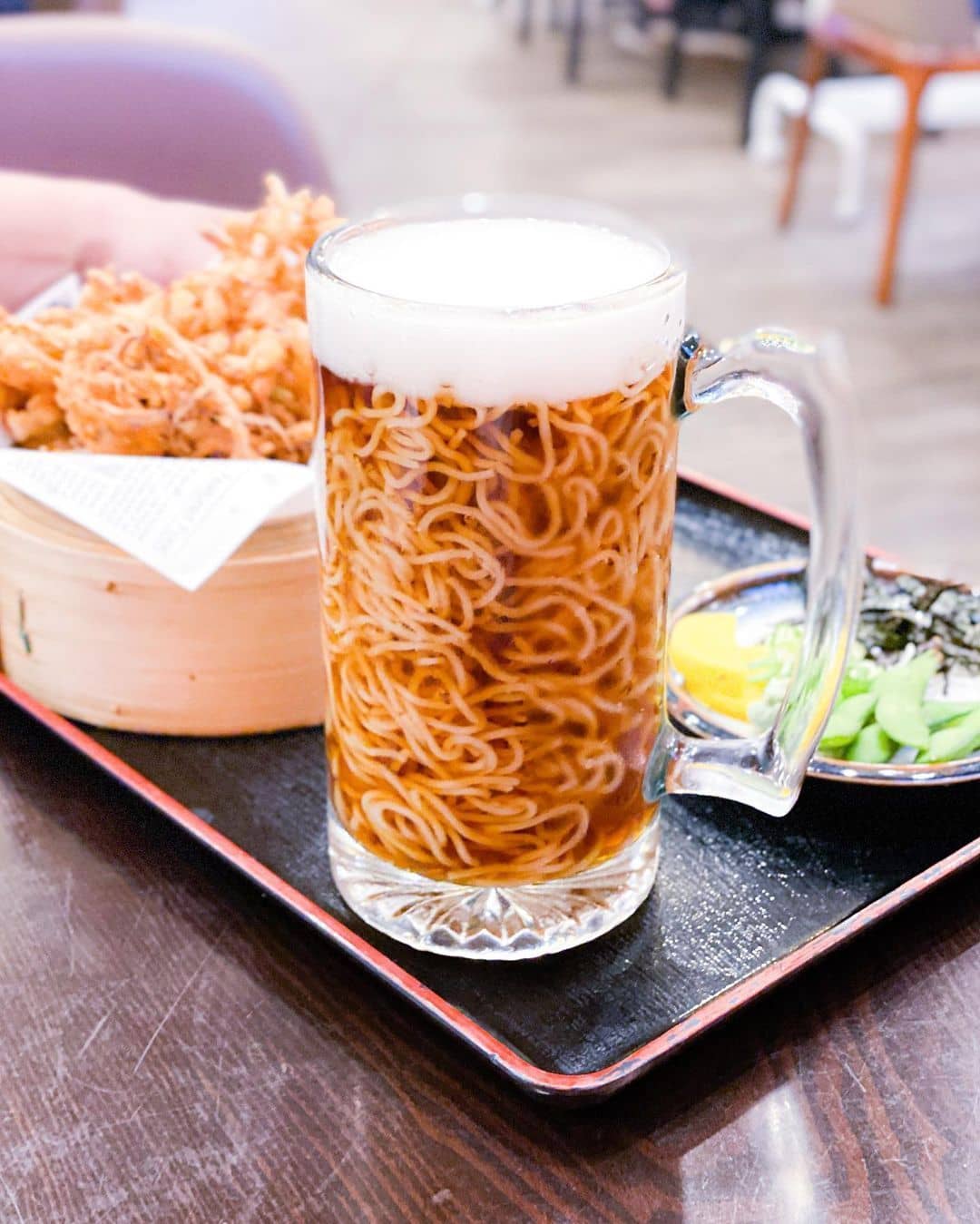 Ever had beer with your ramen? Well, Yuu takes it up a notch with their Beer Ramen, a cold noodle in bonito broth served on a beer mug. To emulate the look of beer, this ramen is topped with nori foam. Sorry! There's no actual beer in this ramen but it sure has the feel and look of it. If you want to try something out of the ordinary, this is the place to go but if you want to stick to the basics, they also have the classics like the Miso Ramen and other Japanese food that can surely bring great flavor to your taste buds.
Pro tip: The Beer Ramen usually comes with a veggie tempura but you can ask for the deep fried boneless chicken instead. It may cost a little bit more but it will surely be worth it!
What to order: Beer Ramen, Miso Ramen
Address: 1118 – 3779 Sexsmith Road, Richmond BC V6X 3Z9
Website | Instagram | Facebook
9. Shibuyatei Japanese Restaurant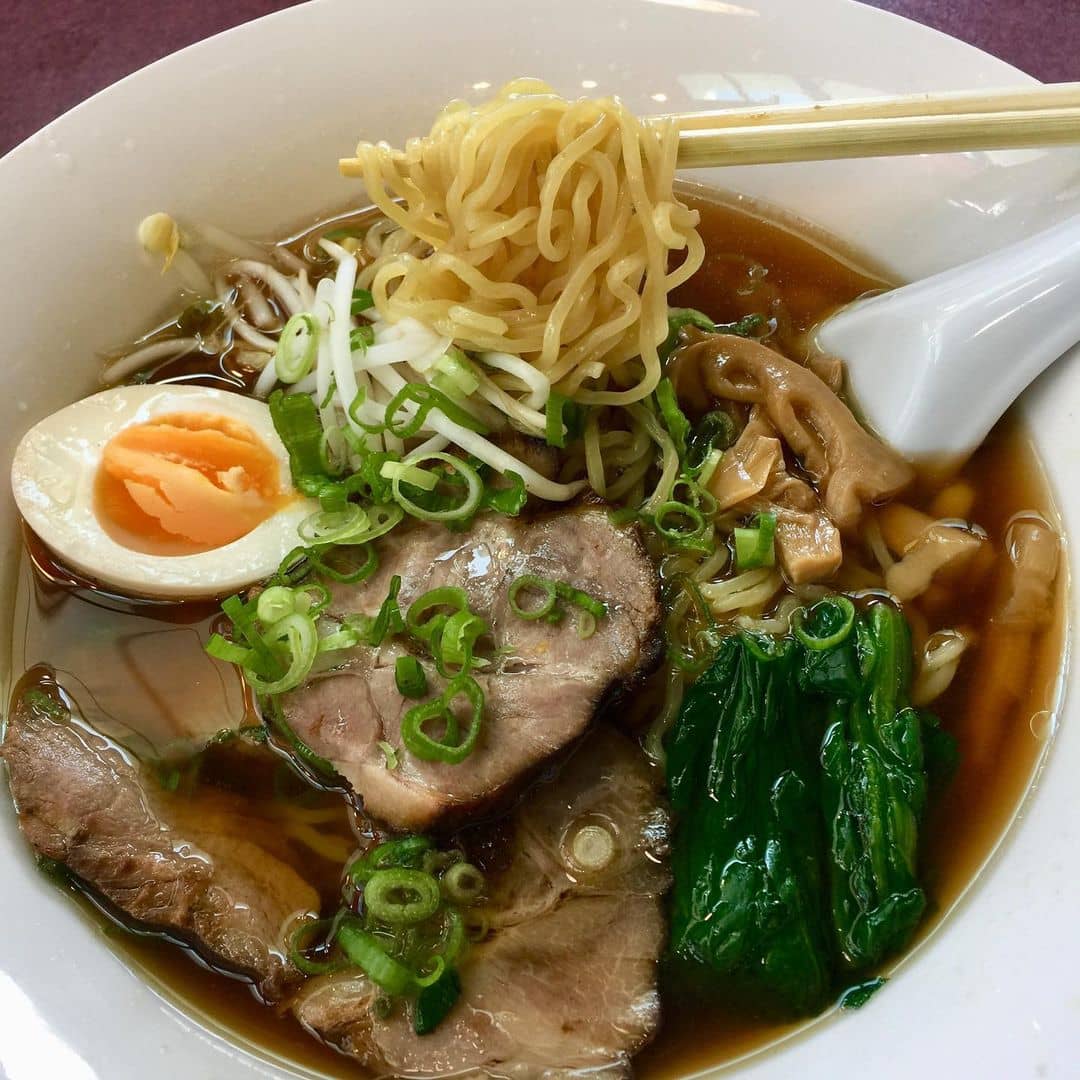 Who would have known that you'd get to taste the best ramen in Richmond right next to a carwash? Shibuyatei is a hole-in-a-wall joint that is run by a 1 man show. Despite the location, you will surely be amazed by the quality and affordability of the items in the menu.
We highly recommend this restaurant for the fact that the ramen is all hand-made and prepared by the owner himself. Takeo San prepares the broth without MSG. If you are ever near the area, show Takeo San some love and get yourself one of his famous bowls. Order the Larmen. You'd be surprised that this simple ramen packs a good and hearty shoyu broth with firm noodles. It also comes with a rather thick but still very tender chashu.
Pro tip: They only serve 20 bowls per meal. If you want to get a bowl, you better come early for their lunch or dinner service.
What to order: Larmen
Address: 125 – 2971 Sexsmith Rd, Richmond, BC V6X 2H4
8. Sanpoutei Ramen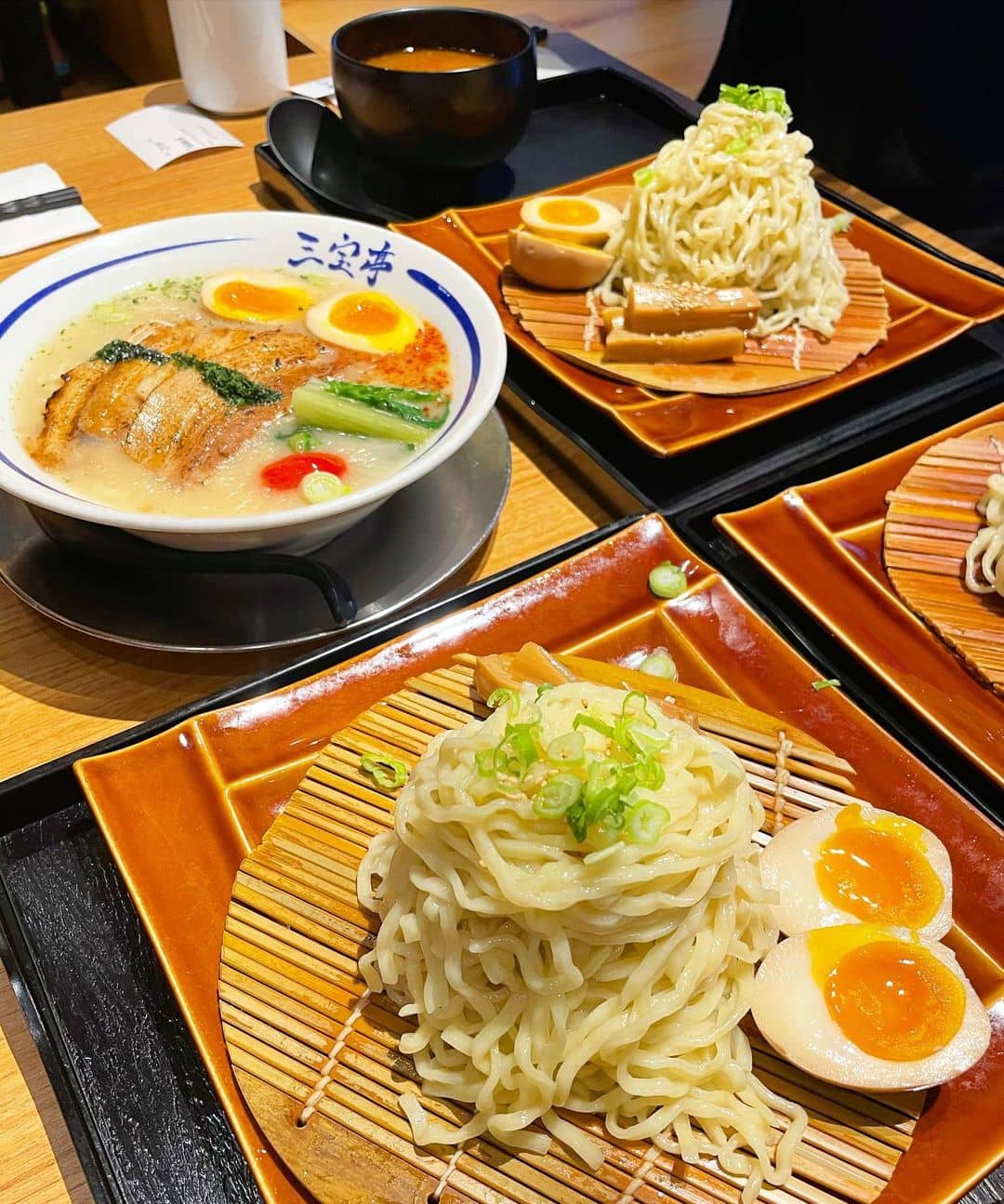 Believe it or not, this restaurant actually makes both the broth and noodles in house! You won't only fall in love with their food but also leave in awe of the place. They have intentionally designed the restaurant to showcase the art of noodle-making. Dining here would surely be a great experience for any food lover.
We highly recommend their Tsukemen. It is a fish-based broth that is served with chewy noodles and half-boiled egg. Note that the noodles are plated separately and are meant to be dipped into the broth before slurping all its goodness.
Pro tip: If you want to have some spice in your life get the spicy version of their Tsukemen. It has just the right amount of kick to keep you eating more.
What to order: Tsukemen
Address: 160 – 4328 No. 3 Road, Suite 160, Richmond BC V6X 2C2 (Beside Parker Place)
Website | Instagram | Facebook
7. Yah-Yah-Ya Ramen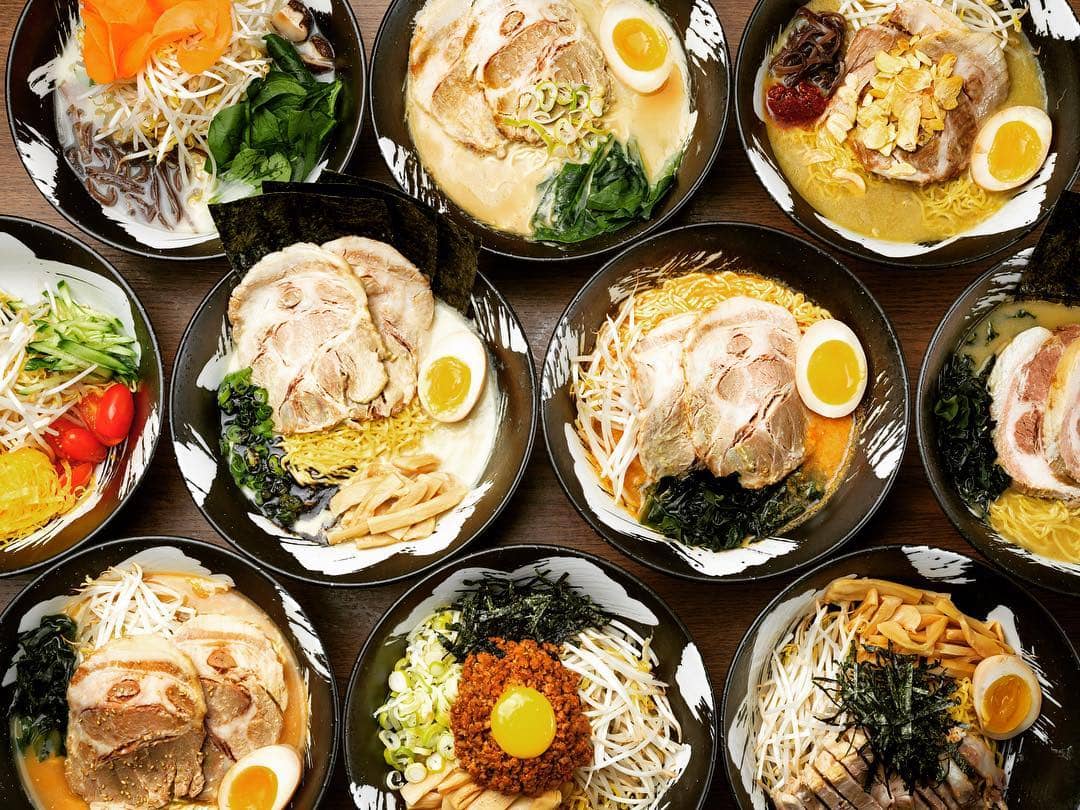 Yah! Yah! Ya! Yah-Yah-Ya Ramen is a Japanese restaurant that surely captured their love for making ramen by its name. The fun thing about this joint though is the fact that they give their patrons the option to tweak their own broth by choosing the saltiness level. Their usual broth could be very light but patrons can choose a higher level of saltiness to fit their taste.
Ever heard of the Yokohama style of ramen? It is served with thick noodles and clean light broth. You can choose from broths like miso, shoyu and shio. Lots of options, right? Don't fret about it and be sure to try out their Shoyu Ramen with chashu, spinach, toasted seaweed, and half-boiled egg. The crispy chashu on top of this ramen will make you crave for more!
Pro tip: You've got to try their takoyaki for a burst of seafood flavor!
What to order: Shoyu Ramen, takoyaki
Address: 8388 Capstan Way #1423, Richmond, BC V6X 4B6 (beside Richmond Sushi)
6. Ramen Takanotsume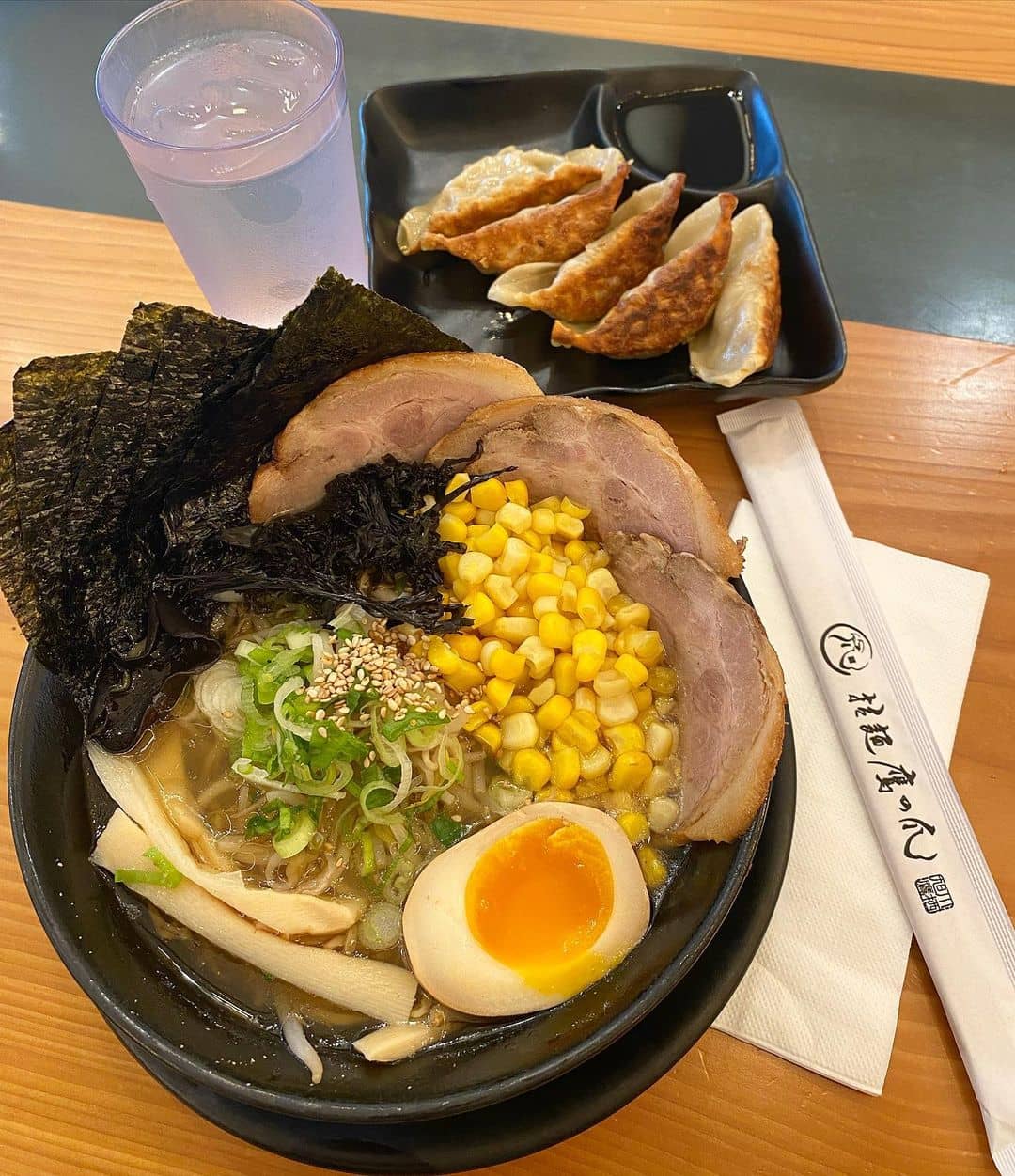 If you HATE when your broth gets cold by the time you're halfway done with your ramen…well Ramen Takanotsume is the spot for you. Their founder, Hideki Sasaki created their golden broth based on a traditional Asahikawa-style ramen he had as a child.
With Asahikawa-style ramen, there's often a thin layer of oil on top of the soup, which keeps your broth piping hot all the time. 
It is definitely a must to try their signature ramen, Original Dragon Shoyu. This is a creamy and white soy-based broth topped with slices of chashu, mushroom and bamboo shoots.
Pro tip: Make sure to get the beef gyoza with your ramen. It is packed with meat, the bottom is fried to perfection while maintaining its soft steamed texture.
What to order: Original Dragon Shoyu, beef gyoza
Address: 4151 Hazelbridge Way Unit 2780, Richmond, BC V6X 0A4 (inside Aberdeen Centre)
Website | Instagram | Facebook
5. Gyo-O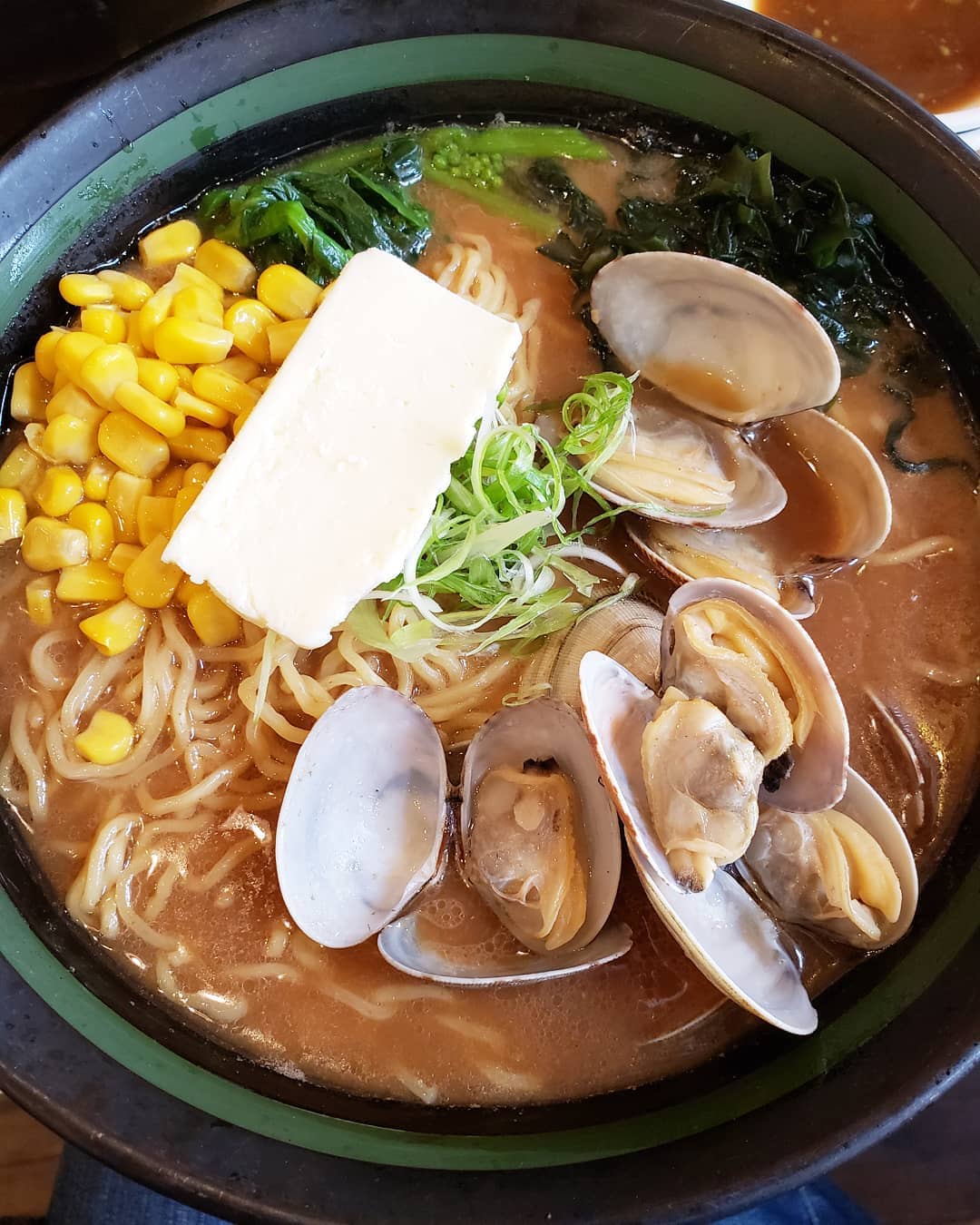 Gyo-O, which means "Fish King" is quite popular for their fresh fish donburis and bukkake udon. But that doesn't mean their ramen isn't any less tasty. They even have more unique variations of ramen broths…like Oyster Milk, Garlic Seafood Miso, or Clam Miso.
If you're a bit more experimental, go for the Oyster Milk Ramen. If you're looking for a more safe choice, go for the Seafood Ramen. But as a fan of clams, we recommend the Clam Miso Butter Corn Ramen.
Did you know: Gyo-O is under the same restaurant group as G-Men?
What to order: Oyster Milk Ramen, Seafood Ramen, Clam Miso Butter Corn Ramen
Address: 3779 Sexsmith Rd #2137, Richmond, BC V6X 3Z9 (at Continental Shopping Centre)
Website | Instagram | Facebook
4. Afuri Ramen + Dumpling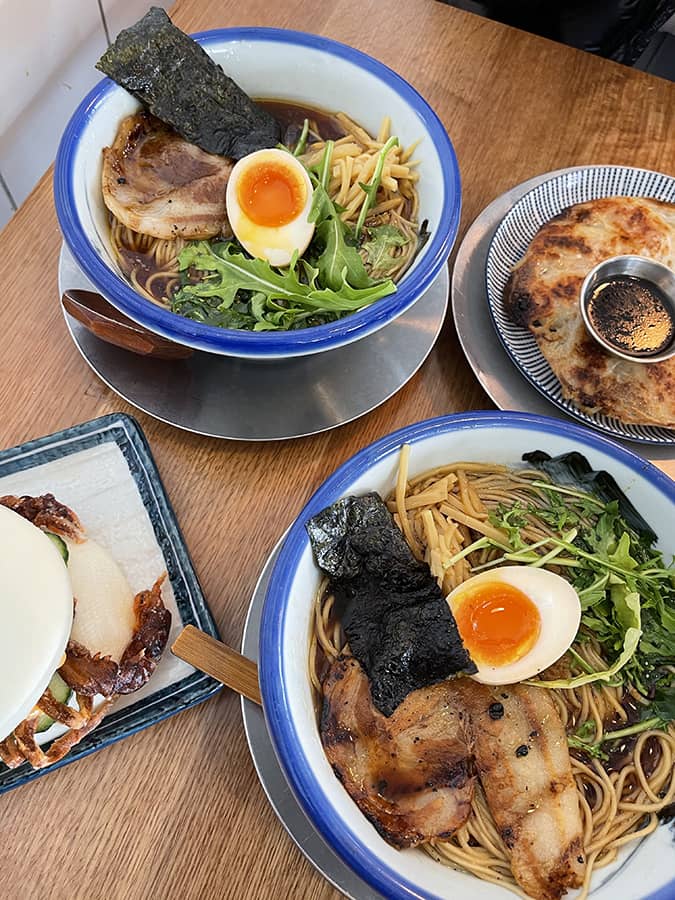 Afuri Ramen is a well-known Japan ramen chain with locations around the world. They claim to aim to make the world better through ramen and they are definitely doing just that.
First thing that makes Afuri different is that you order on a GIANT touch screen – like the ones at McDonald's. On the screen, you can choose your ramen, sides, drinks, or even make a combo.
Then you grab a number and then you're ushered to an empty table. Once your food is ready, they'll bring it to your table – sorta like a table service cafeteria. 
Unlike other ramen chains that specialize in miso, shoyu, or shio broth, Afuri is known for their yuzu shio broth. Yuzu is a citrus fruit that resembles a grapefruit. With their yuzu shio broth, it is lighter and more refreshing compared to other ramens. Definitely an experience we recommend giving a try! And to complete your meal, we suggest adding a yummy soft shell crab bao.
What to order: yuzu shio broth, soft shell crab bao
Address: 140-7971 Alderbridge Way, Richmond, BC V6X 2A4
Website | Instagram | Facebook
3. Maruhachi Ra-men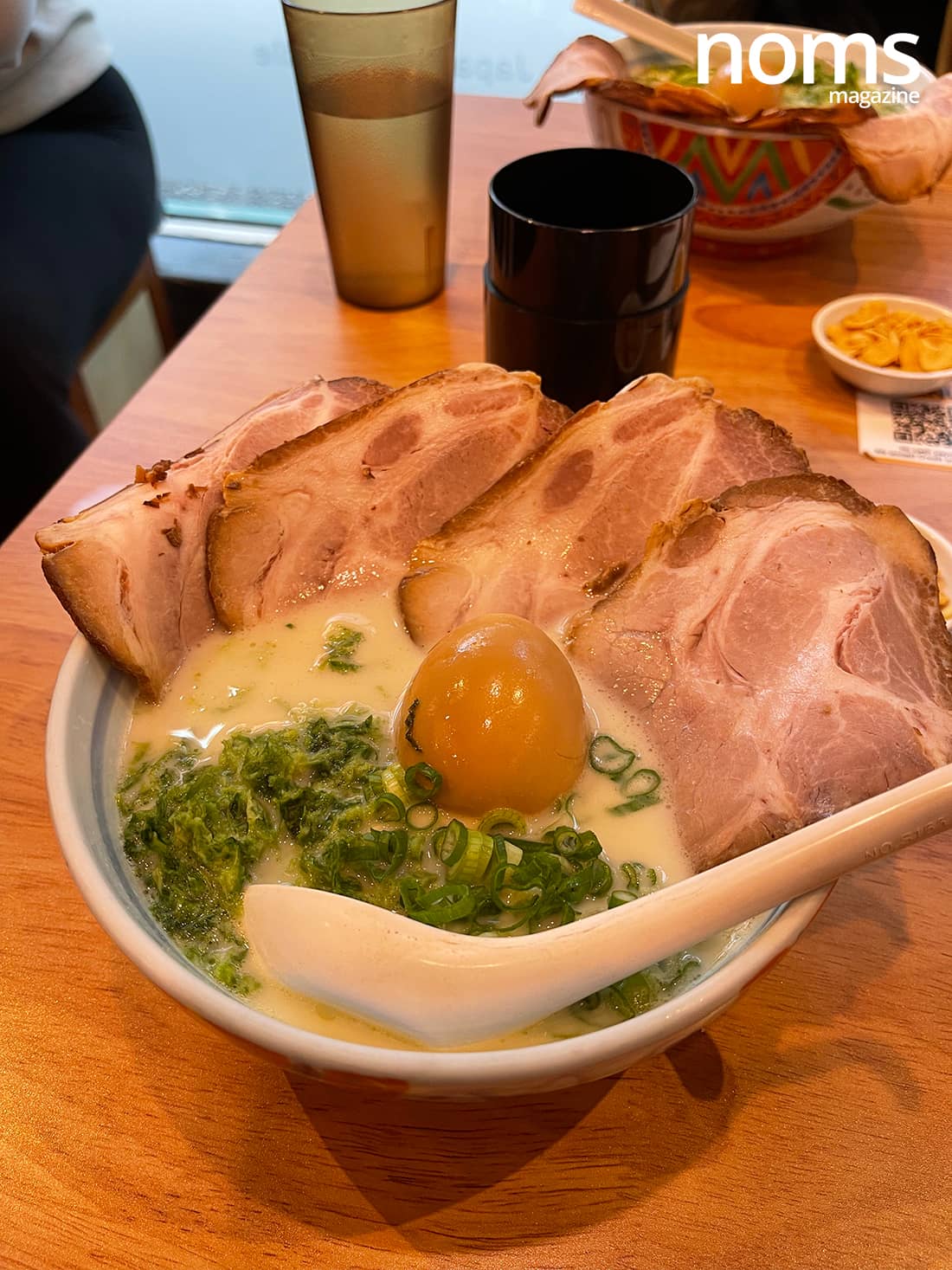 Maruhachi Ra-men is a mega-popular ramen joint that started off with their first shop in Downtown Vancouver, but now has tons of locations around Metro Vancouver – Richmond included. And if you ask any Vancouverite about where to get ramen, Marutama will surely be in the first 3 names they list out. And there's a good reason why it has been mentioned in our best ramen in Vancouver list.
When you head to Maruhachi, there's one absolute dish you must order: their signature Tamago Ramen. The creamy chicken broth is made from hours of skill and precision by their ramen chefs. And the tamago (egg) is marinated with soy sauce to give it extra umami to the gorgeous satisfying gooey ramen egg. Get the Tamago ramen and you're set.
Pro tip: Always remember to add garlic chips condiment for a complete ramen experience.
What to order: Tamago Ramen
Address: 2780 No. 3 Road, Richmond, BC V6X 2B3
Instagram | Facebook | Website
2. Ichigo Ichie Ramen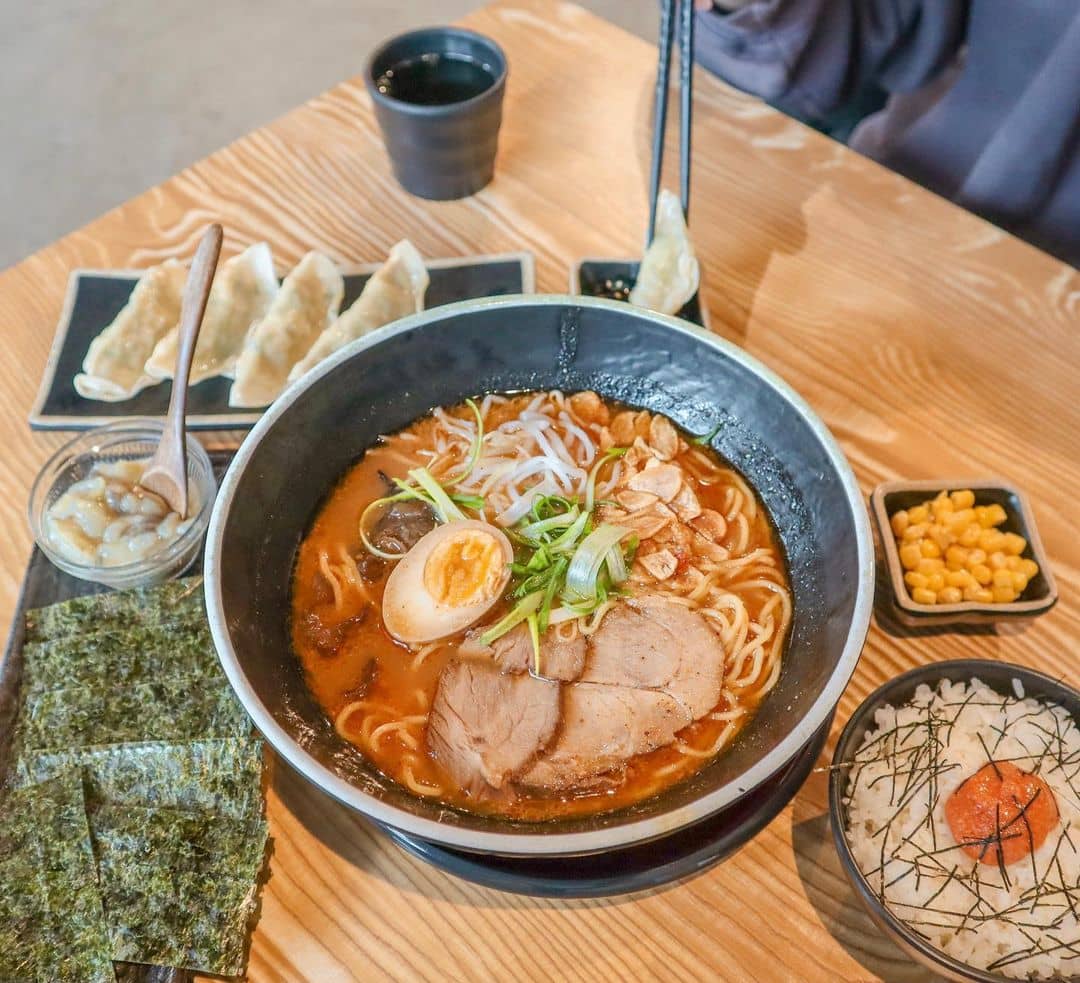 Ichigo Ichie Ramen prides itself to be the most slurp-worthy ramen spot in Richmond and they have every right to be. They serve the traditional hot ramen but also make cold ramen. All the more reason to drop by their store in any weather!
You can choose from a wide array of ramen broth options like shoyu or soy sauce, shio or sea salt, miso or soybean paste, mayu or garlic oil, and vegetable broth. Make sure to order the Mayu Ramen that is made with green onion, bean sprouts, shiitake, seasoned egg, chashu (roasted pork), and garlic oil topped with deep-fried garlic.
Pro tip: Be ready with a drink on one hand because the Mayu Ramen can be spicy!
What to order: Mayu Ramen
Address: 150-11060 No.5 Road, Richmond, BC V7A 4E7
Website | Instagram | Facebook
1. G-men Ramen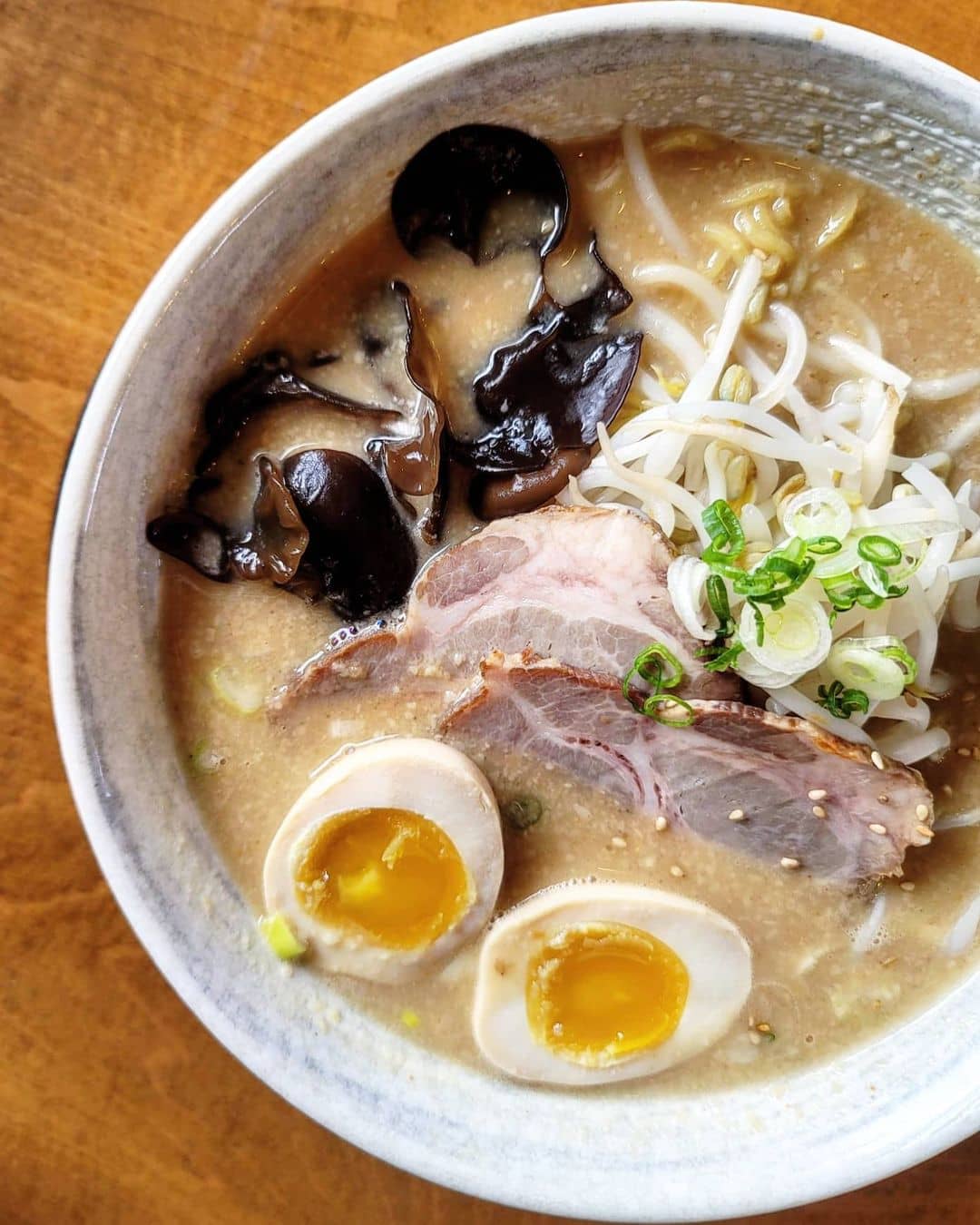 If you love ramen, then you've got to visit G-men Ramen. We highly recommend this restaurant for you to have a unique Japanese food experience because they offer an authentic approach to Japanese cuisine. G-men Ramen is reminiscent of the back alley ramen joints that can be found in Tokyo where locals often go.
They offer various Japanese food items like the classic Tan Tan Ramen which comes with a special spicy peanut paste in pork broth. But you know what? They are known for their Spicy Trap, a soupless thick noodle that is tossed in a deliciously spicy shoyu broth. It's the perfect combination of a hot and spicy broth with chewy noodles.
Pro Tip: Don't get confused if the noodles of the Spicy Trap are served separately from the broth. Just dip the noodles in the broth before eating!
What to order: Tan Tan Ramen, Spicy Trap
Address:
-G-men at Steveston Ramen Shop – 3711 Bayview Street, Richmond BC V7E 3B6
-G-men NanChuu Ramen Shop – 8391 Alexandra Rd #1160, Richmond, BC V6X 3W5
Website | Instagram | Facebook
There you have it. If you are craving for some ramen, check out all the ramen from our list. We hope that you enjoy trying all that these restaurants have to offer. If you feel like having more than just a bowl of ramen, we have also curated a list of the best Japanese restaurants in Richmond.
How We Create Our "Best" Lists
All Noms Magazine's "best" lists are created using multiple factors and signals to help readers find the best restaurants, things to do, and places to stay at. Some of these factors and signs include personal experiences, correspondence with locals, and compiling experiences from review sites.
Each list is also created to be balanced (in terms of price, cuisine type, ambiance, and more) as possible. This means that the lists are not specifically created in ranking order. You should be comfortable picking from any of the spots on the list and generally have a good time. But of course, YMMV (your mileage may vary) and everyone may have different experiences/palates.