If you're in Richmond and looking for a great spot to grab some breakfast, we've got you covered. This place has some of the best restaurants that serve up an amazing array of items to get your day started.
Breakfast in Richmond is popular among locals and visitors, but finding just the right Richmond breakfast spot can get challenging if you're visiting for the first time.
To help you out, we've put together a list of the best spots to hit up for your next breakfast in Richmond.
10. Jimmy's Tea House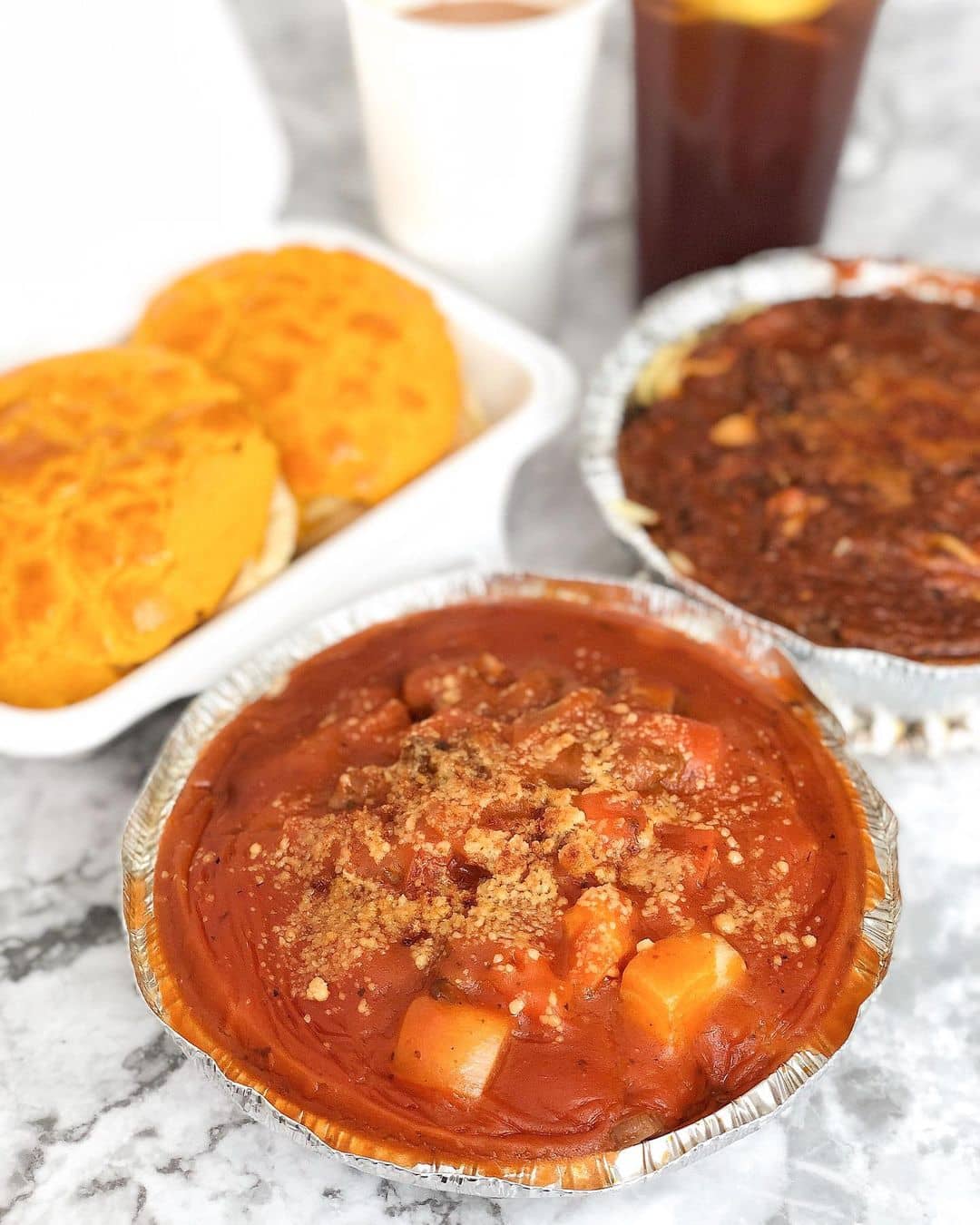 Located at the mall in Admiralty Centre in Richmond, Jimmy's Tea House is a food court vendor that serves tea, coffee and meals prepared by some amazing chefs. With a great emphasis on quality and freshness, Jimmy's Tea House is a popular spot among the locals and is the idyllic place to stop by for a bite to eat or a hot drink.
There are some amazing deals and affordable breakfast items till 11 am at Jimmy's. The Ham and 2 Eggs is served with your choice of toast and a free hot or cold drink. Their noodles are made in house and served with your choice of steak, pork chops or chicken Steak. For a special treat to yourself, order the Condensed Milk and Peanut Butter Toast that simply has to be tried to be believed.
Address: 2108-8700 McKim Way Richmond, BC V6X 3Z7
9. Hong Kong Flavour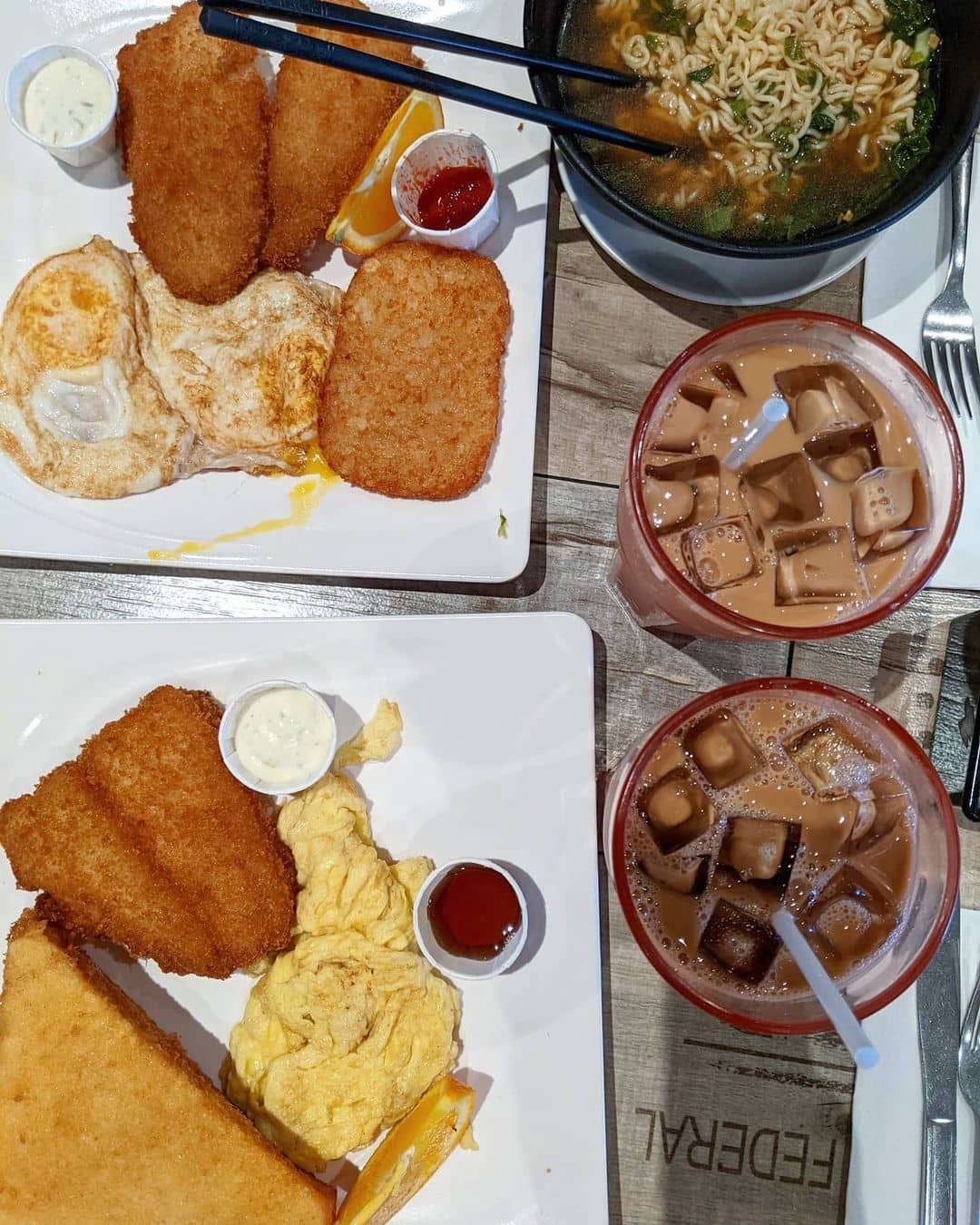 Keeping true to the traditional Hong Kong style tea restaurants, Hong Kong Flavor successfully transports you down a nostalgic trip of appetizing Cantonese cuisine. Decorated with culture and legacy in mind, Hong Kong Flavor is known mainly for its affordable menu and superior haute cuisine. The wonderful vibe, and friendly servers are some of the many reasons Hong Kong Flavor is popular in Richmond.
The Baked Pork Chop With Rice and the Curry Brisket with soft, tender meat and a creamy sauce are a delight to any meat lover as is the Sweet & Sour Chicken with Pineapple. The Hong Kong Style Breakfast is massive and consists of ham, bacon, sausages, fried eggs, wontons, hash browns, french toast and a pineapple bun.
Address: 104-10151 No.3 Road Richmond, BC V7A 4R6
8. Cannery Cafe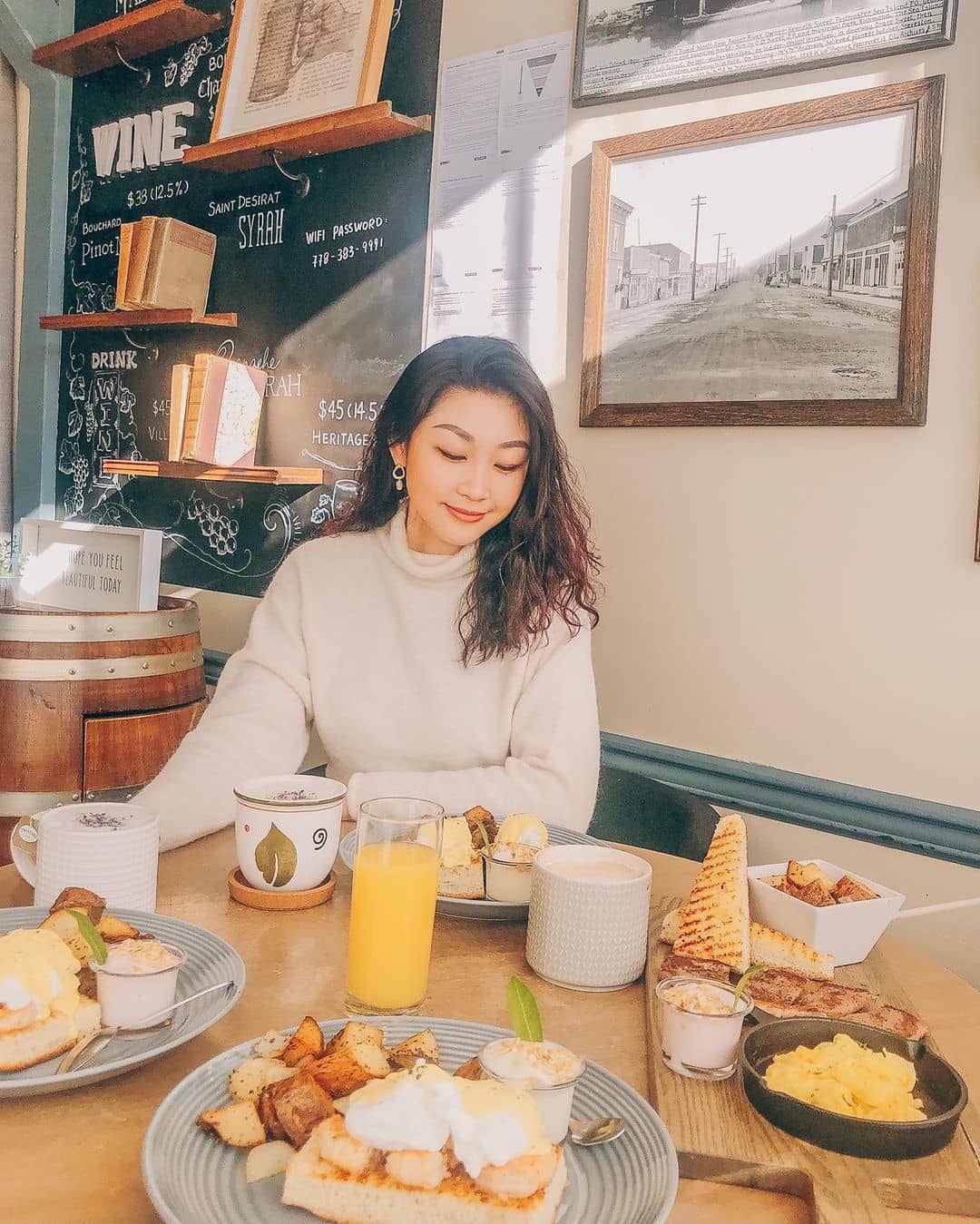 Do you envision having breakfast at a quaint scenic spot? You'll love Cannery Cafe in Steveston Village! It was filmed as Granny's Diner on ABC's Once Upon a Time. If you're a fan of the show or just looking for some really good food, try out this picturesque sophisticated cafe that serves comfort and Asian cuisine. Combine that with welcoming staff, generous portions that are reasonably priced and you have the perfect recipe for a relaxed breakfast.
Order their famous Chicken & Waffles. With a perfect batter crust on the chicken, fluffy yet crispy waffles with their secret syrup, this is one dish that will have you coming back for more. One of the more popular items is the Granny Chowder which you should definitely order. The superb Shanghai Dim Sum might feel out of place, but you're eating at Granny's Diner, so no worries. Sit back, relax and enjoy a truly magical breakfast.
Address: 3711 Moncton St, Richmond, BC V7E 3A5
Website | Instagram | Facebook
A rundown of all the best restaurants, cafes, shops, and places to stay in the Steveston Village area.
7. Empire Seafood Restaurant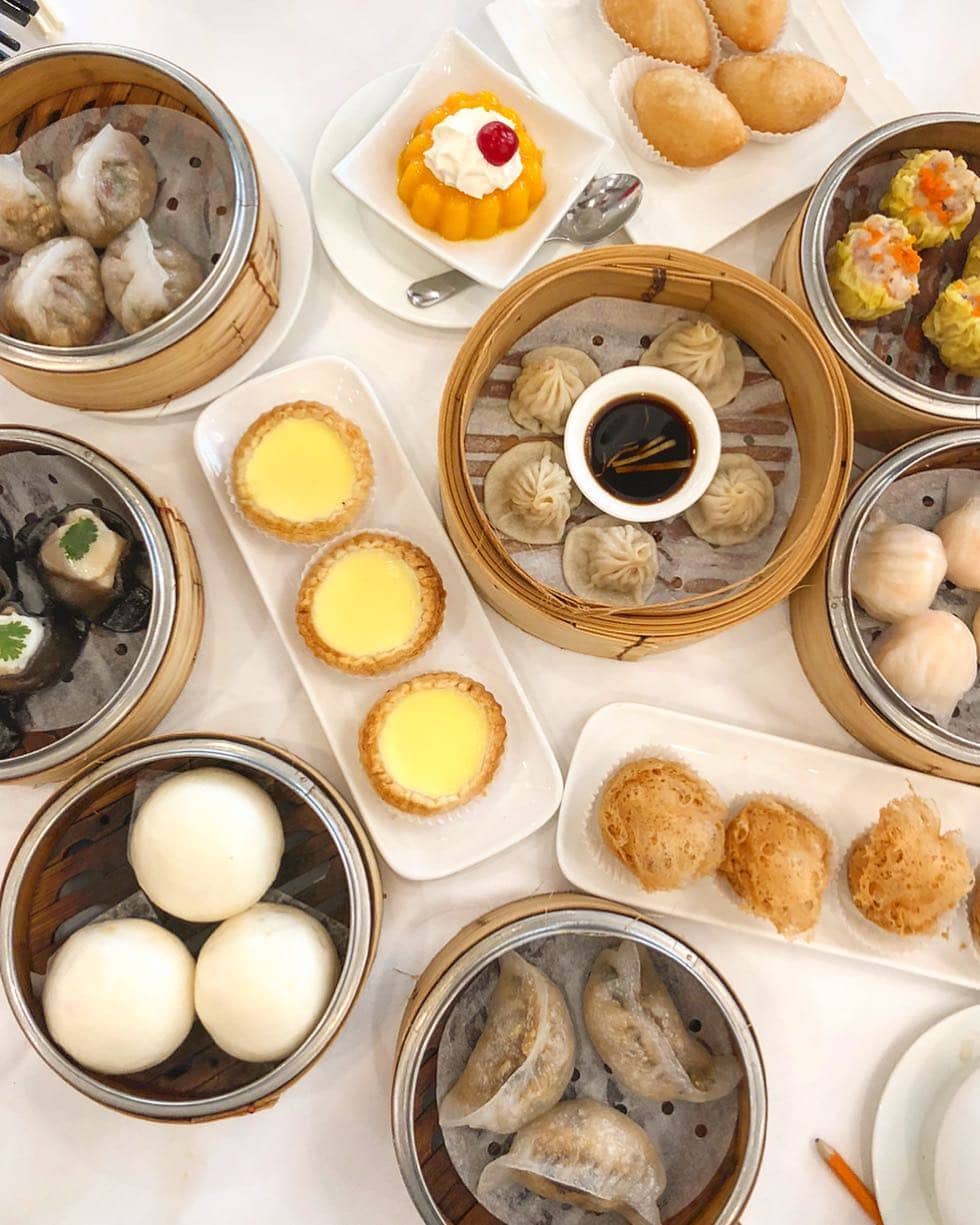 Authentically poised as one of the best Chinese breakfast spots, is Empire Seafood Restaurant. Serving genuine Cantonese fare and live seafood, this spacious and well decorated restaurant has over a hundred dishes on their menu, each as delicious as the next. The staff here are highly professional and very well trained. Service is always pleasant and attentive.
Dim sum is a wide variety of Chinese dishes that are typically served in restaurants for breakfast and lunch. Try the deep-fried Taro Balls with bbq duck inside, or the Shrimp Spring Rolls and Fried Eggplant with Shrimp Puree. To experience a true Chinese breakfast order the Salted Pork Congee served with a soft creamy Century Egg.
Address: 5951 No 3 Road Unit 200 Richmond, BC V6X 2E3
6. CAVU Kitchen Bar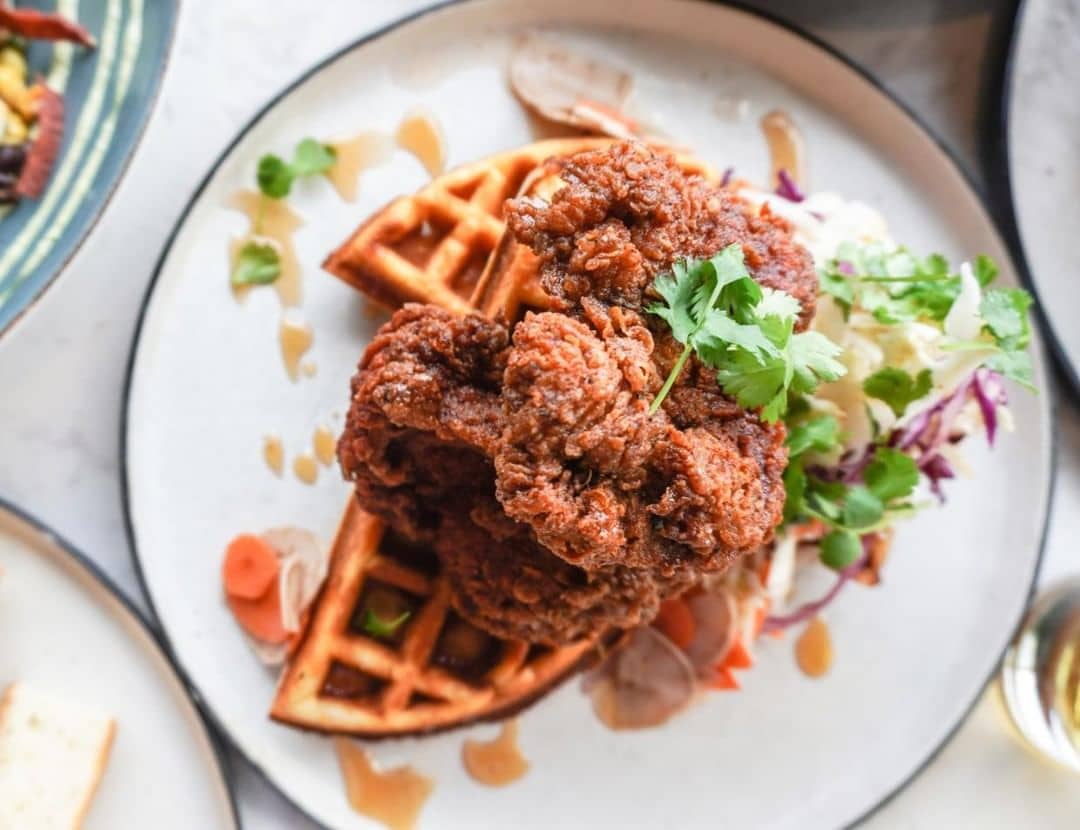 Combining both elegance and class with comfort and warmth isn't easy, but CAVU Kitchen Bar takes it to another level. They love feedback, and constantly strive for perfection in the kitchen to create some amazingly upscale comfort food that just blows you away. With a lot of open space and a relaxed ambiance, CAVU is the ideal place to enjoy a family breakfast or even curl up in the corner for some much-needed solitude.
Like the name says, the Breakfast Beastie is a real beast with folded egg, smoked bacon, cheddar cheese, and chipotle aioli served on a freshly baked brioche bun and crispy hash browns on the side. The Vegetarian special here is the Cavu-cado Sourdough Toast with two perfectly poached eggs, smashed avocado, and grilled tomatoes.
Address: 5911 Minoru Boulevard Richmond, BC V6X 4C7
Website | Instagram | Facebook
5. Davood's Bistro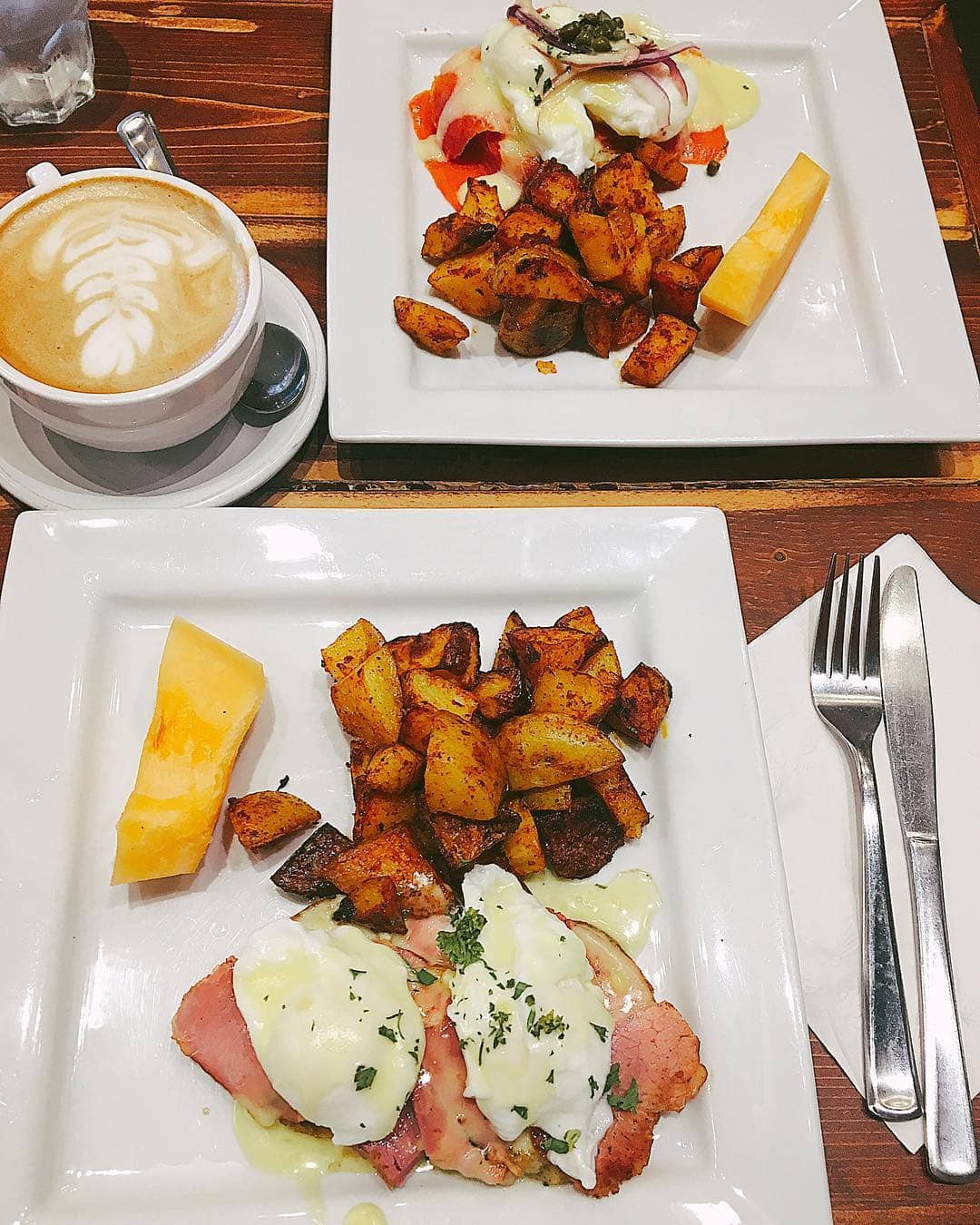 The perfect spot for a lazy breakfast, Davood's Bistro is where you stop for brunch in a relaxed atmosphere. The ambiance is modern comfort, the menu is multi-culturally inspired and the servers and owner are probably the nicest and most helpful staff you could find at a cafe. Small and cozy, Davood's is always filled with friendly chatter amongst the patrons and laughter in the air.
If you drop by for breakfast, order their Steveston Eggs Benedict (West Coast Style), with fresh salmon and fruit. We personally think you could share the Lumberjack Hash (two scrambled eggs, home potatoes, corned beef, caramelized onions, tomato, and cheddar on whole grain toast) or the Chatam (two scrambled eggs, home potatoes, tomato beans, smoked bacon, caramelized onions, cheddar, whole grain toast, two warm belgian waffles, and real maple syrup). Great value for money!
Address: 12420 No 1 Rd #120 Richmond, BC, Canada V7E 6N2
4. River Road Cafe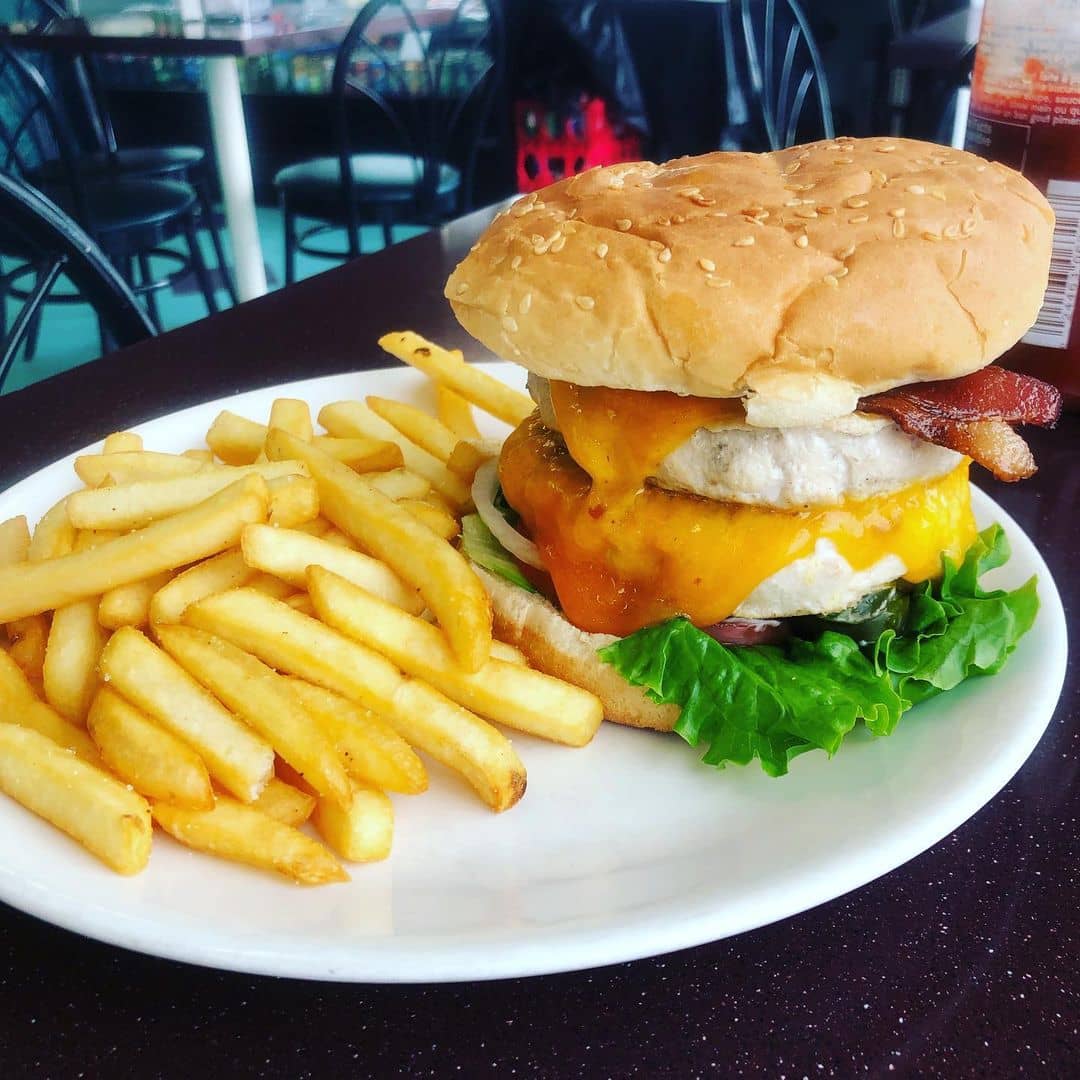 A lovely little cafe in North Richmond, River Road is run by a charming Brazilian couple that prepares some of the most authentic and popular Brazilian dishes to be had. With a homely comfortable vibe resounding through the cafe, enjoy a lazy brunch at River Road Cafe and treat yourself to authentic homemade Pastels, sausages and a wide variety of western and Asian dishes as well.
Start off with their amazing Rice and Beans served with a variety of choices like pulled pork or beef, meatballs and smoked sausage. Their more popular Pastel has to be tried. The Pastels at River Road Cafe are rectangular-shaped pies that have the most amazing and delicious fillings in them, from cheese to meat, shrimp, and veggies. Finish off with a plate of brigadeiros, a classic Brazilian chocolate truffle.
Address: 11782 River Road Suite 102 Richmond, BC V6X 1Z7
Website | Instagram | Facebook
3. Lido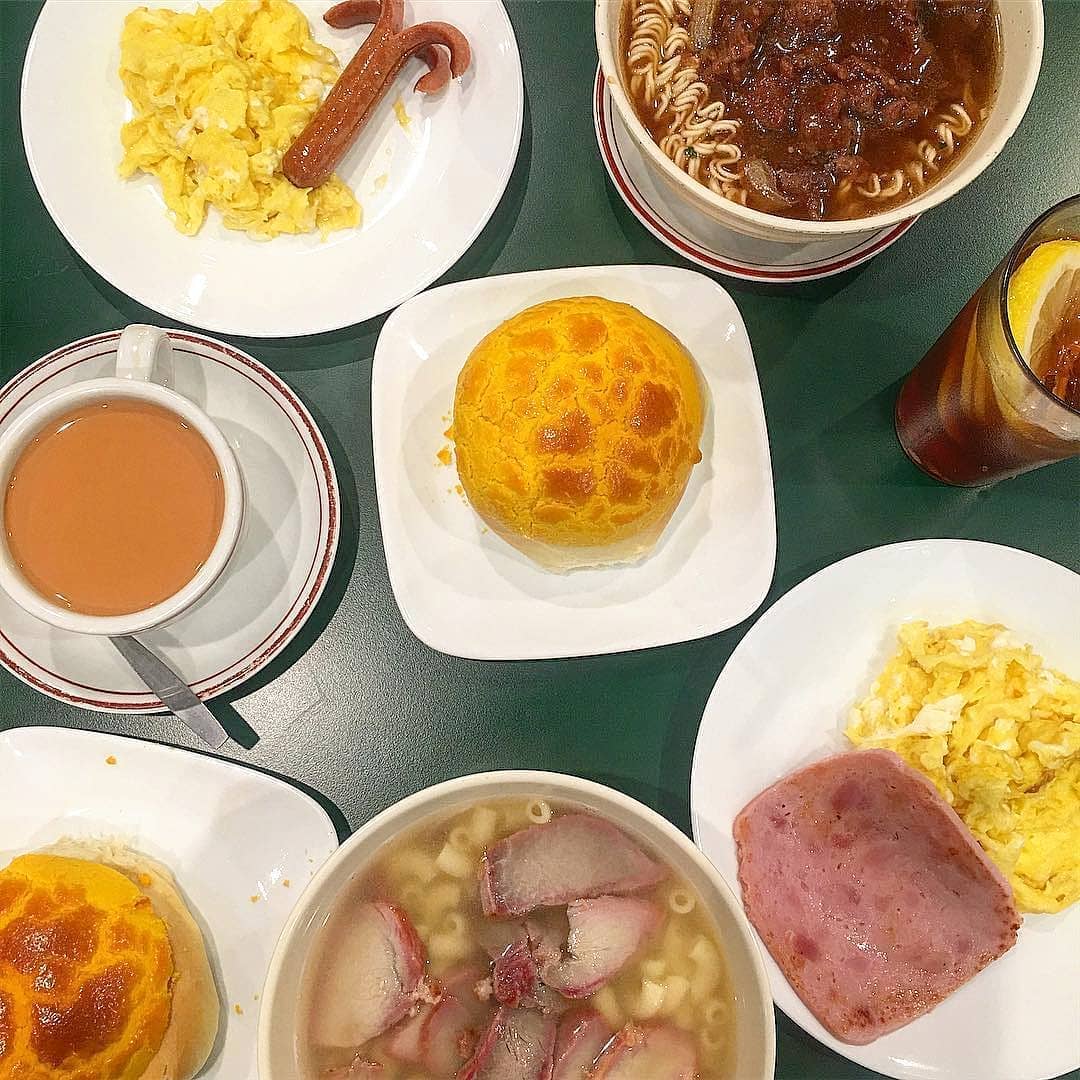 If a restaurant can be centered around one item, then Lido's is the place to go for the most authentic pineapple bun in Richmond. This popular cha chaan teng (Cantonese tea restaurant) has a cult-like following for their delicious breakfast. They have two types of breakfasts; continental and Cantonese, and both are spectacular. Be prepared to wait for a table because Lido's is really that popular.
Obviously, try their Pineapple Bun! Fresh out of the oven, crusty on top with a slice of cold butter in between. Their famous flaky and creamy Egg Tarts are extremely popular too and sometimes sell out faster than the buns. We highly recommend everything here, especially the Satay Beef Noodle Soup Combo and the Seafood Congee Combo.
Address: 4231 Hazelbridge Way Suite 150 Richmond, BC V6X 3L7
2. Harold's Kitchen & Bar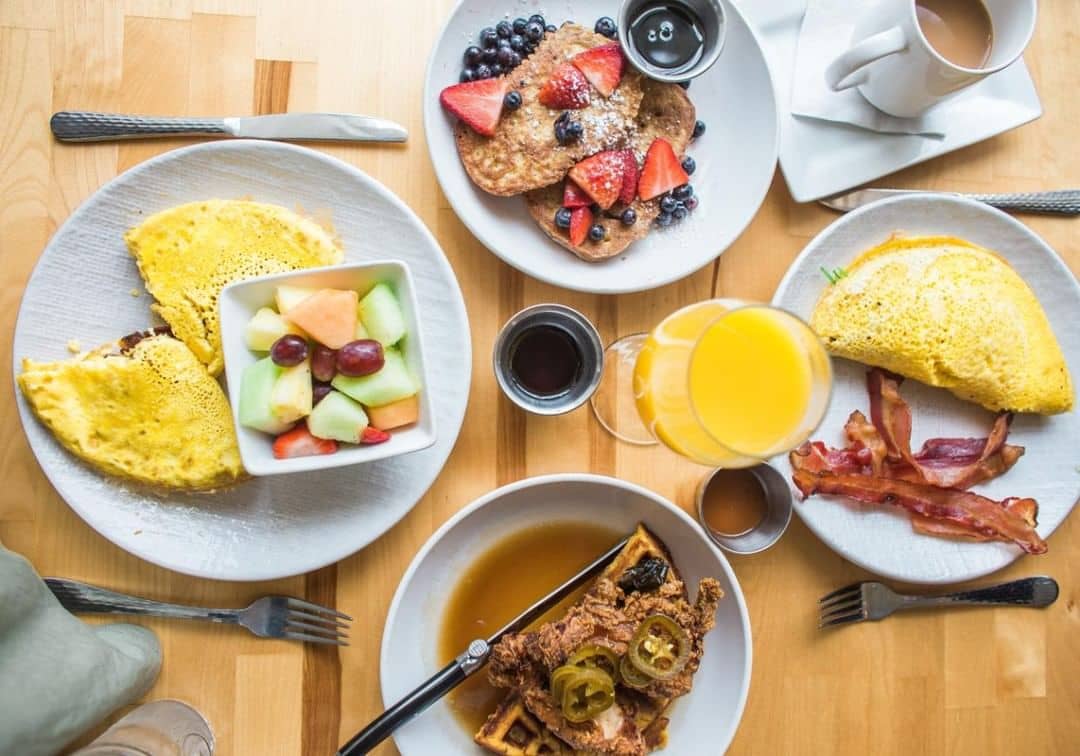 Spacious, and with a main dining area, a patio and a lounge, Harold's Bistro is the modern equivalent to fine home dining. Located in the lobby at the Sheraton Airport Hotel in Richmond, Harold's is a delightful place to hang out with your family or catch up with friends over a spot of brunch. There is a tropical feel to this restaurant with trees swaying in the background of the hotel's swimming pool, and a square bar overlooking tables with umbrellas.
If you show up for breakfast at Harold's Bistro you have to try the French Toast and BLT sandwich that are among the most popular items here. The French Toast is made from cranberry bread with an apple cinnamon compote and mascarpone, topped with genuine Canadian maple syrup. Their classic take on the BLT features a generous serving of locally sourced bacon, french mayo and crispy fries. Wash it down with some assorted Tazo tea served both hot and chilled.
Address: 7551 Westminster Highway Richmond, BC V6X 1A3
Website | Instagram | Facebook
1. The Story Cafe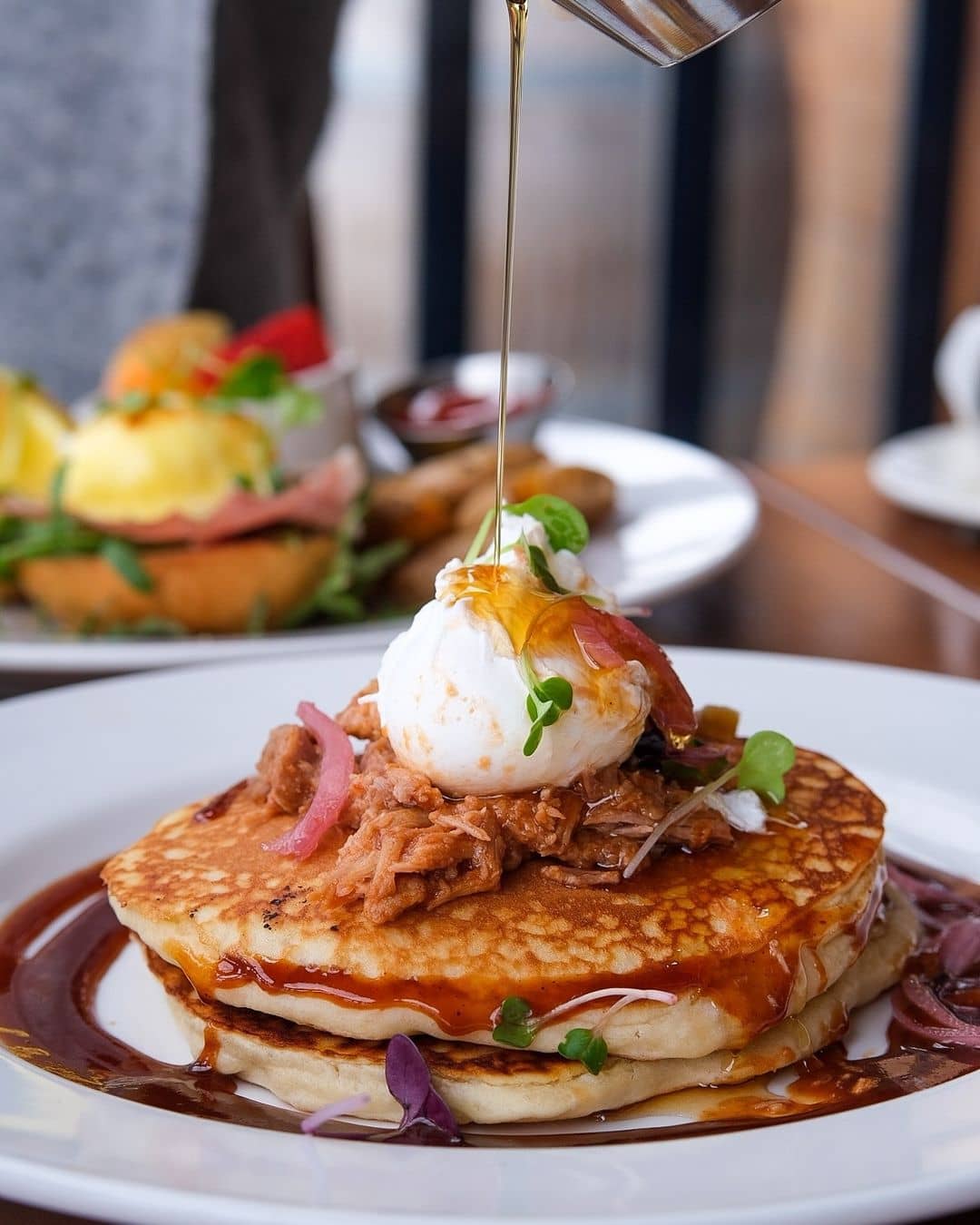 Converted from a thirty-year-old bar to an eclectic, groovy new concept restaurant, The Story Cafe is home to great music, amazing continental food and a wonderful atmosphere. With brand new sun and wind protectors installed, the Story Cafe is the perfect spot in Richmond to grab breakfast or brunch. Located in the heart of the industrial area, with an ambiance that transcends different decades, the Story Cafe is where you go to create new memories.
Their breakfast menu is overflowing with amazingly energizing and diverse offerings. Try their Pan Seared Chilean Sea Bass, or the Crispy Chicken Bennies served with a toasted English muffin, arugula, fried chicken, and hollandaise, with a side of fruit. The succulent BBQ Pulled Pork Pancakes with a poached egg, and their fantastic homemade creamy Cheesecake are super delicious.
Address: 2800 Sexsmith Road Richmond, BC V6X 1V5
Website | Instagram | Facebook
That wraps up our list of the Best Breakfast Spots in Richmond, and we hope you find your next favourite among them. If you're planning a longer stay, and looking for some great dinner options, check out our list of the Best Japanese Restaurants in Richmond.
How We Create Our "Best" Lists
All Noms Magazine's "best" lists are created using multiple factors and signals to help readers find the best restaurants, things to do, and places to stay at. Some of these factors and signs include personal experiences, correspondence with locals, and compiling experiences from review sites.
Each list is also created to be balanced (in terms of price, cuisine type, ambiance, and more) as possible. This means that the lists are not specifically created in ranking order. You should be comfortable picking from any of the spots on the list and generally have a good time. But of course, YMMV (your mileage may vary) and everyone may have different experiences/palates.