Searching for nice dessert spots in Richmond? You are in the right place!
That's because Richmond has a huge variety of different desserts, so there is no doubt you'll find something perfect for YOU!
Whether you're looking for ice cream, cakes, matcha items, tofu desserts – Richmond is the spot for Asian desserts. We compiled the 10 best dessert spots in Richmond you gotta try once if you're a dessert lover. Let's get started!
10. Screamers Soft Serve and Treats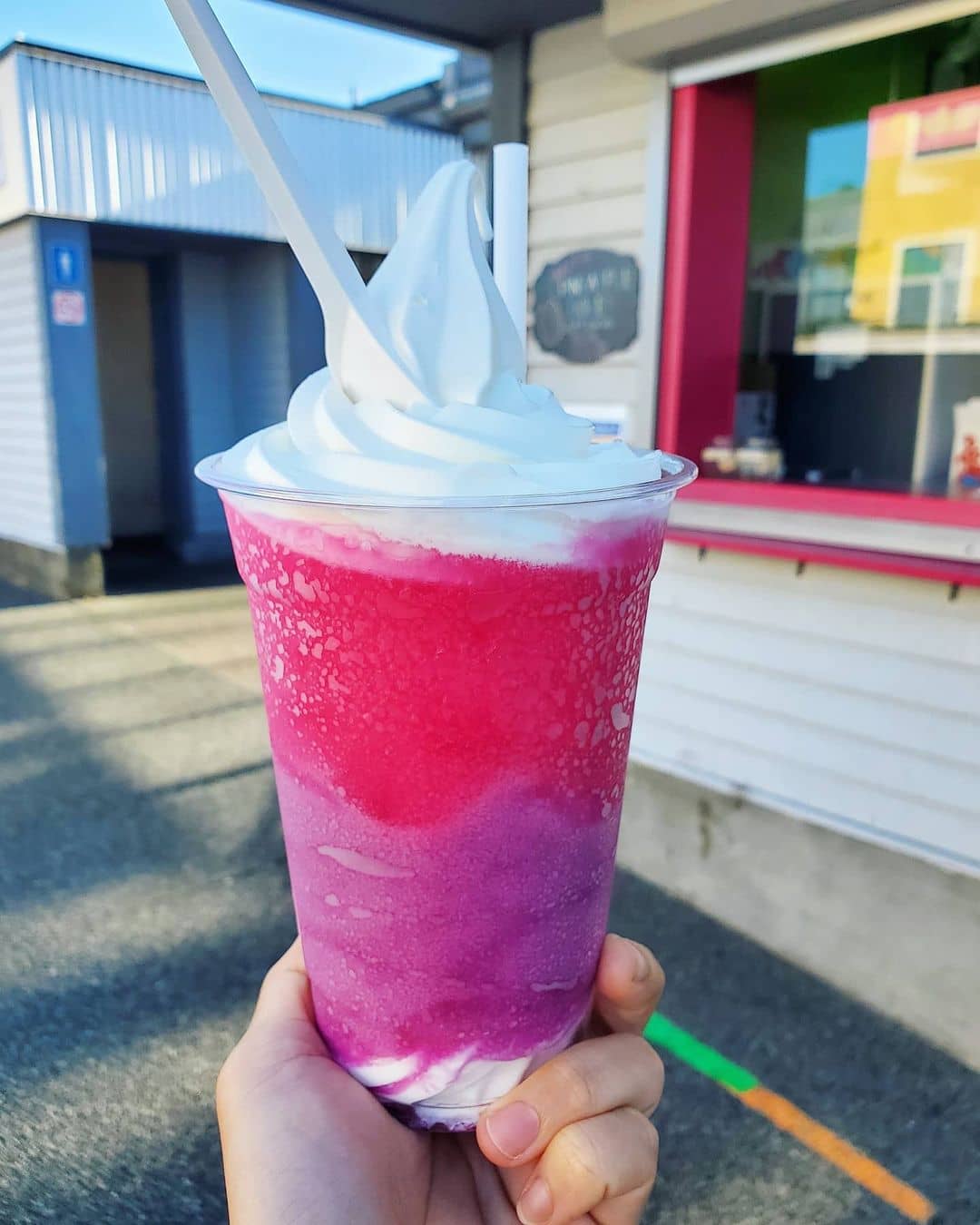 Screamers Soft Serve and Treats serves the most classy and basic desserts, but they never stop being tasty! Although Screamers is just a moderate shop at the corner of the Steveston Village area, it is a very popular place for tourists and locals to pick a treat while going around for a walk.
In other words, if you just simply want a cool-down treat or an after-meal snack, stop by Screamers for some mouth-watering Soft-serve and Slushie!
There are quite a lot of flavors for soft serve and slushie to choose from, and generally, you can combine any of them and still retain the great taste. In case you have no idea what to go for, a Pineapple Dole Whip might help! It's a great choice to refresh your tastebuds after a heavy meal, thanks to its sour and slightly sweet side.
You can taste the natural pineapple and will not forget this awesome treat when coming back to this area.
What do order: Orange Crush or Pineapple Dole Whip.
Address: 12211 3rd Avenue Richmond, BC V7A 1X4
9. Milk Cow Cafe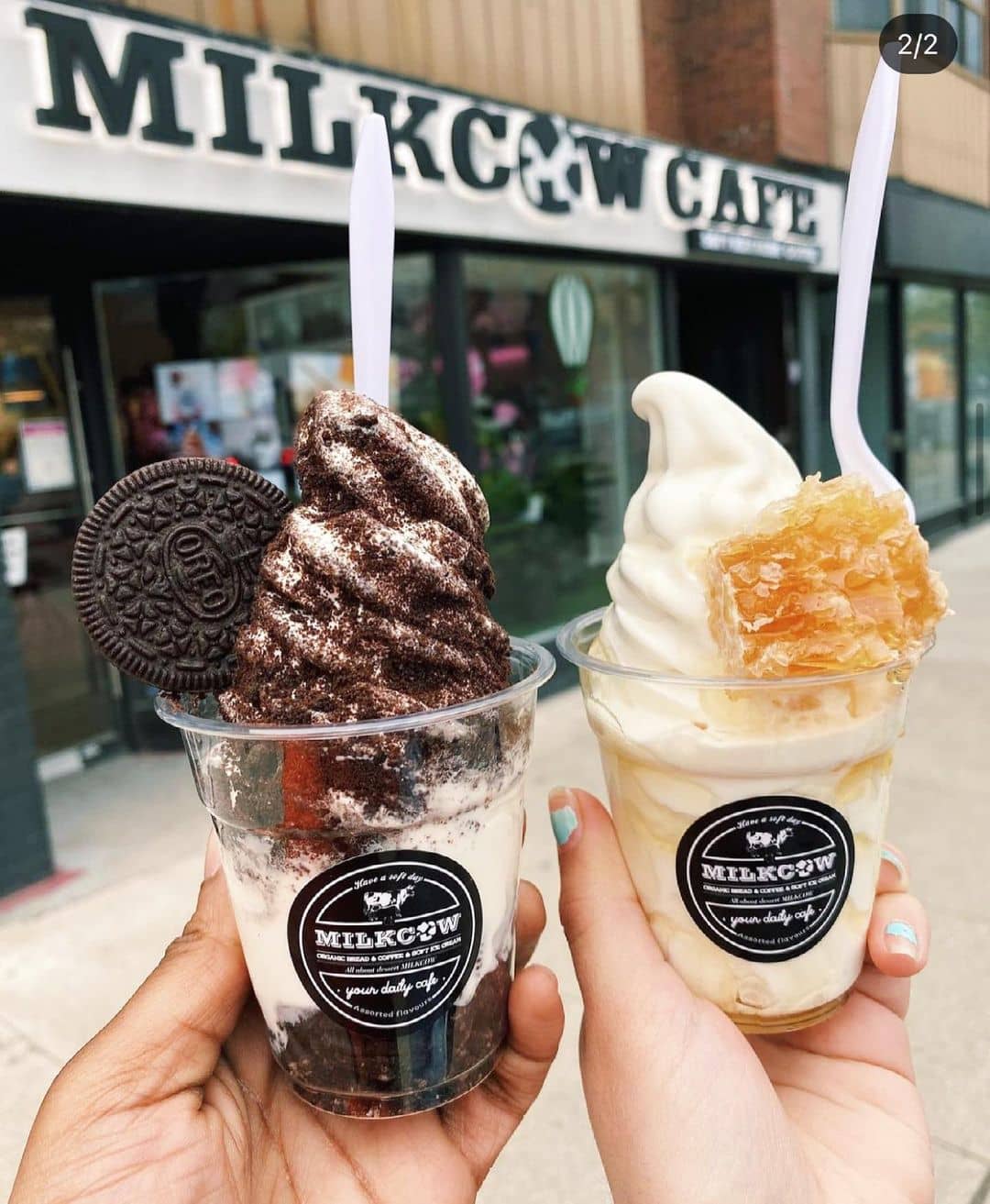 Of all the desserts, Milk Cow Cafe is a premium spot that offers ice cream with a creamy texture and milky taste like no other. "Pure milky goodness" is the correct way to describe this place.
It is surely a pity if you don't try Milky Cube when coming here! Made of natural milk soft-serve and topped with honeycomb, Milky Cube is undoubtedly super smooth and milky. Embracing such delightful sweetness, Miky Cube is calling out for the big sweet tooth!
Plus, they also have Santorini with cotton candy covered around the cup, which can bring up a new and exciting ice cream experience. But honestly, the soft-serve itself can still be the star of the show!
What to order: Milky Cube, Santorini, Cookie & Cream.
Address: 105-5668 Hollybridge Way Richmond, BC V7C 4N3
Website | Instagram | Facebook
8. ITofu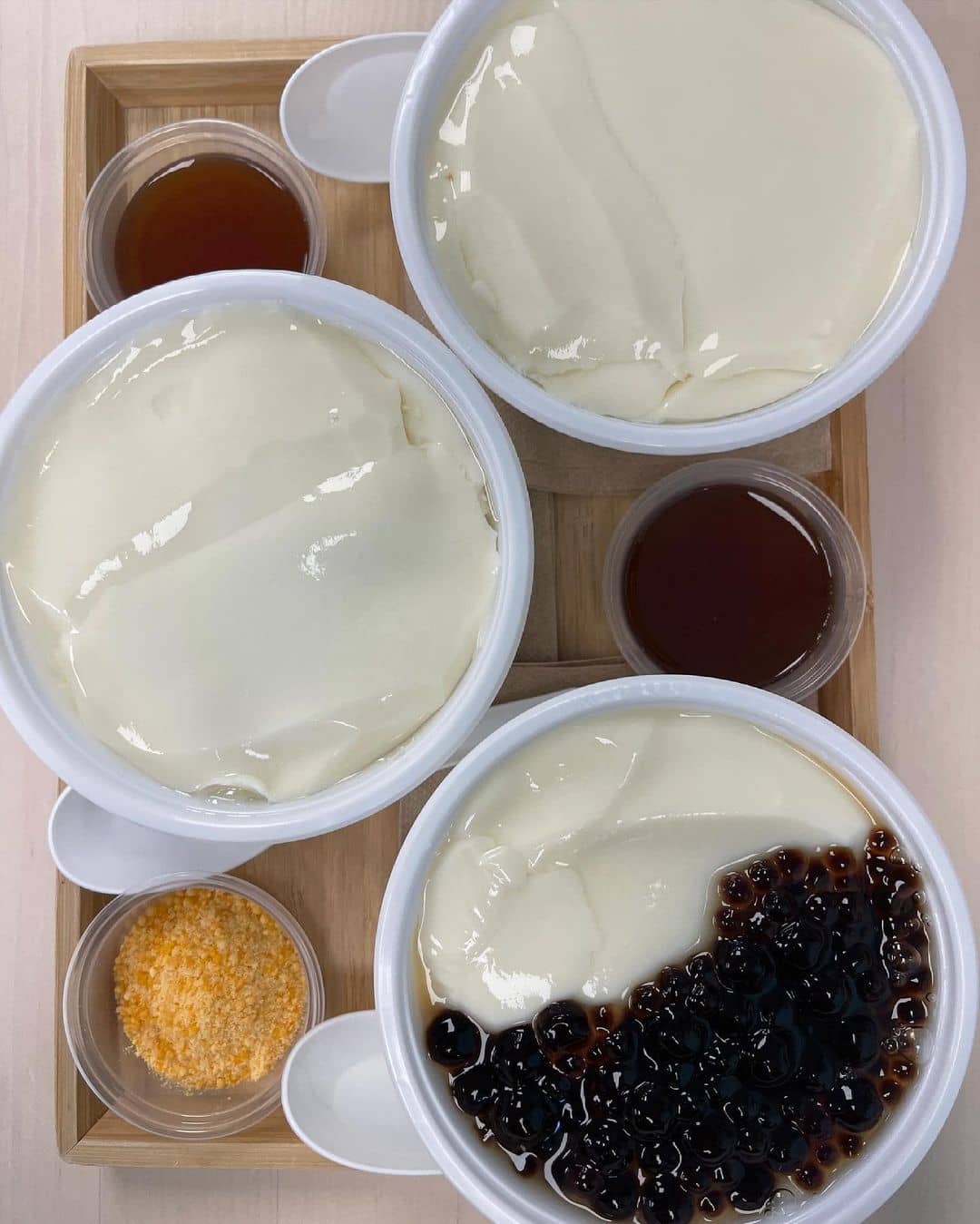 You can never go wrong with tofu, and today we call out Excellent Tofu as one of the best desserts in Richmond you should not miss out!
Excellent Tofu is a family-owned tofu shop that serves traditional, fresh daily-made soy pudding and soy milk. They are famous for their always-smooth-and-silky tofu, which has a light sweetness that can be perfect for those who don't have a big sweet tooth.
You can make a try with Tofucotta – a tasty yet mild flavor. The texture is somehow much like Panna Cotta, but much creamier and gets sweetened with cane sugar. Or else, you can have a Tofu Pudding and add in some toppings to make your dessert more enjoyable, such as sesame, red bean, or taro (very chewy by the way). But whatever you do, don't forget to put ginger syrup on your tofu, because it will bring out a spicy-sweet layer and totally change the game!
What to order: Tofucotta, Tofu Pudding.
Address: 125 – 4940 No.3 Road, Richmond, BC, Canada
7. J Squared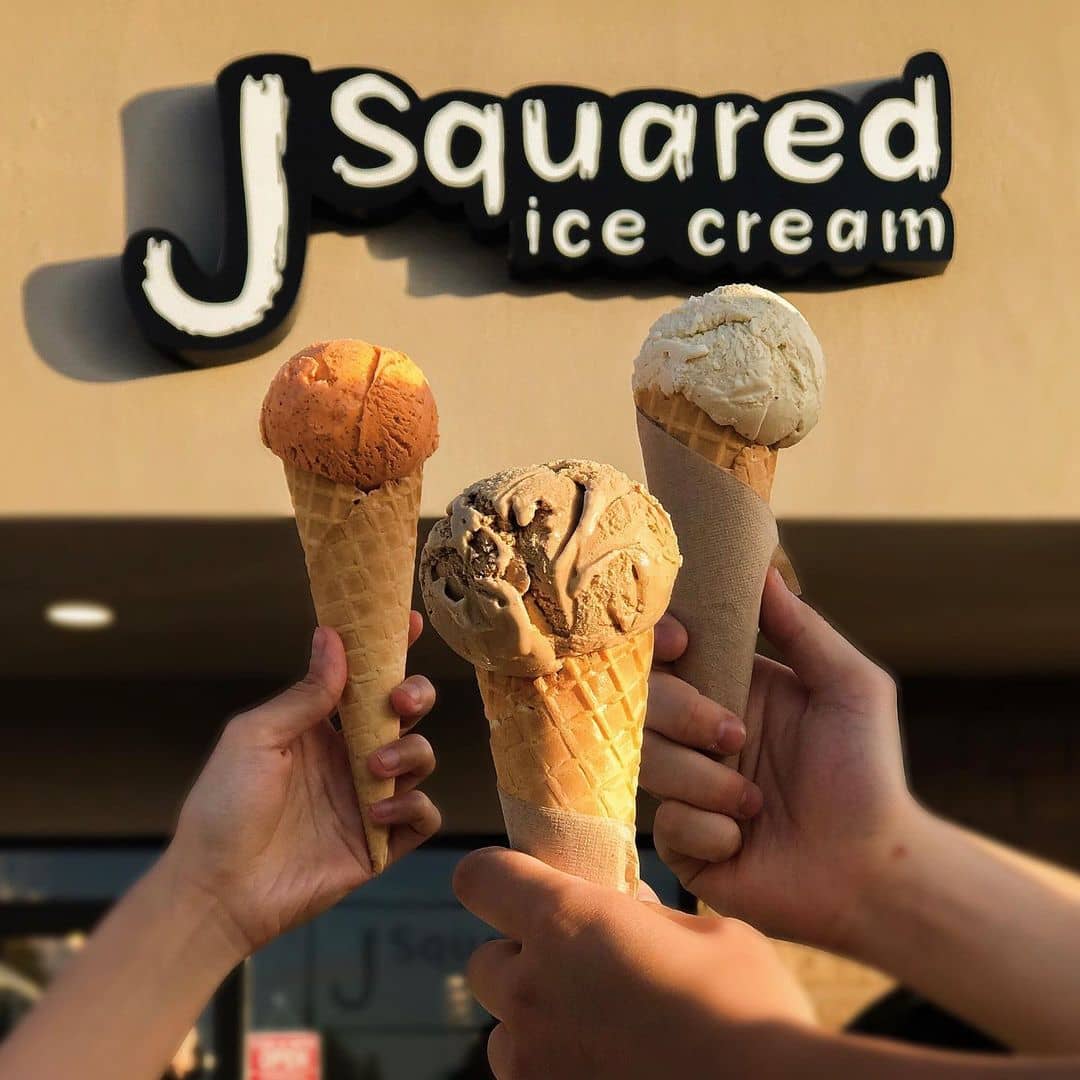 I scream, you scream, we all scream for ice cream! Ready to be mind-blown for Asian special ice cream flavors at J Squared, because they serve you desserts that you never think of. Exploring J Squared's menu is quite a pleasure, so we won't spoil it too much. But if you need a hint, we suggest you start with Shanghai Fog or Oolong Milk Tea.
With one bite of Shanghai Fog, you can immediately imagine yourself walking on a foggy day with drizzles and cars rolling by. Effortlessly, you can spot out that aroma of jasmine tea combined with a soothing, milky scent. Delicious with a strong tea flavor and creamy texture, we can say.
What to order: Shanghai Fog, Roasted Oolong, Vietnamese Ca Phe.
Address: 405-9100 Blundell Rd Richmond, BC V6Y 3X9
Website | Instagram | Facebook
6. Leisure Tea & Coffee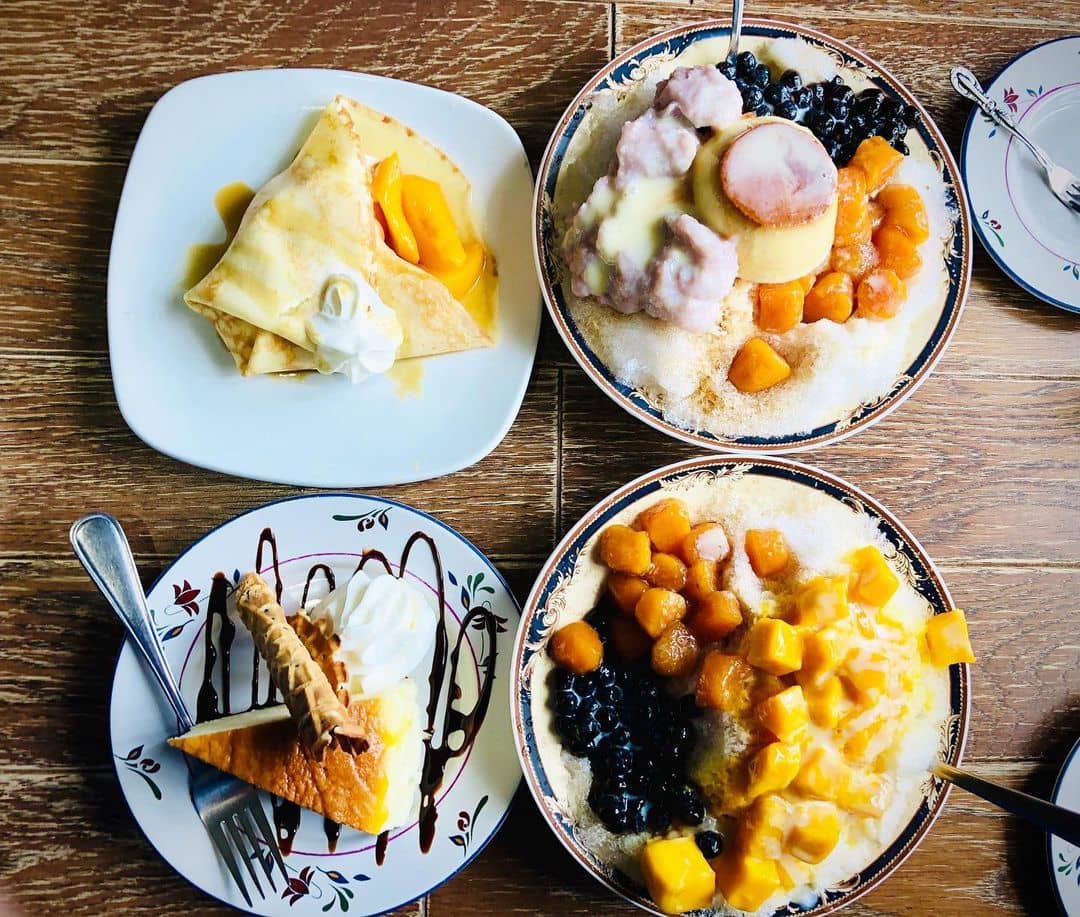 When entering Leisure Tea & Coffee, you will be impressed by its vintage and classic interior, which can easily bring you back to the cozy 1980's ambiance. We won't be surprised if you don't want to leave this cafe.
To be brief, Leisure Tea & Coffee is a family-owned Taiwanese coffee shop since 1987. Thanks to its lowkey, down-to-earth vibe and unique desserts, Leisure Tea & Coffee is the best dessert spot in Richmond for a relaxing hangout or just a study date by yourself.
Make sure to have a Tiramisu – the shop's specialty – to enjoy the smooth and creamy texture with infused rum on it. And don't just stop there, go for another Caramel Pudding! This is a true pleasure after a heavy meal since it's not overly sweet but you can feel that buttery mouthfeel.
Protip: pair the pudding with fruit tea so you can have your sweet-sour combo!
What to order: Tiramisu, Caramel pudding, Bubble Tea, Sweet Soup.
Address: 8391 Alexandra Road Richmond, BC V6X 3W5
5. Something Sweet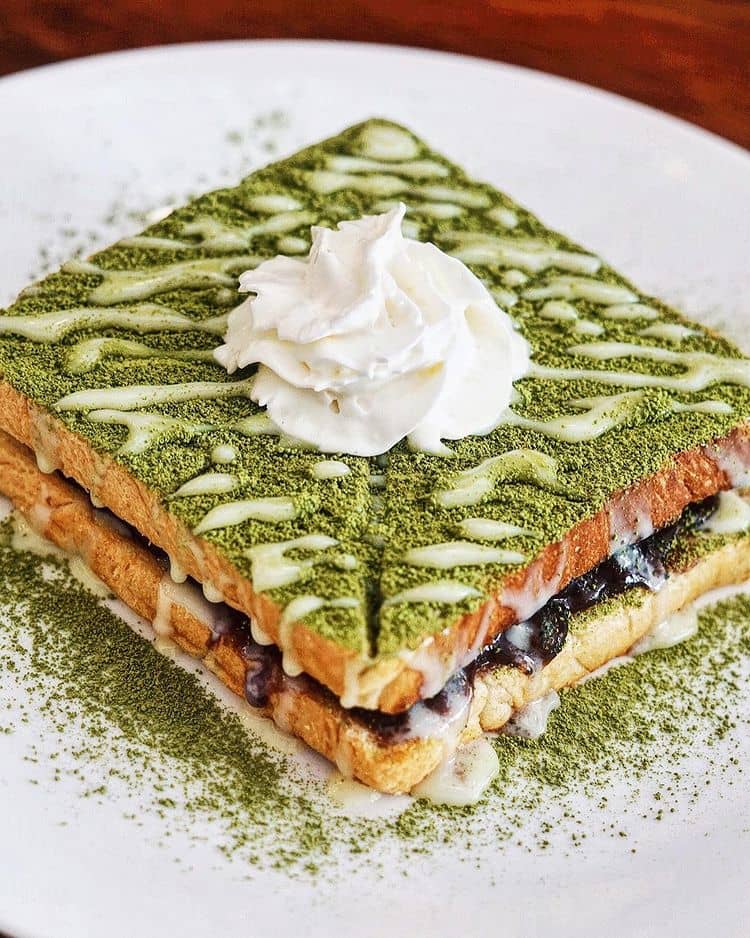 Something Sweet is where you can find the freshest ingredients on the table since most products are handmade fresh in-store. "Awesome desserts made with love and care", that's what we usually say when mentioning Something Sweet.
Something Sweet features a variety of frappes, dessert toasts, cheesecake, smoothies, and ice cream; but Brown Sugar Pearl Frappe and Matcha Red Bean Dessert Toast stand out of the crowd!
With a creamy bed and sweet sugar drizzle top, Brown Sugar Pearl Frappe doesn't need to take much effort to make you fall in love. Next is the Matcha Red Bean Dessert Toast, including mild sweet red bean and chewy mochi that is dusted with matcha powder. A balance of sweet, bitter, savory, and mouthfeels. Trust us, every bite is heaven!
What to order: Brown Sugar Pearl Frappe, Matcha Red Bean Dessert Toast, Mango Tapioca Dessert, Bean Dessert Toast.
Address: ​​160-12420 No.1 Road Richmond, BC V7E 6N2
Website | Instagram | Facebook
4. Tsujiri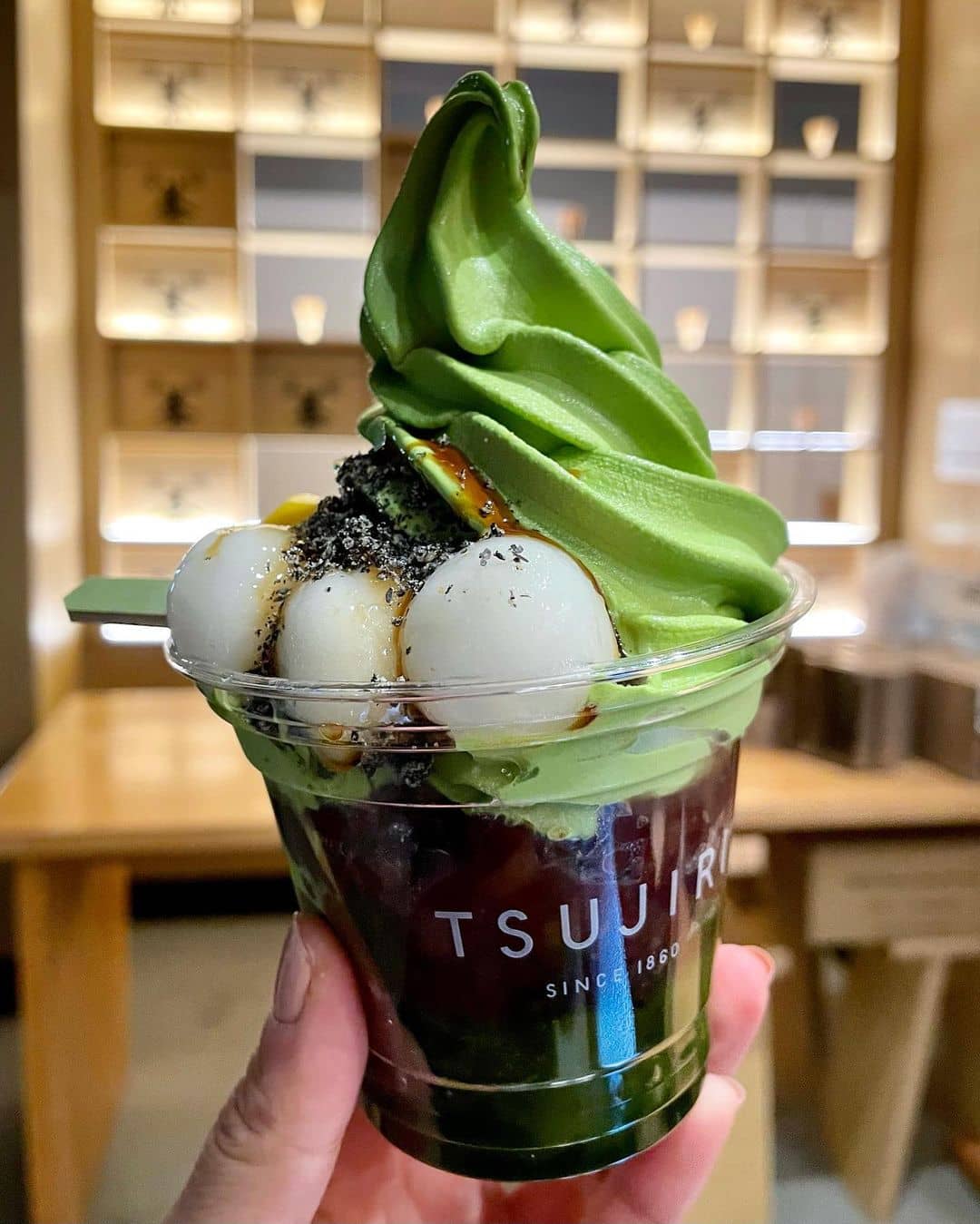 Another matcha heaven for all the matcha-addict! Tsujiri is a green tea-infused fusion restaurant. Or in short, they have rice dishes, noodle soups besides desserts. However, if you want to access their food menu, you will need to make a reservation beforehand.
For Tsujiri, they use premium matcha powder that comes straight from Kyoto, which results in their remarkable desserts in taste, quality, and presentation as well. Since this is your first time coming here, don't hesitate to start with Matcha Cake or Matcha Parfait. You can constantly feel that earthy, creamy taste while all the flavors blend harmoniously. No doubt that you will ask for more!
What to order: Matcha Cake, Matcha Soft-serve, Matcha Parfait, Yuzu Matcha.
Address: 1535 – 4777 Mcclelland Road Richmond, BC V6X 1C5
Website | Instagram | Facebook
3. Matcha Cafe Maiko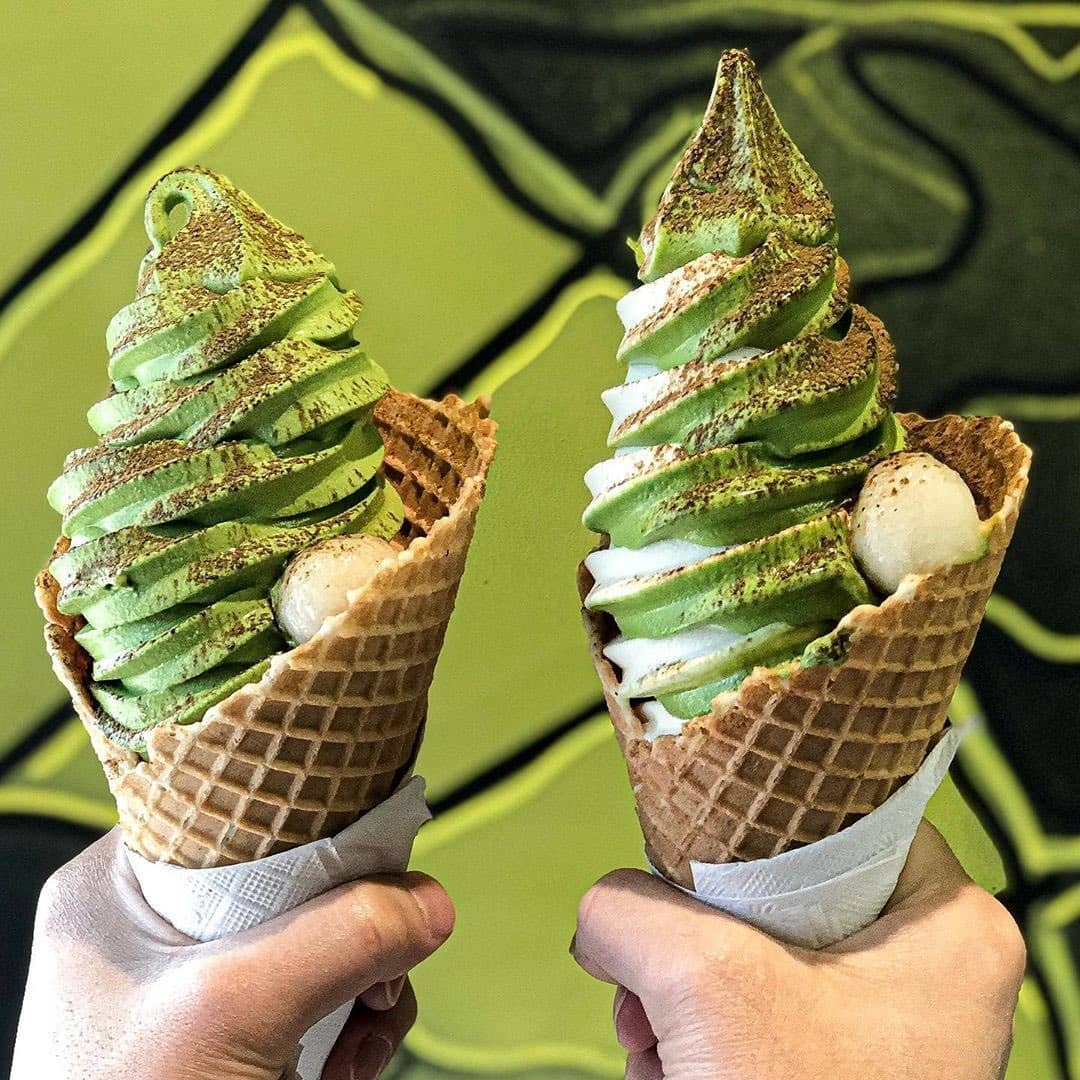 This time, we call out for the matcha-lovers! Matcha Cafe Maiko is a popular global brand that started in Hawaii and is widely known for its premium matcha. Come by if you are looking for healthier and fresher desserts!
Don't miss their specialty – the Matcha Soft-serve. Here is a tip, try mixing matcha with vanilla together in a cone and you will get that creaminess, along with the depth in flavor.
In case you want to end a night delightfully, Matcha Shaved Ice will do that. Topped with red bean, mochi, matcha syrup, Matcha Shaved Ice has a very mild and elegant taste. Don't miss the melted-down slush at the end, it's the best part!
What to order: Matcha Soft-serve, Matcha Shaved Ice.
Address: 199-8279 Saba Road Richmond, BC V6Y 4B6
Website | Instagram | Facebook
2. Blackball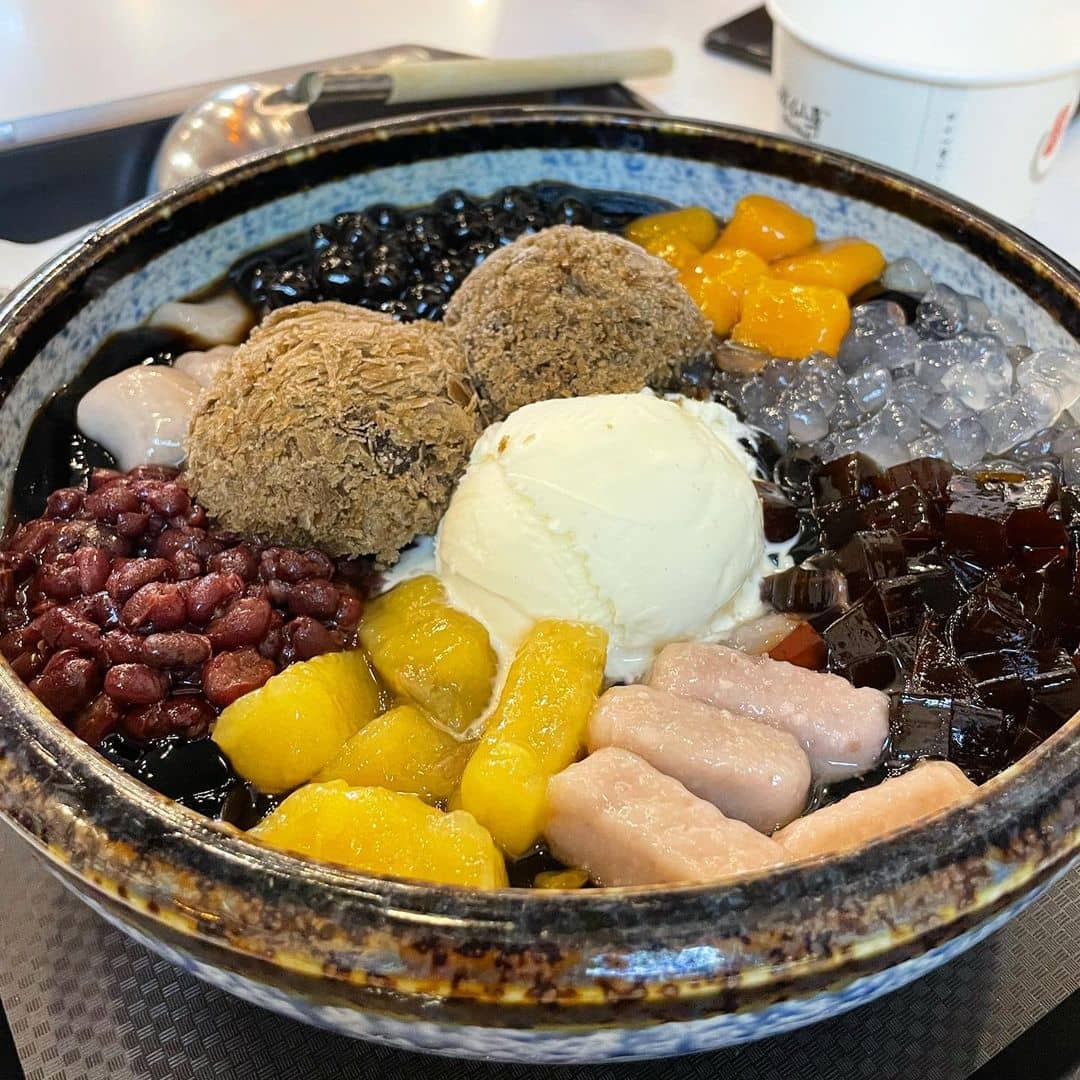 Craving for a more refreshing option? Blackball – one of the best Asian desserts in Richmond – is your answer! Blackball has been known and loved much for its creative desserts (which will impress you right away!). So, in case you need a guide, we won't hesitate to make a recommendation on Black Ball Grass Jelly and Black Ball Milk Tea. Basic yet mouth-watering!
While the Grass Jelly is chewy on the texture, not overly sweet, and best served with ice, the Milk Tea has a great tea aroma and a slight hint of brown sugar from the syrup on top. You possibly can customize your dessert by adding in whatever toppings you like.
Plus, the second floor is open and has enough seats to study or hang out in groups. If you do, try the Black Ball Supreme to share with your 3-4 friends.
What to order: Black Ball Grass Jelly, Milk tea with Pearl and Grass Jelly, Boba Shaved Ice.
Address:
-1061 – 8300 Capstan Way, Richmond BC, V6X 4B7 (has upper floor too)
-7488 Lansdowne Road Suite 135 Richmond, BC V7C 0B9 (Would not recommend this location)
Website | Instagram | Facebook
1. Timothy's Frozen Yogurt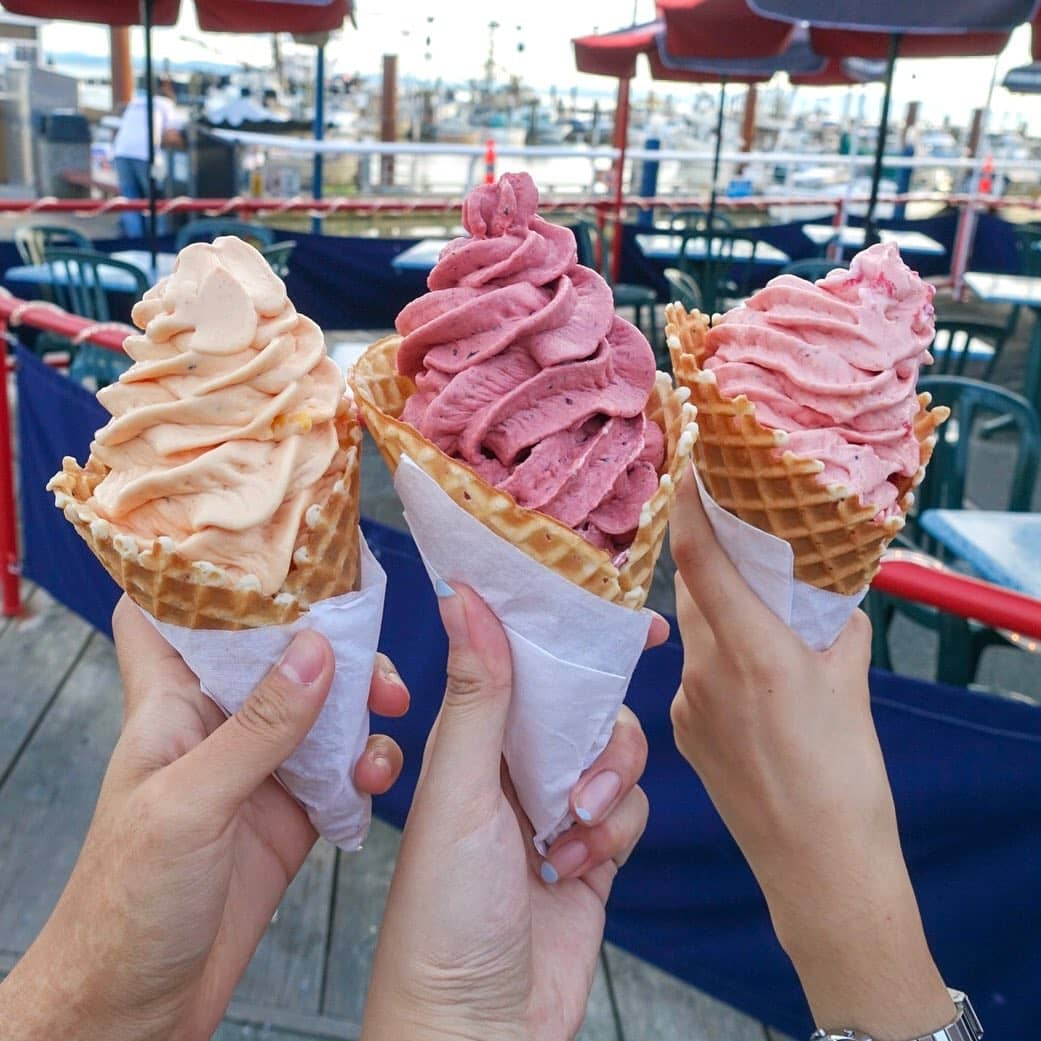 Ice cream sounds great. But do you know what is great too? Frozen yogurt!
May we introduce you to Timothy's Frozen Yogurt, a must-visit place when you are around the Steveston Village Area. Timothy's Frozen Yogurt has been serving classic frozen yogurt and gelato in waffle cones for over 30 years. And there is a reason why they are still popular up to this time.
Besides a wide variety of ice cream and yogurt to try out, you will love their made-in-house waffle cones and fresh fruit blend for yogurt, which cause a lineup all the time! Make sure you try Frozen Yogurt in a Waffle Cone. Super crunchy cover and slightly sweet taste, smooth texture on the inside, absolutely will make you fall in love. Or else, you can have yourself a Salted Caramel and Chocolate Hedgehog Ice cream, which is a summer bomb too!
What to order: Frozen Yogurt in Waffle Cone (best combos: peach & mango, mixed berries & mango, strawberry & peach, or blackberry & mango.), Salted Caramel and Chocolate Hedgehog Ice Cream.
Address: 3800 Bayview Street Richmond, BC V7E 6K7
So, we have shown you 10 outstanding dessert spots in Richmond and hope you have found your perfect one! Otherwise, you can take a look at our 10 best Richmond bakeries for a wider range of choices. Have fun!
How We Create Our "Best" Lists
All Noms Magazine's "best" lists are created using multiple factors and signals to help readers find the best restaurants, things to do, and places to stay at. Some of these factors and signs include personal experiences, correspondence with locals, and compiling experiences from review sites.
Each list is also created to be balanced (in terms of price, cuisine type, ambiance, and more) as possible. This means that the lists are not specifically created in ranking order. You should be comfortable picking from any of the spots on the list and generally have a good time. But of course, YMMV (your mileage may vary) and everyone may have different experiences/palates.