Are you looking for some Thai restaurants in Vancouver? Well, the city has got everything!
From the authentic Pad Thai to hearty Sticky rice, Vancouver Thai Restaurants seems to have out-performed itself!
As a tourist we know how difficult it could be to locate good restaurants and to save you from all the troubles, we have curated a list of the top ten Thai food Vancouver restaurants that will satisfy all your cravings.
So without much ado, let's get started!
10. Bai Bua Thai Cuisine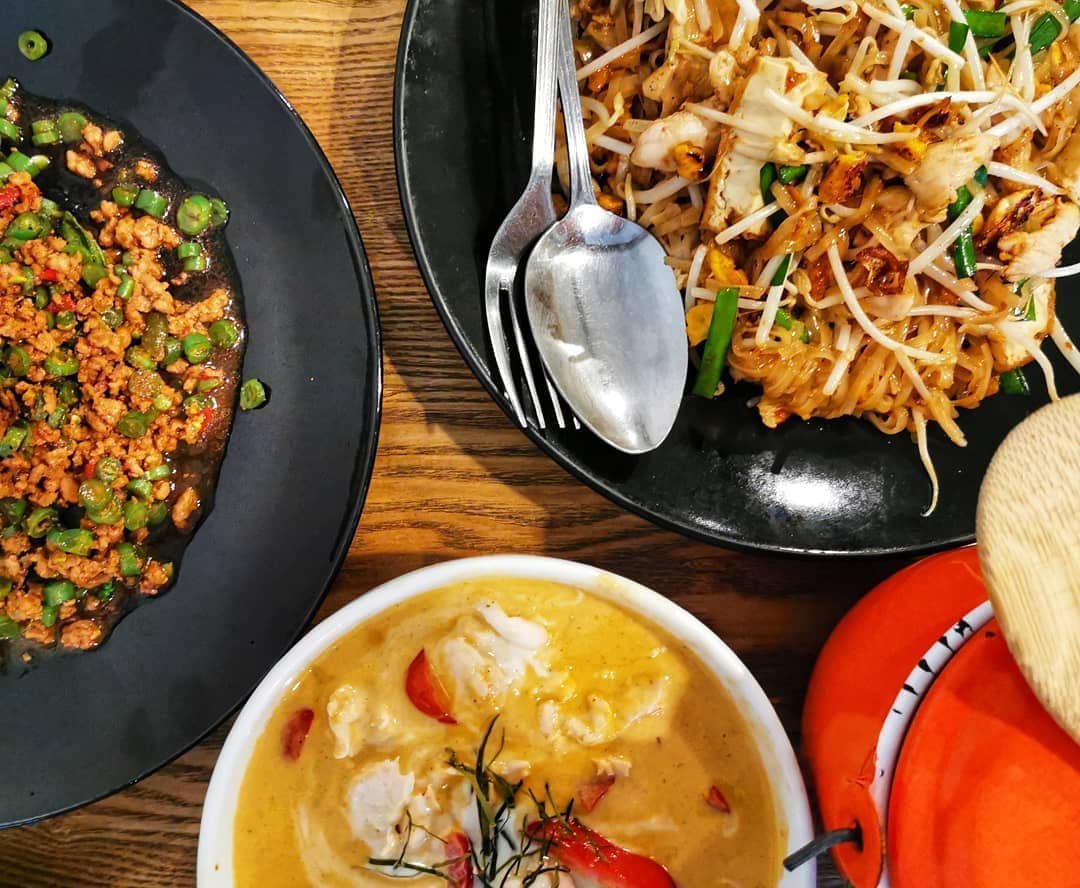 For those who are looking out for gluten-free options or are vegan, Bai Bua has got an exquisite range of dishes curated just for you!
Start your meal, with their delicious spring rolls, which is one of the most ordered entrees of this restaurant.
Following it, do try out their Pad thai Chicken, which is a crowd's favorite here. The dish has got the right balance of spices in it and is served along with tamarind sauce, making it a perfect blend of sweet and sour.
End your meal with their mouth-watering sticky rice with Thai custard that has got the rich flavors of fresh mango and coconut, and it tastes like a bite of heaven!
What to order: Spring rolls, Pad Thai Chicken, Mango sticky rice
Address: 1-2443 E Hastings Street Vancouver.
Website | Instagram | Facebook
9. Bob Likes Thai Food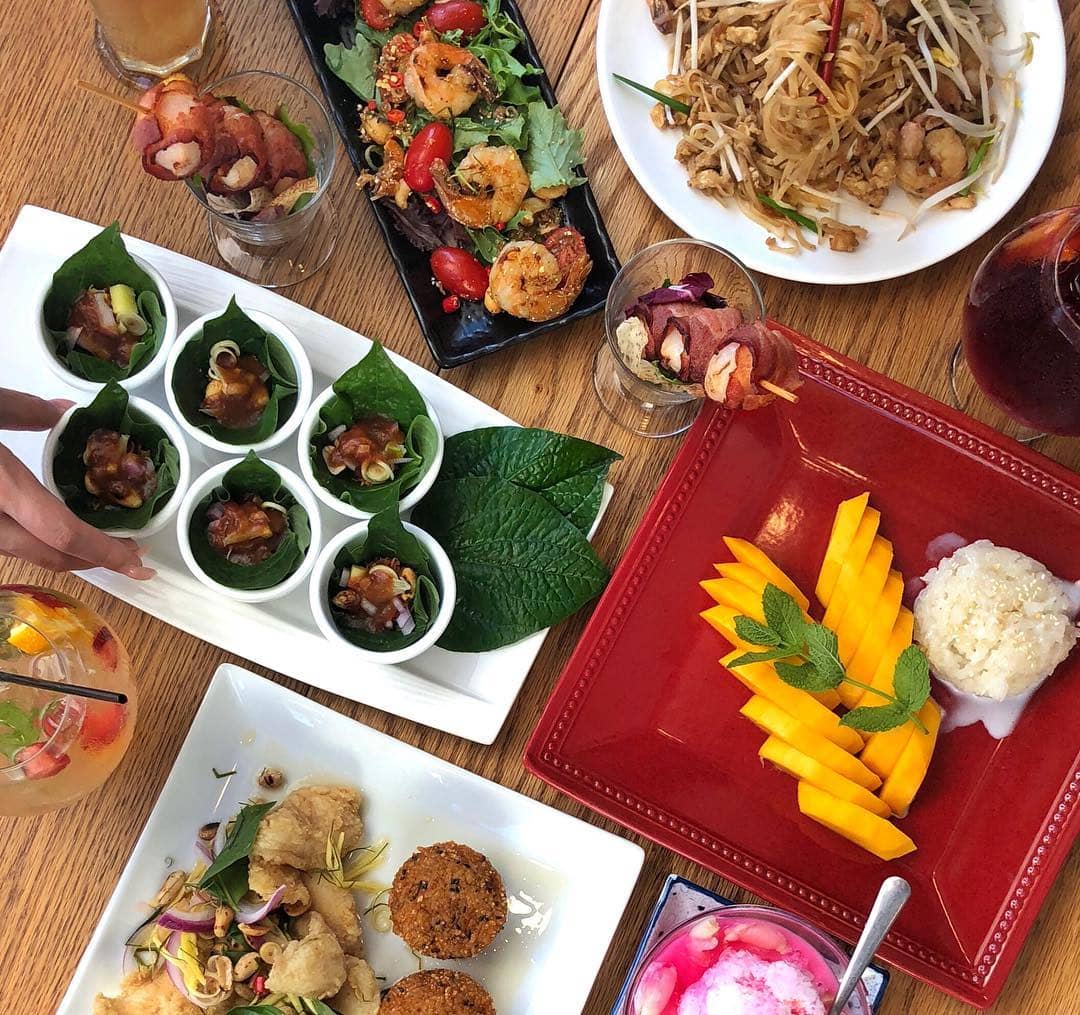 Despite the unusual name, Bob's has become a hit amongst the locals for it has some of the most authentic Thai dishes and a cozy vibe that makes you feel at home!
For the appetizers, you can try out their Papaya salad which has a zesty flavor and nice crunch to it. Also, the fish cake with cucumber relish is a blast of flavors that one must definitely have.
At no cost should you be missing out on their Green Curry Chicken, served along with Jasmine rice. This slightly spicy dish hits all the right spots.
Their Thai Iced tea is a boon on a hot summer day. Not only does it quench your thirst but leaves you feeling refreshed as well.
What to order: Papaya salad, Green Curry Chicken, Thai Iced tea
Address: 3755 Main Street, Vancouver, BC
8. Baan Wasana Thai Restaurant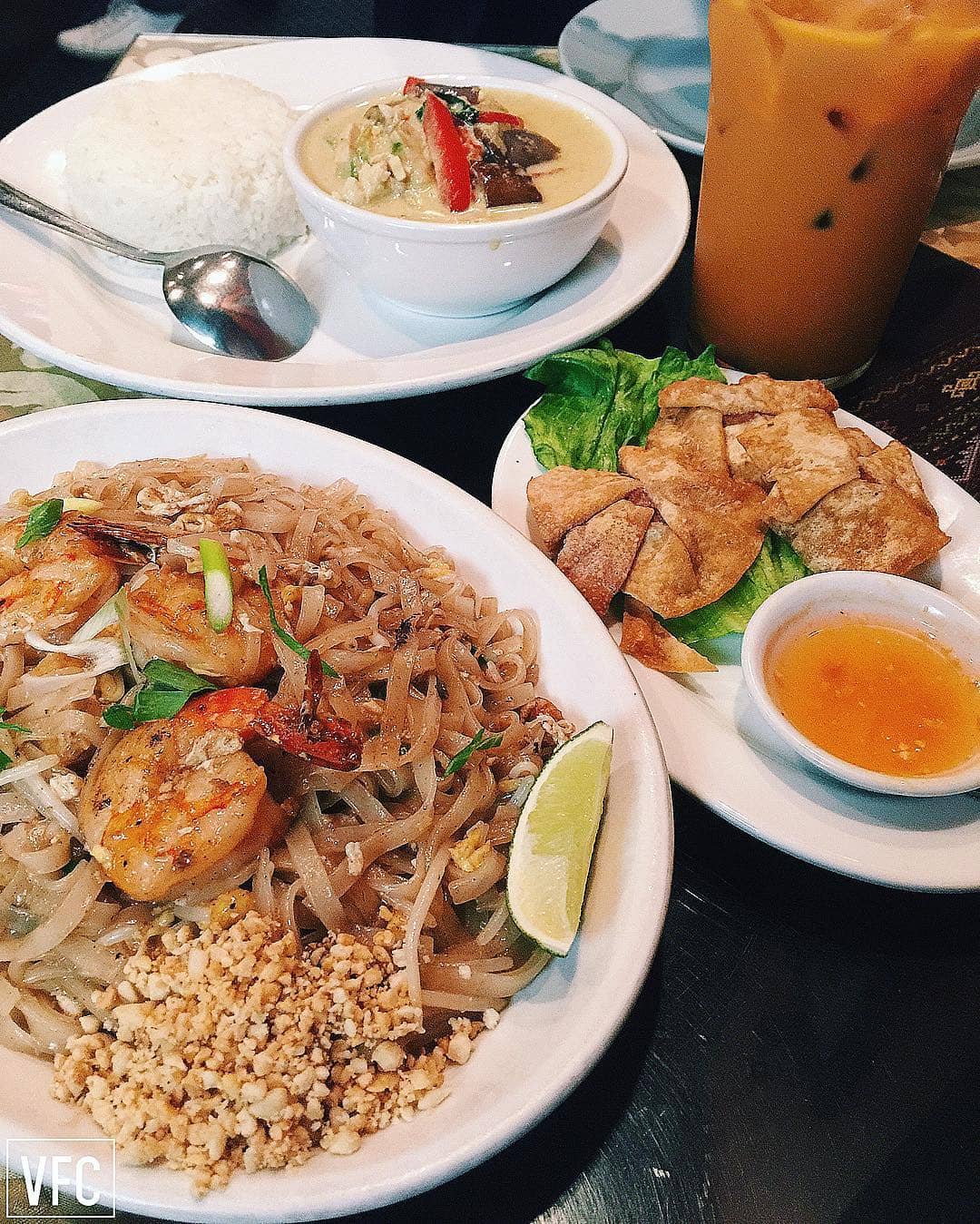 In Thai, 'Baan' means Home, and Wasana is their owner's name. So, you are not a customer but a guest for them. The chef over here has just one mantra that is to focus on the four key flavors and the balance of which is bound to give out the exceptional taste and we couldn't agree more.
Our favorite dish is The Prawn Pad Thai. Each bite is a blast of flavor and will keep you wanting more. A lot of people do feel that the flavors are the exact replica of the Thai food that is being served on the streets of Thailand.
All of the desserts are a must-try but for us, the Sticky Rice seems to have done the work!
What to order: Prawn Pad Thai, Sticky Rice
Address: 2143 41st Avenue Vancouver, BC V6M 1Z6
7. Jitlada Thai Restaurant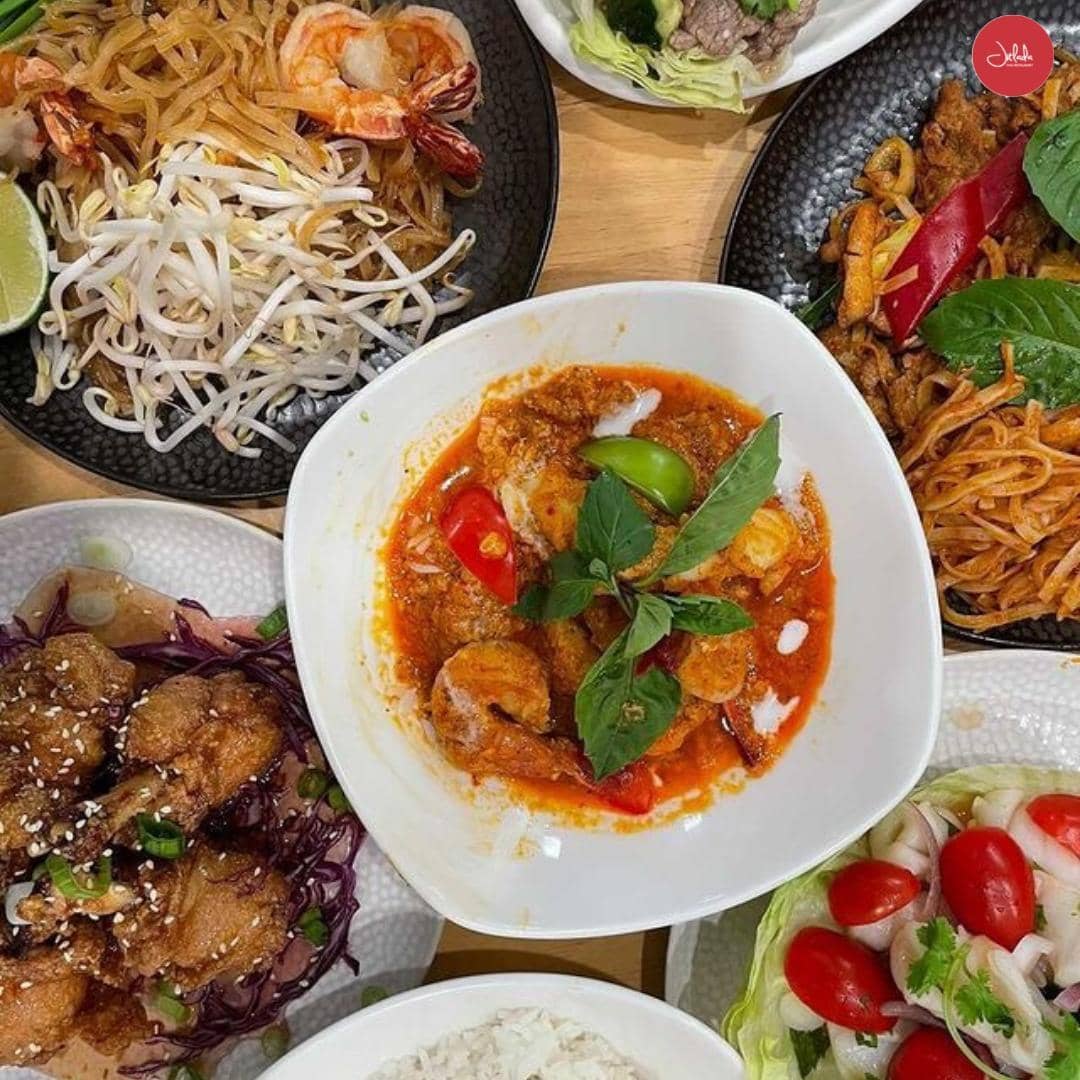 Awarded by the Vancouver magazine for its impeccable Thai cuisine and hospitality, Jitlada is known for its ideology of infusing its own creativity and flavors to Thai classics and they seem to ace at it!
For starters, you can try out their signature creation, Golden Angel Wings which is a fine amalgamation of chicken, pork, noodles and seasoned well with Thai herbs. The in-house plum sauce served with it takes the dish to a whole new level.
If you are someone who likes garlic, then you are in for a treat. Order their mouth-watering Garlic Pork which is pork tenderloin sauteed in the beautiful flavor of fresh garlic and black pepper sauce, making it a dish to savor!
Do have a Look at the seasonal specialties which are quite popular here and shouldn't be missed.
What to order: Golden Angel Wings, Garlic Pork
Address: 118 West 6th Avenue Vancouver, BC V5Y 1K6
Note: Jitlada is doing take out and catering only
Website | Instagram | Facebook
6. Kin Kao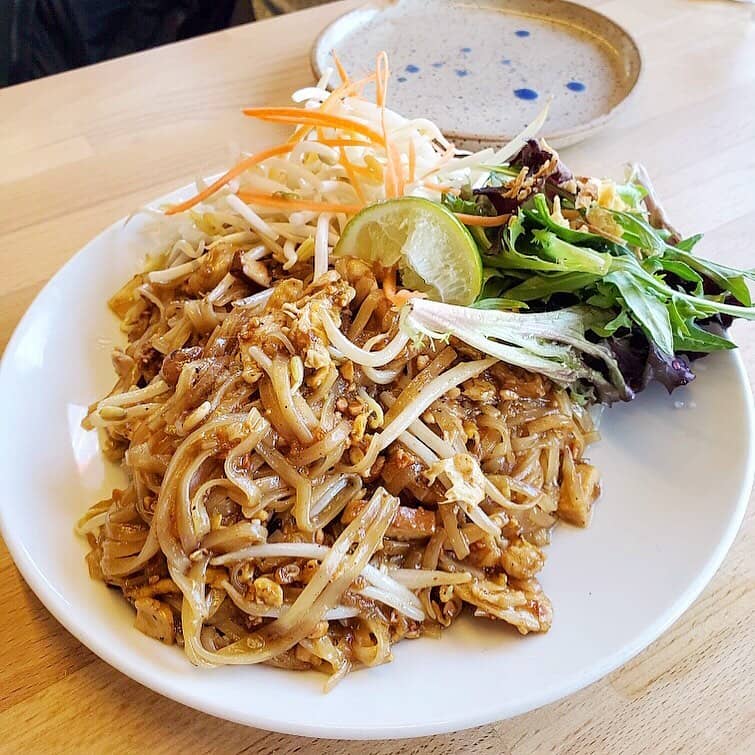 A modern place that is great to hang out with your loved ones serves authentic Thai food, and a variety of drinks to go with it is what defines Kin.
Indulge in their Crispy Fried Pork Belly which is light and served along with garlic dip, making it extremely addictive.
Try your hands on the highlight of this place, Pad Thai, which has the flavors of Thailand with a twist. The spiciness combined with the Tamarind sauce served with perfectly cooked noodles and topped with some roasted nuts, makes this dish one of its kind!
What to order: Crispy Fried Pork Belly, Pad Thai
Address: 903 Commercial Drive, Vancouver, BC
A rundown of all the best restaurants, cafes, drink spots, shops, and places to stay in the Commercial Drive area.
5. Bangkok City Cafe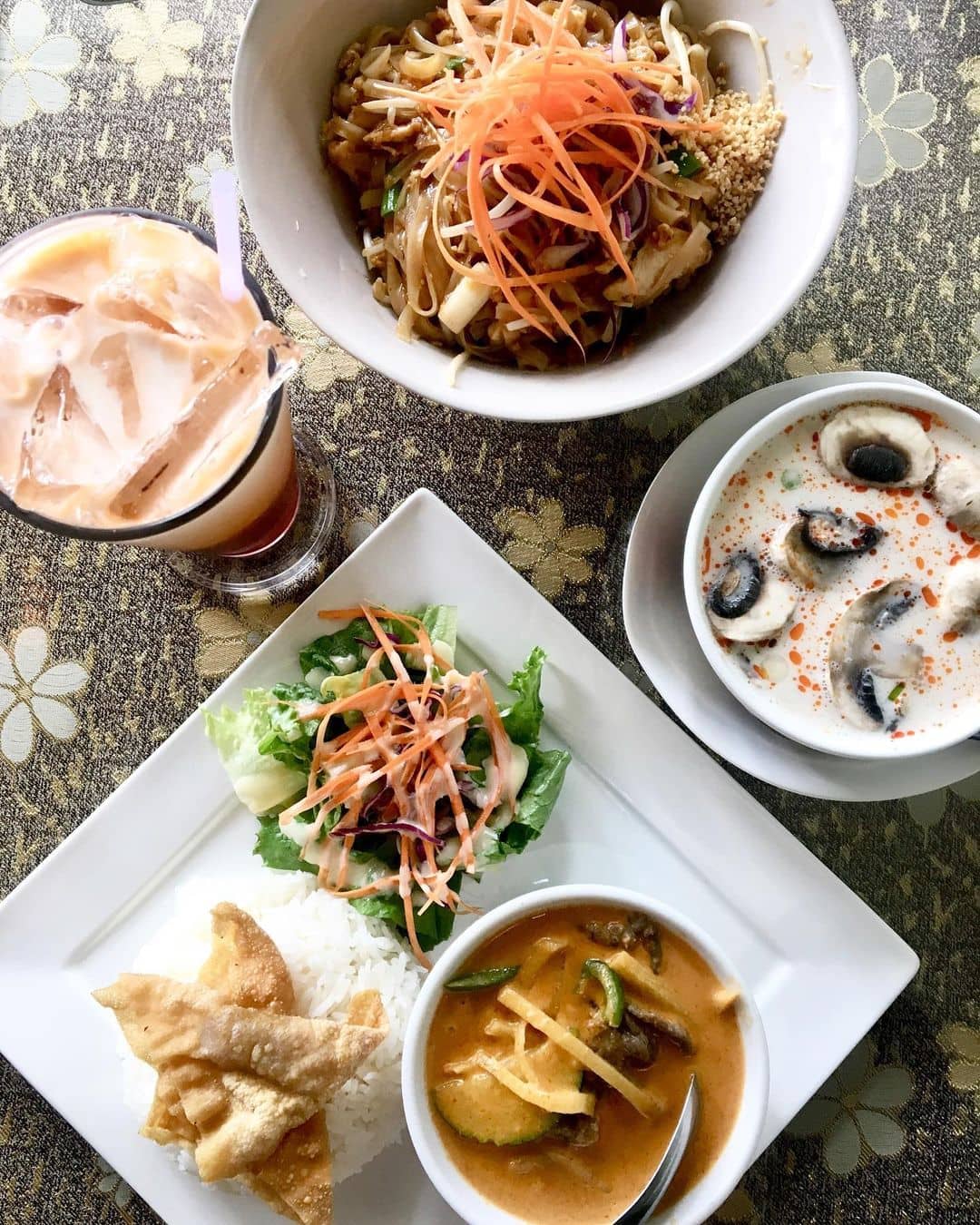 Experience the delectable flavor of Bangkok at this beautiful contemporary cafe which serves some mouth-watering Thai dishes and super friendly staff.
If salads are your thing then Som Tum Salad should be on your order list. With thinly sliced papayas served along with tomatoes and some freshly roasted peanuts, this salad is one of their best-sellers.
Apart from that, try their Barbeque Chicken, which is cooked deliciously in their in-house Thai sauce and served with a sauce that accentuates the flavors really well.
Do not skip the Green curry served here as it is definitely going to leave you delighted by its truly authentic flavor, perfect richness with a balanced level of spiciness.
What to order: Som Tum Salad, Barbeque Chicken, Green curry
Address: 2953 West 4th Ave, Vancouver BC V6K 1R3
4. Maenam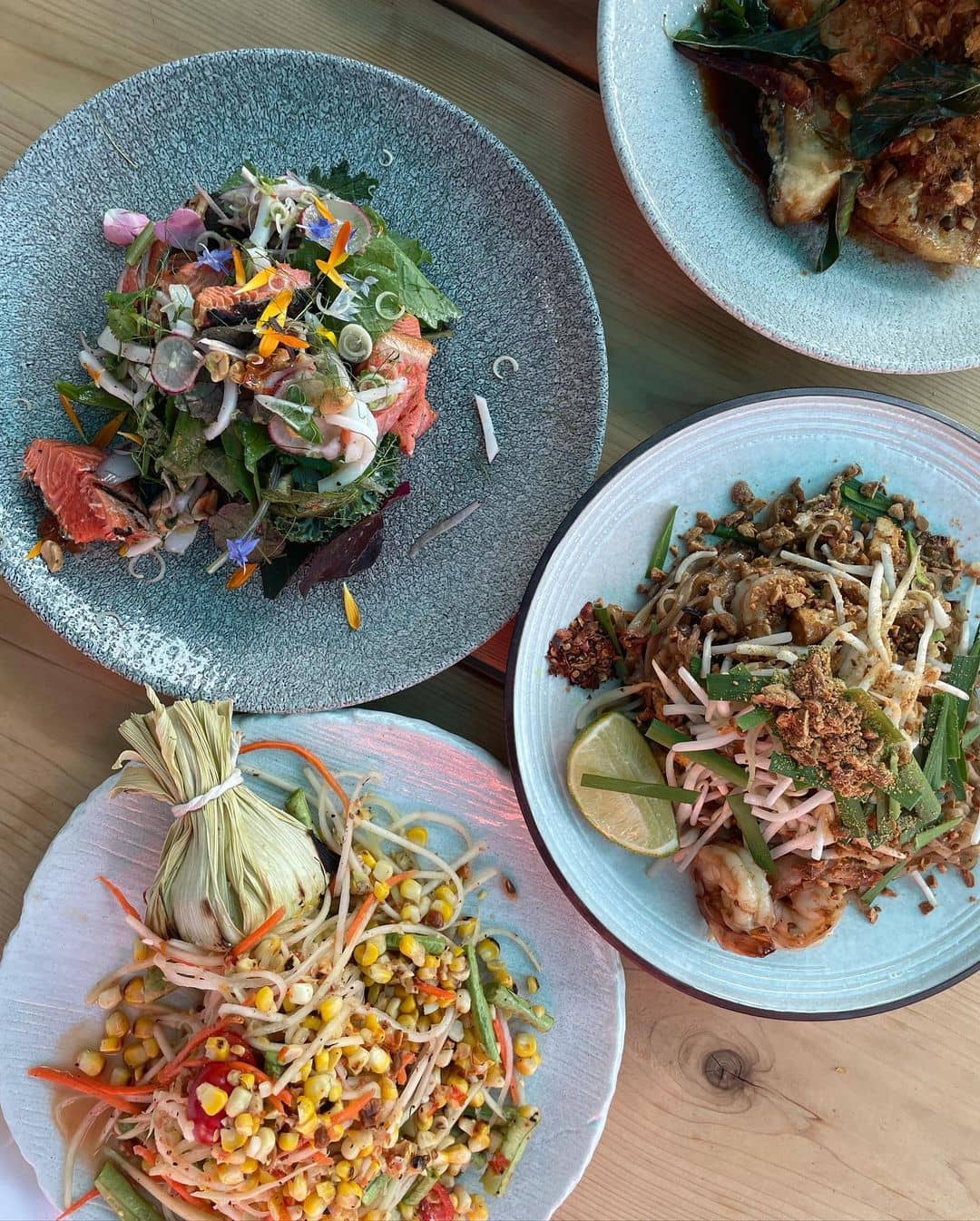 Each dish of Maenam is made from locally sourced fresh ingredients and intense flavors, which makes them stand out and that is the exact reason why it was awarded as the best restaurant for the year 2016 by Vancouver Magazine.
Start off your meal with a bowl of Bananas Blossom salad which is not usually available everywhere. With the number of flavors that it has and the way the chef balances out the variety of sweetness, it definitely makes this salad a must-try for everyone.
Next up on your order should be the deep-fried oysters, which are served along with a spicy citrus sauce that brings out the delicious flavor of the oyster.
For the main course, try out their finger-licking pad thai that is a blend of rich flavors and served with Tofu that amps up the dish by giving it more substance!
Keep some room for dessert as you shouldn't be missing out on their daily dessert especially if it's their rice flour donuts which are surprisingly airy and have a nice crunch to them.
What to order: Bananas Blossom salad, Deep-fried oysters, Pad Thai, Rice flour donuts
Address: 1938 West 4th Avenue, Vancouver, BC V6J 1M5
Website | Instagram | Facebook
A rundown of all the best restaurants, cafes, drink spots, shops, and places to stay in the Kitsilano area.
3. Zab Zaab Thai Cuisine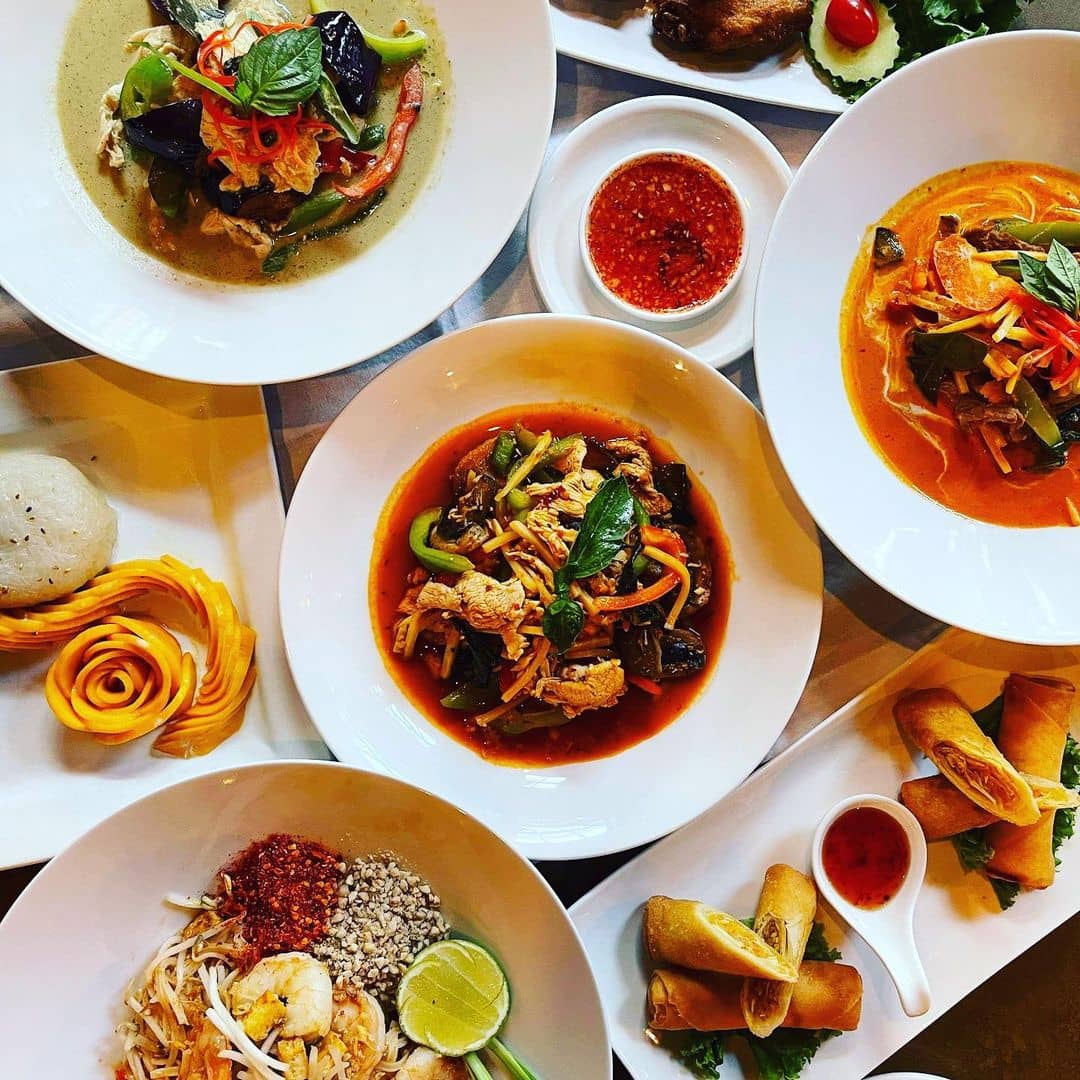 Zab Zaab has an exciting menu to choose from combined with a comfortable dining setup, making it a go-to place for a lot of locals. From stir fry vegetables to pad Thai, the chefs have developed expertise in Thai cuisine and are successful in maintaining consistency in all of their dishes.
Start your meal with a hearty bowl of Tom Kah, which is infused with the richness of coconut and the refreshing lemongrass.
Do try their Green Curry Chicken, which is their best seller for obvious reasons! The creamy coconut gravy of chicken and vegetables will make you feel delighted instantly.
You can always order the standard, pad thai chicken which is a nice serving of noodles, having a spicy taste, topped with some chicken chunks and fried peanuts, which will satisfy your hunger.
For desserts, you can always rely on their Fried Banana With Mango Ice Cream which will surely make your experience a memorable one!
What to order: Tom Kah, Green Curry Chicken, Pad Thai Chicken, Fried Banana With Mango Ice Cream
Address: 1211 Hamilton Street, Vancouver, BC V6B 6K3
Website | Instagram | Facebook
2. Unchai Restaurant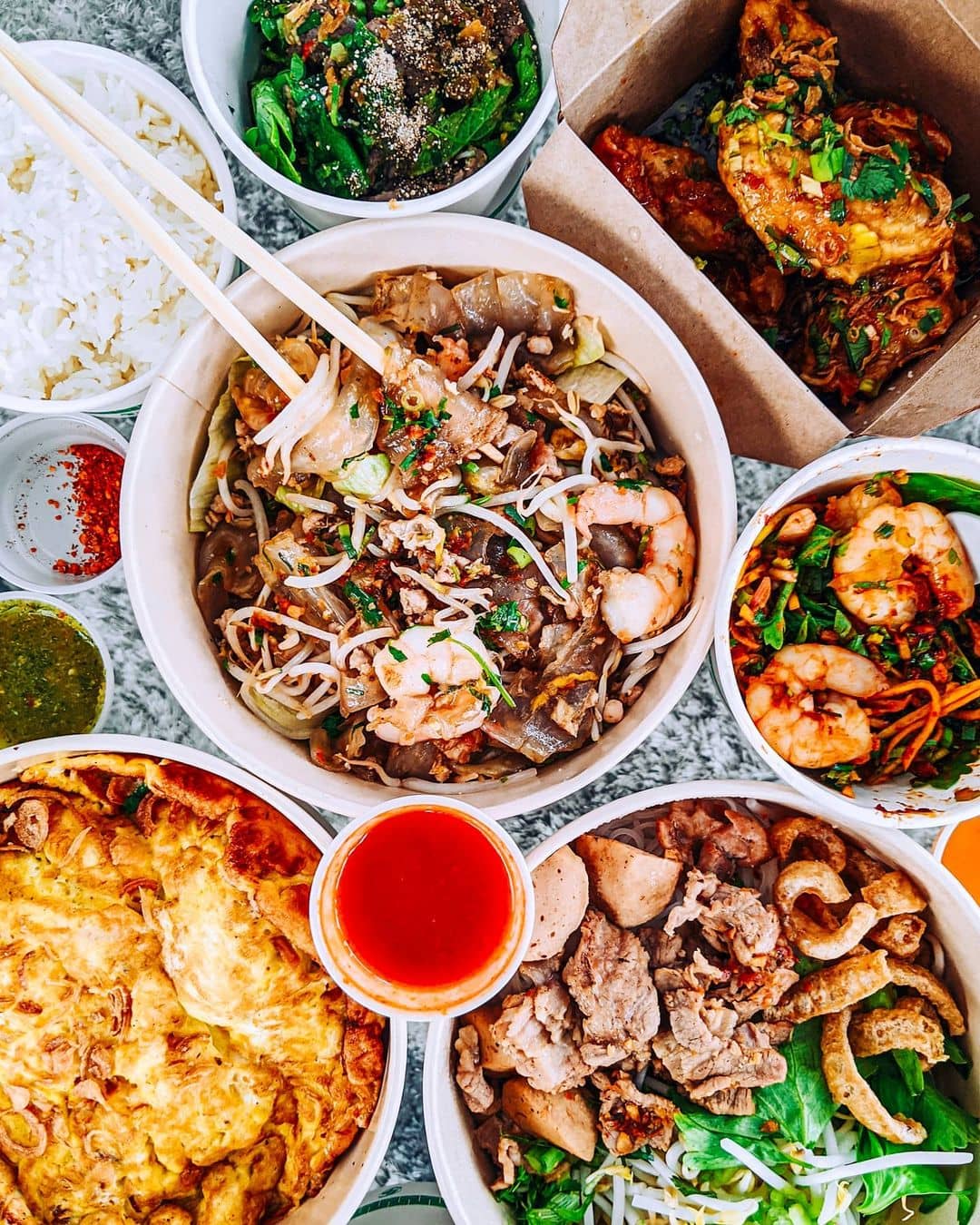 This small restaurant has become a sensation in Vancouver, just by word of mouth and for all the right reasons! Their in-house chef has worked in different parts of the world, including Dubai, the experience of which helps him in creating unique dishes with authentic flavors.
Please your palate with the crispy and light Fried Chicken Wings, which has got a nutty taste to it and is served along with a dip.
Next on the menu, try out their Shrimps Pad Thai, which is a combination of all the right ingredients and prepared in wok hay, making it completely irresistible!
Warm your soul with their Boat Noodles With Pork, which has got a tangy flavor, and tender meatballs.
Feel like ordering Dessert? Try out the classic sticky rice that has the goodness of mango, coconut ice cream, and a slightly salted cream that cuts down the sweetness in a perfect manner.
As this place cannot accommodate more than twenty people, make sure you make a reservation before visiting this place.
What to order: Fried Chicken Wings, Shrimps Pad Thai, Boat Noodles With Pork, Sticky rice
Address: 2351 Burrard Street, Vancouver, BC, V6J 3J2
Website | Instagram | Facebook
1. Sawasdee Thai Restaurant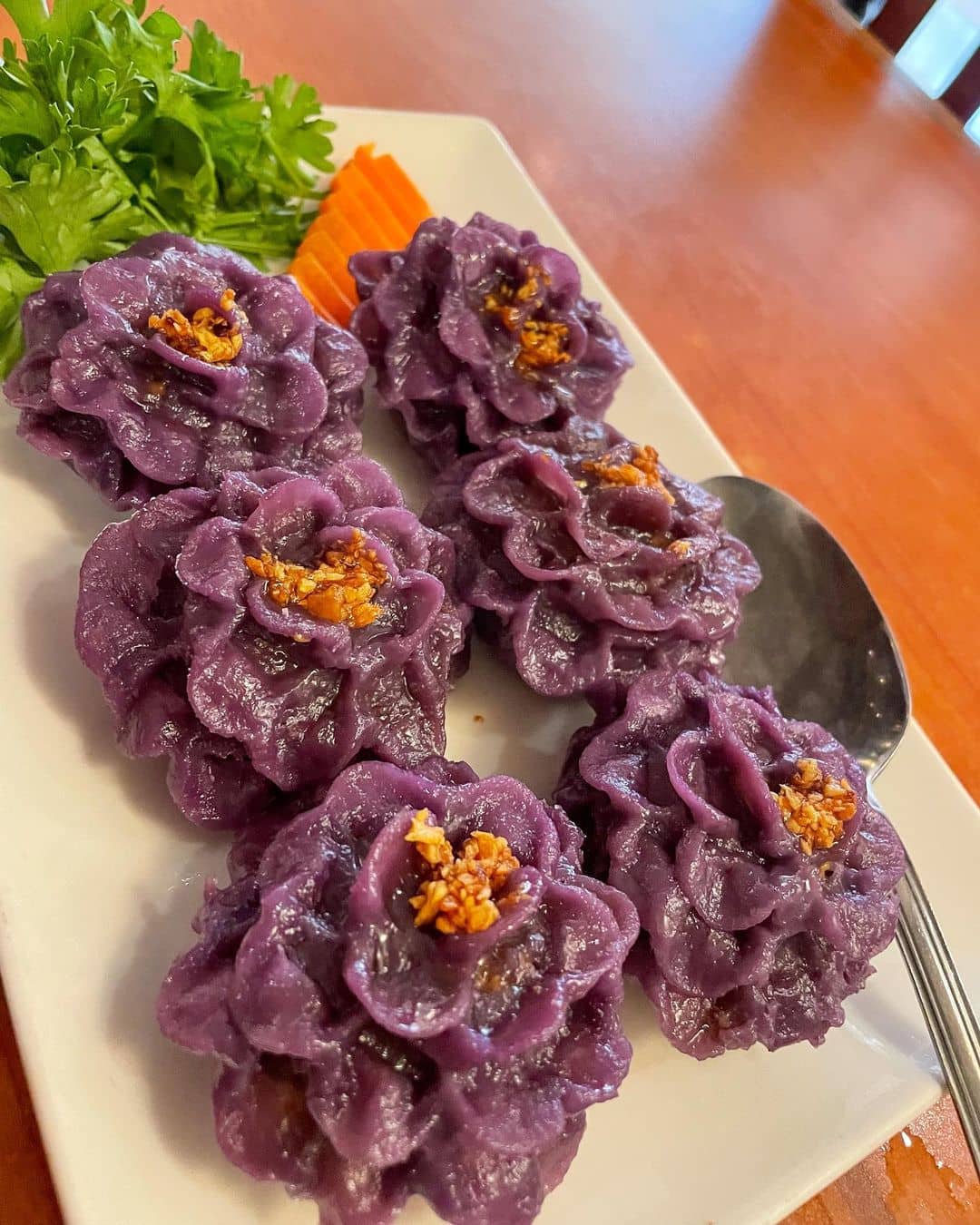 This family-owned vibrant Thai restaurant on Main Street has been serving authentic Thai food for the last forty years and has made a mark for itself in this town, especially amongst the locals.
From the chef's recommendation, try out the Crying Tiger Beef, which is grilled to perfection and seasoned with some herb vinaigrette. Order some hot sauce along with this to elevate the flavors.
This place is a lucky spot for all chicken lovers. Do try out their Chicken Cashew nuts and we assure you that it is going to be one of your favorite dishes once you have it!
What to order: Crying Tiger Beef, Chicken Cashew nuts, Pad Thai, Cho Muang
Address: 4250 Main Street, Vancouver, BC V5V 3P9
So that was the list of the top ten Thai restaurants which is surely going to work for all Thai food lovers. After all, it's a must to know about the places that serve the best Thai food Vancouver can ever get!
If you are planning to spend some time in Vancouver, check out a few of the brunch places which will surely make your trip more memorable!
Looking for the best seafood spots in Vancouver? Here are top 10 picks!
The following two tabs change content below.
Latest posts by Noms Magazine (see all)