Located in the southwestern corner of the City of Delta, Tsawwassen is surrounded by the ocean, which has blessed the area with some of the most inspiring waterfront, beach terrain, and other related activities like fishing, water skiing, scuba diving, ocean kayaking. On your way here, you might find some very noteworthy spots, from the pastoral farms, greenhouse veggies to Delta's biggest shopping center – Tsawwassen Mills.
There are so many hidden gems waiting to be discovered, and Tsawwassen food is one of them! This area is a growing spot for all the foodies, from the fine-dining experiences to the local, friendly food stalls. Be sure to browse our list of the 10 best Tsawwassen restaurants below whenever you're in the area and you will thank us later!
10. Madhouse Pizza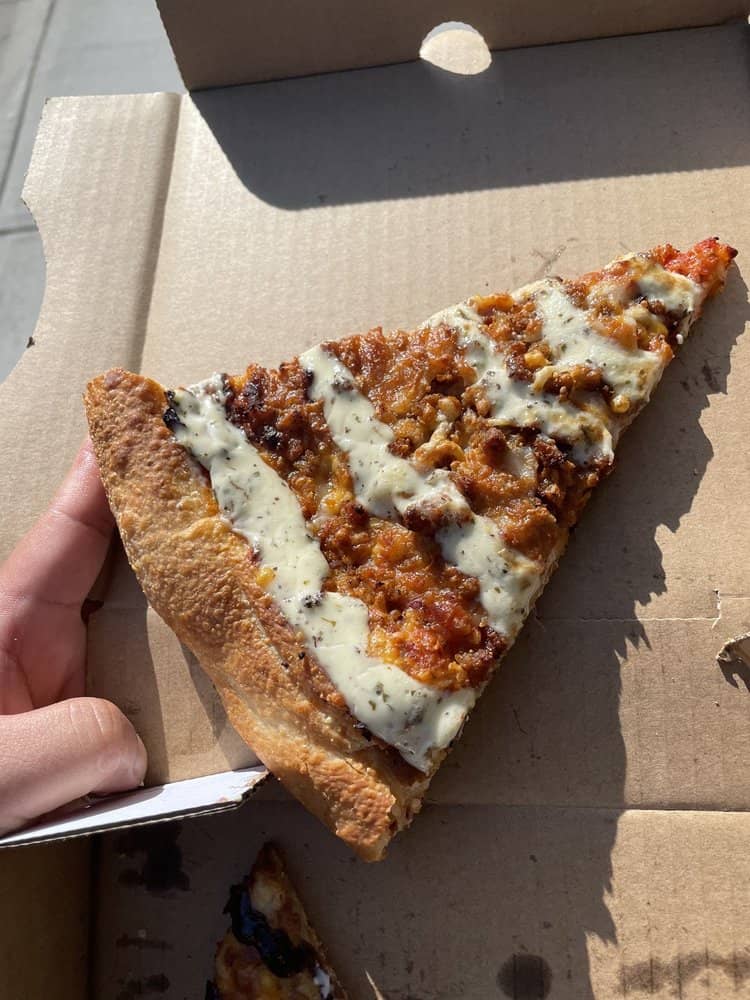 Madhouse Pizza is a popular spot to enjoy a slice of freshly-made pizza or some delicious, crunchy chicken wings after a long day adoring Tsawwassen attractions. This satisfying feeling is never getting old, and if this is what you're searching for, drop by!
What makes Madhouse Pizza so special, are perhaps their unique, super creative toppings and that not-so-thick pizza crust. Be sure to try their famous Barbeque Chicken Pizza, a classic choice with BBQ sauce, diced chicken, peppers, and onion. They are all covered with Gouda cheese and baked to bubble goodness! You will love the smoky flavors and a touch of freshness from cilantro on top.
In case you want something spicy, try out their Hot & Spicy Pizza with classic, hot and spicy toppings like olives, pepperoni, mozzarella cheese, and hot peppers. Stunning!
What to order: Barbeque Chicken Pizza, Double Cheese Pizza, Hot & Spicy Pizza, Garlic Gourmet Pizza.
Address: 1189 56 St Unit 200 Delta, BC V4L 2A2
Website | Instagram | Facebook
9. Roy's Indian Food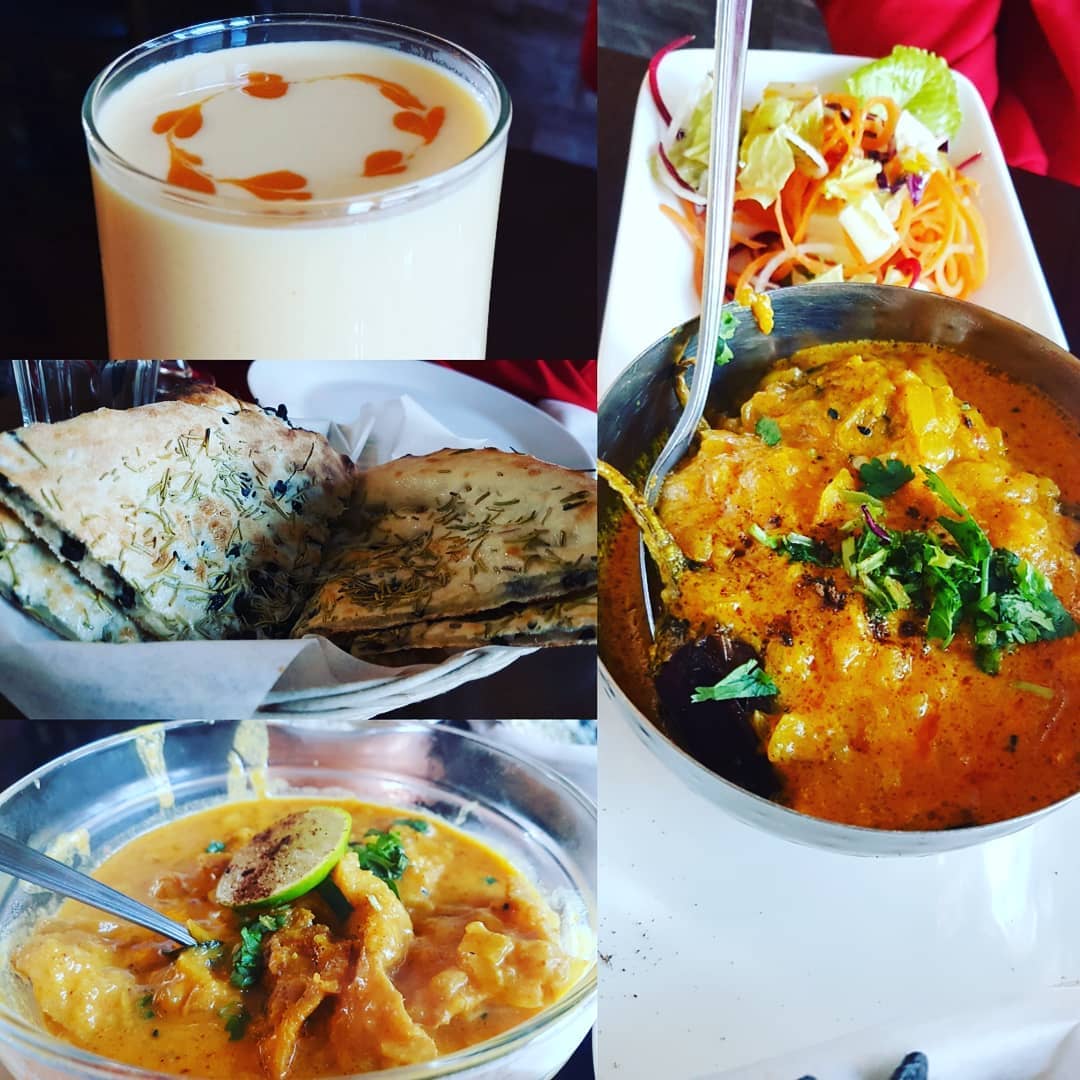 "Mouthwatering, incredibly delicious, and outstanding flavours" are what others describe Roy's Indian Food, a should-never-miss place for the most authentic taste of Indian cuisine. With a home-y ambiance, basic but classic interiors, Roy's Indian Food will make you feel like traveling to India and dining a course there.
The food is magnificent, to be honest, but if you're getting to know Indian cuisine, start with Butter Chicken, Lamb Palak, or Chilli Gobi. The chicken is amazingly tender and injected with flavours from yogurt marinade, herbs, and spices. Which finally creates aromatic golden chicken pieces in an incredible creamy curry sauce!
Meanwhile, the Chilli Gobi is crispy, saucy, umami, and oh-so-good with batter-coated, deep-fried cauliflower florets! We can never say no to these!
What to order: Butter Chicken, Vindaloo, Lamb Palak, Chilli Gobi.
Address: 1179 56 Street Suite 200 Delta, BC V4L 2A2
Website | Instagram | Facebook
8. Pho Fresh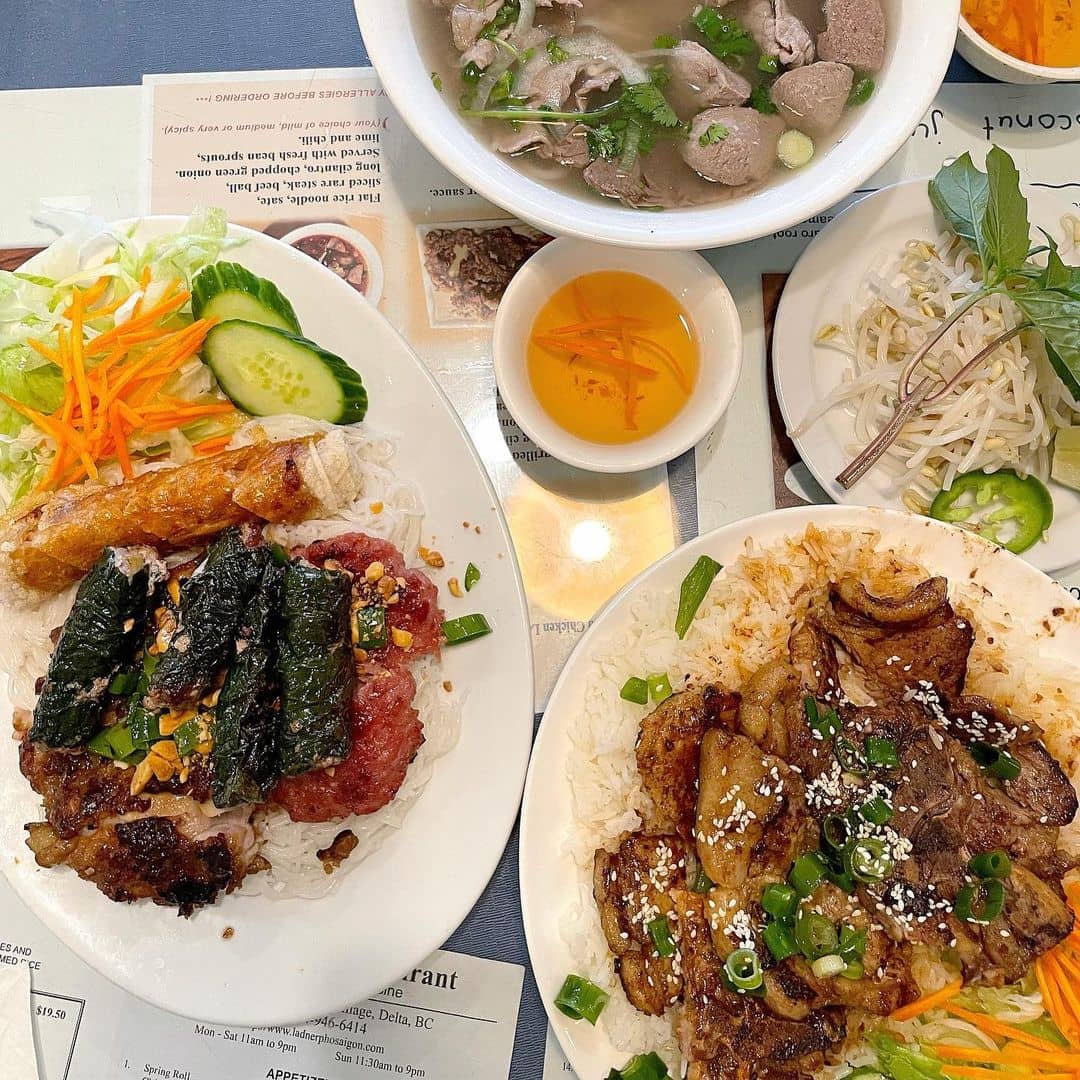 Anytime you think of traditional Viet Food, think of Pho Fresh! Here, you'll find yourself the signature, big steaming bowl of different types of Pho, and other popular dishes that help shape Vietnamese cuisine. With a friendly atmosphere and Vietnam-inspired decorations, we bet you will love its ambiance as much as its food!
Always, always get the Spicy Beef Rice Noodles! This dish is the reason why they are so well-known and you don't wanna miss it! Combining such a fabulous blend of herbs, soft-chewy rice vermicelli noodles, light yet flavourful broth, their Pho is utterly addictive every spoonful leaves you wanting more.
Hanoi Style Grilled Pork Noodles is also a good choice. Comes with marinated pork slices and grilled-to-perfection pork balls, sweet & sour dipping sauce, you won't anything juicier, more mouth-watering than this one!
What to order: Spicy Beef Rice Noodles, Hanoi Style Grilled Pork Noodles, Grilled Lemongrass Chicken with Rice, Sauteed Beef with Rice
Address: 5571 16 Avenue Delta, BC V4M 2H7
7. Illuminaté Restorante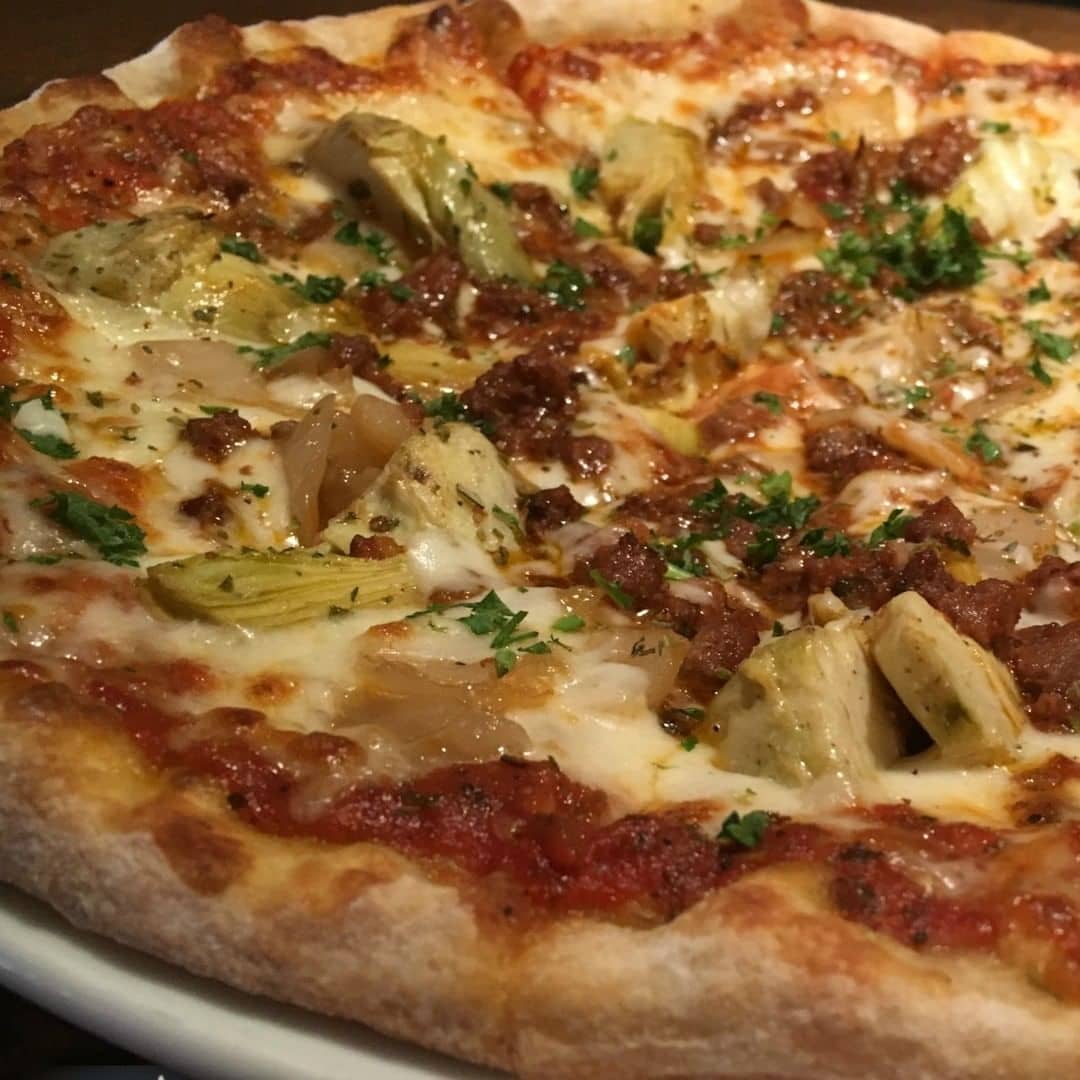 Searching for a romantic spot for your lovely date in Tsawwassen? Illuminaté Restorante has got your back! Serving Italian dishes in a high-end dining experience, with extensive choices of wine, cozy lighting, and charming ambiance, you will undoubtedly fall in love with Illuminaté Restorante at first sight!
Settle down with their Spaghetti Bolognese and Chorizo & Peppers Pizza. While the spaghetti is rich, thick, and has a beautiful depth of flavors from cream, basil, and Parmigiano; the pizza is so delightful, cheesy, hearty with a hint of spiciness!
Don't forget to end your course with the famous Citrus Creme Brule. This is an ultimate dessert for lemon lovers with a slightly tart kick, luscious and creamy taste that is impressive every time served!
What to order: Chorizo & Peppers Pizza, Funghi Pizza, Spaghetti Bolognese, Citrus Creme Brule, Ahi Tuna.
Address: 1077 56 Street Tsawwassen, BC V4L 2A2
Website | Instagram | Facebook
6. Pat Quinn's Restaurant & Bar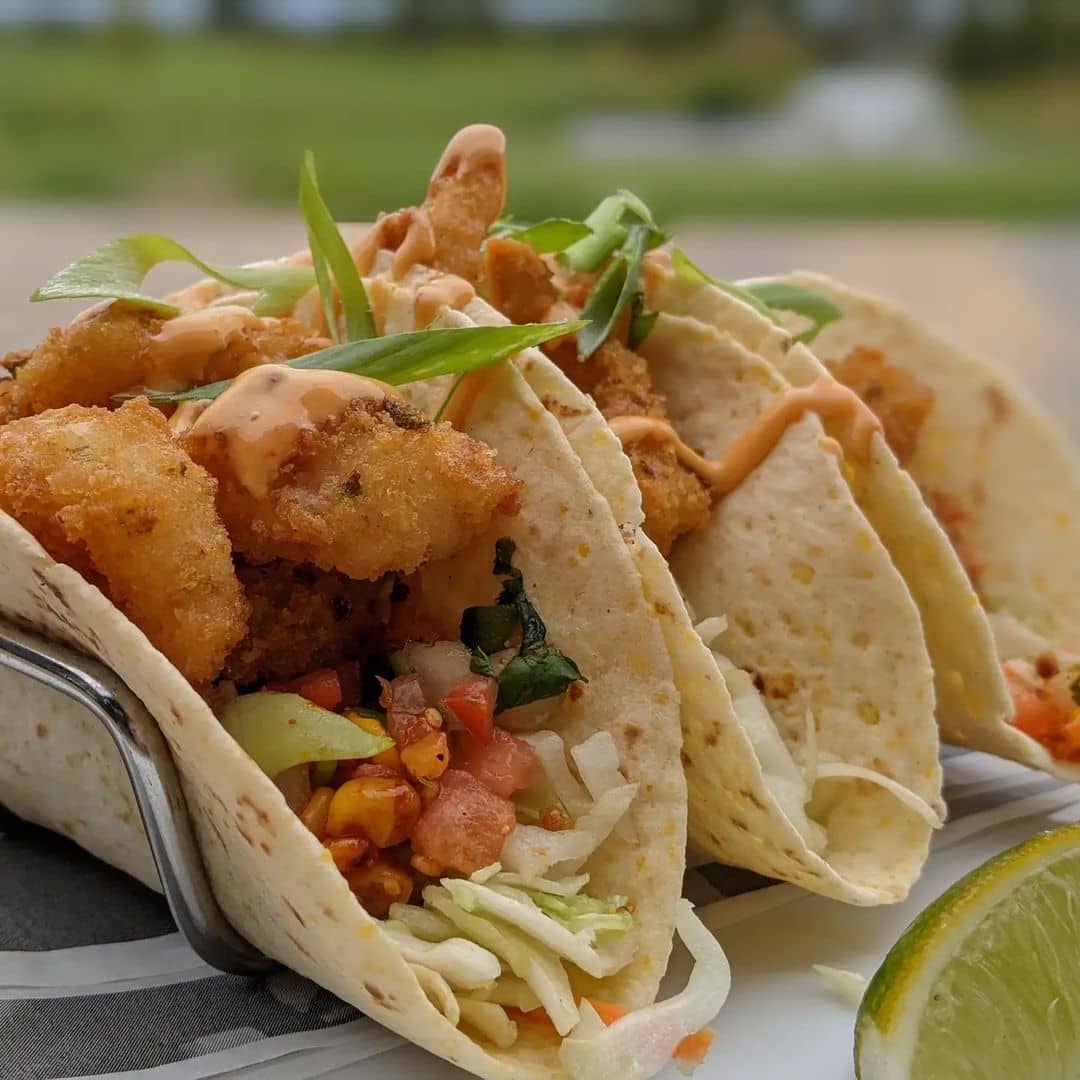 Overlooking the fairways of Tsawwassen Springs Golf Course, there stands Pat Quinn's Restaurant & Bar, where you can spend time enjoying the panoramic views of the towering North Shore mountains. Pay a visit to explore their global cuisine, from steak, seafood to casual fare offerings in a contemporary setting, intimate booths, and iconic patios!
Since their all-time favourites are Spicy Chicken Lettuce Wraps and Nashville Hot Chicken Sandwich, we bet you might want to try them as well. Those spicy chicken wraps are the tastiest, easiest dishes to grace your taste buds with iconic spicy Asian flavors, against the cool lettuce and added crunch of peanuts and water chestnuts.
And if you love tacos, you will fall for their Popcorn Prawn Tacos! Made with fresh prawns, lightly battered and quickly fried, then served with a spicy slaw and tangy sauce, one bite can feel like heaven!
What to order: Spicy Chicken Lettuce Wraps, Popcorn Prawn Tacos, Nashville Hot Chicken Sandwich, Beef Dip.
Address: 5133 Springs Boulevard Delta, BC V4M 0A6
Website | Instagram | Facebook
5. Toto Sushi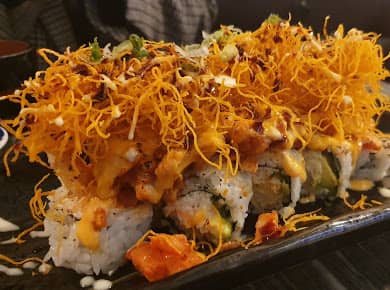 Being a small sushi restaurant with only a few booths and standalone tables doesn't stop Toto Sushi from being one of the most awesome sushi addition in the Tsawwassen area. Whenever you want a sushi fix, never miss this cozy, hidden gem in tow. You will be seduced!
Their top-rated dishes include Prawn Yam Tempura, Dynamite Roll, and California Mango Roll. While the Prawn Yam Tempura has a light texture, crisp coating, simple but tasty flavours; the Dynamite Roll is explosion-like dynamite between the spicy & sweet flavours with tempura shrimp, avocado, cucumber, and mixing of secret sauce with maple syrup.
The California Mango Roll is no less delicious with crab sticks, mango, avocado, cucumber, rolled with nori sheets inside out, then coated with a layer of masago. Tasty!
What to order: Prawn Yam Tempura, Dynamite Roll, California Mango Roll, California Poke, Tonkotsu Ramen.
Address: 1270 56 St Delta, BC V4L 2A4
4. Gracie's Next Door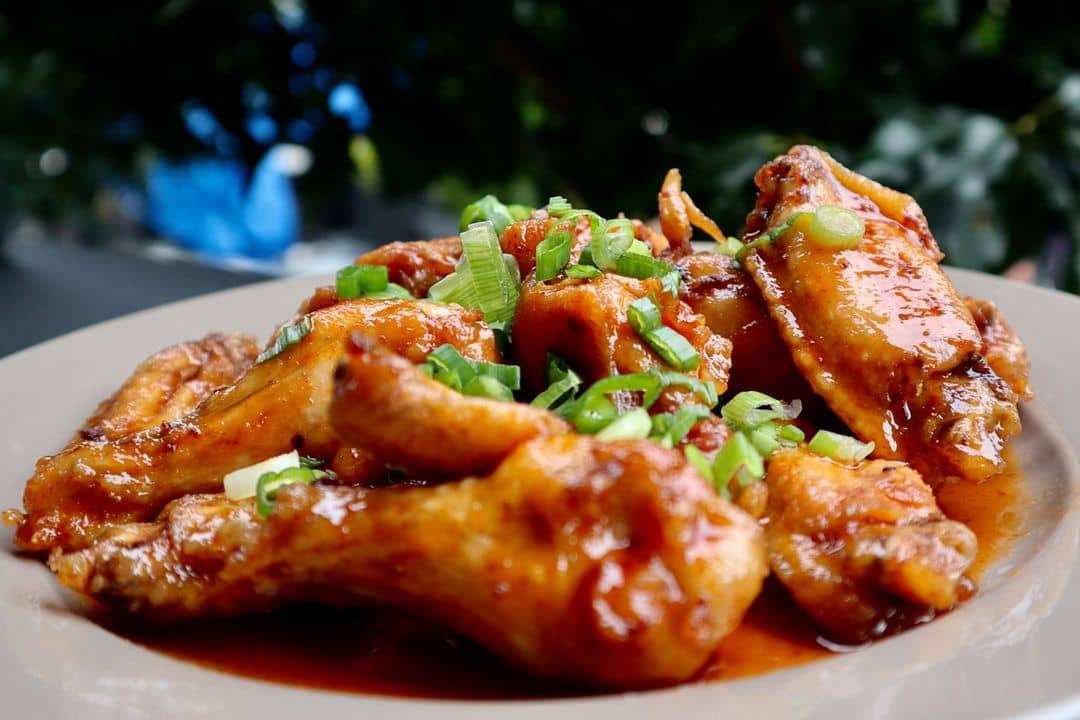 Whenever you need a rest after a day adoring Tsawwassen's attractions, munch on some treats, and enjoy some drinks with your friends, come by Gracie's Next Door! With a cozy yet vibrant ambiance, modern settings, extensive local craft beer, and stunning snacks, this is a perfect place for you to unwind after work or hang out with your besties!
Don't leave without trying their signature Pulled Pork Lechon Tacos, with pork shoulder marinated in citrus juice, then slow-cooked with garlic and herbs which creates a magnificent taste, and juicy, tender texture in every bite.
Or you can go for the Maple Sriracha Wings and get seduced by the crispy coated chicken wings get tossed in a sweet, spicy, saucy maple sriracha glaze!
What to order: Pulled Pork Lechon Tacos, Maple Sriracha Wings, Beef Dip, Octopus Carpaccio, Coconut Prawns
Address: 1127 56th Street Delta, BC V4L 2A2
Website | Instagram | Facebook
3. Two Stones Grill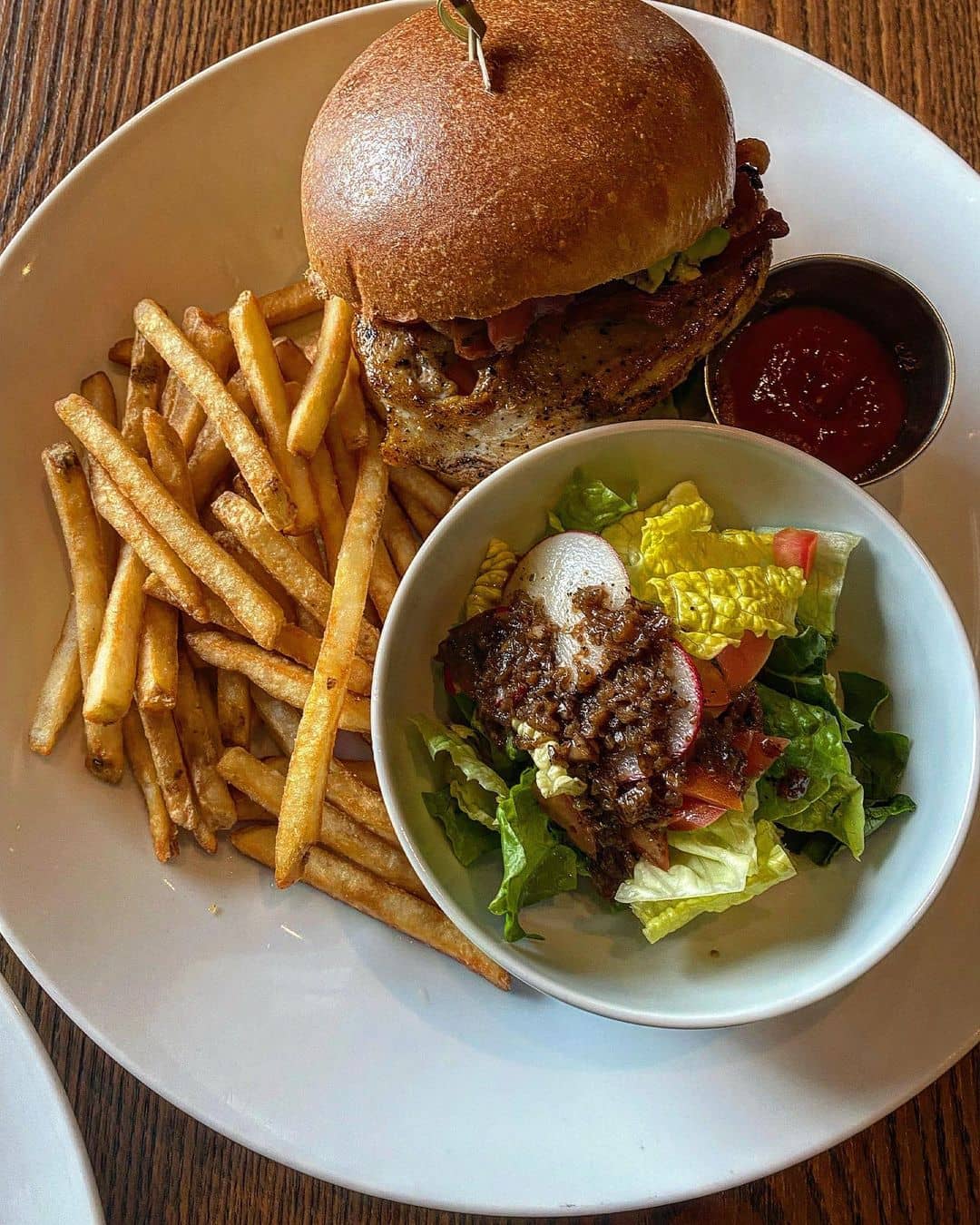 Steaks and burgers are never out of trend, and Two Stones Grill always knows how to nail it all the time! Get yourself ready when you're planning to visit this place because their food quality is no joke. Literally one of the best steakhouses in Tsawwassen ever!
We highly recommend you to start with their Peppercorn Steak, which is perfectly broiled, topped with mushroom, house-made peppercorn sauce, and served with mashed potato & asparagus. The meat is melt-in-mouth and the sauce is so tasty that you might have to lick the plate!
The Shrimp & Avocado Burger is also a worth-trying dish! Juicy, flavourful patties made out of shrimp, veggies, and slathered in tasty easy guacamole. We can never get enough of these!
What to order: Garlic Prawns, Shrimp & Avocado Burger, Peppercorn Steak, Chicken Tenders & Fries, Prawns Spaghetti.
Address: 1602-4949 Canoe Pass Way Delta, BC V4M 0B2
2. Bistro Peekaboo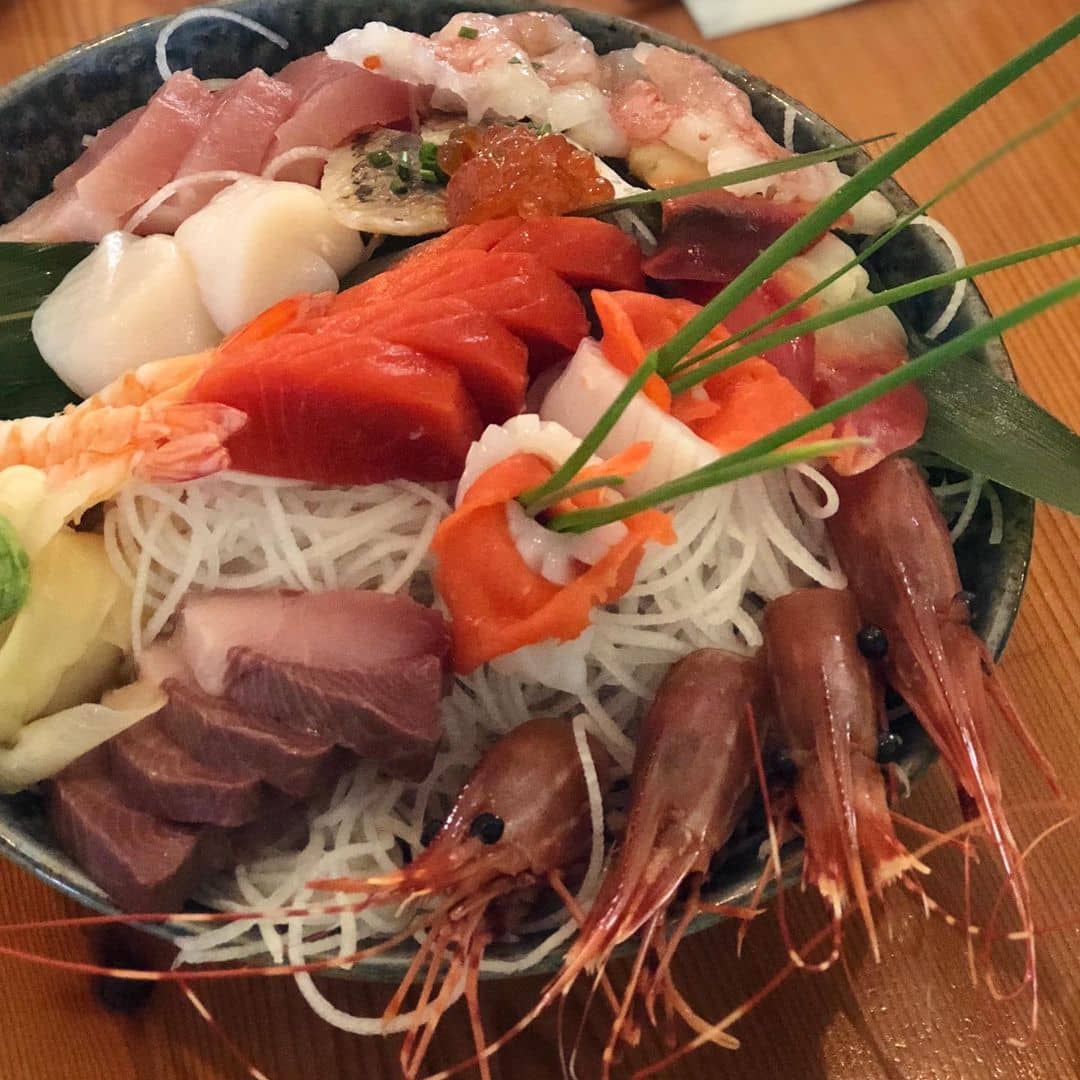 Craving for some authentic Japanese food? Bistro Peekaboo is your next destination! Bistro Peekaboo has long been the most recommended spot for the truest taste of Japanese cuisine in Tsawwassen. Unique flavors, friendly ambiance, tradition-inspired settings, that's enough reason to pay a visit to this gem!
To begin, you can have yourself the Mixed Tempura that comes up with fried veggie and prawns. Simple, straightforward, but you will be immediately taken by the wonderfully crispy texture and freshness of the ingredients inside. It's one of the absolute must-try dishes of Japanese cuisine, and Bistro Peekaboo has it well-done!
What's more interesting is that they do offer sashimi sets for beginners with 7 pieces and for the more adventurous ones with 9 pieces. Don't forget to try them out as well!
What to order: Mixed Tempura, Unagi, Hamachi, Tuna Tataki, 7 Kinds Of Sashimi, 9 Kinds Of Sashimi.
Address: 1297 56 Street Delta, BC V4L 2A6
1. Mario's Kitchen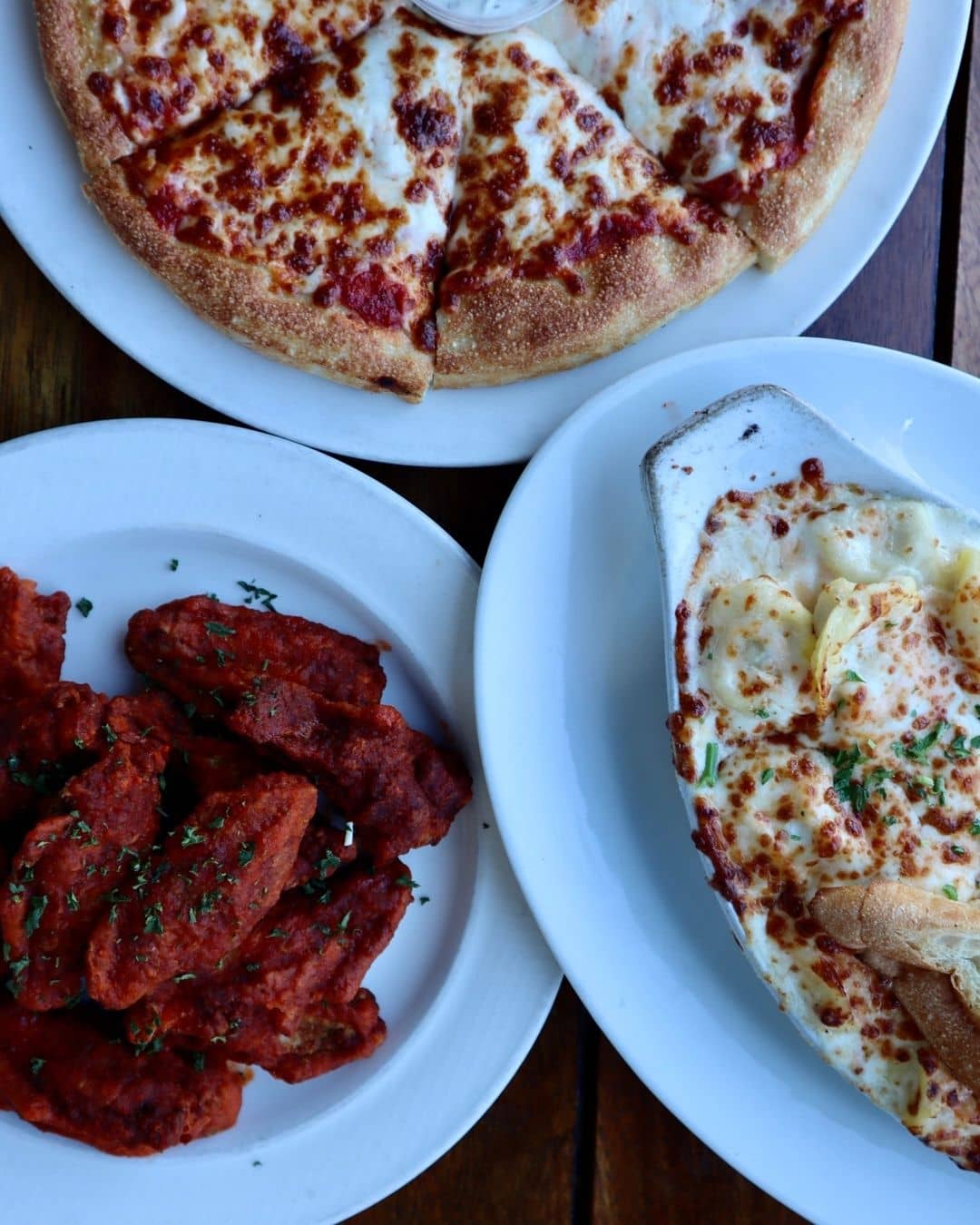 Located in the heart of Delta, Mario's Kitchen is our all-time favorite spot for some stunning Italian food and a wide selection of local craft beer. With a friendly, caring, and upbeat atmosphere, you might find it hard not to come back to Mario's Kitchen for more!
Have yourself the Prawns Cocktail first, then move on with some New Orleans Chicken or Smoked Salmon Penne. Trust us, they can never go wrong! Prawn Cocktails might sounds classic, but they have never gone out of fashion and never will. Juicy prawns tossed in a beautiful pink mayonnaise, which can taste even better when combined with diced avocado and a hint of spiciness from sriracha!
And the Smoked Salmon Penne, yasss, this oh-so-good pasta! The bold flavor of smoked salmon and aged cheese go on so well with each other; then a tiny dusting of green chives that adds some herbal aroma and bright flavors to this rich, creamy pasta. You are sure to come back for more!
What to order: Prawns Cocktail, New Orleans Chicken, Smoked Salmon Penne, Deluxe Classic Burger.
Address: 1105 56 Street Delta, BC V4L 2A2
Website | Instagram | Facebook
The ocean, the parks, trails, and waterways have made Tsawwassen a destination for many adventurous people in the region. Come for the attractions and activities, but stay for the food as they have always said when mentioned Tsawwassen. Keep yourself updated with our list of the best Dim Sum restaurants in Richmond whenever you're around the area.
The following two tabs change content below.
Latest posts by Noms Magazine (see all)