This article includes affiliate links where we may get a small commission if you use our link. No extra cost is added on and all funds will be used to support our team and content.
The Sea-to-Sky corridor is hands down the most famous road trips between Vancouver and Whistler. These two cities keep making global headlines as the top tourist destinations in British Columbia.
But the locals know one thing for sure: there's an off-the-radar hinterland located in the belly of the Sea-to-Sky corridor known as "an outdoor recreation capital of Canada" – Squamish. Spending the nights in this eclectic display of nature can outrival any getaway you've enjoyed before in other parts of the planet.
So instead of staying put in four walls of a high-end hotel, we want you to step out there and immerse into the wild, rich and dramatic landscape that Squamish has to offer. On that note, peruse these ten best vacation homes in Squamish and surprise your family and friends!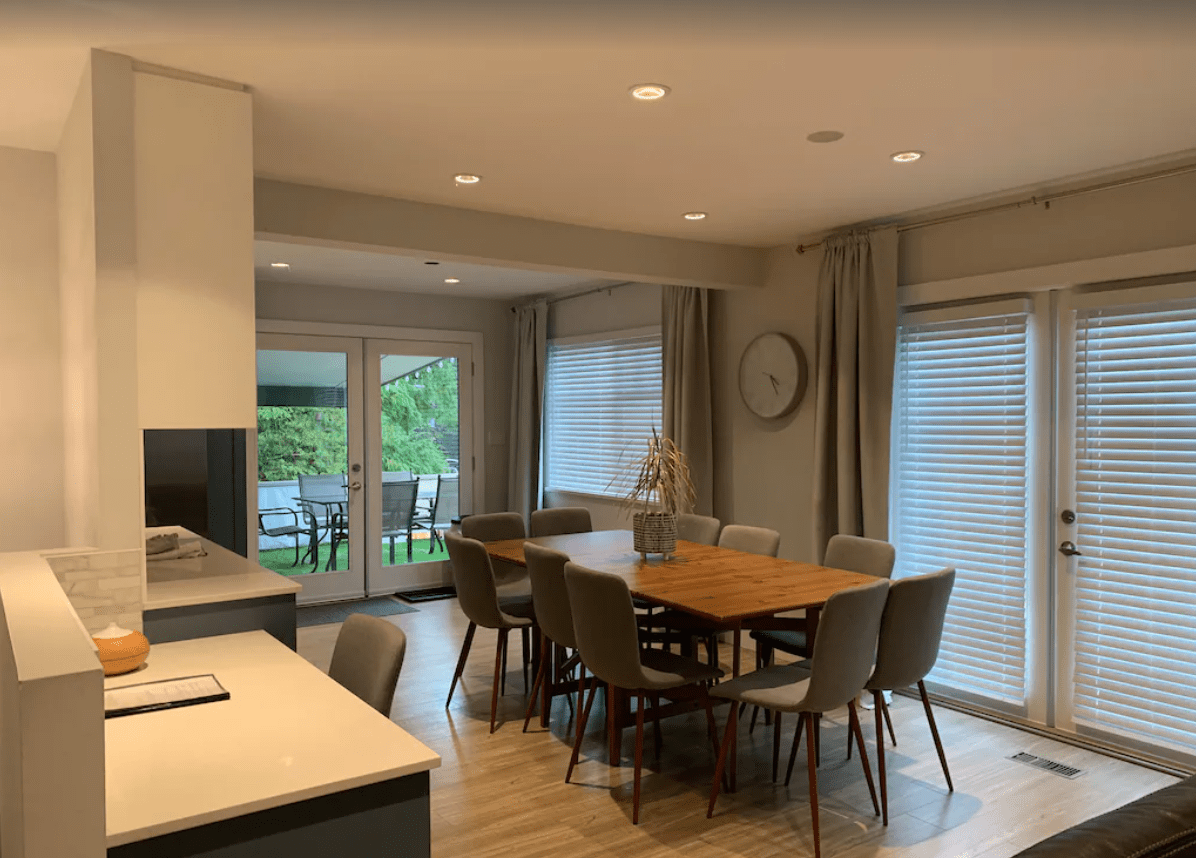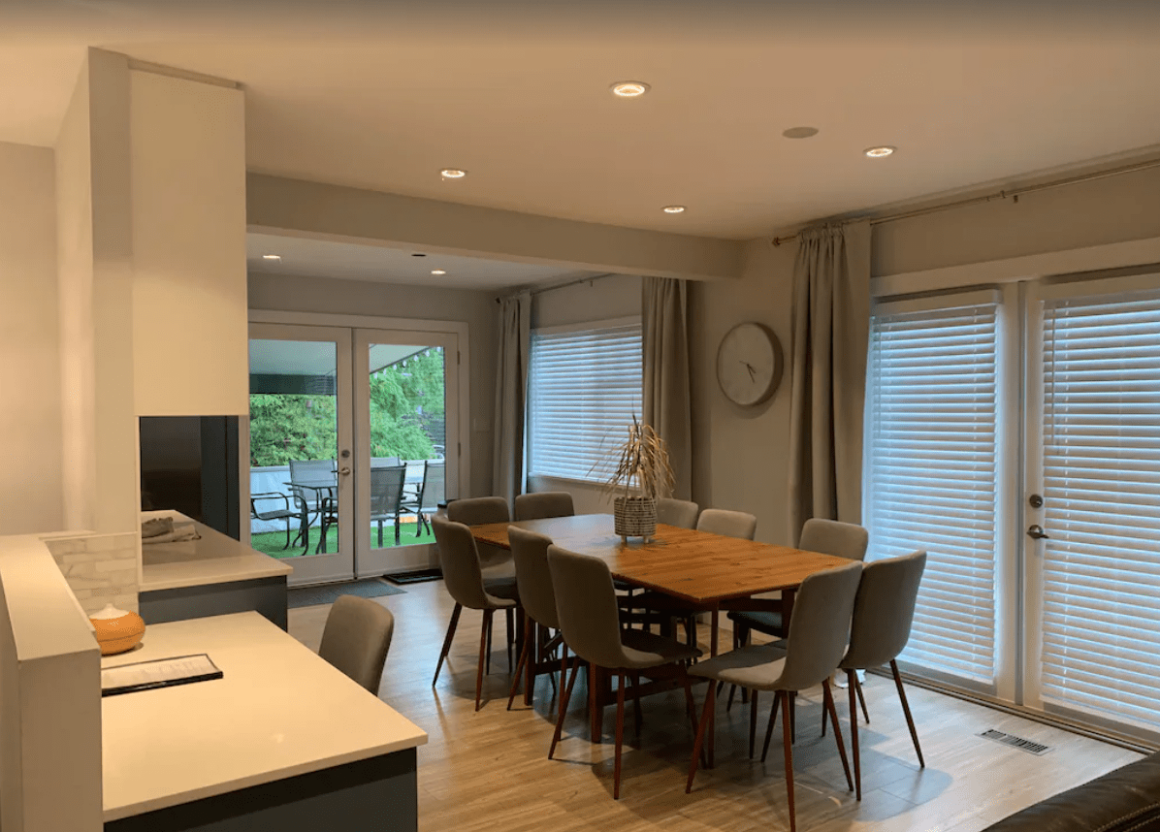 No. of guests: 13
Rating: 5/5
Other than Dana's ten-bedroom park-like manor above, check out Sheila's five-bedroom house if you're out in Squamish with a large group of family members!
Other homeowners like to express their taste through the eye for details or overall concept, but Shelia and Robert's mission is to maximize the level of comfort that satisfies even the most demanding guests.
We're talking about a restful night on a fluffy bed with lots of pillows, a mouthwatering BBQ at the outdoor patio, or a massive kitchen stocked with more gadgets than your basic needs. There's even an extensive slab top dining table where you can throw a year-end party in a cozy and engaging ambiance.
Sheila and Robert's house is just minutes off the Sea-to-Sky corridor and nestled in the heart of Garibaldi Highlands. If you're looking for a decent place that sleeps up to 15 guests, reach out to Shelia and Robert now!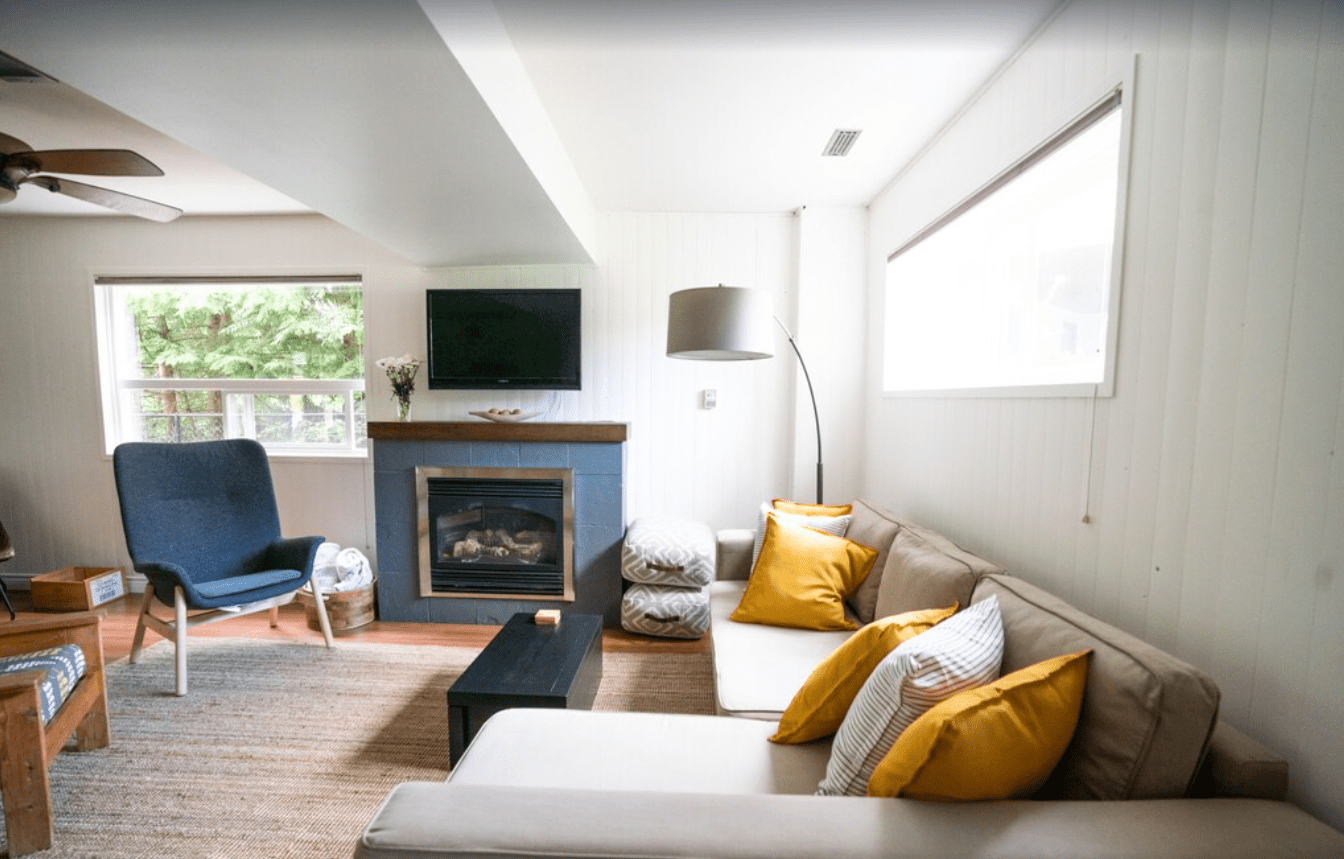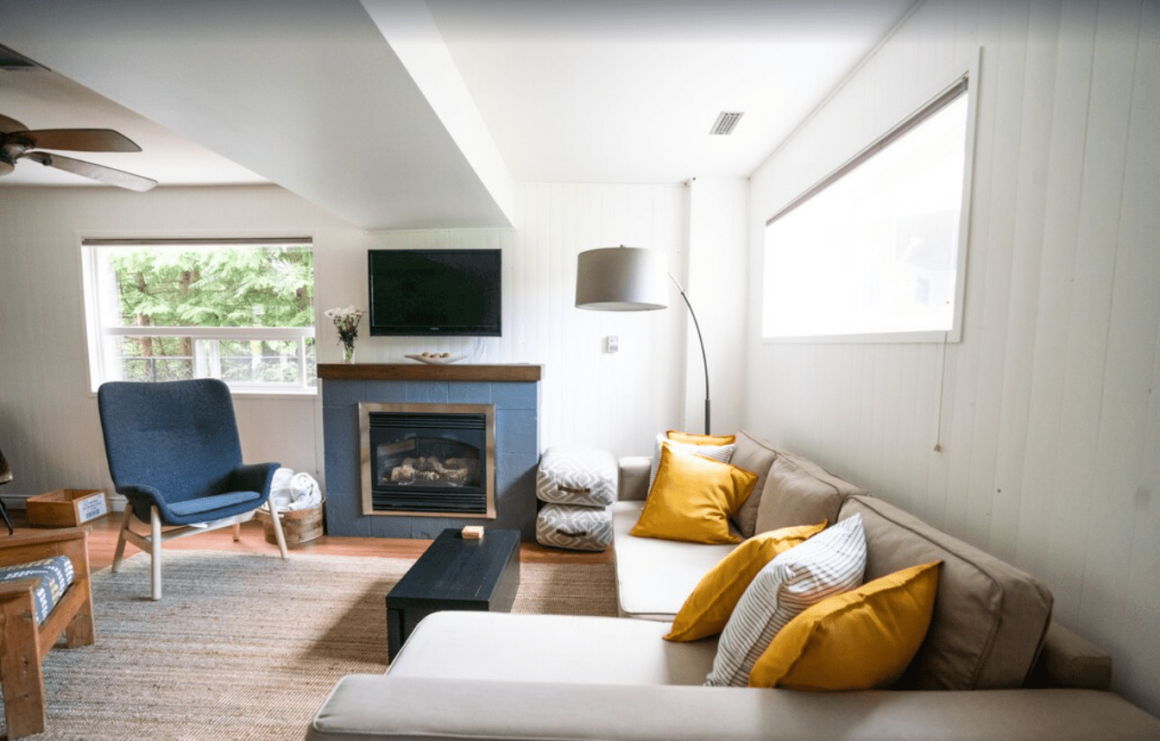 No. of guests: 6
Rating: 5/5
How many times have you wished to hang around in a dream house next to a trail network so you can work out with a scenic view anytime you want? Well, not just you, many residents getting trapped in the city buzz crave for a great escape to somewhere quiet that satisfies their forest bathing dream.
And that's the reason why Adventurers' Dream becomes a big hook for outdoor enthusiasts to Squamish. Its excellent location means you can tie your shoes, hop on a bike and head straight to Alice Lake trails adjacent to the door.
This cozy two-bedroom house is exactly what you're looking for in a home-away-from-home experience. An open-plan living space attached with a lush garden where you can wash your bike with ease. The sun-filled kitchen is attached with the airy living room, with a rectangular dining table visually separating the two spaces to eliminate a dense, compact feeling. Unwind in this expansive living room by a flaming gas fireplace after a long day chasing the hills!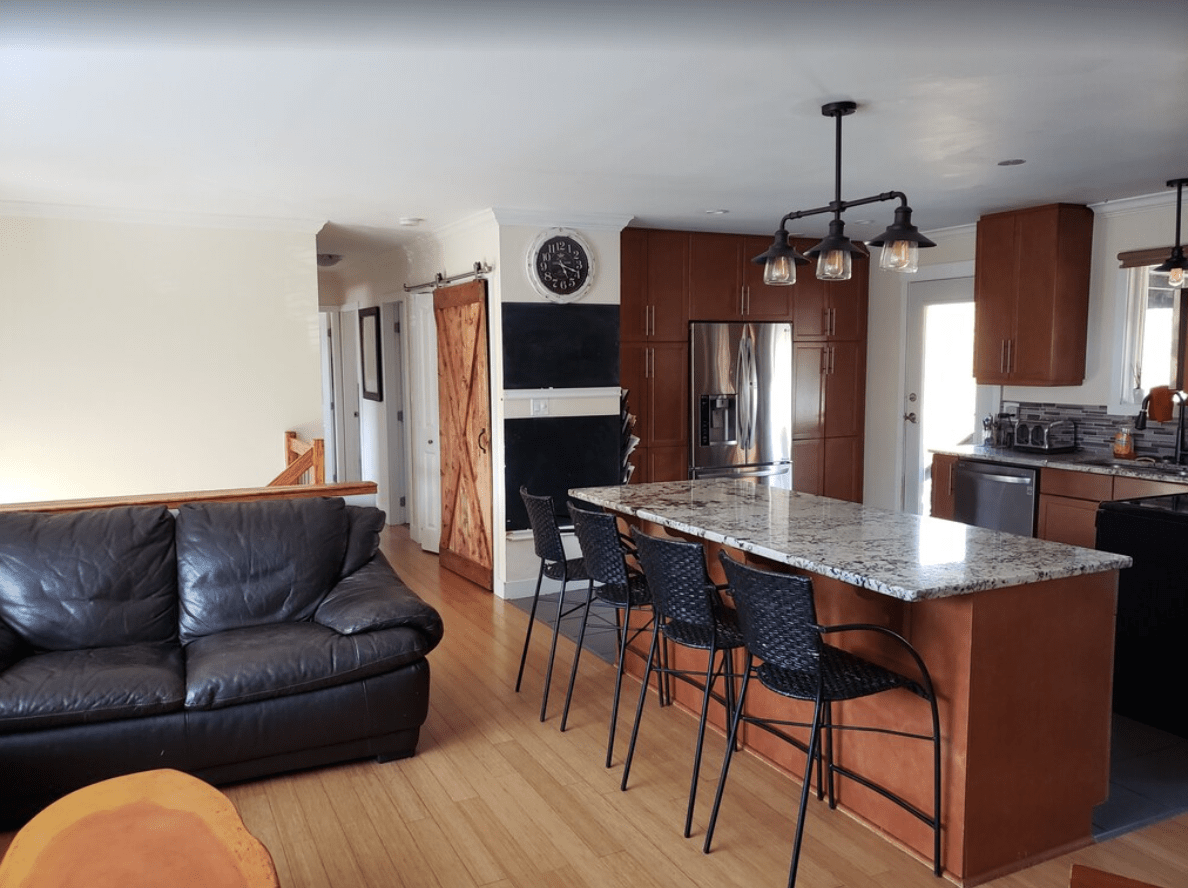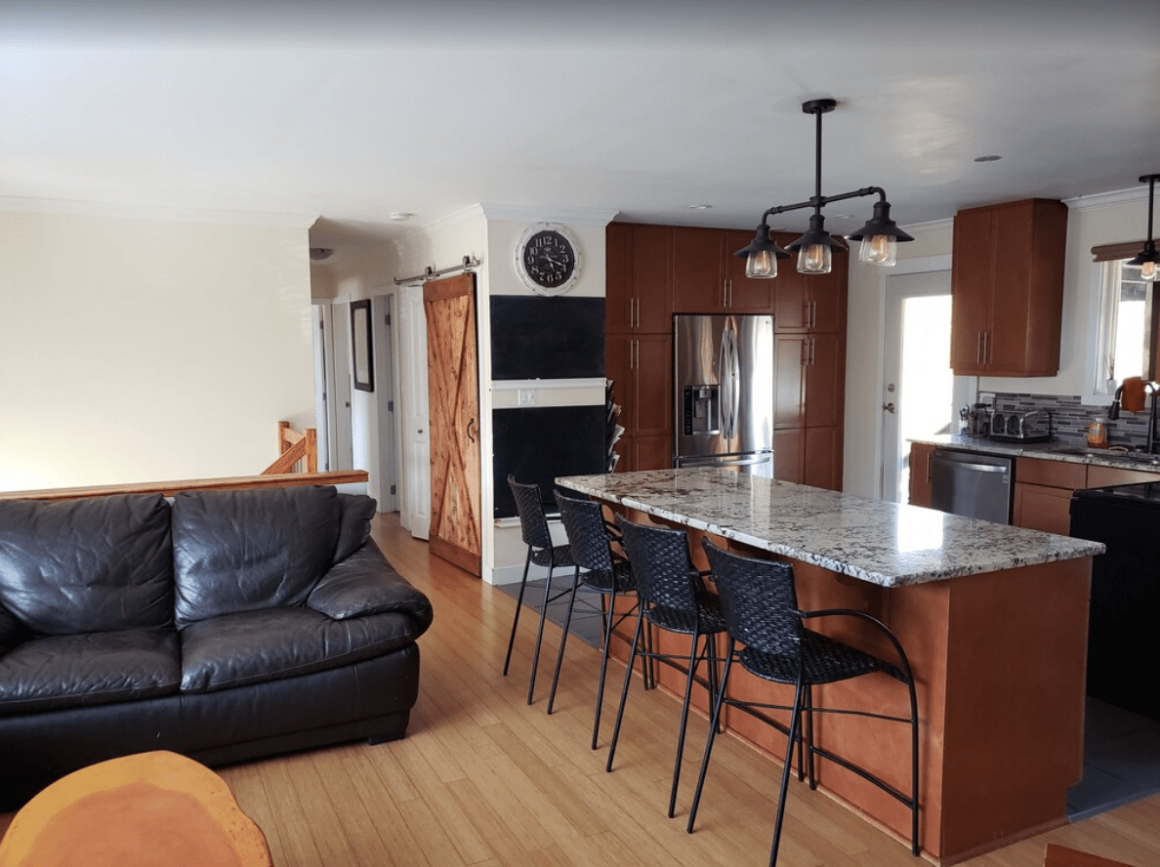 No. of guests: 8
Rating: 4/5
We save the last spot in this curated list of Squamish best accommodations for Rob's open-concept house. This majestic single-family detached home snuggles in a sun-kissed, burgeon garden where a big family of eight will fit perfectly.
We would recommend Rob's vacation home for any family that visits Squamish for the first time as its golden location ensures that you won't miss out on the main happenings. The limelight of the house doesn't come from a flashy, fancy décor but the intimate, chummy atmosphere you're familiar with back home.
Every compartment of the house is attached with the scenic garden view via a lovely window or a sun-flooded hallway leading to the outdoor area. Everything you find at this place invites a long weekend family bonding that all you want to do is staying put for some good time with your loved ones. What's else? Get some ribs ready because we're sure you'll love a BBQ party before sundown at this partially covered deck!
Da Cabane – Incredible Glacier View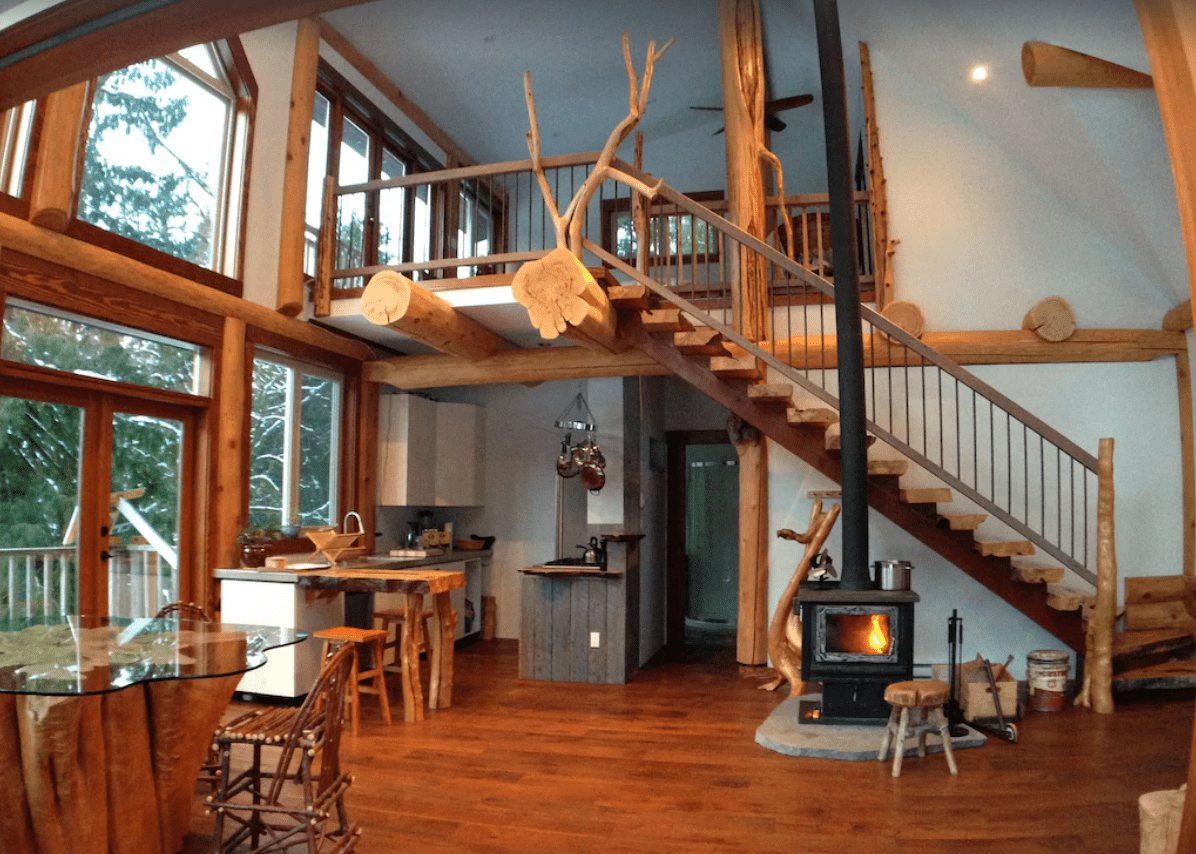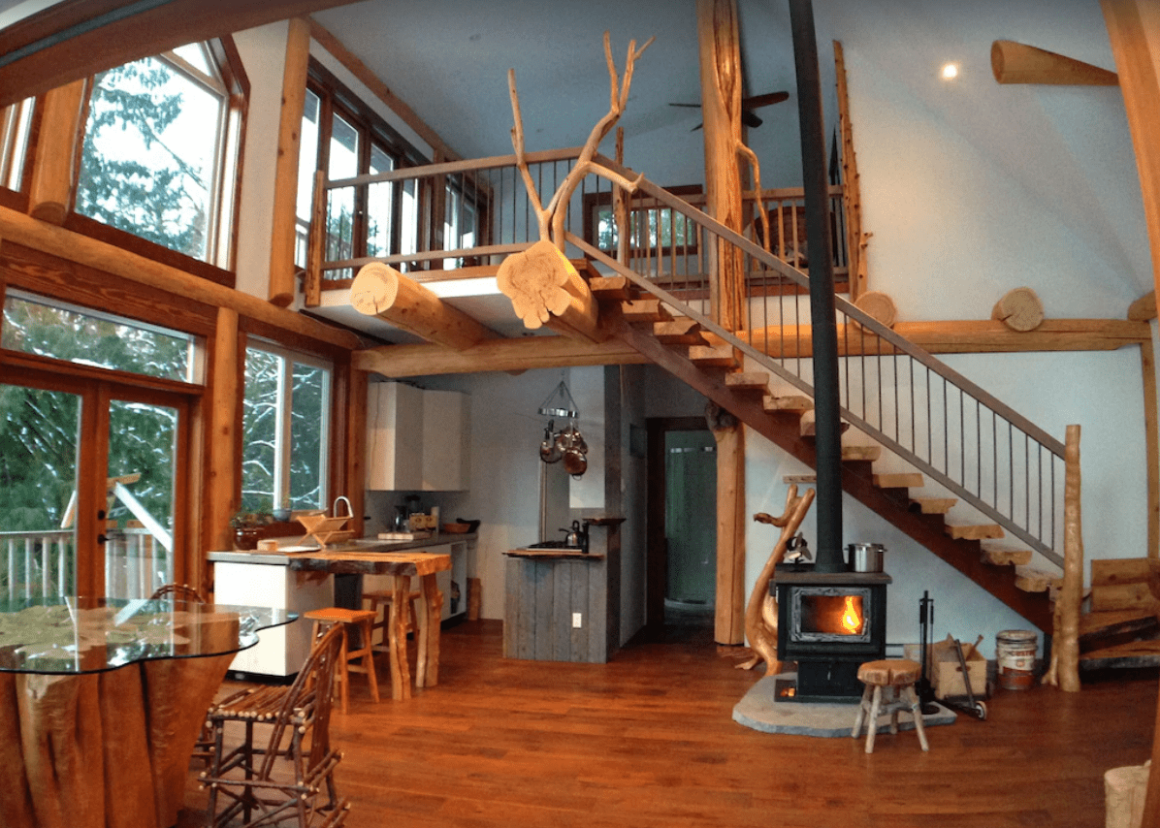 No. of guests: 5
Rating: 5/5
Nowhere exemplifies the hint of the beautiful-yet-laid-back setting of Squamish better than Martin's Da Cabane. The entire wooden structure is stowed away in the heart of Squamish Valley and can host a large group of five.
Those who fall in love with a unique, unobstructed glacier view of Squamish don't want to miss out on this log house. The first steps into Martin's cabin open a door to your long-lost childhood fairytale – The Sleeping Beauty.
That dreamy Aurora' cottage comes off the page and emerges in the heavily forested shore of Squamish. The exposed beams, artistic coffee table, hardwood door frames, ceiling lines, and leather upholstery introduce a rough and ready forest shelter.
Martin's log is a stone's throw away from all the main actions in Squamish. But with the company of a sauna and hammocks, you may just find yourself staying put.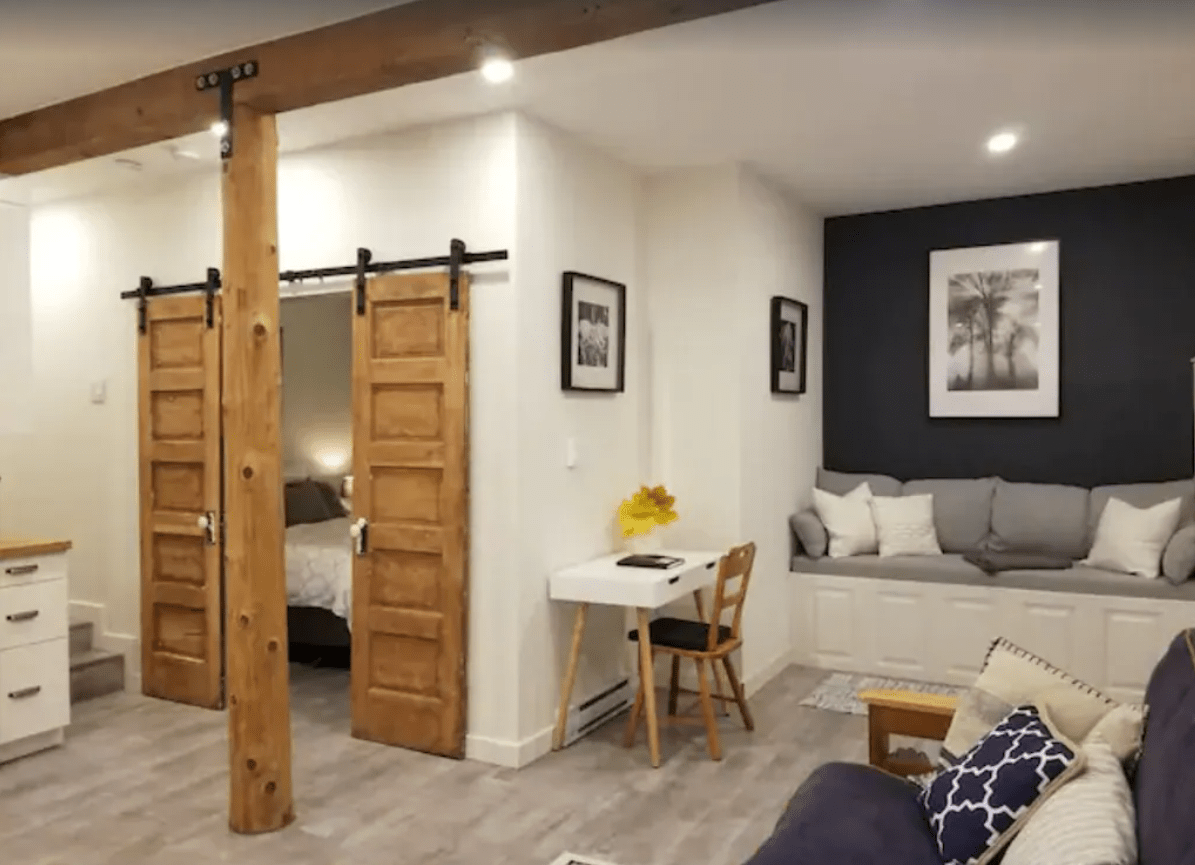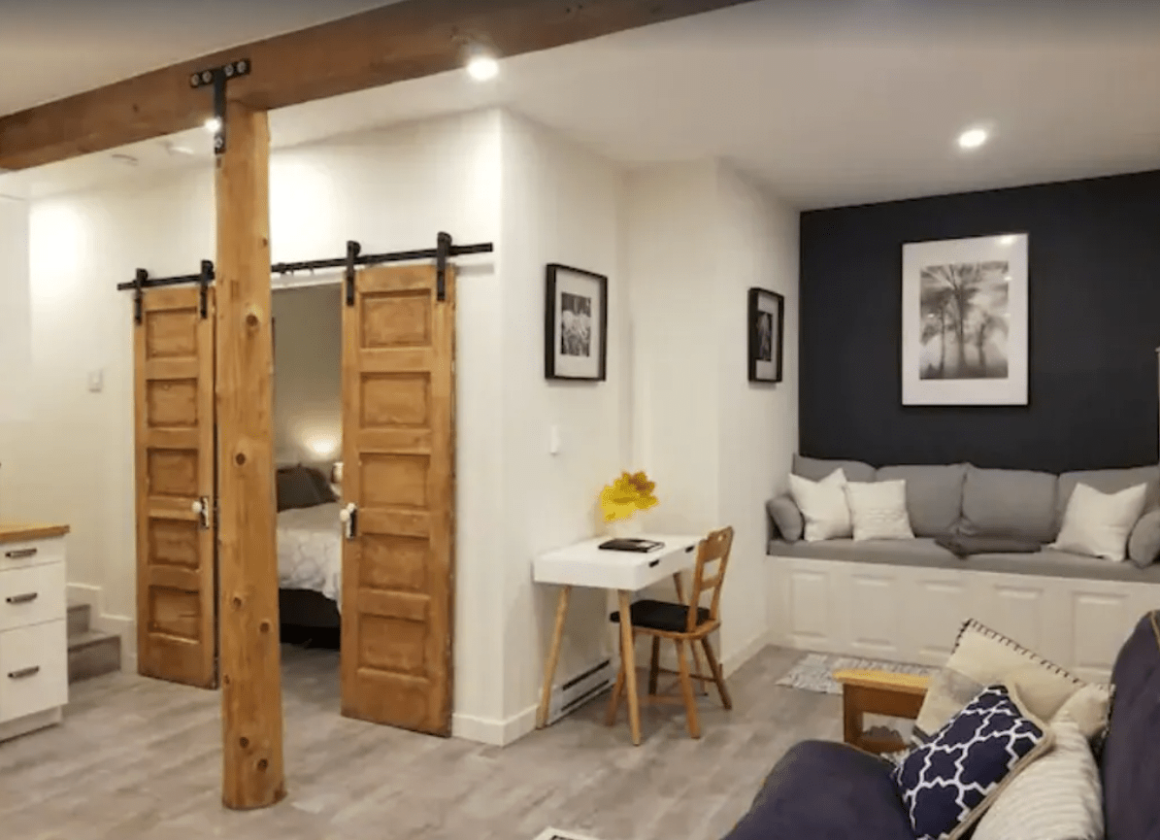 No. of guests: 4
Rating: 5/5
Just like its name suggests, this one-bedroom suite is tucked behind a sun-kissed garden and a pedal away from the Brackendale Eagles Provincial Park. Adventurous Suite is a home sweet home of passionate mountain bikers, hikers, and small families. More than just vacation rental, it's a crown jewel located next to a network of technical trails where outdoor enthusiasts can work out on the challenging climbs or conquer slabs of rocks.
A small family of four can comfortably snug in this little nest, curl up on a foam queen bed and a double futon. The house strikes a perfect balance between a classic country home and a modern, Scandinavian-themed retreat that is playfully designed by BMDesigns, a local interior design firm.
Exposed wooden beams and posts tastefully stand out from the bare walls. The little cozy bedroom is hidden behind washed-out reclaimed doors. Everything you need for a long weekend is fully supplied, including a desktop-friendly workplace, chef's kitchen, and a thriving garden to accompany a cozy bonding.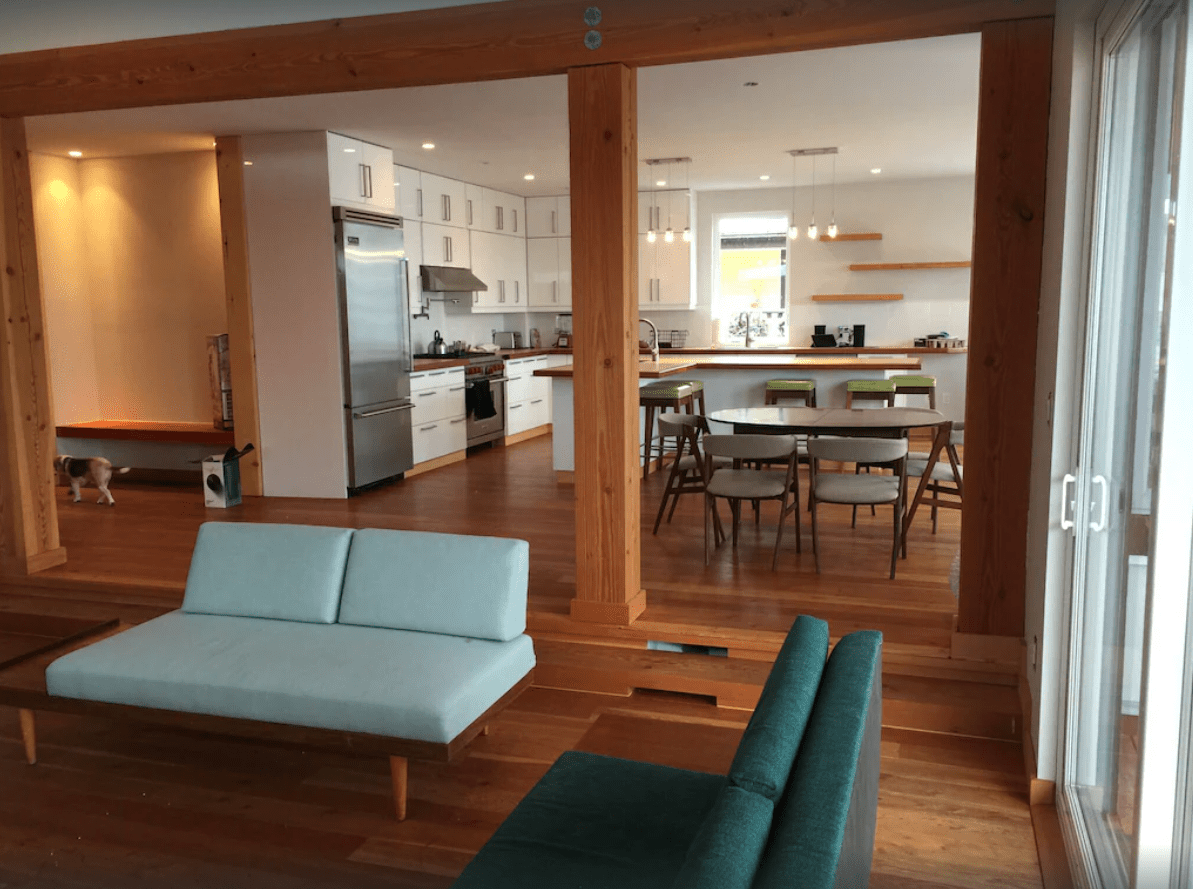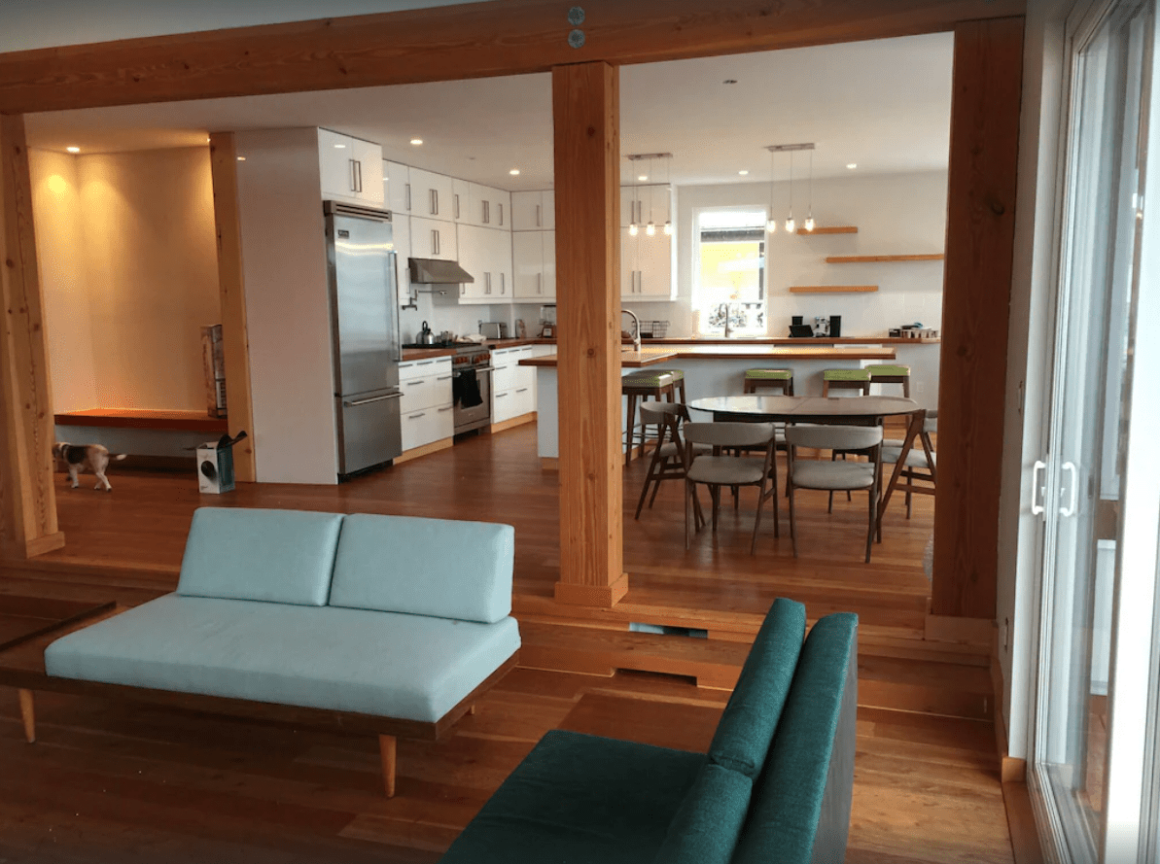 No. of guests: 6
Rating: 4.9/5
Planning an ultimate Sea-to-Sky getaway but not sure where to rest your back? Take a look at this 2200-square-feet master suite and give your family a big surprise!
This stylish west coast home boasts a majestic footprint embellished with a tasteful set of furniture. However, the real headliner is the peaceful seclusion hugged by the cloud-capped mountains and partial sea view.
Snowy or sunny, this West Coast home is still imbibed with a cozy ambiance – a typical beauty of this Squamish headland. Injected by an energy-neutral system, this homey nest is a top call for travelers in the hunt for a carbon-zero accommodation.
Getting tired after a long day hiking in the woods? Head back in and relax in the European master suite bathtub to pamper your bedtime routine!
Its timber details and hand-crafted woodwork blend into the rustic surrounding nature. While the lush garden is visitors' favorite gathering venue to recall the day's events, you can unwind by the indoor fire pit if it's getting cold outside.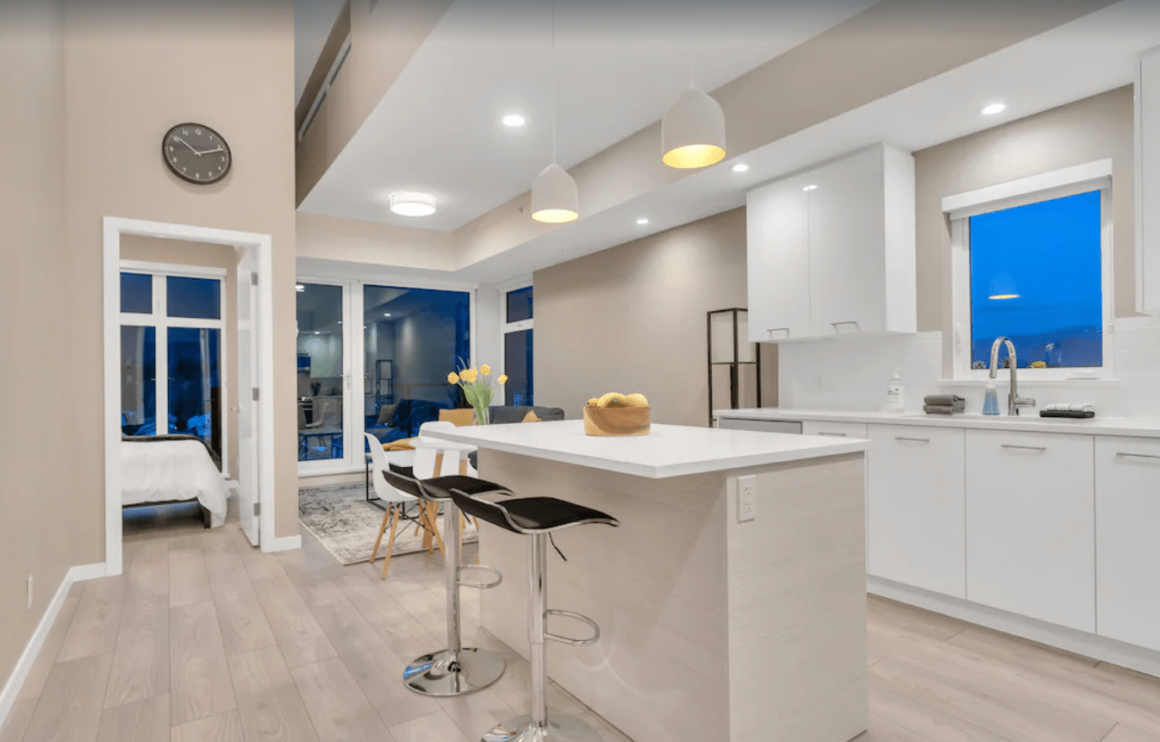 No. of guests: 8
Rating: 5
What springs into your mind when the idea of living in a downtown penthouse comes around? Is it the sweeping skyline view, or the high-traffic streets packed into a densely populated neighborhood? These ideas may be the most common fixations if you rent a penthouse in the world's busiest cities, but it doesn't go the same way for this Squamish high-end condo.
This spacious penthouse leans on the proud backdrop of rolling mountains shading a calm neighborhood in downtown Squamish. Its grey-and-white color scheme leaves space for shiny metal surfaces and impromptu pop colors.
This modern penthouse boasts two spotless bedrooms and a chef's kitchen to cook up family's dinner and enjoy some wine with a dramatic mountain view.
Which one of the above sounds the most enchanting to you? If you're on the road with your significant other, the mountain view penthouse would be good. Hanging out with a large group of friends?
Don't forget that we reviewed the six best hotels in Squamish right here targeted at campers, luxury seekers, single backpackers, and golfers!
---
More Accommodations in Squamish