Sushi is no doubt a favourite for many people. From hand-pressed nigiri, stunning hand roll to the delicately wrapped temaki, they always hit the spot. Can't wait any longer for a fresh bite of sushi?
Check out our top 10 Coquitlam sushi restaurants whenever you're hungry for this quintessentially Japanese dish. Including all the 'hidden gems' and 'all-time favorite' locations, you will surely find your sushi-dream-place below and won't be disappointed!
10. Sushi Tree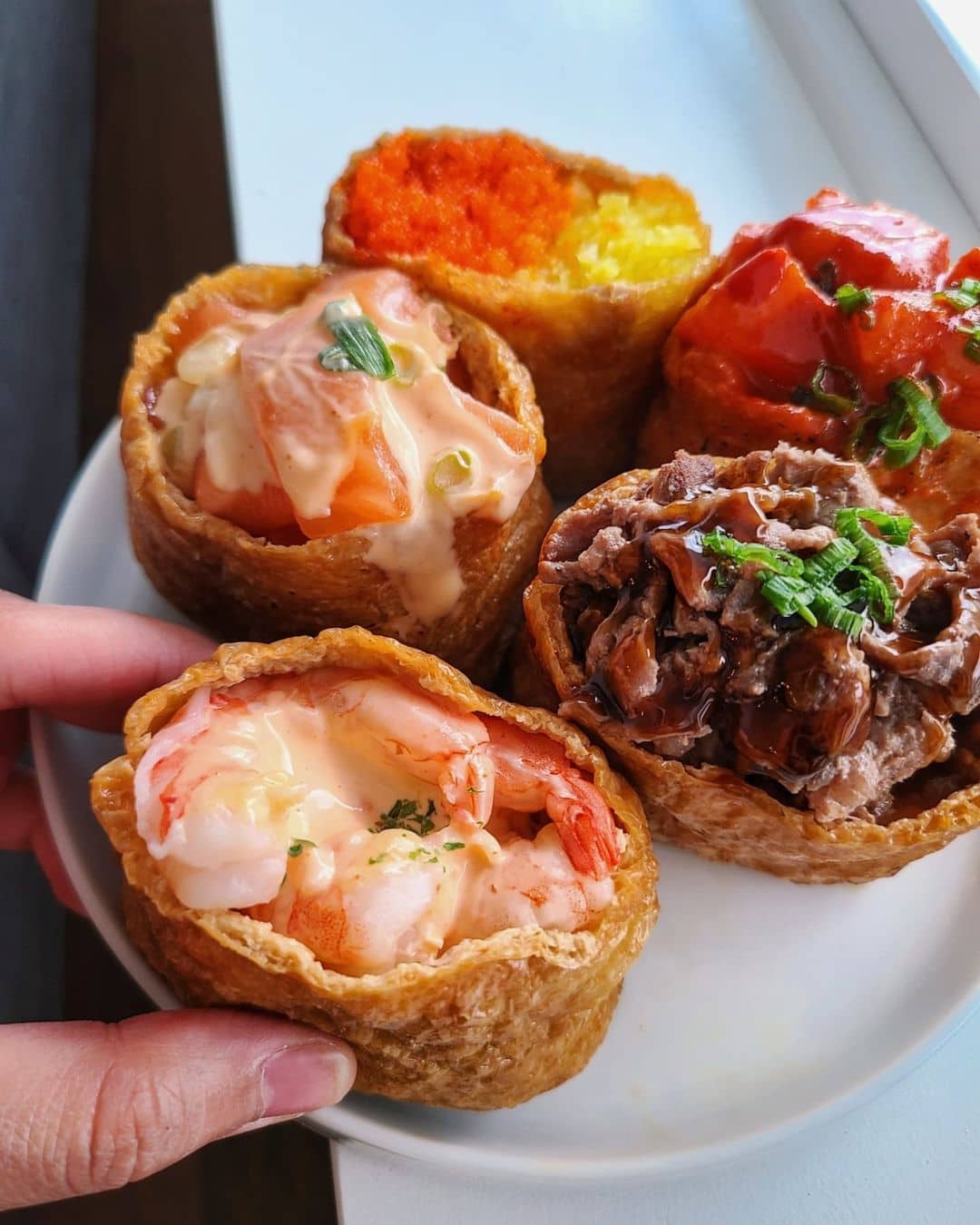 Located beside Henderson Mall, Sushi Tree is an inari sushi spot that serves the cutest, most affordable inari grab-and-go. Their take-out boxes fit from 3 to 6 pieces, which is just right to try a bit of everything and still satisfy your taste buds. There are many selections to choose from, but you might want to visit Sushi Tree earlier because they run out of stock very quickly.
If you're more into something flavorful, spicy with rich texture, try Spicy Tuna, Spam, Beef Teriyaki, and Chopped Salmon Inari. But if you want something lighter, fresher with hints of sweet-sour taste, go for Avocado, and Masago & Pickled Radish Inari.
They are all tasty and worth trying with the stunning aromatic from the sesame oil in the rice, blended with a little bit of quinoa, moist but not mushy. Trust us, you can never stop when you've got that first bite!
What to order: Spicy Tuna Inari, Spam Inari, Beef Teriyaki, Chopped Salmon Inari, Avocado Inari, Shrimp Inari, Masago & Pickled Radish Inari.
Address: 1163 Pinetree Way Unit 1206 Coquitlam, BC V3B 8A9
9. Matoi Sushi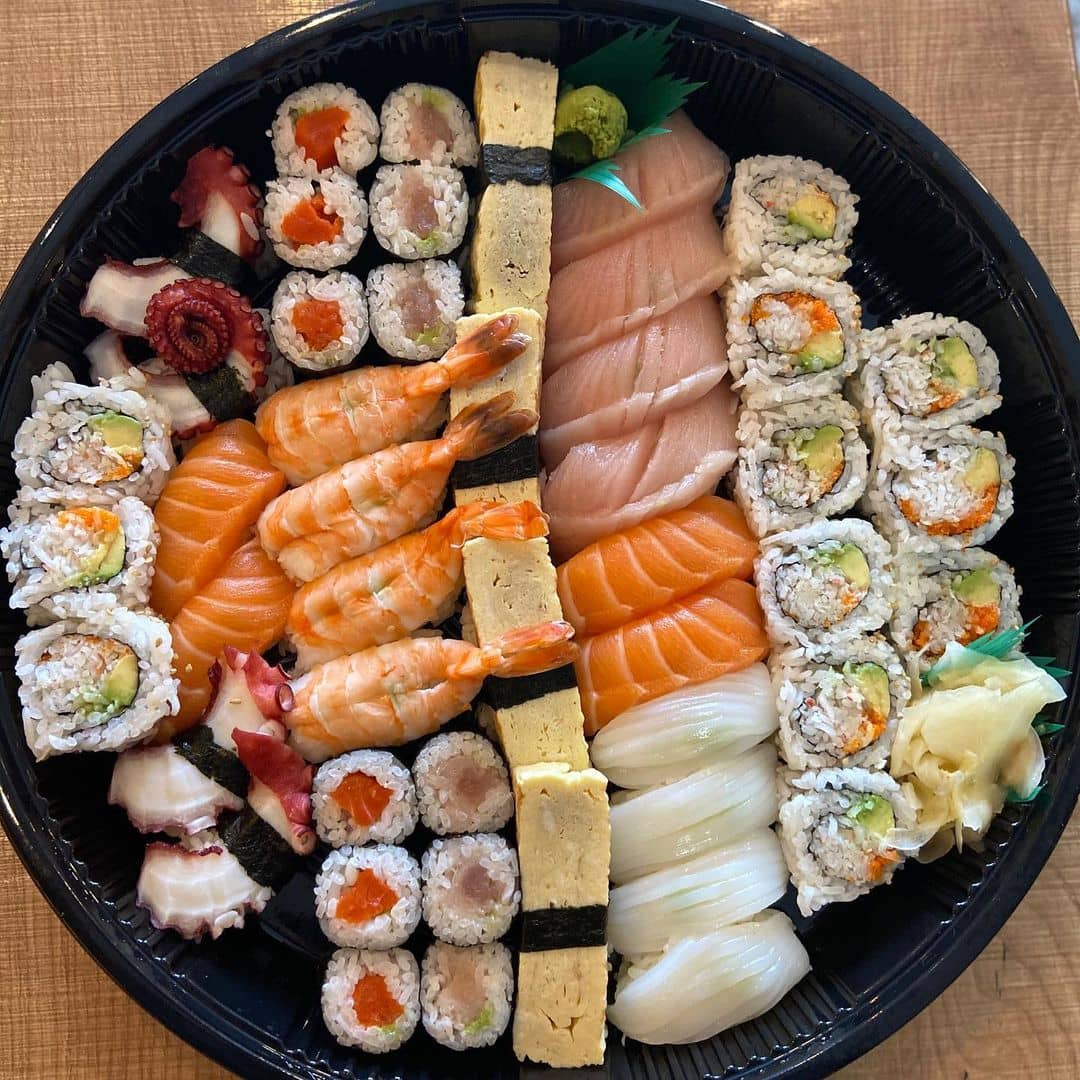 At first glance, you might not expect much from this small restaurant in the suburb of Coquitlam, but you'd be pleasantly surprised once coming here. Matoi Sushi has a simple and clean decoration, which is very close to the authentic Japanese style. The ambiance is adorable, and the food is to die for!
The space might be limited, but the menu is absolutely not. So in case you need some help, try settling down with theỉ Karei Karaage and Yosenabe Hot Pot. This combo can never fail you.
The Karei Karaage is fried to perfection, tasty without the need of too many seasonings; the sauce coming along adds a pretty nice balance to the end. While the hot pot comes up with mixed seafood, fresh veggies, noodle with ponzu sauce; super tasty and flavorful!
What to order: Karei Karaage, Deluxe Assorted Sashimi, Blue Fin Tuna Belly, Yosenabe Hot Pot, Sashimi Salad, Seafood Miso Udon.
Address: 490-3025 Lougheed Highway Coquitlam, BC V3B 6J6
Website | Instagram | Facebook
8. Kaiko Sushi & Japanese Restaurant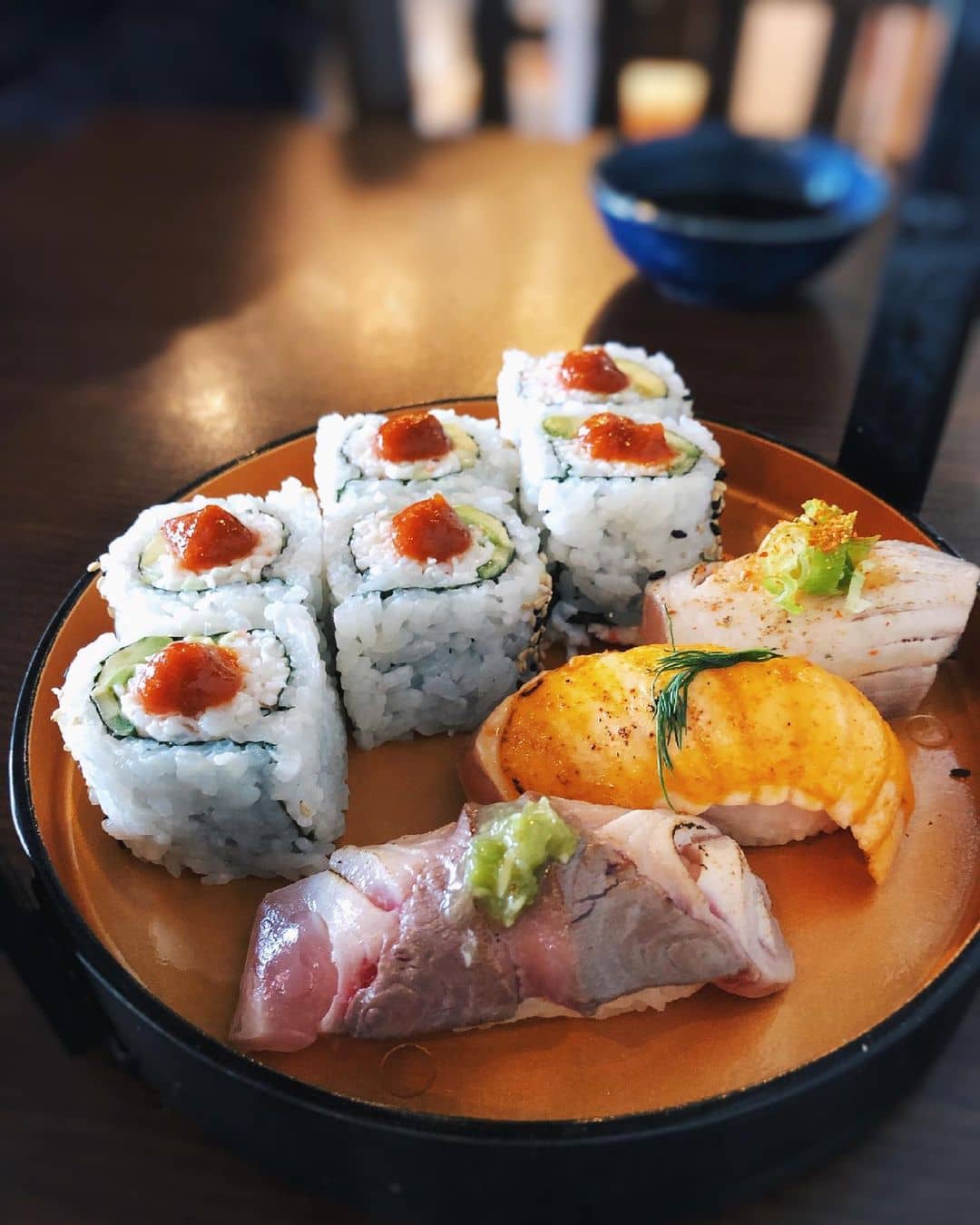 Kaiko Sushi & Japanese Restaurant is a family-run and pretty small restaurant with only 3-4 tables inside, but there are always lines of people waiting to take orders. You will soon know why when you pay a visit to Kaiko Sushi & Japanese Restaurant.
Three of the best go-to dishes once coming here are: Dobin Mushi, 'Smoke' Salmon Roll, Spicy Combo, and we bet you might want to start with these. Dobin Mushi, steamed seafood served in the teapot with soup, is actually a starter; but its taste and aroma are so good that people keep coming back for more.
'Smoke' Salmon Roll is the true star of the show, from the presentation to the tasting profile. It is served on a dish with a glass lid that physically smokes the roll, which makes the flavor unlike anything smoked salmon you've ever tried before. Sprigs of dill are placed on top, which gives a nice boost of freshness overall.
What to order: 'Smoke' Salmon Roll, Dobin Mushi, Spicy Combo, Negitoro Maki, Oyster Tempura, House Special Tuna Don.
Address: 401-1192 Lansdowne Drive Coquitlam, BC V3E 1J7
Website | Instagram | Facebook
7. Sushi Mori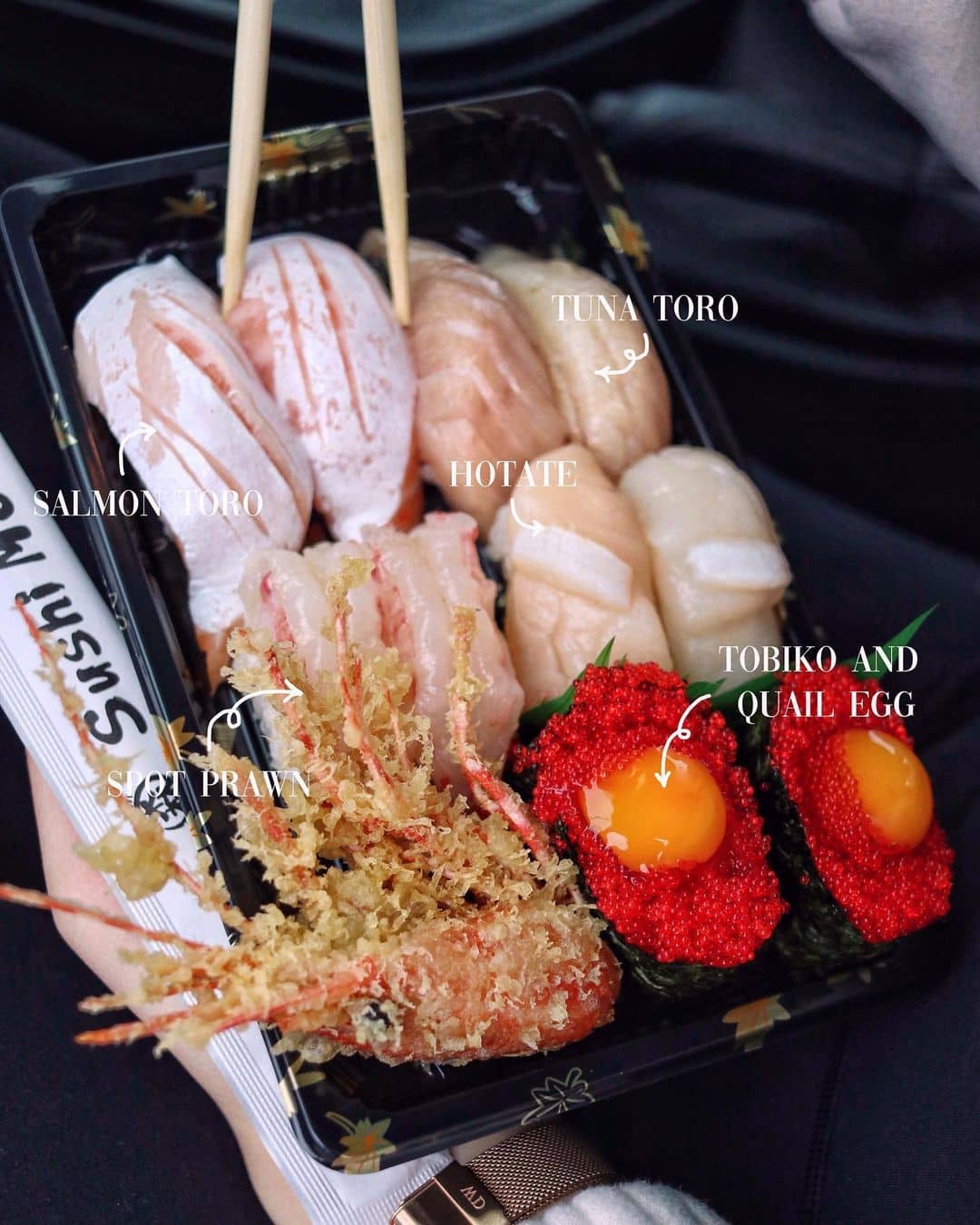 Whenever you think of a fancy place to enjoy your favorite sushi dishes, think of Sushi Mori. Once visiting Sushi Mori, you will definitely be impressed by the stylish and modern decoration with brightly-lighted trees hanging all around. They also have a huge cherry blossom tree in-house and plenty of seats around, where you can have your Japanese cuisine underneath!
Don't leave without trying their Seafood Bento Box and Spicy Salmon Sashimi, especially when you're coming with a group of friends or family, because the portion is huge.
The Bento Box comes up with a bit of everything, nigiri, temaki, sashimi and more. They are all well-presented, fresh with decent taste. The Spicy Salmon Sashimi is not too spicy but has a hint of sweetness indeed, which is just enough to satisfy your taste buds.
What to order: Seafood Bento Box, Spicy Salmon Sashimi, Spicy Seafood Salad, Chicken Teriyaki, Chicken Soba, Magma Roll.
Address: 2565 Barnet Highway, Coquitlam, BC V3H 4E2
Website | Instagram | Facebook
6. Hanamori Sushi
Hanamori Sushi is a family-owned Japanese restaurant that can cause you an instant crush for its home-y, classic and authentic ambiance of Japan. Besides the relaxing atmosphere, Hanamori Sushi also gains a reputation for their delicately prepared and aesthetically pleasing dishes.
Settle down with our all-time winners: Refresh Roll and Volcano Roll, the opposite tastes of both can really bring a bomb to your palate! Refresh Roll comes up with salmon, cucumber, and mango wrapped in avocado, light tasting with a hint of sourness.
While Volcano Roll stays true to its name, spicy, saucy, and super flavorful with prawn tempura, crabmeat, potato flakes, and secret house sauce on top. Heavenly heaven!
What to order: Refresh Roll, Devil Tail Roll, Akai Roll, Aburi Salmon, Torch Salmon Belly.
Address: 102-511 Rochester Avenue Coquitlam, BC V3K 0A2
Website | Instagram | Facebook
5. Sushi California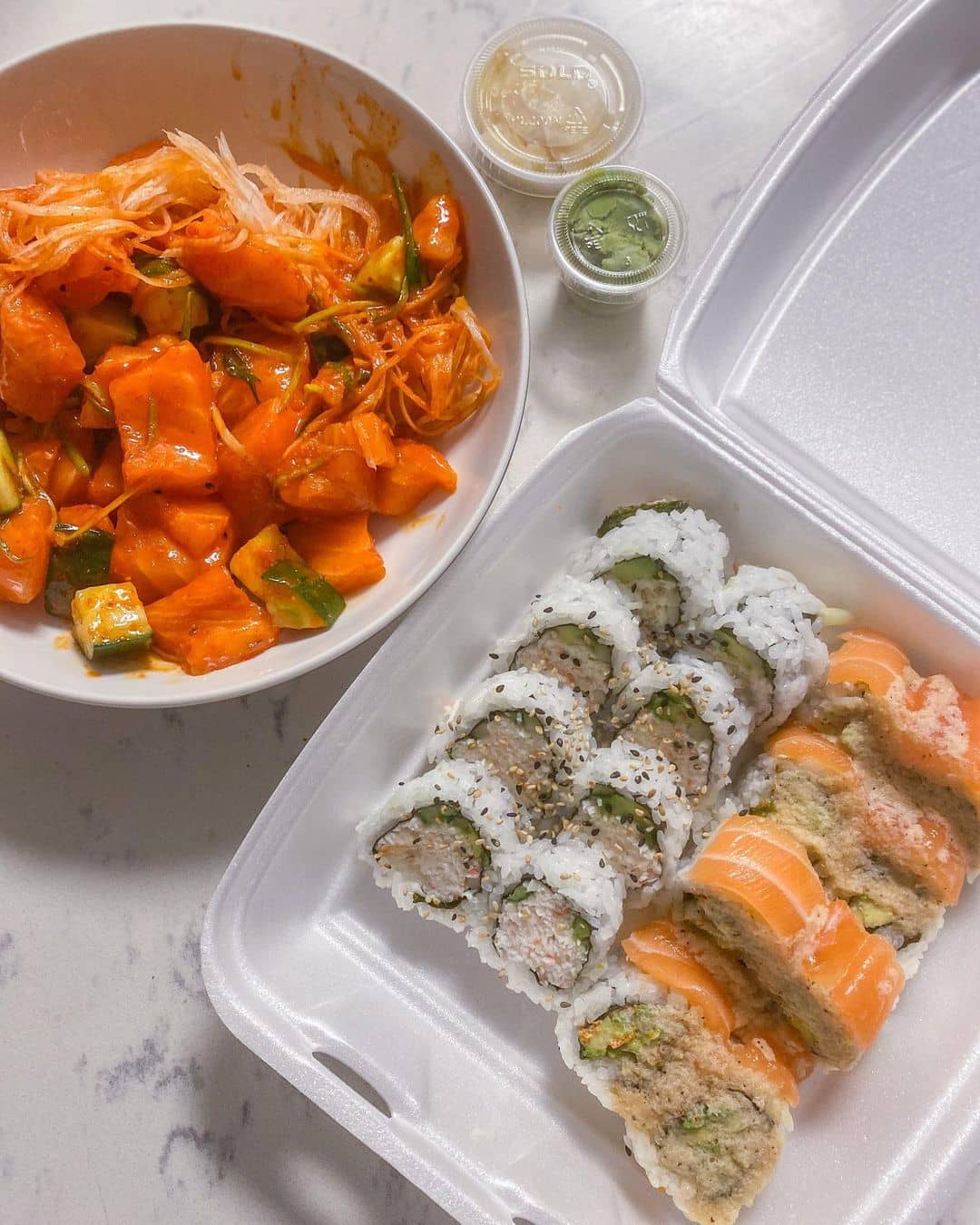 Sushi California is your next go-to for a fast & wallet-friendly sushi treat in town. They offer a large selection of special rolls with decent taste, which explains why there is always a line to get to this no-frills joint.
The best way to enjoy your time here is by calling out the best-seller Spicy Salmon Sashimi and Salmon Moutain Roll. The sashimi is fresh, spicy with that slightly sweet sauce on top; it tastes so good that people are lining up just to order this.
The salmon roll is no less delicious with tempura prawn heaped with melted-right-away salmon sashimi. You will keep craving for more the second you finish it!
What to order: Spicy Salmon Sashimi, Salmon Moutain Roll, Dynamite Roll, Seafood Salad, Sashimi Combo.
Address: 501 North Road, Coquitlam, BC V3J 1N7
4. Sushi Town Coquitlam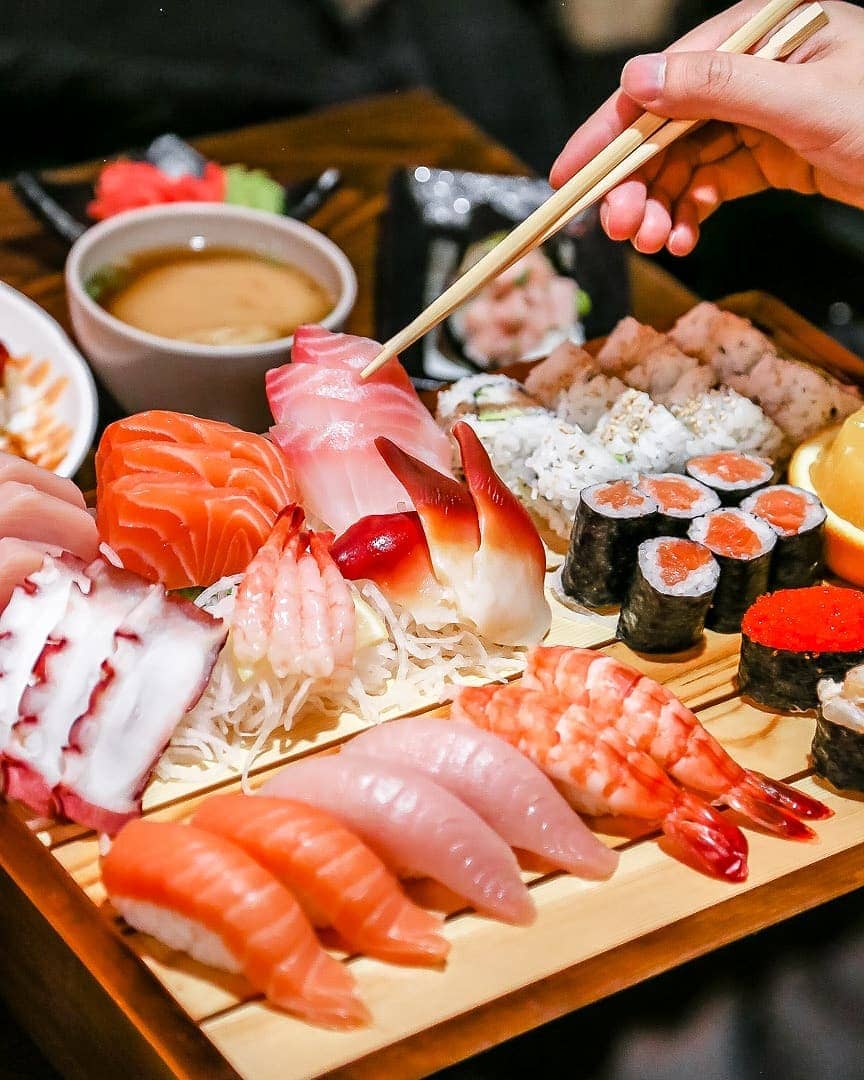 A quick yet delicious lunch for a busy day? Make your way to Sushi Town in Coquitlam! The menu here is so extensive and mouth-watering that all you can do is keep coming back to fully discover them. However, it's usually bustling in Sushi Town, so get ready for that ambiance once visiting.
Make your way through with their famous Crazy Girl, French Kiss, and Smoky Mago Roll. They might sound weird, but trust us, the quality is no joke! Crazy Girl is a deep-fried California roll with cream cheese and secret sauce on top; crunchy, buttery, and sweet-spicy taste.
While Smoked Mango comes up with crab meat, cucumber inside and topped with smoked salmon, mango, and teriyaki sauce. Salty, fresh, slightly sweet and sour; so many flavors packed in just one bite!
What to order: Crazy Girl Roll, French Kiss Roll, Smoky Mango Roll, Salmon Aburi Oshi.
Address: 28-2773 Barnet Highway Coquitlam, BC V3B
3. Narita Sushi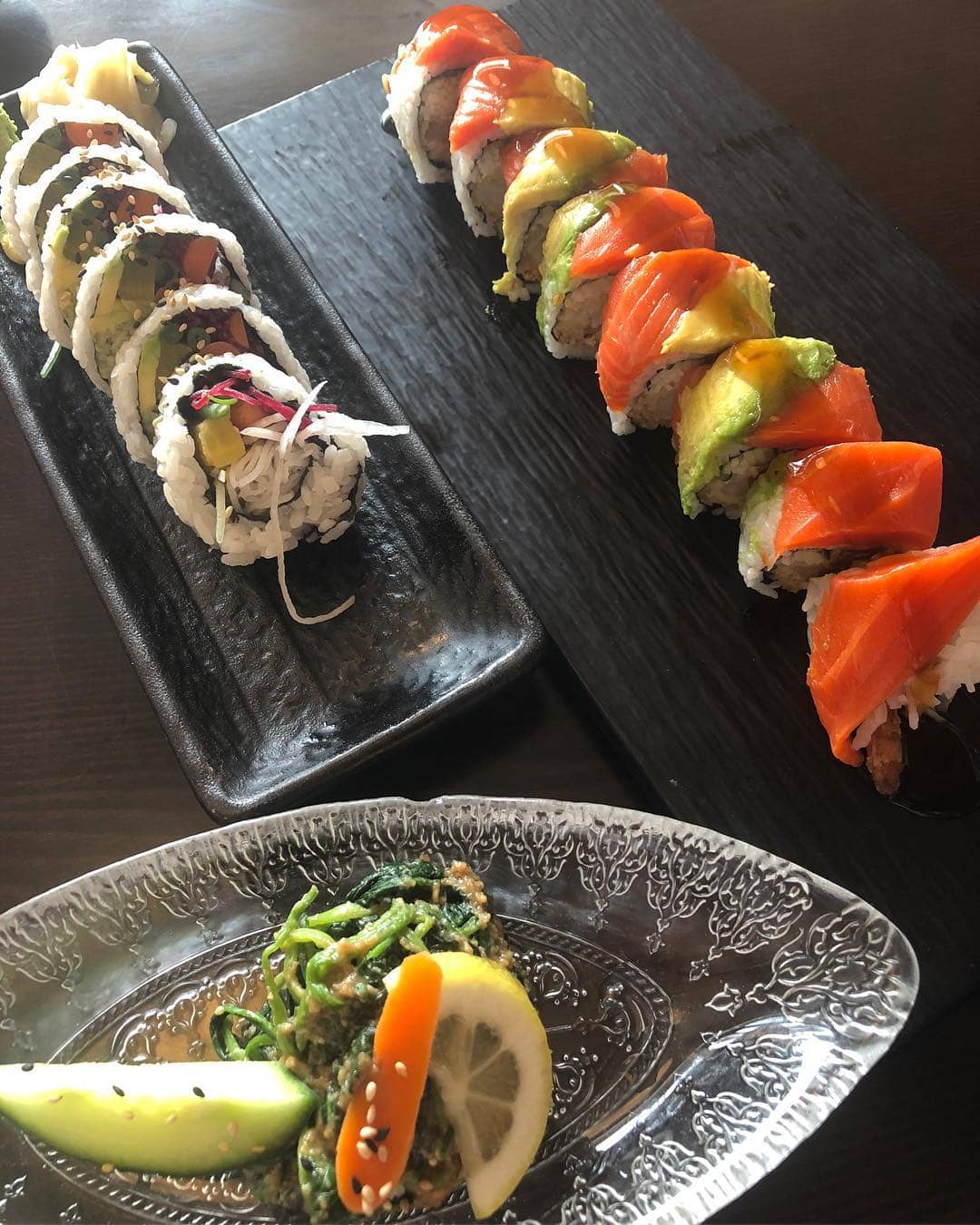 If you haven't heard of Narita Sushi, perhaps you've been living under a rock. Narita Sushi has been the Coquitlam community's all-time favorite, known and loved for its creative choices of sushi and modern yet cozy decoration.
At Narita Sushi, you can never go wrong with the Hunger Game Roll, Max Roll and Sushi Pizza. The Hunger Game Roll, a must-try for spicy lovers, comes up with deep-fried spicy tuna, topped with spicy tempura crumbs and tobiko, which definitely can give a kick to your taste buds.
The Sushi Pizza is irresistible with that crunchy texture and fully filled with fresh, thick-cut tuna, salmon, crab, and cheesy mozzarella on top. Another level of sushi experience!
What to order: Sushi Pizza, Hunger Game Roll, Max Roll, Transformer Roll, Pink Lady Roll.
Address: 100 Schoolhouse Street Unit 408 Coquitlam, BC V3K 6V9
Website | Instagram | Facebook
2. Sushi Karis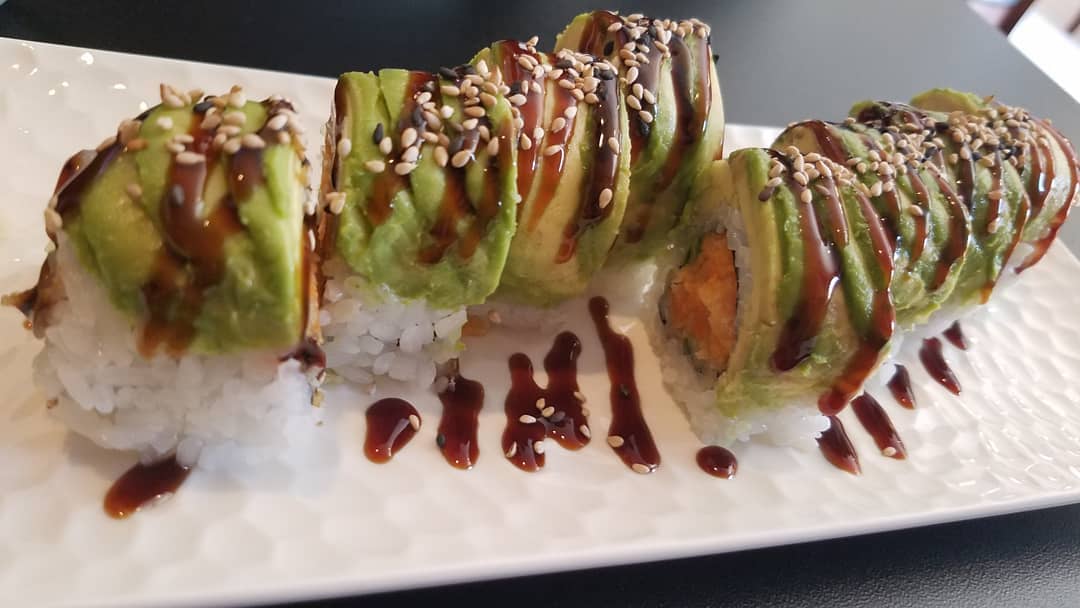 Sushi Karis is so much of a neat, little sushi place on Nelson Street that you can definitely miss it if you don't pay much much attention. But don't be fooled by their size, because the quality of their food is absolutely no joke! Being a Korean-owned sushi restaurant, Sushi Karis serves both typical Japanese and Korean food. The menu is quite extensive, from sashimi, sushi, ramen to fried chicken, which are interesting to pair with.
Once coming to Sushi Karis, try their Red Dragon Roll and Beef Teriyaki to be whisked away! We always love how crunchy that roll is on the outside, along with the spicy tuna and flavorful unagi sauce on top; while the beef is saucy and melted right away in your mouth.
Plus, theỉr udon is a must-try too. We highly recommend you to go for some Chicken Udon or Nabeyaki Udon. You will be seduced by the thick-chewy noodles and tasty soup!
What to order: Red Dragon Roll, Chicken Udon, Beef Teriyaki, Kamikaze Roll, Nabeyaki Udon.
Address: 504 Nelson St, Coquitlam, BC V3J 7R4
Website | Instagram | Facebook
1. Shio Japanese Kitchen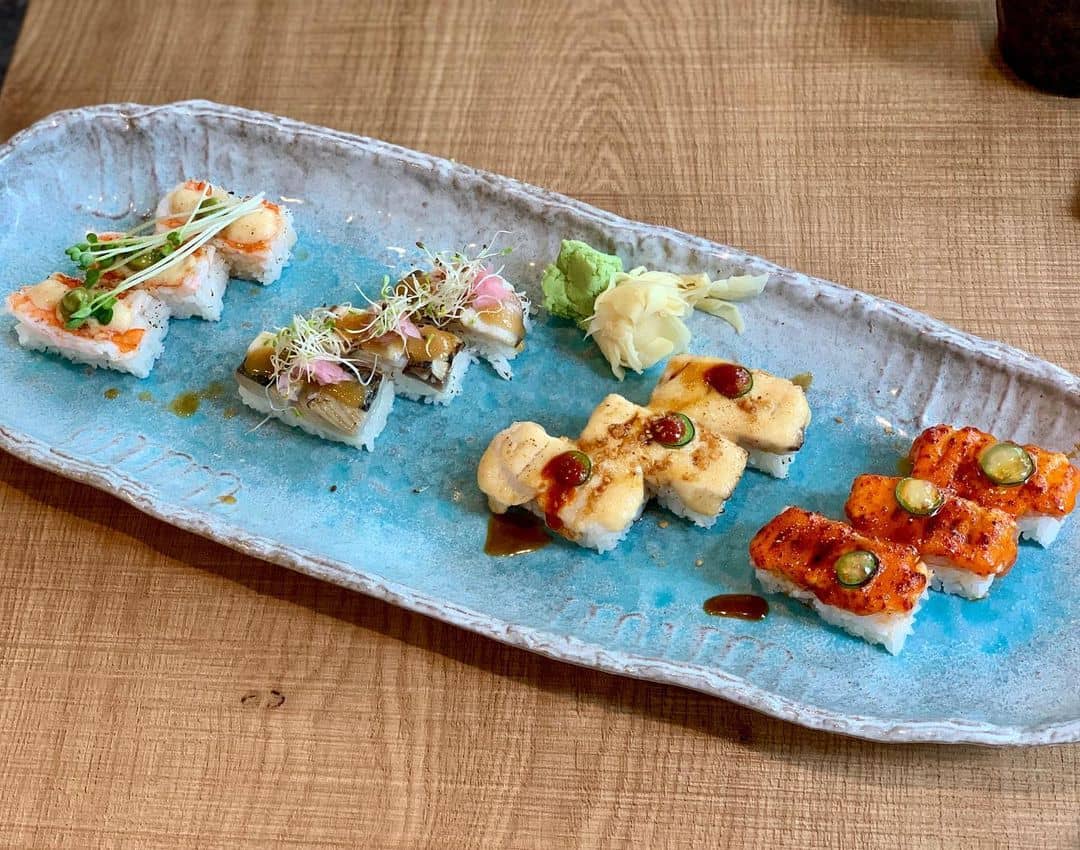 Located right in the heart of Coquitlam, Shio Japanese Kitchen features a wide variety of traditional sushi dishes. This place does not only serve stunning, well-presented food but also expresses a cozy and authentic Japanese vibe; which makes it a perfect fit from business lunches to special date nights. So, hesitate no more!
What we like most about Shio Japanese Kitchen is their Combo that includes a bit of everything, especially the Deluxe Nigiri Combo and Salmon Oshi Combo. The Deluxe Nigiri comes up with hot beef soba, tempura, assorted nigiri; and Salmon Oshi is a combination of spicy mayo oshi, creamy mayo oshi, basil mayo oshi. They are all tasty, well-seasoned, and super fresh!
Plus, even when you're full, don't think about leaving without trying their famous Caterpillar Special Roll with a refreshing taste of avocado, cucumber, and BBQ Unagi sauce on top. Very Instagram-y also!
What to order: Deluxe Nigiri Combo, Salmon Oshi Combo, Spicy Mayo Prawn, Caterpillar Special Roll.
Address: 102 – 1168 The High St, Coquitlam, BC, V3B 0C6
Website | Instagram | Facebook
We can never get enough of sushi and Japanese cuisine, and that's the fact. Still, we hope our top choices above can help you satisfy your sushi cravings when you're around the Coquitlam neighborhood. Otherwise, you can also take a look at our 10 best Korean restaurants in Coquitlam for even more extensive choices!
The following two tabs change content below.
Latest posts by Noms Magazine (see all)