Spanning over 180 kilometers, Sunshine Coast reminds you of everything a dreamy island getaway is about. Named after 2400 hours of sunshine duration, this magical string ticks all the boxes of a beautiful seaside paradise. The forested beaches and mossy rainforests are dotted with fairytale-like cottages. Its budding culinary scene, an array of outdoor possibilities, and a quirky art community add a distinctive charm to Sunshine Coast.
All of these features make it a lovely coastal retreat for those desiring a slower pace. To truly blend in with the serene vibe of Sunshine Coast, here are the 10 best Airbnbs to get you covered.
10. Cabin #3 – Alfie the A-Frame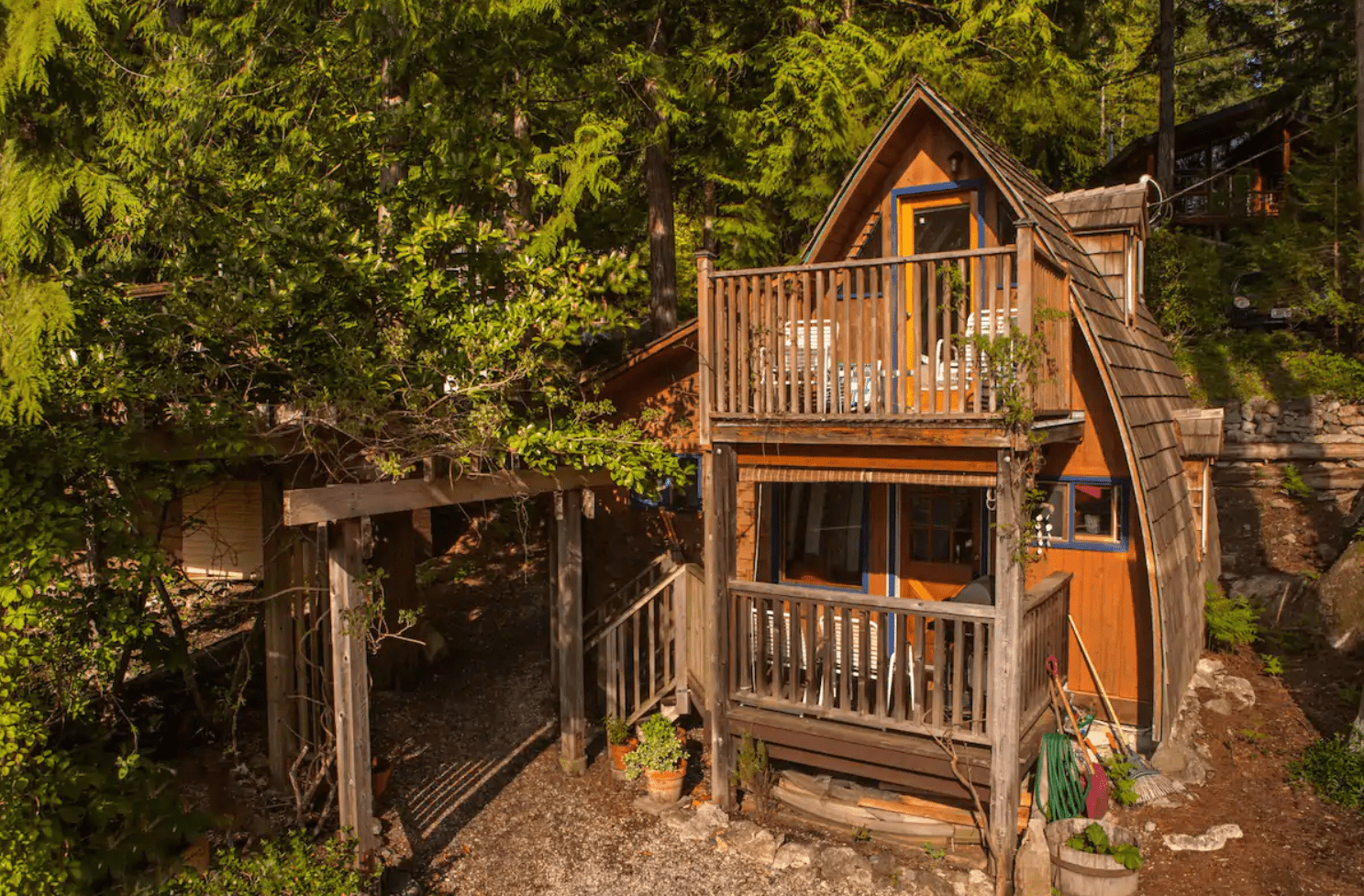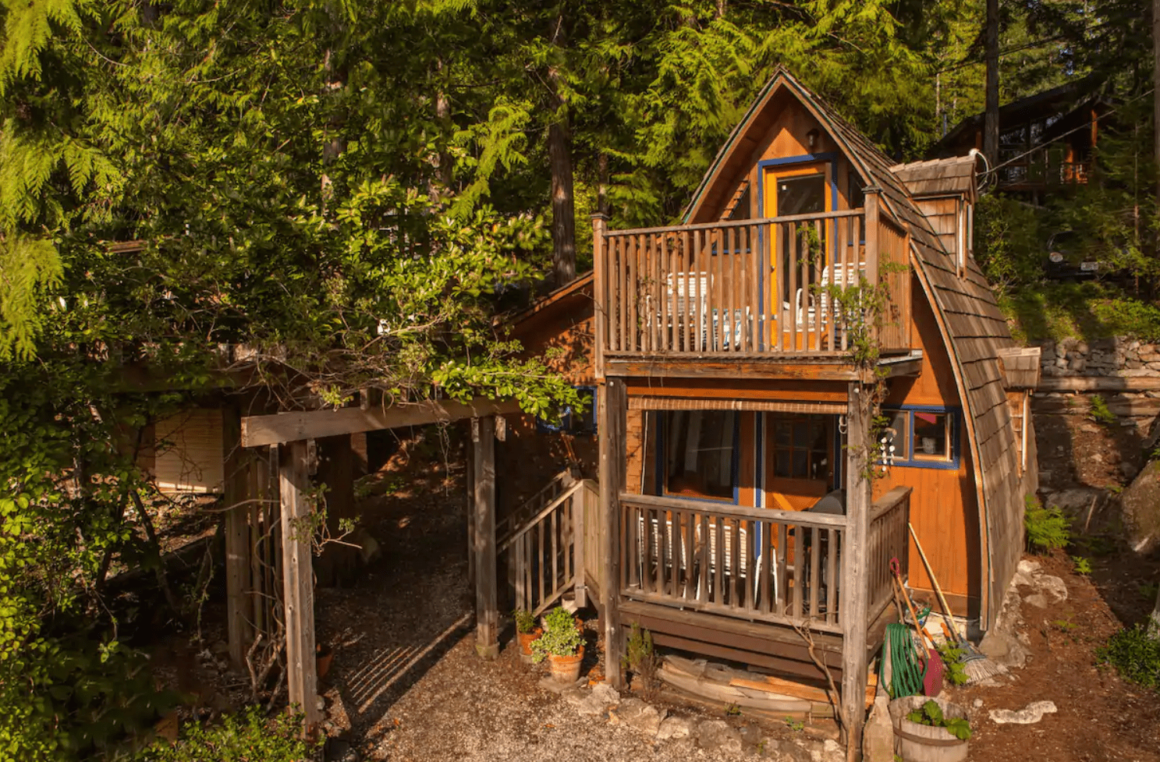 Ready to unplug from the buzz for a few days? Alfie the A-Frame is about to turn your getaway into a fairytale. Located at the end of a quiet alley, Gary and Jen's Airbnb tops our list with its prime location encouraging you to unwind to the fullest. Wake up to the smiling sun over the Sechelt Inlet and make your way to the sandy beach just three minutes down the hill.
The open layout of an A-frame wooden cabin eliminates the gap between you and nature and invites a great amount of sunlight to ventilate your inner space. The spacious, neat, and smart interior design takes your comfort to a new level. And after working out on oodles of mountain hikes from the nearby Coast Gravity Park, head back into the cabin when the sun is out to soak in the claw-foot bathtub. The minimum rent-out period to book with Gary and Jen's Airbnb is two nights with a capacity of two people.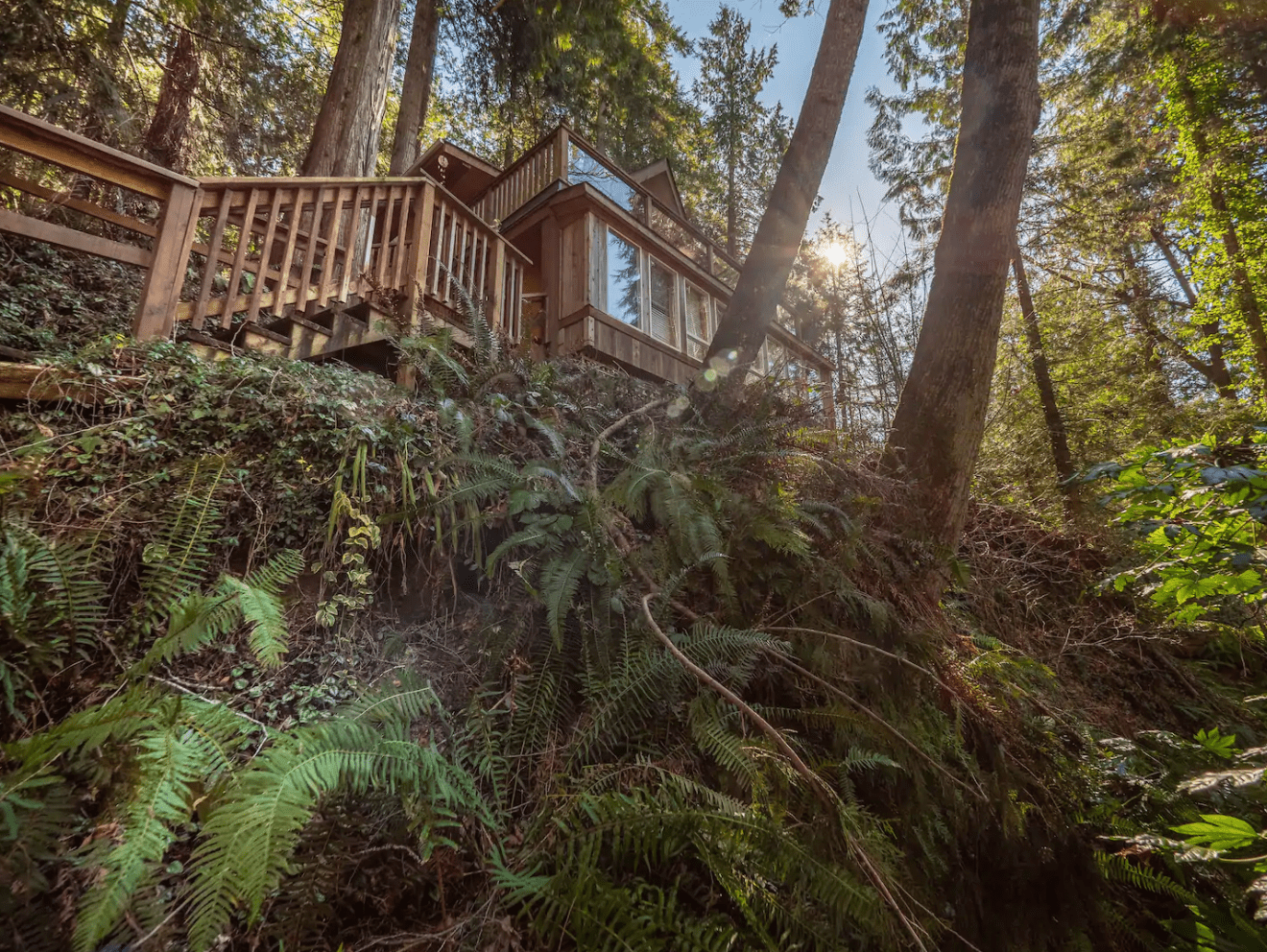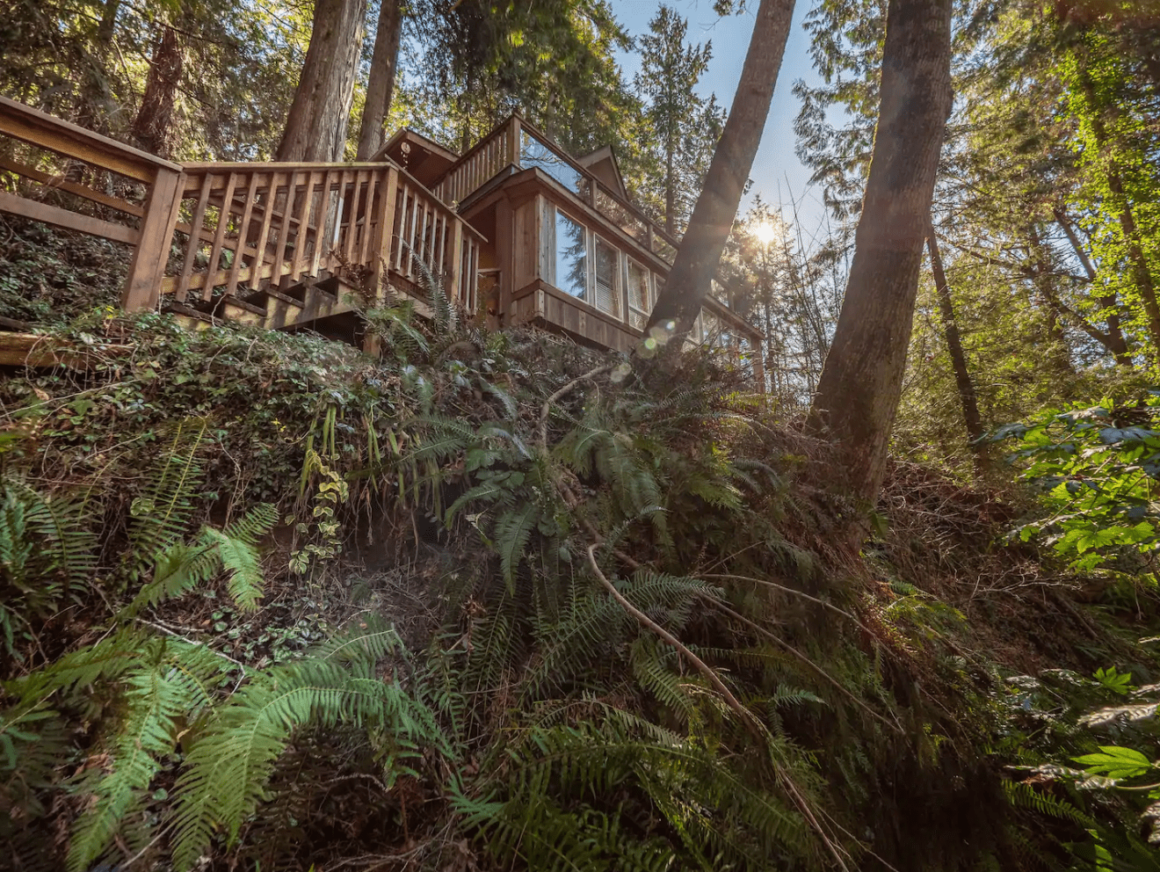 Price: $$$
No. of guest: 2
Follow Alice into the rabbit hole and this treehouse cottage will be your own wonderland! Stay in Sam's massive cottage and sprinkle your vacation in Sechelt with magic! You will have an entire half-acre just for yourself and be your own queen in the one-bedroom wooden castle 52 steps in the trees.
With a magnificent view over the lush rainforest and creek, every morning you wake up is a meaningful start with a tea fix amid the old-growth forest. The day is wrapped up with a cozy bonding by the campfire and curling up in bed stargazing through the skylight.
Sam's treehouse cottage is truly a hidden crown jewel in the paradise of Sunshine Coast where all that's left is the bubbling creek putting you to the wildest dream. Sam's Airbnb has a minimum booking window of two nights and can host up to two guests.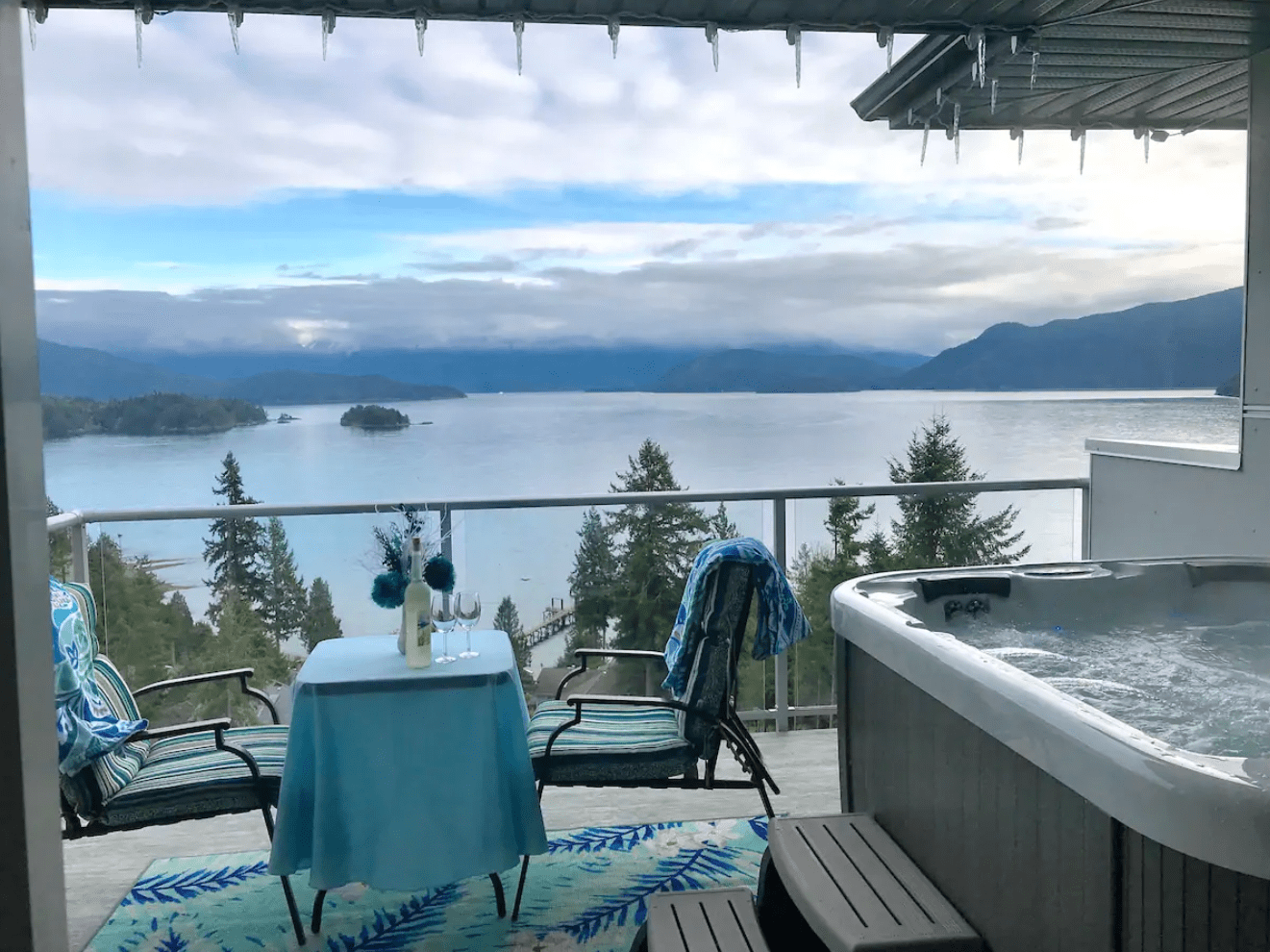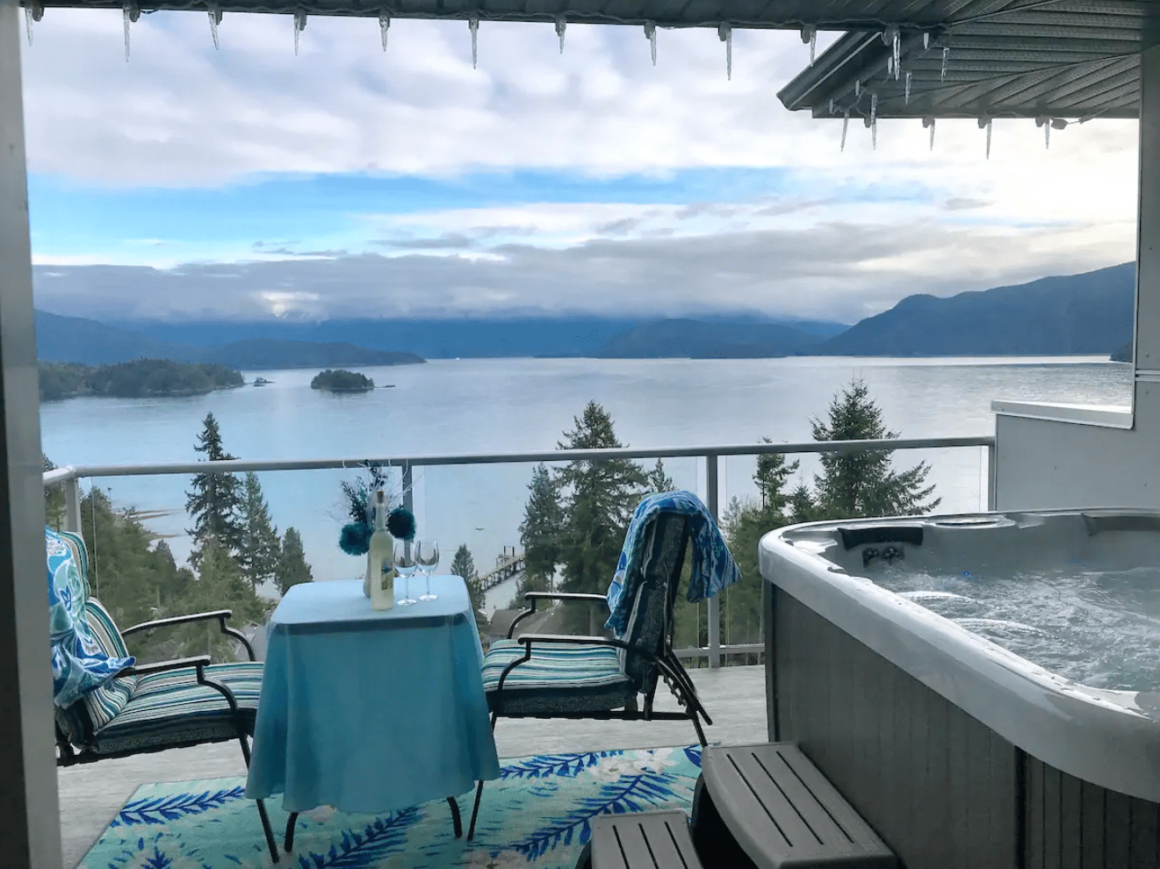 Irina's private mansion is perched on the airy bank of Howe Sound in Gibsons as a modern-style castle in a fairytale setting. The immaculate and thoughtful design gives you a home-away-from-home experience with a handful of facilities including a private hot tub, electric fireplace, keyless entry, and many more.
Let the coastal sun wake you up in the morning, put yourself out for a jog around Hopkins Wharf and cap off your day with a soak in the hot tub in a quiet abode. Words never do enough justice, so treat Irina's Airbnb as a serene oasis and don't miss it out when visiting Gibsons! The suite is available for any booking of at least two nights and can host up to three guests.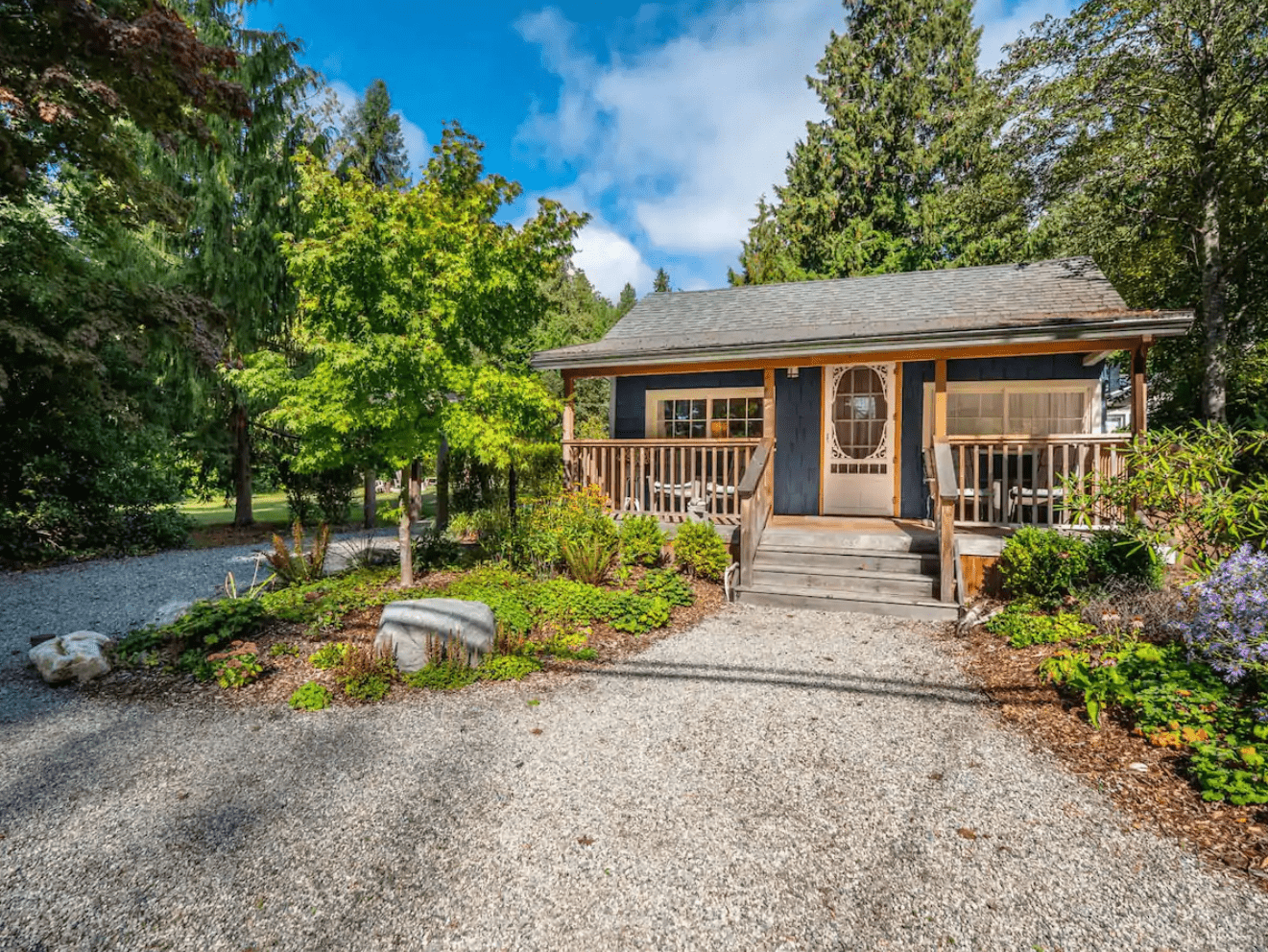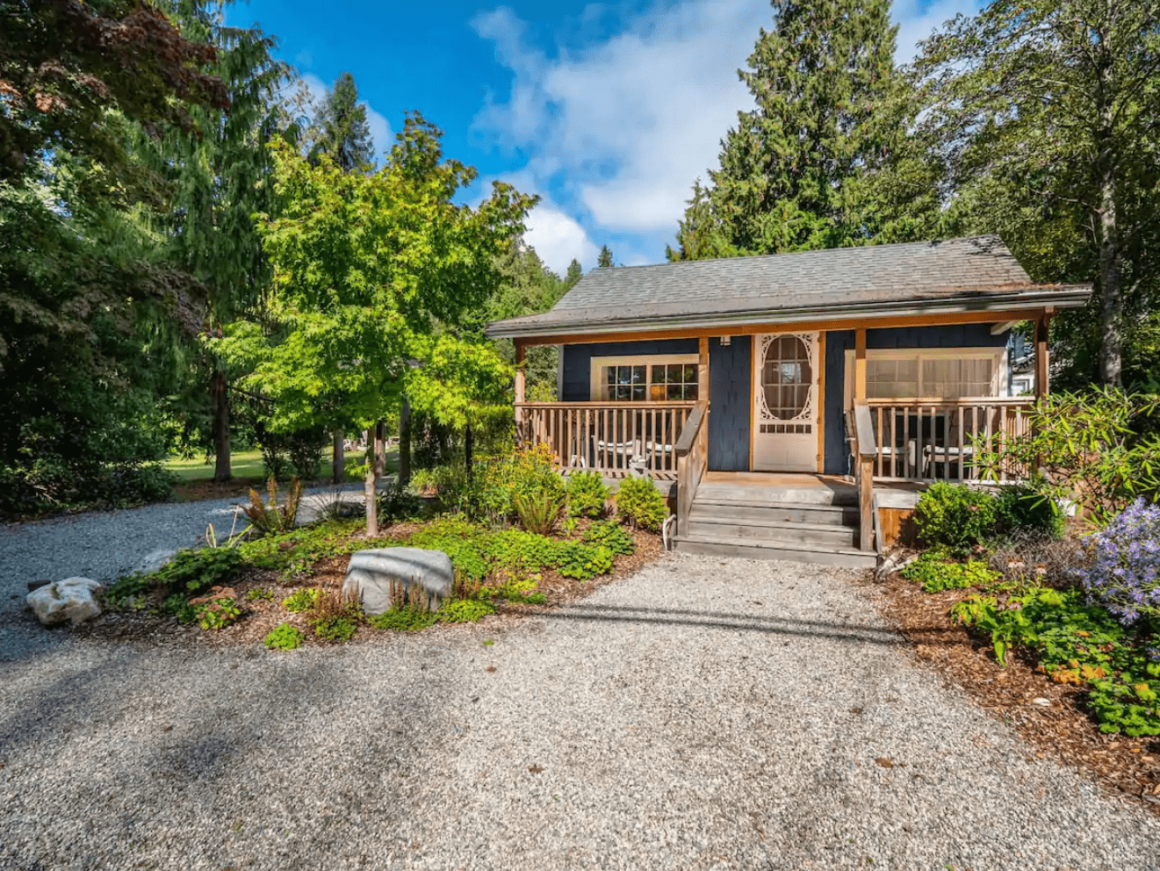 A blissful vacation in the Sunshine Coast full of greenery and sunlight is not only worth an imagination! Stay at Patricia's cozy cottage and let it game up your holiday with a glass of wine from the rustic front porch.
Nestled in the heart of Robert's Creek, this old-timer cottage sees its history dating back to the early 1900s. So get ready to add a touch of antiquity to your surrounding as you will spot the wavy glass windows that transport you to the good old days.
Patricia's Airbnb still preserves that quirky charm that sets itself apart from the equivalents in the area. History buffs and getaway-seekers with a poetic soul will find this place an amazing call that's worth every penny. Patricia's heritage property has a minimum booking period of two nights with a capacity of four guests.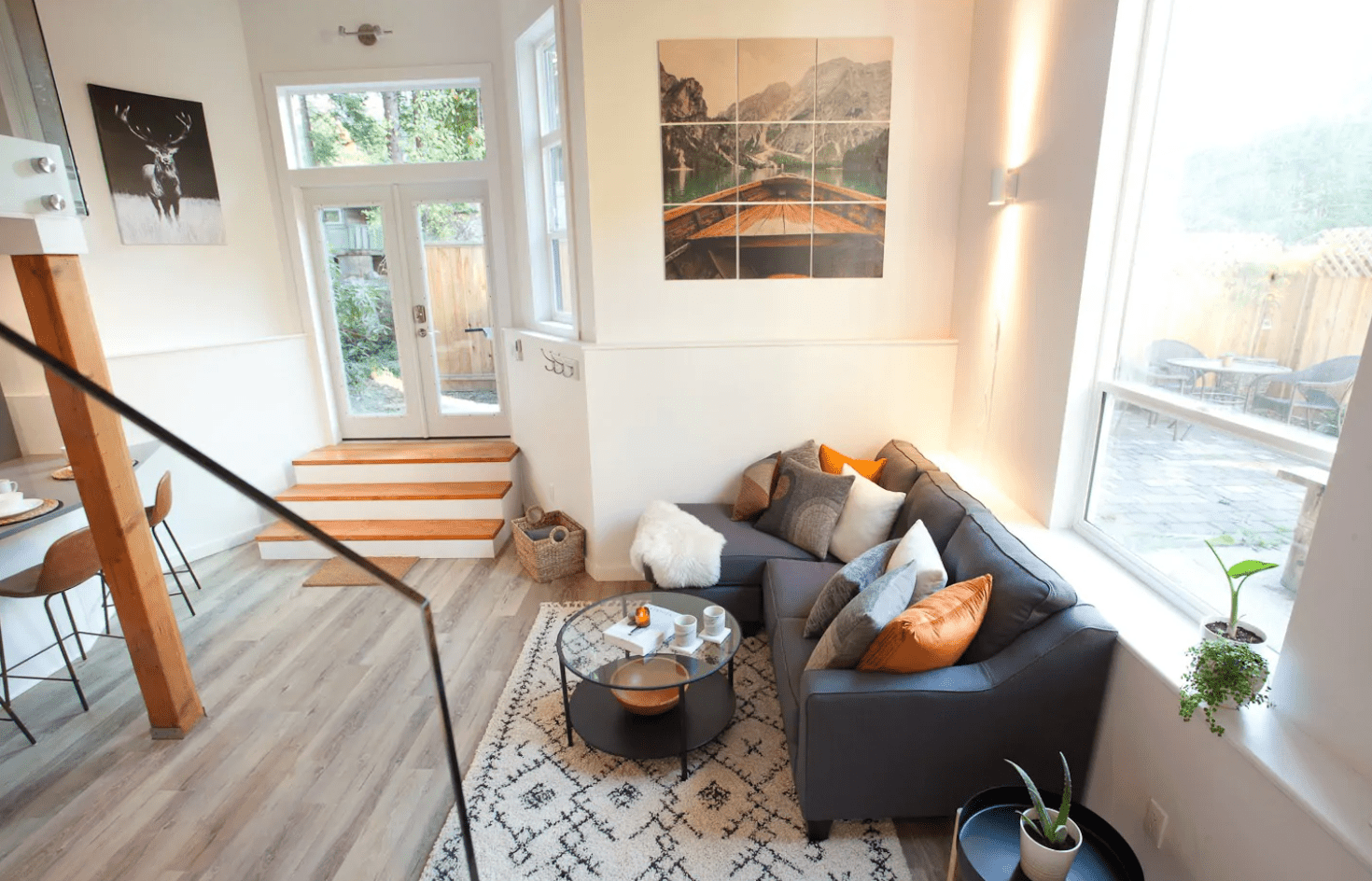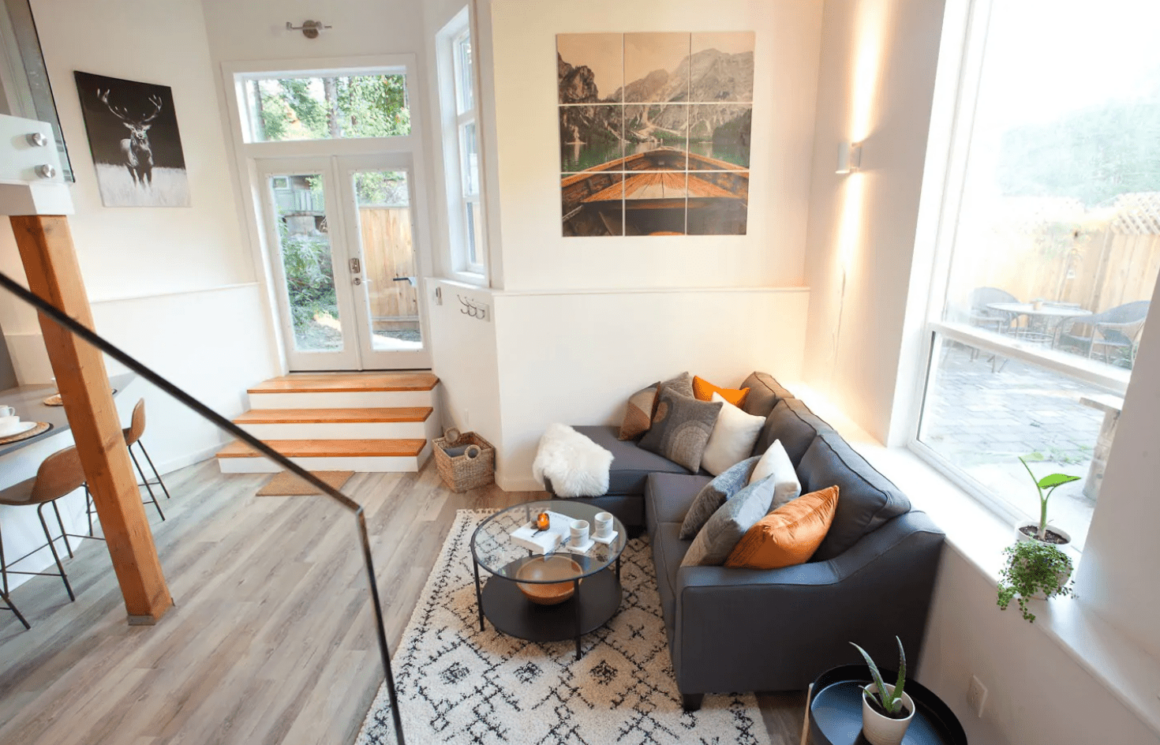 Being a sweet blend of stylishness and coziness, Lindsay's beachside loft is a great add-in to top your bucket list when visiting Roberts Creek. The matter of getting away from it all doesn't always have to pair with the idea of a tiny house tucked in the woods where no facilities exist.
Lindsay's Airbnb will change the way you plan your getaway with a well-appointed accommodation. It sits right amid the echoes of eagles and ravens call in the forest, allowing you to seek out nature and declutter your mind. With a short stroll from the house, the beach is right in front of your bare eyes.
Getting away with a group of friends? Throw the best picnic of your life walking to Flume Beach within a matter of minutes. You only need a minimum of two nights to book with Lindsay's Airbnb which can host up to four people.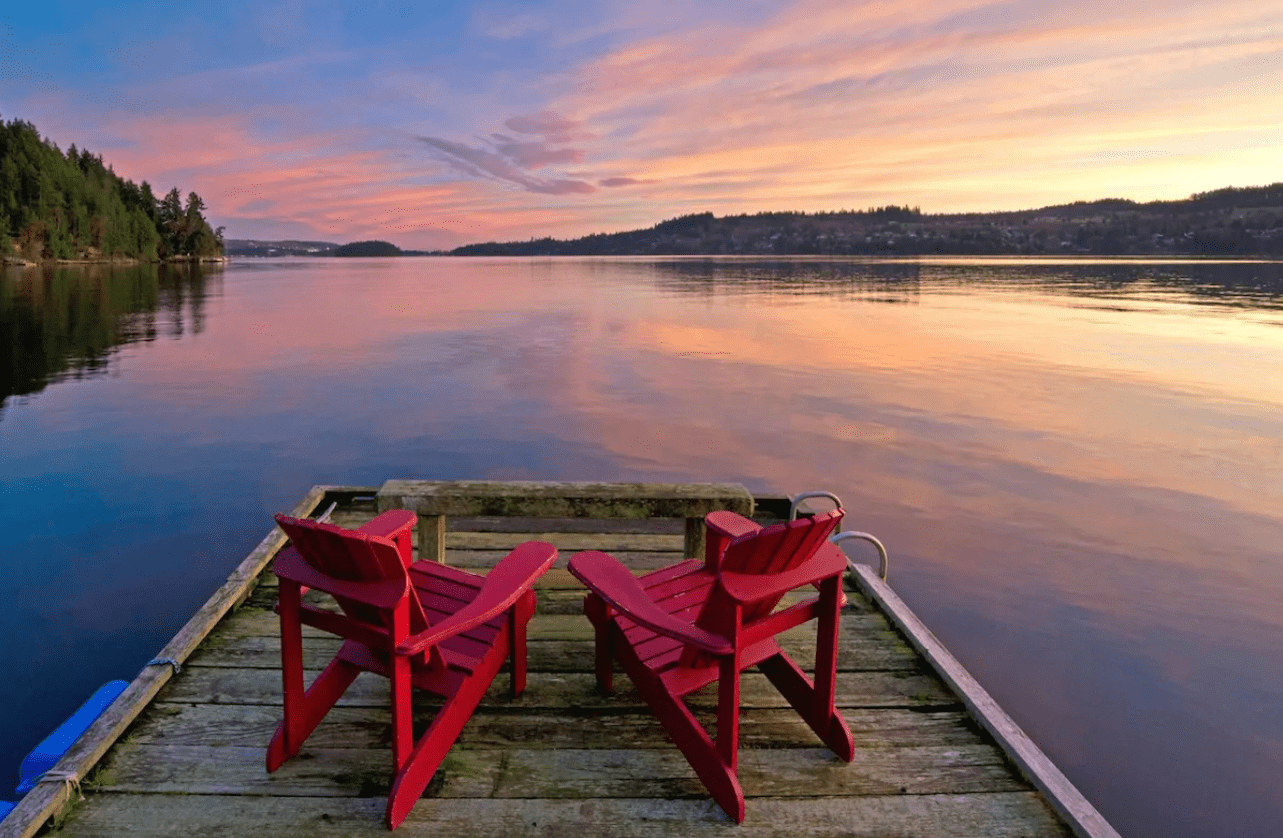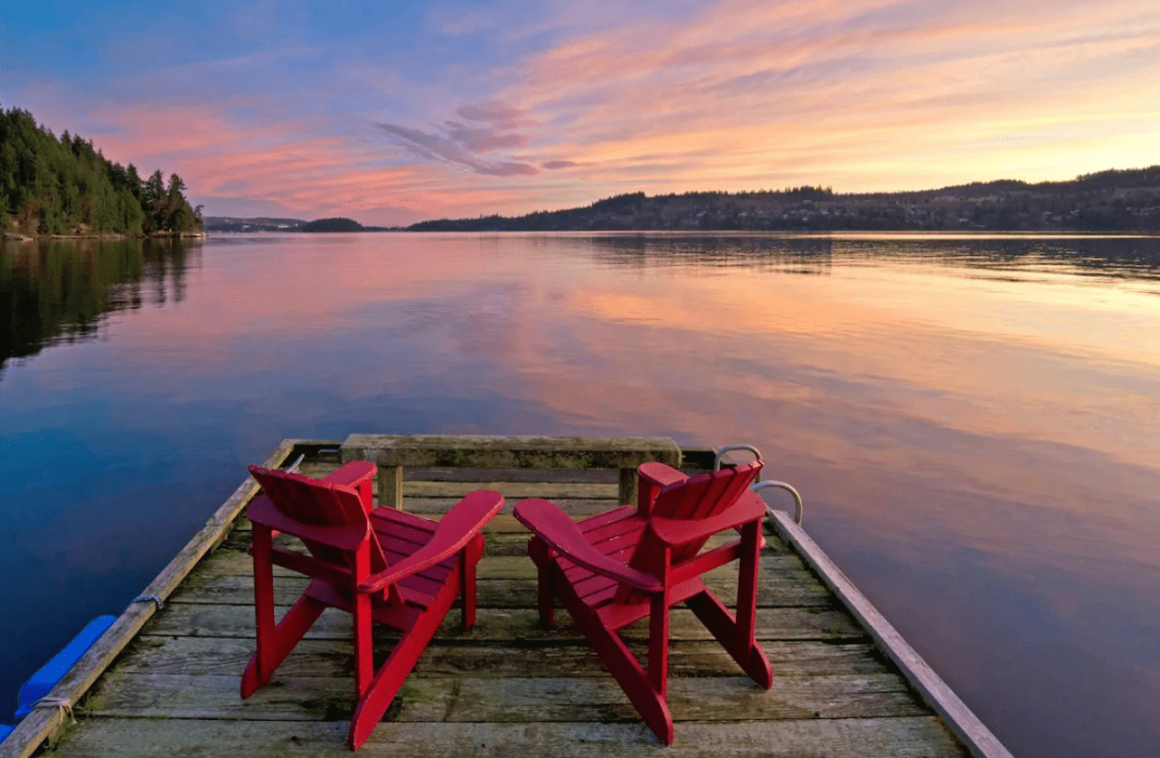 Every vacation will come to an end but chances are you never want to come back to reality after staying at Jack and Sheila's ocean-side Airbnb! Every day starts with a morning coffee from the covered patio overlooking the blissful Sechelt Inlet and ends with a romantic sunset reflected over the mirror-like water.
The house is perched on a quiet little bay with a spacious living area to stretch out and unwind. This Airbnb carries its torch on the hot tub located just a few feet from the water, so get ready to laze around by the gentle waves lapping on the shore! Jack and Sheila's Airbnb is available for a minimum booking window of two nights and can host up to two people.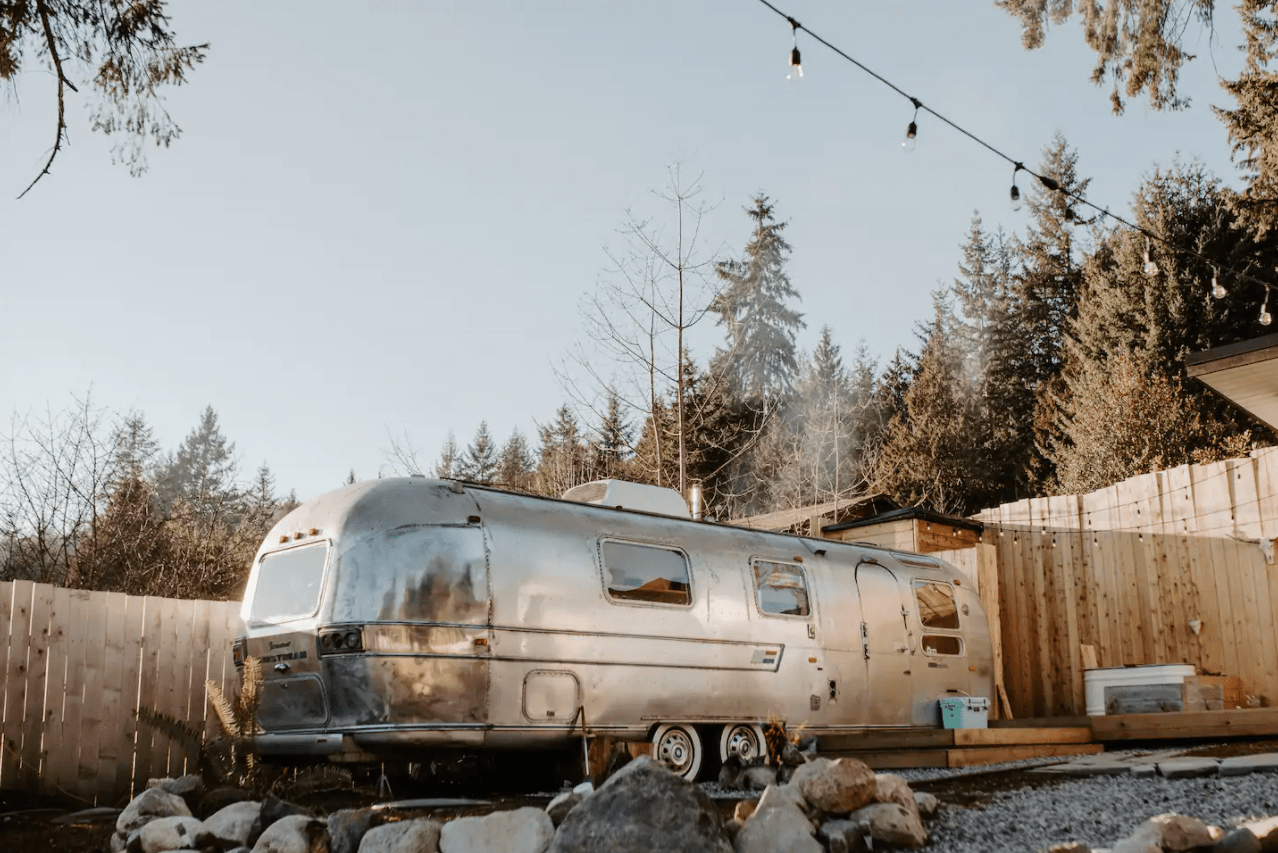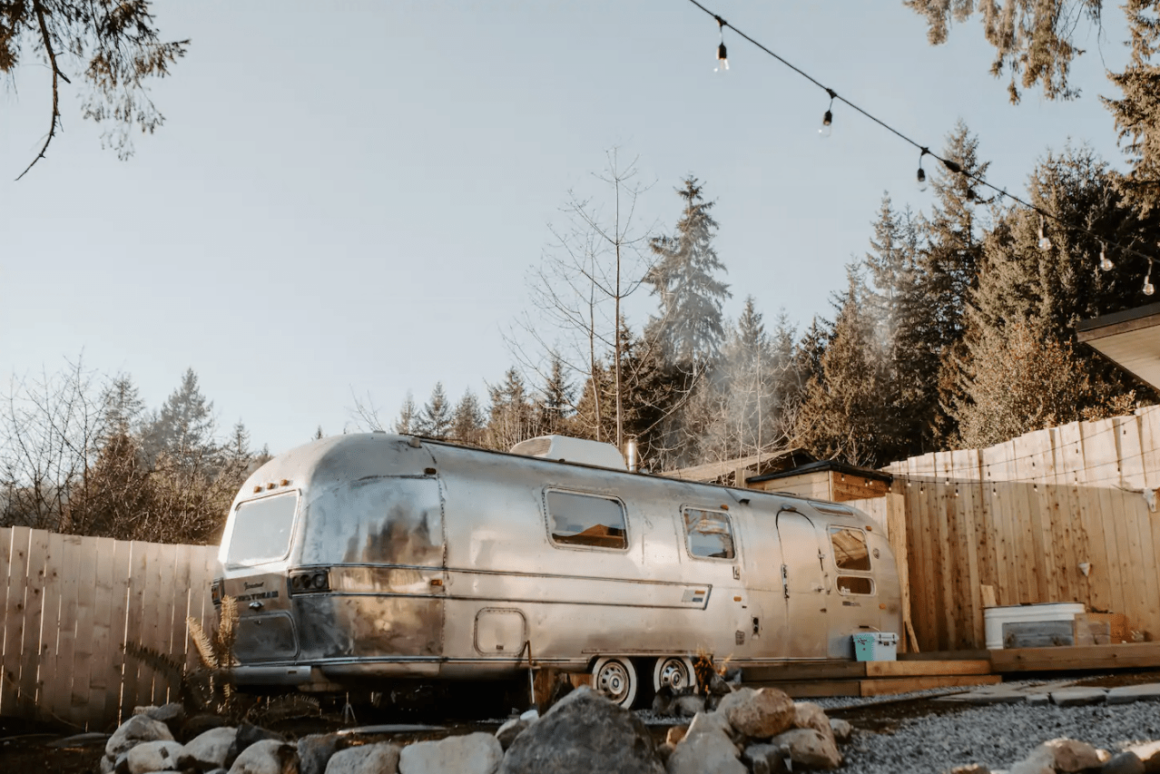 Living the life of a 21st-century cowboy in Dave and Ashlee's aesthetic airstream is a whole new way to take your trip in Gibsons to a whole new level. Sunny, airy, and filled with personal touches, this Airbnb is nowhere else to be found.
Located on a quaint and relaxing ranch-style property, the airstream offers that fun and quirky atmosphere without missing out on the basic amenities. Bring some books along and chill out at the sun-drenched private deck. Then hit the trails nearby before grabbing some booze at a local restaurant. Cap off your night by laying back in the spacious sauna under the skylight to rest your tired bones.
And whenever you wish to make some new friends, call out Sonny and Friday and tie a bond with these two friendly resident horses. You only need a minimum of two nights to stay at Dave and Ashlee's Airbnb, which can host up to two people.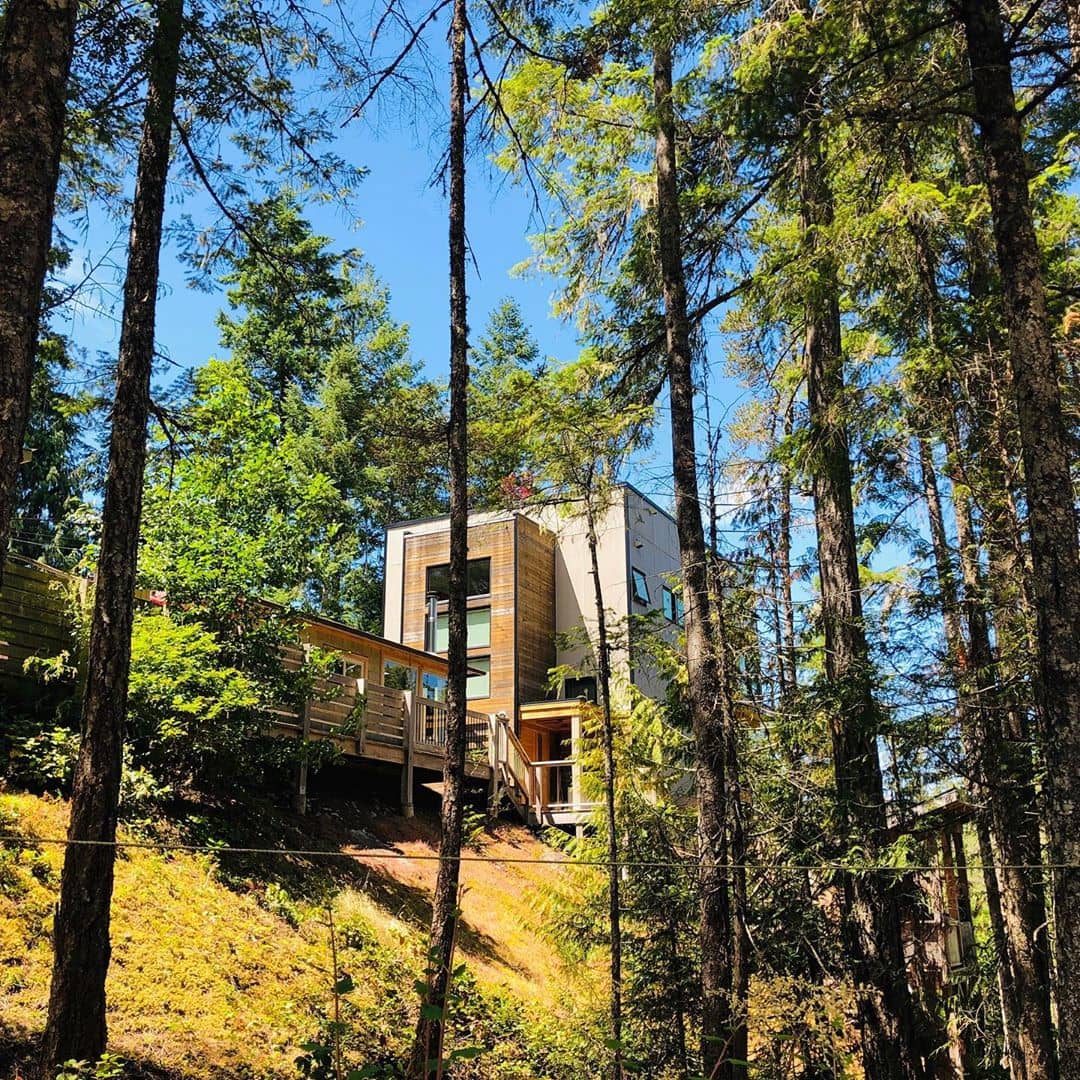 Price: $$$
No. of guest: 2
A rustic mansion tucked away in the woods of Halfmoon Bay is about to blow your mind! Call it a romantic getaway or a hidden paradise to bond with your fellas, Stephan and Ivan's Airbnb is one of the hottest finds in Sunshine Coast with its inviting atmosphere and unique vacation. Gear it up for an extraordinary experience with easy access to all the watersports nearby without missing out on that serenity you're looking for.
The house is perched deep in the cove with a canoe available to transport you to the calm water for paddling anytime you need. Smuggler Cove Marine Provincial Park is the biggest hit in the area where you can navigate around the beautiful reefs sleeping at the bed of the waters.
In need of a peaceful picnic? Cook up your favorite meal at the forest-view kitchen and hit the park to beat the heat! Ultimately, the two-person rain shower and the separate detached clifftop hot tub are top calls for those couples wishing to heat up their anniversary. Three nights are the minimum rent-out period to book with Stephan and Ivan's Airbnb with a capacity of two guests.
2. Out There – Private Island, Off-grid Retreat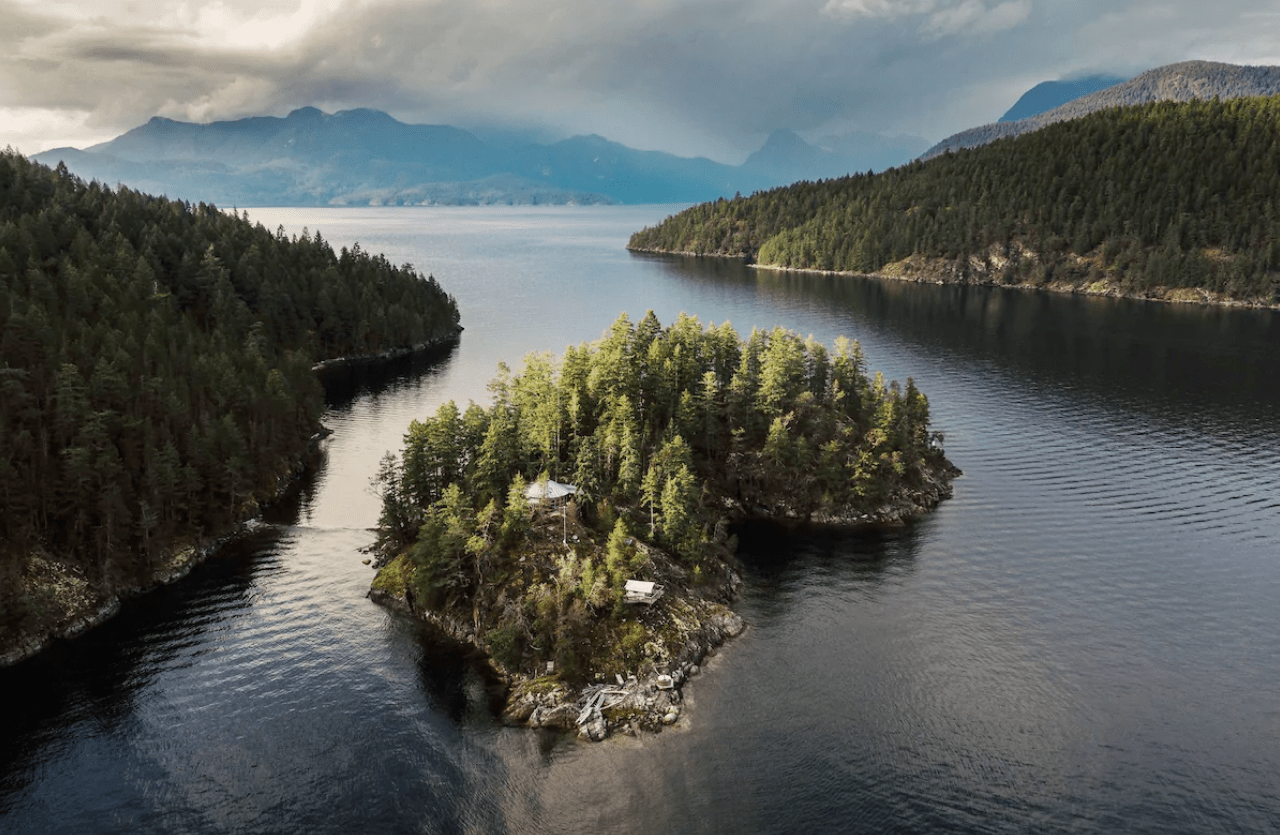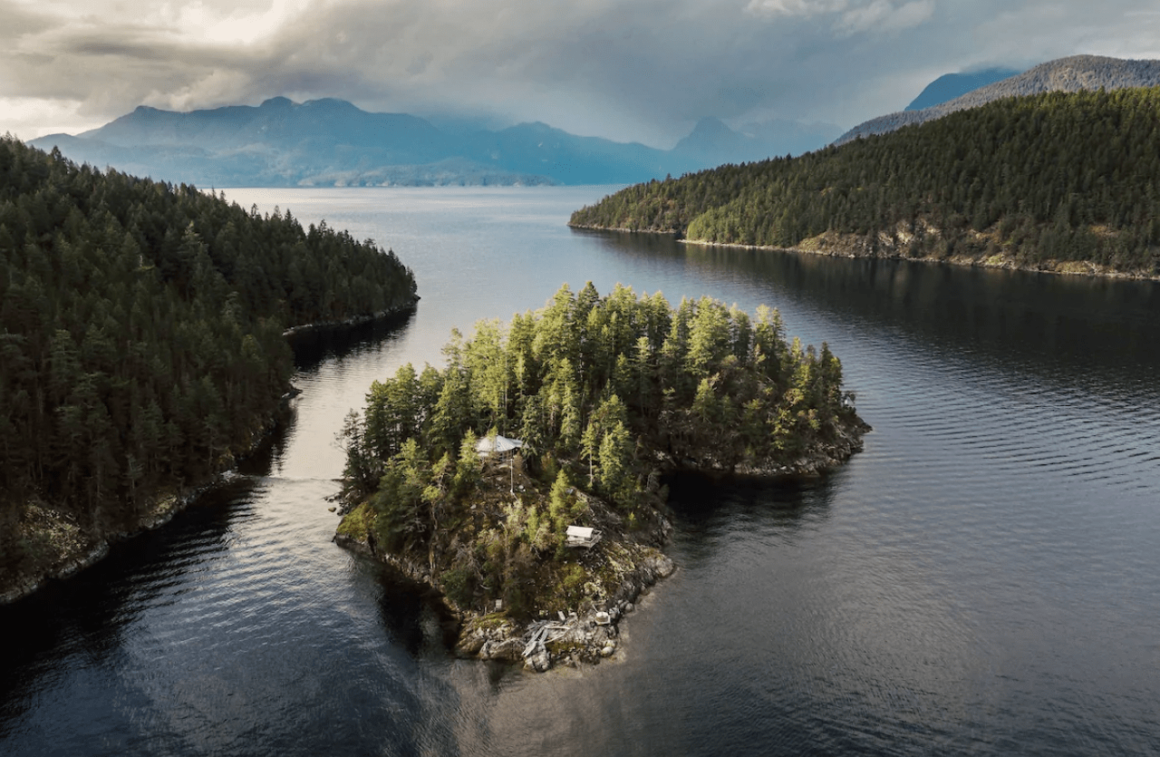 Price: $$$
No. of guest: 6
Perched in the heart of Sunshine Coast water, this Airbnb is against all odds! Buckle up and unleash your adventurous soul as you see yourself land on a private island. Nestled amid the island is an eco-retreat, all-inclusive house where all your basic needs from food to comfort are fully met.
Declutter all the chaotic buzz, set your watch, pack your bags and immerse into the world of your own. There's a mecca of marine and outdoor adventurous possibilities waiting to keep you occupied. Kayaking, hiking, paddle-boarding, snorkeling, and boating are just a few to be named!
As the sun is out and your muscles are tired, head back in and unwind on the hammock to get ready for the next day. A secluded vacation on this island with your family or friends comes along with a return boat from Egmont. Spend at least three days on the island and the biggest group size you can bring along reaches up to six people.
This is no doubt one of the coolest Airbnbs in Canada!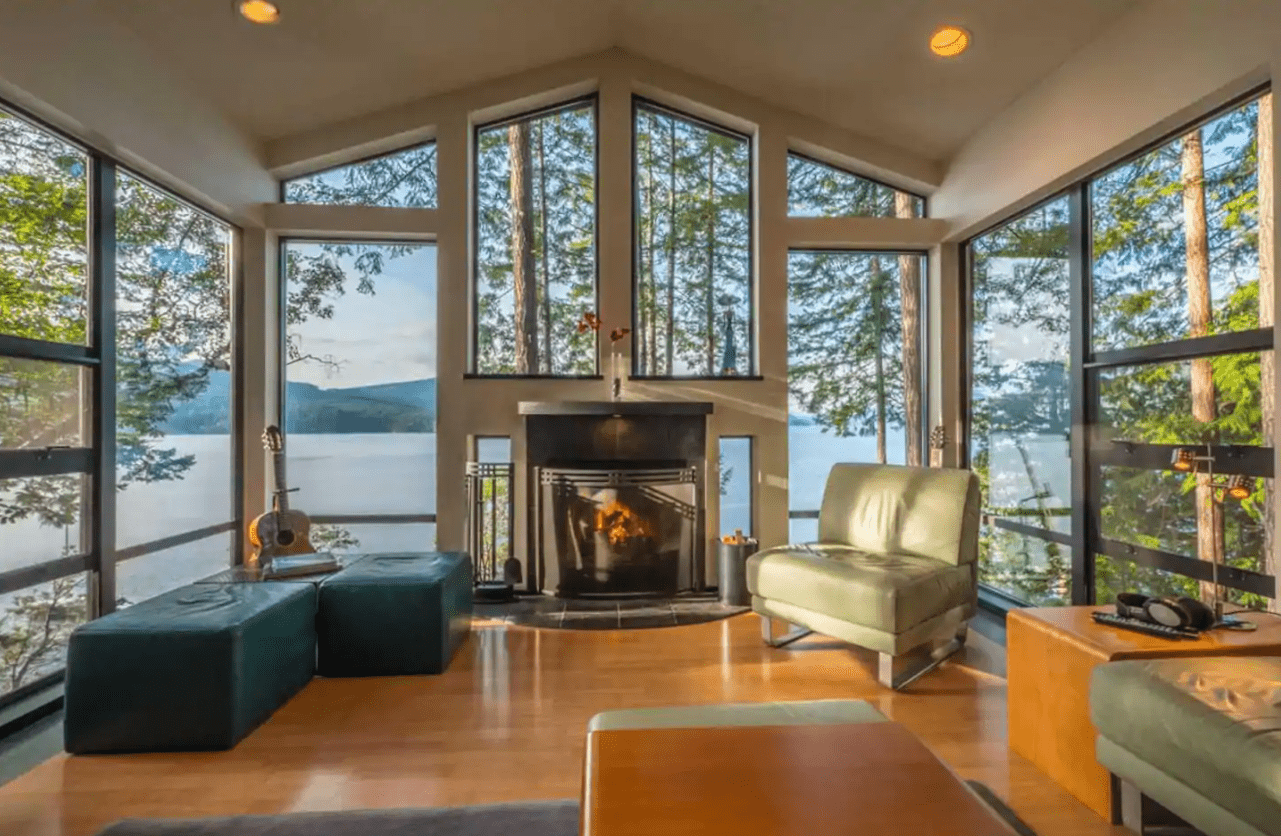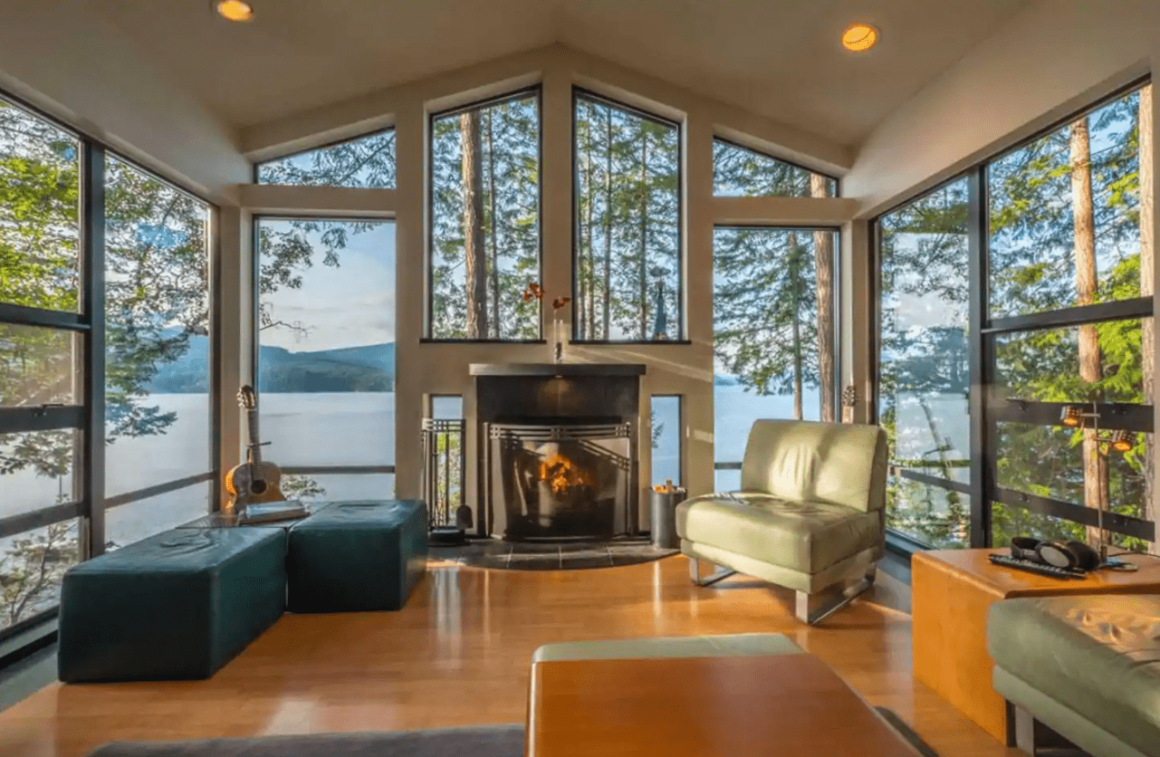 Price: $$$
No. of guest: 4
Cap off this list with a secluded trip to Sandy Hook shoreline. The strongest magnetic field to be found at Ravi's Airbnb is not only the massive two-bedroom house but also the desirable location and unrivaled sunset ocean view.
Looking to reconnect with nature in an utmost sense of privacy? Now your dream becomes reality as the only friends you have around are Arbutus, Fir, Cedar, pine, and a gorgeous beach. Everything is smashed together in such a perfect way that the only word left in your mind when you pack up and leave is "Zen".
Coffee comes in the morning and cocktails in the evening by the fire pit is a pleasant way to recall the day's events. Cook up your favorite family meal using an abundance of pantry items and cookware. A hot tub with a sunset view is ready to use as the sun beams down and it's getting cold outside. Don't feel like doing anything? All you need to do is kick back in the cozy and stylish living room to watch all the happenings on the ocean through the floor-to-ceiling windows.
Getting to the Sunshine Coast is easily managed. You can fly with some of the best domestic airlines from other parts of British Columbia or take the BC Ferries from Horseshoe Bay to take in the scenic views. Looking for more ideas to inspire your wanderlust? Check out these 10 coolest Airbnbs in British Columbia for a dreamy getaway!
The following two tabs change content below.
Latest posts by Noms Magazine (see all)