My mom has a cafeteria and I spent the past 25 years living with a big love for the coffee culture. Growing up everyday hearing the grinding sound, enjoying the inspiring aroma of coffee and sipping on that lovely bitterness gives me a big passion to dig into everything that relates to coffee.
One of the coolest things I've learned from mom is the journey behind the scene before a cup of coffee is brought to the table, especially how the coffee grounds come out of the grinders in different forms. Choosing the right grinder goes far beyond the price tag, a design and the size. There's much more about the technical specifications and working principles that you need to understand before buying the right one.
In this complete buying guide, I'll break down the pros and cons of my favorite coffee grinders for different uses, what to consider before buying, and which of them I think suits you the most! 
Table of Contents
What to consider before buying
Individual Coffee Grinder Reviews
8 Elements to Consider Before Buying a New Coffee Grinder
1. Burr Grinder or Blade Grinder?
There are two mains types of coffee grinders in the market:
Blade grinder.
Burr grinder.
Each of them has a different range of accuracy, price tag, performance, and fineness of the ground coffee. Let's break down the working principles, pros, and cons of each!
Blade Coffee Grinder
Amongst those three, blade grinders are the cheapest but it also affects the fineness of ground coffee. With a blade grinder, you spin the blades quickly like a propeller to cut up the beans into smaller bits. The longer you spin the blade, the finer the powder is. Due to the low accuracy of the blades, your grounds tend to vary in size and the coffee can be under-extracted and less flavorful.
Based on the working principle of the blade system, a blade grinder is much likely to generate heat if it's operated over a long cycle. The heat will affect the tasting profile of the grinds. Last but not least, a blade grinder is relatively noisy compared to a manual and burr grinder, which may not be the best idea if you use it in a coffee shop.
However, I don't say that it's worthless to buy a blade grinder. This item is easy to use and pretty straightforward, plus the low cost is a great fit for those who don't want to invest in a high-performance grinder for professional use. The HadinEEon Electric Coffee Grinder I'm going to recommend below is the best item you can consider. If you own a small kitchen or a beginner to the art of grinding coffee, a blade grinder is worth a purchase!
Burr Coffee Grinder
Thanks to the high accuracy and consistent particle sizes, burr coffee grinders are the most popular choice for professional baristas. A burr grinder is also known as a burr mill. It involved two revolving burrs, one stands still while the other one is a moving wheel and the beans are sandwiched and crushed in between the burrs.
The coarseness of the grounds is determined by the position of the burr. Therefore, a burr grinder is developed with multiple settings letting you decide the right fineness of the coffee.
Choosing the right burr coffee grinder can be boiled down to either flat burrs and conical burrs. A flat burr set comprises two compatible wheels stacked over one another. The gap in between the wheels is where the coffee bean ground particles pass through. Meanwhile, a conical burr set has a ring and a cone shape that fits into one another. The gap between the ring and the cone shape allows the particles to pass through.
When you adjust the fineness of the grounds, you adjust the size of the gap. A flat burr relatively generates more noise when the wheel spins quickly to grind the beans while the conical one can work at a slower speed which doesn't produce that much noise and heat. For that reason, a flat burr grinder is priced lower than a conical one.
2. Electric Grinder or Manual Grinder?
Even though the biggest difference between an electric and manual grinder is price, there are other elements to put into consideration. A high-performance electric grinder can be priced at $100 while a good manual counterpart is offered at much less. A manual grinder doesn't eat up much space and its portability lets you carry it wherever you want.
However, making up for this price gap is the hard work and elbow grease. A cup of coffee equals one minute grinding the beans by hand. If you are fine to exchange the high price with your time and effort, then a manual grinder is perfectly fine! On the other hand, an electric coffee grinder is a top choice if you own a business. And for that reason, investing $100 or even $1000 is totally worth it. The best automatic grinder will come with a pulse, large capacity, auto-grind, and timed ground functions.
3. Capacity
A grinder with a smaller capacity is a perfect choice if you need it for yourself or in a small family. A larger capacity makes more sense if you have a café as you need to serve a big group of customers at a time.
4. Grind Settings
Speaking of grind settings, you will look at the adjustment mechanisms. When browsing through the grinders, you will see the terms "stepped" or "stepless/no-step". A stepless grinder has an infinite number of grind settings that allow you to finely tune your grinder to a perfect extract without any limit. Whereas a stepped grinder features a preset notch with pre-determined settings like fine or coarse grinds that you can select before operating the machine. I see that most electric burr grinders are stepped. Overall, a stepless grinder is priced higher than a stepped grinder.
5. Heat
Heat plays a major role in defining your coffee flavor. You don't want a fast grinder to produce more heat which tends to burn the coffee particles and change its tasting profile. Apparently, a grinder with heat control may cost more than its other counterparts. But at the end of the day, it's a one-time investment that contributes to the satisfaction of your customers and the consistency of your brand.
6. Burr Material
The most common material you see in a burr is stainless steel. It's durable, safe, and sharp for the grounds. From my personal experience, it also costs less when you need replacement and it's easy to find. Another material to be found in the market is ceramic. Honestly, a ceramic burr is even more durable than stainless steel but it's time-consuming to replace the burrs and more expensive. If you're an espresso lover, a ceramic burr would perform better as they grind the beans to finer particles.
7. Cleaning
Everyone needs an easy-cleaning coffee grinder, hands down! Cleaning a coffee grinder should be straightforward and not take up too much time to brush off all the leftover particles. Most of the coffee grinders come with a brush. An easy-cleaning grinder doesn't need me to bother with a screwdriver. And that's why all parts should be disassembled by hands for cleaning in no time.
8. Price Tag
An electric coffee grinder apparently costs more than a manual one. Likewise, a burr grinder is priced higher than a blade one. You will pay more for a better performance grinder but it doesn't mean a manual one doesn't do the job.
For example, an OXO brew conical burr with integrated scale climbs up to the $200 – $300 range, while the Urbanic flat burr grinder is around $180. In the lower price range between $20 – $40, my favorite manual grinder is Hario Ceramic Mill which is priced at $36. Meanwhile, HadinEEon electric grinder with a blade is priced even lower at $27 but still works as a charm. A conical grinder is more expensive than flat burrs, and even a manual grinder with a conical burr is priced higher than an electrical one with a blade system.
A Recap of My Top Picks for the Best Coffee Grinders
Best Overall Coffee Grinder: Bodum BISTRO Burr Coffee Grinder
An easy-to-use and versatile grinder that falls under the $100 range.
Best Coffee Grinder with Touchscreen: Cuisinart DBM-T10 Touchscreen, Burr Grinder
Buy this if you need a modern, innovative burr grinder without breaking the bank.
Best Modern Coffee Grinder with Disassembled Burr: Mueller Ultra-Grind Conical Burr Grinder
This is my favorite coffee grinder with a large capacity hopper and disassembled burr.
Best Coffee Grinder for Coffee Shops: Breville BCG820BSS Smart Grinder Pro Coffee Bean Grinder
I highly recommend this smart coffee grinder with 60 precise grind settings to produce the coarseness level you need.
Best Coffee Grinder with Integrated Scale: OXO BREW Conical Burr Coffee Grinder with Integrated Scale.
OXO is the best buy for professional baristas who need a built-in scale to measure grounds by weight instead of time.
Best Quiet Coffee Grinder for Commercial Use: Baratza Forte BG (Brew Grinder) Flat Steel Burr Commercial Coffee Grinder
My favorite quiet coffee grinder to avoid disturbing your customers.
Best Quiet Coffee Grinder with Lower Cost: Fellow Ode Brew Grinder, Electric 64 mm Flat Burr Coffee Grinder
This one is quiet with a modern touch and low cost.
Best Retro-Style Coffee Grinder: Urbanic 070s Electric Coffee Grinder.
Urbanic 070s is my favorite choice when it comes to vintage, retro-style grinders with great durability and good performance.
Best Electric Coffee Blade Grinder: HadinEEon Electric 200W Coffee and Spice Grinder
Buy this if you need an affordable electric grinder with a blade system.
Best Manual Coffee Grinder with Ceramic Burrs: Hario Ceramic Coffee Mill – "Skerton Plus"
This is a handy and durable manual coffee grinder to bring home.
More Detailed Reviews for Each Coffee Grinder
1.Bodum BISTRO Burr Coffee Grinder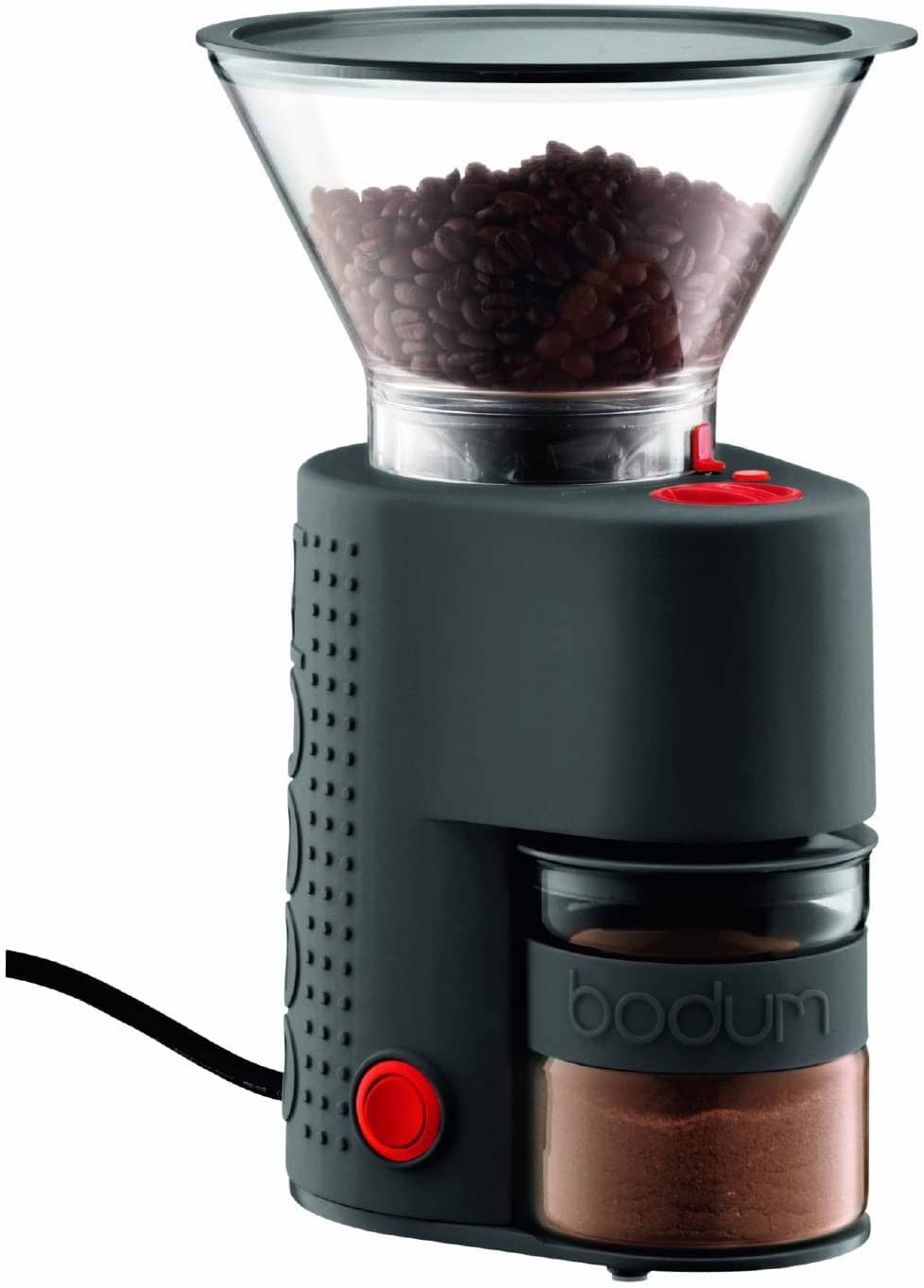 Bodum Bistro has everything it takes to be a good-value, high-performance grinder for my personal use. It gathers all the best functions I'm looking for. First of all, I love the way it comes with a step mechanism that lets me choose the right fineness I need for a certain day. I'm not a professional barista and so a step grinder is a big help!
Bodum is pretty straightforward to operate, especially with the development of an automatic timer. I love this function a lot as it saves me one step from manually measuring the coffee beans beforehand. All I need to do is put them all into the upper bean container, switch the setting from French Press to espresso, set the timer and it's good to go!
This Bodum is developed with a conical stainless steel grinder and that's why the grounds are consistent every time despite the fact that I've had it for almost a year now! There are a few rooms for improvement that I'll mention in the cons below. The biggest downside for me is cleaning. I know many coffee grinders have some issues with the cleaning business and Bodum is no exception. If you make French roast on a daily basis then the oily fine grounds tend to clog the machine over time. My mom had to disassemble it and let the rice run through it regularly to fully clean it out. Overall, I'd recommend Bodum Bistro as a great purchase for home use that all coffee lovers want to have!
Pros:
The machine doesn't take up much space and you can keep it nicely in the counter bar or kitchen all the time.
There are multiple options for the grinds and the grounds come out consistently every time.
A multi-function lid is available to keep the beans fresh with a measuring guide on top.
Cons:
The glass container is not static-resistant and the grounds are spilled out on the base and cling on the sides of the container.
It's not the quietest grinder I've ever owned but not too bad to resist because it doesn't take forever to grind.
2. Cuisinart DBM-T10 Touchscreen Burr Grinder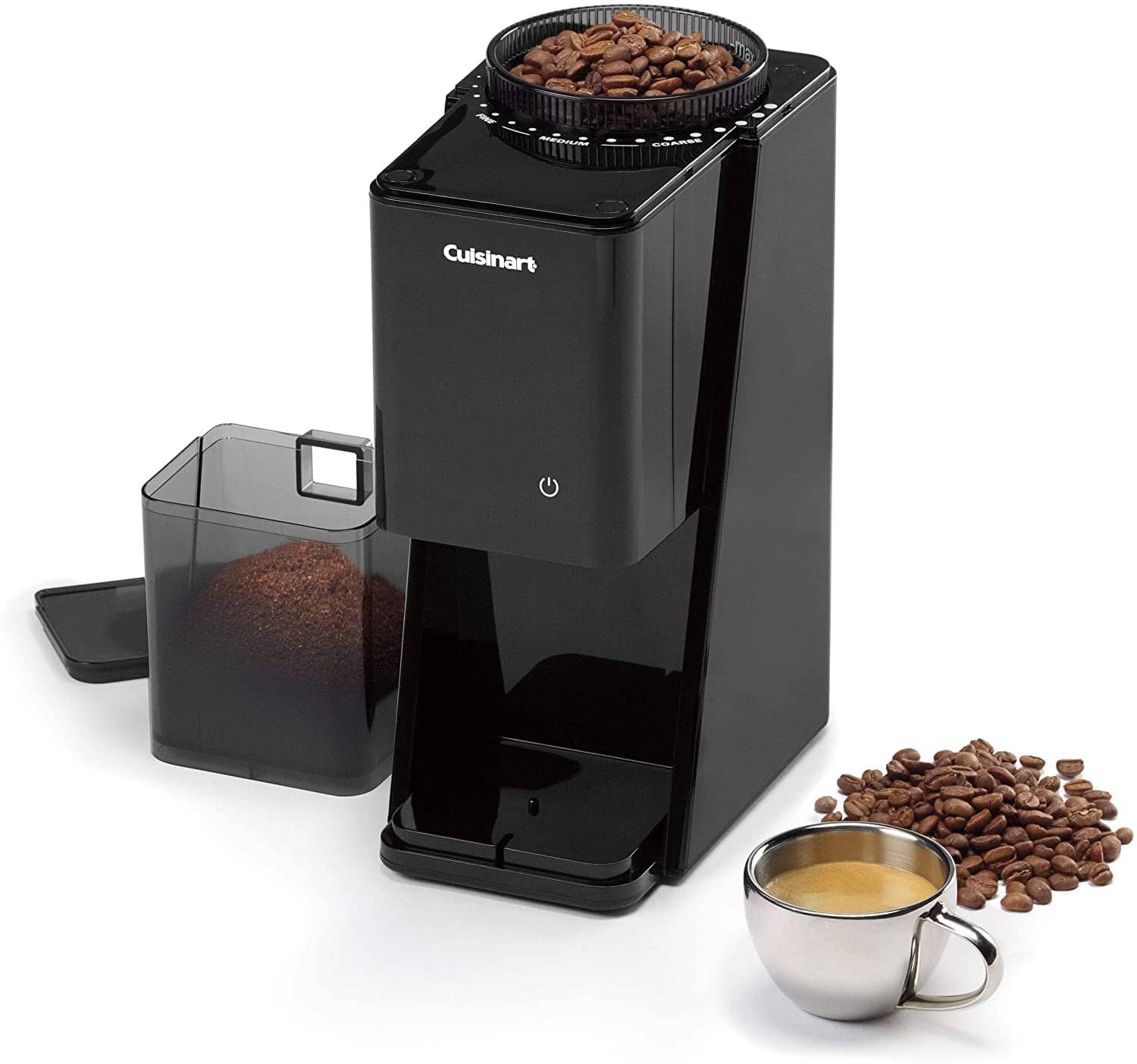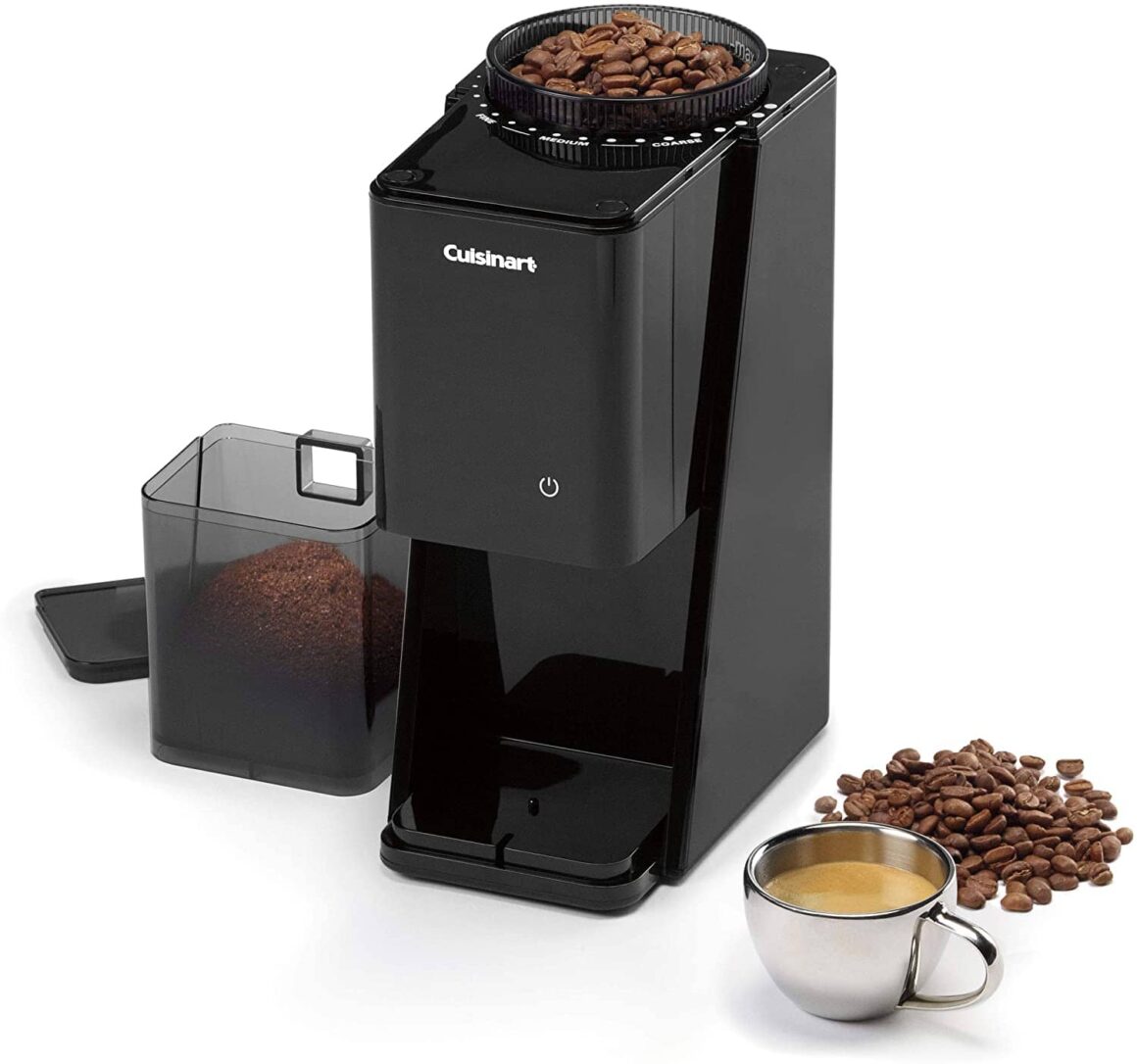 Compared to Bodum above, this Cuisinart is an upgrade for me even though it's about $30 cheaper. My favorite thing about this grinder is the touchscreen that adds technology to the accuracy I'm looking for in every type of grind. And just like the way an innovative machine should do, this Cuisinart features an LED display where you can set the number of cups and count-down timer. For that reason, it's really fun to tap on the icons and the grounds come out the way I want.
Cuisinart gives me 18 selections while Bodum only has 12. This difference doesn't really hold me back in doubt but at the end of the day, it's your decision! Speaking of dimensions and weight, the two items measure almost the same but Cuisinart is a tad heavier than Bodum with 1.24 pounds more. I'm not surprised when this Cuisinart has the same downsides as Bodum, which all come from the static issue and noise. All in all, I still love this Cuisinart for what's been given. The whole point is that it gives me the best grounds with an ultra-sleek touch for the design.
Pros:
It gives a modern and sleek design to spice up your coffee bar and countertop.
The machine is very easy to use with an LED display allowing you to produce from the finest espresso or extra-coarse French press.
This is a budget-friendly coffee grinder that works like a charm.
Cons:
The machine is really noisy.
The lid drips condensation water down the back of the machine and you have to wipe it up everytime you open it.
The static issue is not optimized, with dust and grounds clinging on the grind chamber.
3. Mueller Ultra-Grind Conical Burr Grinder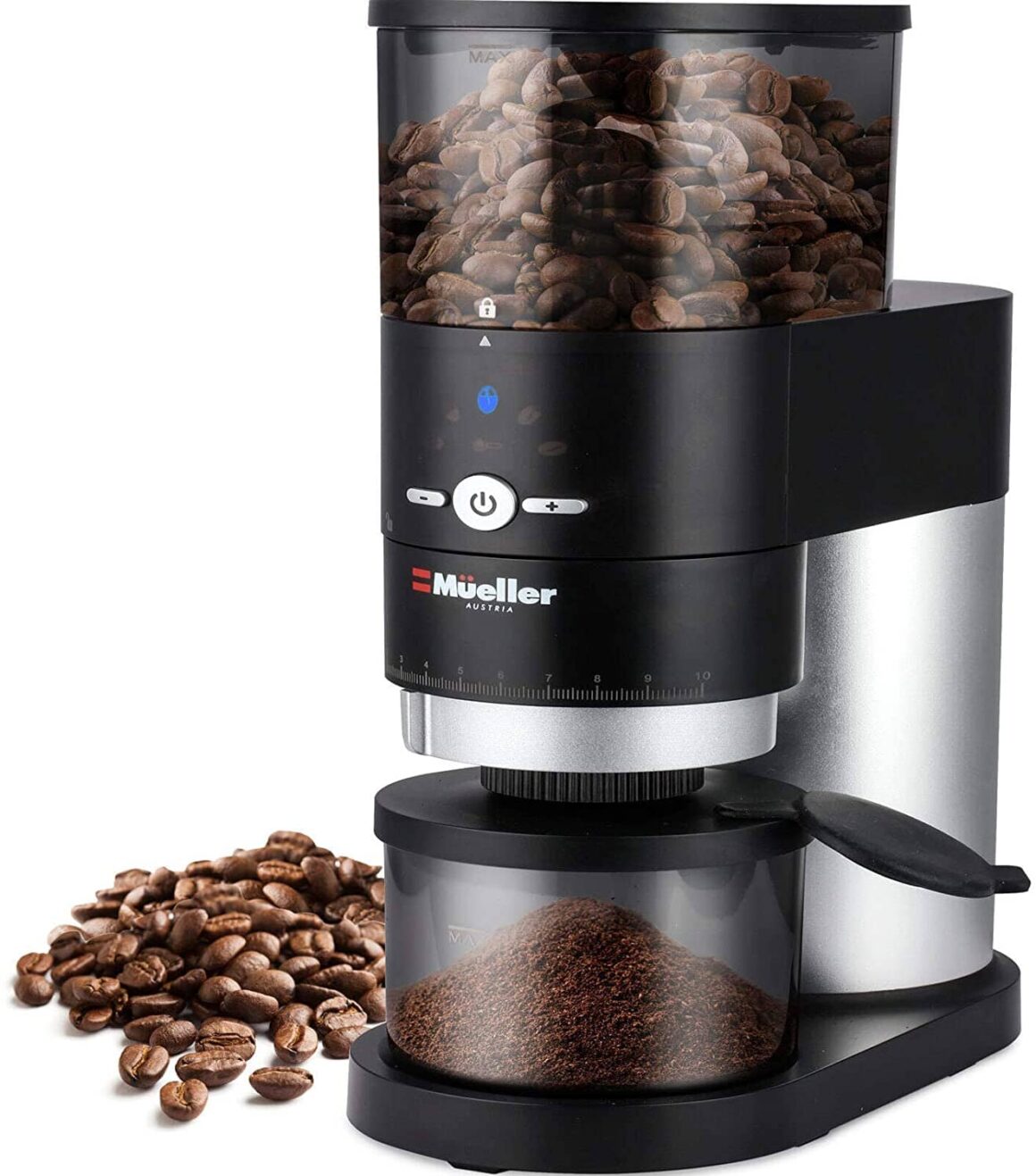 Uniform grinds, minimized noise, and ultra-sleek design are what I can say about this Mueller grinder, a representative from Austria. I can recommend it for any entry-level barista out there who needs a decent grinder that gives you consistent grounds and authentic flavors. However, since the grind settings only come up to ten, it may not be the most ideal purchase if you're high maintenance. But for family use and small bistros – get it! It works like a charm!
This guy is a great deal! It looks so chic and clean and coordinates with any modern kitchen. The grounds are sent straight down into the container from the conical burr. It's a huge selling point right there as the particles are not caught up around the bends or flats, leaving me a hassle-free clean-up!
I see many grinders have an embedded burr and it may give you a bit of a cleaning issue if the burr is clogged. It doesn't happen to this Mueller. You can disassemble it in no time to check and clean. The quietness coming from this one is top of the crop! Yes – it made some noise, just like any other machine! However, the motor is connected to the burr with a belt-drive, and that's why the noise is diminished greatly!
The only downside that bothers me is the pressure-tight lid that covers the hopper, which takes an extra force to successfully remove it. Given all things considered, I still love this Mueller and highly recommend it if you look for a high-performance grinder with extra functions and neat design.
Pros:
The item has a modern industrial look to it with a compact footprint that doesn't eat up much space.
The noise is minimized to a bearable level.
The coffee grounds can go straight into the portafilter cradle like a professional model.
Cons:
The hopper lid is pressure-tight and takes a bit of effort to take it off.
The burr is easy to be disassembled for clean-up but you may want to clean it frequently to make sure the clogs won't build up over time.
4. Breville BCG820BSS Smart Grinder Pro Coffee Bean Grinder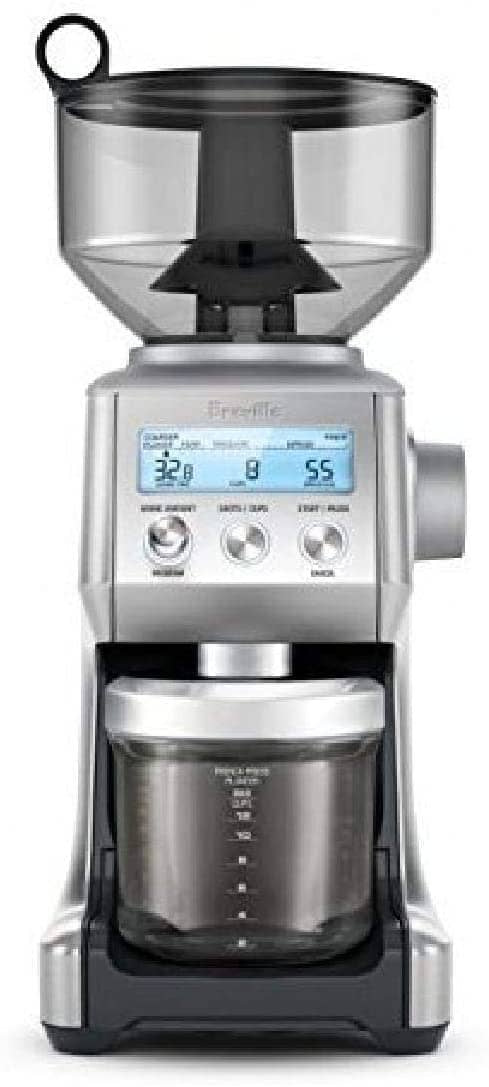 This Breville smart grinder was one of the best entry-level grinders my mom ever used for her shop on a daily basis. There're many things to love about this Breville even though you may see bad reviews on the internet. Don't fret over about them because I tested it myself and still love it so far!
For a barista, it's better if you have a conical burr instead of a flat burr, and so the heat is minimized to protect the flavor of the grounds, and optimize customers' experience. Next up, 60 grind settings totally outrival the Cuisinart and Bodum I listed above! For us, the more grind settings we have, the better we can control the grounds.
For a barista, consistency matters the most, and that's exactly what Breville offers! The high-tech LED screen with multiple controls saves us so much time. All we need to do is dial in how much coffee we want per cup for drip or per shot for espresso, and the machine handles the rest so we don't even need to check. One personal piece of advice is that you've gotta check it yourself to see what each of the grind settings gives you before serving the right coffee for your customer.
The hopper comes in a great size. Compared to the two items above, cleaning this Breville grinder is so much easier! I noticed that it doesn't generate an excessive amount of static and spill the grounds all over the place. Plus, assembling and detaching this whole housing machine is also a piece of cake if you consult the manual. Some say the motor is not powerful enough, but it's perfectly fine for us. One disadvantage we saw is that the container cup is airtight but the mouth somehow doesn't agree with the port. Whenever it's in use, we have to push it far back inside, which sticks the metal lid to the magnet from the portafilter adapter. Apparently, it takes a bit of effort to get it right but the downsides are nothing compared to what you get.
Pros:
60 grind settings are perfect for professional use and maximize the potential of any brew.
Portafilter cradles are included in two different sizes which are specifically dedicated for professional baristas, along with a cleaning brush, grind container with lid, and sealing cap.
The price is not outright expensive given the benefits it offers.
Cons:
This Breville grinder could be a bit quieter.
I'm not sure if it's the product failure or all items behave this way but the mouth of my container cup doesn't coordinate with the grinder port.
You may stumble on the older versions when buying this item, which has an impeller that wears out quickly. So make sure you get the latest version!
5. OXO BREW Conical Burr Coffee Grinder with Integrated Scale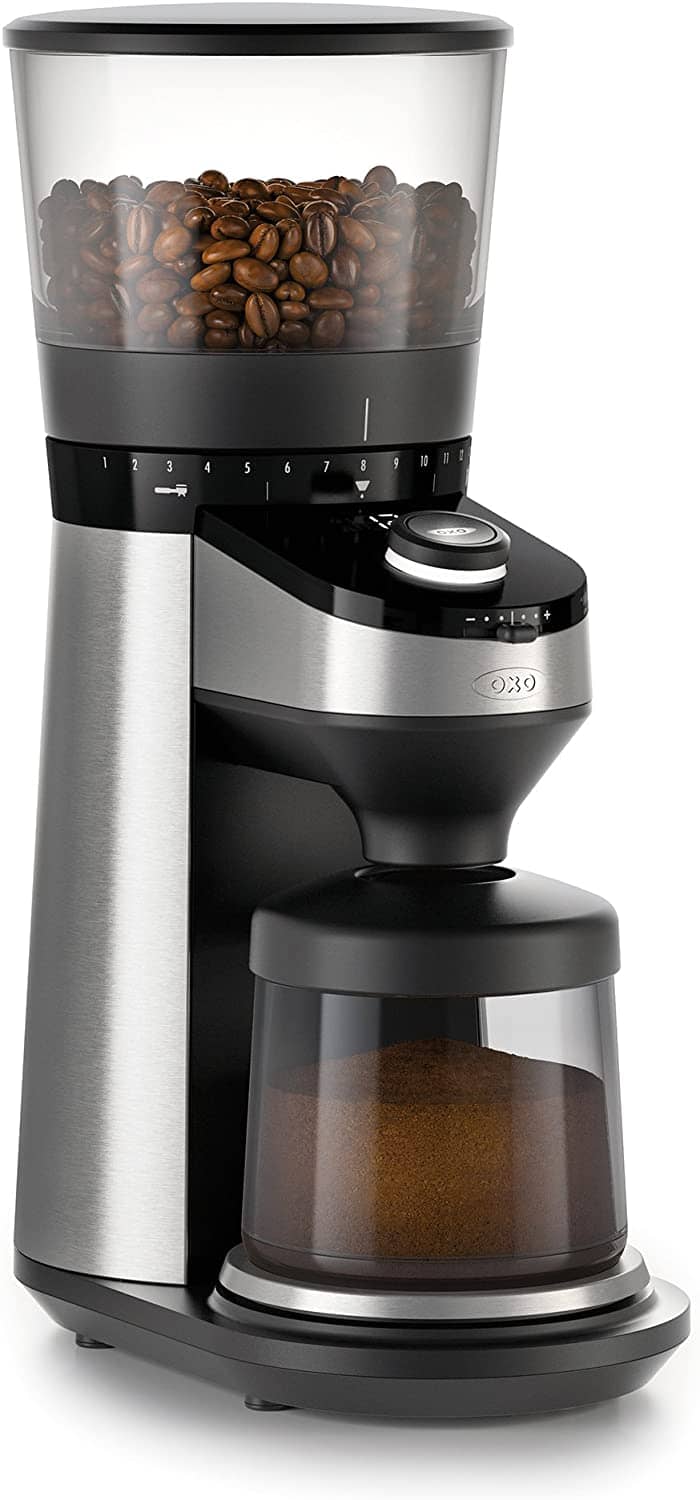 Choosing between this OXO and Breville smart grinder is like walking on a fine line. We like both of them and have them all at home even though there's a gap between the way they function.
Speaking of the grind settings, Breville gives me 60 settings but OXO only offers 38. The biggest feature about OXO that Breville doesn't have is the integrated scale. To be honest, we don't see many developers do this and that's why we brought it home immediately after weighing the pros and cons.
The scale eliminates one extra step from weighing the beans on a separate scale. I love how the single dial lets us switch between Cup – Gram – Manual Mode! This is extremely helpful if you play around with different types of coffee, especially when you own a café and offer multiple types of coffee at the same time.
With so many functions and advanced features, I'm wondering why OXO still has room for the static issue. My coffee grounds still cling on the side of the container and spill all over the place. It's not too bad to return it or anything but it can be a bit painful sometimes. This OXO is definitely not a cheap product but given all things considered, I'm happy to have it in the shop!
Pros:
You get consistent grounds for professional and commercial use.
An integrated scale is very handy to let you control how much coffee you need by weight rather than by time.
The high torque and low speed preserve the flavors of the bean from overheating.
It won't let your grind if the hopper is empty with the assistance of a no-bean detector.
Cons:
The unit may have a high-pitch noise and may affect your customers or family members.
The poor seal between the grinder outlet and the container cup won't fully keep your grounds secure and in place, which is likely to cause spills and static.
6. Baratza Forte BG Flat Steel Burr Commercial Coffee Grinder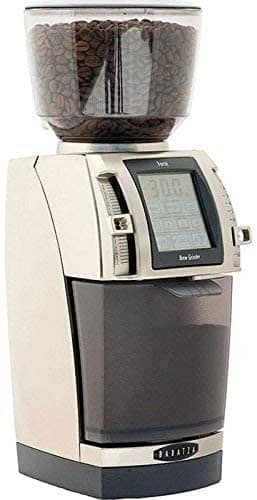 This is the most exorbitant grinder on my list, and probably the most expensive professional grinder we've ever invested for the shop. Due to such a high input cost and complicated operation, I only recommend this if you're a barista!
This Baratza is so famous that I don't need to repeat the bells and whistles. It gathers all of the best features of the previous grinders I mentioned above with a touch to make it even better. Instead of 60 settings like the Breville smart grinder, it gives you 260 grind settings. I know it can be overwhelming and unnecessary for some of you but if you know how to play around with the settings, it's totally worth it! It handles all kinds of coffee you have and lets you grind by time or by weight with an integrated scale.
The touchscreen is where all the settings go. You select the timer, weight base operation, dose weight and you can even save your settings for future use. These controls make so much sense for us as time efficiency is the priority for a coffee shop.
The sleek metal casing houses a high-torque motor with stainless steel flat burr. I love how the machine is constructed with customer insight, and you can see thoughtful details such as the macro and micro-steps of adjustment on the two sides of the screen. I'm impressed with how easy it can be disassembled just by switching off the shut-off hopper and separate burr for fast and convenient cleanup.
Just a little concern is that the weight of my coffee grounds varies if I adjust the fineness setting but not the grinding time. It's not the end of the world by the way but I think it's helpful to put it out here.
Pros:
So many user-friendly functions are packed into a compact footprint.
The hopper is removable, allowing you to swap out beans with a snap of a finger.
An integrated scale is a time-saver so you don't have to take an extra step weighing your beans on a separate scale.
The whole construction is really compact and it sits nicely in my coffee bar.
Cons:
The hectic price tag may give you a second thought.
It may heat the grounds during heavy use.
7. Fellow Ode Brew Grinder, Electric 64-mm Flat Burr Coffee Grinder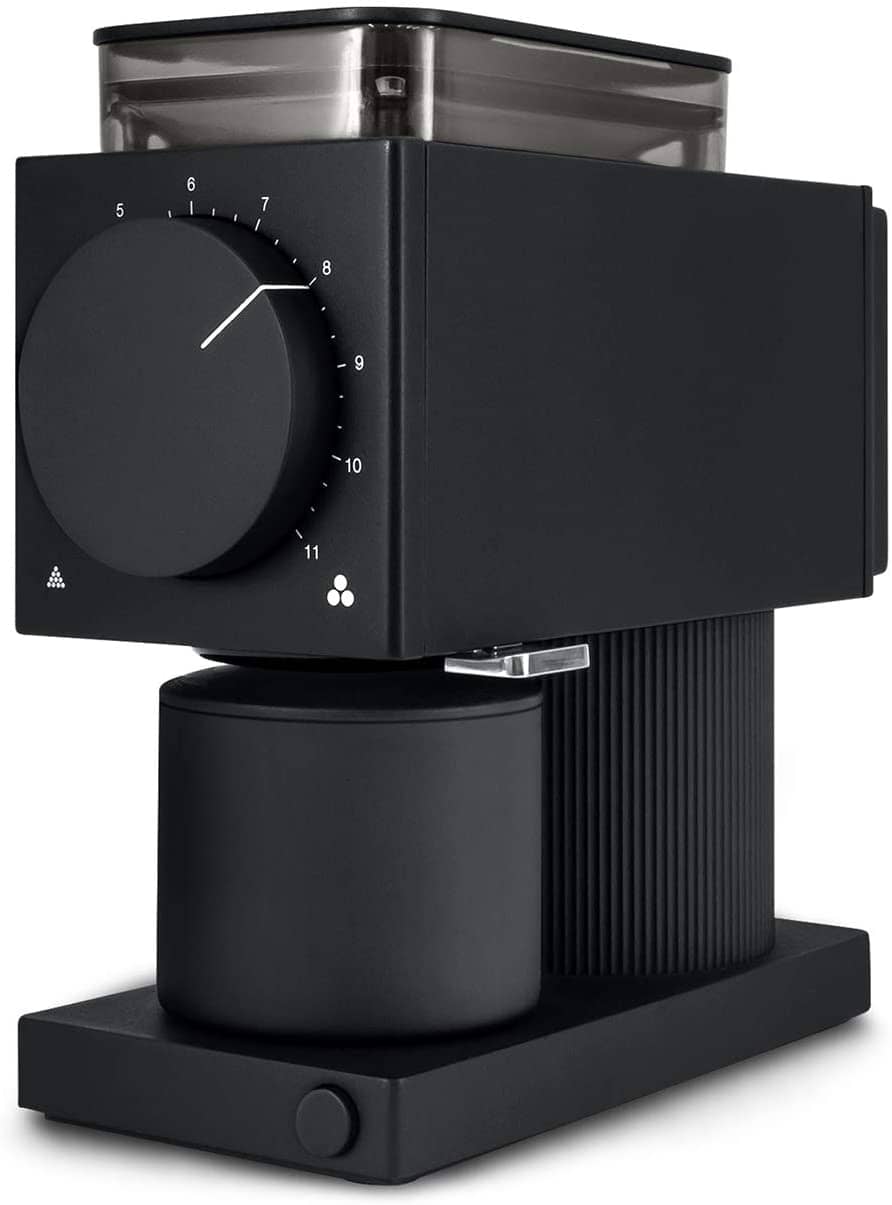 Fellow Ode is a quiet, reasonable, and ultra-modern grinder to jot down your bucket list! I've never seen any grinder that has such a state-of-the-art design before and that's why it caught my eyes right away.
Going beyond the sleek appearance is the ease of use. Even though the machine is built with a flat burr, it turns out to be helpful if you're specifically looking for one that tackles pour-over, French press, and cold brew. The grind settings are simplified to eleven handy settings assembled around a huge sleek cast metal dial at the front of the machine.
It's stated in the manual that the hopper is evolved from a traditional container to a single dose load bin to minimize exposure to oxygen and prevent the beans from going all stale. I personally think this is a bright idea, especially if you don't tend to drink it up in one go. The noise is diminished and the grinds are uniform no matter which setting I'm using.
Overall, this guy runs smoothly and fast even though it still has room for improvement. I wish it wouldn't retain any coffee in the grinder after I finish. It doesn't happen all the time but still nice to see the latest versions eliminate this issue. All in all, I love to recommend this Fellow Ode if you need a professional grinder for home use.
Pros:
Aesthetic and fabulous design to galvanize your kitchen to put in the coffee bar or choose it as a gift.
The noise is minimized to a bearable level.
Uniform grinds and fast operation.
It's pretty straightforward to operate.
Cons:
The beans are not completely emptying out of the hopper.
It doesn't grind super fine and may not be the best option for your espresso or Moka pot.
8. Urbanic 070s Electric Coffee Grinder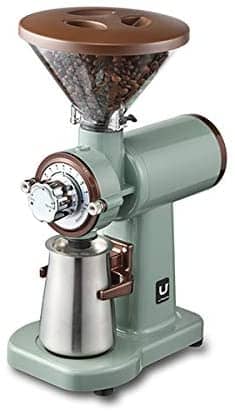 This Urbanic is really fun to look at and if you design your kitchen space of a coffee shop in the mid-60s influenced then this coffee grinder is a huge deal! Going beyond the retro look is the ease of use and easy-cleaning effort. I love how the locking screw can be disassembled manually, plus the hopper and stainless steel container are detached in no time.
You have a step machine with twenty grind settings from drop to espresso. Now comes the static issue, I'm really happy with the antistatic cap installed around the grinder mouth. Even though it's not 100% efficient, the grounds don't fly all over the place like what I've experienced with Cuisinart touchscreen and Bodum grinders. So for this one, I give it an 8/10.
This is a new item in my house and I've had it for a few months now. So far the durability is no complaint. This is not a lightweight machine but to make up for this, the noise is minimal. I know the price tag can hold you back but I do think it's worth an investment.
Pros:
It has a unique retro looking to perk up a corner in your house or coffee bar.
The burr is stainless steel but you can choose a titanium option.
An anti-static piece is included to prevent grounds from flinging all over the place.
The hopper and burr can be disassembled.
It's available in three different colors.
The locking screw can be disassembled manually.
Cons:
The hopper's capacity is a little small compared to other counterparts on the list.
It vibrates the machine a little when you start to run it.
9. HadinEEon Electric Coffee Grinder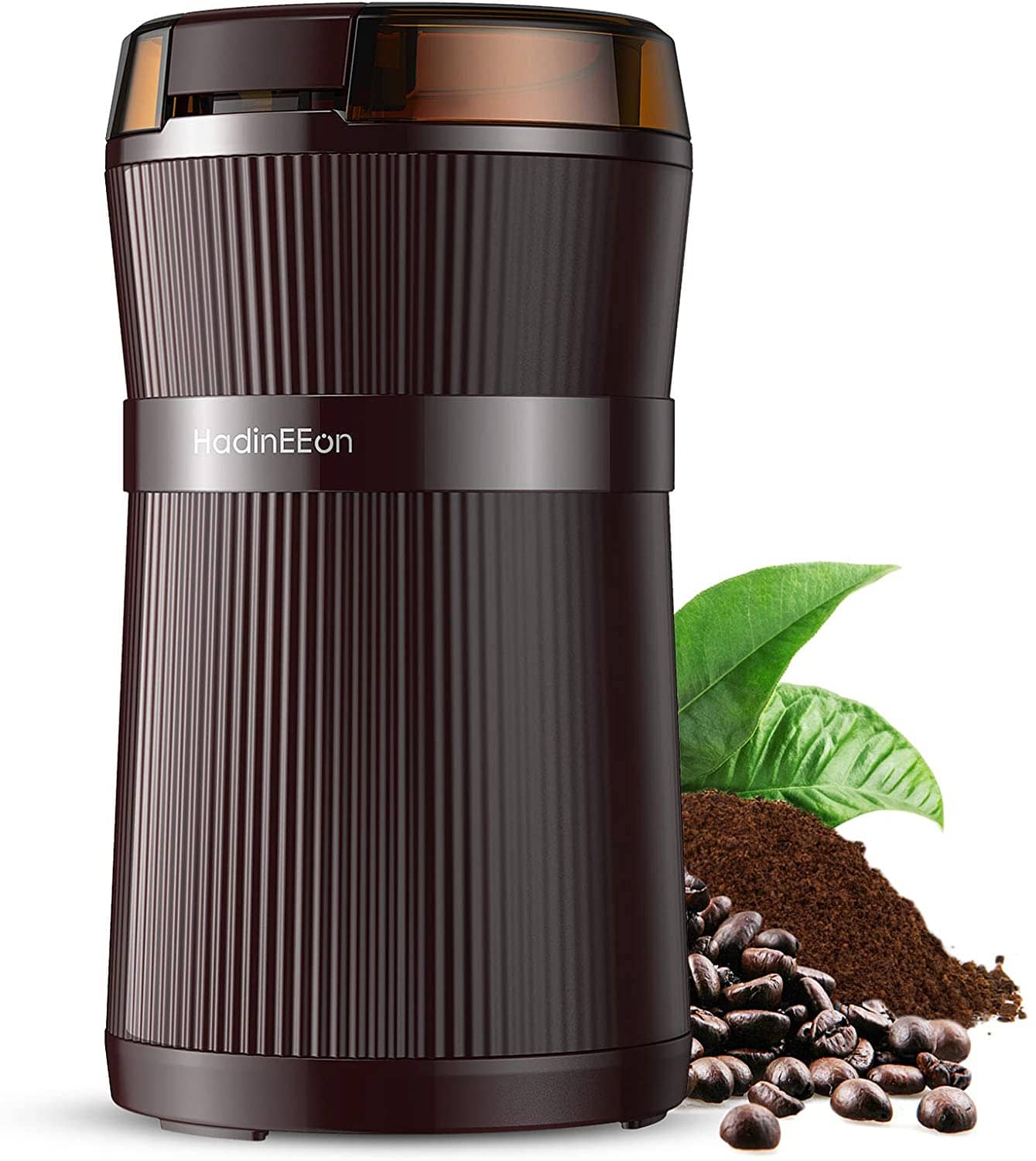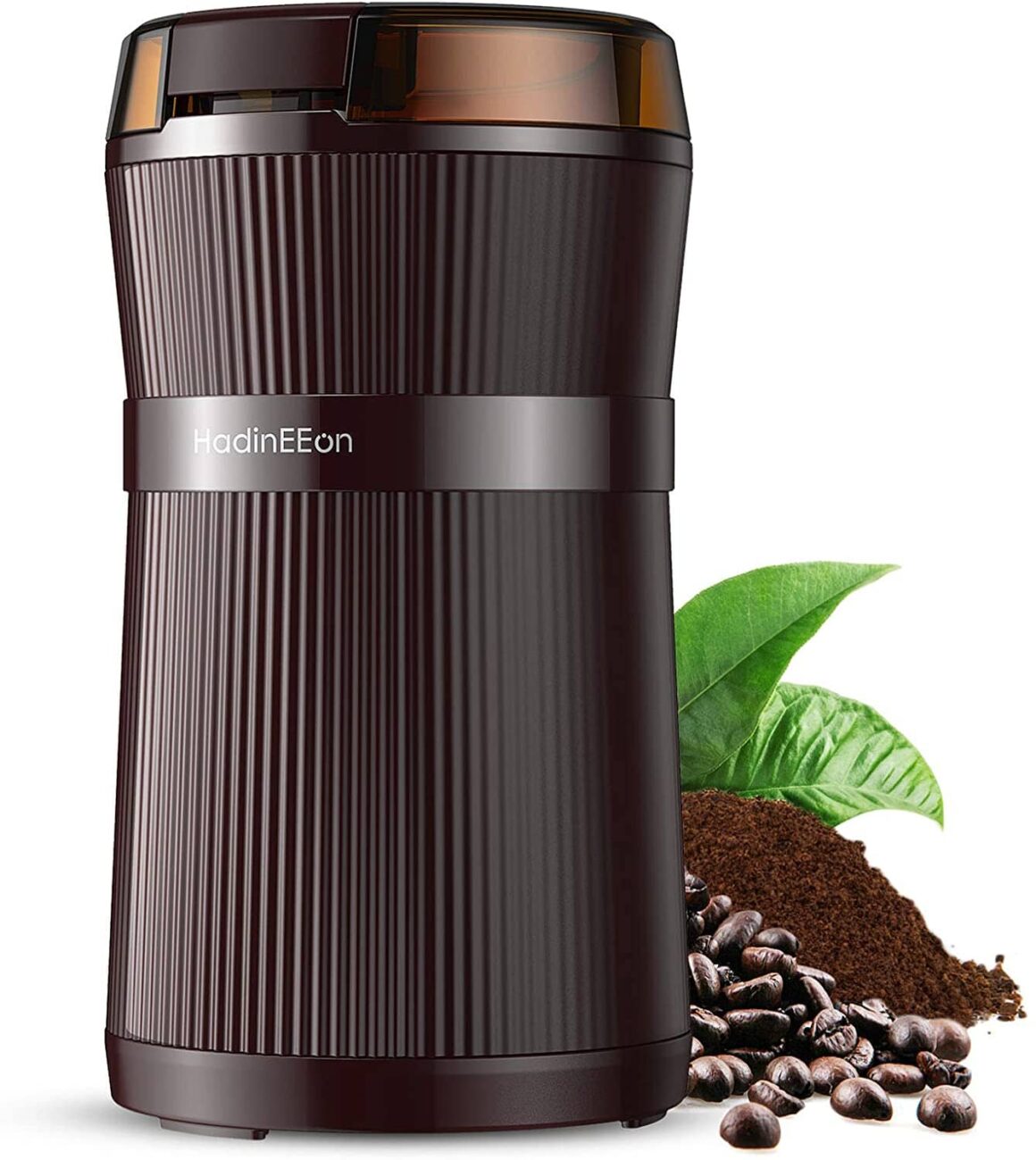 Blade coffee grinder is still a big thing even though it's not as common as a burr grinder. Amongst many blade grinders out there, HadinEEon is my favorite single-serving grinder for personal use. Coffee is a big thing in my life and I can barely start the day without having a coffee fix.
This compact and portable HadinEEon follows me everywhere whenever I get up late for a meeting or when I'm on a vacation. It's straightforward to handle and takes less than 10 seconds to complete a coarse to a medium grind, and up to 30 seconds for an extra fine grind.
This is a stepless coffee grinder and so there's no such thing as grind setting dial. All you need to do is keep the button on hold and release it to stop grinding. I don't think it's the best option for professional use but it does offer barista-graded features for home use. It does produce some noise but not too bad to wake up the whole house.
Is it easy to clean? Yes! Does it make a mess? Just a little because the grounds are still clinging on the mouth of the hopper but it's not the end of the world. The lid still keeps the grounds where they belong!
Speaking of disadvantages, there's nothing much to bother me but since the grinder can be used for any other herbs and chocolate chips apart from coffee, some of the chunks are built up underneath the blade. It happened quite a few times with my cinnamon sticks and so I had to dislodge them. For coffee and herbs, it works like a charm. Just make sure you won't grind cinnamon as I did!
Pros:
It's versatile and can be used for herbs and spices.
The machine is compact and lightweight which is great for travel purposes and busy coffee lovers.
It's fast and straightforward to grind everything.
The motor is powerful with 200 watts.
The blades are stainless steel and grind fast, which minimizes the causes of heat.
Cons:
The brush is handy to dust off the hopper but it cannot clean the inner side successfully.
This is not a stepless grinder, so no visible grind setting to indicate the right level of fineness.
10. Hario Ceramic Coffee Mill – "Skerton Plus"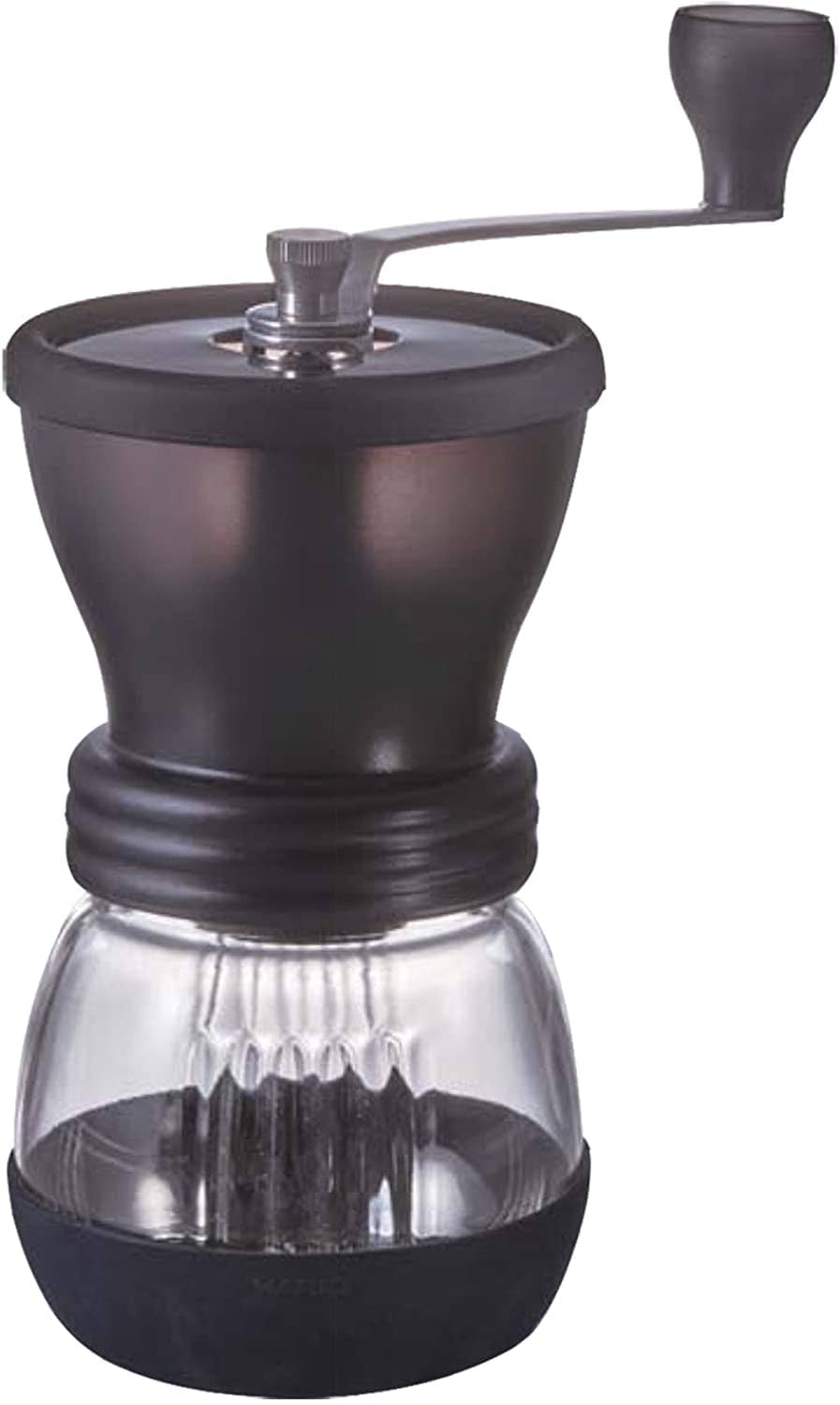 I also have my go-to manual grinder and Hario "Skerton Plus" is what I chose to recommend. Some of my friends are wondering when on earth would we ever use a manual grinder that wears us out! Think about when our electricity is out and other machines don't work, at least you have something easy to use to quench your thirst for coffee!
I appreciate the fact that it lets me grind coarse or fine grinds by grinding clockwise or counterclockwise. This is a single serving grinder and the maximum batch it can give on one full cycle is around 21 grams of beans. I've had it for over a year and am still impressed at the durability.
The ground is consistent even though you may notice not all particles come out the same if you produce a coarse grind, but it's better on a finer grind. All in all, this Hario ceramic plus is a good compromise given the price it's offered at.
Of course, there are some downsides. The rubber base at the bottom barely keeps the whole construction in place and so you have to hold it with one hand and use the other one to grind. However, consider it a manual grinder at an affordable price, it won't annoy me at all!
Pros:
It's easy to use, lightweight and compatible.
Uniform and consistent grounds on fine grinds.
Ceramic conical burrs stand the test of time.
Cons:
The rubber base won't latch to the glass.
It takes longer to grind a full cup of serving which is about three minutes and causes you elbow grease.
Coarse grounds are not consistent.
Don't forget that I also reviewed the ten best coffee makers with grinders and you can check them out right here! I'll walk you through a buying guide, what to consider before purchasing, as well as my favorite brands for different purposes and budgets.
Noms Magazine is a participant in the Amazon Services LLC Associates Program, an affiliate advertising program designed to provide a means for sites to earn advertising fees by advertising and linking to Amazon.com and Amazon.ca. Clicking and purchasing from the links helps support our publication and no extra cost is added to you
The following two tabs change content below.