Okanagan dry red and whites are no stranger to wine geeks. The reputation of Okanagan's GSM Blends, right bank Bordeaux to even sparkling and ice wines keep travelers coming back for more. This thriving landscape belongs to Kelowna, a small eco-friendly city on the east shore of Okanagan Valley, just south of British Columbia.
Beyond the wine portfolio, there are more to stay active and enjoy the sunshine in Kelowna. Now that it's on your bucket list – but as a first-time traveler, choosing where to stay can be a daunting task.
Do you want to stay close to the wineries?
How much are you willing to spend a night?
Should you stay near the airport?
Do you live for the nightlife?
Now you're raising your eyebrows, aren't you? Rest your worries! We went under the belly of Kelowna's best places to stay and map out the ten best Kelowna hotels catered to your certain needs. Read on and pick your gem!
Best Hotel in Kelowna for Families: Rodee Homestay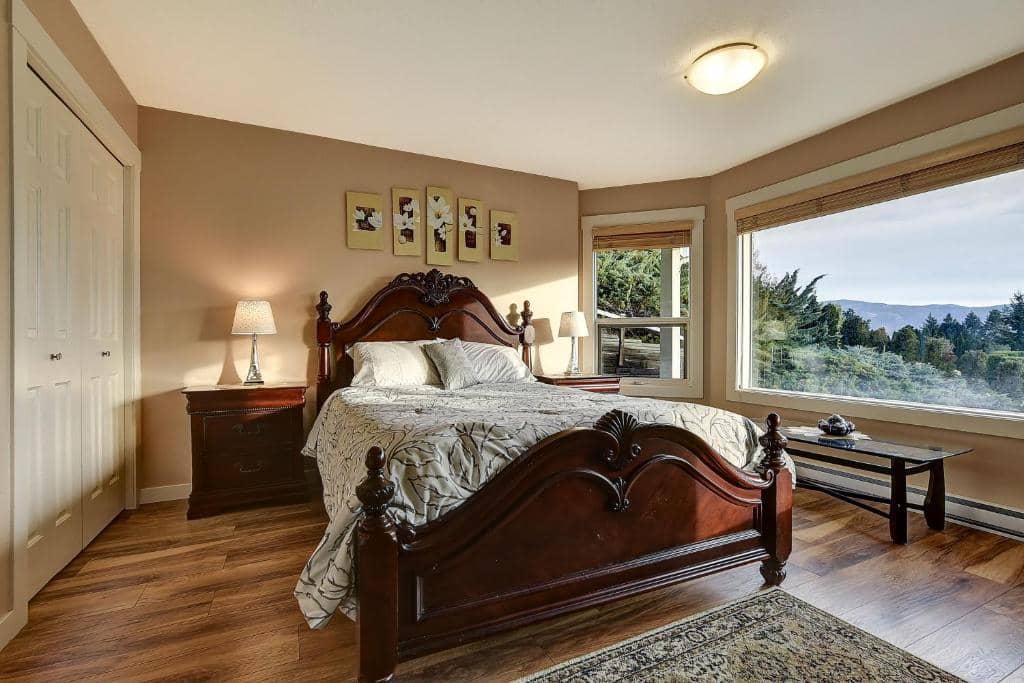 Want to treat your beloved ones with a home-away-from-home getaway! Perched on a spacious, thriving, sun-filled garden just steps away from Okanagan Lake, Rodee Homestay is a real headliner to give your kids a blast over the weekend.
Our favorite thing about Rodee is a homey experience with a touch of top-notch hospitality, tasteful American breakfast, and rustic accent throughout every corner of the house. Rodee has its torch on a relaxing family stay. Three of its queen rooms sleep two and a family room sleeps three.
The house is set in serenity on the top of the rolling hills of orchards, surrounded by wineries, the soothing Okanagan Lake, and a dramatic mountain view. Sometimes the best thing when taking your loved ones out on a vacation is a chance to team up with another family, connect and exchange stories. Is there anything better than heading out in the sun with Rodica – the host, have her show you the wineries, beat the trails, and enjoy the magical sunset at the end of the day?
If this is what you're looking for in West Kelowna, you'll want to spend more than just one night at Rodee Homestay!
Address: 886 Stevenson Rd, West Kelowna, BC V1Z 1N2.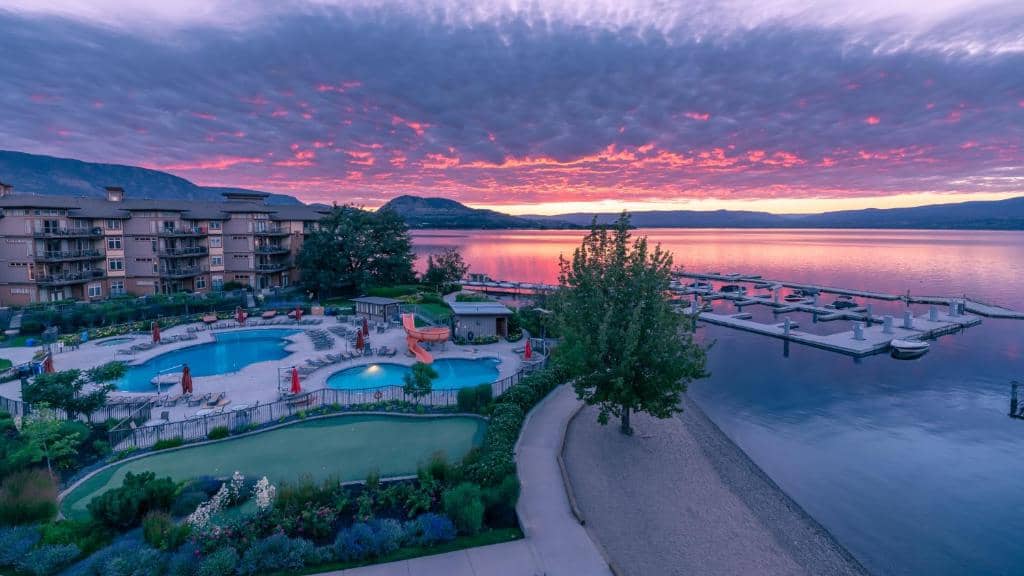 Setting out for a few night's stay at a luxury resort doesn't mean you have to rely on top-tier amenities or marvelous views, but also the overall experience itself! Call it a quintessential lake retreat! The Cove blends in beautifully with the nautical theme as it resides on the magical shoreline by the side of Okanagan Lake.
Each room opens out to an unobstructed view over the distant mountains hugging the gigantic calm lake. Head into The Cove if you wish to unplug from the digital buzzes without missing out on the main happenings in West Kelowna.
Get your coffee fix while lounging around the balcony and take in the morning view. Make a splash at the outdoor pool or ride the waterslide with your kiddies. Take a long walk down the shore of Okanagan Lake before easing your tired muscles with a spa treatment.
Those living on the active side of a vacation will have a whale of time rocking its LakeSurf Okanagan at the seasonal marina. Pontoon boats, kayaks, and SUP are waiting for you to venture out in the sun and the breeze!
Having enough for the day? Curl up in a foam mattress and sip on your favorite Okanagan late harvest Riesling!
Address: 4205 Gellatly Rd, West Kelowna, BC V4T 2K2.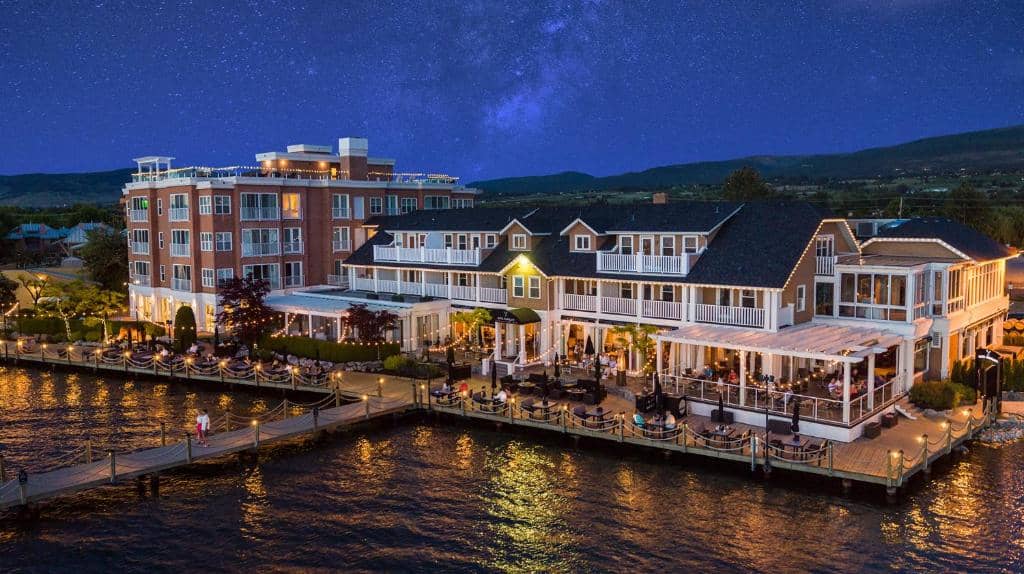 Telling stories makes us human. West Kelowna reminds people of the thriving vineyards, sun-kissed shorelines, and hordes of watersports to keep you occupied throughout the day. But one thing out there that also contributes to the reputation of Kelowna is the vivid history, with untold stories travelers crave to unveil.
This is the case of Eldorado Resort. Renovated on the skeleton of the iconic Hotel Eldorado, this lakeside resort is another top call to stay by the water and get unplugged from the daily hustle. The resort's history stems from 1926 when the blue-blooded Austrian figures started their legacy that was attached with famous social events.
Eldorado Resorts is a picturesque seascape itself. The resort features a romantic boardwalk sticking out from SmackDAB, a breezy lakeside restaurant. You will see a multitude of rental canoes and kayaks clinging on two sides of the boardwalk. From above, this entire network looks like a necklace chain dropped to the lake, calling for a peaceful stroll along a dim paved way past sundown.
Address: 500 Cook Rd, Kelowna, BC V1W 3G9.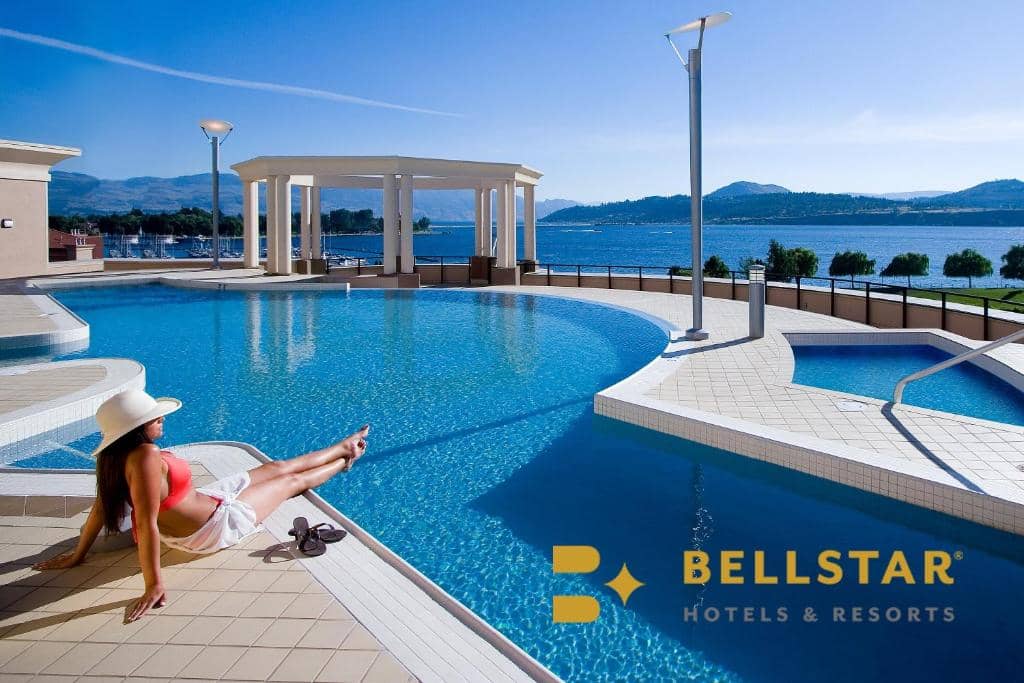 Magic happens when we least expect it! Speaking of low-budget accommodations, we barely think it will have space for an upscale resort. And smack dab here on the Water street of Kelowna, The Royal Kelowna – Bellstar Hotels & Resorts won't cost you over CAD 200 a night for a pleasant stay.
You can work between a one-bedroom suite for a short trip and a two-bedroom apartment to treat your family or friends for a longer stay. Each room features a chef's kitchen and an en-suite bathroom. Solid hardwood flooring, leather furnishings, and marble surfaces spice up your stay with a timeless and elegant ambiance.
However, the true charmer of Royal Kelowna doesn't simply stop there. A low budget isn't always equal to an outlying stay! The hotel is nestled by famous attractions such as Downtown Marina Kelowna and Don-O-Ray Farm Adventure.
Whenever you've had enough of the beach, head out to Knox Mountain Park and Kasugai Japanese Garden to reconnect with green space. Getting hungry after a long travel day? Pop into the nearby Social 242 Lounge, order a surf-and-turf, and get back to your room chilling out at the breezy window.
Address: 1288 Water St, Kelowna, BC V1Y 9P4.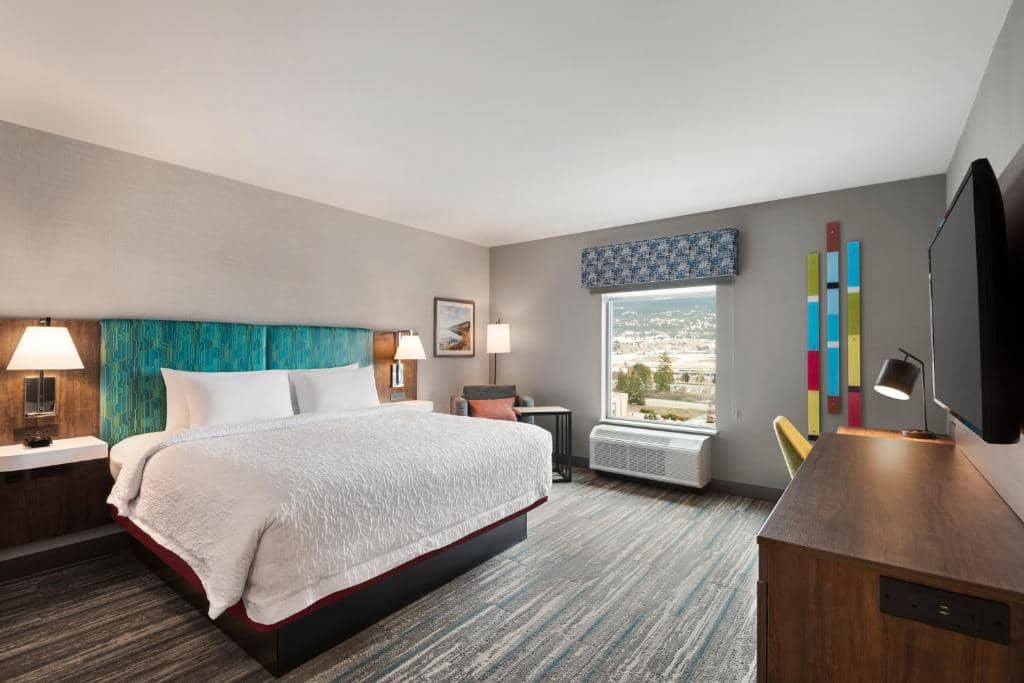 Located just one kilometer from Hilton Kelowna Airport, Hampton Inn & Suites comes in handy if you're on a business trip or connecting flights.
Its spotless, spacious rooms are embellished with colorful touches and elaborated by straight-up white walls and ceilings. Executive laptop-friendly desks by large windows will brush up your busy routine while you're capping off your monthly reports. Each room is flooded with the nautical sunlight collided with bright hue palettes, creating a playful setting with a strong Kelowna flair to it!
Hampton Inn & Suites is on par with the best high-end hotels for business purposes. In-house guests are amazed at the top-notch convenience provided by the hotel staff. A state-of-the-art business center, daily newspapers, fax machine, photocopier, and even an on-site ATM are available at your fingertip!
Address: 1665 Innovation Dr, Kelowna, BC V1V 2Y9.
Best Hotel in Kelowna with Okanagan Valley View: Myra Canyon Lodge Ranch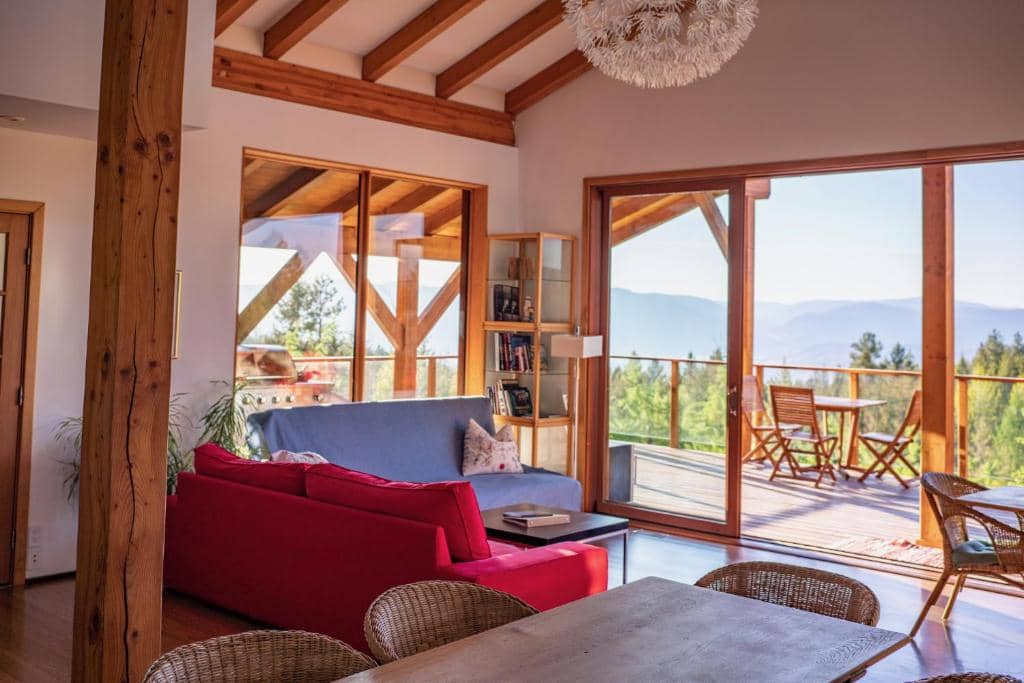 For many of you, the idea of visiting Kelowna boils down to hanging out in the farm crops, peeping into the vineyards, or simply waking up to an unrivaled view of Okanagan Valley. While staying in a hotel downtown cages you within its four walls, living on a ranch encourages you to run free and unleash your inner child.
Myra Canyon Lodge Ranch is our favorite place to stay in Kelowna with an unobstructed view over the famous Okanagan Valley. Looking out into endless views of Mother Nature's beauty and blending into the serenity and privacy of this thriving valley are second to none. Staying at Myra Canyon Lodge Ranch means you're sleeping in one of its superior suites and studios. Each unit boasts a breezy, sunny private deck with its own entrance.
We recommend spending more than one single night at Myra!
Why you may ask?
It's simply because one day is never enough to ride your horse galloping on the rolling hills, throw a BBQ party with your fellas and take a stroll in the garden all at once!
Wondering what else to be offered nearby to keep yourself occupied? Hit up with Arlo's Honey Farm, tour Summerhill Pyramid Winery, visit BC Orchard Industry Museum and walk the Waterfront Park – those are a few to be named.
Address: 4675 June Springs Rd, Kelowna, BC V1W 4C7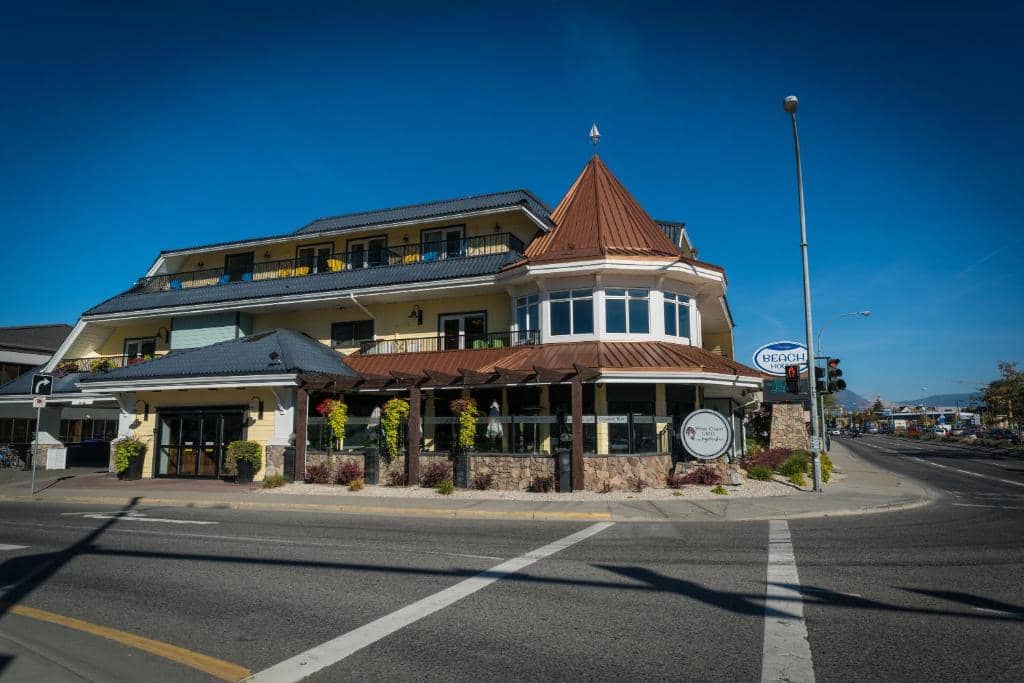 Located by the T-junction between Abbot street and the busy Harvey Ave, Prestige Beach House is a showstopper in the heart of a bustling commercial core. Base yourself at Prestige and radiate out to local indie shops, global eateries and sip your favorite cocktail at a bar in town.
This three-star hotel is adjacent to the iconic Kelowna City Park, which means splashing out in a water park and shooting a ball through a hoop on a basketball course are never a problem.
What else? Prestige Beach House is a stone's throw from Okanagan Valley. The lake itself is the star of the show, and staying by its shoreline will have you surrounded by endless outdoor possibilities and sprawling nightlife. KRAFTY serves you New American dishes, brunch fare, and spirits in a trendy setting. Gotham Nightclub never disappoints with its hip lounge vibes and enjoyable nightlife.
Address: 1675 Abbott St, Kelowna, BC V1Y 8S3.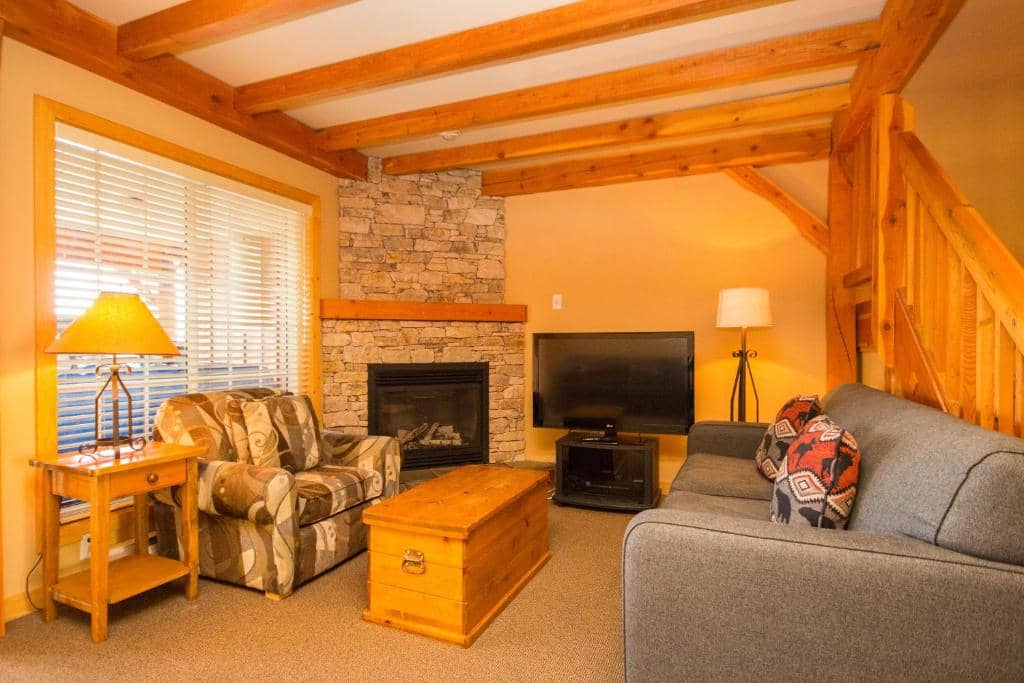 Invariably cloaked in white, Glenn's exclusive three-bedroom apartment is a perfect ski chalet to clatter out to Big White.
First-timers to Kelowna stick to the downtown core. However, ardent skiers know one thing for sure: staying at the foot of Big White completely subjugates the idea of lugging skis and poles onto a shuttle bus and barging in heavy boots on the sludgy slopes. Big White Ski Resort is behind the doorstep and you never have to waste any moment commuting for over an hour in those heavy boots!
Each of the rooms is complemented with a diligent lighting system, creating a homey and warm atmosphere to welcome you back after a long day shredding the slopes. The indoor hot tub is nestled by a large window overlooking the powdery hills.
Even though Glenn's Charlet is an hour away from Kelowna downtown and the lake, it doesn't mean you've gotta toss an hour or two every day on the car shifting back and forth to beat hunger. Après-ski opportunities surrounding this ski chalet grow affluence to keep you amused day and night. From Black Diamond Bar & Grill, Snowshoe Sam's to Bean Scene and Alpine T-bar, this bustling neighborhood always sees travelers coming back for more.
Address: 220 Kettle View Road, V0H 1A0 Big White.
Best Hotel in Kelowna for Golfing: Hyatt Place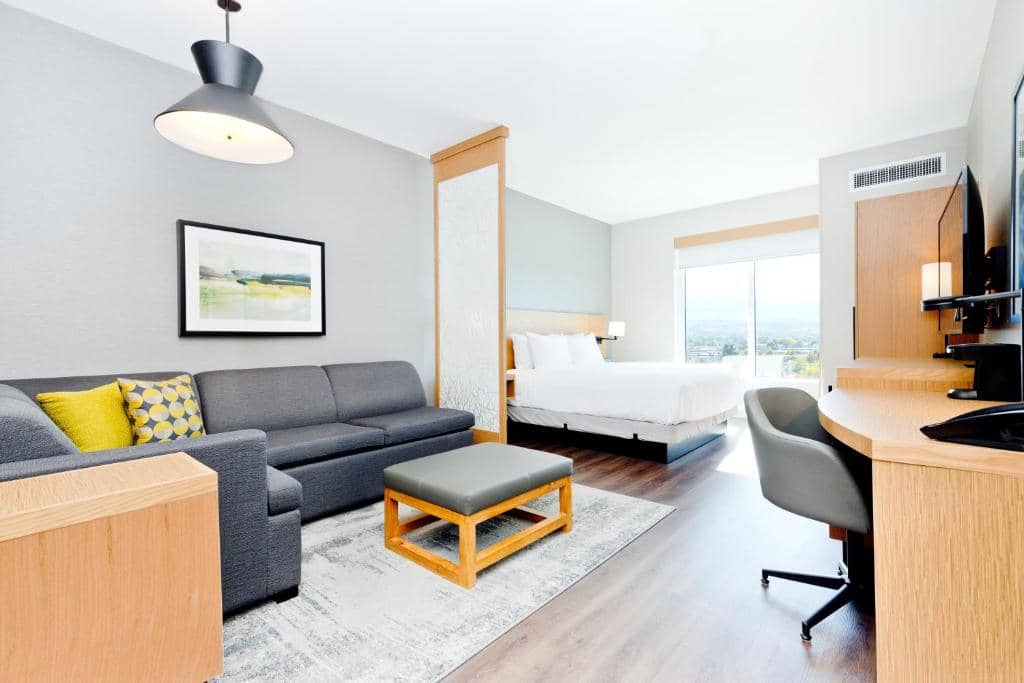 Venturing out to Kelowna on an upcoming golf season? Look no further than Hyatt Place! This ultra-modern hotel is only three kilometers away from Gallagher's Canyon Golf & Country Club. So next time if you're ready to hit these stretching tees under vertical poplars and challenge the route to the final greens, you know where to rest your body at night!
The sleek and neat exterior of Hyatt Place demands attention of any by-passer. Each elegant room and suite takes your stay to a whole new level with thoughtful touches, utmost convenience, and a cozy corner with a sofa sleeper.
As the sun vanishes behind the rolling hills and you return with your putter and hybrid, pop into The Placery, rest your shoulders on its comfy sofa and enjoy a fresh-dough, artisan pizza by a glass of local wine.
Address: 1915 Enterprise Way, Kelowna, BC V1Y 9S9.
Best Hotel in Kelowna for Honeymoon: Coast Capri Hotel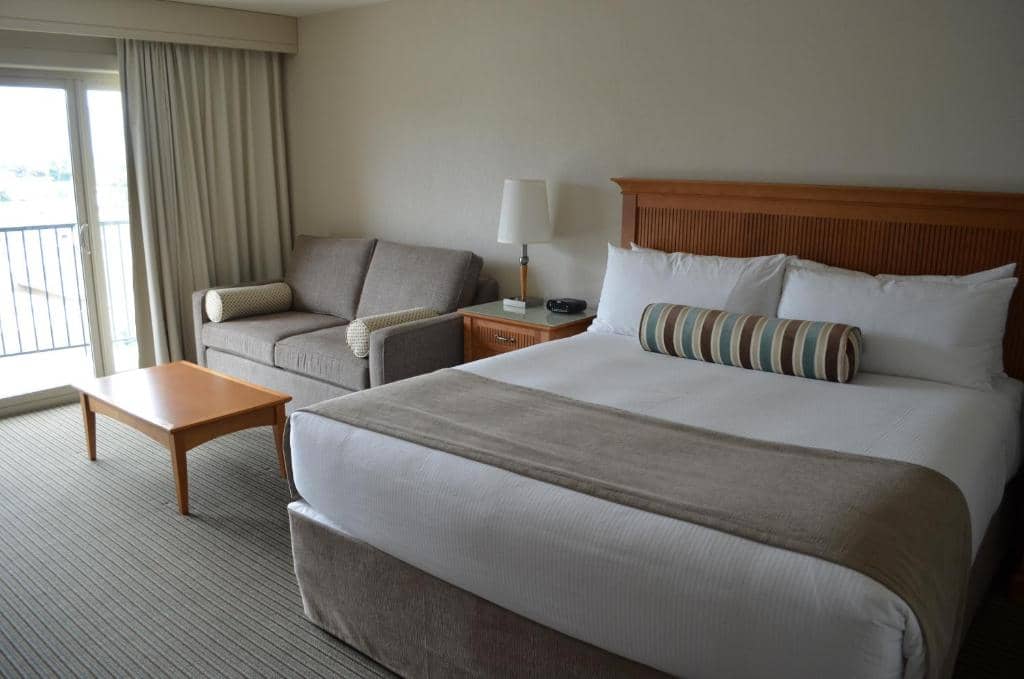 Is there anything better than idling on a plush bed and triple sheeting with your sweetheart after a day out and about? Leaning on the dramatic backdrop of the South Okanagan, Coast Capri Hotel became a household name for newly-wed couples. The stunning vista, romantic surroundings and top-tier services pull together an unique, heart-warming gathering that sets your heart aflutter.
Coast Capri Kelowna is a top call when the idea of a fairytale-like wedding comes around. And for you as first-time visitors, celebrating your marriage with a certain degree of seclusion without missing out on the main happenings should be accompanied by Coast Capri.
One thing that dazzles many in-house guests is their pet-friendly rooms. This means you never have to leave your pooch behind on a romantic getaway anymore. Choose between a Coast King, Coast Premium King or Coast Queen Pool View to rest your back after a long day conquering the wineries and lounging by the pool. Coast Capri offers excellent live jazz so you can swing to your favorite jam with your significant other after sunset.
Address: 1171 Harvey Ave, Kelowna, BC V1Y 6E8.
For those of you who prefer a private and exclusive stay, consult our ten favorite lakeside Airbnbs in Kelowna right here! Each of them has an excellent vista over Okanagan Lake and are tucked away in a complete seclusion.
---
This article includes affiliate links where we may get a small commission if you use our link to make a booking. No extra cost is added on and all funds will be used to support our team and content.
The following two tabs change content below.
Latest posts by Noms Magazine (see all)