In the shadow of Whistler – Blackcomb is a chic resort town where each type of accommodation is a treasure of its own. Whether you chalk it up to the best ski season you've been craving for years, or seeking a sheer scope of mountain biking, sightseeing and dining out, booking the right hotel is equally crucial. 
Knowing that Whistler is an unhampered mecca of resorts and hotels, there's a lot to consider before putting down your name in a booking form and processing your transaction.
No more skepticism! Pick one from our ultimate round-up of ten best hotels in Whistler below!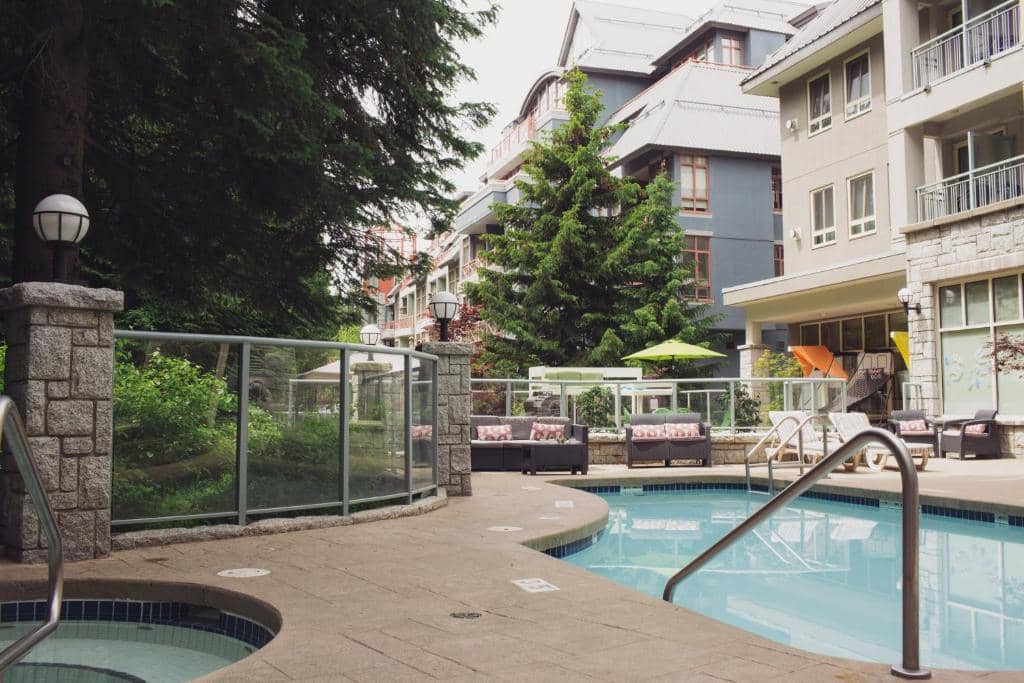 Whistler demands ski wear but it doesn't mean you have to leave your favorite swim gear at home. Summit Lodge Boutique Hotel is a showstopper pulling in hordes of travelers seeking a lazy time by an outdoor heated pool in Whistler.
Located next door to Blackcomb Excalibur Gondola, Summit Lodge is a household name in the eyes of families and friend groups with a variety of studios and suites. A long stay over two nights is a common target, especially if you're seeking a homey and attentive service to unplug from the hustle and bustle.
The outdoor hot tub sits in the back of this boutique hotel in the heart of a leafy backyard. Whenever you're in the mood for unwinding, head down to the front desk and grab some pool towels out to sunbathe in the Whistler sun.
Summit Lodge has nothing to compare with the heavyweights from the five-star range. Concentrating on personalization and guests' experience, Summit Lodge leaves no detail unattended. Deemed with Art Décor inspiration and a clever play of colors, Summit Lodge will surprise any first-time visitor. Get ready to be blown away by the mashup of bright palette against straight-up white walls, original arts, special-cut wood floor, and fully-stock kitchenette.
Staying at Summit Lodge means you never run out of bonding ideas. We love how the flaming fire pit is waiting for in-house guests after a long day shredding the slopes. Or even better, sharing the day's events while cooking up some BBQ outdoors adds some spice to your nighttime bonding.
Address: 4359 Main Street, V0N 1B4 Whistler.
Best Lakeside Hotel in Whistler: Nita Lake Lodge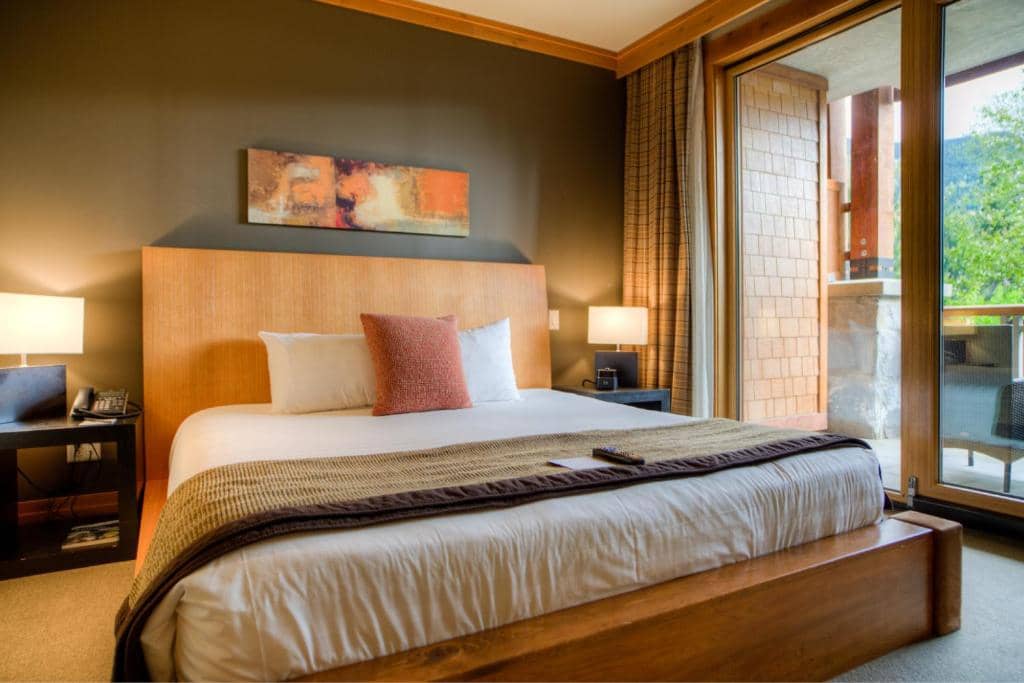 Nita Lake is a serene little lake cuddled by a heavily forested landscape in Creekside. This waveless, mirror-like body of water has long been a spotlight of lake-goer and leisure travelers, especially with the exclusive Nita Lake Lodge by its side.
The sense of privacy and seclusion this lodge has to offer is second to none. Every suite and studio boasts an unobstructed lake view that translates a unique beauty either in winter or summer.
The limelight in its interior design strongly focuses on dark wood finishes and stones. These rustic materials blend in perfectly with the natural surroundings. And when the dim yellow light is switched on, your room is instantly warmed up, creating an inviting sense of a home-away-from-home experience.
Nita Lake Lodge is exceptionally famous for families and couples seeking a weekend getaway. Even if you don't feel like doing anything, the lodge is here to pamper your idle soul. Indulge in the tasteful West Coast cuisine by its lake-view Aura Restaurant. Fresh ingredients are sourced from local farmers and fishers every day.
Free kayak, paddleboard, and canoe are available at your fingertips. Everything you experience at the lodge brings you closer to the authenticity of the Whistler environment itself. And that's why you always feel like being a part of this brilliant town.
Address: 2131 Lake Placid Road, V8E 0B2 Whistler.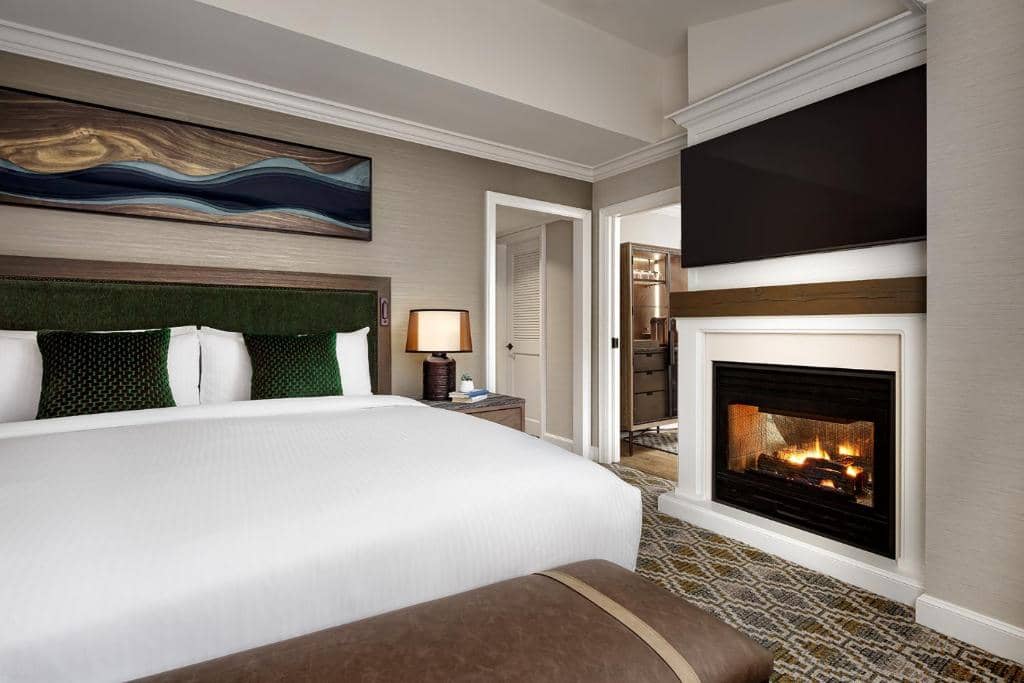 What do you expect from a high-end, luxury stay? A chef's charcuterie and hors d'oeuvres waiting by an in-room fireplace? Having a wildest dream on a foam mattress under a golden glam artwork?
These are just a few exclusive offers brought by Fairmont Chateau.
Led by Accor, a notable hotel group seeing unparalleled growth in the world's best hospitality portfolio, Fairmont Chateau is the star of the show for luxury seekers in Whistler. Perched on a serene alpine setting down the slope of a pine hill, Fairmont Chateau has a great personal touch curated for those seeking authentically local actions.
How about daily access to an exceptional par 72, 18-hole Audubon-certified championship golf course? Or a tailor-made excursion around the mountainside setting with their Whistler Experience Guide packaged up for you? There are only two to be named!
Boasting over 500 elegant suites and bedrooms, Fairmont Chateau brings you closer to the lifestyle of the noble. Amongst six of their thoughtfully-appointed guest rooms, Fairmont Gold is definitely the talk of the party. Elaborate your stay and refine your experience with Skinjay Essential Oil Shower Capsules. Immerse your retail therapy with an exclusive view over Blackcomb Mountain from a quiet alpine-designed lounge. Sounds like a plan? Add Fairmont Chateau to your cart now!
Address: 4599 Chateau Boulevard, V0N 1B4 Whistler.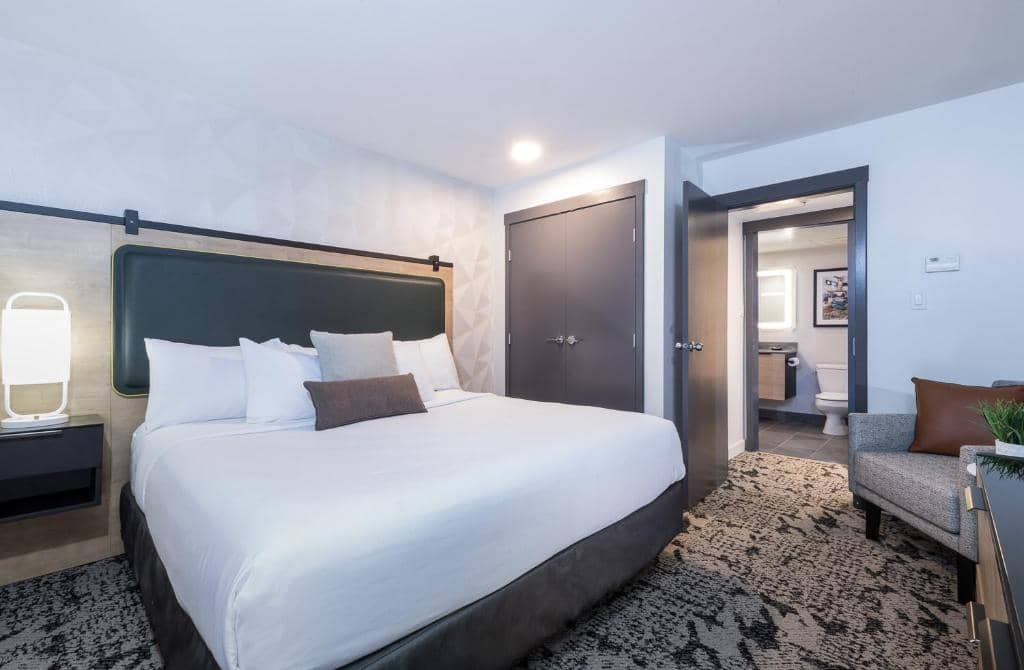 The Crystal Lodge forms the core of Whistler's mid-range accommodations. It has nothing to envy the first-class heavyweights like Fairmont Chateau. Instead, it exists within the bustling Whistler Village, and you only need a five-minute walk to the gondola.
The best thing about Crystal Lodge is the diversity in its accommodation portfolio. Small families with one kid usually favor its Crystal king room, while big family or a large group of friends are offered with a deluxe queen room, a loft suite or king suite with kitchenette.
Unlike the vibrant hue medley of Summit Lodge or Nita Lake Lodge's timeless Art Decor, Crystal honors high-reflective white as a keynote in every room. Such elegant and pure paint color is diligently garnished with a low-key scheme of natural wood surfaces or seafoam wool n' weave upholstery.
Address: 4154 Village Green, V0N 1B4 Whistler.
Best Low-Budget Hotel in Whistler: Pangea Pod Hotel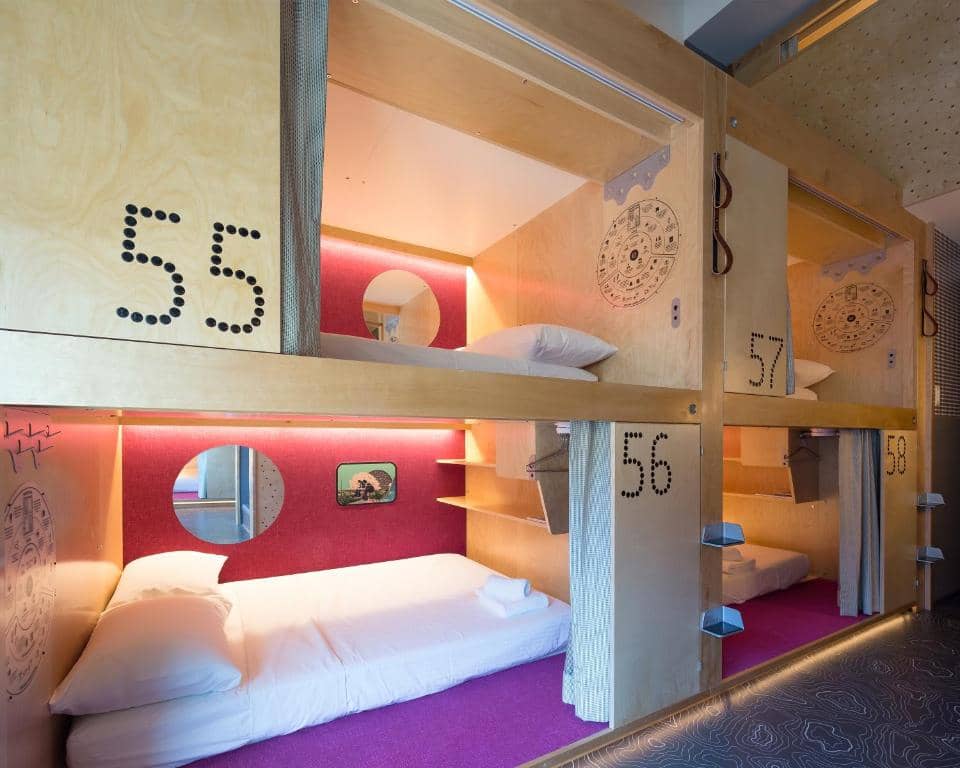 Originating in Japan, the sentiment of a capsule hotel always rings true when it comes to minimalist travel style. In Whistler, nothing can beat our favorite Pangea Pod Hotel in the range of low-budget accommodations.
Endorsed by backpackers worldwide, Pangea Pod eliminates all the whistles and bells of a jazzy upscale hotel, focusing on essential staples that everyone needs on a vacation. Sockets, air purifiers, fan, heating, safety deposit box are all available at your fingertips.
Booking with Pangea means you're staying at one of its pods grouped into suites with private bathrooms. Ranging from single pods to couples, each pod provides extra comfort with a foamy and spacious bed so you can curl up reading before bedtime.
The way Pangea puts together its design can challenge the best boutique hotels out there. That sporty, chic style targeted young and active backpackers is accompanied by rich, bold colors and decadent details.
Go social at The Living Room and The Rooftop Patio to keep up with other fellow travelers. Whenever you're ready for the ski or sightseeing, Whistler and Blackcomb gondolas are only 200 meters away!
Address: 4333 Sunrise Alley, V8E 1M7 Whistler.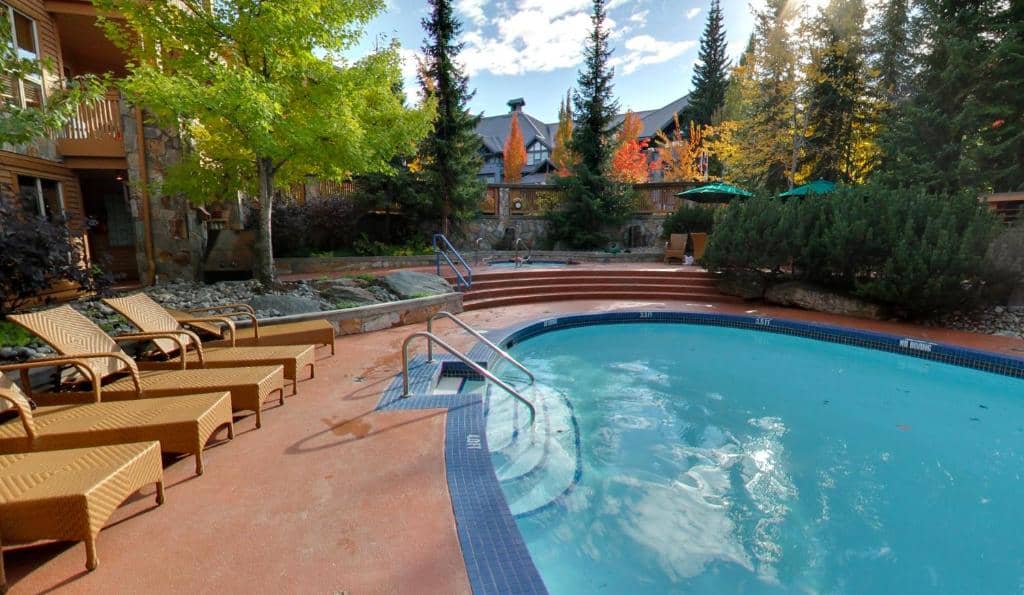 Wondering which hotel in Whistler has a gigantic water slide to put a bright smile on the face of your kid? Look no further than Embarc Whistler! Perched on the leafy alpine slopes of Blackcomb Mountain, Embarc Whistler boasts a variety of family suites, lodges, and studios that sleep from three to ten guests.
These exclusive and inviting vacation homes call for a relaxing getaway after a long day exploring the mountains and riding the gondolas. Just like what a Whistler resort is meant to be, Embarc Whistler cannot go without an outdoor heated pool and hot tub. However, the real limelight shines on the 60-foot waterslide.
While you have a good time on the snowy slopes or dining out in the village, your kids will jump for joy winding, turning, and dropping their way down the slides! So it's time to elaborate your family vacation and surprise your little ones with a full-on water park at Embarc Whistler!
Hungry? Not having enough for a family bonding time? How about throwing some steaks on an outdoor BBQ, recalling the day's events by the fireplace, and lounging in a eucalyptus steam room? We're sure you'll want to spend more than just one night here!
Address: 4580 Chateau Blvd, V0N 1B4 Whistler.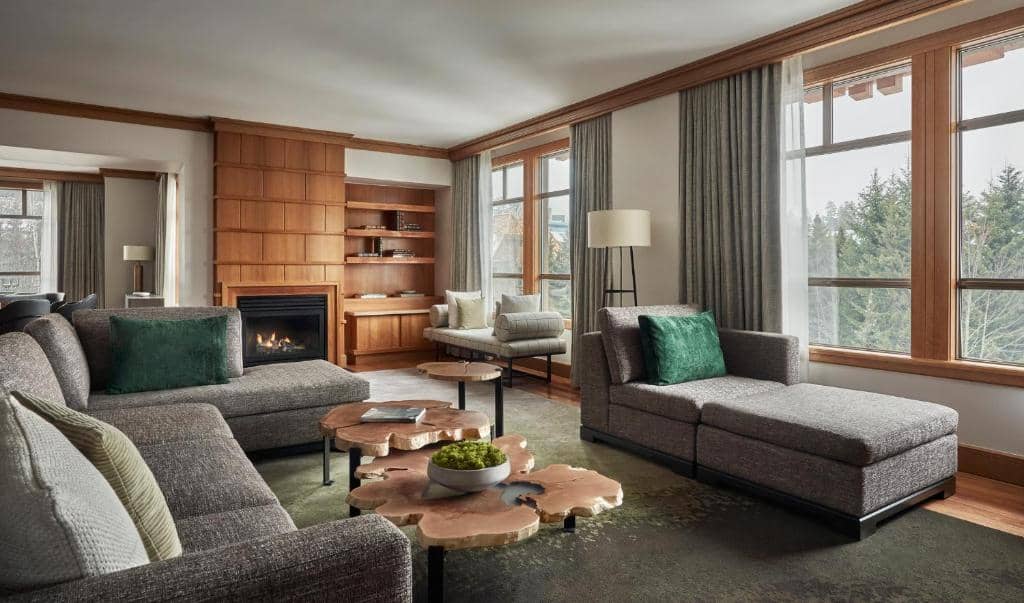 Now if you're in the mood for a complimentary full-bodied wine to lay back in a rich, bold-colored deluxe executive king suite, Four Seasons Resort is the right way to go!
Located smack dab in Whistler's Upper Village, Four Seasons Resort is a crown jewel when it comes to Whistler's best hotels with prime central location. Traveling between attractions, gondolas, ski lifts, and dining out are never a problem.
Four Seasons is a top call if you're a first-timer to Whistler and not planning to let anything go to waste. Why boarding a cab or hailing a shuttle bus when you can rely on your feet?
Whistler Blackcomb ski lifts are an eight-minute walk away, Nicklaus North Golf Course is seven minutes driving. Braidwood Tavern is next door to the resort, while the world-renowned Wildflower restaurant is a stone's throw away serving sophisticated Pacific Northwest cuisines.
Address: 4591 Blackcomb Way, V8E 0Y4 Whistler.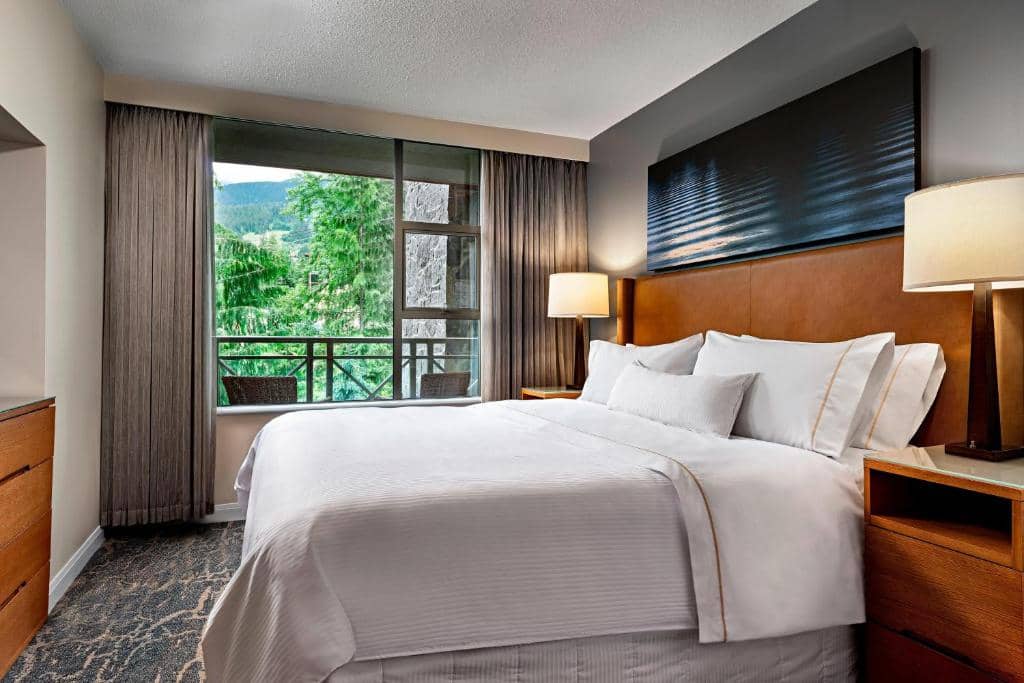 Nothing sounds better than an R&R time bonding with your spouse and unwinding at a spa without keeping a close eye on your kids for an hour or two. If this sounds like a plan, why not sign it up with The Westin Resort & Spa and let your kids have their whale of a time? 
Let your junior visitors experience a camp-like experience and network with other fellow kids while boosting their creative juice at Westin's Kids Club. We're talking about arts and crafts, indoor and outdoor games, stories, movies, and many other action-packed activities.
The club is open for kids between three and twelve. You can sign them up for either hourly, full-day, or evening sessions so you two can have a romantic date night.
Now you're wondering what kind of guest room you have on the plate! Opt for a one or two-bedroom suite with a private balcony and separate living rooms if you call for a top-tier, home-away-from-home experience. Or even better, upgrade to a split-level suite so you and your little ones can make some splash in a whirlpool tub and relax by the mountain view.
Address: 4090 Whistler Way, V0N 1B4 Whistler.
Best Biker-Friendly Hotel in Whistler: Aava Whistler Hotel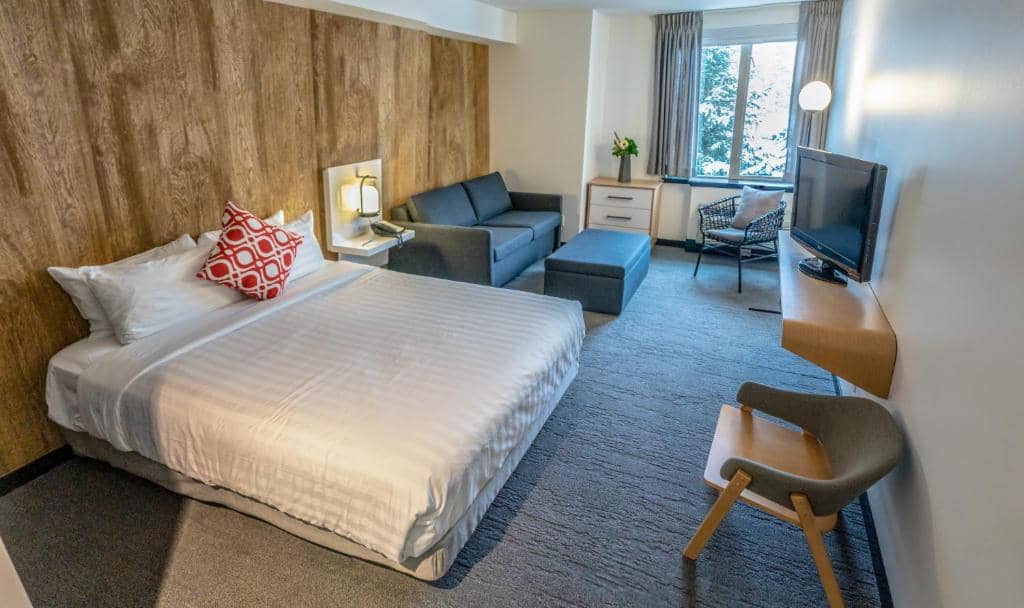 If you're a passionate biker, the relationship with your bike goes beyond mere possession. And everyone knows that Whistler in summer is home to one of the coolest places on the planet for mountain biking. If you're looking for the best hotel in this biking mecca to keep your armor, Aava should be where your heart is!
Compared to other hotels offering bike storage, Aava tops the list simply because the sentiment of hospitality here is exclusively catered to riders. You will feel welcomed rather than being accommodated.
A new, decent bike wash is exposed right at the front door. Look right beside it and you'll see a fully-stocked bike stand where you can just come and find any tool you need for a quick tune of your mechanic friend.
Now here comes the real deal! When it comes to valet, you'll think of a well-groomed man standing by a rotating glass door to park your BMW. But Aava staff treats your bike like a VIP. Their dedicated bike valet makes headlines and stunts all riders that come over!
Address: 4005 Whistler Way, V0N 1B4 Whistler.
Best Ski-in/Out Hotel in Whistler Near Creekside: First Tracks Lodge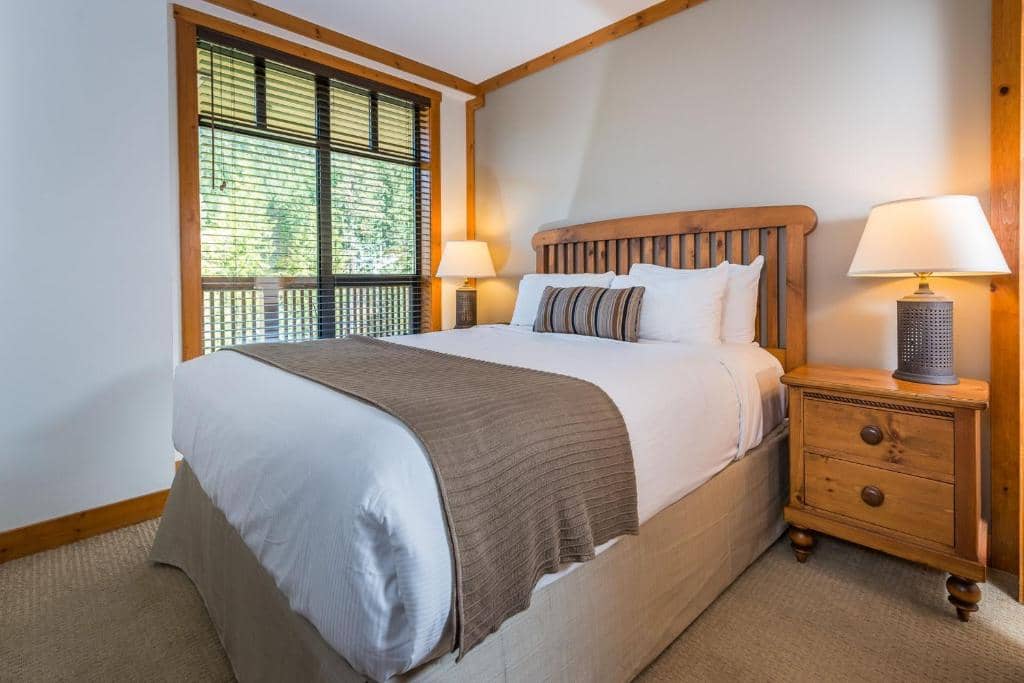 The idea of a ski-in/out accommodation is the cream of the crop for ardent skiers. Just one minute walking from Creekside Express Gondola, First Track Lodge brings you closest to the slopes as much as possible. The lodge leans on the dramatic backdrop of Whistler Creekside, adding a secluded and intimate sense to your stay.
Choose between an exquisite one-bedroom suite with a den or a two-bedroom suite to fit a group of six. You will have a complete comfort of an up-scale alpine suite hidden behind a large timber door. Each room is infused with a modern flair of stone, slate, and glass, fostering your ardor for majestic interiors.
Address: 2202 Gondola Way, V0N 1B2 Whistler.
Now you know which hotel in Whistler to sign up for! What's next? Check out this year-round travel guide and best restaurants in Whistler to finish your bucket list!
---
This article contains affiliate links where we may get a small commission if you use our booking links – but at no extra cost to you. All funds will be used to support our team and content.
The following two tabs change content below.
Latest posts by Noms Magazine (see all)