With so many different cuisines that Coquitlam has got to offer, sometimes all we need is a good slice of Pizza to make our day, don't we? After all, a delicious slice with tons of cheese and toppings is quite impossible to resist.
So here we have curated a list of the 10 best Coquitlam pizza places that has got to offer and without waiting any further, let's get started!
10. Pizza Pietra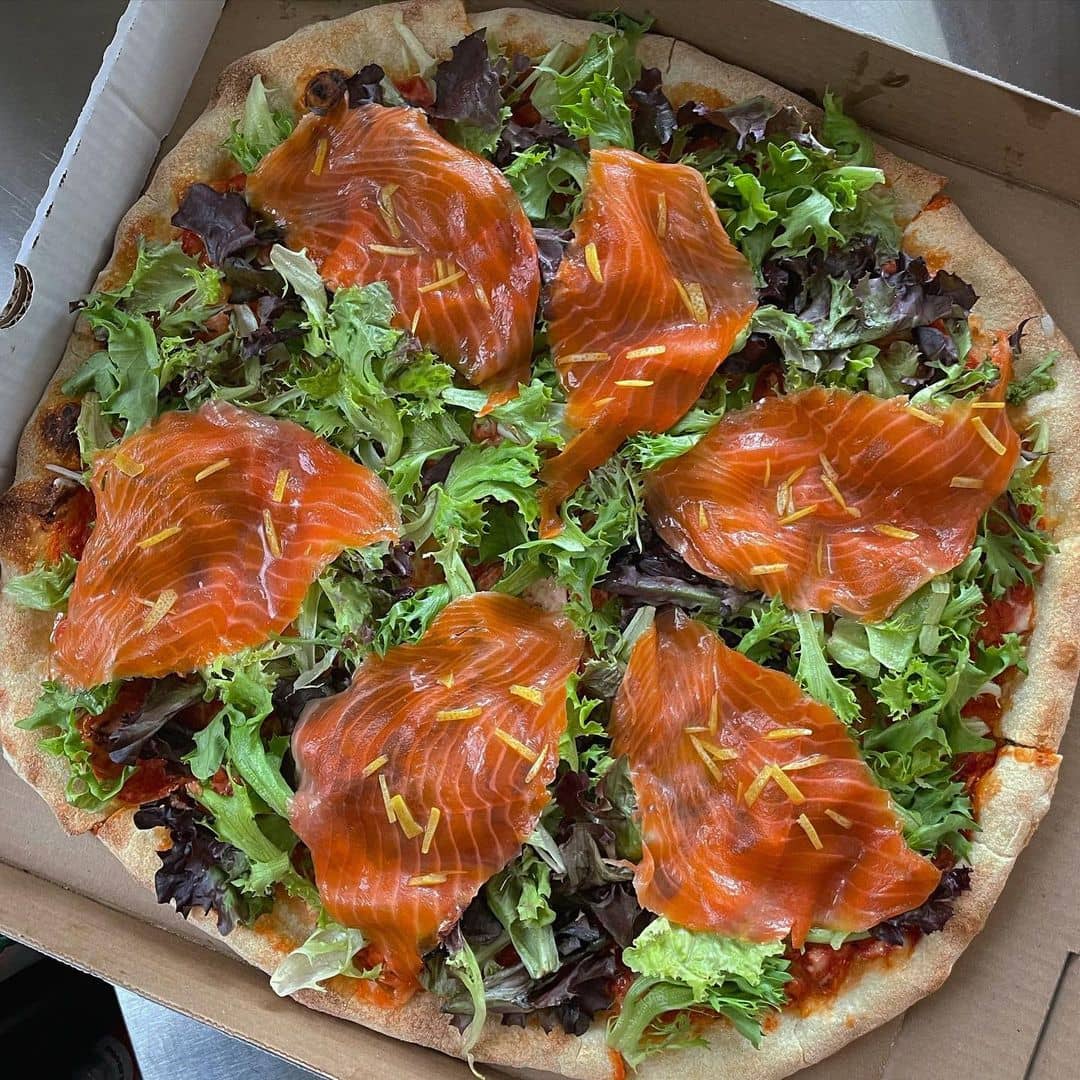 Didn't you always think that Pizza is more of a standard dish? Well, not anymore! At Pietra's, the regular Pizza has turned into a feast, thanks to their stone oven. Topped with fresh ingredients and a soft and crunchy crust, Pietra's can satisfy your pizza cravings instantly! The space is designed casually, and the staff will make you feel welcomed.
Pietra has got something for everyone on the menu, and you can also make your own pizza from scratch. We recommend you to give their Smoked Salmon Pizza a try, and if you wish to order some sides, do have their crispy Chicken Wings. Make sure you keep some room for their mouth-watering Chocolate Bagel.
What to order: Smoked Salmon Pizza, Chicken Wings and Chocolate Bagel
Address: 2637 Shaughnessy St, Port Coquitlam, BC V3C 3G5, Canada
Website | Instagram | Facebook
9. High Street Pizza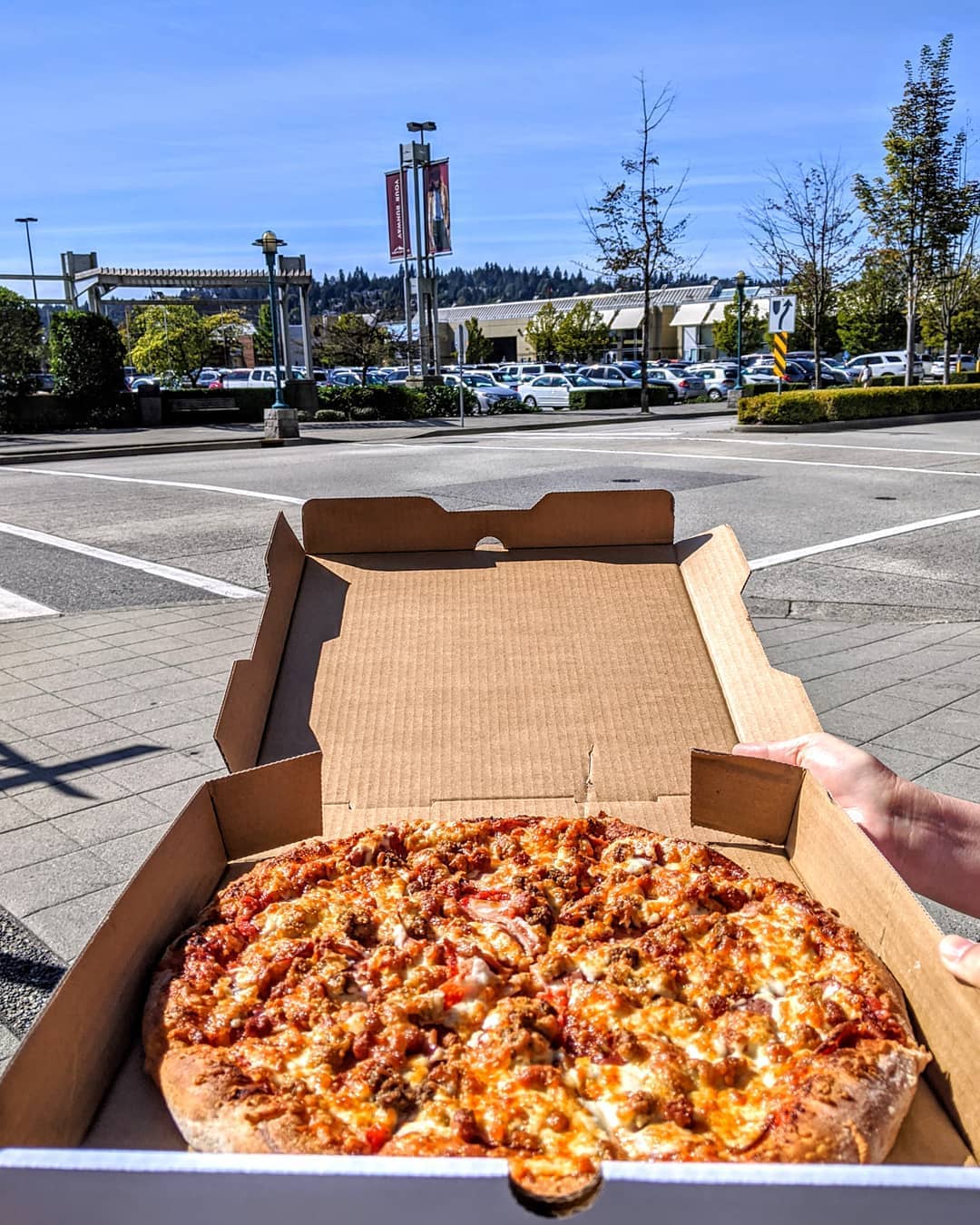 Walk into this fun and friendly pizza place, and you are in for a treat! The freshly baked pizzas' lingering aroma and top-notch services make the whole dining experience genuinely unique.
Order anything that you want, and it's going to be delicious. However, the Hawaiian Pizza is hands down one of the best pizzas on their menu. Oh, and their Fresh Veggie Pizza is on point! Who had thought that toppings could complement each other so well?
And yes, in case you are wondering, they serve Halal food!
What to order: Hawaiian Pizza, Fresh Veggie Pizza
Address: 1153 The High St Unit 126, Coquitlam, BC V3B 0B7, Canada
8. That Place Restaurant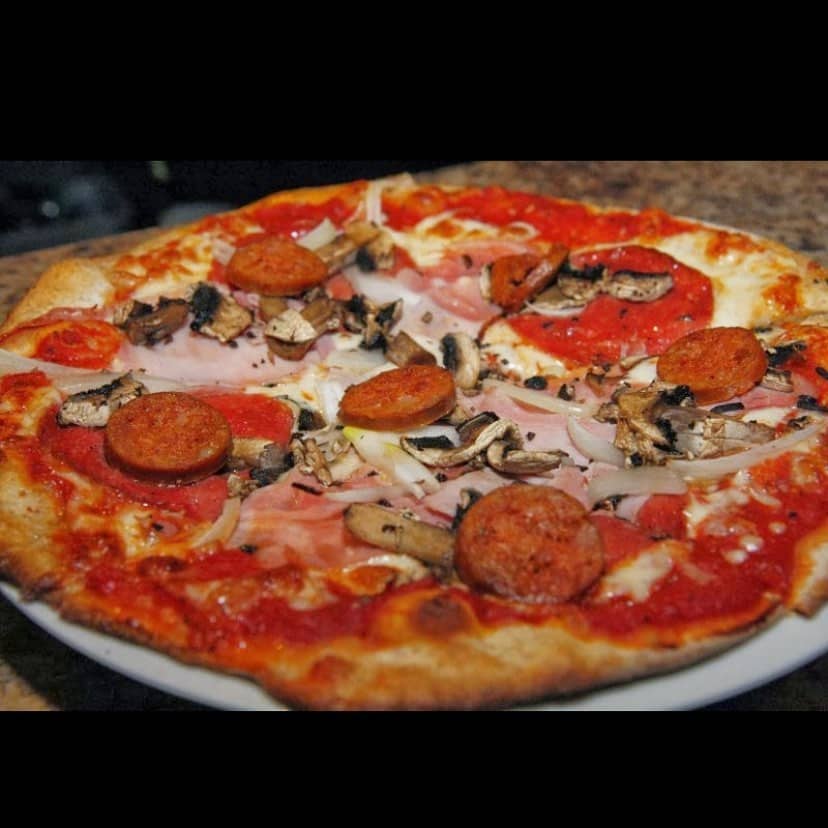 That Place is a quaint place decored with old photos and serves some fantastic authentic Italian dishes. With an interactive staff that will joke around and makes you smile every time, That Place truly is one of its kind. After all, the owner has just one policy, to have tons of fun while eating!
One look at the menu, and you would be left drooling! Baked Cannelloni is their most popular entree. It is a perfect amalgamation of the right ingredients, making you crave more. The Back Door Special Pizza is here to open all the doors of your heart. The portion size is pretty good, which is a cherry on top!
What to order: Back Door Special Pizza, Baked Cannelloni
Address: 932 Brunette Ave, Coquitlam, BC V3K 1C9, Canada
Website | Instagram | Facebook
7. Austin Heights Pizza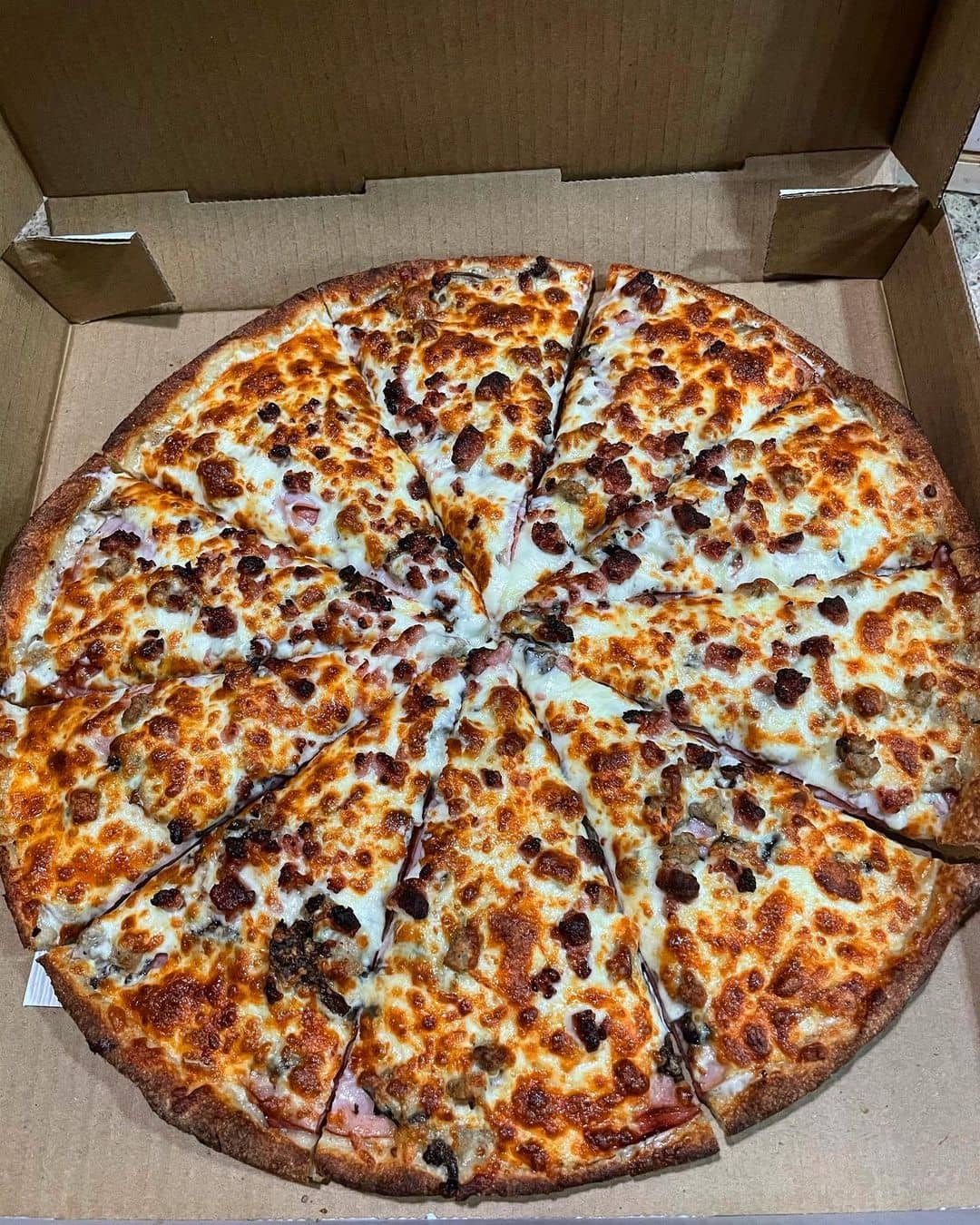 Serving some mouth-watering pizzas and constantly coming up with new varieties, Austin has been in this business for the past two decades and continues to provide some amazing pizzas to date. The chef takes great pride in its garlic sauce, and we vouch for it.
Try out the Chef's special, Chicken Garlic Sauce Pizza, and if you are not a chicken fan, the vegetable garlic pizza is the one for you. The pizza melts into the mouth and has a generous amount of topping and a lot of cheese, making it a dish to devour! Also, if you plan on having a combo, this place has some that are ideally curated and will leave you feeling full.
What to order: Chicken Garlic Sauce Pizza
Address: 1126 Austin Ave, Coquitlam, BC V3K 3P5, Canada
6. Doppio Zero Pizza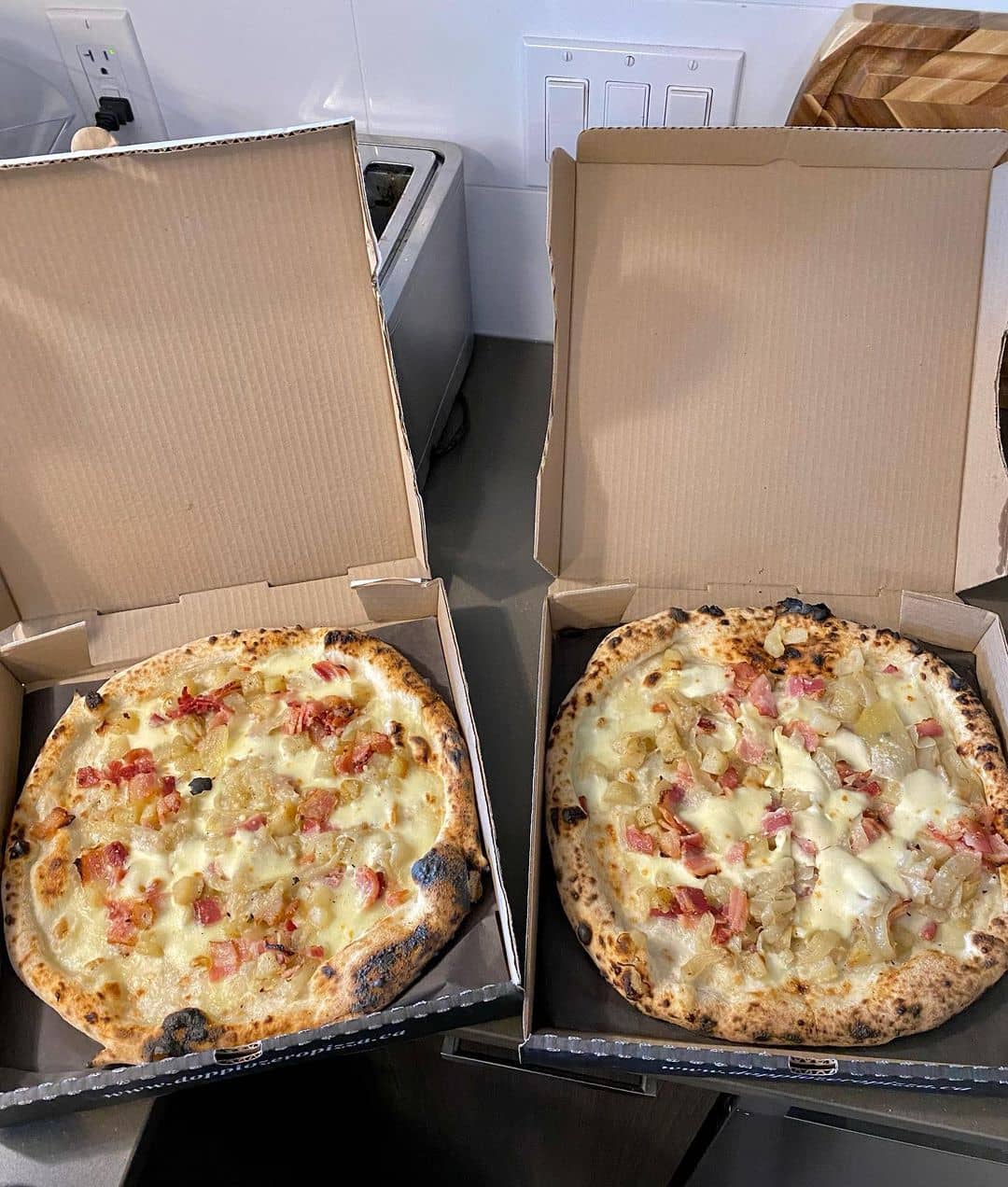 Doppio Zero is an Italian grade for the most refined flour used for Pizzas or Pasta. That's the level of quality that this restaurant is providing the customers with, not just in food but also in services. The place has a cozy vibe, making this place a popular spot amongst the locals. So the next time you find yourself craving some Italian food, you know where to head!
Don't miss out on crunchy Della Terra pizza which has got roasted potatoes on top, which makes it a must-try for all the potato lovers! To satisfy your sugar cravings, try the standard, Graffe which is a deep-fried donut with powdered sugar and caramel.
What to order: Della Terra, Graffe
Address: 1655 Como Lake Ave, Coquitlam, BC V3J 3P7, Canada
Website | Instagram | Facebook
5. Vesuvio Pizzeria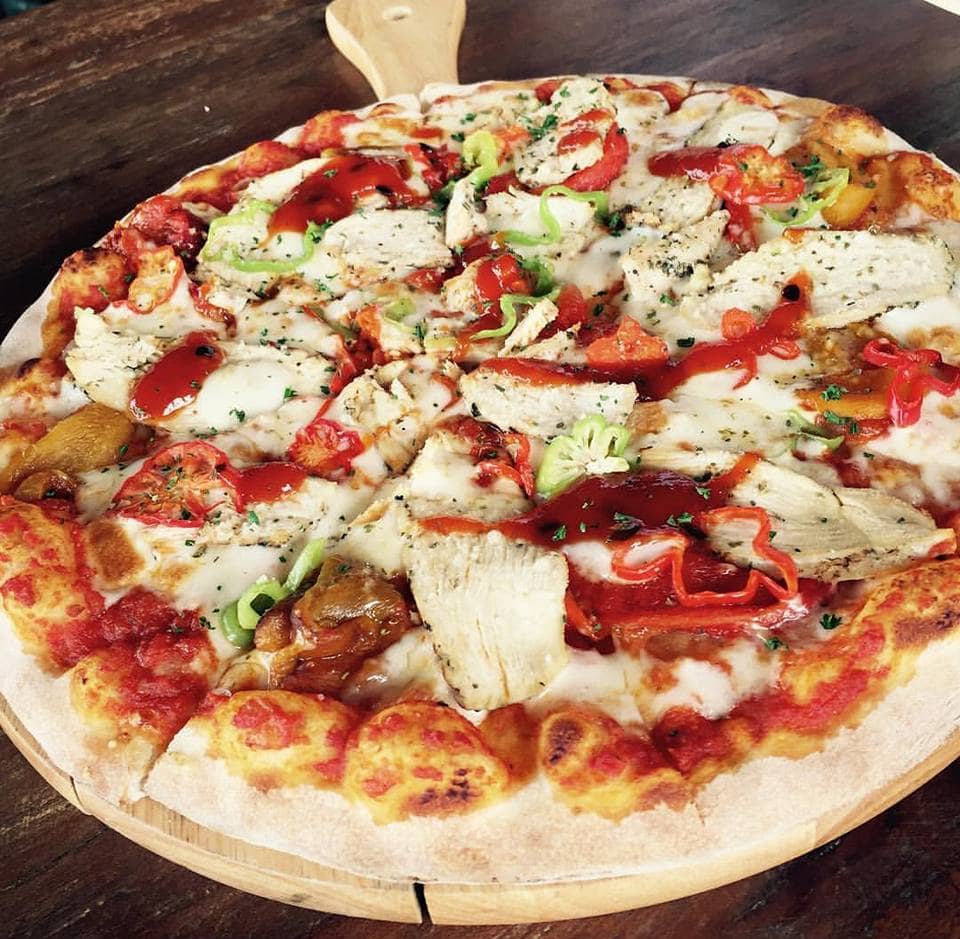 This father-son duo restaurant is here to serve European-style Gourmet thin-crust pizza, which is made with the finest and premium ingredients, and they are doing a pretty good job at it. After all, they have been doing this for the past thirty years! The owners are super nice people who are always on their toes to make your dining experience a good one.
Try out their crowd's favorite, Little Italy, a classic pepperoni. All we could say is that it's time to experience Italy outside Italy. The Steak Sub is undoubtedly going to leave you salivating. In our opinion, the homemade sauce that goes into making it has a unique flavor and is difficult to replicate.
What to order: Little Italy, Steak Sub
Address: 106- 1196 Lansdown Dr., Coquitlam, BC V3E 1J7, Canada
4. Plateau Pizza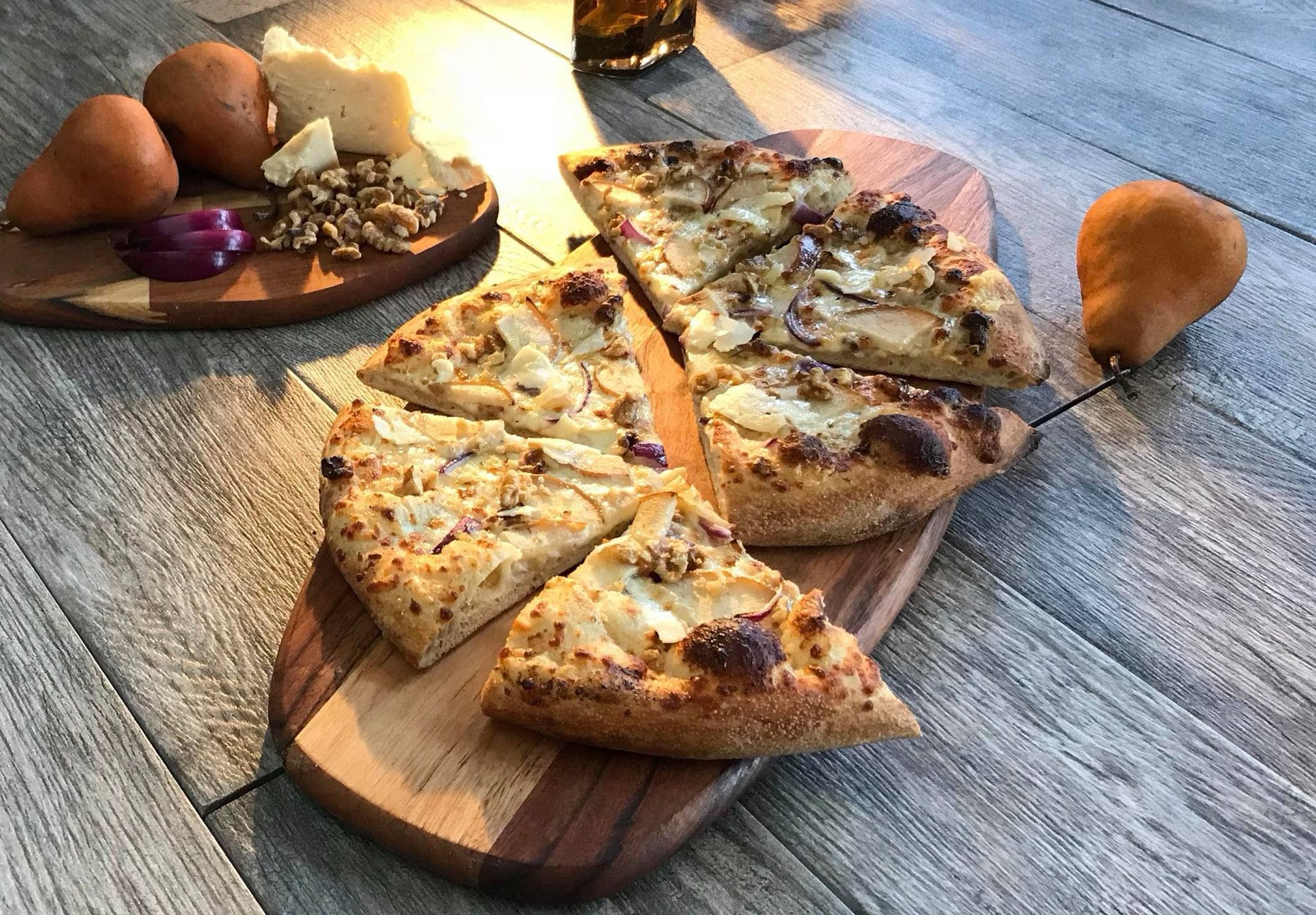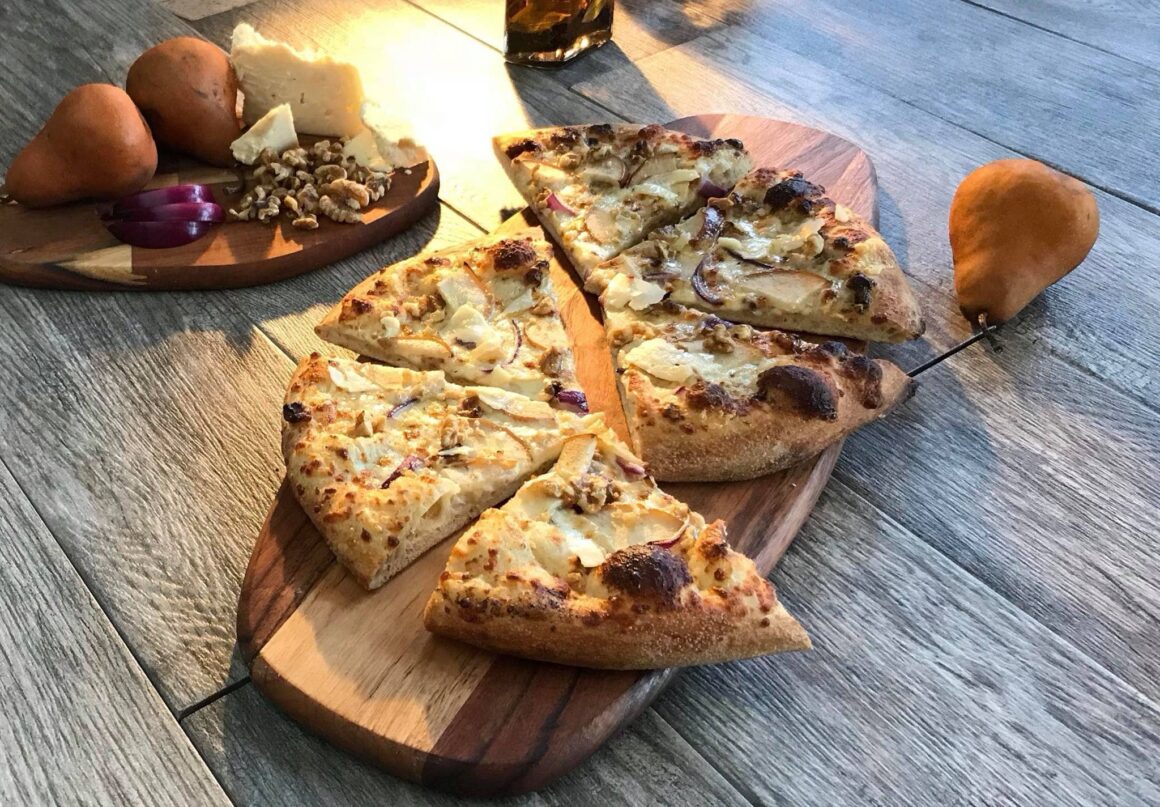 Plateau gives a fresh take to the traditional pizzas, and the flavors genuinely portray the chef's expertise! The best part is they even have "Pizza of the month," which is honestly quite tempting.
From Chicken pizzas to Supreme Pizzas, they have so many options on their menu that selecting a dish will be a real challenge. So if you are having a hard time deciding what to order, just order the Chicken Alfredo Pizza that in our opinion, no one should be missing out on. For Vegans, we highly recommend the Heart And Art Pizza, which is in every single aspect is a piece of art!
What to order: Chicken Alfredo Pizza, Heart And Art Pizza
Address: 1410 Parkway Blvd, Coquitlam, BC V3E 3J7, Canada
3. Me-n-ed's Pizza Parlours
Me-n-ed's is one of our go-to places. Not just in Coquitlam but also in Burnaby, this place never fails to surprise us with their handcrafted pizza, topped with a blend of six different cheese, and not to forget their on-point crispy crust. With a fireplace right in the middle, the ambiance is nothing short of a relaxing vibe.
It will be a tragedy for all the pizza lovers if you do not get your hands on the Juliet Pizza! Oh, and don't forget to check out their daily special; you might be surprised by the variety they have to offer.
What to order: Juliet Pizza
Address: 1121 Austin Ave, Coquitlam, BC V3K 3P4, Canada
Website | Instagram | Facebook
2. Pappa Leo's Pizza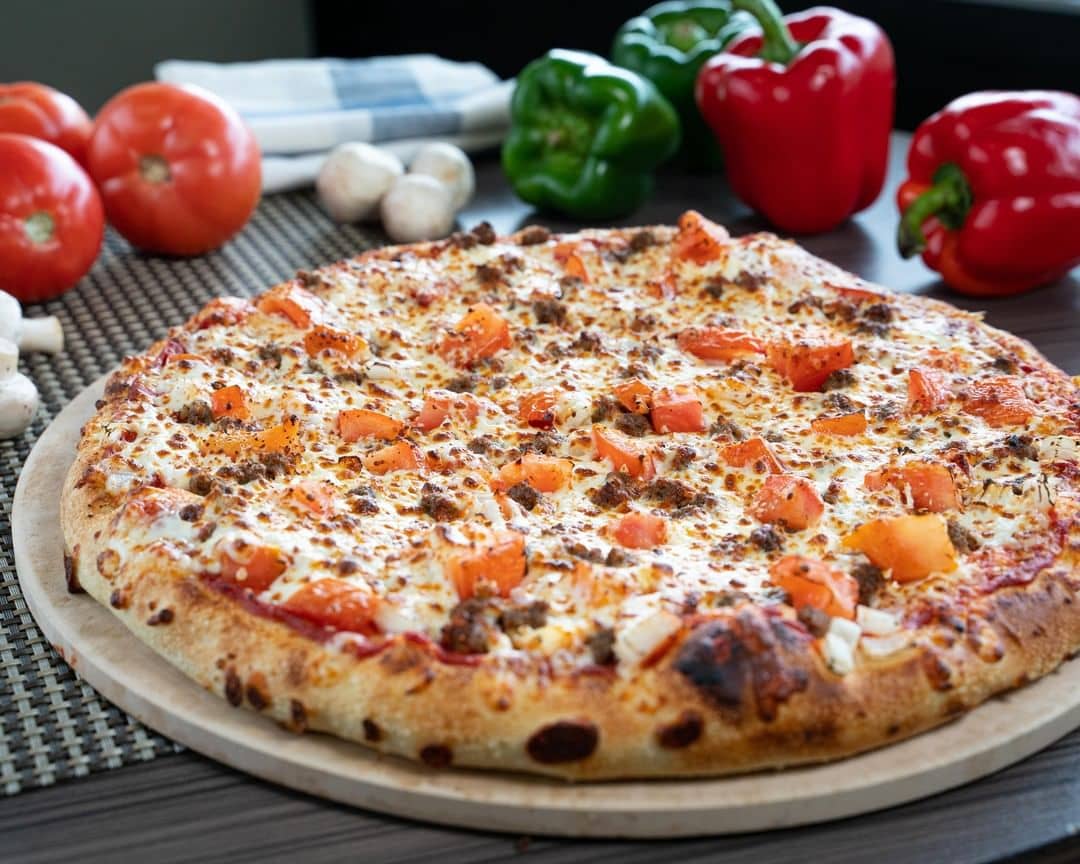 Operating in seven different locations across the lower mainland, Pappa Leo's has undoubtedly made a mark for itself by serving delicious pizza pies with loads and loads of cheese (no kidding). With a homemade dough recipe, their crust stands out! The services are quick, making it a perfect place when you are in a hurry.
Looking at their menu, you might want to give everything a try, but we suggest you first try out their best-seller and an absolute hit- Philly Cheesesteak Pizza that's loaded with cheese, beef, and the goodness of veggies. If you are looking for something more standard, the Mediterranean Pizza is a hit here. For the desserts, the Cheesecakes served here are pure bliss!
Don't forget to check out their monthly special pizza, which leaves us drooling every single time!
What to order: Philly Cheesesteak Pizza, Mediterranean Pizza, Cheesecake
Address: 3237 Coast Meridian Rd, Port Coquitlam, BC V3B 3N3, Canada
Website | Instagram | Facebook 
1. La Ruota Pizzeria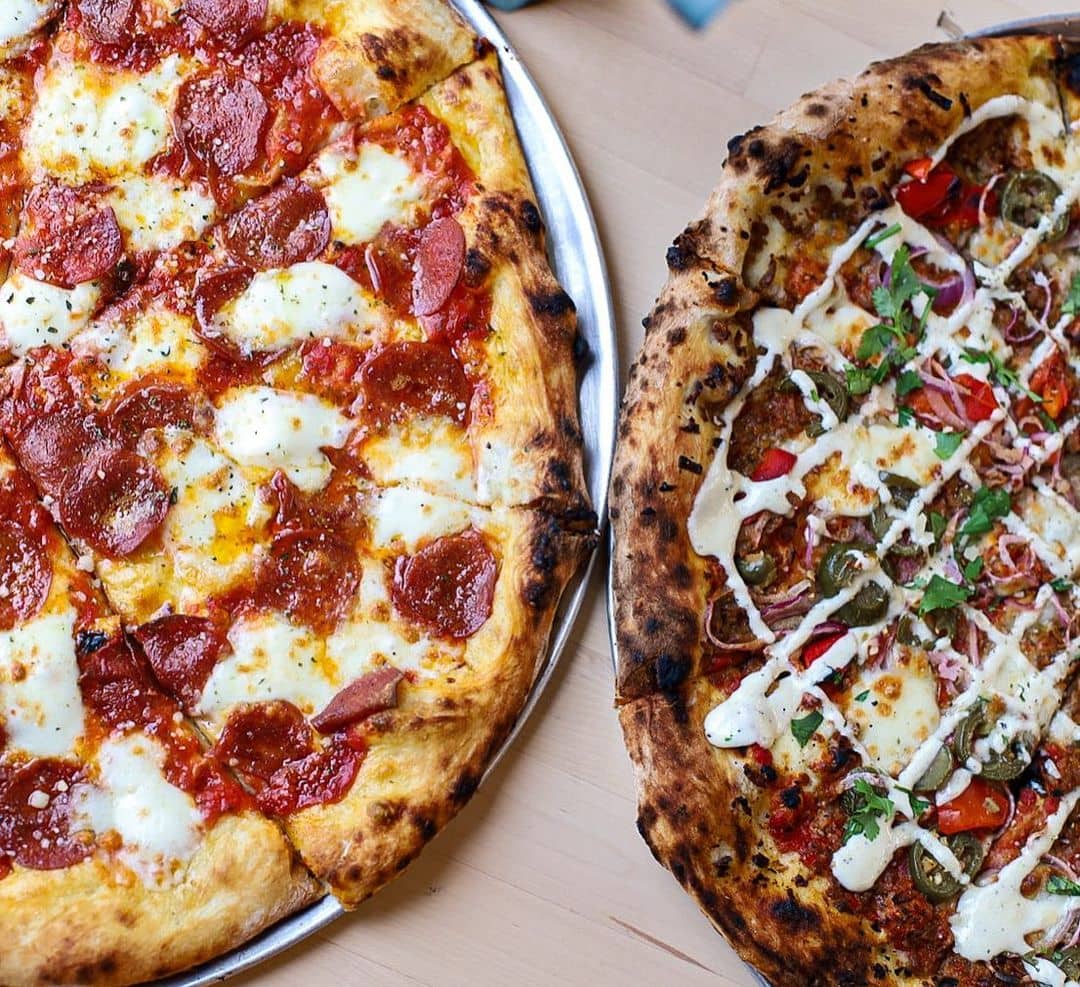 Anyone up for some Neapolitan pizzas? With a vibrant and cheerful backdrop and trendy decor, La Ruota seems like a perfect place to have a great meal and spend quality time with your loved ones.
The menu is curated to serve everyone from meat lovers to veggie delights. The right balance between cheese and sauce makes the pizzas in here all the more special to us. Try out the Parma Proscuitto, which is full of flavor and surely deserves a chef's kiss! Oh, and the crust is irresistible; afterall, the stone oven works wonders. You can have some Chicken Wings that hits at the right spots for the sides.
What to order: Parma Proscuitto, Chicken Wings
Address: 2002 W 4th Ave, Vancouver, BC V6J 1M9, Canada
Website | Instagram | Facebook 
We hope that this list has helped you narrow down the choices and help you find that one Pizza spot you are looking out for. Once you have satisfied your Pizza cravings, maybe you should try some Sushi or Korean food out!
The following two tabs change content below.
Latest posts by Noms Magazine (see all)