How I Cook is a Q&A series that peels back the curtains so you get a glimpse of the backgrounds and stories of some of the best chefs, pastry chefs, mixologists, and food specialists in Vancouver.
We know our city has an eye for trendy snacks, and the stomach for delicious food. Though sometimes we can't help but forget the faces behind Vancouver's food scene. 
From the delicately crafted treats of our bakeries to the creative, unique dishes in our fine dining, all come from somewhere. And odds are, it took a lot of hard work to get the food onto our plates.
Chef Alex Chen tells us his journey of becoming one of the most accomplished and celebrated chefs in Canada. He shares with us the root of his career that lead him to win Iron Chef Canada, compete in Bocuse d'Or, and receive several national recognitions for his success in the culinary world. 
To start, how did you first get interested in cooking?
[Alex] Growing up in a family that loves to eat- all the gatherings are always through food. Celebration, Chinese New Year, Birthdays, just different milestones are always around food.
So, naturally, I think that my mother is a good cook. My father works for a luxury hotel in Asia, he's in the Engineering department.
I think it's just a combination of all of the above, you know? Like him bringing me to the lobby- big entrances of hotels. You just have that gravitation that just pulls you in.
And enjoying good food helps. I think that's just a natural progression since I was younger. Just like, cooking was always one of those things…Where I got to be around 11 or so, just sort of like venturing into cooking my own instant noodles things, just for fun.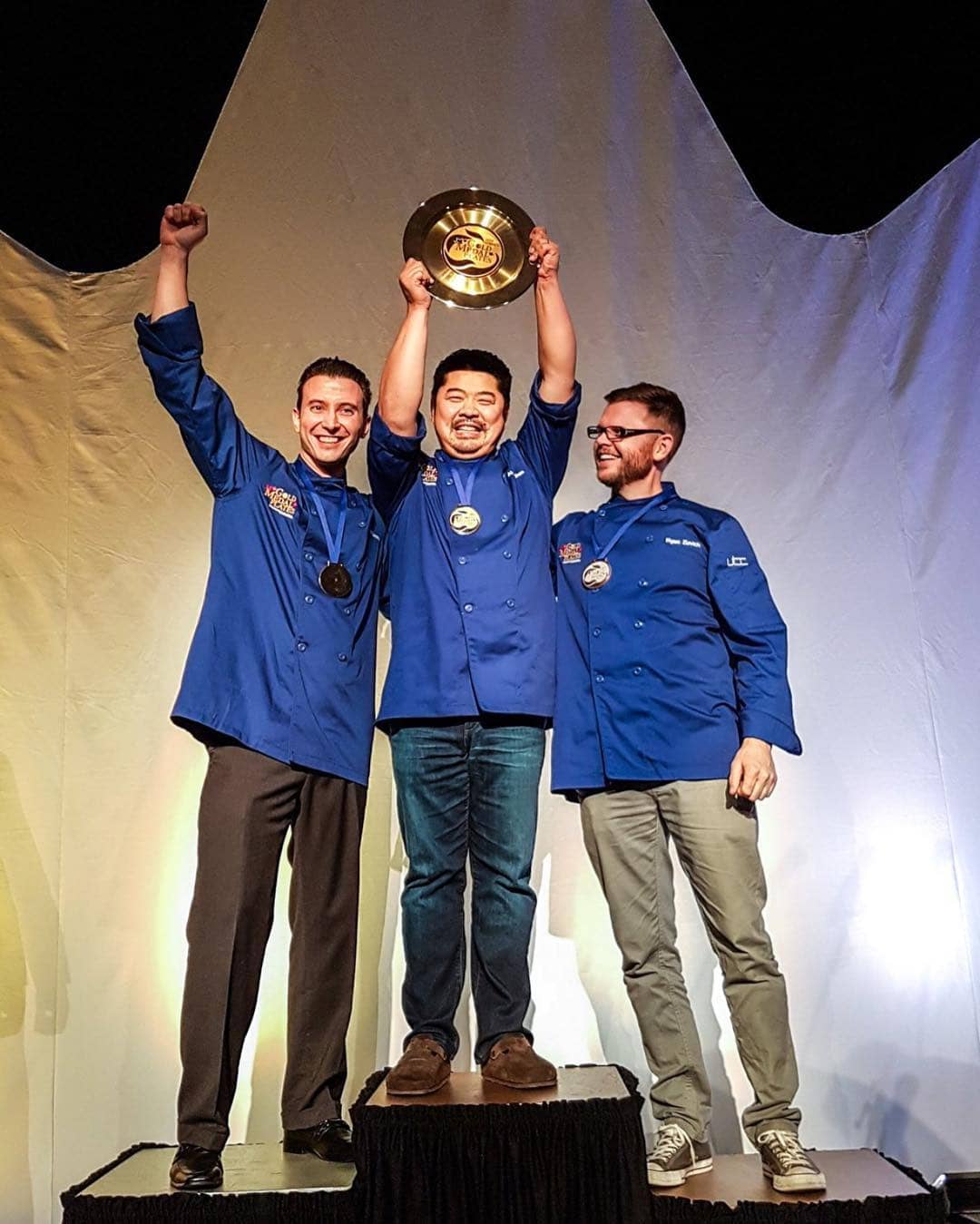 And, you know, instant noodles are nothing, but the fact is, I was never really one to follow the rules. I would say, okay this is instant noodles. What can I do? What can I combine? What can I make? How can I make it different?
I think that's the spark of that. It's the foundation of figuring out that creating actually makes me happy. Able to create, able to turn something into something unique and I think that's what I was craving since I was little. It's that creativity that it allows me to do.
How did your career get you to where you are today?
[Alex] I worked at various jobs in Vancouver, before I even entered cooking school. I grew up in Richmond, Steveston. There was a Fish and Chips place when I was a teenager. Those summer jobs have always been in the food industry. 
I've tried many other industries, but I always keep coming back to the foodservice industry. Maybe it's the rush. Maybe it's being able to create, work with your hands, I think that's what kept really drawing me back.
Then, I decided to enroll myself in Vancouver's Community College, VCC, for the Culinary program. It was like in 1998. I think it was the first time in my academic life where I found focus and everything makes sense to me. So, that even pulled me in further.
I actually graduated one month ahead of everyone else because that landed me a job at the La Belle Auberge in Ladner by Chef Bruno Marti. This is a very old school, sort of like, god-father of french cooking, that allows me to see that world. And simultaneously, I met a Chef named Robert Sulatycky, which is at the Wedgewood Hotel.
That's when my career really took shape, and really was working under a chef, under his wing, under his tutorial, under his guidance. That's when really you see the discipline, hard work, and all that stuff come to play that really just shape my career. And then, during this whole entire time, competition.
Competition is always, you know when we used to watch the food show in 1998, 1999, around then. When you go through all the BC food shows, it's a lot different back then. A lot of competition, wine pairing competition, food cooking competition.
It's all small, but there are also some large ones. We enter it all. We love entering that competition because it allows us to compare ourselves through our peers, our best… My way of improving is always through competition.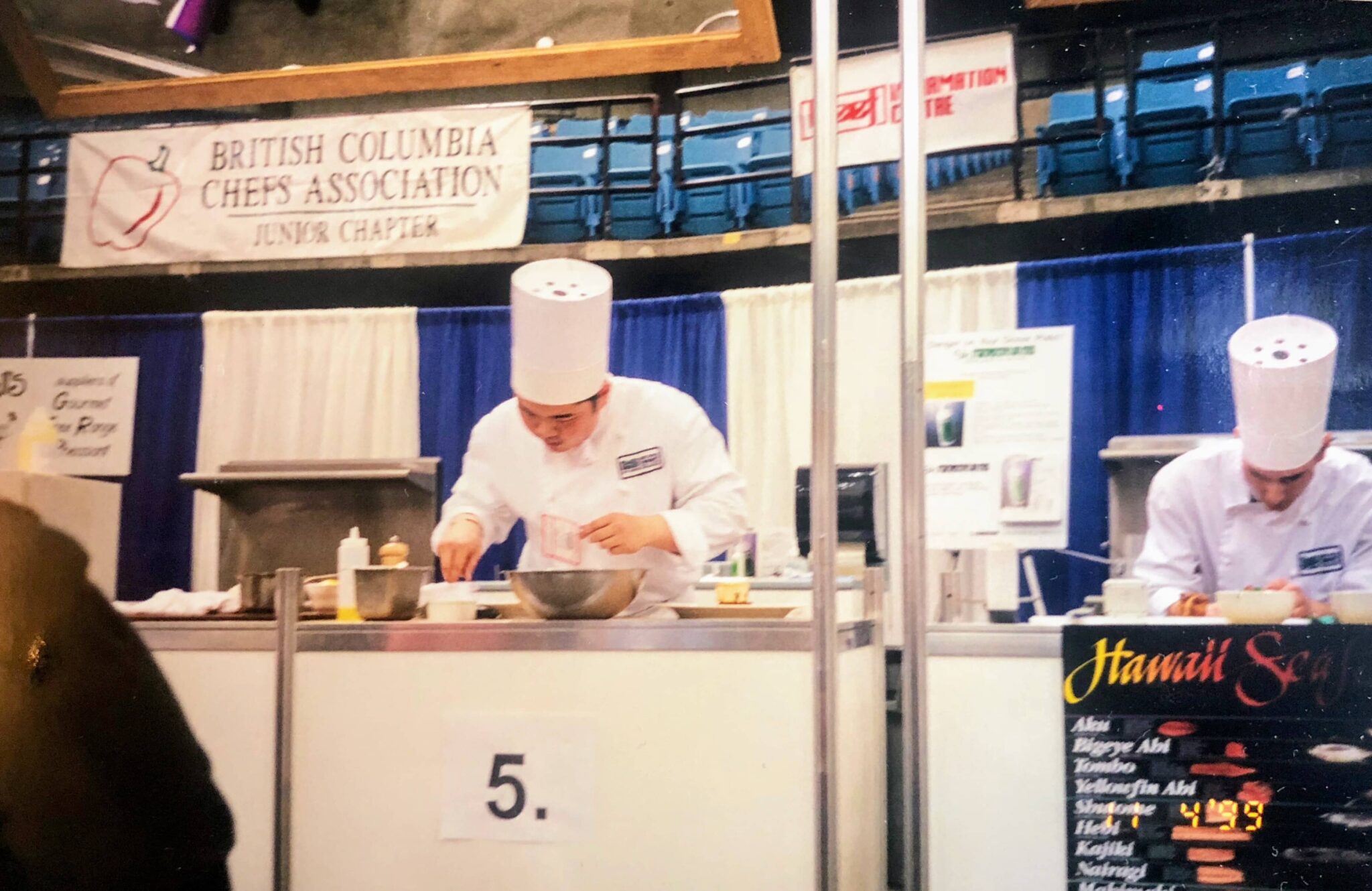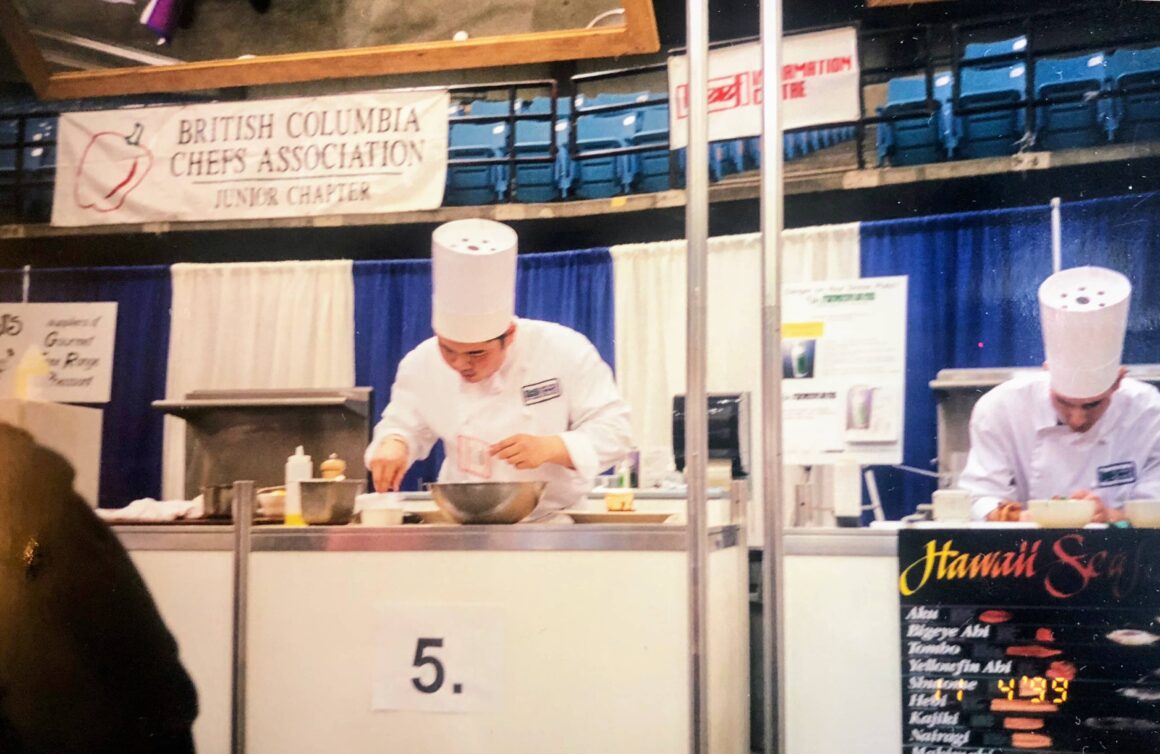 From Wedgewood I joined the Four Season's in Toronto, I was in Toronto for three years. And I went to transfer over to Four Season, Chicago, so I was in Chicago for two years. And then I had the opportunity to go work at the Beverly Hills Hotel in Los Angeles, so I stayed there for six years. 
And then I came home because through another competition I won the right to represent Canada in a world's competition called the Bocuse d'Or in Lyon, France, which happens every two years. So I had to be back in Canadian soil so that I can practice because there are a lot of mentorships over here…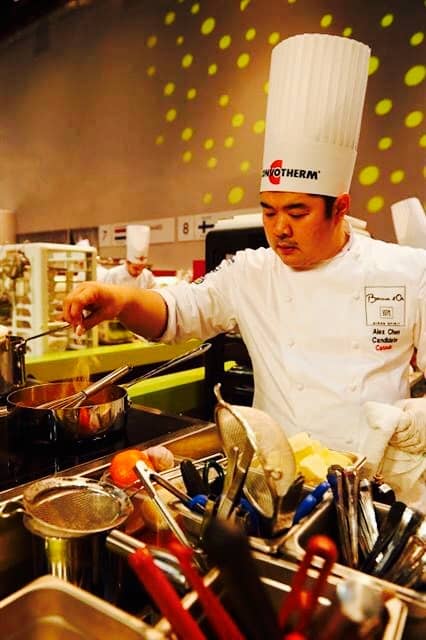 I came home to Vancouver because, you know, I moved here when I was 13. So I grew up in Vancouver, this is home. A lot of friends, lots of support are back in Westcoast, right here. From there on, after the competition, after 2013, my current employer, which is the North Land Properties, they had purchased a hotel.
They just said "Hey! We want to open up a fine dining restaurant. We want to rebrand the whole thing around you. Are you interested?" The decision is we said "Yes!" and we opened Boulevard Kitchen and Oyster Bar in the Summer of 2014. This Summer will be 7 years.
Where do you get your culinary inspiration from?
[Alex] I think that going to cooking school and working at different places is definitely one of them. I think that the inspiration- what shapes the way the chef thinks or considers food or style, is essential, at least for me, is first and foremost is your heritage, your childhood memories, where you grew up, you know?
I grew up in Malaysia- I grew up in Penang, George Town. So, lots of street food, lots of vibrant flavour profiles. Lots of multicultural melting pot from Indian food, Malaysian food, to the Chinese hybrid food that's both spicy or their not. A lot of street food that still had a lot of foundation of Chinese cooking, a lot of the wok, the breath of the wok is all there. A lot of street vendors, a lot of that interesting, very balanced sort of sweet-savoury…
I grew up in that flavour profile. So I moved here when I was 13, and then what we grew up eating obviously, it's a lot of- you arrive in Vancouver, the first movement of the really good Hong Kong food. A lot of Hong Kong-style food prior to '97, there's a lot of like really really talented chefs that left Hong Kong, they came over here to set up shops, lots of great Chinese restaurants.
Now there's a beautiful display of Cantonese-style cooking. From roast duck to Cha siu to fried rice to also different noodles, there's a lot of Hong Kong-style food. Eat a lot of Vietnamese food as well when we were growing up. Certainly, when we were living in Malaysia we were frequently going to Thailand as well, so there's a lot of influence from that part of the world, right?
So, your heritage, your childhood memory, where you grew up, that really shapes what you like to eat. My mother's cooking, my father's cooking. And then who you work for, which city you have worked in, and then along the way, lots of travel.
Every time you go to Japan, every time you go to Singapore, or Paris, or Spain, wherever that is. It's just- that travel also shapes your pallet because then it opens up to possibilities. Different philosophies, you're absorbing and studying…
Then, really as you gather all this experience with all these things that just magically shapes you, then you start to understand seasonality, what is in peak season, right? And then it's your terroir, it's definitely your terroir. You'll be wrong if a chef is not utilizing what is the best and an abundance of their local- what nature can provide…
So I think all of the above that's really, it's not one thing, the shape or the colour defines how I cook, but it's all of the above. Depending on what am I cooking, depending who I am cooking for because this is all unique in so many situations.
What would we find you doing when you're not in the kitchen?
[Alex] Spending time with the family for sure is my priority. I think that right now, I really love- at least I'm trying to be somewhat of a better farmer. Just getting some garden beds and some planters ready to go for the house and stuff like that.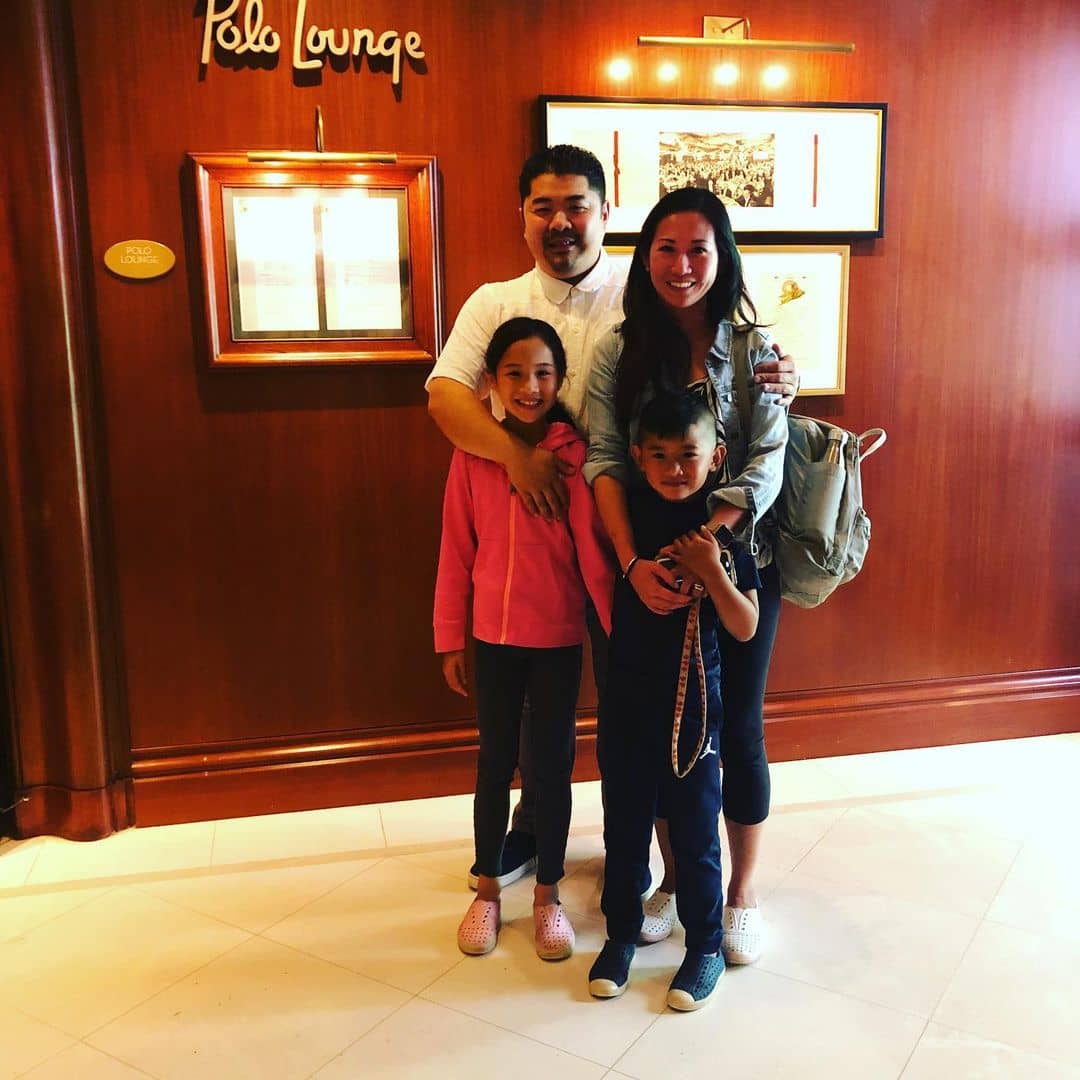 So, this year will be- I've done it over the years with small pots here and there, but this year we're gonna go all in and try to get multiple pots going on. So I think that's really going to be my new hobby, just to grow more vegetables, eat more vegetables here.
I think that's going to be the fun part, you know? I love anything by the ocean, that's what I like to do. Even just for a walk in Tofino or going for a small little hike with my family.
What is your favourite part of your job?
[Alex] Different stages of my career provide different satisfaction for me. Even with this pandemic right now, to be able to be an ambassador for my industry, I think it's important.
In our industry we have so many bad reputations sometimes, the kitchen life is a bit crazy, definitely not glamorous. It's a lot of laborious work. Hot, you know, it's humid. It's tight quarters, high stress. But above all, it's like any industry. You have your bad and you have your good.
It can be great. I think that it's great for us, for what it provides for us in so many ways. Opening up so many doors, able to meet so many people around the world to travel. Able to understand what is some of the best food that you get to enjoy.
For me, it's about mentoring the next generation. It's about providing a philosophy, it's about providing them with guiding principles when they join you. And then when they leave, they're able to handle more complicated situations, not by overreacting.
Being the voice and the ambassador for this industry because I think- I know, it's going to be more difficult than ever when we reopen this industry. Because it's going to be… Imagine the cooks that are wanting to be a cook, that enter or thinking of entering this industry right before the pandemic.
Imagine that this industry is just basically decimated. Now that they are out of this industry, there's no job, right? There's no job for them. I get asked that question a lot 'Chef, what do you think the future is?' The future is- regardless of what situation you're in. Regardless if it was pre-pandemic because it doesn't really matter.
Because life has a natural way of neutralizing itself. If you're not really into cooking even during a glorious day it's really not going to be for you. So, I think that right now is actually the best time for them to enter because you're in the situation right now where the restaurants have to do more with less.
Therefore, you're no longer going into a whole classic hotel system where you stay in the department for six to eight months. The chefs now have to teach you almost everything because they need you to be able to do everything, and that's also tough on them. But the strong one will survive.
They will thrive because it is almost a very exciting time where all the chefs or restauranter are able to reinvent themselves… So I think that the future of cooking is still there. This is my philosophy.
This is what's still pushing us forward, being able to be the ambassador with the same messages. And so for the young ones, for the ones that have been in the industry that are thinking maybe I should quit, and maybe I shouldn't go on anymore. That will always be the message.
What is your favourite dish to make and why?
[Alex] You know there are so many. Depending on really what the family likes. When I see what my wife and I like to eat but then what the kids like, it's different at different stages in their life.
Lately, it's been a lot of grilled cheese on sourdough. Good cheese and just simple stuff. But lots of barbecue too, lots of fire cooking, lots of wood fire cooking. That's sort of my passion you know?
I like to cook with fire I like to cook with charcoal. Not into smoking food, but more like just indirect cooking. Seeing what we can do on the wood-burning grill outside now in my backyard, spending time outside.
I think that for us if you're making a good steak it's a great day. Being able to make pizza, it's a great day. Having a grilled cheese is a good day and making specific noodles or pasta dishes is a great day.
But it's all of the above. As long as I get to spend time with my kids and we're not arguing about anything. And then that will be a good day.
How do you balance your work and personal time?
[Alex] It's like the train never stops because until I retire or until we no longer are in this industry, that stuff is never going away. But even if you just choose another industry, you're not there if you're not present when you are at home, or you're not wanting to spend time with your family, it's not a priority.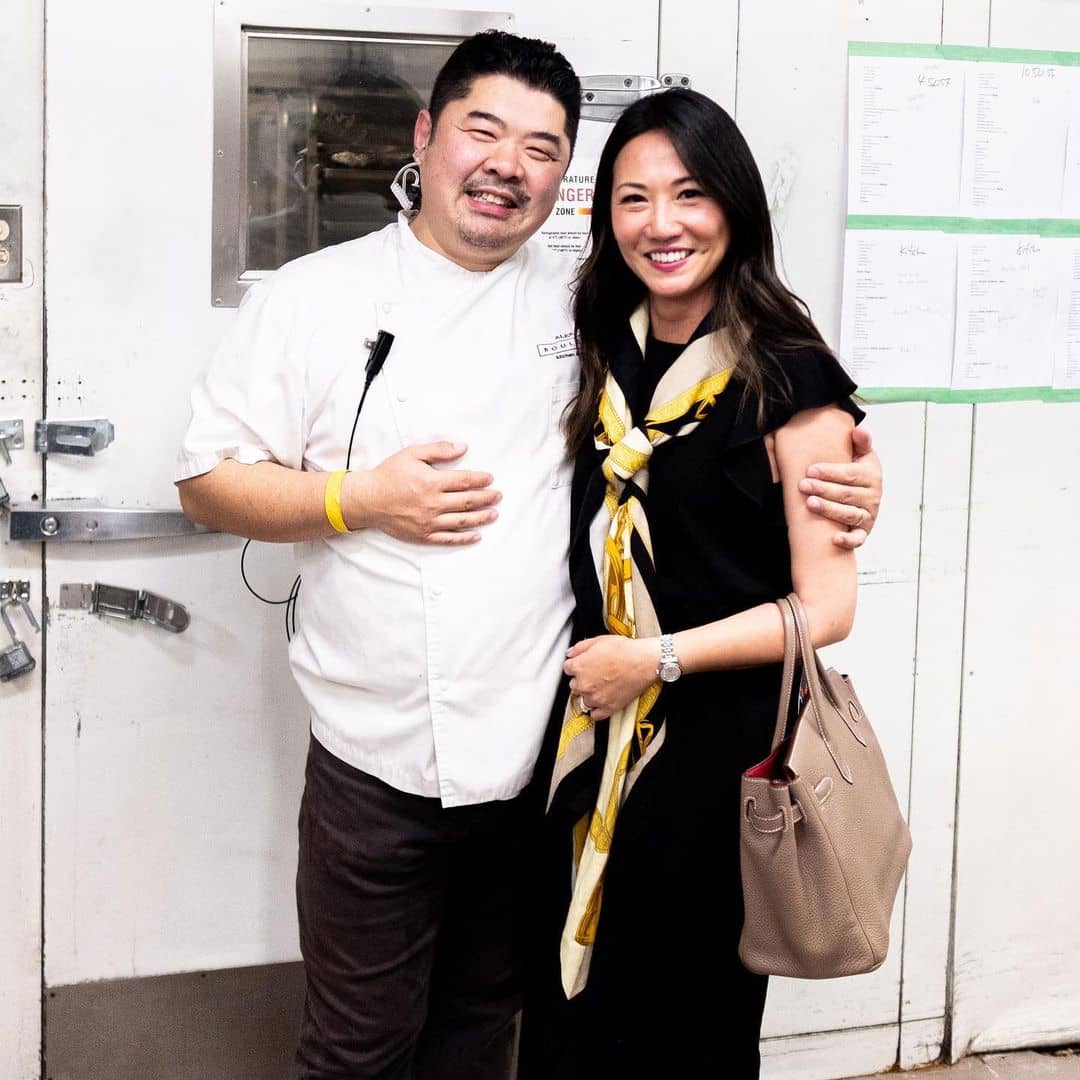 It doesn't matter what industry you're in, because you can always find all the excuses on the wall to not hang out with them. So for us, stuff is always about, just like your relationship, your time with your family, just like your work, you're always there. It's a bother you juggle all the time, all the time. Sometimes this can be overwhelming.
But you know, even the smallest amount of time 15 minutes, three hours, you just have to give that 100 per cent. You have to give your 100 per cent for the 15 minutes. You could have 12 hours but be only giving 5 per cent or you can have 100 per cent but have three hours.
What was the biggest challenge you faced in your culinary career?
[Alex] I think that the biggest challenge is always staffing. I think that for us wise, it's always staffing. Consistently, everyone looks for different things, everyone entered the food world thinking it's not the game, some are looking for different things, some are really just looking for a certain type of cooking, some are looking for a certain type of lifestyle, some strictly just want to be on TV.
They want to be on magazines, be on Instagram, this and that. And all of that stuff is all okay, but it just because everybody comes in with a different mindset. Everybody comes in with different goals. And sometimes they're not always aligned with yours.
So I think that that's always the challenging part, the human nature of things. Because everyone, all come back from a different background entering the workforce at a pretty young age, where they may not be mature enough to really think it through. Do they really want to cook or do they want to cook just for fun?
For me, as a chef, you have to wear many hats. So sometimes you're a chef, you're a businessman… You're ambassadors, you are a brand ambassador, you are a spokesperson for your restaurants, for the industry. You are a counselor, you are a life coach, you are a father figure.
So like, knowing when to wear that hat is sometimes even when you have some ups and downs in your own life. When you walk through the door, you are your senior leaders and you have to put everything behind you. So sometimes it's a bit tough on yourself in terms of having so many people to look up to.
We work with different hotels, different places, as we work with hundreds and hundreds of staff. You're supposed to be a mentor, you're supposed to be a leader, therefore you don't have the luxury to be weak. You don't have the luxury to be less than perfect. So sometimes it's a bit hard on yourself.
If you could give a piece of advice to your past self, what would you say?
[Alex] Well, if I could go back and just whisper to my young self, I'd tell him to stay the course. Stay the course and just follow your intuition. And just keep going in the same direction.
It's so easy to be distracted. It's so easy to lose focus and not be motivated anymore or question the little moves that you have done. I just think that everything happened for a reason in life. You need to be there to capture all the opportunities you can.
So you can have many self-doubts you can have so many questions in your head. Am I doing it right? How come I'm working 15 hours? Or why am I working so hard? Why am I closing tonight? Why am I opening first thing in the morning? You know, like, Why is everything so tough? So I look back, and it is it's all about turning those noises and stuff into positives.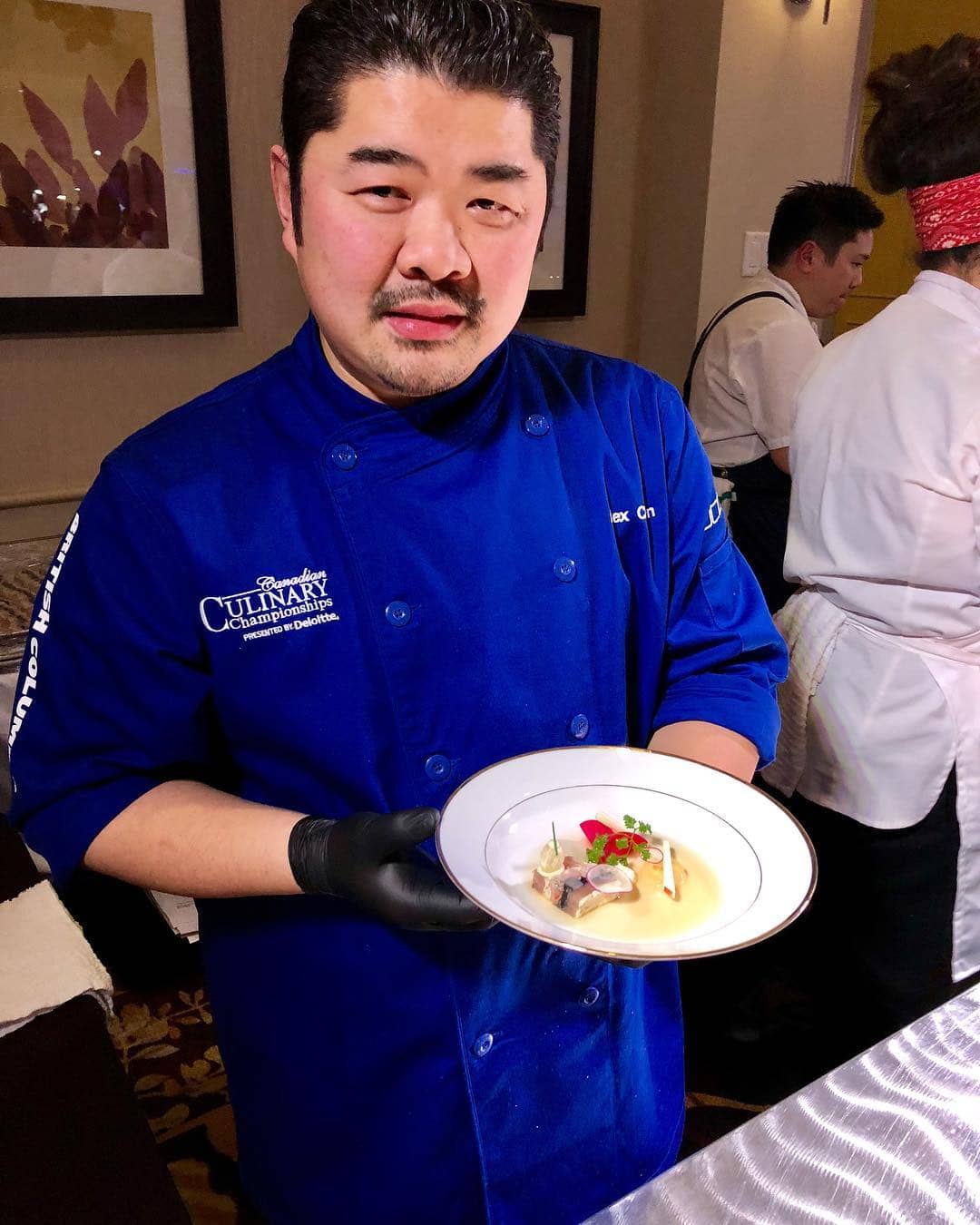 Imagine that you're just saying wow, look at all the opportunities. Look at all the demands from the general managers or the owners of this place. Wow, look at all the opportunities you get to work with 100 overstaffing your kitchen. Look at how busy this place is, which means that I can practice.
My whole entire career is working in really really busy, luxurious, high profile places where it comes with their own demands with their own pressure at any given time. If I just didn't stay the course then there wouldn't be the next spot.
Every new place you go to you need to bring forward the skill that you have learned on the last one. And then you use that as an opportunity to say I've been through this situation before I know how to solve that now."
What is your under-the-radar food spot in Vancouver?
[Alex] I like all different types of restaurants for different occasions. From you know, like from Savio Volpe, to Church's chicken and stuff and I'll eat them all. I'll eat all sorts of food, different from the hotel to all really depending on the right place for the right time.
And lastly, what do you love and hate about our city's food scene?
[Alex] To say what I love and what I hate is a very strong opinion about the industry…
I love the diversity of our city of what we get to eat. You know I love that we have access to great ingredients. I love that we have a lot of skilled chefs around the city a lot of young chefs that are experimenting, lots of different types of services and cuisine and product that we can try out there.
You know, if I had to say one thing that I want to hate about the city, it's not the product itself but it's more about how strict we are on the rules… We don't have a lot of restaurants that use hardwood for cooking. Because the hardwood itself it's just because they are such thing as in air quality control.
We want our city to be nice and green. Hardwood is also very hard to get it's very expensive in this part of the world. Softwood is not good for cooking, but our hardwood is better… I wish that we could have a city where we have more restaurants that showcase more real fire cooking because it's like, I want one more restaurant that's around fire cooking.
I just think they can show so much more soul. But you can't have everything, we were lucky that we have pristine water, great weather when it is sunny. We have access to the mountain for all the different forging mushrooms and wild herbs, with pristine water that we have access to beautiful seafood. 
We are grateful that we are blessed in so many ways. I just think that my love for wood and charcoal cooking and stuff like that is what I love. That's what I want.
---
This is only a bite into the successes of Chef Alex Chen.
But the next time you visit the Boulevard Kitchen and Oyster Bar you will know a little bit more about the effort served into the food in front of you. 
Boulevard Kitchen and Oyster Bar
Location:  845 Burrard St, Vancouver, BC V6Z 2K6
This piece has been prepared with the help of Kameela Nash and The Boulevard team.
The following two tabs change content below.
Latest posts by Noms Magazine (see all)