Looking for the best ghost tours in Vancouver? Well, you're in the right place!
Vancouver is intriguing – but that intriguing side doesn't stop at its stunning landscapes and vibrant culture. As the sun sets and the city lights dim, the tales of the past come alive in the form of ghost tours.
Spend a few hours fetching yourself to the dramatic past of the Rain City by signing up for one of these five best Vancouver ghost tours to embrace its darker, more mysterious side.
Embark on a spine-tingling journey learning murders and disappearances that gave police the foggiest ideas or the sordid tales of Maple Tree Square and chasing lost souls.
This article contains affiliate links where we may get a small commission if you click on the link and purchase. No extra cost is added to you.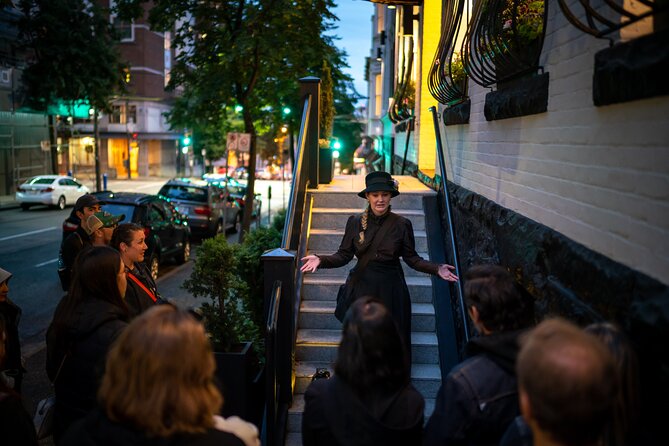 Undoubtedly the most talked-about ghost tour in all of Vancouver, the Lost Souls of Gastown transports you through the oldest neighbourhood of the city where tales of the wild west, murder, intrigue, and hauntings are buried behind the washed-out brick walls.
Within 90 minutes, the costumed guides who are reportedly unrivaled at their collection of untold stories and scary tales take you to the most haunted locations and review ghostly evidence taken at the sites.
Tick off the rowdy part of the Great Fire that burned down the whole of Vancouver in 45 minutes, hold the lamplight tight chasing the dark alleys of Gaoler's Mews, and hear the eerie tales of smallpox at Maple Tree Square.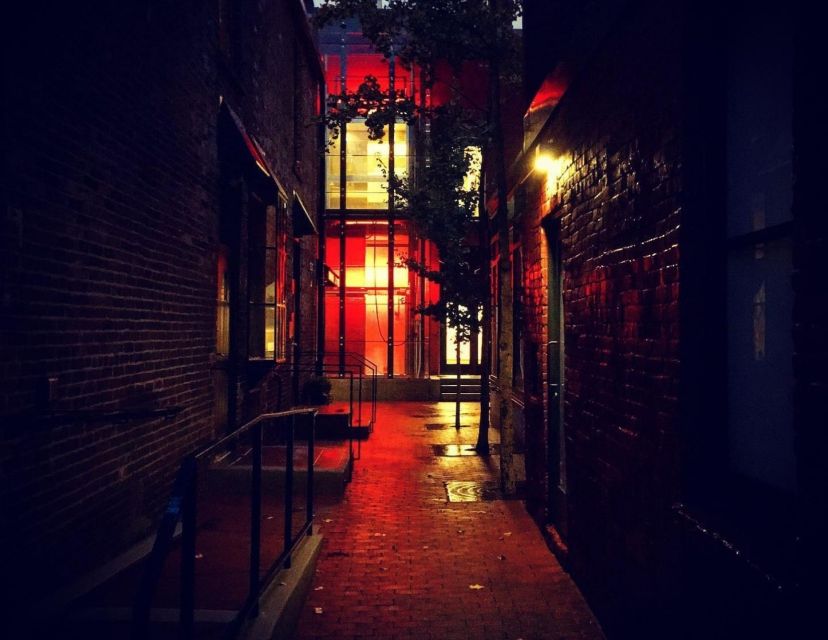 It's not that scary when the sunlight is still on. So wait until the sun beams down and venture out to the darkest cores of Vancouver downtown for a 90-minute trip with Ghostly Gastown Tour (GVT).
The guides at GVT like to keep it secret until the last minute, and we're in the same boat. Instead of spilling the tea, all we can do to give you a sneak peek is the area you'll be covering. Taking place in Vancouver's most atmospheric neighborhoods, particularly Gastown and Downtown Vancouver, GVT keeps records of evidence that have been researched through archives and interviews. That being said – no fabrication here!
The best part? GVT guides love storytelling and everything paranormal. And did we tell you that one of these guides can also do your readings and connect you with the spirits? Well, rest assured as there's nothing sort of life-threatening here.
The meeting point is outside of the Waterfront Station in front of the Angel of Mercy statue. This tour may not be suitable for children under 12.
For those who are truly brave at heart, the Morgue Ghost Tours offer a unique and spine-chilling experience. No more taboos and spirits spotted by the residents, but evidence and haunting stories of lives left unfinished by the police themselves.
That, coupled with findings from recent paranormal investigations, was conducted right on the museum property. Open that door to the 'behind-the-scenes' area and get spooked out by morticians' creepiest weird.
The tour guides will lead you through the tales of murders and disappearances in Vancouver's history. Each tour lasts about 40 minutes, and tickets are priced at $40, with a $5 discount for museum members.
Be sure to book in advance as these tours are incredibly popular and sell out quickly.
Speaking of the phantoms in Vancouver, Gastown seems to steal all the spotlight. But this time, we'll take you to Victoria, just a bit outside of the downtown core, on a 60-minute Ghostly Walking Tour.
Who would have thought the colorful gardens and impressive British mansions here in Victoria shield the unknown tragic past? Starting out as a bustling trading post of Hudson's Bay Co., Victoria took the hit by infamous names and pity events that still haunt famous heritage buildings.
Today, these tales of the supernatural will send chills down your spine. The tour is designed for adult audiences and contains some references to adult themes, so it's best suited for families with older kids.
This tour operates rain or shine, so be sure to dress appropriately, though nighttime gets a little chilly.
🚌 Explore Vancouver Island with these stellar tours!
A Vancouver that's forbidden? What does that mean?
Well, with Forbidden Vancouver Guided Tour, you're no longer chasing ghosts and haunted buildings but tales of bootlegging, mobsters, and corruption. Get back to the roaring 20s when major parts of Vancouver were still buried in a mess of illicit booze, crime, and vice. Walk past Vancouver's prohibition era like Gastown, Maple Tree Square, and ornate heritage buildings hearing undisclosed secrets you never know from the 'official sources.'
We guess that's the most interesting part of this two-hour tour.
As you explore the city's famous Gastown district, you'll visit landmarks that played a significant role in these sordid tales. The tour is designed for adult audiences and contains some mature subject matter, so it's best for families with older kids. When the tour ends, you'll have some time on your own seeking an apres-history dinner or drinks out of Vancouver's most visited bars and restaurants.
Whether you're a local or a visitor, a believer in the supernatural, or just someone looking for a thrilling night out, these ghost tours in Vancouver not only get your adrenaline pumping but also reveal the unordinary sides of the city's past.
Looking for more activities in the city? Check out our pick of the best things to do in Vancouver here!