When people ask us "where are the best hiking trails in Victoria, BC and Vancouver Island?", coming up with a quick answer is never easy. It has a lot more to do with fitness levels, ages, and preferences.
The core of Victoria has several scenic and easy trails that accompany a quick getaway to decompress after work. If you take a short drive from downtown, Victoria opens out to many more scenic hiking trails in Vancouver Island to occupy a weekend.
Here are our 12 favorite hiking trails in Victoria, BC and Vancouver Islands to make your bucket list!
5 Best Hiking Trails in Victoria, British Columbia
1. Gonzales Observatory Trail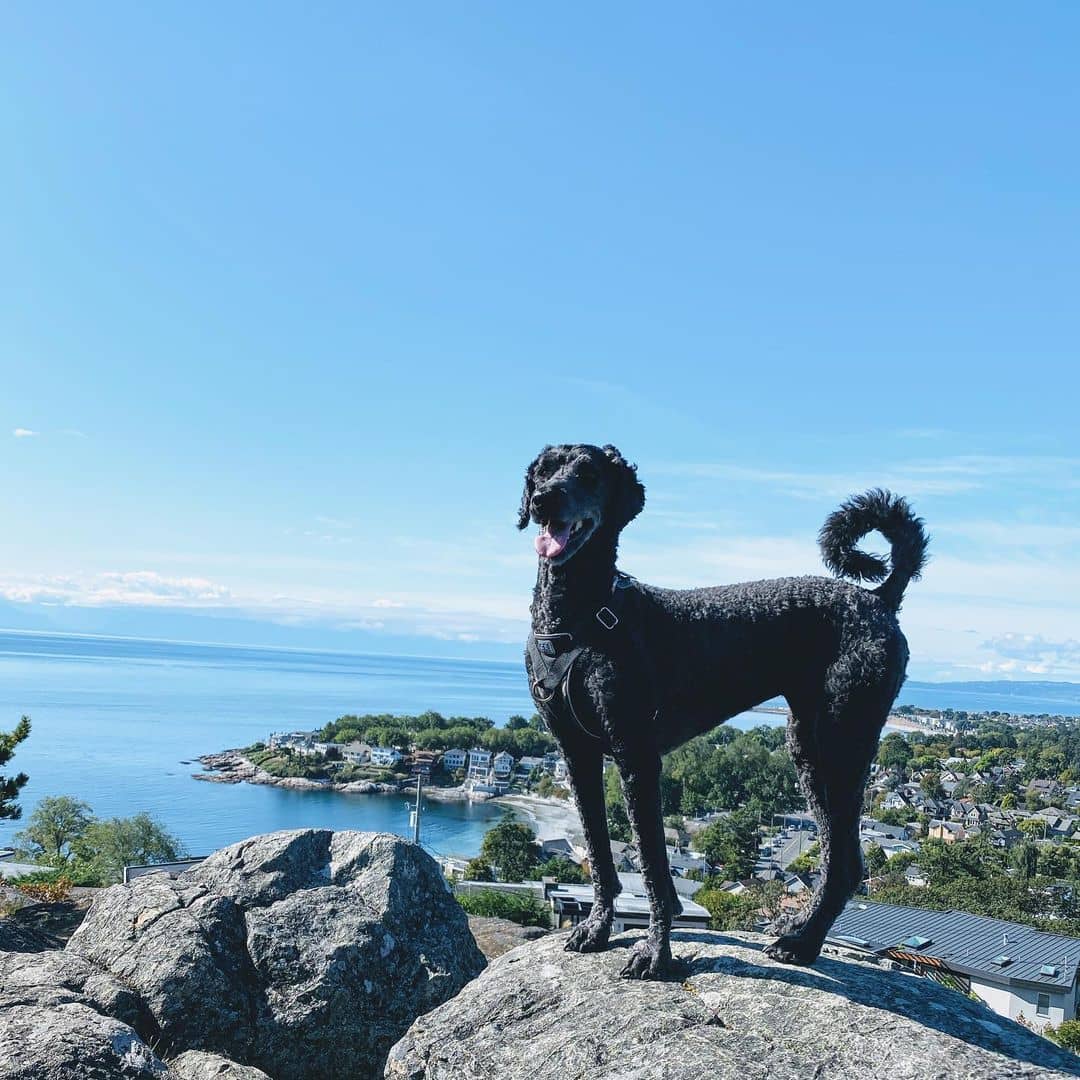 It's short, it's easy, and above all, it looks out to a scenic ocean and city view!
Gonzales Observatory Trail is a stone's throw from downtown Victoria, making it a romantic getaway when you only have a few hours to work out in nature.
The trail is famous for its beautiful sunset view over Gonzales Bay and Victoria from the dramatic outcrop. A short hike on the rocky terrain whisks you up to different points of view that overlook the beaches, rushing waterfalls, and Greater Victoria when the air is crisp.
The summit is connected with the base via two different routes, one of which is a residential street with stairs. The hike overall is short but steep and uneven with a magnificent view at the top. So if you're looking for a quick cardio workout outdoors without traveling further afield, the Gonzales Observatory trail is your gem!
Length: 0.5 km
Elevation gain: 6 m
Address: 302 Denison Rd, Victoria, BC V8S 4K3.
2. Ogden Point Breakwater Trail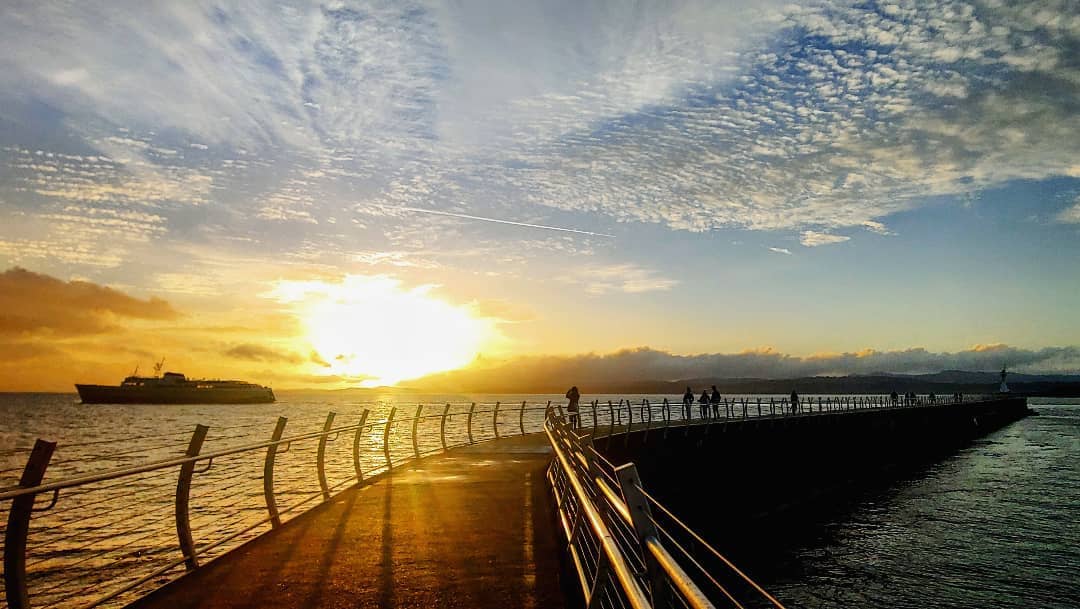 Easy, breezy, and scenic – here comes one of our favorite waterfront hiking trails in Victoria – the Ogden Point Breakwater.
To complete the hike, you don't need more than half an hour. The Ogden Point Breakwater trail is less than two kilometers in length with minimal elevation gain.
To walk the Ogden Point Breakwater, start your journey from Dallas Road on the James Bay side and keep moving on the cement structure jutting out towards the Juan de Fuca Strait.
It's a leisure stroll rather than an epic, strenuous hike. You'll see people fishing and having the moment of their life, soaking in the view of the bay, watching the sunset, and enjoying the wildlife.
Walking the Ogden Point Breakwater trail is a joyful movement accompanied by the white noise of busy harbor traffic. Cruise plying on the water, floatplanes soaring in the air, and some seals hanging around when fishermen cast the lines.
Length: 1.8k km
Elevation gain: 5 m
Address: 211 Dallas Rd, Victoria, BC V8V 1A1.
3. Beacon Hill Park Loop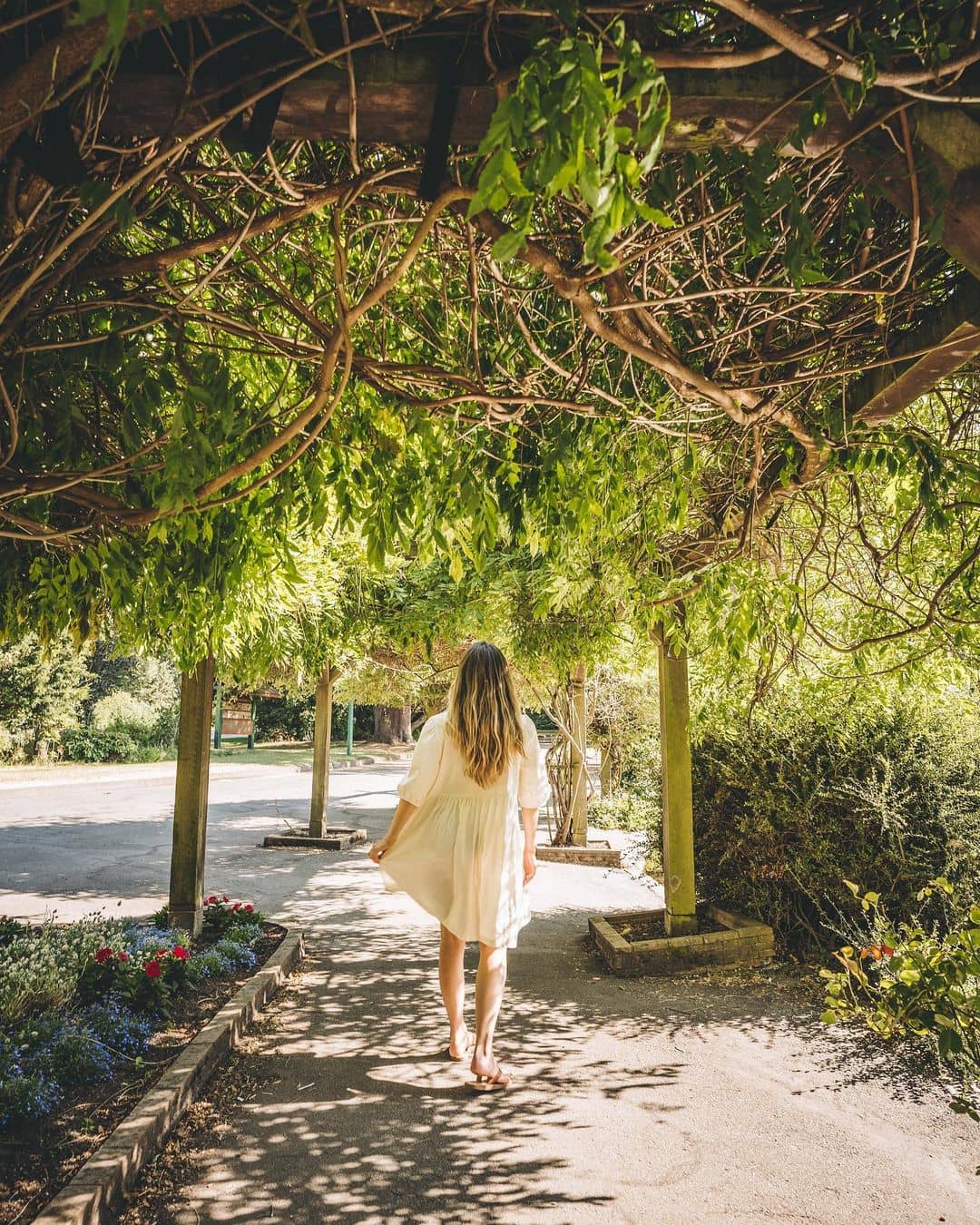 Beacon Hill Park Loop is one of the two easy trails encircling the Beacon Hill Park, a central park in Victoria. With relatively flat terrain, lots of shades, rose gardens, playgrounds, and plenty of recreation activities, this loop is a great choice for a family day out.
Hikers of all fitness levels and ages will have a delightful time walking the loop. No intense climbing nor rough terrain holds you back in doubt. Only the paved ways, groomed lawns, grassy knolls, and beautiful landscapes are waiting ahead.
Biking, running, hiking, and dog walking are some of the most common activities you find on the trail. With a close proximity to the city center, you don't have to travel further afield for great scenery. Deer, peacocks, and docks will accompany you on the hike. To complete this hike, you only need over an hour. If you hang out with your pooch, keep them on the leash at all times.
Length: 4.3 km
Elevation gain: 40 m
Address: 100 Cook St, Victoria, BC.
4. Dallas Road Waterfront Trail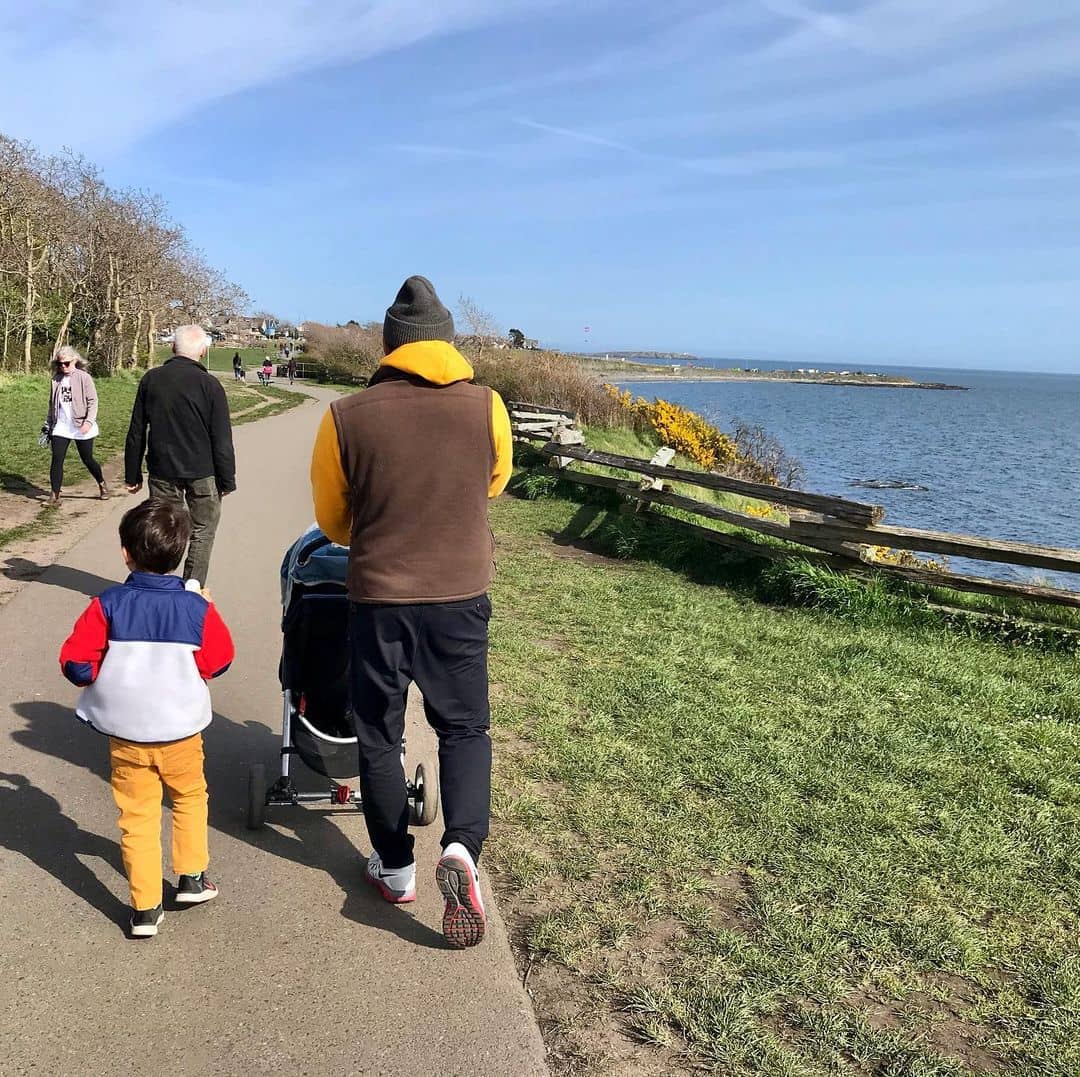 Like a veil covering the south side of Victoria, Dallas Road is one of the most scenic waterfront hiking trails in Victoria, British Columbia. You can embark from James Bay to connect with the Ogden Point Breakwater Trail and linger to Gonzales Bay.
This pleasant seven-kilometer-long walk takes you no more than 90 minutes to complete. The Dallas Road Waterfront Trail teams up with the Beacon Hill Park Loop above to wrap up a complete trail network around the Beacon Hill Park. You can enter the trail via two different paths. One is paved, wheelchair-friendly and stroller-friendly. The other one leans to a more adventurous side as you wander down closer to the water and the beach.
If you hold to the water edge, you need a good pair of walking shoes to handle scrambles along the rocks and driftwood. At some sections, you'll find yourself hanging with tide pools and jumping logs.
Since the hiking trail is directly facing the ocean, expect to see insane levels of wind and overcast weather on some days. To compensate, the trail rewards you with a marvelous ocean view plus a stunning sunset to die for.
If you take your dogs out, make sure to keep them on the leash but they can run free on the seaside.
Length: 7.1 km
Elevation gain: 50 m
Address: 13 Dallas Rd, Victoria, BC.
5. Westsong Walkway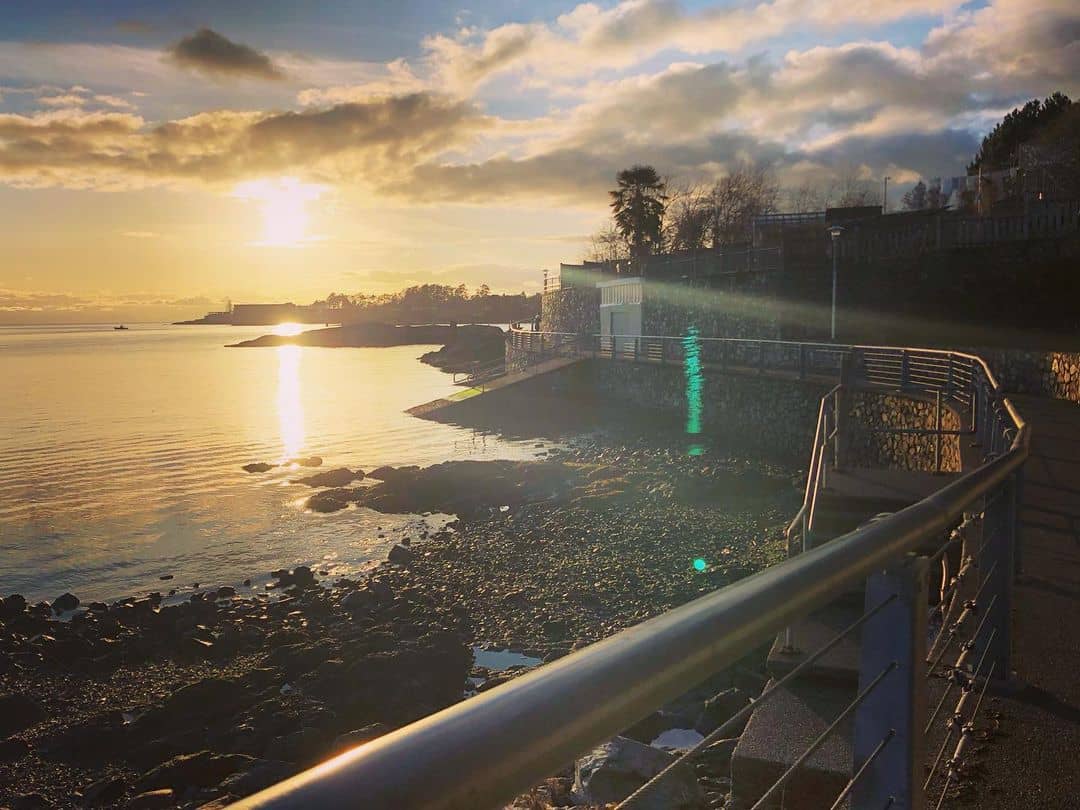 Here comes another noteworthy hiking trail in Victoria, British Columbia that connects Esquimalt and Victoria West. With benches dotted along the walkway facing the beautiful Juan De Fuca Strait and the Olympic Mountains, Westsong Walkway is an easy hiking trail to unwind and soak in the marvelous harbor view within an hour.
Westsong is relatively flat, well-paved, and wheelchair-accessible. So if you're looking for a decent, enjoyable, and easy trail in Victoria, British Columbia when unable to tackle more moderate hikes,this is definitely a top call!
What we like most about the hike is how it goes all out with the gardens, the sea, the harbor views, and thriving wildlife that keep you returning time and again. If you can, bring a pair of binoculars to view swans, water birds, deer, otters, and seals.
Whenever your core is tired, rest up at a bench to watch the seaplanes landing or indulge in locals' favorite crafted brews at Spinnakers.
Length: 4.8 km
Elevation gain: 41 m
Address and starting point: 1 Esquimalt Rd, Victoria, BC.
7 Best Hiking Trails in Vancouver Island, British Columbia
6. The Matheson Lake Loop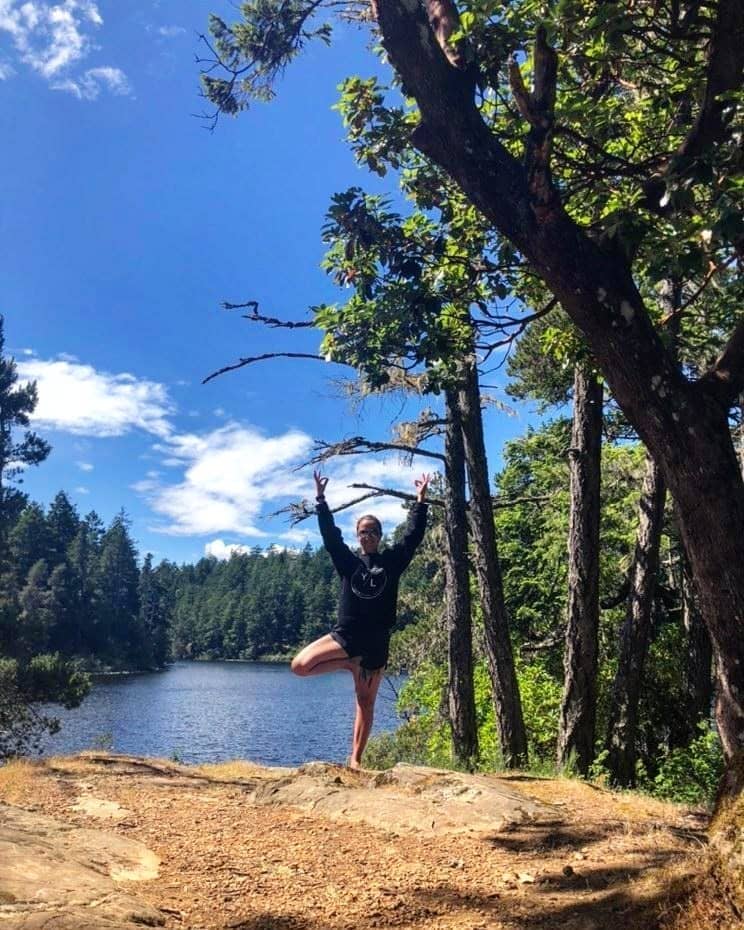 Hike the majestic Matheson Lake Loop to embrace summer to the fullest. The lake itself is sheltered and calm so you can give your hike a zest of adventurism with a swim in the middle of the day.
Matheson Lake Loop is a beautiful trail, but it's not a crowd-pleaser. Beginners, kids, and seniors may want to opt for somewhere else that's less tricky. The highest elevation gain reaches up to 86 meters, especially on the south side of the lake when you climb up from the stream. It's filled with luscious ferns, steep, and a little muddy at some sections depending on the weather. But if you want to game up your skill, don't hesitate to take on this stunning trail with minor ups and downs!
Walking through four kilometers of Matheson Lake Loop, you will be consumed by the pristine evergreen rain forest with camas lilies blooming all along, injecting its fresh scent into the air. Keep going along the edge of the lake, head into the forest before you see a stream with a small bridge over it. Pass through the stream and you'll reach a small waterfall for a relaxing moment.
Length: 4 km
Elevation gain: 86 m
Address: Matheson Lake Regional Park – Matheson Lake Park Rd, Victoria, BC V9C 4H9.
7. Lone Tree Hill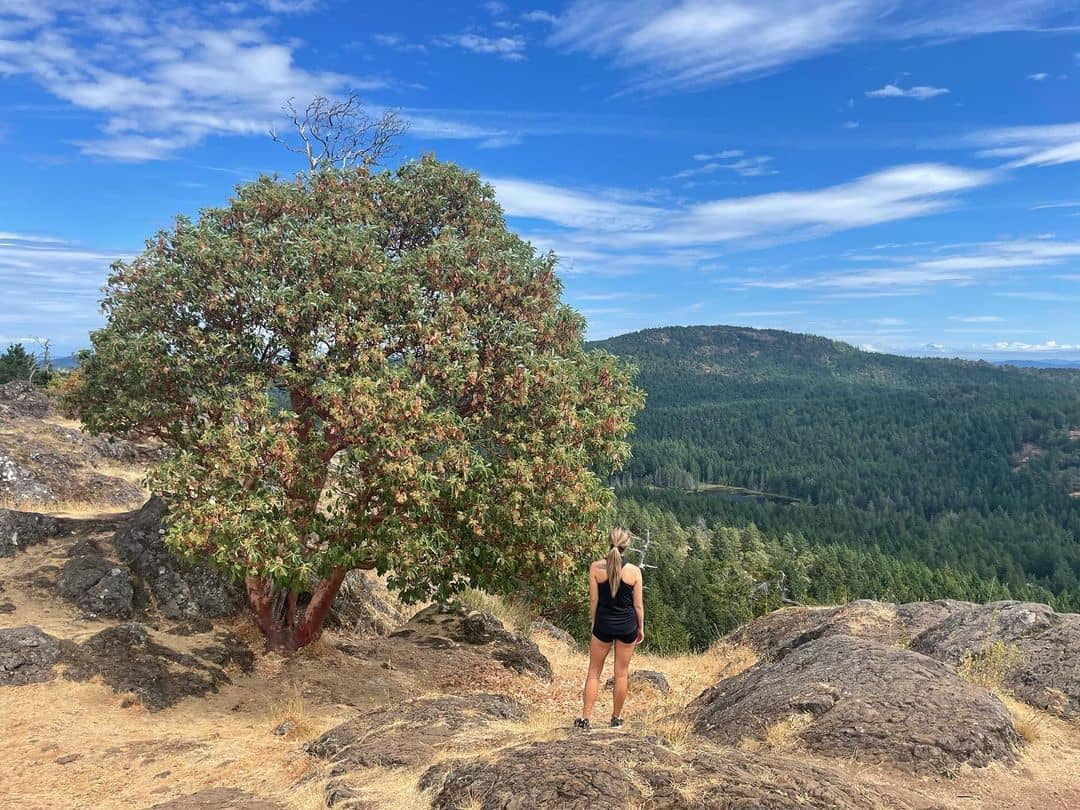 Are you good at climbing? If so, set off to Lone Tree Hill and soak in the view from the summit after completing this short, steep trail. What we like most about this hike is how it's heavily blanketed with century-old Douglas fir and smooth-barked arbutus trees.
At the top of the hill after you pop out of the trees, it opens out to a dramatic view of the Malahat, the Highlands, Victoria, and the distant Olympic Mountains. That feeling when you're mere steps away from the 364-meter-high summit is beyond imagination, so much so that you only want to laze around until you're fully recharged after unleashing your energy on the hike.
Lone Tree Hill is one of the most beautiful hiking trails in Vancouver Island. On any given sunny day, the summit welcomes towers of red-tailed hawks, bald eagles, and turkey vultures surveilling in the air. It's a short, moderate out-and-back trail with lots of cutting up, making it a quick cardio workout.
Length: 1.6 km
Elevation gain: 100 m
Address: 1450 Millstream Rd, Victoria, BC V9B 6G1.
8. Upper Thetis Lake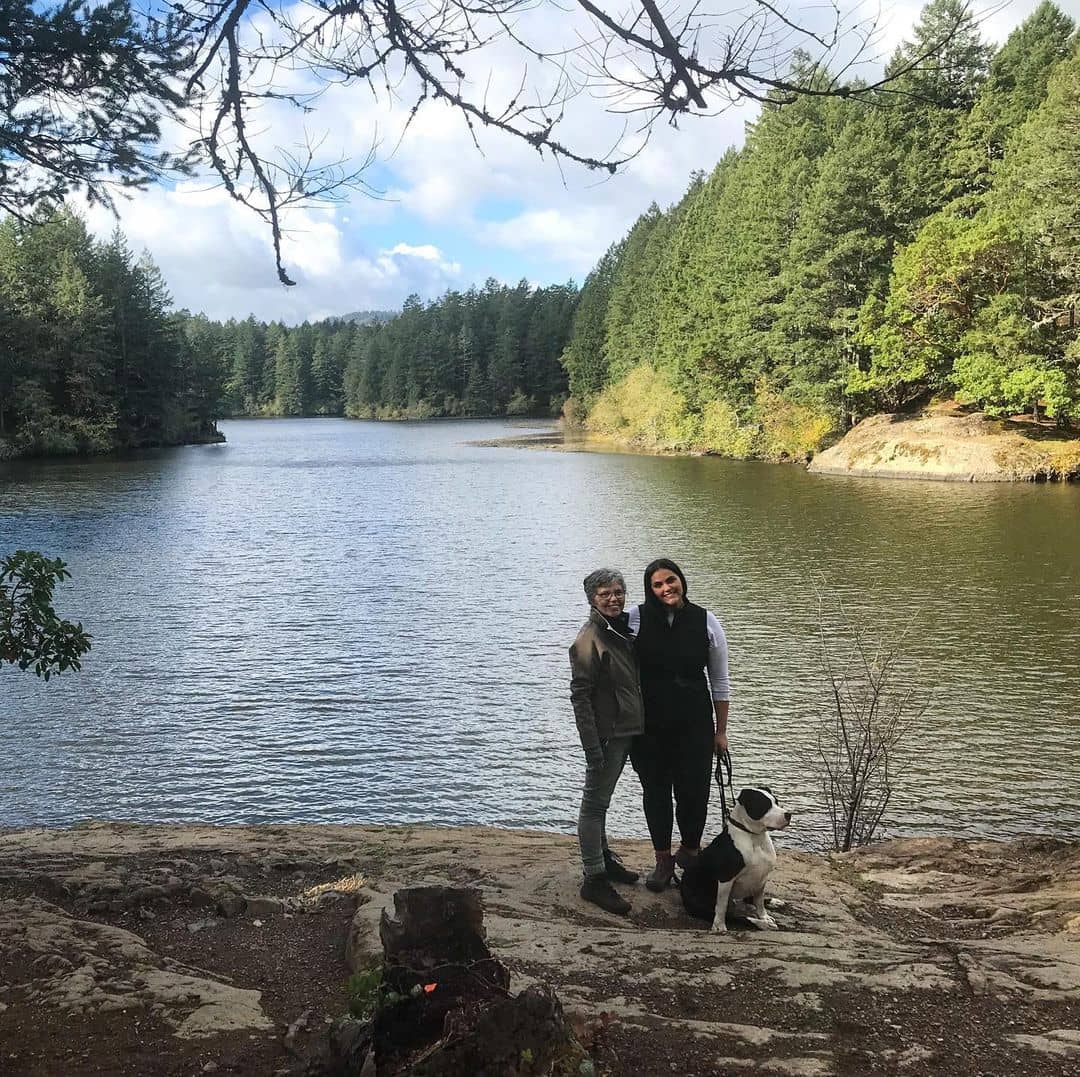 Thetis Lake is a popular scenic hiking trail in Vancouver Island for locals and tourists alike. That's why you want to start early in the morning to dodge the crowd and enjoy the scenery and the views to the fullest.
Compared to the Lone Tree Hill hike and Matheson Lake Loop, Upper Thetis Lake Trail is less challenging. It has lots of great spots to take a break. The best time to hit the hike is during autumn when the colors are changing. There are lots of shades so even when you're caught in the rains, you're undercover most of the time.
During five kilometers of the hike, you'll cross over a swamp, forest, hilltops, and some hidden sandy beaches. The Thetis Lake serves as the centerpiece of the hike and is stocked with catchable Rainbow Trout. This hiking trail in Vancouver Island is chock full of forest bathing possibilities and outdoor activities. So get ready to pop into paddlers, naturalists, dog walkers, anglers, and photographers along the way!
Length: 5.1 km
Elevation gain: 85 m
Address: Thetis Lake Regional Park – Main Parking Lot – Six Mile Rd, View Royal, BC.
9. Elk and Beaver Lake Loop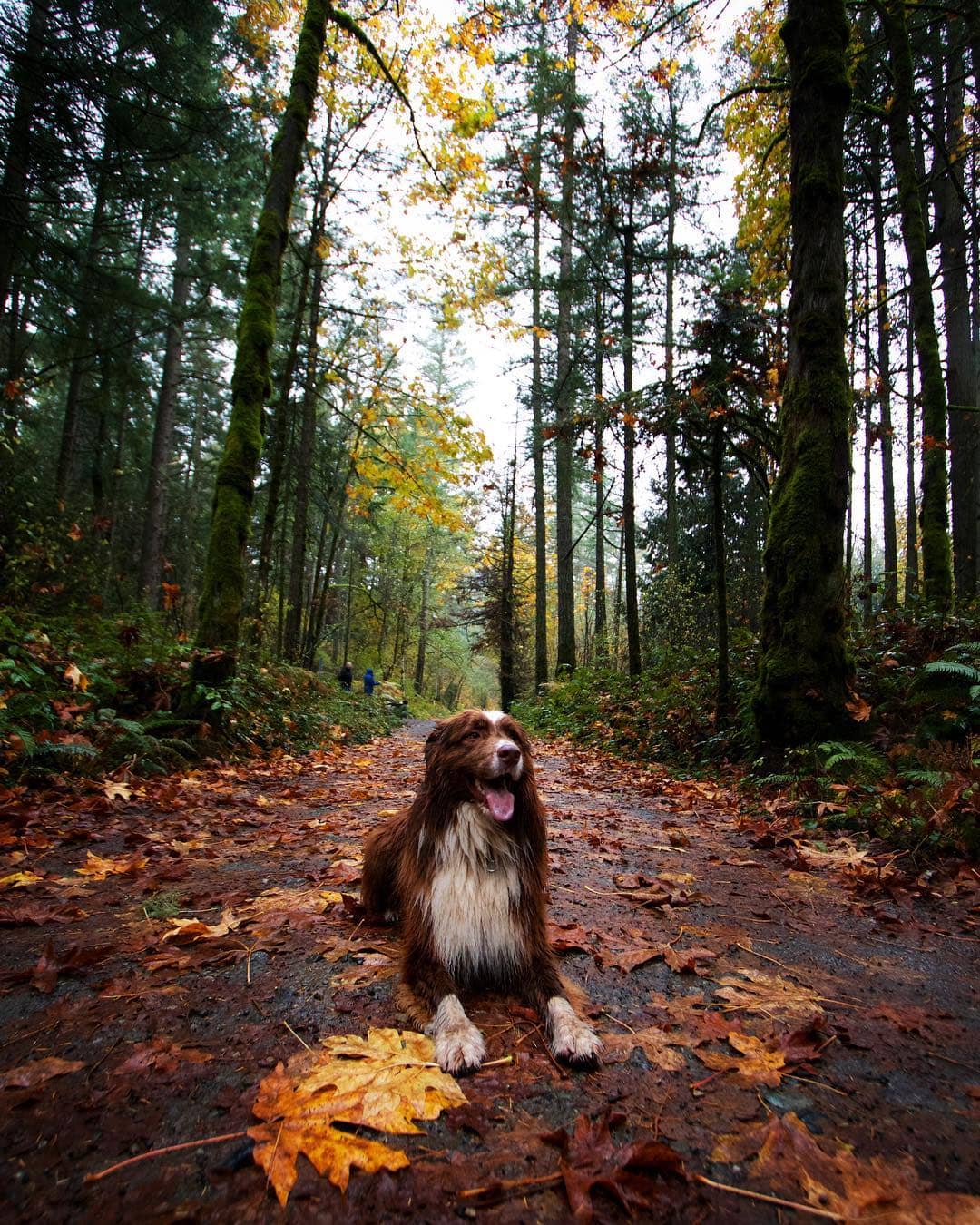 Get on a drive for 20 minutes north of Victoria and you'll reach Elk and Beaver Lake Loop in Saanich. This is another great flat hiking trail in Vancouver Islands that fits beginners and intermediate hikers. The entire ten kilometers of the Elk and Beaver Lake Loop takes you two good hours to complete.
The loop itself is part of the Elk – Beaver Lake Regional Park, a haven of natural and cultural history. A leisure hike around this area will lead you through many residual hills called monadnocks that swathe the serene lake at its heart. This is a wooded trail that passes through beautiful forest scenery, a park, picnic areas, playgrounds, and a hidden beach with a stunning southward view of the lake.
Dotted along the loop are several picnic spots and playground areas. Bring your family and kids for a morning hike around Elk and Beaver Lake before wrapping it up with an afternoon picnic!
Length: 10 km
Elevation gain: 78 m
Address: 728 Beaver Lake Rd, Victoria, BC.
10. Swan Lake and Christmas Hill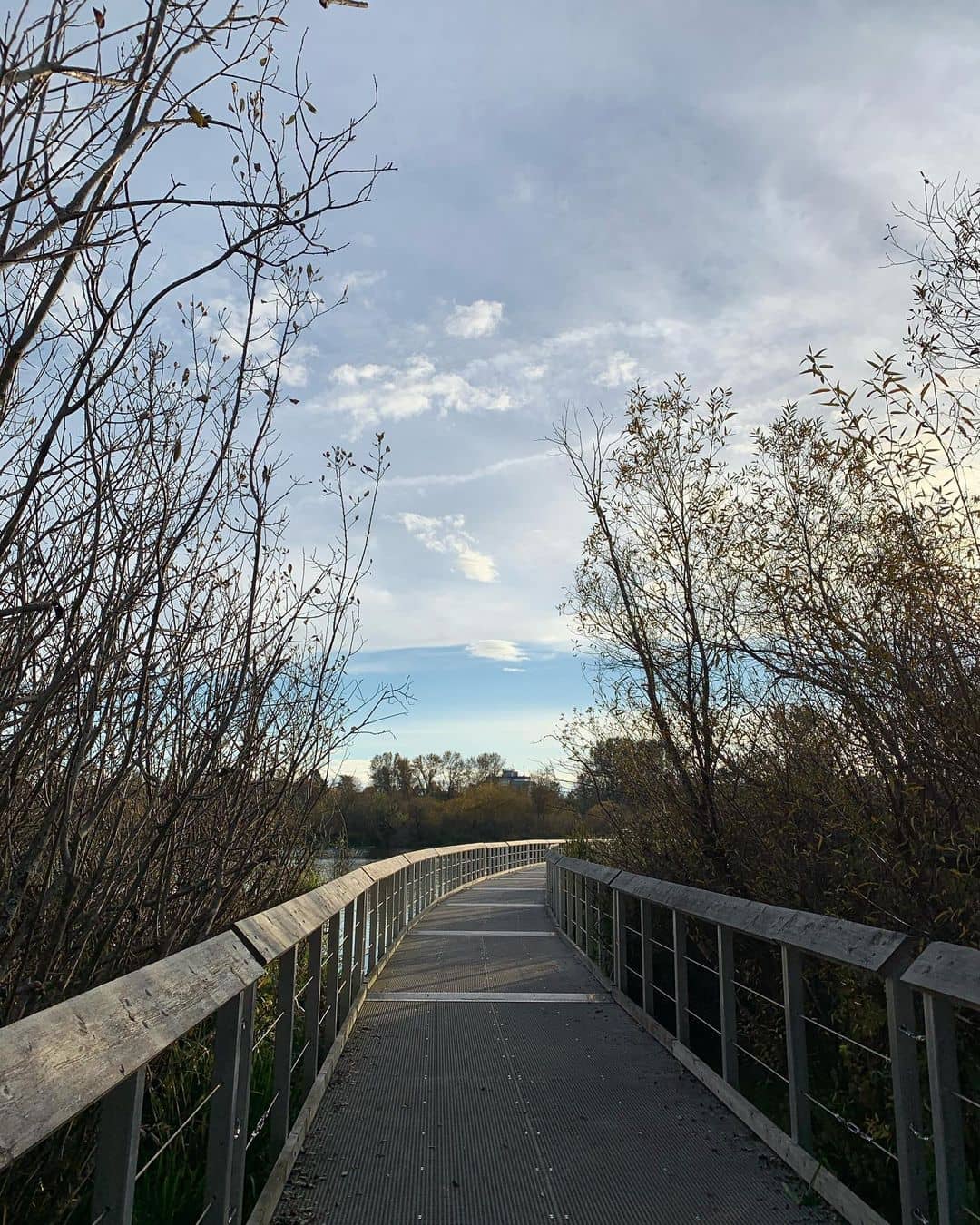 The loop around Swan Lake lingering to Christmas Hill northward is one of the easiest hiking trails in Vancouver Island. It's relatively flat without many tricky sections. No more losing sleep to find the right place to take kids and elderly adults for a day bonding outdoors!
The best thing about this hike is the diversity in wildlife, with plenty of flora and fauna species nesting and thriving all year long. Thanks to the warmth and shallowness of the lake, it nourishes a pivotal ecosystem, creating a home base for many local birds and wildlife.
If you venture out from Victoria, park your car near Swan Lake and start your hike from there. You'll cross over a series of wooden bridges that connect a marshland where you'll come across finches, wrens, and ducks. From there, the trail opens out to a rocky outcrop with a view to Victoria from the glacially-grooved summit. Since this loop is part of a wildlife sanctuary, dogs and bicycle riders are not allowed on the trail.
Length: 2.6 km
Elevation gain: 19 m
Address: Swan Lake Christmas Hill Nature Sanctuary – 3873 Swan Lake Rd, Victoria, BC V8X 3W1.
11. Mount Douglas Park Trails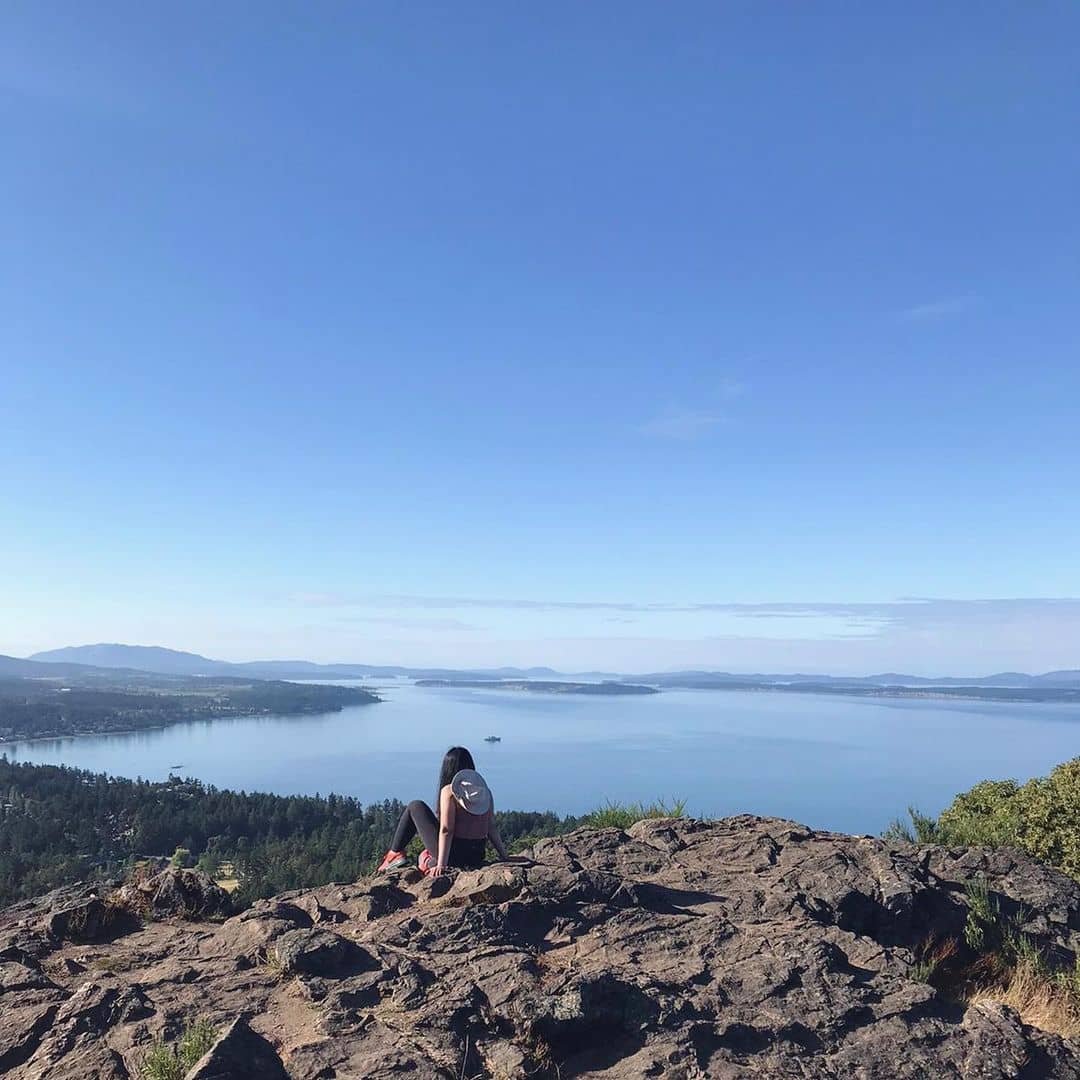 There are twelve different hiking trails interlaced within Mount Douglas Park. Each of them is named after the early settlers and farms in the area.
Picking the right path that leads you to the desired vantage point is a daunting task. But once you've found your way, it's a rewarding experience! You'll be consumed by an abundance of ferns and wildflowers while Douglas Fir and Cedar trees shadow from above.
Each trail leads you to a different vantage point. The Irvine Trail walks you up to a viewpoint looking over the Cordova Bay.
Those looking to stick to the flat terrain should pick Norn Trail! It's well defined with little elevation gain and fairly level ground. Some other trails walk you down to the tide lines on a secluded, sandy beach or into the woods.
If you want to reach the summit of Mount Doug, follow the Merriman Trail but keep an eye out for steep sections with a little scrambling near the summit. The sweeping wraparound vista from Mount Doug will have you in awe. It feasts your eyesight with the beauty of rural Saanich, the city lights of Victoria, and the Cascade Mountains in Washington State.
The trails in Mount Douglas Park are great for dogs too but they must be kept on leash. Bicycle riders must stay on the paved roads and not park trails.
Length: 21 kilometers in total.
Elevation gain: 39 to 232 m.
Address: Mount Douglas Park – 4500 Cedar Hill Rd, Victoria, BC V8X 3S8.
12. Goldstream Provincial Park Trails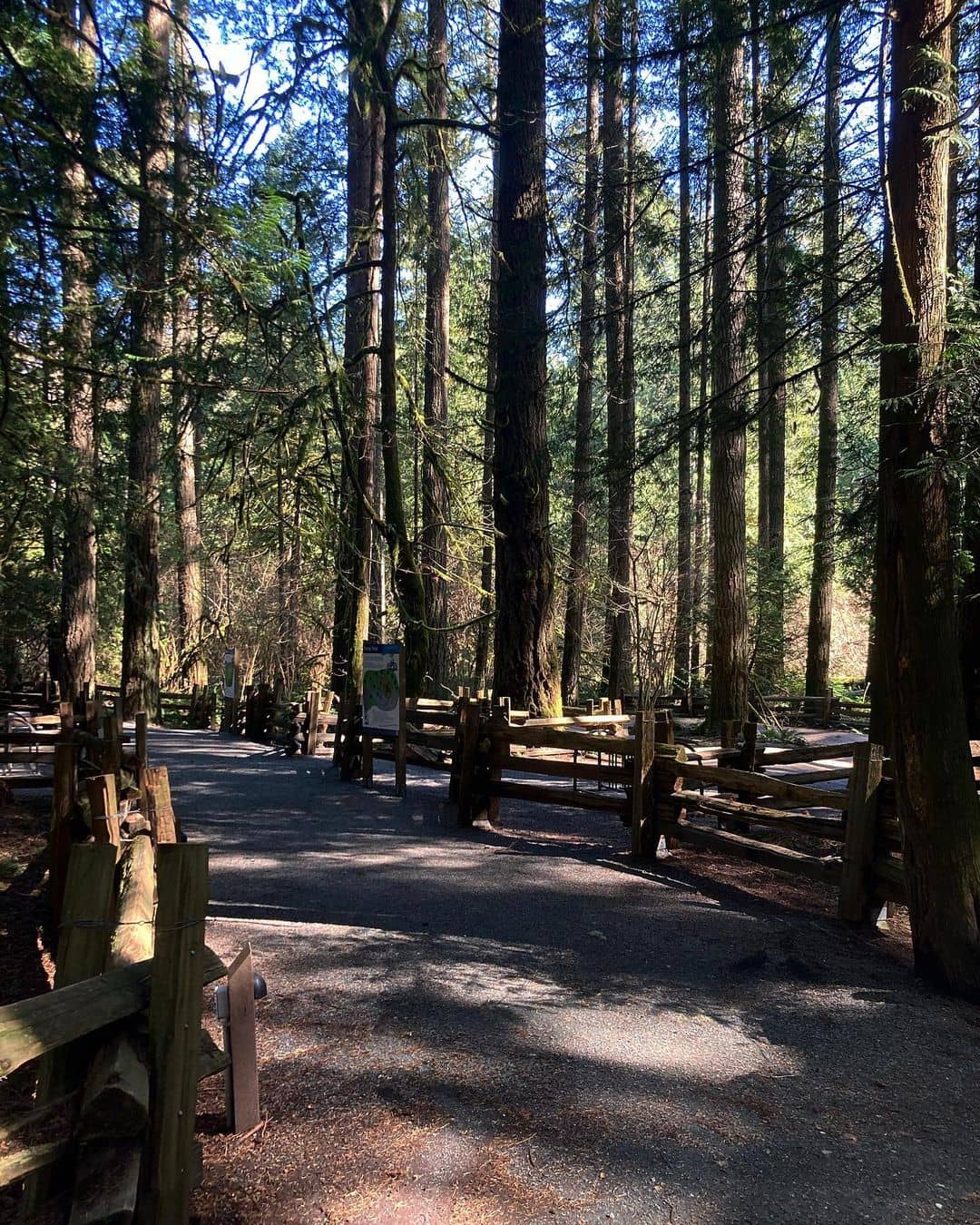 A short 20-minute drive northeast of Victoria downtown opens onto an extensive network of forest trails in the Goldstream Provincial Park. All the trails are weaved together under the shades of towering trees, veining through the base of rugged mountains, cascading waterfalls, and meandering waterways, forming a 16-kilometer-long network.
Heavily blanketed with a lush wilderness at the base of the Malahat, the trails of Goldstream Provincial Park are heaven to forest bathe and escape the bustle of the city. Thanks to close proximity to Victoria downtown, you can work your core and find your inner peace without leaving the Langford's backyard.
Regardless of fitness level and hiking experience, everyone will find a place to belong. Some trails are wide winding and wheelchair accessible. These trails are short 15-minute walks along the river bank dotted with tall timber. Some others fit intermediate hikers better with strenuous hikes that track along the creeks. You'll sneak into forested uplands and meander through former gold mines if you follow one of these trails.
Meanwhile, adventurous thrill-seekers will have a whale of time beating steep scrambles whisking up to Mt. Finlayson, one of the highest points in Greater Victoria. The more challenging the trails are, the longer they take to complete.
For cyclists, they are permitted on roadways and paved trails from the day-use area to the Freeman King Visitor Centre but not park trails.
The best time to head out to Goldstream is from spring to summer when the colorful wildflowers fully bloom next to the mossy forest glades.
Length: 16 kilometers in total.
Elevation gain: from 0 to 1,625 m.
Address: Niagara Falls Parking – Langford, BC V0R 2L0.
The great outdoors in this part of British Columbia stretches over diverse terrain where both novice and skilled hikers will have an enjoyable time. Spring, summer, and autumn are the best seasons to tackle these trails.
And if you're a nature enthusiast, here are six more outdoor ideas to inspire your wanderlust beside the hiking trails in Victoria, BC and Vancouver Island:
Top-rated parks and gardens in Victoria to cleanse your mind and detox your body.
The best beaches in Victoria to find your blue mind and inner peace.
Give it a zest of adventurism with the best water sports in Victoria.
Seek out these unique and local things to do in Victoria for an authentic local vibe
Lift your mood instantly with our favorite hopping hubs in Victoria.
First time in Victoria? Live up to the hype with Victoria's best attractions and landmarks.
Or if you want an all-inclusive handy guide, check out this epic list of 50+ exciting things to do in Victoria, BC all year round and have all things Victoria-related revealed at once.
The following two tabs change content below.
Latest posts by Noms Magazine (see all)