Walk down the grocery aisle or ask a health enthusiast and you'll come to the conclusion that there are a lot of options when it comes to peanut butter and nut butters.
But they tend to lean towards being either cheap and full of salt content OR hella pricey that would make any regular fellow raise an eyebrow.
That's where Jill found the gap – to create a nut butter brand that sits snuggly in the middle of the price spectrum AND have all the good nutrients in it.
We spoke with Jill about how Fatso got started, what makes them different, and what she would say to those who never tried their items:
Can you tell us about yourself and little bit your background?
[Jill]: Well, that is a loaded question. I guess I have a bit of a colourful background – I was born and raised in Victoria spent some time in Montreal where I did my undergrad, opened a restaurant, and ended up on a reality show which brought me back to Vancouver, where I lived for 4 years.
There's a lot that happened in between that time and probably too much to cover here but let's just say that I entered recovery from a drug and alcohol addiction in 2010, and I'll be 10 years sober this August! I love speaking openly about my recovery because it helps to reduce the stigma.
Since that time, I completed a master's degree, got married, started Fatso, and finally, after 3 years of battling infertility (something else I encourage people to speak openly about), my husband and I welcomed our son Remy, who will turn 1 also this August.
That's a lot of info, I know but hey, now you know me! And you probably have a lot more questions…
How exactly did Fatso get started? What was that tipping point that made you start this?
[Jill]: Oh boy, well, I bet you're expecting something along the lines of, "Just an inspired idea and a bit of seed money!"
That is not my story.
After completing my masters, I found myself severely unemployed, became disillusioned with my field of study (international development and research), and was in a deep depression. I had taken a job at a local health food restaurant, with the hopes of preparing it for franchise opportunities.
Fatso was being sold there and it was a fantastic product. I kept on trying to buy in or help out the owners, but I always got turned down. Finally, their inventory was seized because the local health authority discovered it was being made out of the owner's garage, or something.
So, I swooped in and snapped up the recipe and the brand name for the price of a used car. I spent 3 months optimizing the recipe, finding a co-packer while I produced the product out of the same health food restaurant I was working at, building up the social media, rebranding, and securing retail listings.
I launched in November 2016 and today Fatso can be found on shelves right across Canada and now in Washington and Oregon states, which marks our expansion into the US.
So, my tipping point?
Rock bottom, really. Sometimes you just have to be desperate enough to take a chance on a really risky idea. Just be prepared to throw out everything you thought your life would be!
So, what's the deal with high-performance fats?
[Jill]: High performance fats are all of those good, healthy fats you want and need in your diet. Think clean, fat-burning, fuel-generating fats from coconuts, avocados, flax, and chia.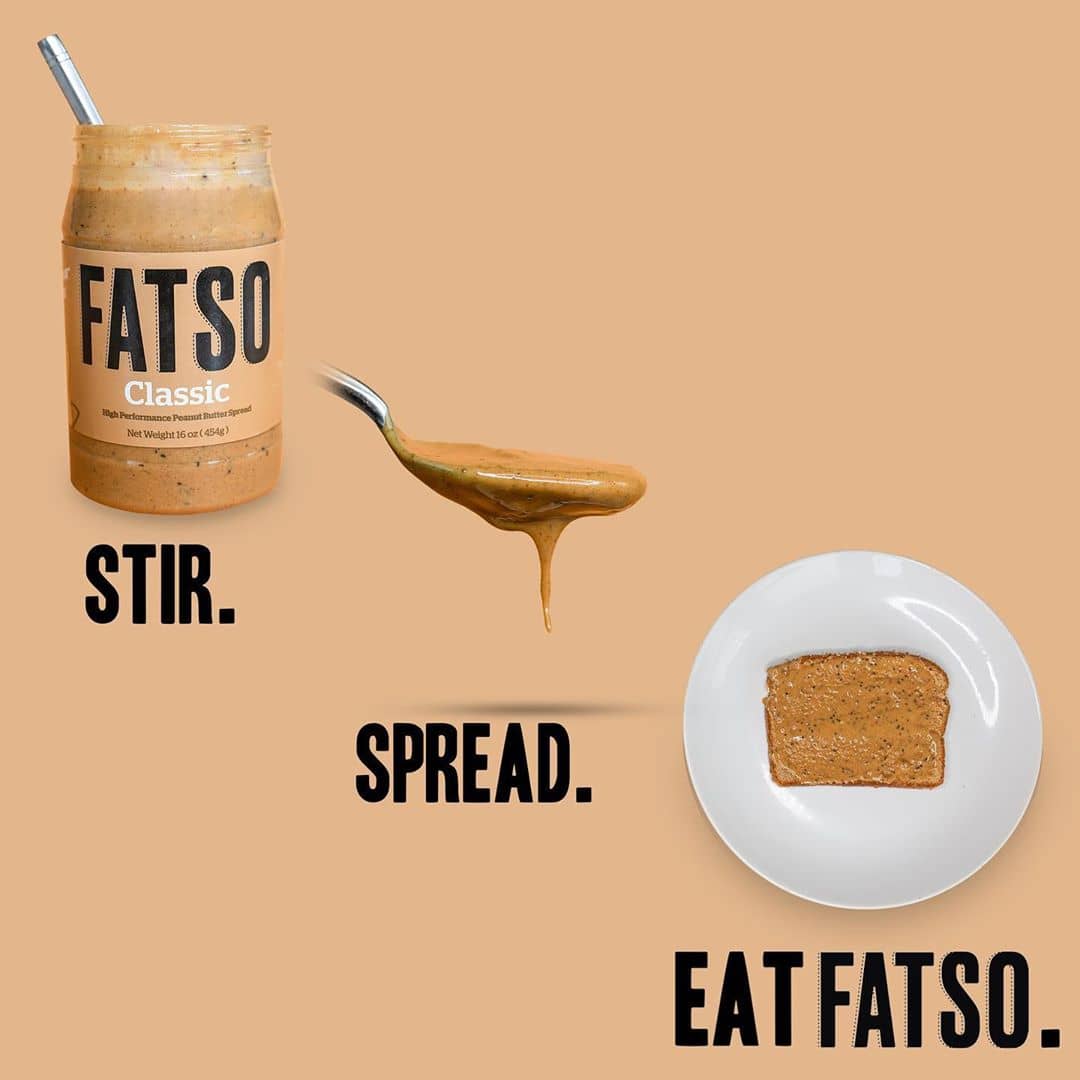 We also use MCT oil (medium chain triglycerides) from coconuts. It's an ultra-clean fat that is great for cognitive performance and one of the only fats that can penetrate the blood-brain barrier. A lot of people thought they were getting better fats and nutrition from pricey almond and cashew butters but peanuts are great too! Full of protein, antioxidants and minerals.
I wanted to capitalize on the nutrient-dense and cost-effective peanut, add in clean plant-based superfats and then price it in a way that directly competes with expensive specialty nut butters.
Better nutrition that more people can afford.
What's the most common way of using Fatso? What was the weirdest or interesting way you've seen someone use it?
[Jill]: Straight out of the jar! Just a spoon, best eaten at 2am over your sink, in my opinion.
The weirdest way I've seen it used is probably by our amazing keto customers – they put it on ANYTHING. Like over eggs or chicken, on broccoli – literally, anything.
But I love seeing people use it in savory dishes. It makes a great pad thai sauce or can be used in salad dressings. In fact, one of Victoria's newest restaurants, Bear and Joey, features Fatso Classic in one of their salads.
What's your favourite way of using Fatso?
[Jill]: Fatso Fortified Coffee! It's the best – just take your coffee, pour it in a blender, add a bunch of Fatso (any of the flavours -I add a heaping tablespoon), and blend it up! It comes out with a cappuccino-like froth on top. Super rich – I have it every morning for breakfast.
I have been doing keto to get into the minds of my best customers, so I go very extra by adding in some straight 33% cream (whipped cream strength).
Its BONKERS. Do it. Do it, now.
Starting a food business is no easy walk in the park. Do you have any memorable or "I can't believe this happened" stories from your first year of business?
[Jill]: Oh yes. My first batch of inventory from my first co-packer landed on my doorstep – all 3000lbs of it -and the recipe was wrong.
I was told that I had to trust them, that they knew what they were doing, that I didn't have to worry, etc. After some very heated exchanges I finally got them to remake it, but it was a really bad relationship for that point on.
Don't take ANYONE'S word for it. Do your research, vet everyone, and make sure you can be involved every step of the way. That was a hard lesson but a valuable one.
Over the course of COVID, Fatso has been a part in giving back to communities in need. How important is philanthropic initiatives for you and your company?
[Jill]: It is foundational. I have a firm belief that if you have a platform you have the responsibility to use it responsibly and to push important social causes forward.
When I founded Fatso, I made a promise to myself that if I ever made money in the peanut butter game, I would use it to give back. I also decided that we weren't going to be philanthropic generalists. We were going to find the most underserved, stigmatized causes and throw our weight behind them.
As such, we have worked extensively with sex worker rights organizations, on LGBTQ issue – namely trans rights, with Indigenous and Black rights (before the movement we know today), and in the harm reduction community.
Not only can we provide funding this way, we can also provide credibility and reputational support.
Lastly, to those who wouldn't think about having a jar of peanut butter in their kitchen, what would you say to have them consider giving Fatso a try?
[Jill]: Listen, I have made converts out of people who swear they hate peanut butter.
Fatso is the perfect nut butter: super nutrient dense, intensely delicious, not too pricey, and no sugar and no palm oil – ever!
---
For more info and where to get your very own jar of Fatso, head over to their website and follow along Jill's journey on Fatso Instagram.
Local Noms is all about spotlighting and introducing local B.C. food brands that are outstanding and worthwhile to try. Know a local food brand that should be featured? Contact us and let us know!