Sea to Sky Highway is an awe-inspiring driveway from Vancouver to Whistler. Stretching for 160 kilometers, this two-lane scenic route takes you across the Pacific Ocean and rugged mountain peaks.
Along the way, you will immerse in the spectacular scenery of snow-capped mountains dotted with thriving rainforests by the turquoise lakes and rivers.
Ready to complete this trip as a first-timer?
Read on and reveal our ultimate travel guide to rock the Sea to Sky Highway in your own way!
This article contains affiliate links where we may get a small commission if you click on the link and purchase. No extra cost is added to you.
Sea to Sky Highway in a Nutshell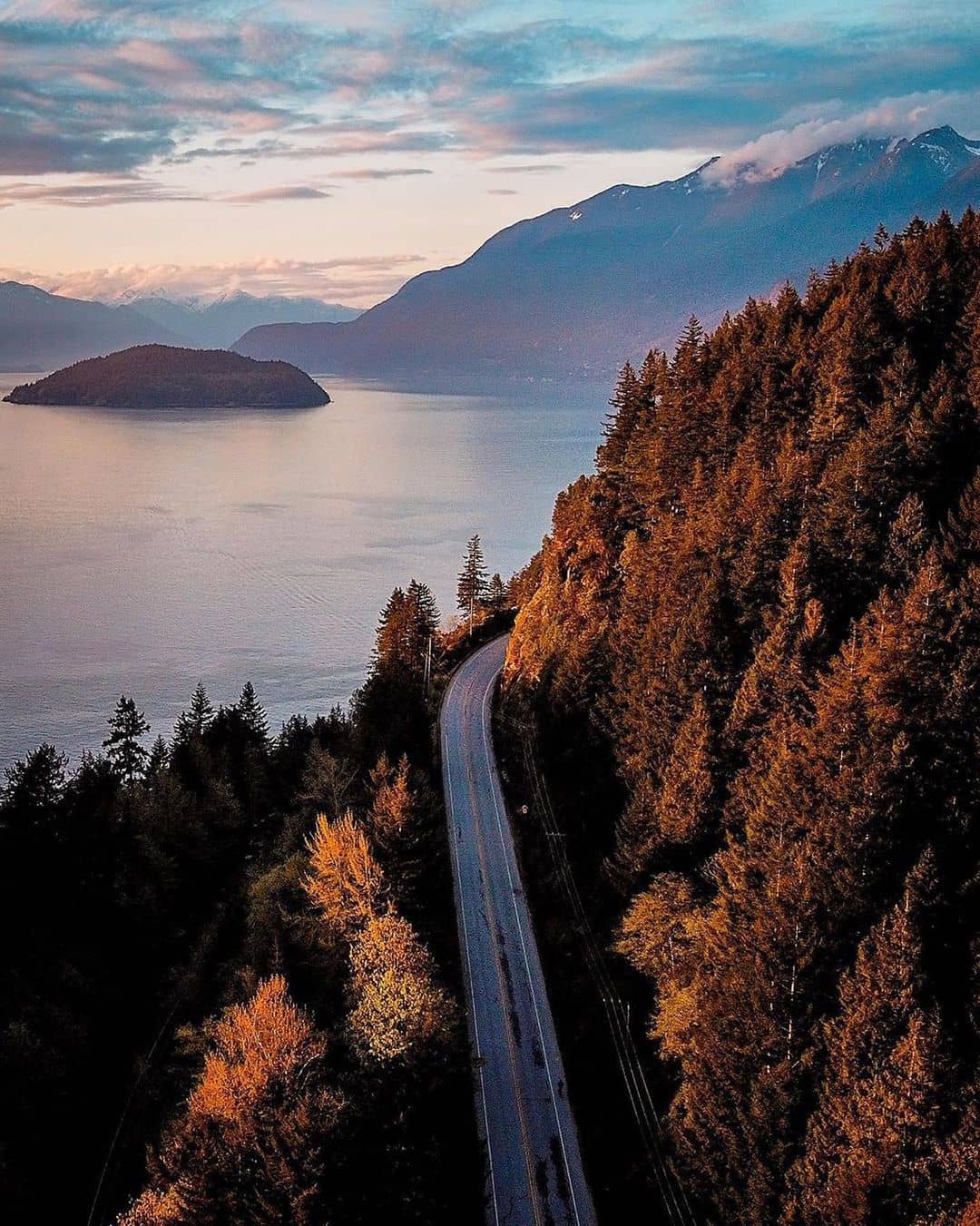 Dubbed as Highway 99, Sea to Sky Highway is everything you've ever imagined about an epic road trip. Everything you may have seen on the screen is now turning into reality. This cliff-hugging highway starts from West Vancouver, runs along the ocean fjord of Howe Sound, leads you to the gorgeous mountains of Whistler before ending at Lillooet.
The entire highway stretches for 160 kilometers and is peppered with a range of scenic stop-overs. We're talking about viewpoints, waterfalls, hikes, swimming, museums, and picnic spots.
Thanks to its stunning scenery blessed with so many recreational possibilities, the Sea to Sky Highway becomes an inspirational drive for globetrotters planning a weekend getaway from Vancouver to Whistler.
What Is There to Do on the Sea to Sky Highway?
Tantalus Range Lookout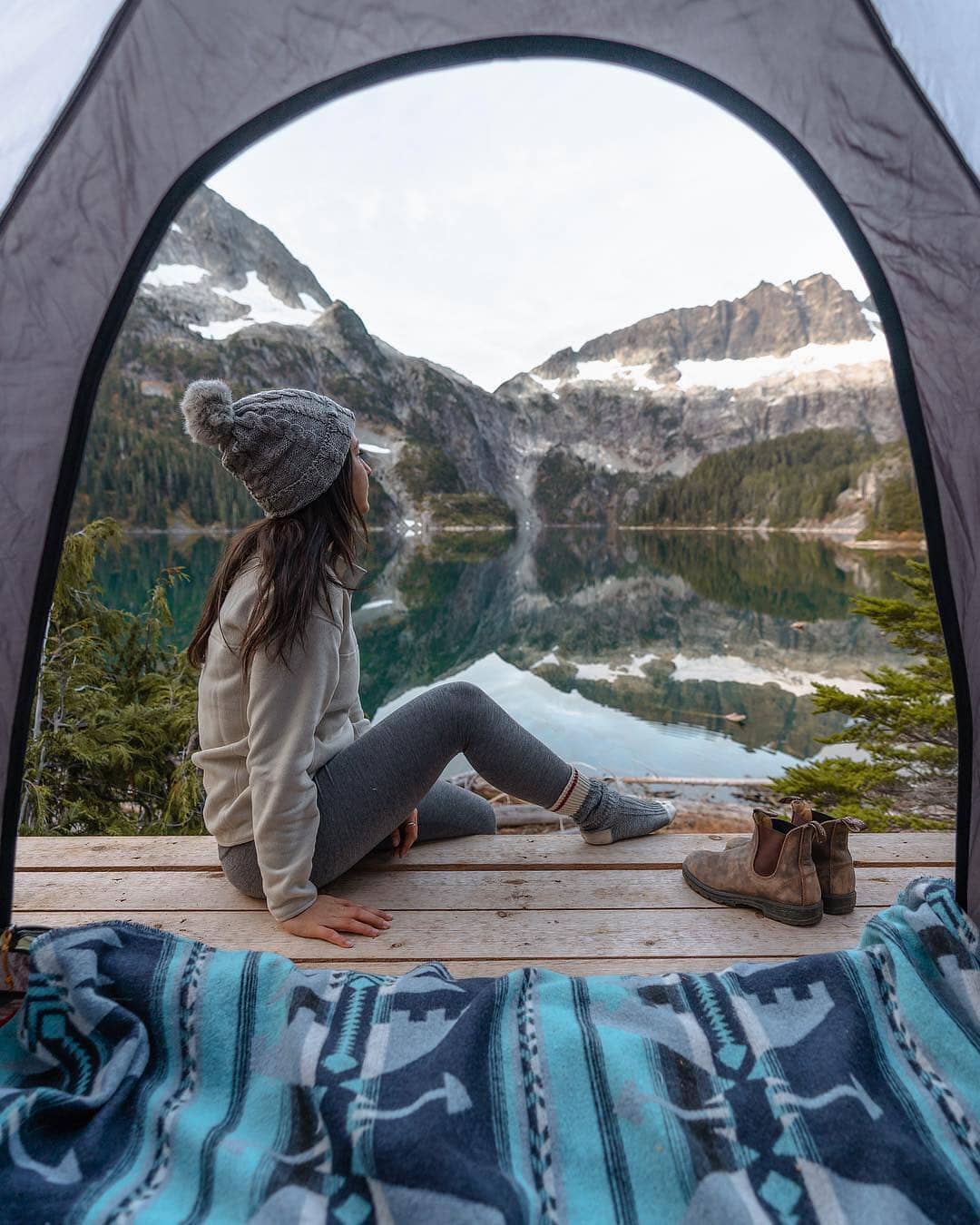 Tantalus Range is a dramatic chain of rugged mountains and white glaciers sprinkled with sun glitters. The peak of the range is Mt. Tantalus. It reaches 2603 meters by the bank of the Squamish River. The lookout can be instantly noticed as you're driving northbound, which offers a tantalizing view over the sunset valley and snow-capped mountain in winter.
Words never do enough justice but one thing you know for sure is that it provides the flair of Hollywood motion picture-like landscape that cannot be found elsewhere. The Tantalus Range sits in a quiet solitude and when the air is crisp, you will understand why climbers, filmmakers, and photographers put this place on the top of their bucket list!
Cypress Mountain Lookout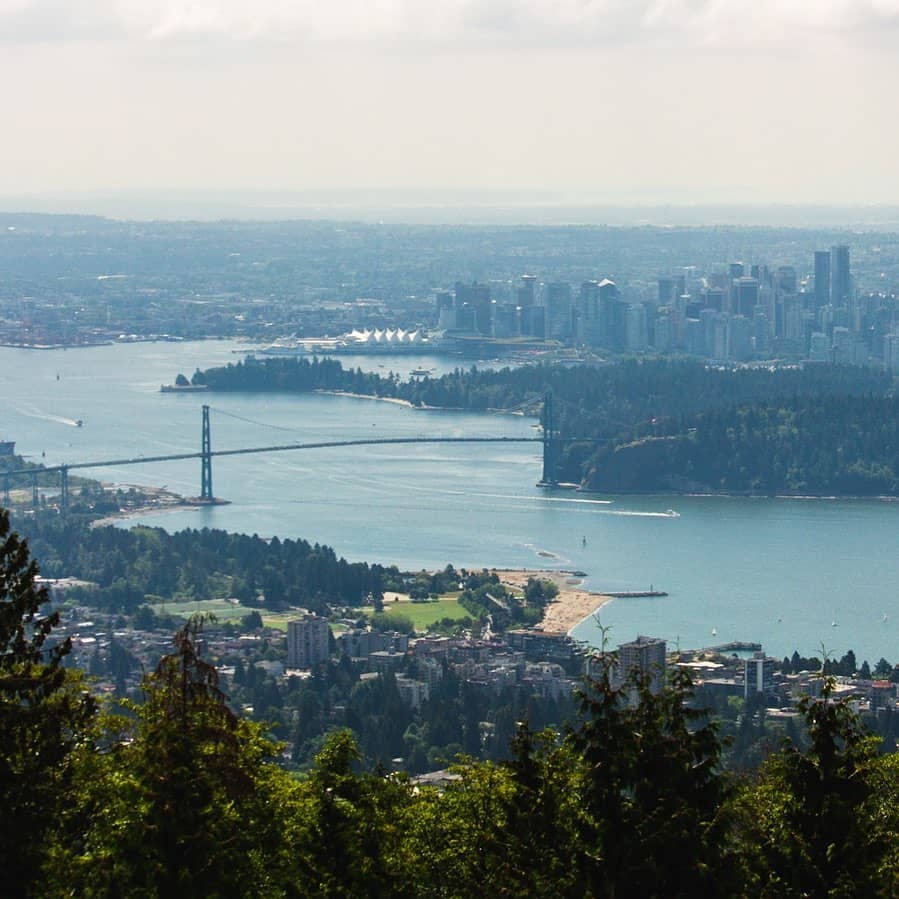 Located in West Vancouver, Cypress Mountain Lookout is definitely worth checking out. This is one of the first stops after you depart from Vancouver for 25 minutes to move on further deep into Highway 99. Treat it as a beautiful farewell to Vancouver when you take in a gorgeous bird's eye views over the city before heading back on the road. On a crisp clear day, you can even see Mt. Baker looming from the distant horizon.
Nairn Falls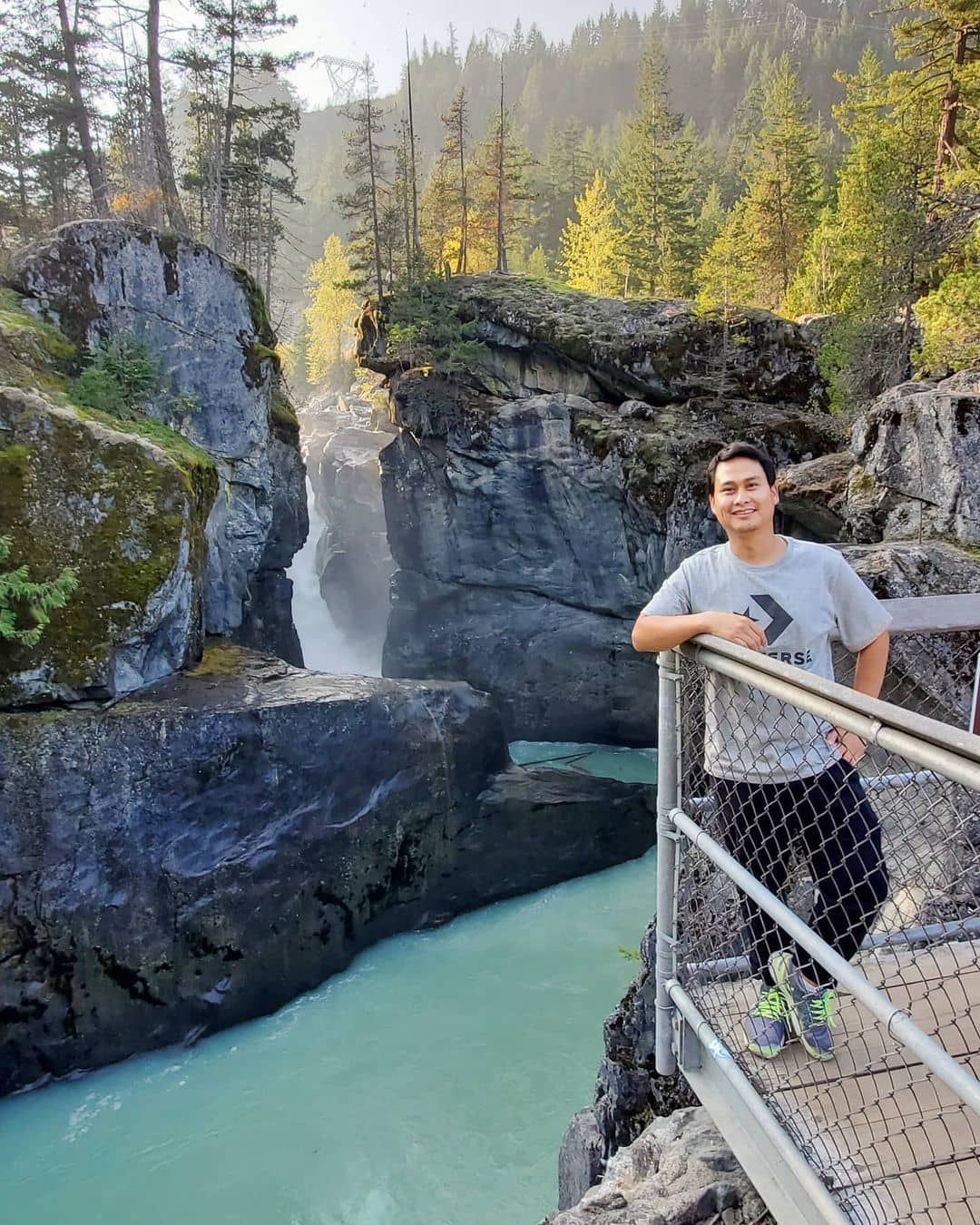 Nestled in the heart of Nairn Falls Provincial Park, this idyllic waterfall keeps you hooked with a handful of outdoor activities fringed by a thick forest. The best part about the area is hiking the 2.4-kilometer round-trip trail running along a sheer rock canyon channel. There are multiple campsites where you can take a dip in the water or throw a picnic party on the sun-kissed beach. Craving for more than just a hike? Make your way to the backend of the main trail where a fenced spot is installed for a safe view over the falls.
Shannon Falls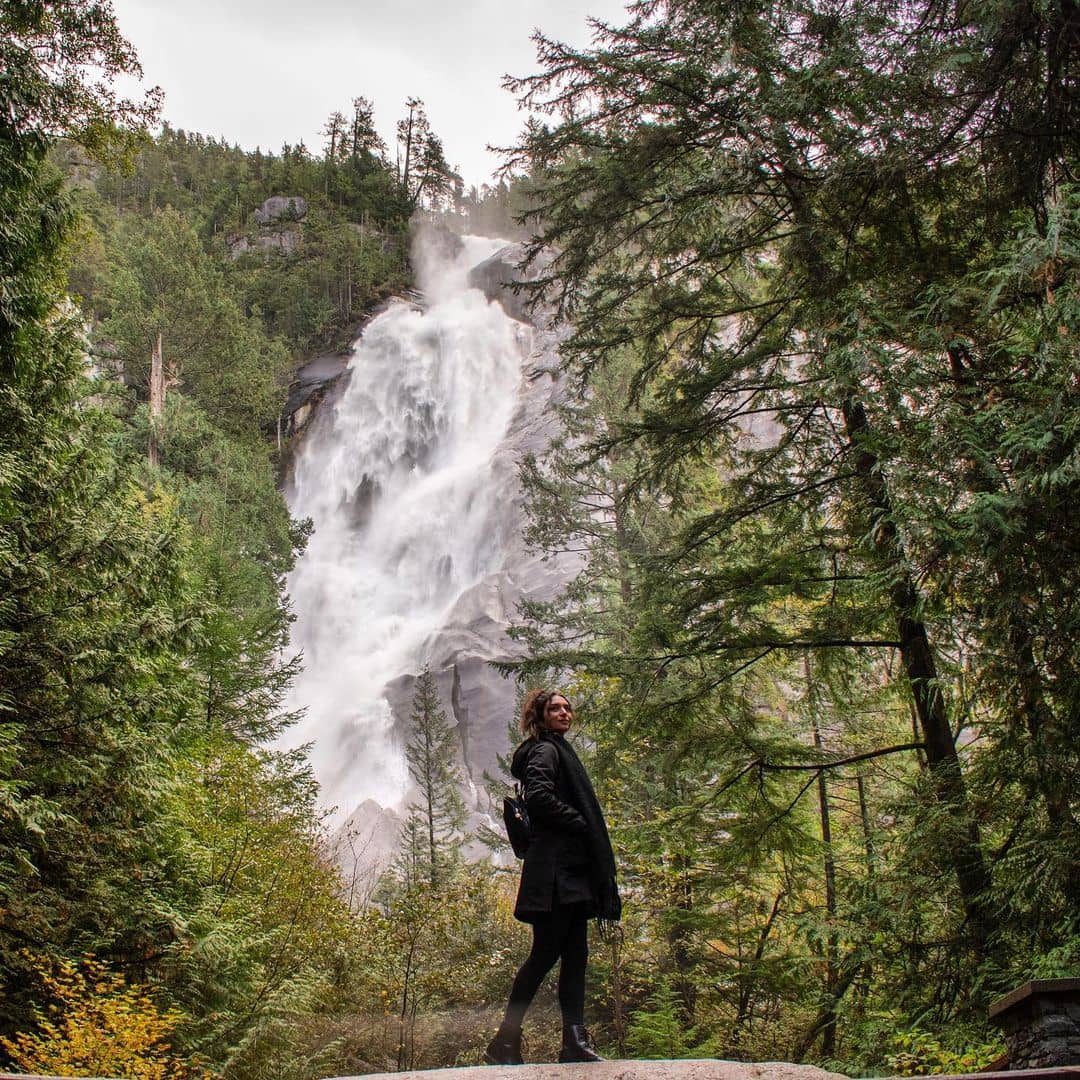 The third-highest waterfall in British Columbia is not famous for nothing. Perched amid the thriving trees of Shannon Falls Provincial Park just south of Squamish, these roaring cascades take root from the alpine massif below Sky Pilot Mountain, plunge 335 meters down over granite cliffs before crashing into a valley where their base meets the hikes.
Stroll along the hikes and meander under the shade of old-growth trees while taking in some scenic views along the way. On a hot sunny day, the waterfall becomes such a big hit with its graceful beauty expressed through the crisp, refreshing water. Save the best for last as you wade into the creek below the waterfall where the stunning view is waiting to blow your mind.
Porteau Cove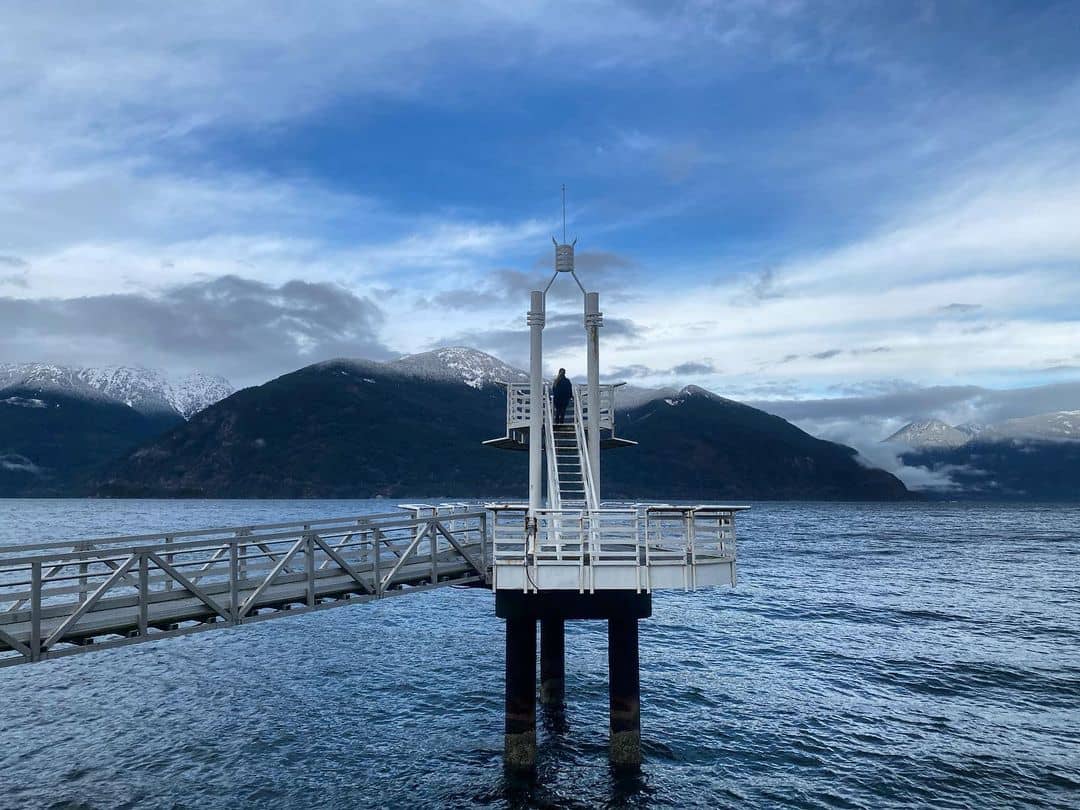 Nestled on the east shore of Howe Sound, Porteau Cove can be reached after a 38-kilometer drive to the north of Vancouver. Porteau Cove is part of the Porteau Cove Park covering 50 hectares of footprint.
It attracts a great number of scuba divers driving the highway with a string of artificial reefs and two sunken vessels. Call it an epitome of British Columbia offering an awe-inspiring view of the inlet with its peaceful scenery and interesting history.
Peppered with a handful of outdoor activities and water sports, Porteau Cove is one fine gem of the place and it has something for everyone. Biking, hiking, rock climbing, camping, and stargazing are some of the biggest hits to be named.
Sea to Sky Gondola
Located just two kilometers south of Squamish, the Sea to Sky Gondola takes you up in the air where the whole vista of Howe Sound and Squamish Valley is fully unveiled in front of your bare eyes.
Hitting up with the Sea to Sky Gondola is totally worth a half-day trip. Not only can you enjoy the gondola ride up but also have a chance to conquer the trails, walk the suspension bridge to soak in the views before resting your tired bones at a cafeteria.
After hovering in the air before you reach the top, drop by the Summit Lodge Viewing Deck to embrace the mesmerizing views over the deep blue sea of Howe Sound sprinkled with sun glitters.
Squamish
It goes without saying that Squamish is an incredible add-in to your epic ride! The downtown core is only five minutes from the main Squamish intersection on the Sea to Sky Highway. The vibrant lifestyle of downtown Squamish will get you hooked instantly with a mecca of cafes, boutique retailers, native art shops, and eating establishments.
Meanwhile, its exposures also reach out to the shoreline, mountain peaks, rainforest and glaciers, making it a promised land for adventurous souls. Known as the outdoor recreation capital of Canada, Squamish is the cream of the crop if you're into mountain biking, hiking, rafting, or any type of outdoor possibilities springing into your mind.
Alice Lake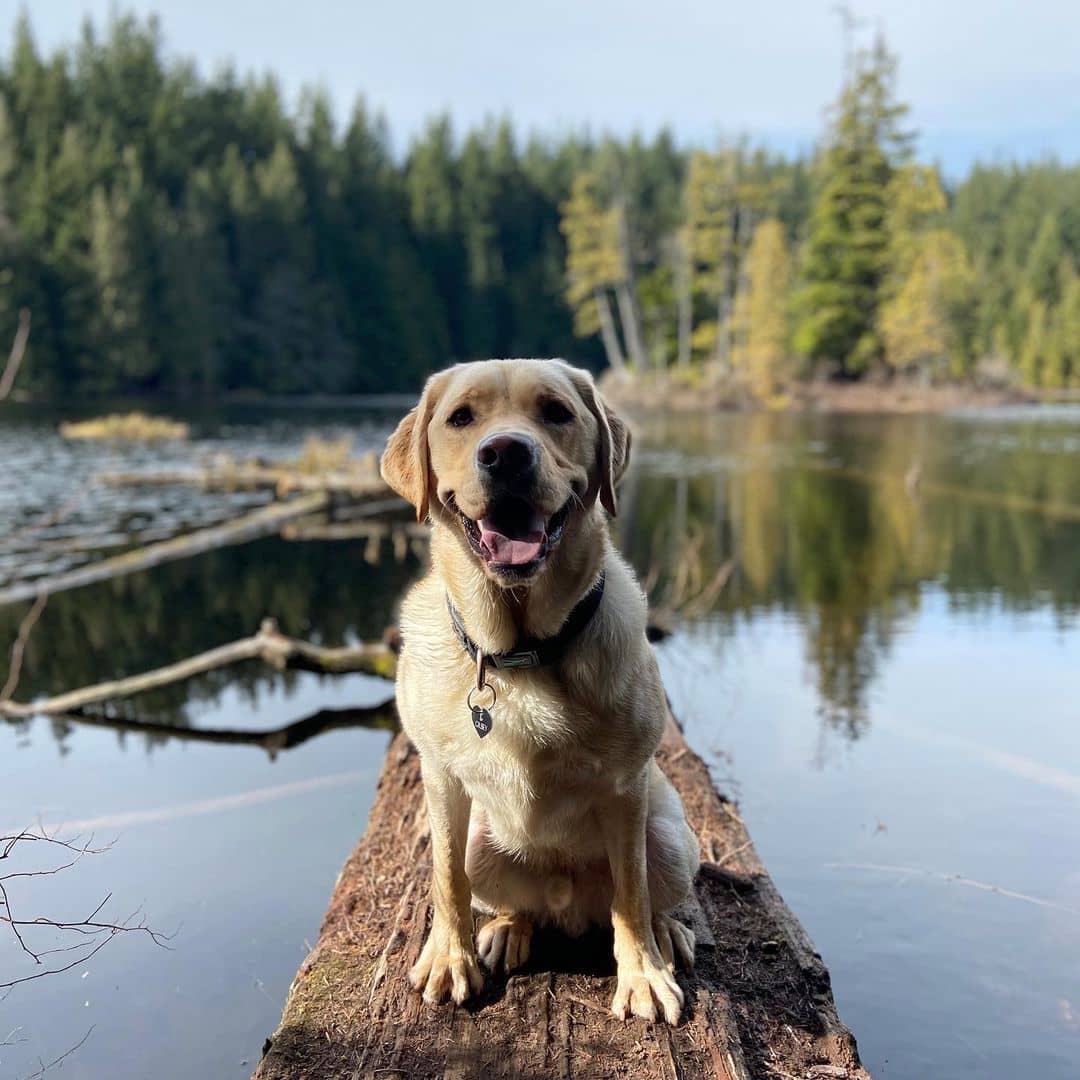 Emerging as a paradise for campers and picnickers, Alice Lake is a hot spot to drop over and reconnect with nature. The mirror-like water of Alice Lake reflects the lush greenery covering the other side of the bank, forming a serene landscape to soak in while you're kicking back along the meadow on this side of the lake. If you wish to game up your break when driving to Whistler, feel free to splash around in the water, paddleboard, or kayak around the lake.
Whistler Village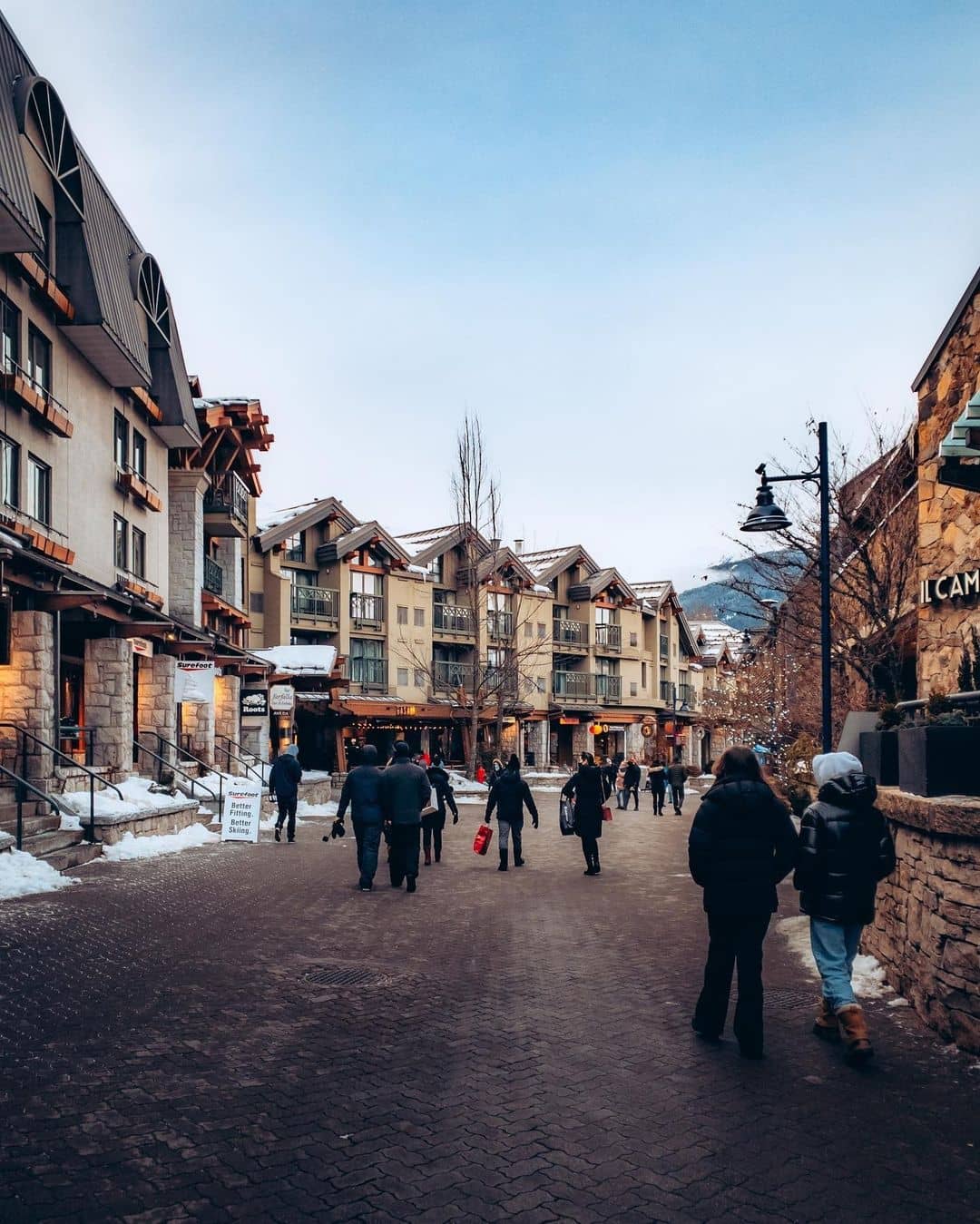 The ski resort is the best identity of Whistler that may take the world by storm but its authenticity can only be found at this pedestrian village. The village is a purpose-built pedestrian town illuminated with Christmas lights during winter and a sunny, crisp air in summer. Meander through the pedestrian street and stop by your favorite café, boutiques, and ski shops.
Either it's window shopping, people watching from a café's patio, or a long walk down the street, visiting Whistler Village is a unique experience that you can never forget. 
Best Time to Drive the Sea to Sky Highway
The Sea to Sky Highway is a year-round drive but to enjoy the experience to your heart's content, save it for summertime between June to September. This is when the snow has melted, leaving easy access to the hikes.
Looking for a better month to dodge the crowds? Get on the drive during September when the crowds have finally thinned out and the weather is still in its pleasant state. The peak season lasts between July and August but midweek makes it perfect to avoid the crowds.
What to Know Before Driving the Highway?
Equip with Winter Tires between October 1st to March 31st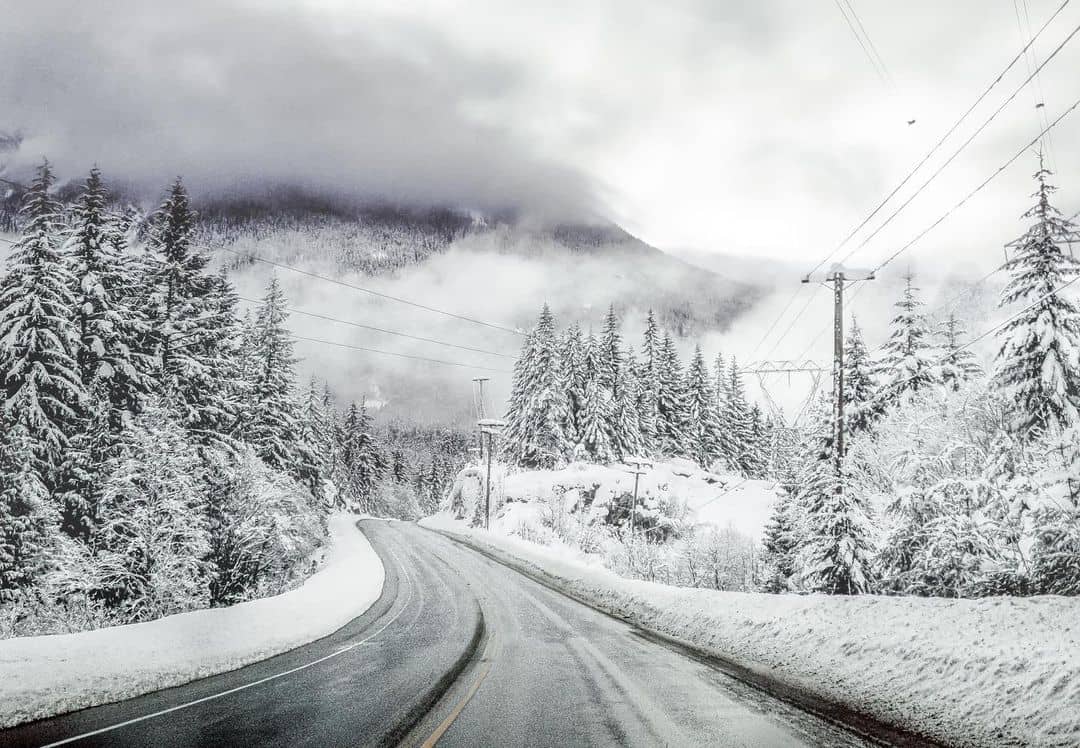 Scenic as it is but weather is an indispensable matter you need to consider before embarking on this epic drive. Rain, snow, and even wildlife are some of the common things to interfere with your enjoyment.
And when it comes to snow, note that winter tires are required on the Highway every year from October 1st to March 31st to ensure your safety in winter conditions. If you're an out-of-towner, keep in mind that conditions along the highway are unpredictable which come along with rapid changes in elevation and weather.
Sunshine may put a smile on your face at the start of the drive but slush, ice, and snowfalls are much likely to appear later in the drive. For more information regarding winter tire specifications, check out the latest updates by the Ministry of Transport and Infrastructure of British Columbia right here!
Drive on Your Own Wheels
The whole point of driving the Sea to Sky Highway is to take in the scenic views, discover as much as possible and be your own leader. This has a lot to do with mapping out your own itinerary, setting your own pace without involving in any hassle. Therefore, the best way to do so is to arrange your own transport! We highly recommend a rental car or campervan so you can get on your wheels and beat the tracks to your own liking.
Visit a Tourist Information Center Where Needed
A tourist information center always comes in handy for first-time travelers who wish to make the most out of their drive. The staff saves you a ton of time from doing your own research regarding what to do or where to eat. Whenever you have a chance, pop into any tourist information center along the way to keep up with the latest news about the hikes, sights to see, campsites, and even snowy conditions.
Places to Stay in Squamish
Where to Eat Along the Highway?
1. Fergies Cafe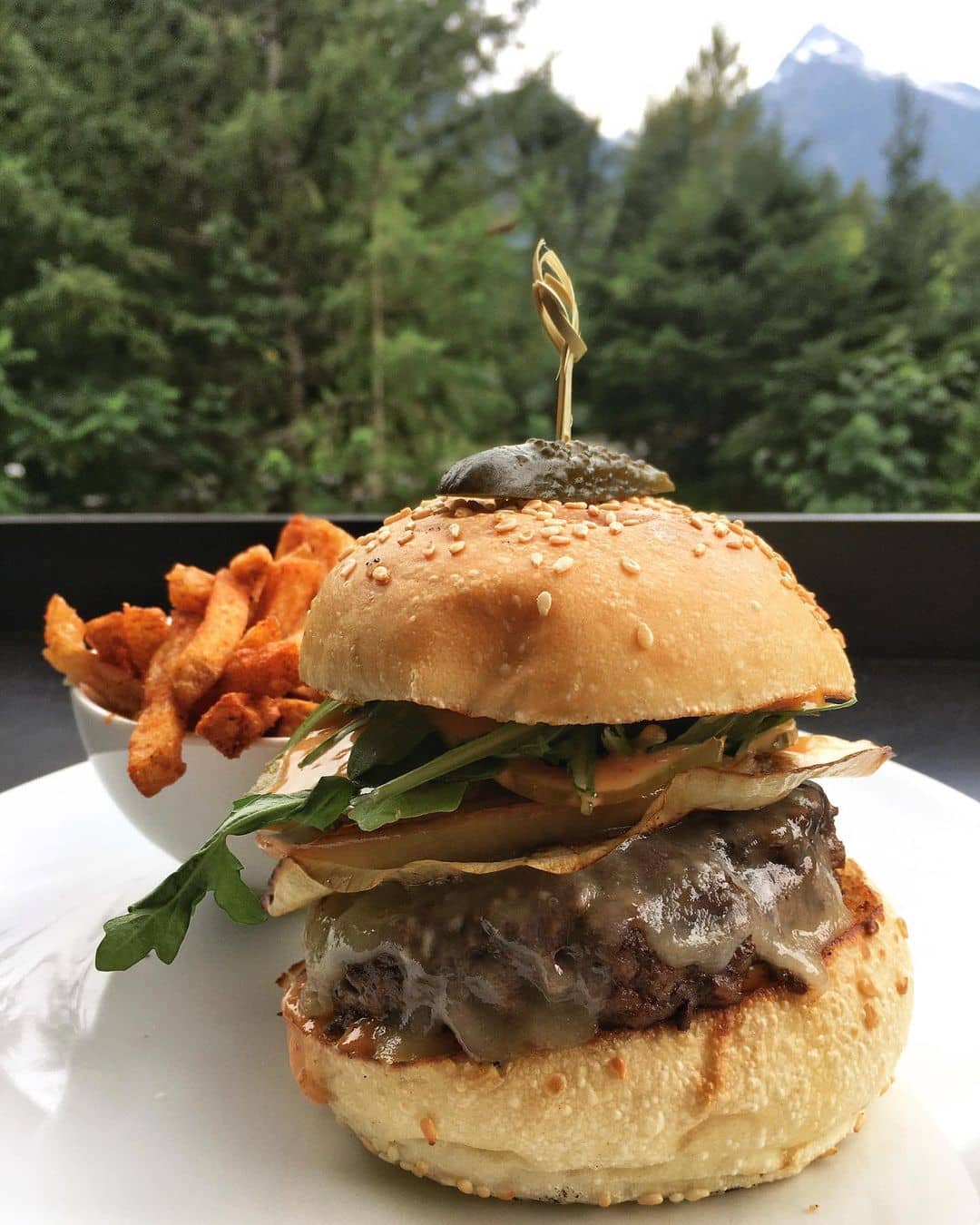 If you're looking for some stellar brunch food along the way to Whistler, Fergie's Cafe in Squamish is the spot. After an unfortunate fire that wiped out the business, owners Jake and Jessica rebuilt everything into a modern resort/brunch restaurant, which has become a popular spot and regular stop amongst locals and visitors.
You'll find delicious egg bennies and drinks that will surely make you and your companions sing in happiness. Considering that they are tucked inside the roads, you'll be enjoying your stay (and bite) surrounded by nature and the view of the mountains!
Address: 70002 Squamish Valley Rd, Brackendale, BC V0N 1H0
Website | Instagram | Facebook
2. Zephyr Café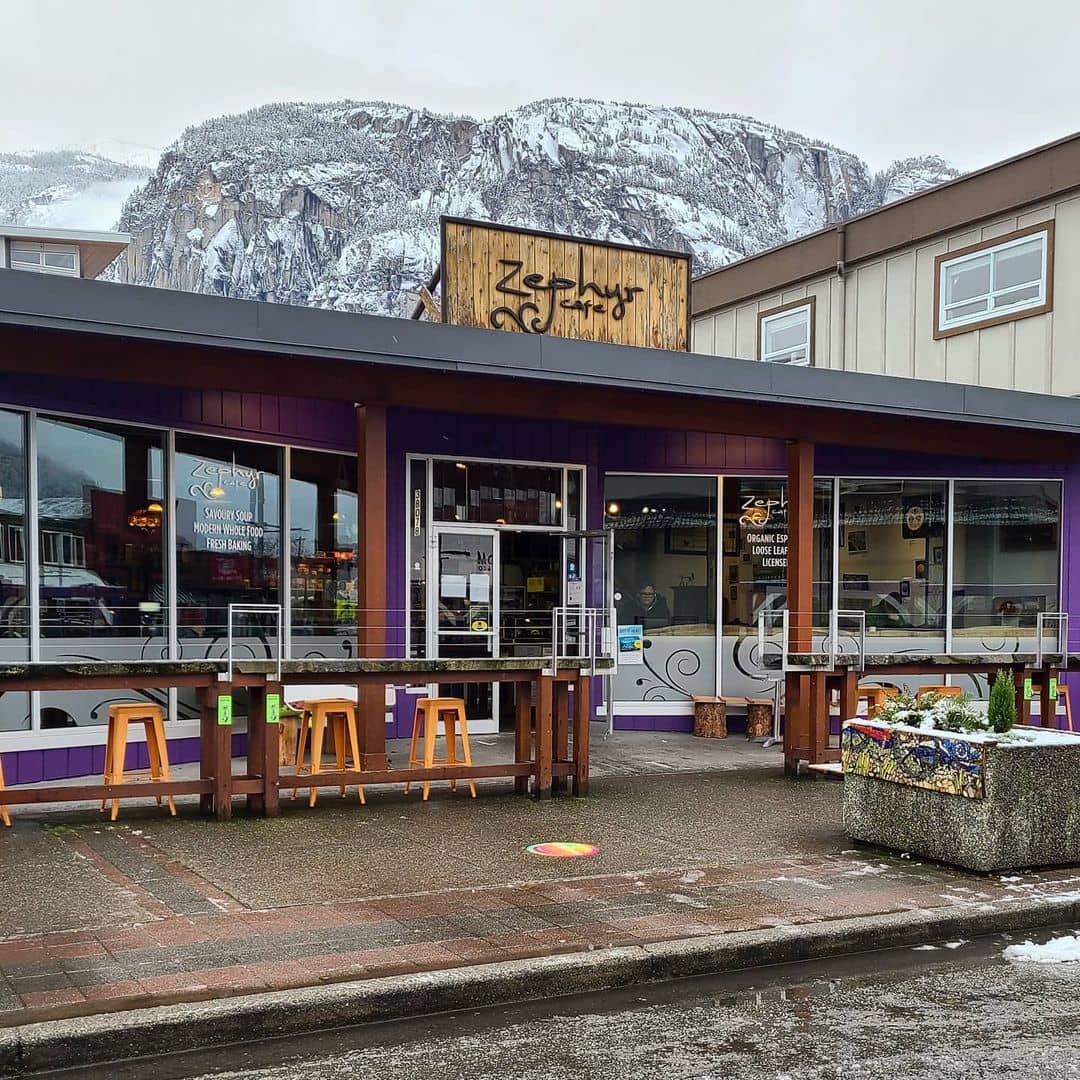 Zephyr Café is a fine gem of Squamish for a quick bite to charge up. Treat yourself to a serving of black bean burrito and chicken while watching people from the airy outdoor seating. This waterfront café brings you an eclectic dining experience featuring an extensive menu of vegan, raw, and gluten-free light bites.
Address: 38078 Cleveland Ave, Squamish, BC V8B 0J2.
Website | Facebook | Instagram 
3. Whistler Brewing Company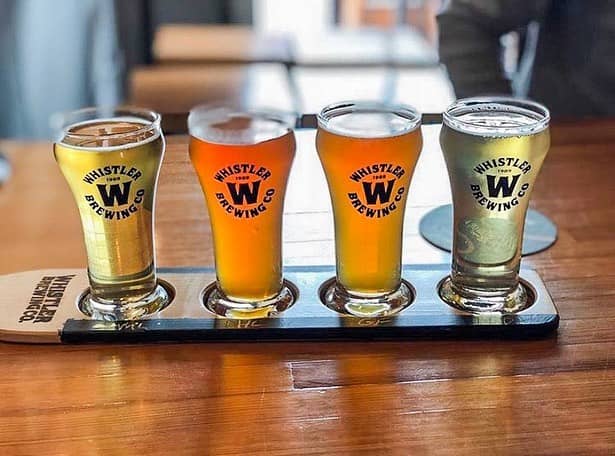 Pop into this sun-filled brewery and give yourself a local treat of authentic craft beers including award-winning ales. Beautiful tacos make a desirable pairing with the beers. Mouthwatering as the beers can be, you can't forget to sample on the cider range and indulge in these lovely, funky notes.
Address: 1045 Millar Creek Rd Function Junction, Whistler, British Columbia V0N 1B1.
Website | Facebook | Instagram
4. Green Moustache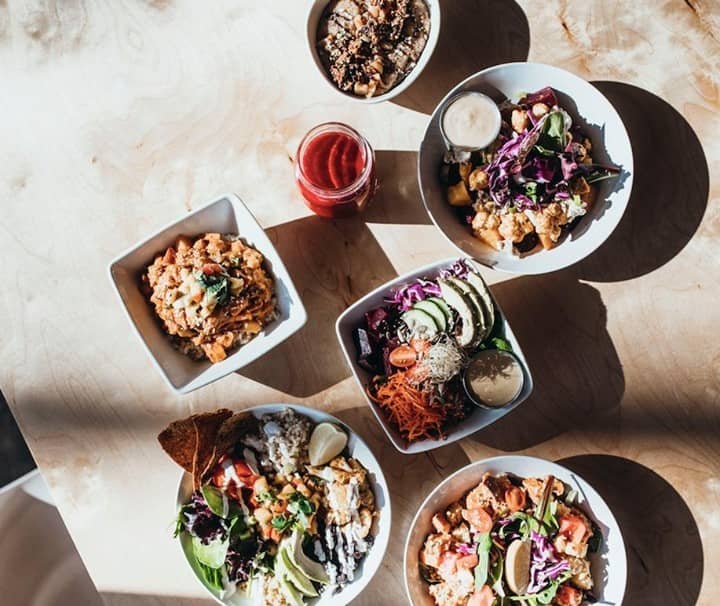 Excellent, healthy, and delightful, Green Moustache offers a range of organic, plant-based, and gluten-free dishes to wake up your taste bud. Fuel up with a Buddha Bowl, fill your tummy with a banana buckwheat pancake before washing down with a Zappa smoothie. Green Moustache will fit the bill if you're after a healthy diet in a quiet, relaxing atmosphere before or after the highway drive.
Address:
-122-4340 Lorimer Road, Whistler, BC, V8E 1A5
-2-1209 Alpha Lake Road, Whistler, BC, V8E 0H8
Website | Facebook | Instagram 
5. Howe Sound Inn & Brewing Company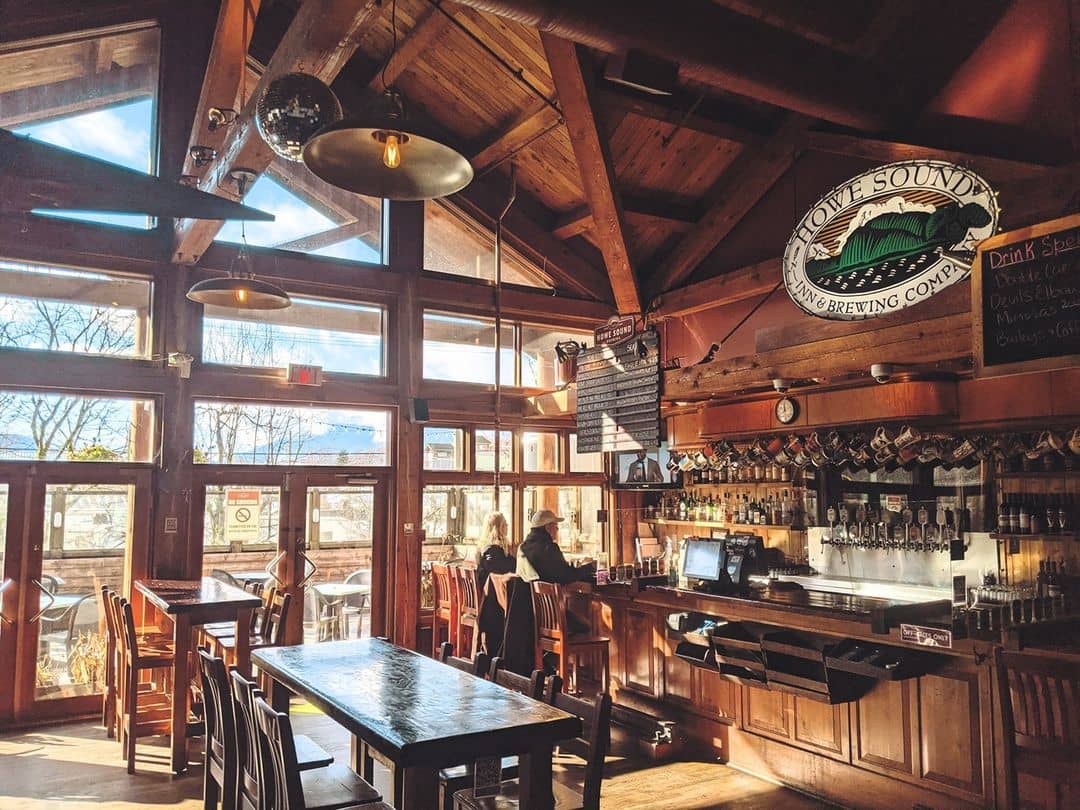 Loaded with great food and award-winning ales brewed on the premise, Howe Sound Inn & Brewing Company makes a great add-in to top your bucket list. Other than the excellent taps, a hearty serving of beef burger with fries will delight your taste bud.
Address: 37801 Cleveland Ave, Squamish, BC V8B 0A7.
Website | Facebook | Instagram
Ready to pack your bags and embark on this scenic drive? Make sure to round it off with this handy Whistler travel guide for an enjoyable getaway!