Completing my undergraduate in nutrition made me acutely aware of how much waste our society produces. For instance: Fruits that are "not pretty enough" to sell gets thrown away, majority of fast-food chains still use single-use plastic cutlery, and items that expired only a day ago are often disposed of. It is only through conscious effort, can we move towards reducing the harmful amount of waste that is produced. And with the plastic straw ban being enforced by the government starting in June, Vancouver is on the right track to becoming a more eco-friendly city.
I'm sure you can tell, Vancouverites love their bubble tea. This is evident from the influx of new bubble tea shops and oversea chains popping up around the city over the past few years. I'm sure you have also noticed the mountainous piles of plastic cups and straws overflowing from the garbage bins in each of the shops.
With the consumption and interest of bubble tea rising in Vancouver, the push by our government to ban plastic straws merely tackle part of the problem. Interestingly, various individuals have decided to take a shot to address this environmental concern. The Reusable Bubble Tea Cup started as an idea to reduce the use of single-use plastic cups and straws.
I had the opportunity to sit down with Carrie and Derek of Reusable Bubble Tea Cup to talk about their product and how it is reducing people's waste.
What is the Reusable BBT Cup?
[Carrie]: A cup you can use again and again for bubble tea! On the market, there are tumblers for skinny straws at Starbucks, Chapters and H&M. However, they don't fit the fatter bubble tea straw, and that's where our product comes in.
A lot of customers, including myself said they stopped drinking bubble tea because of how much garbage it produces for a 5 minute drink; but with our product, they have started drinking bubble tea again. Why deprive yourself? Everyone loves bubble tea.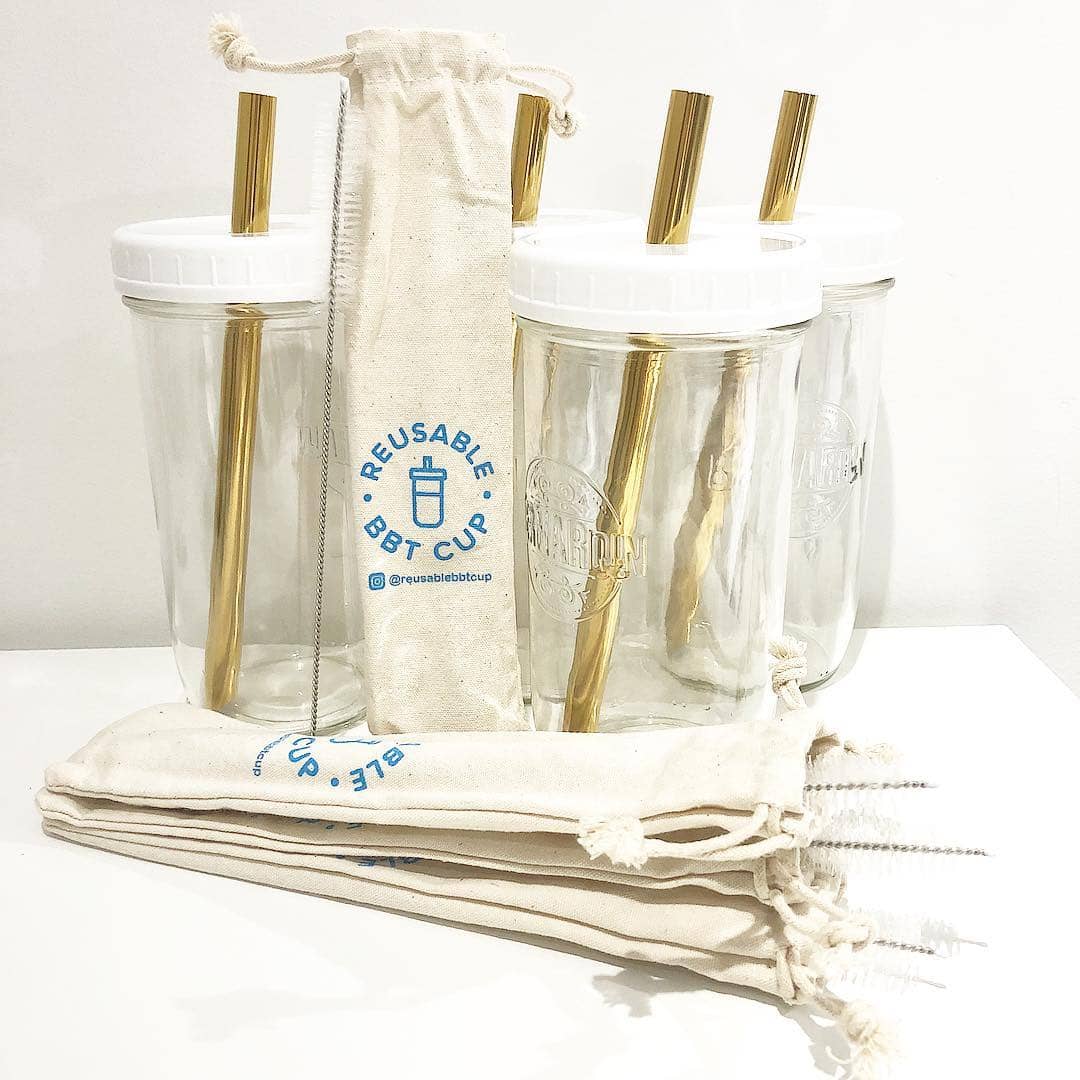 How did you come up with the idea of the Reusable BBT Cup?
[Carrie]: I initially started going to bubble tea shops with just our metal straw but we were having trouble using the straw because it doesn't pierce the film. At that point, the cup was still plastic and it was still disposable. Derek came up with the idea of making a tumbler and he came up with this.
[Derek]: You see mountains of plastic cups in the bins at bubble tea shops, and I thought how can we fix this?
We made a cup for ourselves and it turned out, everyone wanted one.
[Carrie]: We started selling Aug 1, 2018 and to date we have sold about 1400 cups so far. Through people hashtagging on social media, on average, people use their cups twice. So that's at least 2800 plastic cups saved, which is pretty good. Some people use their cups more, some people just got their cups this morning, so our numbers are growing.
What challenges did you face when creating the product?
[Carrie]: Finding a distributor. We really pride ourselves in not just offering solutions for people but also making sure we get our products from a good source. When we first started buying metal straws from Amazon, they came in a plastic wrap and also a bubble wrap. We realized we didn't want to consume plastic. We're helping our customers reduce plastic, so our company should also use less plastic.
Our current suppliers ship from China, and package their straws in craft paper, instead of plastic. It was the only supplier out of the dozens we contacted that did not use plastic. The shipment box is also minimal plastic, so we're really proud of that.
The rest of cup is shipped to us in paper cardboard and we also reuse the card to make notes for our customers.
How have Vancouverites responded to the Reusable BBT Cup?
[Derek]: We received lots of good feedback. We didn't realise this many people needed bubble tea cups.
[Carrie]: Since bubble tea is such an impulse buy, it was very surprising people were willing to carry their own cups. Based on customer feedback, it was like carrying a water bottle. It also appeals to foodies, since it is see-through.
Buns and Boba is stocking up on our cups and it has been flying off their shelves, which is great. We also have had interest from other stores, and we're working on finalizing the details.
Did you expect the amount of support you have gotten from Vancouverites?
[Carrie]: Not at all. When we first started, we had 3 cups to sell. I posted on a Facebook buy and sell group. Within 24 hours, we had 176 orders. I was like Derek you need to make more, everyone wants one apparently.
What makes your product different?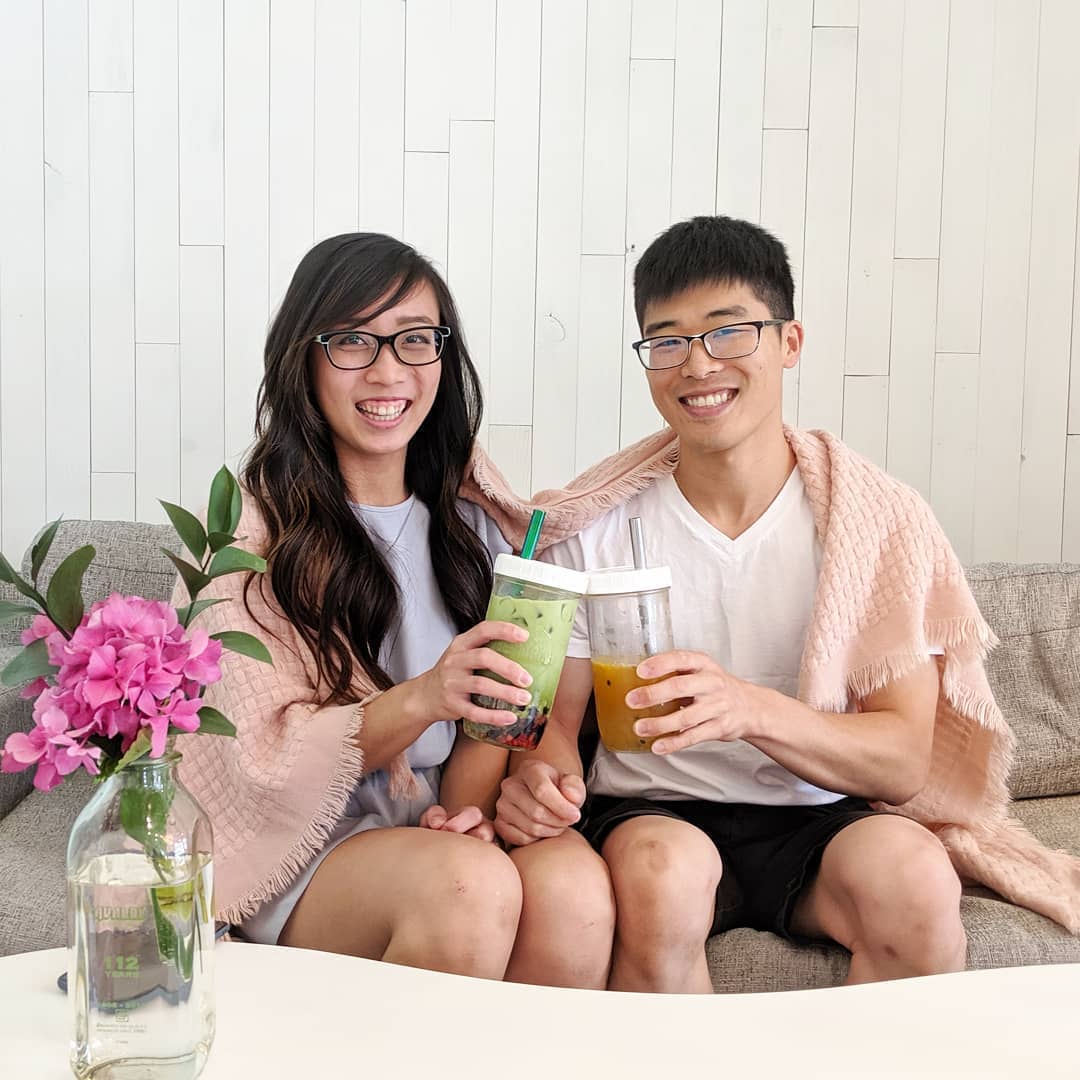 [Carrie]: It's really just the size of the straw and the fact it has a lid. Most tumblers you find today are made of skinny straws.
Who else do you work with? (Suppliers, the clubs that you collaborate with at SFU and UBC, any other potential partners)
[Carrie]: With SFU, it was a student marketing group that used our business as part of their project to practice their marketing skills on campus.
With UBC, a group of students ran a pop-up store once a month called Re-use It Market, and they stocked up our cups to sell. We are looking to reach more campuses in the future.
We really want to make it accessible for people. We want this cup to be available for people to buy and use.
A bunch of places offers discounts, for example, Buns and Boba offers 50 cents off if you bring your cup. Starbucks, Blenz and more. This is not limited to our mug, you can bring your own cup!
We're not looking to make a profit. We just want to help people make little steps towards sustainability.
How do I purchase a Reusable BBT Cup?
[Carrie]: We charge $30 for a 2 pack.
That comes with a straw and a cleaner. We want our customers to be able to buy everything from us in one go.
We mainly do cash on delivery. Meet up locations are on our Instagram page. E-transfer is also possible if people request. We're very flexible.
We do prefer to sell the whole set, but sometimes people do ask to buy the product separately.
We don't want people to buy more than they need. So if they just want the jar, we only sell the jar; if they just want the lid, they can buy only the lid.
What would you like to see next in terms of reducing waste? Eg. people bringing their own to go boxes
[Carrie]: The straw ban is coming up in June. It doesn't just end with straws. People often feel like Vancouver is attacking straws, but it's not just about the straws. It's more about what can we do to reduce waste, and straws are just an example of something that is easy to start with.
We're hoping people realize one little action can make a difference. We hope people realize they don't need that much plastic cling wrap, or styrofoam with their takeout, or plastic forks and spoons. Hopefully, people will start bringing their own forks and spoons.
We encourage all our customers to bring their own bag when they purchase from us.
Not everyone can do zero waste right away, it's more about showing people how easy it is, one step at a time.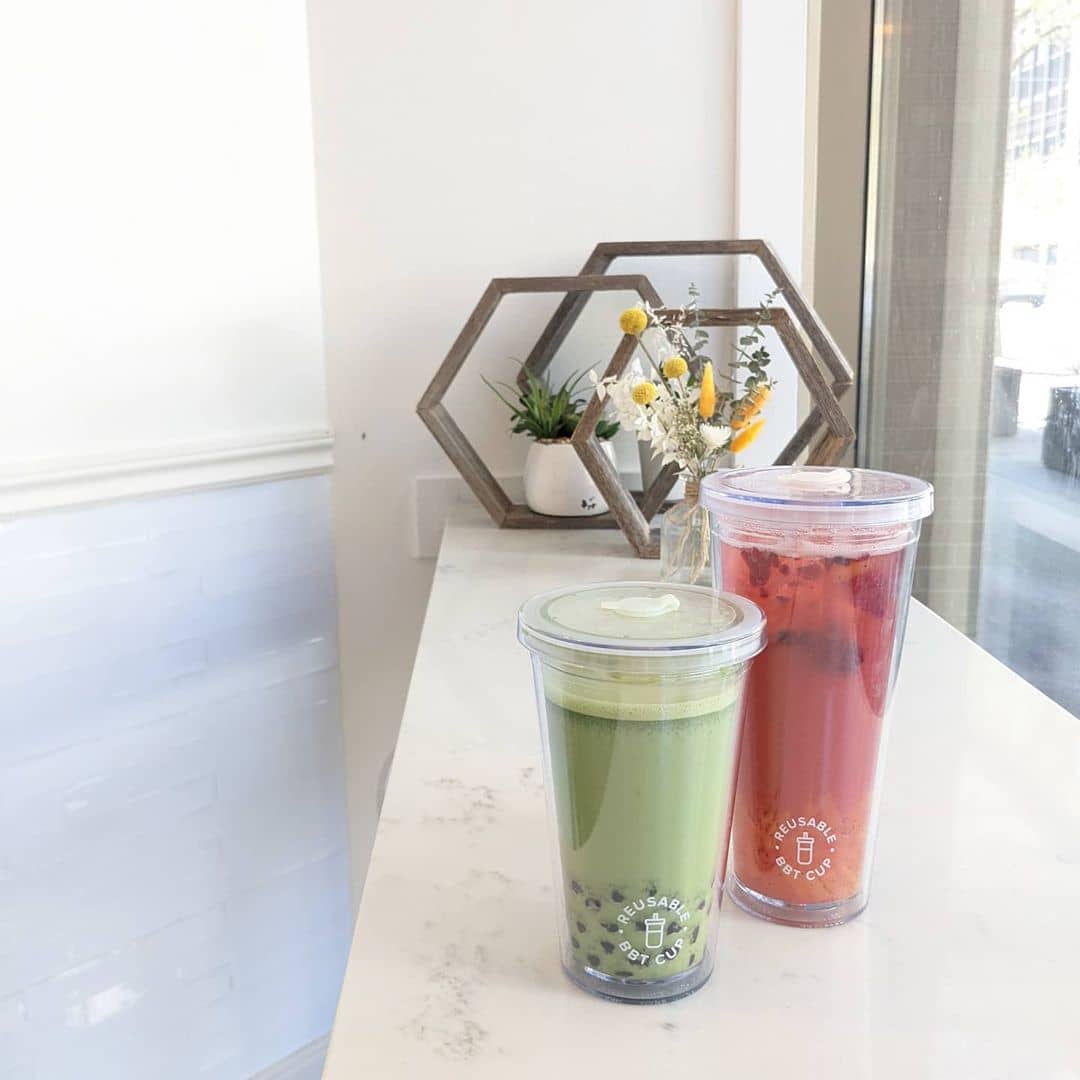 What's next for the Reusable BBT Cup?
[Carrie]: We want to stick with the same base product but we're hoping to bring in accessories. We're looking for a supplier that can do coloured straws, without plastic and ideas on how can we carry the straws – things that make everyday life easier.
We do work with local artists as well. One of our customers does glass etching. She was able to customize her cup by scribing her name on the glass and that was really cool! We want to support local artists, so we refer our customers to her page if they want to get their cups customized. It's really cool to see what other local talents there is and how everybody can make their own cup unique.
We're also looking to go into farmers' markets once we can keep up with demand.