What can be better than sinking your teeth into a delicious juicy burger on a beautiful Vancouver day? Nothing really comes close, and we all know it. Right?
It's totally true! For most people in the city looking for a well-loved fast-food option, their go-to is usually a big fat and classic burger that's well prepared and served hot off the grill (or pan) and tucked between a fresh bun. Sides and sauces too please!
There are a ton of restaurants that serve a mean burger all over Vancouver, but to make it simpler for you to find the perfect fit for your hungry belly, we've selected the top 10 places around the city for enjoying a great burger ? .
Give these spots a try!
*Noms Members are part of our exclusive paid membership. Only food spots we personally recommend are accepted as members. 
10.) Rice Burger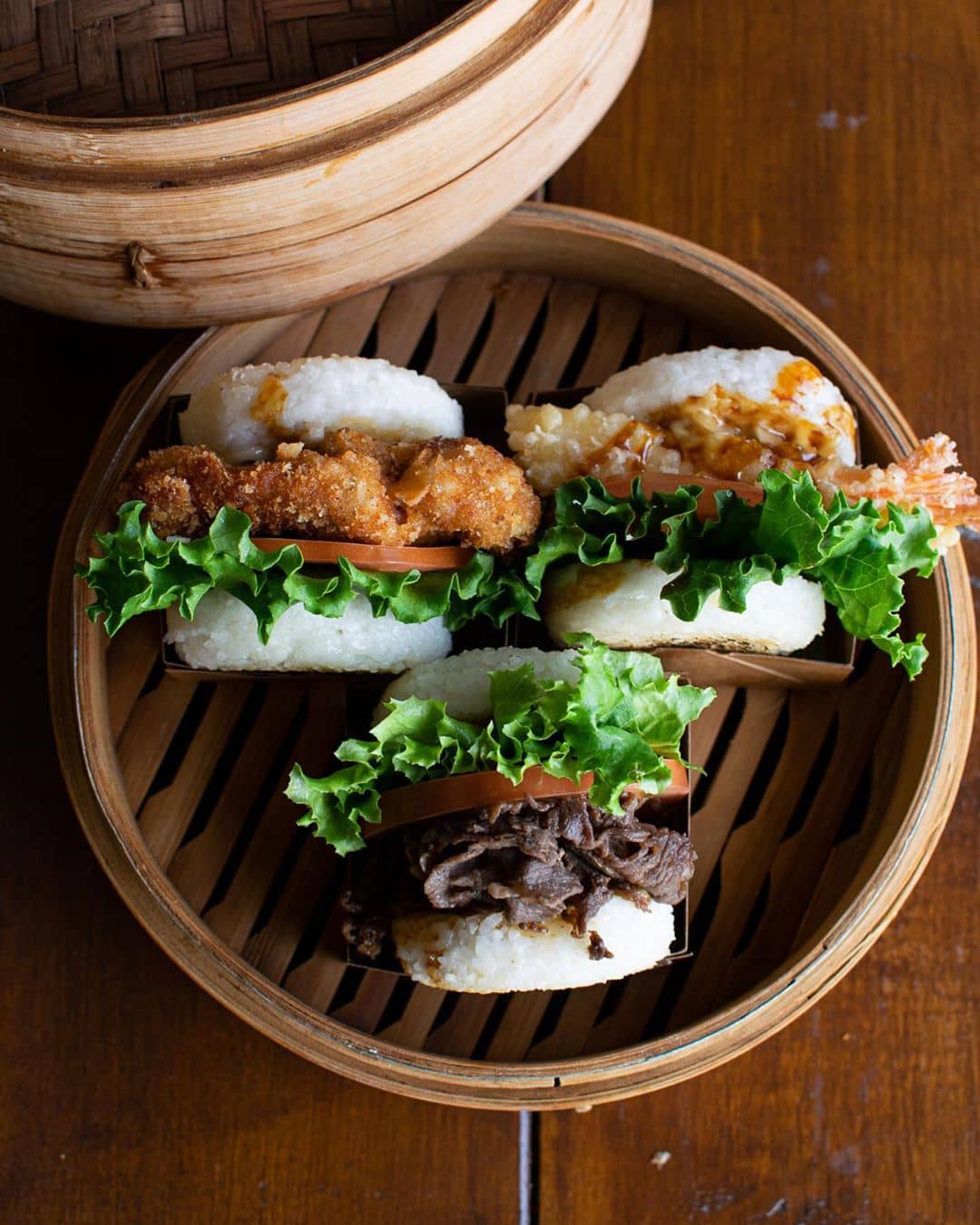 One of the most unique concepts in fast food culture comes with an authentic Japanese twist. Burgers in hand-pressed rice buns! The first of its kind originated in Japan, but soon took the global market by storm. Cofounders of The Rice Burger here in Vancouver, Austin and Jackson are dedicated to continuing the tradition and serving their customers the best of east-meets-west.
The menu is a delight, and you're going to have a blast deciding what to sample first. We recommend the Prawn Tempura Rice Burger, and the Chicken Katsu (the spicy version is the bomb!) and the Kimchi Fries are not to be missed.
Enjoy the sauces too. Our favorite is the Japanese Mayo. Yum!
What to order: Prawn Tempura Rice Burger, Chicken Katsu, Kimchi Fries
Location: 2630 Sasamat St. Vancouver, BC
Order Online: DoorDash | Uber Eats
Website | Instagram | Facebook
9.) Moderne Burger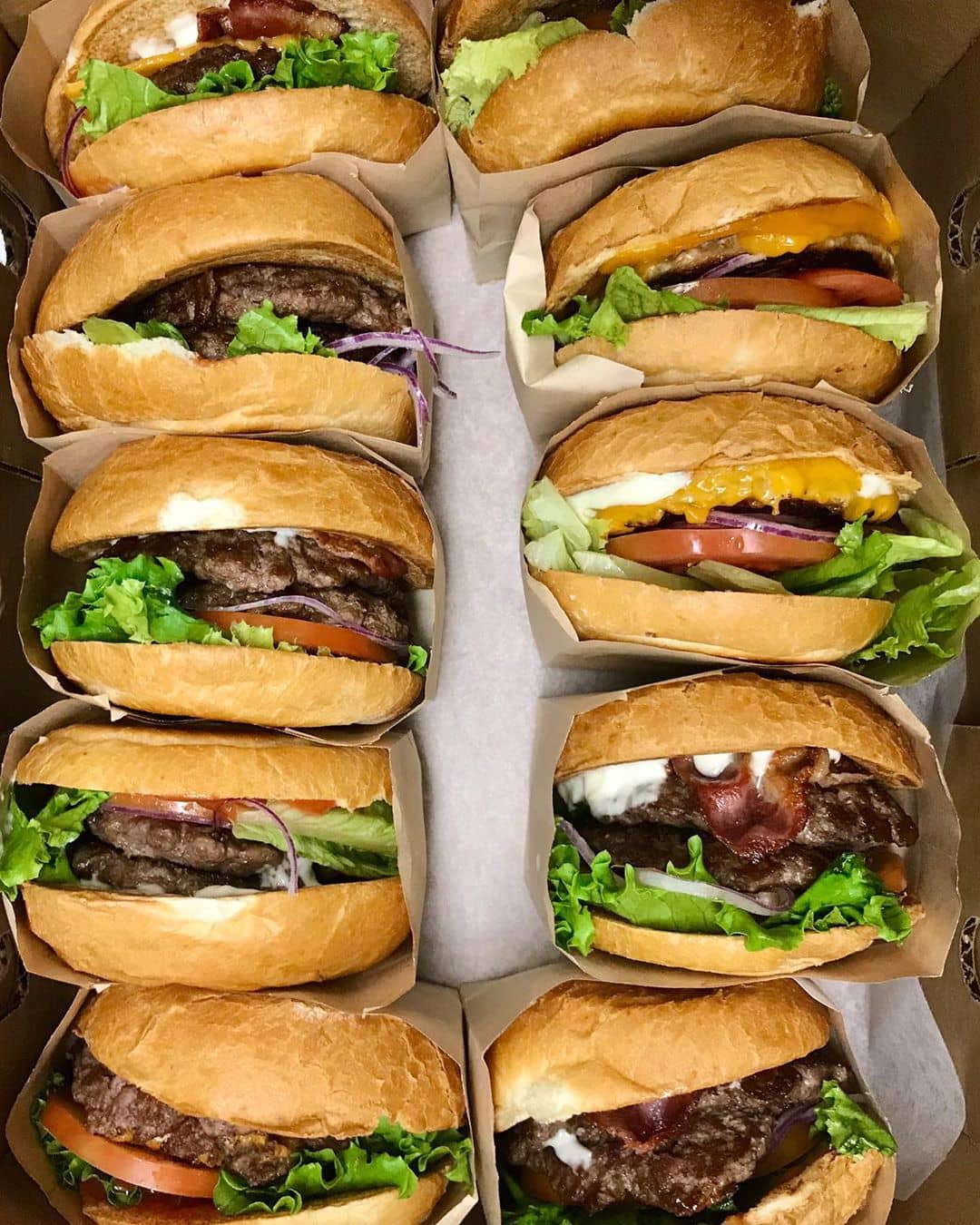 If you're tired of fast food places serving lukewarm food, then head on over to Moderne Burger for a wonderful made-on-demand meal served hot.
The burger menu offers you the option of steak, turkey, and veggie. All taste amazing, but we recommend you try the Steak Burger that comes with hand-leafed lettuce, red onion, tomato, mayo and house sauce. You can also double your patty, or opt for an extra topping of bacon, or cheddar. And, don't forget the hand-cut fries.
Protip: Try a malt or a milkshake. They're simply delish!
What to order: Steak Burger, malt, milkshake
Location: 865 W Broadway, Vancouver
Order Online: DoorDash | Uber Eats
Website | Instagram | Facebook
8.) Popina Canteen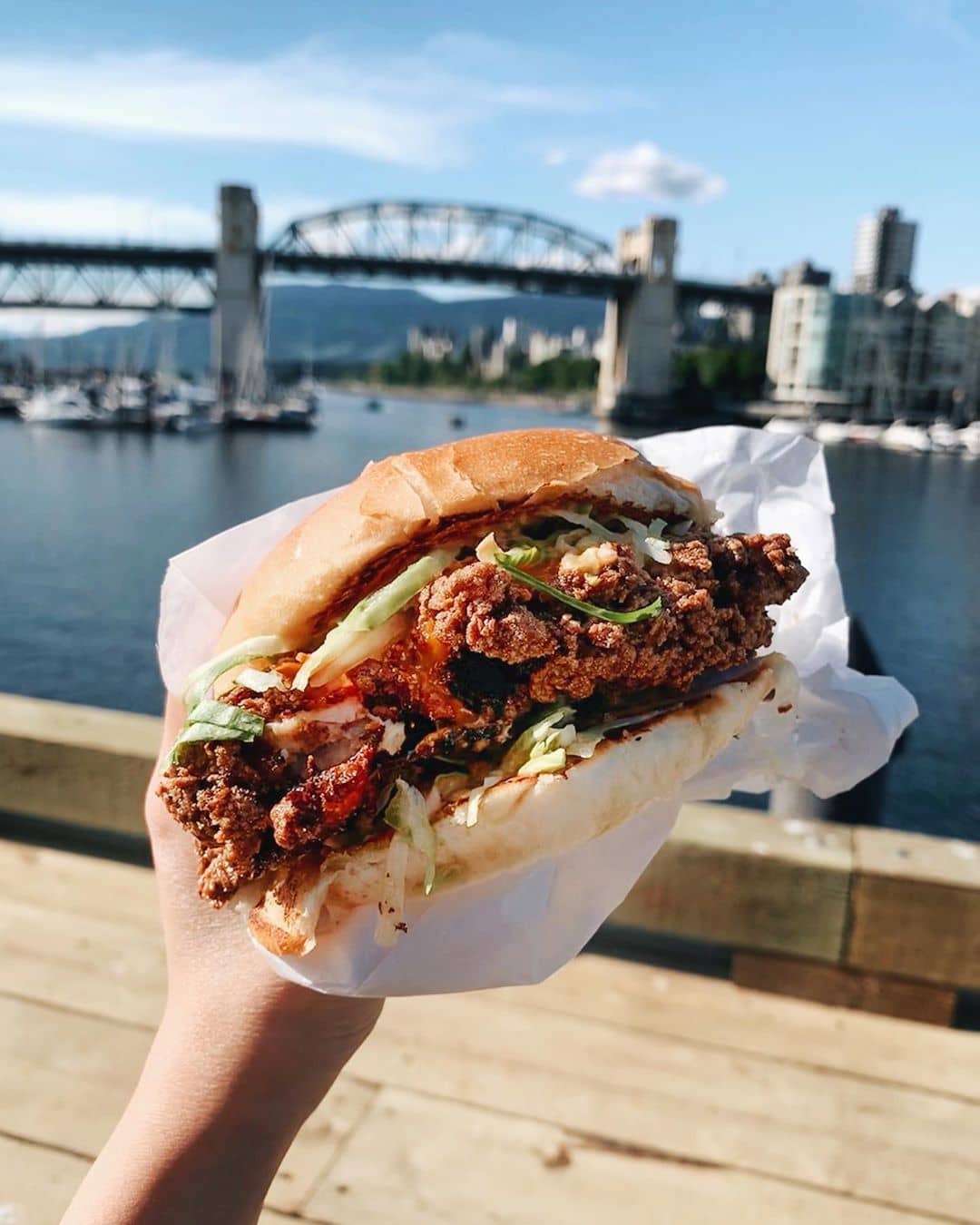 On your next visit to Granville Island, take a stroll down Ferry Dock, watch the boats go by, and treat yourself to a delicious burger from Popina Canteen.
Set right on the water's edge, this popular and delightful eatery doesn't just boast stunning views, but also an array of mouth-watering items all made from scratch. Try their 8oz Double Cheeseburger with a secret sauce, or opt for a Crispy Free Run Chicken Sandwich for a crunchy and juicy treat.
We recommend you save room for their signature Puffcream, available in a range of flavors and toppings.
What to order: 8oz Double Cheeseburger, Crispy Free Run Chicken Sandwich, Puffcream
Location: Ferry Dock Granville Island, Vancouver, BC
Order Online: DoorDash | Uber Eats
Website | Instagram | Facebook
7.) Beetbox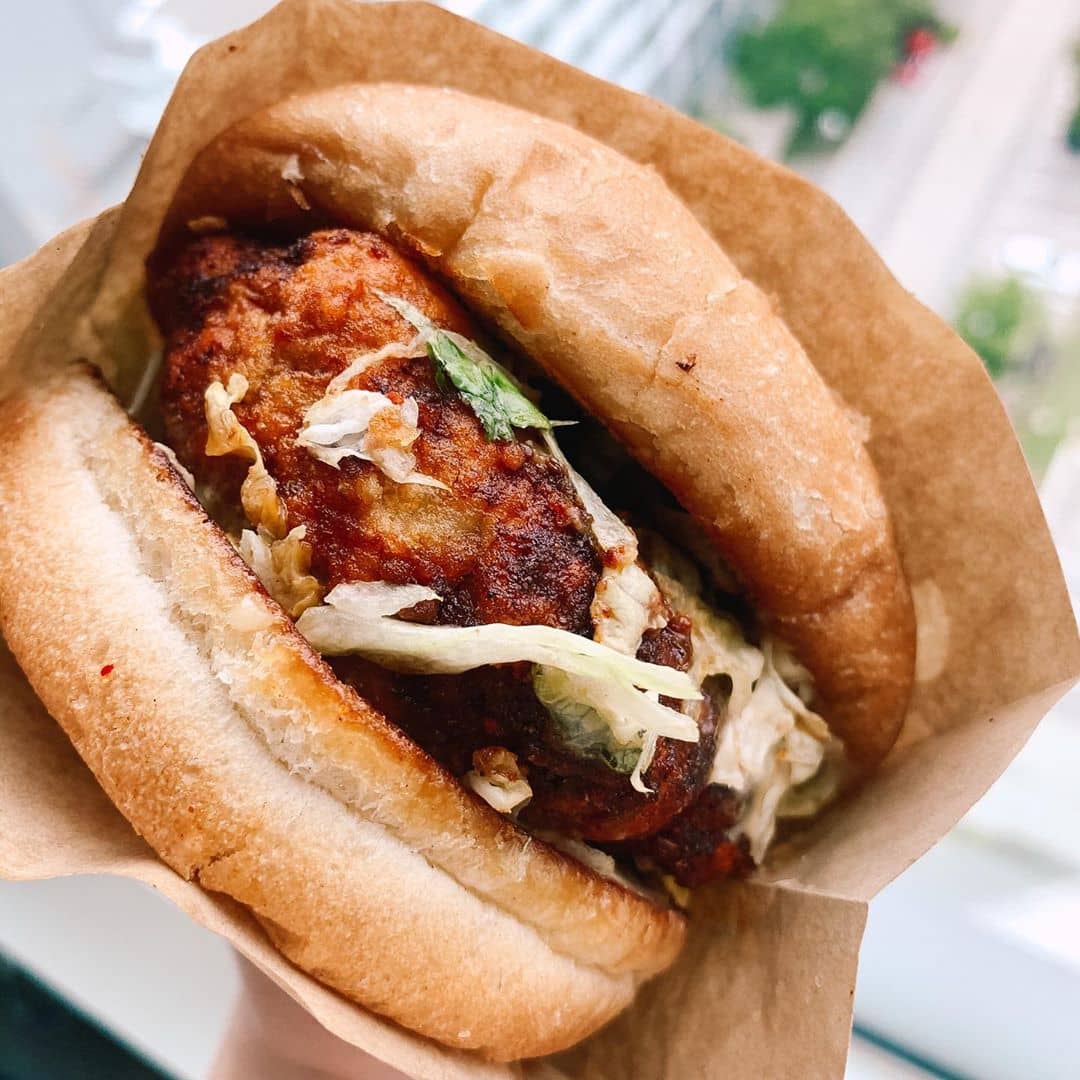 No list of eateries would be complete without a good vegetarian and vegan option, would it? Worry not. We've got you covered, with a little help from our friends over at Juke Fried Chicken.Those fabulous and hip restaurateurs also run Beetbox, the amazing plant based vegetarian and vegan eatery in Vancouver.
If you're craving a good, filling veg burger, this would be the place to go.
Sample their Fried Chick-Un Sandwich with iceberg and spicy pickled cucumber, or the delish Burger with Cheeze, which has a juicy plant-based patty, and a gorgeous burger sauce. There are Warm Bowls on the menu too, from flavorful Oyster Mushrooms, to bean-galore Tacos.
A cool cold side to order would definitely be the Miso Mustard & Potato Salad.
What to order: Fried Chick-Un Sandwich, Burger with Cheeze, Oyster Mushrooms, Tacos, Miso Mustard & Potato Salad
Location: 1074 Davie Street, V6E 1M3 Vancouver
Order Online: DoorDash | Uber Eats | SkipTheDishes
Website | Instagram | Facebook
6.) Two Rivers Meat Shop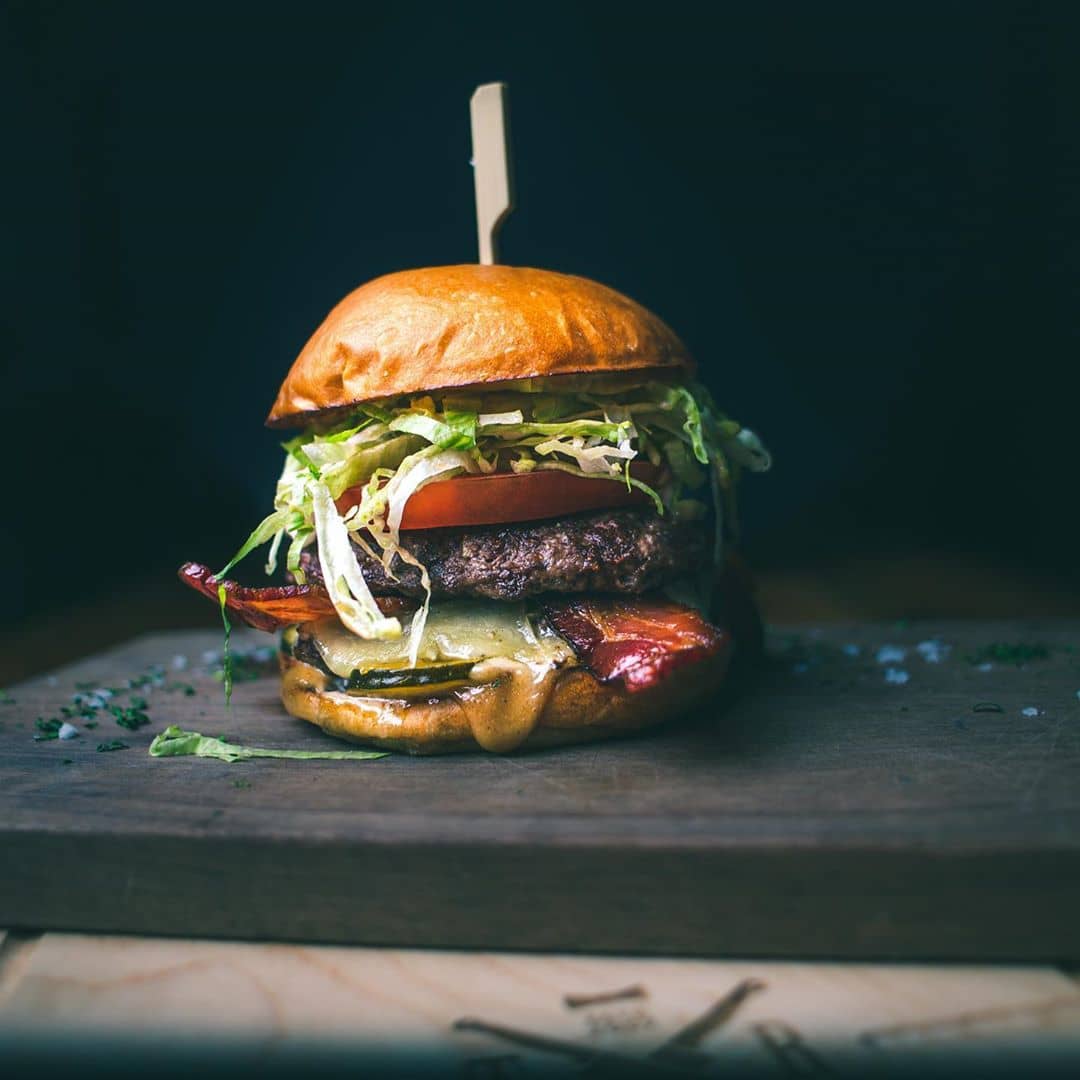 There is no better place than a butcher's shop for meat lovers. And, the Two Rivers Meat Shop is just that place if quality meat is what you're looking for in your burger. Don't let the name deceive you. They have a restaurant with an open kitchen right inside their shop!
Ranked highly as one of the best places to grab a juicy to-die-for burger, you really should plan a visit soon. The most popular item on the menu is their signature 65 Day Dry Aged Beef Burger. This gorgeous handmade patty is served in a brioche bun with zucchini pickles, iceberg lettuce, charred tomato, aged cheddar and white BBQ sauce.
Whatever you do, don't miss out on ordering the tallow fries. You will love them!
What to order: 65 Day Dry Aged Beef Burger, tallow fries
Location: 180 Donaghy Avenue, North Vancouver, BC
Website | Instagram | Facebook
5.) Pourhouse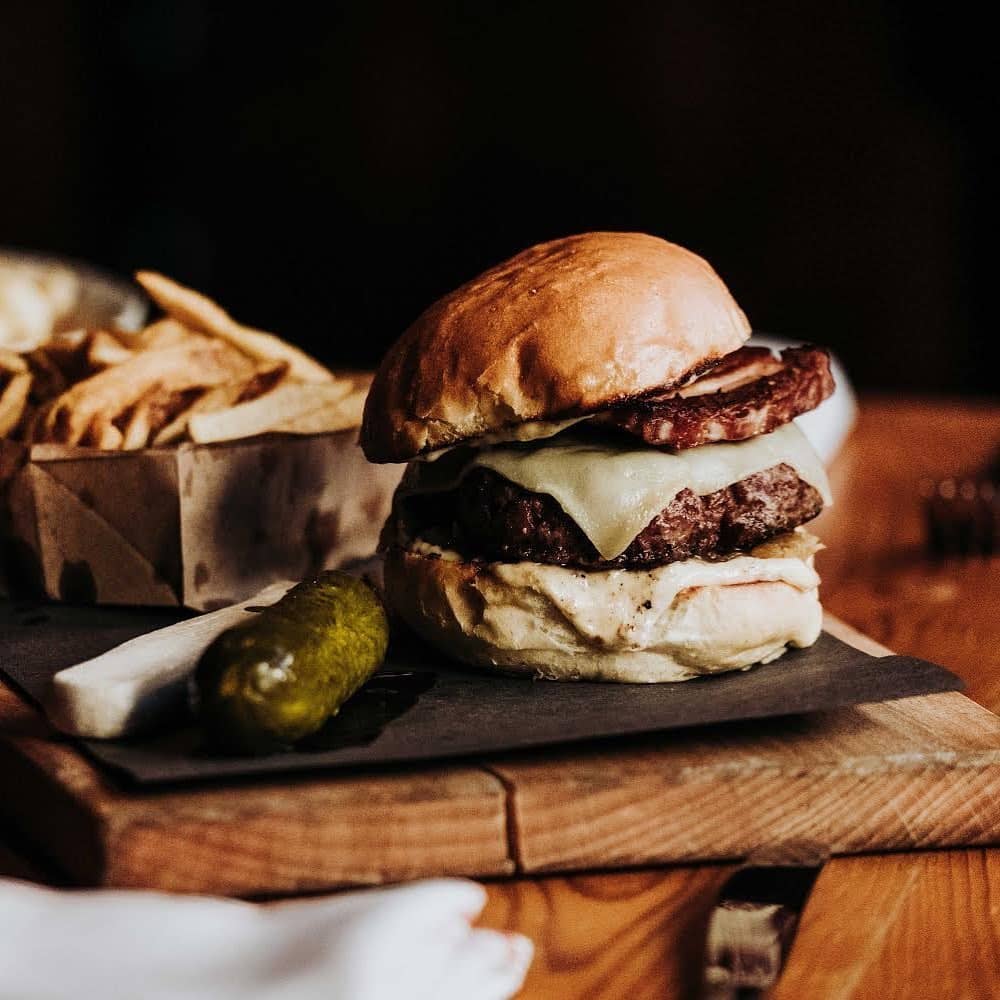 Whether it's for a relaxing lunch, an intimate dinner with a loved one, or just a fun evening with friends, you will want a good atmosphere, drinks, and food. For all that (and much more) look no further than Pourhouse in Vancouver. This gorgeous restaurant tucked inside a 100 year old building is the perfect place for a celebration of any kind.
You can join in the Happy Hour, or visit on a weekend for their 'Boozy Brunch,' and sink your teeth into delicious fare prepared with flair. The burgers here are amazing, and you'll want to try their signature Pourhouse Burger, which is made up of 40 day dry-aged cache creek chuck steak, aged cheddar, and pork belly. If you're there for brunch, sample the Peameal Bacon Sandwich, enjoy the live music, and maybe go for a strong, creamy Irish Coffee.
Pro tip: Be it lunch or dinner, definitely check out their cocktail menu, and thank us later.
What to order: Pourhouse Burger, Peameal Bacon Sandwich, Irish Coffee
Location: 162 Water Street, Vancouver, BC
Order Online: Uber Eats
Website | Instagram | Facebook
4.) The Frying Pan Food Truck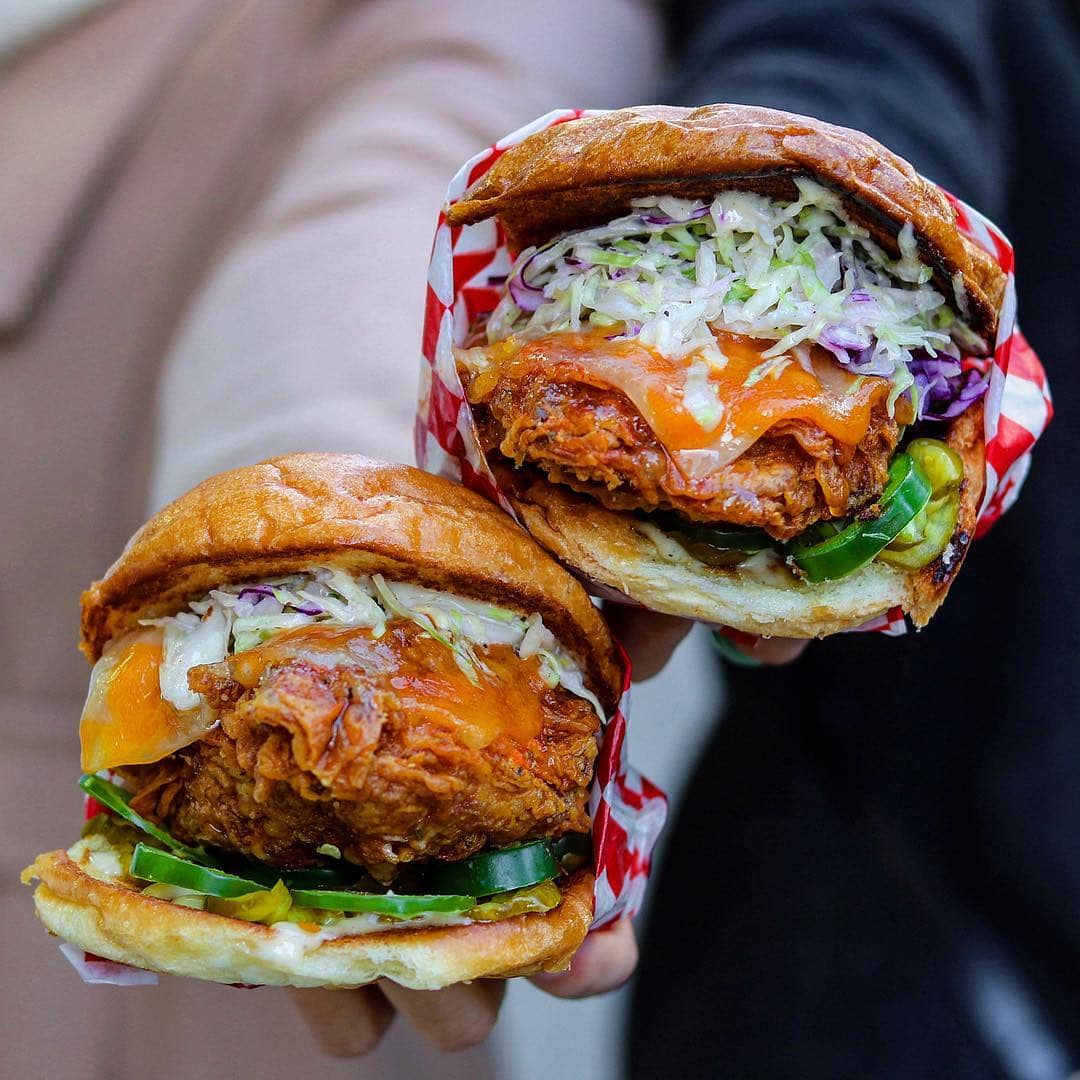 For the love of Korean Fried Chicken!
This list would be incomplete without us adding in The Frying Pan Food Truck and their brilliance with preparing fried chicken. They're SOOOO good, they even made it to our Top 10 list of Best Fried Chicken in Vancouver.
Super moist and tender on the inside, and crisped perfection on the outside, this is one type of fried chicken burger that's literally to die for!
If you don't know what to order, don't stress. This Food Truck's friendly staff will happily guide you and leave you with a satisfying meal. But, if you're too shy to ask, then take our advice and go for the Spicy Chicken Burger (you can choose your spice level) and for sure the Smoky Bulgogi Fries (Korean BBQ Beef.)
Wash it all down with some delicious Yuzu Tea, or a chilled Blue Lemonade.
What to order: Spicy Chicken Burger, Smoky Bulgogi Fries, Yuzu Tea, Blue Lemonade
Location: 505 Burrard St, Vancouver
Order Online: DoorDash | Uber Eats
Website | Instagram | Facebook
3.) Hundy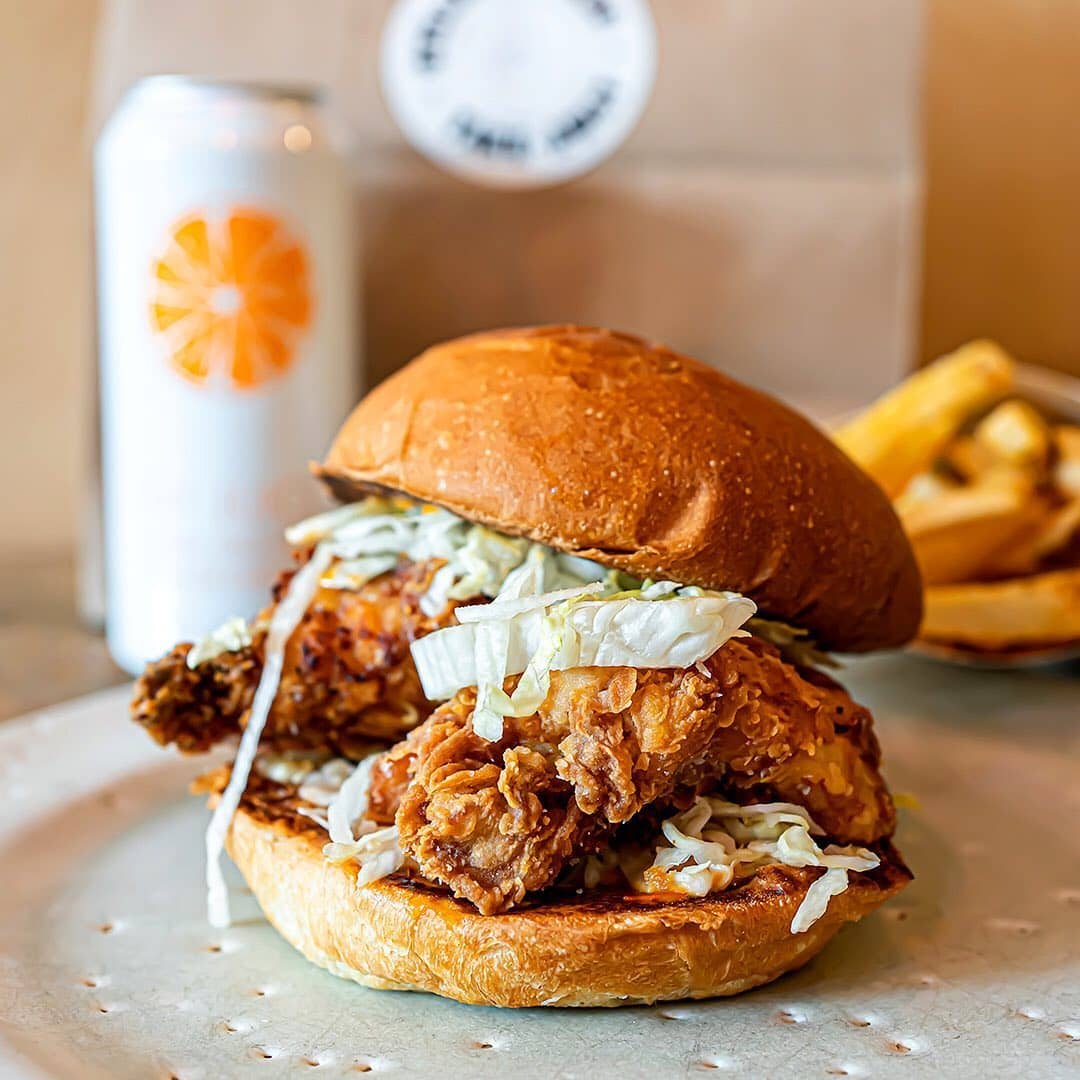 Hundy is one of those spots in Vancouver that's perfect for entertaining out of town guests. It is trendy, it is funky, and the food is amazing. A great combination for a fun evening out.
The menu here is fuss-free and to the point. Order the Bacon Cheeseburger, or just a regular Burger, and everything that's there between the light brioche bun can be ordered as extras too.
And, you definitely don't want to miss out on the super crispy Fried Chicken Sandwich. It's a big seller at Hundy, and so is the 'Lemonade Stand' beer.
Don't forget the Poutine!
What to order: Fried Chicken Sandwich, Lemonade Stand, Poutine
Location: 1144 Homer St, Vancouver, BC V6B 2X6
Order Online: DoorDash | Uber Eats
Website | Instagram | Facebook
2.) Bells & Whistles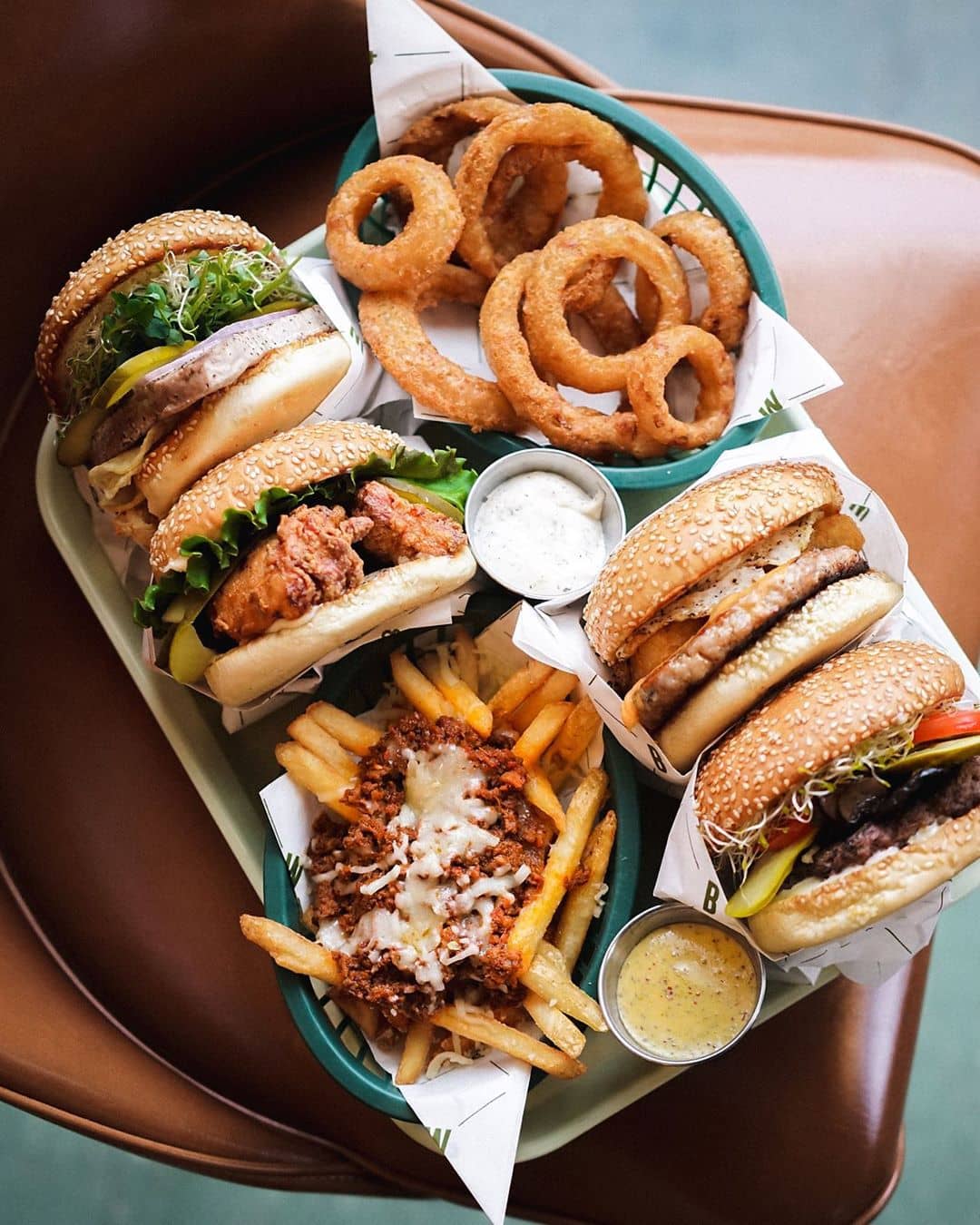 Whether you want to enjoy watching a sports game with friends over good food, or just need to grab a quick lunch, Bells & Whistles is your friendly neighborhood must-stop. This bright and airy cafeteria-style restaurant is perfect for entertaining, or dining with a couple of close buddies.
The gorgeous menu will get your tastebuds humming, so don't waste time. Dig right in. Start with some Popcorn Shrimp or buttermilk Chicken Wings with your choice of a dipping sauce, or go directly for a Classic Burger, or a Ribwich (slow cooked pork rib with hickory sticks, slaw, BBQ pickles and grilled Scallion Aioli.)
We highly recommend The All Day Breakfast burger that comes in the form of a Maple Sausage patty, with hash browns, American Cheese, a fried egg, and secret sauce. Mmm delish!
What to order: Popcorn Shrimp, buttermilk Chicken Wings, Classic Burger, Ribwich, The All Day Breakfast burger
Location: 3296 Fraser St, Vancouver, BC V5V 4B9
Order Online: DoorDash
Website | Instagram | Facebook
1.) DownLow Burgers At The American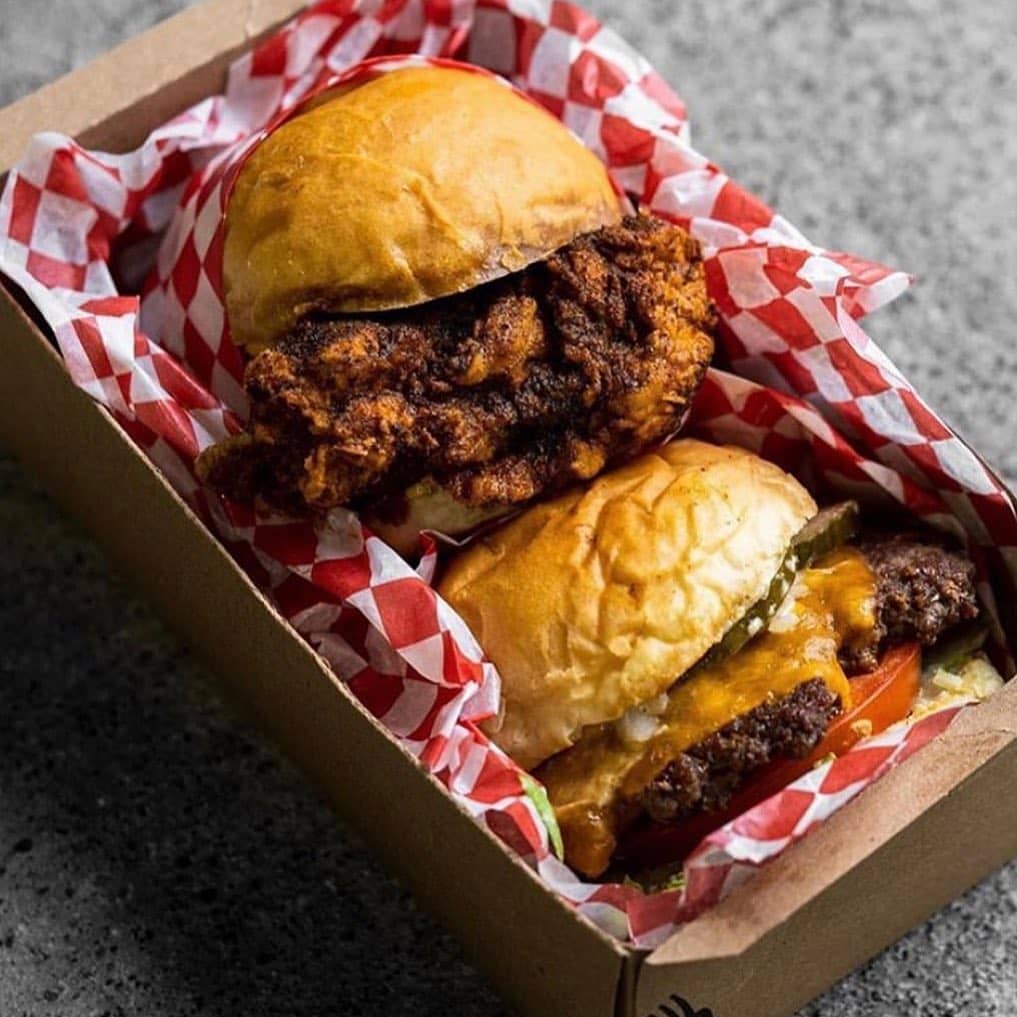 Starting off our list is the pair who really need no introduction. Doug and Lindsey are already famous for co-founding the DownLow Chicken Shack, and then exceeding expectations with DownLow Burgers at The American with a menu that will make your mouth water.
Right off the bat, their signature burger The Merch presents a classic mix of a juicy beef patty, cheddar, onion, tomato, pickle, and their special Merch Sauce. If you're in the mood for something more fancy, try their South of the Border burger. You won't be disappointed. For spice lovers, there's The Faux Pho, with a generous dash of Siracha!
Protip: The Pork Belly Bites are a super side for any burger!
What to order: The Merch, South of the Border burger, The Faux Pho, Pork Belly Bites
Location: 926 Main Street, Vancouver, BC
Website | Instagram | Facebook
We hope you enjoyed our list of Top 10 Best Burger places in Vancouver, and hope you visit each one really soon.
And, when you're done getting your fill of delicious burgers and all the trimmings, maybe you'd like to explore the world of Tacos next?
The following two tabs change content below.
Latest posts by Noms Magazine (see all)