Looking for the best Vancouver restaurants? Well, you've come to the right place!
There is no doubt that Vancouver is a food haven. Recognized as one of the best food cities in the world, Vancouver is packed with multiple award-winning restaurants as well as humble local spots to enjoy.
Just take a walk across the city and you will notice amazing aromas wafting in the streets. The passion for food among local foodies and chefs and restaurant owners is well-balanced, and it can be felt in every bite you take in Vancouver.
If you have plans to visit this foodie city, there is a long list of the best Vancouver restaurants you should try:
This article includes affiliate links where we may get a small commission if you use our link. No extra cost is added to you.
🍗 Check out these top-rated Vancouver food tours!
25. Provence Marinaside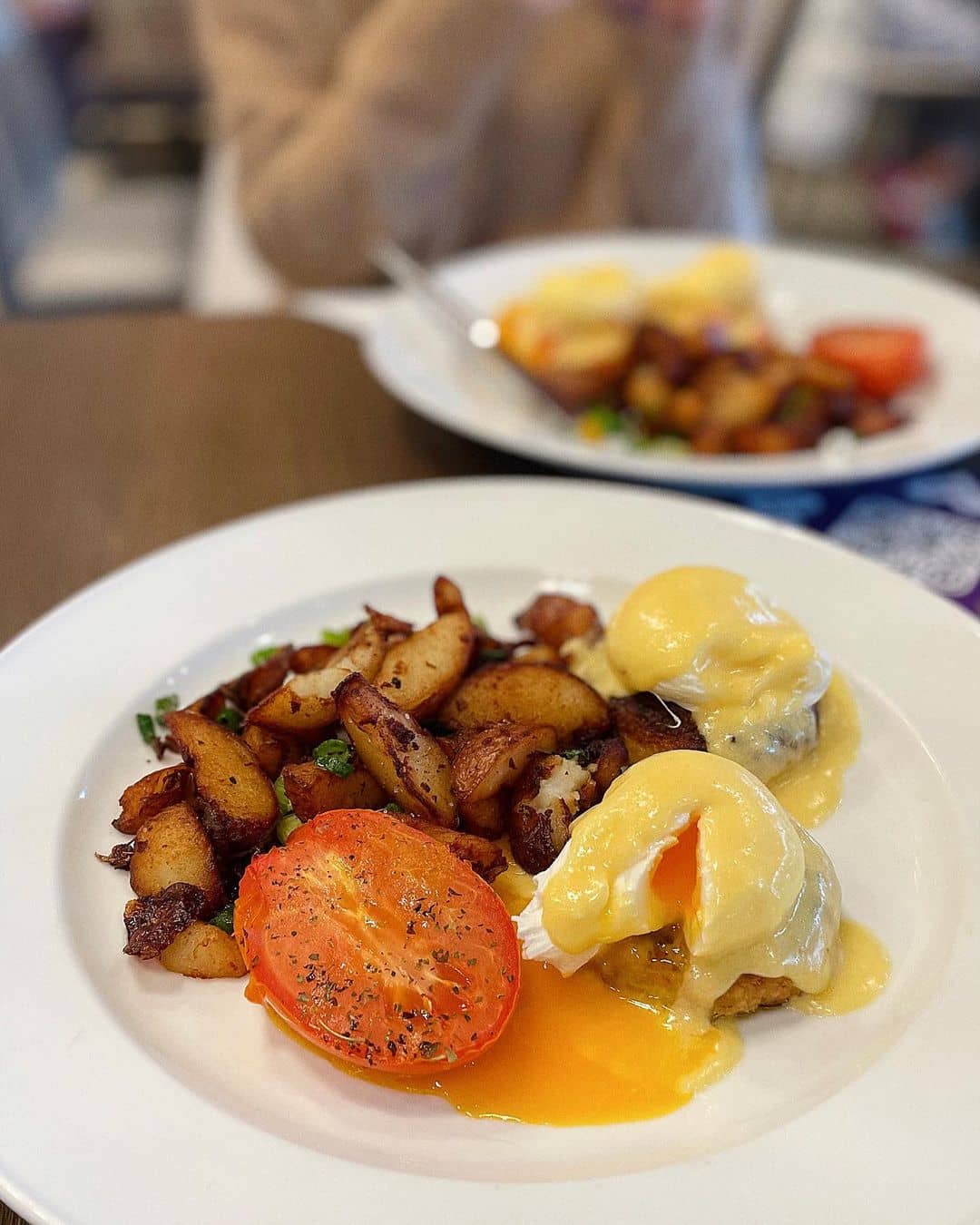 Located in Vancouver's Yaletown neighbourhood, Provence Marinaside is a French seafood restaurant and bar, serving gourmet dishes for brunch, lunch, and dinner.
While the dining room is elegantly designed and aesthetically pleasing, the sunny patio, on the other hand, provides breathtaking waterfront views of the marina.
Oh, they remain open to cater to your late-night cravings as well!
It's time to please your palate with their delicious Crab Cake Benedict that has got a bed of eggs over the shrimps with a bit of sweetness and garnished with roasted tomatoes and wedges which makes the flavour pop.
Their Bouillabaisse is one of the most comforting dishes you can have. This West Coast style Bouillabaisse contains the freshest of seafood swimming in an incomparably flavourful broth.
What to order: Crab Cake Benedict, Wild Mushroom Ravioli, Bouillabaisse
Address: 1177 Marinaside Crescent, Vancouver, BC V6Z 2Y3
Website | Instagram | Facebook
24. Sawasdee Thai Restaurant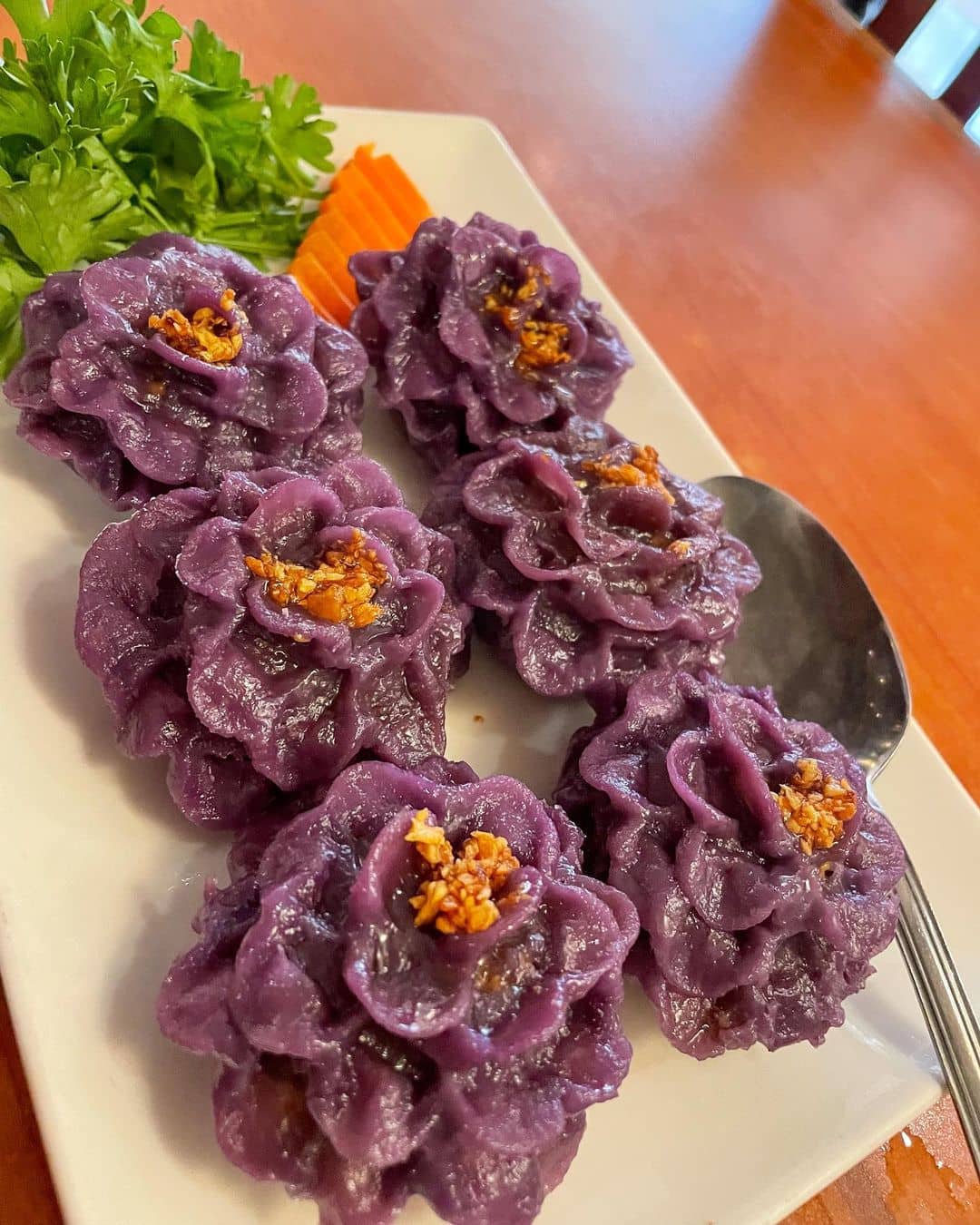 Serving authentic Thai cuisine since 1986, Sawasdee Thai Restaurant is a family-owned establishment that has a reputation for introducing authentic Thai taste to the residents of Vancouver.
The chef's recommendation (ours too!) is the Crying Tiger Beef. You get a plate full of sliced marinated beef, grilled to perfection, and delightfully tender.
The herb vinaigrette serves as the ideal dipping sauce for the beef. If you'd like to add a bit of spice, order their Hot Sauce to go with your beef.
What's the point in having Thai food if you don't order Pad Thai!? Choose between tamarind sauce and tomato sauce to go with the tofu, prawns, and egg, and watch well-balanced layers of flavors uncover in your mouth.
Do try their Chicken or Prawn Cashew Nuts stir fry too. We loved it and so will you!
What to order: Crying Tiger Beef, Pad Thai, Chicken/Prawn Cashew Nuts
Address: 4250 Main Street, Vancouver, BC V5V 3P9
23. Kook Korean BBQ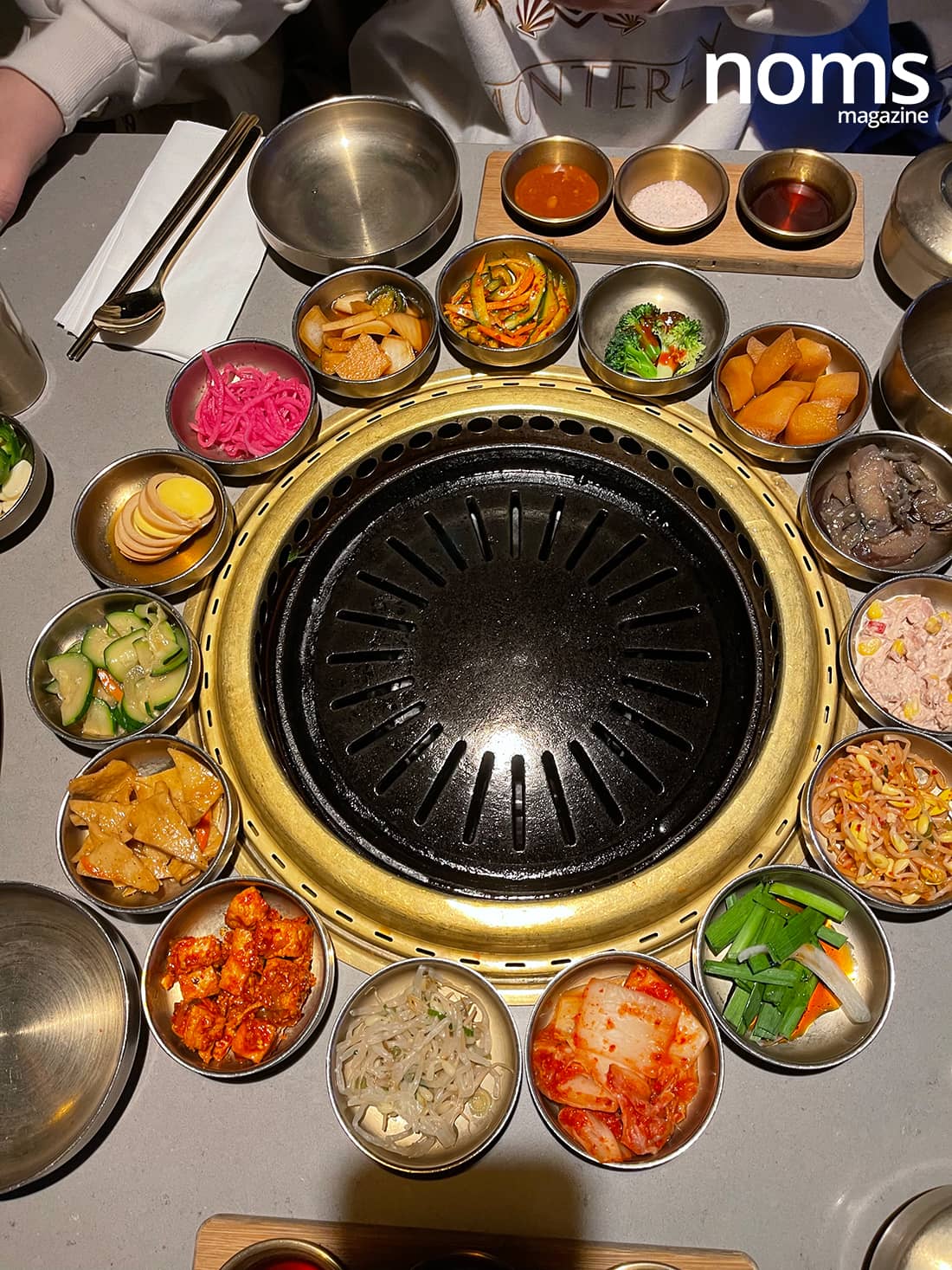 When it comes to Korean food, everyone knows KBBQ is one of its most tempting features that has hordes of Vancouverites scrambling for a taste.
There's really nothing quite like it, especially when it's done well, and the folks over at Kook on First Avenue do Korean BBQ so well, the place is always buzzing.
Of course, when you're at Kook, experiencing their table BBQ is a must. Our vote goes to the Beef Bulgogi, which comes marinated, so you can cook on the Shinpo System (the Rolls-Royce of smokeless grills) at your table.
The grill adds an amazing charcoal flavour to the marinated beef, which you can enjoy with 15 different banchan (side dishes), and rice.
What to order: Beef Bulgogi BBQ, Soondubu Jjigae – Spicy Tofu Stew, Spicy Pork
Address: 2800 E 1st Avenue, #211A, Vancouver, BC V5M 4N8
Website | Instagram | Facebook
---
Looking for a place to stay in Vancouver?
---
22. Downlow Chicken Shack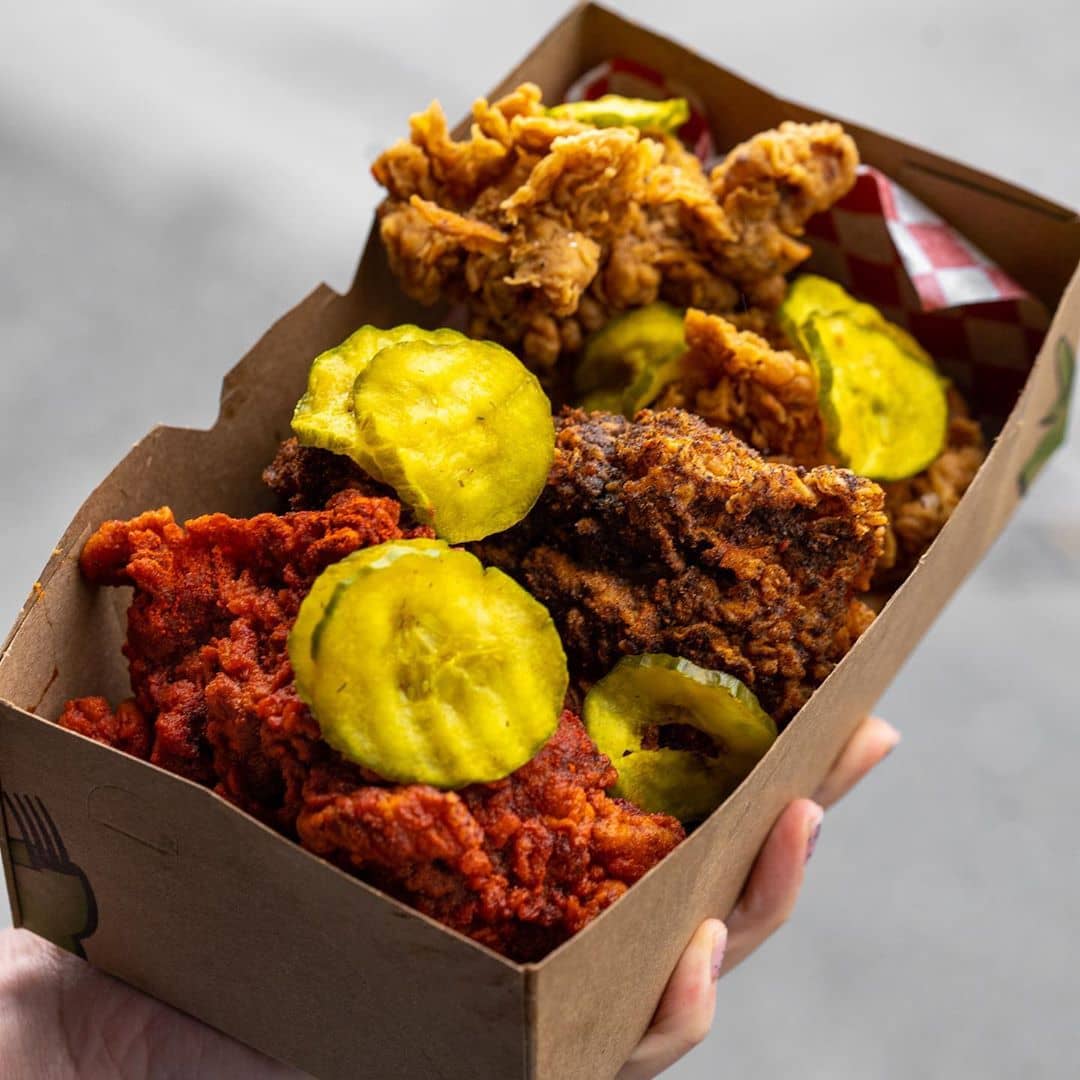 Downlow Chicken Shack undoubtedly serves the best fried chicken in Vancouver.
With two locations in the city, the place is always bustling and its otherworldly fried chicken keeps everyone drooling and wanting more.
We suggest that you try their fried chicken before you go for their famous sandwich. Their boneless and juicy thighs are what fried chicken dreams are made of!
Even their chicken breasts come out juicy – Downlow Chicken Shack do have their frying game perfected! Everything, from the chicken to the sides, is fresh and yummilicious.
The Original Sando (sandwich) has Nashville-dusted chicken, which is not only well-seasoned and super juicy but also has a lovely spice kick in every bite.
Dip your sandwich in their DL sauce, and you will already be on your way to order another Original sandwich.
What to order: Boneless and juicy chicken thigh, The Original Sando, Fries
Address:
-905 Commercial Drive, Vancouver, BC V5L 2H2
-6065 University Boulevard, Vancouver, BC V6T 0C5
21. L'Abattoir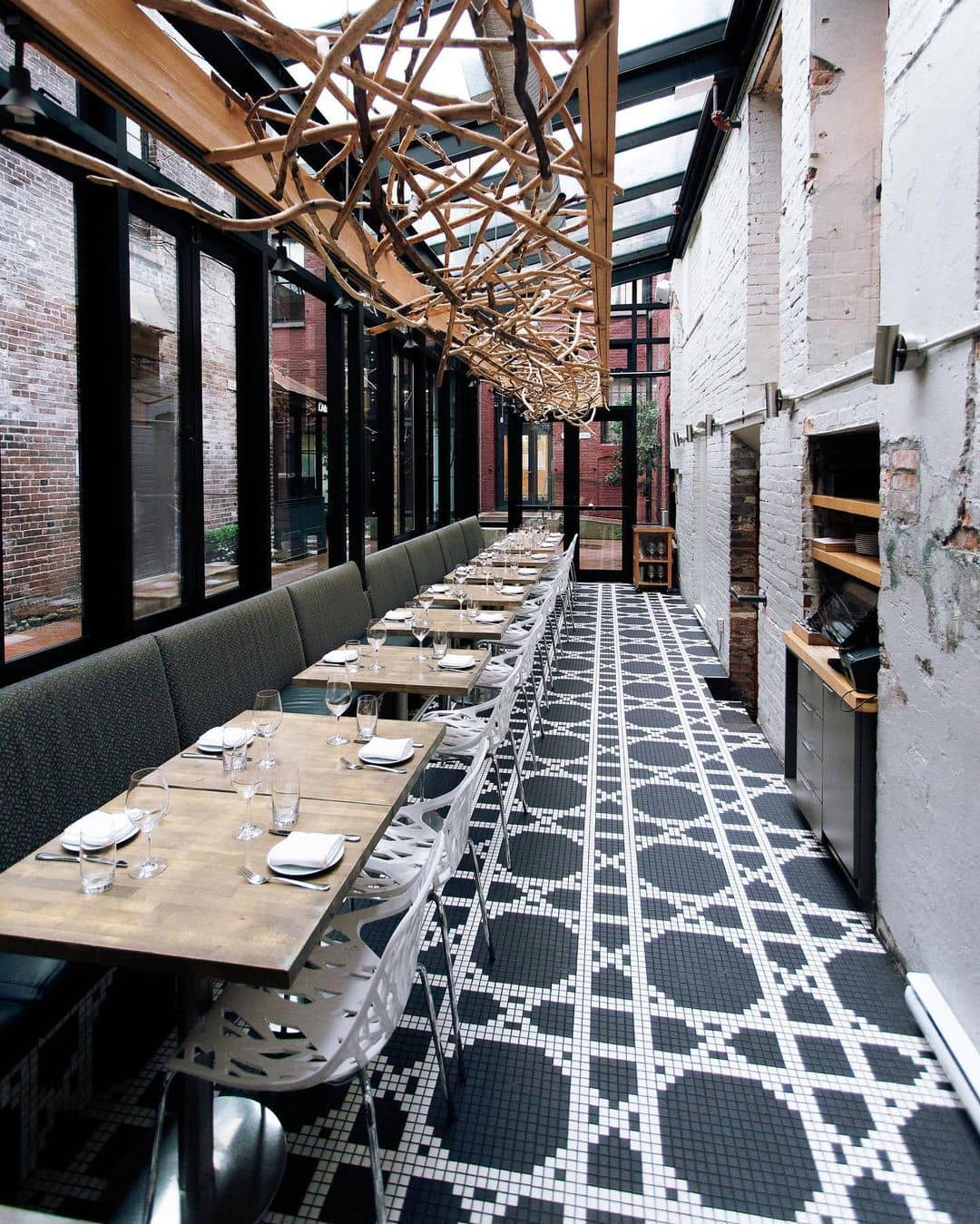 Located in the heart of Gastown, L'Abattoir serves French-influenced West Coast fare paired with an award-winning wine program focused on providing diners with an unforgettable experience.
The setting is comfortable yet refined, and the menu is equally sophisticated.
The Baked Pacific Oysters is an extraordinary preparation that will take your breath away with its deliciousness.
With creamy whipped garlic butter and specks of truffle on top, the dish is a fine example of how three simple ingredients can work together to become something impressive.
Their Steak Diane for main will make your taste buds scream with delight, thanks to the tender steak that can be cut with a butter knife and charred just enough to give it a light crunch.
The bone marrow sauce simply makes the gratification multifold.
What to order: Baked Pacific Oysters, Steak Diane, Artichoke Tart
Address: 217 Carrall Street, Vancouver, BC V6B 2J2
Instagram | Facebook | Website
20. Savio Volpe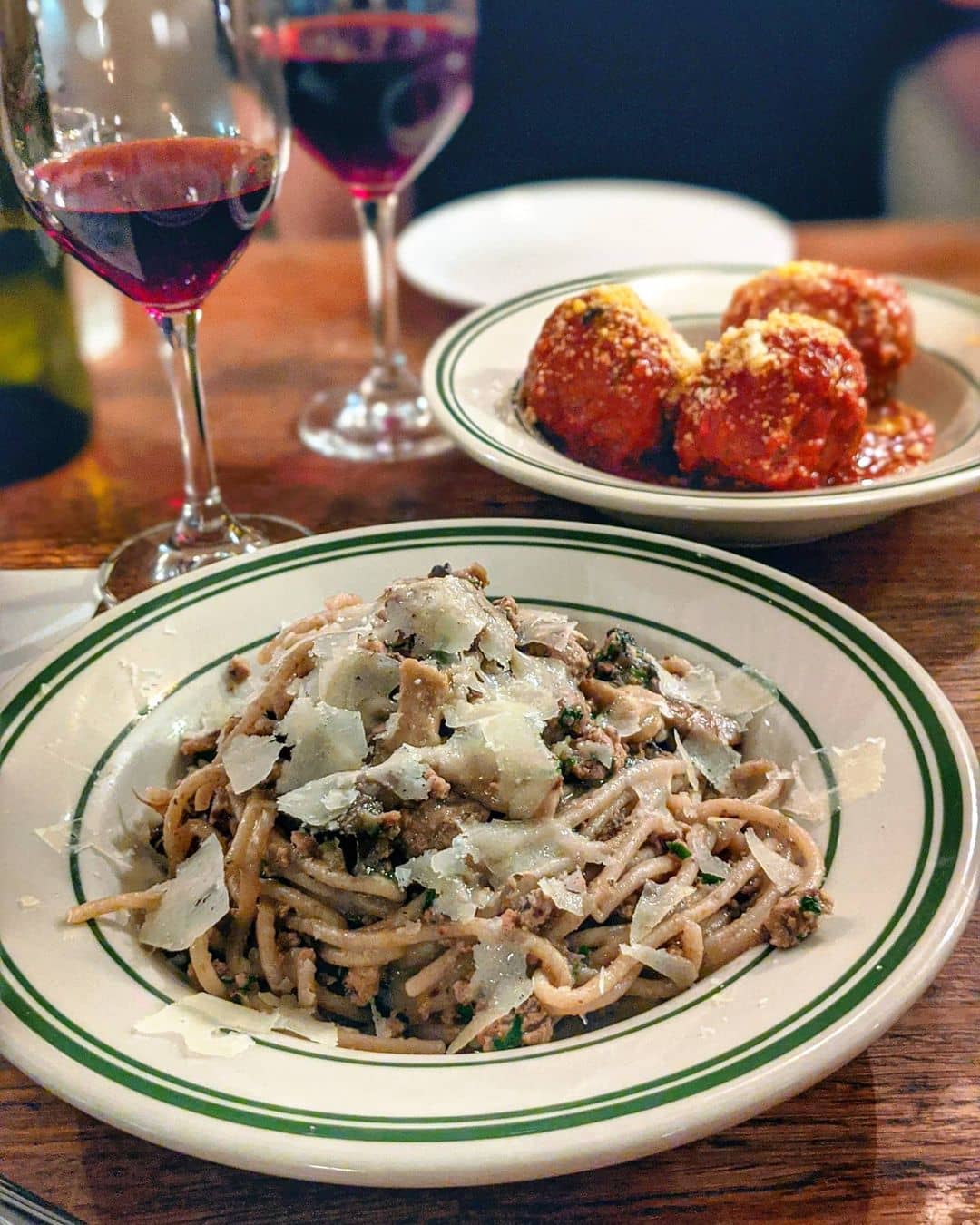 Rustic interiors, fresh ingredients, handmade pasta, and food prepared over a wood-fired grill and rotisserie – this is Savio Volpe, the Italian restaurant that you'd want to boast about to all your out-of-town friends.
The Rocana Pork Chop comes soaked in all the smokiness from the wood fire grill, and for the money you pay, every bite you take of the pork chop makes every penny worth it.
The Meatballs from their From the Skillet & Stewing Pot menu make you want to keep digging in to savour some of the best meatballs you've ever had in your life!
The best way to end your night at Savio Volpe is with the house-made Gelato.
What to order: Rocana Pork Chop, Meatballs, Flat iron steak, Cappelletti, Gelato
Address: 615 Kingsway, Vancouver, BC V5T 3K5
Website | Instagram | Facebook
19. Kingyo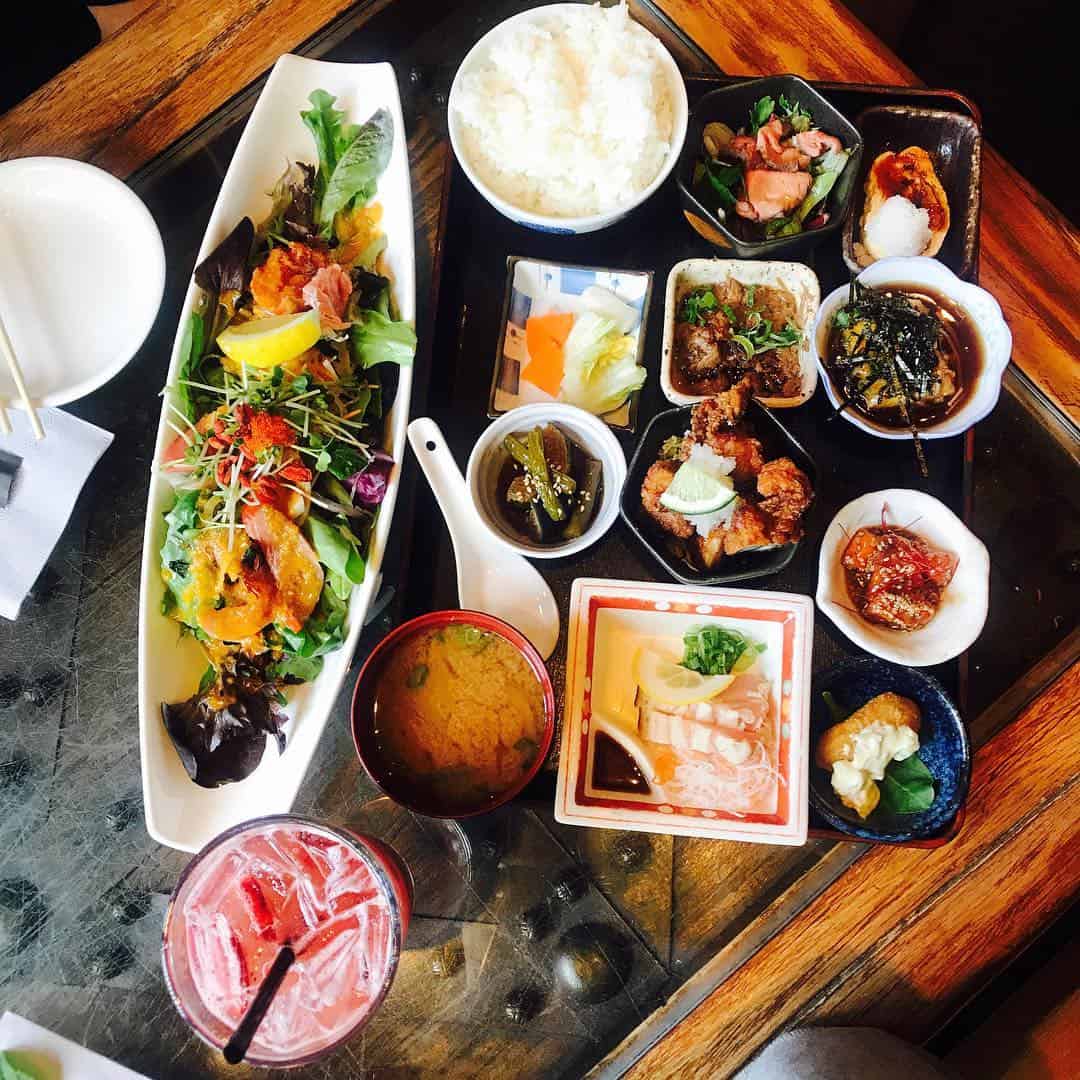 With multiple accolades from well-known magazines and diners, Kingyo is known to be one of the more popular izakayas in Downtown Vancouver.
With authentic decor, historic photographs, wood carved art pieces, and bamboo panels on each table, Kingyo is all-in when it comes to providing an authentic and genuine Izakaya dining experience.
Order the Stone-Grilled Kobe Beef and you can have fun cooking the most exclusive beef yourself on the hot stone.
What elevates the experience is the melt-in-the-mouth tender beef, which goes well with the Kingyo original sauces but also tastes incredible on its own.
When their menu says "Our Famous Invincible & Undefeated Tan-Tan Noodle", how can you go without trying the dish?!
The pork bone and shrimp broth is the mesmerizing element of this dish – rich, spicy, and so flavorful that it is reminiscent of Japan.
The noodles are perfectly chewy, and one bowl of the Tan-Tan Noodle will make you full.
What to order: Stone-Grilled Kobe Beef, Tan-Tan Noodle
Address: 871 Denman Street, Vancouver, BC V6G 2L9
Website | Instagram | Facebook
18. Cioppino's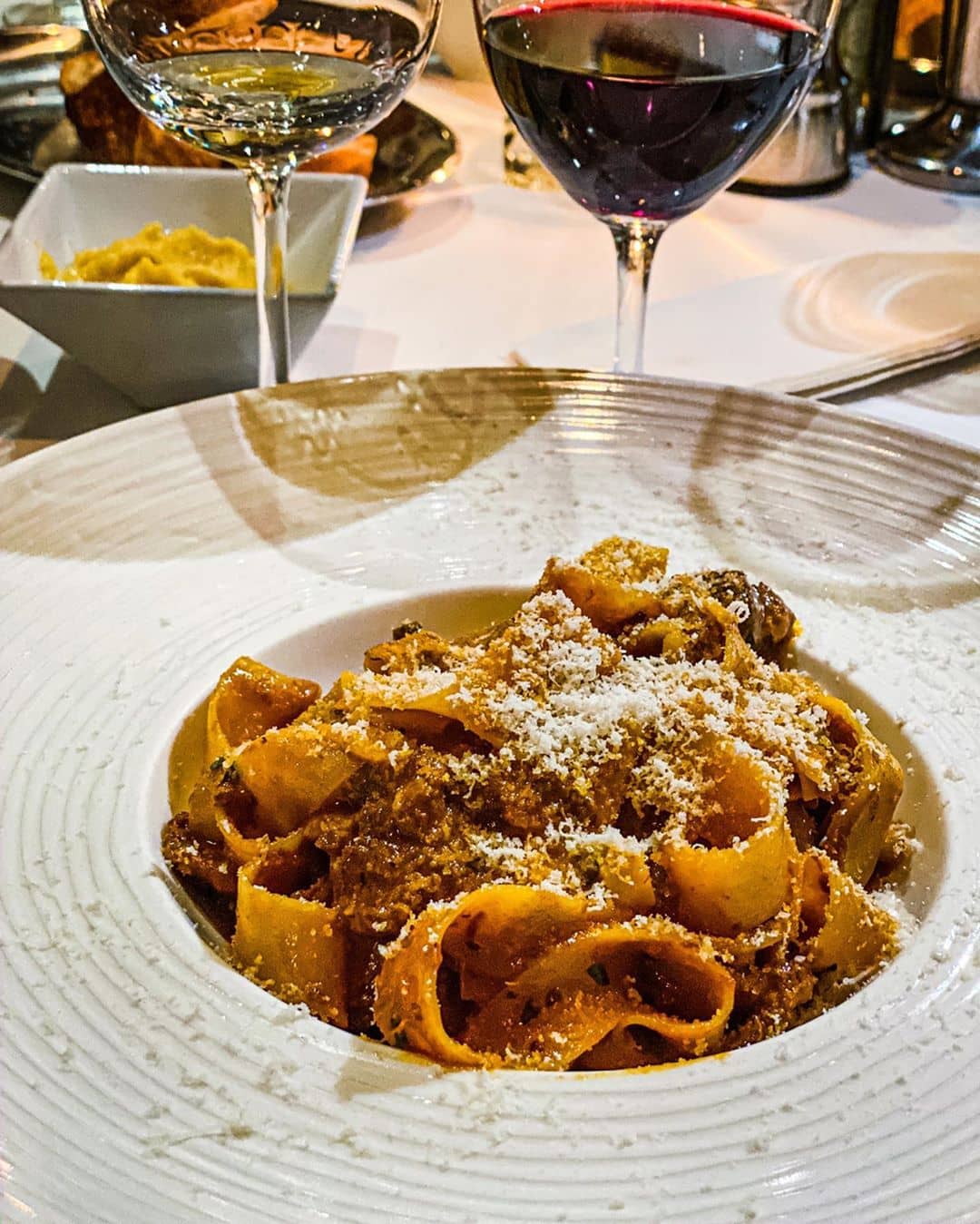 Whether you're celebrating something/someone or planning a casual dinner with friends, Cioppino's is exactly the type of restaurant that will make you and your group happy.
The place is widely acknowledged to deliver the best interpretation of Mediterranean food in all of British Columbia.
While their open kitchen provides an interesting and entertaining view, their large patio is also a preferred dining spot.
If you're a meat lover, starting off your Mediterranean meal with Cioppino's classic Carpaccio di Manzo will be ideal.
Let's just say that this will be the best beef carpaccio you can have in the city!
While every pasta dish here is perfect, we dare say that the Pappardelle "al guanciale di vitello e porcini" will make you experience foodgasm! In fact, many diners revisit the place just to devour this dish again and again.
What to order: Carpaccio di Manzo, Pappardelle "al guanciale di vitello e porcini", Cioppino
Address: 1133 Hamilton Street, Vancouver, BC V6B 5P6
Website | Instagram | Facebook
🚗 New to Vancouver? Explore the best of Vancouver with these top-rated tours
17. Chambar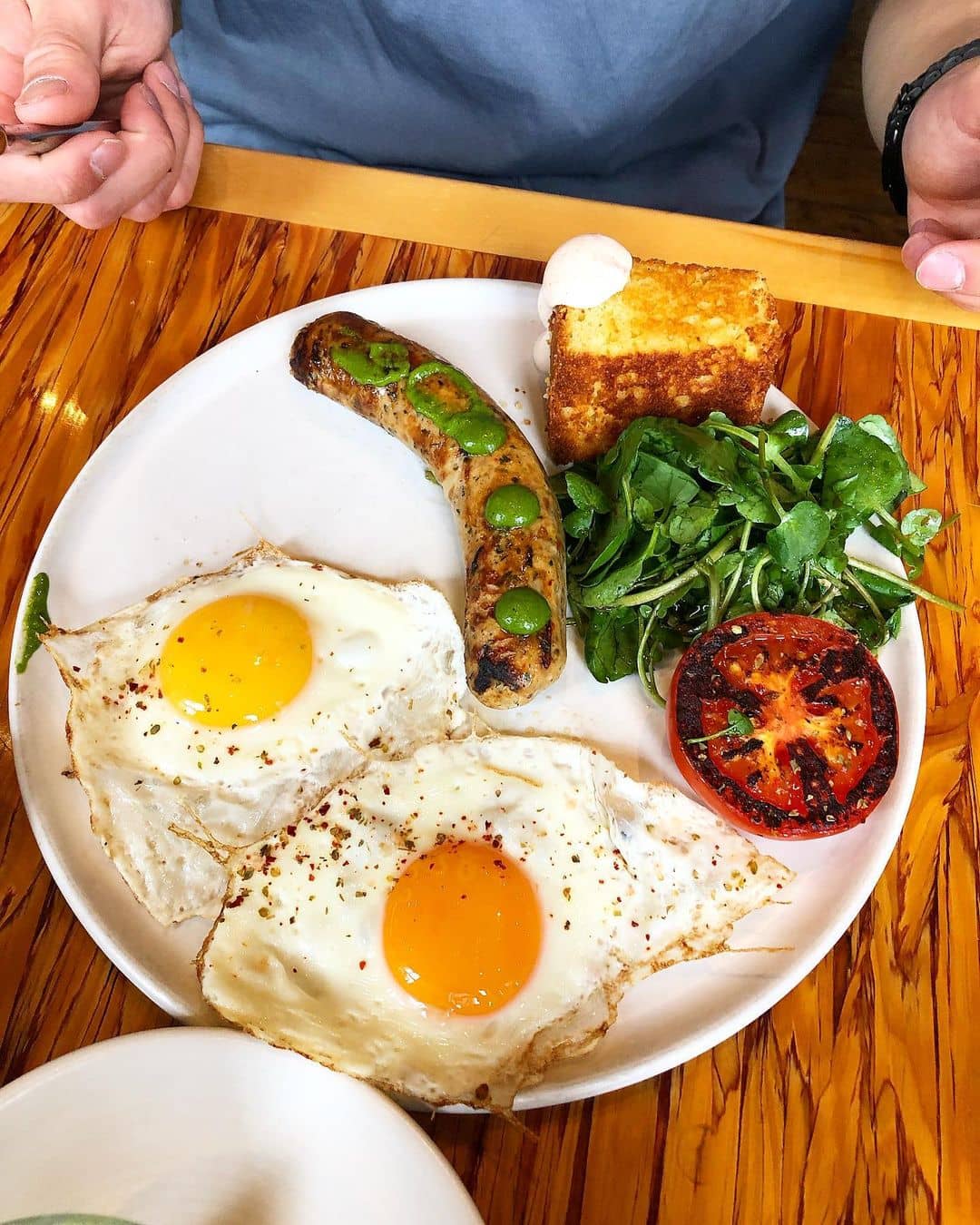 Chambar is a simple and casual fine dining restaurant serving deliciously innovative food in a warm and relaxed setting.
Focused on making their diners' every visit memorable, the restaurant also delivers fantastic service.
The star of the show at Chambar is Moules Frites, a popular Belgian dish with mussels and a side of French fries.
At Chambar, you can get three variations of this dish – Congolaise, Vin Blanc, and Coquotte – and everything tastes exquisite.
Tajine d'Aziz à l'Agneau – so what if you cannot pronounce the name of the dish, just ask for their famous Braised Lamb Shank, and we guarantee that you will leave your table extremely happy and satisfied.
First of all, the lamb shank is HUGE; it is so buttery and tender that you wouldn't need a fork to cut through it.
What to order: Moules Frites, Braised Lamb Shank, Le Canard
Address: 568 Beatty Street, Vancouver, BC V6B 2L3 Canada
Website | Instagram | Facebook
16. Pepino's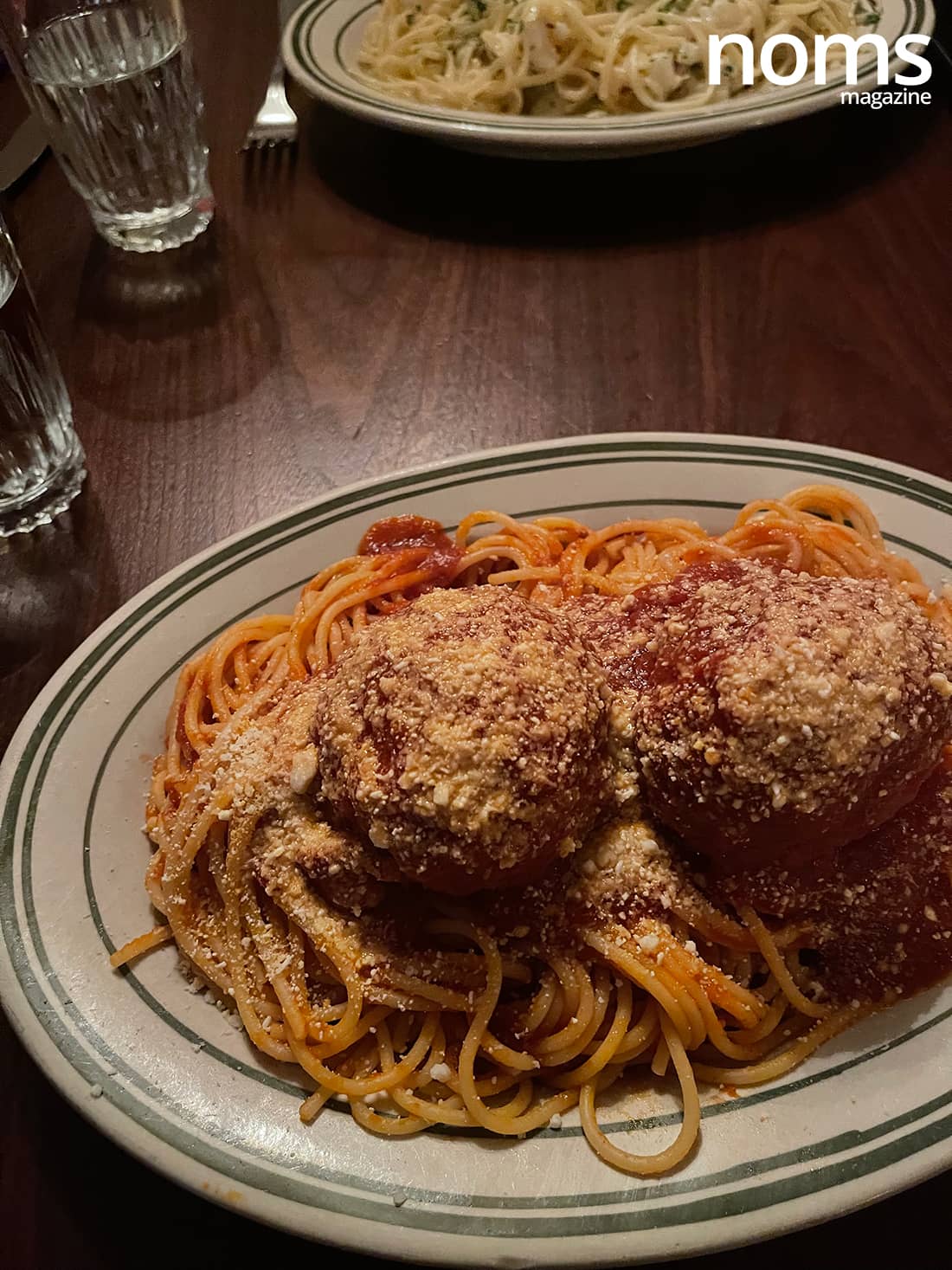 You know there is always that one neighbourhood Italian restaurant that remains a favorite among the locals?
Pepino's is that place for Vancouverites! This cozy, casual place is so popular that it has made it not just to our Best Italian Restaurants list but also to our Vancouver Food Bucket List.
What do I order for the main, you ask? Spaghetti & Meatballs for the win, all day every day!
With a couple of huge meatballs – seasoned and cooked to perfection, soft yet firm, and house-made marinara sauce coating the spaghetti in just the right amount, this could be the best spaghetti & meatballs you've ever tasted.
P.S. Don't forget the tiramisu. You'll thank us.
What to order: Caprese Salad, Sausage Wrapped Olives, Spaghetti & Meatballs, Tiramisu
Address: 631 Commercial Drive, Vancouver, BC V5L 3W3
Website | Instagram | Facebook
15. Miku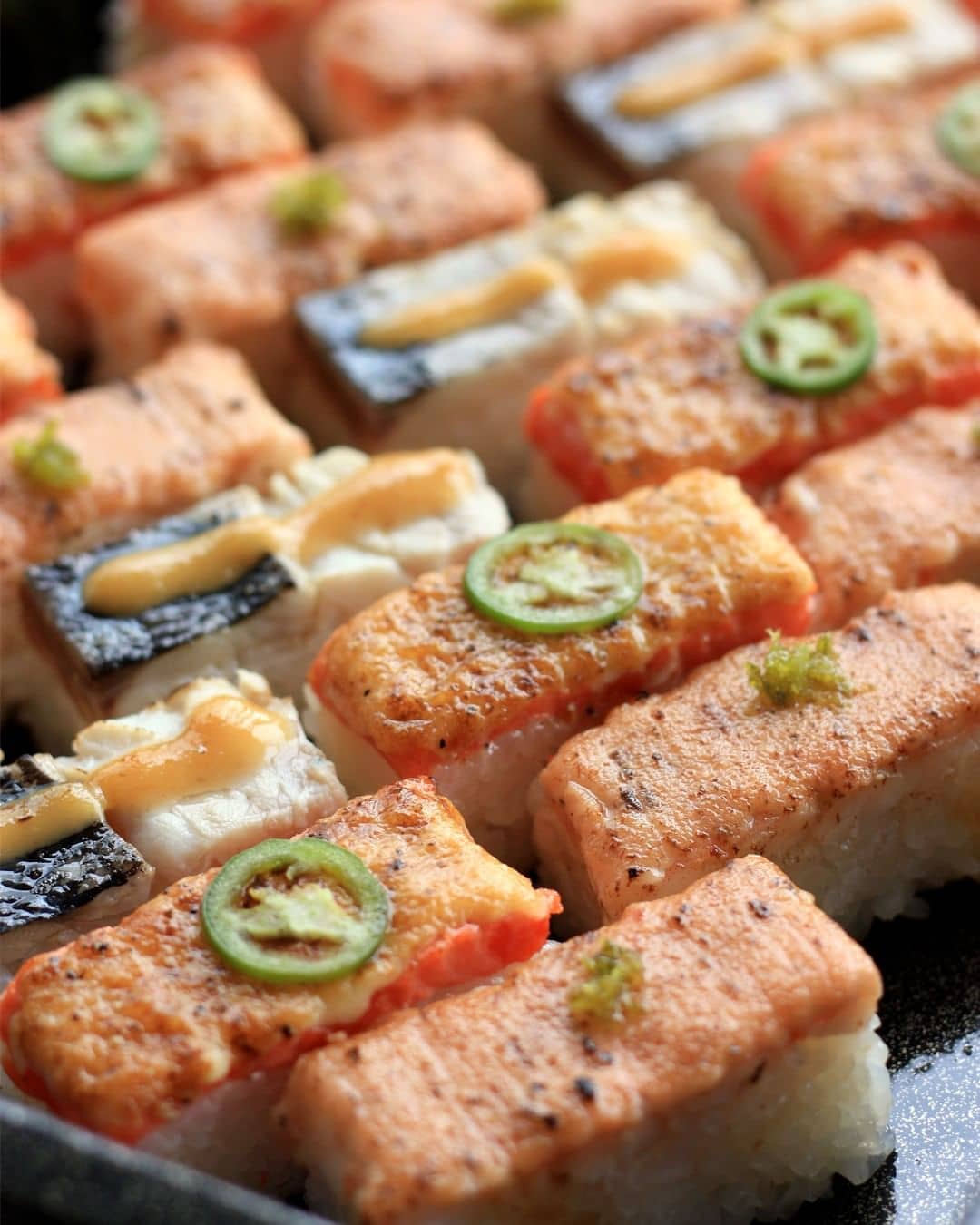 14. The Acorn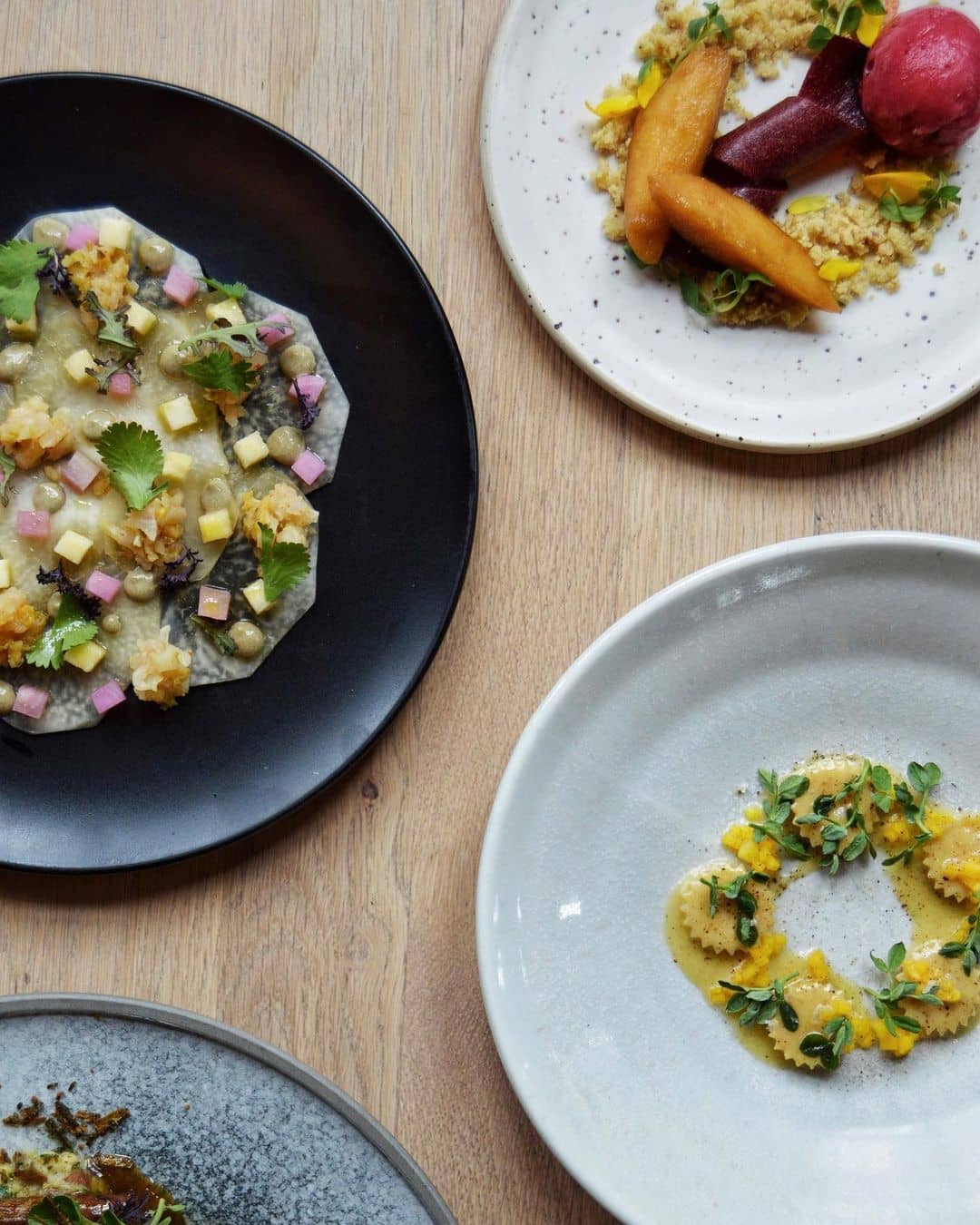 Known as one of the best vegan-friendly restaurants in the world, The Acorn serves the most creative meals prepared from fresh, locally sourced ingredients.
This award-winning Mount Pleasant restaurant caters to vegans and gluten-free diners but also makes sure that even the most loyal meat eaters leave completely satisfied.
To start, we highly recommend you to try the Legume that comes with banh mi paté, sake kasu mayo, pickles, and herbs.
What a creamy texture and nutty flavor this dish has! The Beer Battered Halloumi, which looks like fish & chips (without the chips!), steals the show no matter what you order. The cheese is rich, perfectly salty, crispy on the outside, and tastes divine.
Don't hesitate to have a drink to accompany with you throughout the night. Goodbye Rouge is a charming one with Barcardi Rum, fresh strawberry purée, strawberry leather, lime, and mint oil.
What to order: Legume, Beer Battered Halloumi, Goodbye Rouge, Acorn Spritz
Address: 3995 Main Street, Vancouver, BC
Website | Instagram | Facebook
13. Ramen Danbo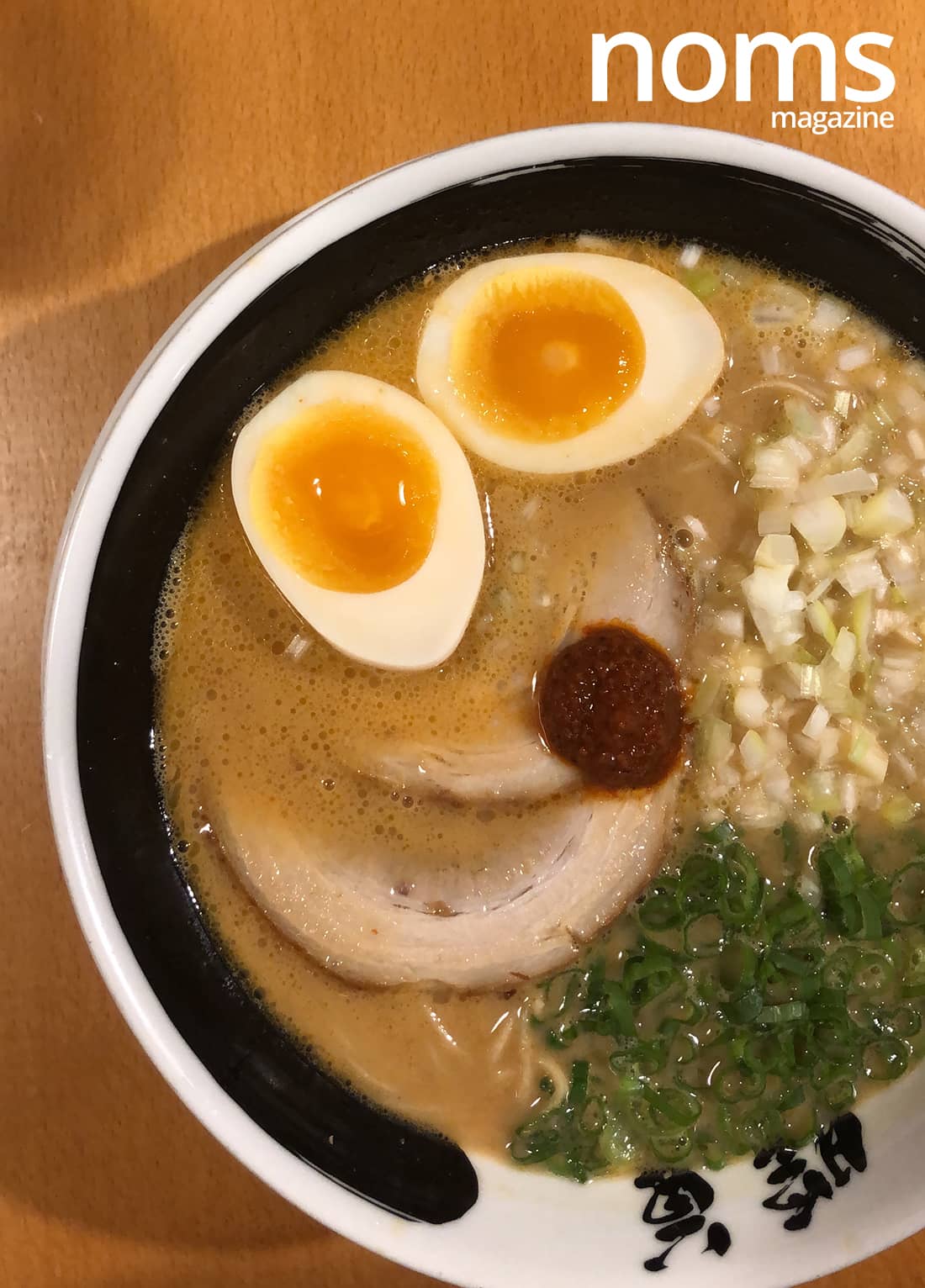 With more than 20 locations in Japan, Ramen Danbo is one of the top ramen shops in Canada, serving traditional Fukuoka Tonkotsu Ramen, which is rare to find even in the most diverse Vancouver food scene.
In addition, people can also customize their ramen and choose from a variety of delicious toppings to make their own unique ramen.
Whether it is your first or umpteenth visit to Ramen Danbo, you have to have their Signature Tonkotsu Ramen.
Of course, what makes this ramen bowl as delicious as it is is the signature Tonkotsu pork broth.
For all the vegan foodies out there, Ramen Danbo offers some delicious vegan options. Their classic vegan broth packs in tons of flavor, and has a texture similar to their famous Tonkotsu Ramen.
You can choose the level of spiciness in your ramen, the thickness, and firmness of the noodles, and also the thickness and richness of the broth.
What to order: Signature Tonkotsu Ramen, Classic Vegan Ramen, Miso Rekka Ramen
Address:
-Kitsilano – 1833 West 4th Avenue, Vancouver, BC Canada V6J 1M4
-Robson – 1333 Robson Street, Vancouver, BC Canada V6E 1C6
Order Online: DoorDash | Uber Eats
12. Como Taperia
Como Taperia, as the name implies, is a tapas bar and restaurant in Vancouver.
They serve their tapas directly from the custom tapas cases imported from Barcelona, and their menu features playfully modern dishes, inspired by the classics, and everything's made to order.
Even for your drinks, you can enjoy everything Spanish here at Como Taperia.
You can start your tapas dinner with the Anchovy Stuffed Olives. Even if you are not a big fan of anchovies or olives, this dish, which rather looks simple, will make you want to have a second plate of the same.
Eggplant, Spiced Honey, Rosemary – if that doesn't sound like an appetizing dish to you, you should try it before coming to conclusions.
What to order: Anchovy Stuffed Olives, "Eggplant, Spiced Honey, Rosemary"
Address: 201 E 7th Avenue, Vancouver, BC V5T 0B4
Website | Instagram | Facebook
11. Boulevard Kitchen & Oyster Bar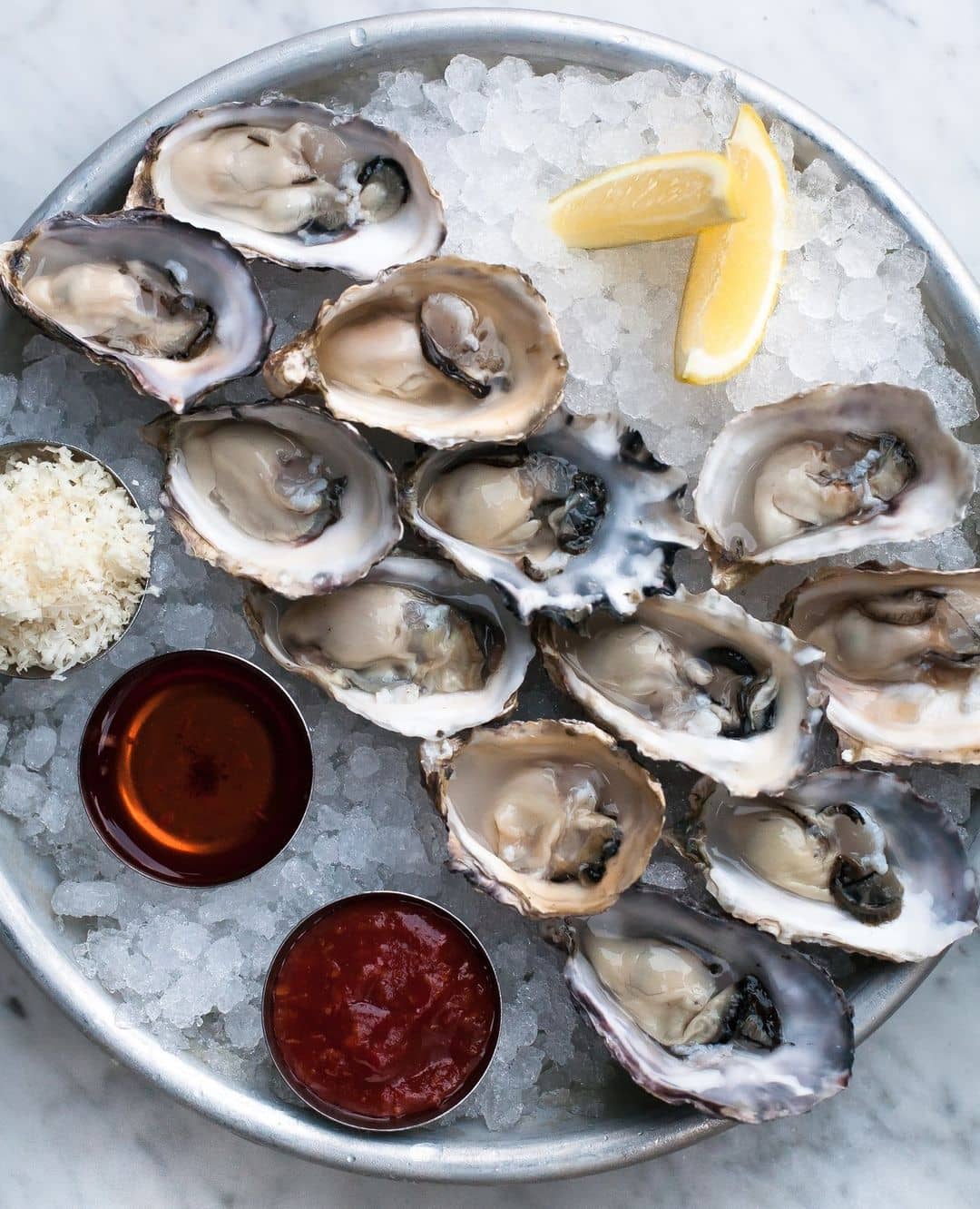 For all seafood lovers out there, one of the best establishments in Vancouver where you can find the best dishes made with the freshest of seafood is Boulevard Kitchen & Oyster Bar.
The place is modern yet comfortable, with a variety of seating options, including a patio and private rooms.
When you are at Boulevard Kitchen & Oyster Bar, you cannot go wrong with their Seafood Tower.
Containing an excellent assortment of raw seafood, including local oysters, shrimp, albacore tuna tataki, every single element on the tower is fresh and delicious.
Boulevard's signature Clam Chowder is a must-try. This traditional and hearty dish is taken to a whole nother level, with a hint of smokiness, and amazing flavour in every spoonful.
What to order: Seafood Tower, BLVD Clam Chowder, Crispy Chicken Wings
Address: 845 Burrard Street, Vancouver, BC, Canada
10. Cafe Medina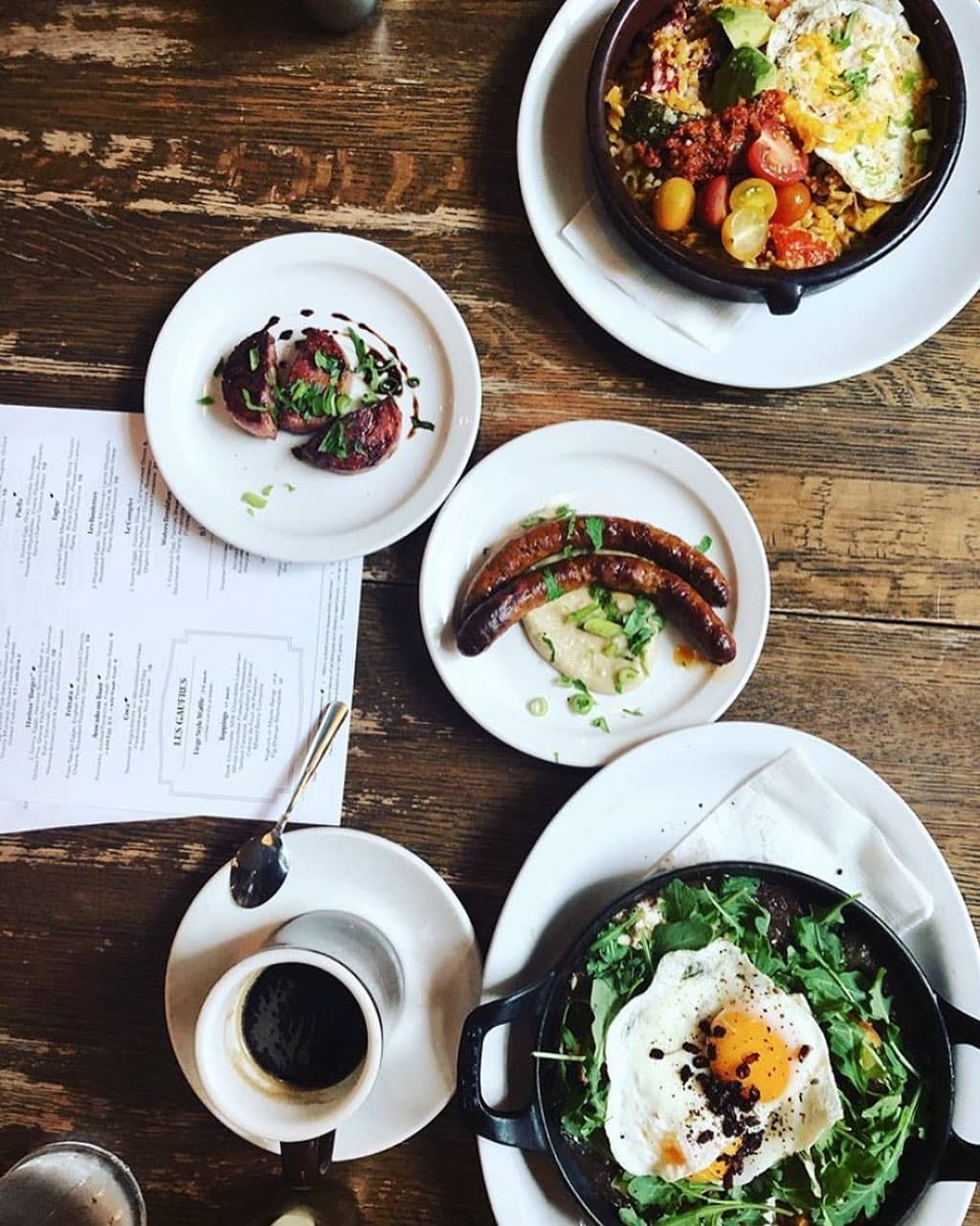 Located in the Library District, Cafe Medina is a trendy and stylish spot serving Mediterranean-inspired cuisine.
The restaurant is a popular weekend brunch destination in Vancouver, and they have some truly delicious offerings.
While they are very popular for their waffles, the highlight, however, is the one topping that has people drooling – White Chocolate Pistachio Rosewater.
This topping/dip is so light, fragrant, and delicious that people are willing to buy just a jar of the dip.
Yet another "to die for" dish at Cafe Medina is their Braised Short Ribs, or Fricassée. Your plate comes packed with beautifully cooked, extremely tender beef short ribs – simply delicious.
What to order: Liège Style Waffle with White Chocolate Pistachio Rosewater, Wolves Breakfast, Fricassée (Braised Short Ribs), Lavender Latte
Address: 780 Richards Street, Vancouver, BC V6B 0C8
Website | Instagram | Facebook
9. Joe Fortes Seafood & Chop House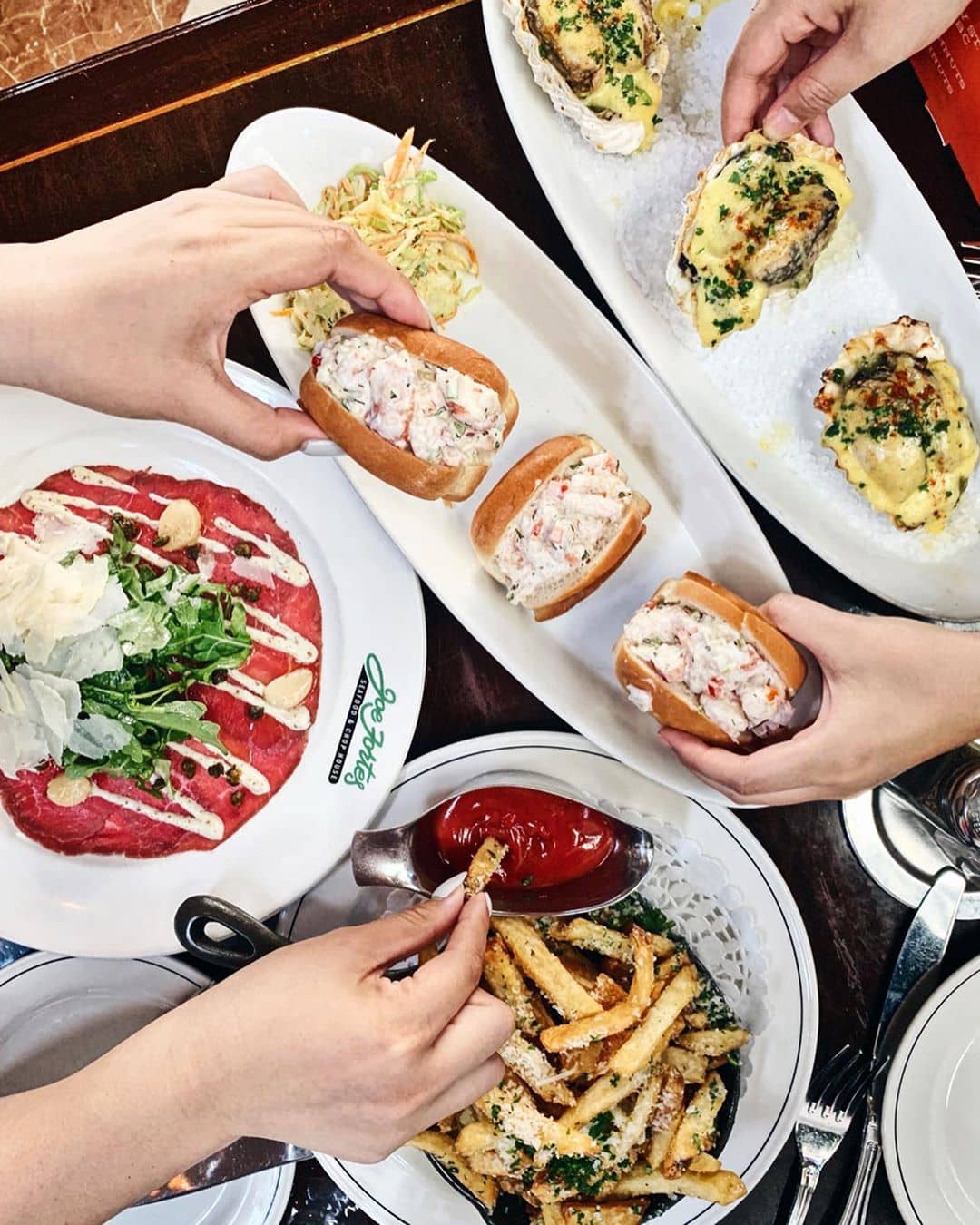 No matter where you are from, when you visit Vancouver, leaving the city without dining at Joe Fortes Seafood & Chop House would be a crime.
This really is the place you want to choose if you have out-of-town guests and are looking to impress them. Don't hesitate. Head down to Robson and just take them straight to Joe's and enjoy their gratitude later.
The Chicken & Waffles and Lobster Roll cannot be missed here, so go ahead and order up a batch. But, if a seafood brunch is what you're looking for, then opt for the delicious wild sockeye salmon cakes, with roasted potatoes, seasonal veggies, and tartar sauce.
A side of Truffle Parmesan Fries is a must, and of course you don't want to say no to a slice of soft, moist Coffee Cake.
What to order: Chicken & Waffles, Lobster Roll, sockeye salmon cakes, Truffle Parmesan Fries, Coffee Cake
Address: 777 Thurlow Street, Vancouver, BC, Canada
Website | Instagram | Facebook
8. Sun Sui Wah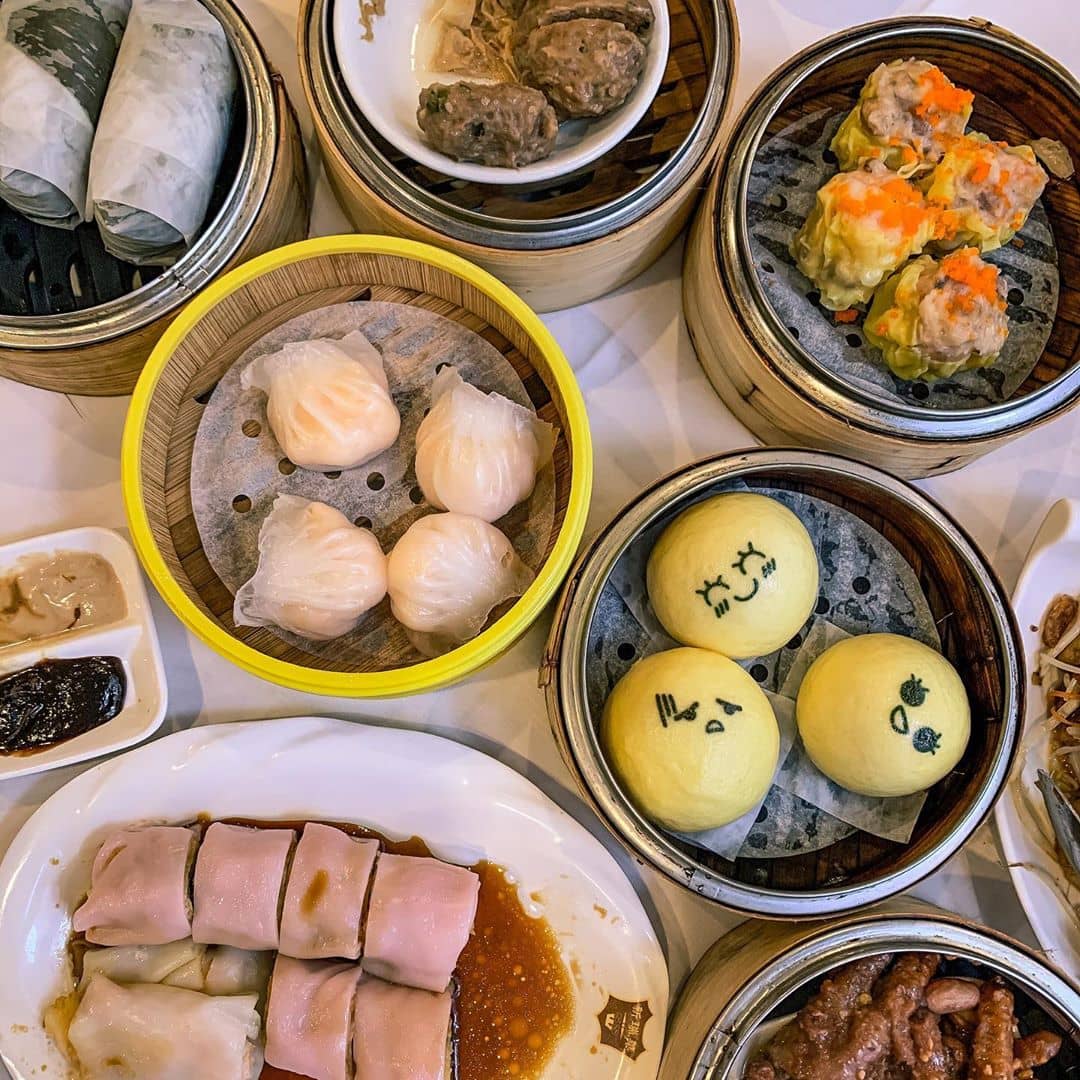 One of the best Chinese establishments in the city and one of the best dim sum places in Vancouver, Sun Sui Wah serves handcrafted dim sum, premium live seafood, and a lot more.
Serving a lot of timeless classic dishes, this award-winning restaurant is Vancouver's pride.
Try their Siu Mai and you would be amazed at how a simple-looking dish tastes so flavourful. The Steamed Crystal Prawn Dumplings are a crowd-pleaser as well; you get perfectly steamed dim sums, with the right balance in flavours, and chunky prawn pieces that give a satisfying bite.
Ask any Vancouverite foodie about Sun Sui Wah, and you will watch them getting weak at the knees talking about the restaurant's Baked BBQ Pork Pastry.
The puff pastry pillows come out buttery and flaky, and the house-made BBQ pork filling is every diner's delight. Also, these yummy pillows (!) are made fresh daily.
What to order: Siu Mai, Steamed Crystal Prawn Dumplings, Baked BBQ Pork Pastry
Address: 3888 Main Street, Vancouver, BC V5V 3N9
Website | Instagram | Facebook
7. Maruhachi Ra-men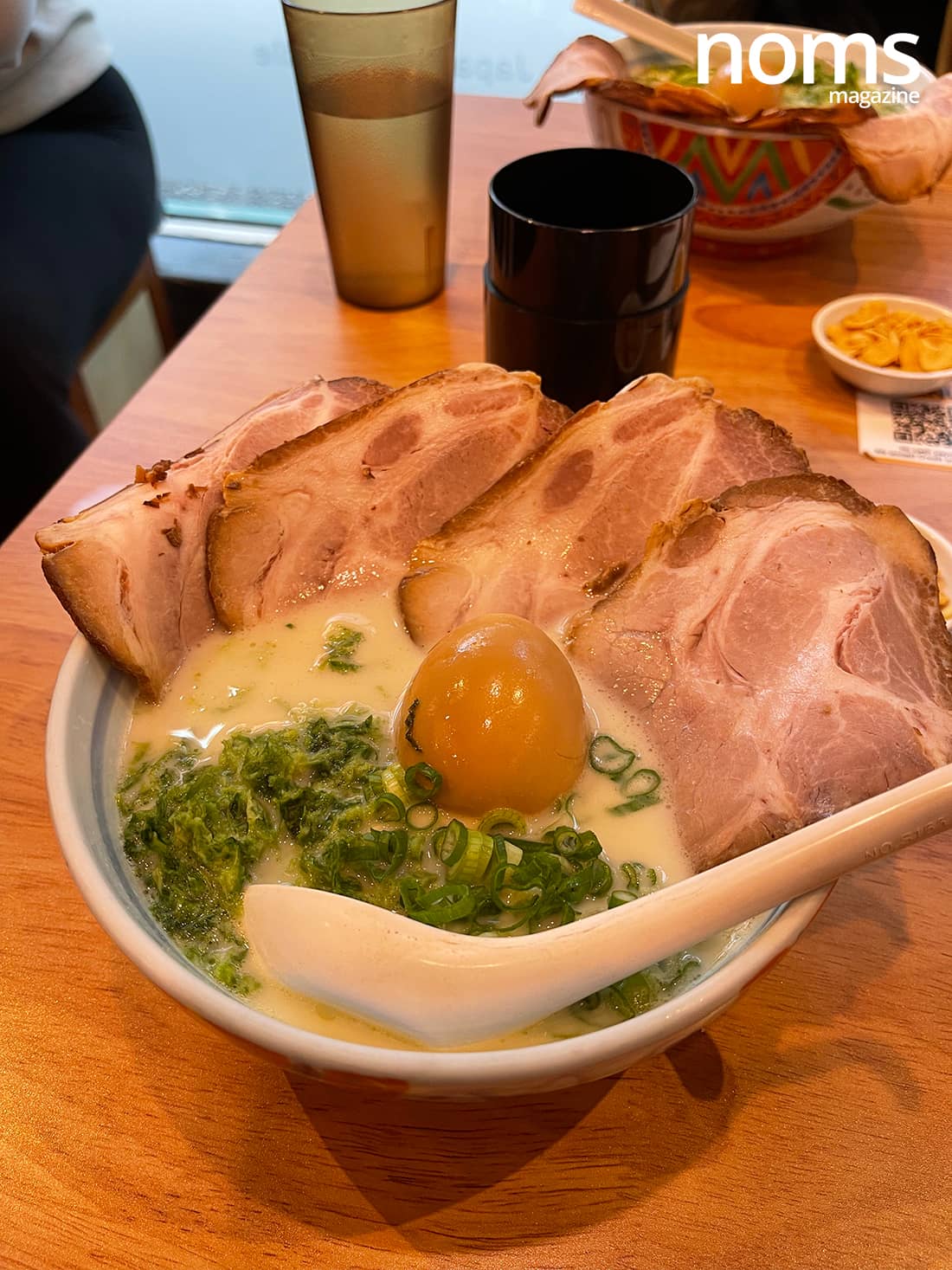 Ever tasted ramen that virtually took you straight to the streets of Japan? Maruhachi Ra-men will give you that surreal experience!
Specializing in simple yet flavourful ramen, this place makes everything fresh and from scratch every morning at 6AM, which contributes significantly to the taste.
Their Tamago Ramen is a crowd favourite. The chicken broth is light and creamy, and the pork cha-su is tender and delicious.
The thin noodles come cooked to perfection and soaked in the flavourful broth, and all the elements create a flavour bomb in your mouth.
Pro-tip: When you receive your bowl of ramen, always add the garlic chips. You will never be the same again after trying it.
What to order: Tamago Ramen, Veggie Curry Ramen
Address:
-Vancouver Westend – 780 Bidwell Street, Vancouver
-Central Library – 270 Robson Street, Vancouver
-Marutama Gaiden – 2858 Main Street, Vancouver
-Burnaby – 5278 Kingsway, Burnaby, BC V5H 2E9
Instagram | Facebook | Website
6. Tom Sushi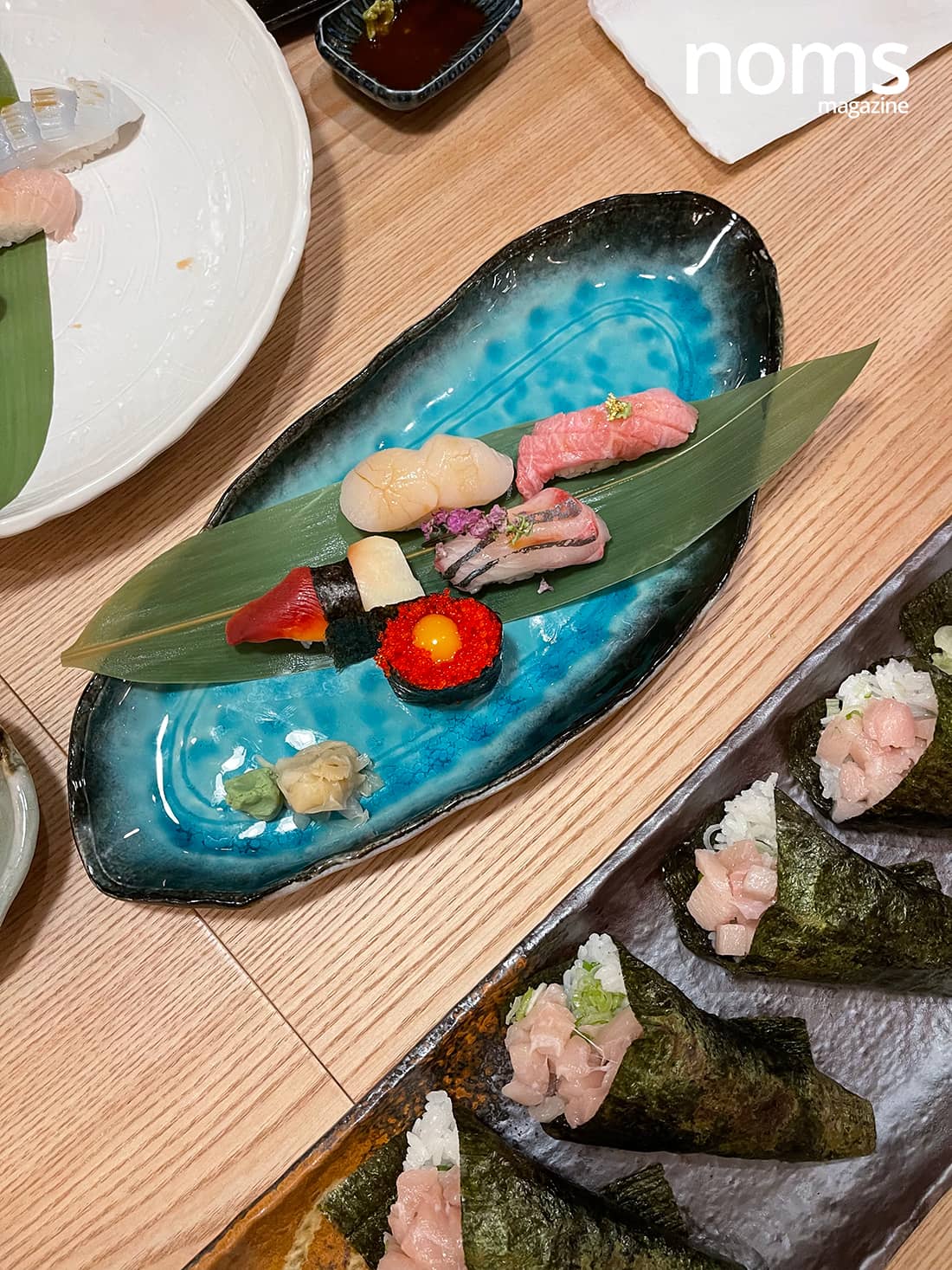 Vancouver has some incredible sushi spots, and the one place that has managed to reach the no. 1 spot on our Best Sushi Restaurants in Vancouver list is Tom Sushi.
Having won the hearts of Vancouverites within a short period, this place is where traditional Japanese flavours meet local, west coast elements, leading to a unique dining experience.
Tom Sushi has quickly carved a name for itself as the sushi bar that carefully considers texture, nuance, and flair in fresh ingredients.
And best of all – they offer it all without really breaking the bank.
We recommend for nigiri: tobiko w/quail egg, shima-aji, hotate, and toro.
And if you're one of the lucky people to get your hands on their daily limited donburis – go for the bluefin or uni ones.
What to order: tobiko w/quail egg, shima-aji, hotate, toro nigiri, bluefin, uni donburi
Address: 1175 Davie St, Vancouver, BC V6E 1N2
Order Online: Website | Uber Eats
5. Blue Water Cafe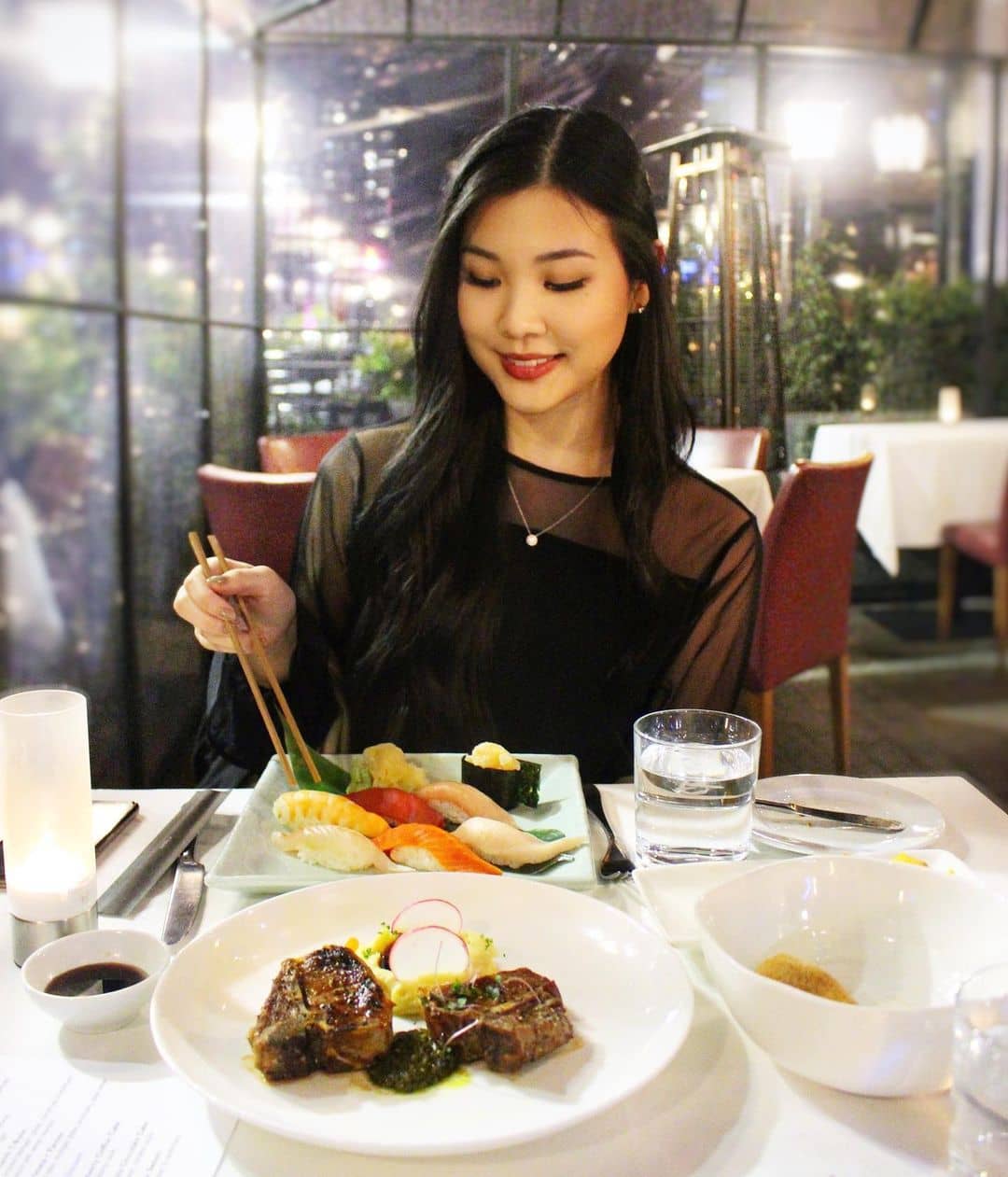 Blue Water Cafe is one of the best seafood restaurants in Vancouver serving unique and memorable seafood dishes made from sustainably sourced seafood.
This internationally renowned restaurant is any seafood lover's ideal pick for a fancy and romantic night out.
To taste the fineness of everything Blue Water Cafe has to offer, go with the Seafood Tasting for Two.
You get to sample some of the best dishes that leave their kitchen, including the Smoked Sockeye Salmon Terrine and Albacore Tuna Tartare.
If someone in your group doesn't dig seafood, the Kobe Style Shortribs will make a great dish for their fancy dinner.
What to order: Seafood Tasting for Two, Kobe Style Shortribs, Yellowfin Tuna, Sablefish, Fresh Oysters
Address: 1095 Hamilton St, Vancouver, BC V6B 5T4
Website | Instagram | Facebook
4. St. Lawrence Restaurant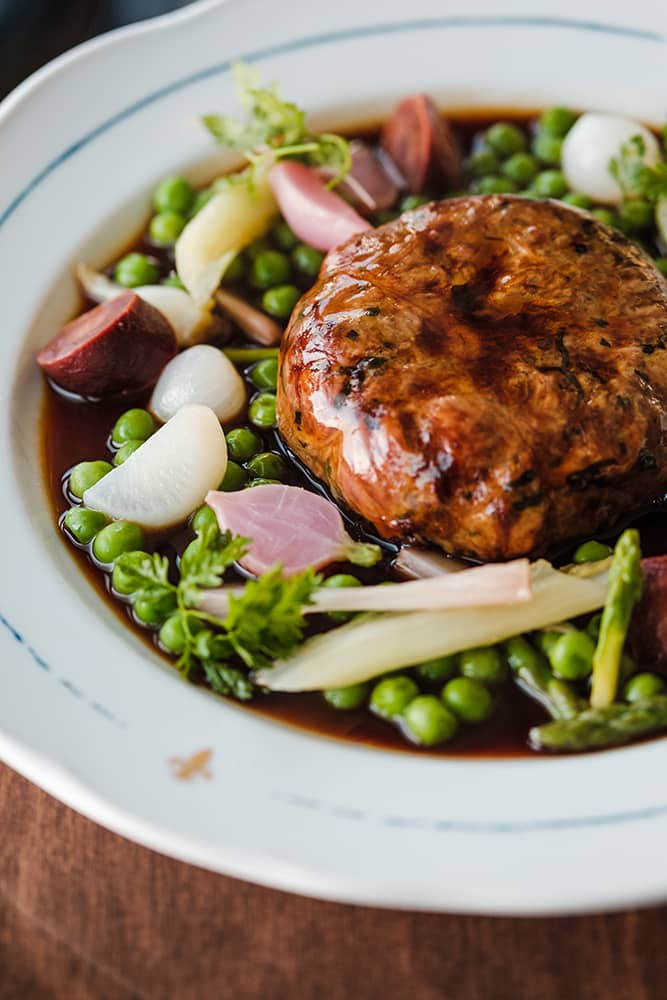 A hit since its opening, St. Lawrence serves classic French cuisine highlighting the culture of Les Québécois.
Featuring a mosaic-tiled floor, antiques, textured walls, and an open kitchen, this Michelin-star restaurant is charming in every sense of the word.
The Foie Gras Éclair, or Éclair à la mousse de foie de canard, is a symbolic representation of how deserving St. Lawrence is of a Michelin star.
The otherwise heavy and rich ingredient is skillfully prepared into something light, airy, and delicious, without compromising the rich flavour of the foie gras.
Easy to dismiss on the menu of a restaurant of this caliber, but the Fried Pork Rinds (Oreilles de crisse) here is beyond delicious.
You get an overflowing plate of pork rinds, fried to crispy perfection yet light and not too oily, tossed in maple syrup and MTL spices, which is a combination that works.
Featuring local, line-caught fish from Organic Ocean, the Poached Cod main (Morue à la Dieppoise). The fish is poached to perfection and is light, silky, flaky, and tender.
Try the Mille-feuille aux chocolat & café for dessert, and you'd want to go back for just that!
What to order: Éclair à la mousse de foie de canard, Oreilles de crisse, Morue à la Dieppoise, Mille-feuille aux chocolat & café
Address: 269 Powell Street, Vancouver, BC V6A 1G3
Website | Instagram | Facebook
3. Phnom Penh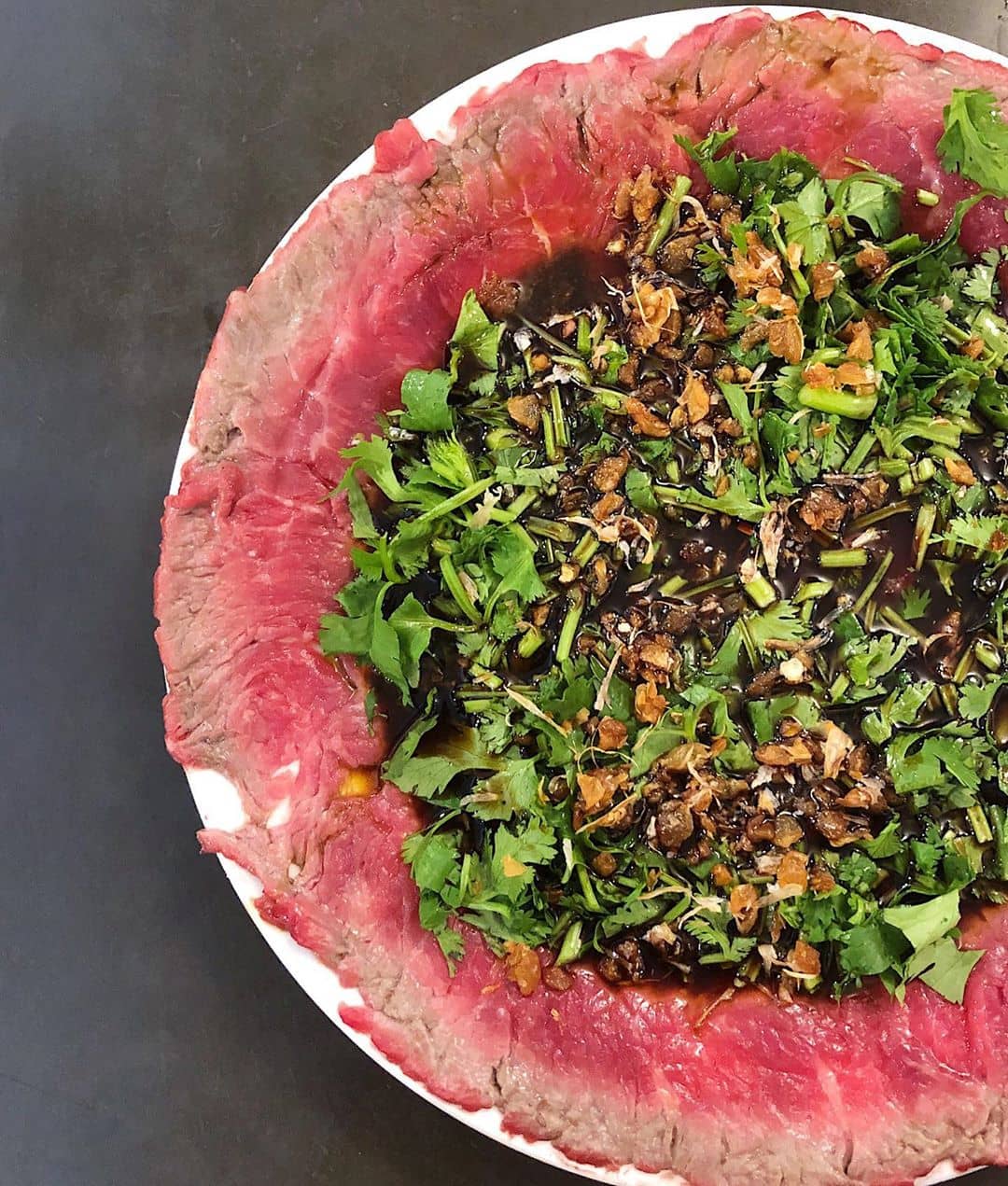 Straight from our Ultimate Vancouver Food Bucket List, this award-winning restaurant serves Cambodian and Vietnamese foods that are greasy, soulful, flavourful, and extremely satisfyingly delicious!
Phnom Penh is most well known for its "Holy Trinity" items – the Butter Beef, Deep-Fried Chicken Wings, and Beef Luc Luc.
You'll find Instagram littered with photos of these 3 items and on each table when you're there.
The Marinated Butter Beef is thinly sliced and carefully prepared rare, and comes packed with an amazing flavour, credit to the house special sauce.
The Deep-Fried Chicken Wings is not your regular deep-fried chicken wings, this dish is ADDICTIVE! These wings are LEGENDARY! Enough with all the hype – try it yourself and you will know it is worth all the buildup.
Their Filet Beef Luc Lac is another uniquely flavoured dish, with tender beef pieces covered in a sweet brown sauce, served with rice, salad, and egg. While the beef is rich on its own, it tastes phenomenal with all the accompaniments.
What to order: Marinated Butter Beef, Deep-Fried Chicken Wings, Filet Beef Luc Lac
Address: 244 E Georgia Street, Vancouver, BC V6A 1Z7
2. Published on Main
With a traditional 18th-century English coffee house inspiration, Published on Main is one of the city's most-awarded restaurants.
From being a Michelin one star to Canada's best 100, to La Listle's top 100 globally, this Main Street spot has become Vancouver's shining beacon for culinary excellency.
One great thing is that Published on Main is both fancy but also casual dining spot for couples and groups.
You won't find a pompous dress code here. Their menu highlights locally sourced produce and therefore changes with the seasons.
When you visit Published, you have to start your meal with their Bee Pollen Milk Buns. These Japanese-style buns are so soft and fluffy that they literally melt in your mouth, and the whipped butter makes a perfect pairing.
Or you choose the Beef Crudo in a fermented currant and saba dressing with a malt cracker.
Don't just stop here, keep your journey going with their famous Lightly Smoked Steelhead with douglas fir creme fraiche and barley malt.
Each bite tastes like heaven with a light kiss of smoke, a delicately garlicky, and herbaceous finish.
An unforgettable finish to your meal will be the Chocolate Panna Cotta. Served with a light and mildly sweet peanut butter semifreddo and refreshing banana sorbet, this dessert is legit delish!
What to order: Bee Pollen Milk Buns, Beef Crudo, Lightly Smoked Steelhead, Chocolate Panna Cotta
Address: 3593 Main Street, Vancouver, BC V5V 3N4
Website | Instagram | Facebook
1. Elisa Vancouver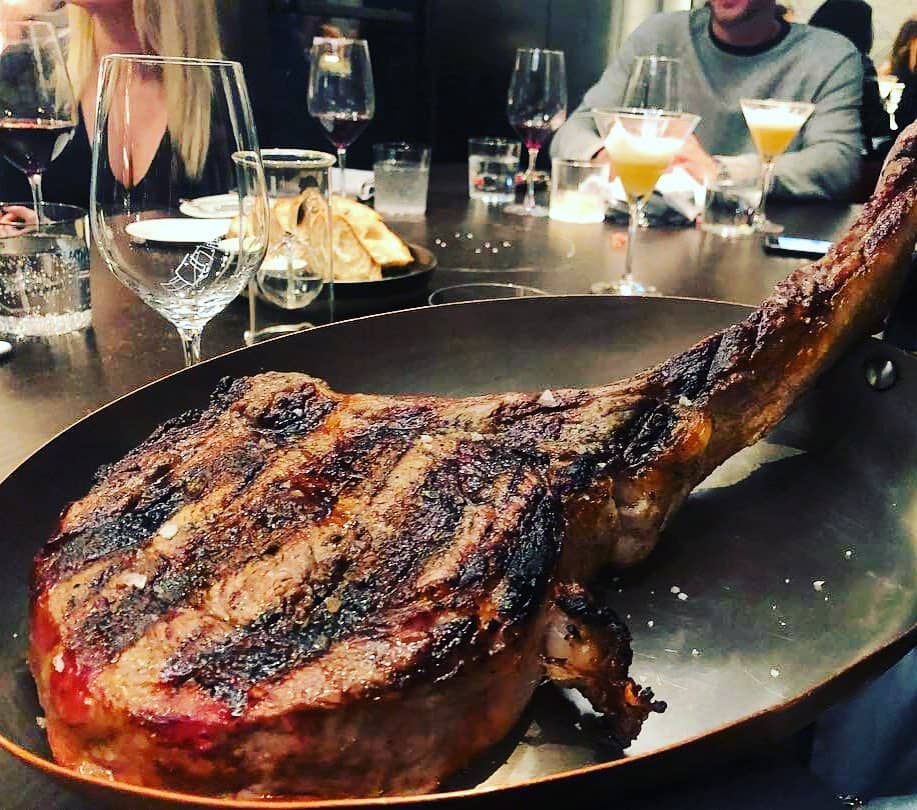 Elisa is one of the go-to places for premium quality steaks in Vancouver. Featured on our Best Vancouver Steakhouses list, the restaurant serves premium fine cuts from around the world, along with sustainable seafood, and locally sourced produce.
With a unique ambience and top-notch service, Elisa Vancouver is a steakhouse reimagined.
Dress up smart casual for a date night at Elisa Vancouver, and order the 12 oz. Holstein Rib-Eye cooked to your preference.
This particular cut of steak has a uniqueness to it; the rib-eye is more tender and juicier than many other cuts.
Grilled on a remarkable Grillworks Inferno, the steak comes cooked to perfection, with the right level of char, and excellent smoky taste.
If you are a tartare person, the 'classic' beef tartare is a must-try. The caramelized shallot aioli adds a slight sweetness to the tartare, whereas the crunchy onions add a contrasting crispy texture to the smooth beef tartare.
Finish off your meal with the steakhouse classic Baked Alaska – the caramelized banana rum ice cream and all the other elements work well together, and the meringue is torched to perfection.
What to order: The 'classic' Beef Tartare, 12 oz. Holstein Rib-Eye, Baked Alaska, American Black Angus
Address: 1109 Hamilton Street, Vancouver, BC
With that amazing recommendation, our list of the top Vancouver restaurants comes to an end.
We hope that you let the foodie in you explore the greatness that each of these restaurants has to offer while making unforgettable memories.
We also have an exclusive list curated for the best restaurants in Richmond. Check it out!
Where do celebrities eat in Vancouver?
Celebrities have been spotted at Miku (Beyonce and Jay-Z), Gotham Steakhouse (George Clooney, Halle Berry, The Rock), Phnom Penh (Jimmy O Yang), Kissa Tanto, Keefer Bar, Cioppino's (Jason Momoa), Lee's Donuts (David Chang), and Bodega on Main (The Flash cast).
Is there Michelin star in Vancouver?
Yes. The Michelin Guide arrived in Vancouver in 2022. Annalena, Barbara, Burdock & Co, Kissa Tanto, Masayoshi, Published on Main, Iden & Quanjudge, and St. Lawrence were awarded one star.
Is Vancouver a foodie city?
Yes Vancouver is definitely a foodie city. Many people from around the world (especially Eastern Canada) come to Vancouver for the food. Vancouver is known for stellar Asian cuisine and vegan food.
How We Create Our "Best" Lists
All Noms Magazine's "best" lists are created using multiple factors and signals to help readers find the best restaurants, things to do, and places to stay at. Some of these factors and signs include personal experiences, correspondence with locals, and compiling experiences from review sites.
Each list is also created to be balanced (in terms of price, cuisine type, ambiance, and more) as possible. This means that the lists are not specifically created in ranking order. You should be comfortable picking from any of the spots on the list and generally have a good time. But of course, YMMV (your mileage may vary) and everyone may have different experiences/palates.