It's time to forget high-end hotels when visiting the cosmopolitan city of New York! What you want from an enjoyable vacation is to engage with other folks and live in a stylish place full of characteristics. The metropolis vibrancy is a great magnetic field that keeps pulling in those tourists who want to keep up with all the happenings in the city center of New York. However, when you choose an Airbnb over a regular arrangement, that's when you start living like a real local!
From Brooklyn to Rockaways and Queens, our favorite Airbnbs below will surely win you over! Let's discover these dreamy aesthetics and pick your favorite from our list below!
1. Cozy Brooklyn Garden Level Apartment w/Backyard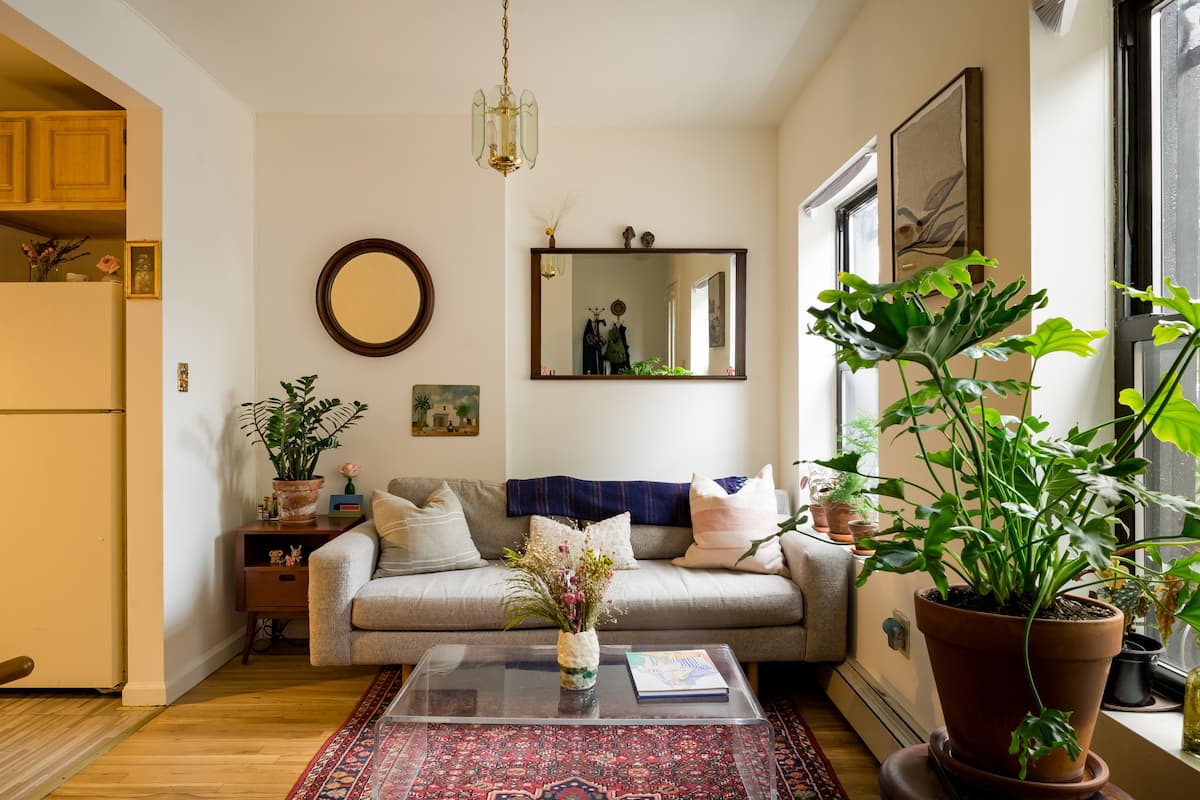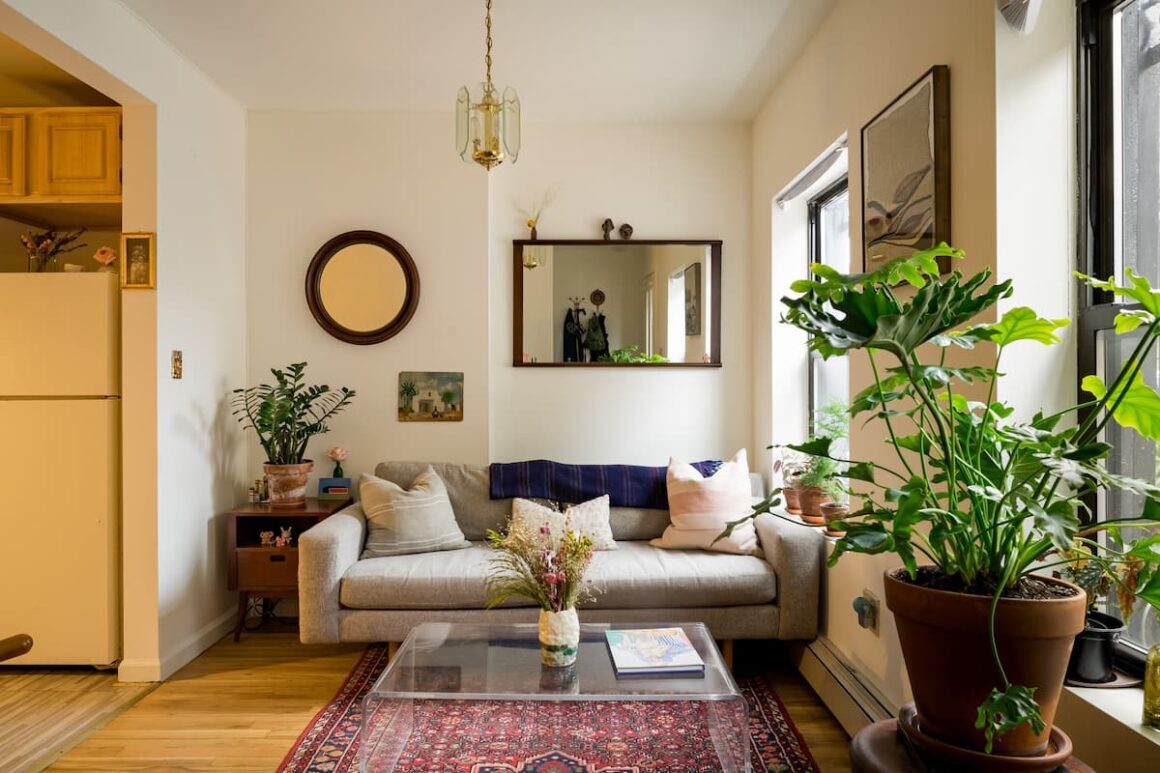 Price: $$
No. of guests: 2
Nestled in the garden level apartment in The Big Apple's hippy neighborhood of Bushwick, Josh's townhouse features one bedroom, a full kitchen, a smart TV, and a sunny living room.
This cozy Brooklyn apartment makes a perfect base to explore Manhattan and Queens. There's a parking lot right in front of the house where you can leave your car for the whole week to use public transport without any issue.
Bushwick is a fun, hip artistic neighborhood. Steps away from the door is a plethora of bars, restaurants, supermarkets, and Citibike to keep you occupied day and night. The best part of the house is definitely the sun-soaked patio where you can throw a bonfire at night or BBQ for an intimate get-together on a non-cloudy day.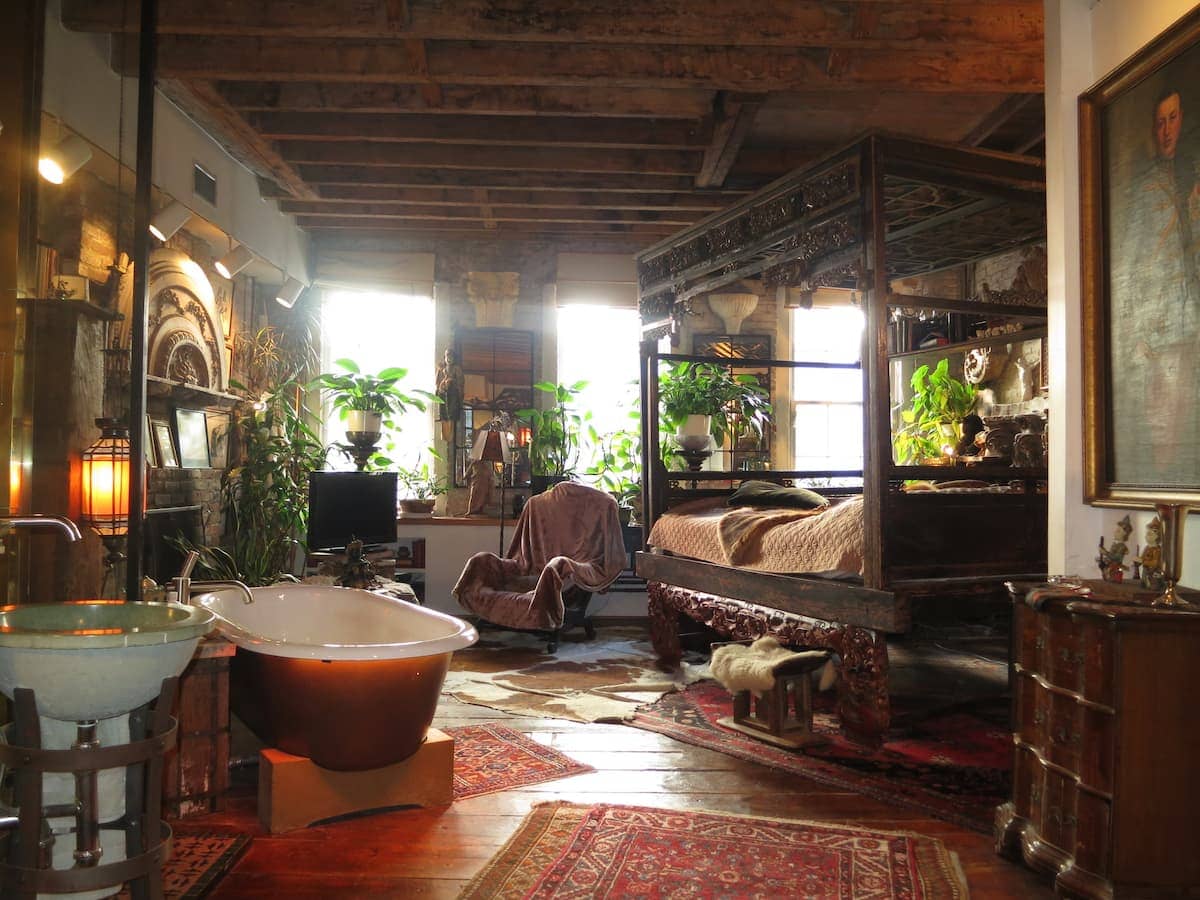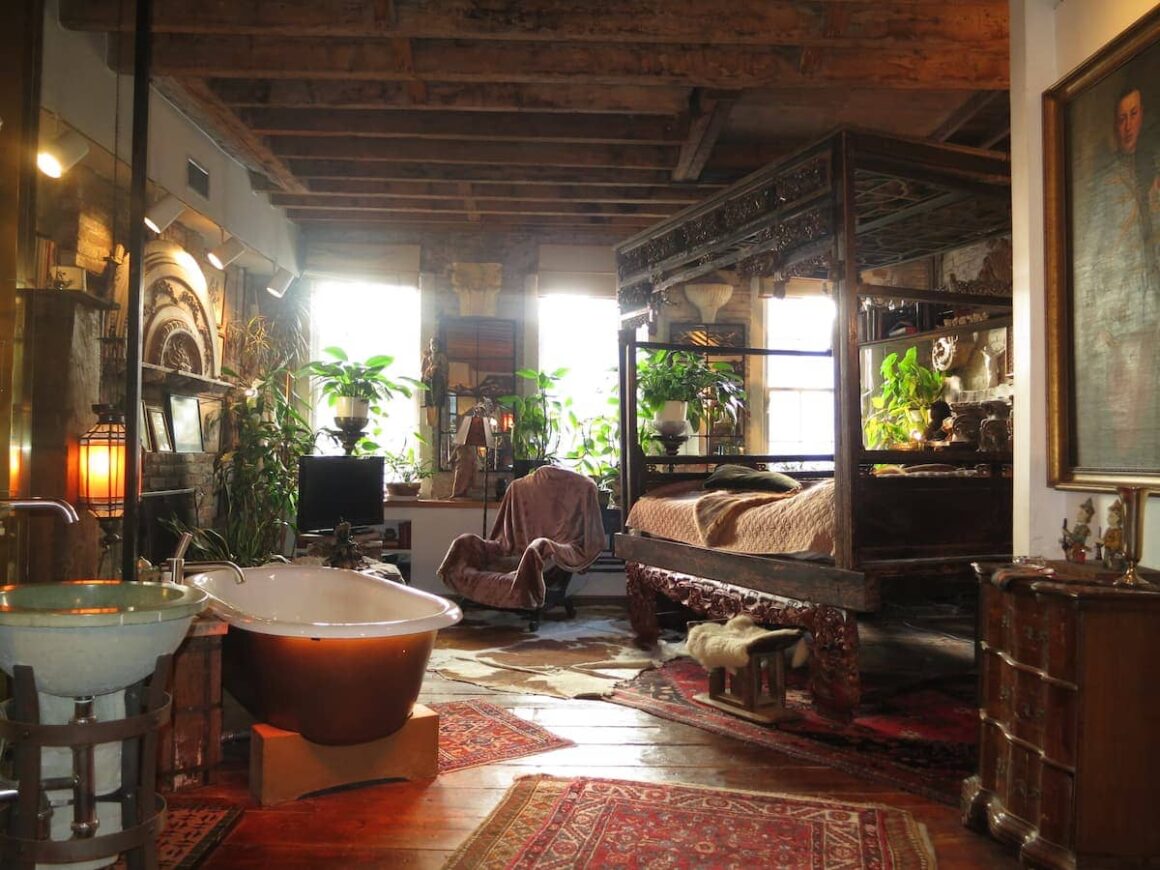 Price: $$$
No. of guests: 2
It's time to maximize your buoyant vacation in New York with a chapter of rhapsody! Every corner and detail that Clara has put into her Airbnb is filled with unpredicted treats, just like the way New York surprises its visitors.
Quaint, vintage, relaxing but the house doesn't lack a necessary side of quirkiness. It puts on an eclectic appearance of a Victorian house with wood being the primary material. The limelight of the house either comes from the extra deep clawfoot tub or the wood-burning fireplace.
Other than the stylish furniture and amenities, Clara's home keeps pulling in tourists thanks to the prime location it sets on. This Boho-chic apartment is next door to the Gramercy Park. You can almost walk to various areas of Manhattan and even reach Brooklyn without any hassle! Keep your day energetic with a visit to the nearby restaurants, Empire State Building, and Fifth Avenue before resting your back on the intricately adorned bed when night falls.
3. A Black A- Frame: Sustainable Catskills Cabin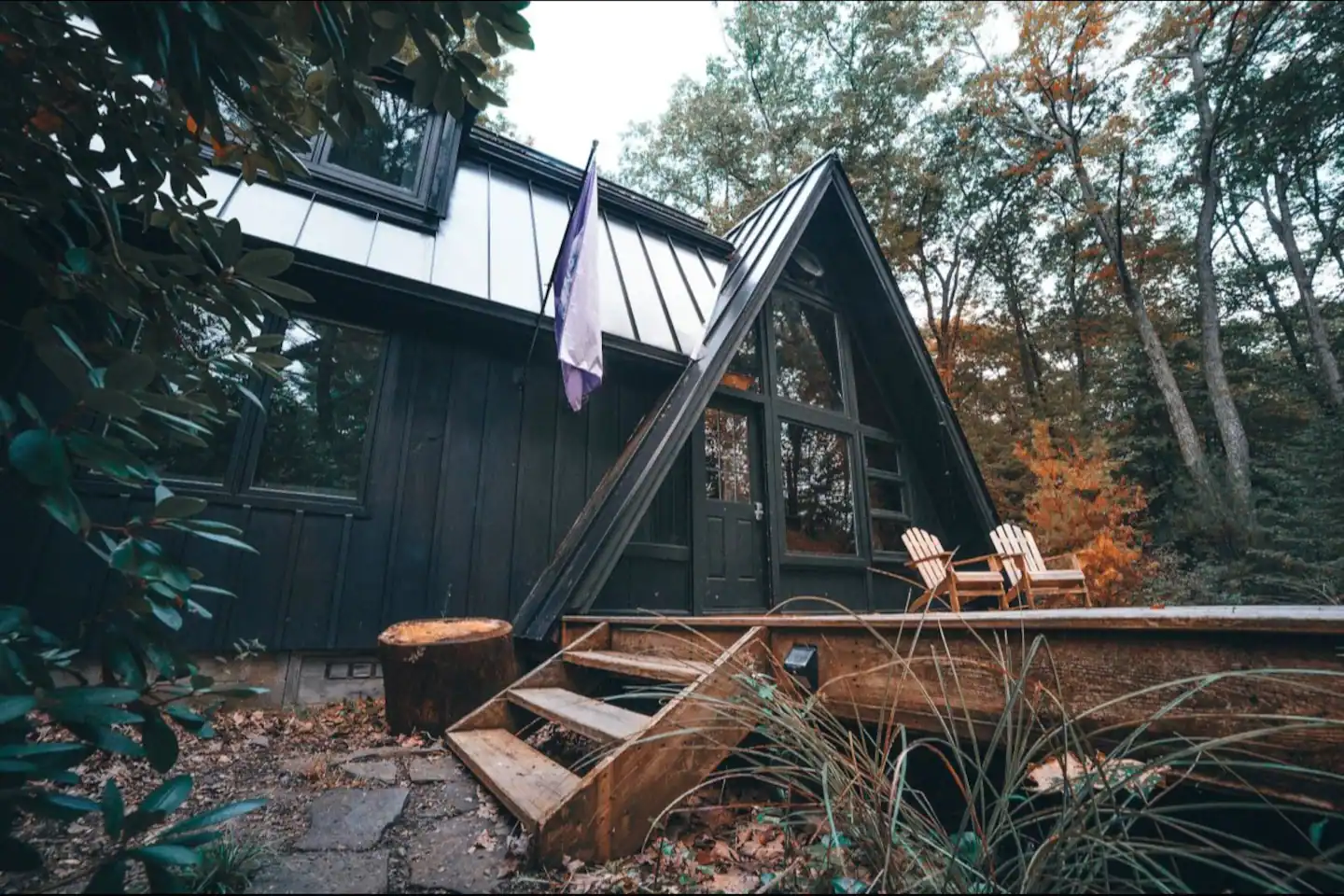 Price: $$
No. of guests: 4
"A-frame houses stage a massive comeback for the Instagram age" – Those flattering words got the locals crazy over Peisham's two-bedroom Airbnb back in 2020 when it was featured in the New York Post. Now it's your chance to steal a few days of your busy schedule to get away in the woods and be pampered by this 1961 solar-powered cabin. It's located on a private road smack dab in the heart of Catskills, Kerhonkson, New York.
Boasting a dramatic jet-black coat on the outside with an ironically warming interior, the A-frame house features a thoughtfully designed open-concept dining room with original wood ceilings and beams to spruce up your stay with the retro vibe of New York. The house is connected to a raised wooden deck dotted with a hammock to kick back and some recliners to soak up the forest Catskills has to offer.
In the back garden, Peisham provides a fire pit with a large steel drum BBQ grill to chill with your loved ones on a cold night. Alternatively, recall the day's events at an extra-long picnic table and screen in the gazebo under the garden lights hanging on the trees. If you're looking for a quiet and romantic hideout to bunker down this long weekend, look no further!
4. Modern Upstate Cabin + Hot Pool near Rhinebeck NY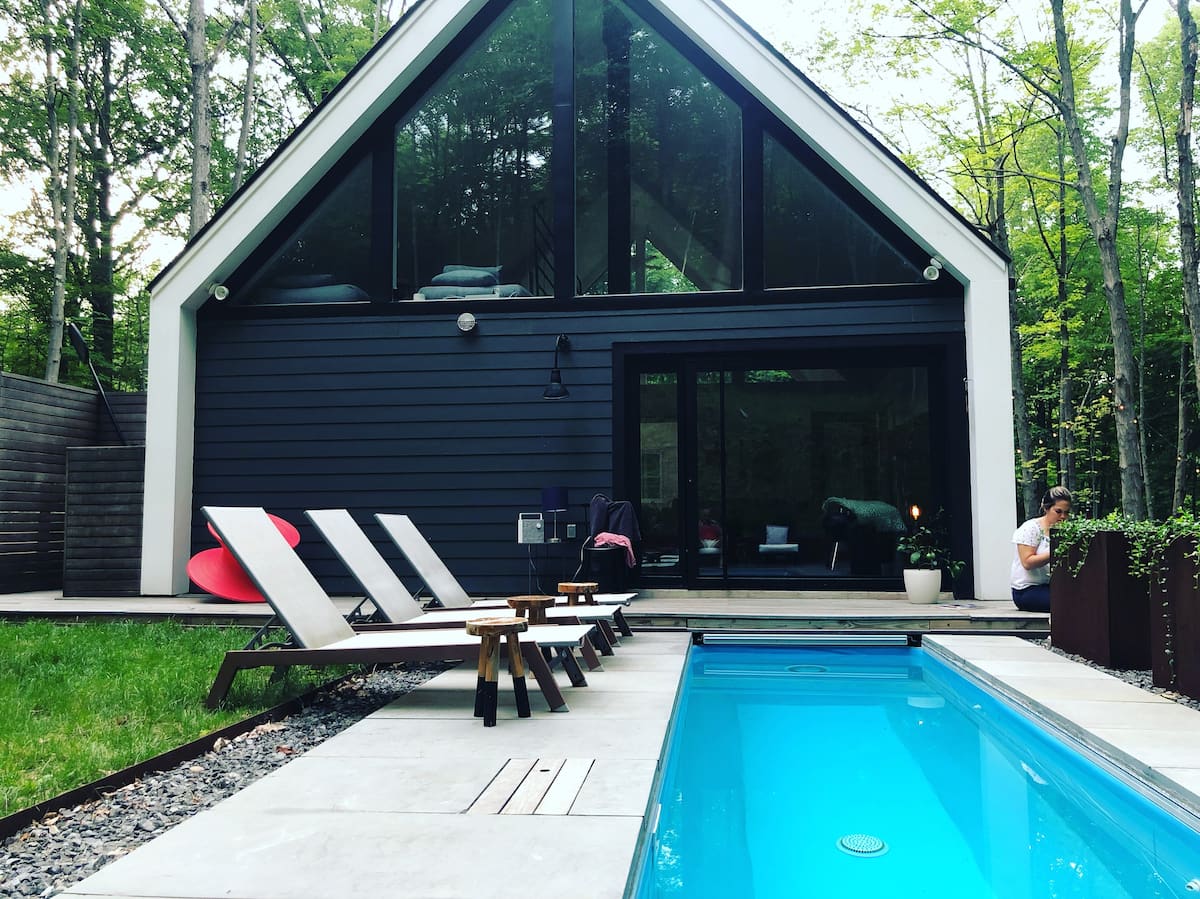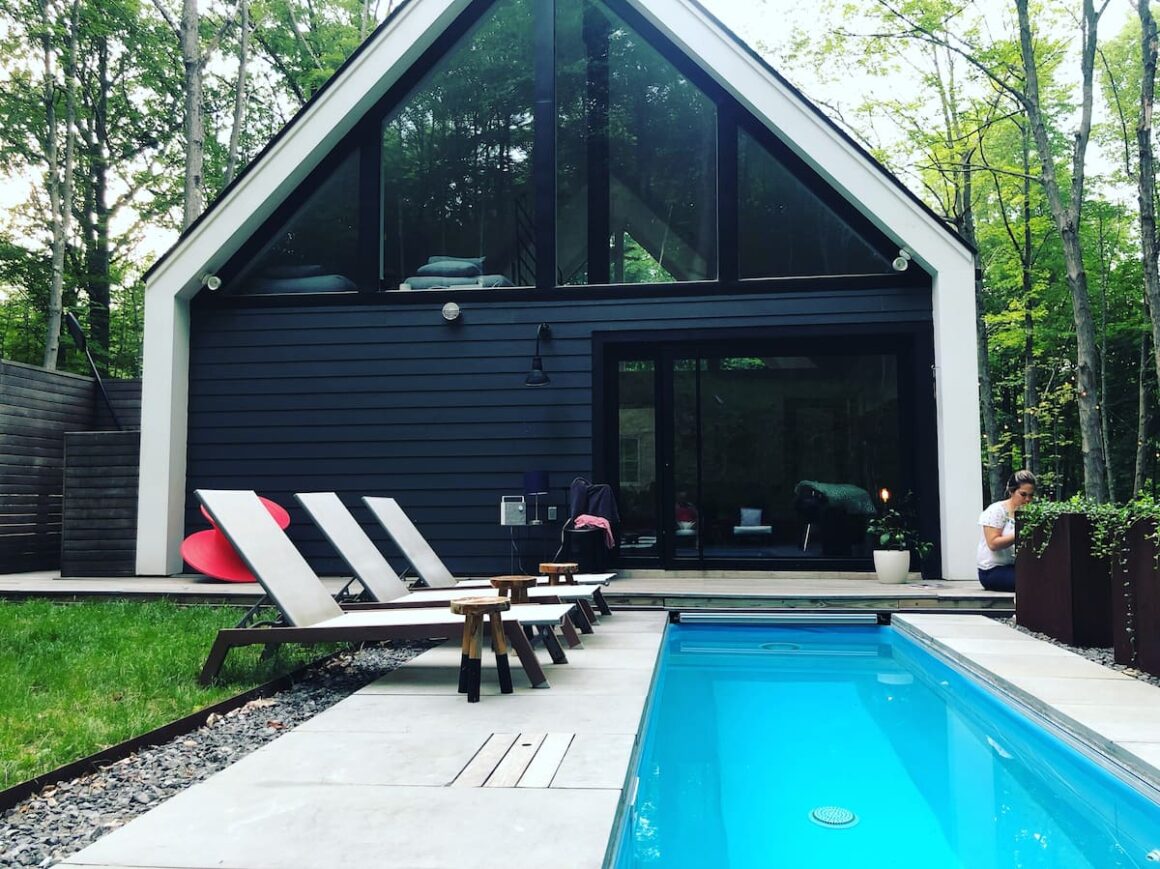 Price: $$$
No. of guests: 2
Ever imagine living with a smart home automation journey? Well, Tina's upstates cabin raises the bar of what a modern cabin can live up to. Who knows there's a sanctuary dropped in the heart of a forest that can be so beautiful, well-functioned, fully-stocked, and chic at the same time?
If you've ever found your way to Red Hook, this hidden gem will leverage your vacation to a whole new level. It's a beautifully designed passive glass and wood modern cabin with all the functions of an energy-efficient retreat.
Long gone the day when smart homes only existed in movies and shows. Tina's modern cabin turns your imagination into reality. Everything is controlled with apps. You have an egg tub to soak in and unwind, fires at every turn, and a hot pool to decompress any time of the year. Overcast weather is no longer a problem because you have radiant heat cement floors for a cool and warm opportunity to stay comfortable all year long. Tina's cabin is bookable for three nights minimum and sleeps up to two guests.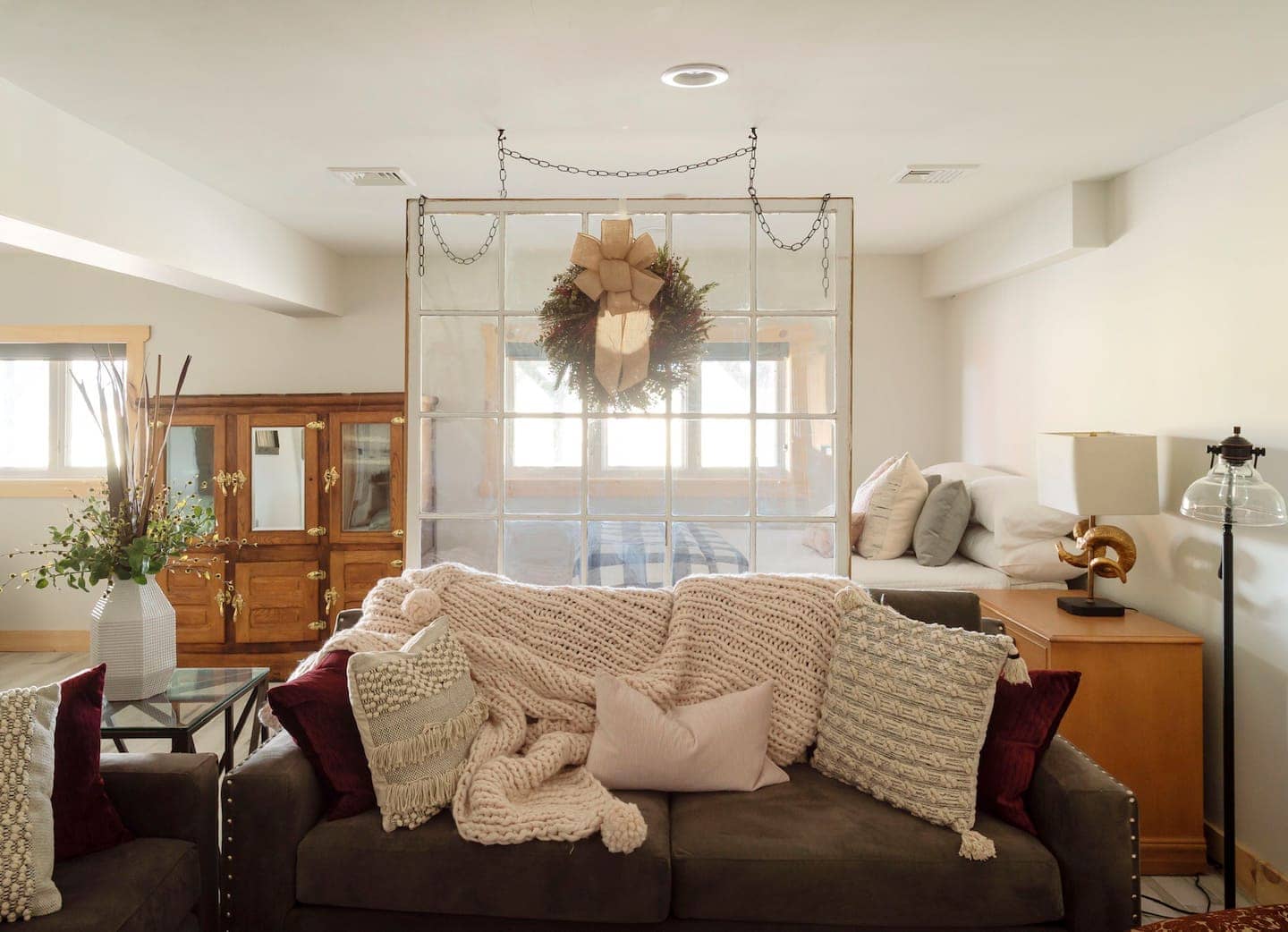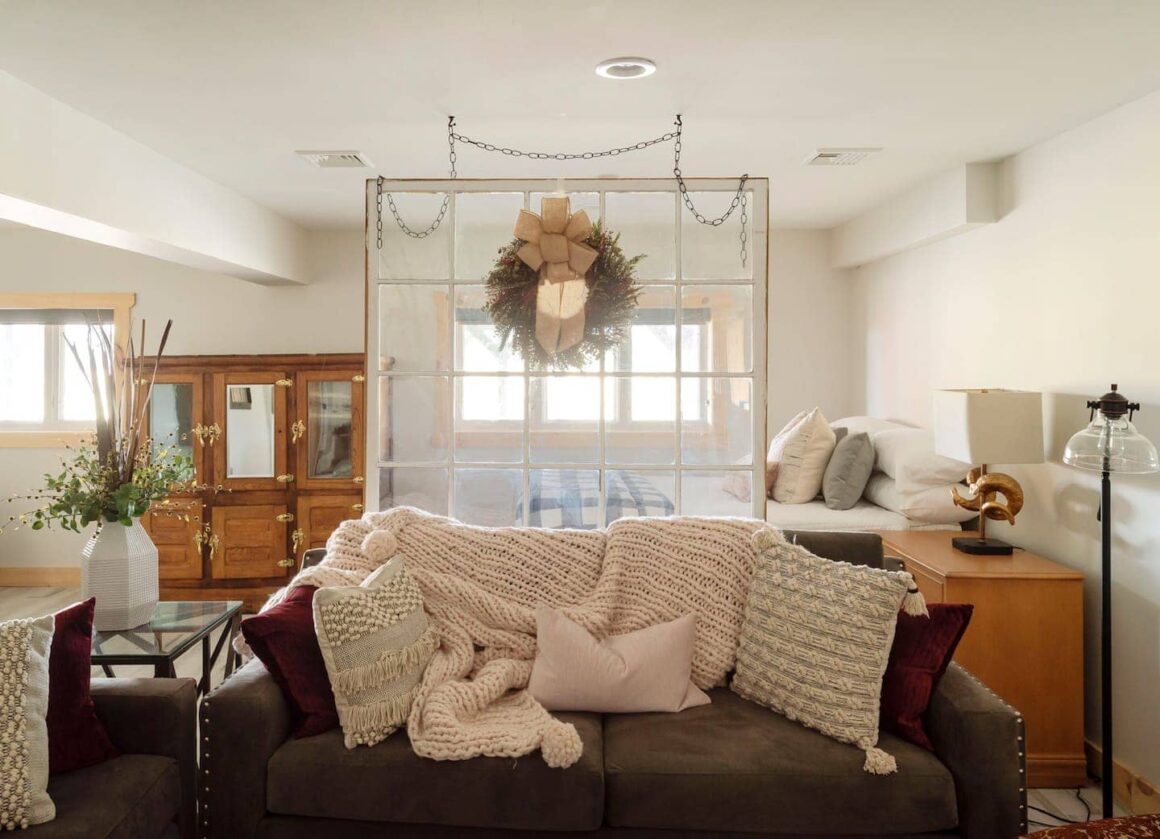 Price: $$$
No. of guests: 10
As more people inclined towards a health-conscious lifestyle, choosing a farmhouse on a vacation to breathe in fresh air and cultivate a deeper connection amongst family has become a trend for many travelers. Located in New Jersey with just an hour's drive from New York, Cavalier farm is a remarkable Airbnb where modern design collides with an old English farmhouse flair. The house sits on a large plot of fully-fenced land and can host up to 10 people, making it a perfect hideout for families to unwind and bond.
Cavalier farm speaks for a true farm stay nourished by the mild weather of the East Coast. This peaceful farmland pulls in those travelers who wish to explore the local wineries and thriving orchards. And if you like to engage more with nature, hit the Appalachian trail at the back of the house every morning to get your day started!
The house is a fabulous, bucolic setting with an airy interior design. Its spotlight comes from the beautiful fire-places and a fire-pot on the extensive deck, where you can gather around the cozy flame by night falls and relax. Cavalier farm is comparable to other 5-star hotels! A fully equipped kitchen, even a game room, library, Sonos speakers, and many other handy items to levitate your living experience.
You can spend up to a week at the house without fretting over losing interest. There are so many things to do in and around the house such as golfing at Wild Turkey, horseback riding, swimming, canoeing, and visiting the wineries are the best outdoor leisure pursuits. Keith, the host, also offers a yoga class where you can stretch your muscles on the grass field. This spacious farmhouse has a minimum booking period of 2 nights.
6. Windrift Hall – Your Hudson Valley Sanctuary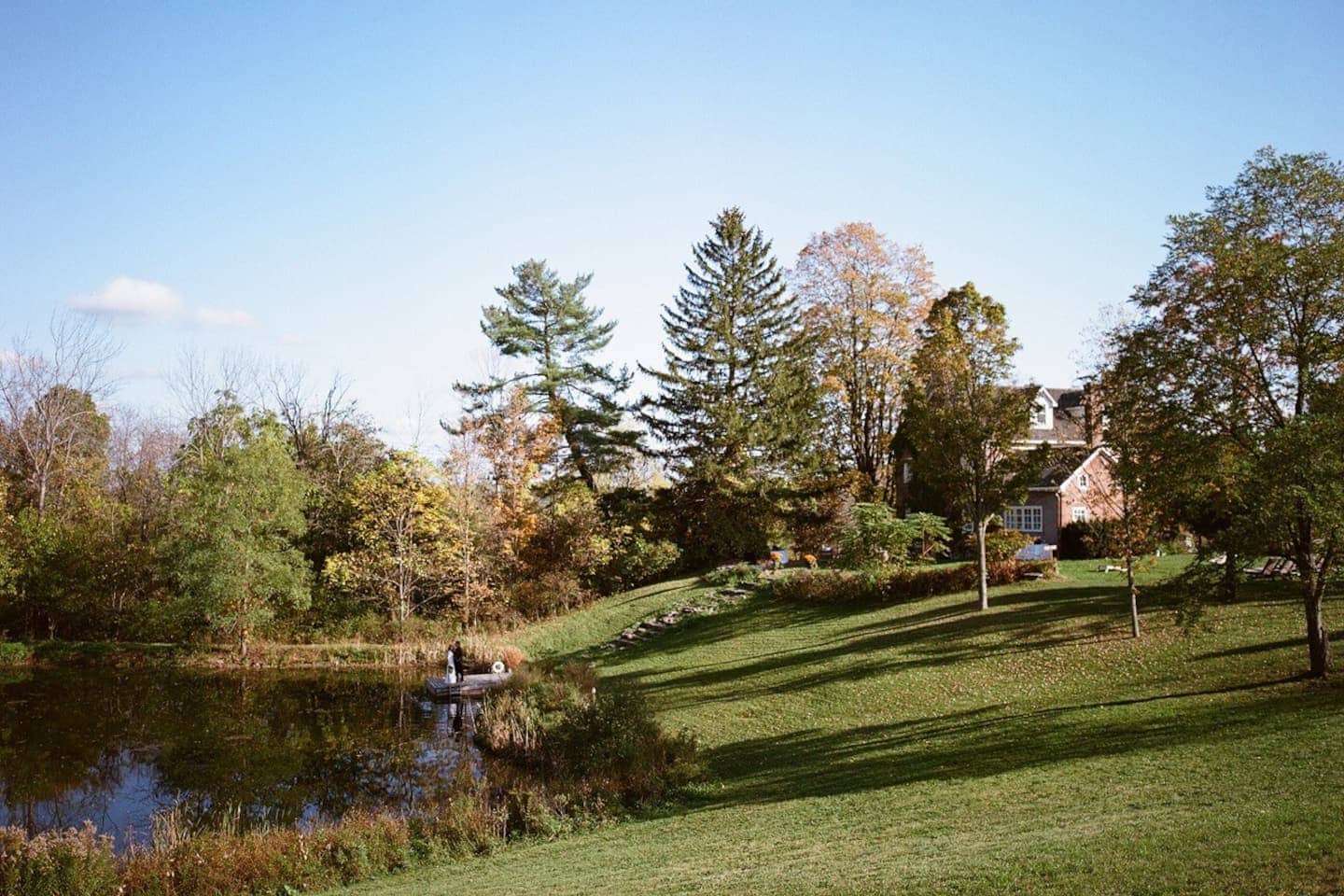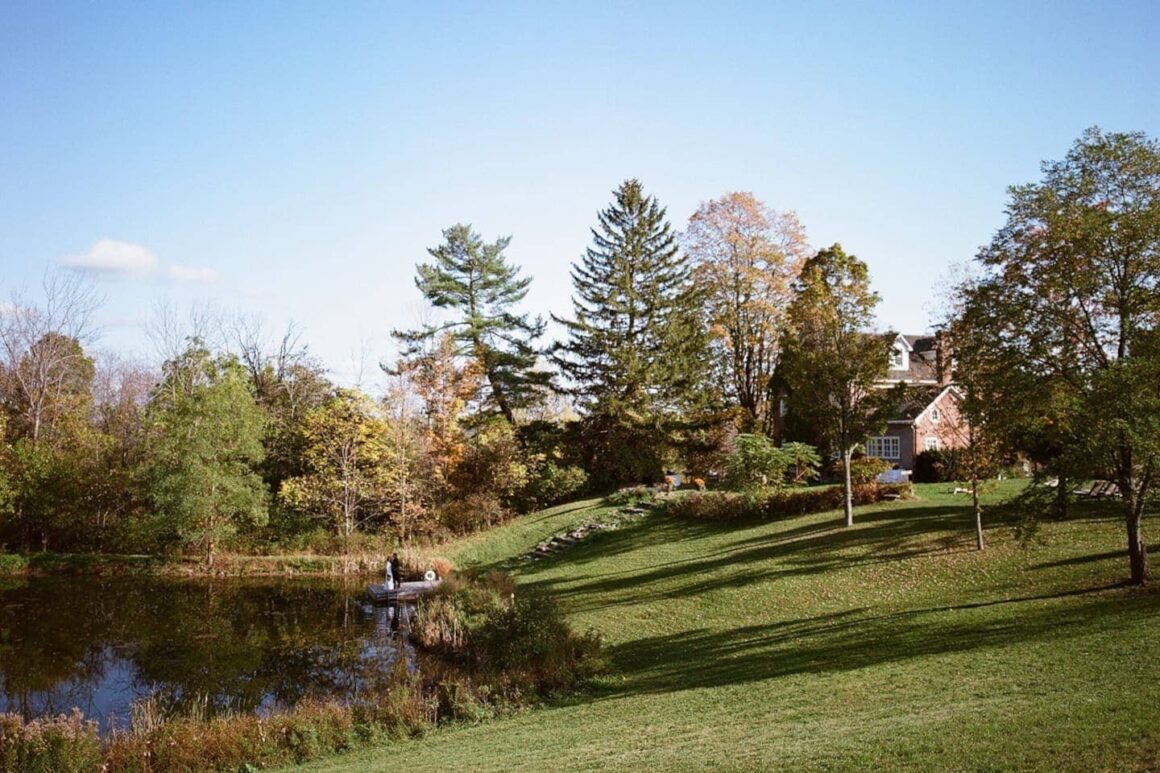 Price: $$$
No. of guests: 14
How about a fairytale-like castle that reminds you of an old Disney movie? Susanne's Airbnb will make your dream come true with her restored mansion that transports you directly to Southern Europe without boarding the plane! More than just a charming house, this 5-bedroom Airbnb in Coxsackie differs itself from other counterparts with a huge collection of antiques and intricate details. Either if it's a vintage wardrobe, a wood fireplace, beautiful candelabras, or the eclectic artworks by the bed, everything is finely put together to create a sweet mix of the old and the new.
This heritage mansion looms as an old villa shaded by a lush forest on the outside. But once you step inside, the milky theme color gives a complete contrast to the rustic exterior. During your stay, we're sure you will love to hang out in the garden even more because the graceful meadow is so serene! Wildflowers scattering around the pond and hawks nestling on an old maple tree make an ample setting for any family get-together!
You only need a minimum booking window of 1 night to claim a stay at Susanne's iconic mansion!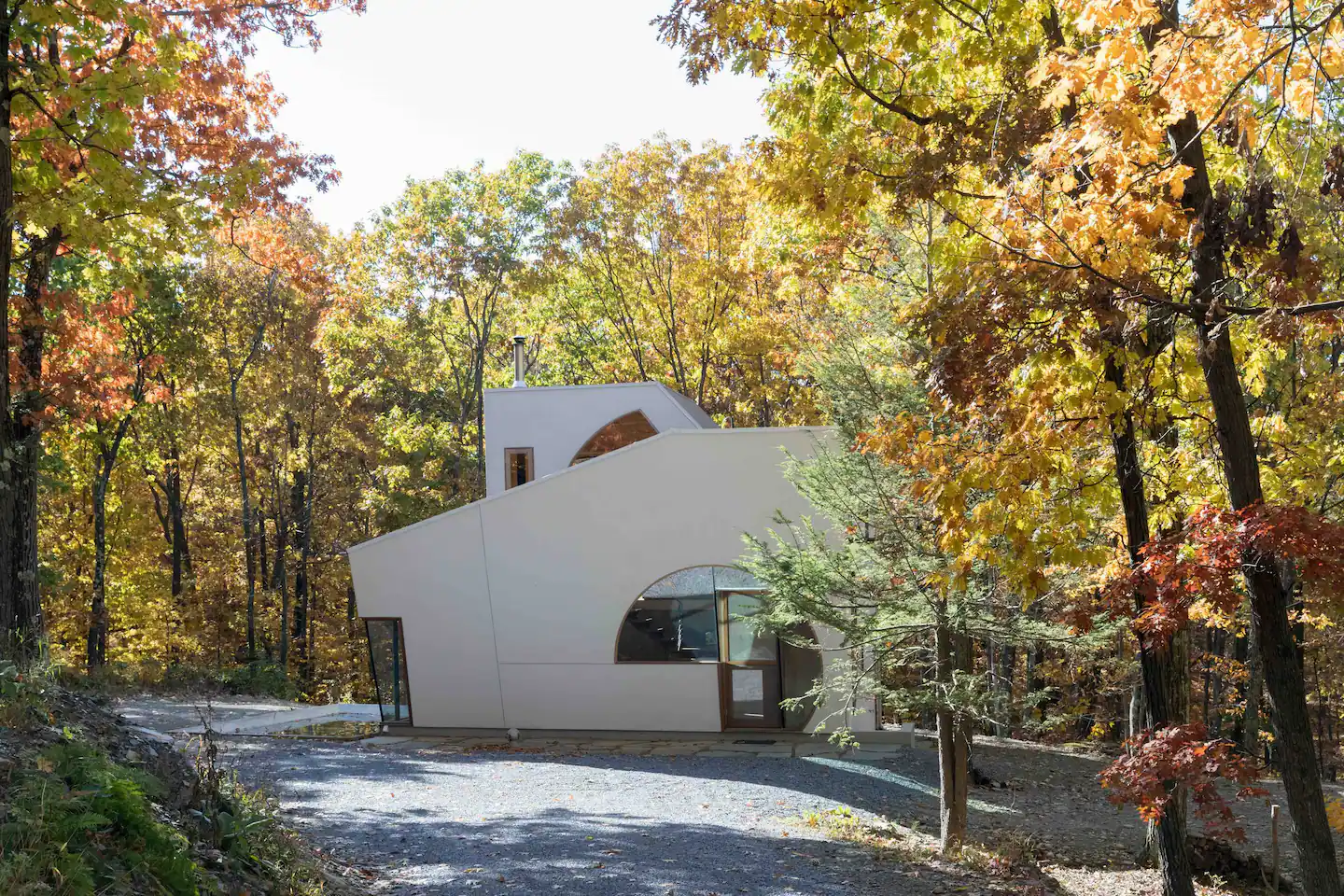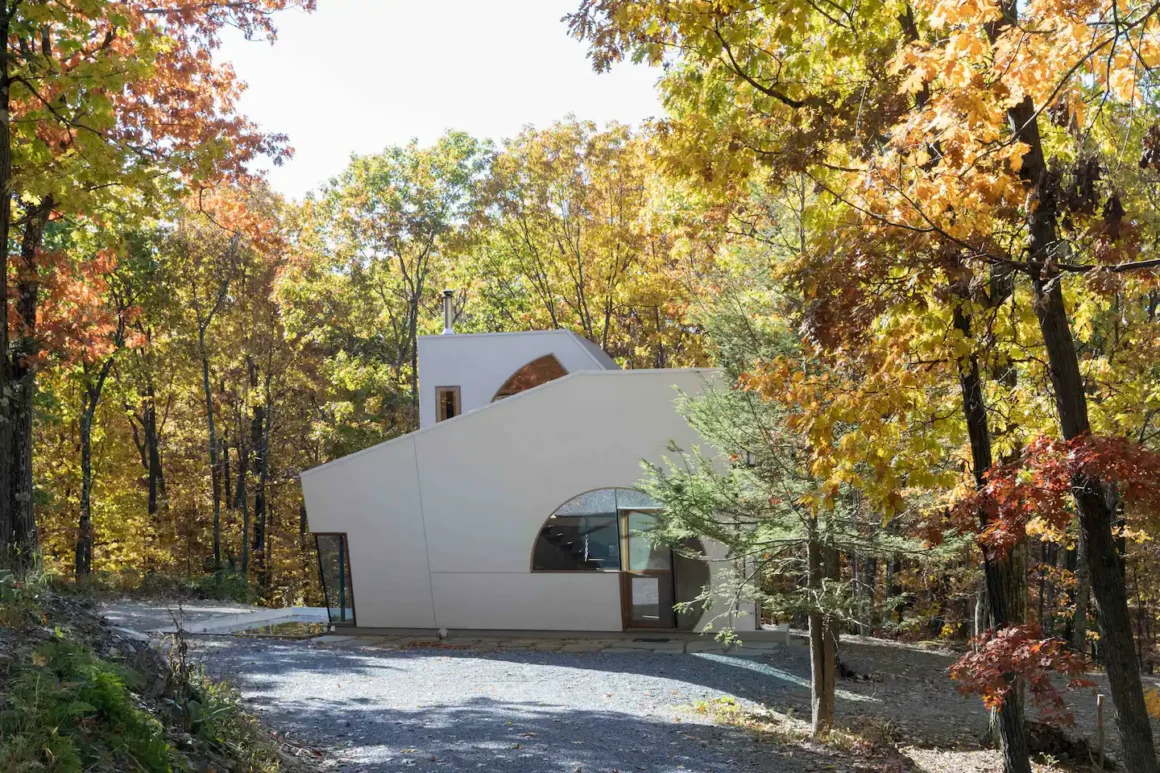 Price: $$$
No. of guests: 4
Bedroom: studio
Rating: 4.89
Have you ever been stunned by those awe-inspiring architectures that are often featured on magazine covers? Well, New York has plenty and one of them is Sarah's Airbnb in the woods. This award-winning studio is designed by Steven Holl Architects and was once promoted by Architectural Digest 2022 and Dwell 2018. This little modern nest pushes the limit of human's imagination with a playful mashup of nature and art.
Upon your arrival, an orb of wood carved out of the house walks you into a play of geometry. All living spaces look out to the woods with a floor plan serving the kitchen, entertainment lounge, and living room while the attic hosts the bedroom and bathroom. All four futon beds are Japanese-made for those enjoying a firm bed to rest on. All areas are eco-powered using a geothermal heating system, solar electricity, and a hybrid heat-cold unit.
Sarah provides a large supply of wood stacked outside the house you can use anytime. The smart interior design also invites lots of wind and sunlight when you open all doors and windows to cool down the summer heat. This house is designed with one mission in mind: providing the best comfort of home for an ultimate getaway with a respect for the balance of nature. Soak in the privacy of nature for yourself but note that the main happenings of Rhinebeck and the Hudson Valley are only a short drive away.
8. Cottage by the Water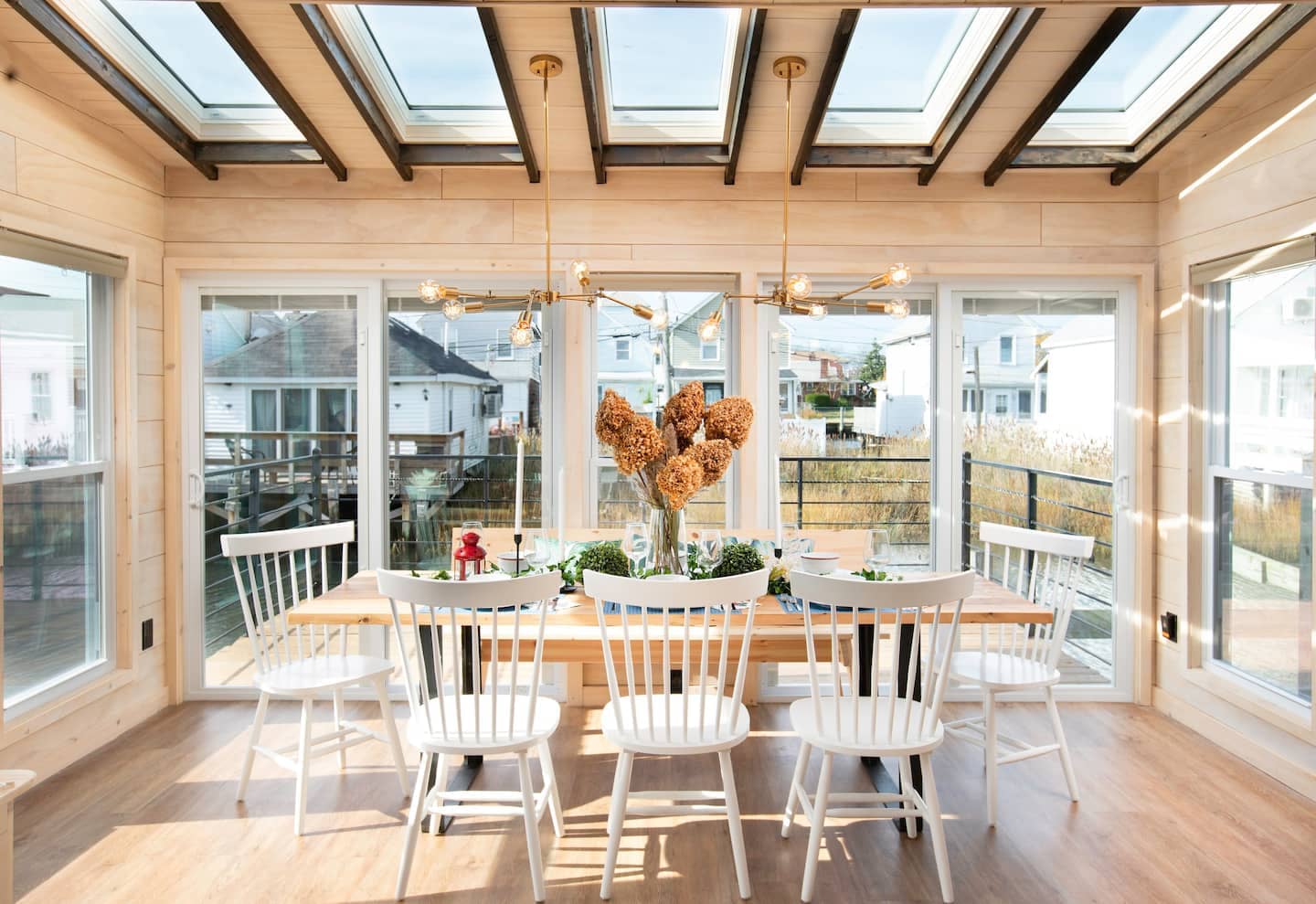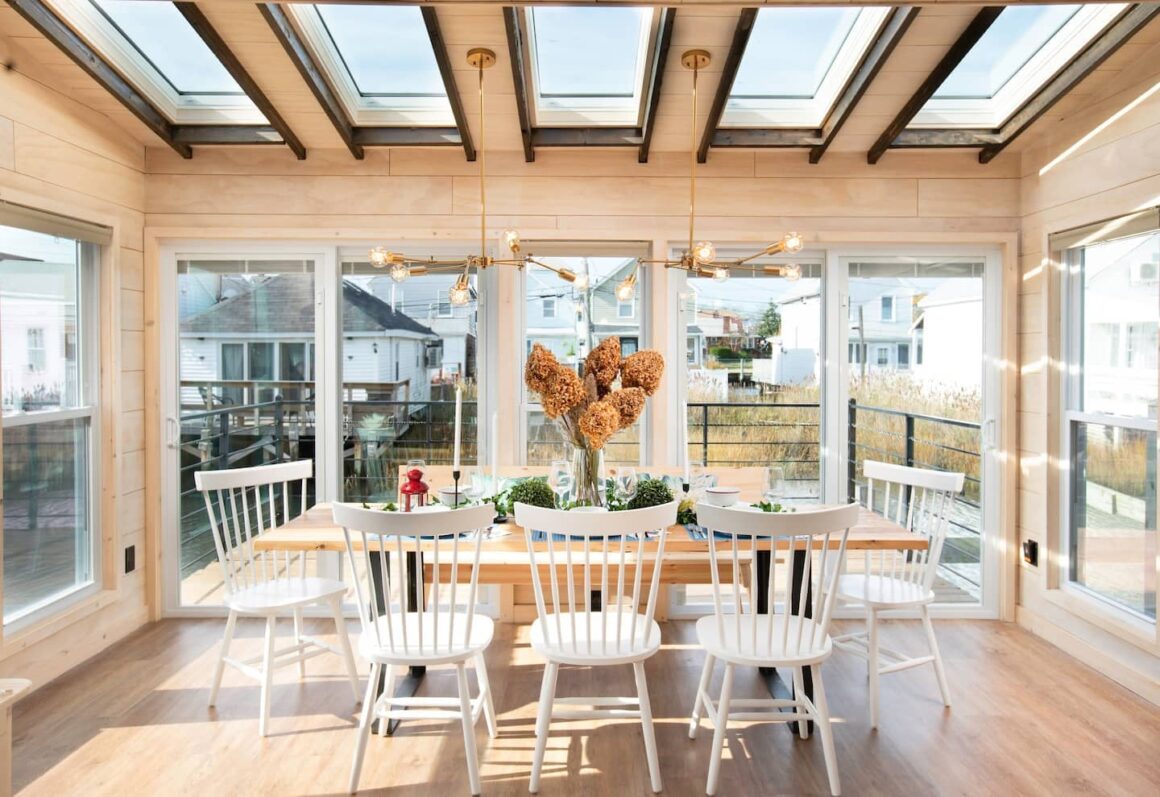 Price: $$$
No. of guests: 5
Known as a crown jewel in the heart of Queens, Johnathan's Airbnb is a cutie pie that you should not skip! Surrounded by the stillness of waters that's sometimes interfered by an occasional visit of the seagulls and swans, this cottage delivers a true homey feeling and thoughtful amenities. The limelight of the house is the dining room. It sits right on the surface of the water and is enclosed by huge skylights and glass windows, making it a perfect spot to enjoy sunset with your family.
Each of the compartments invites a great amount of daylight to spruce up the space, while blinds and curtains are available whenever you want to adjust the light for a movie night or get some privacy. For those who love stargazing, don't miss out on the bedrooms upstairs where the skylights are installed right above the beds.
One last thing that gets us falling in love with Johnathan's Airbnb is the Insta-worthy bathroom. The vibrant nature-themed wallpaper gives the room a lot more characteristics. This Airbnb's minimum rent-out period is 2 nights and can accommodate up to 5 guests.
9. Geo Dome on Farm Upstate Catskills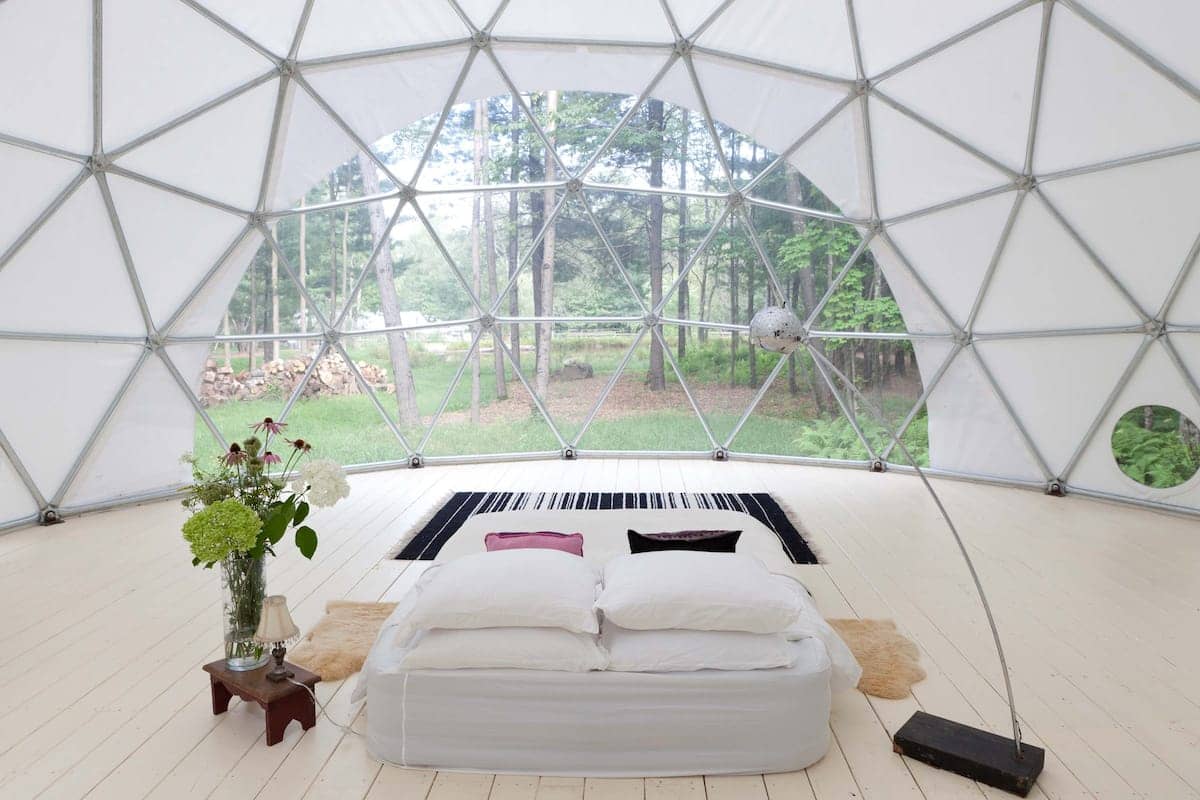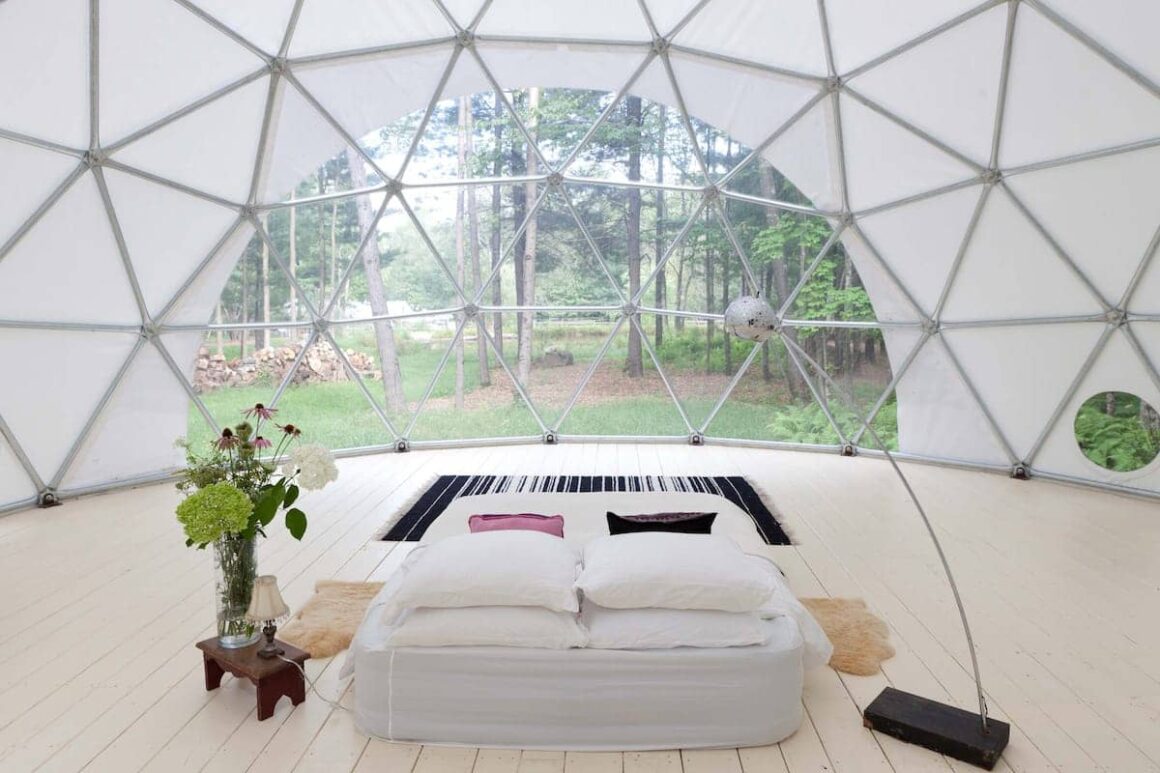 Price: $$$
No. of guests: 16
As one of the top-rated Airbnbs in New York, Joshua's geo dorm is exactly what you need on an eco-friendly vacation. Lied in a rural setting of New York's Southern Catskills Mountains, the dorm comes out as an awe-inspiring bucolic glamping space. This incredible respite opens a door to the wilderness in a friendly and pleasant way.
Wake up to the beautiful sunrise and hang out with the neighboring animals on the farm. It's the cream of the crop if you tag your little kids along and let them feed the angora goats, alpacas, or Merino sheep while you're reading a book on the grass field. Take it up a notch by wandering around the greenhouse, visiting a veggie garden or letting your dog swim in the pond before the day ends.
You don't need to spend any extra amount of time planning what to do because Joshua's farm dome has so many activities to offer. As the sun beams down, don't forget to gather by the fire pit just outside the dome to recall the day's events! Feel free to hit the hike right across the street to work out in the morning. For those who like to explore their inner self, don't hesitate to sign up for a fiber arts workshop space! Joshua's geo dorm has a minimum rent-out period of 2 nights.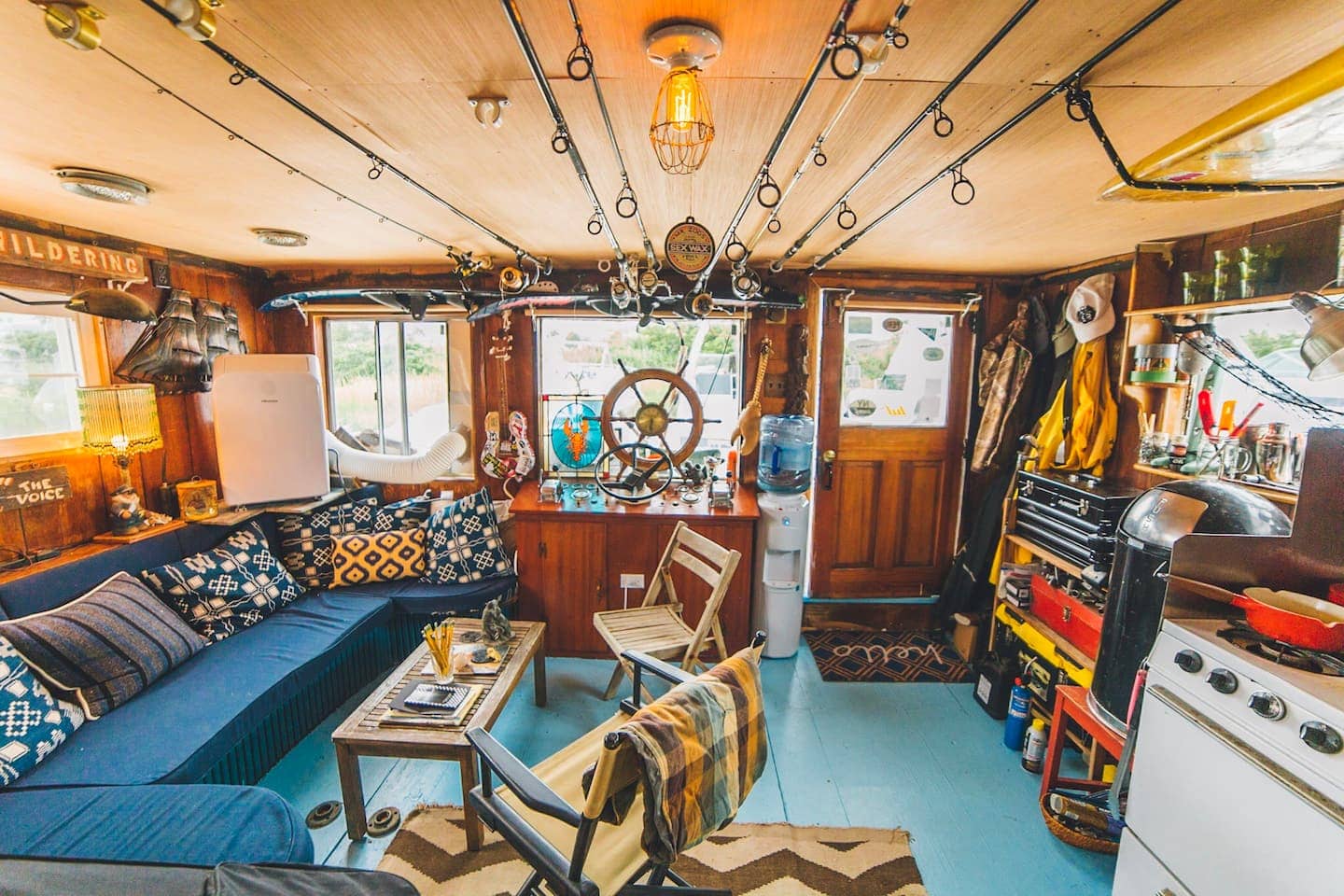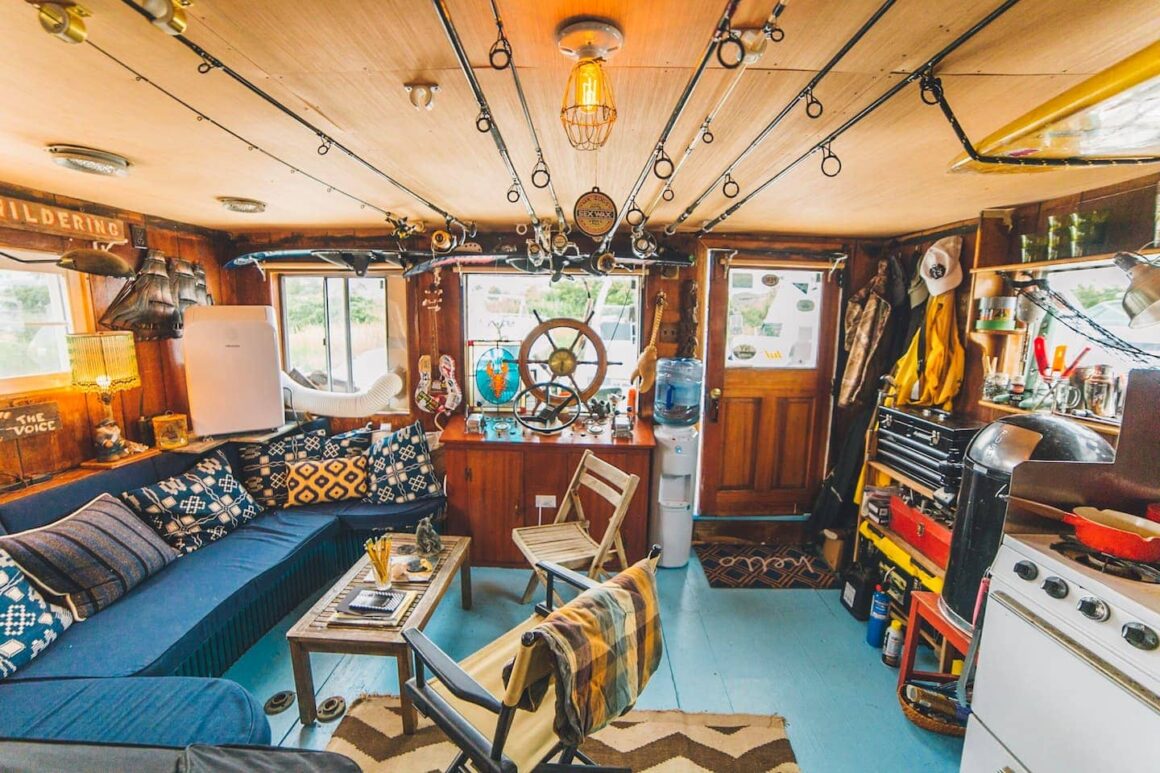 Price: $$$
No. of guests: 2
How cool is it to be part of an artsy community living by a marina? It's time to step out of your ordinary neighborhood back home and indulge in a little oasis with other quaint artists, surfers, and fishermen! Rockaways is one of the best beach areas in New York to get down and salty. But you don't want to stay in a luxurious beach resort because we got Ben's floating surf safari to back you up!
This beautiful boathouse is filled with so many characters in almost every corner inside out. The hippie style dominates the interior with a flamboyant shade, creating a funky and quaint little paradise for your living space.
While the serene neighborhood of this marina invites a pleasant walk every sunset, you don't want to let the comfort of the floating safari itself go to waste! The best part of the boathouse is the splendid view on the upper deck looking over the marina where you feel the ocean breeze rolling through your hair. A full kitchen featuring an off-grid stove is available for some cook-up with your friend. Then you have 2 longboards available on the boat to ride the waves any time you want. Whenever you like to take a dip in the sea, walk further for just 5 minutes and you'll be on your merry way! This colorful boathouse can accommodate up to 2 guests with a minimum booking window of only 1 night.
Other than just New York, we have done some diggings and curated an ultimate list of the coolest Airbnbs in Hawaii too! So check it out if you plan to spice up your summertime in this tropical paradise!
More Accommodations in New York:
This article contains links that may give us a small commission. No extra cost is added to you but will support our publication to continue to make more guides in the future.