Nestled in the thriving Rocky Mountains, Banff is a haven for outdoor adventures and leisure pursuits. This year-round destination offers something for everyone with the main happenings taking place between the downtown core and the surrounding wilderness.
For that reason, the best places to stay in Banff gather around these areas where you can get the best of both worlds. Many of these accommodations are the top-rated Airbnbs, some of which fit a large family while some others are catered to couples on a romantic retreat. Our curated list breaks down the ten best Airbnbs in Banff so you can browse and pick your gem!
This article includes affiliate links where we may get a small commission if you use our link. No extra cost is added on and all funds will be used to support our team and content.
10. Private Mountain Chalet in The Heart of Banff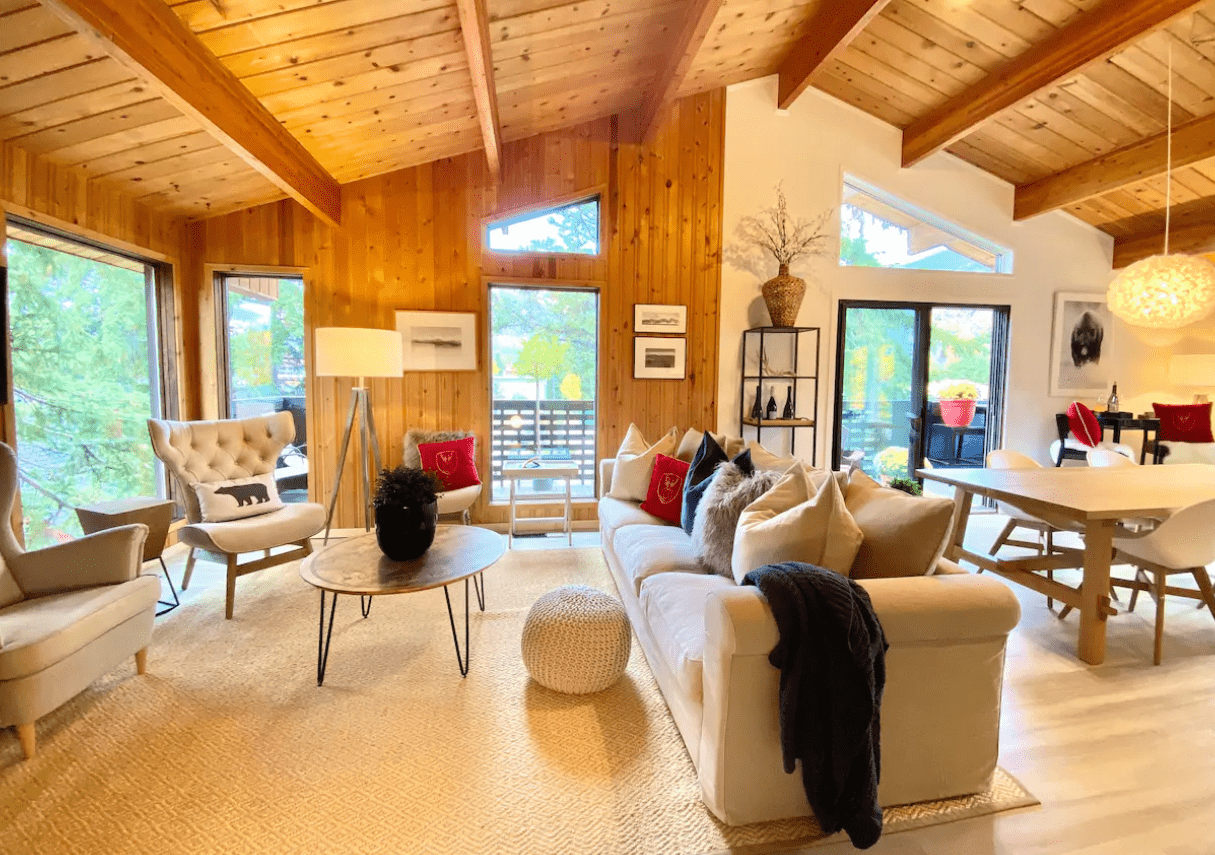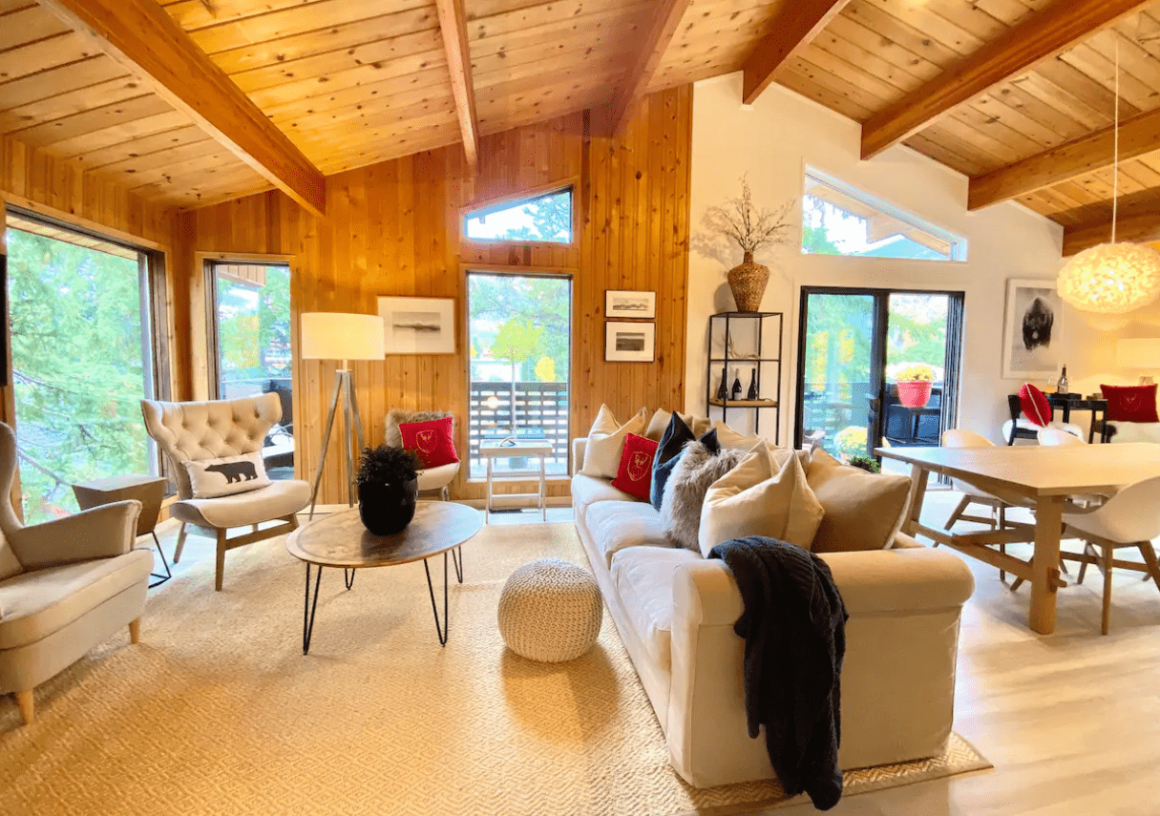 Price: $$$
No. of guests: 6
Surrounded by gigantic mountains with a walking distance to downtown Banff, the two-story Black Bear Chalet is a top call for a big family reunion. Its high vaulted ceiling and floor-to-ceiling windows let the inner living space be flooded with sunlight, creating a cozy family bond by the gas fireplace.
Each bedroom is attached to a sleek en-suite bathroom allowing you to rest your tired bones in a deep tub or walk-in shower. Lovely touches are found across the house with unique ornaments, arts, and thoughtful amenities adding a unique identity to the living space.
Comfy and dreamy the house can be, you don't want to spend all day indoors because the real accent lies in the surrounding nature. Head outdoor and immerse yourself in the serene wilderness that Banff has to offer! The hidden hiking trail up the Tunnel Mountain is perfect for forest bathing and soaking in that brooding scenery of the bare mountains. Black Bear Chalet is available for a minimum booking of two nights with a capacity of six guests.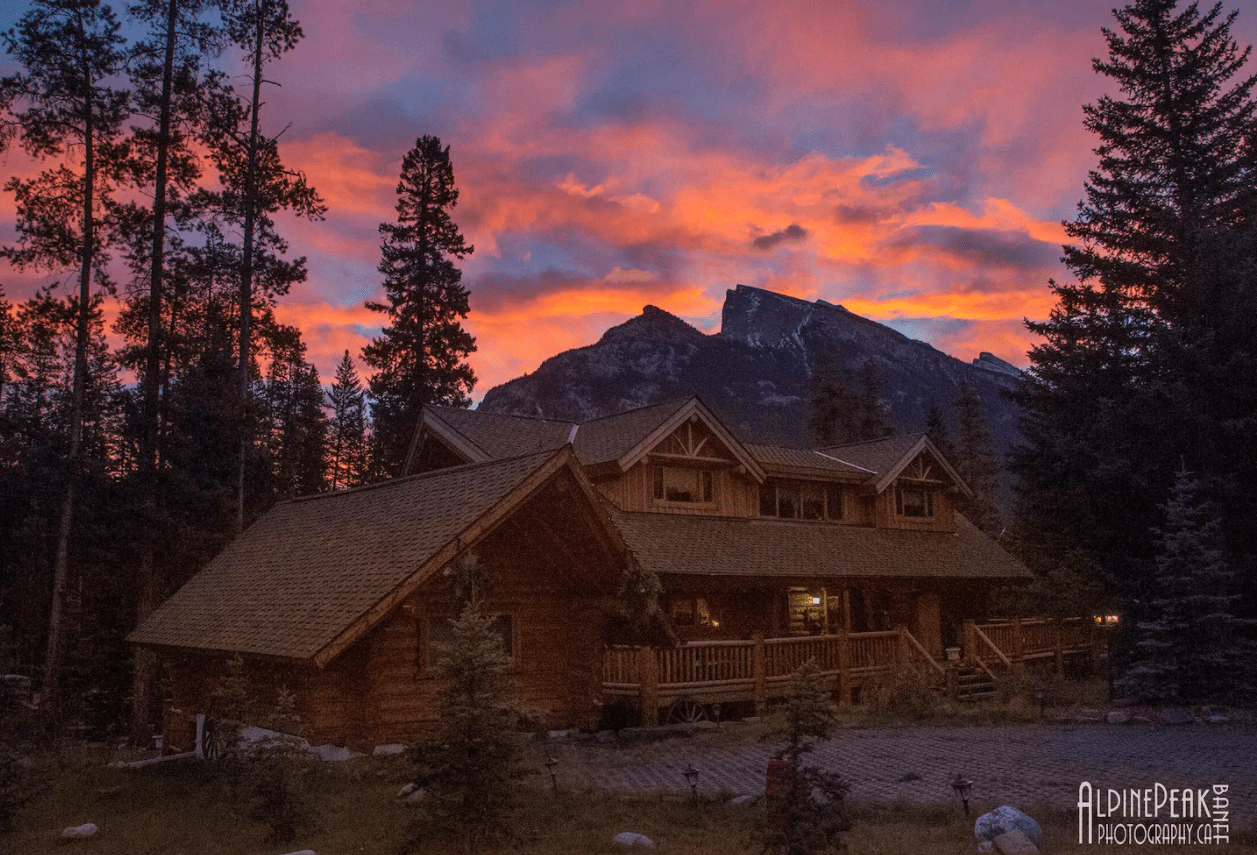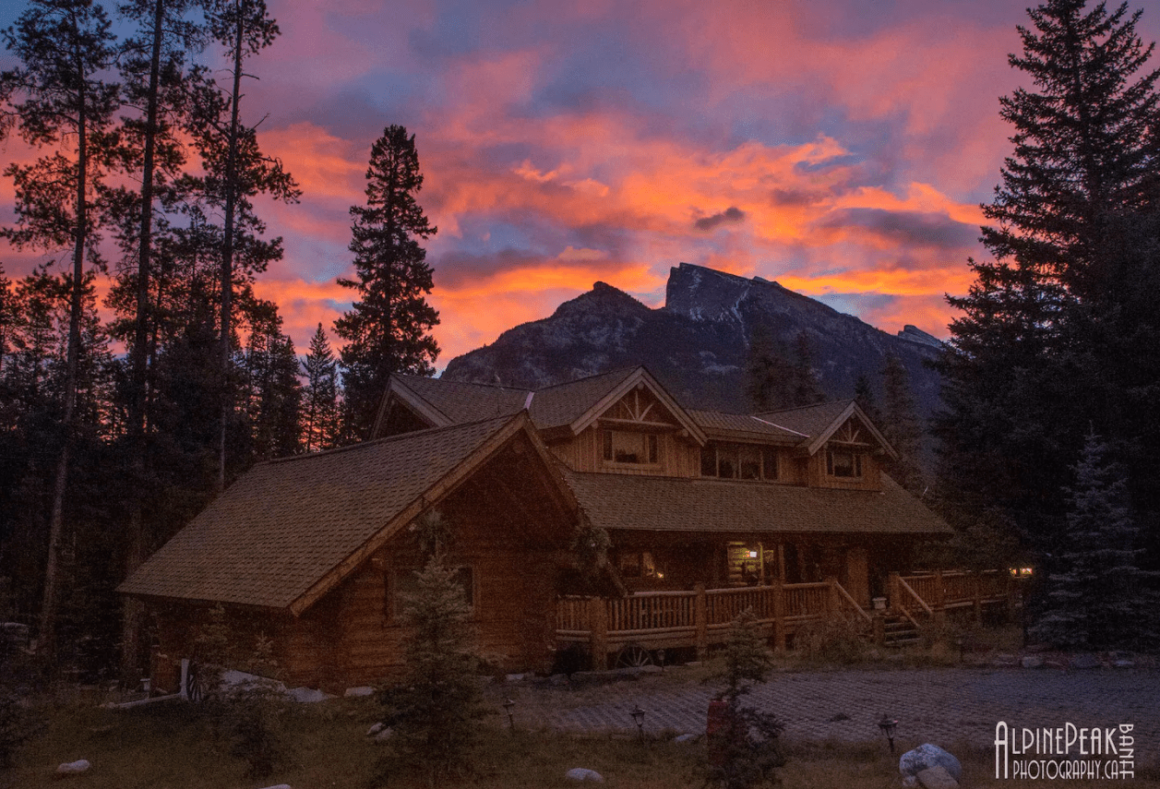 Price: $$$
No. of guests: 2
Ready to have your breath taken away? Sharon's hand-built backcountry cabin perched by the mountains becomes a cozy home-sweet-home that welcomes you from a long day wandering in the wild.
This massive Airbnb speaks for a romantic getaway to top your bucket list if you're on the way to finding a perfect honeymoon nest. Emerging as an enchanted postcard-like castle, the cabin is nestled in a peaceful neighborhood at the base of the Rockies.
A big bonus for the house is a complimentary breakfast with freshly baked muffins and fruit cocktails delivered to your doorstep every morning to get you ready for the day.
8. Bampton Cabin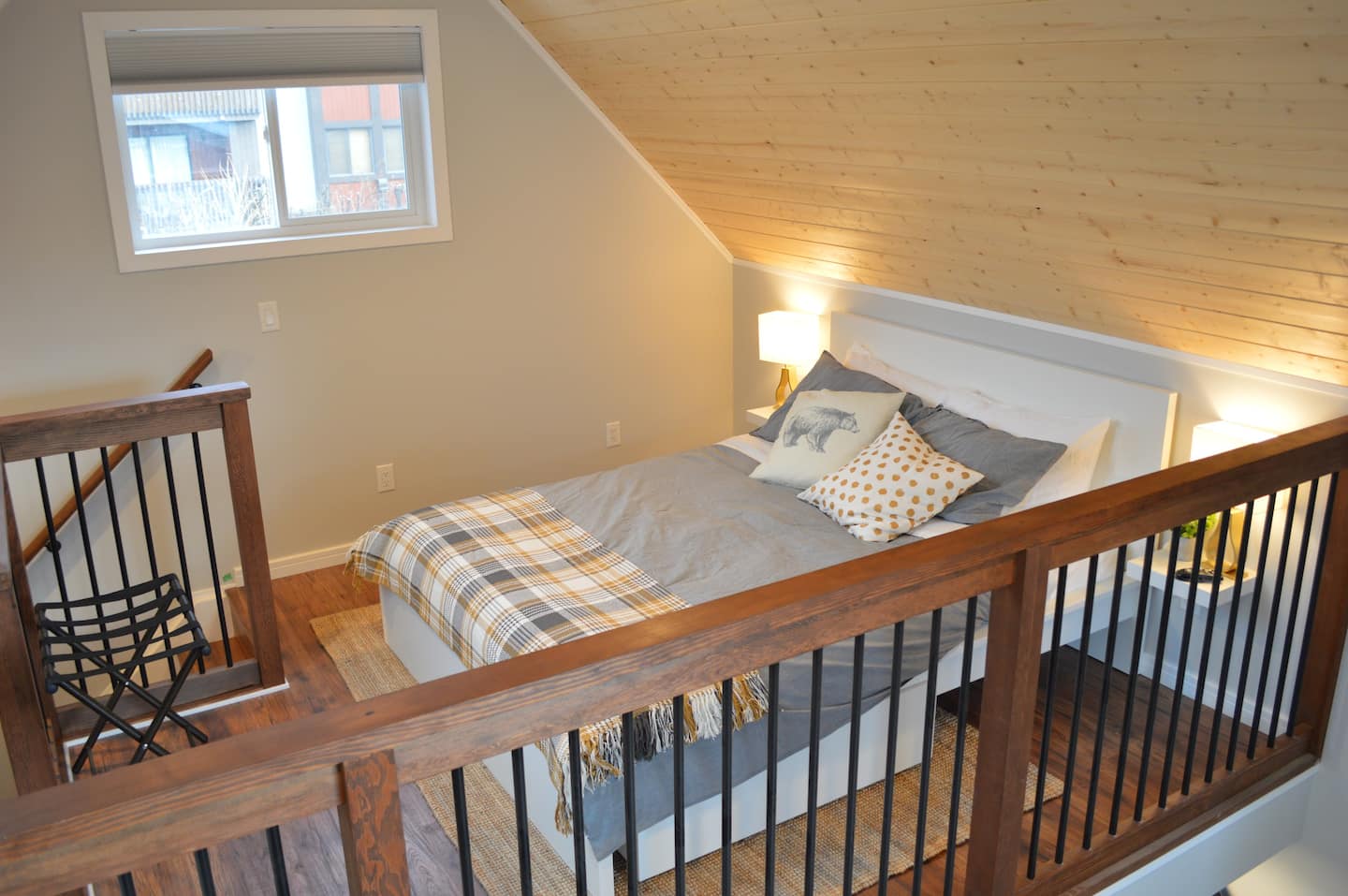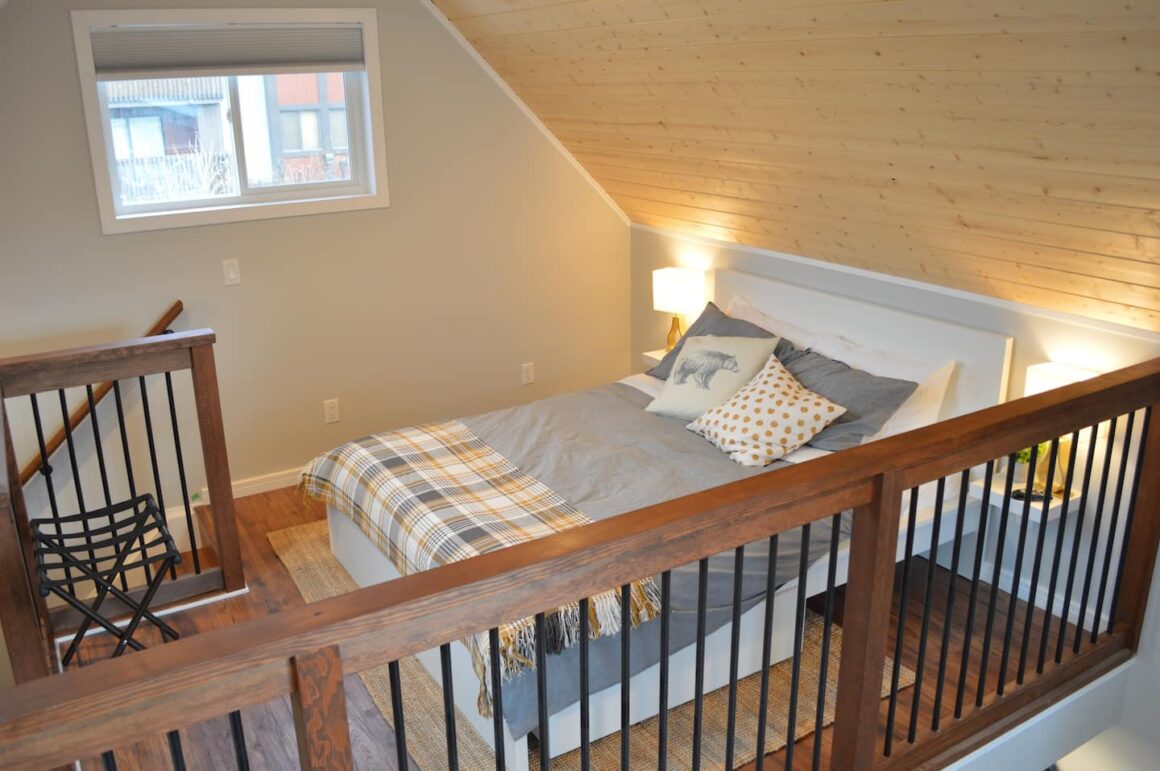 Price: $$
No. of guests: 2
What an ode to woodsy space to conjure up thoughts of slipping off the grid. Imagine living in the heart of a national park but steps away from the main happenings of Banff Avenue.
Satu and Ollie's handsome cabin delivers a conventional lifestyle blended with a modern, minimalist sensibility where two people can snuggle up comfortably in a little mountain retreat.
This compact, intimate house offers a good old-fashioned seasonal hibernation. It has a cozy bedroom with a queen-sized bed that looks over the living lounge and kitchen.
Want to stay put during the freezing winter? Then spend the whole afternoon cooking your own meal in this fully-equipped kitchen before soaking up the mountain air from the private patio. Wondering what to do out there? Take on a hiking trail to Bow River and Tunnel Mountain or enjoy a shopping spree that Banff has to offer.
7. Cozy Living Space Near Norquay Mountain with Shared Fire Pit with Hot Tub Access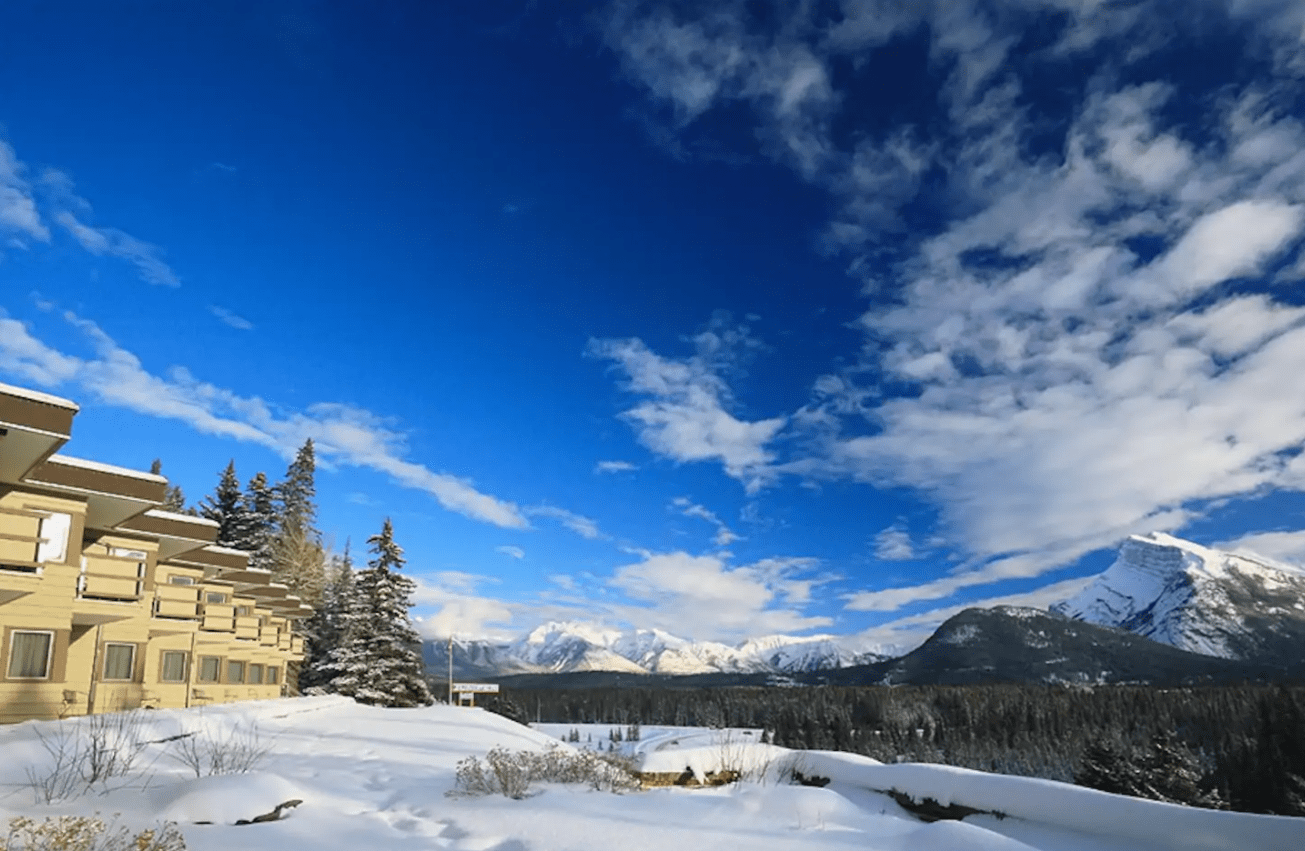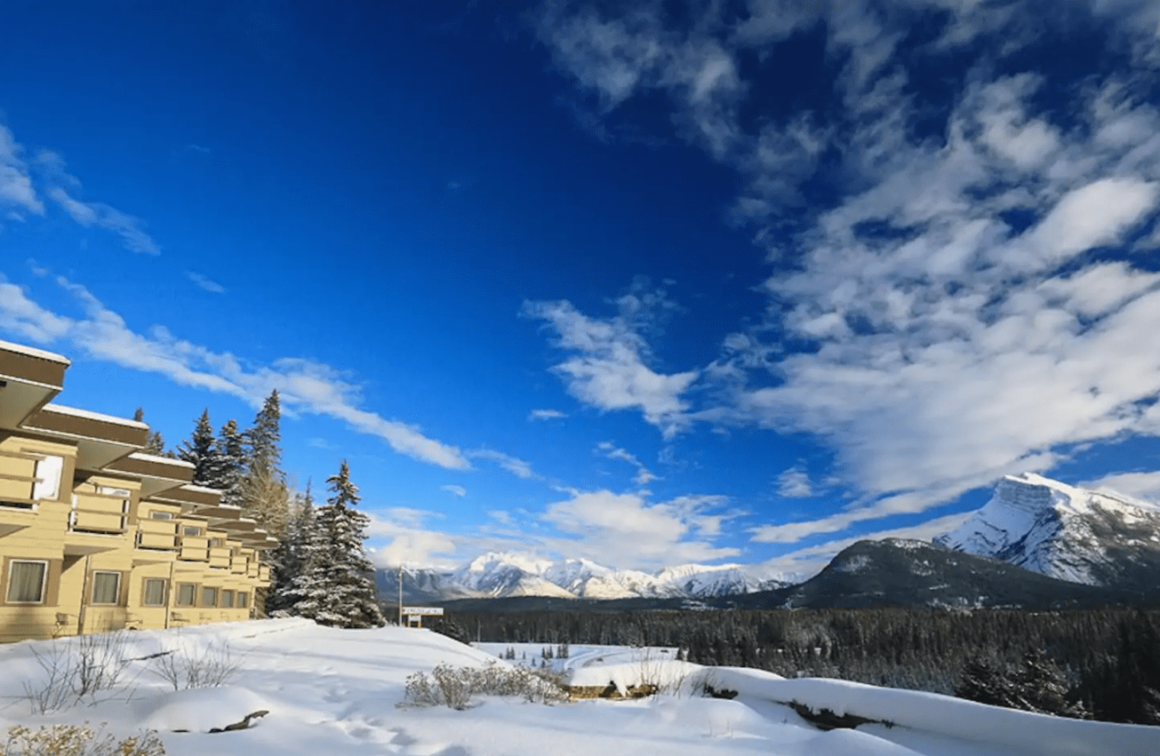 Looking for a mountain escape without traveling further from Banff? Juniper Hotel will transport you back to the heart of wilderness where you can wake up to the unrestricted views over Mount Norquay every morning.
Its vintage modernist architecture takes your stay to a whole new level as it pairs perfectly with the greenish nature out there. This secluded accommodation is a great weekend retreat while downtown Banff is only a few minutes away.
Returning with an empty stomach at the end of the day? Head straight to The Juniper Bistro and feast on that locally sourced, handcrafted Canadian cuisine before bedtime. The minimum rent-out period to stay at Juniper Hotel is two nights and the room can accommodate up to four people with two large double beds.
6. Banff Mountain Home – The Real Rockies Experience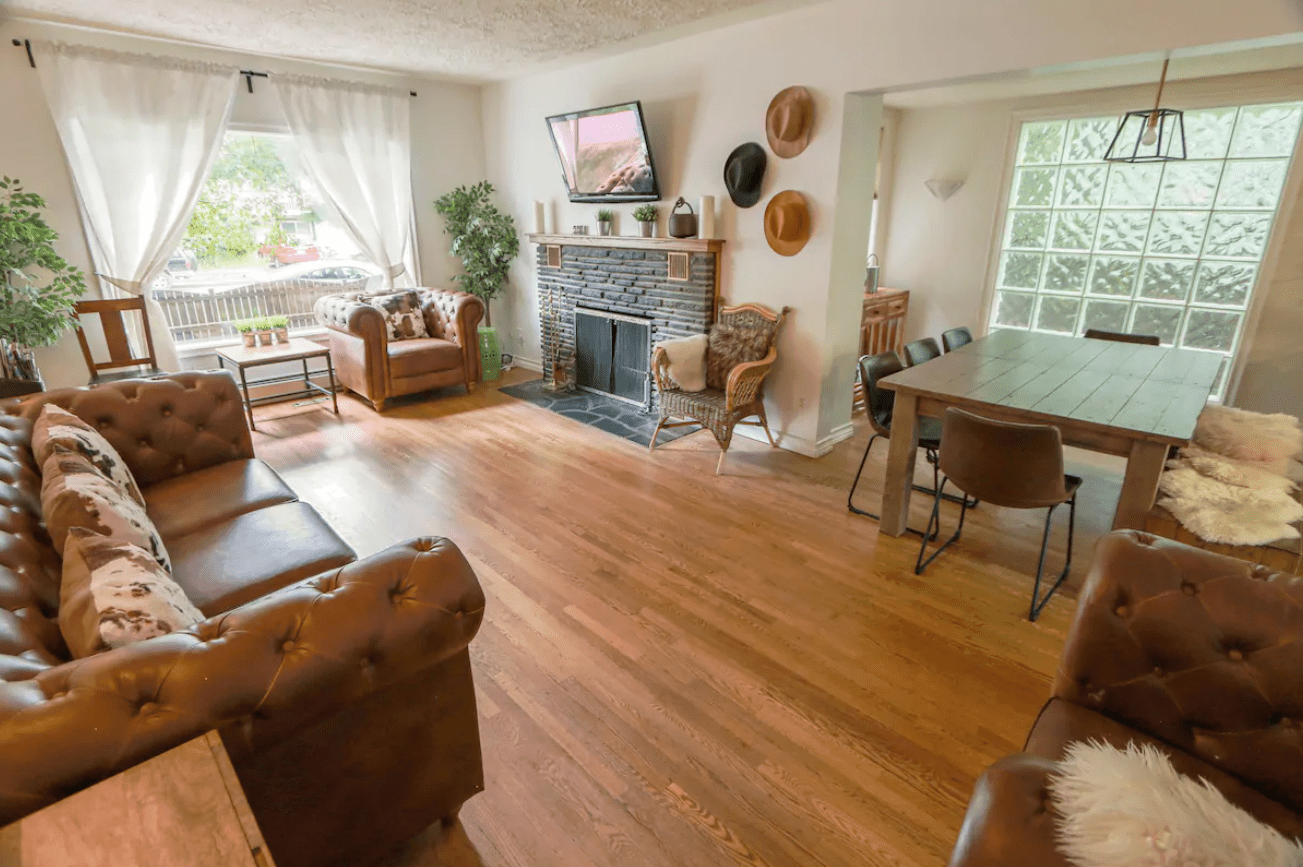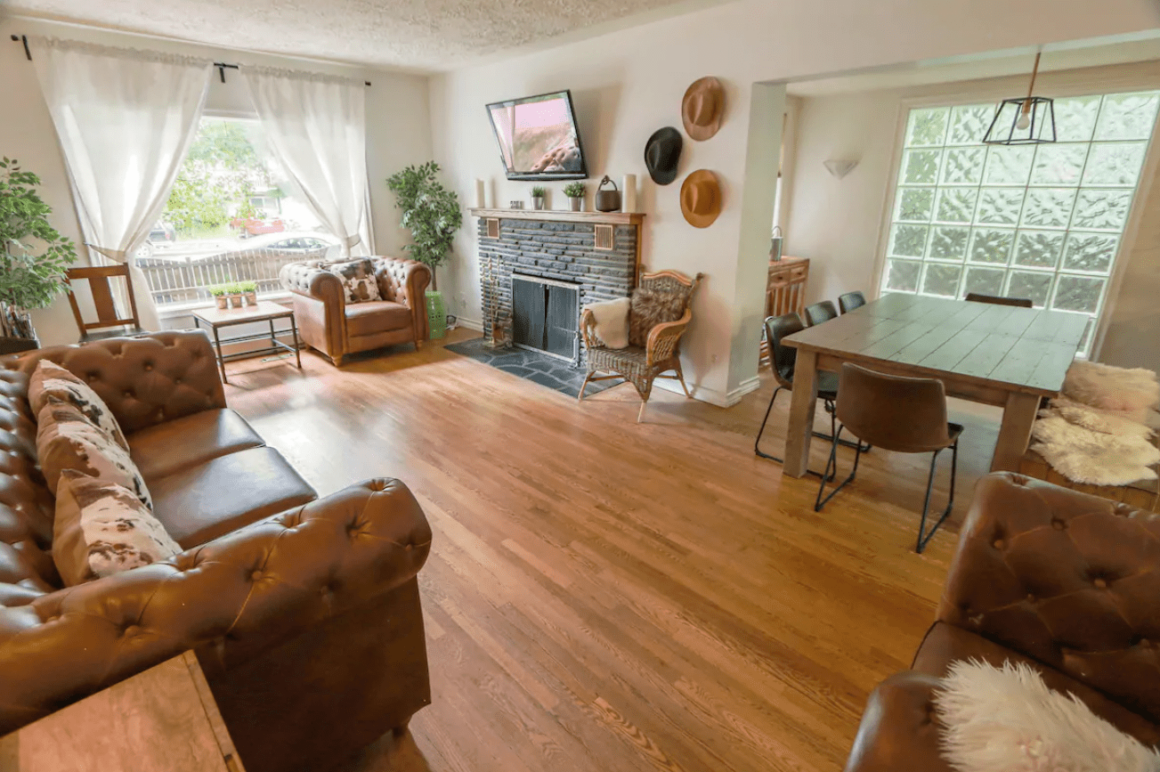 Price: $$$
No. of guests: 11
Either it's a family reunion or a get-together with your besties, this mountain home gives you the best of mountain life with a vintage feeling. All four bedrooms are attached with private bathrooms so you have your own sense of privacy.
This roomy mountain home is located right in the heart of Banff, allowing you to soak in the most famous national park of Canada without any hassle. The chef's kitchen is appointed with more appliances than your basic needs, so make sure to cook up a BBQ or your favorite family meal before checking out!
Its golden location by the main strip of Banff lets you keep up with all the happenings. Two nights is the minimum booking period to stay at this mountain home which can host up to 11 guests.
5. Rocky Mountain Retreat – Enormous House Sleeps 23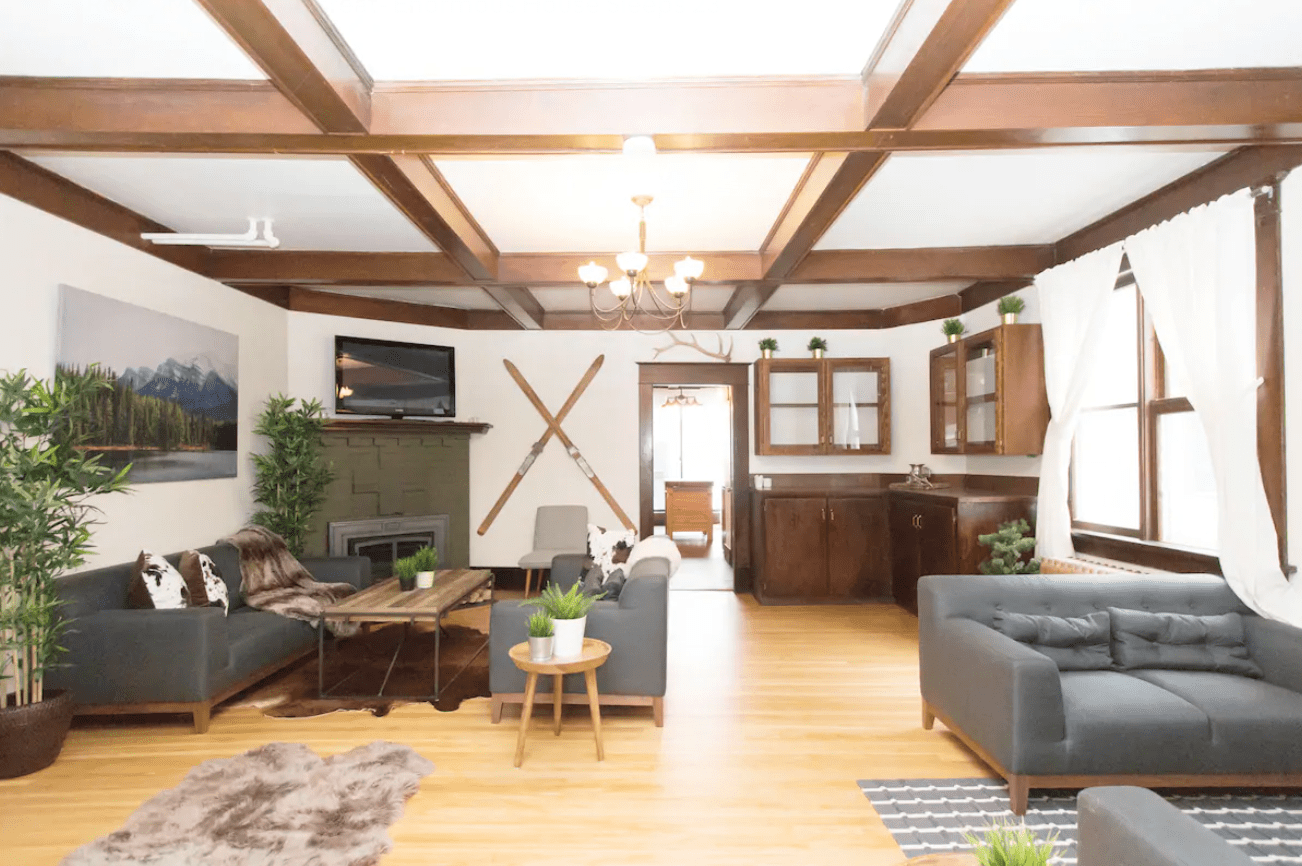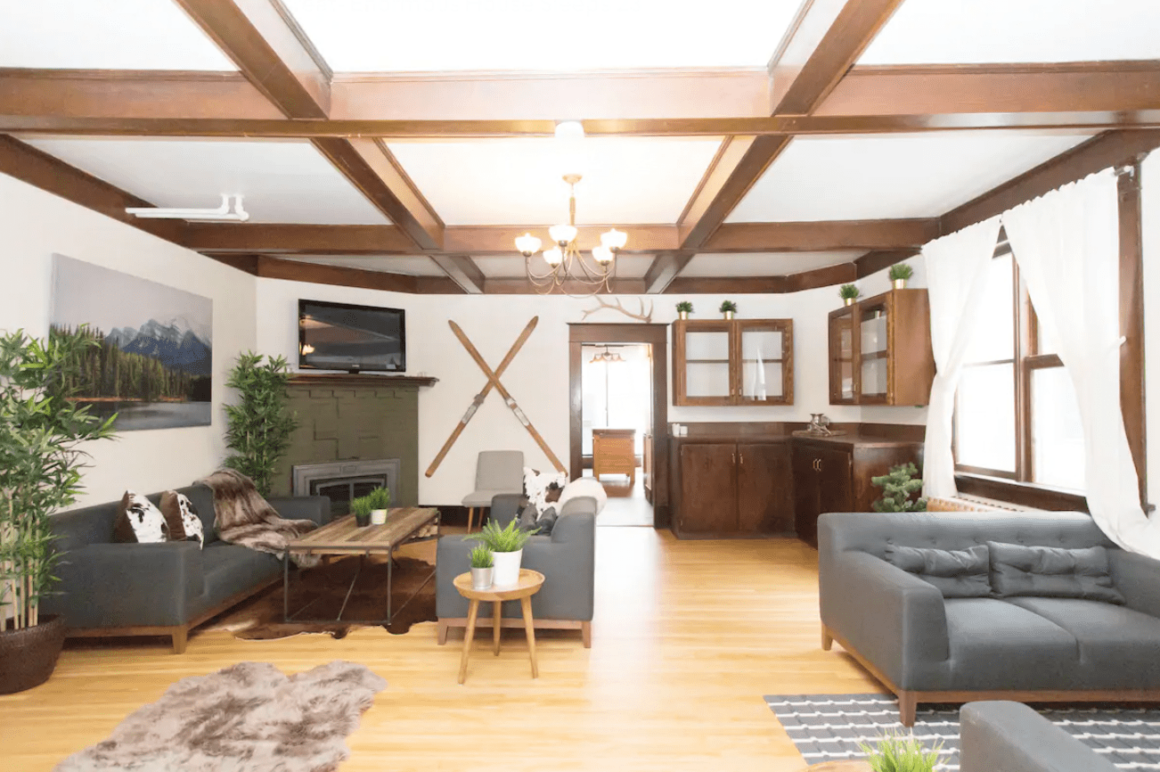 Price: $$$
No. of guests: 23
Bedroom: 10
Rating: 4.77/5
Looking for a decent place to host a big bonding reunion? This Rocky Mountain Retreat comes in handy with ten enormous bedrooms sleeping up to 23 people!
Multiple compartments scatter through all four floors, providing you a luxurious but homey atmosphere. Amongst those, the game room is much likely to be your favorite place in the house! Get ready to be spoiled with a plethora of recreational activities including dart board, arcade, football table, and game consoles!
Each bedroom comes in a neat, modernist, and stylish design to give you a good rest every night. This Rocky Mountain Retreat has a warm ski lodge feel to it, giving you another reason to book for a long ski weekend. The minimum booking window is three nights and can host up to 23 people.
4. Feel at Home in the Rockies! Cozy Condo with Hot Pools Access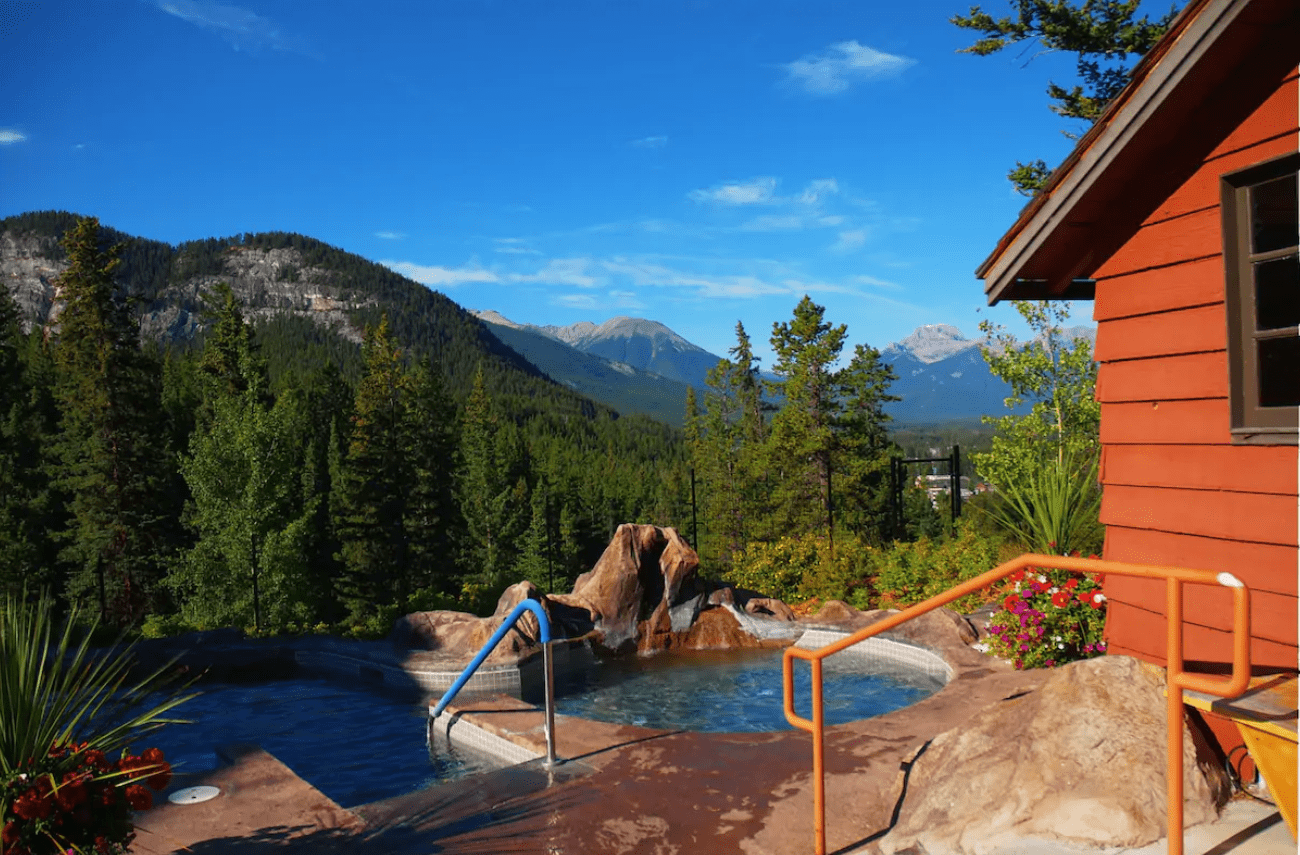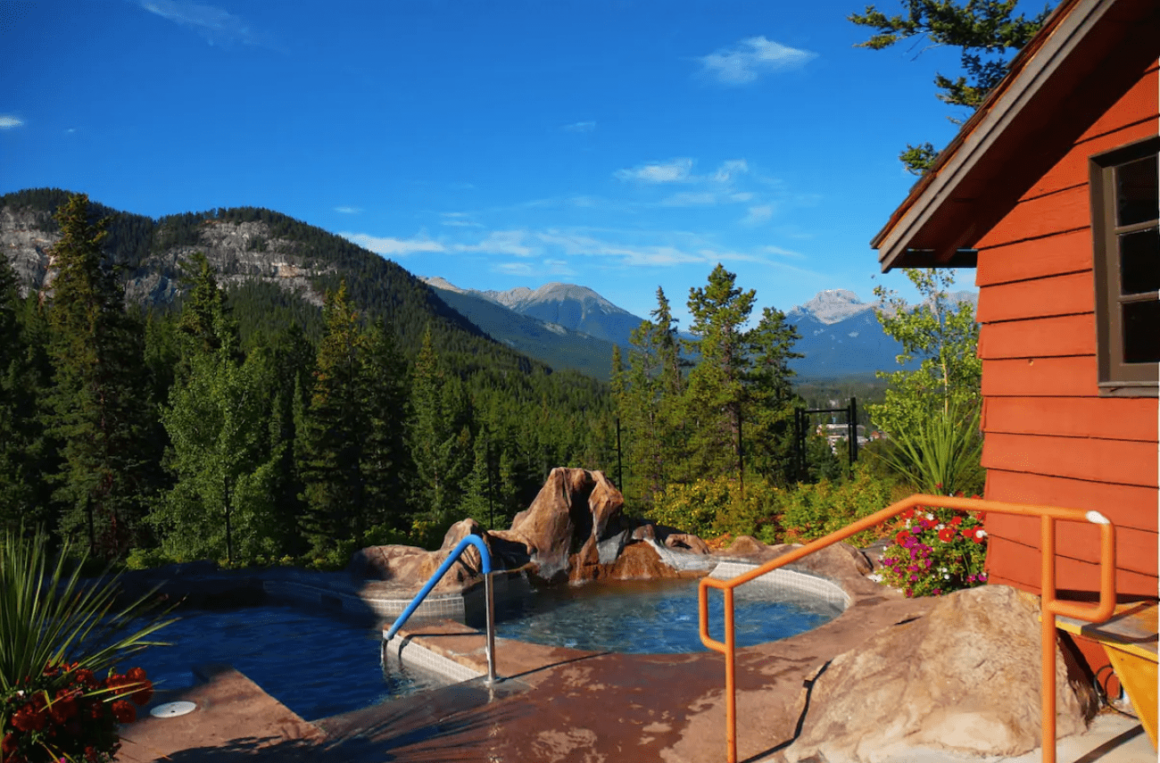 Price: $$
No. of guests: 3
Who can say no to a hot tub to rest their cores after a long travel day? That's why Leavetown's Airbnb comes into play.
This charming one-bedroom condo is everything you've ever imagined of a mountain getaway. Perched on the slope of Tunnel Mountain, the two-story condo opens out over the lush mountains with a shared hot tub waiting right at your doorstep.
Rain or shine, the wooden condo looms as a fairytale-like castle tucked away at the base of the thriving Rocky Mountains. Its proximity to Banff downtown lets you keep up with all the main actions during the day before curling up by the wood-burning fireplace after dark.
3. Golden Nights – Luxury Tent in Banff Region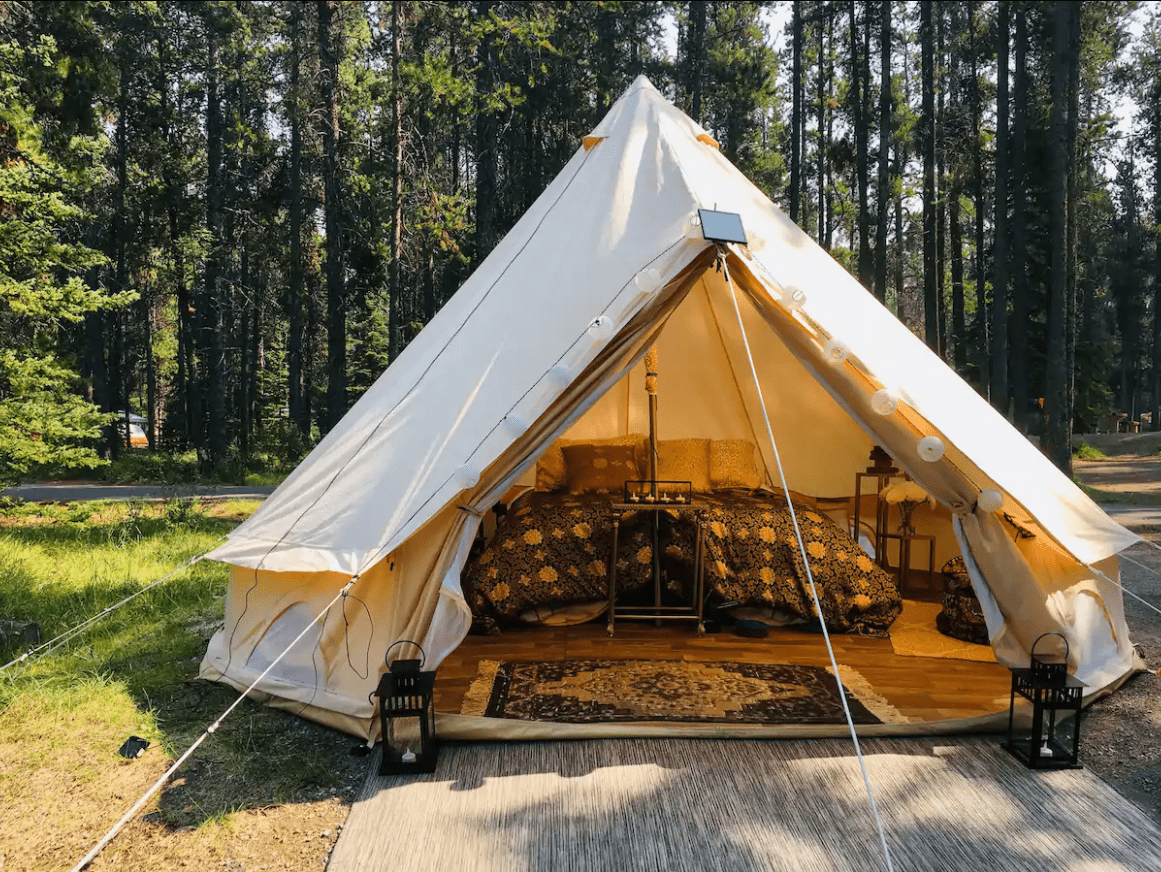 Price: $$$
No. of guests: 2
Take your camping experience to a whole new level! Jenna's place has everything you ask for from a hassle-free camp day. The vintage décor gets you hooked right at the first sight. It delivers a rustic, classic ambiance turning you into a muse sleeping in the woods.
Kitchen utensils are fully equipped so feel free to share some laughs with your fella grilling some BBQ. It's time to leave it all behind, grab a book along and laze around on the hammock listing to the sound of nature.
Jenna's tent is fully appointed so come just as you are as you don't need to buy anything beforehand. The Airbnb is available for a minimum booking of two nights with a capacity of two campers.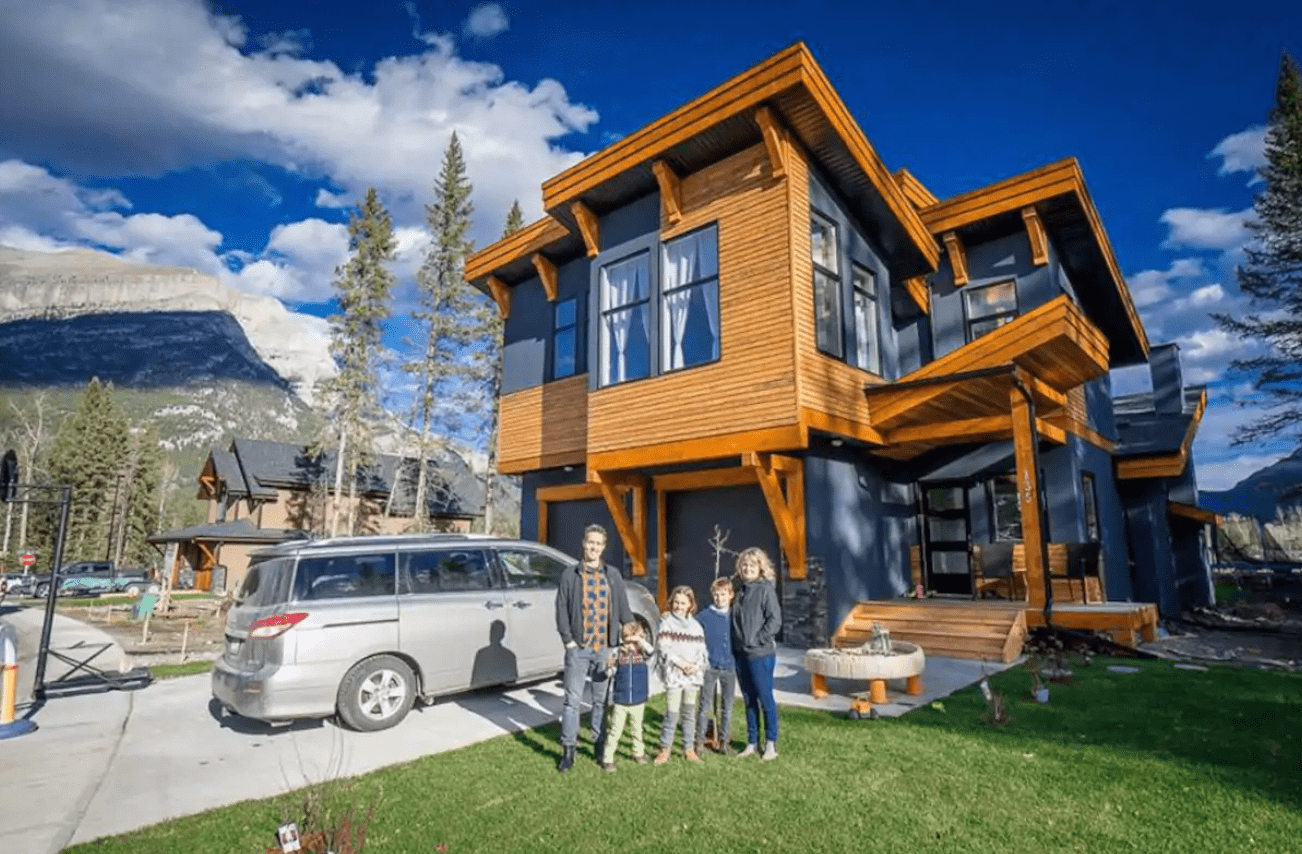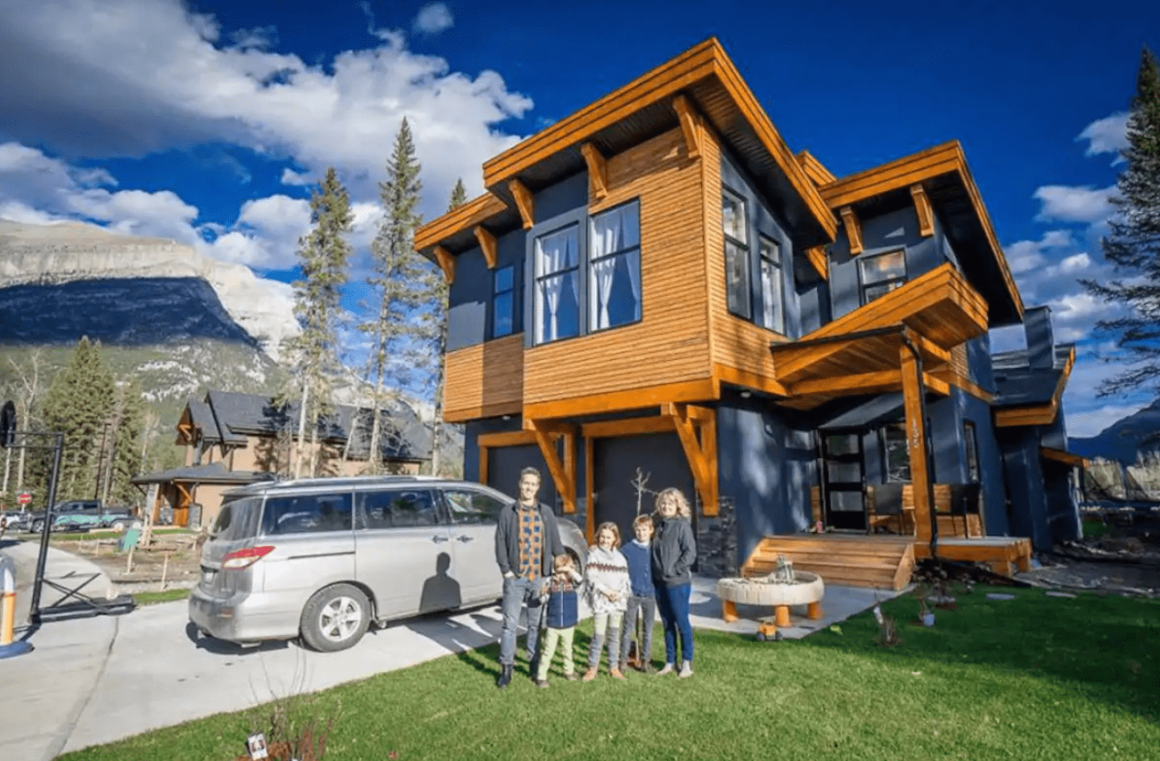 Price: $$$
No. of guests: 5
Just a short 30-minute drive from Banff and ten minutes from Canmore, you'll end up at one of the best gems in Dead Man's Flat for families with kids!
Call it a great escape where you let your kids immerse into nature while you get a decent break for yourself over the weekend. Its proximity to the river, ski hills, and cycling trails give you the best of fun during the day before warming up with the avant-garde in-slab heated floors when night falls.
The picture-perfect view from the house engulfs the whole mountainous area, giving you a peaceful vibe to chill out with your loved ones. The Airbnb is available for a minimum booking window of two nights and can host up to five guests.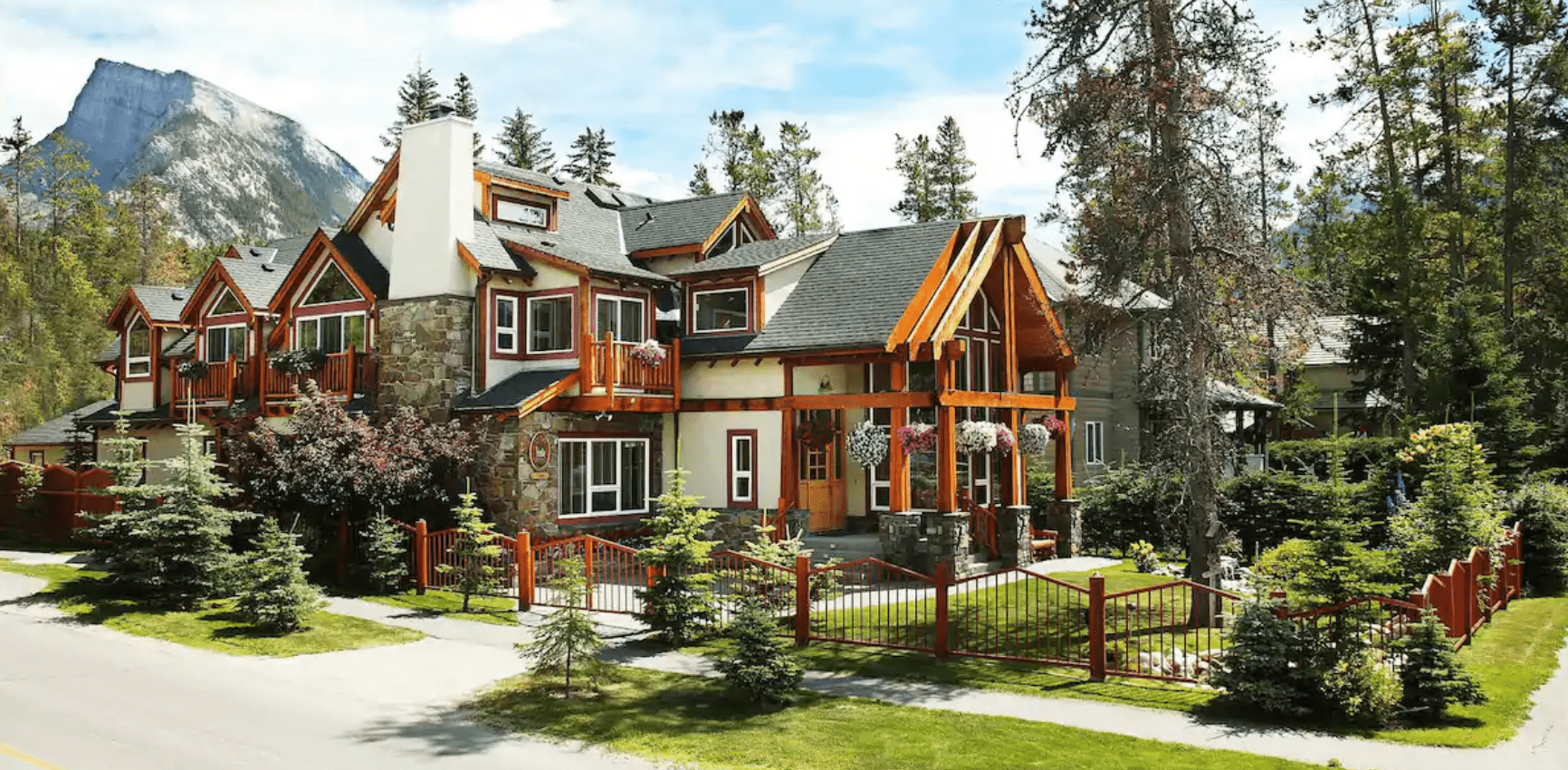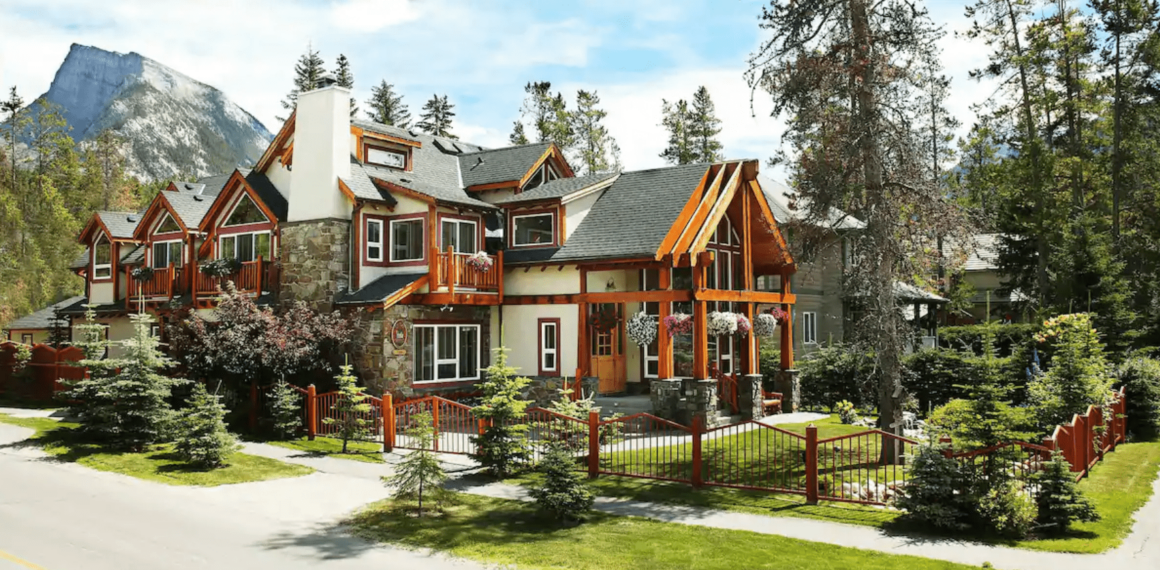 Price: $$$
No. of guests: 2
More than just a Bed and Breakfast, Albert's boutique property steps out of a fairy tale to bring you that fantasy experience. Every corner of the house is too fictional to be true, not to mention the dreamy garden flooded in the morning sunlight.
Going beyond that old-world charm are the hotel-standard amenities. Netflix, bar fridge, and en-suite bathroom are available to give you the most satisfying stay. Featuring a king-size bedroom, Beaujolais puts together a sense of antiqueness reflected through the pine vaulted ceilings, fir flooring, and antique furniture.
It cannot go without that stunning view over Mount Norquay that makes this house such a fine gem of Banff. Albert's Airbnb can be booked with a minimum rent-out period of two nights.
On the way to explore other parts of the great Alberta? Don't miss out on these top-rated Airbnbs to kick back and find your inner peace!
---
More Accommodations in Banff
The following two tabs change content below.
Latest posts by Noms Magazine (see all)