The small town of Tofino is a haven for surfers and beachcombers alike. Filled with a great collection of water sports and mountainous leisure activities, Tofino has become a top choice for travelers on a weekend retreat. Choosing a chill-out place to spend your nights in Tofino is totally worth an effort.
So to help you get more ready for this vacation, we compiled the best Airbnbs in Tofino into the list below.
Here's to laze around by the picture-perfect beaches and tucked away in the emerald rainforests!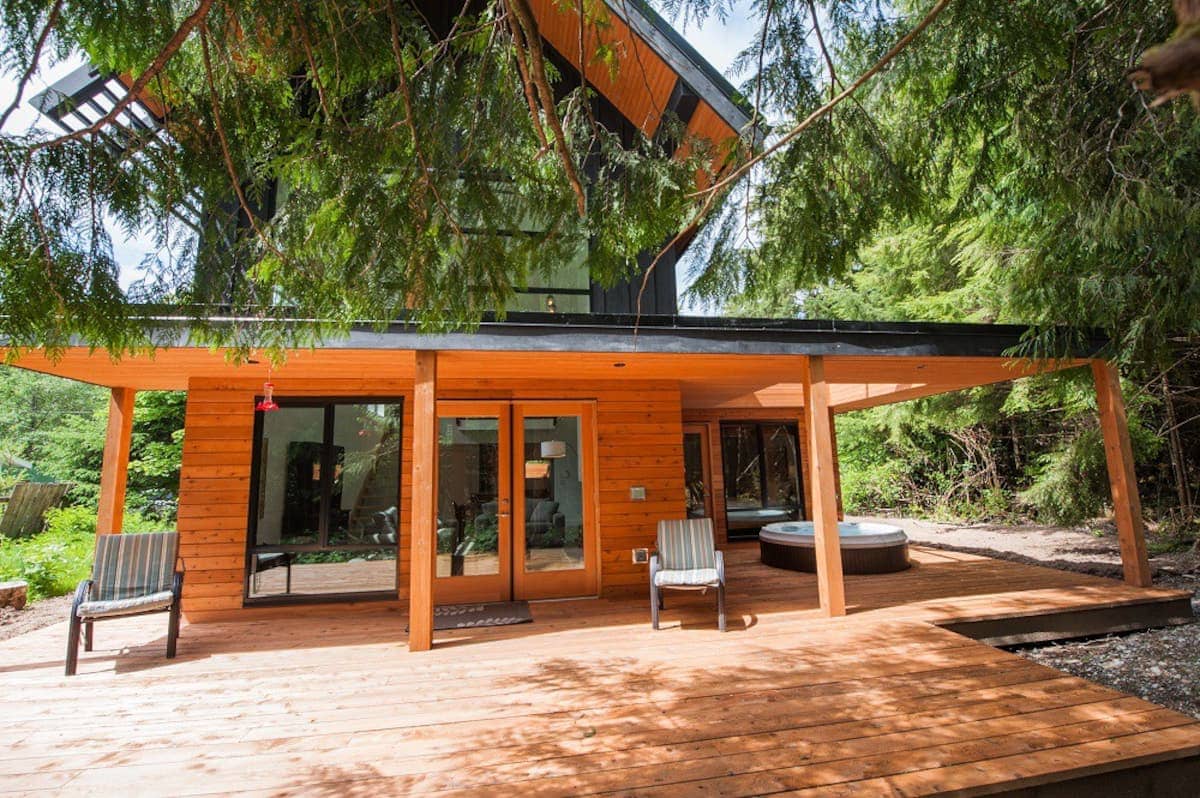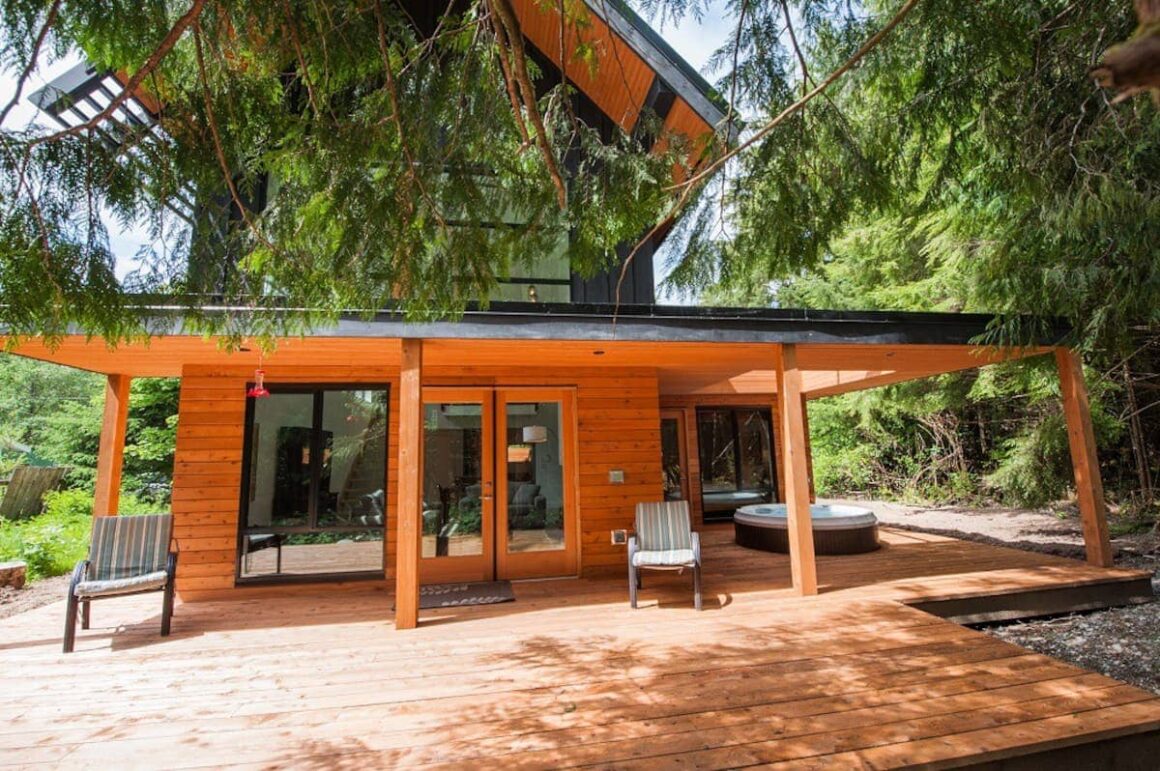 Price: $$$
No. of guest: 6
Ray of Sunshine is a perfect solution for a long weekend getaway with your large family. Hosting up to six people, this custom architect-designed cabin compliments the open concept with lots of space to stretch out.
Spanning out to two floors, this massive suite is where you can lounge back on the sofa watching the rains falling from the trees. A chef's kitchen is fully stocked to cook up your family dinner. Each room is attached with large walk-in showers and a soaker tub to rest your bones at the end of the day.
We're sure you'll be hypnotized by the comfort and stylish interior but there's also a myriad of outdoor possibilities to keep you relaxed. Chesterman beach is twelve minutes away on foot. Whenever you've had enough of the water, head back home to chill in the private hot tub or throw a BBQ party with your loved ones. Pet is allowed at an extra cost so feel free to tag your pooch along on the trip. Ray of Sunshine is available for a minimum rent-out period of two nights.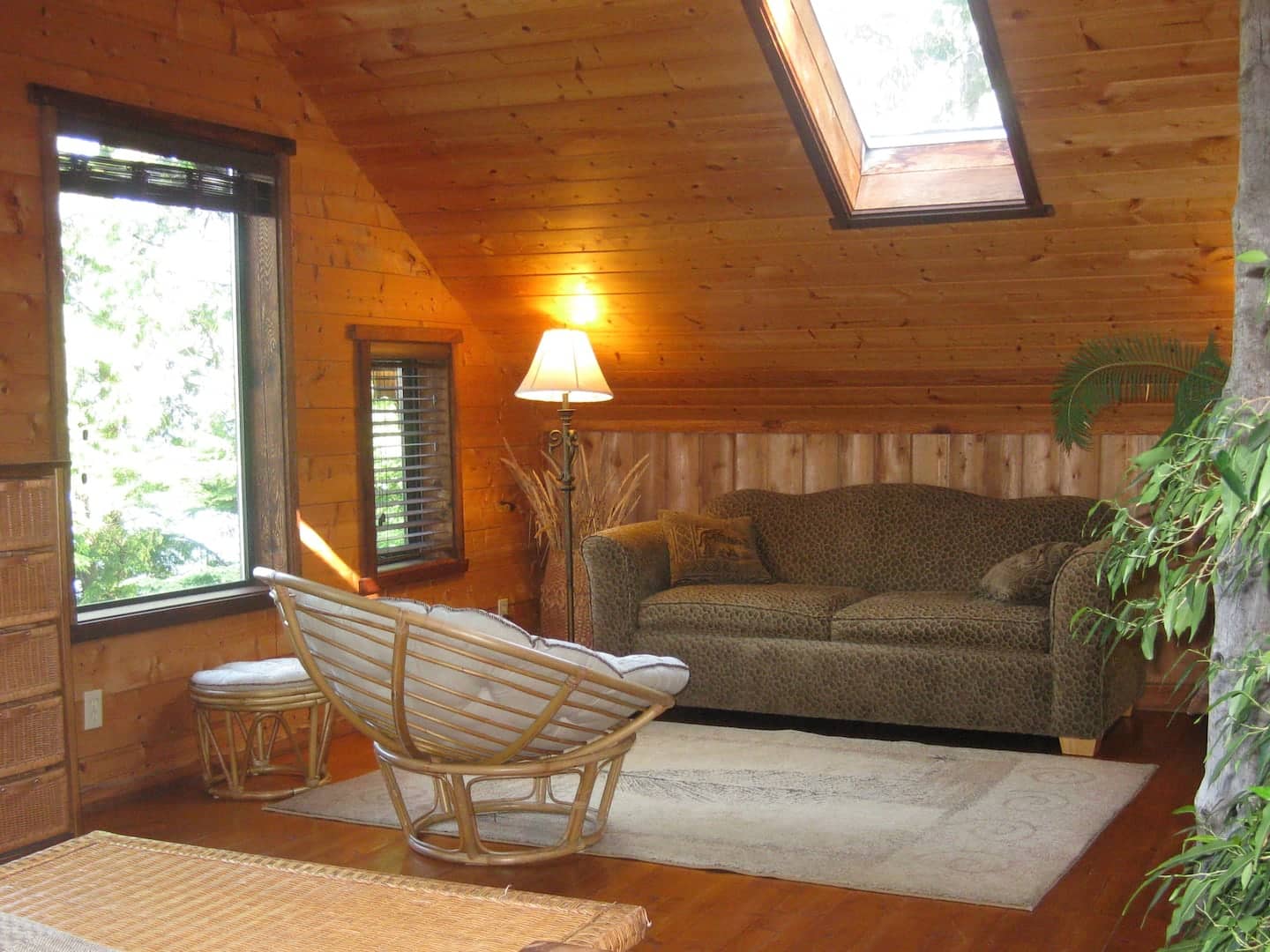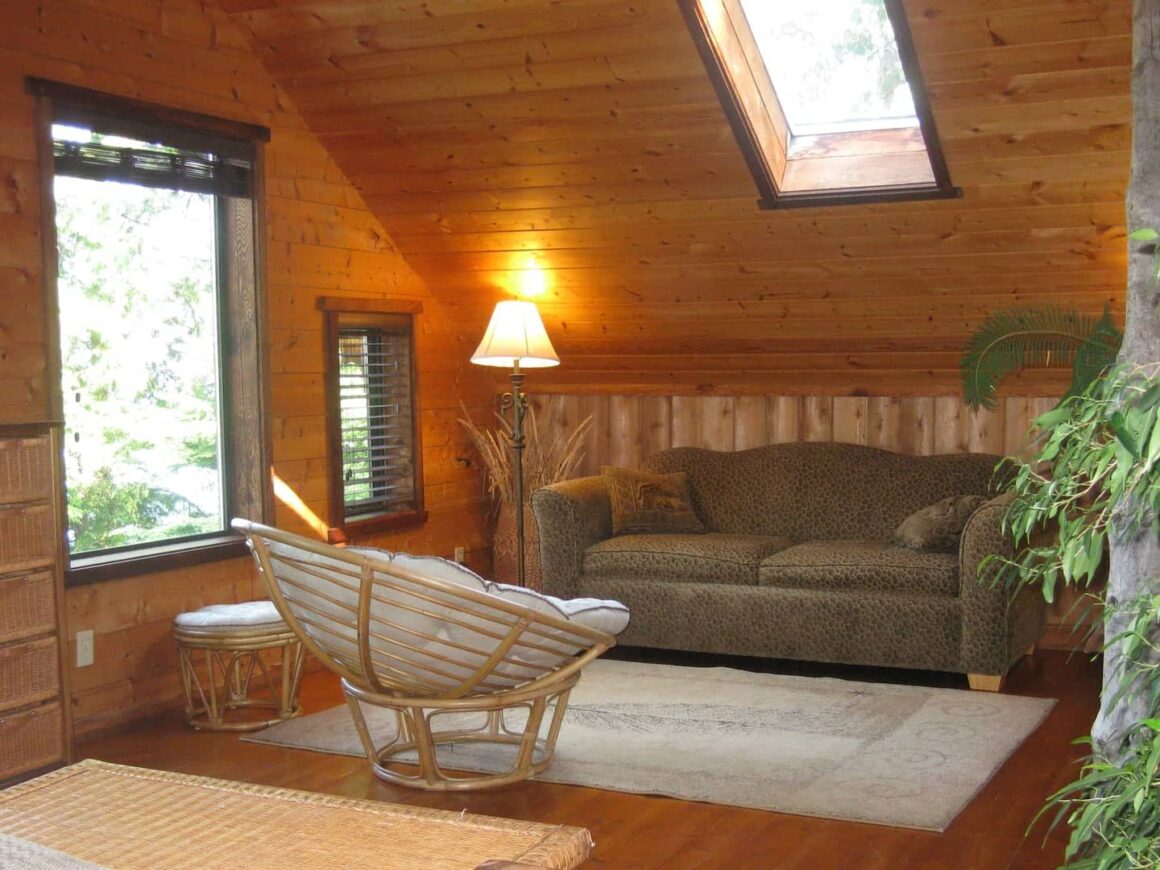 Price: $$$
No. of guest: 2
Another dreamy beachfront Airbnb to top your bucket list! Verne and Gisèle's one-bedroom chalet offers that rustic, vintage, and cozy ambiance that every family and couple is looking for. The two-story chalet opens out to the mirror-lake water of Browning Passage and Meares Islands. Therefore, don't be surprised if you spot some ducks and Canadian geese passing for a hello during the day!
The house is completely soaked in a bustling, typical scenery of Tofino with Mount. Colnet surrounding you at the back. Instead of curling up on the bed, you will want to launch your kayak or canoe and sail to the private inlet beach access point to engage with the wild friends.
Once your bones are tired, head back home and laze around at the balcony to sip on some wine and wait for some grey whales, porpoises, and sea lions to pass in your view. You need a minimum booking period of two nights to stay at this waterfront cottage.
8. Chesterman Beach Romance – Heron's Perch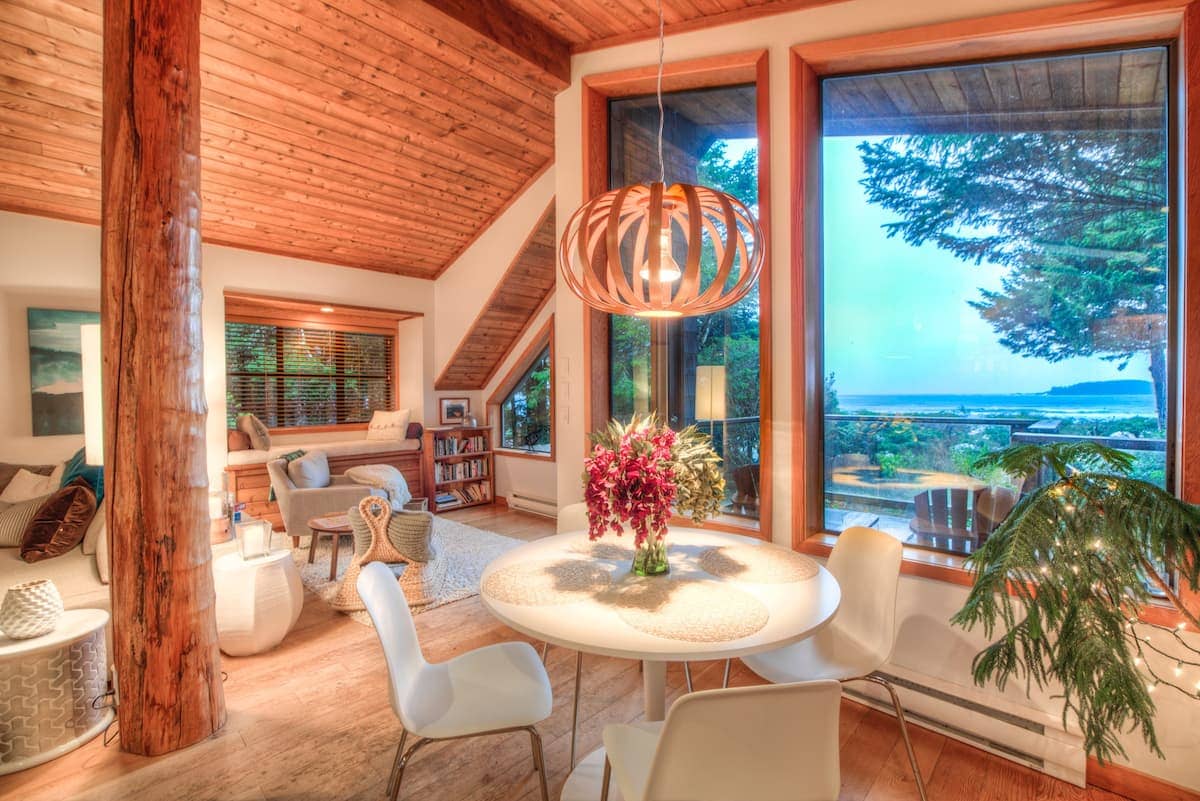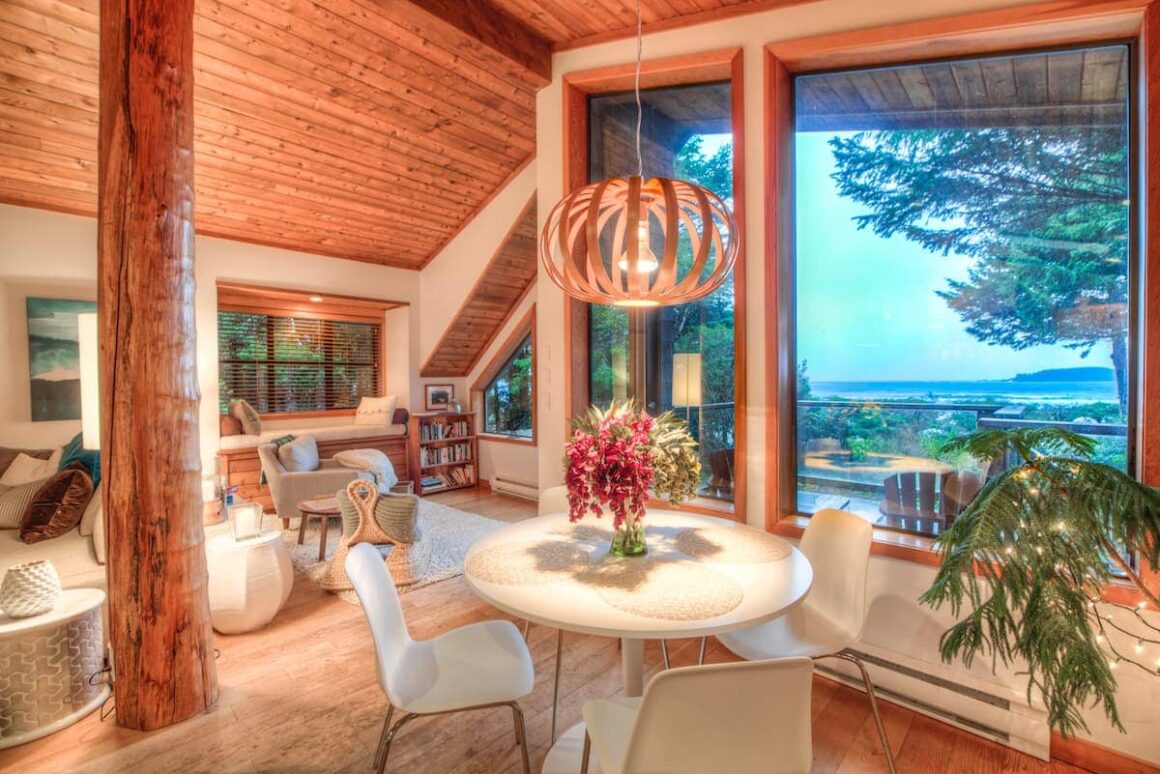 Price: $$$
No. of guest: 4
Tucked away in the woods that run along Chesterman's Beach, Catherine's massive wooden house is more than just a fine gem. This gigantic sun-flooded house emerges from the shade of the wood as a fairy's castle. This is where the lapping waves on the shores and dazzling pacific sunsets nourish your privacy.
Do you know that Chesterman's Beach of Tofino is one of the best surf spots in Canada? If the waves are where your heart is, then Catherine's Airbnb is your haven! The sun-drenched beach is hugged by the dramatic mountains and is steps away from the house. Each of the rooms is accompanied by large windows that allow a generous amount of sunlight to ventilate and brighten up your living space.
The cozy hue of wood pairs perfectly with the simple and luxurious look of white, providing a stylish and homey vibe at the same time. Dedicated to a family's getaway, the Airbnb has its torch on the private patio with a hot tub looking over the deep blue sea. Looking for a hideout to forest bathe? This Heron's Perch will be your merry way!
7. The Anchor at South Chesterman Beach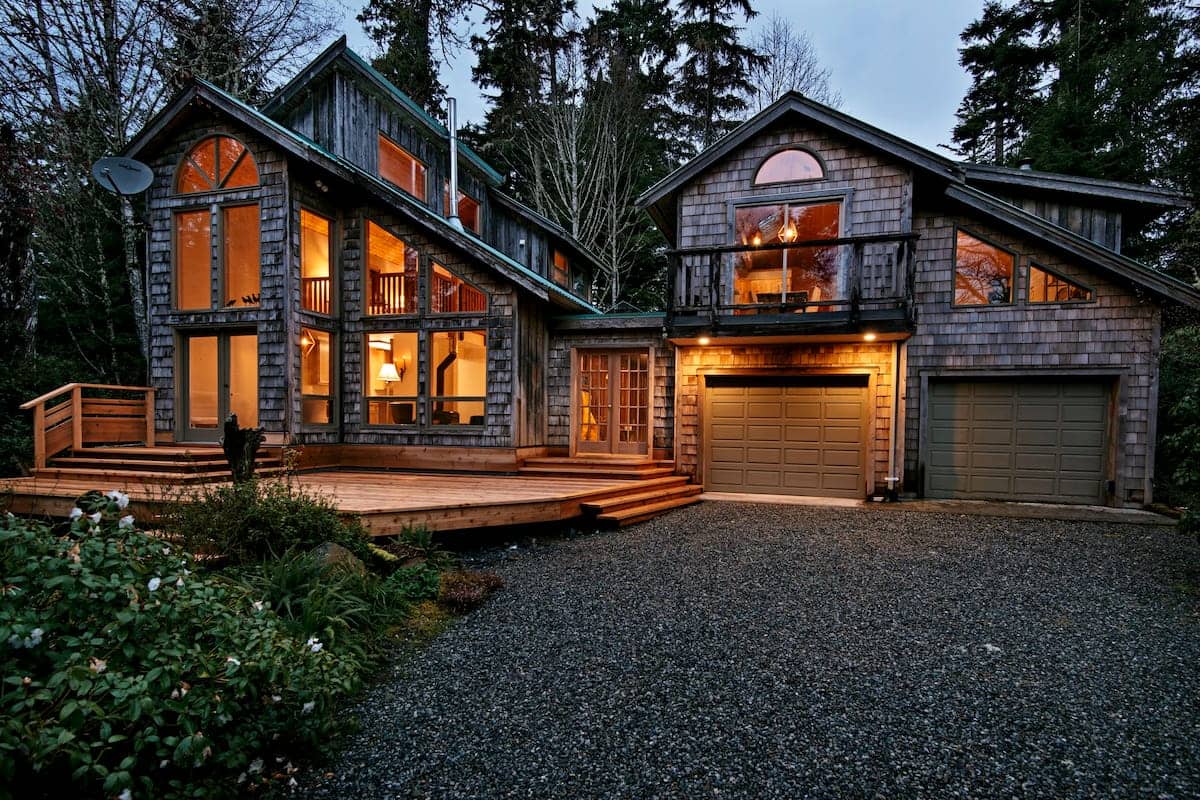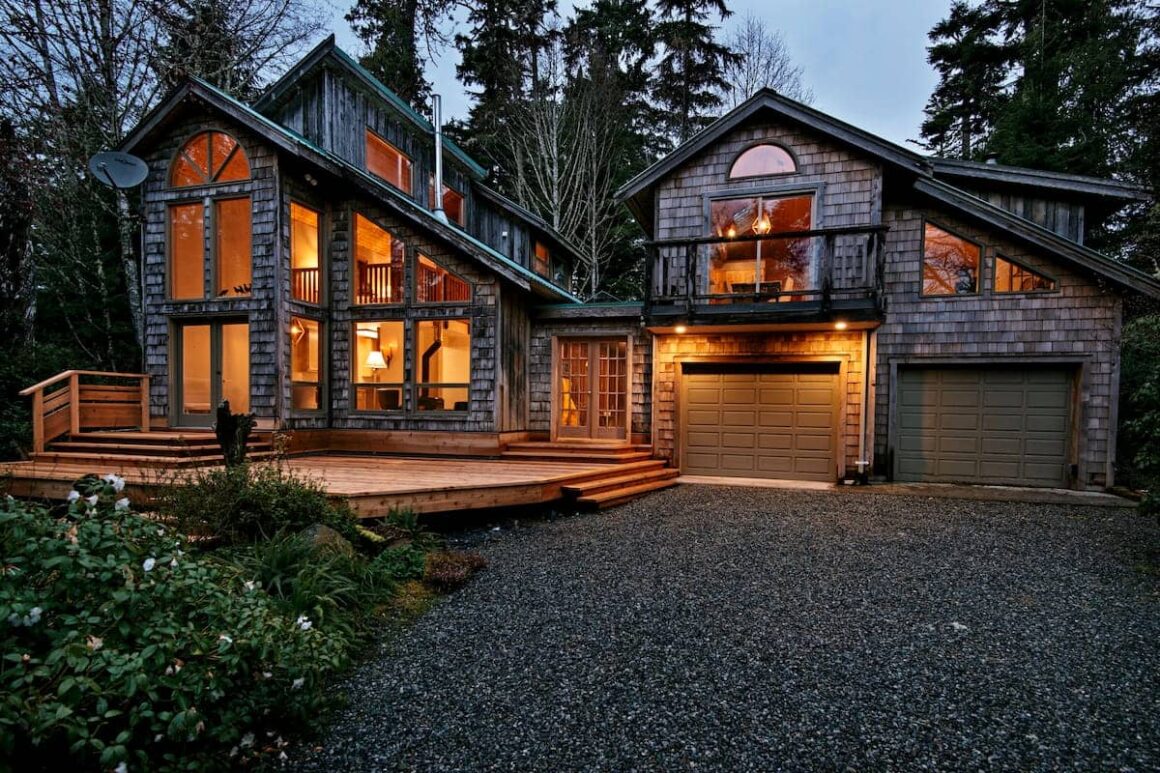 Price: $$$
No. of guest: 6
Another rare find on the coast of Chesterman's Beach to jot down your bucket list. Housing up to six guests, Milan's Airbnb features an open-concept living space with the accent highlighted at the thriving garden.
Nestled in the heart of the wilderness but only minutes walking to the park and beach, Milan's dreamy house is a top call for a family getaway on a sunny weekend. The house is developed to promote the enchanting West Coast design with vaulted ceilings. This gorgeous style offers an expanding view of the thriving garden and lets the sound of waves pamper your mind to the fullest.
After the whole day bracing the waves on the beach or hitting the bustling shops in town, it's time to soak in the shared hot tub at the back deck after dusk to relax your cores. BBQ, a hot shower, and a propane burner for outdoor cooking are all-inclusive. Milan's Airbnb has a minimum rent-out period of two nights with a capacity of six guests.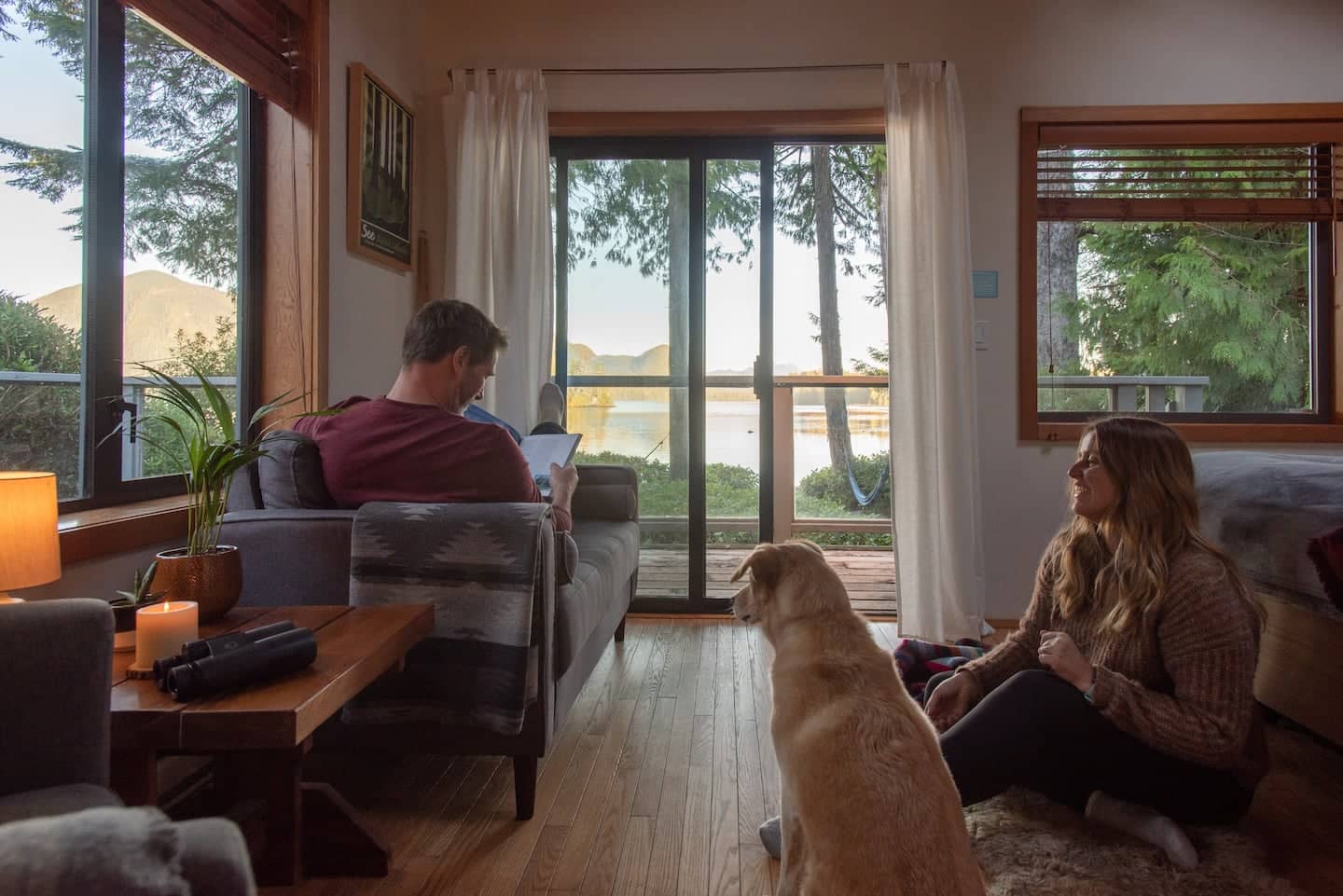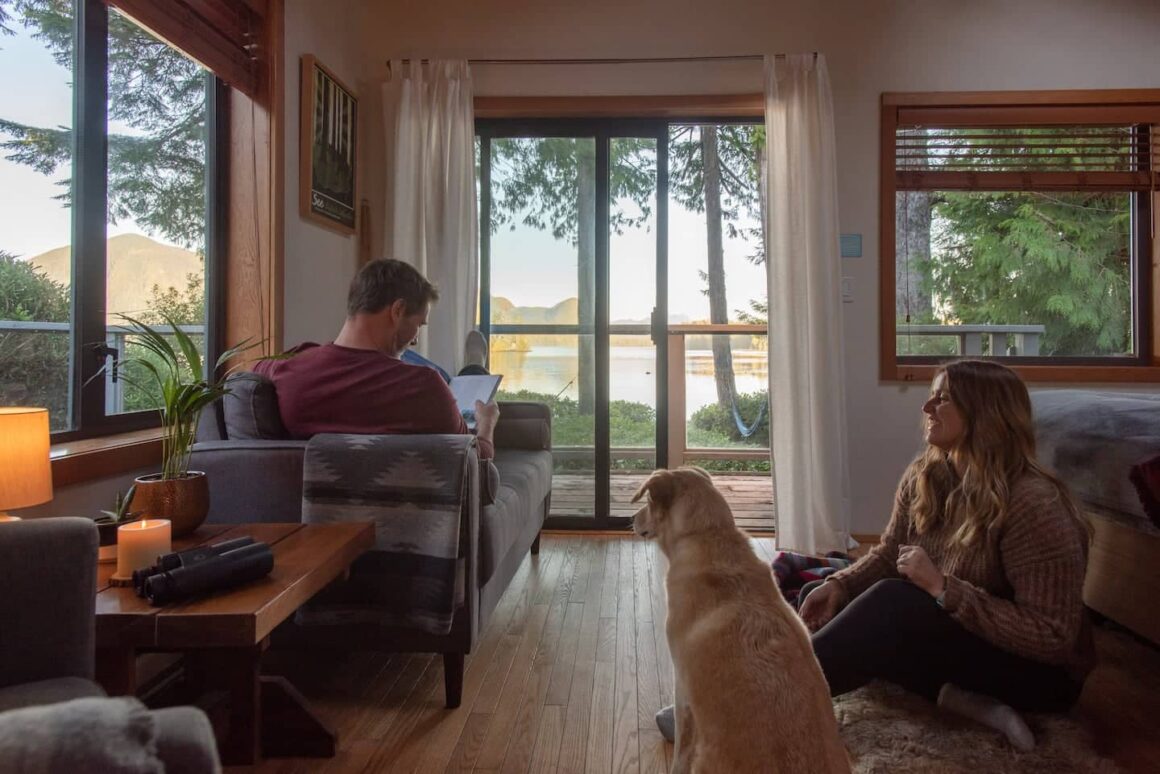 Price: $$$
No. of guest: 2
Bonfire in the woods, bike the mountain, ride the waves, and curl up in a cozy cabin after dusk – this is a dream-come-true for everyone. If this is what you're looking for, book with Alan and Michelle to claim this secluded waterfront cabin for yourself.
Cedarwood Cove is more than just an accommodation, it's indeed an exclusive wellness retreat destination where outdoor adventures and home comforts become one. Hidden behind the old-growth forest on the Pacific Ocean, Cedarwood Cove inherits the best of both worlds where the popular surf spots and budding food scene are only steps away.
Alan and Michelle go above and beyond to smoothen your stay with an endless supply of thoughtful amenities inside out. From a private hot tub, stargazing hammocks, fire pit to an airy patio to lay your coffee fix, the peaceful outdoor area keeps your main happenings during the day. Whereas, your inner living space is stocked up with books, games, a chef's kitchen, a laptop-friendly nook, and binoculars to watch the wildlife come and go.
Whether you're balancing your inner soul, reconnecting with nature, or catching up with new adventures, this Airbnb's got you covered! The cabin can host two guests with a minimum booking window of three nights.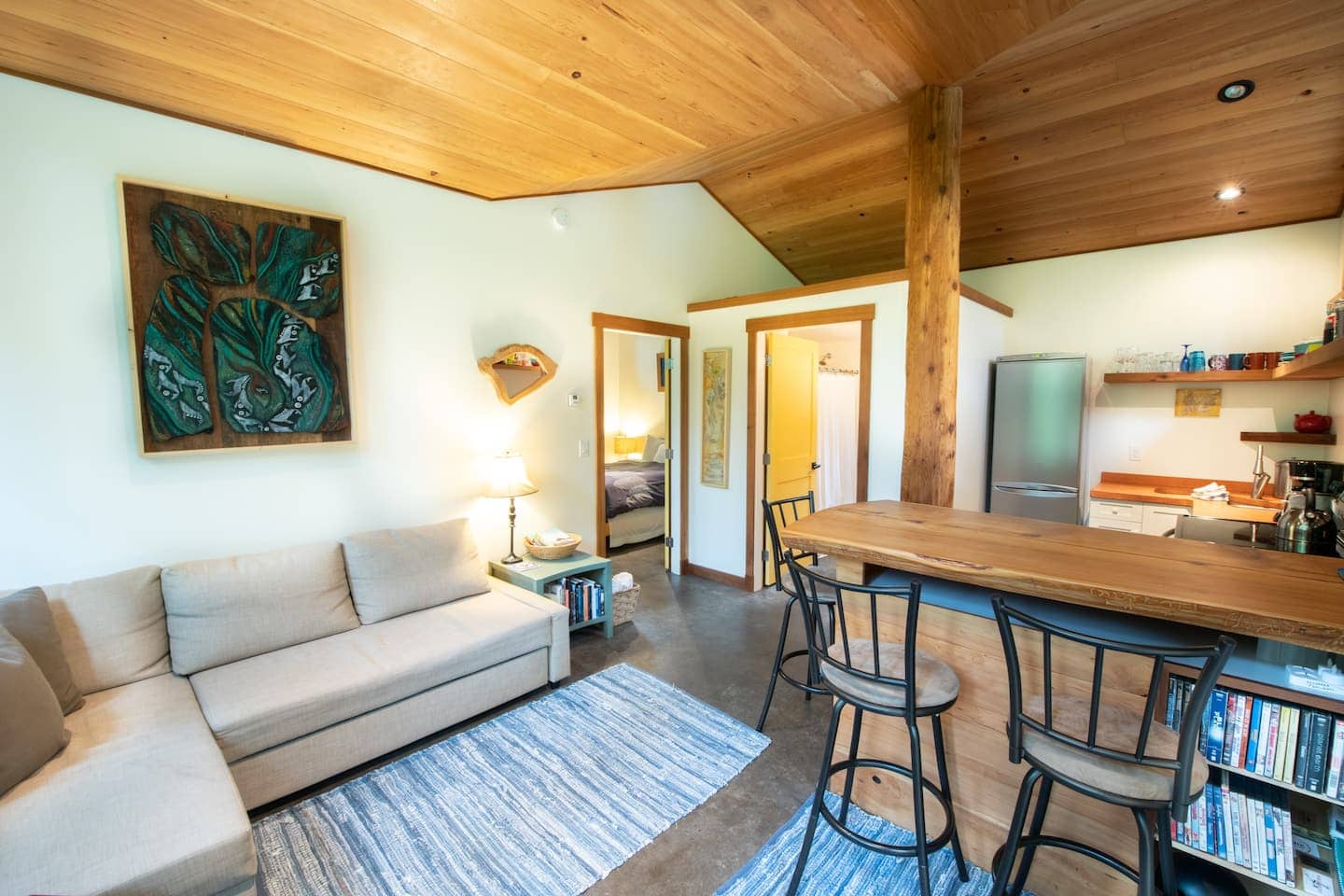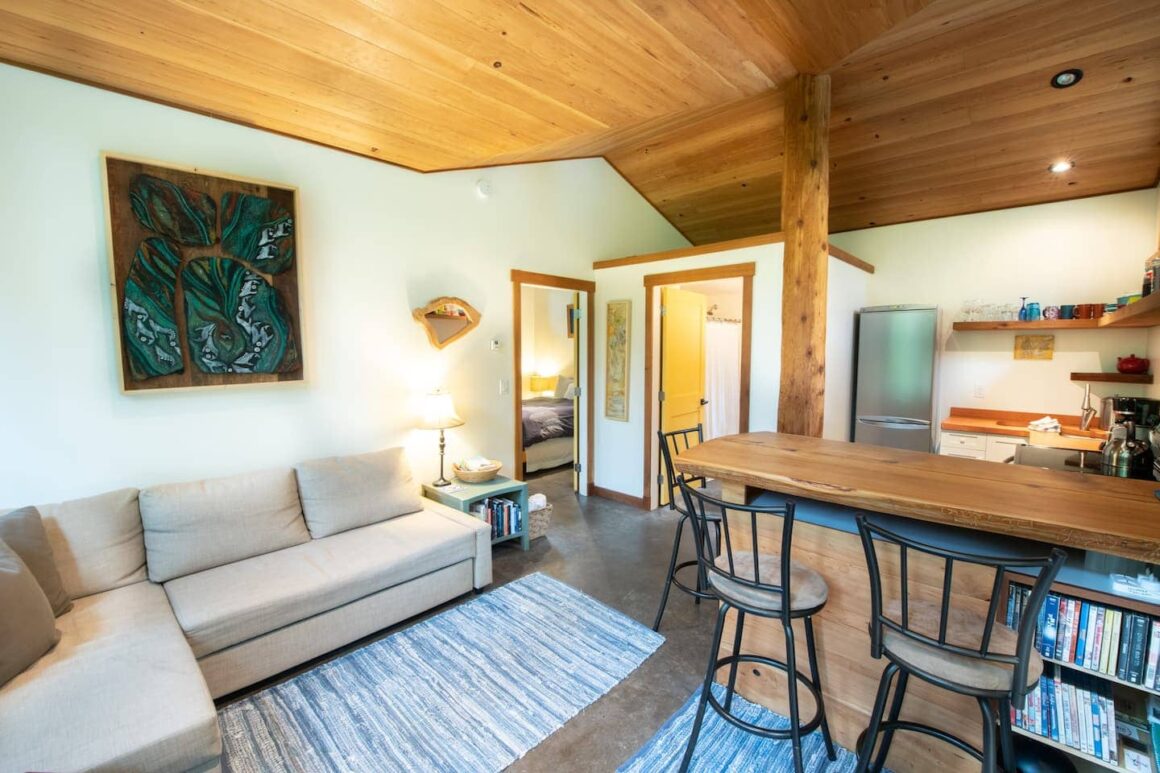 Cap off our curated list of Tofino's best Airbnbs with Sarah's home-sweet-home retreat. Tucked away in a temperate rainforest, Casina looms as a forgotten rustic mansion soaked and nourished by the lush forest and wild nature.
It's time to leave behind all the buzzes and deadlines to hide in this west coast-style Airbnb. The high ceilings and massive windows invite a great extent of sunlight from the forest setting to brighten up your living space.
While the outdoor hot shower is a great assistance when you return from Chesterman Beach and Cox Bay, the heated concrete floor inside doubles your coziness when the house is surrounded by forest all year long. Surfboards and bikes are at your fingertips – a fun bonus added to your stay. You only need at least one night to book Casita.
4.Bright and Modern Suite Steps from the Beach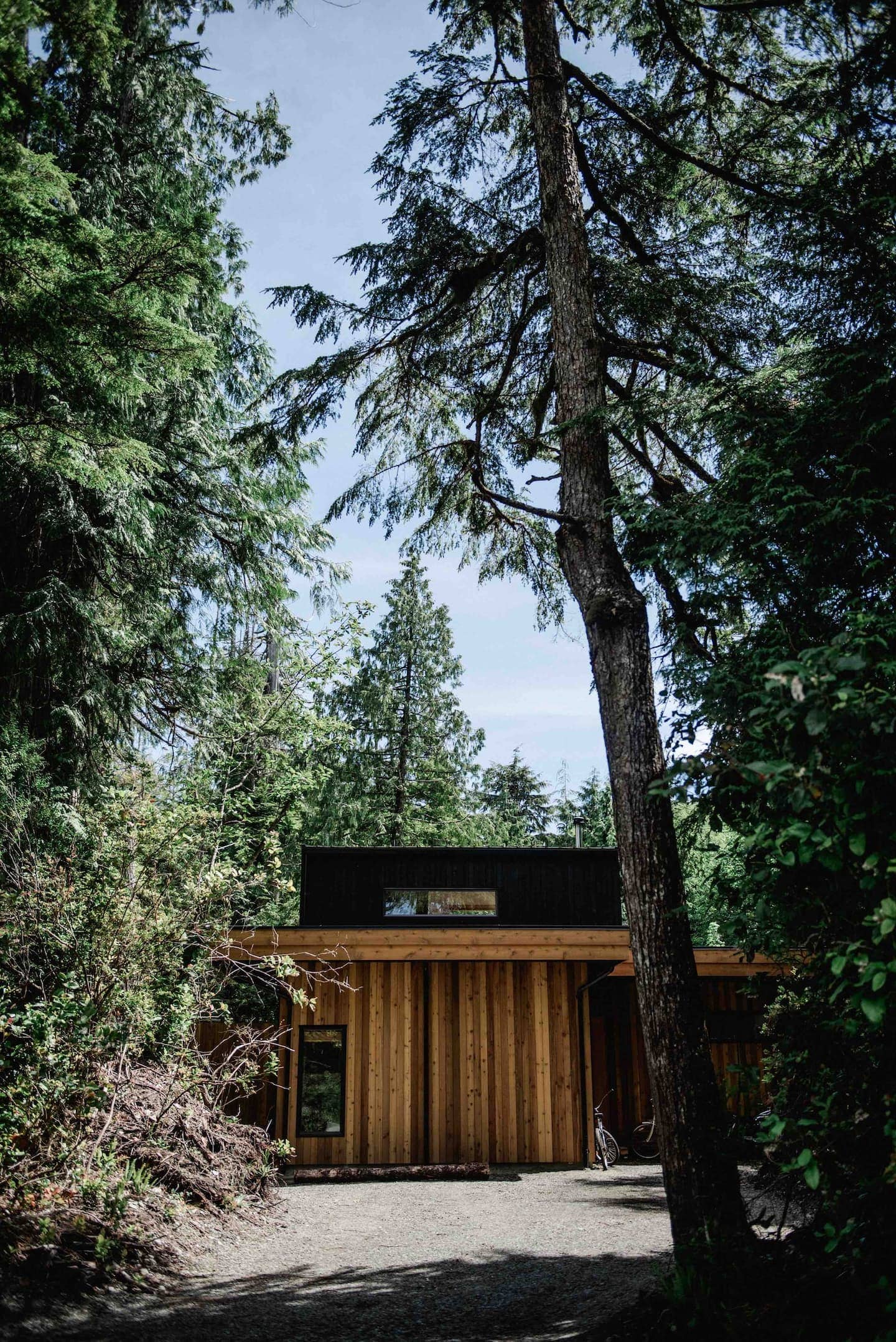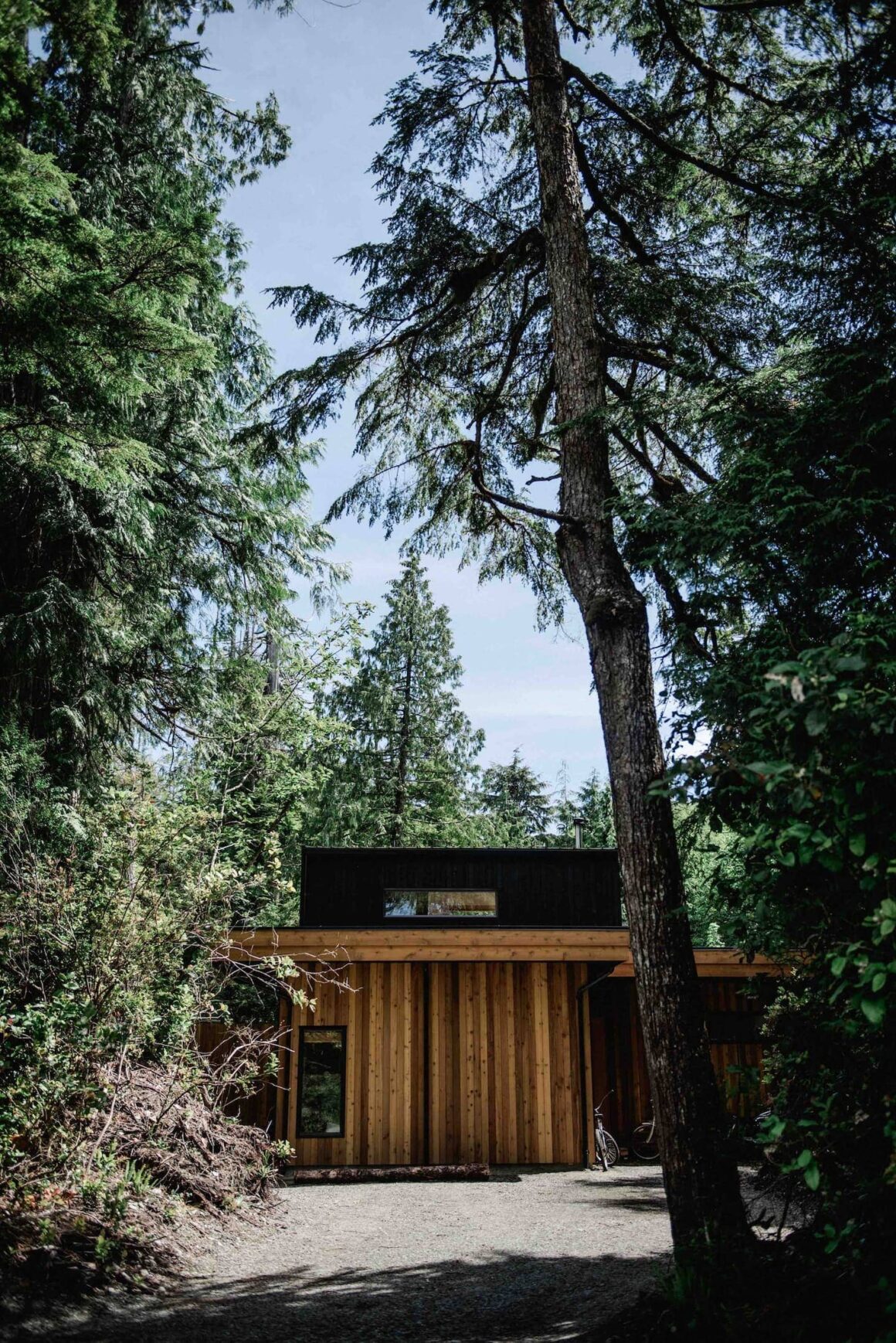 Modern, spotless, simple, and neat are the first things you notice about Laurian's Airbnb. Step into this oasis and all of your burdensome from the city life is automatically canceled. This one-bedroom stylish suite is flooded with sunlight while the white walls and wooden furnishings enhance the luxurious vibe of your stay.
Well-appointed but not excessively displayed, Laurian's Airbnb emerges as a rabbit hole tucked at the back of the old-growth trees. Start your day with a hot coffee on the private porch and plan your day's adventure at the beach. The 10-feet-tall bathroom is another accent of the house as it's embellished with the skylight where you can shower under the stars.
A base for your sunrise walks to Chesterman or sunset bonfire on the porch – you name it! Laurian's Airbnb is available for a minimum booking window of two nights and can accommodate two guests.
3. Beachfront Lookout Suite on Chesterman Beach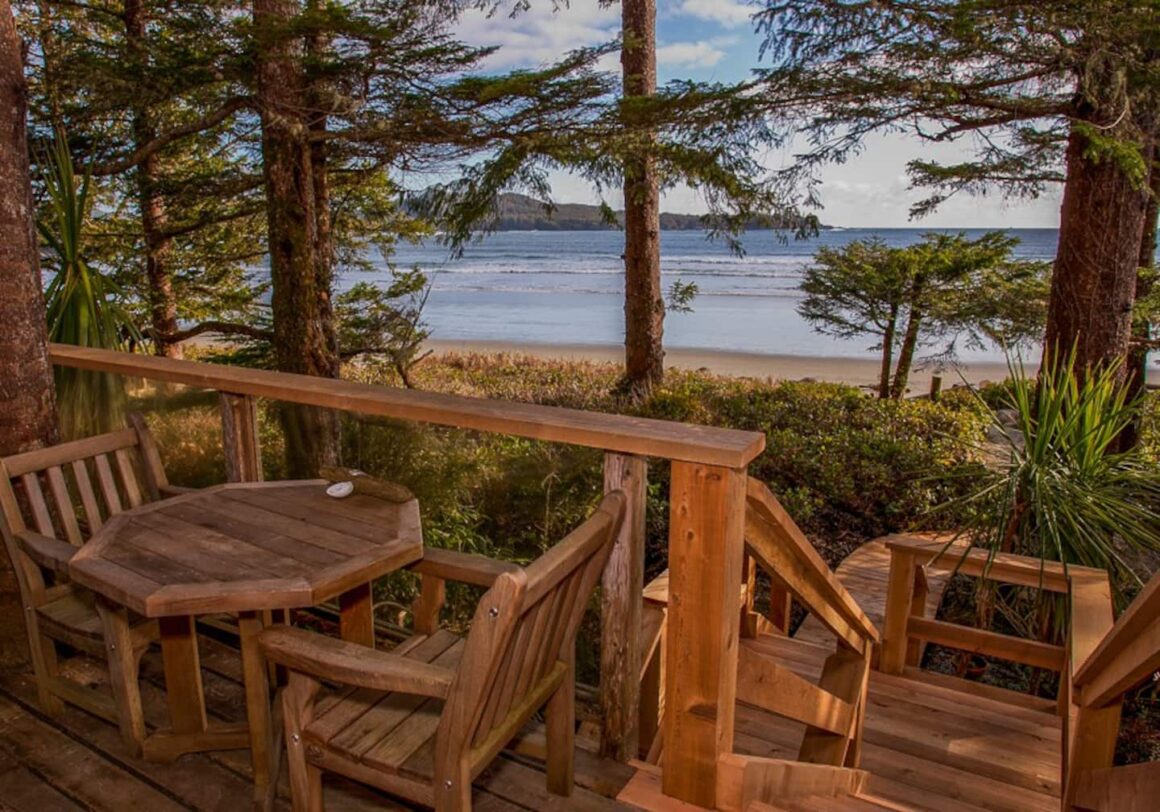 Price: $$$
No. of guest: 2
Located right on the coast of Chesterman Beach, Todd's one-bedroom suite is taking your breath away! Claim a stay at Todd's Airbnb and you'll have a chance to enjoy an award-winning Chesterman Beach Bed and Breakfast!
Perched in the trees with a wooden staircase leading to the sandy beach, the Airbnb welcomes the magnificent sunset every day. It overlooks directly to the ocean where all the main happenings take place.
Just chill by the massive windows from your bedroom or living room with a cup of tea in your hand and you can see surfers in the morning mist, people taking a long walk on the beach, or a reading on a wooden chair right on the shore. Thanks to a dramatic surrounding landscape, this Airbnb turns into a quiet and relaxing wooden castle where your inner peace is found. You only need at least one night to book with Todd.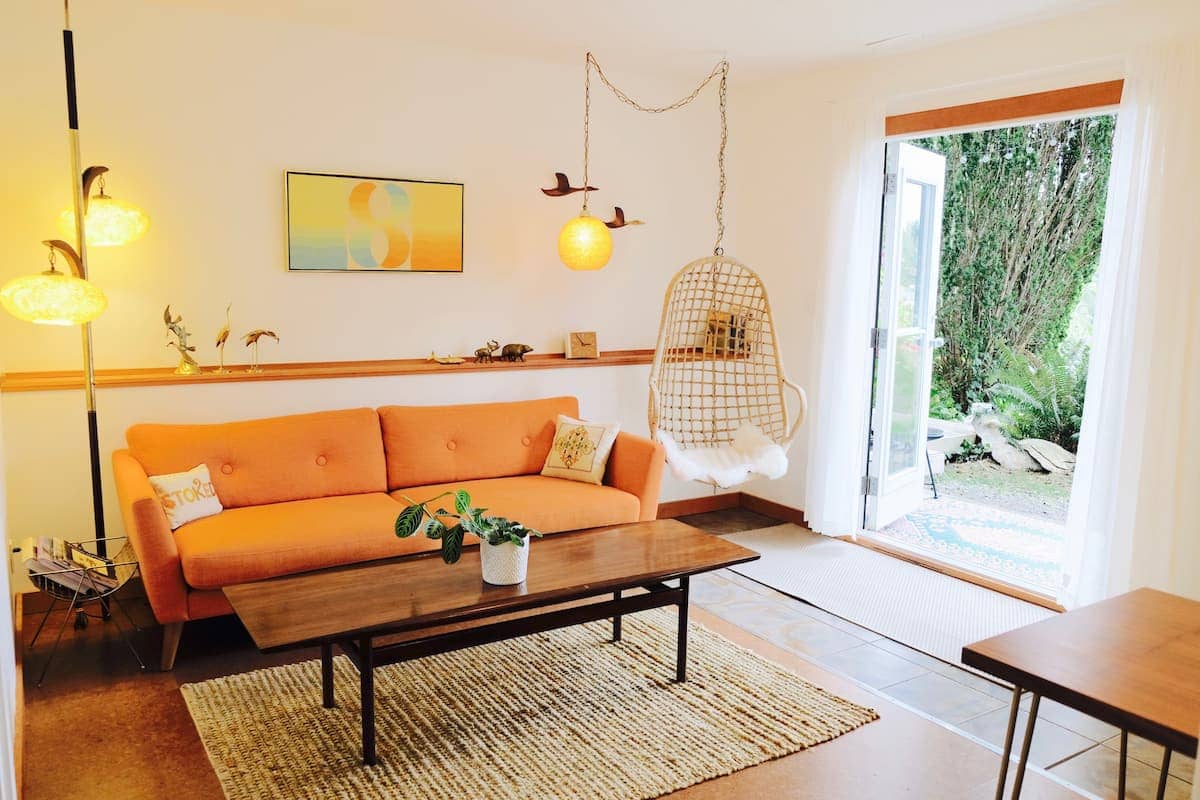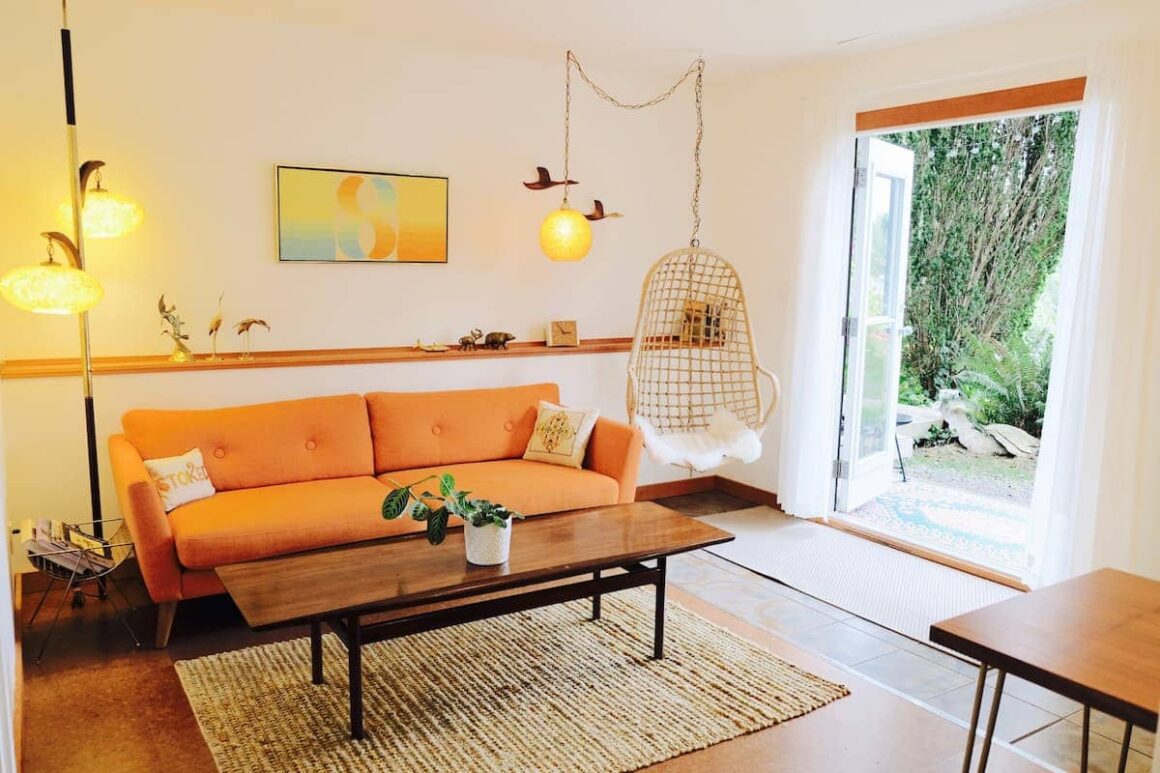 Jennifer's Airbnb is reminiscent of a retro surf cottage with a modern twist. Nestled amongst the trees with only a few minutes from downtown Tofino, the suite is a lovely accommodation for couples and small families. Instead of showering the house with luxurious, fancy items, Jennifer gives it an identity with her curated vintage finds. Curl up on the king mattress, watch a show on TV, sunbathe in the lush garden, or prep a family dinner after dusk.
The beach, restaurants, and shops are steps away from the wooden suite – you get the best of both worlds at Jennifer's Airbnb! Make sure to add this listing to your wish list! The house is bookable for at least two nights with a capacity of two guests.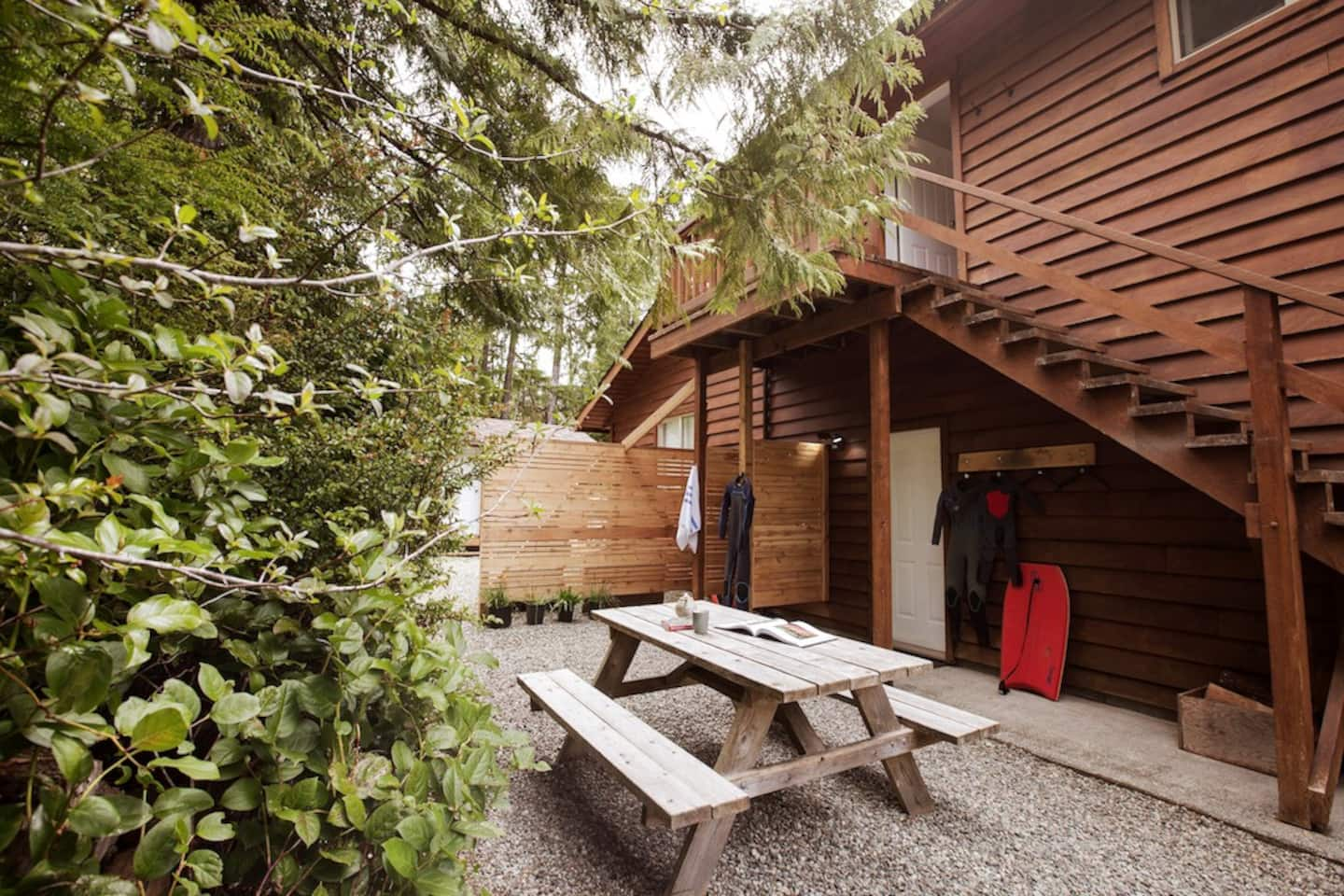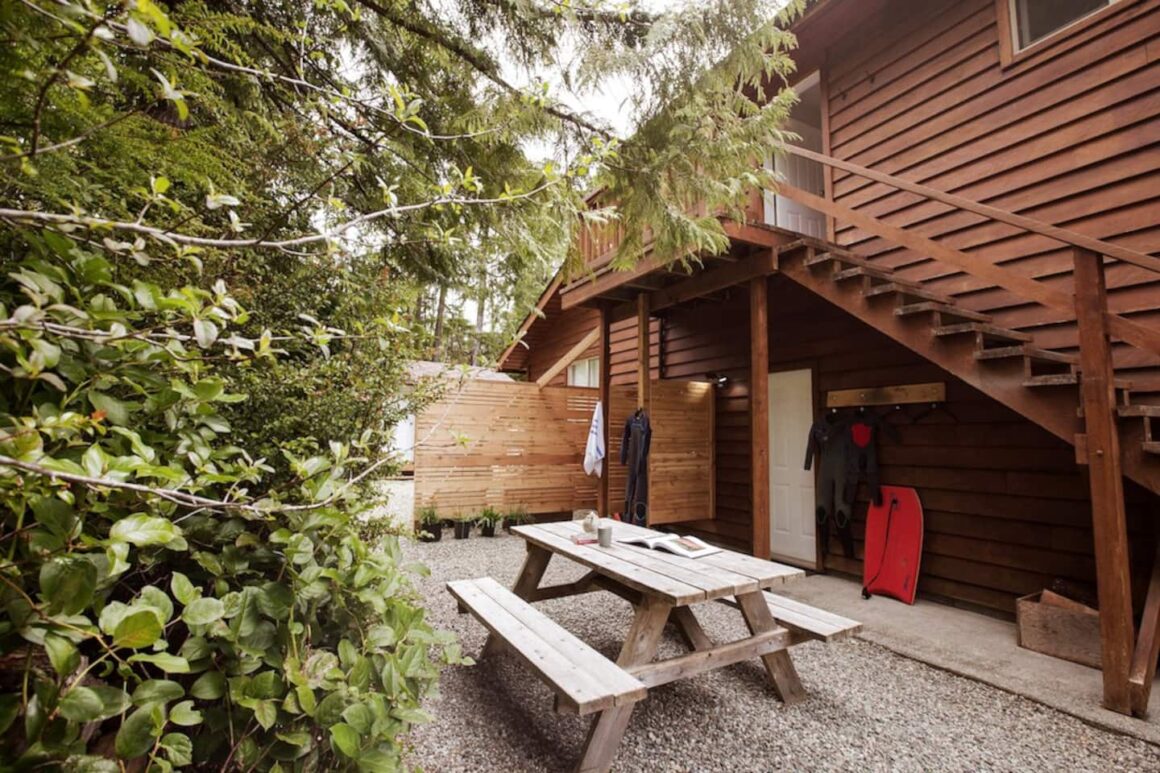 Price: $$$
No. of guest: 2
Rustic on the outside and brightly modern on the inside, Shane's petite Airbnb once again reflects that Tofino flare. The wooden house is hidden in the heart of a bird sanctuary. If you're a first-timer to Tofino, Surf Hideaway surely fits the bill as it's only ten minutes to Mackenzie Beach on foot and steps away from the Botanical Gardens.
There's a plethora of shops and restaurants around so you won't miss out on the main happenings. Cuddled by the silence of the forest, Shane's property abounds with sunlight reflecting on the straight-up white walls. Gain full access to your own king-size bed and fibre optik internet.
You will love the outdoor surf shower even more! It's right under the stair waiting to wash all those sweats away after a long day riding the waves. Shane's Airbnb is available for a minimum booking of three nights and can host up to two guests.
Looking for more ideas to pamper your soul by the waters? Book a trip to Kelowna and stay at one of our favorite Airbnbs to enjoy its nature and peace!
---
More Accommodations in Tofino
This article includes affiliate links where we may get a small commission if you use our link. No extra cost is added on and all funds will be used to support our team and content.
The following two tabs change content below.
Latest posts by Noms Magazine (see all)