Whistler is known for its largest ski resort in North America and a multitude of summer activities that even outweigh wintertime. Most of the accommodations pinwheel around the two mountains of Whistler and Blackcomb. This area games up your retreat with a generous offer of condos, penthouses, and luxurious townhouses where you can refresh to the fullest after a long day on the mountains or by the lakes.
Read on to find out why we love these 10 best Airbnbs in Whistler the most!
This article includes affiliate links where we may get a small commission if you use our link. No extra cost is added on and all funds will be used to support our team and content.
1. Impressive 1-bedroom Ski-in/out Luxe Condo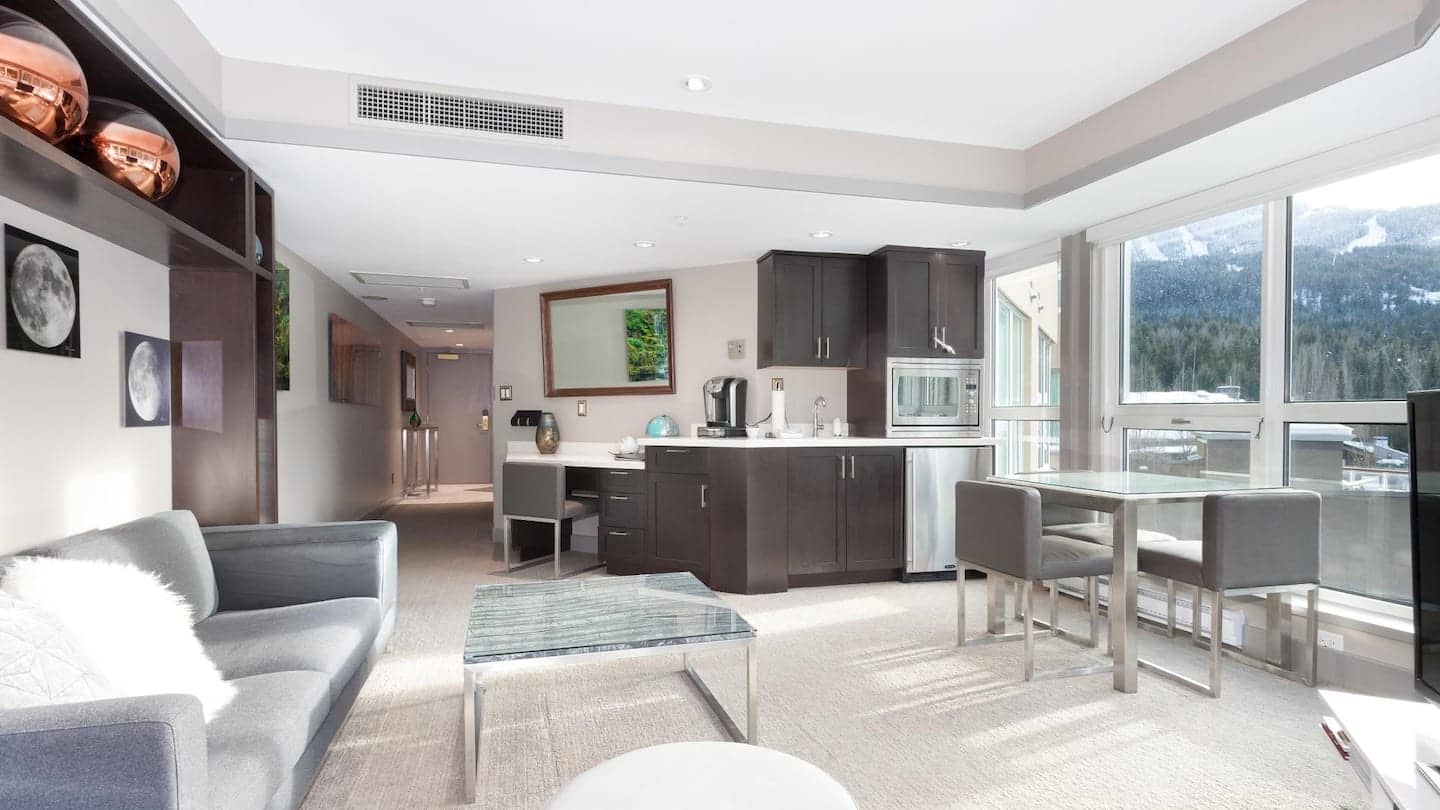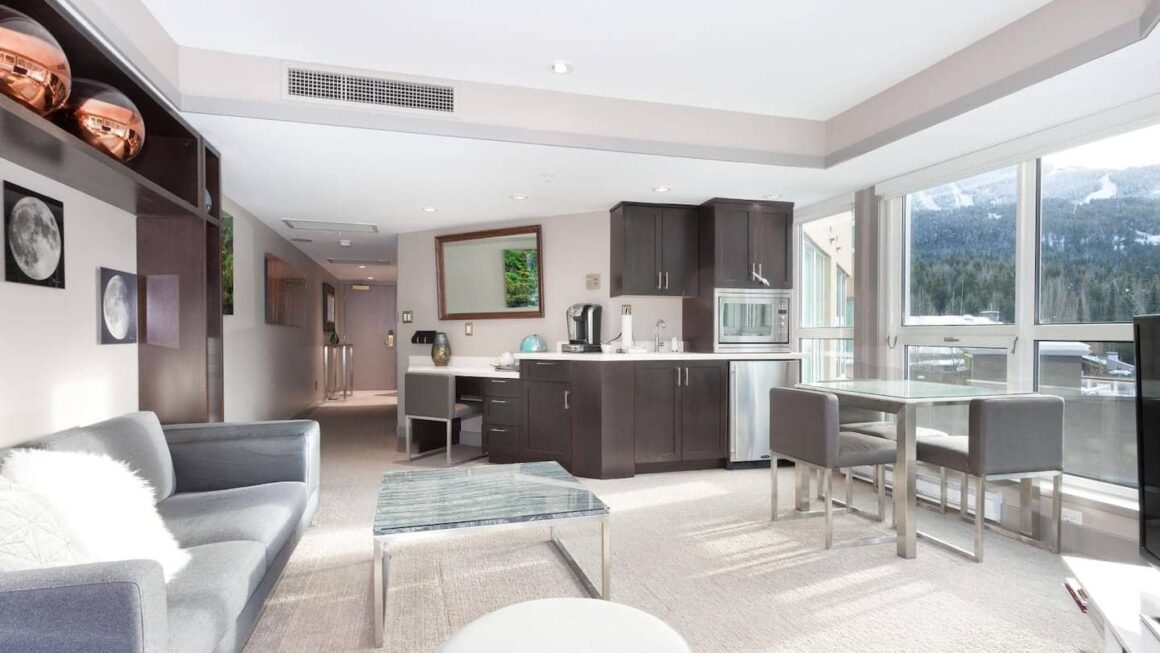 Price: $$
No. of bedroom: 1
Hitting Whistler to ski the epic terrains in winter or bike the mountains in summer? Game it up by adding this impressive high-end condo to your bucket list! Located on the slopes of Blackcomb mountain, the condo is only a few steps away from this world's leading ski resort. The expansive floor-to-ceiling windows allow you to admire the ski run views from every angle of this fabulous ski condo. And if you're coming during summer, then pack up for an incredible alpine hiking with a scenic view of the crips, blue sky.
The contemporary and chic concept of the suite is fulfilled by the grey-and-white duo and finished by leather upholstery. While that "Scandinavian" style bridges the gap between you and the epic terrains, the abstract artworks and the vivid Chinoiserie bedding gives the condo a unique accent.
Given all the essential amenities such as a fully-appointed kitchenette and an excellent location, this one-bedroom condo is definitely a perfect hub for your après-ski pleasant atmosphere. You need at least two nights to reserve a booking at this condo, which can host up to four guests.
2. 1-Bedroom Townhouse with Private Hot Tub and Free Parking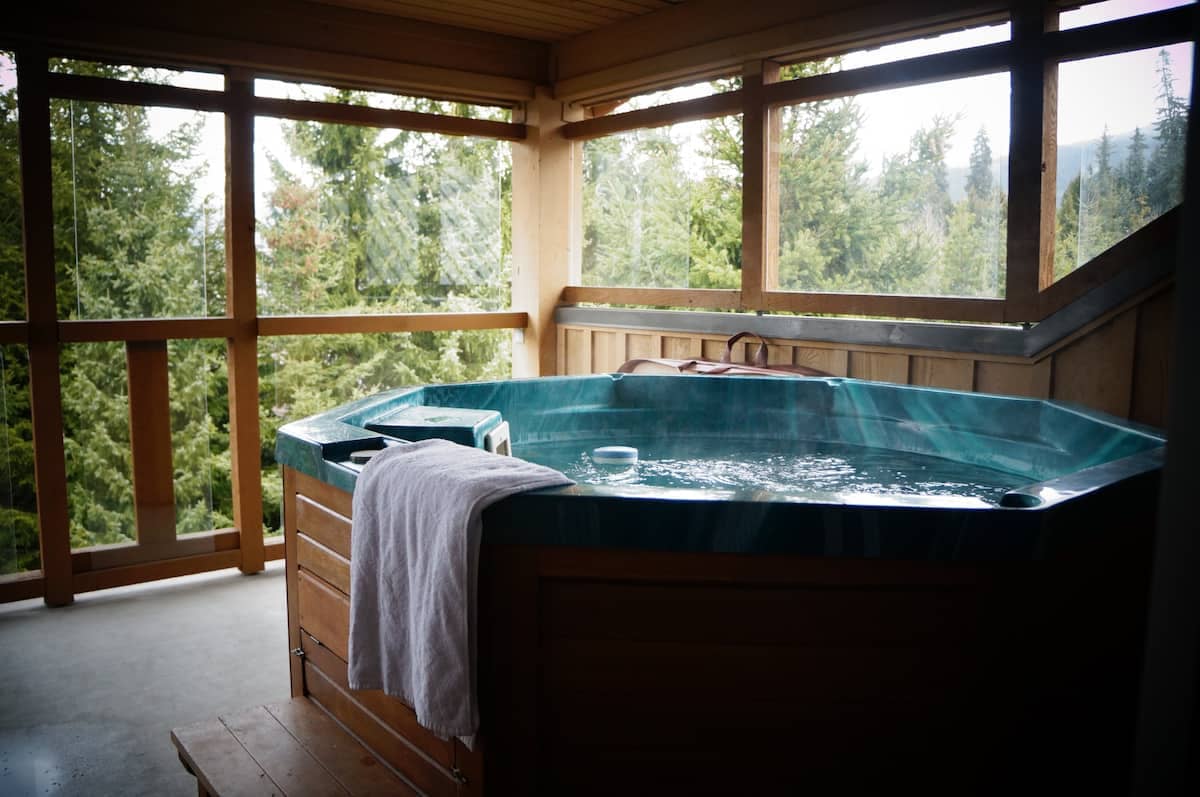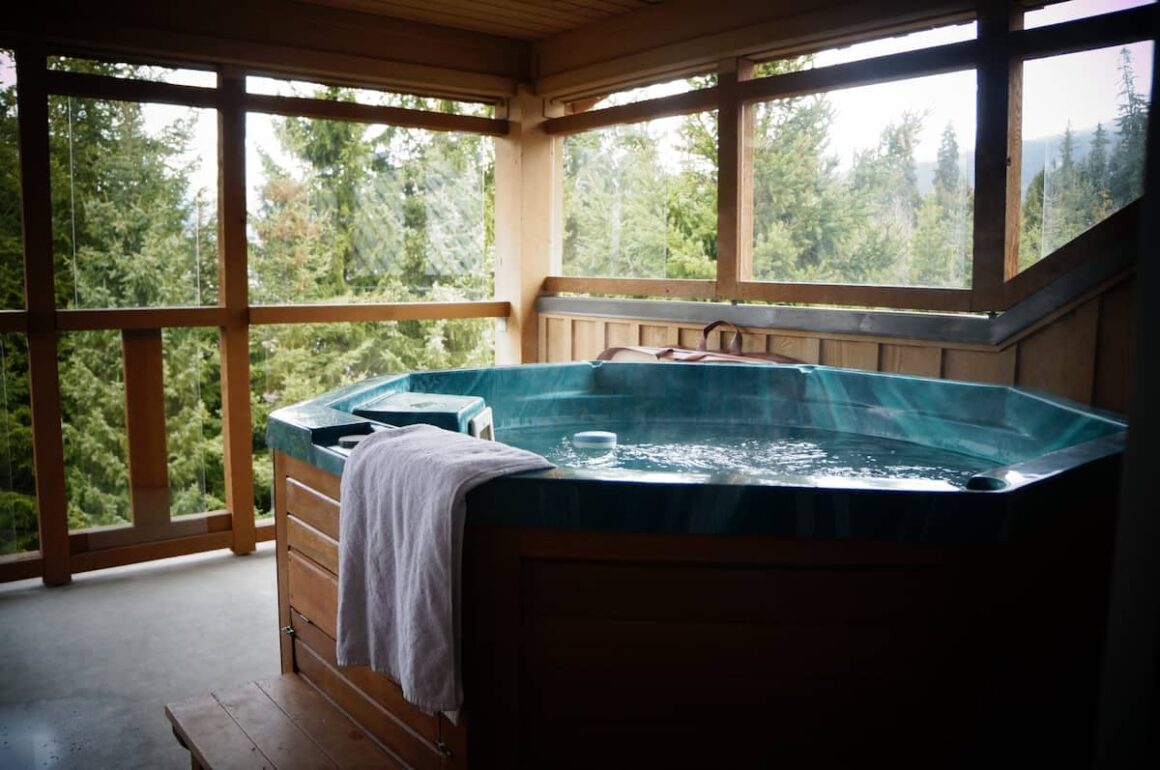 Price: $$
No. of bedroom: 1
As part of the Glaciers Reach Resort complex, Ian's Airbnb is a great call for your family vacation to Whistler. Its private hot tub on the covered patio overlooking the surrounding greenery makes a great magnet that gets you hooked instantly.
Pick this convenient townhouse if you're looking for a prime location to dine out, shred the snowy slopes, ride the gondola, or kayak in the sun. One big bonus that goes to Ian's townhouse is the heated outdoor swimming pool that can only be found in a few Whistler townhome complexes.
Call it a day by clicking into your pair of skis and shredding the highest vertical rise in Canada. If you come over during summer, get ready to be occupied by a wealth of summer possibilities including lazing by the beach, hiking the Valley Trail, and paddleboarding for water adventures. This three-story townhouse is an incredible option for anyone seeking a home-away-from-home that sleeps up to four people.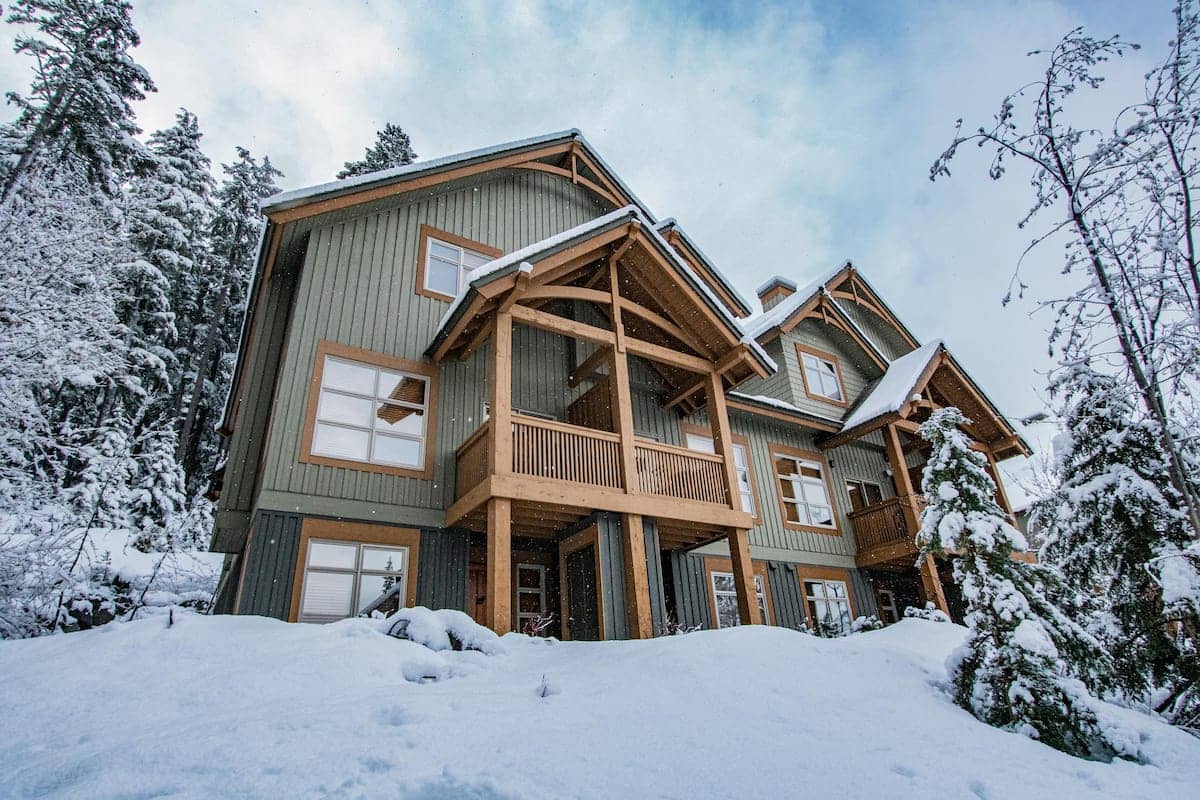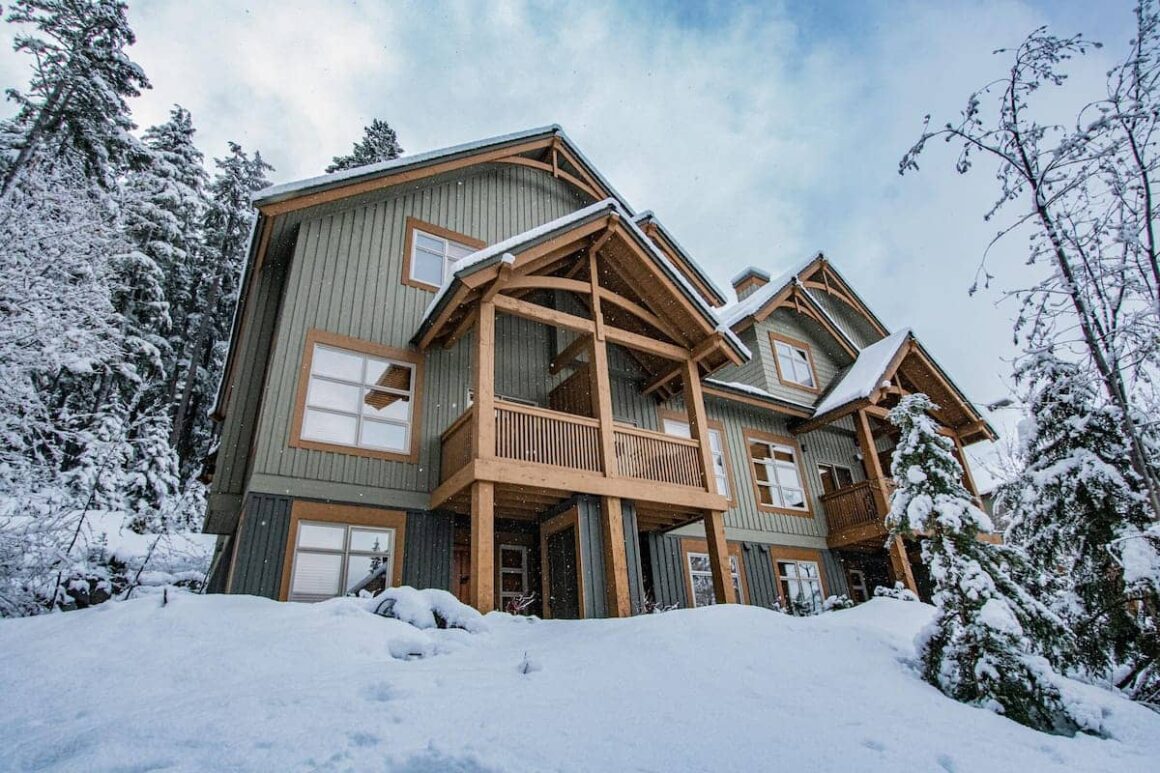 Price: $$
No. of bedroom: 3
Whistler is filled with a massive range of accommodations that give you a ski-in/ski-out privilege. However, this massive three-bedroom townhouse not only simplifies your ski break but also provides a perfect base to pinwheel around for your favorite summer activities.
The house is spotless and convenient with lots of spaces, essential surfaces, large beds, massive sofas, and an airy patio to cook up some BBQ. You can't beat its private outdoor hot tub! Find it at the back of the house to soothe your muscles after spending a whole day sliding down the runs in winter, or hiking up the mountains in summer. This Airbnb is available for a minimum booking window of two nights with a capacity of nine guests.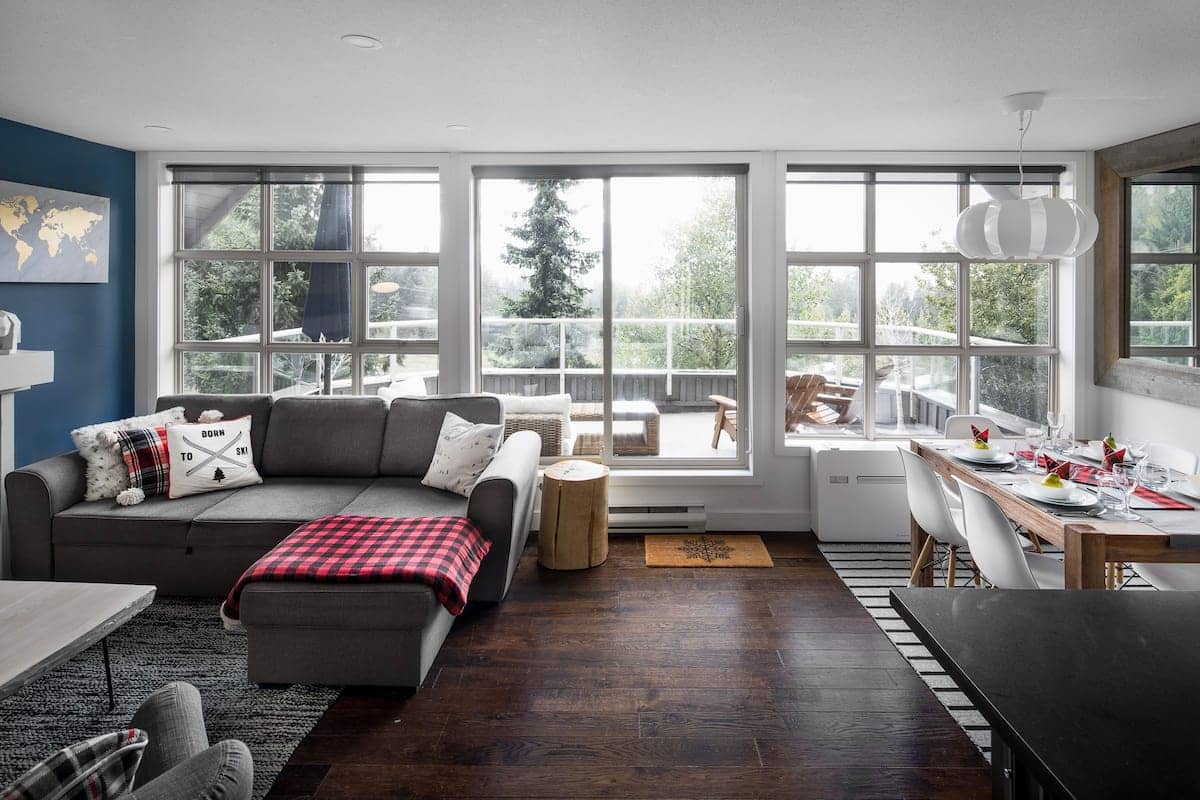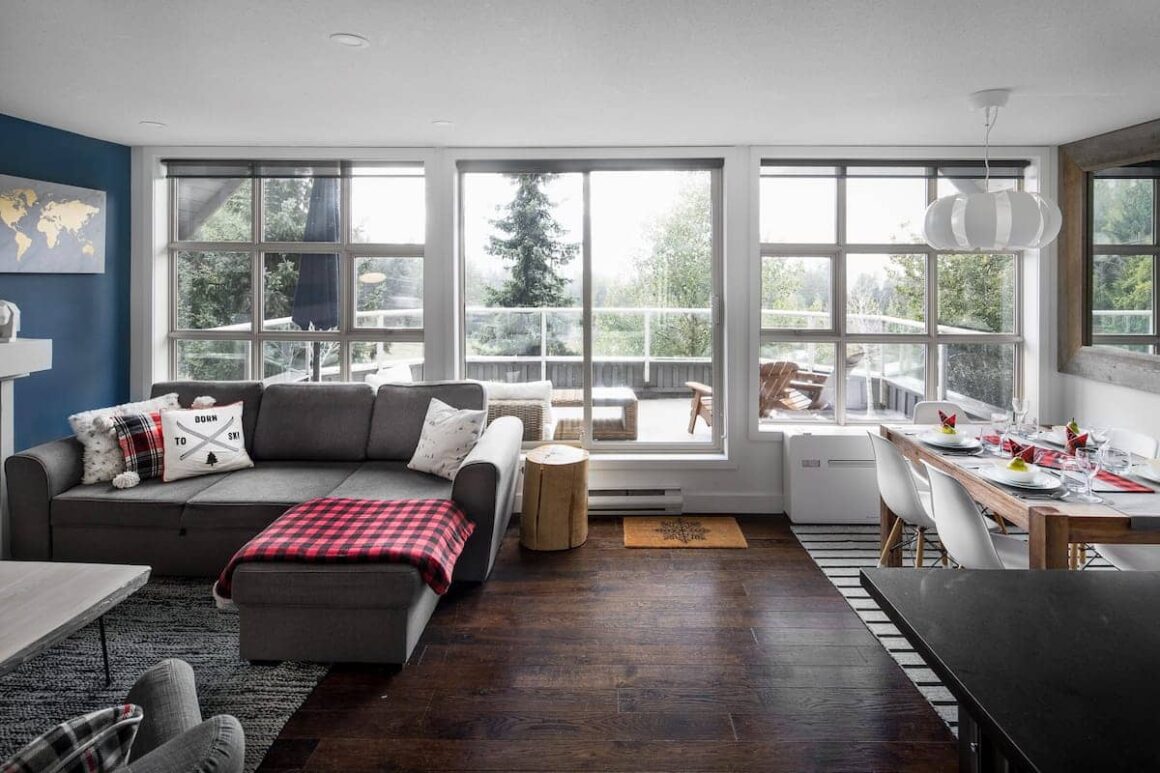 Price: $$$
No. of bedroom: 1
Nestled down the slopes of the gigantic Blackcomb mountains, Kelvin's slope-side penthouse truly resonates with the surrounding nature. The interior décor is tastefully designed with the classic combo of grey and white, giving you a chance to live up to the hype even when you've already home from the mountains.
This labor of love is a perfect medley of Australian style and Canadian coziness topped up by the unobstructed vista of the Blackcomb. No matter which season it is, this luxurious penthouse spices up your experience with a mecca of outdoor pursuits matching all your needs. Summer rewards you with a stunning sunset view as you're snuggling on the patio, riding the gondola, exploring the Kids' Adventure Zone and hiking the Lost Lake.
Meanwhile, winter pampers you with a hot tub after a big day on the hill, unwind with a book, and curl up on a comfortable king bed. More than just a ski-in/ski-out accommodation, Kelvin's suite is literally part of the ski slope where you can tighten the bindings seconds after closing the door. To stay at Keven's Airbnb, you only need a one-night minimum with a capacity of five guests.
5. Mountain Bliss with Private Hot Tub and Free Parking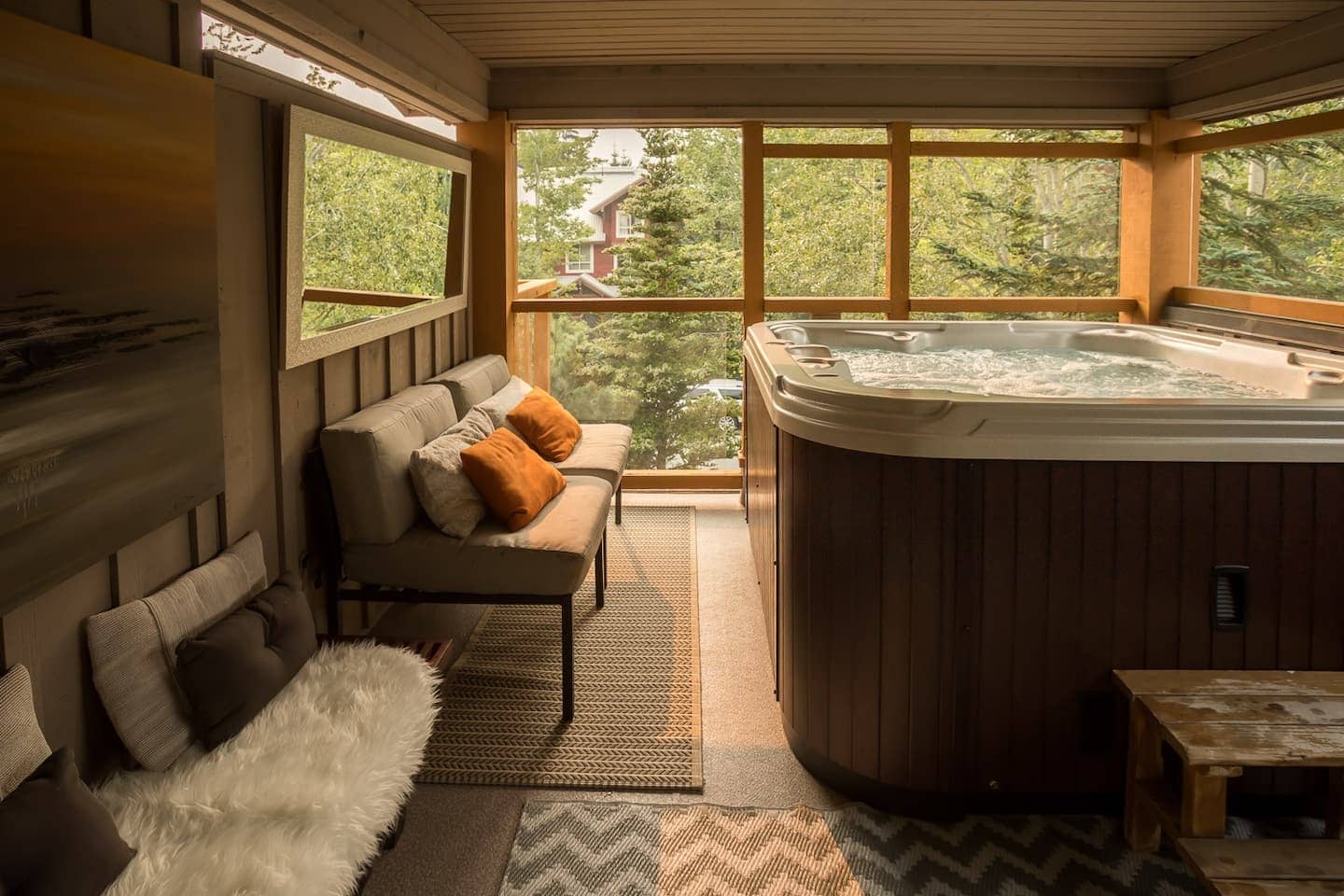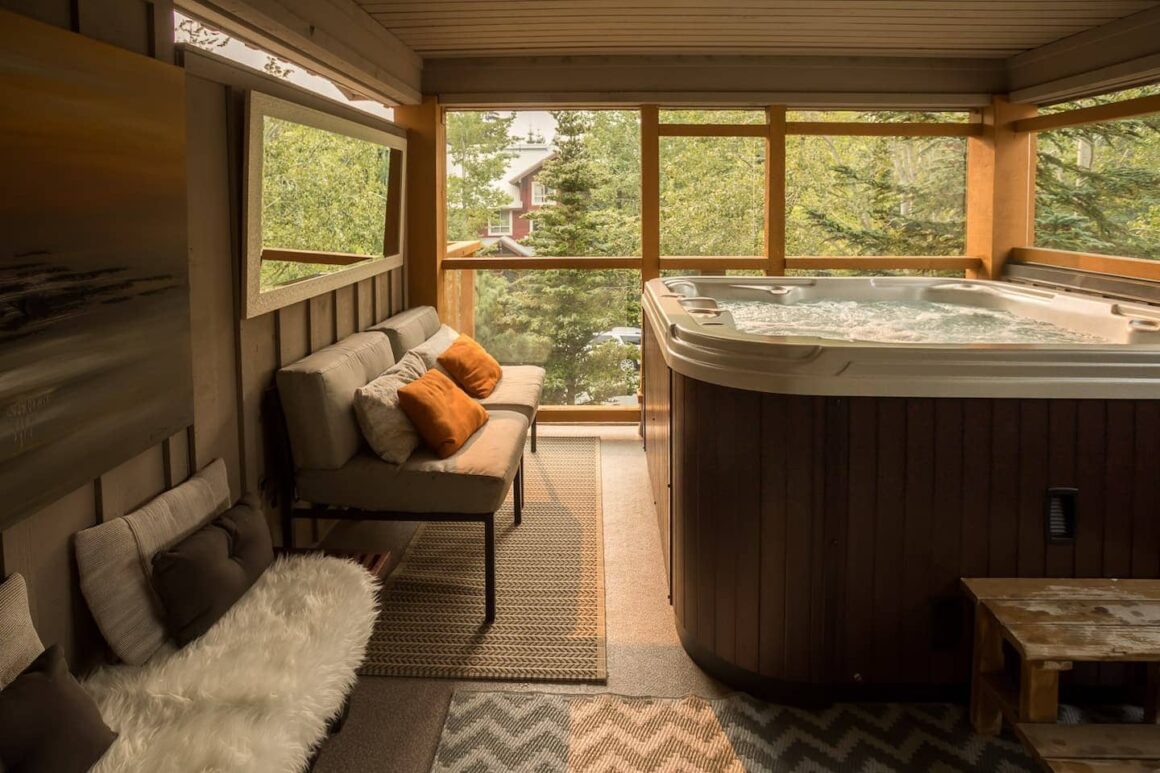 Price: $$$
No. of bedroom: 1
Make Colleen's house a luxury treat to top up your vacation in Whistler! Boasting a covered-patio and a hot tub to soak in the greenery while soothing your muscles, Colleen's Airbnb is the cream of the crop.
The sun-filled balcony offers a great spot to throw a BBQ party or cook up a home-made gourmet with locally-grown produce from a nearby grocery. Get your morning coffee fix while admiring the summit before getting your day started.
Coming over summer? Walk to the public library to cozy up to a book or hike the Lost Lake to make the most of what the area has to offer! You only need one night to book with Colleen's Airbnb which can accommodate up to four guests.
Heading to Whistler? Here are top 10 picks on where to eat when at Whistler!
6. Modern Village Penthouse-Views Free Parking Hot Tub!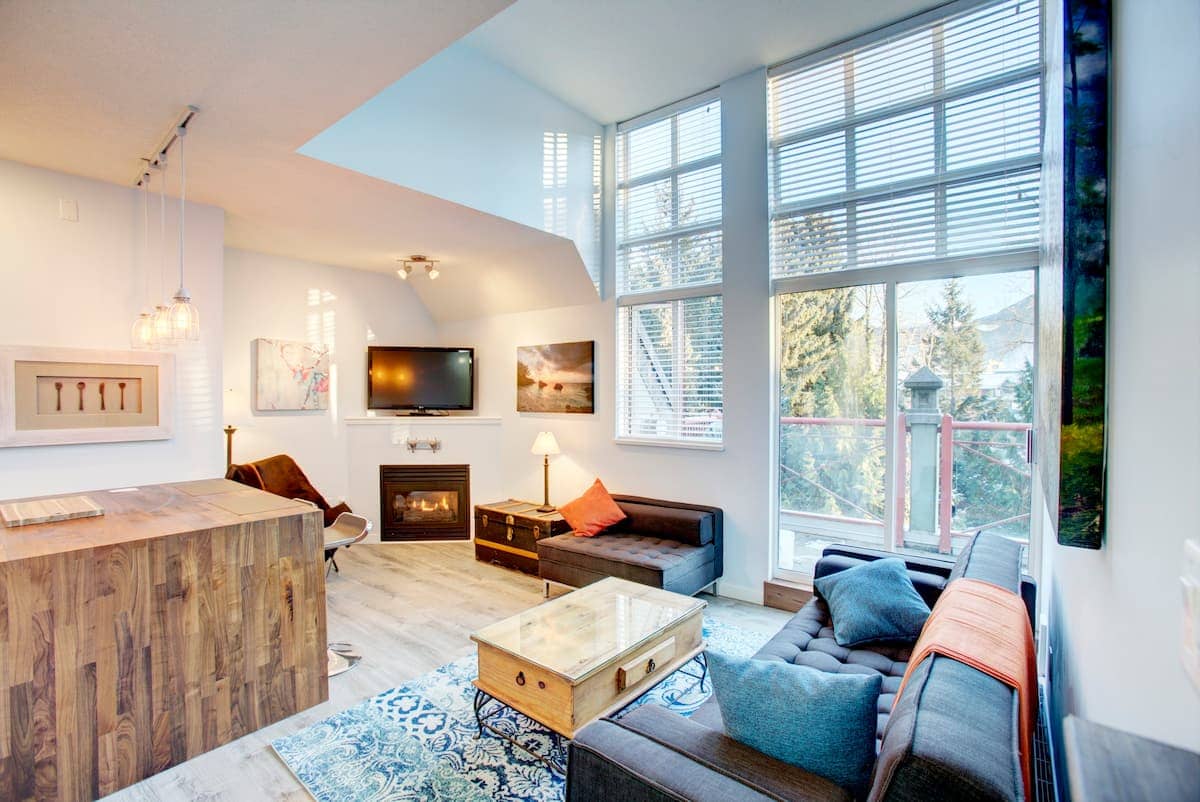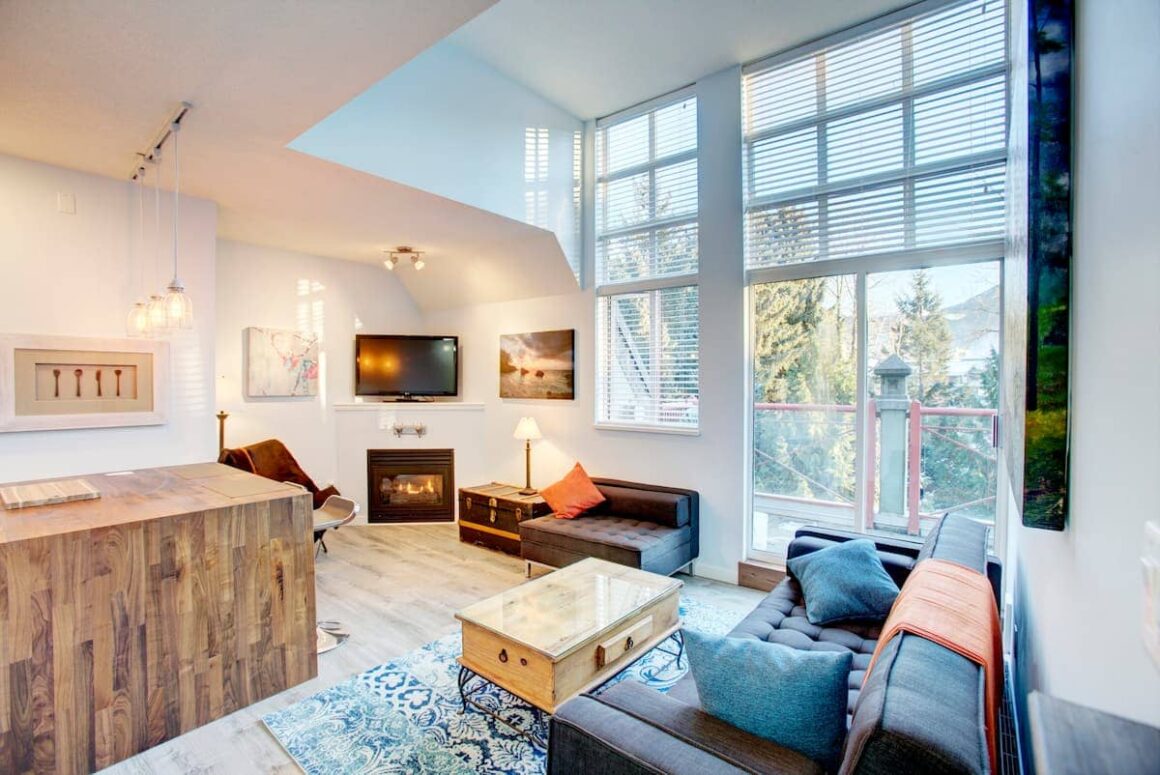 Price: $$$
No. of bedroom: 1
High-end, stylish, and neat with a lovely touch of colorfulness, this modern penthouse has everything you may ask for from a luxury retreat in Whistler. Victoria and Christian go above and beyond to game up your stay with their tasteful decoration to embrace the full benefit of the Southern exposure.
Its prime location allows you to hit up with all the leisure possibilities nearby within a matter of minutes without an interference of noise. Summertime makes it even more charming as the airy balcony is soaked in the sunlight where you can sip on some wine and kickback.
Take advantage of the public services such as the sauna room and the gym to charge up and get ready for the next day. Stand-up paddling, mountain hiking, golfing, and dining out around the village are some of the coolest activities to max out your experience. This Airbnb has a minimum rent-out period of one night with a capacity of four guests.
7. Whistler Village: Pool, hot tub and free parking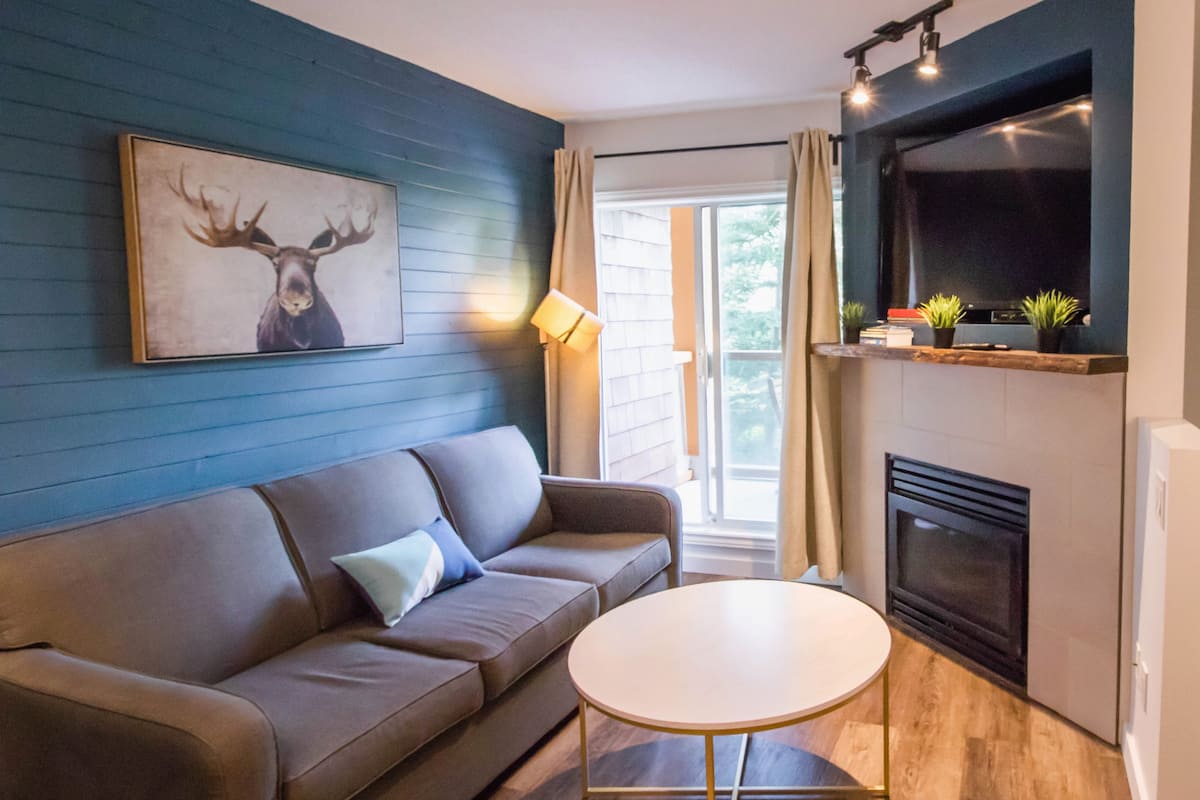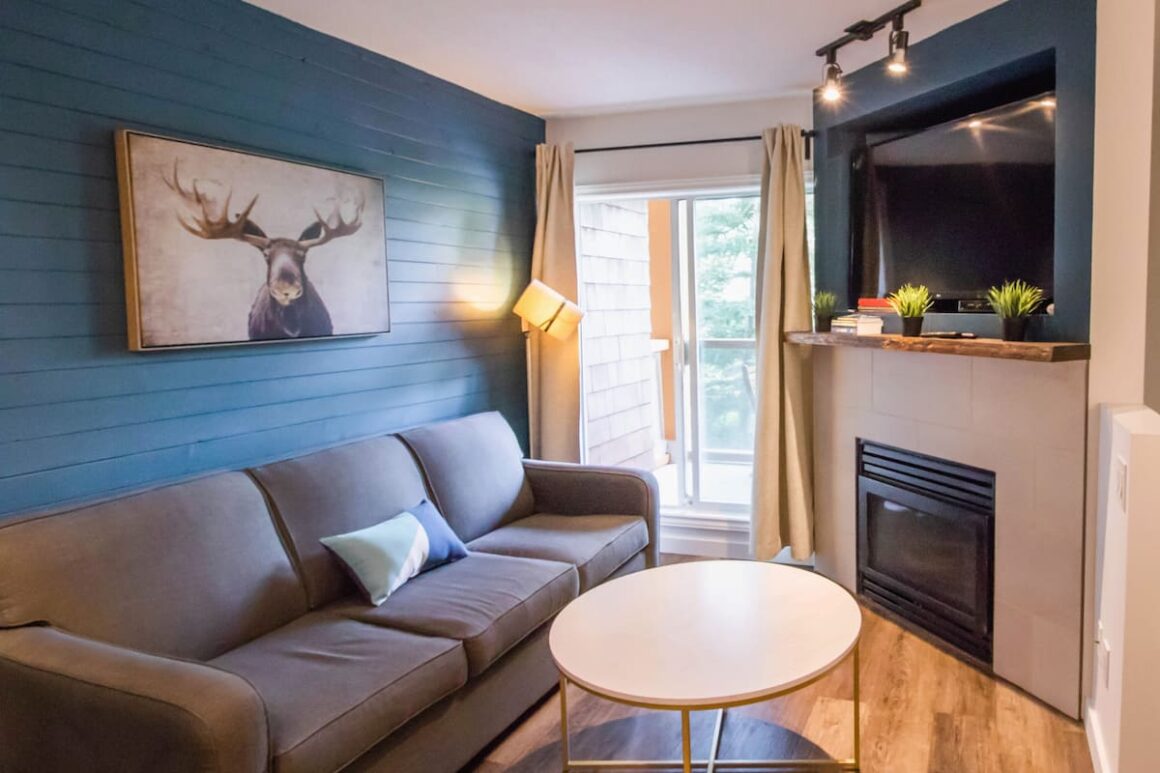 Price: $$$
No. of guests: 1
An optimized level of comfort, contemporary design, and excellent location unite for an impressive take on the modern townhouse that Mike and Fallon have to offer. The house is nestled in the heart of Glacier's Reach of Whistler Village, compact yet chock full of amenities to accompany a long weekend stay. You have a comfy sofa to lounge in and stay toasty warm by a gas fireplace.
The living space completely blurs the line with the full kitchen where you can cook up your favorite meal. A newly renovated bathroom features a full-size shower unit with two showerheads and a rain head that add an extra touch of luxury to wash away the sweat after coming off the hill.
Wonder what to eat nearby? Consult the personalized reviews that Mike and Fallon have left for the nearby restaurants before booking your table!
8. Luxury: 2BA/BA, True Ski-in/Ski-out, Hot Tub and Pool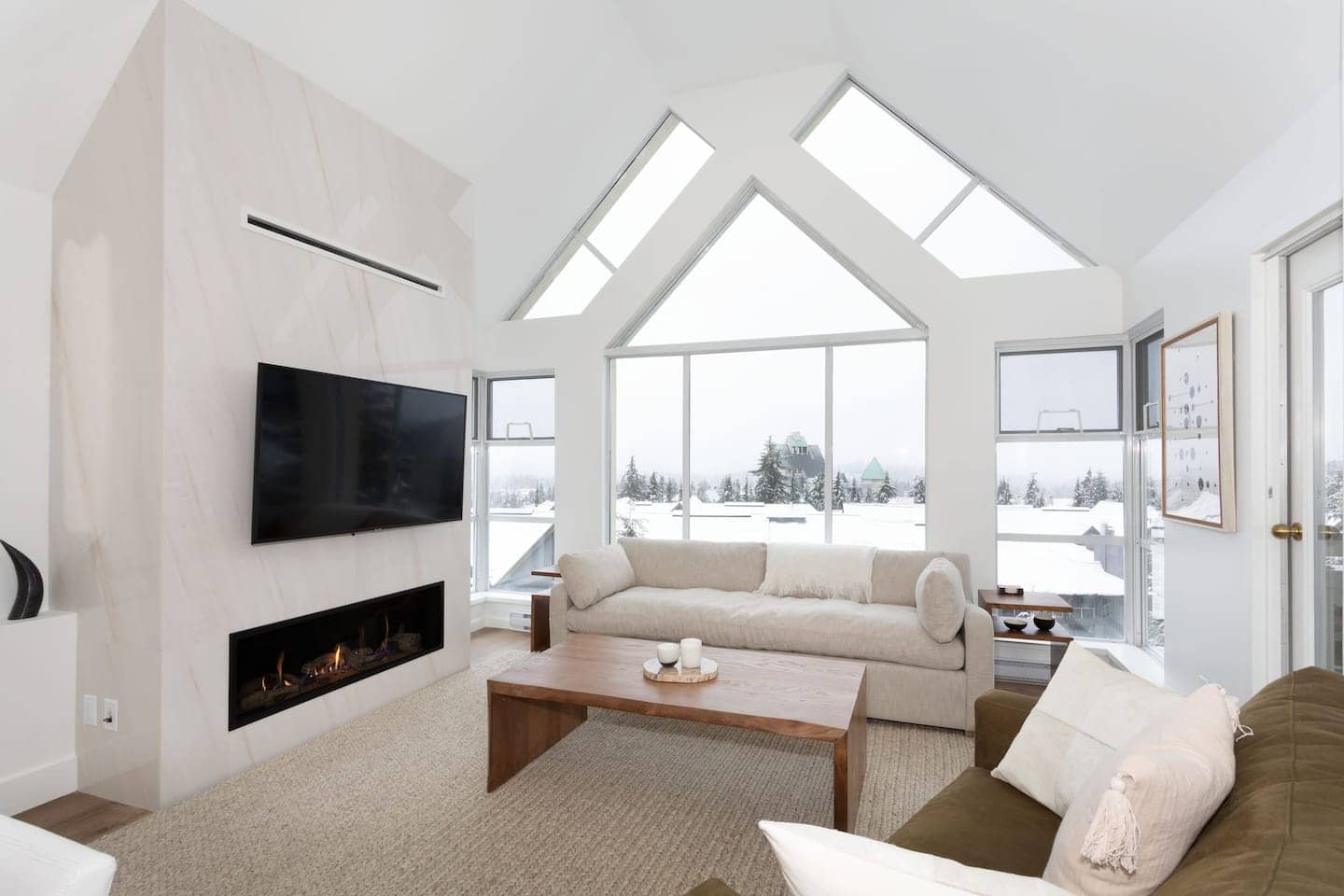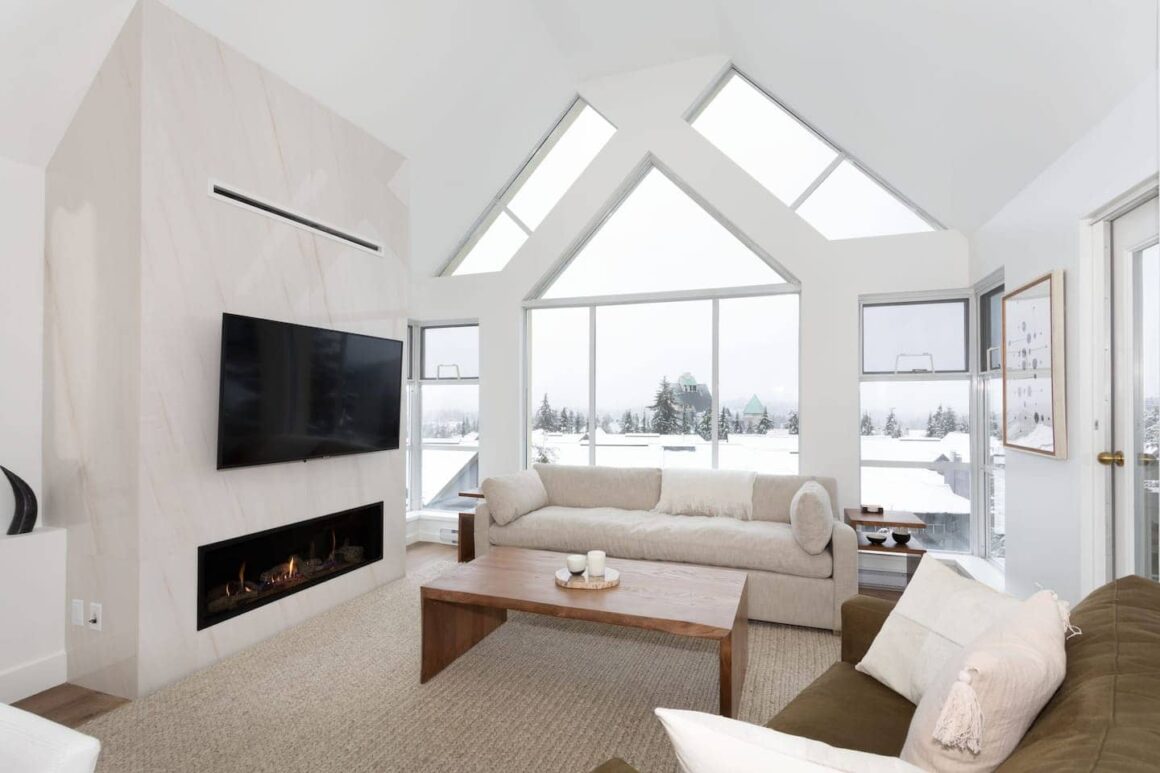 Price: $$$
No. of bedroom: 2
John's stylish and minimalist home is located right on the Greenline ski run, giving a prime location for a seamless ski-in/ski-out experience. If winter is not your favorite time in the year, Whistler is still a summer paradise! Fish on some Rainbow trout by the lakes, ride the Peak to Peak Gondola, or wander down the alpine meadows for bear watching – you name it!
Simple yet effective, the muted white wall dominates the interior concept while the wooden furniture gives the space a necessary accent with its warmth, richness, comfort, and finesse. The Airbnb has finally transformed John's tasteful touches into a real, functional, and stylish abode, somewhere that gives you a homey vibe.
In addition to the basic amenities, you will have a private deck to host a BBQ party. Wondering where to dine out? Walk for five minutes to the Upper Village and uncover Whistler's finest restaurants! John's Airbnb has a minimum booking of three nights and can host up to six people.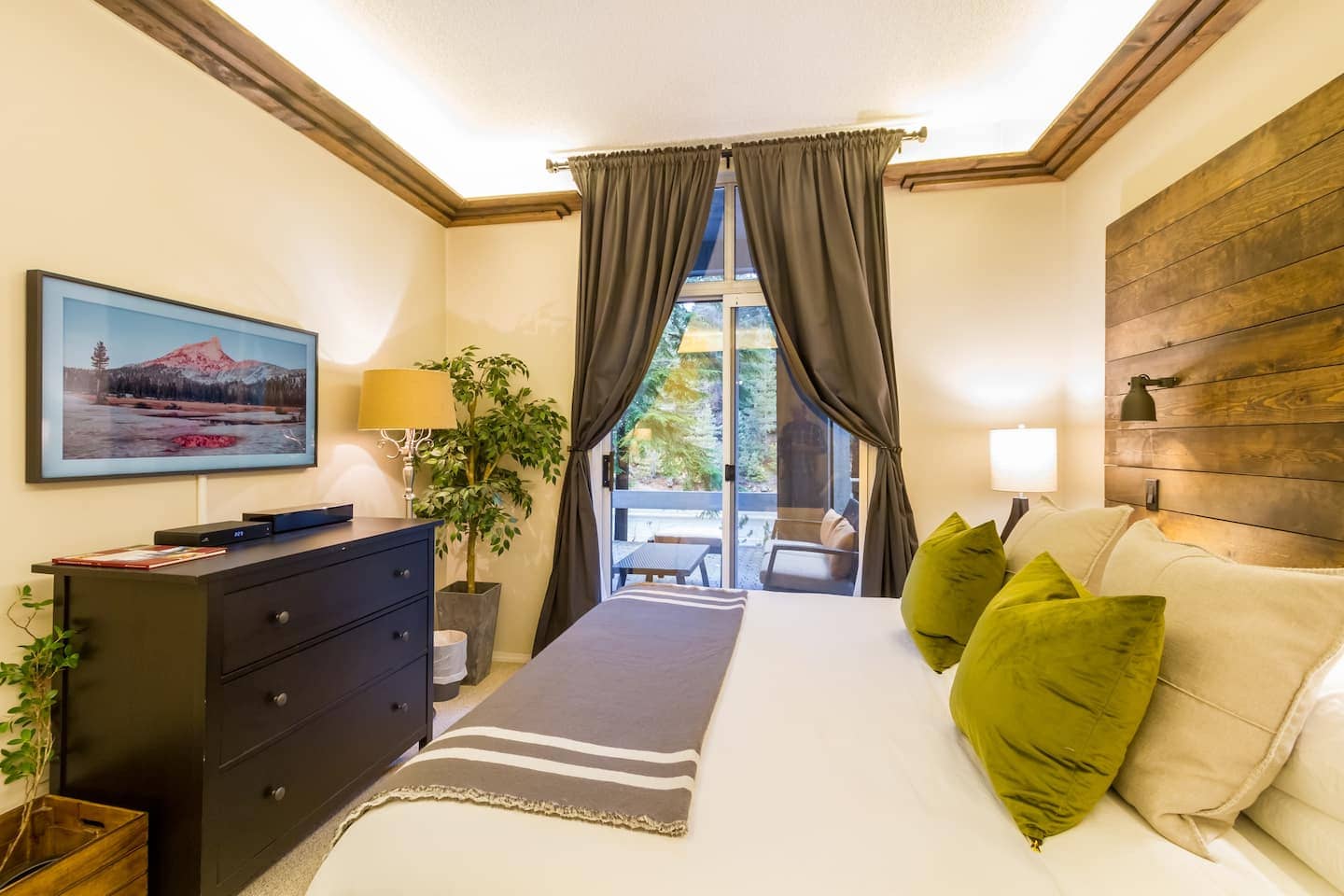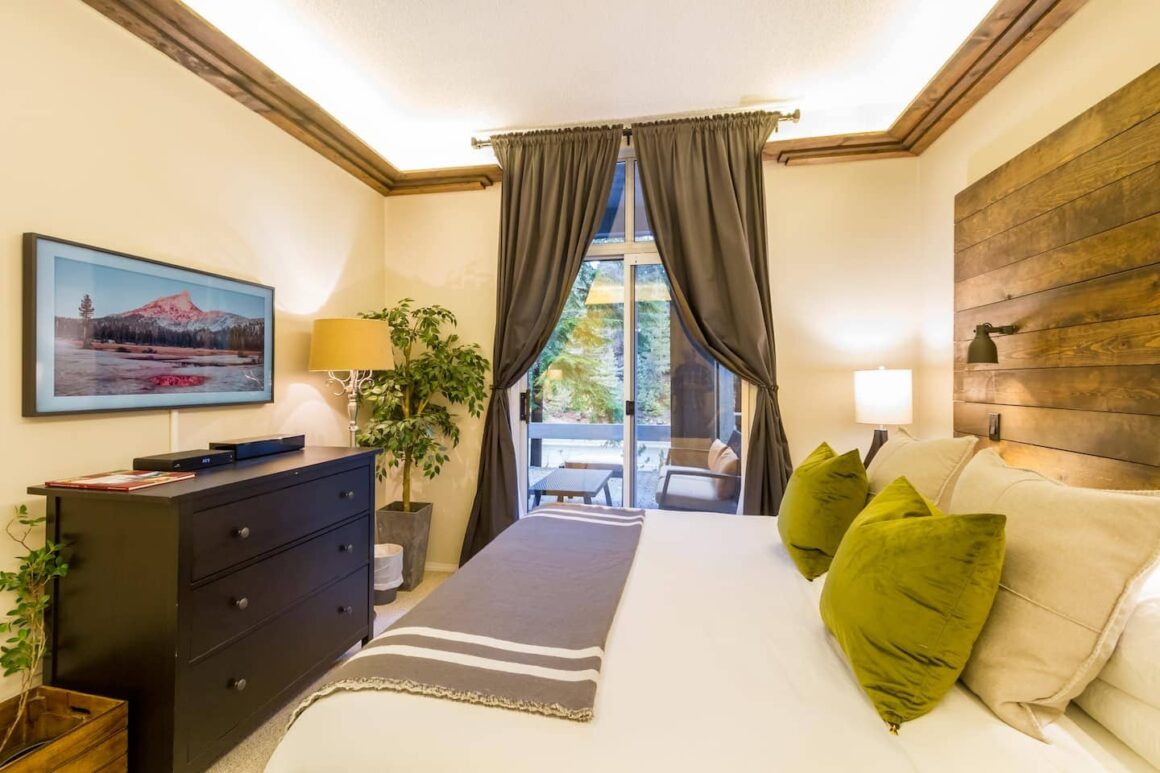 Price: $
No. of bedroom: 1
Mike and Doris's property is far better than just a regular hotel room. You will have the best of both worlds as this Airbnb's prime location is only a few steps from the Blackcomb lift and the main village. The Airbnb offers such a cozy and homey vibe that you barely get from other hotels. The bathroom shampoo and body wash add in a pleasant surprise whenever you need an aromatherapy to fondle your soul after spending the whole day rocking Whistler.
For those who love to curl up in the comfy mattress, pull the blankets over your head, and indulge in a pool of pillows all around, then book this place and you won't regret it. Mike and Doris have topped up their pillow arrangement to add fluff and flavor to your rest.
All in all, this Airbnb is simply a valuable retreat that you can unwind at the little patio, walk around Lost Lake, and enjoy the quieter side of the village. The Airbnb has a minimum rent-out period of two nights with a capacity of three guests.
10. Amazing Views + Location! King Bed + Hot Tub + Pool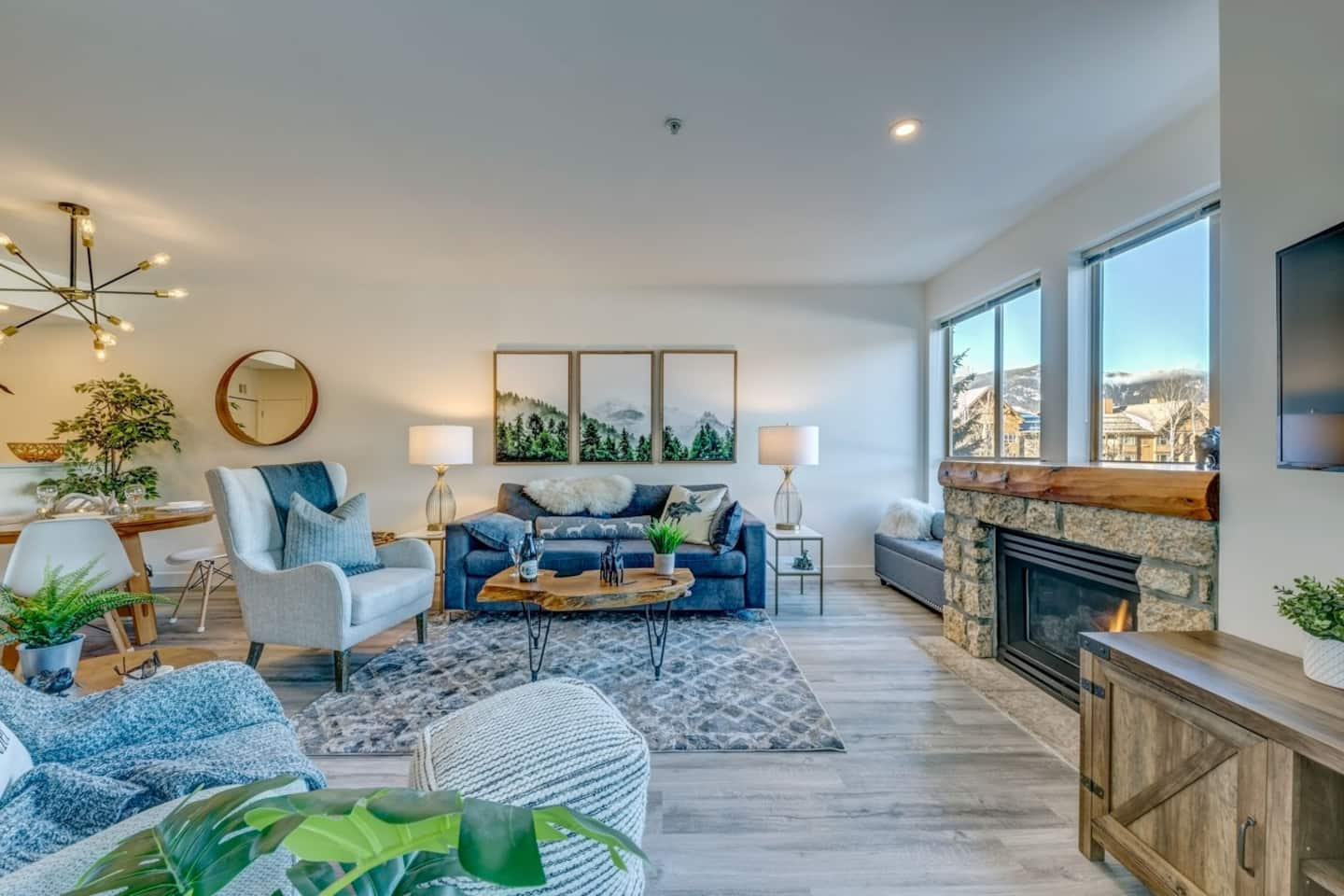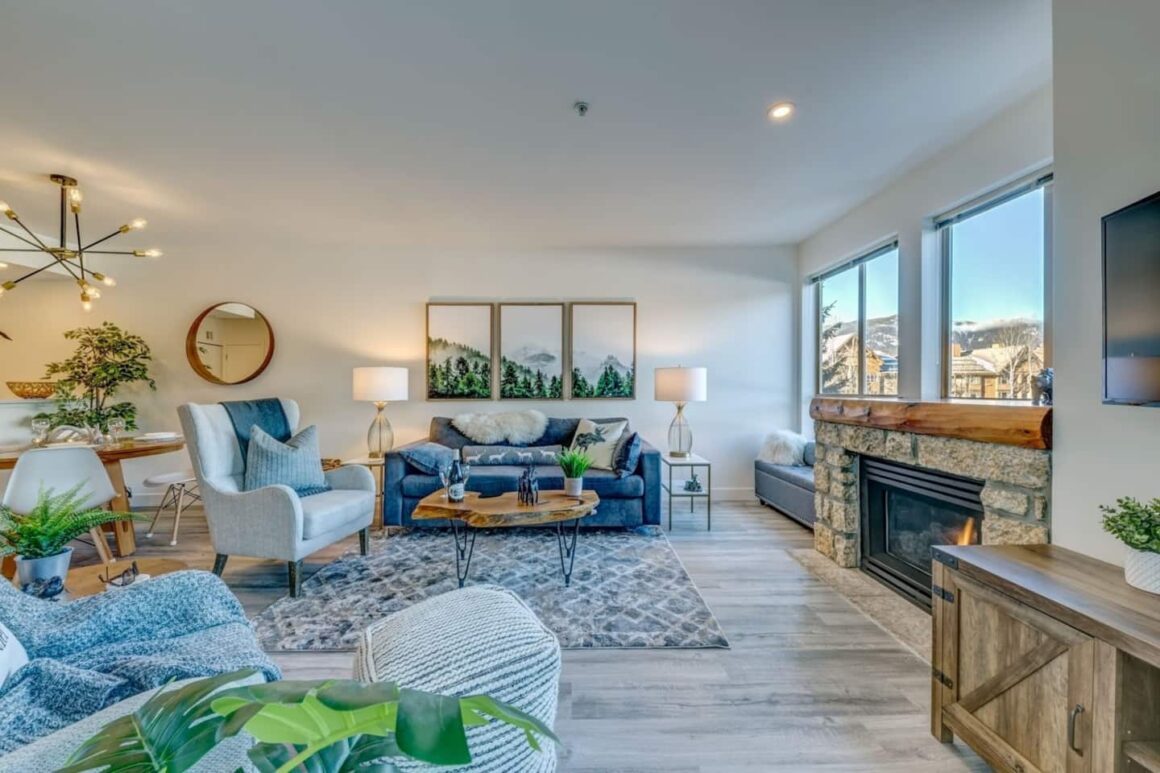 Price: $$
No. of bedroom: 1
What do you think if we say that you can sip on a wine at an airy deck to admire the illuminated Olympic Plaza and Rings after coming home from the mountain? Is it romantic enough to erase all the stress? If a luxurious and professionally designed condo with a mountain view is what you're looking for on a vacation to Whistler, this Airbnb hosted by Clare and Mike will fit the bill.
Words can never do enough justice because the suite is fully equipped with more than what you need. It is situated in the core of Whistler Village's Marketplace. The stunning view of Blackcomb becomes a gorgeous backdrop to pamper your soul either day or night. The harmonious and vivid interior delivers a subtle and serene living space.
All the leisure possibilities and outdoor activities come in handy within walking distance whenever you like to hit the street. Snowshoeing at Lost Lake, riding the gondola, and dining out at Whistler's best cafes and restaurants top the bucket list to keep you occupied. The suite has a minimum booking window of two nights with a capacity of four guests.
More Accommodations in Whistler
To wrap it up, we would like to inspire your vacation with these 10 coolest Airbnbs in British Columbia for a dreamy getaway. Whenever you wish to spend more time in this part of Canada or simply need a retreat to recharge your battery, you know where to look out for!
The following two tabs change content below.
Latest posts by Noms Magazine (see all)