Blender is one of the most common kitchen appliances that you can see in every household. Whether you're whipping up some smoothies to build a healthy lifestyle or prepping a puree for your family, any budget blender can tackle these simple tasks.
Whereas, high-end models offer more power, versatility, high-end materials, and multiple accessories. So when it comes to choosing the right blender, it has a lot to do with its price tag, functionality, size, design, and many more elements to consider.
After testing out items from different brands and prices, I wanted to share with you my ten favorite blenders and my personal experience about each of them in this complete review guide!
7 Elements to Consider Before Buying a New Blender
1. Blender Personality
By "personality", I mean what type of consumer you are and what purpose you're looking at. I put personality on the top because, at the end of the day, we need a blender to perform a certain task for your daily use.
This will be boiled down to size, power, design, and blade system. If I live alone and work out often, I need a portable blender with a travel sport bottle. A chef will need a multi-functional blender to tackle different ingredients from puree to chunky salad or even dough for their restaurant. If you're a clean eater, you need a personal blender to make fruit and veggies smoothies every morning. Once you sort out the type of blender you need, then go ahead and check out the specifications!
2. Size and Capacity
A blender's size doesn't always have to do with dimensions. For me, a capacity does the talking! You know capacity determines how many ingredients you can put into the jar. And most of the time, you need to consider how many people are living in your family or how many servings you need for your café/bistro/restaurant.
A countertop blender for family use varies around 48 to 72 ounces, which can serve a large family at once. Whereas, a portable blender comes with a 20-ounce bottle for single use. Finally, we have a high-performance blender that reaches up to 145 ounces, and of course, the price tag is much bigger!
3. Speed Controls
Speed and horsepower often go hand in hand when it comes to what the final product looks like. For me, a basic blender with three-speed settings (low-medium-high) will do the job but I personally prefer more speed settings to handle different programmed functions. If it's not for professional use, a three-speed setting would work.
However, a ten-speed blender gives you more control over your task and you can decide whether you need to puree, crush ice, or mix dough. Likewise, you've gotta keep in mind that a blender with more speed controls (and programmed settings) also comes with a higher price tag. So treat it as a one-time investment!
You only need a high-performance blender for professional use in a restaurant or café. This means at the end of the day your return on investment will outweigh the input cost. Otherwise, you can go for a low-cost blender for home use with fewer speed settings – and there's no problem with that!
4. Power
Power is one of the main factors affecting a blender's performance. The power comes from the motor base nestled at the bottom of the machine. Basic countertop blenders fall into the 300-watt range which is perfect for chopping and food cutting but not made for the hardest ingredients. The 500 to 700-watt range yields a better versatility. Those blenders of this power range can process liquids.
Meanwhile, the highest power can reach up to 1500 watts. A motor base this powerful is designed to work with dry ingredients, giving you better texture and more consistent results. Based on my personal experience, higher power is better for frequent usage. When browsing through different blenders in the market, you will see them promoted with two to four horsepower. In case you didn't know, higher power motors will result in higher efficiency and better circulation.
5. Blades
Normally, I don't see there are many types of blades to choose from. Some brands offer two flat blades that angle upwards at the edge while some other brands have their blenders attached with four spiral-shaped blades. The blades also play the main role in defining a blender's performance.
Sharp blenders are better for food cutting and chopping. Meanwhile, you need a large, flat wing-style blade with blunt edges to crush ice for the drinks. The good news is that there are many blenders developed with multi-functional blades, making it an all-purpose blender.
6. Accessories
Not every blender comes with multiple accessories. Most of the time, a package includes a motor base, a jar, blades, and a lid. A mega blender system like the BL770 from Ninja is packed with a crushing pitcher, food processor bowl, dough blade, and cups with to-go lids. However, this Ninja costs you nearly $150. If you feed a large family with kids, I highly recommend one with multiple accessories like this machine. Otherwise, you can pay less than that but won't receive a mini-tamper, cookbook, or food processing bowl.
7. Price
A blender can be very expensive reaching up to $1000 or it can go as low as $20. An average price for a portable, single-use blender costs you around $49. Higher-performance blenders with more capacity are priced at around $273, which is meant to serve a large family.
A blender is priced based on its power, versatility, speed settings, and attachments. The more features you have, the more you pay. I don't own a café or restaurant and live alone. This means I prefer a single-use blender that doesn't exceed the $100-range, and I would also stock up my kitchen with a travel-size blender at $19.99.
A Recap of My Top Picks for the Best Blenders
Best Easy-to-Use Blender: NutriBullet NBR-0601 Nutrient Extractor
Get it to feed a small family with nutritional smoothies every morning!
Best Blender with Glass Jar: Oster Blender Pro 1200 with Glass Jar.
My favorite versatile blender with a glass jar gives it a sleek design.
Best Budget-Friendly Food-Processing Blender: Ninja 400-Watt Blender and Food Processor
Bring this home if you need a low-cost, easy-to-use blender specifically for food processing with multiple attachments.
Best High-Performance Blender: Vitamix E310 Explorian Blender
My favorite high-performance blender with high power and ten-speed settings for easier control.
Best Full-Size Blender: Vitamix 5200 Blender
Buy this if you need a large-capacity blender to feed a large family or for professional use.
Best Blender with Food-Processing Accessories: Ninja BL770 Mega Kitchen System and Blender
My best recommendation for a restaurant, chefs, and home cooks that serve a large meal at a time.
Best Cordless Blender: Tenswall Portable, Personal Size Blender
A highly recommended battery-operated blender for busy people and white collars to start a healthy life.
Best Blender with Travel Sport Bottle: Oster BLSTPB-WBL My Blend 250-Watt Blender with Travel Sport Bottle
This is easy, lightweight, and portable for busy people.
Best Single-Serving Blender: Magic Bullet Blender
The greatest single-serving item to make your favorite smoothies and snacks.
Best Handheld Immersion Blender: Mueller Austria Ultra-Stick 500 Watt 9-Speed Immersion Hand Blender
My favorite immersion blender to insert into pots and pans with a whisk attachment to mix up some batter.
More Detailed Blender Reviews
1. NutriBullet Nutrient Extractor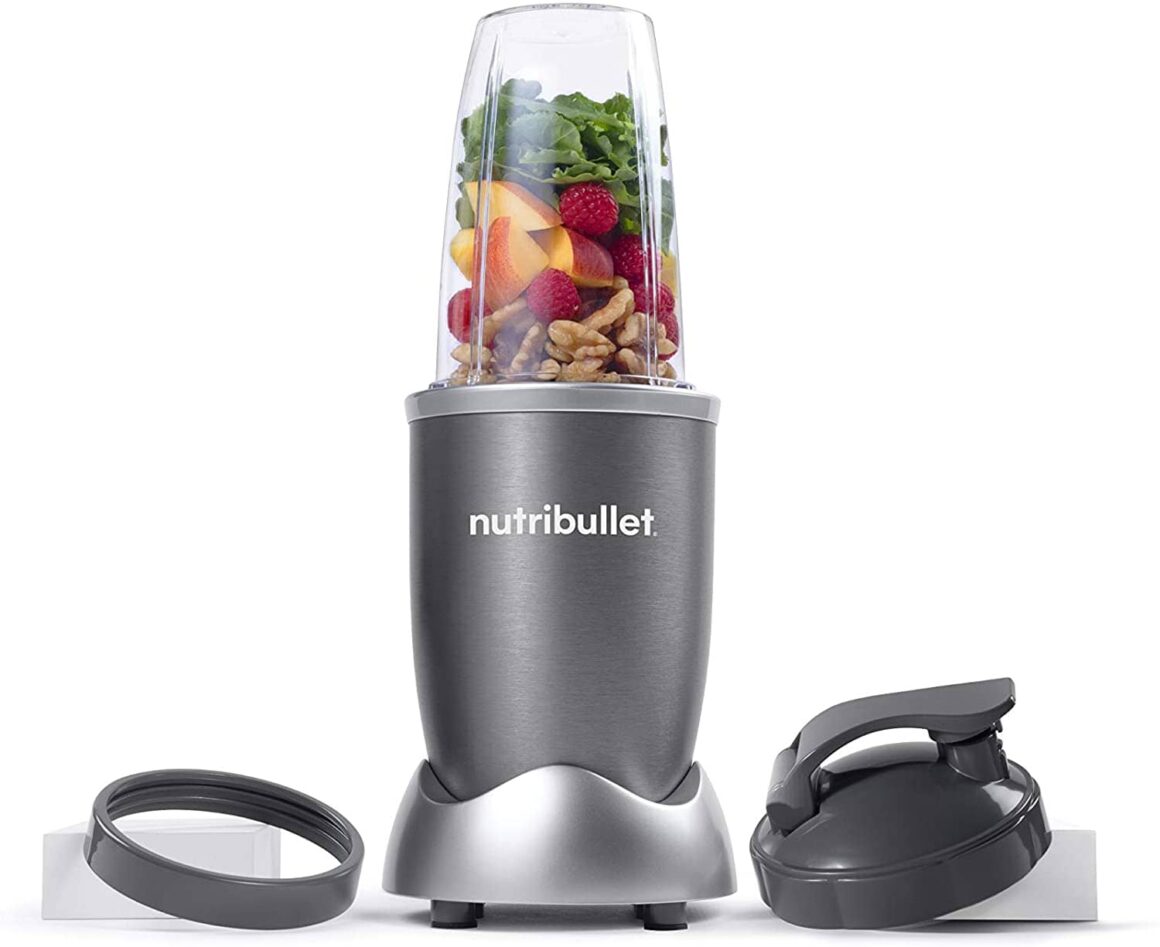 Easy to use, budget-friendly and sturdy, this NutriBullet is a keeper! It's a perfect choice if you're a beginner. There's nothing fancy about it so you can save more money from the bells and whistles! A 24-ounce container serves a small family and it works just fine if you live alone.
This specific blender is designed to blend smoothies. So basically this guy is your best friend if you want to start a day with a nutrient-packed breakfast. This item falls into the mid-powerful range I recommend above with 600 watts, which is perfect to blend whole fruits, nuts, and veggies into liquid within a matter of seconds.
With less than $50, I must say that NutriBullet makes me really happy, given all the accessories and the nutrition-extracting blades that come with it. However, you've gotta remember that there's only one-speed control. So basically you cannot play around that much. But I don't think it's a downside because it's very easy to use, it saves me a lot of time from choosing the right speed!
A friendly reminder: don't tuck your ingredients over the "max" line! Otherwise, you're building too much pressure and the lip ring will come off the body. It happened to me once and the juice splashed all over the place. Finally, don't forget to pour some water into the cup! This one will never work without liquid. So if you're planning to make some dry powder or dough, you don't want to get it!
Pros:
The BPA-free plastic cup is safe for food.
Stainless steel extractor blades can stand the test of time.
A budget-friendly blender for ease of use.
A recipe book is included to inspire your gastronomy.
Cons:
It cannot handle dry elements and needs some liquid to do the job.
The blades cannot tackle frozen fruits or stone-hard ingredients.
2. Oster Blender Pro 1200 with Glass Jar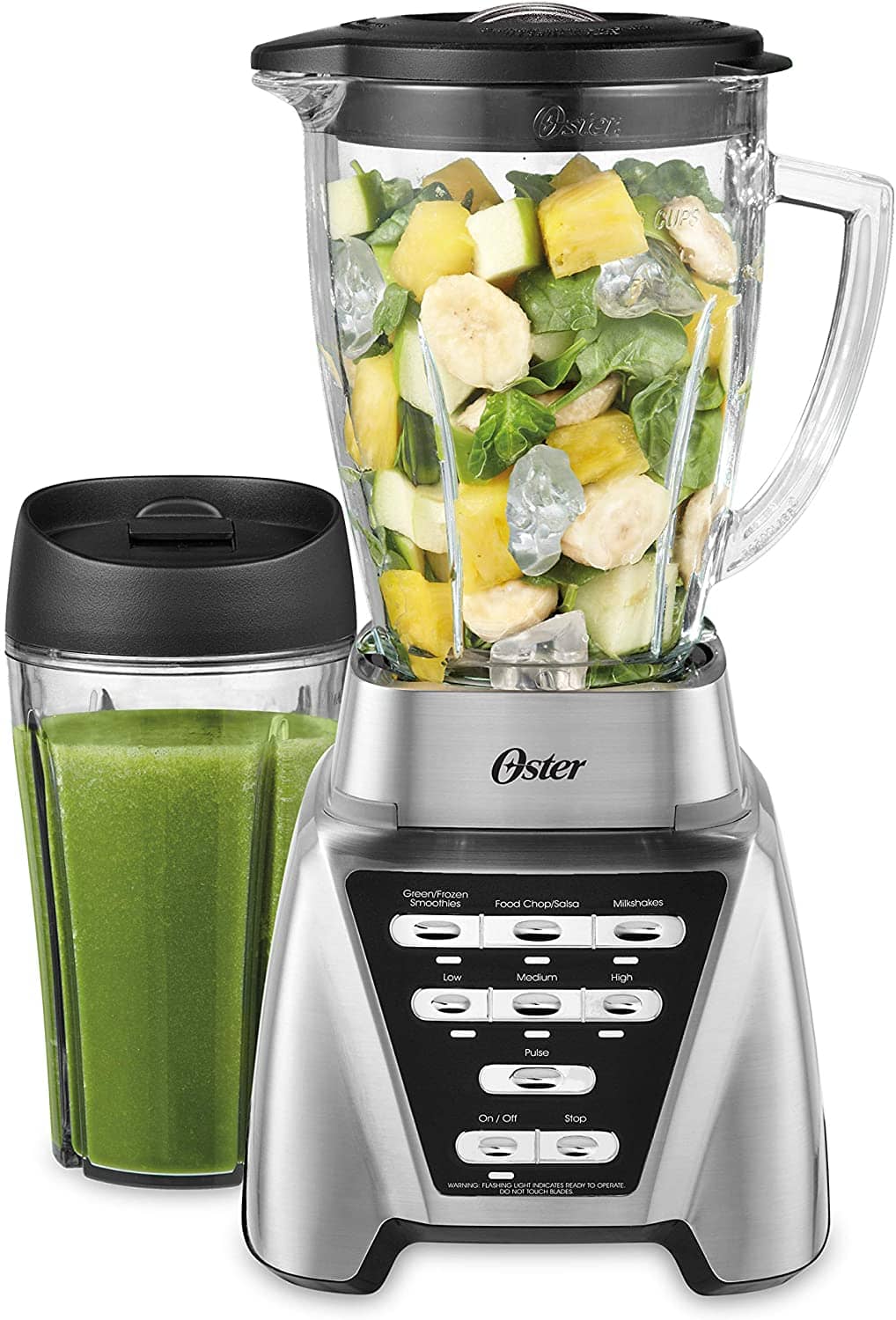 The best thing I love about this Oster blender is the glass jar. After dealing with a few plastic containers for years, they started going all stained and covered in cracks. And so for a glass jar, it spices up your kitchen with a sleek and fancy-looking blender but is also durable that can bear ice crushing.
I would say that this Oster is really handy and versatile with three program settings and seven speeds. I personally like a few chunks in my smoothies and so I always set it on the lowest speed. But if you want a silky liquid, you can always set it on the highest speed and press the "green/frozen smoothies". So for the speed and programs, this guy wins my heart!
At first, I didn't quite understand what the dual-direction blade was going to do because none of my blenders before had such function. After testing, it totally impressed me! Dual direction means dual rotation. The blade will change direction after every ten seconds to make sure no chunky bits are stuck at the bottom of the jar, giving me easy cleaning at the end of the day!
The blades are very sharp and handy but I wish they would be made of stainless steel. The blending only lasts for a minute. Don't go over that limit unless you want your smoothies to be watery!
Pros:
Smart setting technology gives you more control for the right texture.
Dual direction spins the blade in forward and reverses motion to collect left-over bits at the bottom of the jar.
High power to tackle even the hardest ingredients.
Cons:
The blade and motor are plastic on plastic which may wear down easily.
The lid on the smoothie cup requires a bit of effort to be taken off.
3. Ninja 400-Watt Blender and Food Processor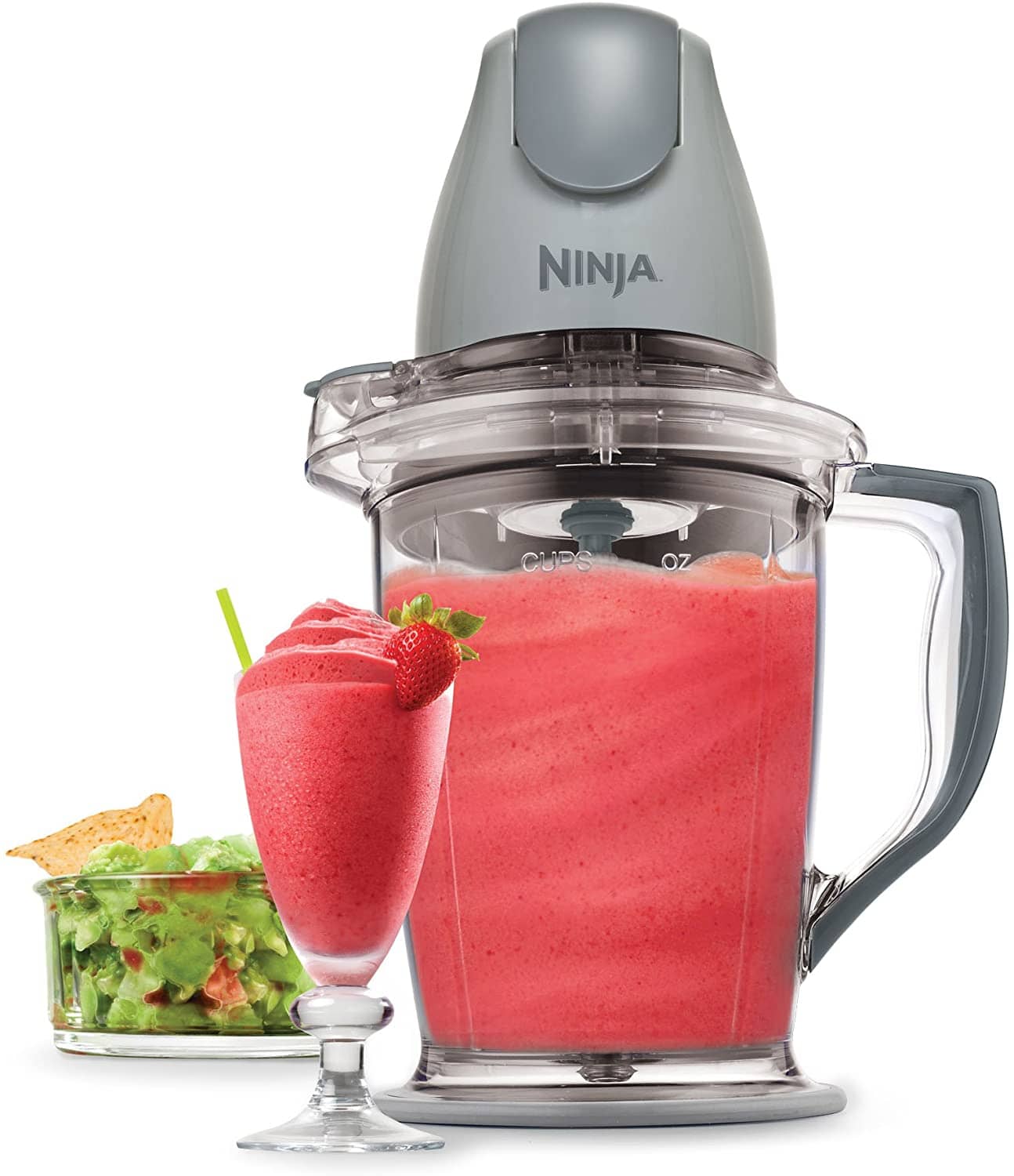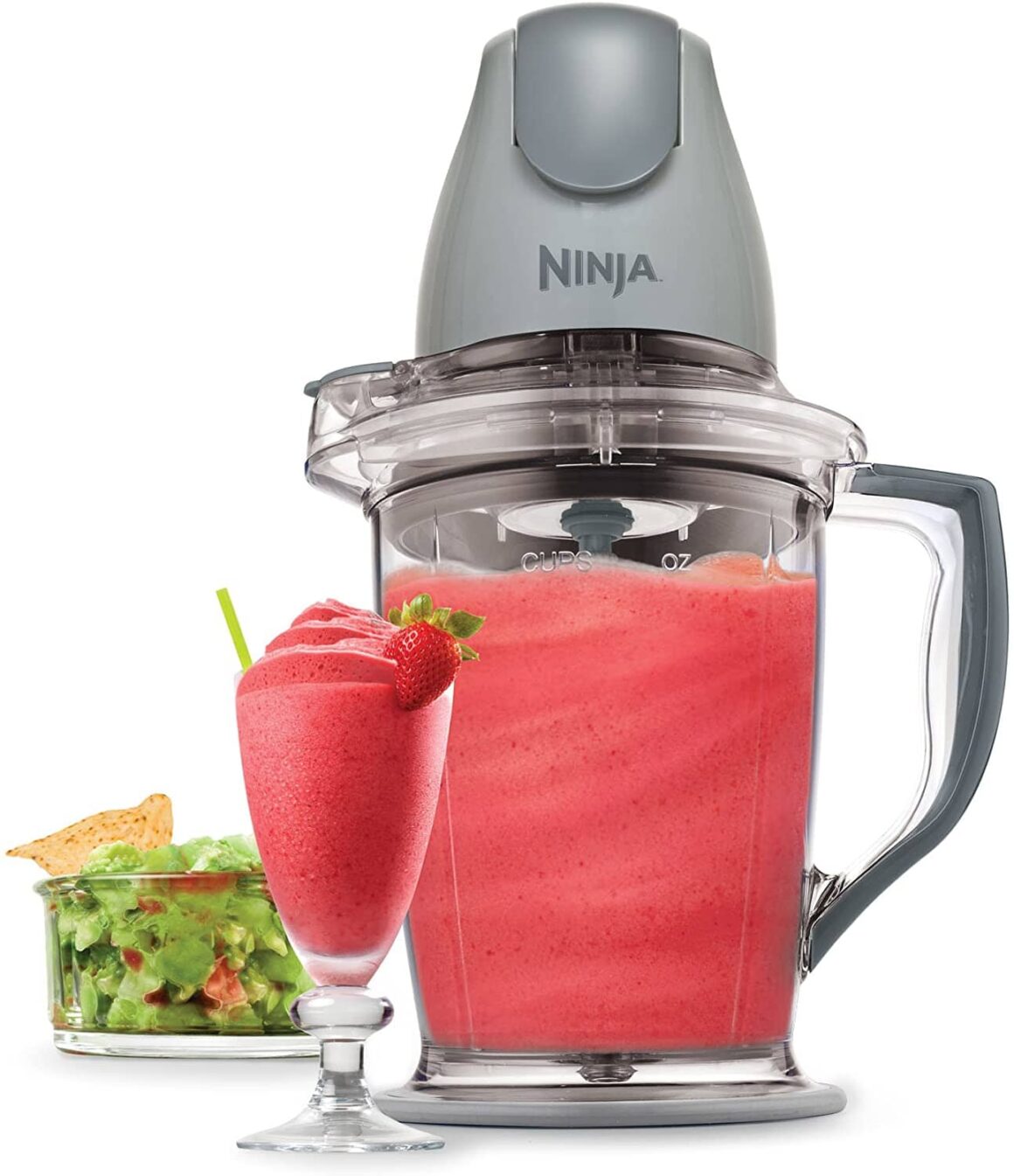 My first impression of this Ninja blender was the price. I was sort of hesitant because how come such a versatile blender with so many accessories is sold at under $40? But it was a good price and so I brought it home and tested it for a few months before I could finally give you an honest review!
It worked! You would like it! The blades are really sharp and stacked in one tandem, and that's why it worked so well! I highly recommend this guy if you need a cheap but sturdy blender to crush ice and blend frozen food. It's made specifically for that so there's no complaint from my side about this function.
For the speed, I'm not a fan of the one-speed blender. But honestly, one speed still works like a charm on this one because all I need is to crush ice and food prep. I have my Oster blender with a glass jar used for smoothies and so I don't really use this one to make smoothies. My friends got the exact same thing and they use it for smoothies that come out the way they want.
Given all things considered, I would say this Ninja blender works perfectly for all basic preps. If you're not a high-maintenance user or professional chef, you'd be happy with this sturdy guy that doesn't have the unnecessary bells and whistles you don't even need.
One thing I need to mention – cleaning is easy but it's not downright effortless! I got crumbs and cruds stuck in the little nooks and crannies, which takes me more effort and time to fully cleanse it! And you've gotta be super careful with the razor-sharp blades!
Pros:
The blades are stacked in one tandem to add extra power to the blending.
The machine is built with a wide and anti-slip base.
A versatile blender that can tackle different tasks without costing an arm and leg.
Cons:
Crumbs and cruds may get stuck in the little nooks and crannies that require extra cleaning effort.
The power is below my expectation but it still nails the job within the first few months. Only time can tell how long this blender lasts with low power.
4. Vitamix E310 Explorian Blender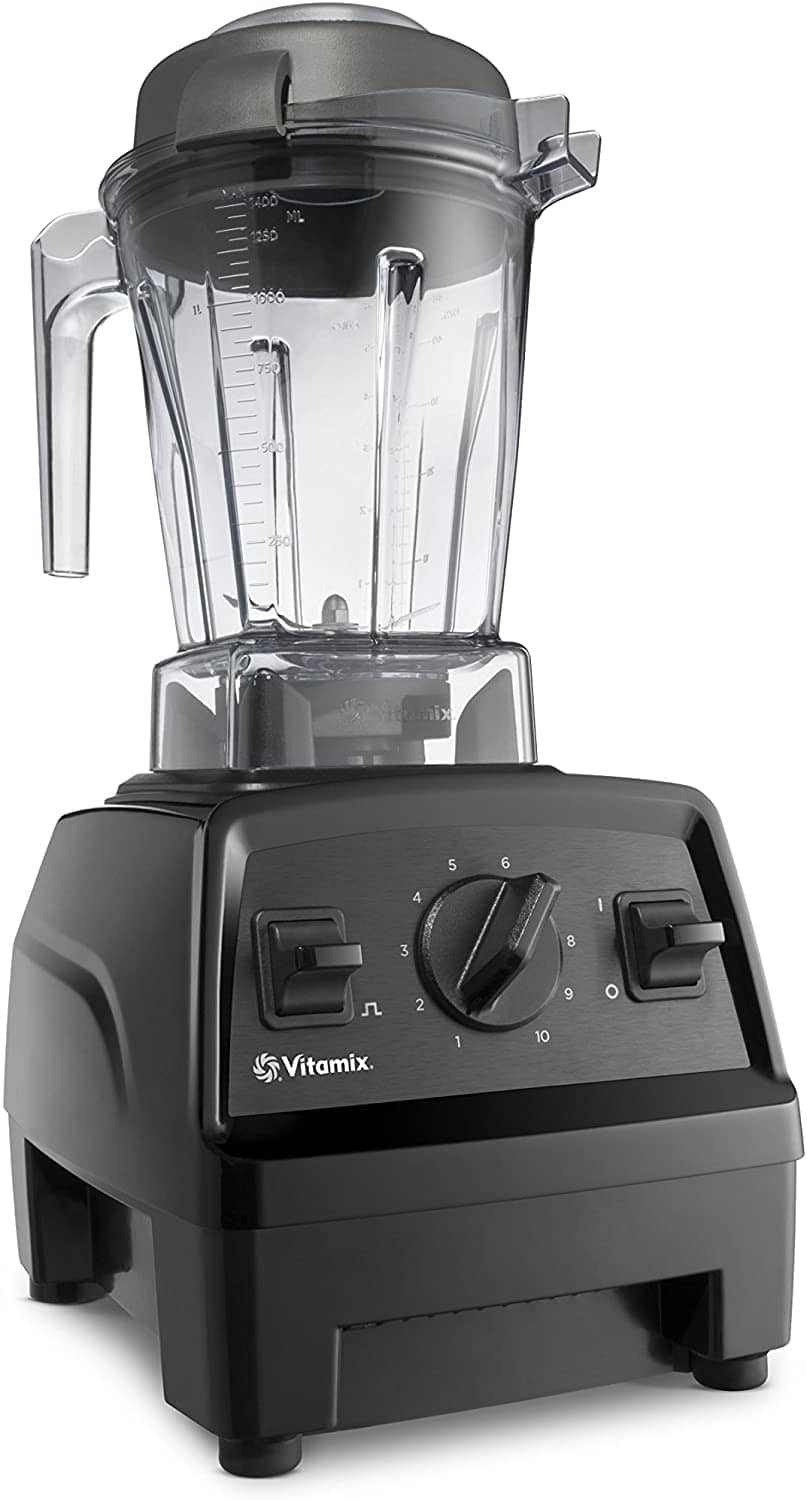 After testing it for over half a year, finally I could tell why it's priced so high but many people are still going crazy about it! 1380W-horsepower is a no joke! Instead of the fancy extras like a touchscreen or programmed settings, it comes with a pulse feature. And that's why this Vitamix can handle everything you toss in it! It gives you silky smoothies and chunky salad however you like! I would say this Vitamix is an upgrade to a professional level compared to the Ninja 400-watt blender above!
Honestly, comparing these two is an innocuous approach because they are catered to two different target audiences even though the core value and benefits are similar. Ninja is very budget-friendly and it works just fine if you live alone because it serves small families with basic prepping functions. Vitamix is $239 higher than Ninja but it lasts way longer even for frequent and professional use.
The downside? This Vitamix can be the loudest appliance you've ever owned if you set it on the highest speed! However, I've never come across any quiet blender before, and so the noise is not something I'm disappointed at. As it's already priced so high, I wish Vitamix would give it a glass container instead of plastic in the years to come. This evolution would make it fancy and give it better durability!
Pros:
Aircraft-grade stainless steel blades can tackle the toughest ingredients and stand the test of time.
Blade friction heating technology brings cold ingredients into steaming hot puree within a matter of minutes.
A radio cooling fan and thermal protection system will kick in if the motor is heated over long cycles of use.
Cons:
Loud noise is unavoidable if you switch it to the high-speed setting.
It's not the most budget-friendly blender on the market.
5. Vitamix 5200 Blender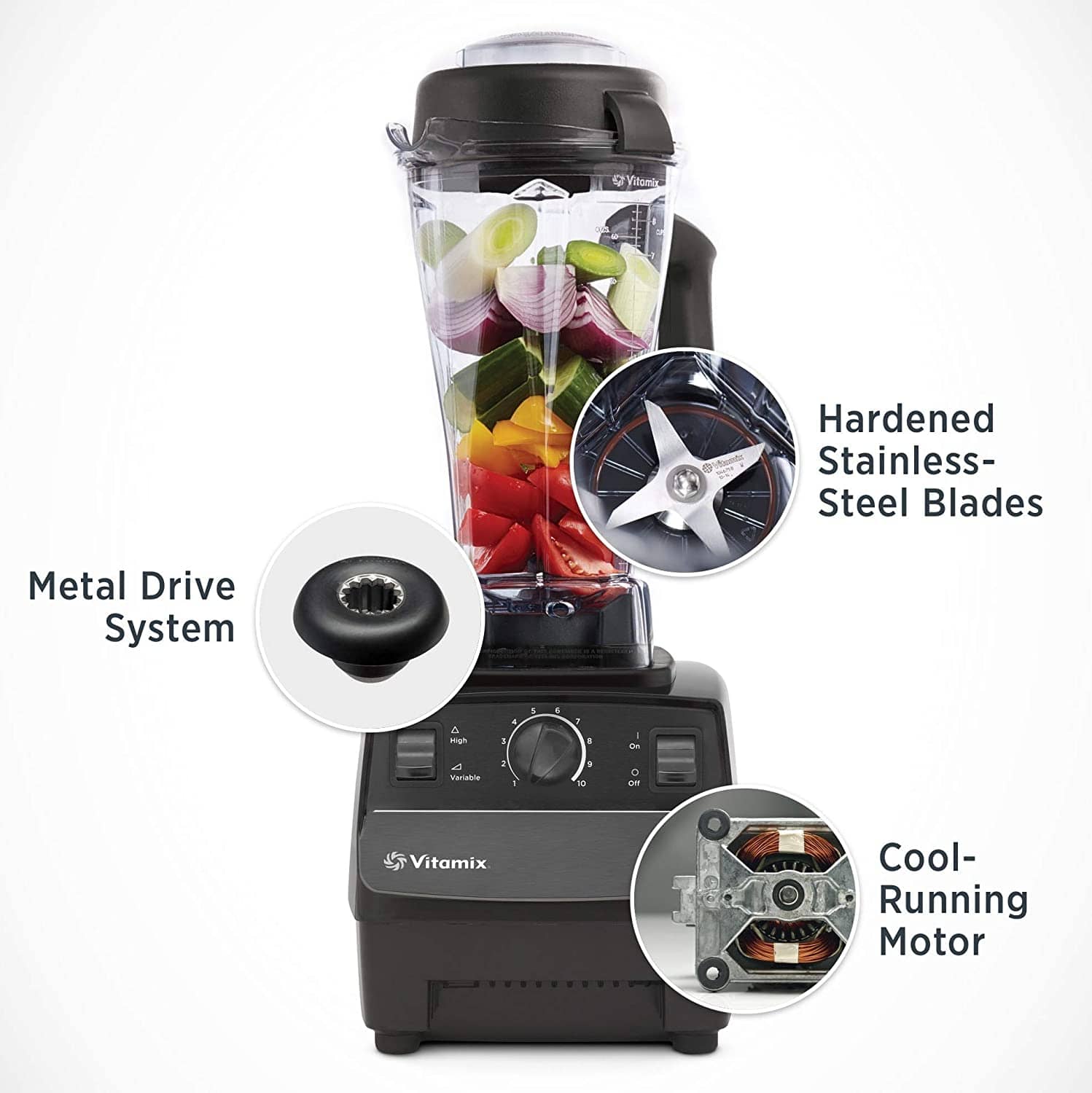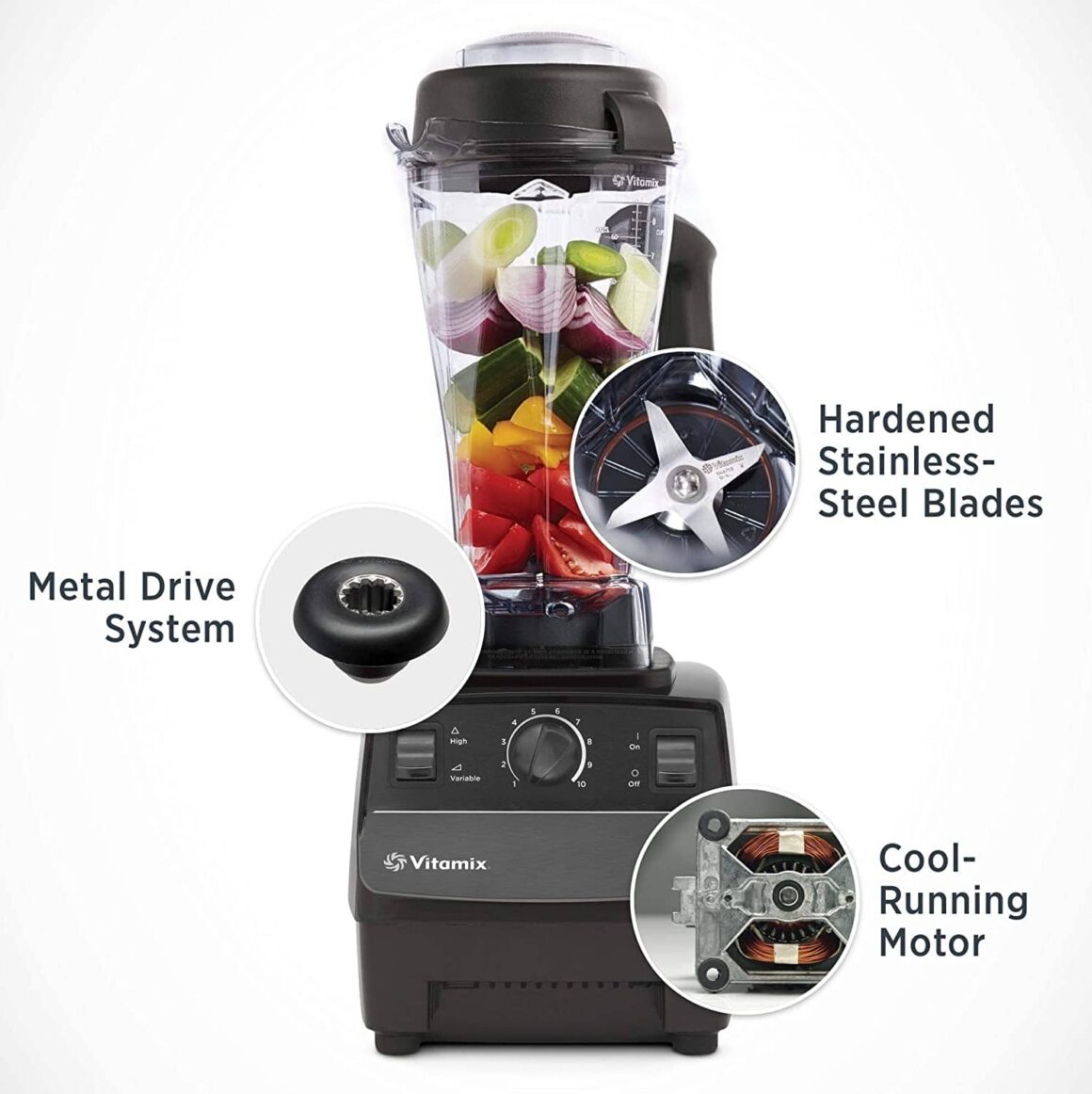 Let's break down the difference between Vitamix E310 Explorian and 5200 so you can get a better insight into the pros and cons of each! They both share similar features such as speed controls, design, materials, and horsepower. But what would you get if you pay $266 more for this Vitamix 5200?
First, you get a 16-ounce-larger container and a lighter machine. The E310 container is wider on the base but shorter, while 5200 has a narrow base but higher container. I know it's hard to pick the right one based on the capacity but think about your cupboard design. Is the inner space high enough to store this 5200 or it can only accommodate the smaller E310?
Just a little mention – I personally think the handle from 5200 gives me more comfort and it looks nicer on the design. When you put the two items side by side, you can see that Vitamix E310 is developed with a Pulse feature, which is something you don't see from the 5200. Instead, the 5200 item lets you switch between the "High" speed setting to activate the highest speed available, and "Variable" to activate the lower variable speed. Regarding this difference, I prefer E310 as the Pulse feature allows me to crush ice in less time than the 5200.
Finally, the Vitamix 5200 gives you an instructional DVD, and two more years of warranty! However, I still feel like Vitamix 5200 shouldn't have been priced that high given what it offers. All in all, Vitamix is leading the market when it comes to high-performance blenders, and so it's absolutely worth a purchase! If budget is your priority, then E310 is hands down the top pick! But if you need to feed a family or a bigger group of customers at a time for example, then the 5200 is still a better choice.
Pros:
Aircraft-grade stainless steel blades can tackle the toughest ingredients and stand the test of time.
Blade friction heating technology brings cold ingredients into steaming hot puree within a matter of minutes.
A radio cooling fan and thermal protection system will kick in if the motor is heated over long cycles of use.
Large capacity to serve a big group.
An instructional DVD is included.
Cons:
Extortionate price tag compared to what it offers.
Loud noise is unavoidable if you switch it to the high-speed setting.
It's not the most budget-friendly blender on the market.
6. Ninja BL770 Mega Kitchen System and Blender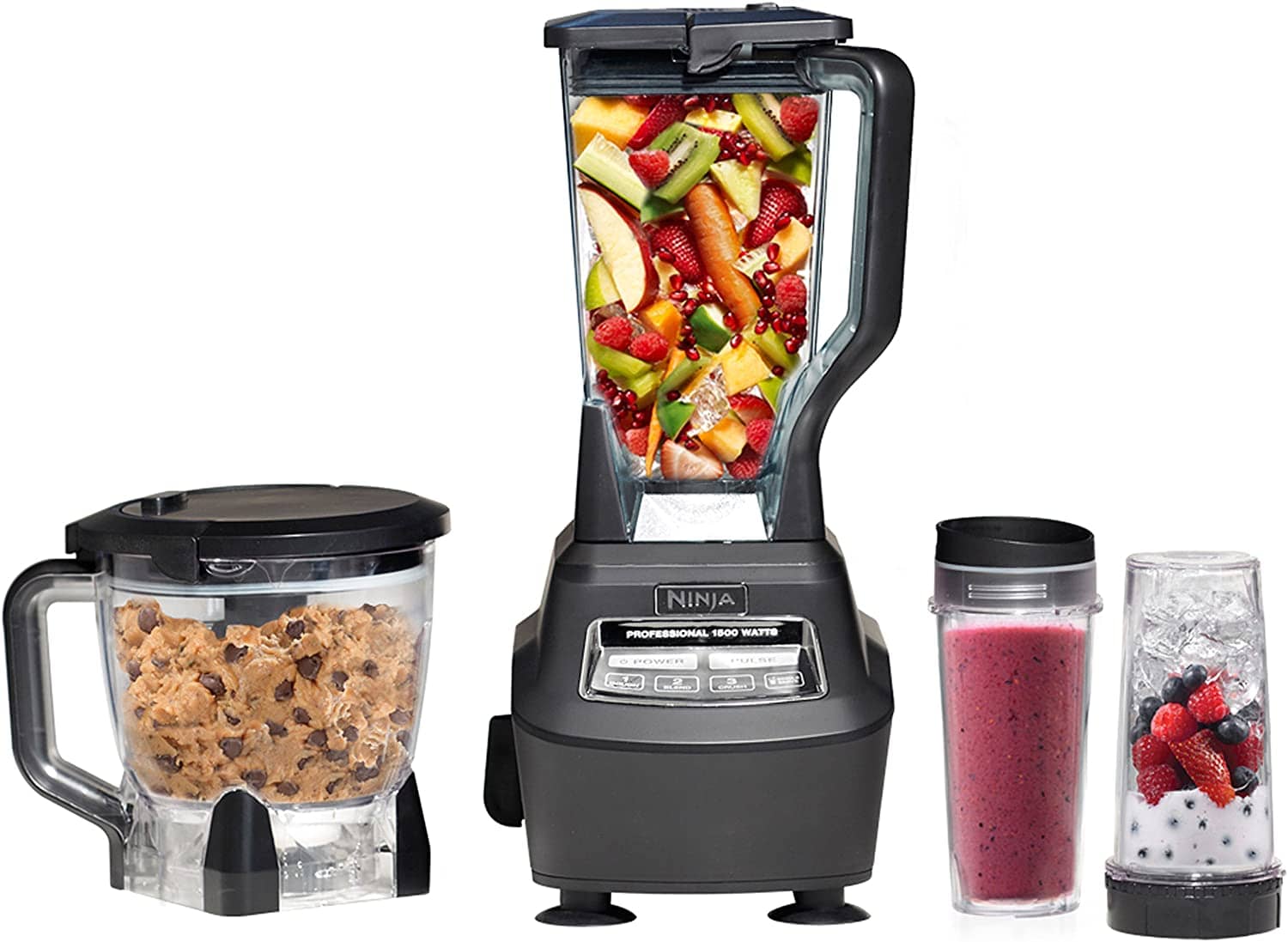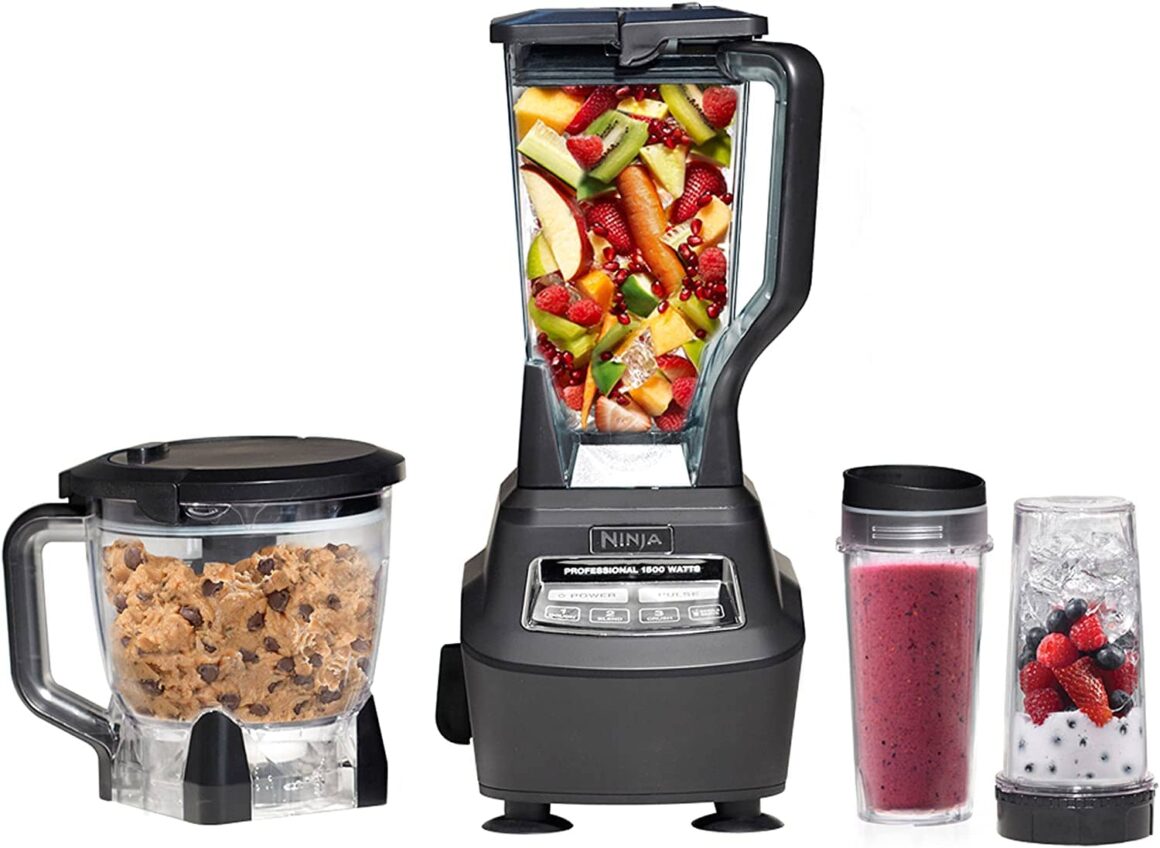 My favorite item on the list! Don't get me wrong! I love every blender I put in my review but this one is a rare find! This Ninja BL770 gives me the confidence to make this statement when I stack it up against the two Vitamix blenders above. It's only priced at $150 but I got more accessories, 100-higher power, and even eight-ounce larger than the Vitamix 5200! How cool is that?
It's fully equipped with an ice pitcher, single-serving cups, a food processing bowl, and an inspiring recipe! I feel like Ninja is finally in for the game to compete with the heavyweights above. And that's why you receive so many benefits at a really affordable price! I would recommend this one for a start-up café or a passionate home cook who wants a solid blender that tackles different tasks without spending too much on a machine.
For ease of use, it's a no-brainer! I like to have some buttermilk biscuits over the weekend when I have some friends coming, and this one saves me so much prepping time! It's speedy and gives me the right texture I wanted for a good dough.
This high performance can also be boiled down to the blades. And because they are very safe to manage dry and tough ingredients, you're much more likely to cut your fingers if you don't pay extra attention!
Ninja BL770 is the cream of the crop but it also has room for improvement. The four-speed setting is not a complaint from me but it may irritate some of you, especially those looking for more speeds to produce a certain type of texture for the customers. Finally, the lids sort of hold water after the cleansing, and it takes you more effort to drain and air dry. Weighing the pros and cons, I still believe Ninja BL770 is the best buy!
Pros:
It has a reasonable price tag given all the advanced functions that come with it.
A recipe book is included.
This is one of the most powerful blenders in the market.
Large pitcher to crush ice and blend the pureed soup.
Cons:
Crumbs and fragments may stack up at the base and require extra cleaning effort.
Its loud noise comes from the big motor and may annoy your customers or family.
The lids hold water that needs to be drained and air dry.
7. Tenswall Portable, Personal Size Blender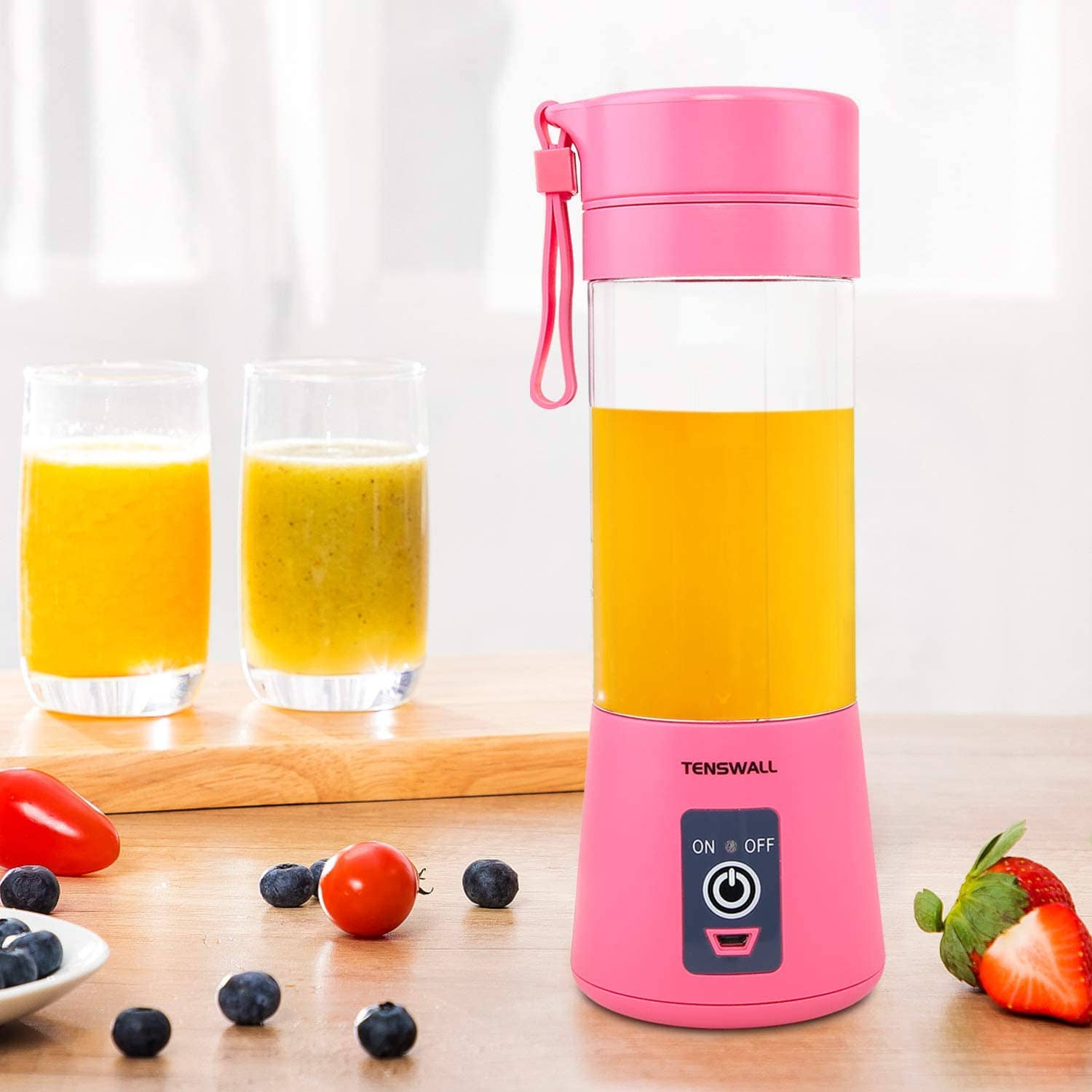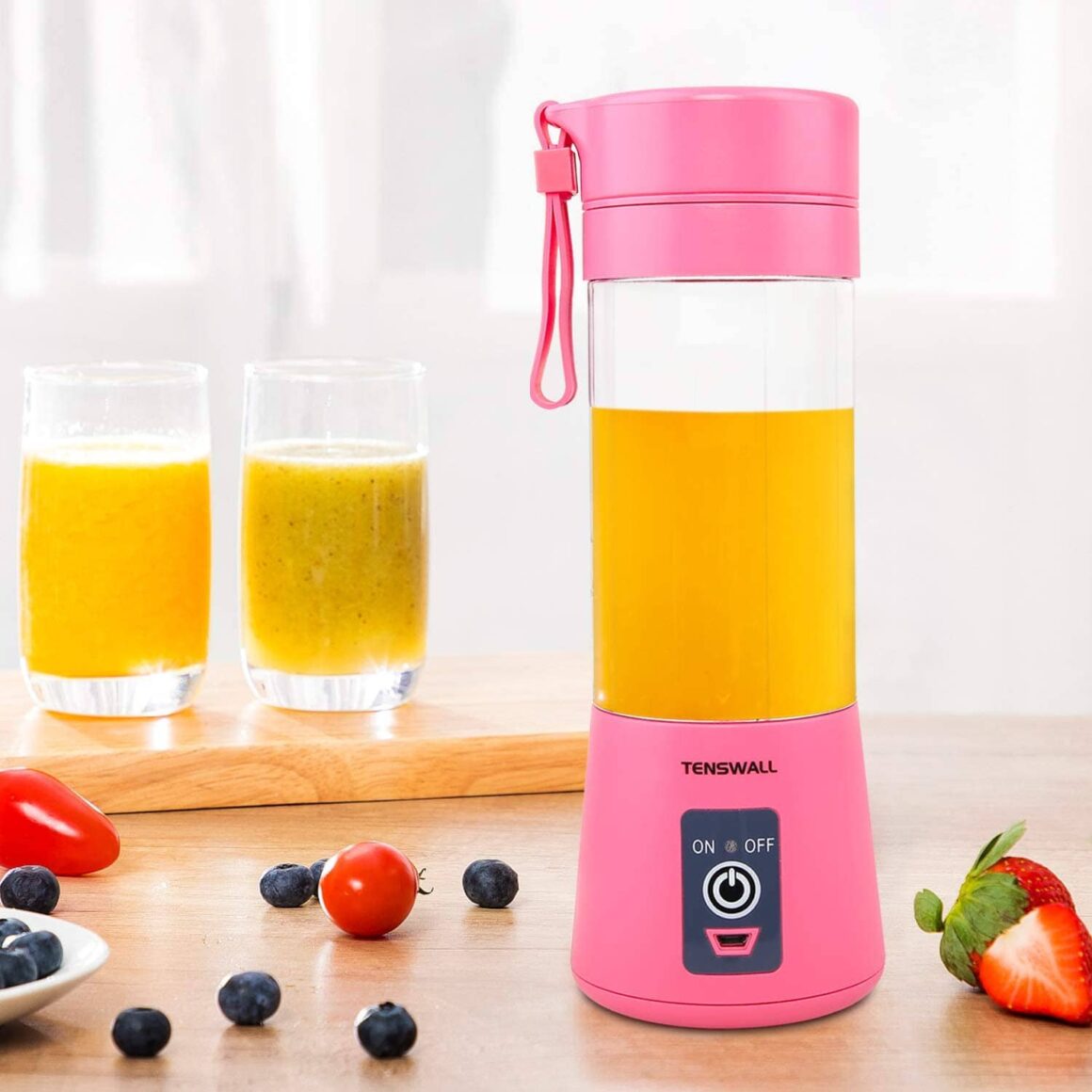 Traditional blenders are not the only thing I can recommend. As a young consumer who loves food and traveling, a portable blender is a great keeper that lets me stay healthy wherever I go. And so for those who are looking for the same thing, I highly recommend the Tenswall personal size blender.
This is the first model I tried when I was searching for a portable, lightweight but sturdy blender back in my early 20s! As a basic blender, it works better for smoothies and so you shouldn't expect it to tackle tough ingredients like ice crushing or dough, it's not made for such professional use!
If you're a beginner, make sure to read the manual carefully otherwise the blender won't do the job! Let's say if you want some cold smoothies to-go at work, chill your fruits in the fridge one night beforehand. Then the next morning you can put them in the blender with some milk or protein shake, and let them blend whenever you want at the office.
I have some friends who complained that it came in such a small capacity which is only 14 ounces. I don't think it's a drawback because it's meant to be portable and it can only serve one person. It's fast, easy to use, and runs on a battery instead of a cord.
Not a big downside for me but cleaning is indeed not the smoothest experience! As it's operated by battery, you have to be extra careful while cleaning or the water will get into the USB drive. I've read some reviews and they even advised you to put masking tape on the USB drive, which I think is a bright idea!
Pros:
A smart safety protection system automatically stops the blender from working when the cup is separated from the base.
Six blades give you a better and faster blend.
2000mAh rechargeable battery.
The blender is made of food-grade and non-toxic material to ensure a nutritious blend for consumption.
Cons:
Cleansing is not easy as you have to pay extra attention to not wet the USB drive.
Sometimes it doesn't blend the food at the top properly and you have to use a spoon to mix it thoroughly.
The battery is not durable enough, and eventually, stops working.
8. Oster My Blend 250-Watt Blender with Travel Sport Bottle

Compared to the Tenswall portable blender above, I believe Oster is an upgrade for my lifestyle. When you stack it up against one another, there are some similar features and differences. Tenswall goes on a battery while Oster is run by a regular corded motor base. And so in this sense, Oster to me is like a mini version of a traditional blender for students, busy gym-goers, and travelers.
I love the design a lot! No matter which color you choose, it still reflects a sporty vibe that matches an energetic person. Meanwhile, Tenswall is a basic, cute-looking blender that is more on a feminine side I would say.
Oster is a very well-built blender. I love how they come up with two different powers for regular blending and ice crushing in such a small blender. The way it functions is a tad different from Tenswall and other traditional blenders. Basically, it blends upside down, which means you screw the blending blade over the bottle and plug it upside down into the motor base and start blending. Once it's done, twist it off and replace it with the lid!
Tenswall is not able to tackle tough ingredients, and so you will prefer this Oster if you're looking for something with a better performance. One thing that seems funny for me is the way you start blending. There's no button and so you need to press the bottle down once it sits straight on the base to start blending manually. Or, you can also lock the bottle by turning it clockwise and it starts automatically. It's not complicated to use at all, but an on/off button will earn an extra point from me!
Here comes the drawback, the locking mechanism on the lid doesn't fully secure the liquid. If you're not careful, the blend may spill all over the place and into the base as well.
Pros:
Oster My Blend is a low-cost blender with an average power for essential blending and crushing.
Recipes are included in the manual.
It comes with a BPA-free plastic sport bottle and is offered in a variety of colors.
Cons:
The locking mechanism on the lid doesn't fully secure the liquid and may cause spills.
The bottle's narrow volume is hard to cleanse by hand.
9. Magic Bullet Blender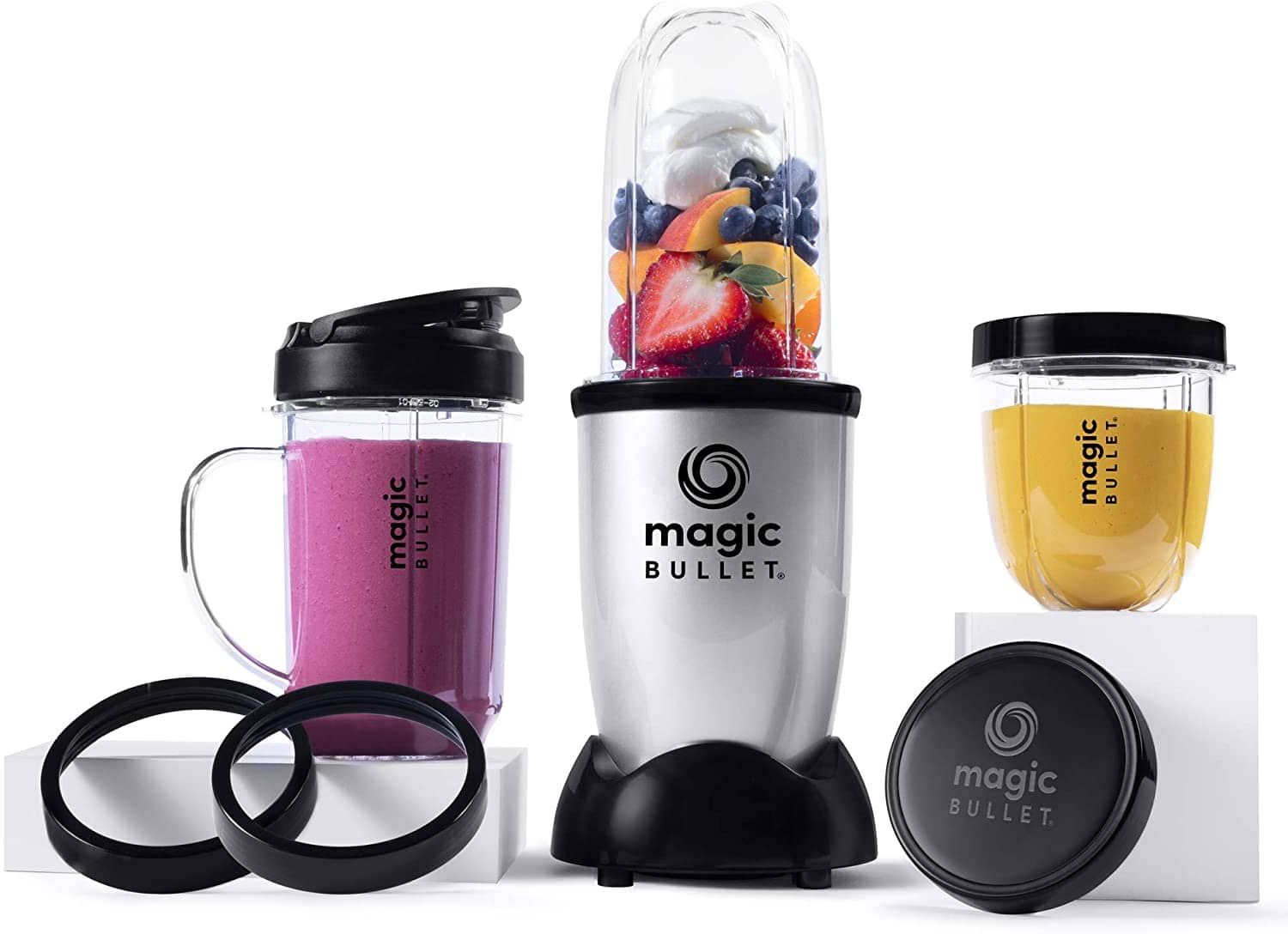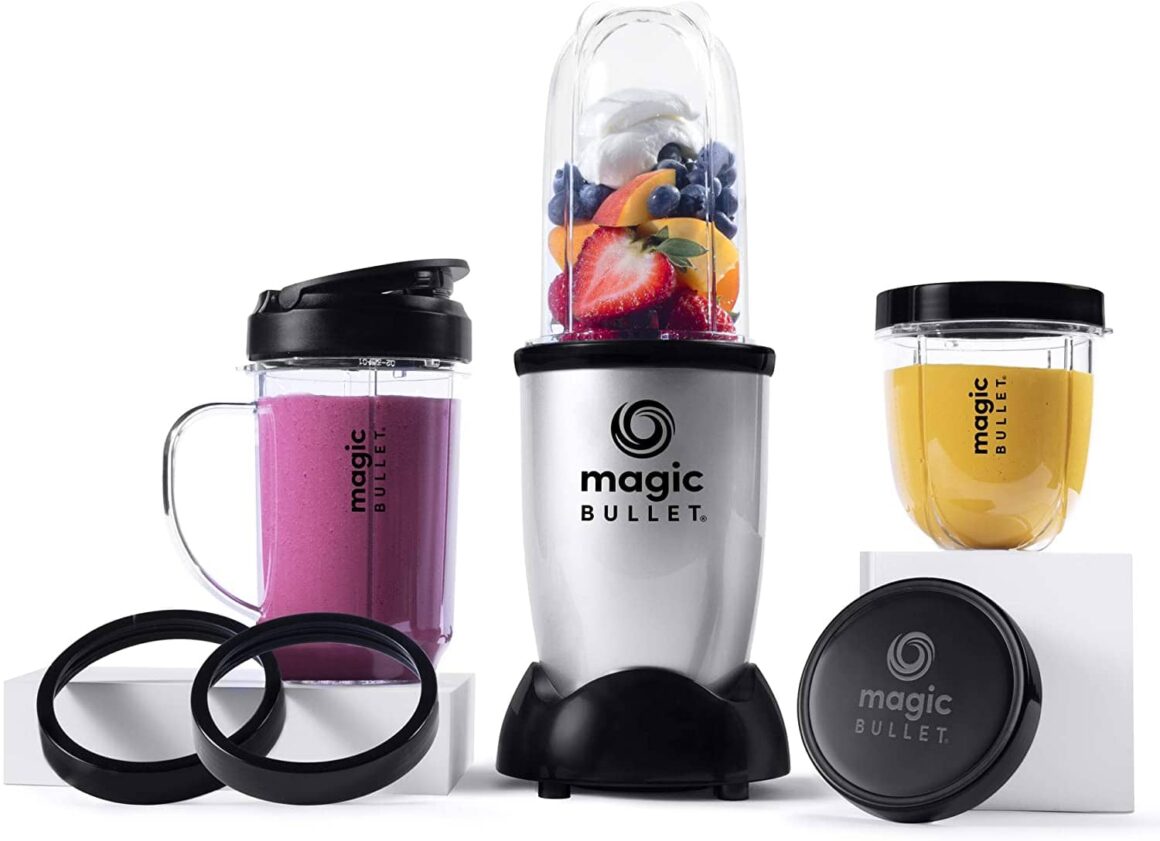 With less than $30, this Magic Bullet is a keeper! I would tell you to buy this if you like multiple accessories that come with a sturdy single-serving blender without spending too much. Apparently, 250W doesn't make it an ice crusher but it blends soft fruits and veggies into liquid perfectly. This one is not made for frozen fruits, ice cubes, and hot liquid! It's supposed to chop, mix and blend. That's why I still want it to be on my list.
It works in the exact same way as the Oster My Blend above but is $7 more expensive. I guess the higher tag is priced based on the accessories that come with it. This Magic Bullet is not portable. It's not catered for travelers. And so it's not your best buy if you're looking for a lightweight, portable one! For ease of use, I wouldn't say it's the easiest to approach but it's not too bad either. Don't overload it, otherwise, it causes the blades to seize and the blender heats up.
In addition, you want to let the cooling fan system underneath the base breathe properly by not placing any cloth under the blender! They say it in the manual as well, so make sure to go over the guide thoroughly! Given all things considered, Magic Bullet Blender is a good buy for daily smoothies and prepping a quick meal!
Pros:
The set is available in two different packages, one with 11 pieces and one with 13 pieces.
High-compact plastic that doesn't wear out easily.
This is a budget-friendly blender for daily use.
Cons:
The power is low and cannot tackle tough ingredients.
It is not an all-purpose blender so you shouldn't expect it to grind frozen fruits or ice.
It needs water for a smooth blend.
10. Mueller Austria Ultra-Stick 500-Watt 9-Speed Immersion Hand Blender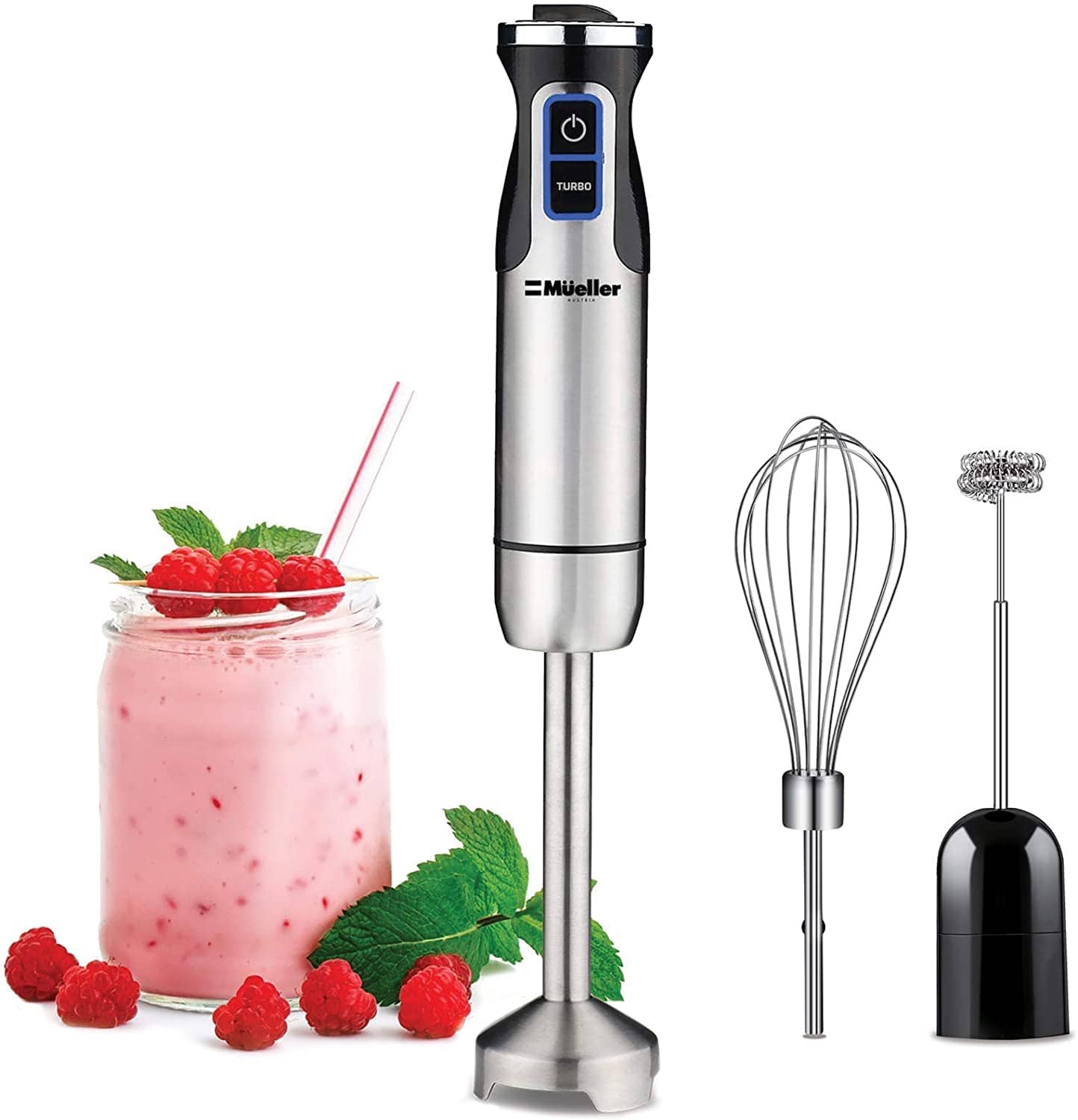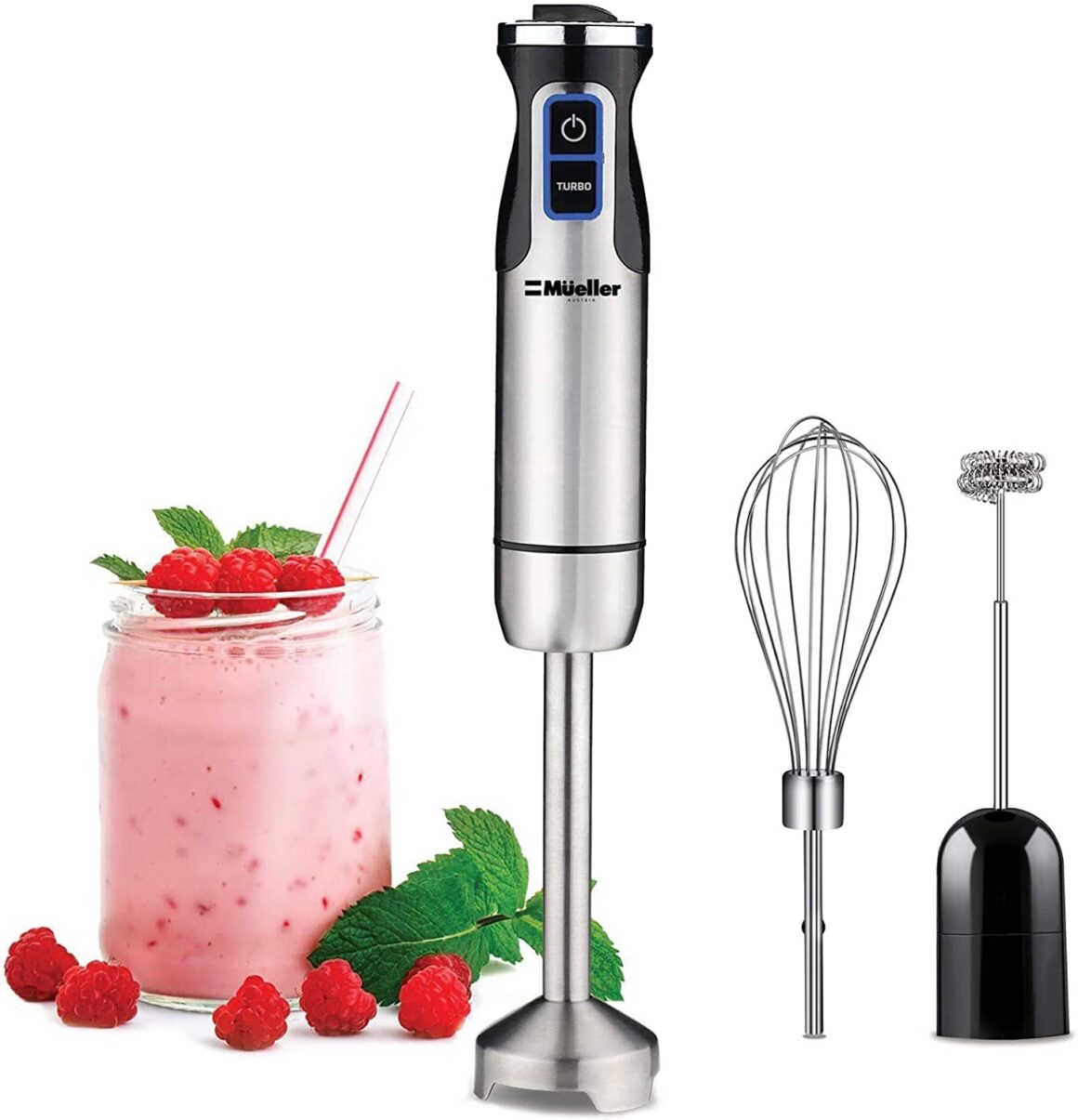 I'll cap off this list with an immersion blender to diversify your choices! For a handy immersion blender, I choose the Mueller Austria Ultra-Stick blender to recommend! 500W-horsepower is pretty decent for a hand blender, which can stack up against even a single-serving blender.
After a while double checking it online, I realize that it's sold out pretty frequently! And now I know why. The slim handheld stick coordinates with my palm perfectly with the speed controls installed where my fingers are located. This kind of design gives me ease of use and fast adjustment over the speed. It doesn't overheat or overly vibrate even if you use it non-stop. I love the sleek and modern appearance and would definitely buy it as a housewarming present.
The attachments are easy to detach and assemble. They go into tall pots and cups without any hassle. It's not essential for me but I still endorse the fact that they include a milk frother while many other immersion blenders only have a blade system and a whisk. I tried it with whip cream, salsa, latte, and puree. I don't think Muller is a top choice to blend smoothies because it takes you forever to blend all the fresh fruits and leaves into liquid!
The con I noticed comes from the hard edges at its bottom guard. When you use it over a non-stick pan, you have to be extra careful! Otherwise, you've gotta buy a new pan I'm sure. Remember to find something to round over the edges before letting it interact with the pan. If the developers could improve this downside, I'd give it a ten!
All in all, any home cook out there looking for a sturdy, thoughtful hand blender to prep baby food and handle different meals, you want to bring this home!
Pros:
The design is sophisticated and contemporary.
A long-lasting item thanks to the copper motor which is designed for frequent use.
It's a powerful immersion blender compared to other hand blenders I've experienced.
Cons:
You have to hold the "trigger" button constantly to operate it.
Sharp edges at the bottom guard may damage coated pans, for example, a non-stick pan.
If you're looking for more ideas to smoothen your prepping time, take a look at my favorite coffee grinders! I collected the best sellers in the market based on stellar reviews, ratings, and price ranges to help you choose the right item for your family.
Noms Magazine is a participant in the Amazon Services LLC Associates Program, an affiliate advertising program designed to provide a means for sites to earn advertising fees by advertising and linking to Amazon.com and Amazon.ca. Clicking and purchasing from the links helps support our publication and no extra cost is added to you
The following two tabs change content below.