Breakfast is a meal that makes or breaks your day. Fortunately, if you're in Banff, the city is home to a plethora of great breakfast options tailored to satisfy every possible morning cravings.
Whether you want to start your day smiling at the breathtaking views of mountain ranges or having a heartfelt conversation with friends with picturesque lakes in the backdrop, we've rounded up some of the best breakfast Banff has to offer.
From flavourful granola bowls and bennies to hangover food and everything Instagrammable, we have you covered!
1. Whitebark Cafe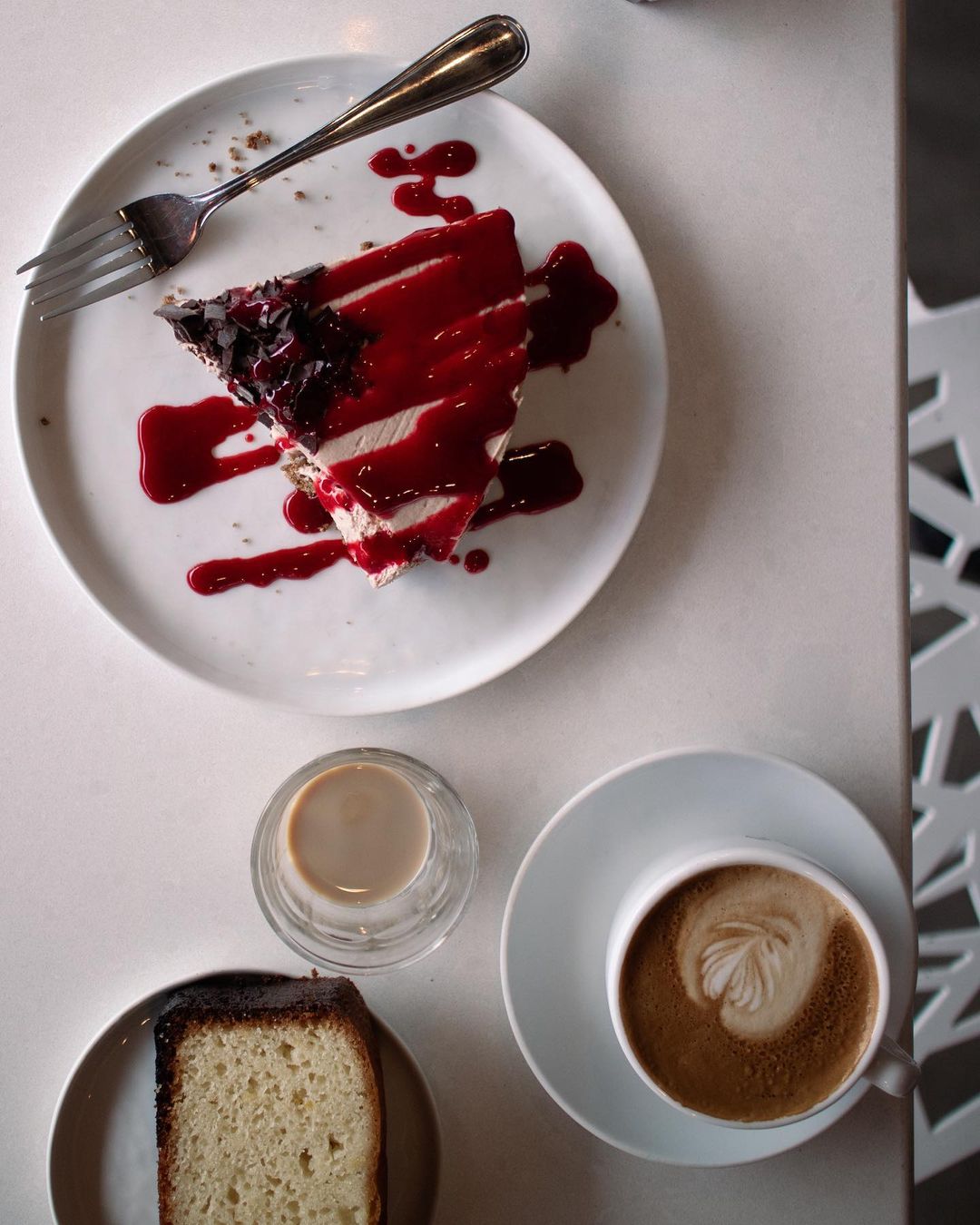 Inside Banff Aspen Lodge, Whitebark Cafe is your go-to cafe for a stellar breakfast while taking in the majestic mountain views. They offer quality selections of house-made pastries and "niche snacks" that everyone can enjoy!
Whitebark's Monday mornings are crowded with loyal patrons and curious visitors, so expect longer lines while waiting for your turn. But the visit is definitely worth it! You'll be welcomed by friendly staff, a warm ambiance, and an impressive menu of healthy dishes, including their fan-favourite granolas and lattes.
Their menu rotates from time to time, but be sure to not miss these offerings: pork and fennel sausage roll, quinoa and muffin roll, cheesecake, and chai latte. The sausage roll is oozing with flavors—neither too overwhelming nor too bland, just the perfect pitch of all the ingredients working together to create the perfect breakfast roll.
The quinoa and muffin roll is a sight to behold! What hits home is the mango chutney accompanying it—flavorsome and fruity in all the right places. Then we have their cheesecake, melt-in-the-mouth fluffiness–a match made in heaven for your chai latte.
What to order: Pork and Fennel Sausage Roll, Cheesecake, Chai Latte, Quinoa & Muffin Roll With Mango Chutney
Address: 401 Banff Ave, Banff, AB T1L 1A9, Canada
Website | Instagram | Facebook
2. Tooloulou's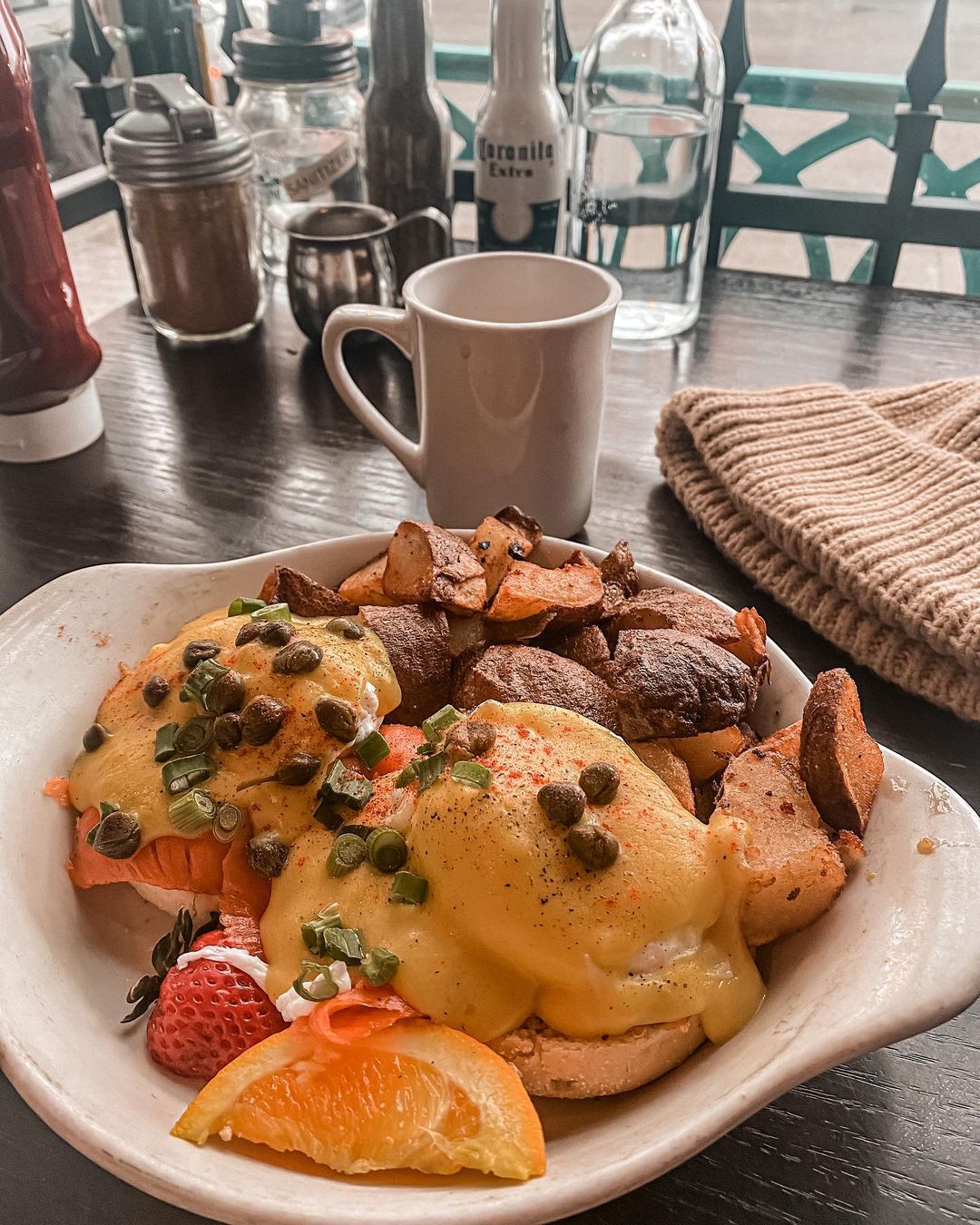 Sitting at the heart of downtown Banff since October 2012, Tooloulou's is a casual and intimate fifty-seat restaurant specializing in Canadian-infused Cajun Creole. They're a famous spot for hikers and tourists who want to grab some interesting French-slash-Louisiana cuisine.
Hungry visitors will marvel at their extensive menu showcasing Cajun favorites, omelets, waffles, and more. But expect a waiting time of about 20 to 45 minutes since Touloulou's is usually crowded until the breakfast menu ends at 2 PM.
We'll take the road not often taken and suggest you go for a french toast infused with fresh fruits and an eggs benedict with multi-grain toast. A unique take on the french toast, Tooloulou's adds a homey and succulent feel to the classic pastry.
Their Belgian waffles are as fantastic as any item on the menu, but we're hooked with their Jordan's jamboree! Oh, and if you're in for a wild morning, go for a Creole caesar vodka as an "eye-opener"!
What to order: Fresh Fruit Infusion French Toast, Jordan's Jamboree Belgian Waffle, Three Eggs with Multi Grain Toast
Address: 204 Caribou St, Banff, AB T1L 1A6, Canada
Website | Instagram | Facebook
3. Evelyn's Coffee Bar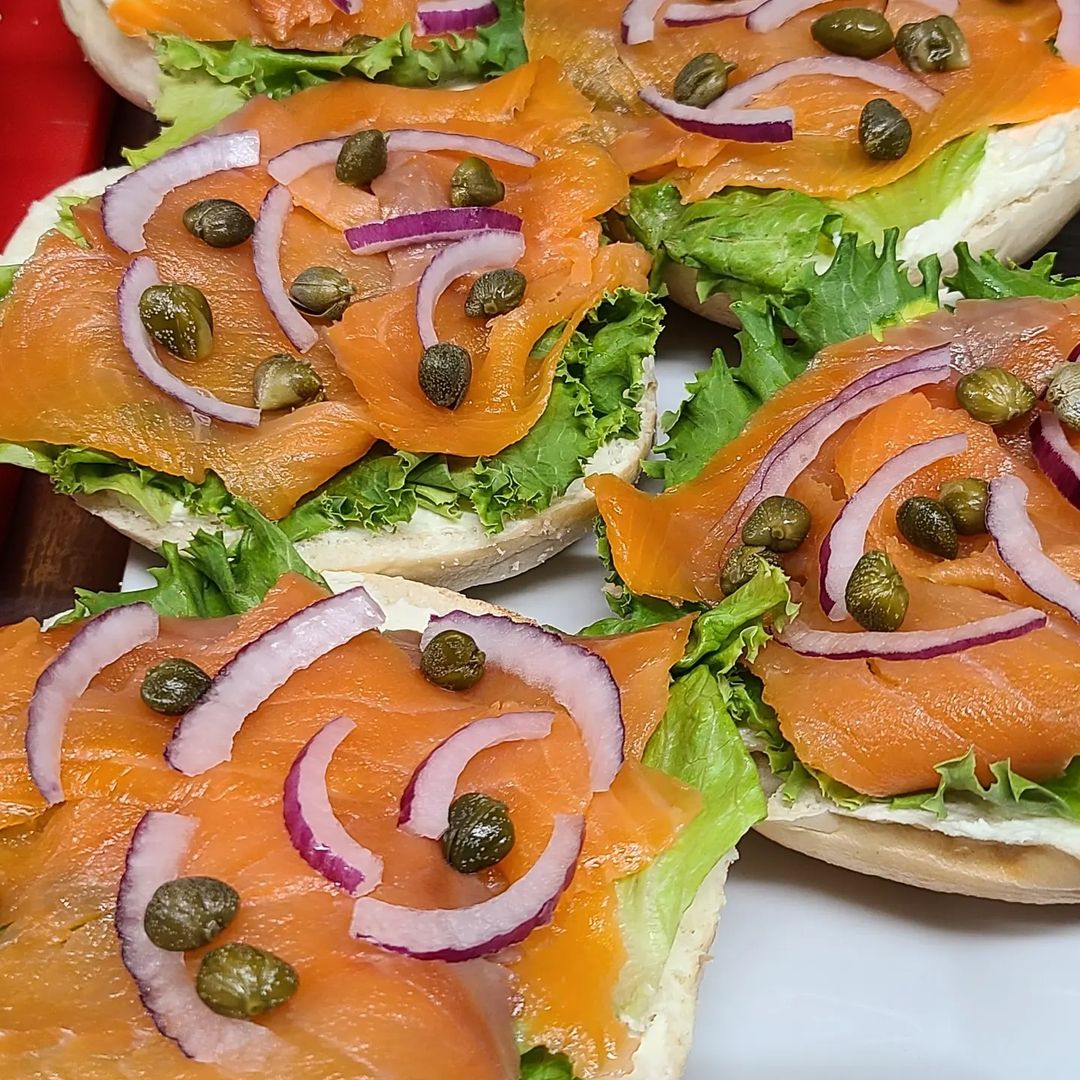 If you're looking for some authentic coffee bistro experience, Evelyn's doors are always open to welcome you. Established in 1992, they're an Alberta breakfast staple offering a wide array of coffees and homemade food passionately made with their special recipe.
The ambiance inside is as cozy as Evelyn's outdoor patio, which has the scenic landscape gracefully watching your every sip of an iced mocha espresso. With friendly staff and great food, you'll never regret coming here for breakfast!
Don't miss out on Evelyn's panini and cranberry oatmeal cookies—they're freshly baked from their downstairs kitchen! Something about their food makes it hard to resist ordering for more! As much as we want to learn their secrets, we'll just come back for more.
Evelyn's hot chocolate is always the best choice if you're not a fan of coffee but want something to warm your tummy.
What to order: Panini, Hot Chocolate, Cranberry Oatmeal Cookie, Iced Cafe Mocha
Address: 215 Banff Ave, Banff, AB T1L 1A4, Canada
Website | Instagram | Facebook
4. Banff National Perk CoffeeHouse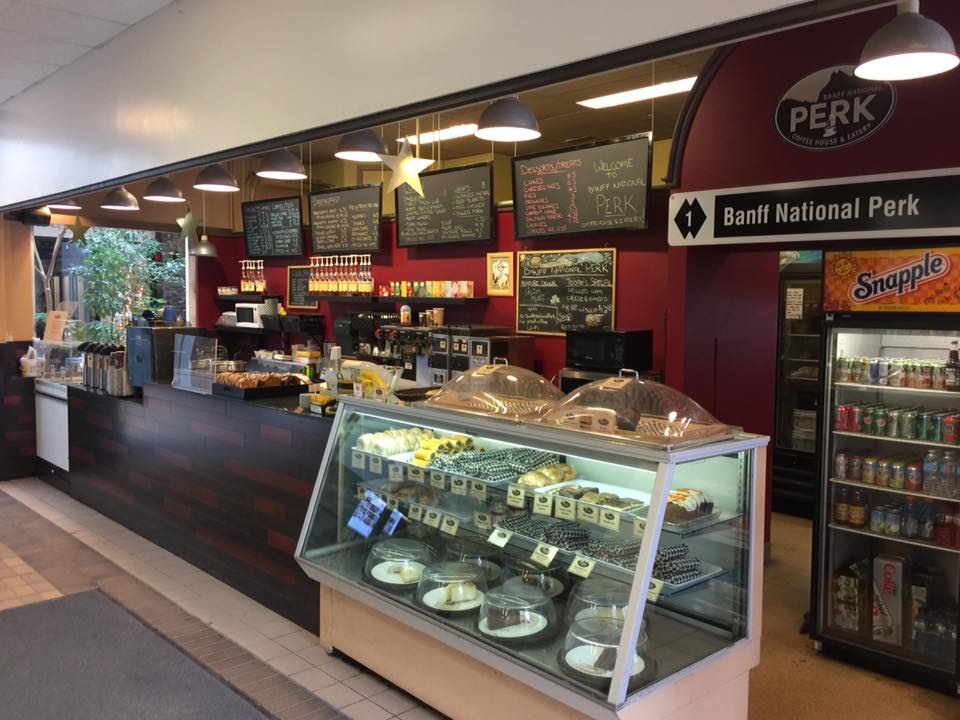 Inside Bear Mall is a coffee haven synonymous with exceptional. Banff National Perk CoffeeHouse is a cute little coffee spot perfect for those who want to escape the bustling tourist traps in central Banff.
In a city pouring with tourists year-round, you wouldn't expect to have a quaint place where you can hear every squeak of a chair or every turn of a page. But Perk CoffeeHouse offers you precisely that!
If you're looking for tranquility outside the usual strips, you should head to Perk. You'll definitely love their hot beverages while enjoying the calm vibes, particularly their apple cider and London fog tea latte.
Just because they're a coffee house doesn't mean Perk's food is any less! In fact, you'll be mind blown by their savory signature turkey sandwich and southwest chicken wrap. For desserts, the white choc and berry scone is your best bet!
What to order: London Fog Tea Latte, Hot Apple Cider, Signature Turkey Bacon Club, Southwest Chicken, White Choc and Berry Scone
Address: 220 Bear St, Banff, AB T1L 1A1, Canada
5. Coyotes Southwestern Grill
With Coyotes attracting tourists and locals alike, Banff Avenue has embraced its daily dose of breakfast rush since 1999. One look at the place, and you'll be curious as to why there's so much hype.
But once you taste a bite of their dishes, you'll be one of those people, like us, to want more! Alongside their phenomenal breakfast are attentive staff and their flawless service!
There are four things to absolutely try in the morning: Coyotes' huevos rancheros, sausage burritos, pancakes, and frittatas. The savory rancheros highlight the polyamorous relationship of black beans, red chile sauce eggs, and cheese, gently embraced by a special blue corn tortilla.
The sausage burrito and Mediterranean frittata will give you a tad of home, perfect for the cozy ambiance amidst a crowd. Pro tip: You can opt to top their pancakes with a special berry compote. Don't ask us why; just try and be amazed!
What to order: Huevos Rancheros, Chorizo Sausage Burrito, Buttermilk Pancakes, Mediterranean Frittata
Address: 206 Caribou St, Banff, AB T1L 1A6, Canada
Website | Instagram | Facebook
6. Wild Flour Bakery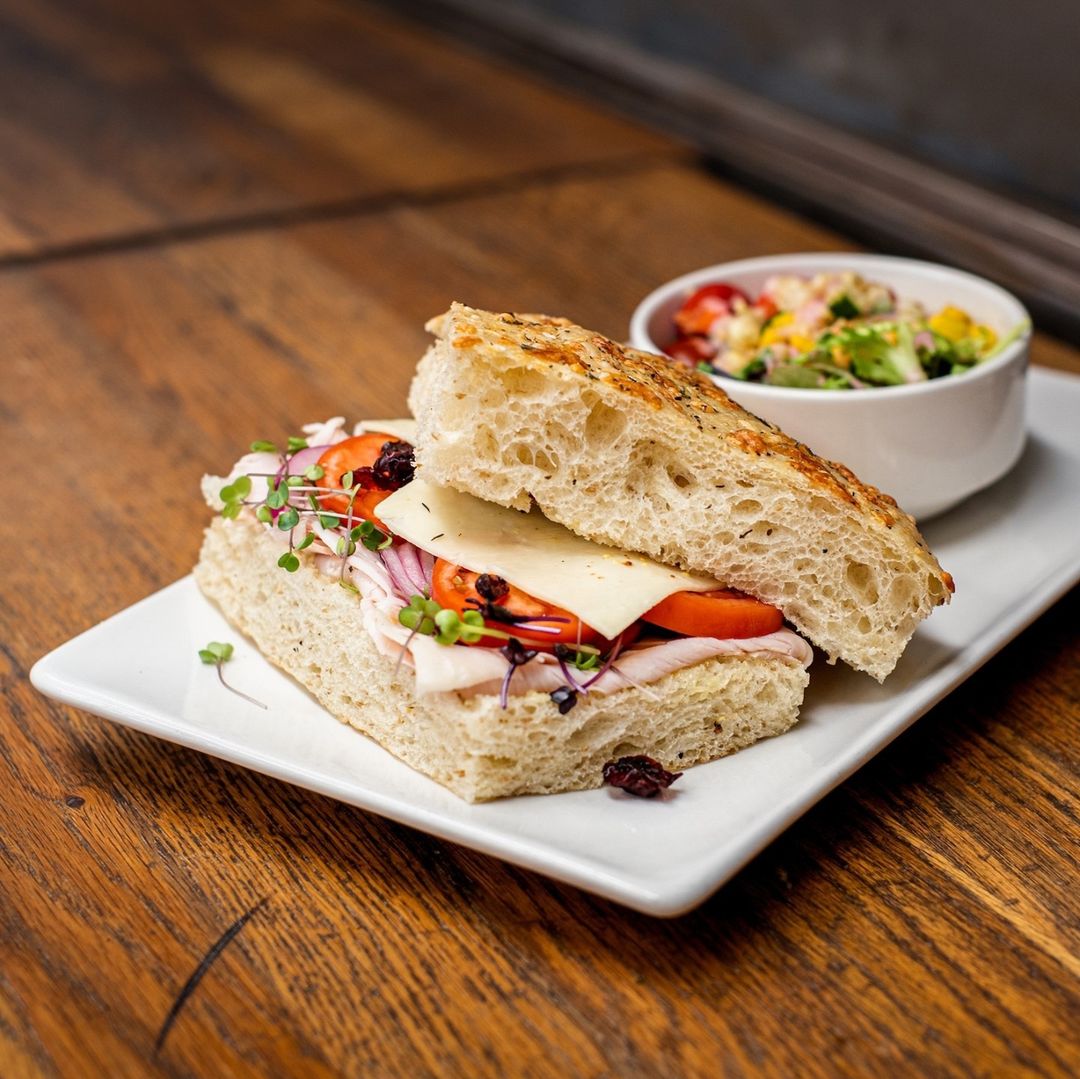 If you're a fan of pretty stuff such as sunflowers, cakes, and sweets, visit Wild Flour! They're a coffee shop offering fluffy and fresh pastries on Bear street—you'll be enticed by the aromatic smell of coffee and freshly baked goods!
Fall head over heels with Wild Flour's vast assortment of goods ranging from meaty delights to gluten-reduced items to vegan-friendly delicacies. But their carrot cake, granola yogurt, cinnamon buns, croissant, and frittata sandwich stand out the most!
No frills or exaggeration whatsoever, just beautifully presented and amazingly delicious. Rumor has it that their pastries, particularly the croissant, rival that of Europe's finest!
What to order: Carrot Cake, Cappuccino, Granola Yogurt, Cinnamon Buns, Croissant, breakfast frittata sandwich
Address: 211 Bear St #101, Banff, AB T1L 1B8, Canada
Website | Instagram | Facebook
7. STOCK Food & Drink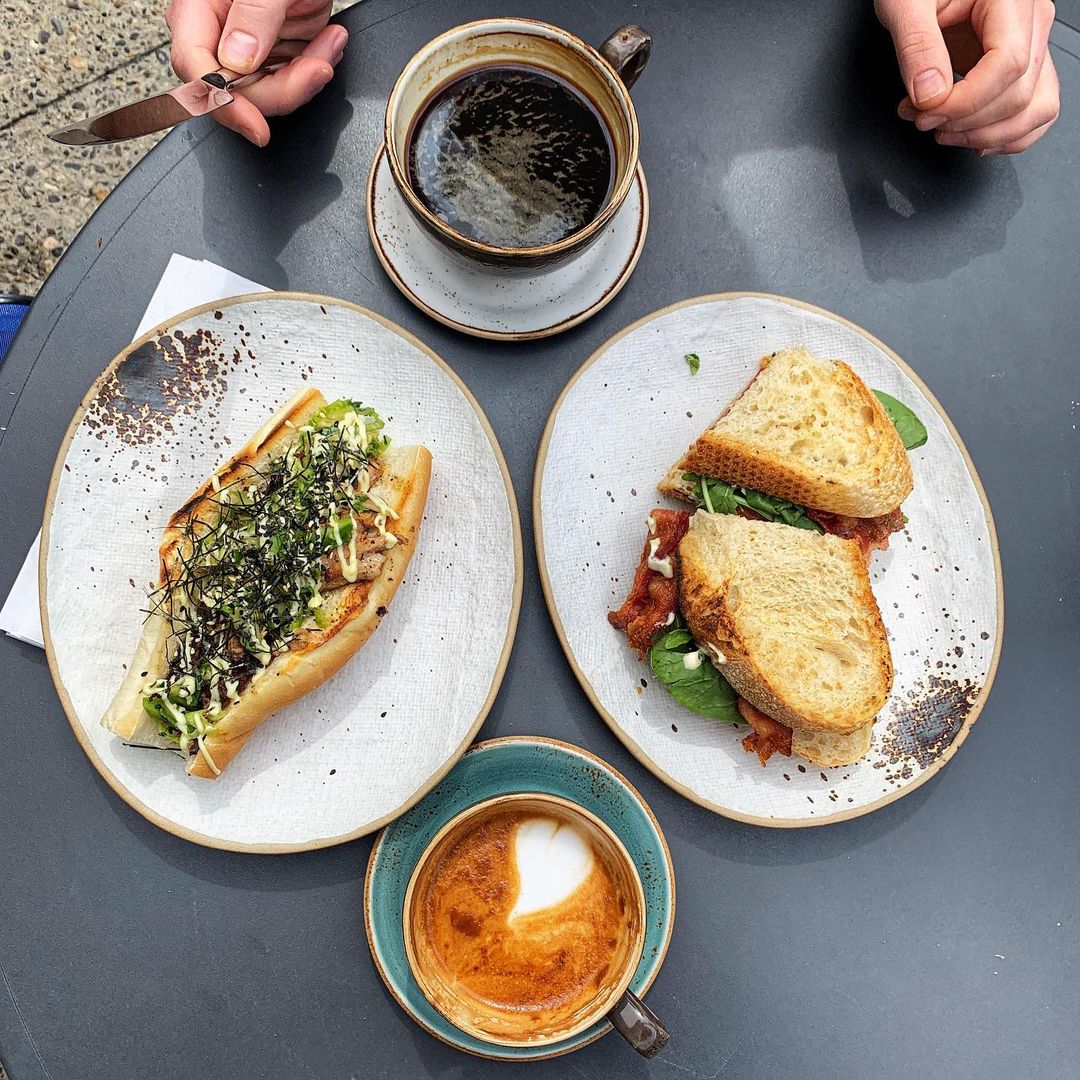 Staying at the Fairmont or wanting to visit the castle-like hotel for breakfast? Skip the norm of going to expensive breakfast buffets; go for STOCK's ala carte menu instead!
You'll not only save some dollars, but you'll also enjoy a stunning selection for an early morning dine-in or grab n' go. You can easily tell STOCK makes their food from scratch by the taste and freshness.
It's love at first bite with their smoked salmon toast, back bacon, and homemade focaccia bread. If you love your food served warm, there's an option to warm the desserts—pretty neat if you'd ask us.
What to order: Smoked Salmon Toast, Back Bacon, Homemade Focaccia
Address: 405 Spray Ave, Banff, AB, Canada
8. Pacini Banff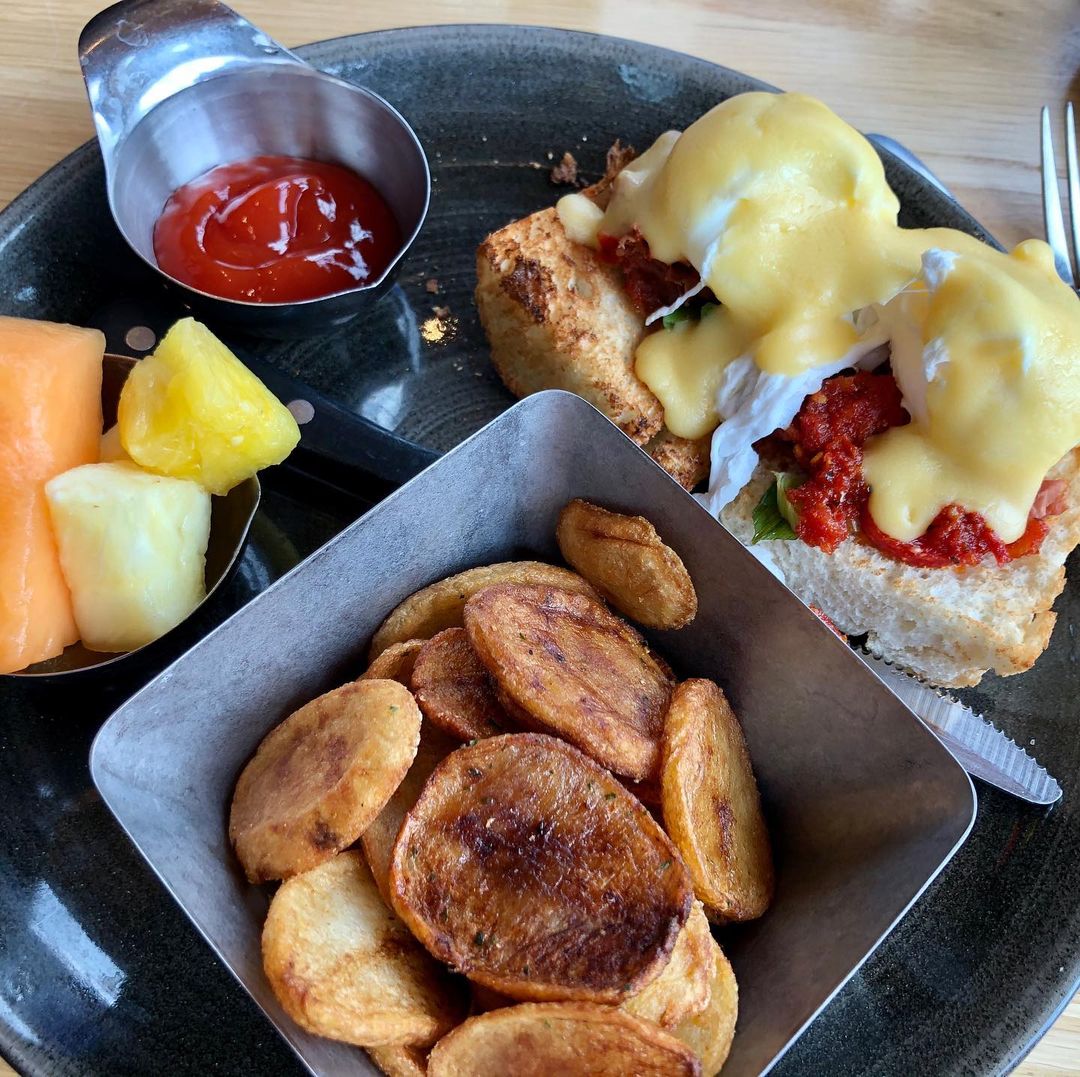 Breakfast in Italy? Pacini got you! Inside Moose Hotel is an Italian restaurant offering a comfortable breakfast experience to family and friends.
Bread is a crucial breakfast element, and Pacini understands that perfectly well! In fact, you can get all the bread you want and toast them however you like! So, be creative and go for that butter, garlic paste, and whatnot to create your own favorite toast.
From their menu, we recommend you try their all'italiana eggs benedict—creamy yolk patiently waiting inside thin walls of luscious egg whites on top of sun-dried tomato pesto. Pacini's meat cassolette is bacon, sausages, and ham sauteed to blissful perfection while made even more delicious with velvety au gratin.
If you have more room, share a slice of breakfast pizza with the squad! Lastly, completely break your fast with a chamomile citrus tea or a cappuccino to start your day warm.
What to order: All'italiana, Meat Cassolette, Pizza alla Pacini
Address: 345 Banff Ave, Banff, AB T1L 1H8, Canada
Website | Instagram | Facebook
9. Farm & Fire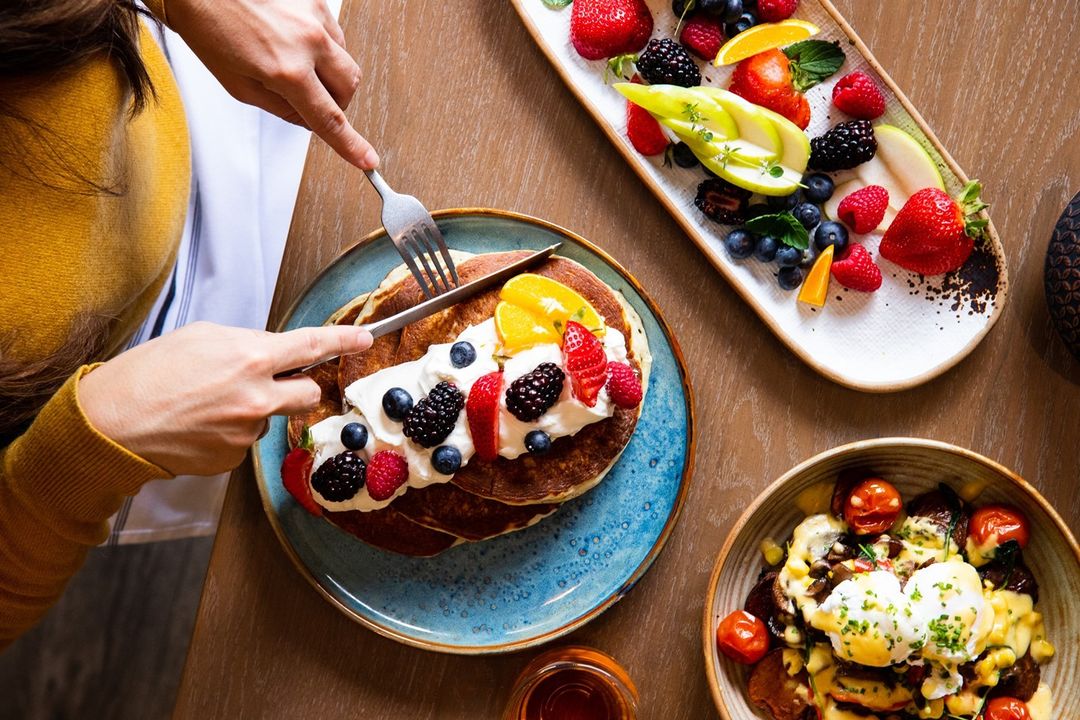 Farm & Fire is a famous Banff restaurant that is known for the creative food items on their menu. Who would've thought of naming a brunch bowl "Holy Cow"?
The restaurant's popularity perfectly sums up its modern interiors, cozy ambiance, and fantastic food. We've been fans of Farn & Fire for some time now. They even made our list of best Banff restaurants!
But what sets them apart from the myriads of breakfast spots in this awe-inspiring tourist spot of a city are their french toast, chia parfait, and brunch bowls. The banana bread pudding French toast's buttery golden edges perfectly encapsulate the custardy, soft on the inside.
Then you have the chia parfait, oat milk pudding, berries, and granola made exceptionally great with fresh balsamic berries. The brunch bowls, particularly "holy cow" and "lox to look forward to," are loaded with flavors; we can't get them off our minds!
What to order: Banana Bread Pudding French Toast, Lox to Look Forward To, Chia Parfait, Holy Cow
Address: 333 Banff Ave, Banff, AB, Canada
Website | Instagram | Facebook
10. JK Bakery Cafe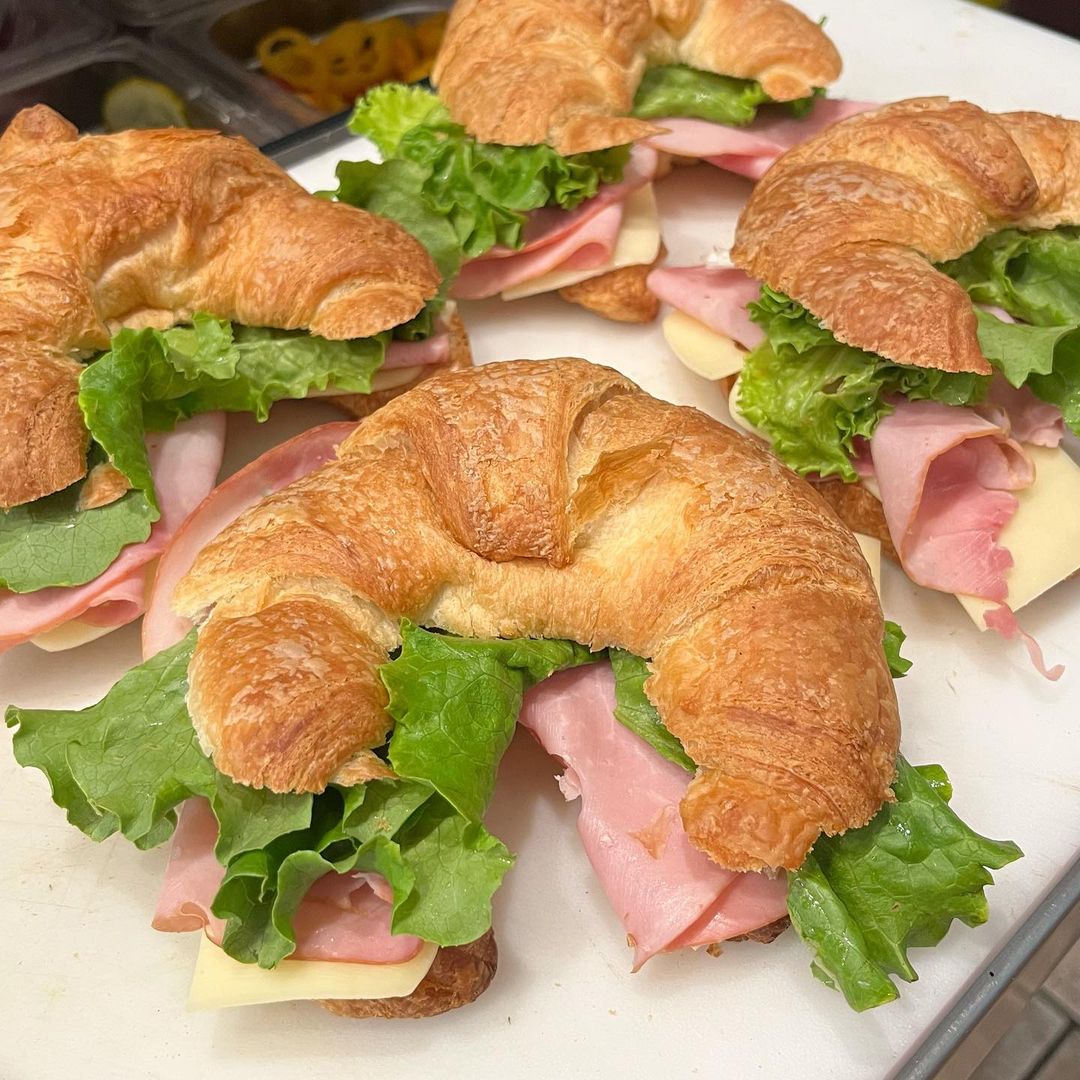 JK Bakery is an old-fashioned coffee shop nestled beside Lux Cinema, famous for their soups and buns. But with their quirky breakfast menu, you'll get the best of both savory and sweet worlds.
Breakfast sandwiches are the stuff of breakfast legend around Banff, and JK Bakery offers one of the most delicious offerings! So, be sure to check out their breakfast bun, which you can indulge with or without bacon.
For lighter options, order their cinnamon buns or assorted danishes—freshly-baked classics with tastes leaving you in awe. JK's hot chocolate is a must-have!
What to order: Breakfast Bun, Cinnamon Buns, Assorted Danishes, Hot Chocolate
Address: 229 Bear St, Banff, AB T1W 1A9, Canada
That wraps up our best Banff breakfast spots! We look forward to seeing you start the day right with any of them soon.
While exploring the beautiful city, you might as well check out our list of the best Banff restaurants to make your trip more memorable.
The following two tabs change content below.
Latest posts by Noms Magazine (see all)