There's nothing better than a good hearty brunch with the fam, friends, or your lover. And if you're looking for a good filling meal in Victoria, BC – well you're in luck because there are many stellar options in the city! With a wide range of flavours, cuisines, and traditions to choose from, the brunch spots in Victoria will make both your stomach and heart full.
So if you are in the downtown neighbourhood looking for a good place to enjoy brunch, we have a lineup of some of the best brunch spots in Victoria that shouldn't be missed.
12. 10 Acres Bistro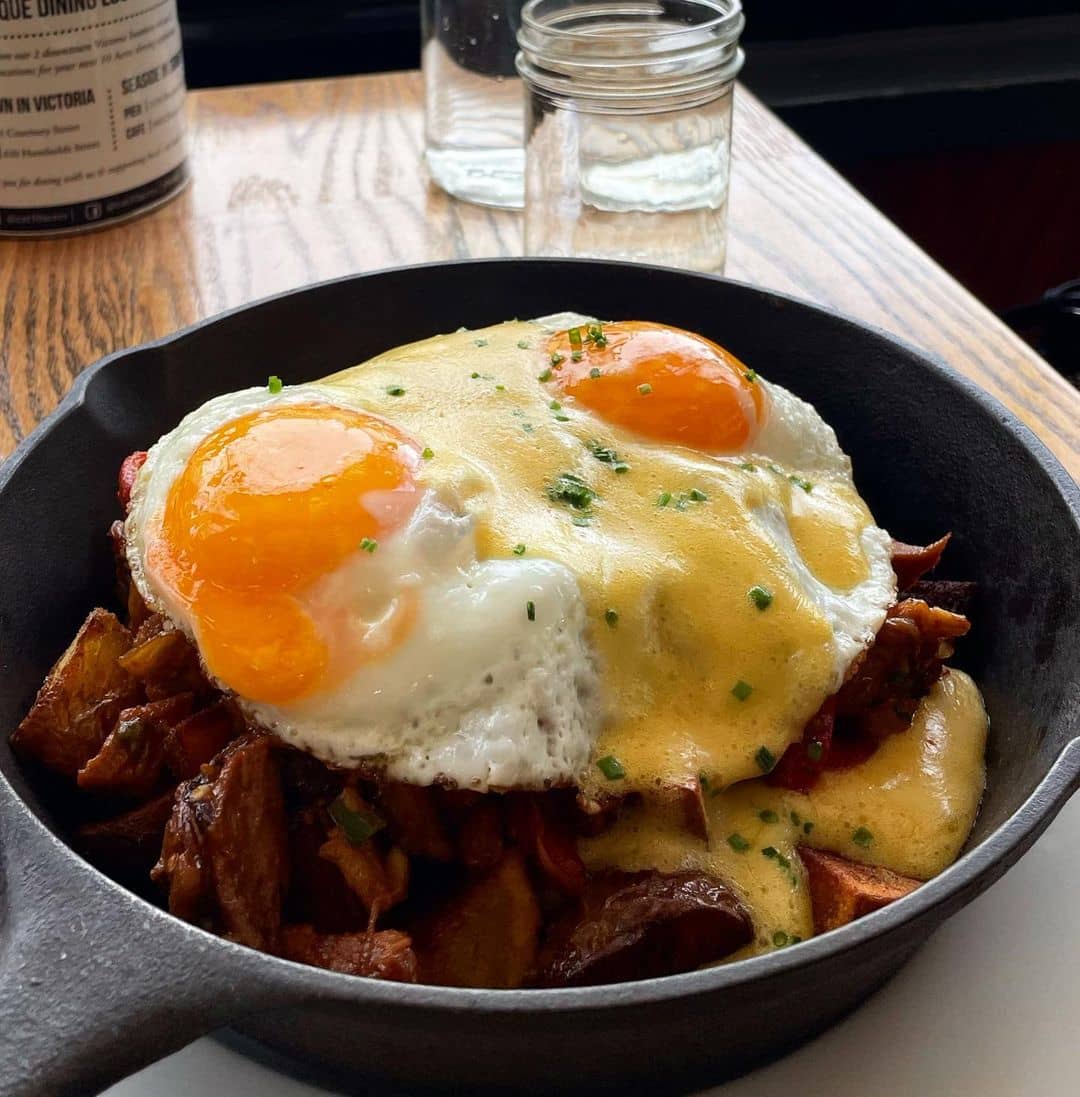 10 Acres Bistro practices a farm-to-table approach and offers local and sustainable dining in downtown Victoria. Their menu takes inspiration from the changing seasons, and most of their ingredients are sourced locally, including their very own 10 Acres Farm.
When you visit the 10 Acres Bistro for brunch, their Skillet should be your first choice. Their smoked bbq rib niblets are what makes the Skillet mouth-wateringly good. The dish comes topped with poached eggs, poblano pepper for some mild heat, onions, black beans, and hollandaise.
For a hearty brunch dish, order the Grilled Cheese Sandwich. The house-made sourdough bread comes packed with mozzarella, gruyere, raclette, and cheddar cheeses, and is served with tomato soup or salad. This is as hearty a meal gets!
What to order: Skillet, Grilled Cheese Sandwich
Address: 611 Courtney Street, Downtown Victoria
Website | Instagram | Facebook
11. Saveur Restaurant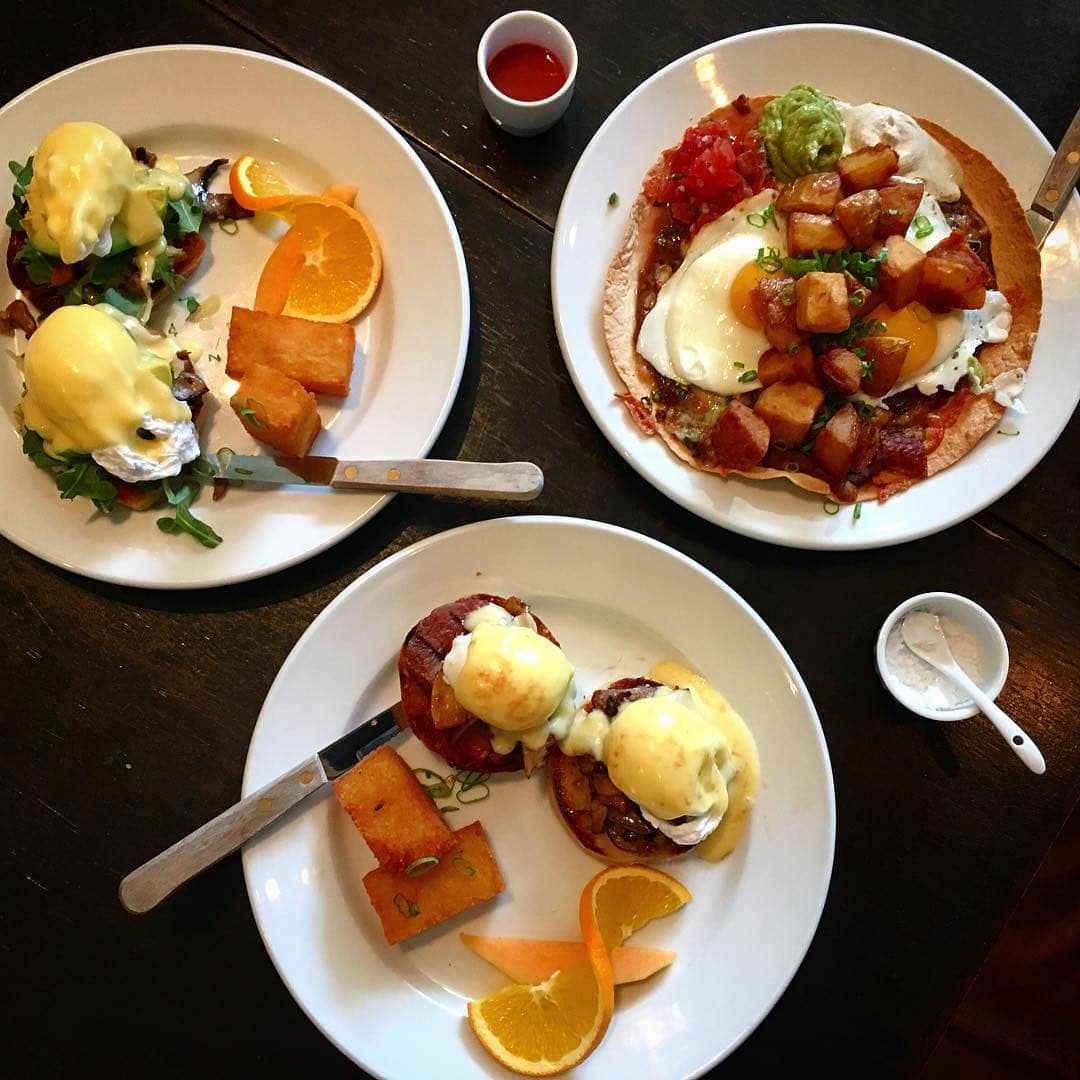 From the award-winning chef, Robert Cassels, Saveur Restaurant brings to you French-inspired contemporary cuisine. Using local ingredients, they offer a playful and delicious brunch menu, focused on giving diners an incredible brunching experience.
The Stillmeadows Farm Crispy Pork Belly was our recommendation on our Best Victoria Restaurants list and we still stick to the same. Complementing the decadent pork belly is a combination of different flavors and textures from the squash veloute, peanut sesame granola, and lemongrass coconut.
The Saveur Burger is an exciting handheld brunch item to try. The patty just melts in the mouth, and the tomato jam, charred garlic scape mayo, and smoked cheddar escalate the humble burger to a different class.
No matter what you order, remember to ask for their Potato Rosti!
What to order: Stillmeadows Farm Crispy Pork Belly, Saveur Burger, Potato Rosti
Address: 658 Herald Street, Victoria, BC V8W 1S7
Website | Instagram | Facebook
10. James Bay Inn Restaurant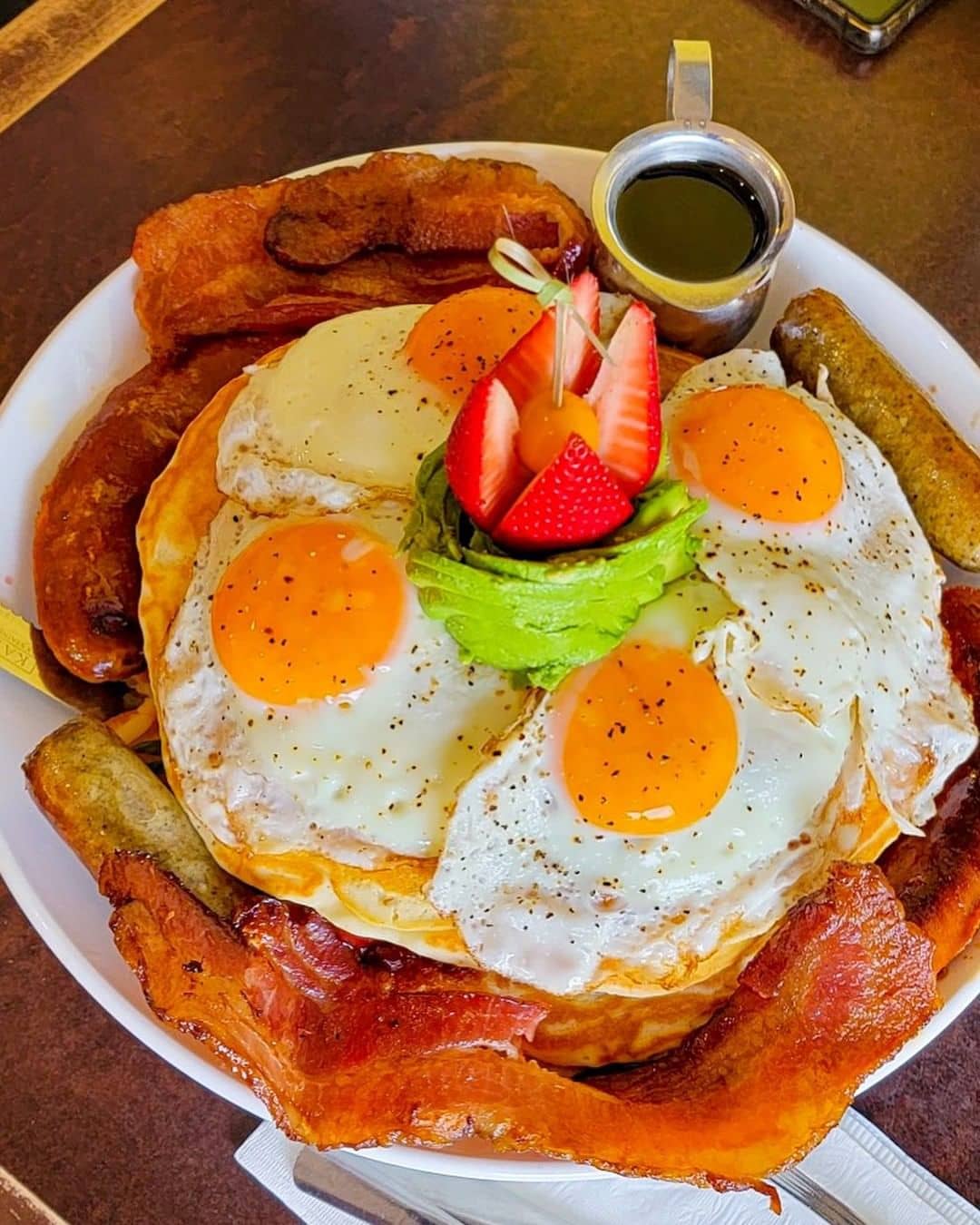 James Bay Inn is a family-friendly restaurant with a bright, colourful, and vibrant interior. The restaurant serves all three meals for the day, and they serve brunch on Saturdays and Sundays. One very welcoming aspect here is that they have a seniors selections menu for the grandparents in the family.
When it comes to brunch, can you go wrong with waffles?! The Belgian Waffle at James Bay Inn Restaurant is to die for. You can choose to have three pieces of bacon, ham, or sausage, and also between blueberry or strawberry compote. It tastes divine!
Their Southern Skillet is also popular among brunchers. Filled with ham, bacon, breakfast sausage, peppers, and onions and baked with cheese, this is a meat-lovers' brunch.
What to order: Belgian Waffle, Southern Skillet
Address: 270, Government Street, Victoria, BC, V8V 2L2
Website | Instagram | Facebook
9. The Village Restaurant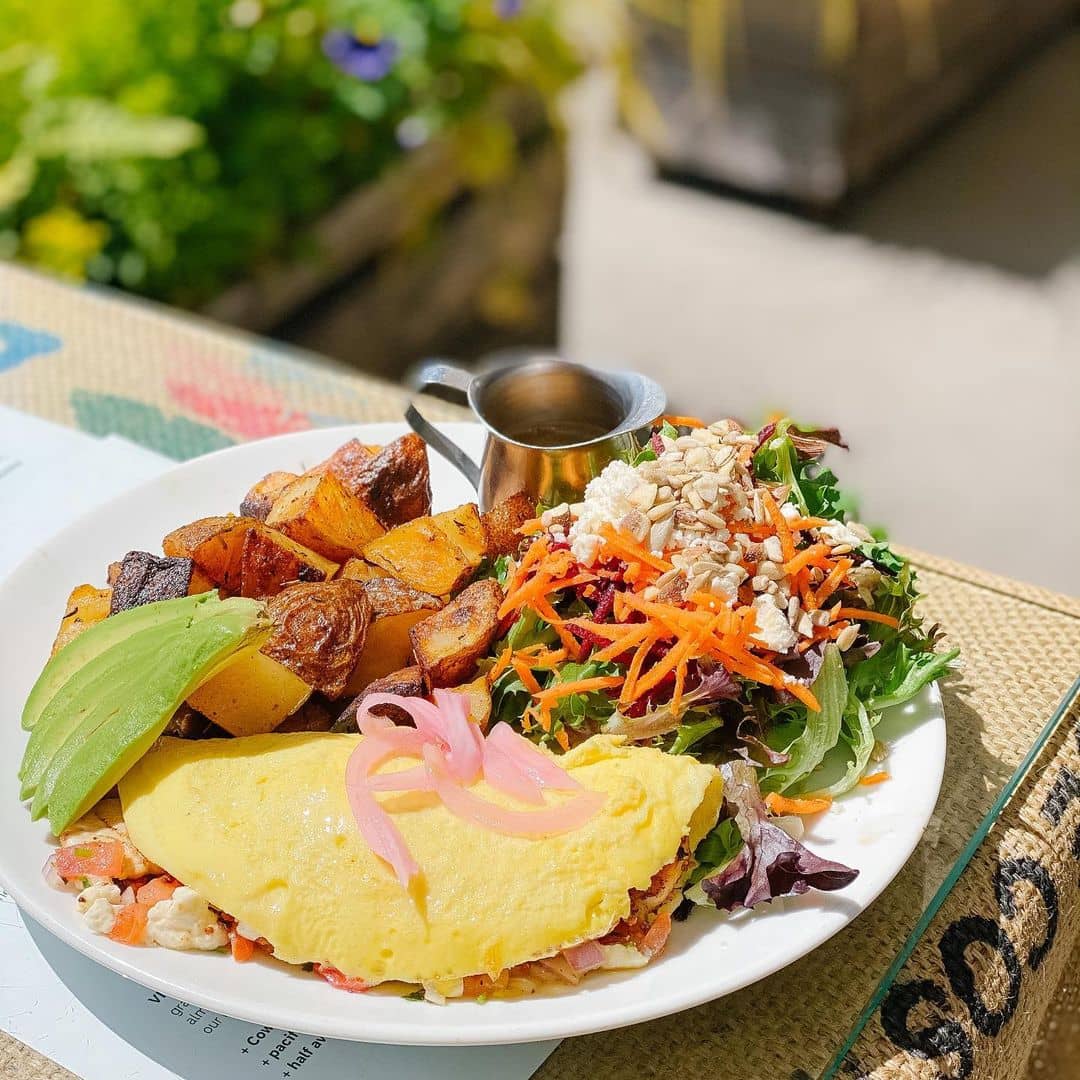 With four locations around Victoria, The Village is a leading all-day breakfast restaurant that offers a blend of traditional Jewish foods and breakfast favourites. In addition, their menu also features West Coast-inspired meals.
When they say Jewish foods, they really mean it! The Challah French Toast, for example, is made with the most famous Jewish bread – challah, and works really well in a French toast. The bread has a hint of cinnamon and vanilla and is grilled to a succulent consistency.
If you are a Benny lover, give their Red Barn Benny a try. Pick your base between gluten-free latkes – traditional Jewish potato fritters (our recommendation), mount royal bagel, or braised greens. Your base will be topped with crispy local bacon, avocado, sun-dried tomato pesto, and their crowd-pleasing hollandaise.
What to order: Challah French Toast, Red Barn Benny
Address:
-Estevan – 2518 Estevan Avenue, Victoria, BC
-Royal Oak – 4517 West Saanich Road, Victoria, BC
-Torquay – 4087 Shelbourne Street, Victoria, BC
-Chinatown – 1609 Store Street, Victoria, BC
Website | Instagram | Facebook
8. Shine Cafe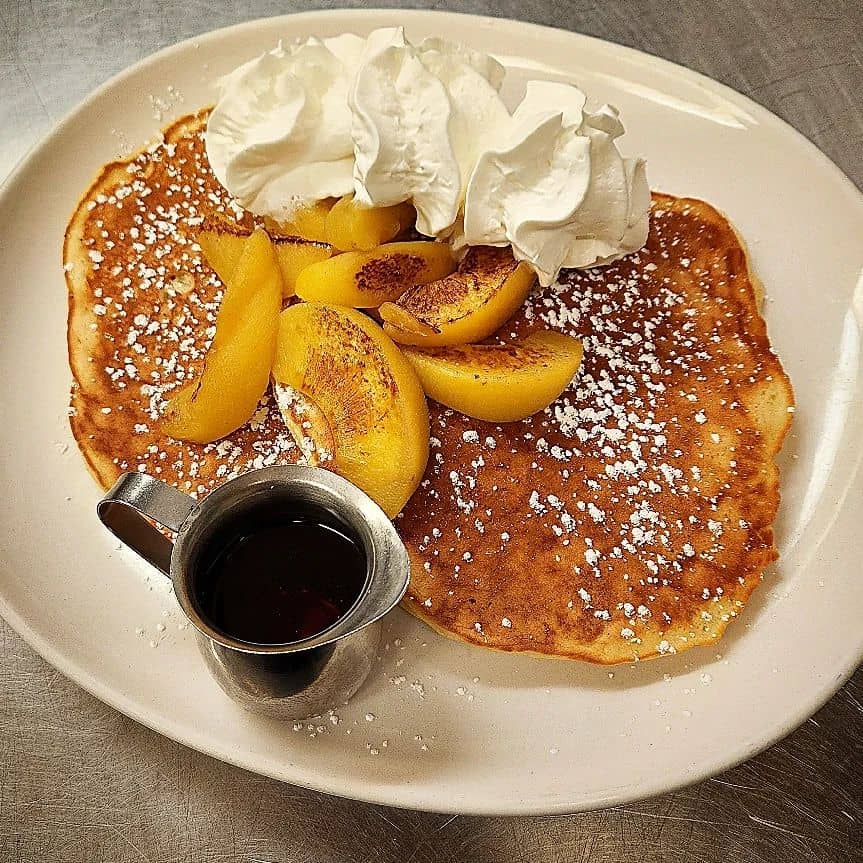 Shine Cafe is a family-owned and operated establishment serving all-day breakfast for 17 years now. While the inside has a friendly and comfortable atmosphere, the huge patio happens to be the preference for many diners. Fresh and delicious food is their forte, and they offer more than 10 sides for people to customize their meals.
To start with something sweet, order their Peachy Keen Pancakes. You get two of their famous fluffy pancakes topped with cardamom poached peaches and whipped cream. The cardamom flavor in the peaches is very subtle and not overwhelming, and this allows you to enjoy all the other tastes on your plate.
Another yummy new addition to the menu is the Polish Benny. House-made perogies are topped with bacon and caramelized onions, with a generous addition of roasted garlic hollandaise on top. The perogies are soft and carry a simple flavour, and it is the roasted garlic hollandaise that steals the show.
What to order: Peachy Keen Pancakes, Polish Benny, Coffee
Address:
-Downtown – 1324 Blanshard Street, Victorica, BC V8W 2J1
-Stadacona – 1548 Fort Street, Victoria, BC V8S 5J2
Website | Instagram | Facebook
7. Bear & Joey Cafe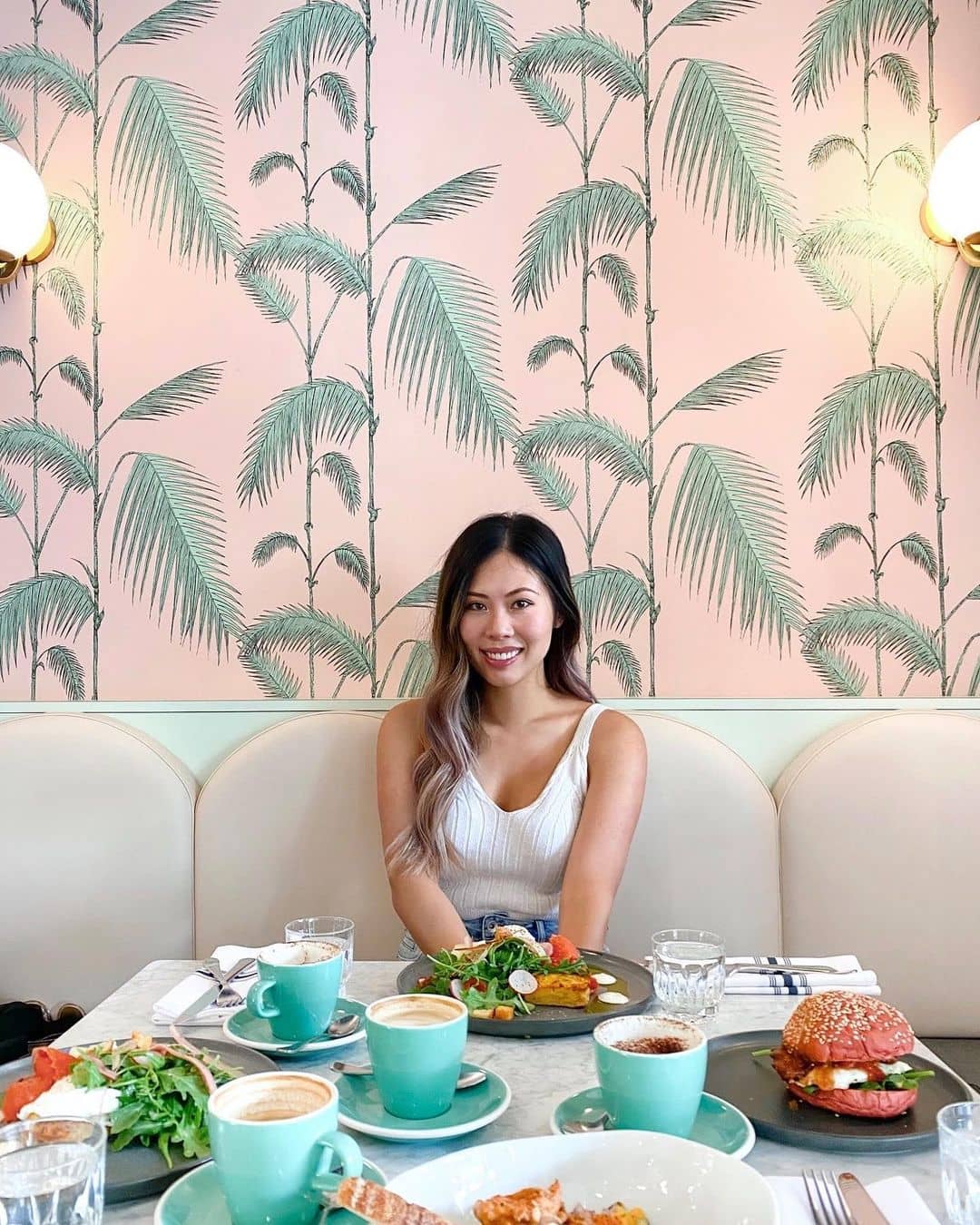 Known as the "neighbourhood meeting hub", Bear & Joey Cafe is the owners' interpretation of Sydney's cafe culture, brought to life in Victoria, BC. The space itself is spacious and vibrant and ensures a bright start to your day. In addition to satisfying people's caffeine cravings, they also serve some interesting dishes featuring fresh, local ingredients.
The Breakfast Sandwich at Bear & Joey Cafe is a simple yet fulfilling brunch dish you can try. Nestled inside a beetroot brioche bun ate thick slices of bacon, fried egg, tomato onion jam, and paprika aioli. The flavors blend well together and just make sense.
Oh, before you devour the sandwich, remember to click some pictures, because this is one Instagram-worthy-looking dish.
You should also try their Buttermilk Scones. Light, fluffy, and delicious scones are served with chantilly cream and house jam. A quick dessert option post brunch!
For your drink, the Rooibos Vanilla Latte will be an amazing post-brunch takeaway drink. This tea latte has a strong yet satisfying red tea flavor, is smooth, and sweet to taste.
What to order: Breakfast Sandwich, Buttermilk Scones, Rooibos Vanilla Latte
Address: 1025 Cook Street, Victoria, BC V8V 3Z9
Website | Instagram | Facebook
6. Floyd's Diner James Bay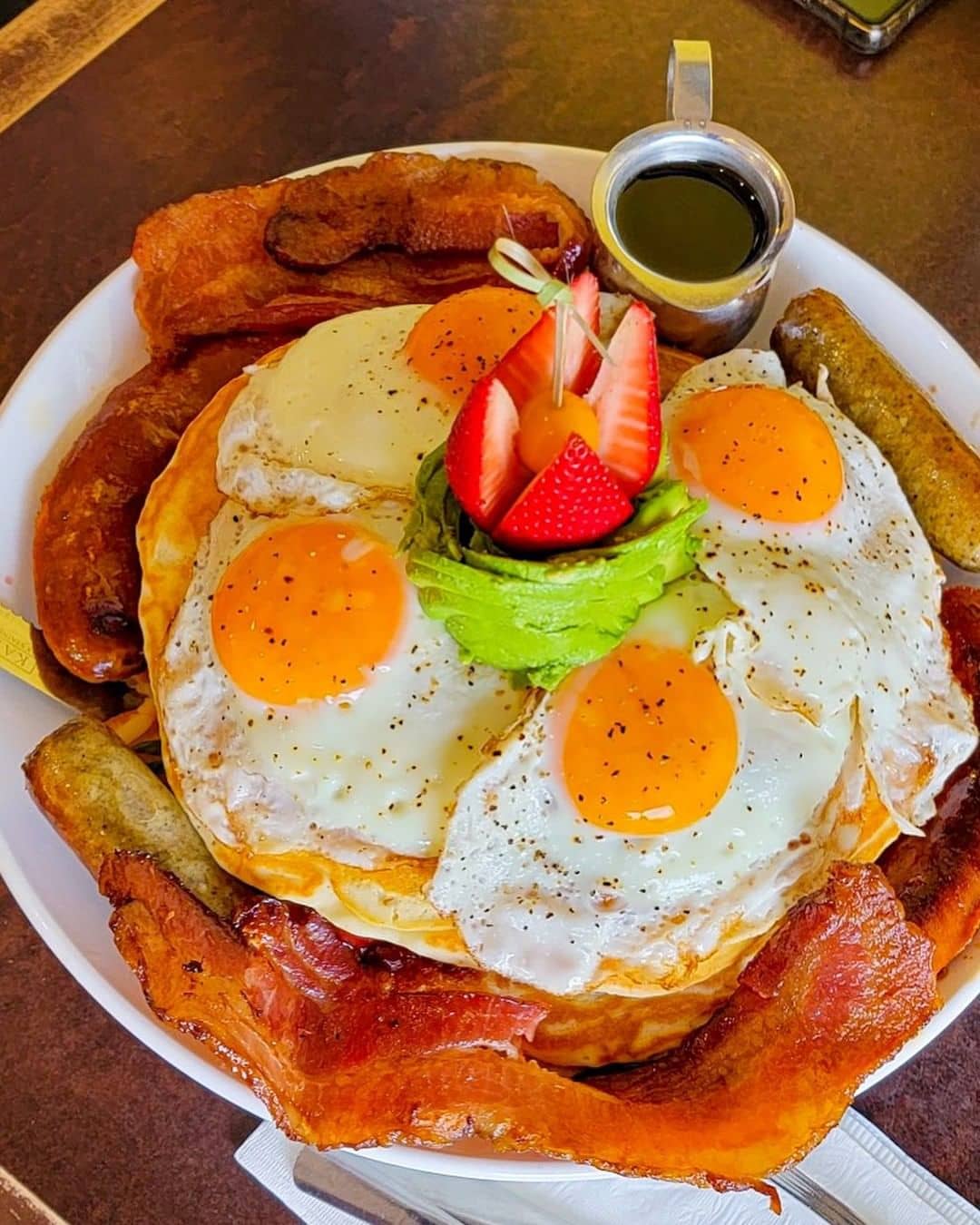 Floyd's Diner has been a Victoria, BC landmark since 2004. The diner has a family-friendly, casual, and fun atmosphere, and you will catch its peppy vibe as soon as you notice the pink exterior. They serve some amazing classics as well as a few interesting meal combinations.
If you are a fan of both eggs benny and fish & chips, Floyd's has a treat for you – Fish & Chips Benny! The beer battered fish come light and crispy, with flaky fish on the inside; the poached eggs come perfectly done. You can choose between their signature potatoes or fries, and everything on the plate is brought together by the homemade hollandaise.
If your appetite on the day you visit Floyd's Diner James Bay is big enough to wipe out a full plate of yumminess, you should order the Lumberjack. You get 2 of everything on your plate – pancakes, eggs, sausage, bacon, and a side of Floyd's potatoes. After you finish this one, you'll either have to go take a nap or do some heavy-lifting!
Like taking risks? How about giving the chef the liberty to create anything he desires for your brunch at Floyd's? The Mahoney is their new offering curated for food rebels out there. All you need to do is order The Mahoney and mention breakfast, and you will have something unique on your plate.
What to order: Fish & Chips Benny, Lumberjack, The Mahoney, Chocolate Milkshake
Address: 332 Menzies Street, Victoria, BC V8V 2G9
Website | Instagram | Facebook
5. Nourish Kitchen & Cafe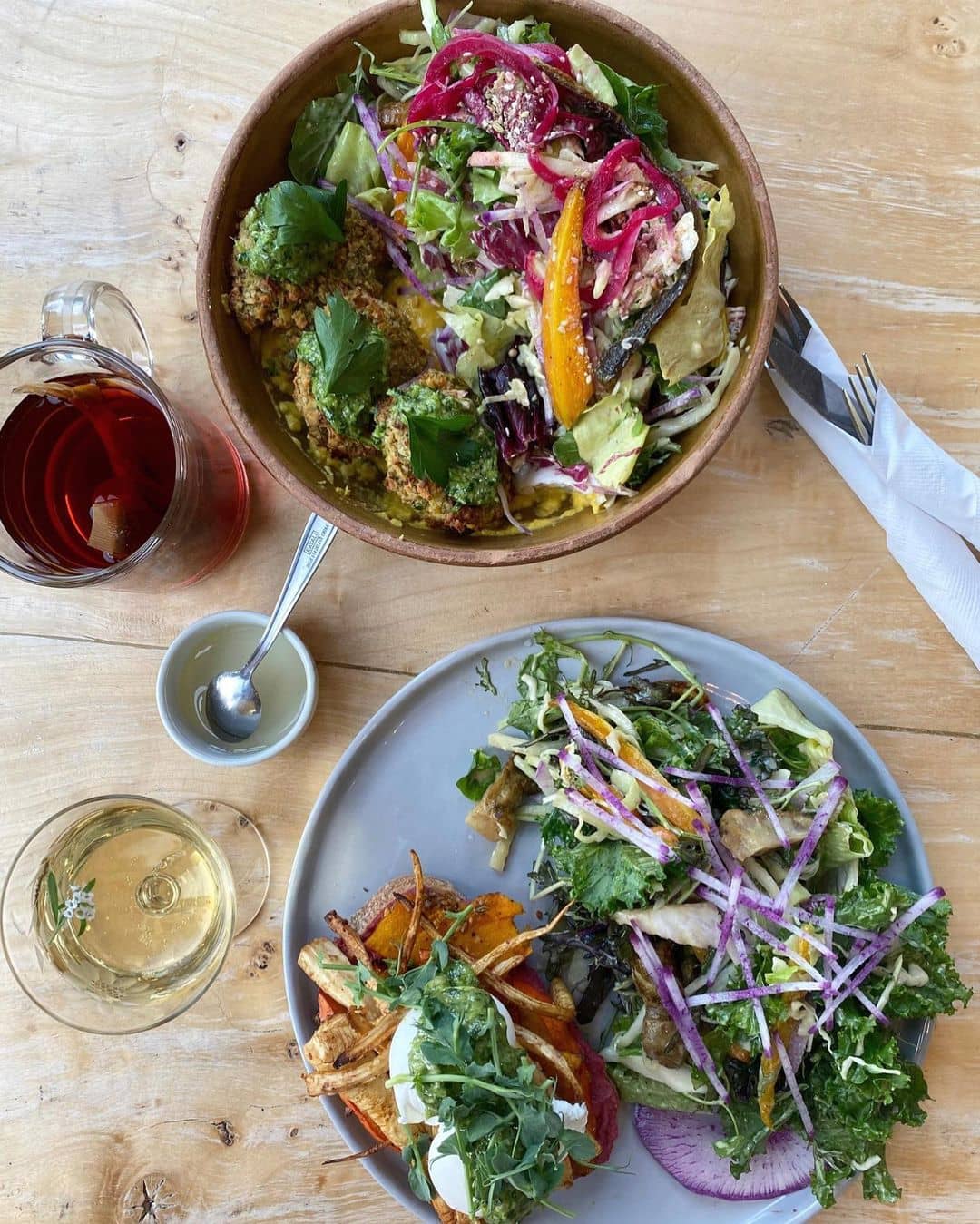 Functioning in an 1888 heritage house turned community hub, Nourish Kitchen & Cafe has a menu inspired by nature and features thoughtfully sourced whole foods, quality meat, and some amazing vegan options as well. Their recipes are known to have a health-giving twist, and your brunching experience here is sure to be memorable.
Nourish Kitchen's Sleeping Beauty Pancakes are in a league of their own. These are basically spiced oatmeal pancakes, which are one of their kind, served with apple ginger compote, house whipped cream, some crunchy sprinkles, and real maple syrup.
The pancakes have more of a banana bread texture, with just the right amount of sweetness, and are perfectly balanced by the apple ginger compote. We highly recommend that you add HAUS sausage to the dish; it comes with a little bit of spice kick, a hint of curry flavour, and is completely juicy.
While you can get a vegan version in most of their menu items, one of the popular ones is the Vegan Golden Benny. You can swap to tempeh for a vegan plate, and you also get farm fresh roasted winter veggies and greens. Let's just say that the highlight is definitely the turmeric cashew hollandaise – it is so good that you will lick it off your plate!
What to order: Sleeping Beauty Pancakes, HAUS Feature Sausage, Vegan Golden Benny
Address: 225 Quebec Street, Victoria, BC, V8V 1W2
Website | Instagram | Facebook
4. Jam Cafe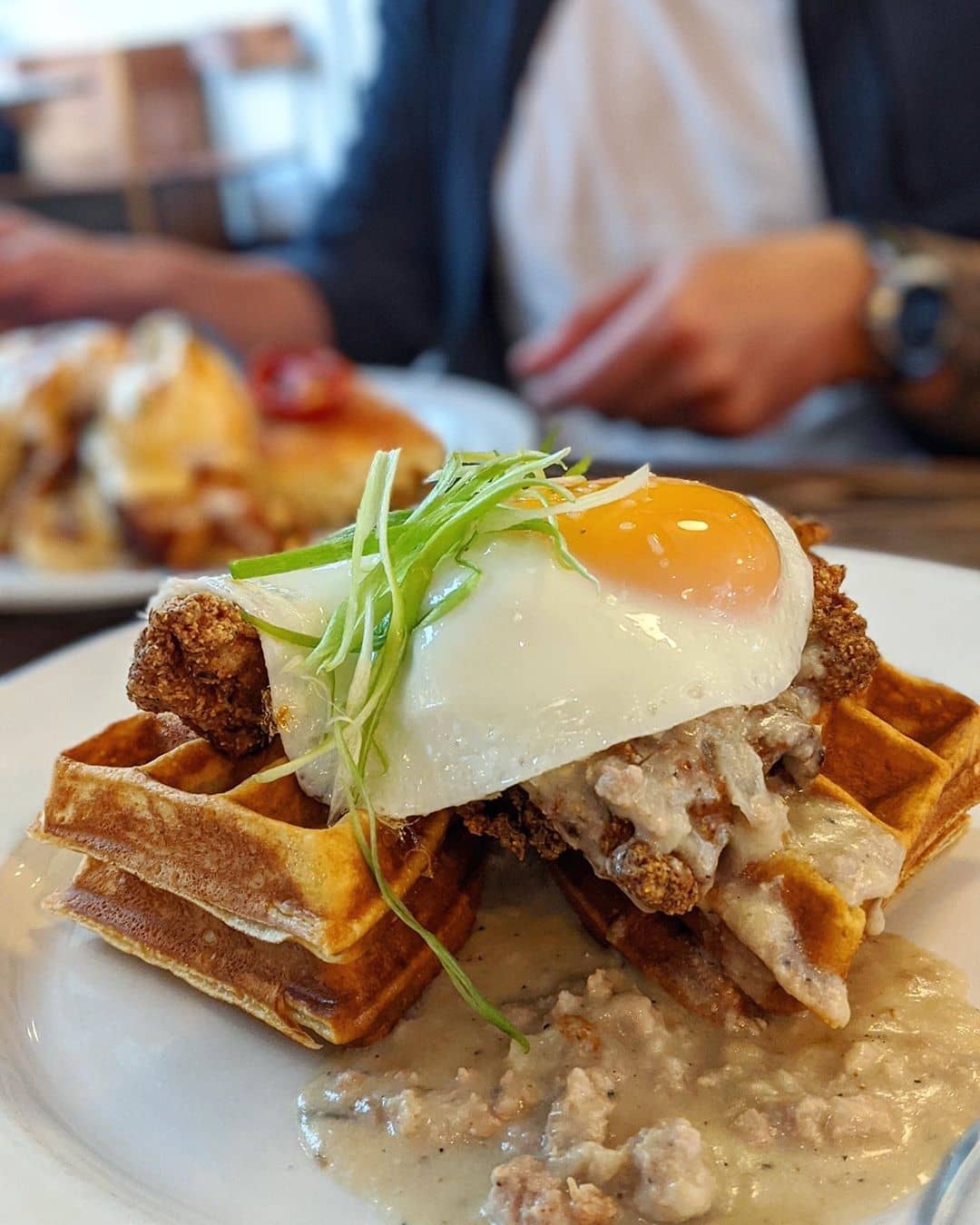 Jam Cafe is an all-day breakfast and lunch cafe with locations in Victoria and Vancouver; their Vancouver restaurant has made it to our Best Brunch Restaurants in Vancouver list. This is a family-run cafe that serves everyday comfort food in a rustic-city atmosphere. One of the highlights of their menu is that it features multiple family style recipes that have been passed down over generations.
Breakfast or brunch bowls at the Jam Cafe are unique offerings with an amazing blend of textures and flavors.
If that excites you, try their Charlie Bowl, which contains crumbled buttermilk biscuit, hash brown, roasted tomatoes, mushroom, and more meaty goodness. While everything in the bowl works amazingly well together in terms of flavor, the pork sausage gravy takes the flavor to the next level.
If you are looking for something unique and light, try the Green Eggs and Ham. You get pesto and spinach scrambled eggs served with ham on the cafe's famous buttermilk biscuit. The biscuit, as usual, is fresh, soft, and warm, and the green eggs taste completely unique and absolutely delicious.
What to order: The Charlie Bowl, Green Eggs and Ham, The Cracker Jack, Chicken French Toast
Address: 542 Herald Street, Victoria, BC V8W 1S6
Website | Instagram | Facebook
3. Blue Fox Cafe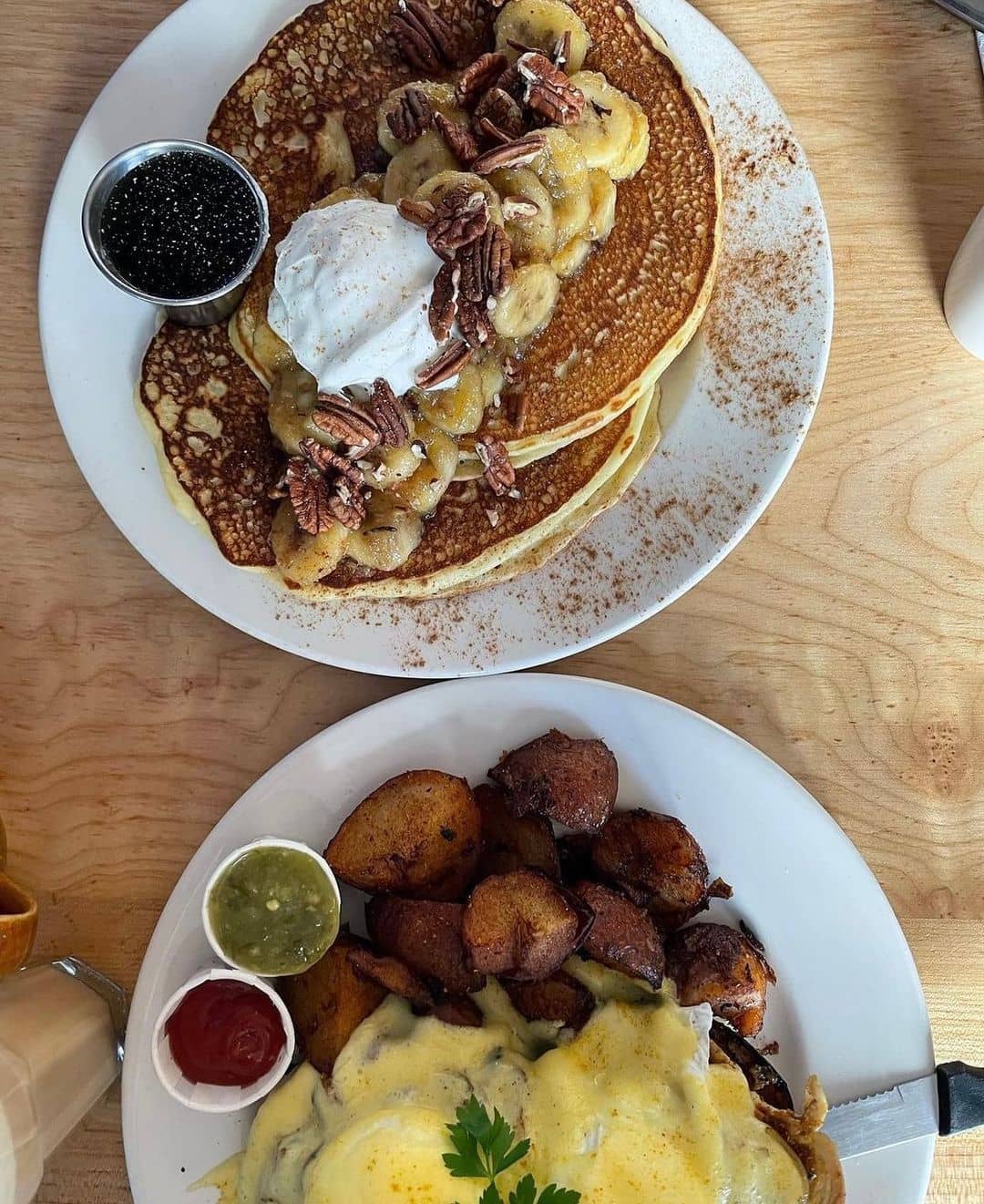 Opened in 1991, Blue Fox Cafe was the first and foremost all-day breakfast place in Victoria, BC. This is a funky little cafe serving fresh, homemade-style breakfast/brunch food, which can be enjoyed with great music.
They have a variety of flavors in pancakes and French toast, and one flavor that we know you will love is the Oranges Del Sol. You get nicely coated French toast topped with subtly flavored vanilla bean cream, fresh navel oranges to cut the sweetness, roasted nuts for crunch, and triple sec syrup.
Their Classic Eggs Benny is described as "the best anywhere, hands down" by many diners. With the Classic, you get locally smoked ham served atop a toasted Mount Royal bagel, two soft-poached eggs, house-made hollandaise sauce, and pan fries.
When you visit the Blue Fox Cafe, you cannot miss their Organic Coffee. Choose a creation of your liking, or go with the classic espresso, your morning will be made bright!
What to order: Oranges Del Sol French Toast, Classic Eggs Benny, Coffee
Address: 101 – 919 Fort Street, Victoria, BC, V8V 3K3
Website | Instagram | Facebook
2. Fuego Old Town Eatery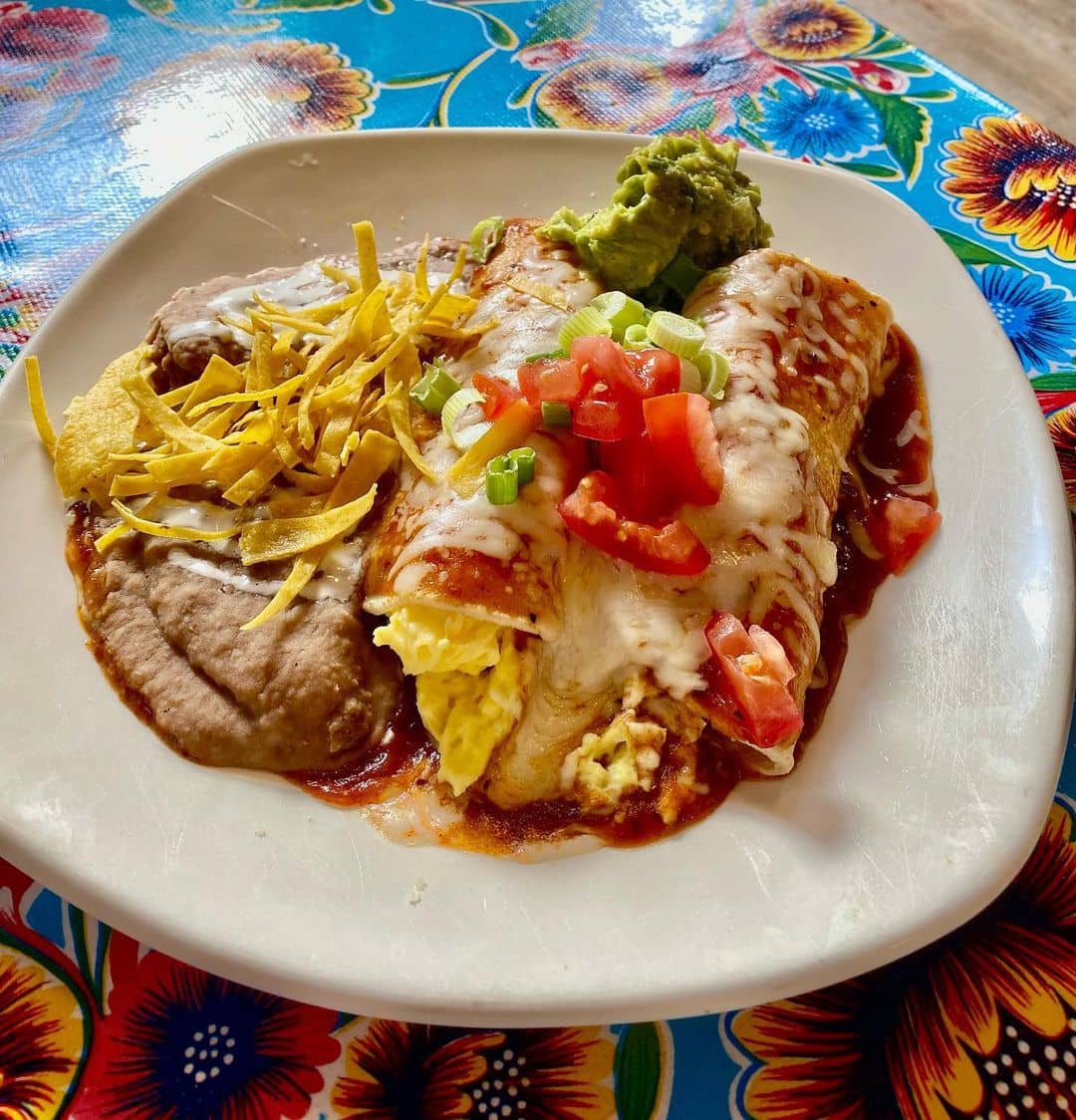 Already featured on our Best Victoria Restaurants list, when you notice that an eatery gets a place in more than one of our recommendations list, you ought to know that it serves some unimaginably delicious meals.
Fuego Old Town Eatery is one place where you can relax and enjoy some mouthwatering all-day breakfast/brunch offerings. With a friendly, home-like environment, and seats with pleasant views, this Victoria brunch spot will keep you coming back.
Just like the spectacular El Porco Benny that we recommended on the other list, another noteworthy dish that you should try here is the Fuego Pancakes. As we always say, when a dish is named after its restaurant, it has got to be "to die for" and this one is!
This fun brunch option comes with two fluffy buttermilk pancakes topped with pulled pork, caramelized apples, pickled red onions, and blueberry coulis – there could be no better sweet and savory combination for breakfast/brunch!
Oh, and you shouldn't miss their Cornbread French Toast. A twist to a classic breakfast, this particular brunch item is rare to find. While the French toast with butter and syrup is slightly sweet, you get a few punches of spice in the middle from the jalapenos in the cornbread, and the taste is unique, to say the least.
What to order: El Porco Benny, Fuego Pancakes, Cornbread French Toast
Address: 1435 Store Street, Victoria, BC, Canada V8V 3C6
Website | Instagram | Facebook
1. Spoons Diner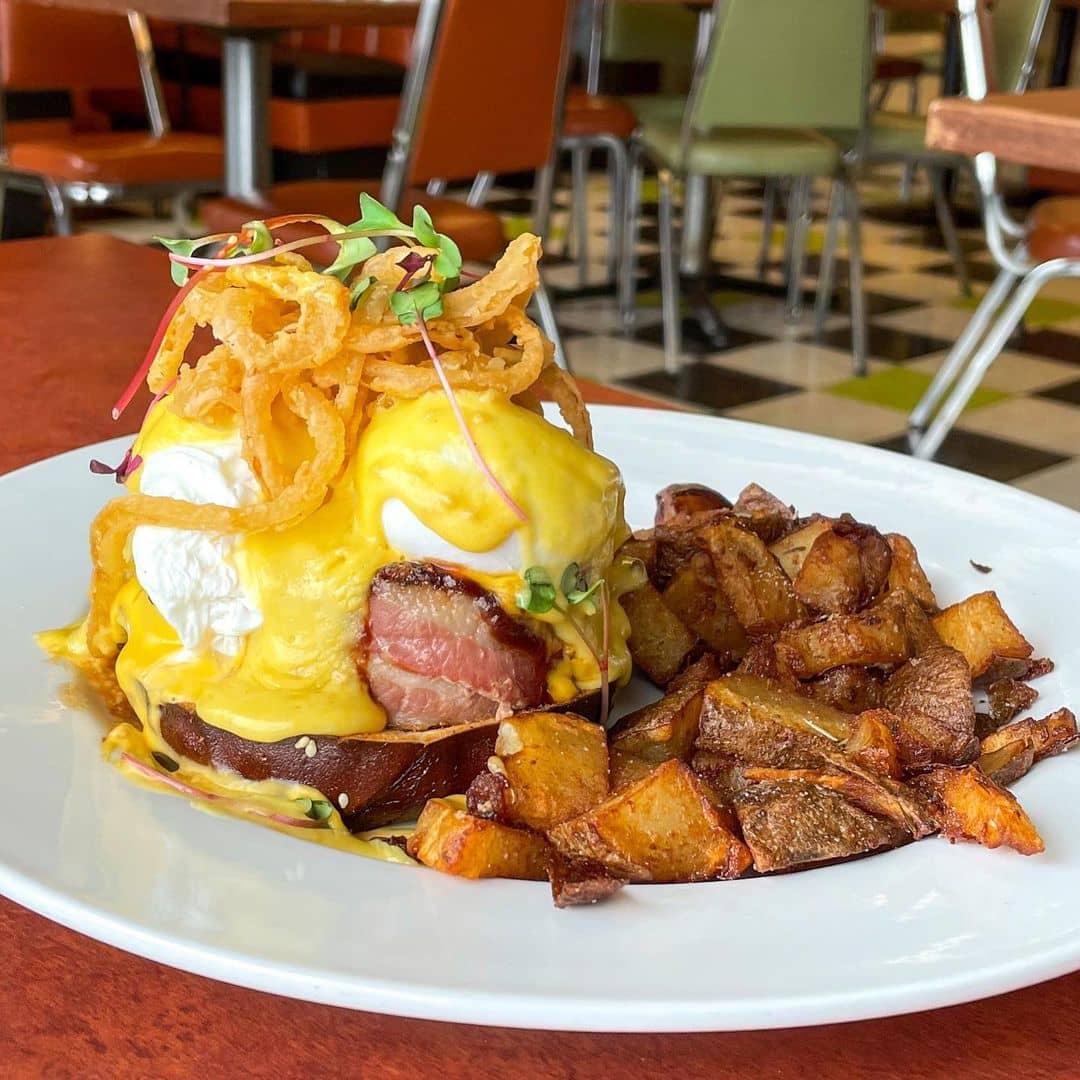 With vintage interior and pop-culture decor, Spoons Diner is a quirky neighbourhood diner where you can expect to find some of the best breakfast and brunch dishes in the city. Here, you will get homemade comfort food with a modern twist, indulgence in every bite, and huge portions that could bust your gut!
Just like you would expect from a marvelous diner, Spoons serves some of the best bennies in town. The variety of options they have just in their bennies menu will leave you spoilt for choice.
Of course, you can always go with the classic eggs benedict – The Oh-So-Original – with classic ham and traditional hollandaise. But, if you're feeling a bit adventurous, try The Bangkok Benny.
Your English muffins and medium poached eggs come packed with curried chicken, bell peppers, peanut butter, and candied almonds. As strange as it may sound, all the elements actually go well together, and the addition of sriracha is surprisingly delicious as well.
Spoons Diner sure knows how to keep their crowd coming back! There is an option on the menu called The Prusa; by choosing this item, you are leaving it up to the chef to surprise you by making anything they desire. All you can specify is if you are a vegetarian, and whether you prefer sweet or savory, that's it!
This option not only keeps diners excited, but the delivery is spot on every single time. Not just that, you can also flip a coin at the end of your meal to decide if you will be paying double or nothing at all.
What to order: The Oh-So-Original, The Bangkok Benny, The Prusa
Address: 2915 Douglas Street, Victoria, BC, CA V8T 4M8
Website | Instagram | Facebook
Victoria has a diverse array of cuisines on offer, and with so many amazing brunch spots to choose from, your cravings will always be sorted. Head on to our Best Restaurants in Victoria list to shortlist a few places for your next "food-venture".
The following two tabs change content below.
Latest posts by Noms Magazine (see all)