Who isn't up for a nice cup of bubble tea these days?
Bubble tea places mushroom around Vancouver today and the odds are whether you live near one of them, you are already a devoted boba fan. In case you are not, wait until you get to the end of this article.
We've selected the top 10 places around Vancouver where you can try out a delicious cup of bubble tea.
1. Baroness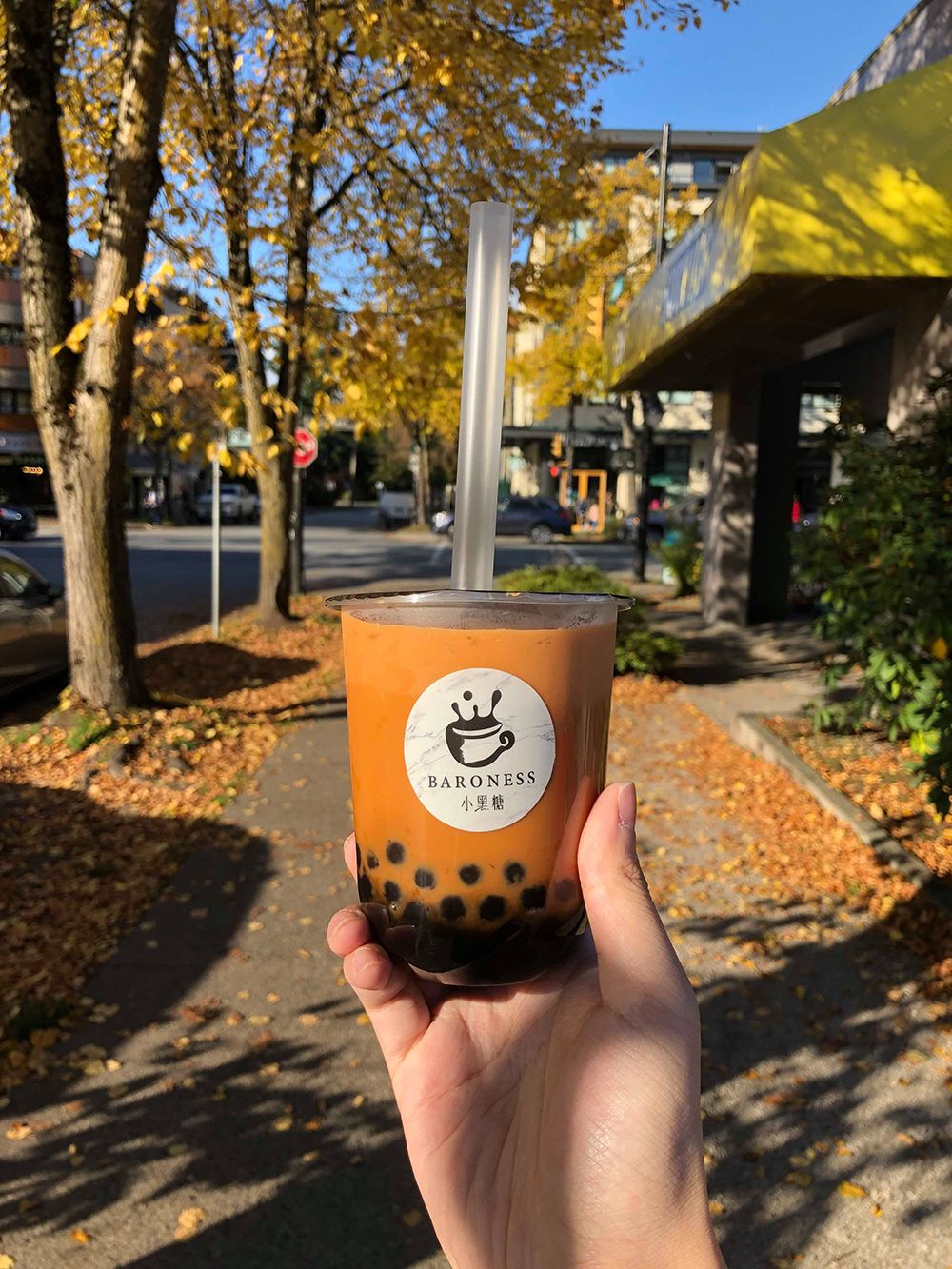 Baroness is the bubble tea hot spot in town, a brand originating from Taipei. Their Vancouver boutique, replacing the old InTea location at Broadway, has been the first one to open so far from home.
Most of their ingredients are supplied straight from Taiwan and they are particularly hailed for their brown sugar bubble tea recipes; the taste of brown sugar pearls being boosted by brown sugar syrup.
If you are into nice and squishy pearls, you'll certainly like it here. And are we say it…they have the BEST pearls in the city.
For us, this place became an immediate favourite amongst all new BBT chains that are popping up these days.
We recommend going for the Baroness Thai Style Brown Sugar w/oat milk and their signature Brown Sugar Milk Tea w/oat milk – both are incredible and you won't be disappointed.
For both – our sweet spot is 30% ice & 30% sugar.
What to order: Thai Style Brown Sugar w/oat milk, Brown Sugar Milk Tea w/oat milk, Uji-Matcha Latte
Address:
– 2780 W Broadway, Vancouver, BC V6K 3Z2
Order Online: DoorDash | Uber Eats
Instagram | Website | Facebook
2. Boba Run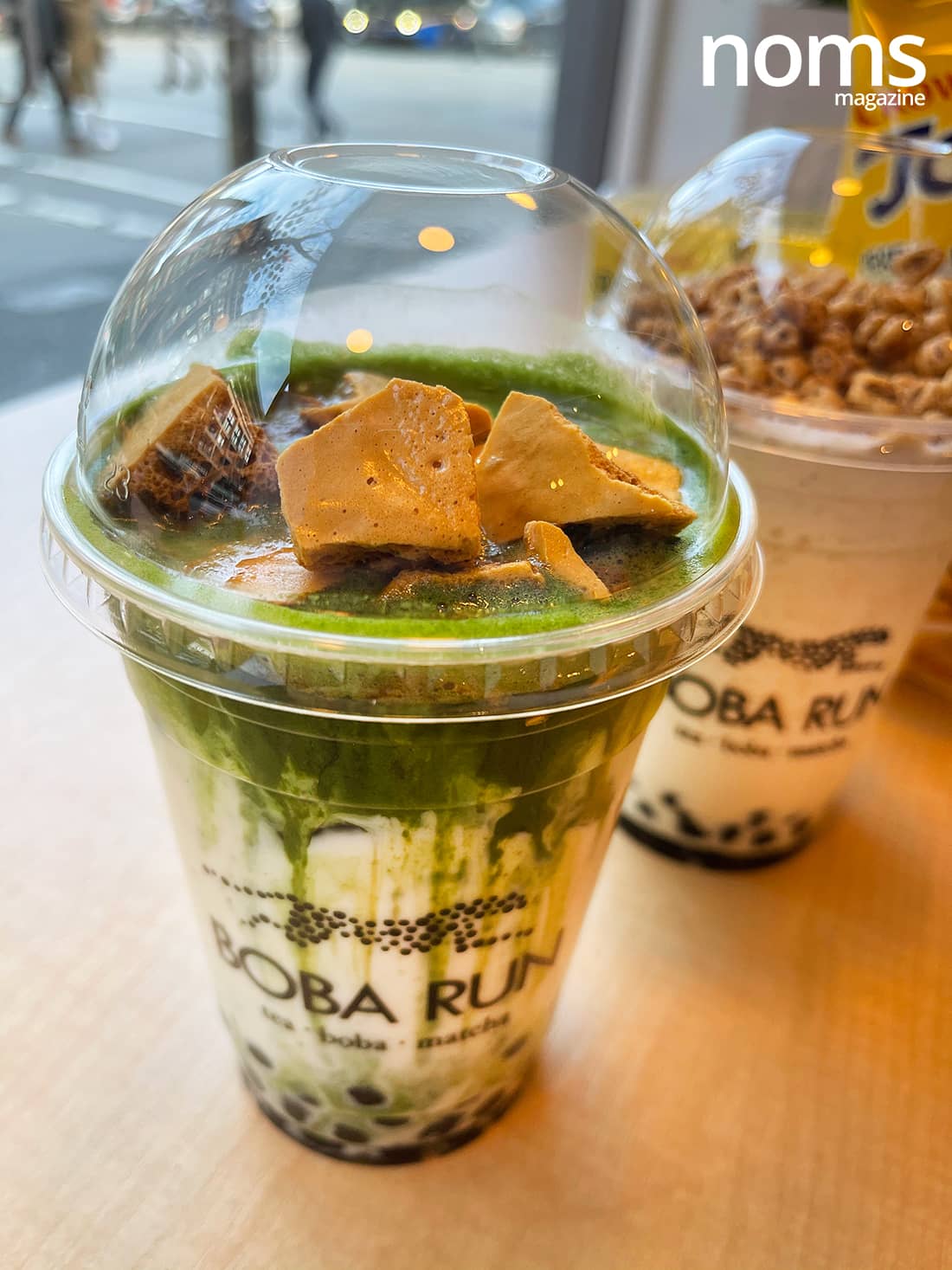 Making Korean-inspired bubble tea, you will love Boba Run for its flavours that you won't find at your other standard BBT spots. Think banana milk…dalgona…and jolly pong (a Korean breakfast cereal)!
The best seller is Honeycomb Dalgona Latte, which you should never miss out on!
Bringing up such a smooth, milky flavor, topped with honeycomb toffee crumbs that instantly melt right in your mouth, Honeycomb Dalgona Latte is undoubtedly your next all-time favourite choice!
If you want something as creamy and nutty as Honeycomb but with a stronger tea flavor, try Korean Oat 'N Barley Latte. Or you can go for aesthetic Strawberry Matcha Latte – which uses the high quality matcha from Whisk Matcha.
What to order: Honeycomb Dalgona Latte, Korean Oat 'N Barley Latte, Black Sugar Matcha Latte, Strawberry Matcha Latte
Address: 102 W Hastings St, Vancouver, BC V6B 1G8
Website | Instagram | Facebook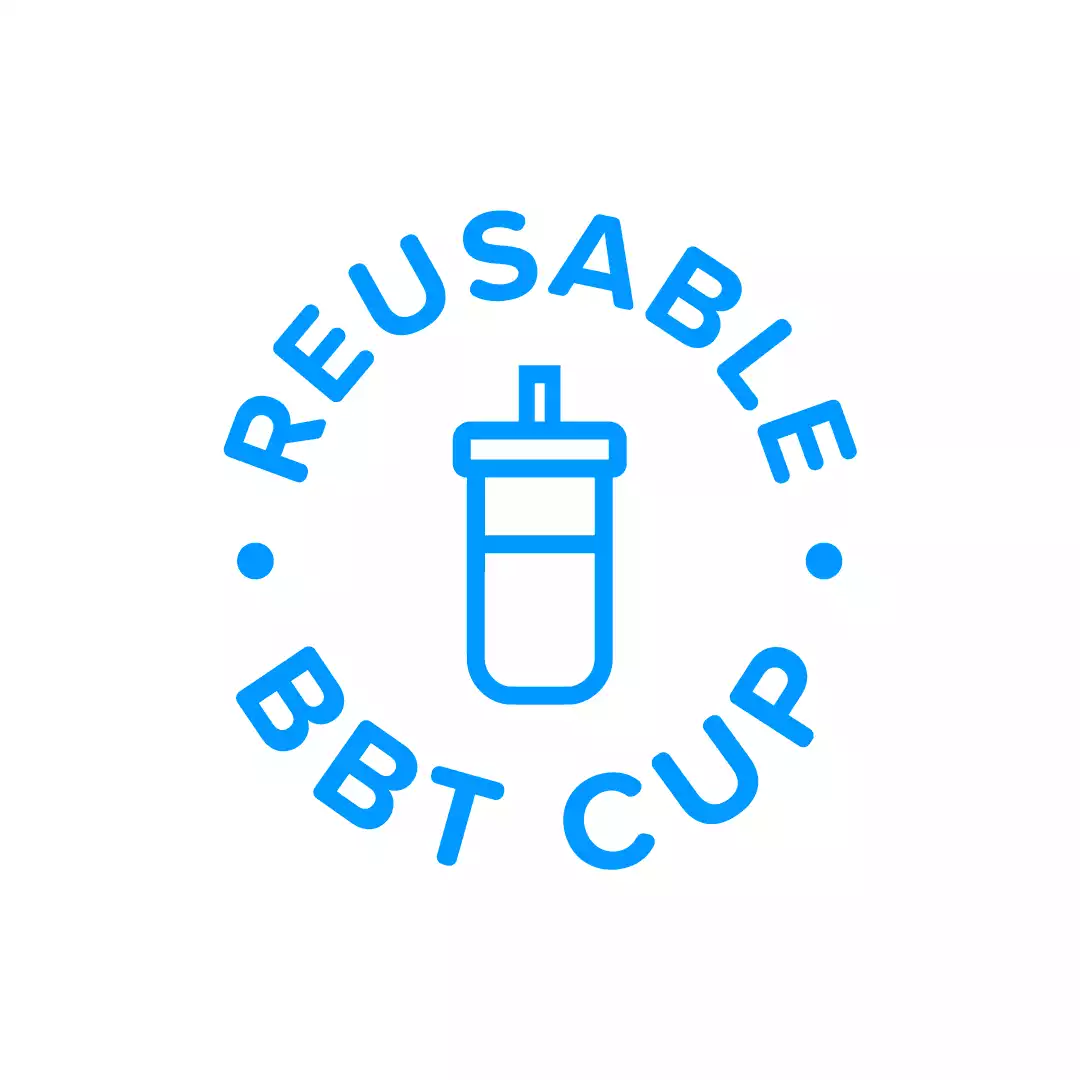 3. OneZo Tapioca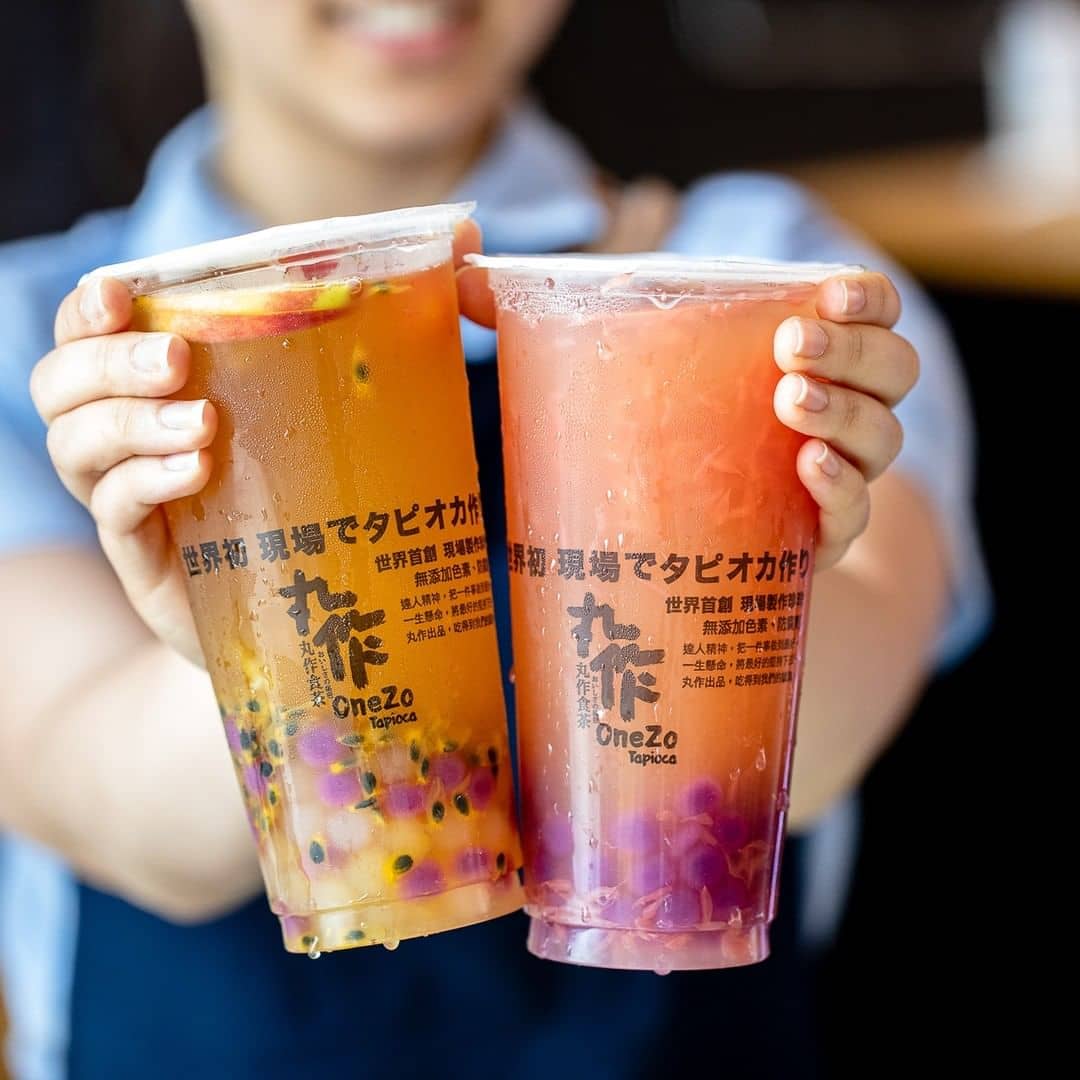 Tapioca is luscious at all times of the year at OneZo Tapioca. This international brand, present in Vancouver, and which was established only in 2015, went on to be the world's first to start producing fresh pearls at their own premises.
OneZo revolutionized tapioca production, continuously testing and devising new flavours, and for the matter of fact, no one does tapioca as perfect as that.
You'll be surprised by how creative they can get. Some of their distinctive flavours include the onez tapioca, cactus, purple, crystal, coconut, black sesame and mango. You can always add your prefered amount of ice and sugar.
They also have a delicious brown series or as they call it–the brown dirty milk. Don't miss their Jasmine Latte or the OneZo Grapefruit Green Tea either. It's just all so YUMMY!
What to order: onez tapioca, cactus, purple, crystal, coconut, black sesame, mango, Jasmine Latte, OneZo Grapefruit Green Tea
Address:
– 4929 Kingsway, Burnaby, BC V5H 2E5
-608 W Broadway, Vancouver, BC V5Z 1G2
4. Peanuts Bubble Tea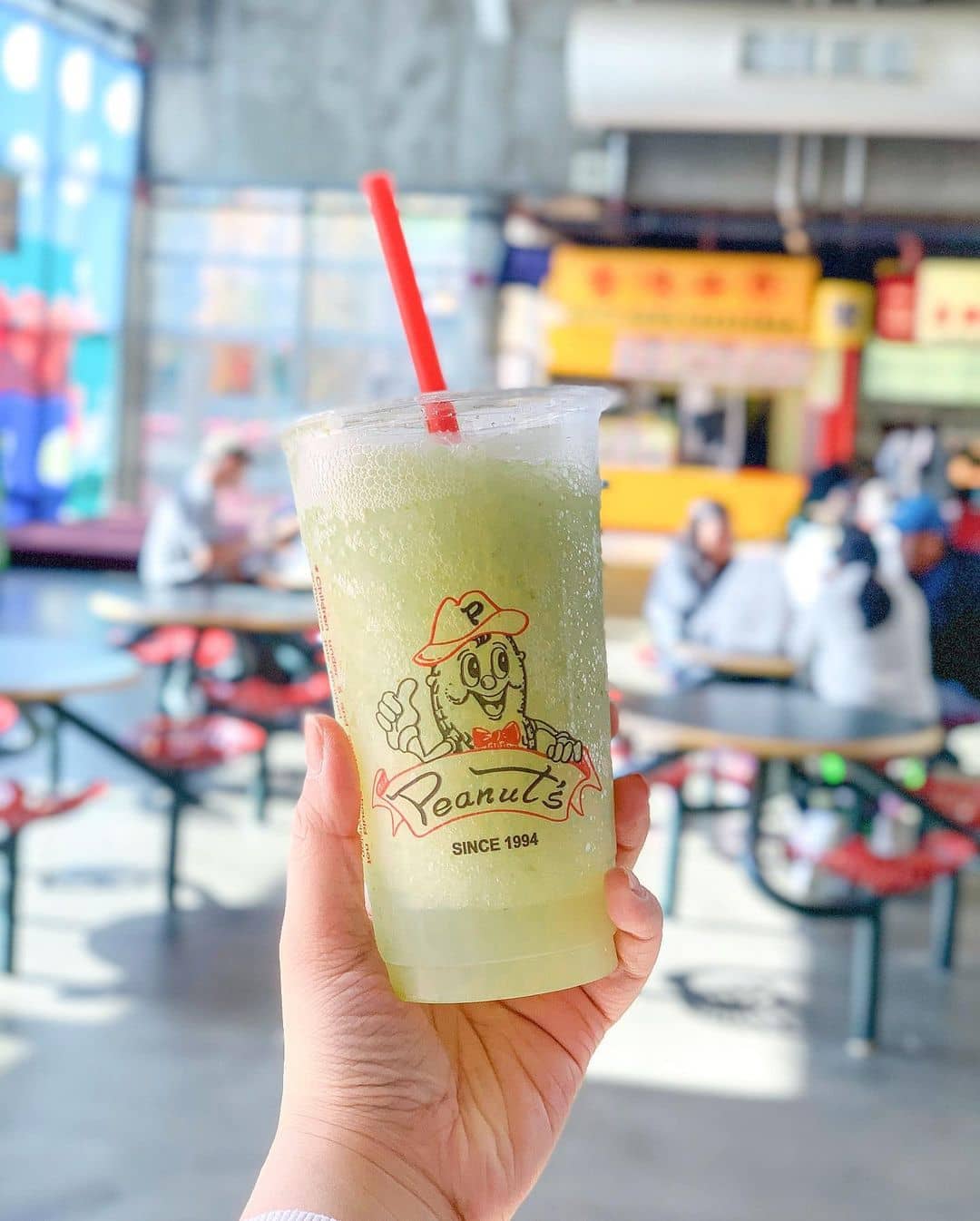 Despite the surge of bubble tea chains downtown Vancouver, Peanuts not only has endured but remains iconic to this date.
Similarly to Dragon Ball, many people may end up feeling nostalgic once at Peanuts, in particular if you came to Richmond Public Market as a kid to get a drink, eat at the food court, get groceries downstairs with parents, and play in the arcade (RIP arcade).
Besides the distinctive Peanuts flavours, you'll also enjoy the prices.
Five picks (but don't limit to this!): Honey pearl milk tea, Papaya real fruit sorbet pearl, Guava Pearl Black Tea, Strawberry banana yogurt pearl and White grape slush.
Don't forget to grab one (or two) wheel cakes with your order!
What to order: Honey pearl milk tea, Papaya real fruit sorbet pearl, Guava Pearl Black Tea, Strawberry banana yogurt pearl, White grape slush
Address: 8260 Westminster Hwy, Richmond, BC V6X 1A7 (Richmond Public Market Food Court)
5. Xing Fu Tang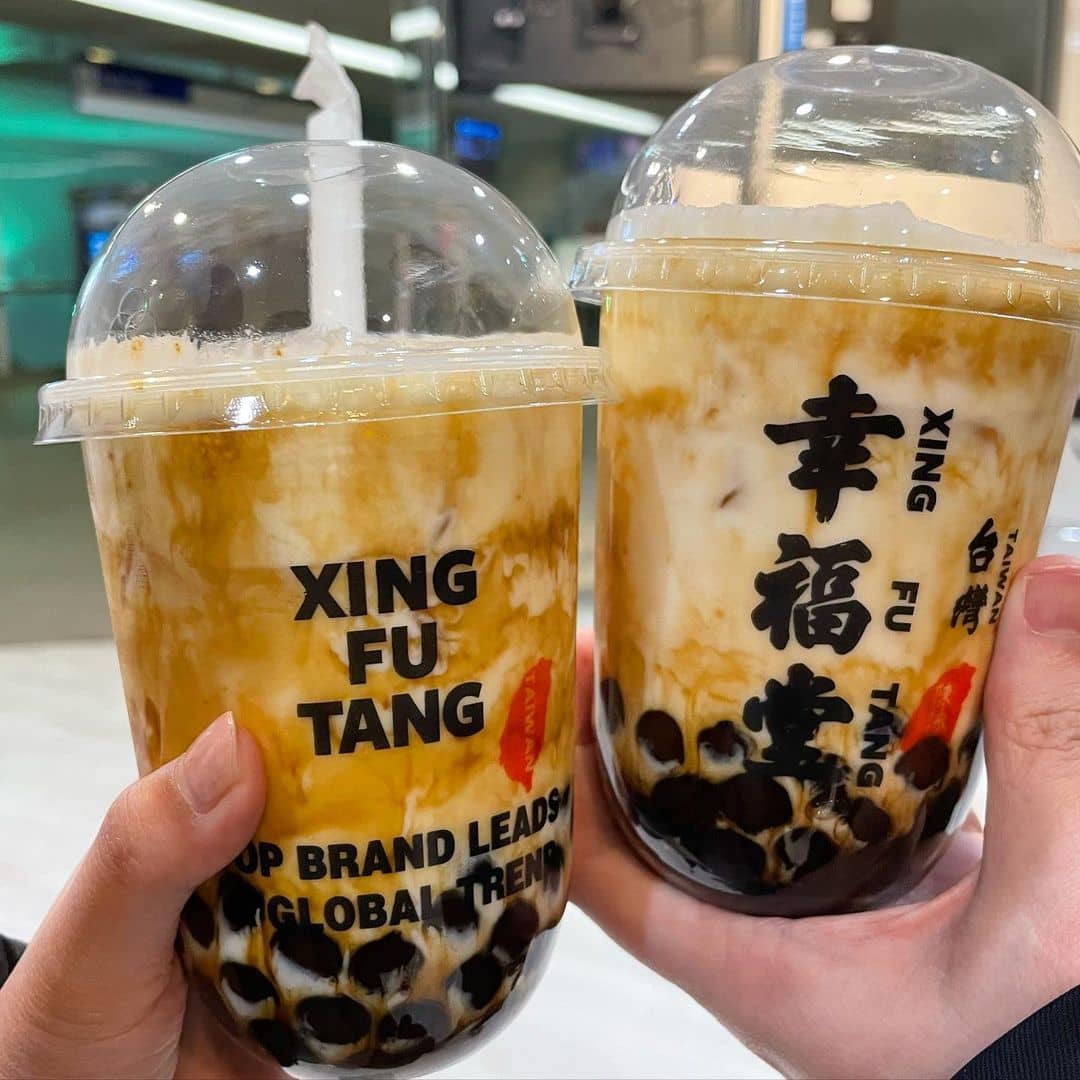 With a chain name that distinctively translates to "Realm of Happiness", Xing Fu Tang has been spreading joy globally with their genuine, stir-fried and handmade brown sugar pearls.
Once at their premises, watch in person how the pearls are being made. Xing Fu Tang Canada has several locations downtown Vancouver and imports all major ingredients from Taiwan, where the brand first appeared.
Its founder Edison Chen, a namesake of the Canadian-born Hong Kong actor, allegedly drew inspiration for his concoctions from his grandmother. On an occasion when she was preparing a brown sugar sweet she had eventually burnt the mixture. T
he taste of it must have been questionable, but fear not when you try Xing Fu Tang's signature Brown Sugar Pearl Milk, Matcha Pearl Fresh Milk or any of their Taiwanese café drinks.
The drinks are also highly Instagrammable, so if you are both bubble tea and Instagram devotee, this place is a win-win for you.
What to order: Brown Sugar Pearl Milk, Matcha Pearl Fresh Milk
Locations:
– 3432 Cambie Street, Vancouver B.C.
– 1180 Pinetree Way, Coquitlam B.C.
-8030 Granville Street, Vancouver B.C.
-2675 Kingsway, Vancouver B.C.
– 80-678 Dunsmuir St, Vancouver B.C.
-4208 Dawson St, Burnaby, BC V5C 0A4
-130-8311 Lansdowne Rd, Richmond B.C.
-6271 Kingsway, Burnaby B.C
-10153 King George Blvd Unit 5, Surrey, BC V3T 2W1
Order Online: DoorDash | Uber Eats
6. Dragon Ball Tea House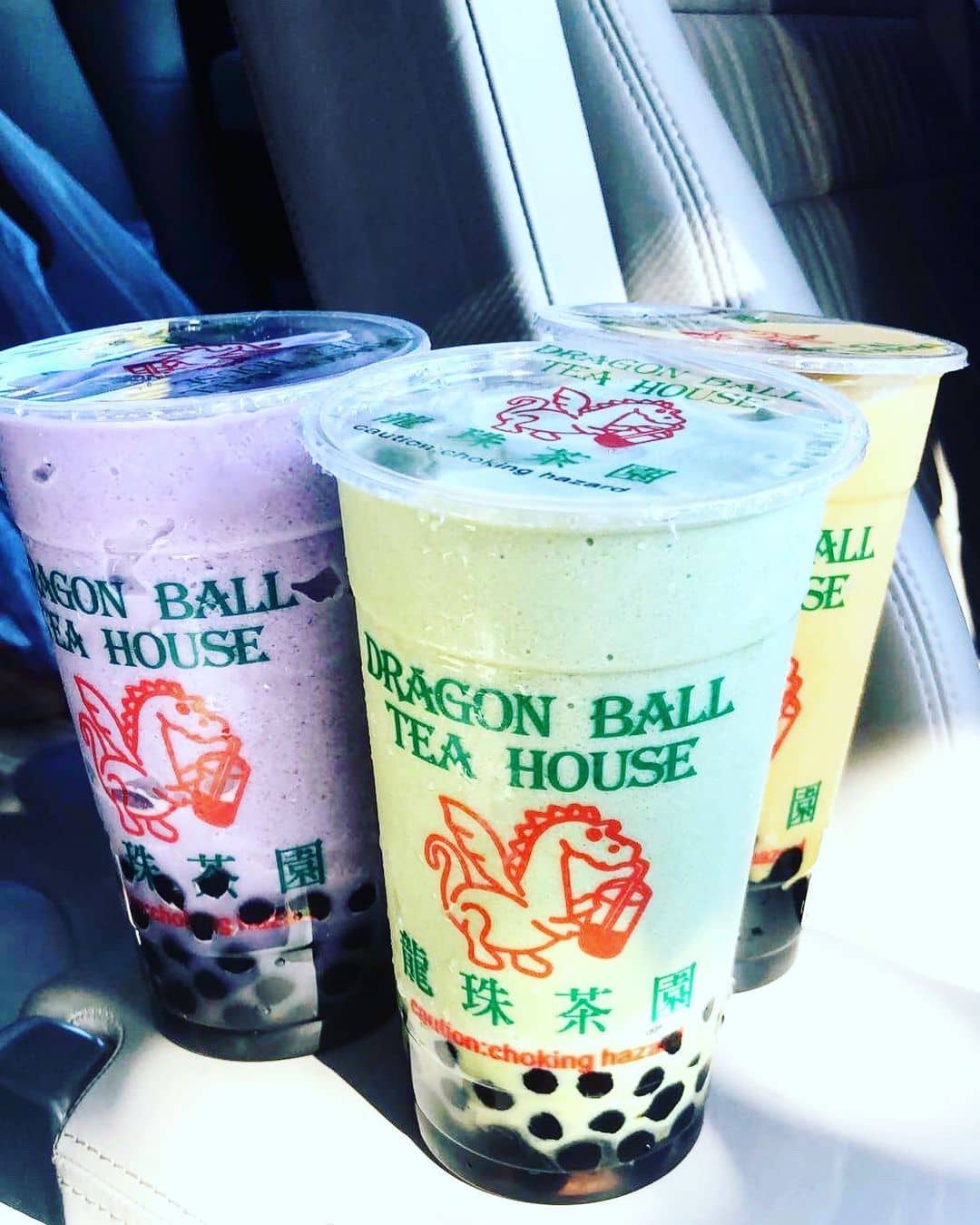 Dragon Ball Tea House and their brand seems to echo for ages now. Had you been there during high school, this place is certainly ready to induce some nostalgia for you.
There's nothing fancy about Dragon Ball Tea, don't expect the fancy interior and stuff. However, their menu is extensive and you can opt for a variety of bubble tea flavours like red bean and matcha.
Hit the spot if you are looking for any fruit slush, perhaps a watermelon milk slush with half pearls and half lychee.
Or, have a matcha ice cream with half sugar and tofu with pearls which make for a creamy, smooth and filling drink.
It may not be fancy or modern like the new spots that are popping up, but that doesn't stop locals coming to Dragon Ball again and again.
What to order: red bean, matcha, watermelon milk slush, matcha ice cream
Address: 1007 W King Edward Ave, Vancouver, BC V6H 1Z3
7. Sharetea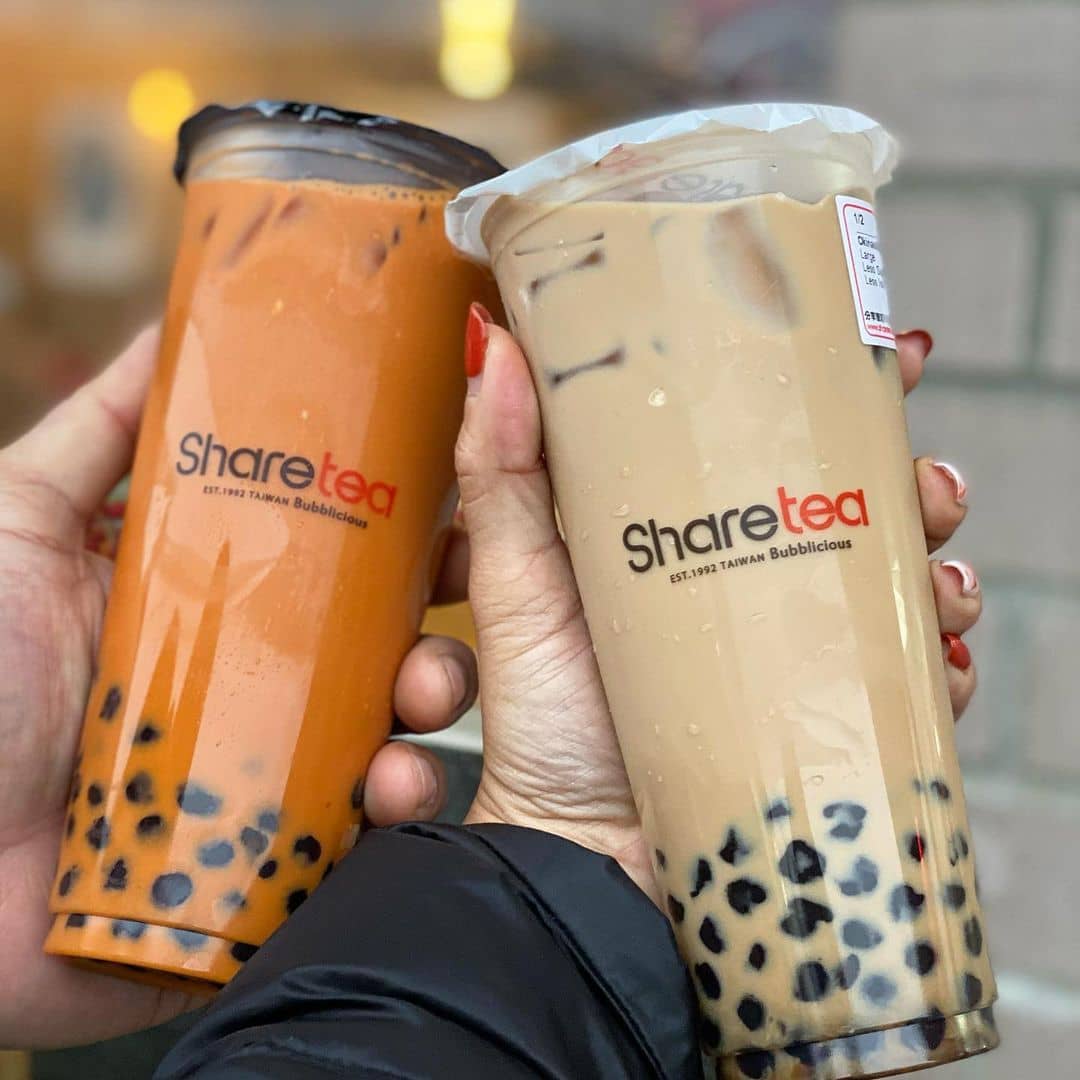 With hundreds of tea shops around the world, Sharetea is an A-list name in the bubble tea industry and surely they didn't skip expanding their franchise here in Canada and Vancouver either. Expect tasty pearls and drinks that are always fresh.
Try the Okinawa pearl milk tea from this renowned Taiwanese brand–one of the best milk teas you'll ever have.
It's warm and cozy bubble tea shop where you can also opt for Hokkaido milk tea, Taro milk tea, or investigate an array of distinct mouth-watering cups combined with lime, kiwi or oolong to name just three.
What to order: Okinawa Milk Tea, Hokkaido Milk Tea, Taro
Address:
– 1965 W 4th Ave #107, Vancouver, BC V6J 1M8
– 1033-8300 Capstan Way, Richmond, BC V6X 4B7
– 3619 Kingsway, Vancouver, BC V5R 5M1
8. Mr. Mustache Bubble Tea Shop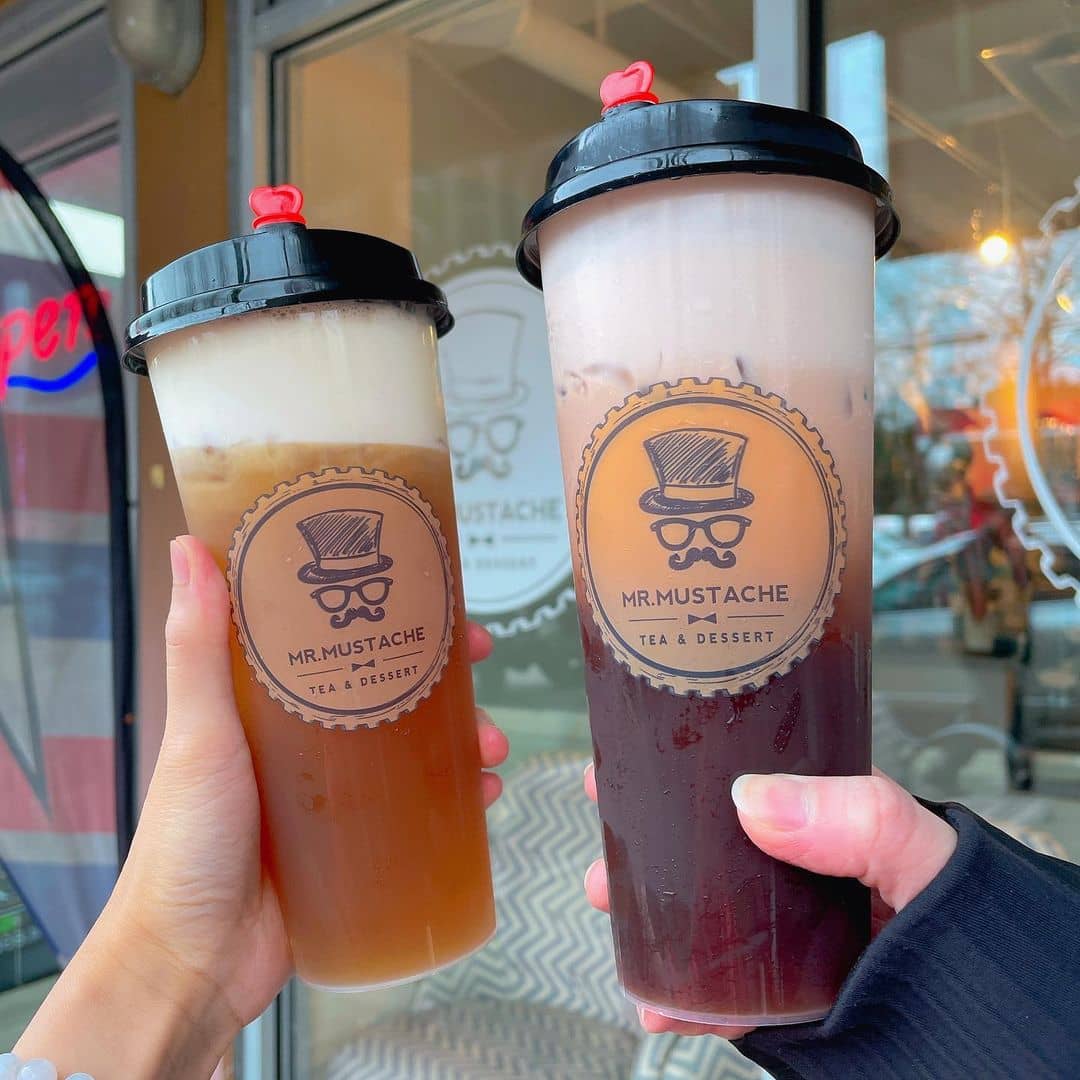 Mr. Mustache is the perfect spot where you can combine your bubble tea with a nice piece of dessert.
Milk tea and fresh milk tea options are abundant on the menu and what makes the two different is that the milk tea is prepared with powder while the fresh milk tea cup is poured with fresh milk.
Order their signature drink, tea macchiato and you won't get disappointed. You can also opt for some more classic fruit flavours such as peach and green apple or experiment with options like earl grey and chocolate.
If you crave for something sweet, their list of delights features caramel cups, pistachio, panna cotta, cheesecake, tiramisu cakes or mousse cakes and sometimes they draw a mustache on it.
What to order: tea macchiato, peach, green apple, earl grey, chocolate, caramel cups, pistachio, panna cotta, cheesecake, tiramisu cakes, mousse cakes
Address:
– 8079 Granville St, Vancouver, BC V6P 4Z5
-110-6125 Sussex Ave, Burnaby BC
Order Online: DoorDash
9. The Alley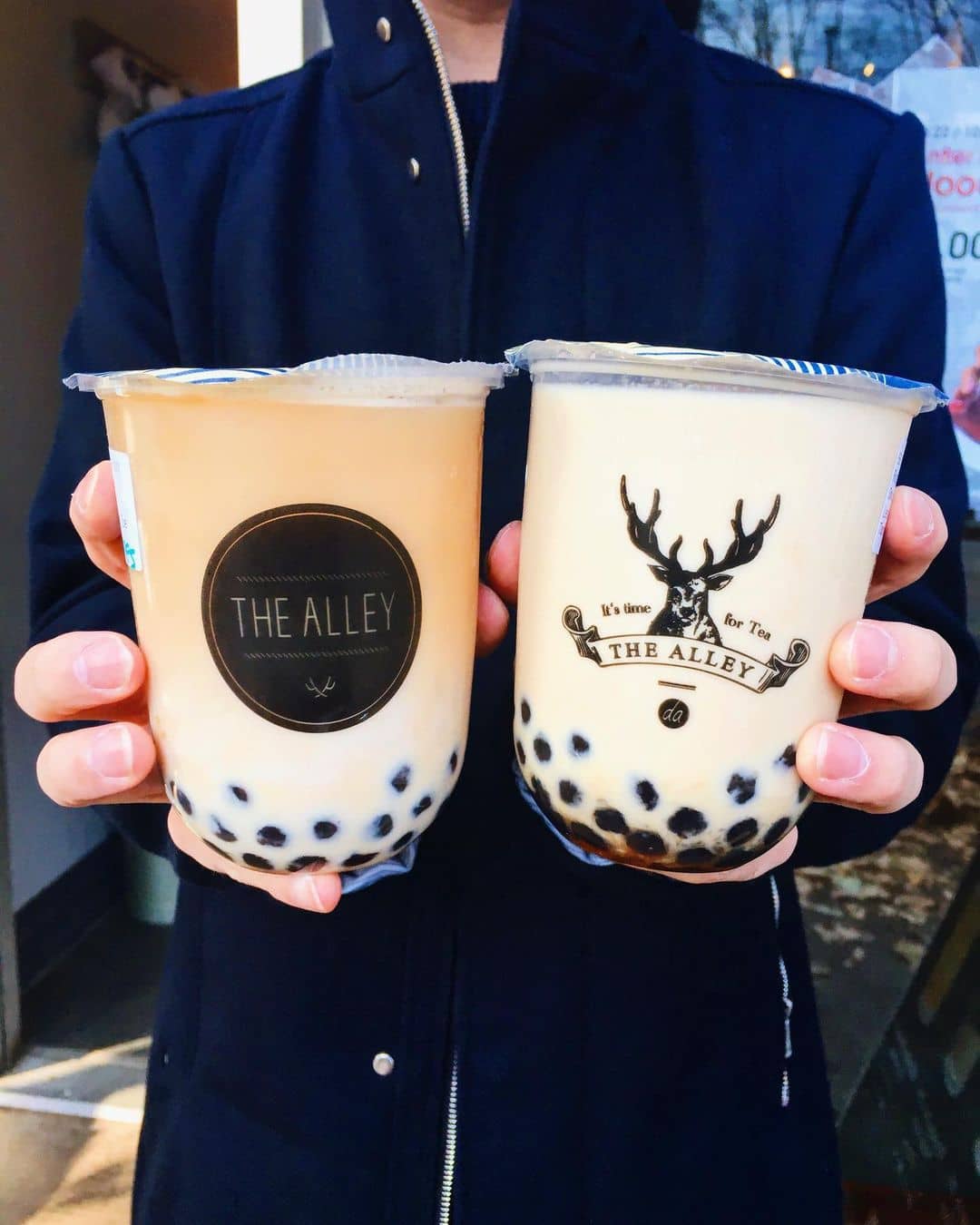 From their logo and branding to their fancy app where the clientele can collect points and win rewards, The Alley screams modernity in every term possible.
The journey of this bubble tea chain began some 20 years ago in Taiwan and today it's established in various major cities around the globe including Sydney, Tokyo, Paris, Los Angeles, and as of recently also here in Vancouver.
At The Alley, they make their own soft, chewy tapioca pearls from scratch–known as "deerioca"–as well as making their own sugar cane syrup.
With alluring drink names such as "Apple of my Eye," "Iron Goddess," "Penguin on the Ice," and "Deerioca Puff" you'll easily get enticed to try them all.
This, most certainly, makes visitors thirsty and all about discovering which drinks from The Alley will be their next favourite.
What to order: "Apple of my Eye," "Iron Goddess," "Penguin on the Ice," "Deerioca Puff"
Address: 985 Hornby St, Vancouver, BC V6Z 1V3
Order Online: Uber Eats
If you are still having bubble tea cravings after you carry out your excursion around these top ten best bubble tea spots in Vancouver, you might want to try the largest bubble tea in BC.
Looking for more food spots? Well, take a look at our picks of the best restaurants in Vancouver!
How We Create Our "Best" Lists
All Noms Magazine's "best" lists are created using multiple factors and signals to help readers find the best restaurants, things to do, and places to stay at. Some of these factors and signs include personal experiences, correspondence with locals, and compiling experiences from review sites.
Each list is also created to be balanced (in terms of price, cuisine type, ambiance, and more) as possible. This means that the lists are not specifically created in ranking order. You should be comfortable picking from any of the spots on the list and generally have a good time. But of course, YMMV (your mileage may vary) and everyone may have different experiences/palates.