Looking for the ultimate burger experience in Vancouver? You're in luck! Whether you're craving a classic juicy burger or something more unique, Vancouver has a wealth of options to satisfy your cravings.
Quick recommendations: don't miss DownLow Chicken Shack for their unforgettable Original Sando, or head to Bells & Whistles for a variety of mouthwatering options.
Our curated list will guide you to the best burger spots in the city!
1. DownLow Chicken Shack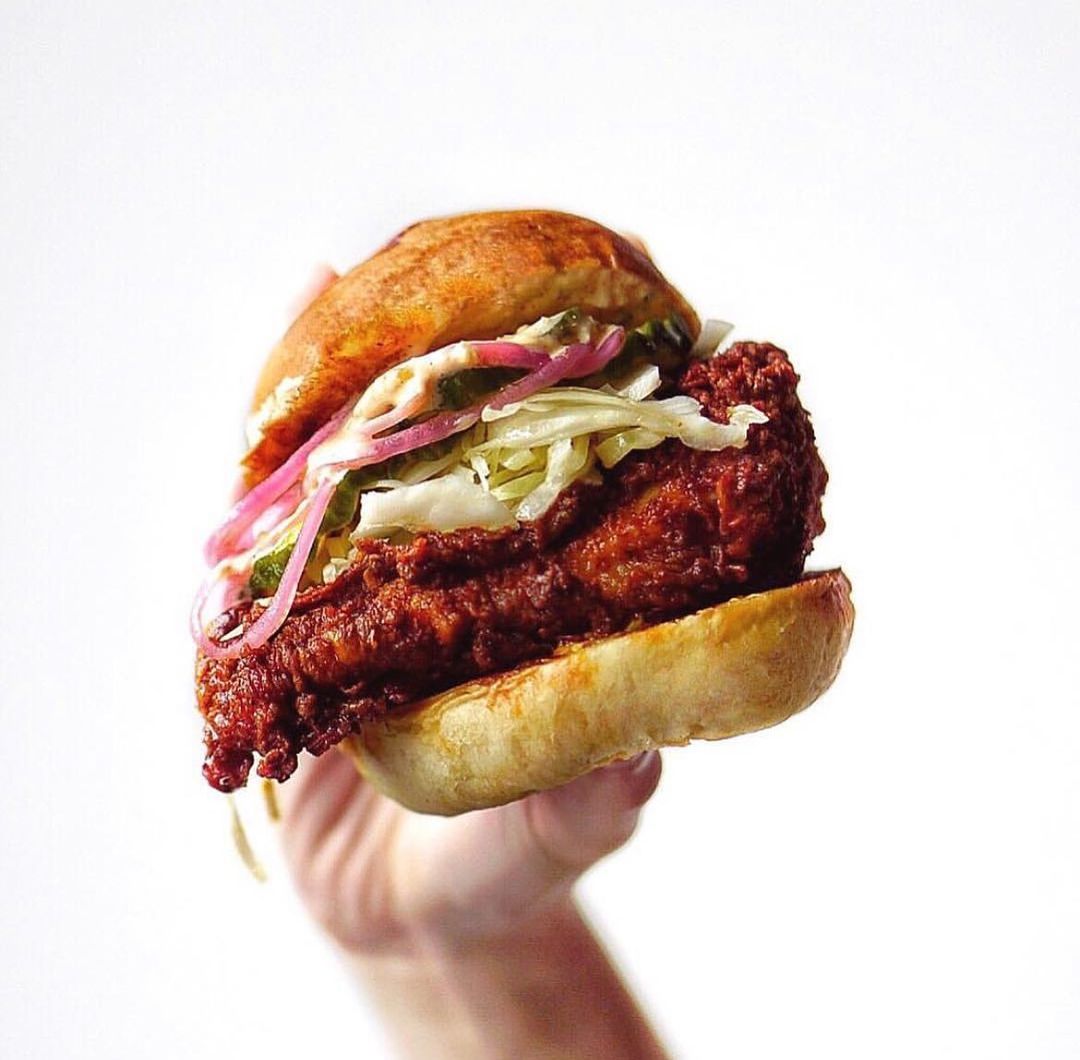 A standout in Vancouver for its exceptional fried chicken, DownLow Chicken Shack offers a memorable dining experience. Their Original Sando, featuring Nashville-dusted chicken, is a culinary delight – juicy, well-seasoned, and packing a delightful spicy punch.
Complement your meal with their signature DL sauce for an enhanced flavour experience.
What to order: The Original Sando, Fries, Boneless and juicy chicken thigh
Address:
-905 Commercial Drive, Vancouver, BC V5L 2H2
-6065 University Boulevard, Vancouver, BC V6T 0C5
Website | Instagram | Facebook
2. Bells & Whistles
Ideal for sports enthusiasts or casual diners, Bells & Whistles combines a vibrant atmosphere with a scrumptious menu. Their offerings range from Popcorn Shrimp and buttermilk Chicken Wings to delicious burgers.
The All Day Breakfast burger, featuring a Maple Sausage patty, is a crowd favourite, and their Ribwich, with slow-cooked pork rib, is a flavourful journey.
What to order: Popcorn Shrimp, buttermilk Chicken Wings, Classic Burger, Ribwich, The All Day Breakfast burger
Address: 3296 Fraser St, Vancouver, BC V5V 4B9
Website | Instagram | Facebook
3. Hundy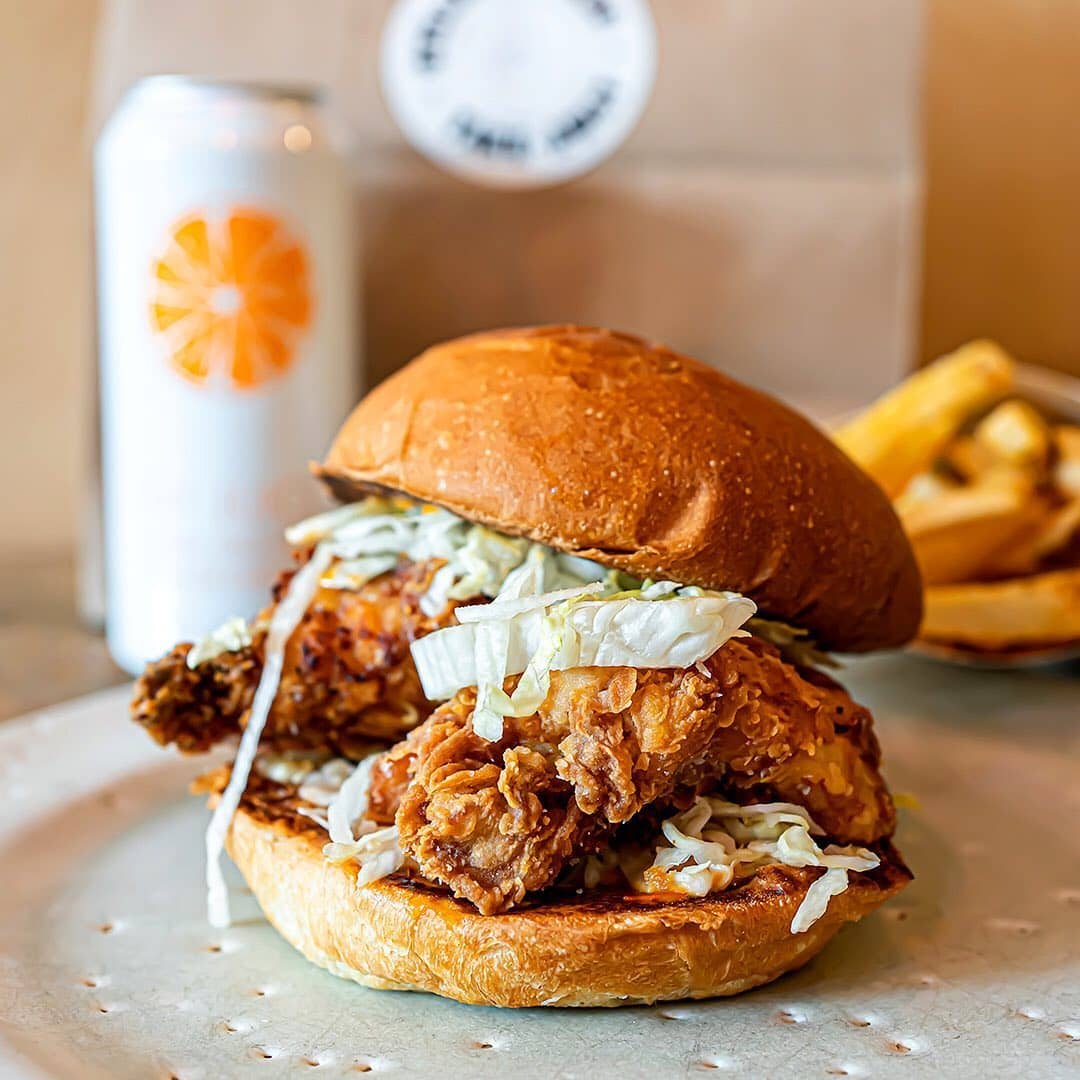 Trendy and inviting, Hundy is a top choice for casual dining in Vancouver. They offer straightforward, delicious options like the Bacon Cheeseburger and a crispy Fried Chicken Sandwich that's a local favorite.
Also, their 'Lemonade Stand' beer and Poutine are must-tries for a complete meal experience.
What to order: Fried Chicken Sandwich, Lemonade Stand, Poutine
Address: 1144 Homer St, Vancouver, BC V6B 2X6
Website | Instagram | Facebook
4. The Frying Pan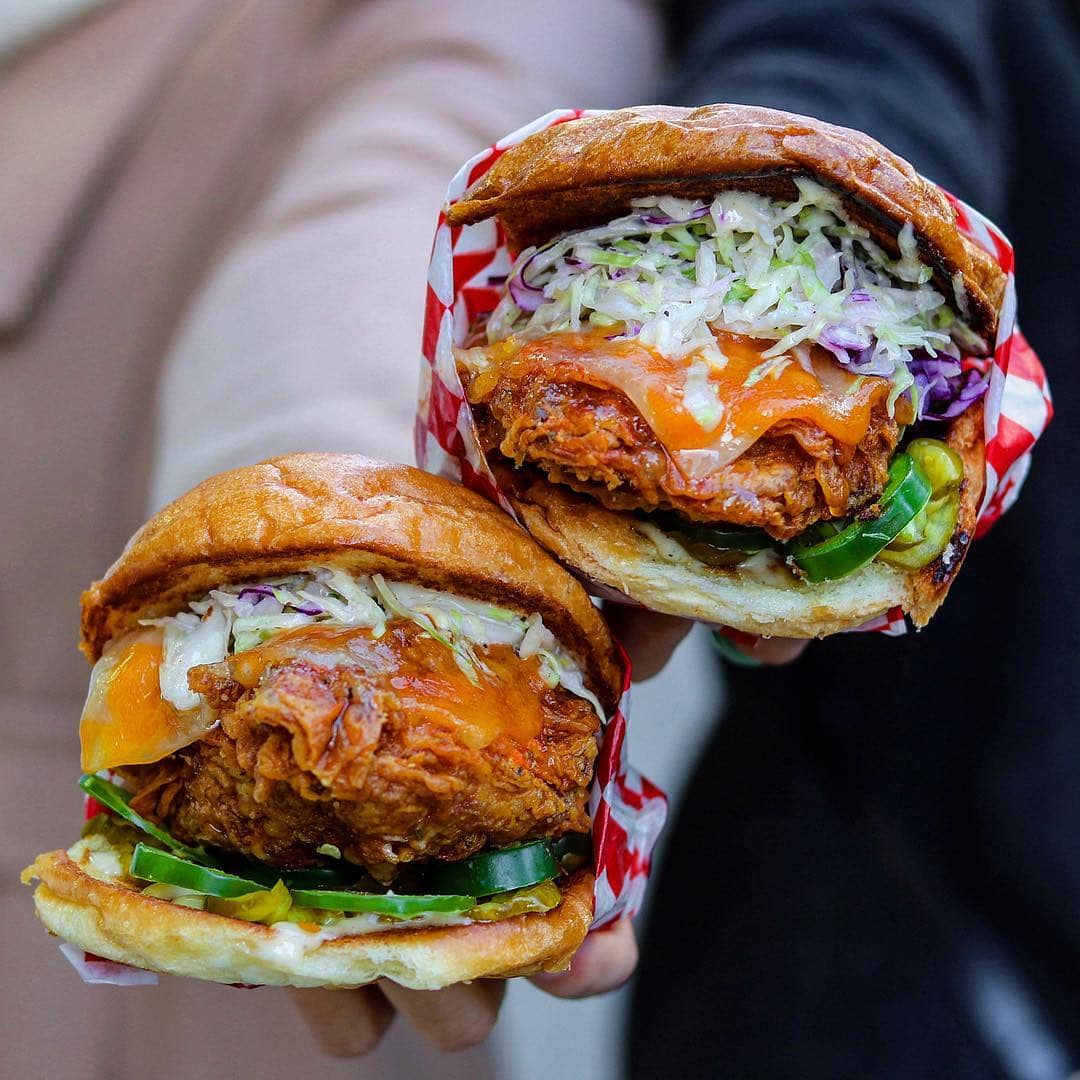 Famous for their Korean Fried Chicken, The Frying Pan delivers a perfect blend of tenderness and crispiness. The Spicy Chicken Burger is a highlight, customizable to your spice preference. Complement it with Smoky Bulgogi Fries, and wash down your meal with refreshing Yuzu Tea or Blue Lemonade.
What to order: Spicy Chicken Burger, Smoky Bulgogi Fries, Yuzu Tea, Blue Lemonade
Address: 1101 Denman Street, Vancouver BC
Website | Instagram | Facebook
5. Pourhouse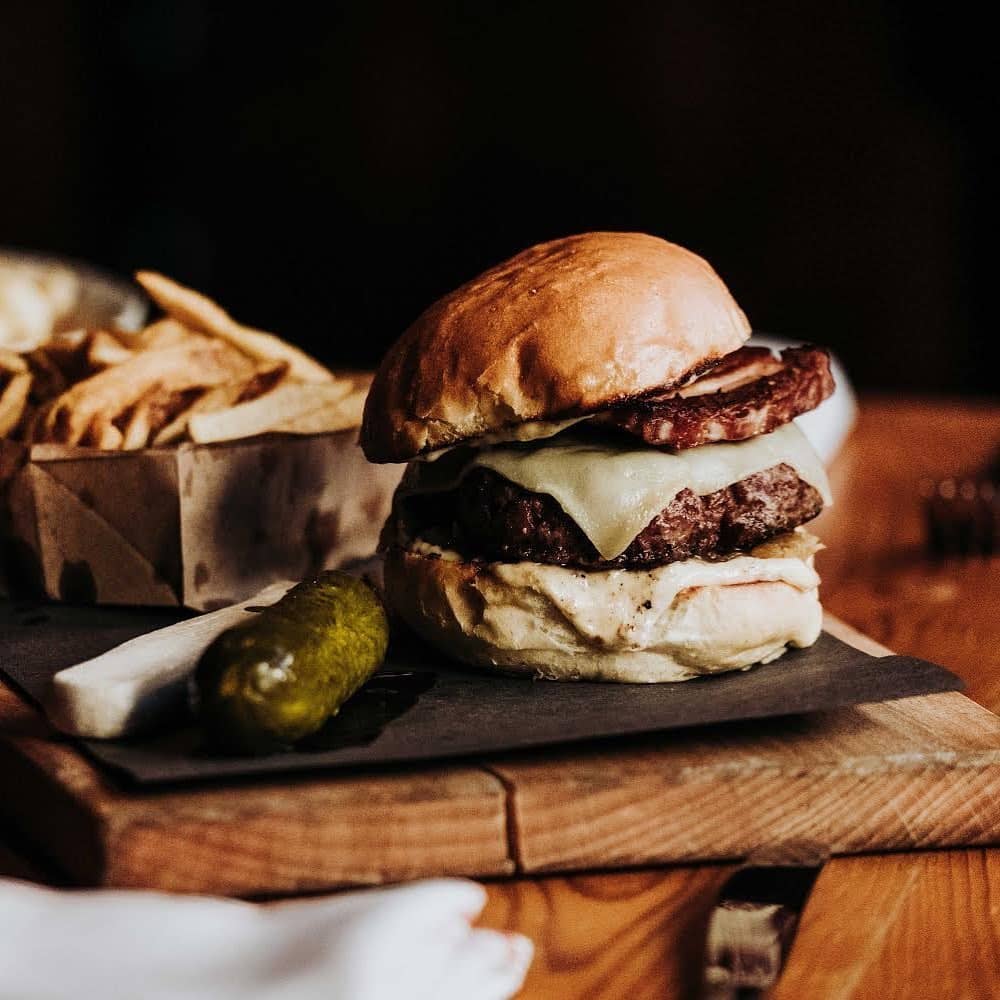 Situated in a historic building in Gastown, Pourhouse offers an ideal setting for a variety of occasions. Their signature Pourhouse Burger consists of a 40-day dry-aged chuck steak, aged cheddar, and pork belly. For brunch lovers, their Peameal Bacon Sandwich paired with an Irish Coffee makes for a delightful meal.
Address: 162 Water Street, Vancouver, BC
Order Online: Uber Eats
Website | Instagram | Facebook
6. Burger Crush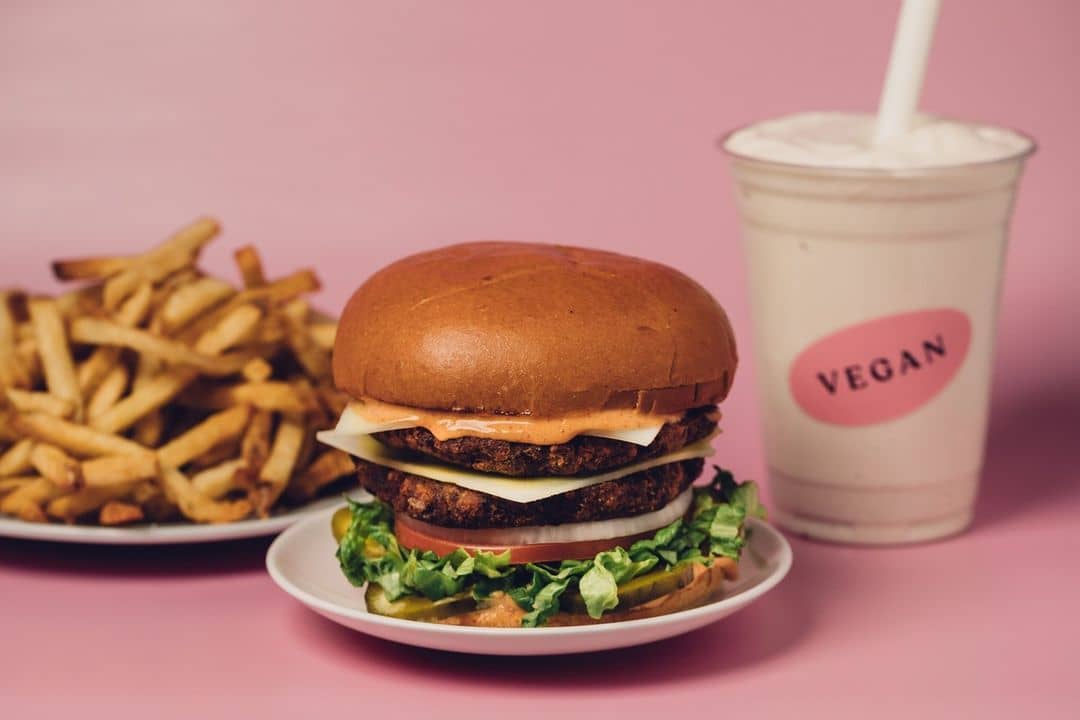 This modern and colorful spot in Victoria serves classic and vegan burgers, such as the Cheeseburger and Vegan Cheeseburger, with a hand-pressed beef patty or house-made vegan patty.
The Crush Fries, topped with fried onions, cheese, and original Crush Sauce, are a must-try, as are their creamy Shakes, available in both regular and vegan versions.
What to order: Cheeseburger, Vegan Cheeseburger, 'Veggie Style' Cheeseburger, Crush Fries, Vegan Nuggets, Shakes
Address: 755 Nelson Street, Vancouver, BC V6Z 1V3
7. Juicy Joe's Burgers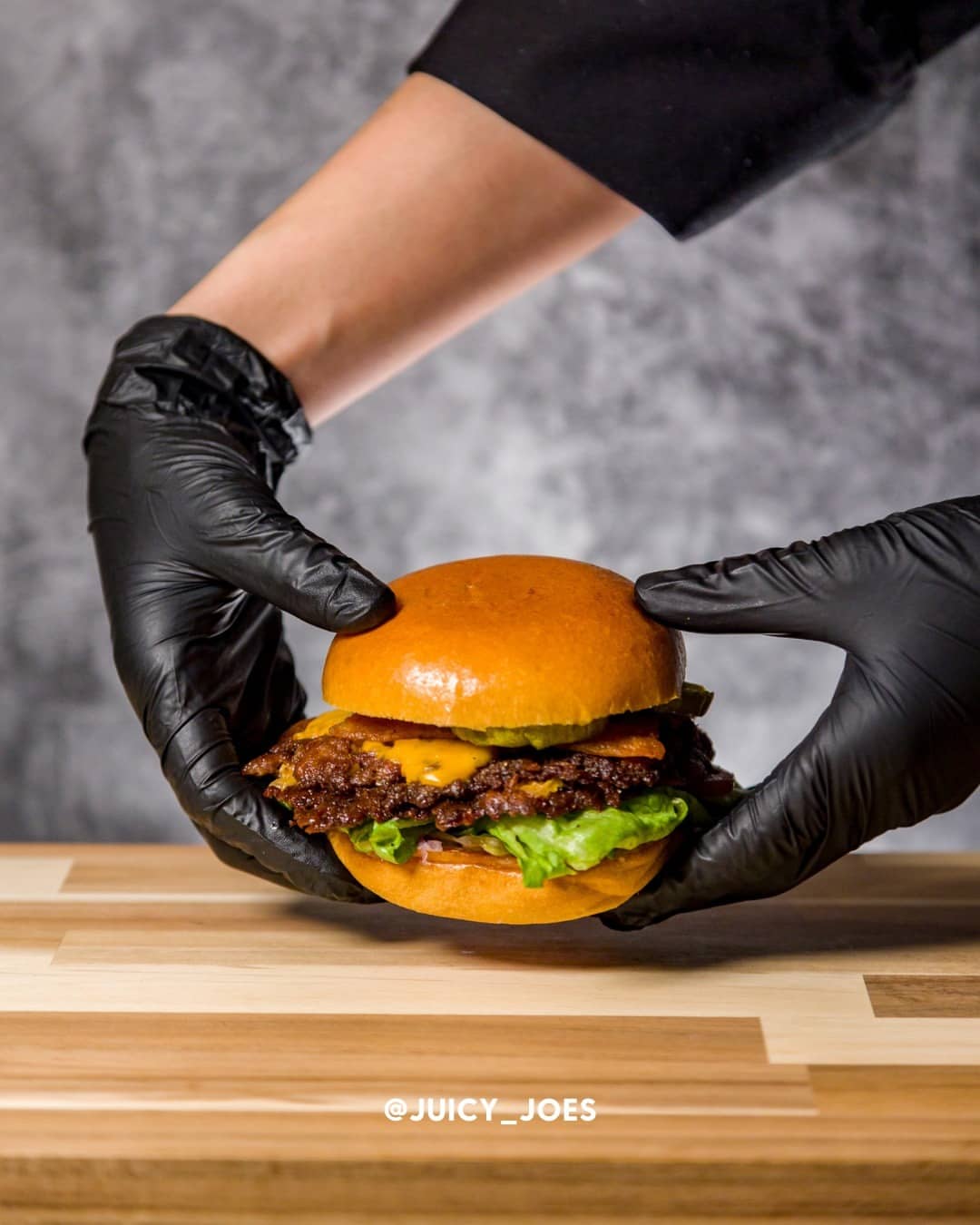 A favorite among Vancouver locals, Juicy Joe's is renowned for its specialty beef burgers. The menu is simple yet impressive, featuring the Juicy Original Cheeseburger and Juicy Bacon Cheeseburger, both known for their juicy beef patties and homemade mayo sauce. They also offer Crispy Chicken Burger, Spicy Chicken Burger, and a vegan-friendly Impossible Cheeseburger with Avocado.
What to order: Juicy Bacon Cheeseburger, Juicy Original Cheeseburger, Crispy Chicken Burger, Spicy Chicken Burger, Impossible Cheeseburger with Avocado, Yam Fries,
Address: 2211 Granville Street, Vancouver, BC V6H 3G1
8. Between 2 Buns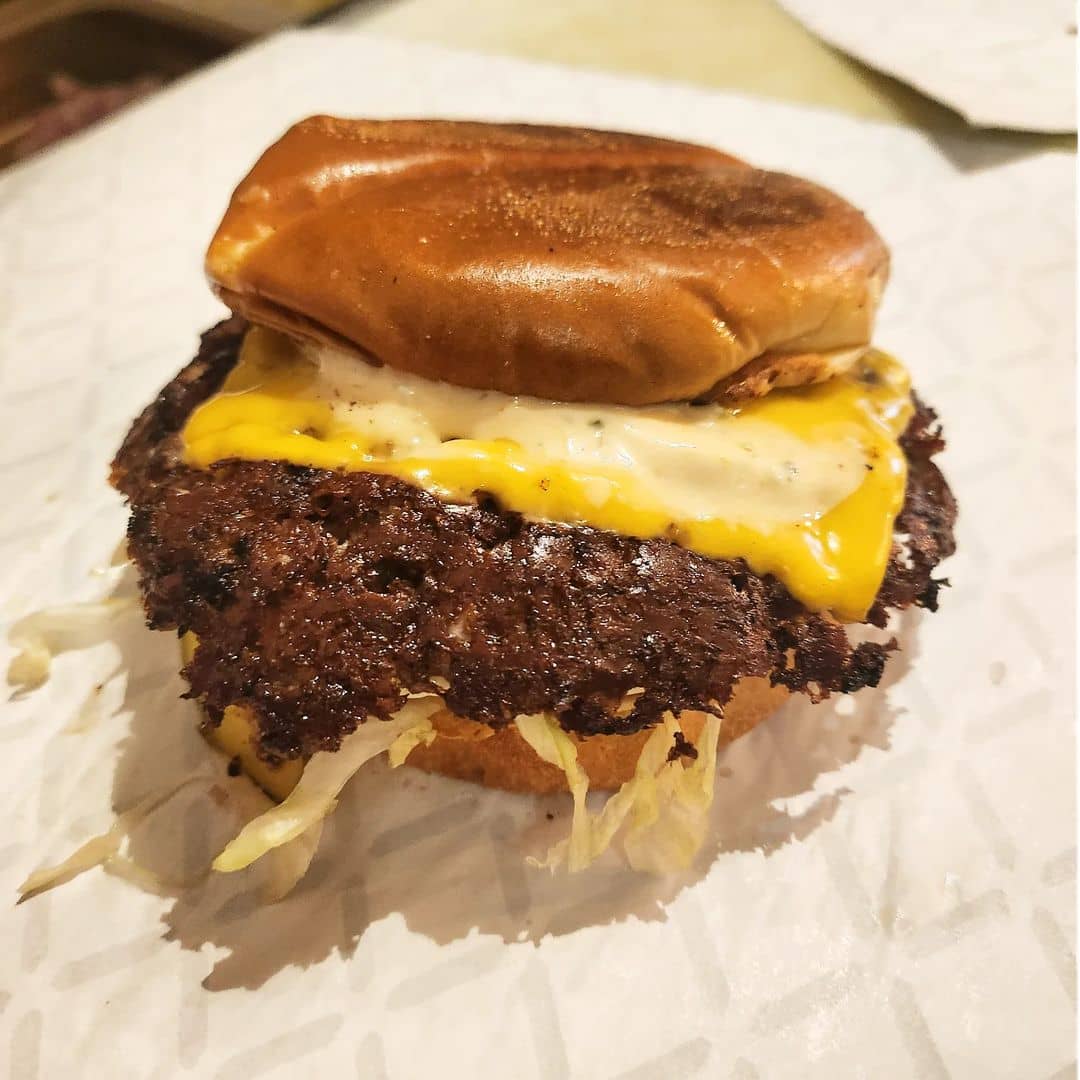 Located in Chinatown, Between 2 Buns specializes in smash burgers. Their Jalapeno Bacon Cheeser and Double Cheeser are highlights, featuring smash patties that are crispy on the edges and juicy in the center. Their Dirty Fries, loaded with jalapenos, bacon, and B2B sauce, are a unique and flavourful side dish.
What to order: Jalapeno Bacon Cheeser, Double Cheeser, Dirty Fries
Address: 105 E Pender Street, Vancouver, BC V6A 1T6
9. Bin 4 Burger Lounge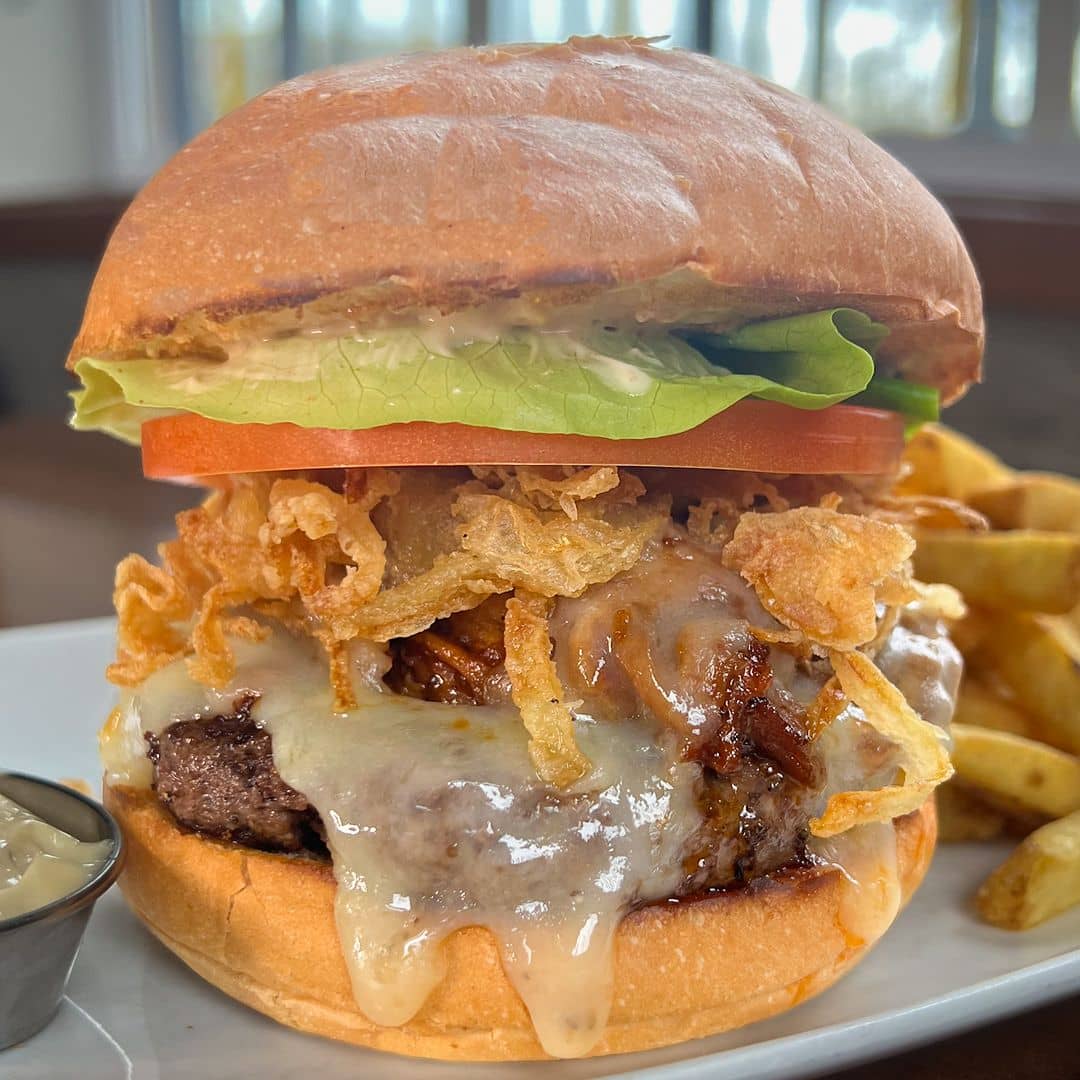 Known for gourmet burgers and beer, Bin 4 Burger Lounge boasts an inventive menu and modern interior. Their bison burgers, especially the Bin 96 – The Bison Burner and Bin 104 – The Angry Bull, are unique and flavorful. The Bin 11 – Wild Mushroom burger combines beef, wild mushrooms, and truffle oil for a rich and earthy taste.
What to order: The Bison Burner, The Angry Bull, Wild Mushroom, Bin 4 House Salad
Address: 2996 Granville Street, Vancouver, BC V6H 3J7
Website | Instagram | Facebook
10. Vonns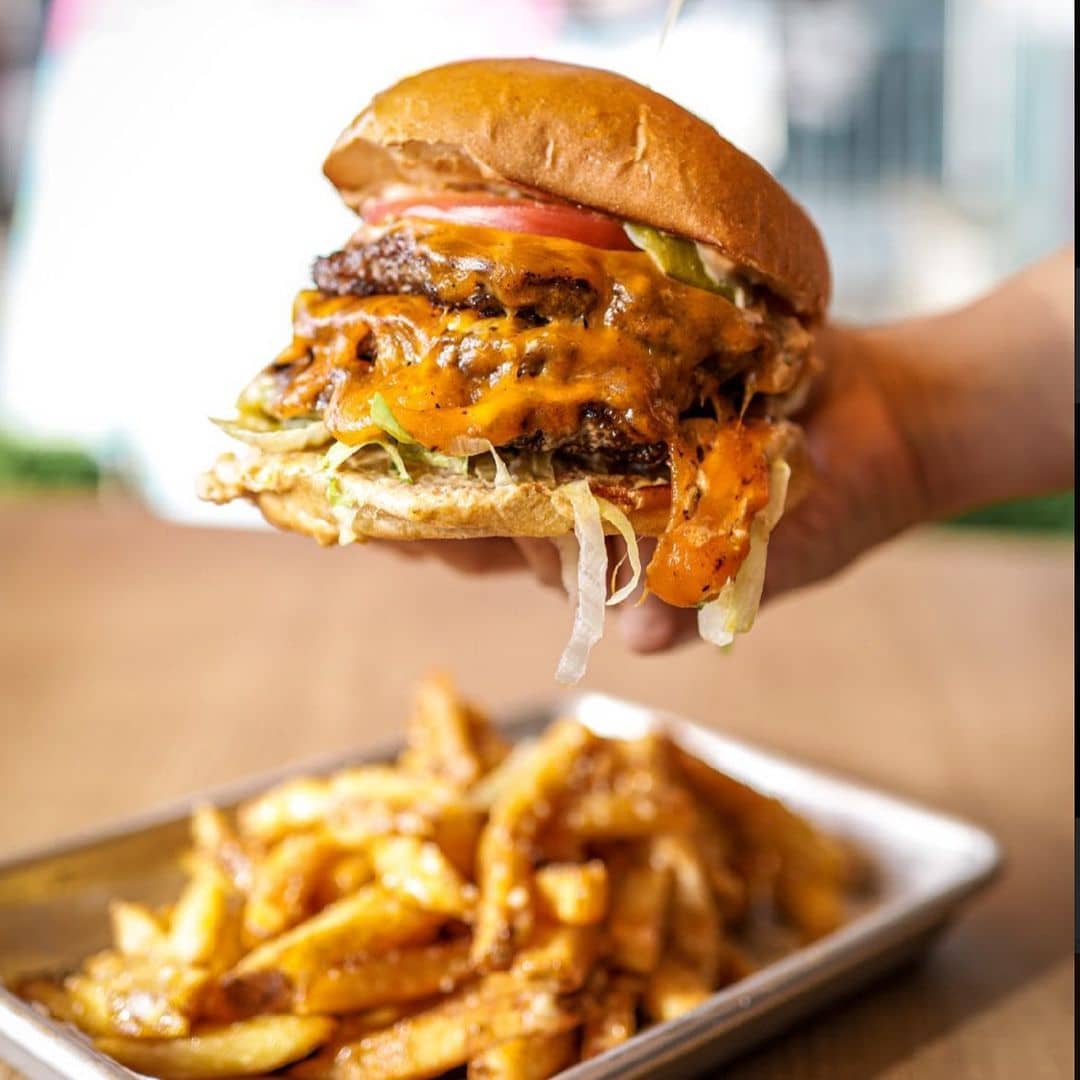 A cozy Halal burger spot near English Bay Beach, Vonns offers a wide selection of burgers and sides. The Chef's Special Steak Frites features perfectly cooked steak, while the Dusted Chicken Tenders are a flavourful treat. The Classic burger and Vonns Special cheesesteak sandwich, loaded with meat, cheese, veggies, and sauce, are sure to satisfy any burger craving.
What to order: Steak Frites, Dusted Chicken Tenders, Classic burger, Vonns Special cheesesteak
Address: 1184 Denman Street #104, Vancouver, BC V6M 2M9
We hope you enjoyed our list of Top 10 Best Burger places in Vancouver, and hope you visit each one really soon.
Looking for more food spots? Well, take a look at our picks of the best restaurants in Vancouver!
How We Create Our "Best" Lists
All Noms Magazine's "best" lists are created using multiple factors and signals to help readers find the best restaurants, things to do, and places to stay at. Some of these factors and signs include personal experiences, correspondence with locals, and compiling experiences from review sites.
Each list is also created to be balanced (in terms of price, cuisine type, ambiance, and more) as possible. This means that the lists are not specifically created in ranking order. You should be comfortable picking from any of the spots on the list and generally have a good time. But of course, YMMV (your mileage may vary) and everyone may have different experiences/palates.