Exploring Burnaby's vibrant cafe scene? Look no further!
From expertly brewed coffee to mouth-watering snacks and pastries, Burnaby's cafes offer a delightful array of options.
Quick Recommendations: Don't miss on must-visits like Chez Christophe and Cafe La Foret.
Check out our list of the 10 Best Burnaby Cafes, you simply must try out.
Our picks of the best cafes in Burnaby:
1. FDL Cafe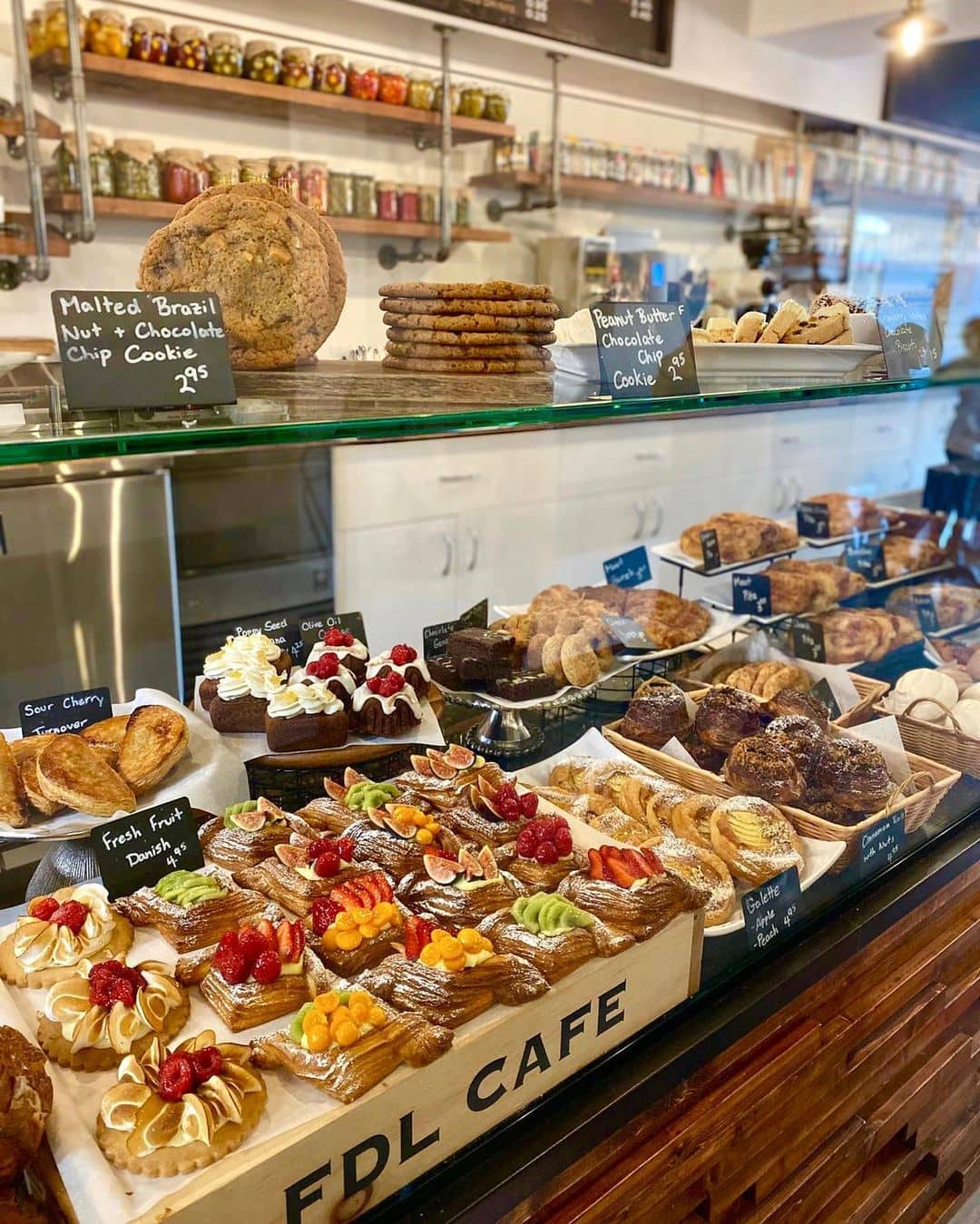 FDL Cafe is that one spot where you can be sure you'll get amazing coffee. Home-brewed and fresh! This is also where you go for fantastically crafted sandwiches, homemade gelato, and both sweet and savoury delights. They didn't make it to our Best Burnaby Bakeries List for nothing. These folks know their stuff!
If you're there for lunch, get the Miso Roasted Chicken, the Mojo Pulled Pork, or the Smoky Cajun Chicken. The Burek (bread filled with savory meats) is amazing here, so give it a try. If you want something light (or to take home) grab their Almond Croissants, the Cinnamon Pecan Rolls, or a box of cookies!
What to order: Miso Roasted Chicken, Mojo Pulled Pork, Smoky Cajun Chicken, Burek, Almond Croissants, Cinnamon Pecan Rolls, cookies
Address: 100B-4233 Hastings Street Burnaby, BC V5C 2J5
Website | Instagram | Facebook
2. Chez Christophe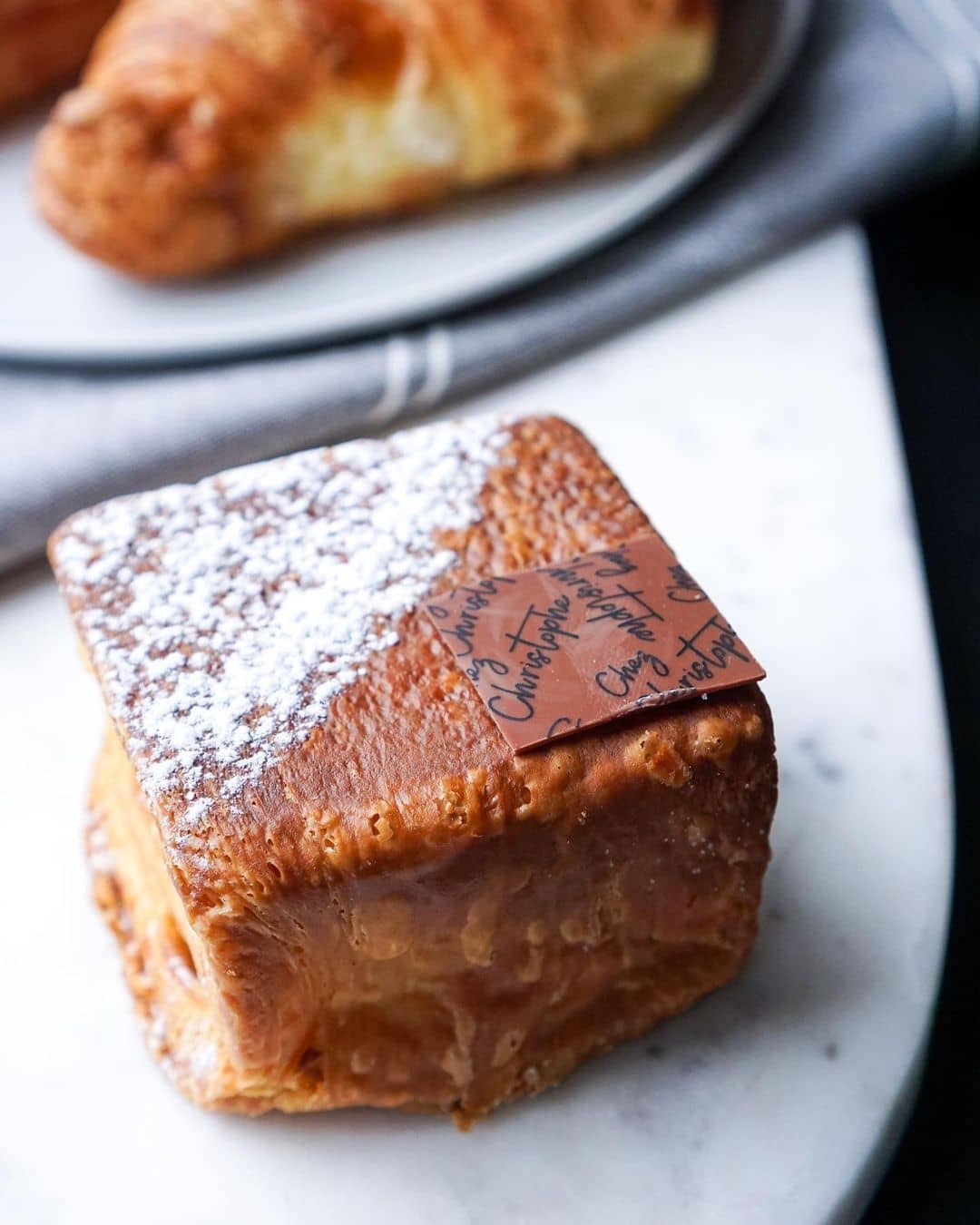 Home to classic Swiss desserts and pastries, Chez Christophe is the patisserie to go to for elegantly handcrafted chocolates and artisan croissants. With their bold and innovative creations, Chez Christophe offers up delicious macarons, signature chocolate bars and other confections along with a full coffee bar and sandwich menu.
We recommend the butter croissant cubes, with just the right flakiness and dark chocolate, coupled with a smooth cream filling. If you appreciate creativity, try out the Sunny's Matcha cake with alternating layers of matcha and lemon yuzu mousse, sandwiched between a chocolate and black Sesame cake.
You can even get frozen croissants here to take home and bake at your convenience.
What to order: butter croissant cubes, Sunny's Matcha cake
Address:
-Burnaby 4717, Hastings Street 604.428.4200
-White Rock 1558 Johnston Road 604.385.4474
Website | Instagram | Facebook
3. Handworks Coffee Studio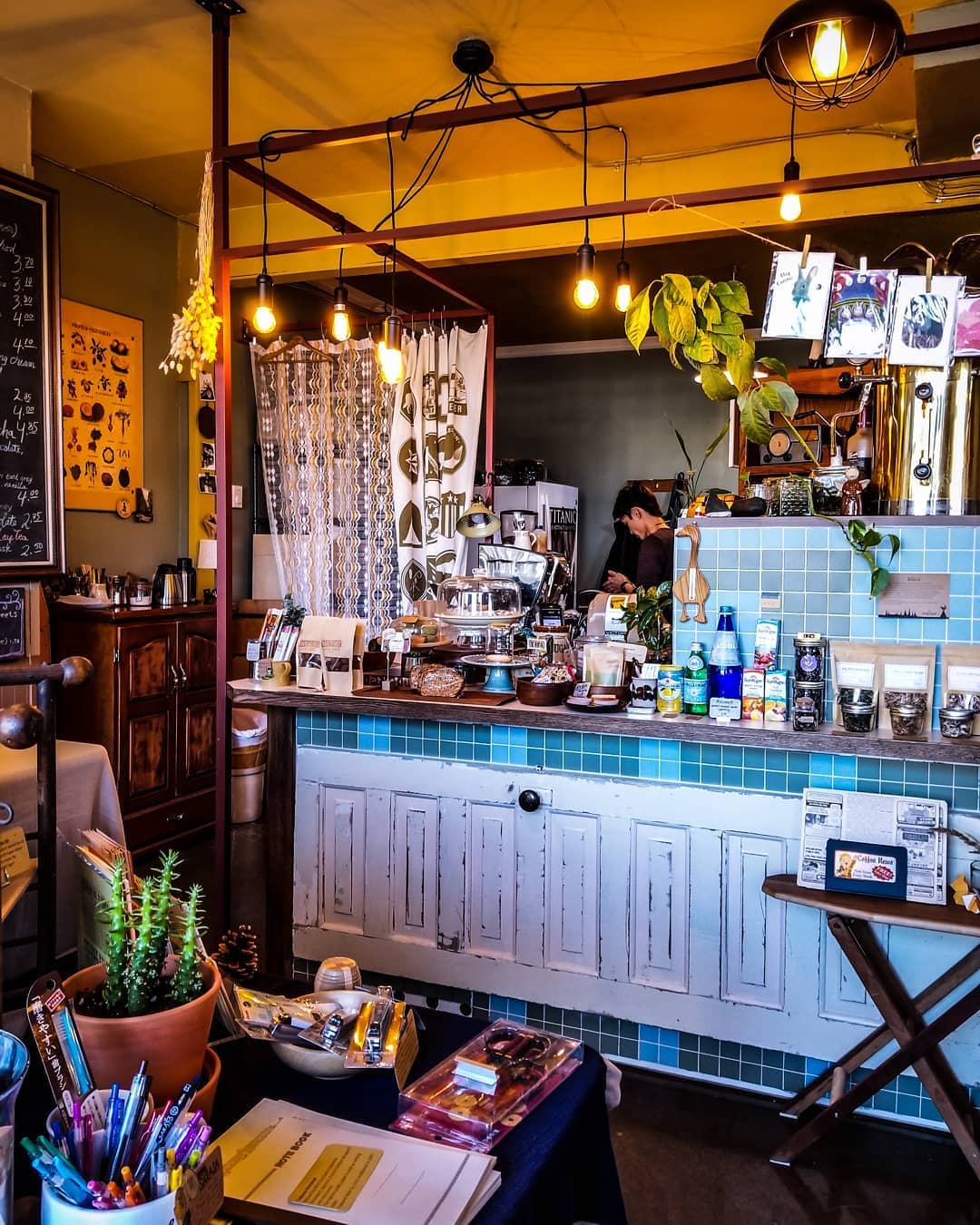 Located at a quiet intersection in Burnaby, Handworks Coffee Studio is a small community cafe and coffee roaster offering a cozy space for enjoying brewed coffee and freshly baked snacks. They serve unique beverages like Matcha Latte, Lavender London Fog, and Yuzu Latte, and their exotic teas, such as Lavender with Vanilla, are exceptional. Pair these with Red Bean Mochi Cake and Mochi Churro Donut for a full experience.
What to order: Matcha Latte, Lavender London Fog, Yuzu Latte, Lavender with Vanilla, Red Bean Mochi Cake, Mochi Churro Donut
Address: 7705 6th St Burnaby, BC V3N 2E6
4. Hiel Cafe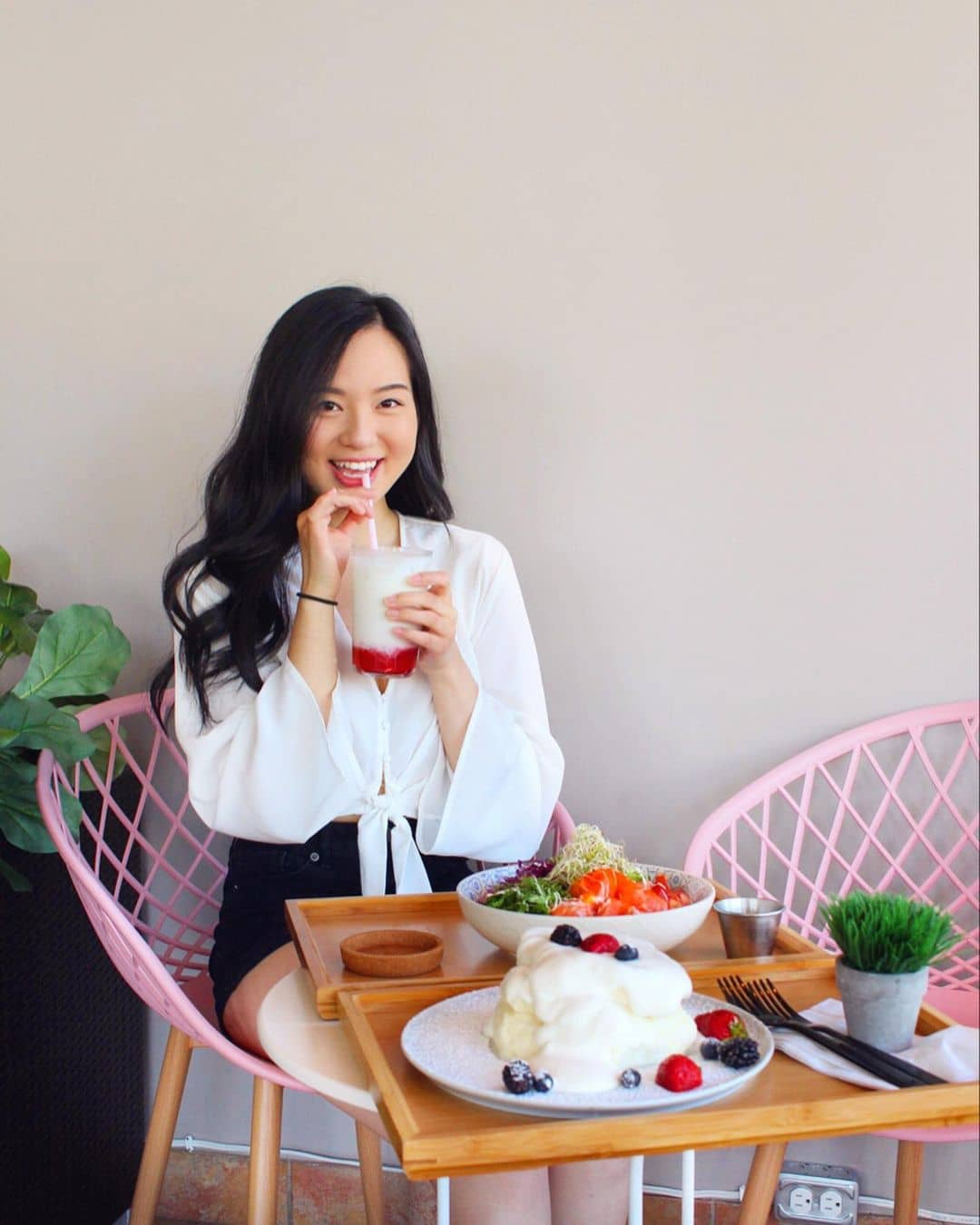 Enter Hiel Cafe and you'll be looking at coffee made by caring baristas, a warm interior and cheerful staff. They have plenty of seating, and a separate conference area so you can have some informal business meetups or large family gatherings here too.
The souffle pancakes come in three varieties – Regular, Creme Brulee, or Matcha – and are a highlight. The Egg & Spinach Panini caters to vegetarians, and their Caramel Macchiato and Matcha latte balance the sweetness of snacks perfectly.
What to order: souffle pancakes, Egg & Spinach Panini, Caramel Macchiato, Matcha latte
Address: 7885 6th Street Burnaby, BC V3N 3N4
5. Cafe La Foret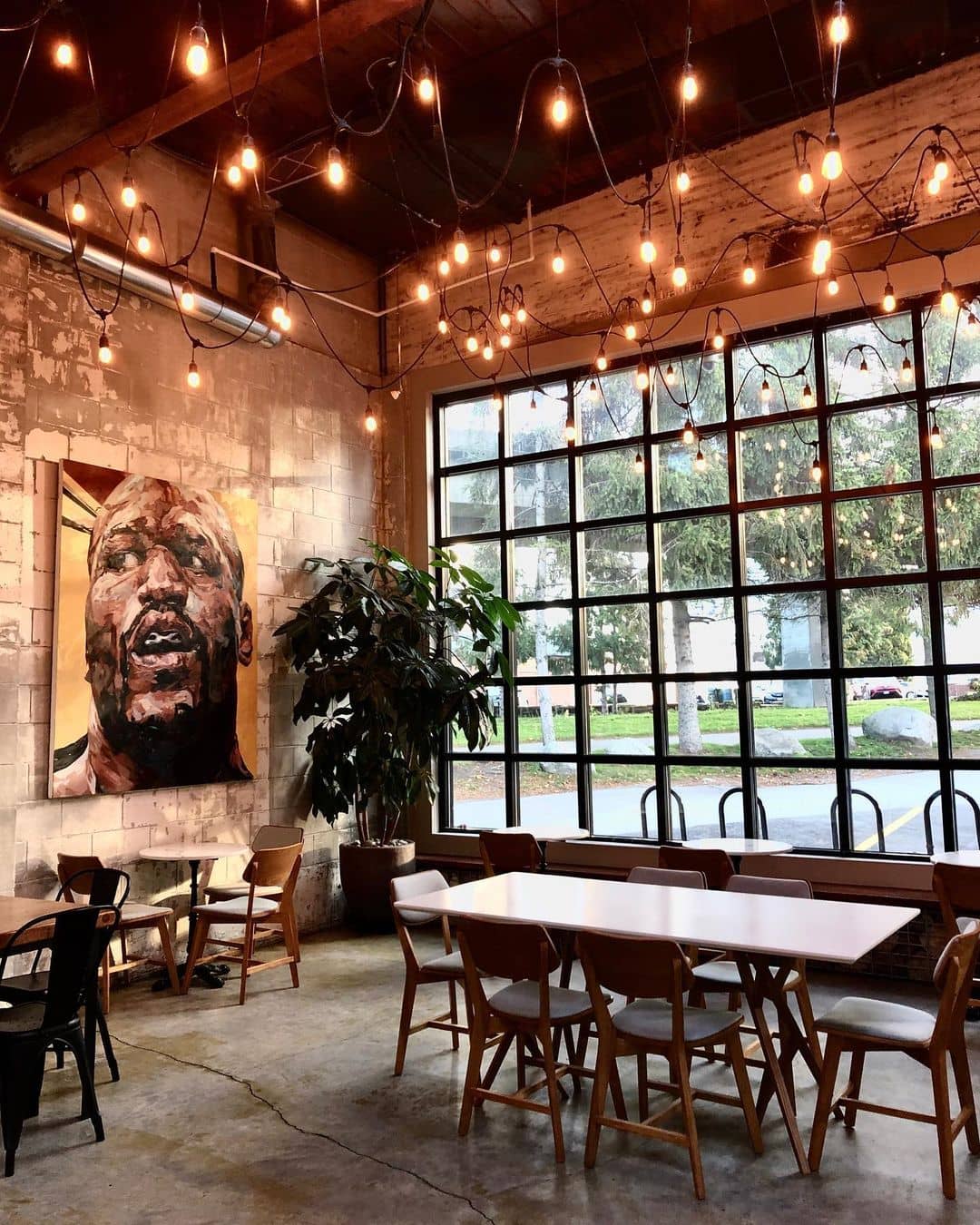 Who doesn't love ancient buildings that get renovated and capture the essence of time? If you do, then visit La Forêt, a former 5000 square feet auto body shop that now seats more than eighty people. With a beautiful nature theme, the decor is centered around greenery, and natural light streaming in through the glass ceilings.
The bakery serves fresh Squid Croissant or Matcha Scones, and the menu includes pastas, waffles, omelettes, cakes, and bingsoo. Their Bacon Platter and Fried Chicken Platter stand out for their size and flavour.
Tip: Due to its immense popularity, La Forêt gets packed on weekends and may not be the best place to study or do work.
What to order: Squid Croissant, Matcha Scones, Bacon Platter, Fried Chicken Platter
Address: 6848 Jubilee Avenue Burnaby, BC V5J 4B3
Website | Instagram | Facebook
6. Veroni & Co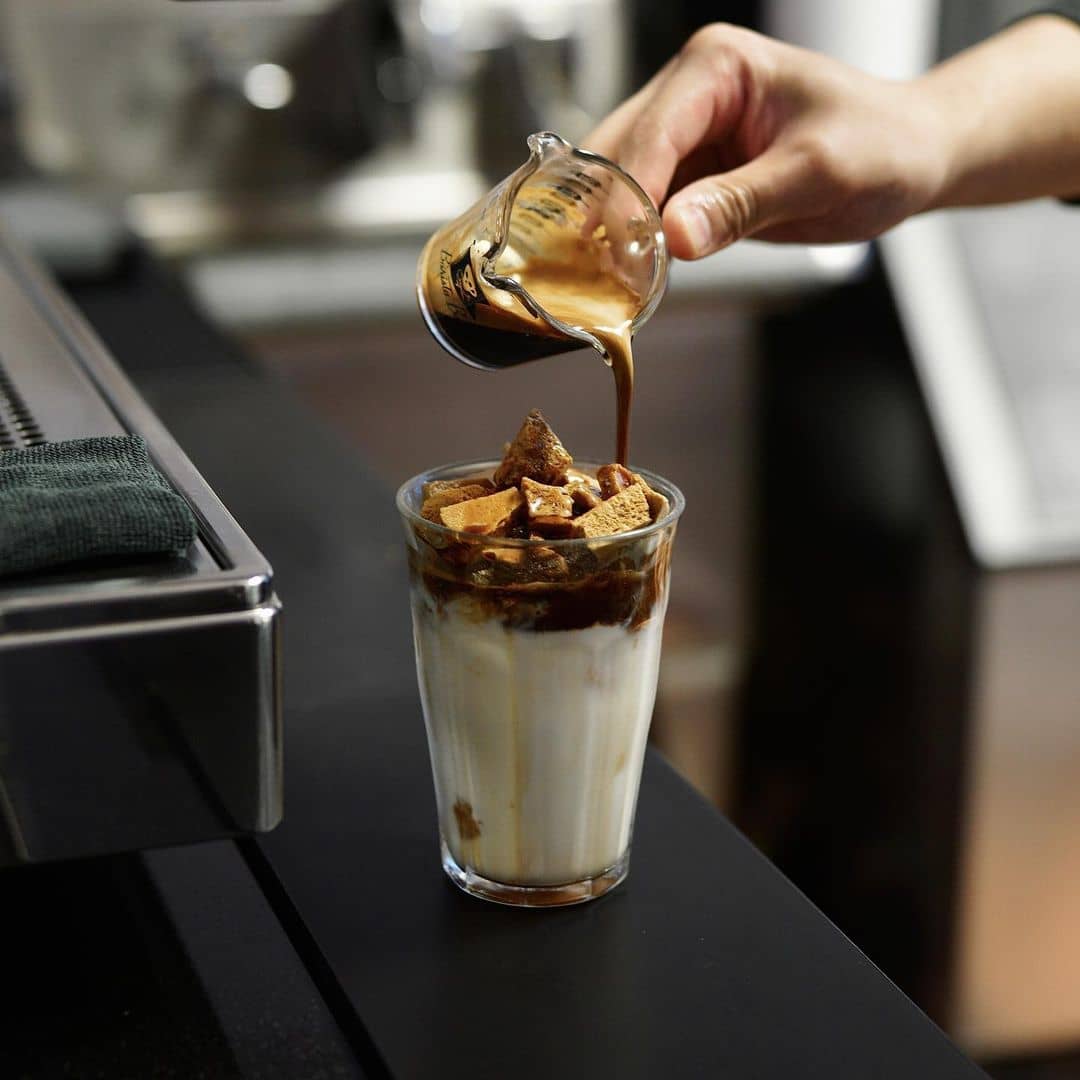 Veroni & Co, a microbrewer coffee cafe located on the second floor of Hannam Mart Plaza, is known for crafting the best espresso drinks. The owner's passion for coffee is evident in each cup. The menu divides choices into "Coffee" and "Not Coffee," featuring Espresso, Long Black, Latte, Cortado, Flat White, Cappuccino, Chocolate, Matcha, Milk Tea, and seasonal drinks.
The café offers a comfortable space for coffee aficionados to enjoy their favourite beverage.
Tip: You can check for the latest seasonal offers at Veroni's website.
What to order: Espresso, Long Black, Latte, Cortado, Flat White, Cappuccino, Chocolate, Matcha, Milk Tea
Address: 219-4501 N Road Burnaby, BC V3N 4R7
Website | Instagram | Facebook
7. Single V Coffee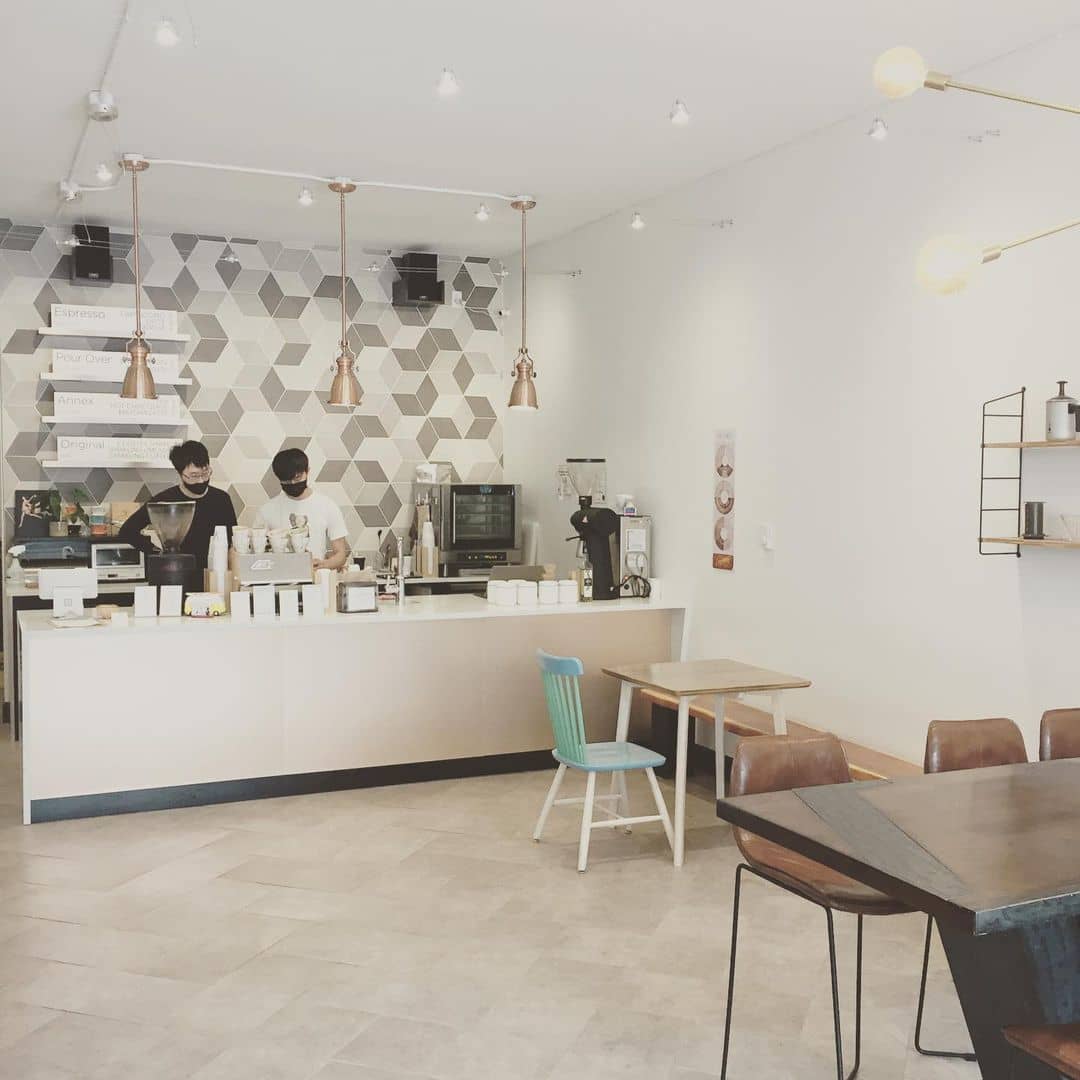 Single V Coffee is a specialty coffee shop that elevates the art of roasting coffee beans, producing a range of flavours from sweet to sour. They invite coffee lovers to discover their various flavours, including the exotic Colombia Los Angeles Geisha and Mexico Samuel Ronzon Lot.
Accompanied by snacks like croissants and cookies, Single V is a haven for those who appreciate the nuances of high-quality coffee.
What to order: Colombia Los Angeles Geisha, Mexico Samuel Ronzon Lot, croissants, cookies
Address: 5000 Kingsway #140, Burnaby, BC
Website | Instagram | Facebook
8. Standing Egg Coffee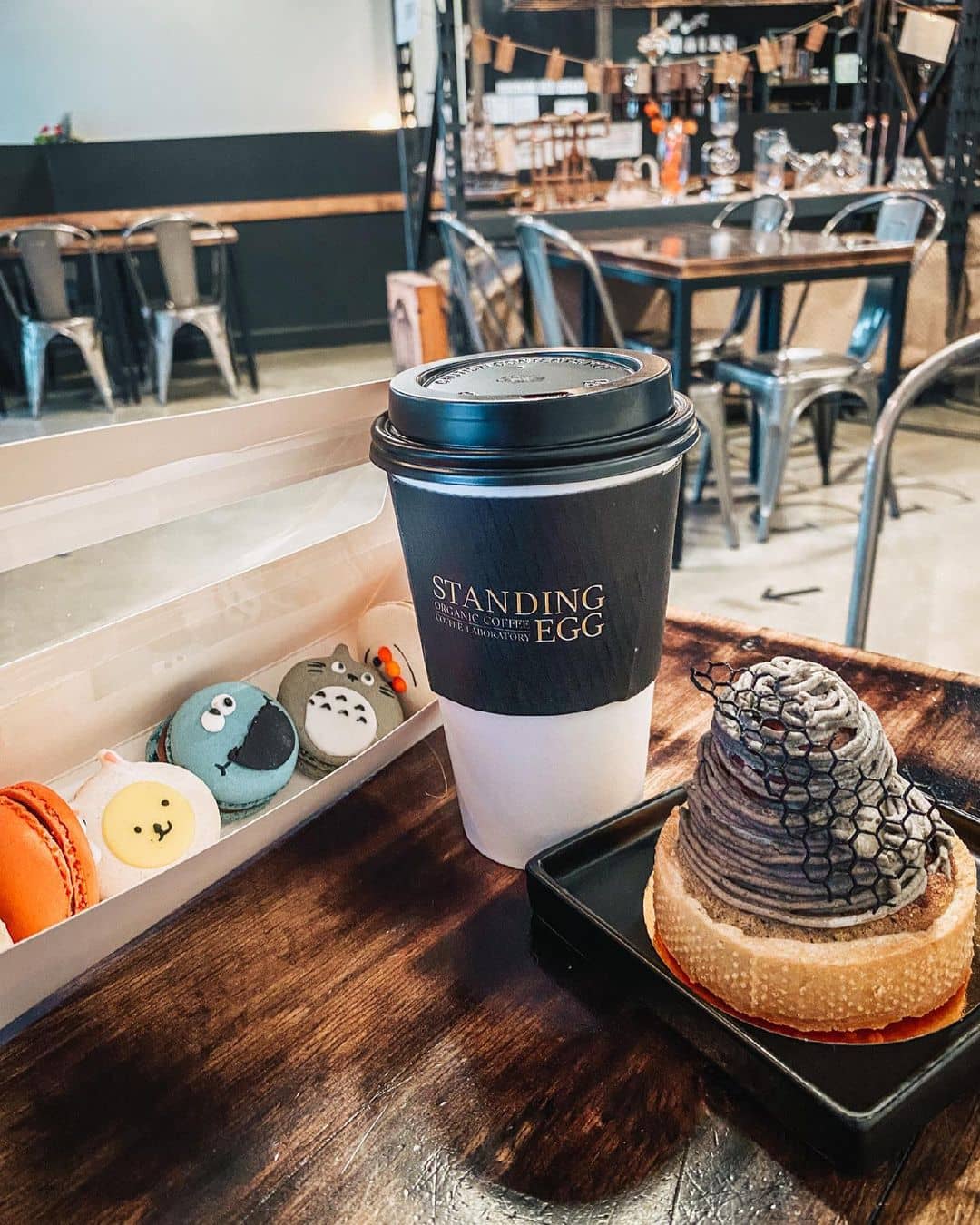 Standing Egg Coffee is a trendy Korean coffee shop, known for its extraordinary vibe and welcoming space. They offer home-brewed Vienna Coffee, Dutch Coffee, and Hand Drip selections. Their Honey Latte is a must-try, alongside delicious options like Ham & Cheese Sandwich or Chicken Panini.
The café also features a range of handcrafted pastries, including delightful "Character Macaroons", making it an ideal spot for casual gatherings or focused study sessions.
Tip: They only allow for 2 hour seating.
What to order: Honey Latte, Ham & Cheese Sandwich, Chicken Panini, Cortado, Character Macaroons
Address: 4501 N Road Unit 109 Burnaby, BC V3N 4R7
Website | Instagram | Facebook
9. Ki Cafe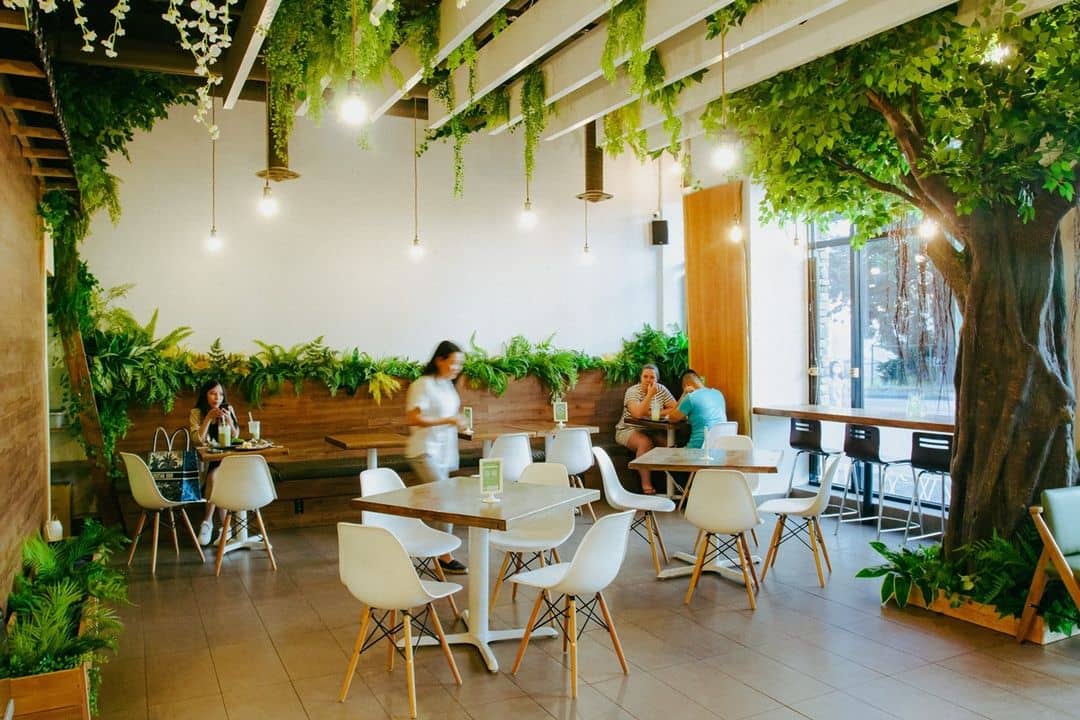 With a Totoro forest theme, Ki Cafe is primarily a dessert cafe that specializes in Japanese cakes, Waffles, Bubble Tea and their specialty fresh fruit drinks. Warm, cozy and inviting, Ki Cafe is lined with shelves containing manga and figurines from Japanese anime. This is a great spot to meet up with a friend, or spend some quality time on your own.
Ki Cafe makes the perfect Japanese Cheese Tarts. It's a specialty item here, soft, warm, creamy and delicious. Their Omurice – Japanese Omelette Wrapped Tomato Fried Rice is another specialty you must try. To wash it down, we recommend the Matcha Azuki, rich and creamy matcha slush topped with sweetened red bean.
What to order: Japanese Cheese Tarts, Omurice, Matcha Azuki
Address: 105 – 6888 Royal Oak Ave Burnaby, BC V5J 4J2
10. Cafe 106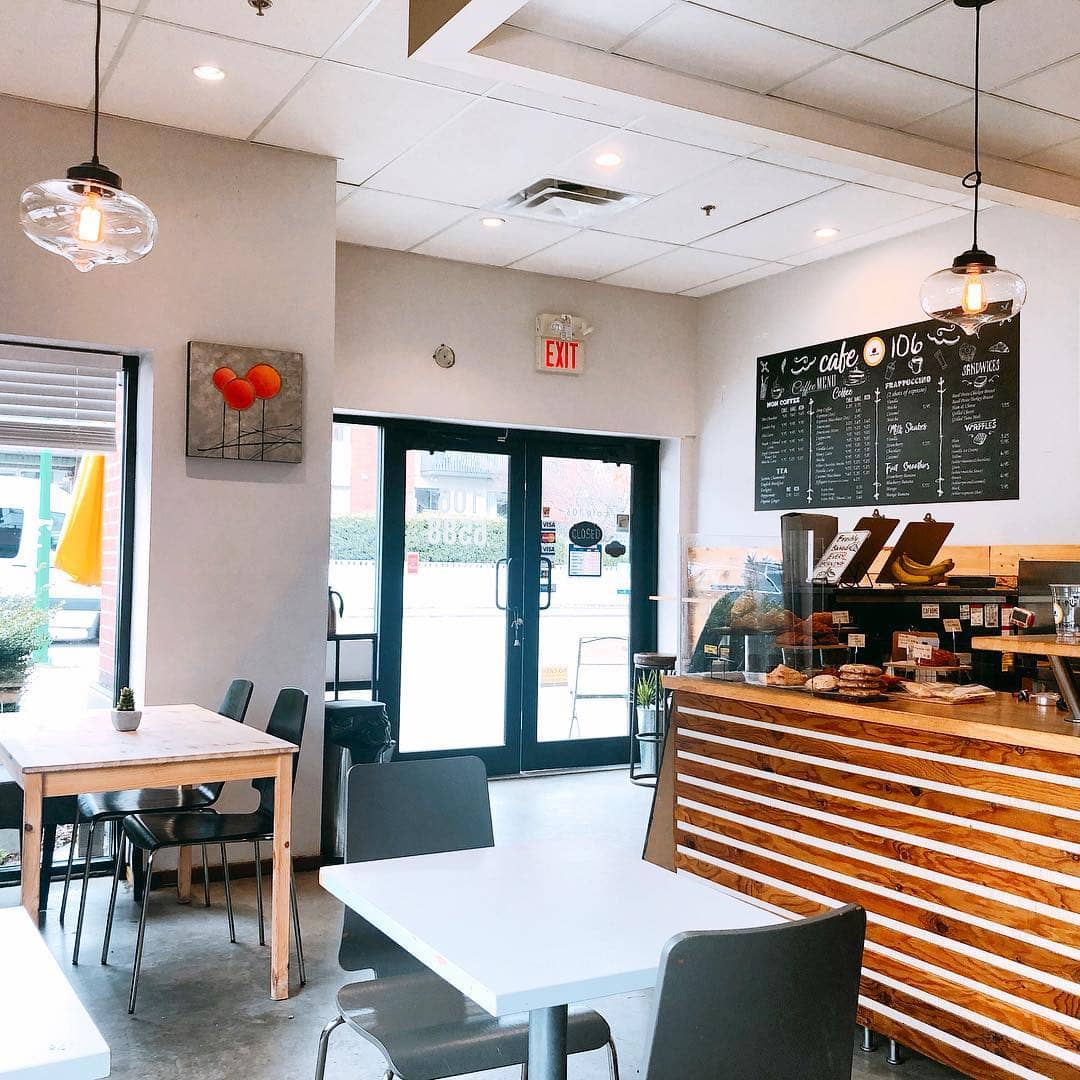 Nestled at the corner of Royal Oak Ave and Grimmer Street, Cafe 106 offers a warm and friendly neighborhood atmosphere, perfect for a quick lunch or a snack. Known for their Basil Pesto Turkey and Grilled Tuna Melt, they also offer lighter options like apple-brie croissants and Chocolate Chip Banana Bread. Their creamy London Fog and Hot Chocolate are crowd-pleasers, making it a go-to spot for coffee lovers and food enthusiasts alike.
What to order: Basil Pesto Turkey, Grilled Tuna Melt, apple-brie croissant, Chocolate Chip Banana Bread, London Fog, Hot Chocolate
Address: 6588 Royal Oak Ave Unit 106, Burnaby, BC V5H 2E6
That rounds up our list of the best cafes in beautiful Burnaby. We hope you try out a few on your next stop there. If you plan to stay longer and crave authentic Japanese food, check out our list of the Best Japanese Restaurants in Burnaby.
How We Create Our "Best" Lists
All Noms Magazine's "best" lists are created using multiple factors and signals to help readers find the best restaurants, things to do, and places to stay at. Some of these factors and signs include personal experiences, correspondence with locals, and compiling experiences from review sites.
Each list is also created to be balanced (in terms of price, cuisine type, ambiance, and more) as possible. This means that the lists are not specifically created in ranking order. You should be comfortable picking from any of the spots on the list and generally have a good time. But of course, YMMV (your mileage may vary) and everyone may have different experiences/palates.