Looking for the best convection ovens on Amazon? Well here are our best picks from the best one for baked goods to rotisserie to smart convection ovens:
This article includes affiliate links where we may get a small commission if you use our link. No extra cost is added to you.
Pros:

Capacity & Size: 5/5

Design: 4/5

Quality: 4/5

Ease of use: 4/5

Pros:

Capacity & Size: 4/5

Design: 4/5

Quality: 4/5

Ease of use: 4/5

Pros:

Capacity & Size: 4/5

Design: 3.5/5

Quality: 3.5/5

Ease of use: 4/5
Best For Baking
Pros:
Capacity & Size: 5/5

Design: 4/5

Quality: 4/5

Ease of use: 4/5
Best Budget
Pros:
Capacity & Size: 4/5

Design: 4/5

Quality: 4/5

Ease of use: 4/5
Best Rotisserie
Pros:
Capacity & Size: 4/5

Design: 3.5/5

Quality: 3.5/5

Ease of use: 4/5
The best convection ovens you can buy on Amazon today doesn't stop at a heating element and an exhaust system. Nowadays, the top-tier, well-received ovens come with a range of preset buttons and are even integrated with an air fryer to provide extra fun and versatility.
The only thing that should worry you is how to pick the right one. You definitely don't want to pay extra for the bells and whistles that you end up never touching. Or perhaps you're looking for one that can give extra crispiness for your baked goods.
Well, no matter what you're looking for, my 5 favorite convection ovens below will accommodate your needs.
What Is a Convection Oven?
A convection oven is built with a heating source plus an additional fan and exhaust system. This extra feature circulates the heated air all around the interior, providing consistent and even heat distribution for the food. The moving air speeds up the rate of heat transference which helps minimize cooking time with a lower temperature.
Convection ovens are the best fit for that food that performs better in a dry environment where browning and crisping edges are expected. If you plan to do lots of roasting, frying, and pizza baking, convection ovens are the right way to go.
The Best Convection Oven Reviews
Best Convection for Baked Goods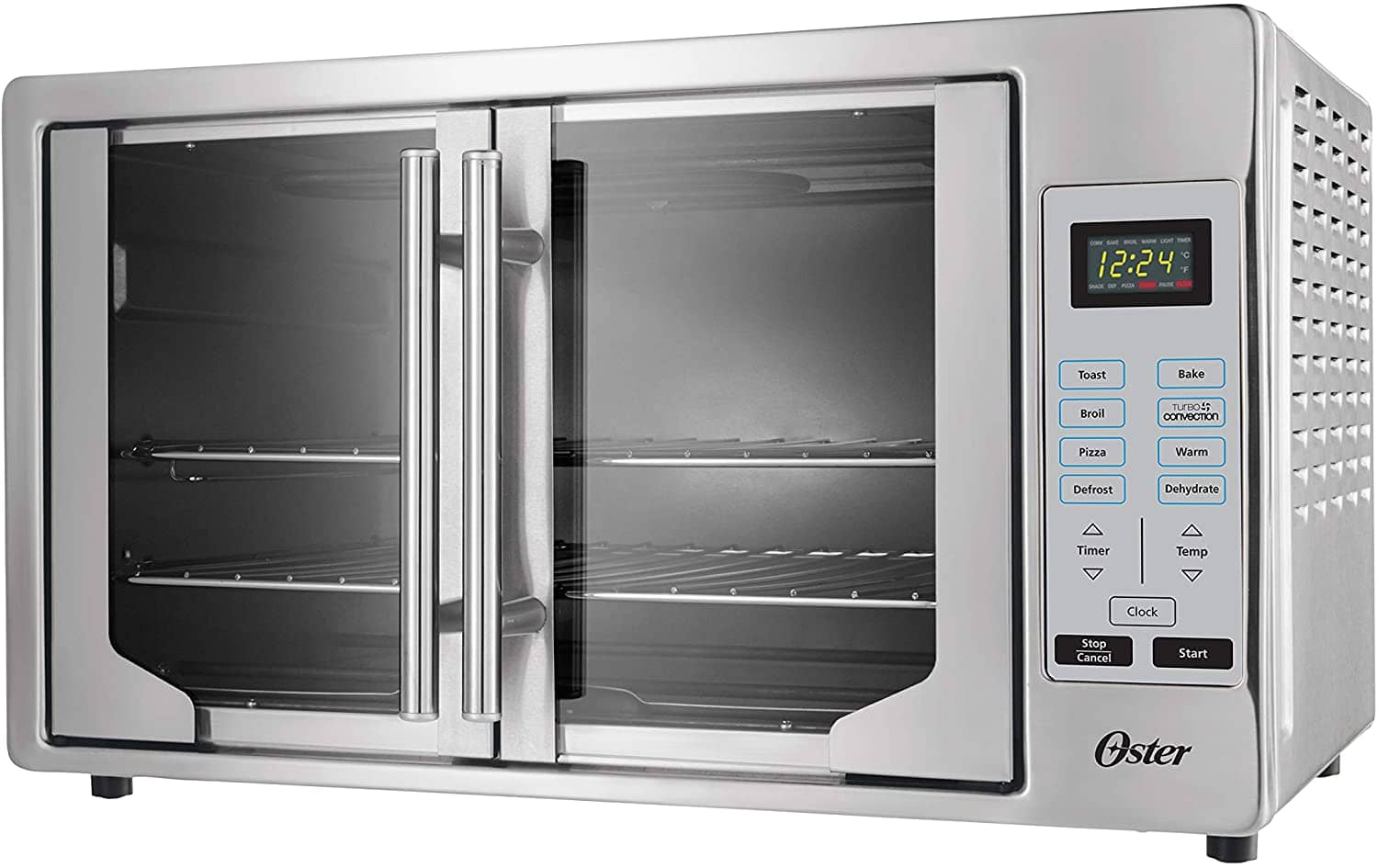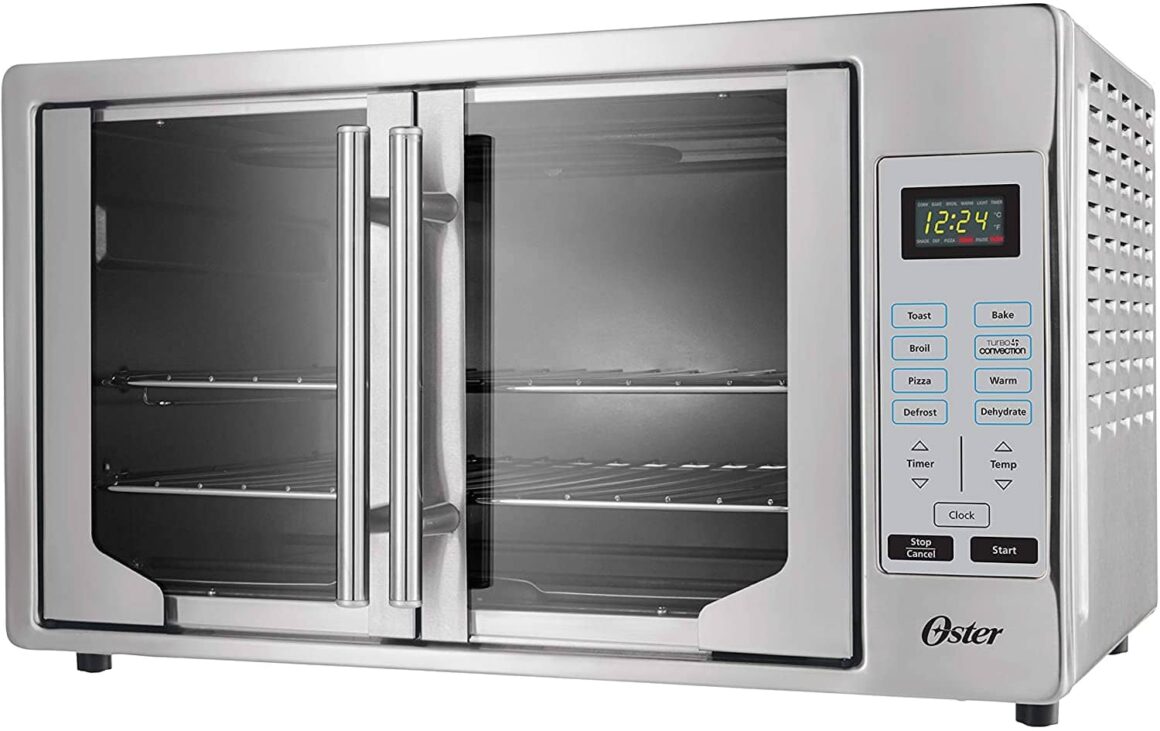 What you want to see from baked goods done right are the texture and unique taste. And that's exactly what this Oster oven can do.
First of all, the stylish French doors speak for themselves. I'm always excited at this type of door that allows me to open it with one hand's ease. Plus, the glass doors totally help me avoid guesswork. Whenever I need to get some pizzas done for a family union, I can always tell the rising level and how crispy the edges get during the baking from the two racks inside.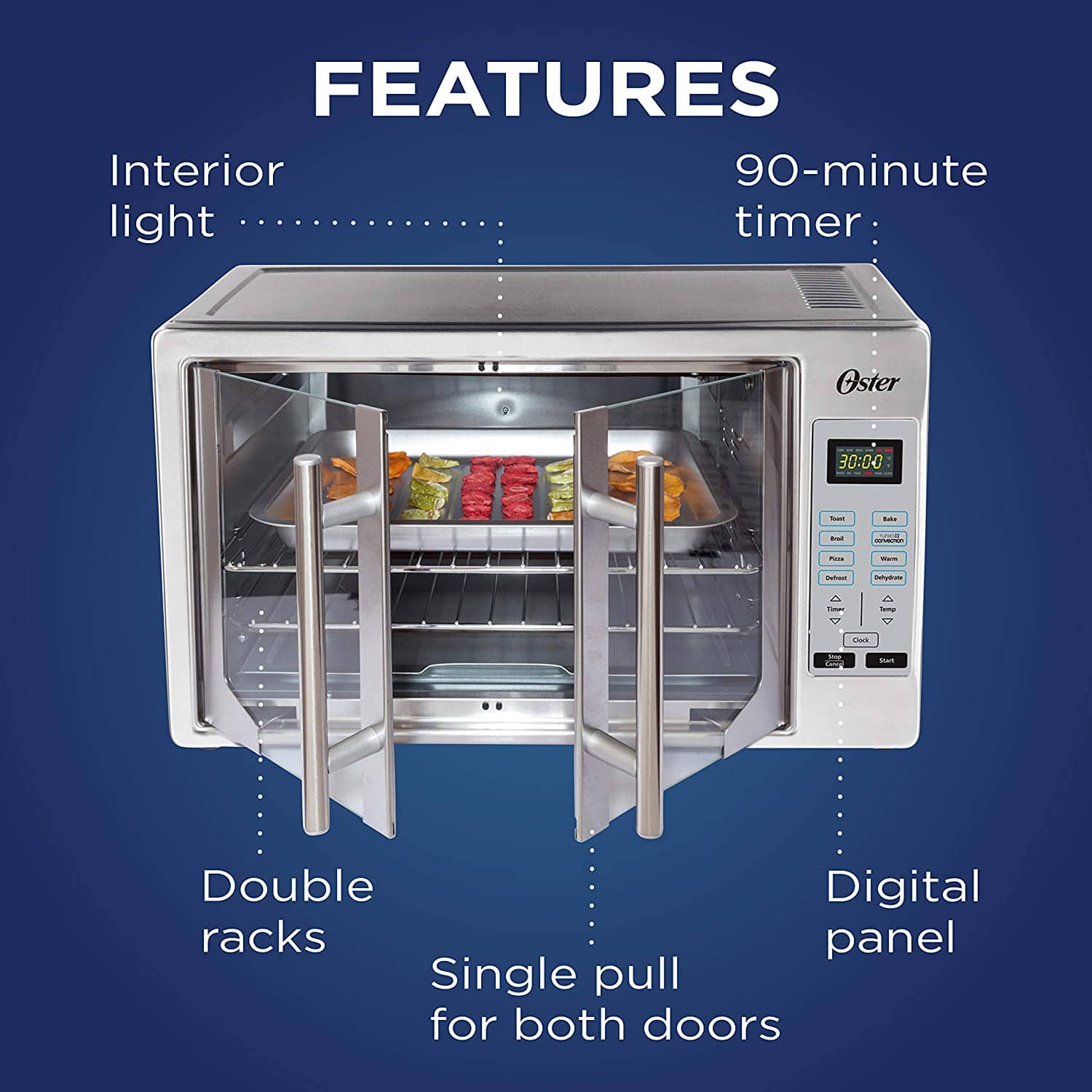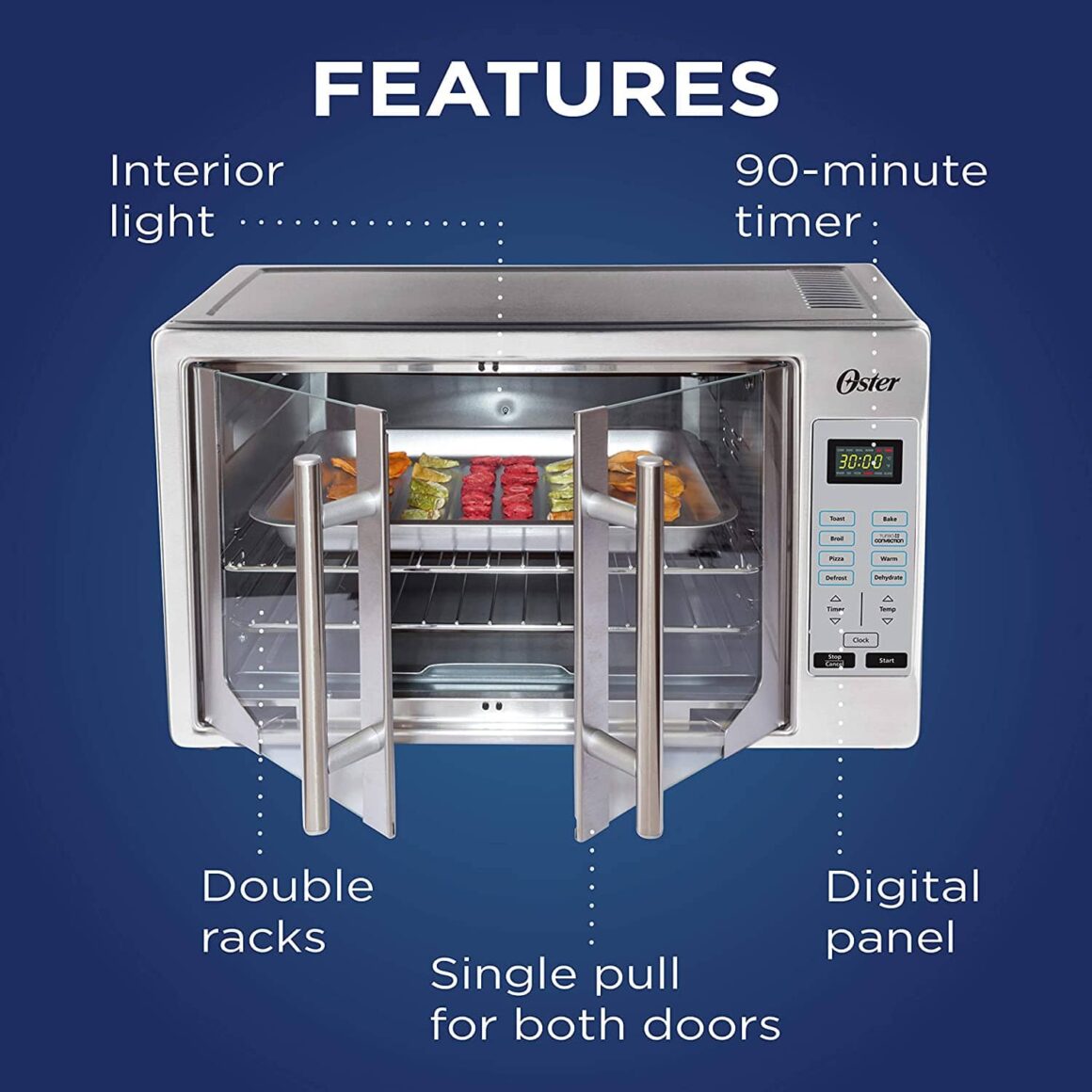 The large capacity allows you to bake two 16-inch pizzas at one go, a small chicken, and even 14 slices of bread. When you turn it on, the turbo convection mode starts out at 350 degrees and 30 minutes but you can always set it the way you want using the digital controls.
I've seen some people complain about the gap between the two doors but you shouldn't let it hold you back in doubt. The slight gap makes sure the doors are opened and closed properly, which is part of the integral design itself.
So yeah, the heat you're afraid to lose won't be that much. Otherwise, given the fact that it has interior lighting and speedy heating time, this Oster oven is totally worth your money.
Features:
Turbo Convection baking technology.
Two racks provide maximum cooking flexibility
Extra large interior
Digital controls
90-minute timer
Best Smart Convection Oven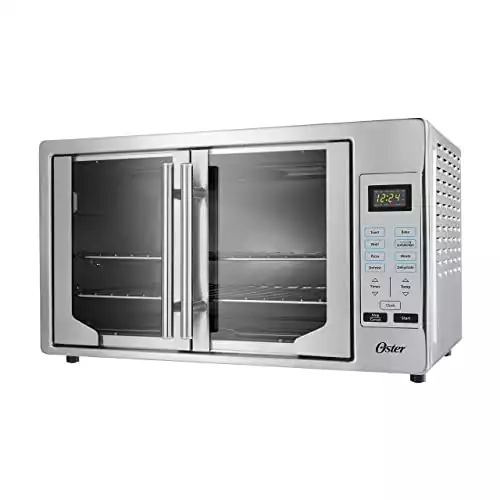 Best Smart Convection Oven with Independent Heating Elements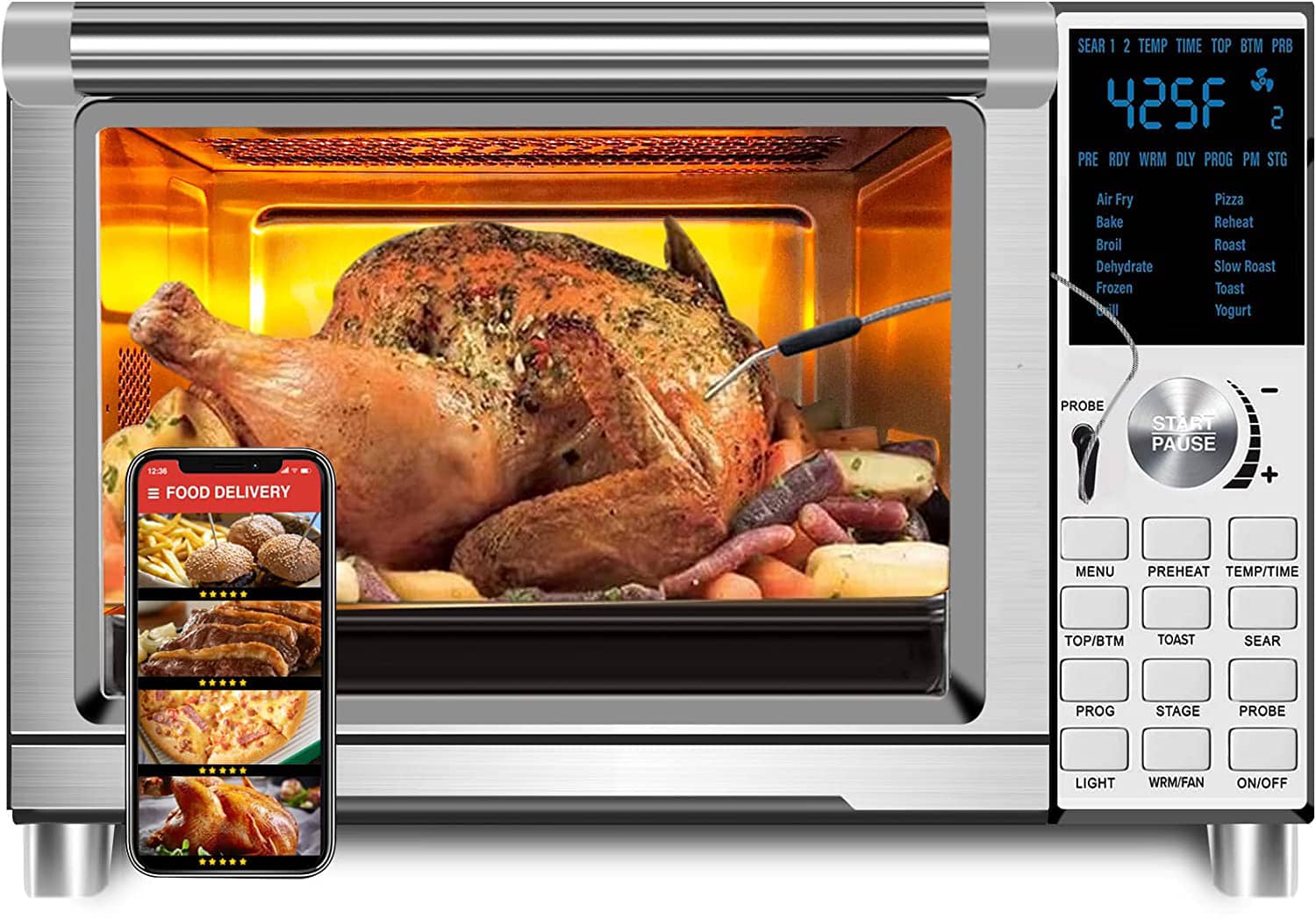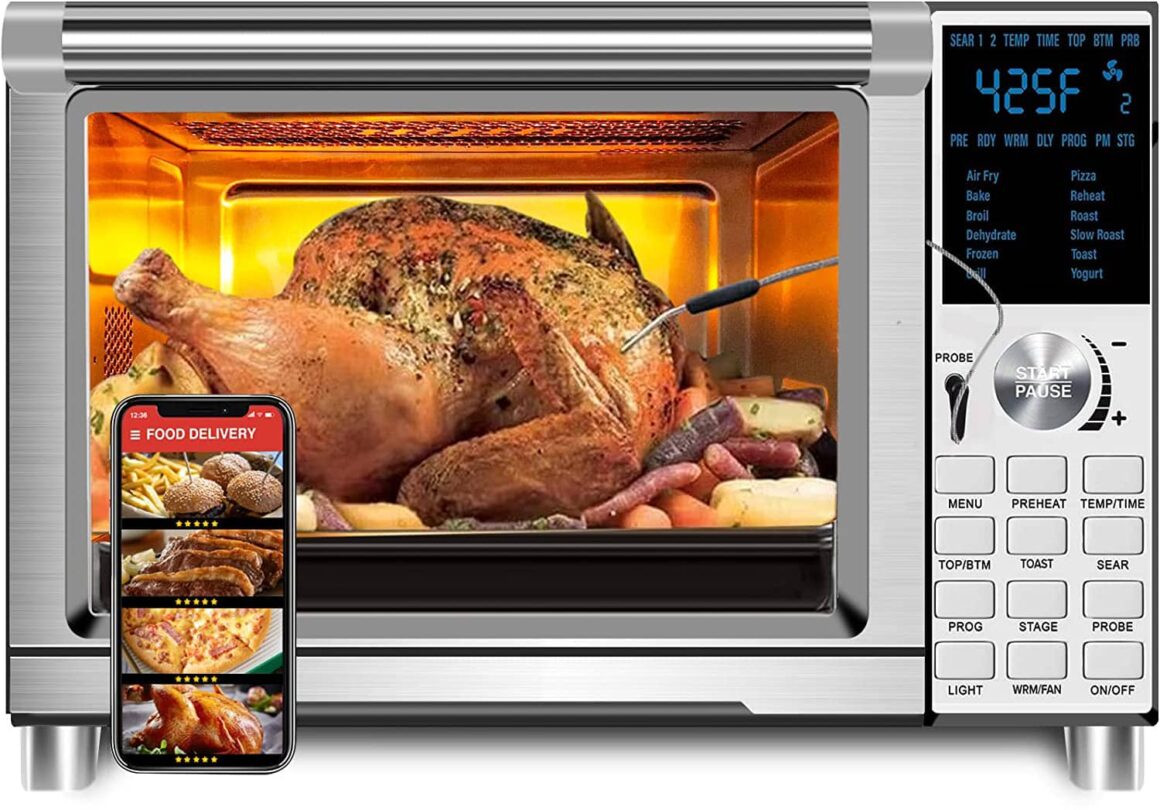 What can I say about this smart oven? Let's start with how it lets you adjust the power of the top and bottom heating elements independently. This feature comes to the rescue whenever I wanna make some tortilla or cheesy pizzas that need more heat on the top until it's slightly brown and less heat at the bottom. Then all I need to do is flip it over and adjust the heat once more with 30% more heat for crispy crunch crust.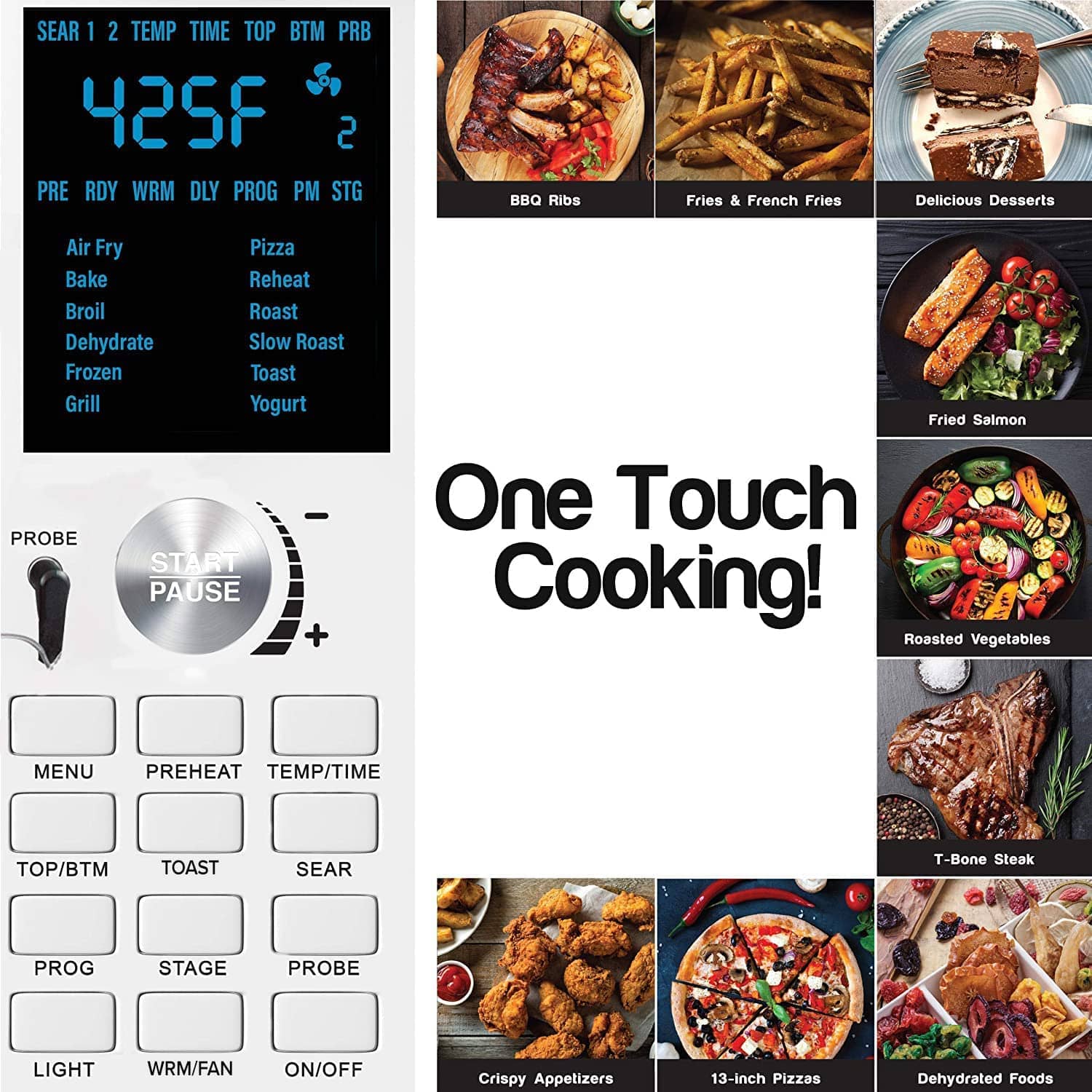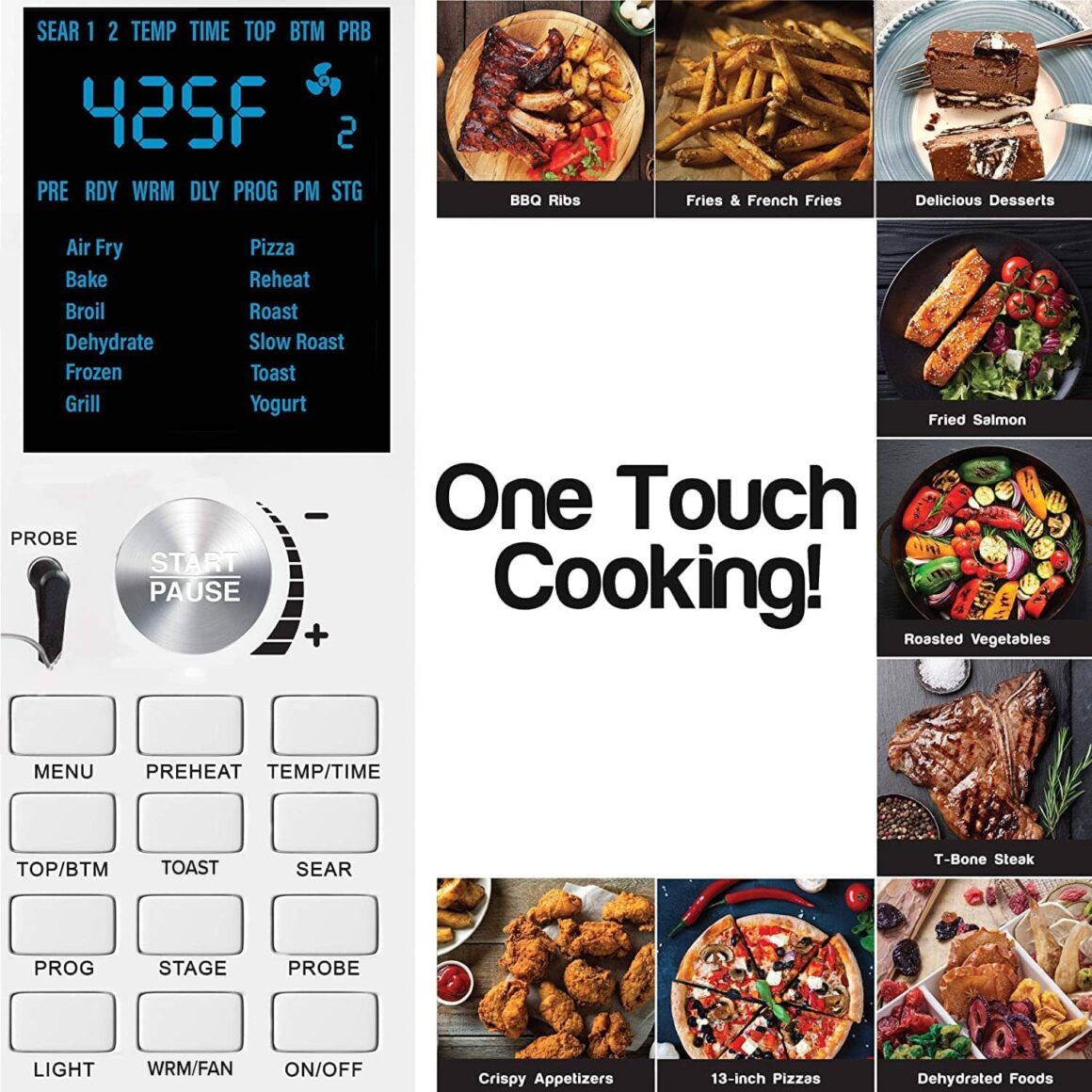 It gives you 12 preset cooking functions from toasting to defrosting and air-frying. Even better, you'll have access to an additional 100 pre-programmed recipe presets in addition to 50 slots. So get ready to unleash your inner chef.
The interior capacity is big enough to hold a 9×13 muffin pan, all fit inside a high-quality, heat-resistant construction with a shatter-proof tempered glass door. Unbox it and you'll find some heavy-duty cooking racks, a non-stick enamel baking pan, a broiler rack, a crumb tray, and an air fry basket. With less than USD 200, this kit is definitely a steal!
On the downside, you may need some time to identify the features and learn how to use them as they can be complicated for some people. For example, some stages of cooking need a bit of investigation. Plus, the toasting preset doesn't handle it very well but you can still get it done eventually.
Another minor thing that can be adjusted is that the oven doesn't continue to report the temperature after the oven shuts off. Otherwise, I'm happy with a lot of things about this model.
Features:
12 preset functions.
Adjustable top and bottom heat control.
5-quart heating elements.
3 super convection fan speed.
Precise temperature control.
Best Convection Oven for Rotisserie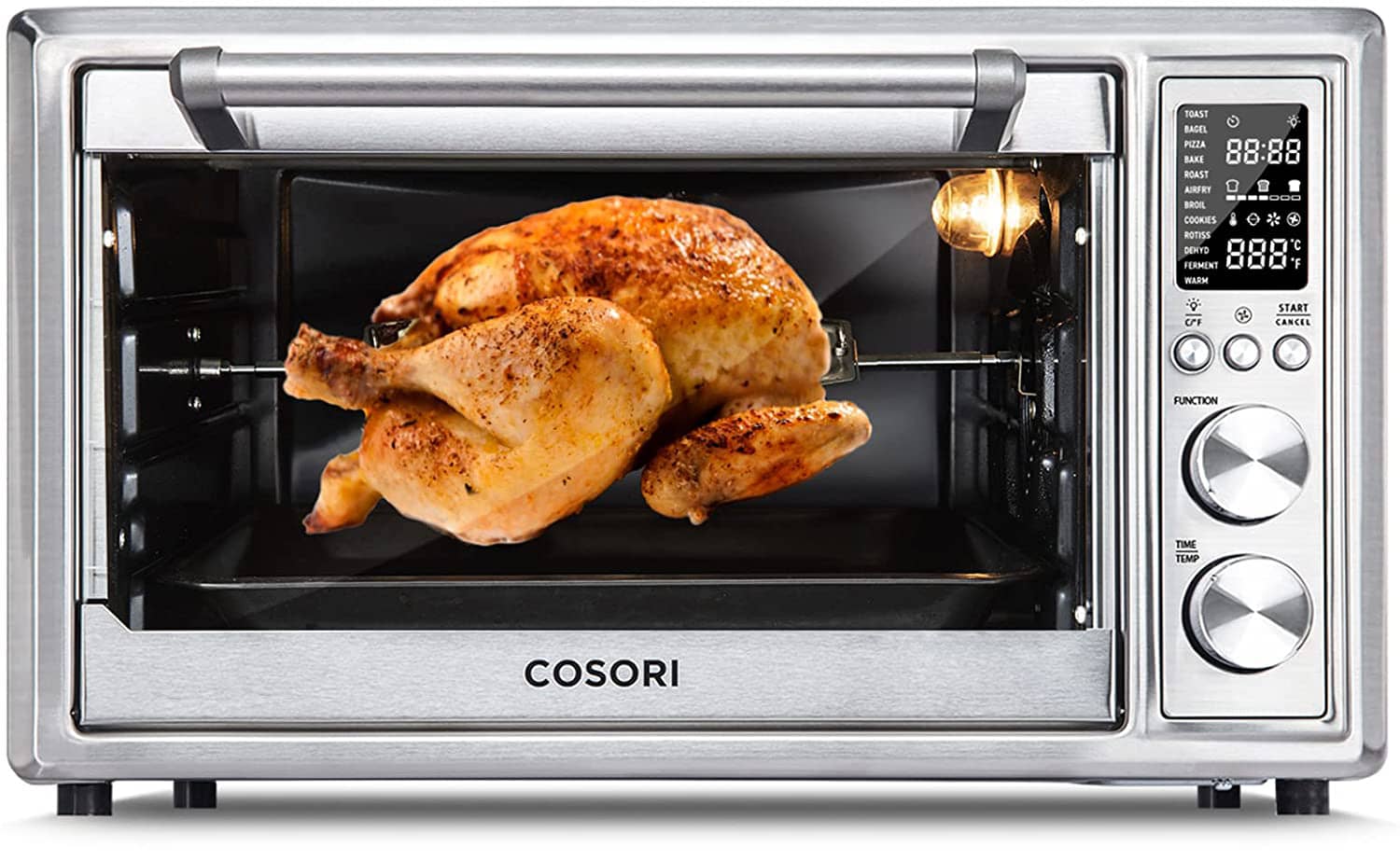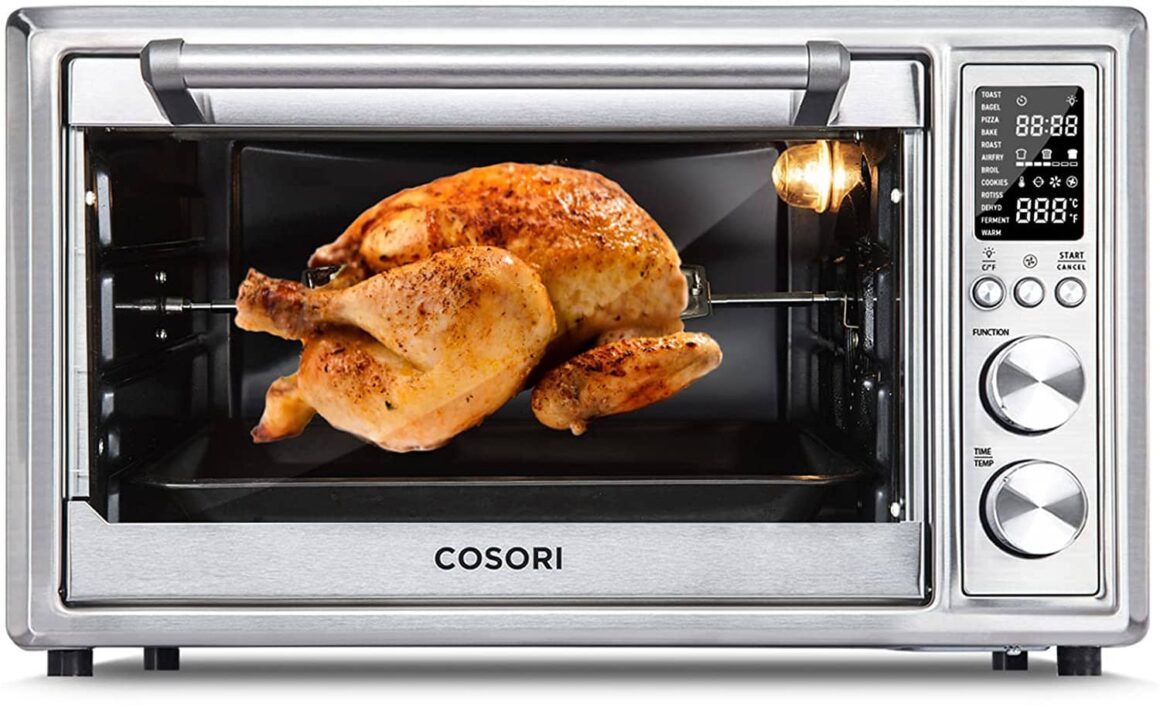 How many times do you need to grill a whole chicken for a family bonding dinner? There's nothing better than waiting for that free-range chicken to come out succulent, evenly cooked, and golden after self-basting and letting it rotate. Bring this COSORI toaster oven home and alleviate your chef's recipes!
The first thing you've gotta know when going out choosing a rotisserie oven is the capacity. This COSORI model holds 30 liters, and that means an entire rotisserie chicken, a pork loin, or a leg of lamb can fit.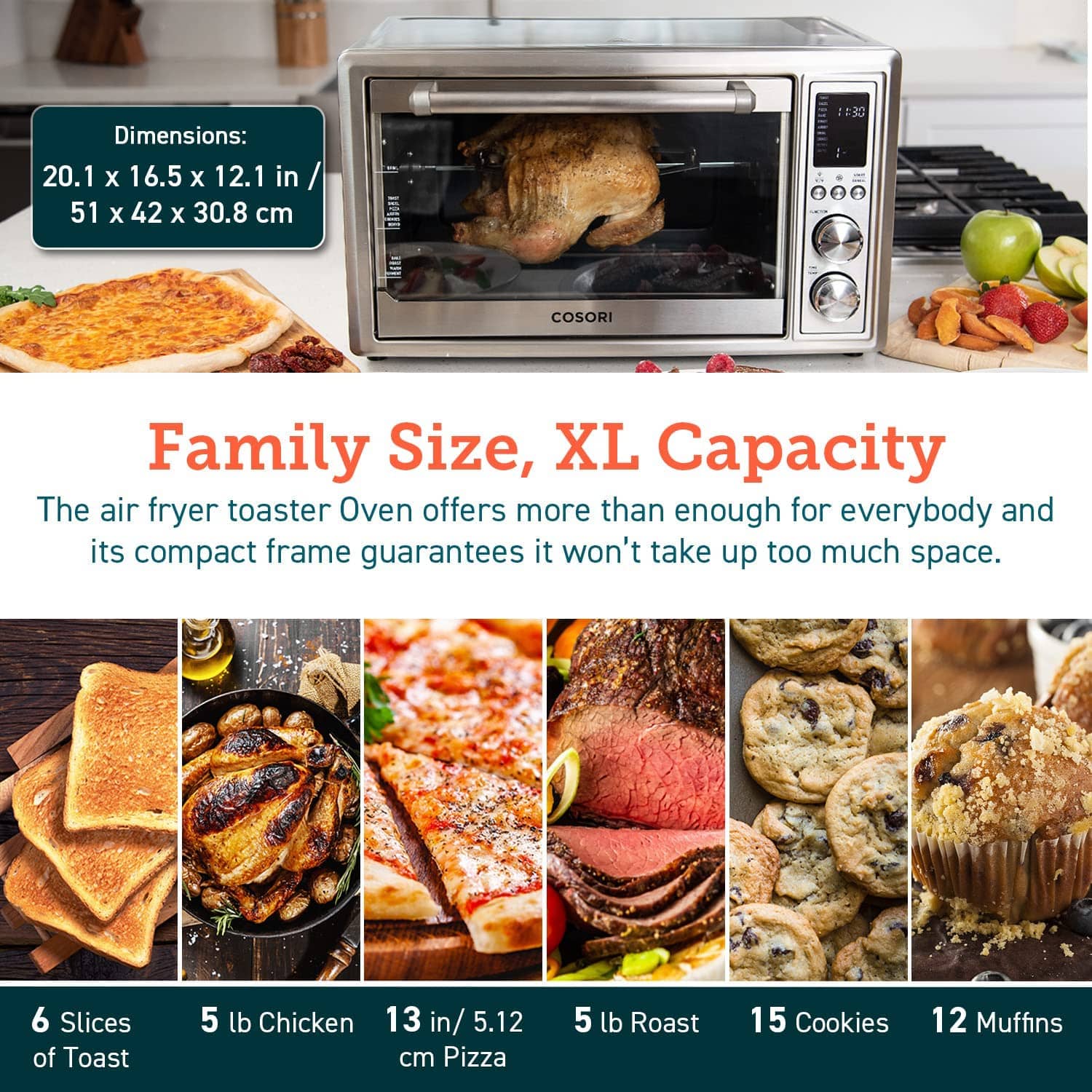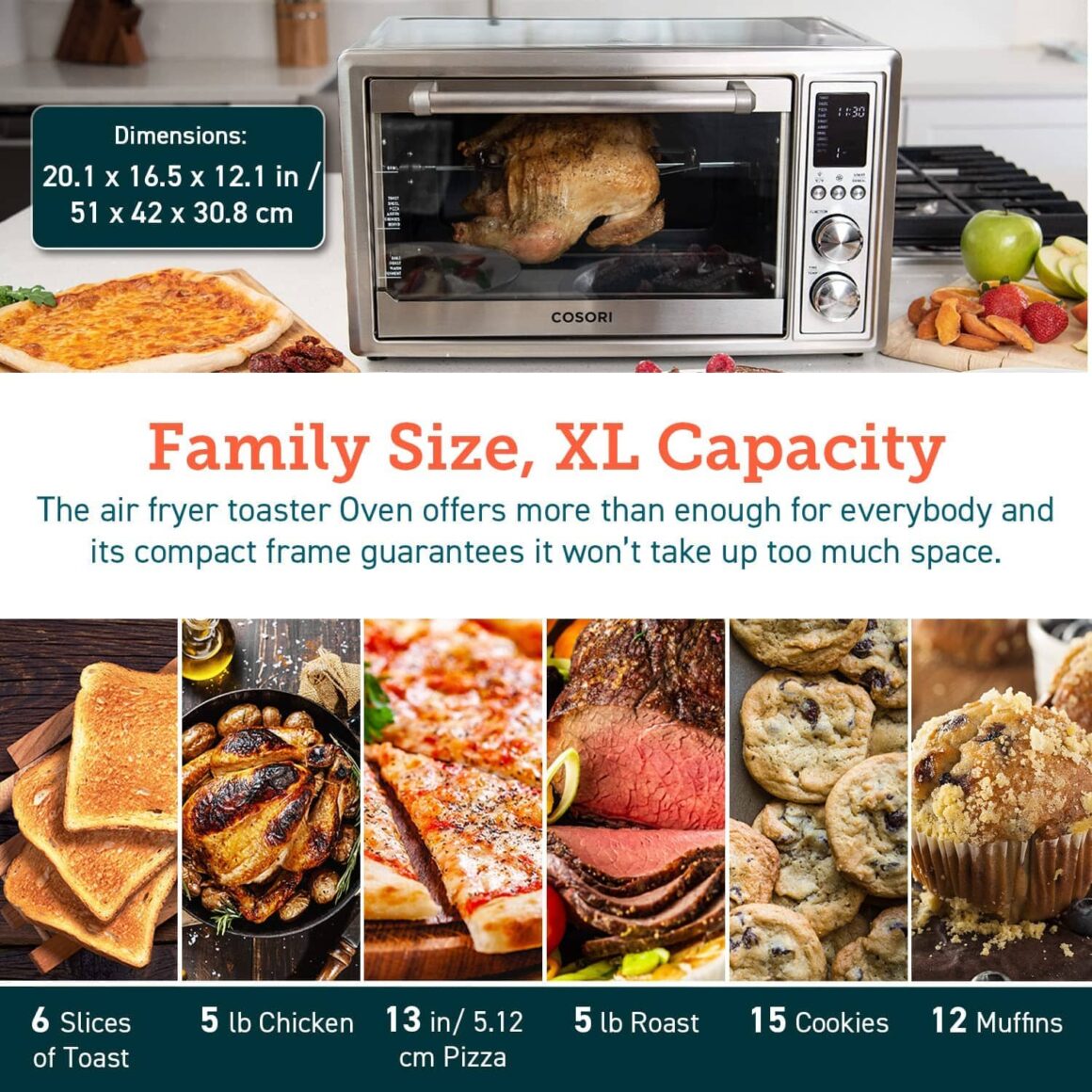 I understand that you have a lot more cooking to do than just rotating a chicken. This COSORI includes a 100-recipe cookbook with a set of 6 accessories. Other than standard items such as the crumb tray, fry basket, food tray, and wire rack, you'll also have a rotisserie fork set.
Now let's go over the drawbacks! It does get hard to clean but it shouldn't be the end of the world. However, you're likely to run into extra cleaning work due to the grease dripping all over. Speaking of the grease, make sure you put the catch-tray on the bottom shelf of the broiler. Otherwise, the oil will drip all over the coil under the construction and it ends up smoking the house. So make sure you'll read the manual carefully.
Features:
12 preset functions.
2-speed convection fan and 5 smart heating elements.
30-liter capacity.
100 recipe books and 6 accessories are included.
The air-fryer function cooks the food with up to 85% less oil than traditional deep-fried foods.
Durable stainless steel, solid nonstick interior, and high-quality glass door.
LED display.
Interior lights.
Best Convection Oven for Rotisserie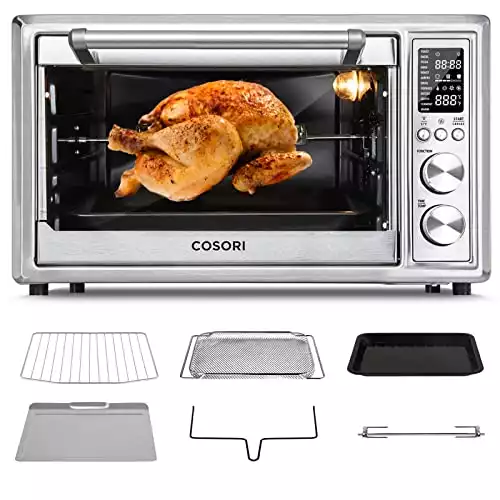 Best Budget-Friendly Convection Oven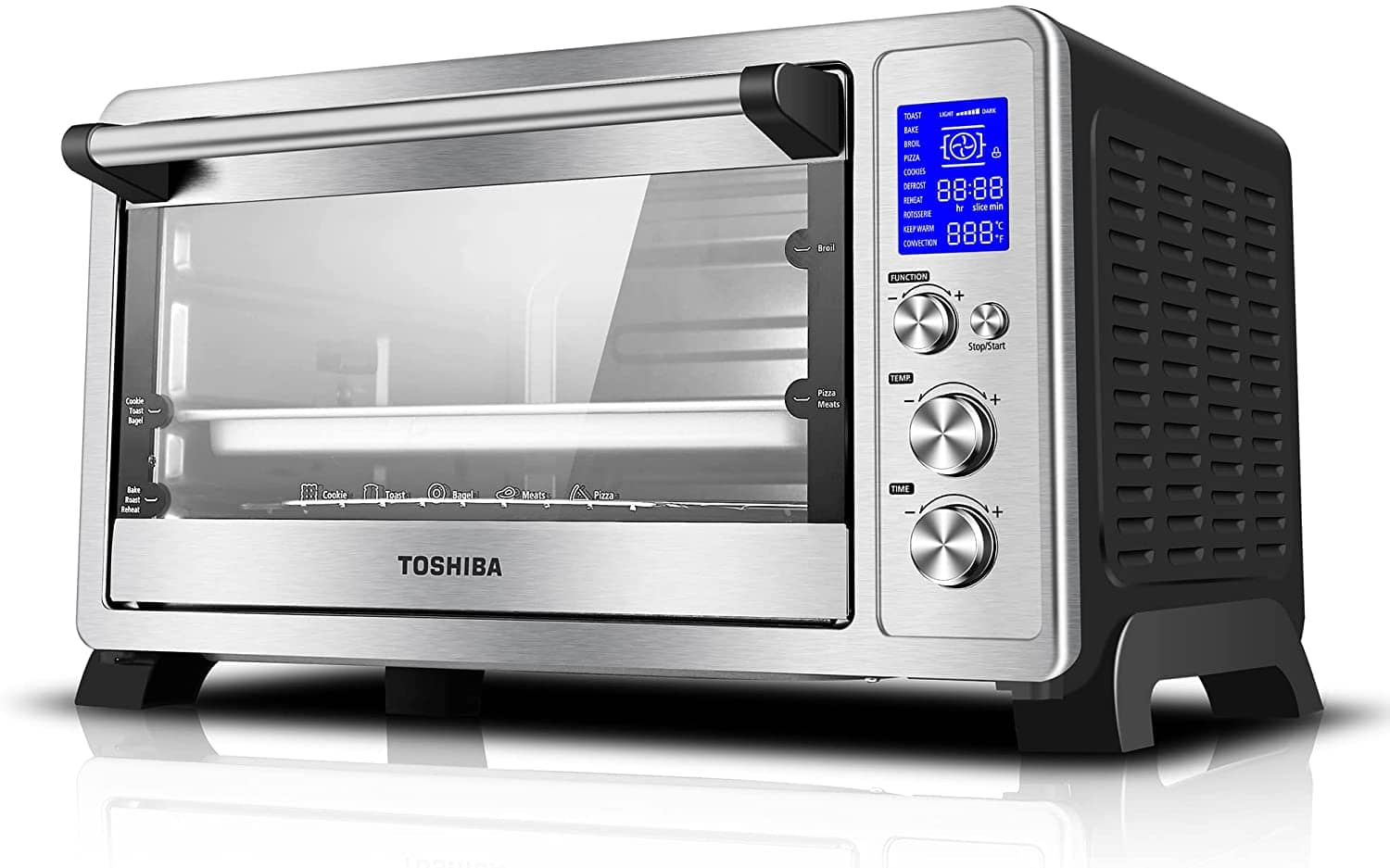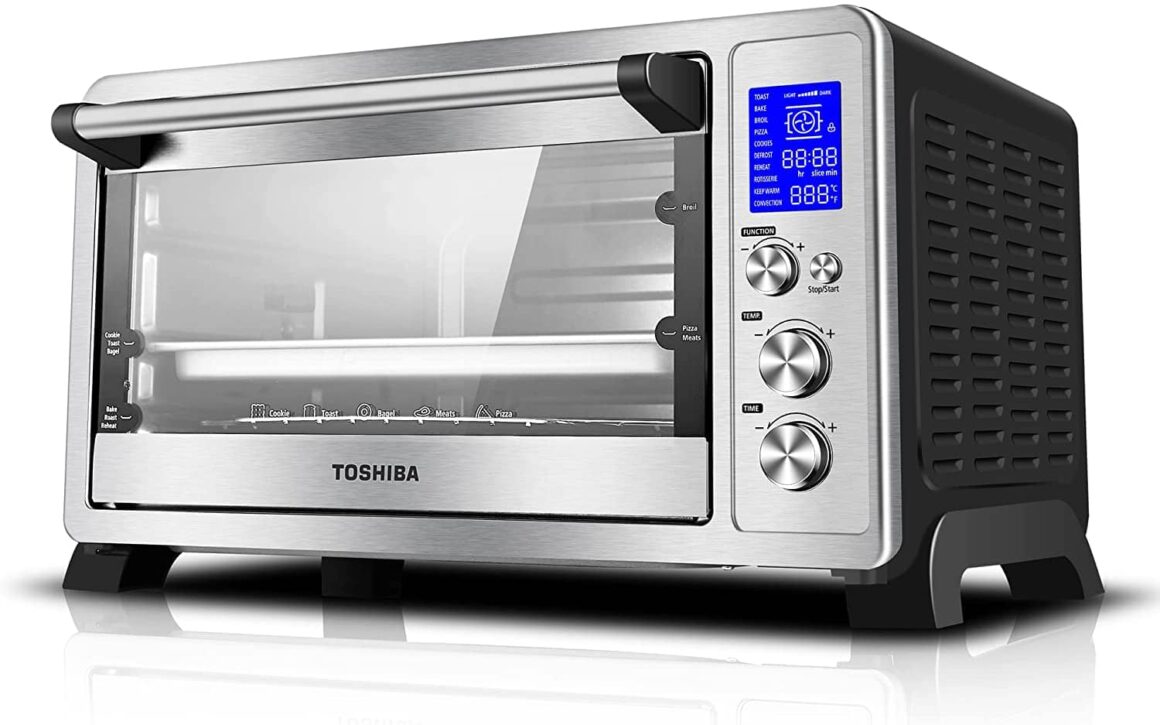 Some of the cheapest convection ovens you can find on Amazon start as low as CAD 60 like this Hamilton Beach Toaster Oven. If you live alone and don't mind baking a 9-inch pizza in a 4-slice capacity with a standard set of 5 functions and 3 knob control, it's still very well-received.
However, if you're willing to spend extra, this TOSHIBA digital oven will have you in awe. It's still on the lower end but comes with a power output of 1500W. If you're wondering how big it is, well, you can throw a 12-inch pizza or 6 slices of bread in there. Even half a chicken will do the trick.
On the functioning side, you have 10 cooking settings and adjustable temperatures from 150 °F to 450 °F. Even though you barely pay over USD 100 for this piece, it still gives you 6 accessories including a removable crumb tray, rotisserie kit, lifter, baking rack, baking pan, and a rack clamp. That being said, the cheap price tag doesn't speak for the quality. Once it's done, it beeps really loudly which can be a little 'off' for some people but it definitely shakes me up if I'm in the middle of something.
One word of warning, the convection oven is super powerful. So make sure you have parchment paper or a silicone baking mat as the metal tray gets really hot. That being said, it also toasts the bread very quickly. Start the setting lighter if you're new to it until you figure out what works and what does not.
Features:
1500W powerful output
10 cooking settings with adjustable temperatures from 150 °F to 450 °F
Bright digital display, easy-to-turn control knobs, dual position racks, and non-stick interior
6 accessories including a removable crumb tray, rotisserie kit and lifter, baking rack, baking pan, and a rack clamp.
Best Budget-Friendly Convection Oven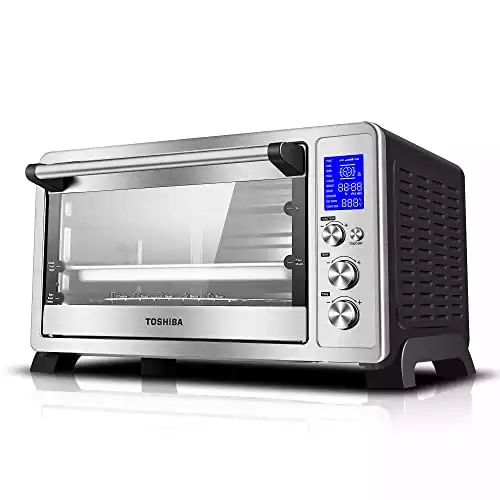 Best Mini Convection Oven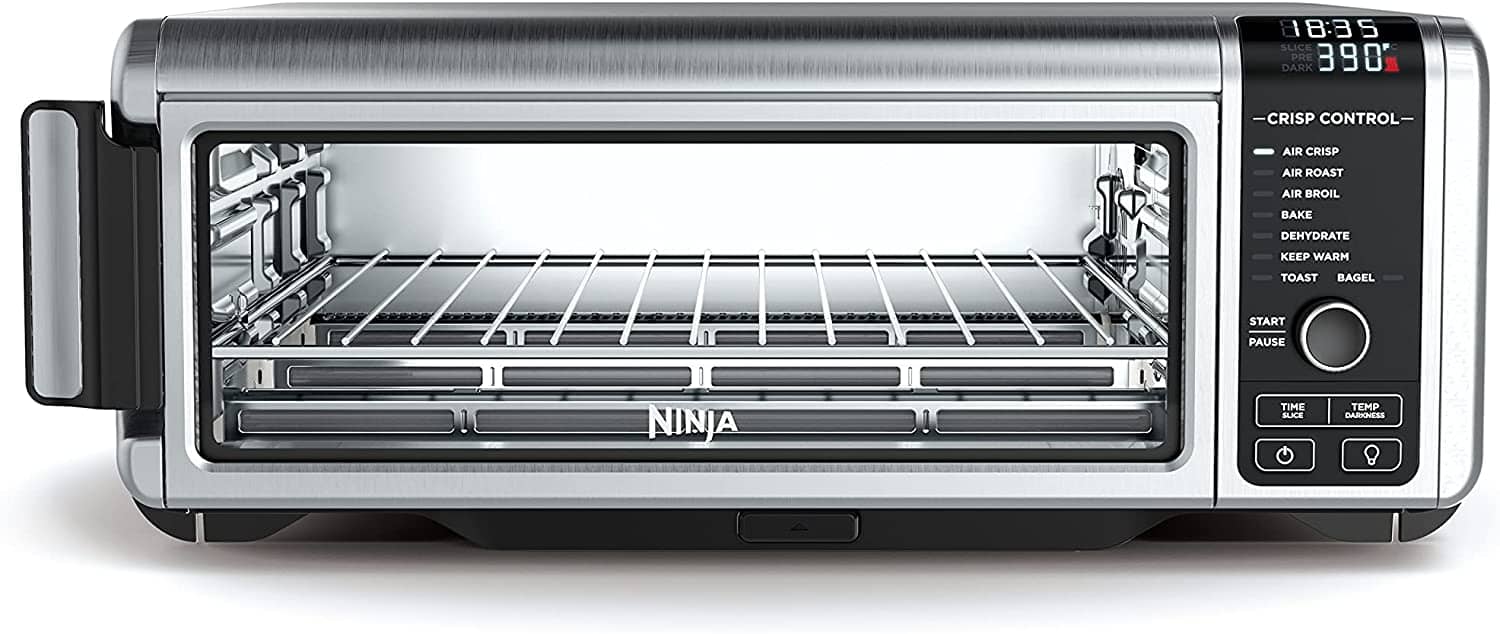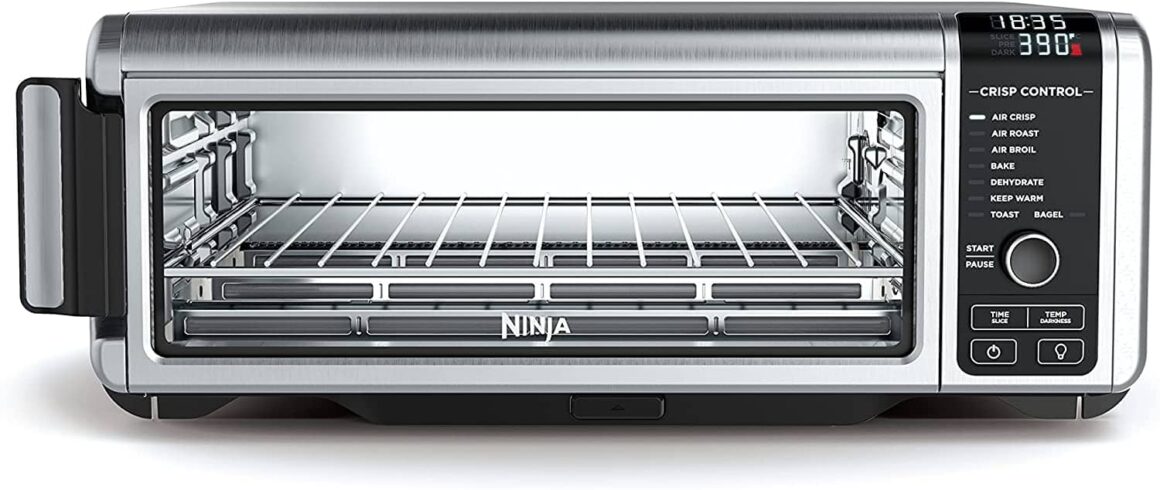 Weighing under 19 pounds and holding 169 cubic inches, this Ninja Foodi oven is the best call that's small enough for a one-person lift. I love how it folds perfectly on the countertop and so it doesn't eat up valuable counter space when I'm not using it.
You can do the same by flipping it up and away at a corner to store and reclaim your space.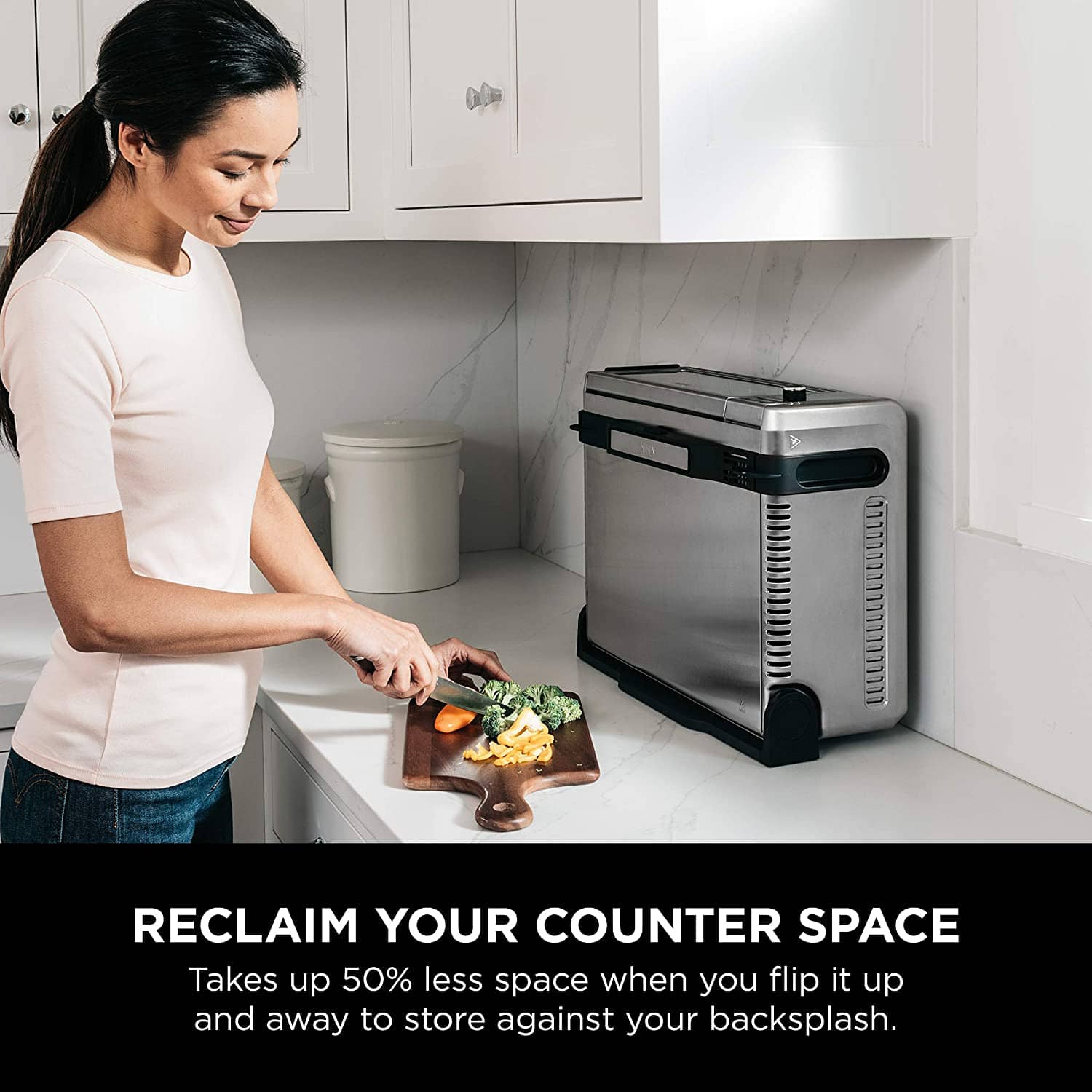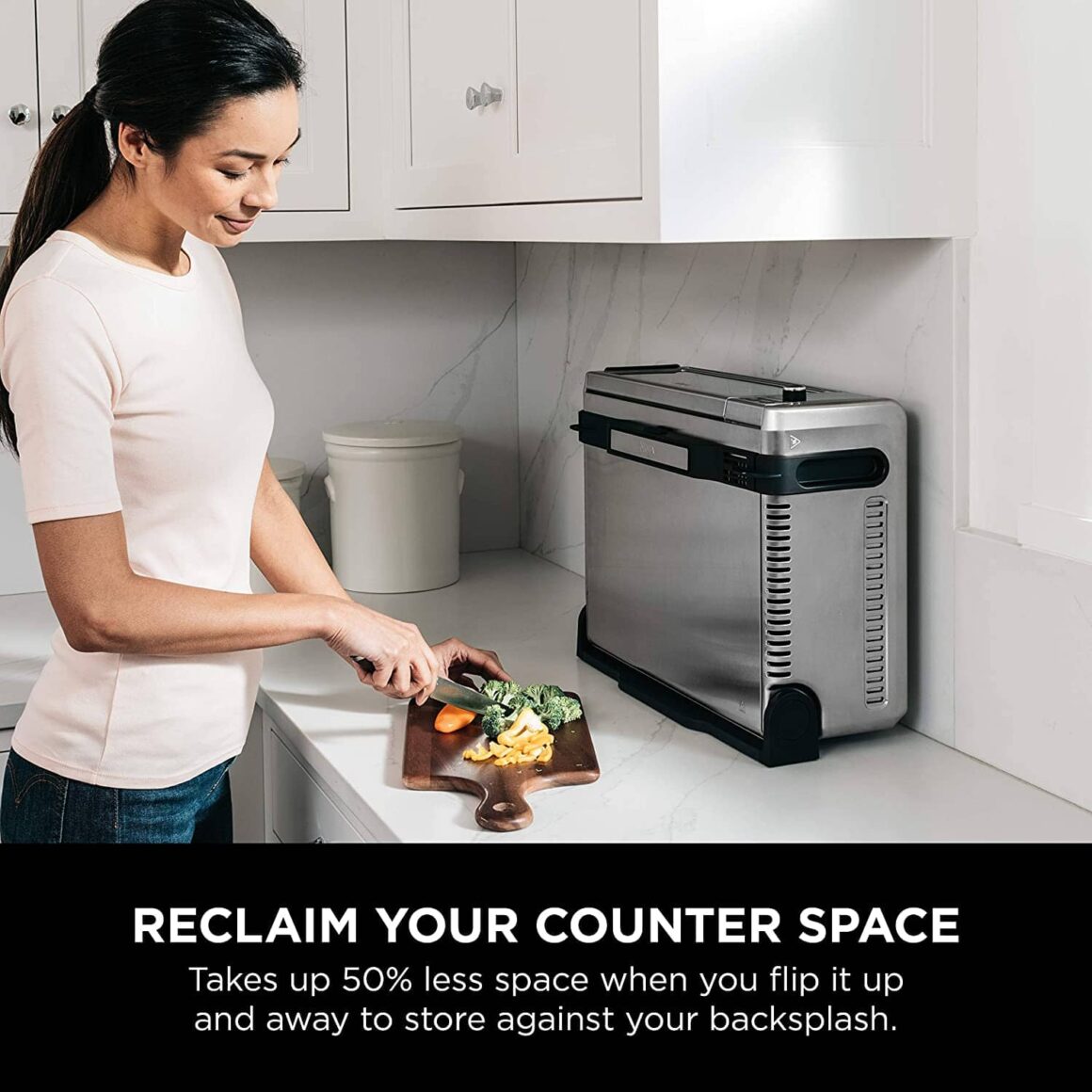 Despite the compact interior, you can easily fry a big batch of French fries or 9 slices of toast on top of the rack. So I would say if you cook for one or two, this Ninja Foodi oven totally nails it.
Some words of caution, the interior metal surface can't be cleaned properly. The splatters are baked on permanently by the time the interior completely cools down meaning you cannot swipe it off right away after you're done cooking. That being said, about a few uses, the splatters seem to stay intact on the inner metal surface for good. Even though it sort of affects the way it looks, it doesn't seem to stick to the glass door or affect the performance.
Lastly, given such a small capacity, you may find it hard to buy additional muffin pans and casserole pans elsewhere that fits the size of the oven if they happen to be broken down the road.
Features:
8 preset functions.
2 accessories and 15 recipes are included.
Powerful 1800W.
Easily accessible back panel for deeper cleaning.
Best Mini Convection Oven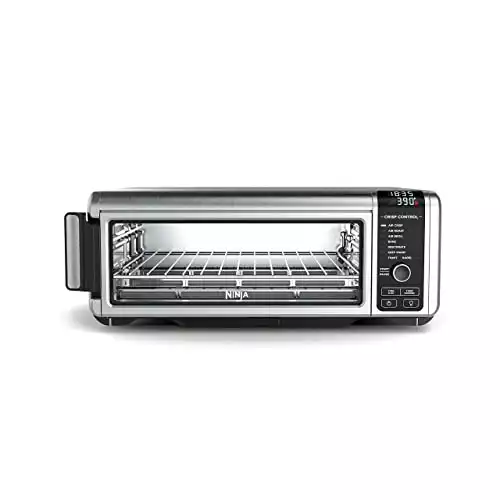 What To Consider Before Buying a Good Convection Oven?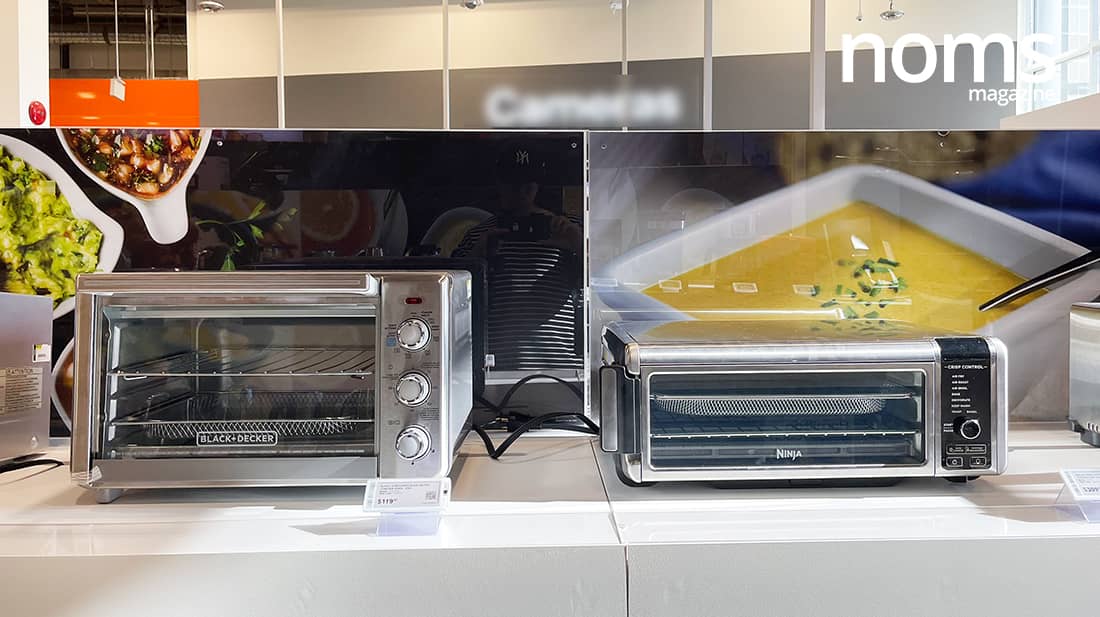 1. Capacity and Size
On the get-go, convection ovens are broken down into two major types: countertop ovens and floor ovens (also known as commercial ovens or wall-mounted ovens). Most toaster convection ovens can accommodate 2 ½" deep pans up to 4" for taller items such as bread.
Choose the right size based on your cooking batch and frequency. If you're not running a pizza store or having anything to do with the food service establishment, then opt for a countertop oven to save space and money.
On the flip side, larger machines fit in more products at once, estimated to hold up to 9 to 12 sheet pans simultaneously.
2. Electric vs Gas
A gas-powered oven heats food faster without relying on an electric connection to run the fan motors. Plus, a gas oven has a more responsive heat control which is perfect for rotisserie, meat searing, or stir-frying.
Whereas, an electric convection oven provides a better uniform result. It also distributes a drier heat you expect for a crispier texture of baked goods.
3. Cooking Time and Settings
A convection oven cooks about 25 to 50% faster than a conventional oven. However, if speed is a major concern, take a look at the preset buttons when you're out browsing products. Most ovens out there allow multiple settings that adjust the cooking time, temperature, and speed of the fans. However, the presets will vary depending on certain features.
Standard products can roast, broil, bake, and toast. Some specially designed electronic sensors are built into the oven to adjust the cooking time, especially when you happen to leave the door open too long or too often. Those ovens on the higher end of the price spectrum can handle air frying, rotisserie, dehydrating, fermenting, and warming. Plus, they also come with innovative electrical meat probes that allow you to cook different types of foods at the same time.
4. Design
To come up with your favorite design, think about your menu offerings. If you plan to play around with pastry, get one with glass doors to avoid guesswork. Imagine how frustrating it is when you have absolutely no clue if your macarons are rising or not! Alternatively, if you plan to cook lots of items in different shapes and sizes, then you want some adjustable pan racks.
On the exterior, you can choose from LED-lit buttons, backlit displays, or mechanical dials with no digital display. Meanwhile, fancier countertop convection ovens provide a touchscreen instead of manual dials or knobs. If you opt for a smart-tech product, it will let you control not only the time and temperature but also customize the top and bottom heaters.
Last but not least, size and door design often go in hand. Full-size convection ovens are built with double doors (also known as a French door oven). Meanwhile, smaller models are equipped with one door that is hinged on the bottom of the unit.
Convection Oven FAQ
What Is The Difference Between A Convection Oven And A Conventional Oven?
A conventional oven only has natural hotter or cooler spots. It has a fixed heating source and pockets of air that are warmer or cooler than the temperature indicated in the setting.
This drawback leads to an uneven covering surface when the food at the back of the oven is overcooked while the front side is barely done.
Meanwhile, a convection oven is installed with a fan inside the oven. The fan is designed to move the air all around the interior, providing better circulation and keeping the temperature even though the food surface for even cooking.
Now let's take a look at the moisture distribution between the two! When the heat inside a convection oven moves around, it creates a drier atmosphere inside the oven, leaving a crispier coating on your food, which is exactly what you need for French fries, pizzas, roast chickens, or toast.
Meanwhile, with a conventional oven, the cooks keep applying more grease to the food using oil or butter or turning the pan a few times during the cooking.
Is An Air Fryer Same As A Convection Oven?
A convection oven and air fryer are similar but not identical. An air fryer is much smaller than a countertop convection oven. Such a compact interior explains the quicker cooking time. It basically keeps pumping in new air and heating it to cook the food.
That's why you need to place an air fryer on top of a flat surface but away from the wall to leave enough space for the vent to circulate.
The downside to this is that the air fryer doesn't have the flexibility and versatility you need for baking and roasting large items or casseroles that a convection oven can accommodate.
That being said, if you don't do much cooking on a day-to-day basis and only looking for a handy gadget to cook your food faster than anything else, an air fryer is a better choice. Otherwise, you cannot beat convection ovens.
Looking to spruce up your kitchen with state-of-the-art gadgets or simply a durable, hassle-free kitchen appliance that lasts with time? These detailed reviews may have the exact thing you need: