Is there anything more satisfying than biting into a freshly made, super-soft and fluffy donut? If there is, you're going to have to let us know, because we donut think there's much that can beat such melt-in-your mouth sugary, doughy goodness!
No matter the time of day (or night) a donut is truly a pleasure to eat, and definitely not the guilty kind of pleasure!
So, where can you score the best donuts in Vancouver? Of course we have a list (as if you needed to ask!):
*Noms Members are part of our exclusive paid membership. Only food spots we personally recommend are accepted as members. 
10. Krispy Kreme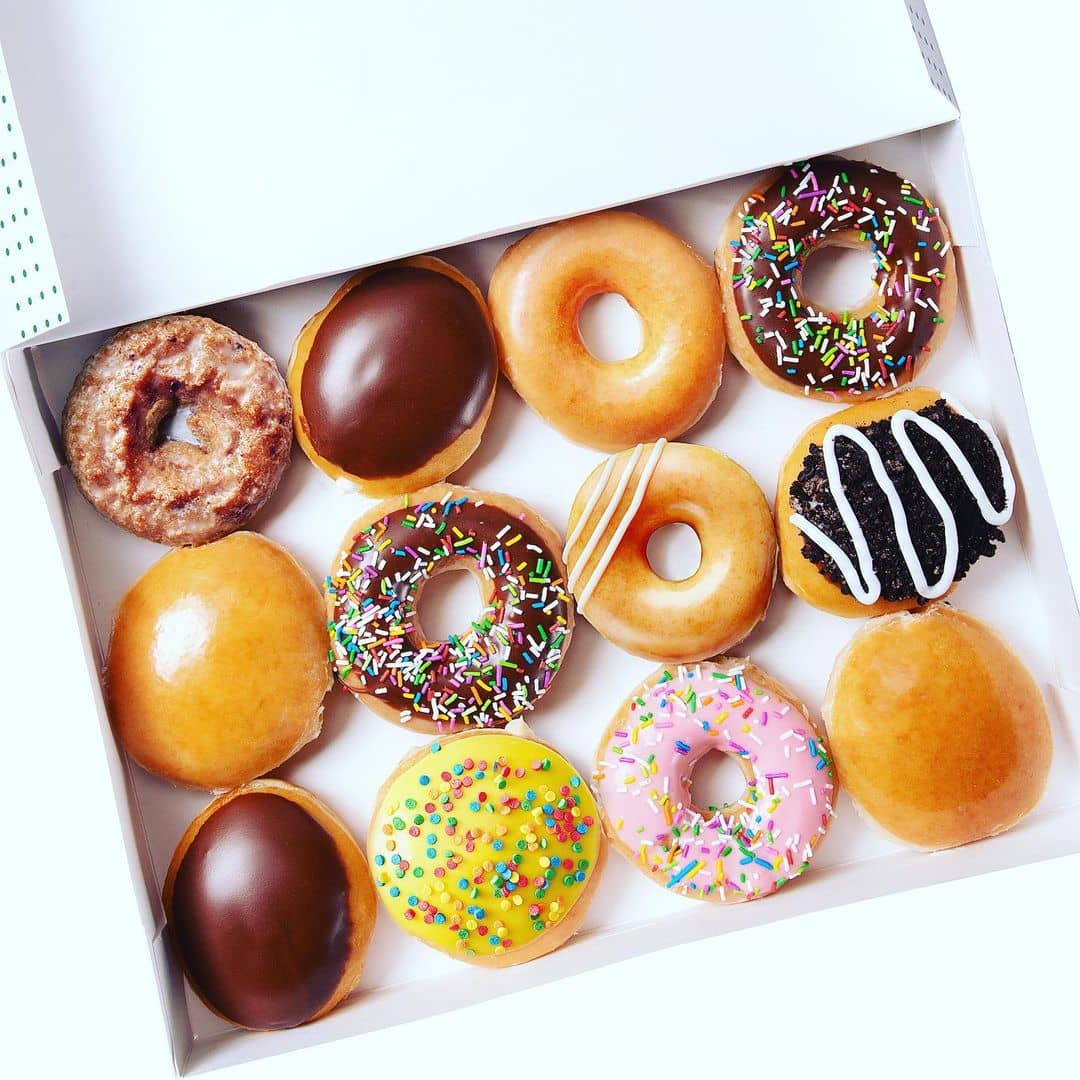 Do they even need an introduction? Would you care if they weren't really inside Vancouver? It's Krispy Kreme for dough's sake! They can't not make it to a donut list, right? Right! They're located in Delta in case you were wondering, and that's not too far off. But, they are the only Krispy Kreme in the province, so that means long lines, but we all know it would be worth the wait.
So, what should you get? All the donuts? We totally would! But, if you don't want to break your wallet and still enjoy all the goodness, go for a Glazed Raspberry Filled, a Powdered Strawberry Filled, some Caramel Cream (with a crunch,) or a classic Glazed Chocolate cake! What the heck, just get them all. You know you want to!
What to order: Glazed Raspberry Filled, Powdered Strawberry Filled, Caramel Cream, Glazed Chocolate
Address: 7153 120th Street, Delta BC V4E 2A9
Website | Instagram | Facebook
9. Outpost Mini Donuts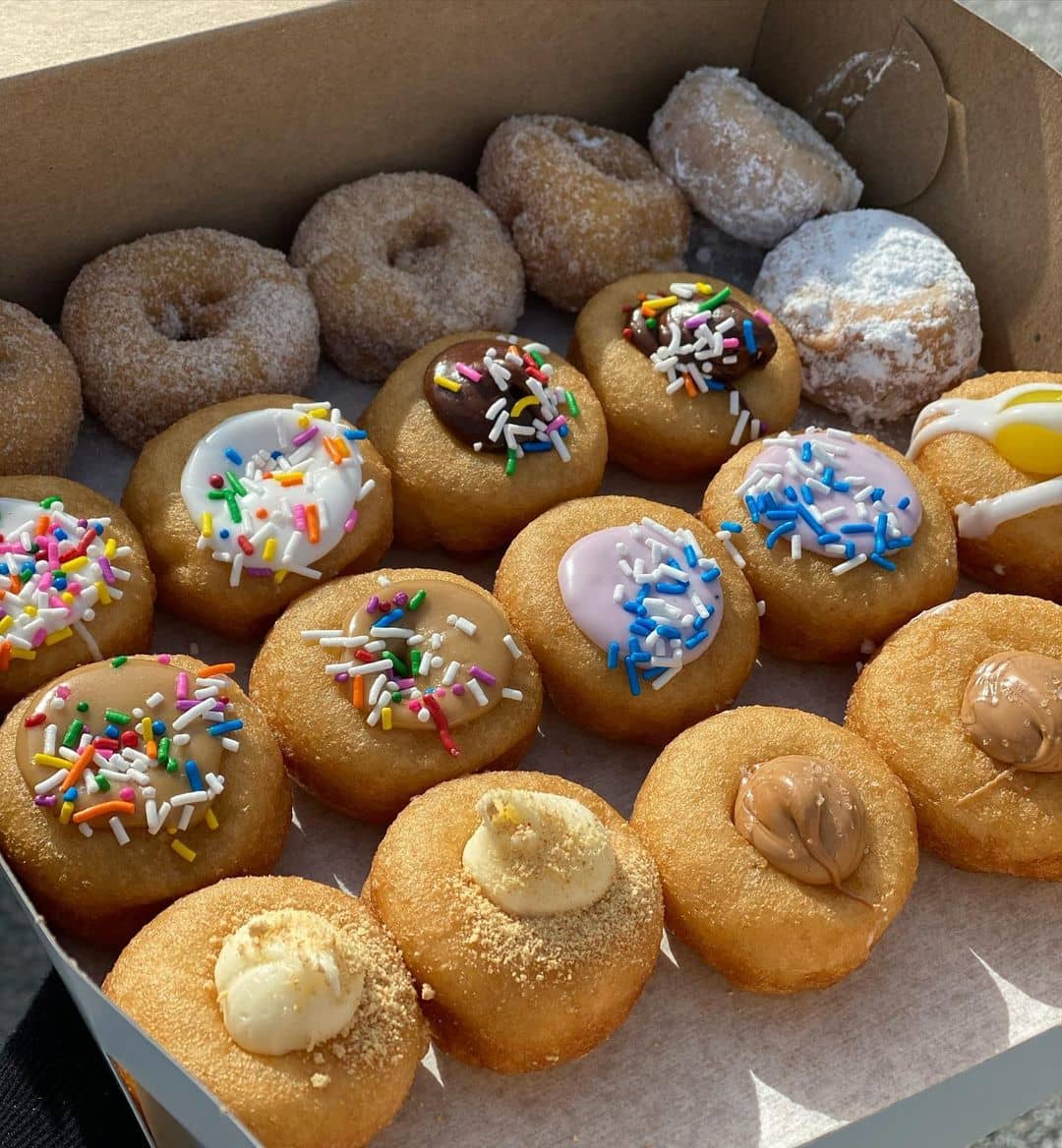 What's better than donuts? Mini donuts!
Steveston's Outpost is one heck of a cute little shop serving up all these cute little treats not many can resist. Their super cute mini donuts are fabulously flaky, super soft, and either topped with surgery delights, or filled with velvety creams that will leave you swooning.
The Boston Cream is a crowd pleaser, and we wouldn't say no to their yummy Cheesecake flavor donut, or the smooth Lemon curd. Other than that, there is the classic Powder Sugar, Cinnamon Sugar, and Sprinkles!
What to order: Boston Cream, Cheesecake, Lemon, Powder Sugar, Cinnamon Sugar, Sprinkles
Address: 110-12240 Second Ave, Richmond, BC V7E 3L8
Order Online: DoorDash | Uber Eats | SkipTheDishes
Website | Instagram | Facebook
A rundown of all the best restaurants, cafes, shops, and places to stay in the Steveston Village area.
8. Duffin's Donuts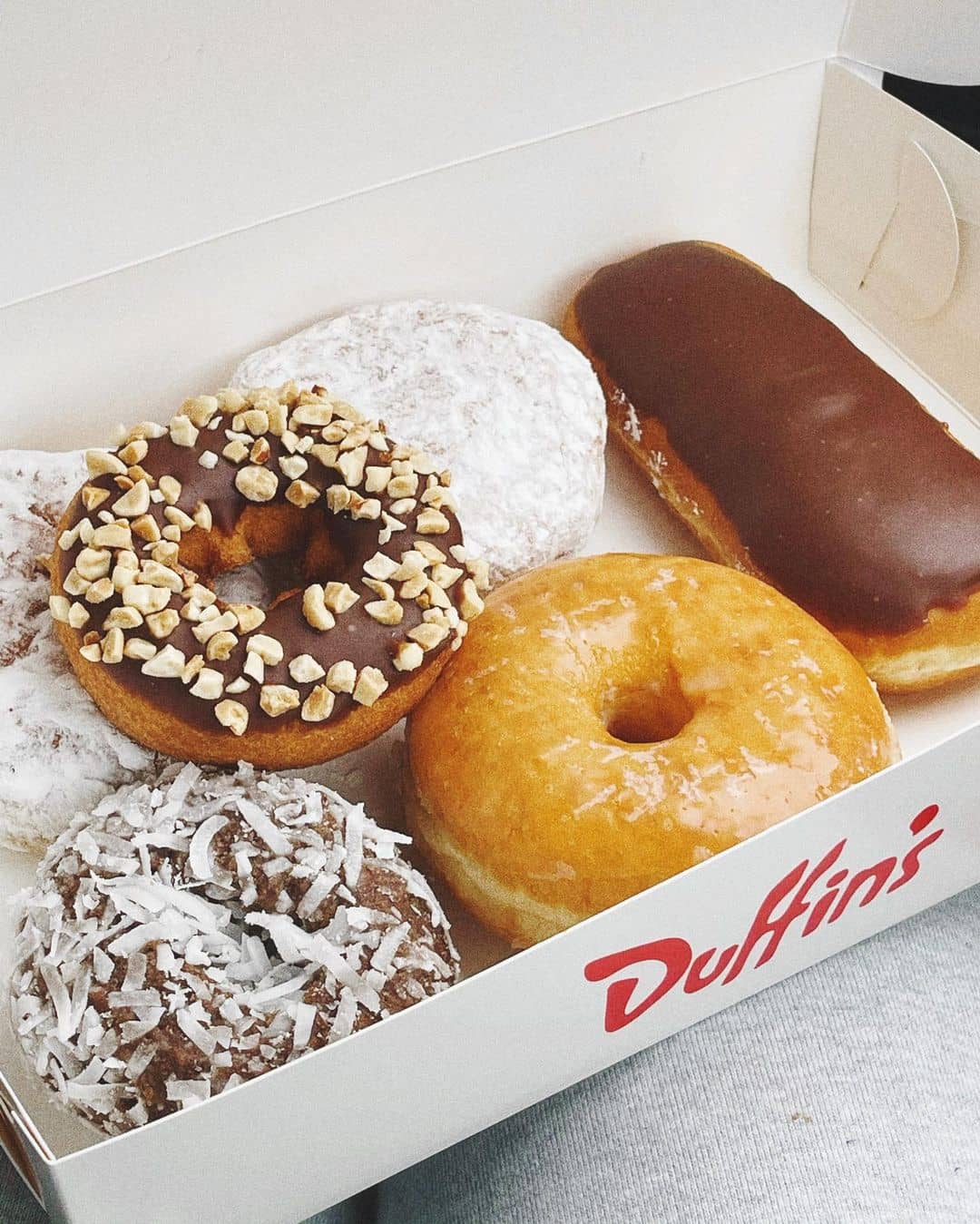 With more than 35 flavors to choose from, Duffins Donuts are the sweet indulgence you can treat yourself to any time of the day and till late at night. This is one spot that truly offers great value for money, and suits even the tiniest budget.
Light, fluffy and flaky, the donuts at Duffin's are simple, no fuss and so easy to wolf down, you may forget how many you've consumed. Some great flavors to try out are the Maple Ring, Buttermilk Raspberry, Cinnamon, and the Sour Cream Glaze cake donut. The Apple Fritter is definitely worth a taste too!
What to order: Maple Ring, Buttermilk Raspberry, Cinnamon, Sour Cream Glaze, Apple Fritter
Address: 1391 E 41st Ave, Vancouver, BC V5W 3R9
Website | Instagram | Facebook
7. Honey Doughnuts & Goodies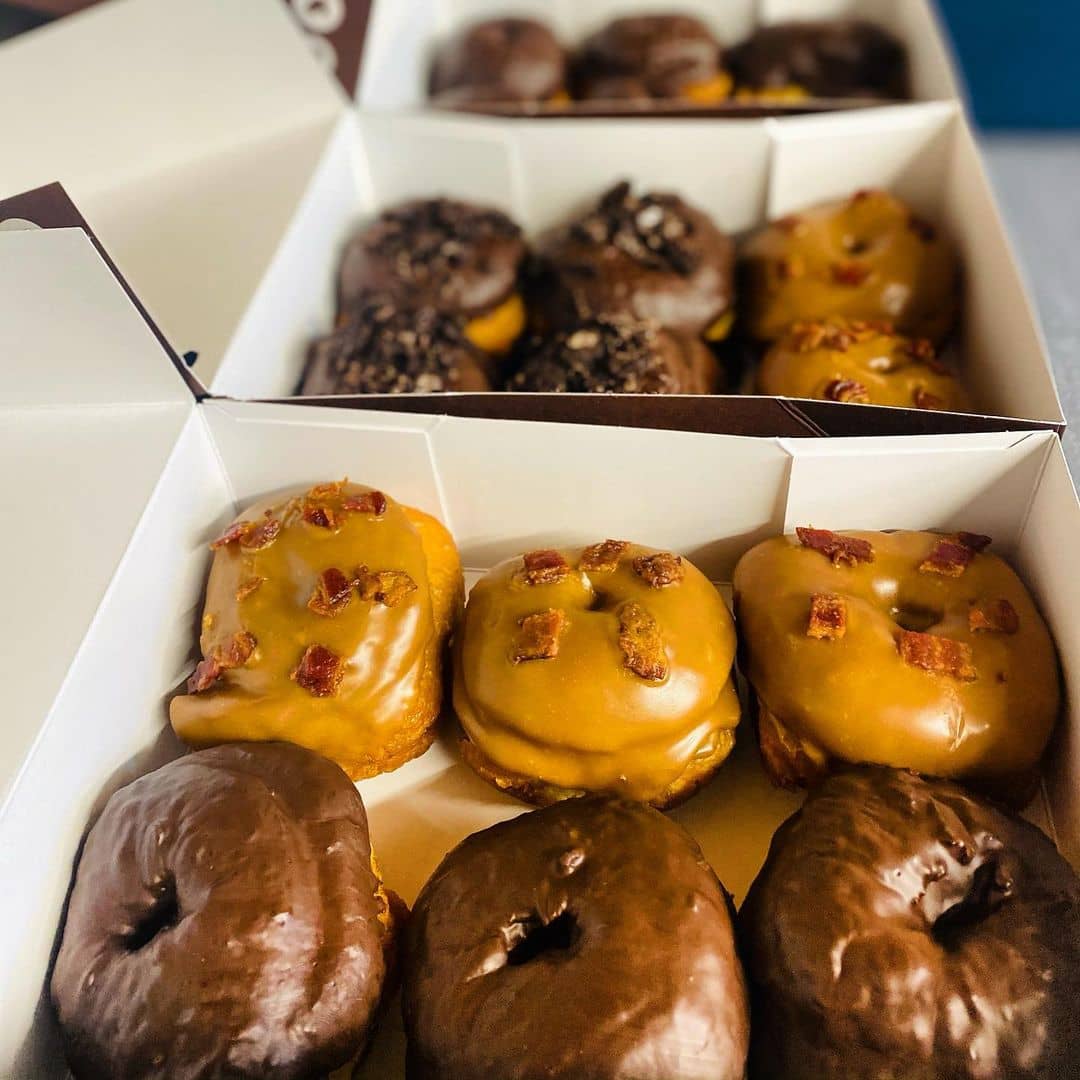 Whether you've just finished a hike and are looking for a sweet reward, or if you want to munch on something delicious while you enjoy the quaint and scenic beauty of Deep Cove, Honey Doughnuts & Goodies is the spot to get your treat on! Sweet and savory scones, pastries, cinnamon buns, croissants, and of course donuts. They're irresistible!
They have some amazing flavors and you really should try them all (but maybe not in a single visit.) The Cinnamon Sugar donut is perfect, and the Maple Bacon is pretty good too. If not those, then go for a regular Maple glaze, a Classic Honey donut, or the Chocoreo!
What to order: Cinnamon Sugar, Maple Bacon, Maple, Classic Honey, Chocoreo
Address: 4373 Gallant Ave, North Vancouver, BC V7G 1L1
Website | Instagram | Facebook
6. Swiss Bakery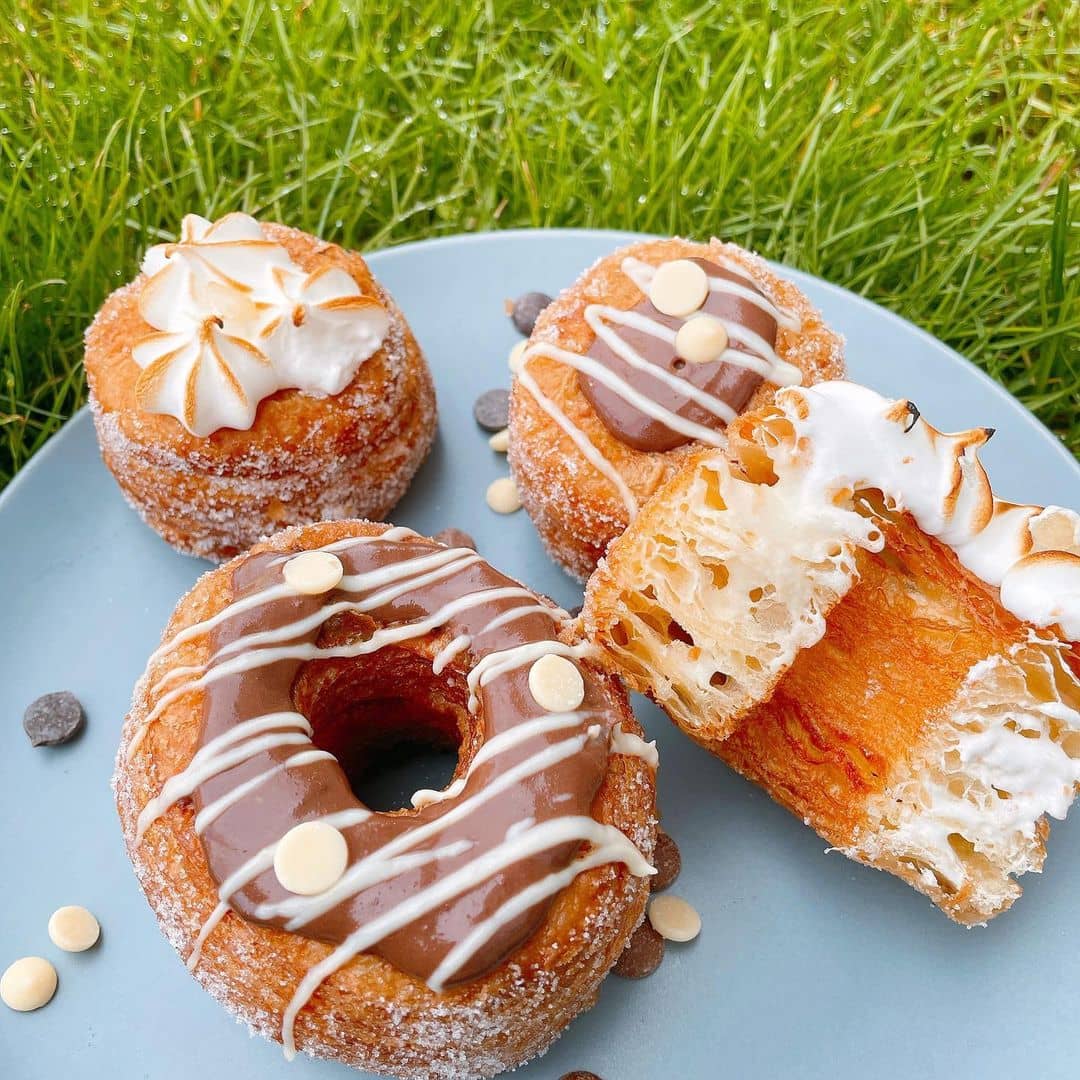 One of Vancouver's hidden gems is undoubtedly the Swiss Bakery, and you can find this cute little shop tucked away on Main Street and always serving up the most divinely delicious frissants (a croissant & fritter hybrid) and donuts. If you want to treat yourself or a loved one, this is the perfect spot to get a box or two of delights.
Grab a perfectly glazed donut, or a custard filled one. Their signature Apple Fritters are a big sell, so try one, and don't forget to take home a charming frissant, which is the yummy hybrid pastry of a flaky croissant and a deep-fried doughnut. What more could you ask for right?
What to order: glazed, custard filled, Apple Fritters, frissant
Address: 143 East 3rd Avenue, Vancouver, BC
Order Online: DoorDash | Uber Eats | SkipTheDishes
Website | Instagram | Facebook
5. Lee's Donuts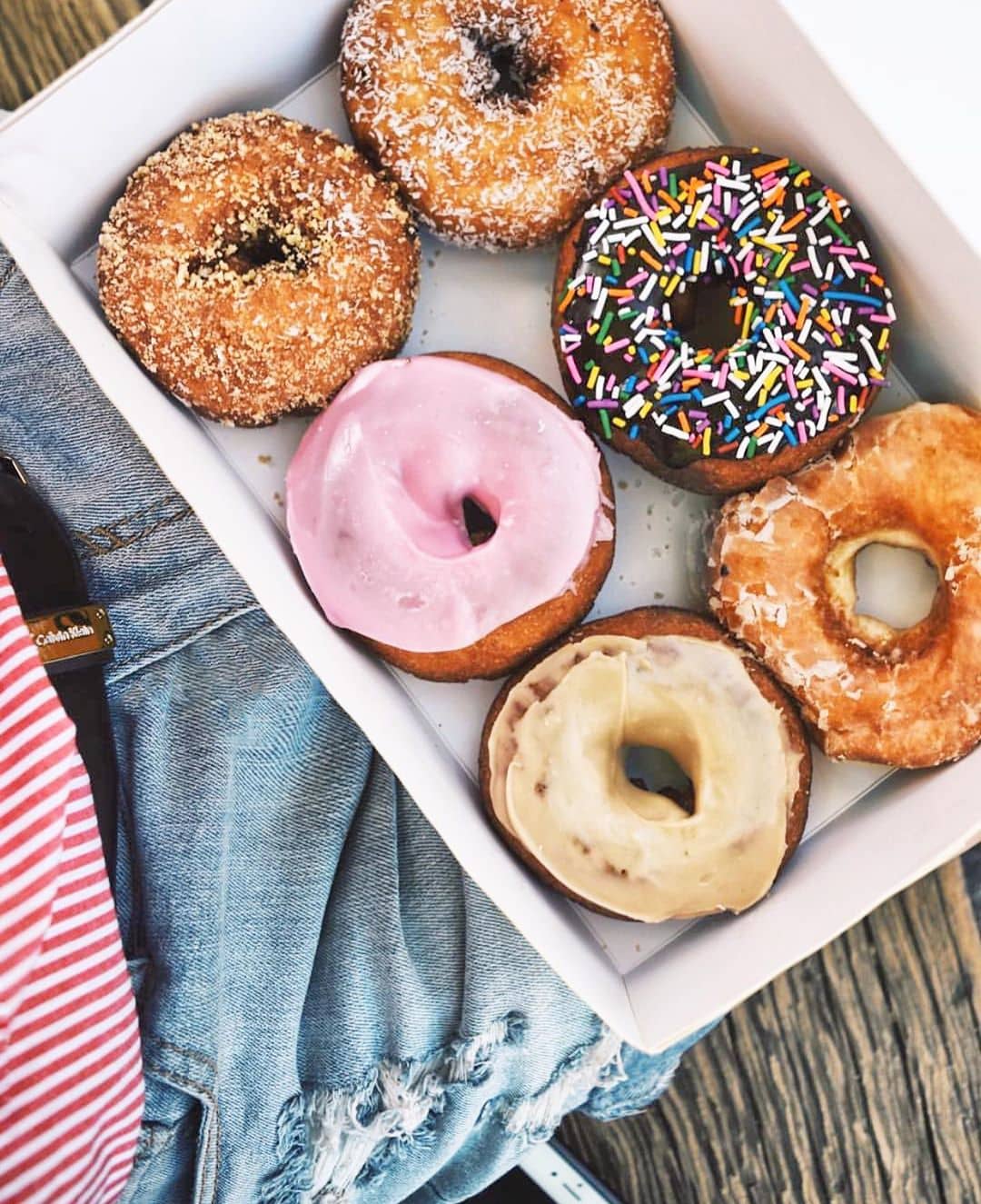 Established in 1979, cited as one the best donut spots in the city, and also featured on Netflix by none other than renowned restaurateur David Chang, Lee's Donuts is an institution in Vancouver that draws people to it in droves. So, just trust us when we say you don't want to miss out on a donut experience like this one.
Filled with perfection, you will love their Chocolate Bavarian, Jelly Filled (Raspberry,) Blueberry Filled, and Lemon Filled donuts. For some sugary dusting, try the Powdered Donut, and the Cinnamon dusted donut. Or, go for gold with one of their gloriously glorious glazes.
What to order: Chocolate Bavarian, Jelly Filled, Blueberry Filled, Lemon Filled, Powdered Donut, Cinnamon
Address: (Granville Island Public Market) 1689 Johnston St, Vancouver, BC V6H 3R9
Order Online: DoorDash | Uber Eats
Website | Instagram | Facebook
4. Cartems Donuterie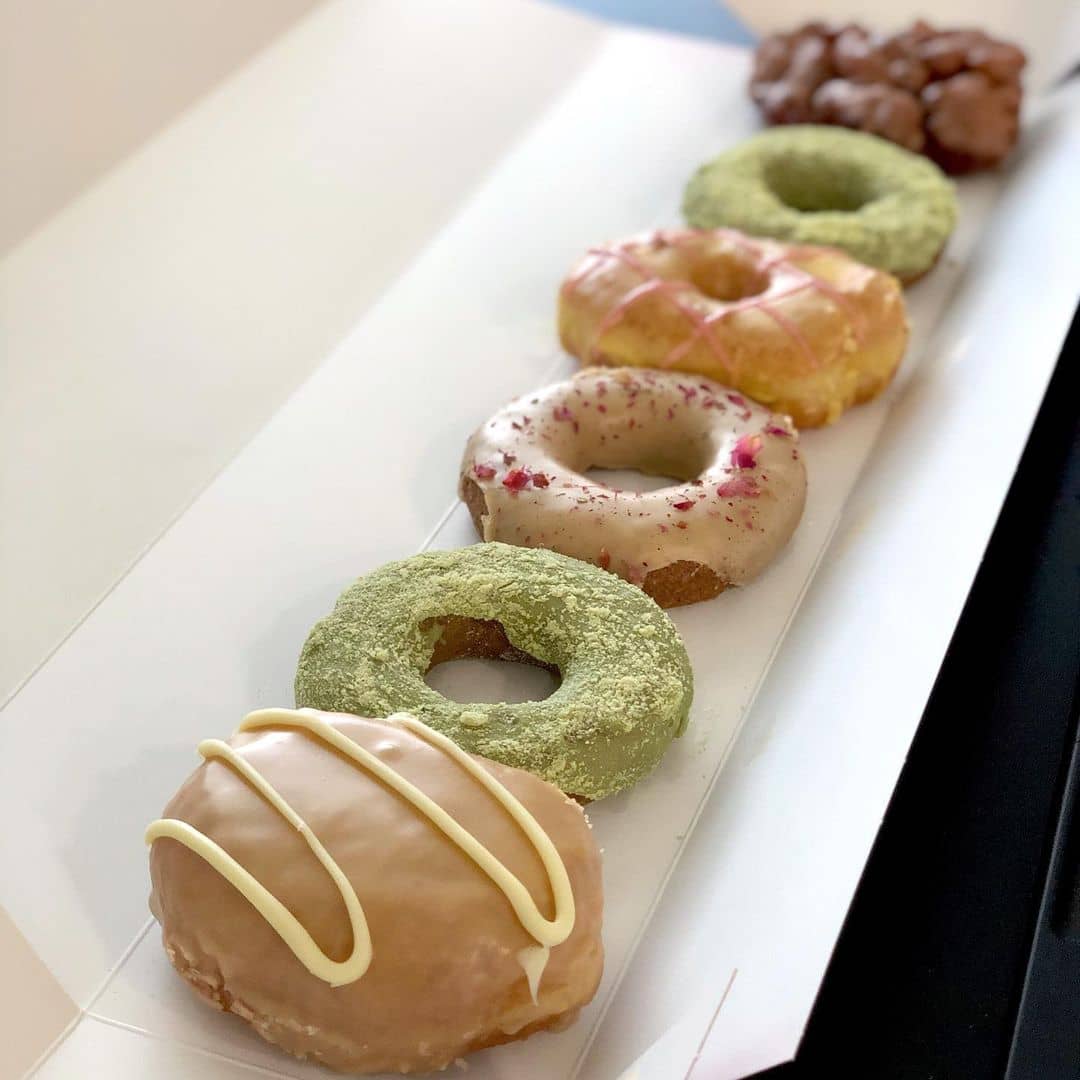 Cartems Donuterie is super popular and for all the right reasons. They are friendly, and love to keep their customers engaged with fun conversations and all their tasty treats. In fact, they're so popular, they made it to our Best Bakeries and Best Birthday Cakes lists too. They truly are worth everyone's time, and especially if you're looking to indulge your sweet tooth.
From vegan and gluten-free, to yeast donuts and even cake donuts. Cartems has got it all! Grab a Smoked Maple Walnut yeast donut, a Matcha Shortbread cake donut, a gluten-free Double Chocolate, or Lemon, Rose Wine, Blueberry Mint and a range of delicious flavors from their speciality section.
Protip: Order ahead, because their donuts sell out fast!
What to order: Smoked Maple Walnut, Matcha Shortbread, Double Chocolate, Lemon, Rose Wine, Blueberry Mint
Address:
-534 West Pender, Vancouver, BC V6B 1V3 (Downtown)
-2190 Main St, Vancouver, BC V5T 3C5 (Mount Pleasant)
Order Online: SkipTheDishes
Website | Instagram | Facebook
3. Their There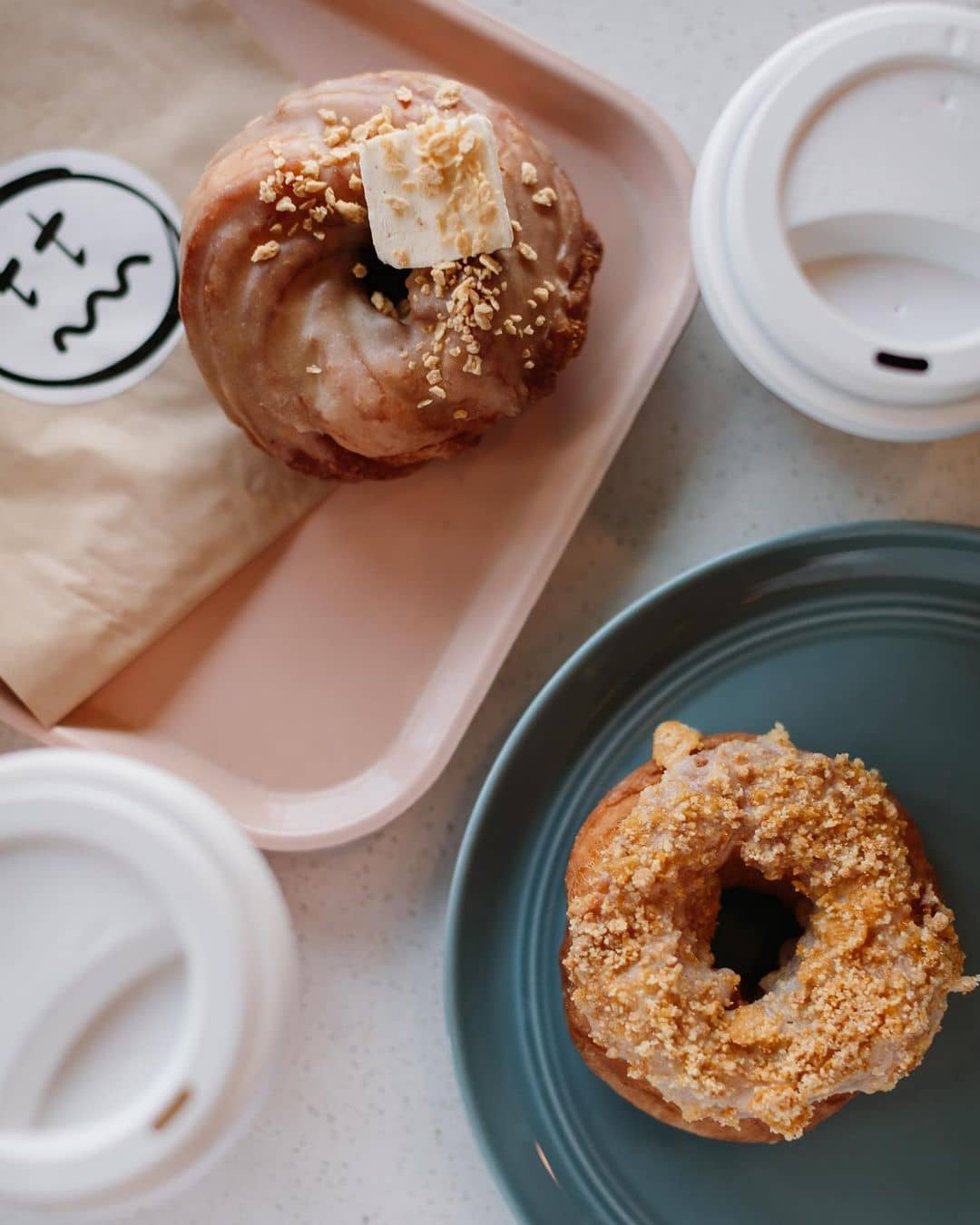 Hands down one of the most popular bakeries in Vancity, Their There, located in beautiful Kitsilano is the kind of stylish and funky coffee and pastry shop that makes people line up for a taste of any and everything they have to offer. Especially those soft, fluffy and heavenly donuts made from Mochi based and Crueller based dough!
The mochi donuts are the bomb, and you cannot miss out on trying them if you haven't yet. Soft, chewy and with a perfect sugar crisp on the outside. Get the Raspberry Cheesecake Mochi, the Chocolate Mousse Donut, the Crème Brulee, or the Chocolate Hazelnut!
What to order: Raspberry Cheesecake Mochi, Chocolate Mousse Donut, Crème Brulee, Chocolate Hazelnut
Address: 2042 W 4th Ave, Vancouver, BC V6J 1M9
Order Online: DoorDash | UberEats
Website | Instagram | Facebook
2. Mello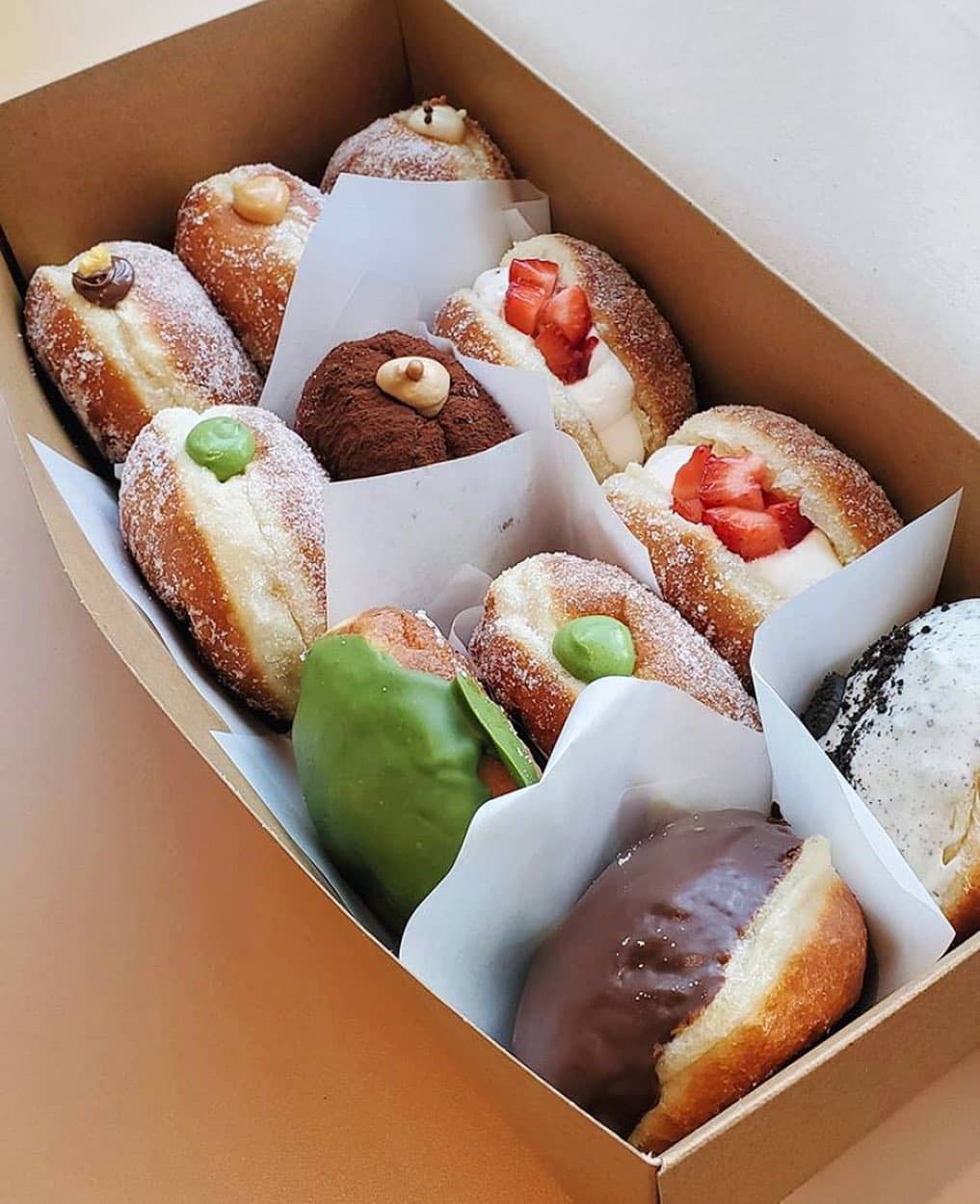 Getting donuts from Mello is like getting an instant shot of cheer! Located in Chinatown, their bright and cheerful interior (it's all a pretty Mello yellow) will lift even the lowest spirits, and their rich, fluffy and oozing with creamy goodness brioche donuts are not something many can resist.
They have ring donuts too, but get those brioches and thank us later. Flavors to go for are definitely the Lemon Curd, Tiramisu (gorgeous chocolate custard with a dash of coffee,) the Strawberry and Cream, and of course the Matcha!
What to order: Lemon Curd, Tiramisu, Strawberry and Cream, Matcha
Address: 223 E Pender St, Vancouver, BC V6A 2T9
Order Online: Uber Eats
A rundown of all the best restaurants, cafes, drink spots, and shops in the Chinatown area.
1. Lucky's Donuts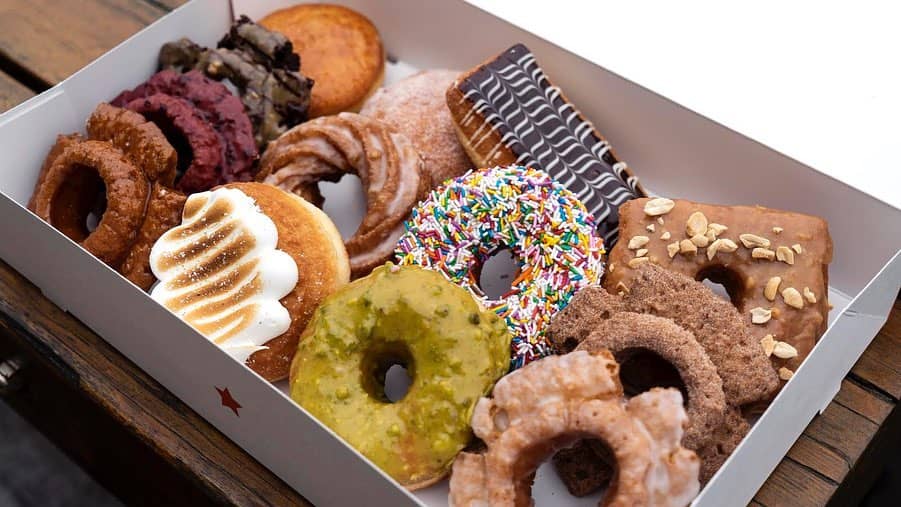 Wanna bite into a good old-fashioned donut without the fuss and frills? Made from scratch and handcrafted, and also made fresh throughout the day, Lucky's Donuts are a delightful treat if you are looking for the real deal when you get your next donut craving. This cute little store is part of the popular 49th Cafe, and if you haven't tried them yet, you really should!
Boasting an abundance of flavors, as well as some insanely delicious vegan options, it's hard to choose a favorite donut at this spot. You're free to go wild, but don't miss out on their Pistachio donut, the Chocolate Old-Fashioned, the Sprinkled Ring, and the Lemon Meringue Bismarck.
What to order: Pistachio, Chocolate Old-Fashioned, Sprinkled Ring, Lemon Meringue Bismarck
Pro Tip: When in doubt, get the Baker's Dozen (also available in vegan and gluten-free)
Address:
-2902 Main St, Vancouver, BC V5T 3G3
-689 Thurlow St, Vancouver, BC V6E 4M3
-2198 West 4th Ave,Vancouver, BC V6K 1N6
Order Online: DoorDash
Website | Instagram | Facebook
Well, that's it for the Best Donut Spots in Vancouver (and a little beyond.) We hope you try them all out, and indulge yourself with the kind of sweet treat you deserve.
And, if you're looking for that perfect little bakery you want to get all your confectionery goods from, take a look at our list of 10 Best Bakeries in Vancouver for some amazing baked goods!
The following two tabs change content below.
Latest posts by Noms Magazine (see all)