Craving a delicious donut in Vancouver? Whether you're after a classic, fluffy treat or a unique gourmet experience, Vancouver's donut scene has it all.
Quick recommendations: Lucky's Donuts to the cheerful, brioche delights at Mello
Dive into our list of the top donut shops in the city to discover your next favorite sweet indulgence.
This article includes affiliate links where we may get a small commission if you use our link. No extra cost is added to you.
1. Lucky's Donuts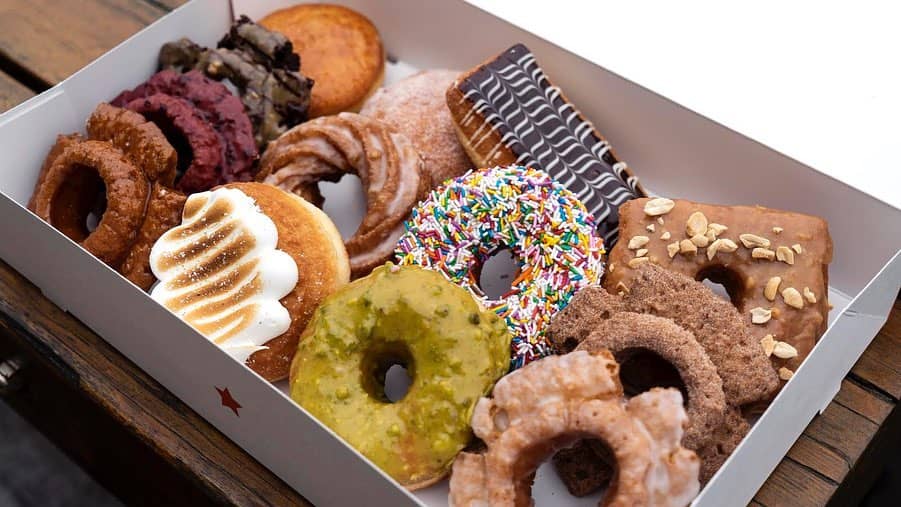 A part of the popular 49th Cafe, Lucky's Donuts offers a wide array of flavors and several delectable vegan options. The Pistachio donut, the Chocolate Old-Fashioned, the Sprinkled Ring, and the Lemon Meringue Bismarck are just some of the many flavours that make Lucky's a beloved spot among donut aficionados in Vancouver.
What to order: Pistachio, Chocolate Old-Fashioned, Sprinkled Ring, Lemon Meringue Bismarck
Pro Tip: When in doubt, get the Baker's Dozen (also available in vegan and gluten-free)
Address:
-2902 Main St, Vancouver, BC V5T 3G3
-689 Thurlow St, Vancouver, BC V6E 4M3
-2198 West 4th Ave,Vancouver, BC V6K 1N6
Website | Instagram | Facebook
2. Mello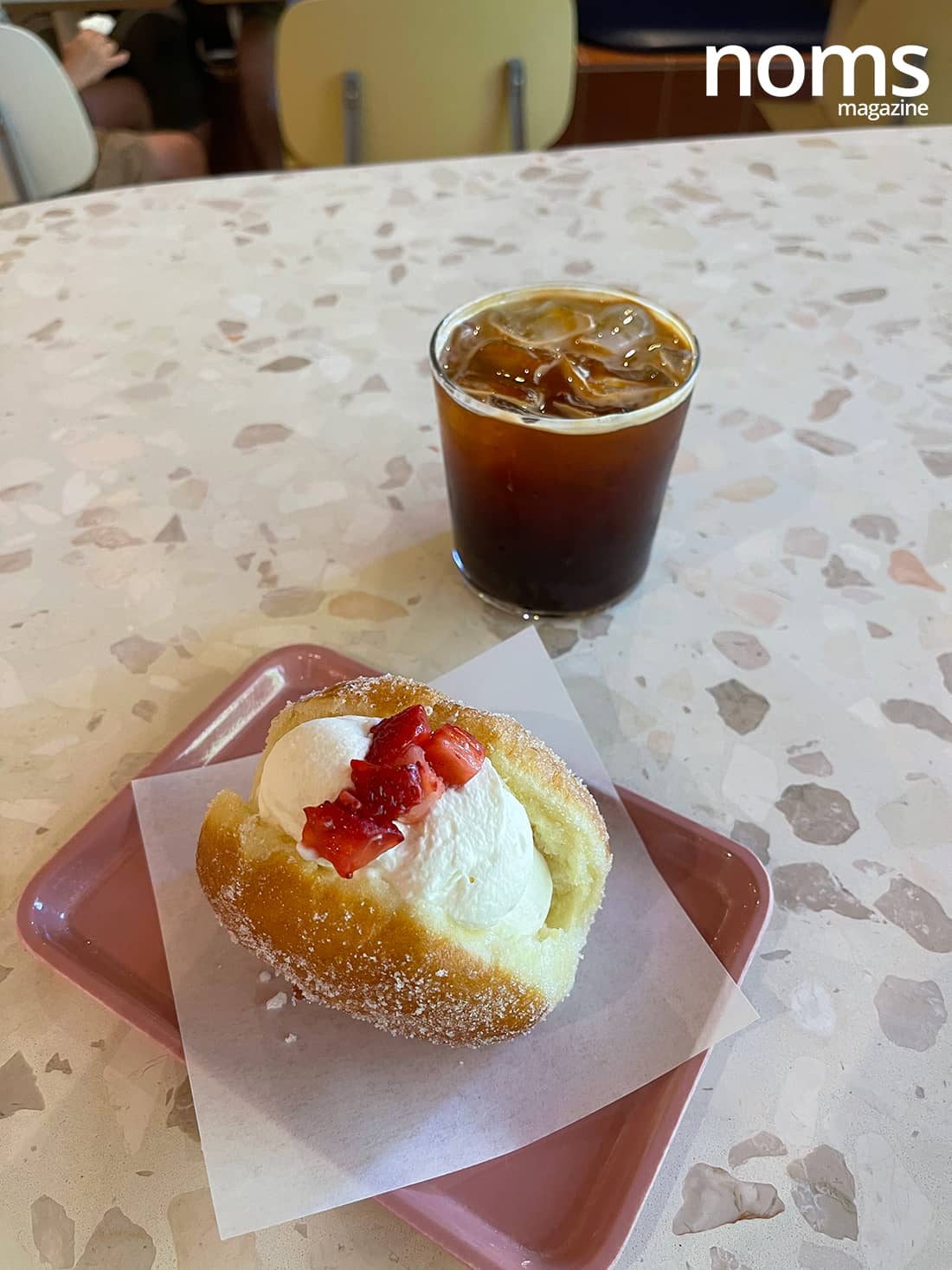 This cheerful shop in Chinatown and Kerrisdale is known for its bright interiors and brioche donuts, full of creamy goodness. Their Lemon Curd and Tiramisu donuts are particularly noteworthy. The ring donuts are also a great option, but their brioche varieties are the stars of the show.
What to order: Lemon Curd, Tiramisu, Strawberry and Cream, Matcha
Address:
-223 E Pender St, Vancouver, BC V6A 2T9
-4635 Arbutus St, Vancouver, BC V6J 4A3
Order Online: Uber Eats
3. Their There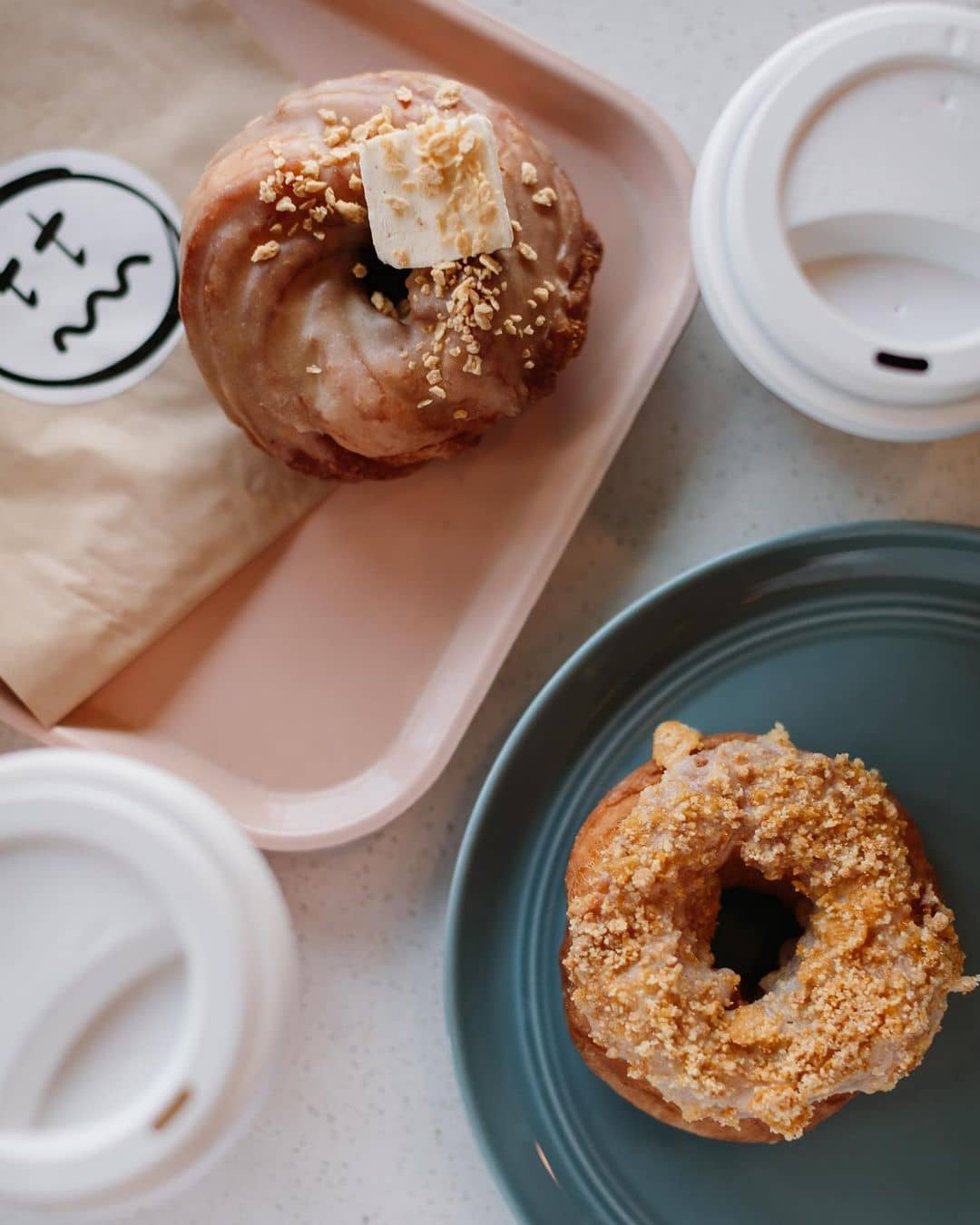 Known for its stylish and contemporary vibe in Kitsilano, Their There offers delicious Mochi based and Crueller based dough donuts. The Raspberry Cheesecake Mochi and Chocolate Mousse Donut are particularly popular. Their Crème Brulee donut is a must-try for those seeking a blend of classic and modern flavours.
What to order: Raspberry Cheesecake Mochi, Chocolate Mousse Donut, Crème Brulee, Chocolate Hazelnut
Address: 2042 W 4th Ave, Vancouver, BC V6J 1M9
Order Online: DoorDash | UberEats
Website | Instagram | Facebook
4. Cartems Donuterie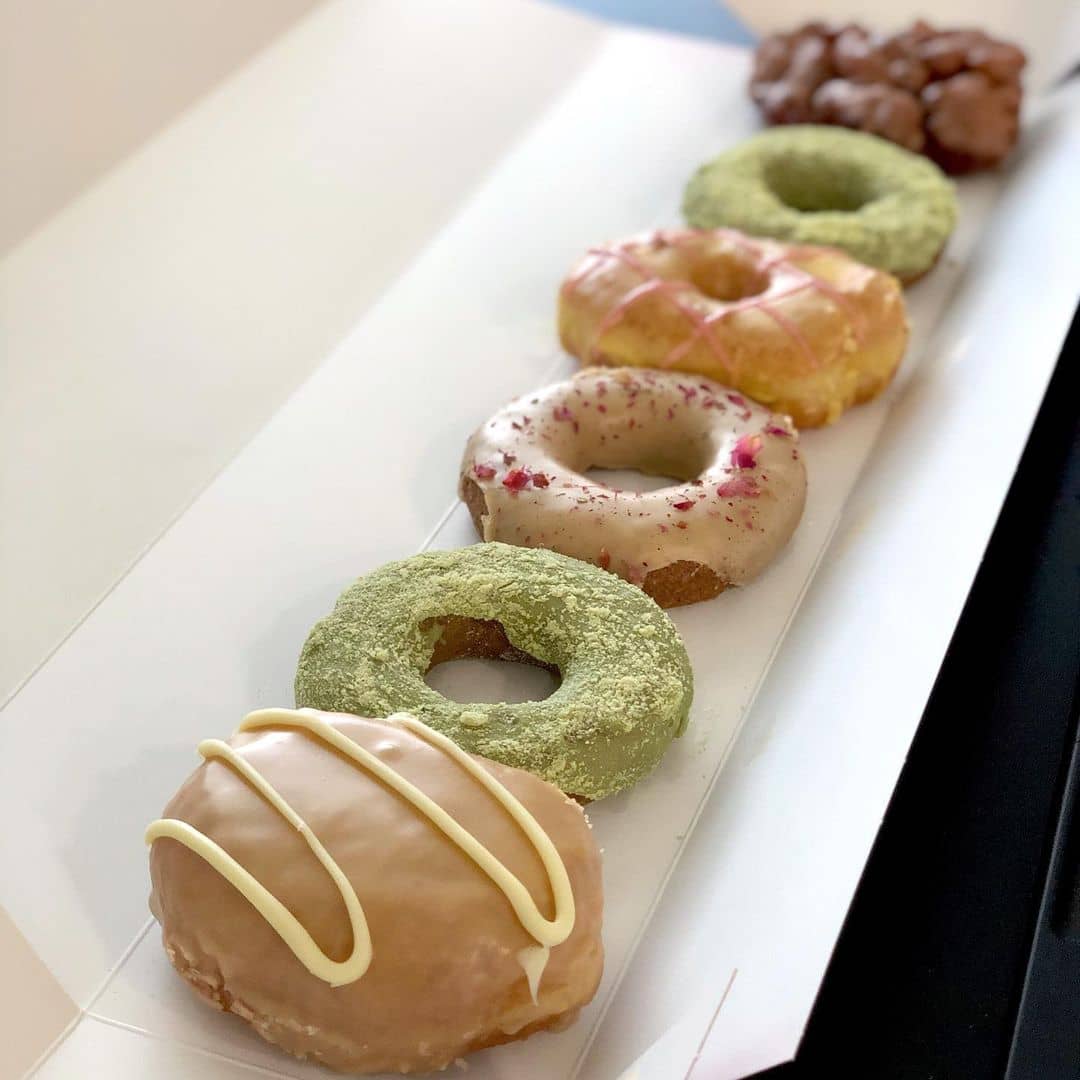 Located in the heart of the city, Cartems is famous for its friendly service and diverse range of donuts, including vegan and gluten-free options. Their yeast donuts, like the Smoked Maple Walnut, and the Matcha Shortbread cake donut, are a hit among locals. They also offer a variety of unique flavours in their specialty section, catering to all taste buds.
Protip: Order ahead, because their donuts sell out fast!
What to order: Smoked Maple Walnut, Matcha Shortbread, Double Chocolate, Lemon, Rose Wine, Blueberry Mint
Address:
-2190 Main St, Vancouver, BC V5T 3C5 (Mount Pleasant)
Order Online: SkipTheDishes
Website | Instagram | Facebook
5. Lee's Donuts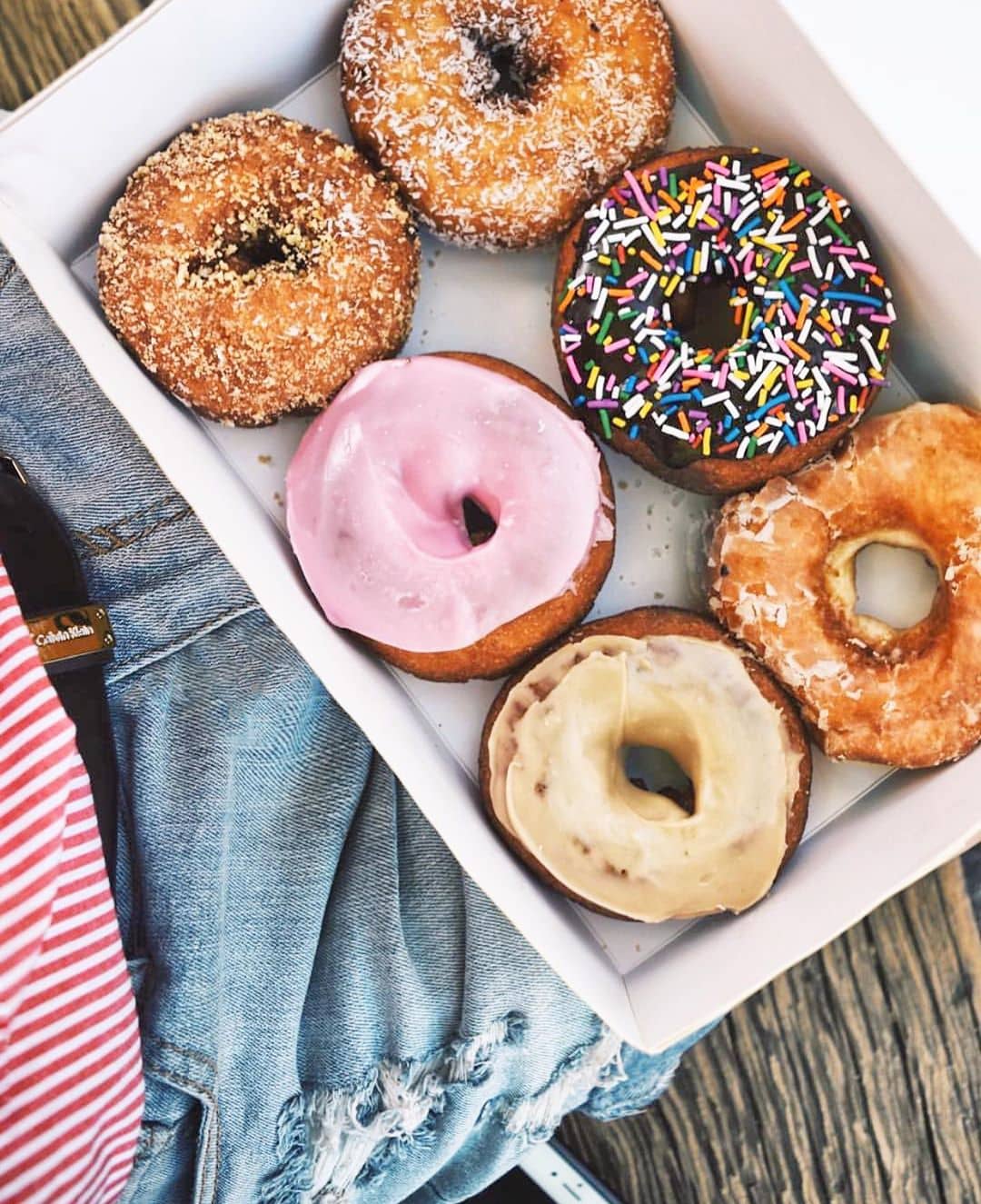 This established donut shop on Granville Island has been a staple since 1979. Known for their perfect filled donuts like the Chocolate Bavarian and Raspberry Jelly, Lee's also offers a range of sugary and glazed donuts. Their Powdered Donut and Cinnamon dusted donut are particularly delightful.
What to order: Chocolate Bavarian, Jelly Filled, Blueberry Filled, Lemon Filled, Powdered Donut, Cinnamon
Address:
-1689 Johnston St, Vancouver, BC V6H 3R9
-199 Water Street, Vancouver, BC
Website | Instagram | Facebook
6. Swiss Bakery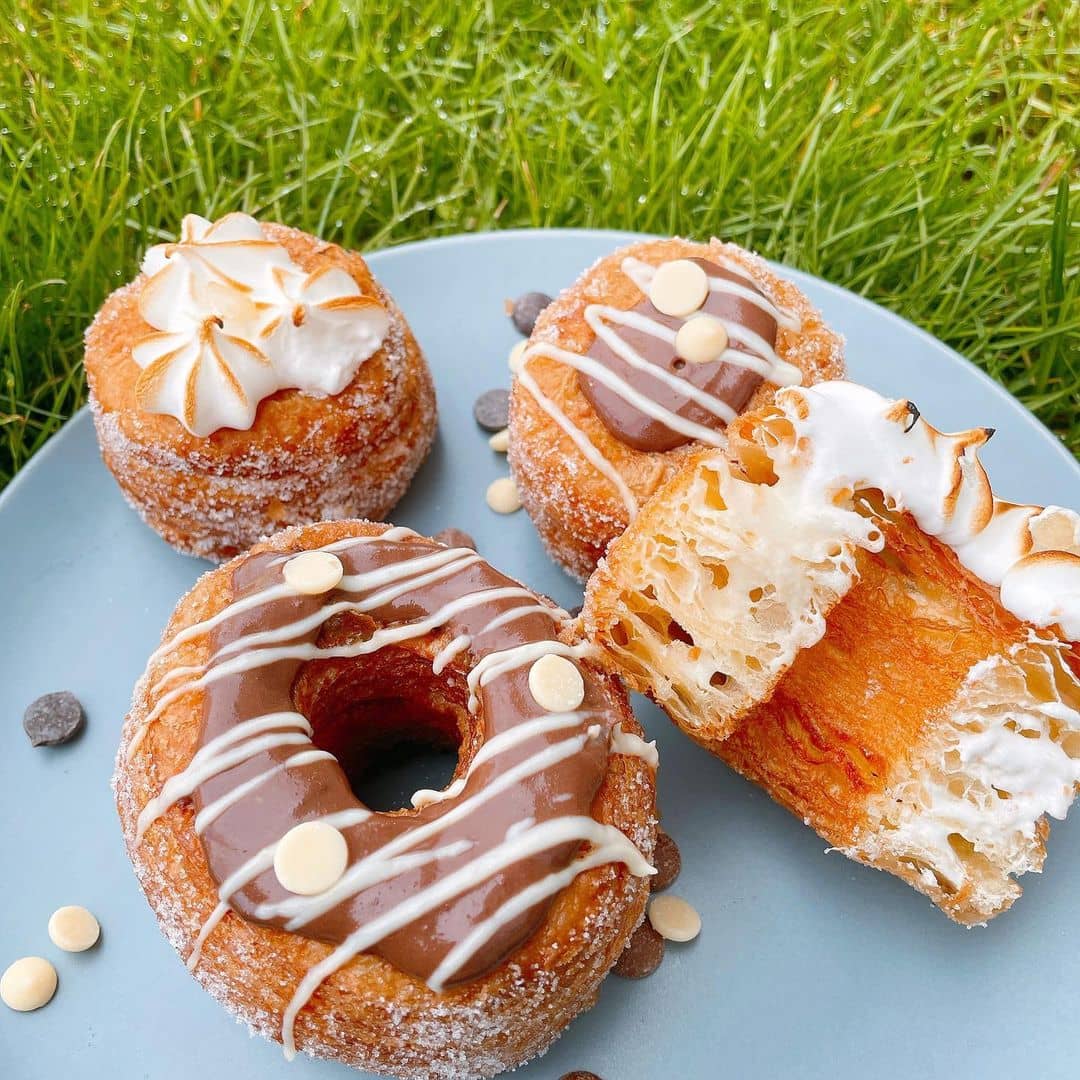 A hidden gem on Main Street, Swiss Bakery is celebrated for its unique frissants, a delightful hybrid of croissants and fritters. Their donuts, especially the Apple Fritters, are known for their perfect glaze and tempting taste. They offer a range of decadent flavours, ensuring a treat for every preference.
What to order: glazed, custard filled, Apple Fritters, frissant
Address: 143 East 3rd Avenue, Vancouver, BC
Order Online: DoorDash | Uber Eats | SkipTheDishes
Website | Instagram | Facebook
7. Honey Doughnuts & Goodies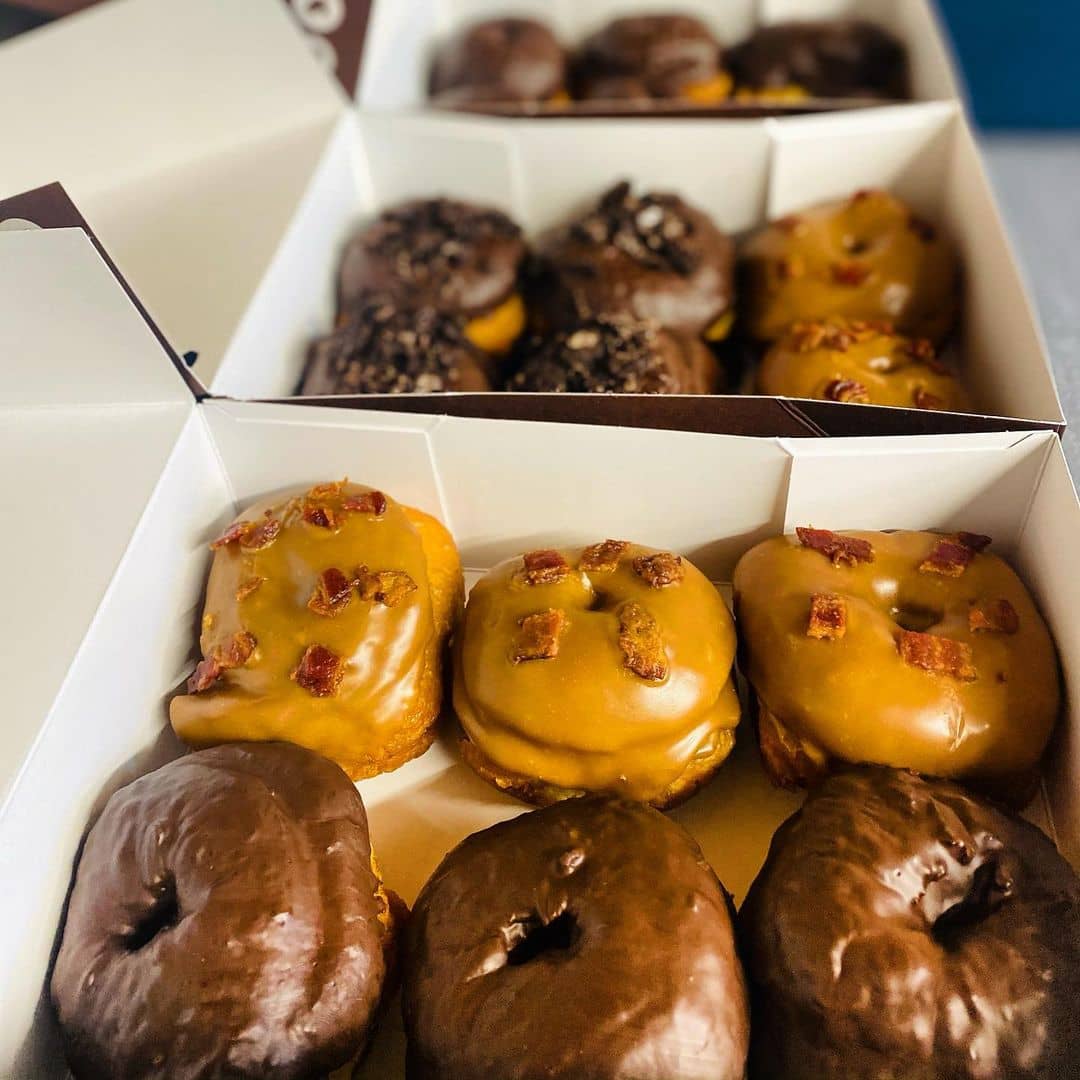 Nestled in the picturesque area of Deep Cove, this shop is a perfect reward after a hike. Along with savoury scones and pastries, they offer a variety of donuts like the classic Maple glaze and the innovative Maple Bacon. Their Cinnamon Sugar donut is a perfect treat, and the Chocoreo is a must-try for chocolate lovers.
What to order: Cinnamon Sugar, Maple Bacon, Maple, Classic Honey, Chocoreo
Address: 4373 Gallant Ave, North Vancouver, BC V7G 1L1
Website | Instagram | Facebook
8. Duffin's Donuts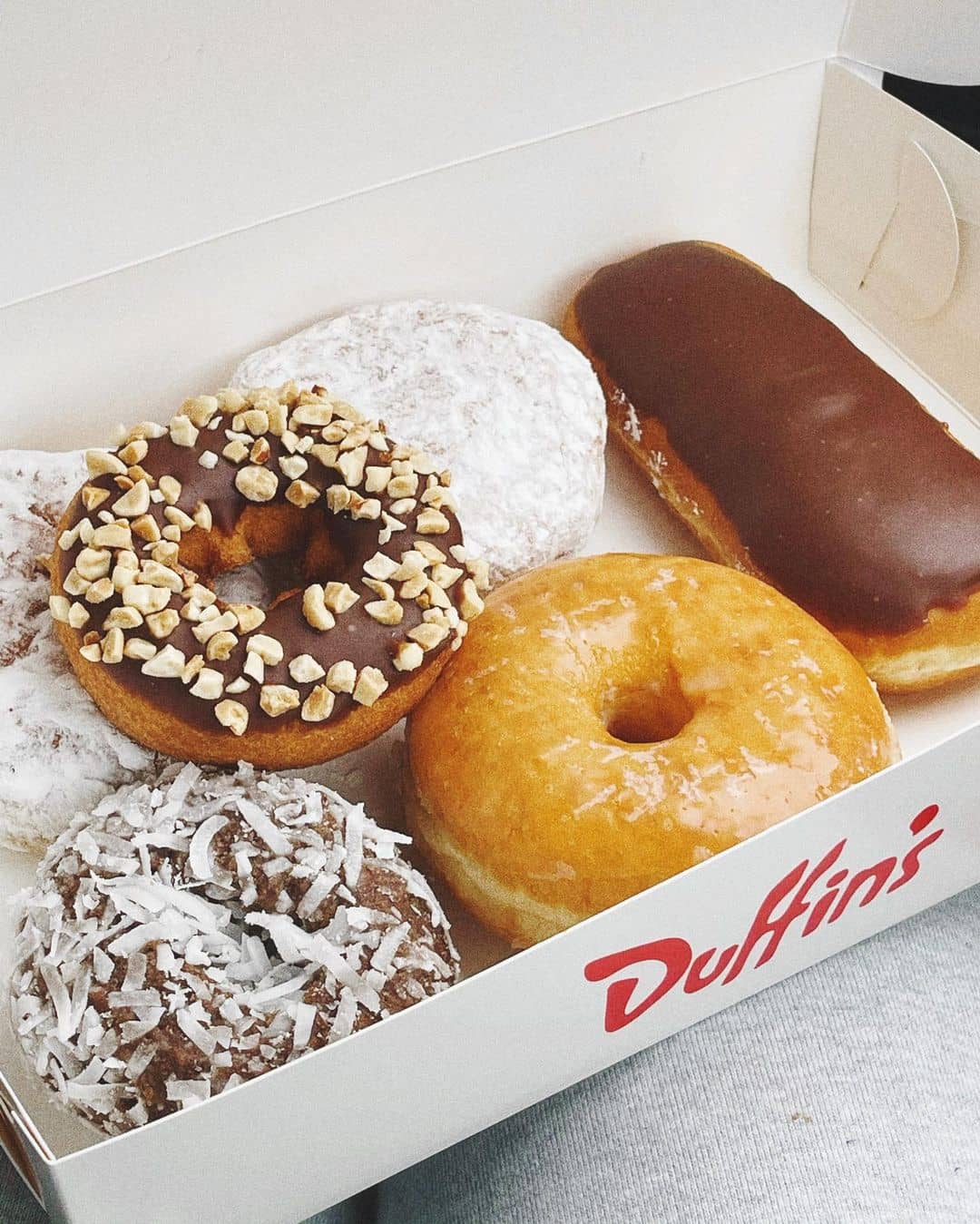 This venue offers an extensive selection of over 35 flavours, ensuring there's something for everyone. Their donuts are light, fluffy, and simple, making them easy to enjoy. Some standout flavours include the Maple Ring, Buttermilk Raspberry, and the Sour Cream Glaze cake donut, alongside the popular Apple Fritter. Duffin's Donuts is renowned for its great value for money and quality.
What to order: Maple Ring, Buttermilk Raspberry, Cinnamon, Sour Cream Glaze, Apple Fritter
Address: 1391 E 41st Ave, Vancouver, BC V5W 3R9
Website | Instagram | Facebook
9. Outpost Mini Donuts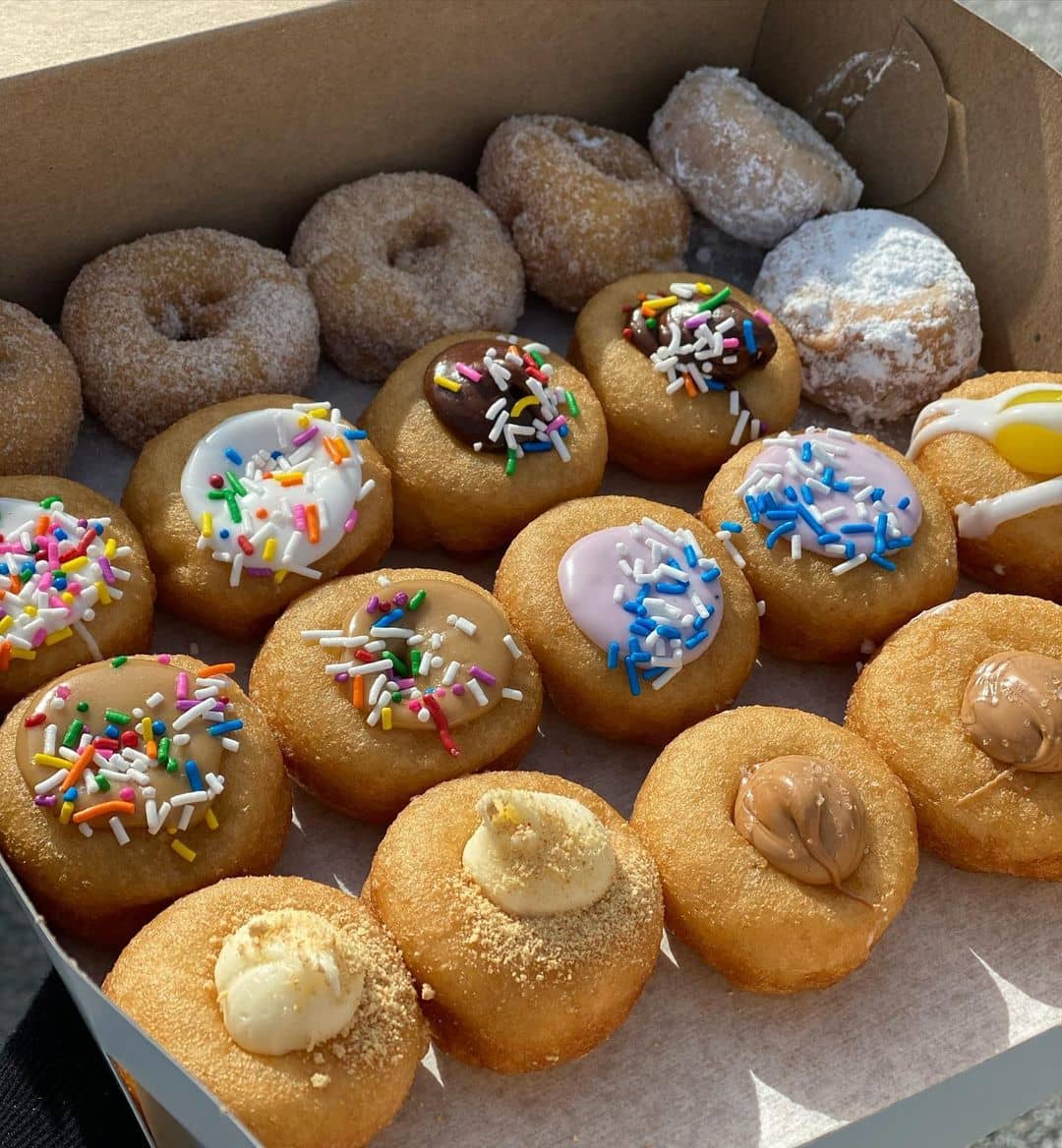 Situated in the charming area of Steveston, Outpost Mini Donuts specializes in adorable and delicious mini donuts. These flaky and soft treats come in a variety of flavours such as Boston Cream, Lemon Curd, and the classic Powder Sugar and Cinnamon Sugar. Each bite-sized donut is a perfect blend of flavours, making them an irresistible choice for donut lovers.
What to order: Boston Cream, Cheesecake, Lemon, Powder Sugar, Cinnamon Sugar, Sprinkles
Address: 110-12240 Second Ave, Richmond, BC V7E 3L8
Order Online: DoorDash | Uber Eats | SkipTheDishes
Website | Instagram | Facebook
10. Krispy Kreme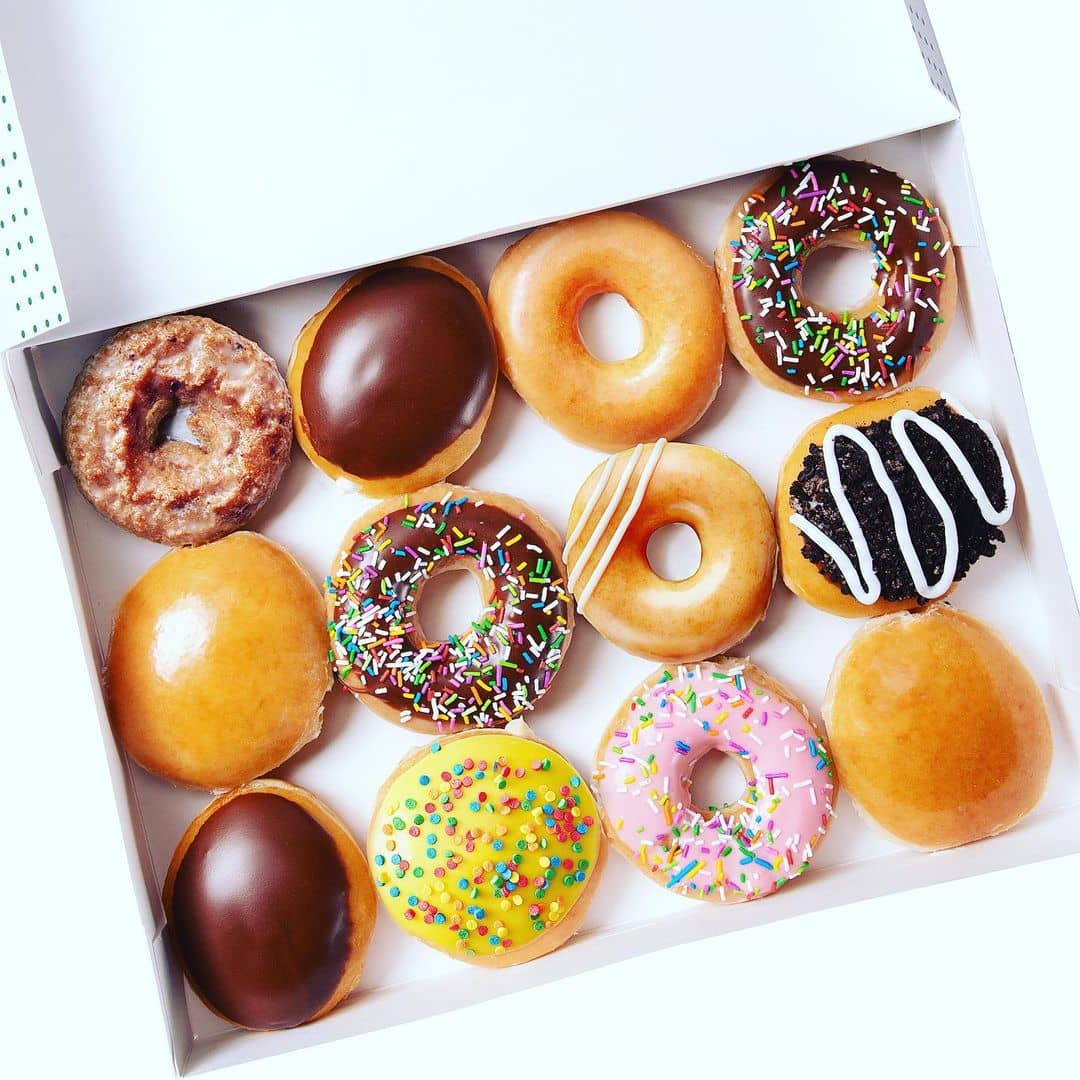 This renowned donut chain, located in Delta, is the only outlet in British Columbia. Famous for its classic glazed donuts, Krispy Kreme offers a variety of mouth-watering options like the Glazed Raspberry Filled and the Chocolate Cake donut. Despite the long lines due to its popularity, their donuts are absolutely worth the wait, offering a perfect balance of sweetness and texture.
What to order: Glazed Raspberry Filled, Powdered Strawberry Filled, Caramel Cream, Glazed Chocolate
Address: 7153 120th Street, Delta BC V4E 2A9
Website | Instagram | Facebook
Well, that's it for the Best Donut Spots in Vancouver (and a little beyond.) We hope you try them all out, and indulge yourself with the kind of sweet treat you deserve.
Looking for more food spots? Well, take a look at our picks of the best restaurants in Vancouver!