Are you looking for a food processor that can handle any kitchen task? Look no further! We've scoured Amazon to find the best food processors with the most powerful blades, efficient motors, and advanced technology so you can prepare your favorite dishes with ease. Discover the perfect one for you today!
This article includes affiliate links where we may get a small commission if you use our link. No extra cost is added to you.
Pros:

Power: 4.5/5

Capacity: 4.5/5

Design: 4/5

Features: 4/5

Pros:

Power: 3.5/5

Capacity: 4/5

Design: 4/5

Features: 3/5

Pros:

Power: 3.5/5

Capacity: 4/5

Design: 4/5

Features: 3.5/5
Best Overall
Pros:
Power: 4.5/5

Capacity: 4.5/5

Design: 4/5

Features: 4/5
Best With Pour Spout
Pros:
Power: 3.5/5

Capacity: 4/5

Design: 4/5

Features: 3/5
Best Budget-Friendly
Pros:
Power: 3.5/5

Capacity: 4/5

Design: 4/5

Features: 3.5/5
You may be wondering why we pay more for a food processor while we have a blender at home? The two items share a few things in common but there's an ocean of different features between them.
Let's put it simply – blenders are made for liquid while food processors are better for solid food. The blender's blades are not as sharp to break down solid food. I've seen many people abusing their blenders for so long just to realize that they have to pay double for a new blender and processor some day.
To help you avoid beating this same old path, I put together a complete buyer's guide below and curate my favorite food processors I want you to buy.
1. Ninja Foodi SS201 Power Blender & Processor
Best Versatile Food Processor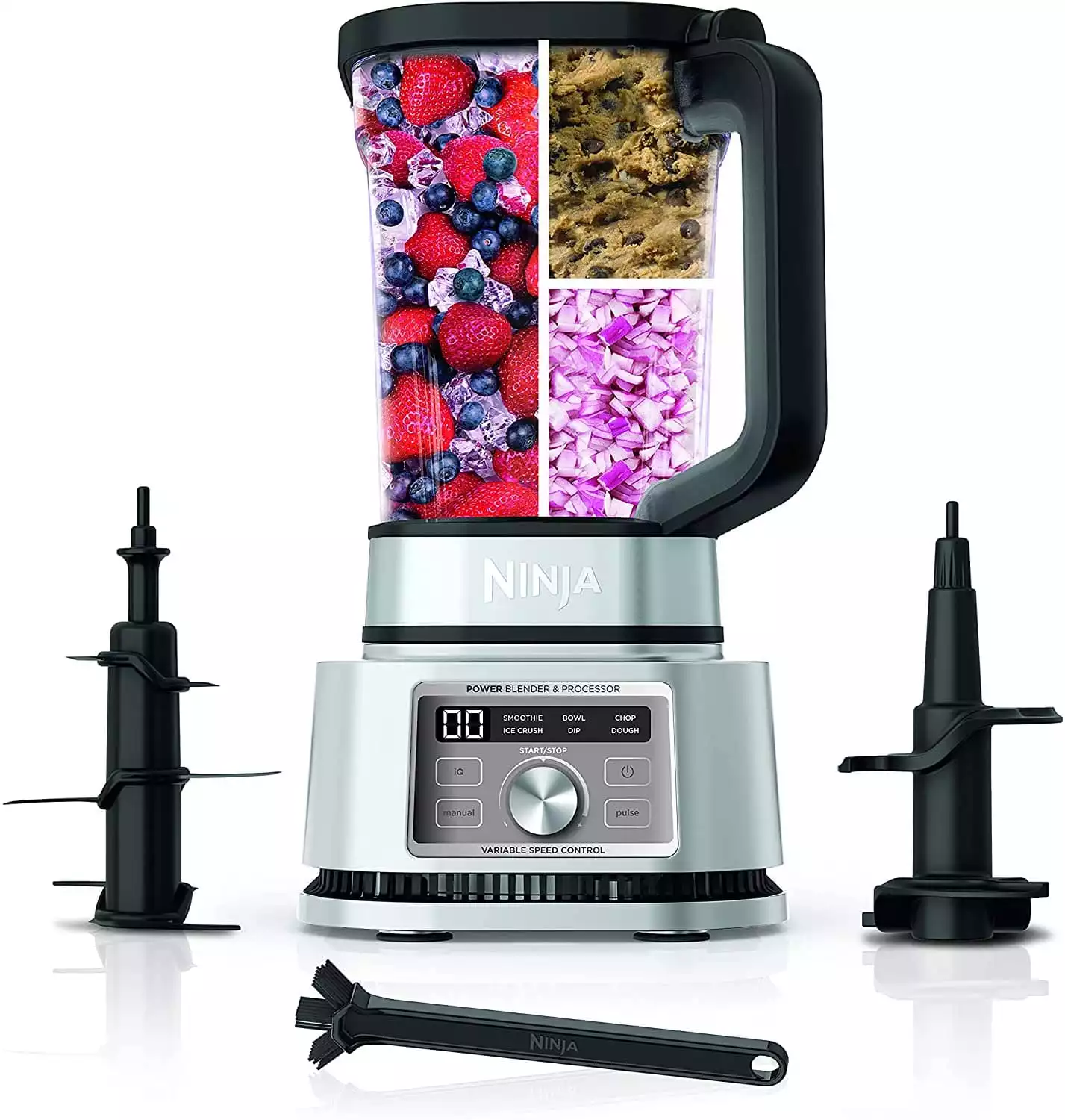 1400W smartTORQUE power, 6 program settings, blender accessories, large capacity – these are the top features that win me over even if I had to pay $150 for that.
After testing out and letting it run for some five months now, I believe that Ninja Foodi is designed to kill even the hardest ingredients! You have 2 blade assemblies, one is specifically designed for crushing and one for dough. The crushing and chopping blades are stacked in one momentum which gives the mixture a punch to turn ice into snow within a matter of seconds.
Meanwhile, the dough blades are inspired by the kneading motion to give you the best result for baking! Speaking of the speed controls, there's no certain number where you can click on or anything. And so all you need to do is spin the knob higher or slower up to your liking.
Everything is great except for the noise. Yes, we can't complain about the 1400W motor but the pros outweigh the cons so I'm still happy with this investment!
All in all, Ninja Foodi is a high-performance food processor for a large serving. If you live in a big family, run a bistro, or confectionery, this Ninja Foodi SS201 will put a smile on your face. I just don't think you need to invest this much money for such a high-performance machine if you live alone.
2. Ninja BL770 Mega Kitchen System and Blender
Best Food Processor with Blender Attachments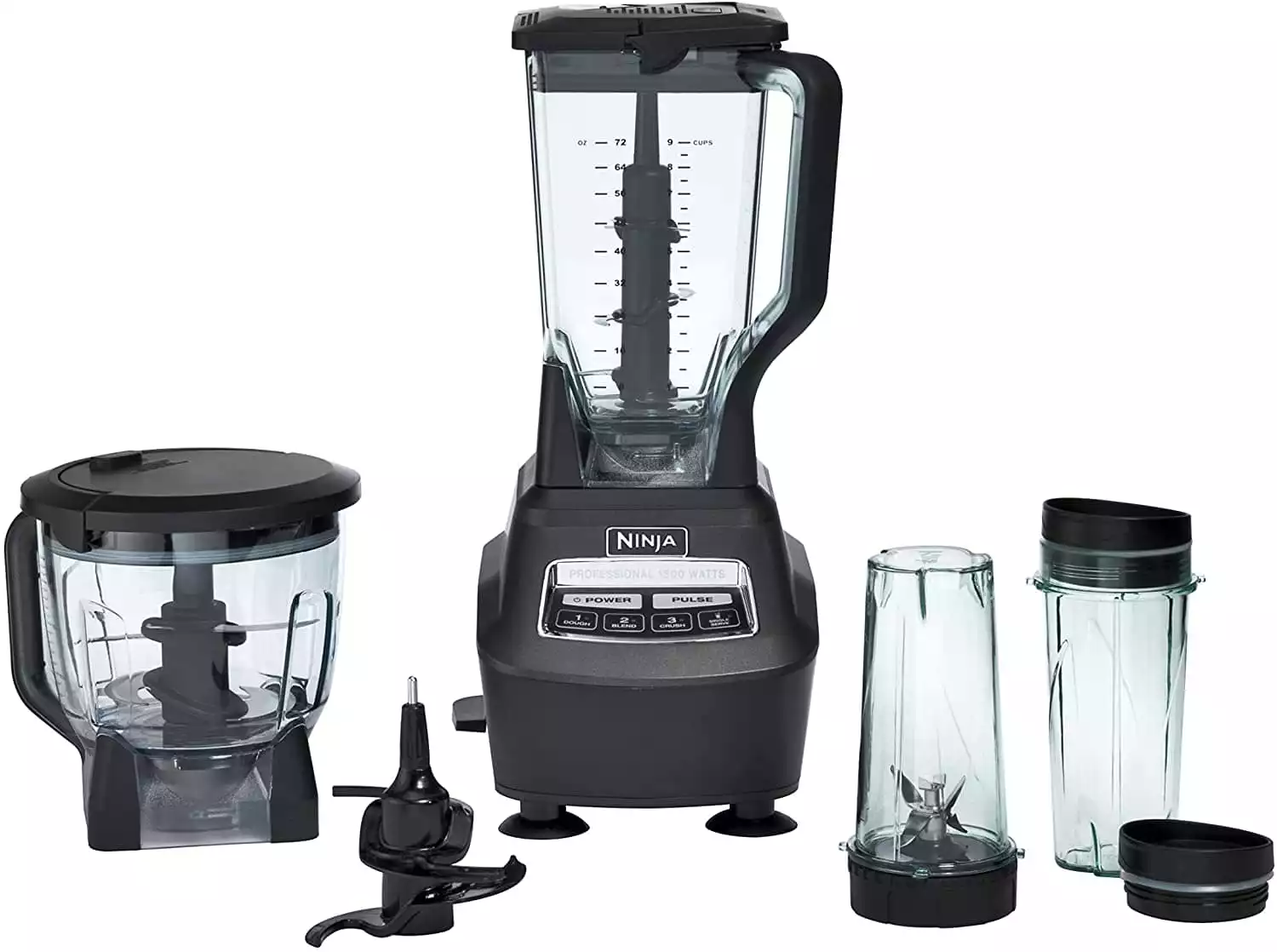 I save the last spot on my list for Ninja BL770, a set of blender and food processor with a 1500W motor. If you take a look at my review for the best blenders in the market, I gave a detailed analysis and honest verdict over its blending function. And in this guide, I'll take you over what I like and dislike about the food processor. 
Speaking of usability, Ninja BL770 is straightforward to operate and it takes me almost no time to assemble. Don't get me wrong! I still love Braun FP3020 like the first time! However, I do think it's a chef's best friend while Ninja BL770 is more economical and straightforward for home cooks like me.
With eight cups maximum for the work bowl with a dough blade, this guy is a top call for bakers! If you ever think the motor is too powerful, then let it run at the lowest speed and it will chop up your salsa without mashing it! Who should be buying this? Passionate home cooks and bakers who don't want to break a bank for the bells and whistles should invest in this set!
3. BLACK+DECKER 3-Cup Electric Food Chopper
Best Low-Cost Food Processor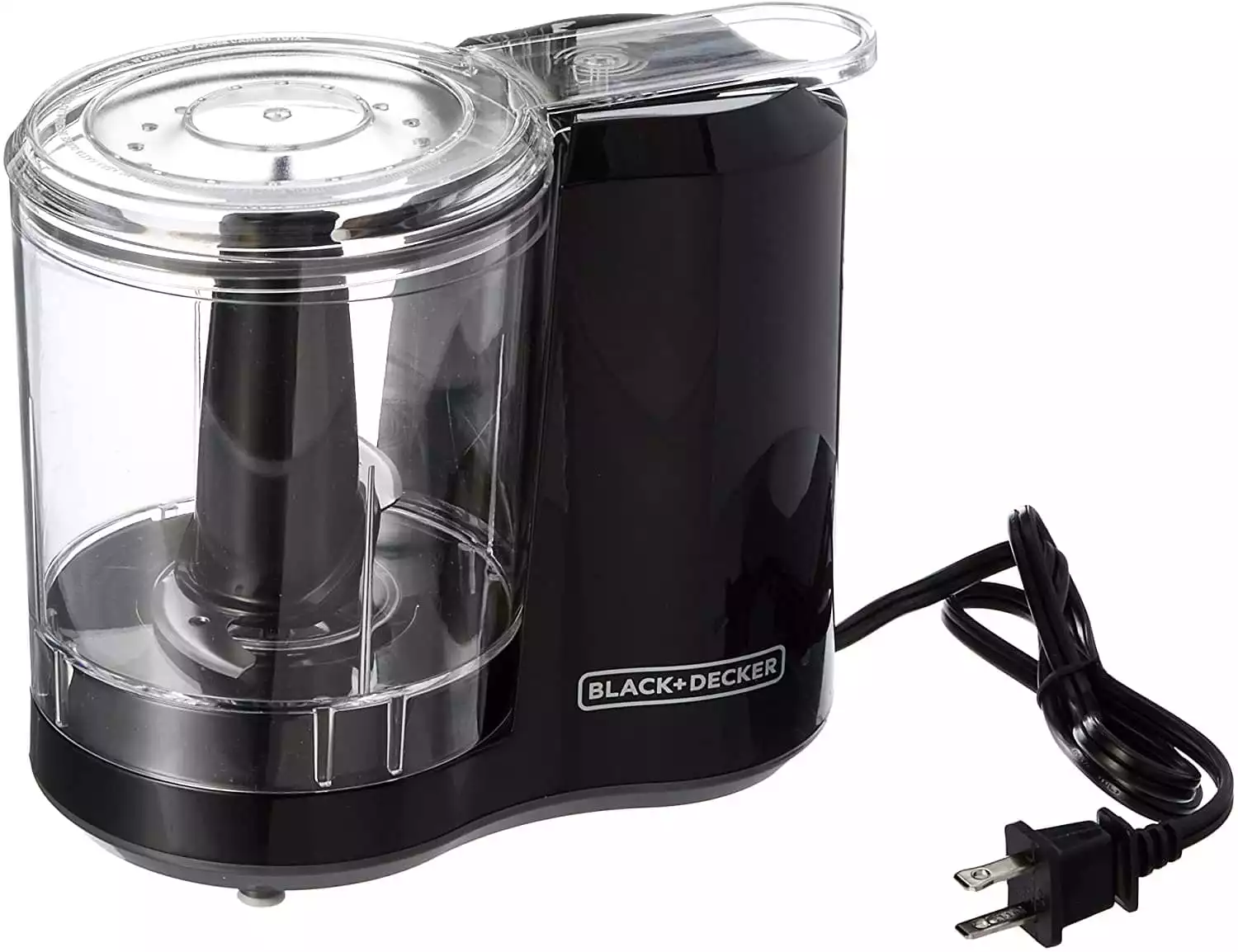 My next recommendation goes to an entry-level food processor which is priced at the same price range with my manual pull chopper above. BLACK+DECKER is one of the first food processors I invested in back in the college days when budget was a big consideration. And for that reason, I was always careful with what I paid for.
BLACK+DECKER totally won me over at first sight because it did a great job that a basic processor would do – chopping and mincing. The blades are sturdy and sharp enough for meat mincing and chopping my salsa every day. Once again, a 3-cup container is way below my average recommendation for a food processor. However, I let it pass since the budget was my priority at the time.
Even though 175 watts don't make it the highest performance out of all items you see on the market, I'm sure you'd be happy with any product it handles. And so for nuts, herbs and breadcrumbs, this guy can tackle them all.
I must say that BLACK+DECKER is a pretty good investment given the price it offers. For example, not every food processor lid out there will give you a small hole on the top to pour oil in during the mixing, but it's available in this BLACK+DECKER! Its ease of use is no complaint! All I have to do is keep the button on hold and it starts pulverizing the food as much as I want. 
4. KitchenAid KFC3516WH 3.5 Cup Food Chopper
Best Food Processor with Pour Spout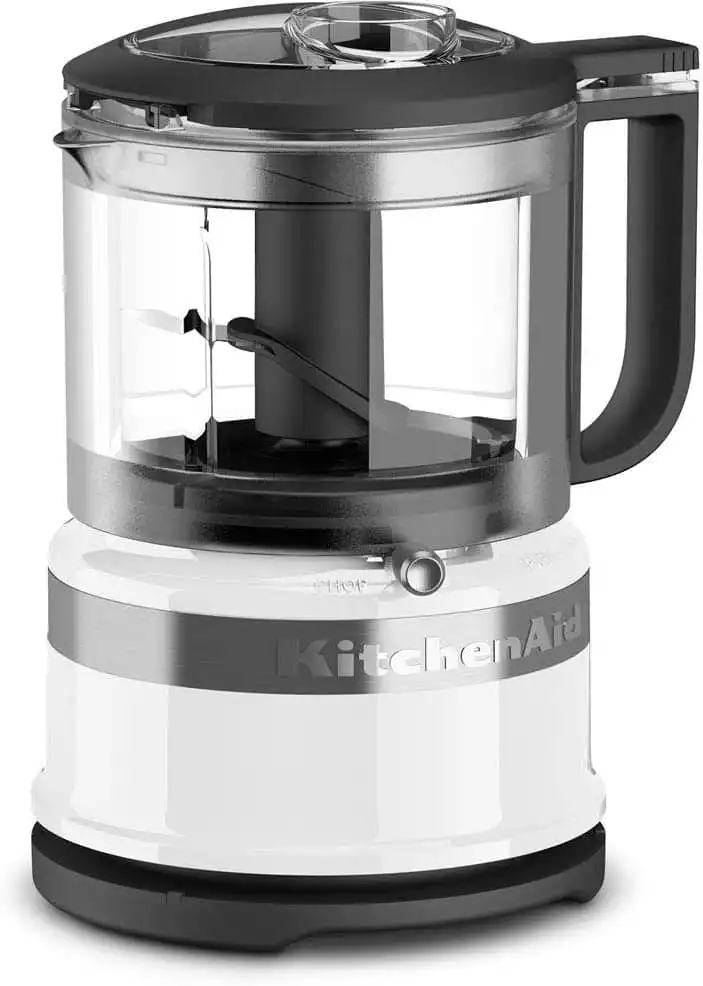 What will you receive if you give $15 more than what you paid for the BLACK+DECKER above? For me, I decided to invest in this KitchenAid KFC3516WH. It gives me a pour spout, a larger work bowl, a neat-looking construction to put on my countertop, and 65 watts more from the horsepower.
Once again, this KitchenAid KFC3516WH is not breaking your bank. By the time I bought it, it was priced just under $50! Compared to BLACK+DECKER, the mixtures come out more refined and no chunks are left. I tried with different recipes like toasted nuts for cookies, salsa, onion and they all came out the way I wanted.
Instead of one speed, KitchenAid gives me 2, with an added power from the Pulse function and therefore it can tackle any ingredients like a charm. The work bowl is just a tad bigger than BLACK+DECKER, and it resides nicely in my kitchen or when I tuck it away in the further corner of the cabinet. The pour spot truly comes in handy when I need to divide the batch into smaller portions.
5. Hamilton Beach Food Processor
Best Food Processor for Meat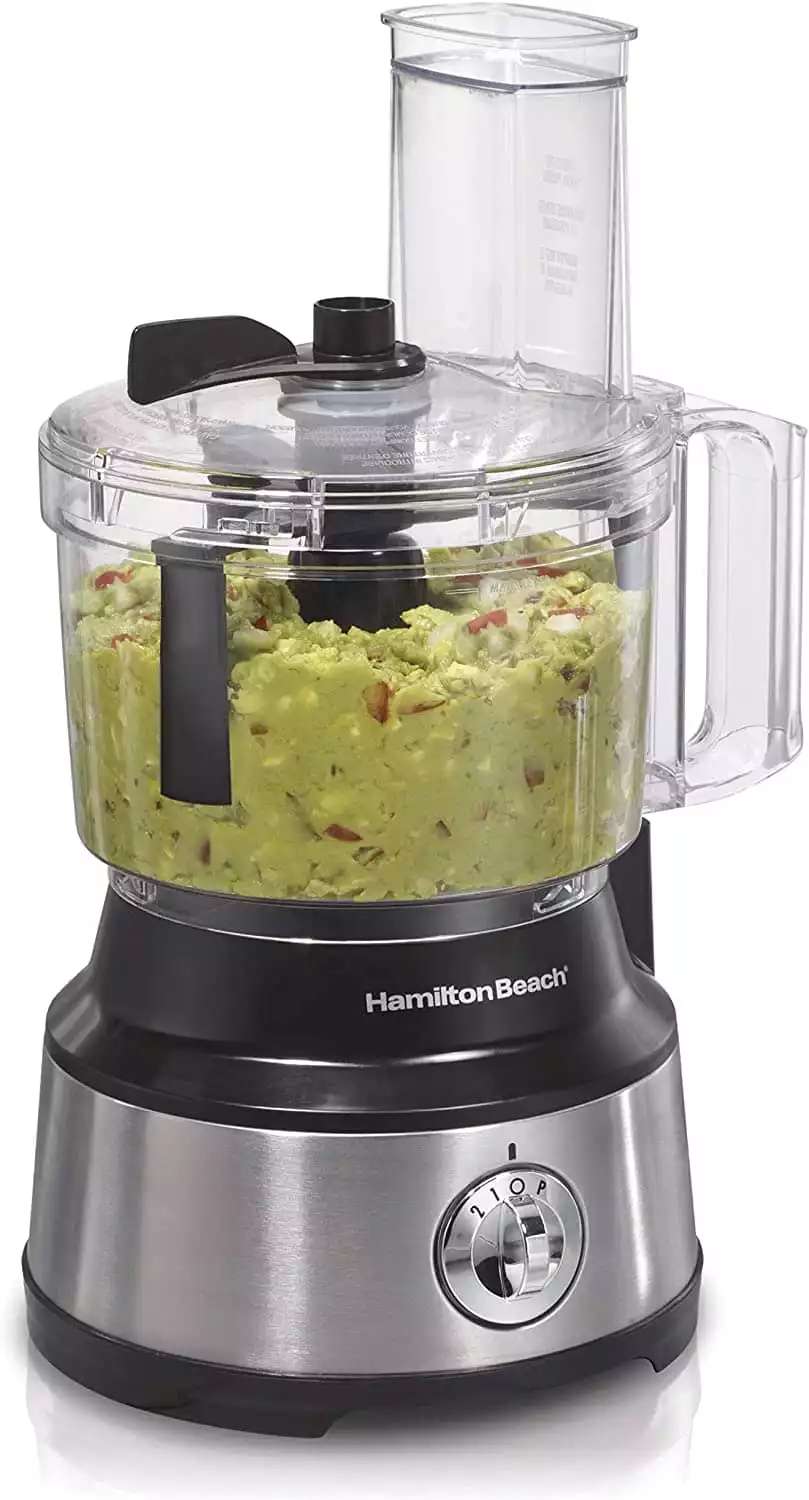 By the time I put together this review, Hamilton Beach and KitchenAid KFC3516WH were both priced at $49.99. Starting at the same cost, it's getting more fun for me to stack this one against another to see which one wins the trophy.
Let's start with the work bowl Hamilton Beach gives me 10 cups while KitchenAid KFC3516WH gives me 3.5 cups and both are BPA-free. When I looked at the lid, Hamilton once again impressed me with a bowl scraper to keep the food close to the blades for even, fine mixtures. Even though KitchenAid KFC3516WH doesn't have such a thing, the results are even every time without chunky bits left in it.
Comparing these 2 details, I'd say Hamilton Beach is a winner! I say this because at some points down the road when the blades are worn out in a few years' time, KitchenAid may not refine my texture anymore. Whereas, Hamilton Beach's scrapers nail it every time your OCD kicks in or when you have a high-maintenance friend coming over!
Both of the items have two speeds and one Pulse button. However, Hamilton Beach yields 450 watts which are 210 watts more powerful than KitchenAid KFC3516WH. Generally speaking, Hamilton Beach provides better versatility. If you need to crush ice or frozen ingredients, I think that Hamilton Beach is the right choice.
6. Braun FP3020 12 Cup Food Processor
Best Quiet Food Processor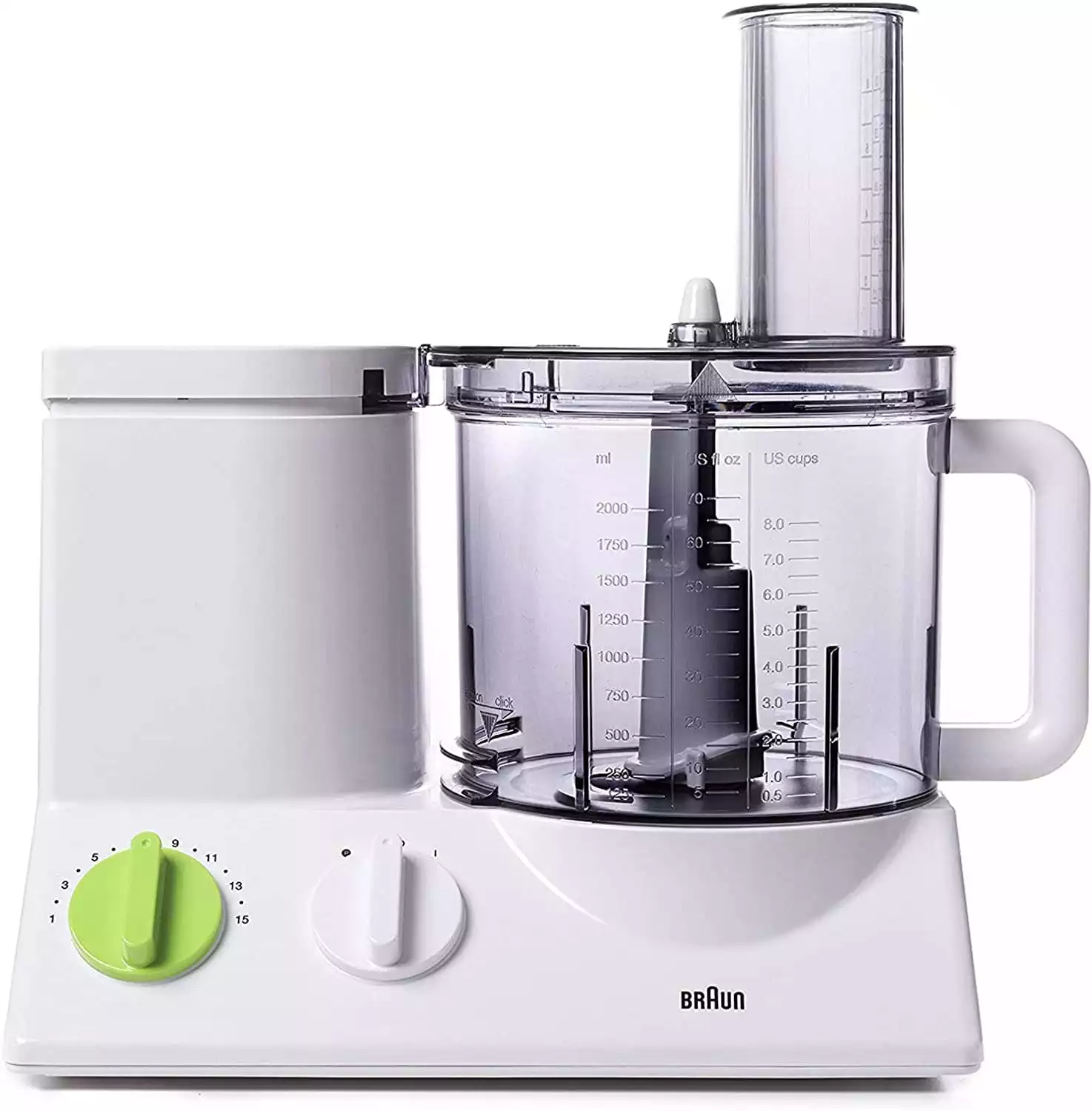 This Braun FP3020 is the quietest food processor I have on the list. For me, this noise-canceling function has a lot to do with the motor base. 600 watts don't make it a top-tier item with the highest power. So instead of aiming at such a high power record compensating for noise, Brain decided to aim low in exchange for a noise-free experience.
For me, 600 watts are totally fine to tackle any cooking tasks at my command. I tried shredding, slicing, kneading dough and also tested all attachments that come with it. Apparently, it doesn't break down the pulp that well compared to a high-performance juicer but I'm fairly happy with the result. The only downside is that it takes very long to yield juice.
The slicer is perfect for hard ingredients with a large feeding chute nestled atop the lid. It goes the same way for shredder even though some leftover bits get stuck in the tin holes of the discs. The good news is that cleaning is easy, and so these drawbacks don't really get on my nerves. 
7. ZYLISS Easy Pull Food Chopper and Manual Food Processor
Best Non-Electric Food Processor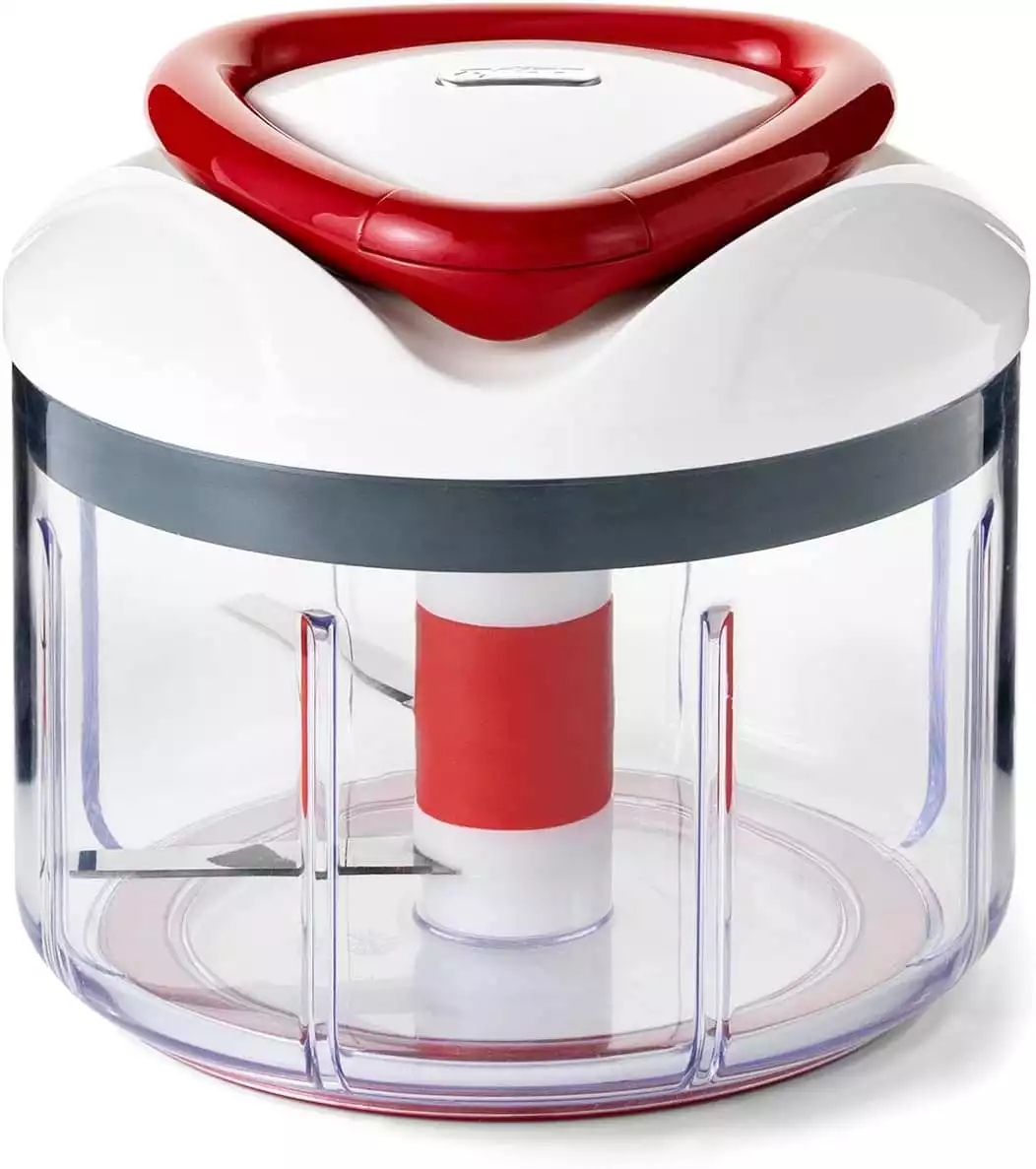 Let's start off with the most basic, low-cost and easy to use food processor! ZYLISS manual chopper is not the first processor I purchased. I tested with quite a few electrical items long before it but still decided to bring it home! Why – you may ask! What if the electricity is out and you're in the middle of prepping a meal? Buy this and you'll thank me later!
Since the day I brought this home, my picnic and glamping days have always been on a high note. It's so compact and lightweight that I can tuck in my travel bag. Even though this is not a high-performance, motor-based processor for professional use, it still chops up my salsa, pesto and smoothies as a charm.
I need around 7 pulls or so to finish a small batch of salsa, which is stored nicely in a 3-cup container. Apparently, 3 cups don't satisfy me to the fullest. But knowing that this item is meant for traveling, I give it a pass! You can go for a few more pulls if you want to dice up your food into smaller bits.
One thing I want to mention is that it won't be able to handle flax seeds or spices. If there's one thing I wish it would improve is the noise. I was somehow surprised at the noise level it yields even though there's no motor base running. That's not the end of the world but I just want to let you know in advance.
5 Things to Look out for When Buying Food Processors
1. Power
It's not necessarily true that higher wattage makes a better machine. However, it provides a better versatility to break down hard nuts, parsnips and tackle meat and dough at the same time. The best food processors on the market with the most vigorous horsepower definitely costs more but you'd be thankful for that one day.
The food processors I've tested are somewhere between 300W up to 2000W. The lowest power I want you to get is 300 watts to make sure you're satisfied with every texture that comes out.
2. Container Capacity
The next biggest thing I notice in a food processor is how large the container is. My biggest mistake was to buy a cheap processor with a nominal container thinking I won't ever need to chop down that much fruit and mince a large batch of meat.
One day my friends came over for a slumber party and it took me forever to prep their comfort food. Don't be like me! Make sure to get one that holds 10 to 14 cups! Otherwise, 3 cups at the least to go at most! Don't forget that you can always free the leftover batch for later use!
3. Blade Material
In my list below, all of my recommended items are built with stainless steel blades. In the market, you can see them coming in plastic, metal, ceramic or a heavy-grade mix of construction.
Stainless steel is always my go-to material since it's safe for food and durable. Plastic can be cost effective but I haven't seen any plastic blades chopping up food finely and standing the test of time. Ceramic is a rare fine. And even though its shelf life is way better than plastic, it will cost you a lot (both time and money) to find a replacement.
Before moving on with attachments, I have a quick mention about the type of blades we're looking for. Please note that those blades designed with small serrations are meant to stay sharper longer than straight blades. No matter which type of blades you have, you always need to be extra careful when cleaning!
4. Attachments
Here comes the bells and whistles! Some of us love a fancy touch when opening the box, some don't. So instead of spending extra for redundant accessories you don't really need, why not invest in actually helpful ones? Let's say you're a baker! Look out for a dough blade and dough paddle! If I like to invest in a versatile food processor that can juice, I'll want a feeding chute that sits atop of the lid.
Look at my Braun FP3020 12-cup food processor below! Can you believe that it can outrival any essential household appliance at home? It has a citrus juicer, an egg whip, and five types of blades for different tasks! And of course, I paid nearly $500 for that – so yeah!
5. Speed Controls
Most of the food processors at the lower end of the price range have only one control. More expensive items come with two, four or eleven. There's not a certain reason to compliment a multi-control setting or a simple one-off button. The goal to look out for the right speed boils down to your intention.
I used to own a one-speed food processor like the Cuisinart DLC-2APK Mini-Prep Plus, as well as a Braun FP3020 12-cup processor with 11 speeds. I'm happy with both of them. When I bake, I want different mixing speeds to handle different types of dough. Meanwhile, my KitchenAid KFC3516WH with two speeds, BLACK+DECKER with one speed or a handheld ZYLISS with no speed at all are still fine to handle a salsa salad.
In this review, we just walked you through:
5 things to consider before buying a food processor.
A comparison chart to break down a brief difference amongst the items.
A detailed review of the best food processors in the market from my own experience.
I hope you find this buyer's guide as useful as I do! One question before my farewell: do you have a high-performance microwave at home that has multiple preset programs and a safety lock feature to cook the food you just processed? If not (or if your old one is worn out), consult my in-depth review and buyer's guide of the ten best microwaves right here! I tested different types of microwaves including solo, grill, and combination microwaves to help you come up with the right decision!