Hamilton is one of the most underrated cities in Ontario, often overshadowed by other bigger and more popular cities. But, one less-known fact is that Hamilton, ON has an ever-growing number of stellar restaurants, serving both local and international flavours, thanks to the diverse cultures and communities around.
Whether you're a Hamiltonian living in a different city, a tourist visiting one of the major cities in ON, or a forever foodie, the following list of the 12 best Hamilton restaurants to eat at:
1. Bon Temps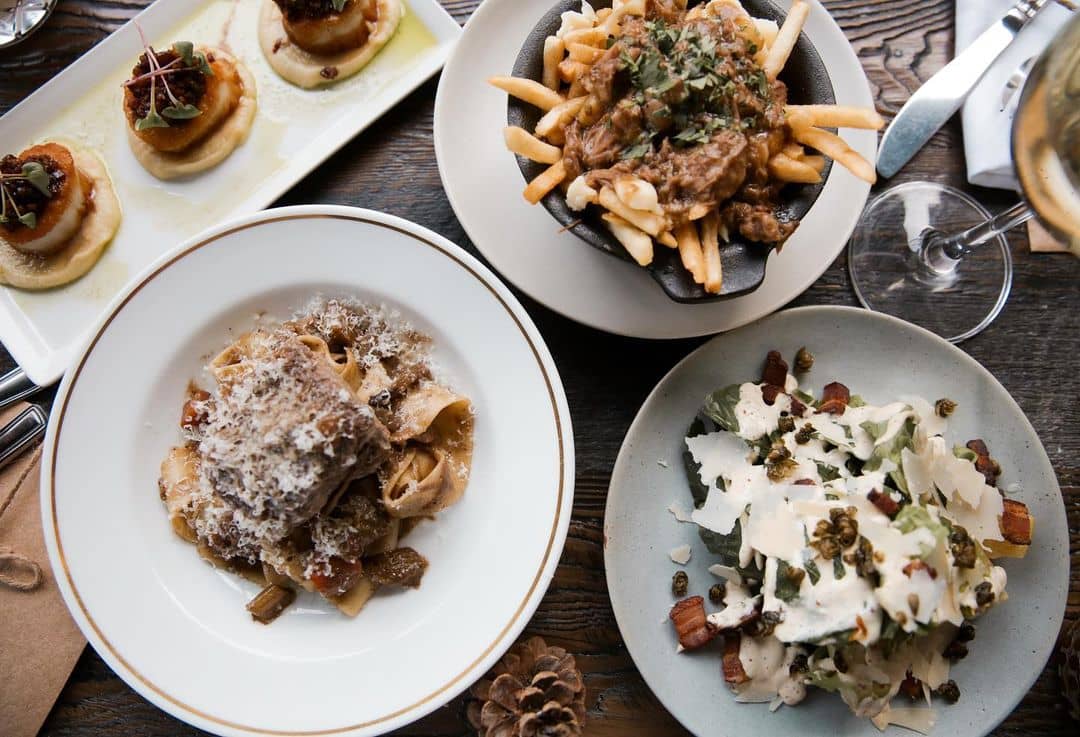 Bon Temps is a local favourite serving elevated French cuisine, inspired by "the finest in traditional Canadian cuisine". Their sharing plates are meant to be paired with wine, and enjoyed with the best company, in a simple and elegant setting.
At Bon Temps, the menu is constantly rotating. Their smoked Trout dish is quite popular; on your plate, you get a perfectly smoked trout – flaky with a slightly smoky flavour, along with roasted and sauteed veggies. The pickled celery adds a nice crunch and tanginess to the dish.
Their Frog Legs come out golden brown and crispy, pairing well with the hot sauce, and the salty and tangy blue cheese dip.
What to order: Trout, Frog Legs, Oysters
Address: 61 Young Street, Hamilton, ON L8N 1V1
Website | Instagram | Facebook
2. Brother's Grimm Bistro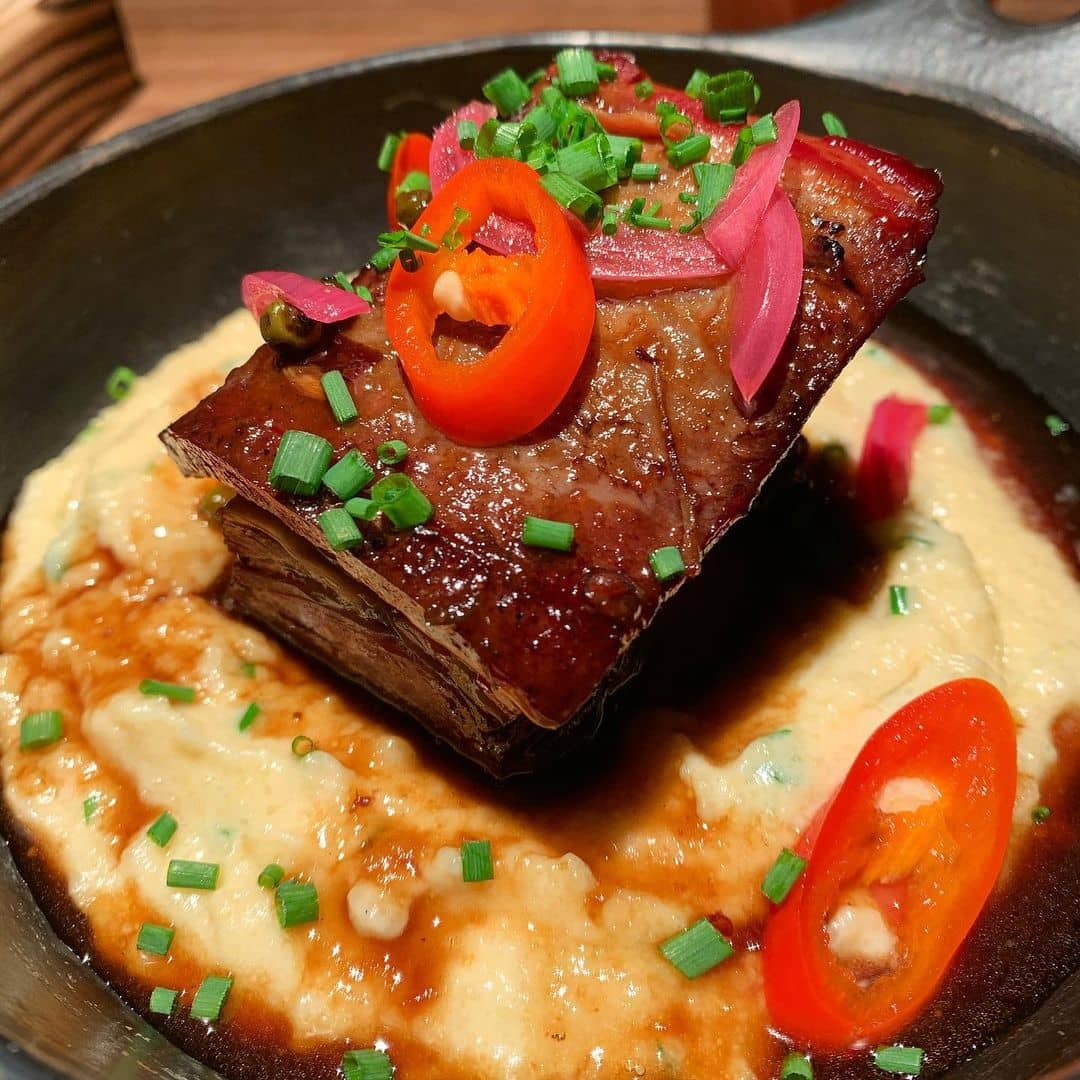 Located in the heart of downtown Hamilton, Brother's Grimm Bistro is a European-inspired cellar bistro serving a fusion menu, along with a wide selection of cocktails, barrel-aged beers, and more. The dimly lit place carries a cool decor, which makes it ideal for date nights.
The Authentic Duck Cassoulet here will transport you to the south of France. This slow-simmered stew contains moist and tender confit duck, smoked wild game sausage and bacon, and crunchy pork rind. Brother's Grimm Bistro manages to do justice to this hallmark French country dish.
Served with frites, the Smoked Cornish Game Hen is beautifully browned, tender, and juicy, with crispy skin and an enjoyable smoky flavour. The dijon feta sauce goes well with both the hen and the frites.
Their Chocolate Torte makes for a satisfying dessert with its richness.
What to order: Authentic Duck Cassoulet, Smoked Cornish Game Hen & Frites, Chocolate Torte
Address: 193 King Street E, Hamilton, ON L8N 1B3
Website | Instagram | Facebook
3. HAMBRGR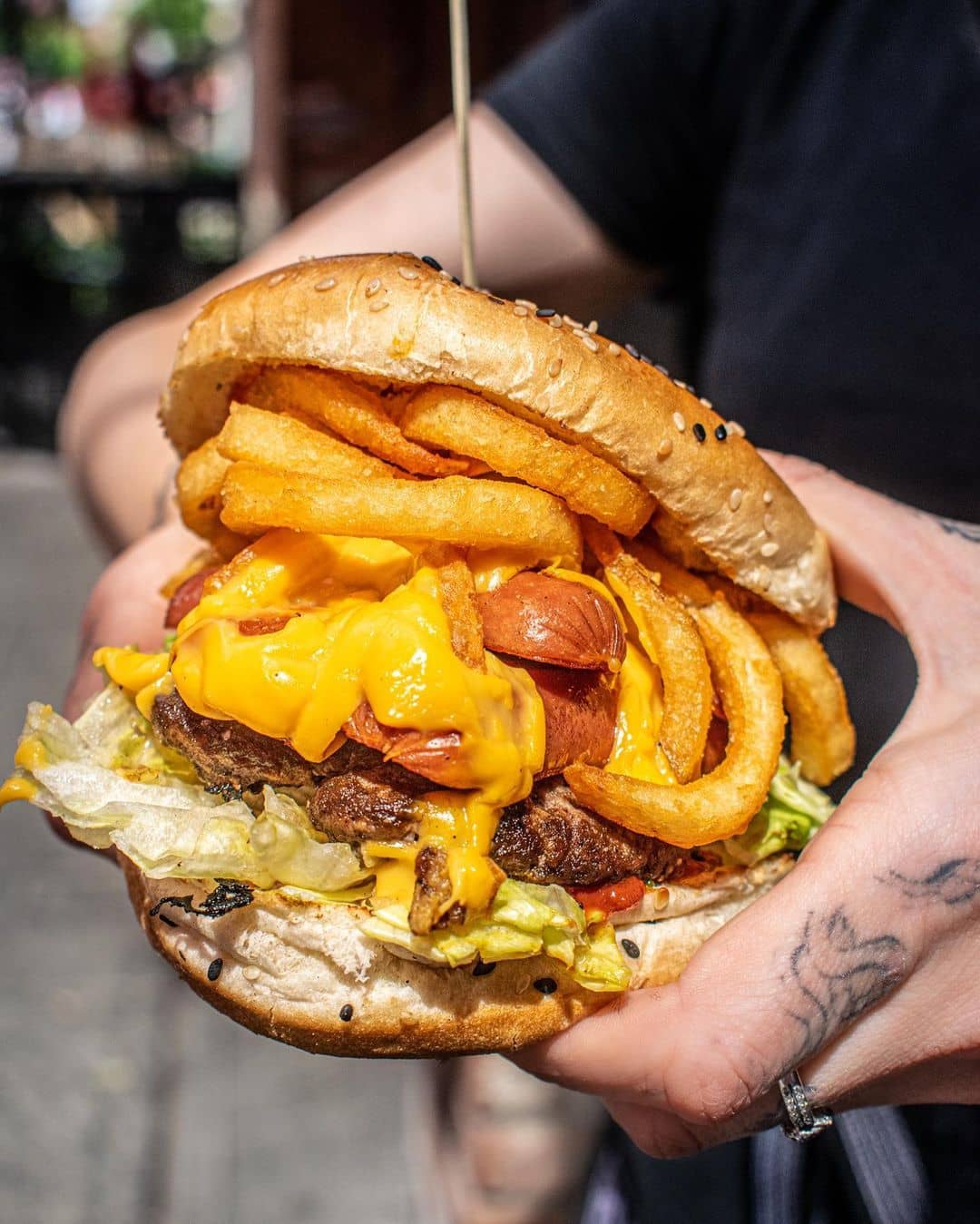 With HAMBRGR, there is no reinventing the wheel; you get honestly delicious burgers, local beers, and milkshakes – the classics that are always in trend! The burger joint is modern yet cozy and offers a comfortable setting to enjoy a meal with family and friends.
HAMBRGR's Buffalo Cauliflower is a must-try appetizer. While the deep-fried cauliflower is crispy and crunchy, the addition of pickled jalapenos on top adds a neat kick to the dish. The citrus yogurt cream is also refreshing to the palate.
The Magic Mushroom burger is extraordinary in size and taste. Fluffy bun, super juicy patty, fresh and crisp lettuce, stretchy cheese, and an out-of-this-world tomato jam – everything together make one of the best damn burgers you can find in Ontario.
If you like your burger messy, go with the Dirty Bird.
Special mention to their crispy and super cheesy (with an amazing cheese pull!) Great Balls of Fire (deep-fried mac & cheese balls).
What to order: Buffalo Cauliflower, Magic Mushroom burger, Dirty Bird burger, Great Balls of Fire
Address: 49 King William Street, Hamilton, ON L8R 1A2
Website | Instagram | Facebook
4. Earth to Table: Bread Bar James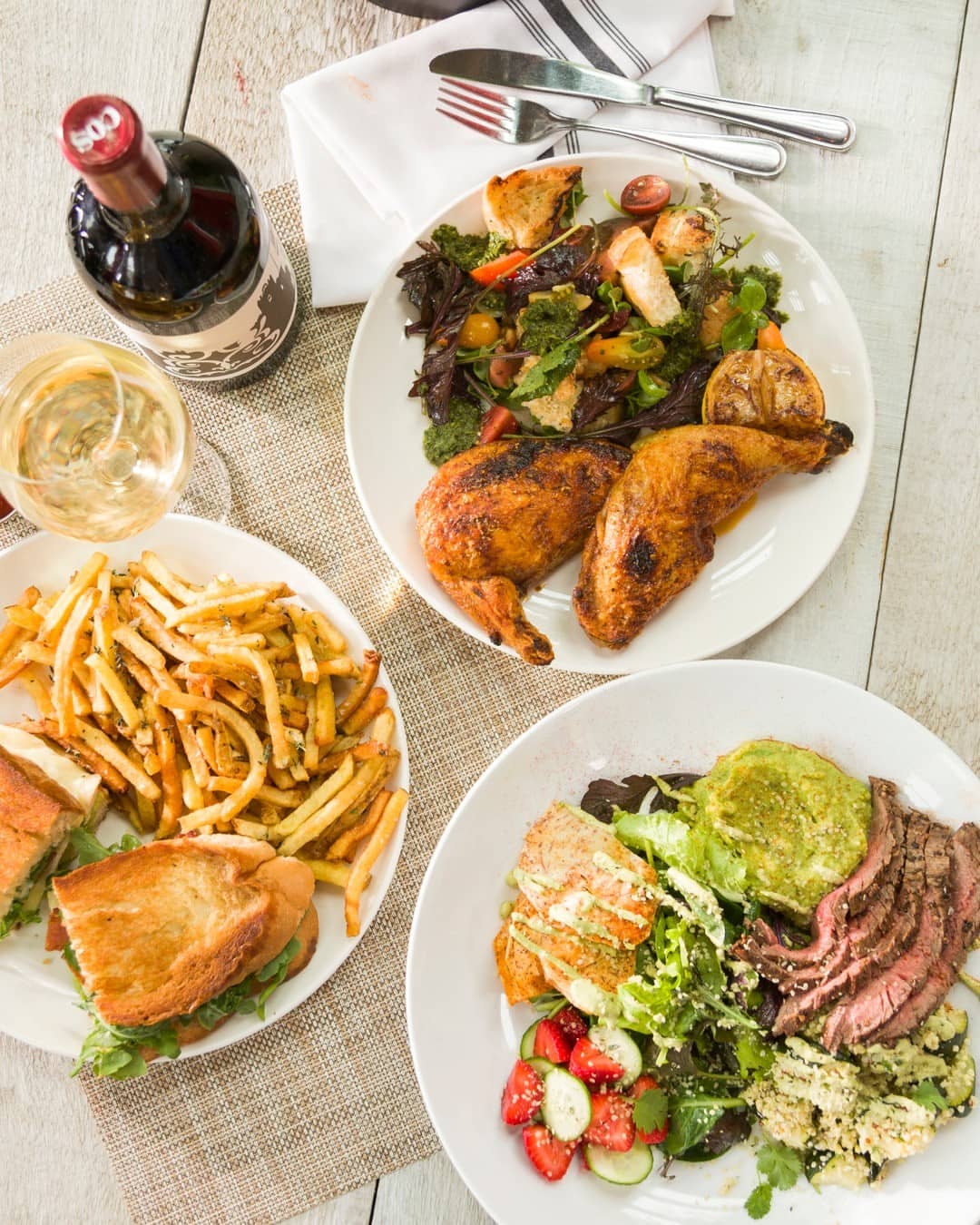 Earth to Table: Bread Bar James is an upscale eatery committed to sourcing quality ingredients that are both fresh and seasonal. From salads to pizzas to sandwiches and desserts, the restaurant serves refined comfort food in a cozy and intimate setting.
Their Umami Burger, available for both lunch and dinner, is a specialty. The 7oz beef and pork patty is perfectly juicy and is topped with mushrooms, pickled onion, and more delicious elements. The umami sauce adds a lovely meatiness to the burger.
Try their Buddha Bowl, which comes loaded with yummy and healthy components, like millet, crispy taro root, greens, and more. Add your choice of salmon, flank steak, chicken, or fried tempeh to your bowl.
Their stone-baked pizzas are absolute crowd pleasers, especially the Meat Mountain and Cheese Louise.
What to order: Umami Burger, Buddha Bowl, Meat Mountain pizza, Cheese Louise pizza
Address:
-14 James Street N, Hamilton, ON
-258 Locke Street S, Hamilton, ON
Website | Instagram | Facebook
5. Berkeley North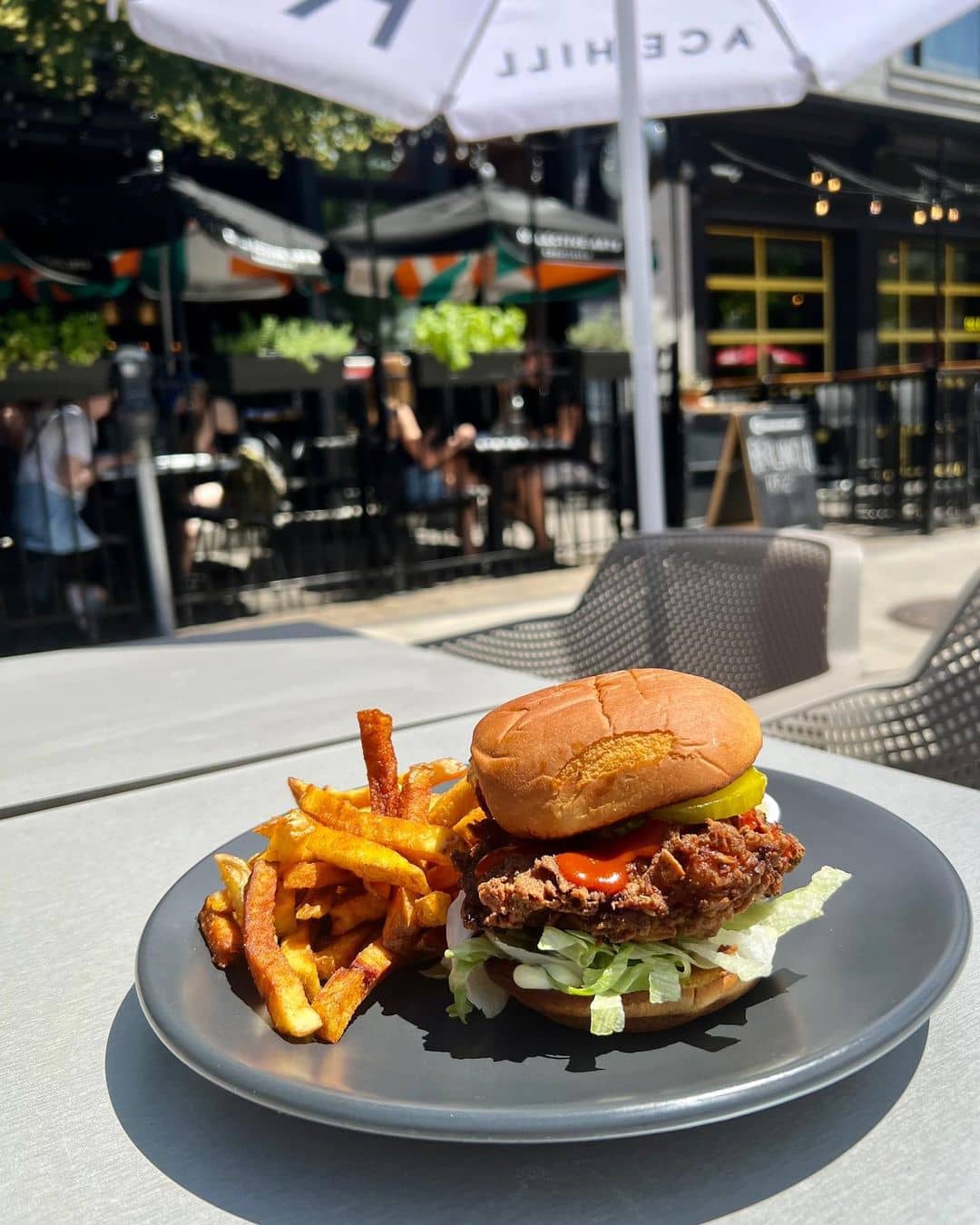 Located on the historic King William street, Berkeley North serves West Coast-inspired food, with their seasonal menu, using responsibly sourced ingredients. The restaurant has been recognized as one of the best overall restaurants in Southern Ontario!
The Mushroom Dumplings, one of the Staff Picks, is a lovely starter dish with delicately steamed and perfectly seasoned dumplings, and a bit of kick from the soy, sesame, and ginger sauce.
The Teriyaki Eggplant is full of sticky deliciousness – slightly crispy, slightly sweet, and sticky, coated in their signature teriyaki glaze.
The Fried Chicken Sandwich at Berkeley North is a fast-moving item on the menu, so be sure to order yours before it is sold out.
What to order: Mushroom Dumplings, Teriyaki Eggplant, Fried Chicken Sandwich
Address: 31 King William Street, Hamilton, ON L8R 1A1
Website | Instagram | Facebook
6. The Ship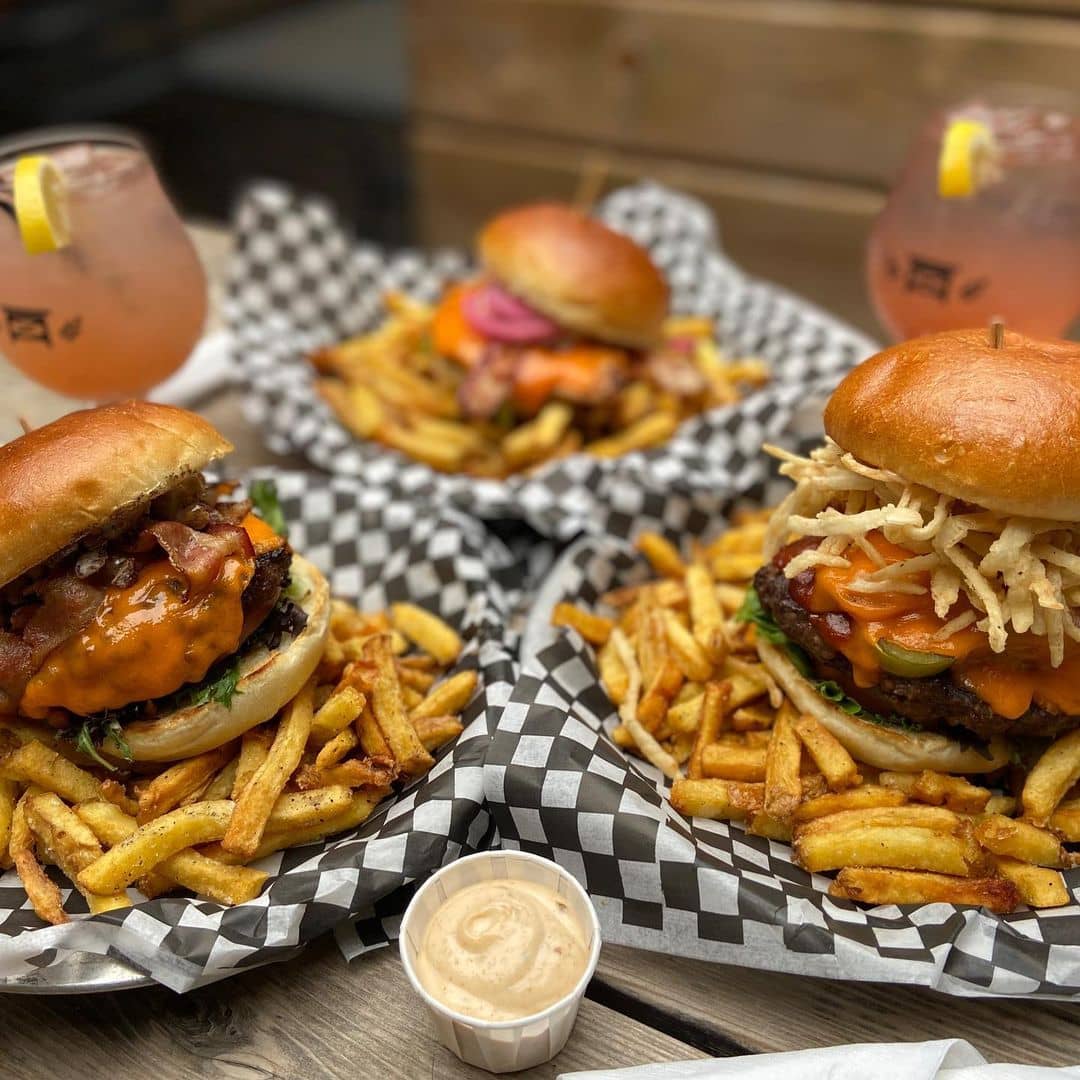 The Ship is a chill pub/restaurant with a menu that features gourmet burgers, exciting entrees, craft beer, local wine, and more. The whole vibe here is casual and sociable, making it a solid burger joint to unwind in with friends.
One dish to NOT miss at The Ship is their Crab Poutine. Big chunks of crab meat combined with rich and creamy bacon clam chowder and cheese curds – this is the kind of poutine that will make you crave more.
Now, let's move to the exciting part – Burgers!
One absolutely phenomenal option is their Northern Exposure Burger. While the patty comes nicely charred and juicy, what elevates the taste is the addition of maple mayo.
For any burger lover, there is no better feeling than when a burger is simply too big for your hand! The French Onion burger at The Ship is a fan favorite for this very reason. Do we even have to tell you that it tastes out of this world?!
What to order: Crab Poutine, Northern Exposure, The French Onion
Address: 23 Augusta Street, Hamilton, ON L8N 1P6
Website | Instagram | Facebook
7. The Mule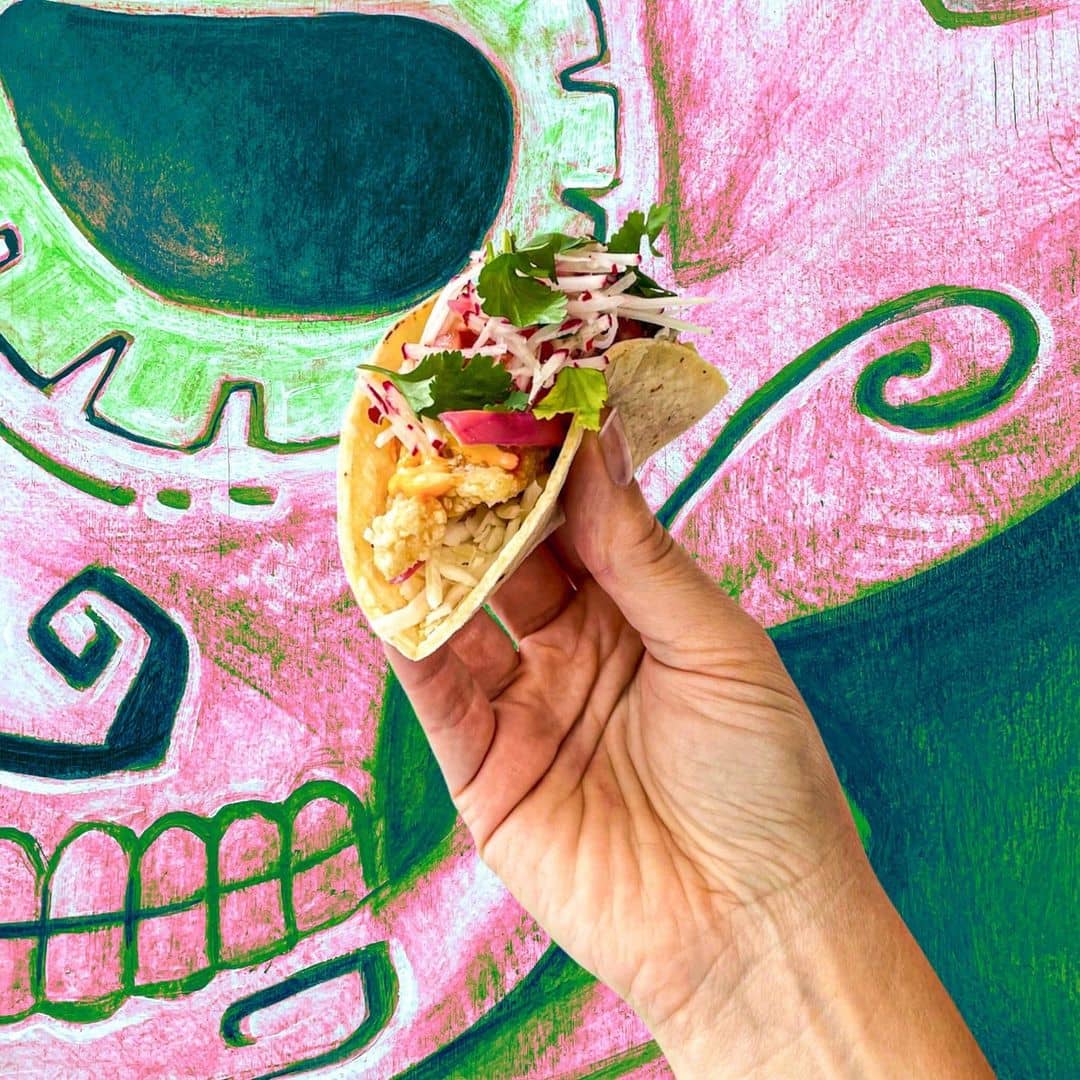 A not-so-traditional Mexican place where tacos, bourbon, and tequila come together to party! From classic tacos to weird and interesting creations, The Mule offers it all in a casual and friendly environment.
The Chicharron, or pork belly taco, has crispy pork belly that tastes great with the chili oil and salsa verde inside the soft taco shell.
The Fish taco is equally delicious, with lightly fried fish, sweet onion salsa, and chipotle mayo for some smoky spiciness.
The Brussel Sprout taco is one of its kind, something you cannot find elsewhere. With a mild heat from the hot sauce, tanginess from lemon mayo, and a little crunch from the pepitas, this taco is a top-seller for a reason.
And you have to try the Queso Fundido, The Mule's famous cheese dip that has the perfect texture and perfect spice level, served with homemade chips.
What to order: The Chicharron, The Fish, The Brussel Sprout, Queso Fundido
Address: 41 King William Street, Hamilton, ON L8R 1A2
Website | Instagram | Facebook
8. Caro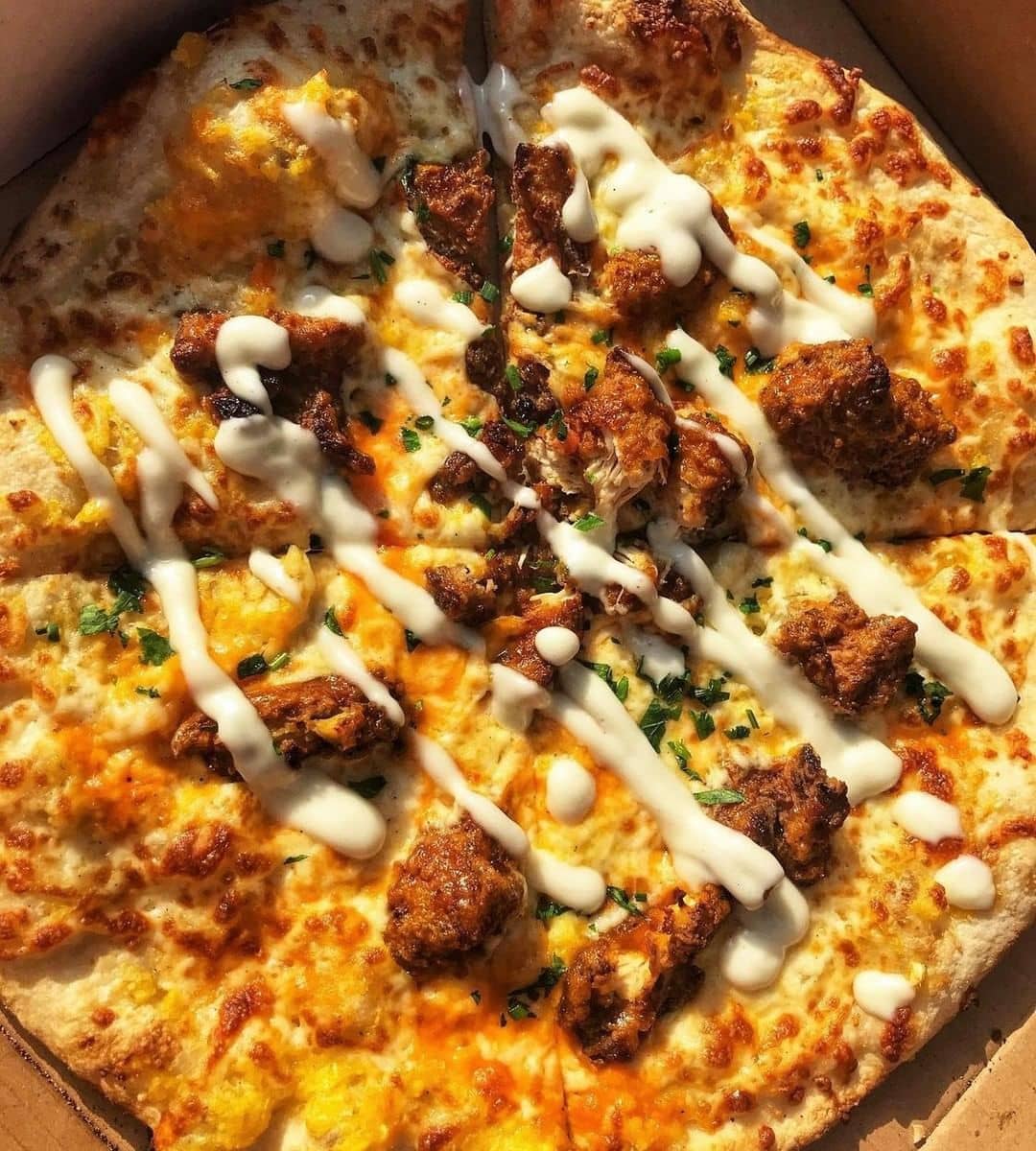 Caro Restaurant & Bar is a go-to spot for Hamiltonians who love modern Italian cuisine and cocktails. The space is airy, friendly, and cozy, and their patio is the fav spot for diners during Ontario's hot summer months.
The Arugula Salad at Caro is a crowd pleaser. Tossed with pear, cheese, fennel, toasted walnuts, white balsamic vinaigrette, and blood orange reduction, the salad is well-balanced and allows you to enjoy all the different textures and flavours.
Their Crispy Polenta Fries are also incredible. Served with marinara sauce, gorgonzola dip, and basil aioli, it is the sauces/dips that make all the difference, hands down!
The Omar pizza, with fried chicken, Carolina barbeque sauce, corn, cheese, and cheese drizzle, makes for one delectably satisfying pizza.
What to order: Arugula Salad, Crispy Polenta Fries, The Omar
Address: 229 James Street N, Hamilton, ON L8R 2L2
4 Ottawa Street N, Hamilton, ON L8H 3Y7
Website | Instagram | Facebook
9. Born & Raised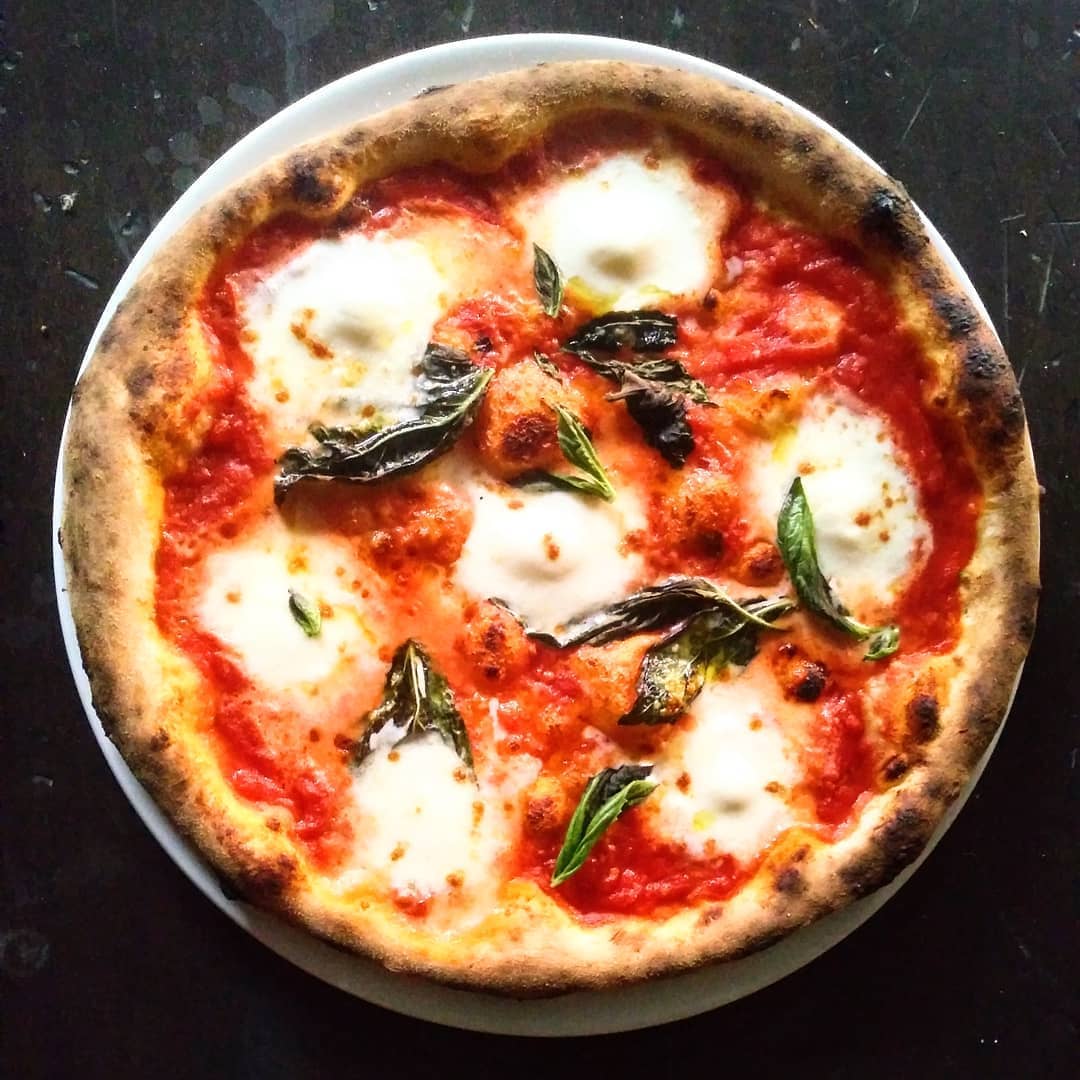 Serving Italian and Canadian fare, Born & Raised is owned by a Top Chef Canada alum who combines the old-world cooking styles from his Italian heritage and modern global flavours. The food is served in a warm, inviting, and vibrant setting and the place also features a raw bar.
The Steak Tartare appy is inspired by the chef's time in France, and the beef is well-seasoned, tender, and melts in the mouth.
For a classic and delicious option, choose the Margherita pizza – nice crispy and chewy crust, delicious sauce, and generous cheese.
The Monte Pollino pizza is a unique twist on the classic ham and pineapple pizza. This one contains roasted and smoked pork cheek, compressed pineapple, and pickled habaneros that offer a serious kick.
What to order: Steak Tartare, Margherita, Monte Pollino
Address: 224 James Street N, Hamilton, ON L8R 2L3
Website | Instagram | Facebook
10. Tomah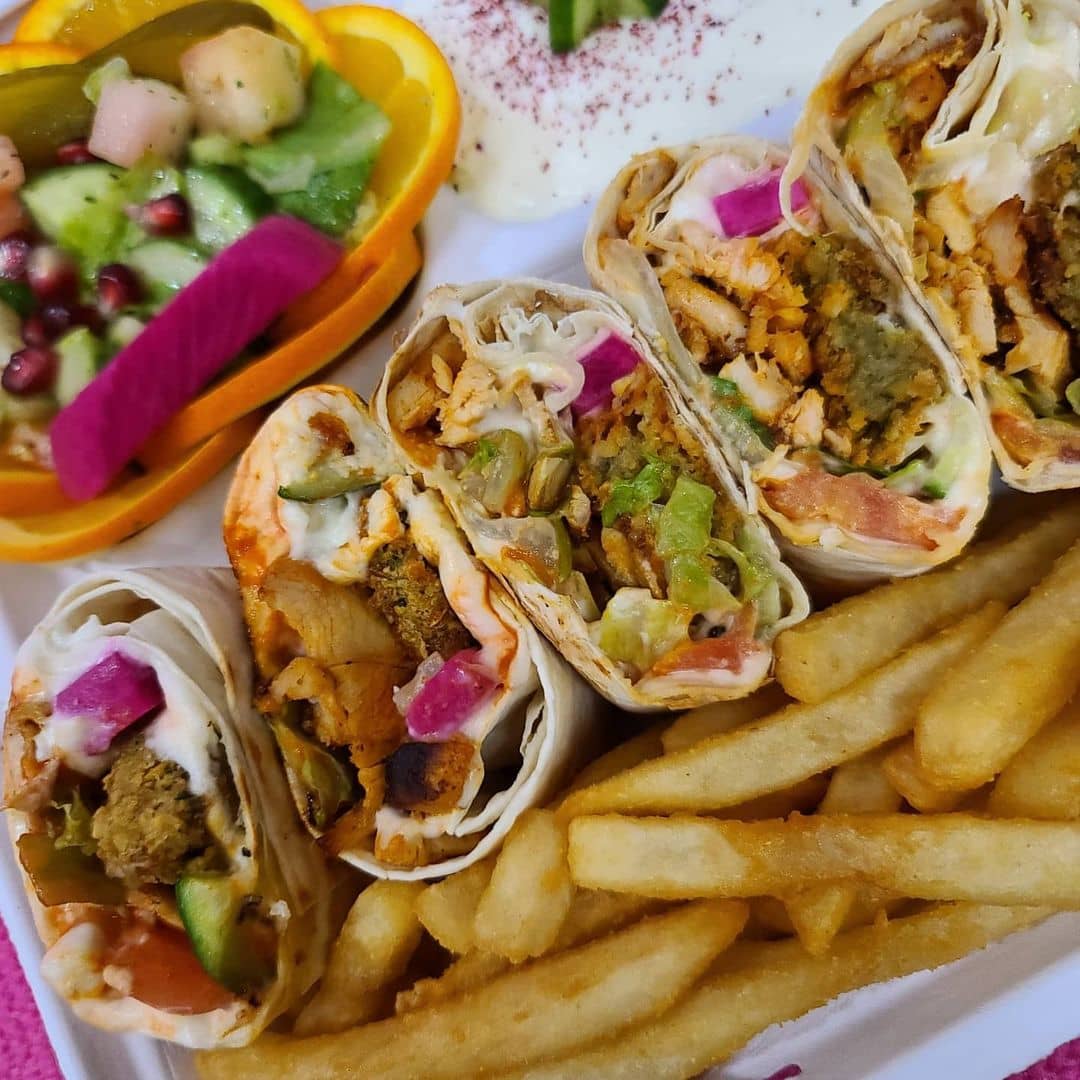 Tomah is the first-ever Syrian restaurant in Hamilton, considered a local legend for offering authentic and mouth-watering dishes. The restaurant is also popular for the cheeses that are made in-house.
The Syrian Shawarma Sandwich is not just generous in its portion size but also in terms of flavour. The chicken breast filling is juicy, which along with the garlic sauce and Tomah's special sauce tastes heavenly.
The Turkmani Cheese Sandwich with Falafel is a house specialty because the cheese is made in-store, and combining it with their crispy and delicious falafel brings about a unique taste to the dish.
Tomah's desserts, most of which have pistachios in them, are quite popular and often get sold out quickly. So grab a few of your favorites while they are available.
What to order: Syrian Shawarma Sandwich, Turkmani Cheese Sandwich with Falafel, Cereal Bars with Pistachios, Maamoul with Pistachios
Address: 242 King Street W, Hamilton, ON L8P 1A9
Website | Instagram | Facebook
11. Mystic Ramen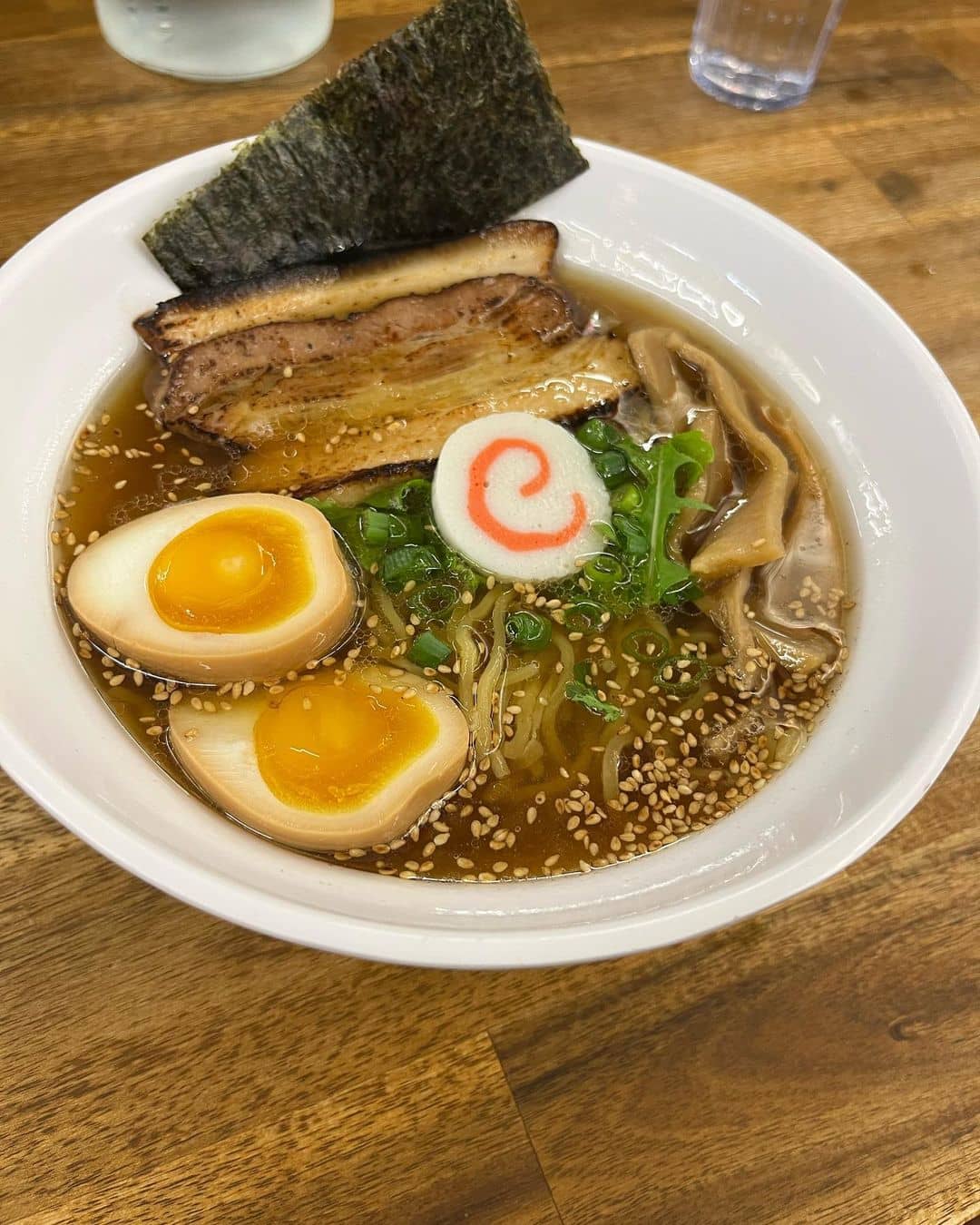 Hamilton's fav ramen spot since 2019, Mystic Ramen serves pure ramen perfection. The place is simple but with extraordinary food and exceptional service.
The Spicy Miso is a house favourite and a top seller. This classic ramen bowl consists of a deep savory flavour, mildly spiced, and salty, with juicy pork belly and seasonal veggies.
The Lemon Pickle Paitan is an elevation of their signature Tori Paitan Broth. The broth is rich and creamy and contains roasted chicken, seasonal veggies, and spicy lemon pickle.
At Mystic Ramen, you can also build your own bowl of ramen by choosing your favourite broth, tare, noodles, and protein.
What to order: Spicy Miso, Lemon Pickle Paitan
Address: Hamilton Farmers' Market, 35 York Boulevard, Stall 30, Lower Level, Hamilton, L8R 3K1
Website | Instagram | Facebook
12. Electric Diner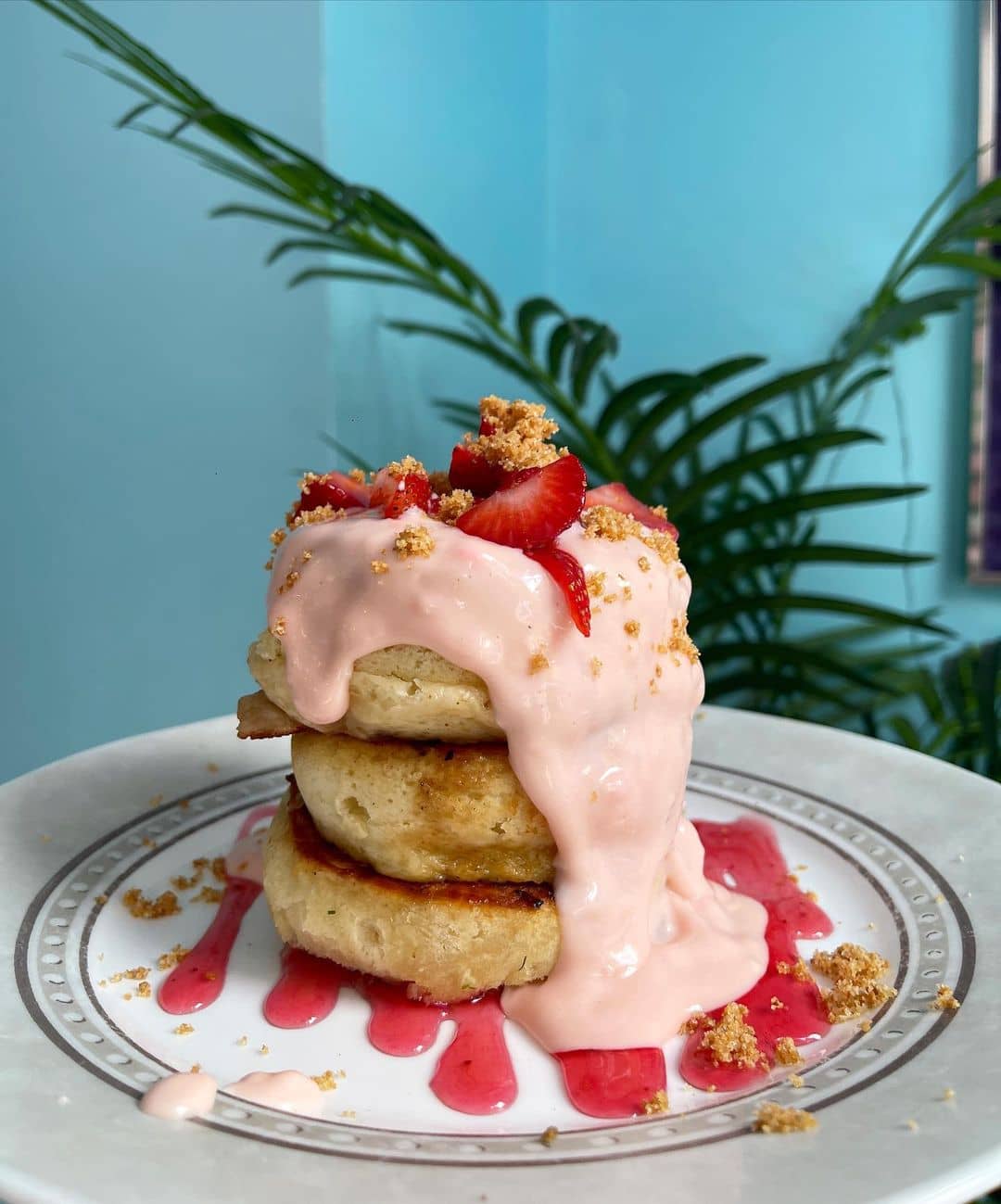 Electric Diner is popular for all-day breakfasts and modern diner food. The interior is quirky, with neon lighting and an 80's vibe, and the food is nothing short of exemplary.
If you're there for breakfast, try their Cinnamon French Toast Crunch. The French toast is deep fried with a cornflake crust, which makes it super crunchy, and the maple cream pairs well with the crunchy and slightly sweet toast.
The Moondancer Pancakes are curated specifically for kids; topped with cotton candy, sprinkles, and cream cheese icing, these confetti pancakes are a definite hit among young ones.
The Electric Burger is your classic Canadian burger. You get two plump beef patties, double American cheese, Canada's favourite Hickory Sticks, chipotle ketchup, and the diner's signature Awesome Sauce.
Grab their Feature Milkshake for the day to complete your meal.
What to order: Cinnamon French Toast Crunch, Moondancer Pancakes, Electric Burger, Feature Milkshake
Address: 96 George Street, Hamilton, ON L8P 1E2
Website | Instagram | Facebook
Whenever you visit Hamilton, the next obvious place to visit would be Niagara Falls. How can you not?! So, while you're visiting the geographic wonder, we have a few best Niagara Falls restaurants for you to try out.
The following two tabs change content below.
Noms Magazine
Noms Magazine is a food lifestyle publication based in Vancouver. Our goal is to help you easily find the best food and things to do in the city!
Latest posts by Noms Magazine (see all)