Looking for the best Niagara Falls restaurants? You're in the right place!
Niagara Falls is known for being a geological wonder. It truly takes your breath away with its jaw-dropping beauty.
As a very popular tourist attraction, you should know that it's not just the natural beauty of Niagara Falls that's sure to amaze you. Aside from the falls itself, the food is just as impressive!
From casual bistros to high-end restaurants, they have everything you're looking for. So if you're here in Niagara Falls, prepare to have a memorable meal that will satisfy your hunger in the most delightful way possible.
Ready to dig right in? Here are the 13 best Niagara Falls restaurants that you should try out!
This article includes affiliate links where we may get a small commission if you use our link. No extra cost is added to you.
1. Weinkeller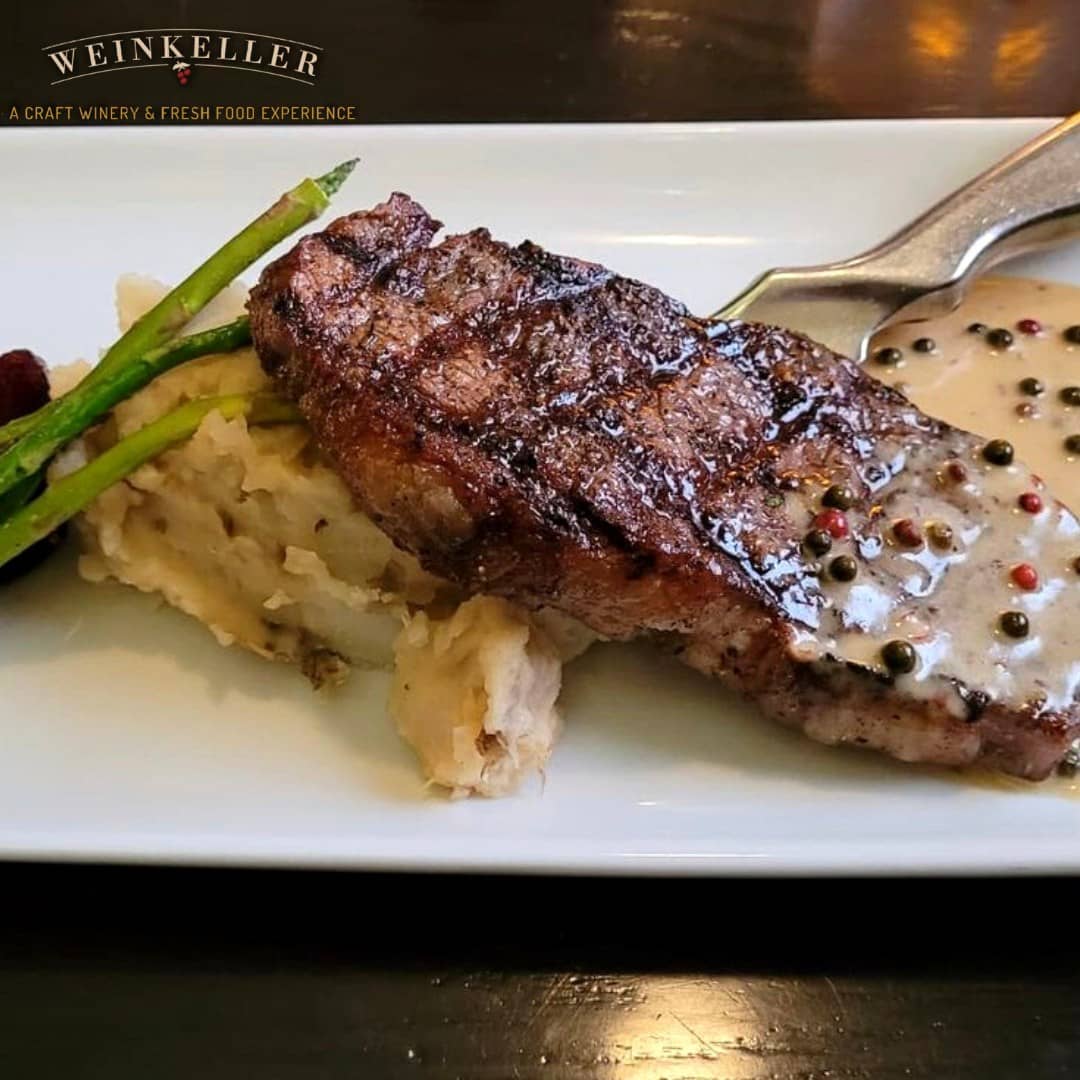 Casually upscale in every detail is what Weinkeller promises you as you dine with them. Everything about their interior screams cozy. The dim lights and bricked walls plus the fireplace, it's definitely the place to make you feel comfy the moment you walk in. Their patio also gives a welcoming vibe. The flowers and plants everywhere somehow make the area aesthetic to the sight.
For your appetizer, you'll never go wrong with their Fried Goat Cheese. With roasted garlic, it's hands down one of the best appetizers you'll ever have. Its crispy texture on the outside makes it satisfying to eat. On the inside, it's amazingly soft that you won't even need a knife. It's definitely a 5/5 star appetizer.
Now, for your main course, their Fillet Mignon is top-notch. It's dabbed in espresso powder all around and it's wrapped with bacon and comes with seasonal vegetables. It's not the typical fillet mignon, especially with its rich in flavour steak that complements well with the side of mushrooms. A classic *chef's kiss* indeed.
You should also try out their Salmon with Bernaise Sauce. The combination of Salmon and the Bernaise sauce is just phenomenal. The sauce has a very unique and rich flavor making it perfect with some steak. If you're craving even more flavour, request some Bernaise Sauce with it, it makes it extra special.
What to order: Fried Goat Cheese, Mussels with Truffle Fries, Fillet Mignon, and Salmon with Bearnaise Sauce
Address: 5633 Victoria Ave, Niagara Falls, ON
Website | Instagram | Facebook
2. Napoli Ristorante Pizzeria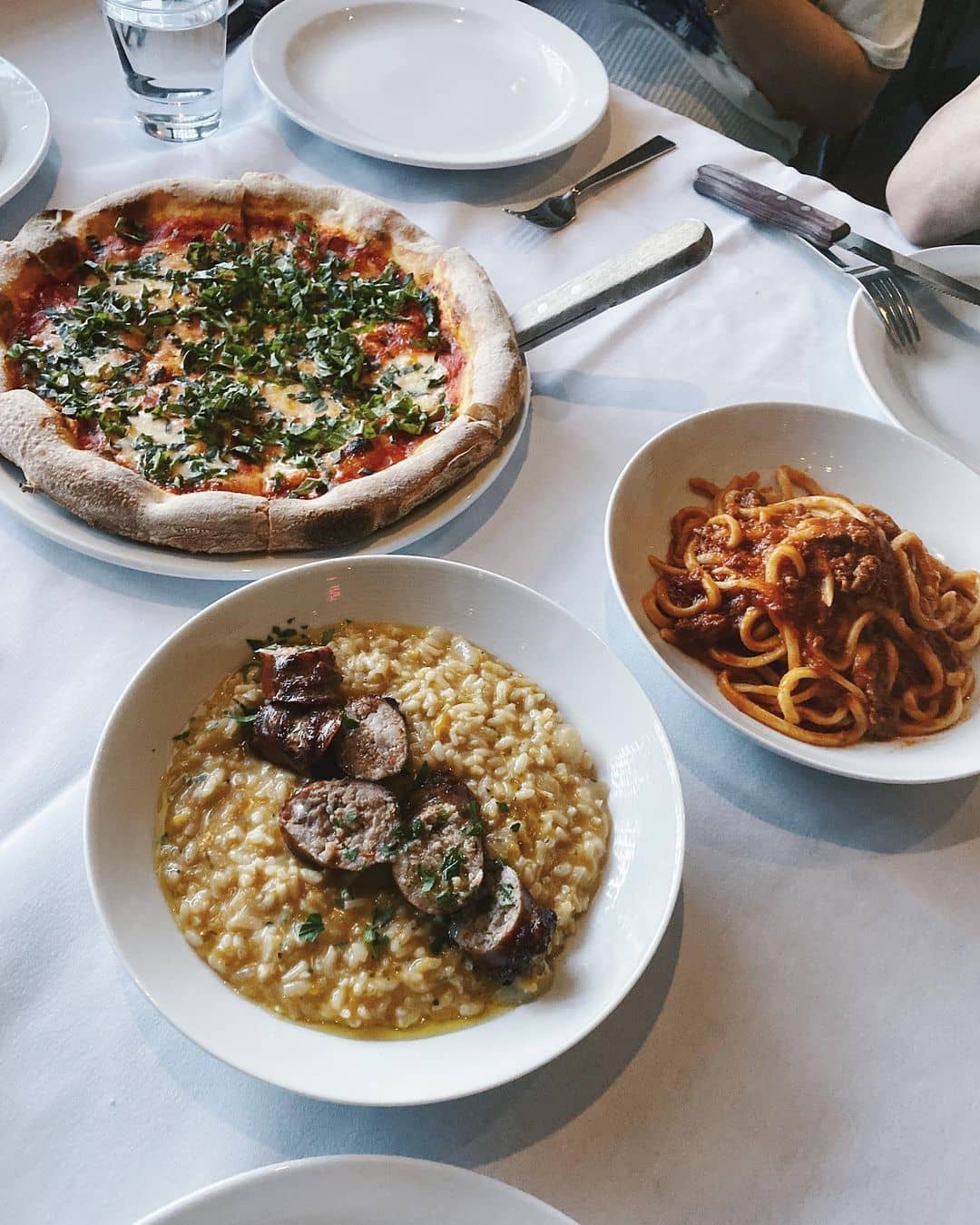 The best pizza in Niagara Falls definitely belongs to Napoli Ristorante Pizzeria. Serving all-time favorite Neapolitan-style pizza, this restaurant has pizza that just hits the spot! The interior has a fusion of casual and slightly fancy. The window-style painting and the big chandeliers make up for the posh vibe of the place.
Their Margherita Pizza, Pizza Bianca, and Canadese Pizza are the top 3 must-order pizzas that are to-die for. The Margherita Pizza is simply amazing. Made with some tasty tomato sauce, mozzarella, plus basilico, the flavors are extraordinary to the taste.
The Pizza Bianca is also delish. The caramelized onions is what makes it unique and its combination with house-cured pancetta is pure excellence. For the Canadese Pizza, if you're into something classic, this is the perfect pizza for you. Its tomato sauce and pepperoni is oozing with savory flavor. Topped with different spices, its classic taste will leave you coming back for more!
Craving for something other than pizza? Their Gnocchi Osso Buco is your best bet. Handmade, perfectly cooked, smothered with great sauce, you're just bound to be in love with this one! Another stellar pasta Napoli Ristorante offers is their Mafalda con Funghi. If you're into mushrooms, this pasta might be your favorite.
What to order: Margherita Pizza, Pizza Bianca, Canadese Pizza, Gnocchi Osso Buco, and Mafalda con Fungi
Address: 5485 Ferry St, Niagara Falls, ON
Website | Instagram | Facebook
3. AG Inspired Cuisine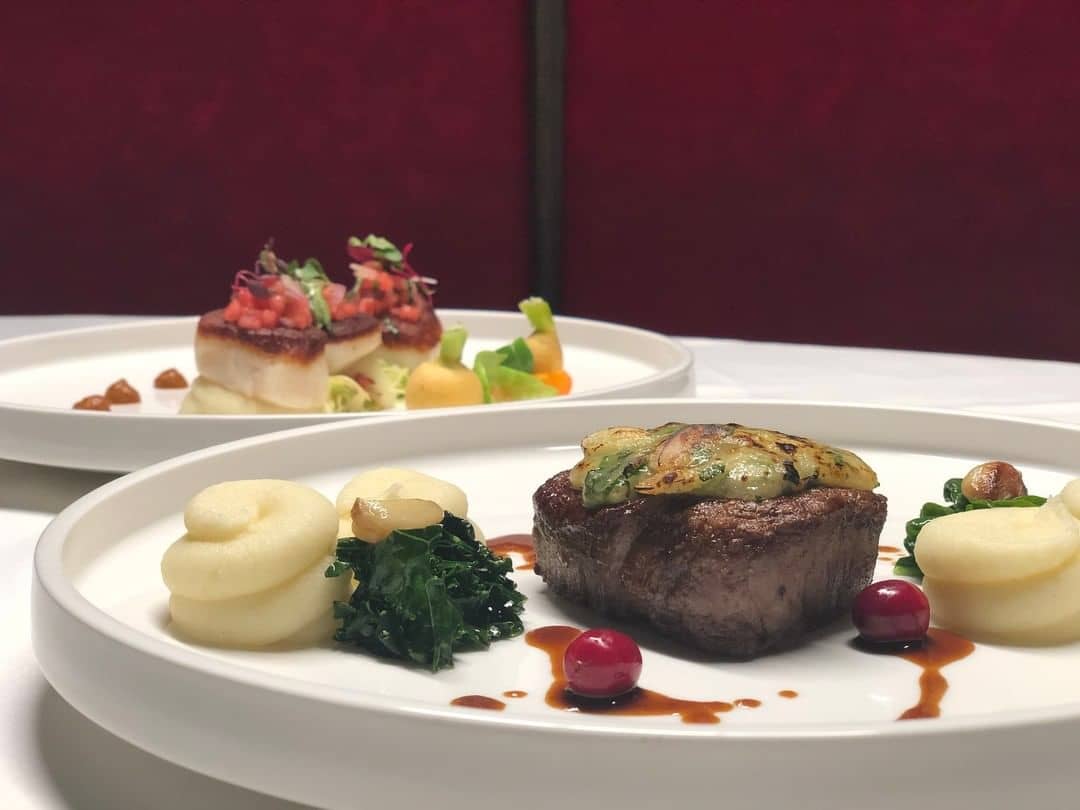 The AG Inspired Cuisine gives you a true farm-to-table experience! Planting, growing, and picking their own produce, they have made a name for one of the best high-end restaurants in town! As they feature seasonal and local ingredients, you can expect every dish crafted with everything fresh and delicious. This restaurant is definitely on the fancier side. With the long draping curtains, tall back dining chairs, and intricate chandeliers, the interior just says it all.
For their food, we recommend their Potted Chicken Liver Pate, Lime & Pepper Crusted Carpaccio of Beef, "AG" Signature Tenderloin of Beef, and "AG" Dry Rub Flank Steak. For their appetizers, the liver pate and carpaccio will definitely leave you in awe. Unlike typical pates, it's not grainy and has a soft and perfect texture. It's just pure goodness and doesn't leave any aftertaste.
One thing about this restaurant is that their beef is spectacular! You can bet that their beef tenderloin tastes like a dream. It's extremely tender and with its almond brie topping, mashed potatoes, and kale, it's the most ideal meal to keep you stuffed and satisfied!
Now, for the "AG" Dry Rub Flank Steak, it's the goodness of chimichurri that makes this dish super exceptional. Missing out on this dish is definitely a mistake you'll regret!
What to order: Potted Chicken Liver Pate, Lime & Pepper Crusted Carpaccio of Beef, and"AG" Signature Tenderloin of Beef
Address: 5195 Magdalen St, Niagara Falls, ON
Website | Instagram | Facebook
Discover Niagara Falls' Highest Rated Experiences!
Enjoy the best activities in and around Niagara Falls for an unforgettable time!
4. Carpaccio Restaurant & Wine Bar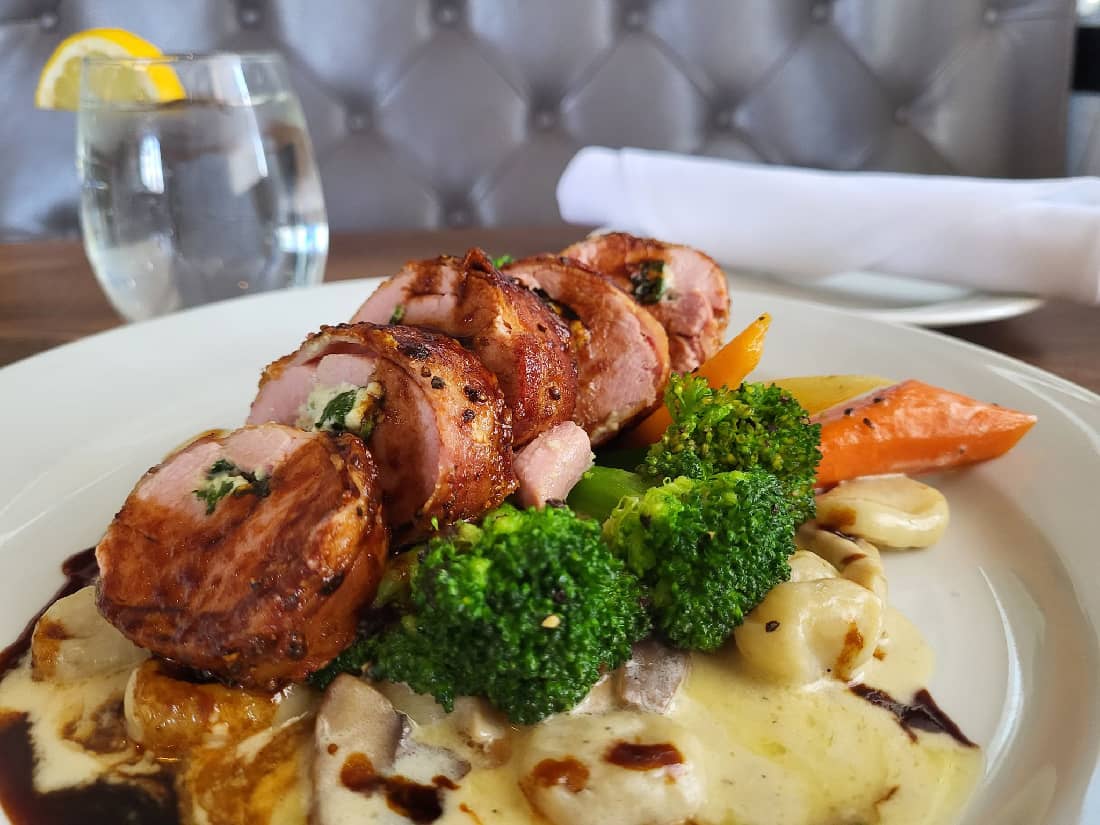 Satisfy your love of Itallian food in Carpaccio Restaurant & Wine Bar where you'll find the most authentic and scrumptious Itallian cuisine near Niagara Falls. This is the perfect restaurant to invite your family and friends to celebrate special occasions. The spacious area, minimalist interior, and a sun-kissed patio, you're bound to have a great time here.
When it comes to appetizers, their Arancini definitely takes the cake! The balsamic glaze of this appetizer is unreal. Another good thing, it's cooked to perfection making it light and crunchy. The inner layer makes it more delicious, it's soft and warm filled with a mix of rice, cheese, and of course, some marinara.
If you want a dish that will make you come back to this place again and again, try out their Lamb Risotto. This dish is simply high-grade and will blow your mind with its creamy texture and rich taste. Their Rack of Lamb is also made magnificently. Just like the Lamb Risotto, the lamb was beautifully soft and has the perfect combination of flavours.
What to order: Arancini, Lamb Risotto, and Rack of Lamb
Address: 6840 Lundy's Ln, Niagara Falls, ON
5. Casa Mia Ristorante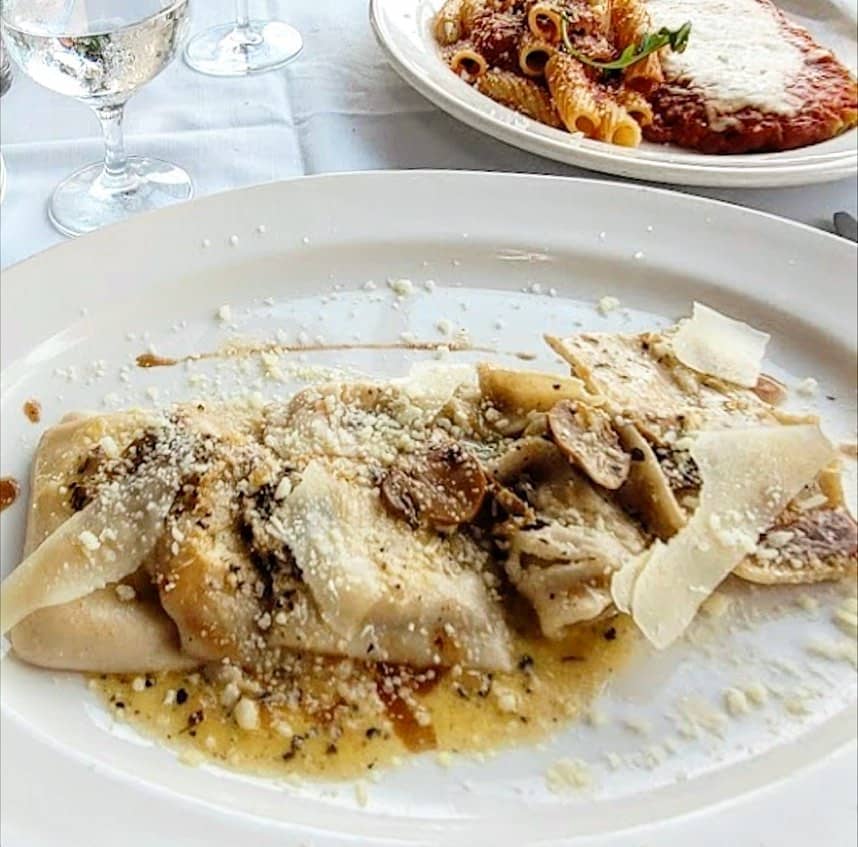 Recognized as the best dining experience in Niagara, Casa Mia Ristorante always aims to exceed your expectations with its cozy interior and heavenly food! Their homey interior takes you on a different kind of relaxation. It's just the perfect place to unwind after a busy day. The industrial hanging lights and the posh fireplace are exquisitely eye-catching. Their couches make the perfect place to lounge off and chit-chat while munching on some amazing Italian food.
Starting off with an appetizer, their Grilled Calamari is hands down the most ideal way to start off a meal. It's tasteful, fresh, tender, and light! For your entree, what you should try out is their Veal Parmigiana, Oysters, and Ravioli Truffle Porcini.
Their Veal Parmigiana is simply seasoned to perfection and the veal was thick yet tender. If you want something to fill you up, this dish is your best pick. For their oysters, the presentation is already enough to convince you that it's crafted meticulously with the finest techniques and ingredients. The oysters are fresh and are just scrumptious!
When it comes to top-grade pastas, you can bet their Ravioli Truffle Porcini to be number one on the list! How its made and the flavors that bursts in your mouth just transports you to Italy in every bite. What makes it special is their black truffle butter sauce, it completes the entire meal!
What to order: Grilled Calamari, Veal Parmigiana, Oysters, and Ravioli Truffle
Address: 3518 Portage Rd., Niagara Falls, ON
Website | Instagram | Facebook
6. The Kasbah Mediterranean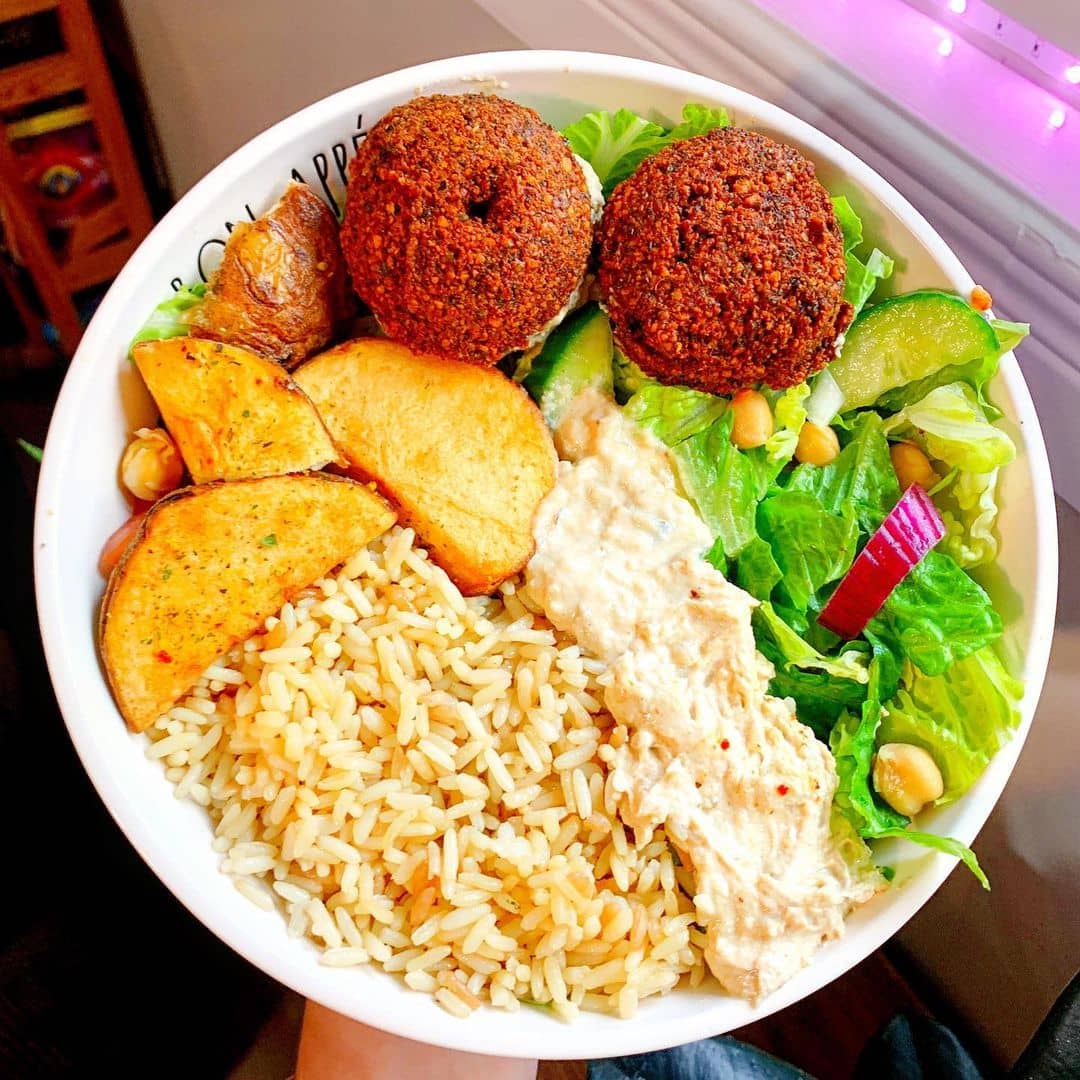 If you're looking for high-quality Mediterranean food in Niagara Falls, expect The Kasbah Mediterranean restaurant to wow you with their full-on Mediterranean dishes. This laid-back restaurant will satisfy your cravings in a picturesique and Instagram-worthy setting. Their interior is dainty and simple. Fairy lights are all hanging all over which adds a unique accent to the plain interior.
Looking for some smokey-flavoured goodness? their Souvlaki will definitely make a hit and satisfy. Try out their Pork Souvlaki, Chicken Souvlaki, Lamb Souvlaki, and Beef Souvlaki. Everything is perfectly grilled and the smokey flavour of each dish just takes you to a whole new level!
Their shawarmas are also tremendous. Try out their Chicken and Beef Shawarma. While it's slightly smaller than the usual shawarmas, it's packed with mouth-watering flavors. Given the oozing spices and overwhelming flavors, it's just the right size!
What to order: Pork Souvlaki, Chicken Souvlaki, Lamb Souvlaki, Beef Souvlaki, Greek Salad, Chicken Shawarma, and Beef Shawarma
Address: 6130 Dunn St, Niagara Falls, ON
Website | Instagram | Facebook
7. Mandarin Restaurant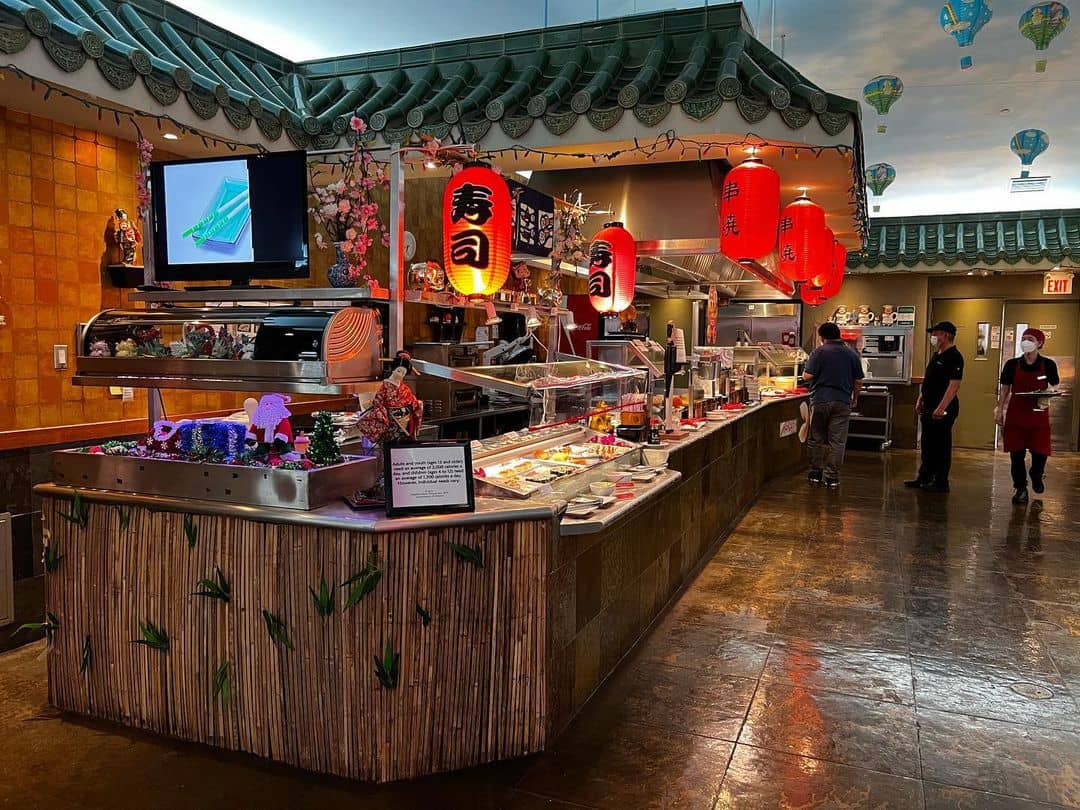 Mandarin Restaurant is a Chinese restaurant that will keep your tummy stuffed and your sight aesthetically pleased. This is the only restaurant in Niagara that offers an extensive buffet featuring Chinese favourites and an aesthetic interior. You can tell that they definitely put their creativity to life in every corner. From the walls to the ceiling, it's painted with something that boasts great artistry. In the ceiling, it features pastel-colored skies and fluffy clouds.
This extensive buffet has some of the best Chinese food that will take your breath away. But their Sushi, Crab Legs, Prime Rib, and Honey Garlic Spare Ribs are spectacular. Their sushi rolls are fresh with lots of flavors and variety.
Their Crab Legs are also a hit! The soft texture and its sweet and delicate flavour make it a crowd favorite.The Prime Rib and Honey Garlic Spare Ribs are super flavourful. For the prime rib, it'is savory with a touch of sweetness while the Honey Garlic Spare Ribs is sweet all over. It's not too sweet as the flavour of garlic gets in the way making it the perfect combination.
What to order: Sushi, Crab Legs, Prime Rib, and Honey Garlic Spare Ribs
Address: 7555 Montrose Rd, Niagara Falls, ON
8. Tide and Vine Oyster House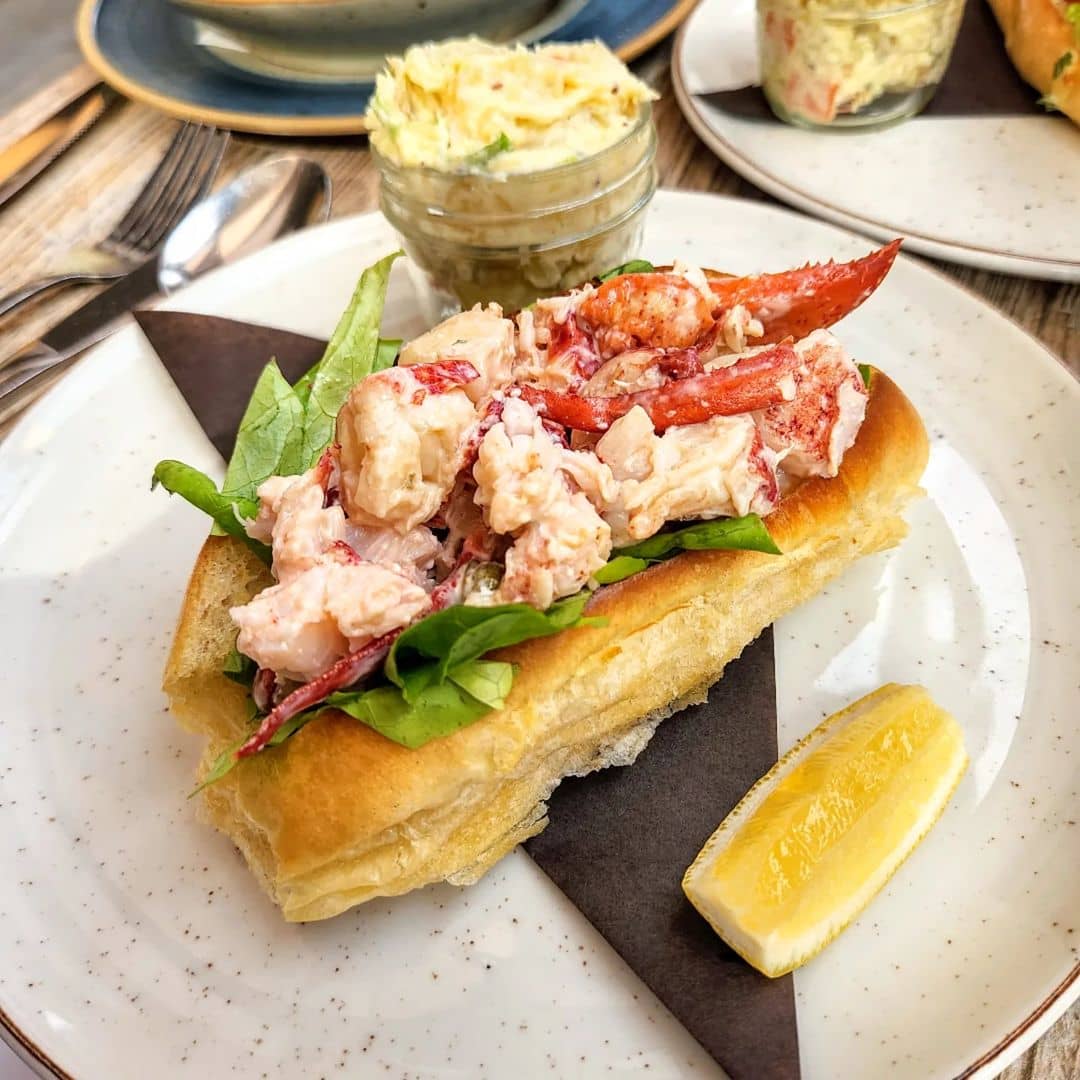 Looking to eat some fresh seafood? Tide and Vine Oyster House is exactly what you're looking for. This seafood restaurant doesn't just serve different varieties of seafood, but for a twist, they have a raw bar every oysterfest which is an event they hold for seafood lovers all over Niagara!
We recommend you try out their Oysters, Lobster Roll, and Lobster Mac and Cheese. Their oysters paired with Scotch Bonnet Hot Sauce is a bomb combination. The oysters, itself, are already fresh and delicious, but combined with this sauce it just makes it exceptional!
The Lobster Roll is loaded with lobsters and is generously smothered with delicious sauce. The taste melts perfectly in your mouth. It's nothing but pure goodness!
Mac and Cheese but with Lobsters? It's not something you see everyday but this unique dish has been the town's favorite for quite some time. You wouldn't expect lobster and cheese to go well together but this combo is total crowd-puller. The savory taste of lobster and the mix of cheese somehow stirs an unforgettable taste.
What to order: Oysters, Lobster Roll, and Lobster Mac and Cheese
Address: 3491 Portage Rd, Niagara Falls, ON
Website | Instagram | Facebook
9. Paris Crêpes Café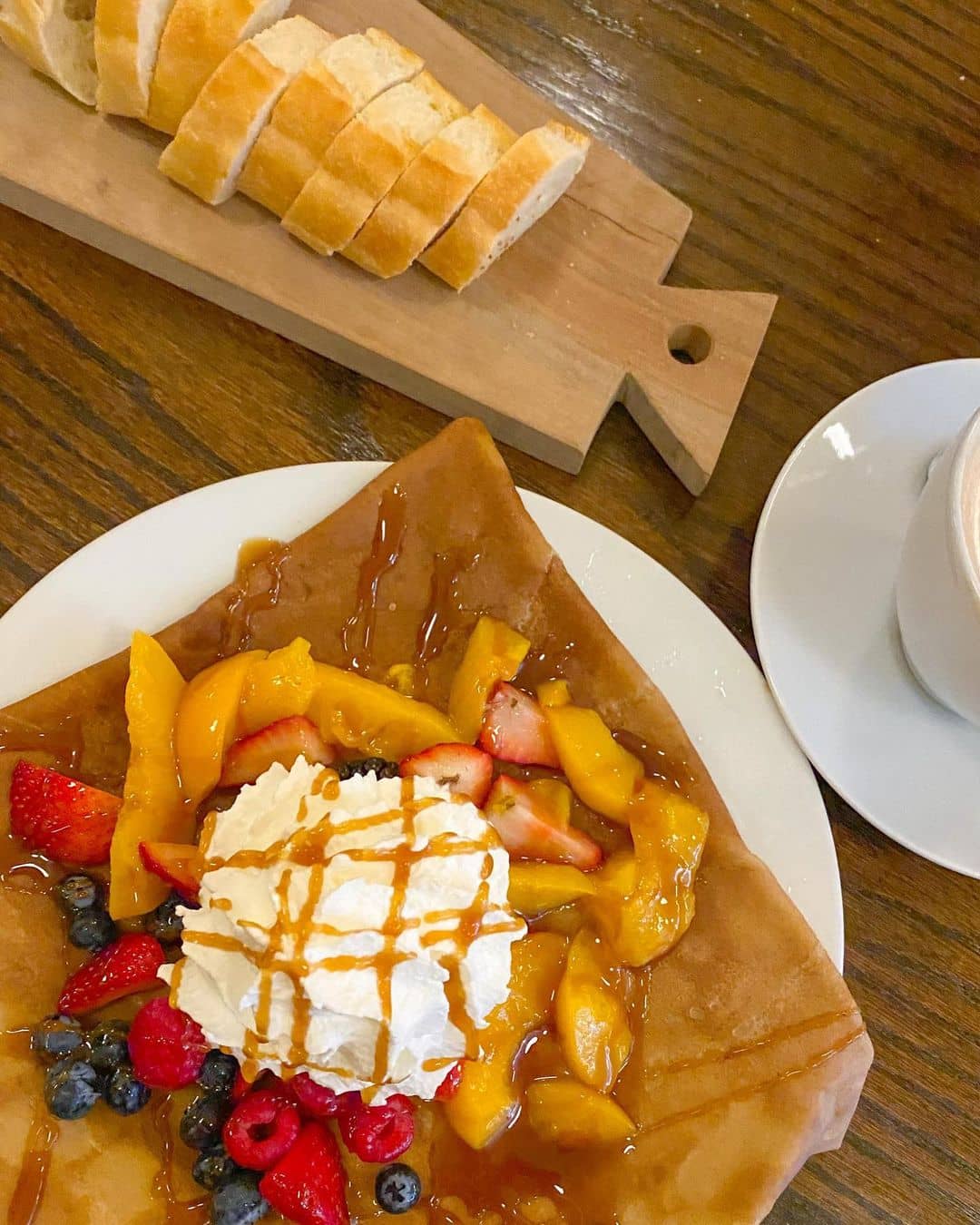 Paris Crêpes Café is the cafe to go for a glimpse of Paris life. With their crepes, you're sure going to transport to Paris. This vibrant spot offers a delightful variety of crepes plus some French cuisine faves! Inside this restaurant looks like a classic Paris restaurant. The Paris flag, Paris-inspired photographs, and everything else about this place just give off European beauty.
The best time to visit Paris Crepes is during Brunch. Since they boast their crepes heavily, don't ever forget to order their simple Crepe with Jam. Try the blueberry or raspberry jam crepe. Its sweetness is just right that you might not notice you've already eaten a lot!
Now, to keep your tummy filled with the good stuff. You should get their Ouff Benedict, French Onion Soup, and of course, some French Press Coffee. Their Ouff Benedict has some perfectly cooked poached eggs and smoked salmon. The smoked salmon is delish and the taste doesn't get boring after every bite.
The French Onion Soup is a traditional recipe handed down years ago. That's how you know that its going to taste stellar. It's made with caramelized onions making it sweet and irresistible. During the cold weather, this soup is going to be your favorite especially with its hot temperature and unique bursting flavours.
What to order: Jam Crepe, Ouff Benedict, French Onion Soup, and French Press Coffee.
Address: 4613 Queen St, Niagara Falls, ON
Website | Instagram | Facebook
10. Scoops Restaurant Breakfast and Lunch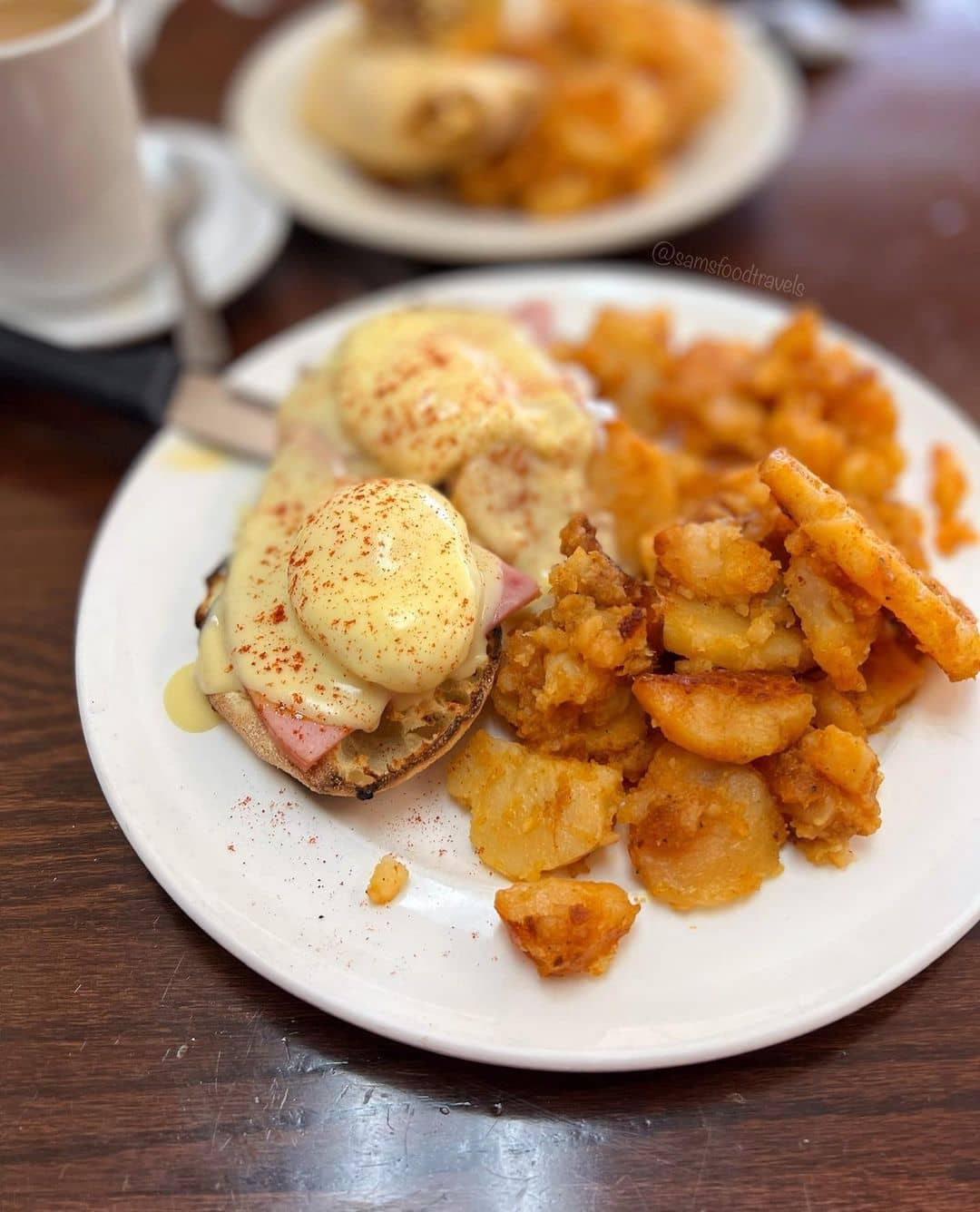 Scoops Restaurant Breakfast and Lunch is a down-to-earth restaurant that focuses on giving you the best quality meals to keep you up and going all throughout the day! The interior of the place is plain and simple. There's not much decor but customers can enjoy a good show while they eat as they have a television hung on the wall. You can expect that despite the plain and simple interior, the whole place is comfy. Other than that, the focus is all on the good food!
Try out their Eggs Benedict, Home Fries, and their Breakfast Platter. Their eggs benedict is one of the best-sellers! The taste of the eggs benedict is comparable to many big-time restaurants in Canada. The best part is that in Scoops Restaurant, you get it at a much more affordable price.
After eating some eggs benedict, the next best thing to munch on is their home fries. It's pan-fried and tasty with the addition of smokey paprika. It's what makes people come back again!
For their Breakfast Platter, this dish will keep you stuffed the whole morning, that's for sure. It has three eggs, and has some bacon, ham, fruit, toast, plus a lot more! Everything added on this platter is fresh and will make your tastebuds happy!
What to order: Eggs Benedict, Home Fries, and Breakfast Platter.
Address: 8123 Lundy's Ln, Niagara Falls, ON
Discover Niagara Falls' Highest Rated Experiences!
Enjoy the best activities in and around Niagara Falls for an unforgettable time!
11. The Blind Pig Niagara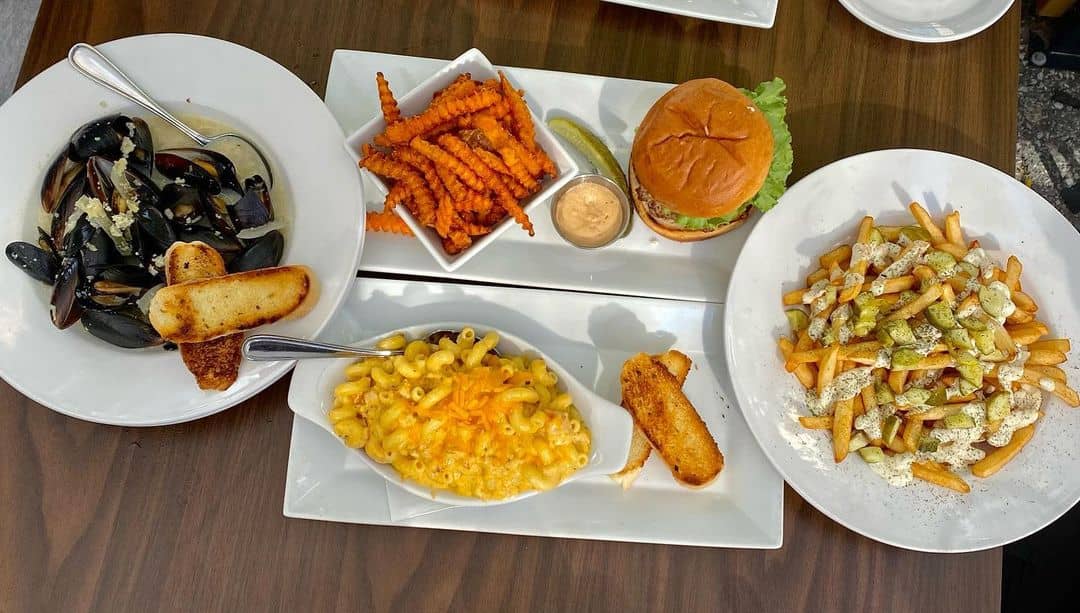 The Blind Pig Niagara is a gastropub inspired from the 1920's. Despite its 1920's inspired theme, modernity is deeply crafted in their food! With a diverse menu and handcrafted cocktails, this gastropub has and will continue to earn the hearts of many. The cozy interior filled with vintage picture frames is something that definitely makes a statement. The place has industrial hanging lights which add a touch of modern style.
Now for their excellent dishes, our first recommendation goes to their Bourbon Glaze Pork Belly App. This dish is amazing! The pork is crispy, juicy, and packed with flavour. As an appetizer, it sure does exceed expectations and we know you're going to fall in love with dish.
Next up, their Cubano Sandwich is another dish that will leave your fascinated. The bun was thick with the perfect fluffy texture, and the flavors of tangy plus a tarte taste makes the Sandwich insanely good.
You should also try their Korean Fried Chicken. Its immaculate juicy and garlic-ginger taste makes you want to eat a whole bunch! The chicken was also very crisp and gives that satisfying crunch sound when you take a bite. Nothing beats their fried chicken, it's the real thing!
What to order: Bourbon Glaze Pork Belly App, Cubano Sandwich, and Korean Fried Chicken.
Address: 6689 Lundy's Ln, Niagara Falls, ON
Website | Instagram | Facebook
12. Pho Xyclo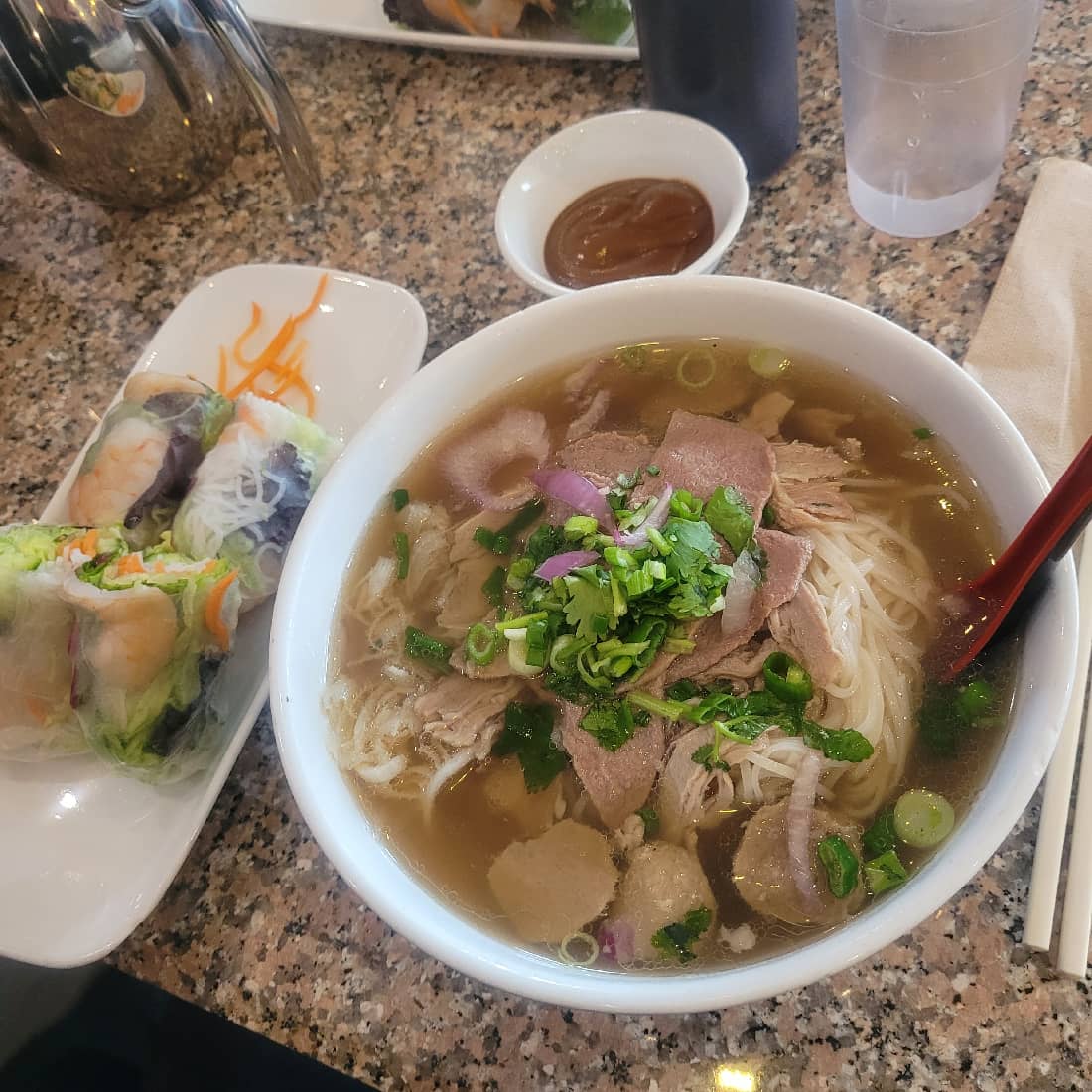 We meant it when we said Niagara Falls has everything you're looking for. Whether you're craving Italian, Chinese, and even Vietnamese food, Niagara Falla always has a special place for special cravings.
Want some Vietnamese flavours to hit your tongue? Pho Xyclo is the one for you. Known for being Niagara's favorite Vietnamese restaurant, their food is delicious beyond words. Their interior is just like a down-to-earth eatery with a TV on the wall and marble tables everywhere. Just a classic-looking resto, you'll be surprised at how extraordinary their food is!
Craving for something warm? Try out their Tom Yum Pho noodles! It's not only warm but the flavours have a kick of spiciness to them. You can choose either beef or chicken, but we recommend beef. The beefy taste gives more intense flavors to the soup and complements the spice. If you want a touch of something different, try their Tom Yum Pho with Coconut. The coconut adds something distinct to the soup making it unique and even tastier.
Their Laksa Malaysian Noodle Soup is another banger. Tofu, lemongrass, turmeric, and more, it has an extraordinary mix of flavors that work well together. The fresh chili also makes the soup more exciting to eat! Their Vegetarian Pho is another must-try. All vegetables are fresh and are meticulously stirred to perfection.
What to order: Tom Yum Pho, Tom Yum Pho with Coconut, and Laksa Malaysian Noodle Soup
Address: 6175 Dunn St, Niagara Falls, ON
13. Japanese Restaurant Yukiguni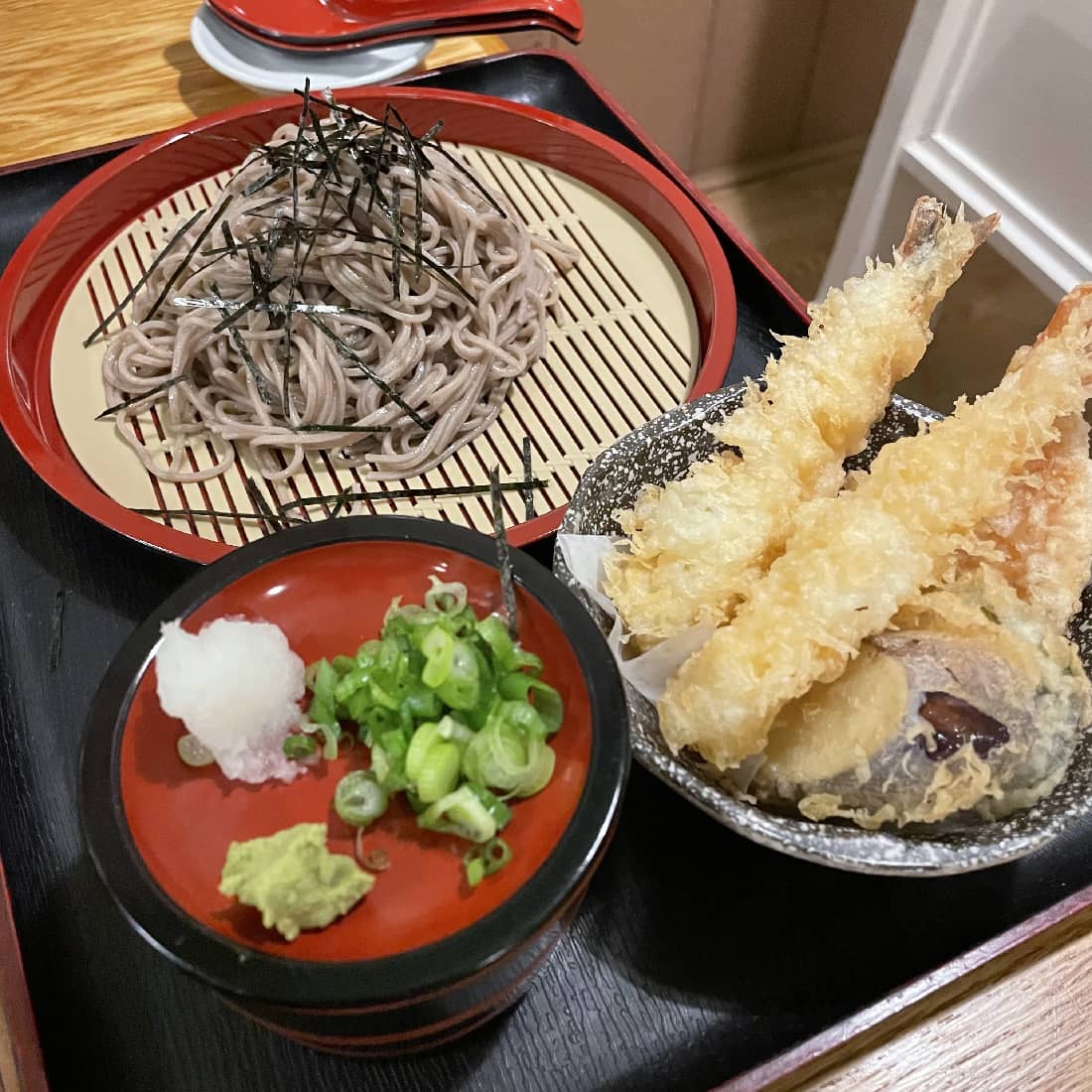 A dine-in experience in Japanese Restaurant Yakiguni is something you shouldn't miss out on. This place is known for its classic Japanese cuisine that will make your mouth water! The place is simple and focused on a wooden interior. The wooden chairs and square lanterns make up for the cozy ambiance.
First off, we recommend you try out their Tempura. It's fresh, thin, and light. It's just easy to eat and the taste is so good that you might want to take all of it home! A dish on their menu that's worth every single penny is their grilled Teriyaki Salmon. It comes with homemade teriyaki sauce but with the dominant flavoring of the salmon, it doesn't even need it. The salmon is extremely savory and since it's grilled, the smokey flavor gives it an exceptional and intricate taste!
You should give their Beef Teriyaki a try. The beef steak is cooked medium but the texture is still so soft and tender. The flavours are also very savory but have a slight twist that you'll absolutely love.
What to order: Tempura, Teriyaki Salmon, and Beef Teriyaki.
Address: 5980 Fallsview Blvd, Niagara Falls, ON
That's all for our list of the 13 best restaurants in Niagara Falls! If you're planning to go to Toronto, we also have the list you'll need! Check out our picks for the 10 best restaurants in Toronto.
How We Create Our "Best" Lists
All Noms Magazine's "best" lists are created using multiple factors and signals to help readers find the best restaurants, things to do, and places to stay at. Some of these factors and signs include personal experiences, correspondence with locals, and compiling experiences from review sites.
Each list is also created to be balanced (in terms of price, cuisine type, ambiance, and more) as possible. This means that the lists are not specifically created in ranking order. You should be comfortable picking from any of the spots on the list and generally have a good time. But of course, YMMV (your mileage may vary) and everyone may have different experiences/palates.